Calling all budget travelers wondering what are the cheapest countries in the world—to LIVE and VISIT!
As someone who lives on a pretty tight budget and still manages to flit around the world, I'm here to tell you that it's entirely possible to travel without breaking the bank.
Exploring a new place DOESN'T have to be that expensive, and there are plenty of ways to cut down the costs of your trip or even live on less than you probably are at the moment. The first step to cutting costs down is choosing a cheaper country to begin with, and that's what this post is all about.
While many of these spots may not come as a huge surprise, I'm sure you'll find some places that you didn't expect to be on this list! I've traveled to many of these affordable countries, and it's possible to visit most of them for $50 a day or less!
I've also lived in quite a few of these places for extended periods of time (usually a few months or longer on well under $1500 a month, including rent!), and it's completely feasible for you to do the same with a little planning.
So, whether you're looking for an inexpensive getaway or somewhere affordable to call home for the long term, here are some of the cheapest countries in the world.
39 of the Cheapest Countries in the World
---
Before we even get into talking about prices for the cheapest countries in the world, there are a few things to keep in mind. Most importantly, these prices are for a SINGLE PERSON.
If you're traveling with a buddy, you might be able to save on things like rent and utilities, but go ahead and double that food and activity budget!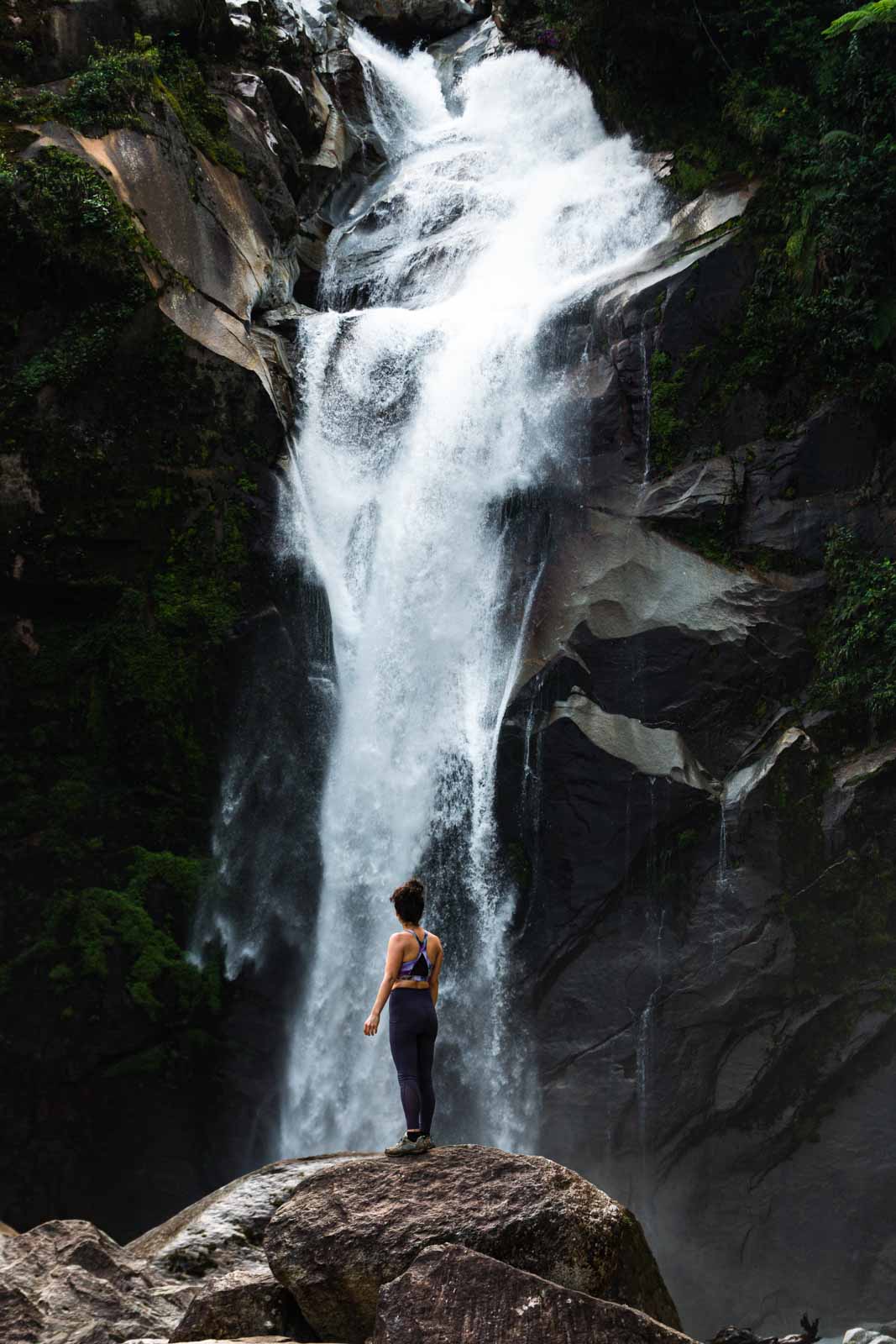 Everyone travels differently, spends differently, and lives differently. Take these amounts with a grain of salt. They are meant to make you think and have a base for what things cost. These prices aren't set in stone.
I will also try to keep this as updated as possible, as some places on this list fluctuate more than others.
Here are some things to keep in mind…
The numbers below are simply an average through countless hours of research, Numbeo figures, spending habits of previous travelers, and of course, personal experience.
These averages will need to be adjusted according to YOUR unique spending habits.
Transport is for local means of transportation and not services tailored to tourists. I did the average of a single intercity ride and a long-distance trip for the numbers below. You'll need to add a bit more if you plan on taking a bus every few days or don't plan to walk a lot in the cities.
Remember that traveling slower always results in spending less. The faster you go, the quicker your pockets will empty.
Again, everything is for a single person traveling. If you're splitting costs with a friend or partner, you'll get to save a few coins on some things, but groceries will likely cost more for two or more travelers.
I did not include things like flights, baggage fees, visa costs, or travel insurance. These costs vary wildly, depending on your originating country and other factors, so be sure to consider these costs on your own.
The Cheapest Countries to Travel to in the World:
The figures below mainly include food, transport, a few activities, and accommodation. Basically, the most important things you need to know!
If you do a lot of activities/tours that require a fee, then your daily budget will likely be higher than the figures below. I did include a few of the main attraction costs, but not all of them.
Accommodations are for staying in hostel dorm beds or inexpensive guesthouses only. Need a fancier place? Private room? Add money!
Meals are cheap if you eat at local markets/restaurants and cook for yourself. If you eat out at Western restaurants or need a few drinks every day, then you'll need to add money.
The Cheapest Countries to Live in the World:
"Live" is a term I'm using loosely here. I usually "live" places for around 2-3 months, more often than not, because that's all a visa will allow for. If you're looking for a place to lay low for a few months, you can "live" in any of these countries!
I calculate rent by averaging the price of renting inside and outside the city.
When I calculate groceries, I'm talking about the basics. Think eggs, meat, fruit, veg, starches, etc – all added up and multiplied by four weeks to give you an idea of the monthly costs of living in each country.
The entertainment section includes eating out a couple of times a month at a cheap spot and a couple of coffees.
Transport is on average what a monthly transport pass in a city would cost.
THESE ARE BUDGET NUMBERS! You're living like a backpacker, nothing fancy, just covering the necessities and a tad bit more here n' there.
So, use these numbers as a base for planning a trip to a cheap country and then modify the numbers to your exact needs.
Again, everyone travels differently, and it would be impossible to give you exact numbers without becoming your travel agent and understanding your exact needs (something I don't do).
I hope this helps you plan your trip, and feel free to click the links below each country where I've linked helpful travel guides that deep dive into what to do, more specific costs, packing lists – the whole shebang.
Cheapest Countries in the World – South Asia
1. India
India is a destination that overwhelms the senses with its chaotic streets, intriguing aromas, and diverse climates.
Life in the city is a whirlwind navigating its ancient alleyways bustling with tuk-tuks, motorbikes, and colorful characters while going off the grid will take you through alpine terrain, tropical rainforests, or sacred ashrams.
Traveling through India is a delightful blend of cultures, cuisines, and religious sites, and being one of the cheapest countries in the world makes it a steal for backpackers or those looking to live on a tight budget.
Highlights in India
Explore the glacial lakes and snow-capped peaks of Leh-Ladakh
Marvel at the grandeur of the Taj Mahal
Roam the Rann of Kutch salt desert
Take in the sights and sounds of the bustling capital of New Delhi
Enjoy the glistening beaches of Goa
Trek in Meghalaya to witness misty waterfalls, lush forests, and surreal caves
Spending in India
Most budget accommodations you find are basic but will rarely cost more than a few bucks, while local restaurants often serve filling meals for $5 or less. Book activities in person, as you'll likely save every time.
Visa Situation: US citizens must obtain an E Visa at least 4 days in advance of arrival, for stays up to 30 days. 1-year and 5-year E Visas are also available for those who wish to stay for an extended period.
RELATED:
6-Day Golden Triangle Itinerary: India for Beginners
A 10-Day Rajasthan Itinerary to Jaisalmer, Jodhpur & Udaipur (India)
2. Nepal
Nepal is a mountain trekker's dream, and there are enough supported Himalayan routes to last a lifetime. Besides the dramatic snow-capped peaks, daredevils have endless activity choices, such as whitewater rafting, mountain biking, and rock climbing.
On the other hand, Nepal is a great place to slow down and take it easy. Take it slow and stay a while – you'll likely have plenty of eye-opening experiences as you meet people from all over the world. Clean air, incredible vistas, and plenty of outdoor recreation – what else could you want?!
Back in town, the hospitable locals have a unique culture all their own, and the eclectic streets of Kathmandu are decorated with gorgeous temples. A chance to witness a Nepalese festival is truly a sight to behold.
Highlights in Nepal
Have the adventure of a lifetime on the Annapurna Base Camp (ABC) trek
Hike through the awe-inspiring Langtang Valley
Visit the gorgeous Buddhist stupas in Kathmandu
Push your adrenaline to the max by whitewater rafting the Karnali River
Hike to the Phulchowki Hill Station for surreal vistas of the Kathmandu Valley
Spending in Nepal
Dorm beds and even some private rooms can be found well under $10, and local transport is exceptionally affordable. As long as you avoid Everest, trekking is doable on a backpacker-type budget.
Visa Situation: US citizens may obtain a tourist visa upon arrival for 15 days for a fee of $30, 30 days for $50, or 90 days for $125.
RELATED: How to Go Trekking in Nepal and What Not to Do—Poon Hill Trek
3. Sri Lanka
This island nation just south of India is teeming with pristine beaches and verdant forests rich with wildlife. The hilly terrain attracts ambling trekkers, and you'll come across loads of tea plantations and rustic villages.
Kandy is the cultural epicenter of the island, and the remains of ancient civilizations are waiting to be discovered. Trendy Colombo boasts a modern flair, while the country's abundance of nature reserves attracts outdoor enthusiasts.
If you find yourself falling in love with the gorgeous scenery, friendly locals, and laid-back lifestyle of Sri Lanka, you'll have no problem finding some cheap digs and staying for a while.
Highlights in Sri Lanka
Search for leopards in Wilpattu National Park
See the Temple of the Sacred Tooth Relic, the country's most cherished artifact
Drink tea from local tea plantations
Summit the spiritual Adam's Peak
Trek through the forests, jagged peaks, and waterfalls of the Knuckles Mountain Range
Spending in Sri Lanka
Meals and lodging may run slightly higher versus neighboring countries, but train travel will save you a hefty penny. The area to splurge is activities, as several may push your daily budget to the higher end.
Visa Situation: US citizens must obtain a tourist visa at least 3 days prior to their arrival in Sri Lanka. You can apply once you arrive, but save some money and do it in advance. The ETA (electronic transit authorization) allows for stays of up to 30 days; you can apply to extend it up to 6 months.
RELATED:
A Perfect 3-Week Sri Lanka Itinerary: Jungles, Train Rides, and Waterfalls
5 Great Ways to Get off the Tourist Trail in Sri Lanka
Cheapest Countries in the World – Southeast Asia
4. Cambodia
A former sleepy escape on the buzzing Southeast Asia backpacker trail, Cambodia is now one of the region's most exciting gems.
Despite the country's horrors in the past century, friendly locals and animated towns indicate it's on the upswing. Its enlightening temples, undeveloped islands, and genuine markets often provide a more authentic travel experience.
No trip to Cambodia is complete without visiting the mystical Angkor Wat, despite a day pass throwing a wrench in your budget. However, there is much more to discover than the country's pride and joy.
Its sun-kissed beaches rival its neighbors, the cuisine is fit for the adventurous foodies, and the history will likely overwhelm your emotions.
The expat community is growing almost as rapidly as the infrastructure here, which is reflective of one really clear point: there is simply something special about Cambodia.
Highlights in Cambodia
Wander all the temples of the Angkor Archaeological Park
Escape the buzzing capital of Phnom Penh for the serenity of Silk Island
Sunbathe on the Cambodian islands before commercialization takes over
Trek through the lush Cardamom Mountains, one of Southeast Asia's last remaining rainforests
Eat a cricket or tarantula if you dare
Enjoy a full technology detox and endless sunshine at The laidback Rabbit Island (Koh Tonsay)
Spending in Cambodia
Although Cambodia is not the hidden jewel it once was, exploring this small country will still be easier on your pocket than nearby Vietnam and Thailand. Dorm beds can still be found for $2 or $3 if you look hard enough, and you'll find plenty of local markets with cheap food.
Visa Situation: US citizens may enter Cambodia on a tourist visa and stay for up to 30 days.
5. Indonesia
With thousands of islands, tropical rainforests, and humbling volcanoes, Indonesia has enough adventures to last a lifetime. You could spend months traveling here and not even scratch the surface of the majestic sights dotting its fertile landscapes.
Everyone is familiar with Bali, but there is just so much more to see in one of Asia's cheapest countries to live in and visit.
I don't know how many times I've visited Indonesia (and I'm not just talking about Bali!), I love it so much. I've stayed in shit hotel rooms for $5 with a million-dollar ocean view and surf just outside my doorway, and I've stayed in jungle huts for just $7 a night with fresh breakfasts that can feed a small army for $3…
As you explore this island nation, you'll discover one of the most versatile ecosystems on the planet, equally diverse local communities, and too many breathtaking vistas to count. This is one place that 'taking your time' is simply a must.
Highlights in Indonesia
Go scuba diving in the Gili Islands
Spot Komodo dragons in Komodo National Park
Witness a spectacular sunrise hiking to Gunung Bromo
Visit the orangutans residing on the island of Sumatra
Become mesmerized by the crater lakes of Flores
View the jagged rock formations of Pantai Pegadungan rising from the sea
Spending in Indonesia
There are plenty of affordable dorm beds throughout the country, and food is incredibly inexpensive. You'll have to increase your budget the longer you stay in Bali and the more island hopping you do.
Visa Situation: US citizens can get a visa upon arrival for up to 30 days, with the possibility to extend your stay for another 30 days.
RELATED:
A Guide to Backpacking Indonesia: Itinerary, Costs + Tips

13 Things to Do in Yogyakarta, Indonesia: 2+ Days of Adventure & Culture
6. Laos
Quite often overlooked, Laos is the little sister to Thailand, Vietnam, and Cambodia. This is a golden destination for nature lovers, thrill-seekers, and foodies, and there are also some expat networking opportunities.
Much of the country is forested, which provides sensational trekking, kayaking, and zip-lining excursions.
Renting a motorbike lets you cruise through the peaceful countryside, and the slow-paced lifestyle just rubs off on you.
Those hoping to escape the throngs of backpackers in Southeast Asia will find a heavenly retreat through Laos's vibrant cities and quaint towns. The ancient capital of Luang Prabang is often regarded as the most picturesque town in Southeast Asia and heralded as one of the premier foodie destinations.
Highlights in Laos
The temples and royal palaces of the UNESCO World Heritage Site of Luang Prabang
Experience the surreal beauty of Vang Vieng's karst mountains, peaceful rivers, and alluring caves
Chase waterfalls in the Bolaven Plateau
Study the fascinating statues of Buddha Park
Zipline through the treetops of the jungle with the Gibbon Experience
Visit the charming town of Champasak and the nearby Khmer ruins of Wat Phu, which are older than Angkor Wat
Spending in Laos
Prices have increased slightly in Laos the past few years, but it remains one of the cheapest countries to visit. Accommodation will run roughly the same or slightly higher compared to neighboring countries, but activities are where you'll save.
Visa Situation: US Citizens may obtain a visa on arrival for a stay up to 30 days. Extensions are available for up to 60 additional days.
RELATED:
Backpacking Laos: A 3-Week Itinerary—Where to Go, Costs, and Tips
13 Laos Tours That Are Totally Worth Taking
7. Vietnam
Vietnam has skyrocketed on the tourist scene with its delicious street food, resounding culture, and dreamy countryside. It's small enough to travel and explore in manageable chunks, but also busy and cosmopolitan enough to stay active in a social scene if you want to.
The bustling Ho Chi Minh City and capital of Hanoi each offer distinct atmospheres that appeal to a variety of tastes. Smaller towns like Hoi An maintain their rustic charm, and the country is decorated with astonishing temples.
And Vietnam's natural scenery is simply off the charts! From the karst peaks of Halong Bay to the white-sand beaches of the Con Dao islands, the diversity of landscapes is among the best in Southeast Asia.
Also: lots of waterfalls! Come to Vietnam for the culture, for the food, for the festivals, and for the climate. It is almost always nice here.
Highlights in Vietnam
See the limestone pillars, emerald waters and tranquil islands of Halong Bay
Explore the rice terraces in Sa Pa and trek to Fansipan Mountain
the peaceful waters of the Mekong Delta
Cruise off the coast of Hoi An to the picturesque Cham Islands
Wander the depths of Hang Son Doong, the world's largest natural cave
Just to the northeast of the famous Halong Bay, explore the equally mesmerizing, less-crowded alternative of Bai Tu Long Bay
Spending in Vietnam
Vietnam has some of the cheapest and tastiest street food in Southeast Asia, with many meals only costing you $2-$3. Also, long-distance travel via bus or train provides incredible value.
Visa Situation: US Citizens can get an E Visa prior to arrival in Vietnam for stays up to 30 days.
RELATED: A Two Week Vietnam Itinerary: Beautiful Bays to Epic Mountain Tops
8. Thailand (My Personal Fav Cheapest Place to Live in The World)
So, if you've read anything else I've ever written, you probably already know how much I love Thailand. I have spent several years of my life here, working, living, traveling, you name it.
I had my own jungle home for $120 a month and a nice city apartment for $200… Local food is $1-$3. What else do you want for a cheap country to live in?
Traveling through Thailand is a rite of passage for backpackers meandering around Southeast Asia. Its tropical climate, mouthwatering street food, glistening beaches, and thriving ex-pat community have made it a hub for budget travelers.
Although popularity has exploded and the country's south is a bit pricier than in previous years, it remains one of the cheapest countries to live in the world. From its dense jungles to world-renowned dive sites and the bursting energy of Bangkok, visiting Thailand is an indescribable experience.
Highlights in Thailand
Experience the local culture by visiting the Damnoen Saduak Floating Market
Gaze at the majestic Chiang Rai White Temple
Have the ultimate diving trip in the Similan Islands
Explore the fertile landscapes of Khao Yai National Park
Sail through the pristine waters of the Phi Phi Islands
Wander the ruins of the ancient city of Ayutthaya
Spending in Thailand
Food is inexpensive in all regions of the country but expect accommodations to shoot up in price once you reach the southern areas and the islands. Local transport is super cheap, and intercity travel becomes pricier the more comfort you desire.
Visa Situation: US Citizens do not need a visa to enter Thailand and stay for up to 30 days.
RELATED:
Backpacking Thailand: The Only Guide You Need to Prep for Your Trip
An Adventurous Thailand Itinerary: 2 Weeks – 2 Months
How to Teach English Abroad in Thailand – Live and Work in Thailand!
How Much Does it Cost to Live in Thailand and Other FAQ
9. Philippines
Consisting of over 7,000 islands, get ready for some serious island hopping in the Philippines. This archipelagic nation is slowly creeping on the radars of travelers everywhere, and it's becoming one of the next hot destinations.
Drop-dead cheap living in one of the most beautiful places in the world, where almost everyone also speaks English? What could go wrong? Not much. After all, you could spend your days on the beach and munch away on delicious food.
Alternatively, you can hike up volcanoes and hit up an incredibly high-functioning and widespread public transportation system. I mean, I'm sure there's a downside to life in the Philippines, but I'm hard-pressed to figure out what it is.
Navigating the country can be a haphazard expedition at times, but the journey is half the reward. With its white-sand beaches, world-class diving, karst mountains, and rugged volcanoes, it's a paradise worth every penny.
It's pretty damn reasonable here. The most expensive thing is actually moving around since there are so many buses, boats, planes, and taxis that are needed to get anywhere across the 7,000+ islands. However, if you're just staying put and trying to live in a cheap country, the Philippines is it!
DISCLAIMER: The WiFi is shit, so digital nomads, this isn't a good country to work in, unfortunately. Speaking from experience.
Highlights in the Philippines
Swim in the crystalline waters of El Nido
Witness the underwater diversity of Tubbataha Reefs Natural Park
Capture a miraculous sunset on the island of Boracay
Kayak through the Puerto Princesa Underground River
Summit the majestic Mount Mayon volcano
Surf along with the fierce swells of Siargao
Spending in the Philippines
The main thing to factor into your budget is transportation since it can be rather challenging to reach different regions of the country. Accommodation prices are a bit higher than usual for Southeast Asia, but there are some real bargains if you find local guesthouses or even a shack.
Visa Situation: US Citizens do not need a visa to enter the Philippines and stay for up to 59 days.
RELATED:
A Guide to Backpacking the Philippines: Itinerary, Costs, Tips + More
A Two-Week Philippines Itinerary—Beaches to Mountains
10. Malaysia
Malaysia is typically not perceived as a backpacker haven, but there is a tremendous value, and you'll find one of the most developed nations in the region. Packed with verdant rainforests, booming skyscrapers, and vibrant coral reefs, Malaysia is a mishmash of technology and nature.
The islands like the Perhentians, can get a bit pricey, but overall, Malaysia is a pretty cheap place to visit and even live in! Willing to pay a few extra bucks? My friend rented a sick condo with a rooftop pool overlooking the city for around $700 a month.
If you eat cheap, which isn't hard to do here, you can still come in under $50/day!
It's summertime practically all year round, and the infrastructure continues to improve as more expats and tourists are discovering this tropical paradise. You can't go wrong dropping anchor here for a few days, weeks, or even months. Just don't plan your stay for monsoon season.
Trek through dense jungles, visit tea plantations and interact with a variety of communities in this cultural melting pot. From the bustling streets of Kuala Lumpur to the picturesque Perhentian Islands, don't miss out on all of Malaysia's grandeur.
Highlights in Malaysia
Visit the tea plantations and flower farms of the Cameron Highlands
Climb to the top of the Petronas Towers in Kuala Lumpur
Unwind on the white-sand beaches of Langkawi
Witness the cultural and architectural diversity of Georgetown
Summit Mount Kota Kinabalu
Trek through Taman Negara, one of the world's oldest rainforests
Spending in Malaysia
Local transport is efficient and affordable, while there are plenty of buses and trains connecting cities. Stick to street food since it's the least expensive and often the most delicious.
Visa Situation: US Citizens do not need a visa to enter Malaysia and can stay for up to 90 days.
RELATED: A Guide to Backpacking Malaysia: Itinerary, Tips, + Costs
Cheapest Countries in the World – Central Asia
11. Kyrgyzstan
Think Switzerland on a shoestring budget. That's the driving force for trekkers and thrill-seekers visiting this small Central Asian country. Unforgiving mountain ranges, alpine lakes, and an interesting nomadic culture create a world of discoveries.
Visa restrictions have loosened in this former USSR-controlled country, and the ancient history of the Silk Roads beckons new explorers.
Highlights in Kyrgyzstan
Experience the nomadic lifestyle by spending the night in a yurt
Visit the enormous Issyk Kul Lake, the second-largest mountain lake in the world
Go on a day trip to the soaring peaks of Ala Archa National Park
Reach Peak Lenin Base Camp, situated at over 7,000-meters
Embark on the trekking adventure of a lifetime through the Tian Shan Mountains
Observe eagle hunting which has been a part of Kyrgyzstan's culture for generations
Daily Spending in Kyrgyzstan
Hostels and local guesthouses are increasingly common, with many places under $10. Local minibus rides are a super affordable way to get around town, and intercity bus rides are a bargain. Except for a few areas, hiking in Kyrgyzstan is free, making it one of the cheapest countries in the world for trekkers.
Visa Situation: US Citizens do not need a visa to enter Kyrgyzstan and can stay for up to 90 days.
RELATED: 11 Ways to Get Free Accommodation While Traveling The World!
Cheapest Countries To Visit in the World – Caucasus
12. Georgia
The hidden gem of Europe, recently hitting The Lonely Planet's top ten list of countries not to be missed, Georgia is up and coming on the tourist and expat radar.
If you need a place to roam at a snail's pace, then this jewel of the Caucasus is calling your name. In addition to being one of the cheapest countries to visit, most travelers can stay visa-free for upwards of one year.
That gives you all the time in the world to explore the country's glorious mountains, bustling cities, rich culture, and delicious wine. Fall head over heels for the artsy vibes of Tbilisi, peaceful monasteries, or pebbly Black Sea beaches.
Highlights in Georgia
Explore the grassy hills and soaring peaks of Tusheti National Park
Head to Kazbegi for sensational vistas of snow-capped peaks
Taste wine in the land which the delectable drink was invented
Hike through the diverse landscapes of the Lagodekhi Nature Reserve
Relax on the shores of the beach resort town of Batumi
Take in the jaw-dropping scenery of the picturesque village of Ushguli
Daily Spending in Georgia
City transport is ultra-cheap, and hitchhiking is possible for long-distance travel if you're flexible. Lots of dorm beds cost around $10, and you can usually find local restaurants for meals at bargain prices.
Visa Situation: US Citizens do not need a visa to enter Georgia and can stay for up to 365 days.
13. Armenia
This small country offers an interesting blend of captivating history, rustic charm, and stellar landscapes. Travelers will discover the first European nation to make Christianity its official religion, one of the continent's oldest cuisines and tons of medieval architecture.
Armenia's mountainous terrain makes it a haven for adrenaline junkies any time of the year. After a day filled with excitement, you may even have the chance to enjoy dinner with hospitable locals inside their home.
Highlights in Armenia
Visit monasteries dating back well over a thousand years
Explore the shores of the sparkling Lake Sevan
Race down the slopes of the Tsaghkadzor Ski Resort
Admire the breathtaking views of Mount Ararat and learn its Biblical history
Ride the world's longest ropeway to the medieval Tatev Monastery
Daily Spending in Armenia
You won't find many hostels outside of the capital of Yerevan, but accommodations in rural areas are mostly basic. Outside of private taxis and marshrutkas, hitchhiking is the most common form of transport.
Visa Situation: US Citizens do not need a visa to enter Armenia and can stay for up to 180 days.
Cheapest Countries in the World – Eurasia
14. Turkey
Why don't more people talk about Turkey!? It is basically an Asian Greece. Right across the Mediterranean, Turkish beaches are remarkable, and the Turkish coffee is to die for. It is a country rich in history and in culture, with a killer food scene and a diverse population of people from all backgrounds.
It is quaint in some small villages, wild and untamed in its mountains, and highly advanced and innovative in cities like Istanbul. Add to all that its affordability, and of course it's on this list.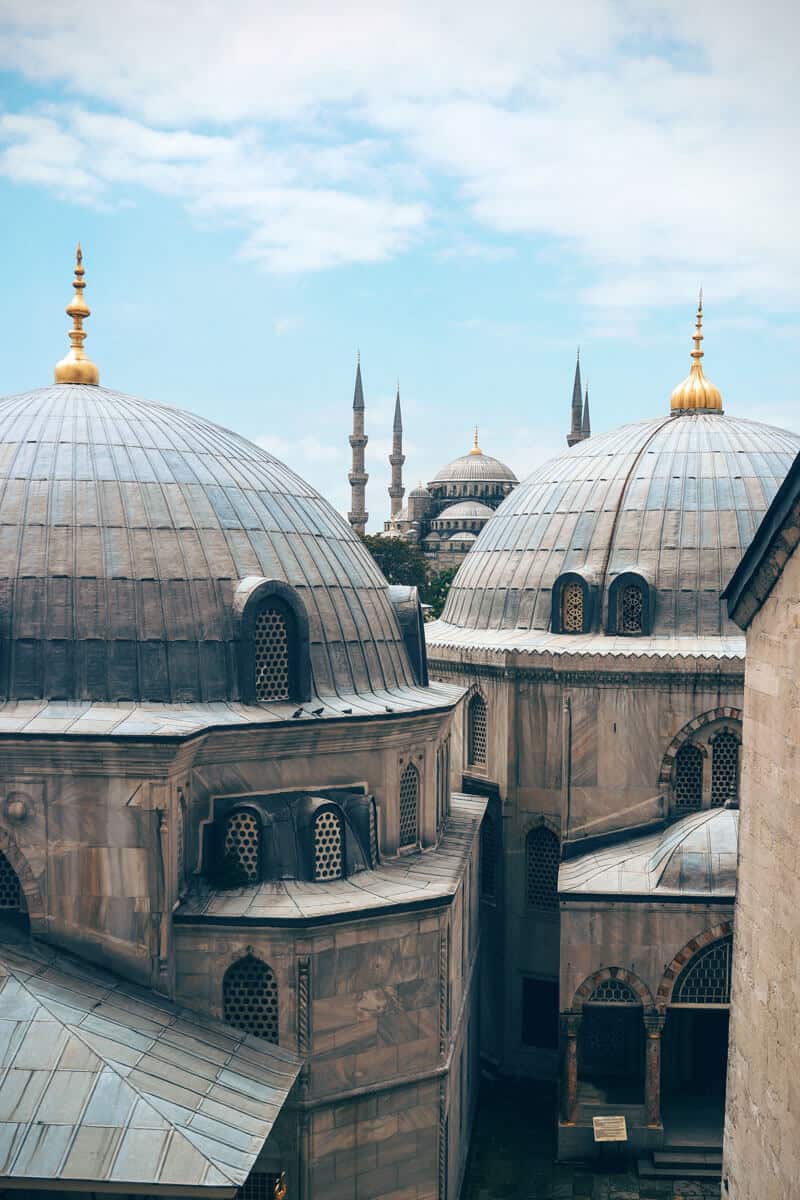 Highlights in Turkey
Wander through the ancient cities of Antalya
Drinking your body weight in Turkish coffee
Meander Istanbul's Grand Bazaar
Cruise the southwest coast
Take a hot air balloon ride over Kapadokya
Spending in Turkey
Visa Situation: US Citizens can get an E Visa prior to arrival for a stay up to 90 days.
RELATED: A 2-Day Antalya Itinerary For Budget Travelers (Turkey)
Cheapest Countries in the World – The Balkans
15. Albania
Very few people realize that Albania is a country on the Mediterranean Sea, just across the Adriatic from Italy, and cozied up to Greece, filled with glorious beaches and a thriving nightlife in the bustling city of Tirana.
Albania remains one of the last undiscovered gems of Europe, and it packs a punch with its untouched landscapes and historic sites. From the sprawling capital of Tirana to the intimidating Accursed Mountains, there is an adventure for all interests.
This small Balkan country is one of the cheapest countries in the world for a peaceful beach retreat. On the list of European countries to stop and stay awhile, Albania is a must.
Highlights in Albania
Relax on the picturesque beaches of the Albanian Riviera
Become mesmerized by the surreal waters of the Blue Eye
Explore the ancient ruins of Butrint National Park
Summit some of the tallest peaks on the Balkan Peninsula in the Albanian Alps
Admire the Ottoman architecture of the UNESCO city of Gjirokastra
Drive down one of the world's most spectacular drives through the Llogara Pass
Spending in Albania
Food is reasonably inexpensive, with many filling meals costing $15 or less, and most dorm beds will be priced under $15. Prepare to splurge slightly on activities since the country is filled with fascinating archaeological sites.
Visa Situation: US Citizens do not need a visa to enter Albania and can stay for up to 365 days.
16. Bosnia & Herzegovina
Despite the Balkans receiving more attention than ever from tourists, Bosnia & Herzegovina remains one of the most underrated gems of the region. And that's truly a shame considering its cultural diversity, untouched natural scenery, and charming villages.
Since it's one of the cheapest countries to visit in Europe, a trip to Bosnia & Herzegovina might be the continent's greatest bargain.
You'll find mosques, churches, and synagogues standing side by side in its cities, and its tranquil countryside is an escape from the modern world. For nature lovers, turquoise rivers, rugged mountains, and cascading waterfalls make this a heavenly destination to discover.
Highlights in Bosnia
Explore the enchanting waterfalls of Una National Park
Wander the streets of Sarajevo and learn its captivating history
Go whitewater rafting through the crystal-clear waters of the Neretva River
Walk across Stari Most in the dreamy Mostar Old Town
Race down the slopes of the Jahorina ski resort
Traverse the alluring Vjetrenica cave in the Dinaric Alps
Spending in Bosnia
You'll find plenty of local eateries with filling meals for under $5, and dorm beds are affordable across the country. Local transport shouldn't cost more than $1-$2 for a one-way ticket, and you won't have to take many long-distance routes to explore the country.
Visa Situation: US Citizens do not need a visa to enter Bosnia & Herzegovina and can stay for up to 90 days.
RELATED: Things to Do in Bosnia: 5 Experiences You Shouldn't Miss
17. Bulgaria
Bulgaria is a laid back, and very affordable Balkan nation with a huge population of expats from the UK. The country is rich in its diversity of people while also staying true to its roots. You could prop yourself up on your digital nomad income either on the beautiful black sea beaches or in the busy city of Sofia.
If you're up for a melting pot of natural terrain and intriguing cultures, then Bulgaria has lots to offer. Lying on the shores of the Black Sea, Bulgaria is a splendid place to begin a Balkan adventure. From its striking beach resorts to the rugged Pirin Mountains, nature lovers will not be disappointed.
The nation's capital of Sofia has an ancient history, and the delightful town of Veliko Tarnovo is decorated with quaint cafes and historic castles. With Slavic, Thracian, Bulgar, Greek, and Turkish influences, it's a country with an identity all its own.
Highlights in Bulgaria
Go trekking in the Rila Mountains, the highest mountain range in the Balkans
Visit the archaeological sites of Plovdiv
Relax on the sandy beaches of the Bulgarian Black Sea Coast
Have a snowy adventure at Bansko ski resort
Wander the peaceful Rila Monastery
Hike through the limestone cliffs of Emen Canyon
Spending in Bulgaria
Groceries are cheap, and you'll find plenty of dorm beds in the $10-$15 range. Many activities are free or inexpensive but limit intercity travel to avoid pushing your budget to the max.
Monthly Spending
Visa Situation: US Citizens do not need a visa to enter Bulgaria and can stay for up to 90 days.
18. Romania
In far Eastern Europe, situated on the Black Sea, you'll find the broad sweeping landscape of wild outdoors and ancient temples and castles of Romania.
Medieval towns, vampires, and the wild Carpathian Mountains highlight this overlooked European country. Traveling through Romania is like being sucked through a time portal and sent back into the Middle Ages.
Historic castles, walled cities, and untouched wilderness gives the country a unique aura you're unlikely to find elsewhere on the continent.
The people are friendly, the food and wine are cheap, and the internet is fast. It is a digital nomad paradise. You can hike up into the deep dark woods of Transylvania or bask in the sun on the shimmering sea. Or both.
Between mind-blowing Transylvania, charming villages, and heartfelt locals, Romania has much to offer budget travelers.
Highlights in Romania
Summit Mount Tampa with a scenic view overlooking the city of Brasov
Cruise through the Danube Delta
Walk through the medieval streets of Sighișoara
Hear the legends of Dracula at Bran Castle
Lace up your hiking boots and go trekking in the Carpathian Mountains
Explore the picturesque village of Măgura
Spending in Romania
There is a wide range of dorm bed prices, so it's worth taking the time to scope out deals. Local meals may be a bit pricier but are nourishing and worth every penny.
Visa Situation: US Citizens do not need a visa to enter Romania and stay for up to 90 days.
RELATED:
Finding the Beauty in the Beast – Bucharest, Romania
Things to Do in Transylvania, Romania (It's Not Just About Dracula)
19. Montenegro
A new favorite spot for expats, Montenegro is new on the list of independent countries. Since its departure from Serbia just a little over a decade ago, Montenegro has really come into its own.
Foreigners are buying up beachfront real estate on the Adriatic Sea, and tourists are hitting the slopes of the lovely mountains inland. You'll have all the comforts of a modernized, developed region, with the freshness of a brand-new country.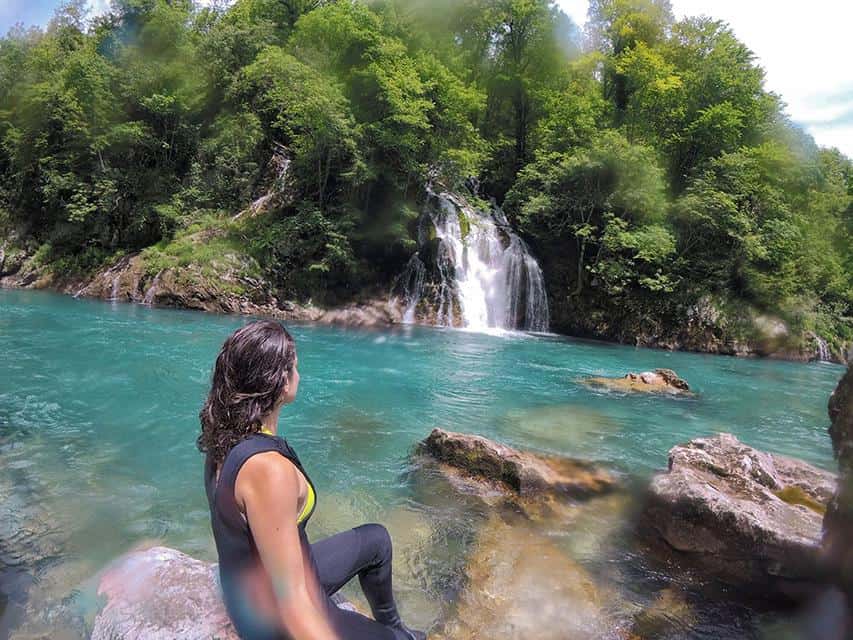 I paid only $22 a night for a sea view apartment for myself in Ulcinj… (remember, it would have been cheaper if I stayed a full month!)
A seafood feast with a glass of wine on the water was only $10…
I love you, Montenegro!
Highlights in Montenegro
Take a scenic drive around Lake Skadar
Go white water rafting along Tara River Canyon
Wander around Kotor's Old Town
Kayak on the Bay of Kotor
Beach bum it in Ulcinj
Spending in Montenegro
If you stay in a hostel, cook some meals, and do some low-budget activities, Montenegro easily fits into the budget category – especially for Europe!
Visa Situation: US Citizens do not need a visa to enter Montenegro and can stay for up to 90 days.
RELATED: Things To Do in Montenegro: An Awesome One-Week Montenegro Itinerary
Cheapest Countries in the World – Europe
20. Poland
For many expats, digital nomads, and regular old travelers wandering the earth, Poland is a draw for its Slavic roots. It has really long winters, up to six months sometimes, and super small accommodations, but the people are friendly, the cities are thriving, and the cost of living is affordable by European standards.
If you're interested in this particular region of Europe, it could be a great starting point as you make your way to your through the much more expensive places like France and England and on to your next affordable living quarters in Portugal, Greece, or even Morocco.
Highlights in Poland
Wander through Bialowieza National Park
Visit Auschwitz Museum & Memorial
Explore Warsaw's Old Town
Go for a hike in the Tatra Mountains
Experience the underrated town of Wroclaw
Spending in Poland
If you like to drink when you travel (I'm not judging!) Poland is a great spot for cheap brews. Dorm accommodation is also pretty affordable, and there are plenty of free activities to help keep costs down.
Visa Situation: US Citizens do not need a visa to enter Poland and can stay for up to 90 days.
21. Czech Republic
The Czech Republic is one of those terribly underappreciated European countries that gets left as an afterthought for many tourists and expats. Which can be to your benefit!
This low key, laid back, super accepting country remains relatively low in terms of cost of living while still being a hip and modern, forward-thinking, developed country. So "Czech" it out! (Sorry)
Highlights in the Czech Republic
Drink a Pilsner in Pilsen
Camp at Šumava National Park
Wander through Prague's medieval streets
Explore hundreds of castles around the country
Tour the "haunted" chapel in Kutna Hora (The Sedlec Ossuary)
Spending in the Czech Republic
You'll definitely get some bang for your buck here in the Czech Republic! I also think it's imperative to let you know beers are like $2 here as well.
Visa Situation: US Citizens do not need a visa to enter the Czech Republic and can stay for up to 90 days.
RELATED:
Everything You Need to Know About Teaching English in Prague, Czech Republic
Travels in Bohemia: Visit The Czech Republic
22. Croatia
With stunning palaces, Gothic churches, beaches on the Mediterranean, and so much more, Croatia is being dubbed "The New Tuscany" by many who are buying luxury properties in the country.
Yet because it is still a fairly new and developing country, having just gained its independence in 1991, it remains affordable and expat-friendly. You'll feel right at home if you love the sun and abundant nature as well as a wealth of art and music festivals. Very much for the Bohemian-minded among us.
Highlights in Croatia
Chase waterfalls at Plitvice Lakes National Park
Visit the white-washed town of Split
Go ziplining in Omis
Hit up a crystal-clear Croatian beach
Explore the ancient coliseum in Pula
Spending in Croatia
Depending on where you are, you can definitely spend a bit more in Croatia, compared to some other Eastern European countries, namely Dubrovnik, but overall it's still a pretty darn affordable country.
Visa Situation: US Citizens do not need a visa to enter Croatia and can stay for up to 90 days.
RELATED:
Architecture to Adventure: An Epic One-Week Road Trip Croatia Itinerary
Beaches to Beast Mode: Adventure Day Trips from Split, Croatia
13 Dubrovnik Tours & Day Trips to Make the Most of Your Visit (Croatia)
23. Greece
I don't actually have to give you a list of reasons to go to Greece for a bit, do I? I mean, aside from the islands, the beaches, the nightlife, the culture, the ancient history (it is, after all, the seat of Western Civilization), and so much more, it's also super chill, it's safe, and the food is freaking awesome.
There, I gave you the list after all.
Highlights in Greece
Explore the ancient ruins in Athens
Soak up the sun in Corfu
Hike the Samaria Gorge
Do some wine tasting
Get out to some islands! You can't come all the way to Greece without experiencing some island life
Spending in Greece
Greece is known for its AMAZING food, and luckily, it's also pretty cheap, so you won't have to skimp much in that area. Accommodation can be a bit spendy, but there are definitely budget options available if you look.
Avoid the peak season, do some free activities, and you should be able to stick to a conservative budget!
Visa Situation: US Citizens do not need a visa to enter Greece and can stay for up to 90 days.
24. Portugal (Not The Absolute Cheapest Place to Live in The World, But My Fav in Europe!)
A rich, vibrant culture, with walkable, albeit hilly, city streets, Portugal is easily the most affordable and fun-loving city in Europe proper.
It also has a wide variety of expatriates from other countries, so you'll find lots of English spilling out into the streets and nightlife that will keep you as entertained as you want to be.
You get beaches and colonial towns, history and culture, and, of course, food! So much good fresh food. If living in Europe affordably with a busy international airport nearby is a priority for you, Portugal is your next home.
This is one of my favorite cheap countries to live in. Garrett and I are partial to Sagres, a small and quiet surf town. We've lived here numerous times and we actually spent very little!
Our Airbnb was a shared house (something we usually don't do but an "entire home" is much more expensive here), and our host is now one of our best friends AND she had two dogs for me to cuddle with every night, so this place was a winner for me already.
Take into account we only paid $550 for five weeks of accommodation, were 10 minutes from three beaches, our rental car only cost us $200 for a month, we ate VERY well, and of course, got doggie cuddle every night—Yeah, we love it here!
Highlights in Portugal
Surf in Sagres
Kayak to Benagil Cave
Indulge in Portuguese pastries
Wander the historic streets of Coimbra
Hike the scenic trails in the Algarve
Spending in Portugal
Accommodation in Portugal is pretty affordable (especially compared to other European countries), as is food and transportation. There are also soooo many free activities if you want to keep costs low – hiking and beach bumming are my favs!
Visa Situation: US Citizens do not need a visa to enter Portugal and stay for up to 90 days.
RELATED:
A Perfect 3-7 Day Algarve Itinerary: Hike, Surf + Beach Bum! (Portugal)
Best Towns in The Algarve and Where to Stay (Portugal)
11 Adventurous Algarve Tours Worth Taking (Portugal)
9 Captivating Things To Do in Carvoeiro, Portugal
Cheapest Countries in the World – Latin America
25. Mexico (Another Cheap Place to Live in The World That I Can Vouch For)
Right on the backdoor of the United States, Mexico is one of the cheapest places to visit for an exciting adventure to discover a whole other culture. Cuisine infused with intense flavors, heart-warming hospitality, and colorful colonial towns captivates the hearts and souls of its visitors.
More than one million US citizens currently live in Mexico. Many are retirees looking to get more bang out of their pension. Many are digital nomads who can stretch their online income. Mexico is probably one of the easiest countries to relocate to as it is the closest, and it is super American-friendly.
It is also a giant country with dozens of gorgeous colonial towns and stunning beaches.
Thanks to its immense size, you'll find a country equally as rich in jaw-dropping natural scenery. Explore snow-capped volcanoes, pristine beaches, crystalline lakes, and tropical rainforests during your journey.
Check out Tulum in the Riviera Maya or San Miguel de Allende for the quaint yet cosmopolitan. Don't be surprised when you run into handfuls of fellow American expats.
Even in Mexico City, the Airbnb we rented was in the happening Roma Norte area and was under $600 for the month! Guys, that leaves you with a $400 taco budget… What more do you want?
Safety Precaution: Avoid border towns where you could encounter smuggling, corruption, and the high crime typical of any area with a large income inequality problem.
Highlights in Mexico
Kayak through the shimmering waters of Laguna Bacalar
Summit the mighty Pico de Orizaba, one of North America's highest peaks
Take a dip in the mesmerizing cenotes on the Yucatan Peninsula
Discover Mexico's foodie capital of Oaxaca
Get a dramatic bird's eye view of the jungle atop the Ek Balam Mayan ruins
Kayak in the Sea of Cortez to spot its diverse marine life
Spending in Mexico
Food is inexpensive throughout the country if you stick to local markets and cook your own meals. Accommodations will be pricier in touristy areas such as the Yucatan. Your transportation budget will largely depend on how much of the country you wish to see. I actually have a full on cost of living in Mexico article that spans 16 cities across the country.
Visa Situation: US Citizens do not need a visa to enter Mexico and can stay for up to 180 days.
RELATED:
A 3-Day Mexico City Itinerary: Boats, Pyramids, Churros, & Squirrels?
A 2 Week Mexico Itinerary for Beach and Mountain Lovers
Cost of Living in Mexico: 16 Top Destinations!
26. Guatemala
Costa Rica is the star of Central America, but Guatemala has plenty of sensational sights to brag about. With a much lower price tag, Guatemala is one of the cheapest places to visit for an unforgettable thrill ride.
Ancient Mayan ruins, smoldering volcanoes, and tropical rainforests dot the landscape and cities ooze colonial charm. It's rich culture and calm atmosphere help you amble at a slower pace to enjoy the natural splendor everywhere you turn.
Highlights in Guatemala
Explore the Mayan ruins of Tikal
Waltz through the colorful streets of Antigua
Head to Lake Atitlán and gaze at its surrounding volcanoes
Marvel at the impressive geologic formations of the Lanquín Caves
Swim in the turquoise blue pools of Semuc Champey
Spending in Guatemala
Locals use the chicken buses to get around and they are the cheapest form of transportation. Stick to local restaurants, and you can easily find two-course meals for under $10.
Visa Situation: US Citizens do not need a visa to enter Guatemala and can stay for up to 90 days.
RELATED:
Your Perfect Guatemala Itinerary: 1-3 Weeks + Tips!
17 Adventurous Things To Do in Guatemala + Tips For Your Visit!
27. Nicaragua
Nicaragua is a nature lover's paradise and one of the cheapest countries in the world to boot. Go surfing, hike a volcano, or simply lounge on the beach to enjoy the country's picturesque scenery.
To the south, the charming city of Granada is filled with colonial architecture, and you're still on the doGuatemalalets and volcanoes. Note that this country does have safety concerns, and it's important to judge wisely when timing your trip.
Highlights in Nicaragua
Drive to the crater of the Masaya Volcano
Sail to the island of Ometepe inside Lake Nicaragua
Hike through the dense forests of Miraflores
Hang ten in the surf haven of Playa Maderas
Board down the steep slopes of Cerro Negro Volcano
Spending in Nicaragua
You'll usually find street food for only a couple of bucks, and transport between cities is normally around $3-$4. Most activities are cheap, but make sure to shop around with lots of options.
Visa Situation: US Citizens do not need a visa to enter Guatemala and can stay for up to 90 days
28. Costa Rica
The Switzerland of Latin America, Costa Rica is a peace-loving, stable, still developing country in Central America. It's beautiful, it's fun, it has a huge expat community, and it is definitely on the higher end of the $50/day list in Latin America, and for a good reason.
This is one of those times that "you get what you pay for" is certainly true.
Be prepared for a way laid back, slowed down life here filled with tropical animals, tropical bugs, and world-class beaches and restaurants. If that sounds like your cup of cafe, drink up.
Highlights in Costa Rica
Explore Cahuita National Park
Go canyoning, caving, or rafting (or all 3!) in Arenal
Visit the Cloud Forest Reserve in Monteverde
Surf in Puerto Viejo
Spending in Costa Rica
Costa Rica may feel expensive for Central America, but we're still under the $50 per day here, people! Activities can be affordable but will add up. It's definitely cheaper the longer you stay—of course!
Visa Situation: US Citizens do not need a visa to enter Costa Rica and can stay for up to 90 days. Be sure to have a return ticket.
READ MORE:
Backpacking Costa Rica: Your Complete Guide!
Costa Rica Digital Nomad Guide
All Costa Rica Guides
29. Panama
So close to home at the very southern tip of Central America! Panama is set on the stunning Caribbean Sea, is a small, safe, stable country, and it welcomes not only the US dollar but also US expats.
It has a growing US expat community of over 25,000. You'll find plenty of warm and welcoming locals as well as fellow world travelers / digital nomads looking for the good life without losing all their dollars.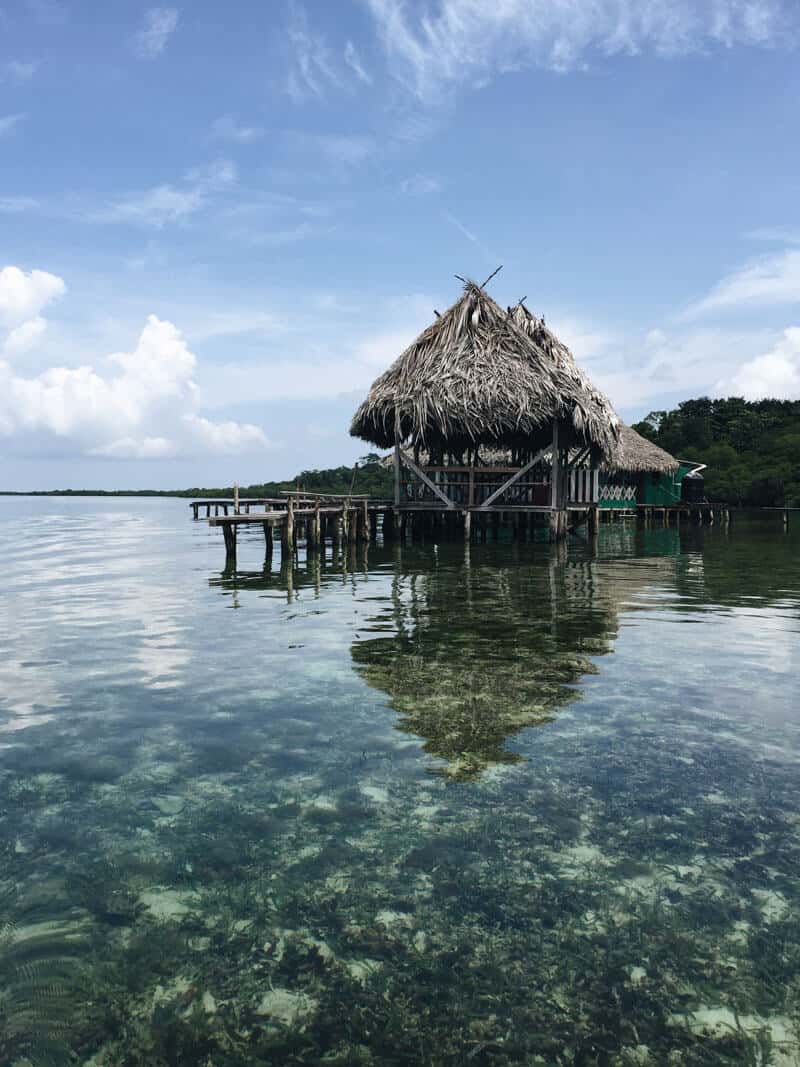 Highlights in Panama
Lay eyes on the Panama Candal
Beach bum in Bocas del Toro
Tour a coffee plantation in the Chiriquí Highlands
Hike through the rainforest at Parque Metropolitano in the city center
Spending in Panama
This is another one of those Central American countries that feels a bit expensive, but the standard of living is quite high, so you won't ever really feel like you're overpaying.
Visa Situation: US Citizens do not need a visa to enter Panama and can stay for up to 180 days.
RELATED: The Longest Tourist Visas for U.S.A. Citizens, How to Extend Visas & More
30. Colombia
Colombia may have a dark past, but the colorful country is emerging from the ominous clouds of the drug cartels. The country is now full of life, and its welcoming locals are some of the most resilient in South America.
From its idyllic beaches to the lush Amazon rainforest, Colombia is brimming with natural scenery. And don't miss the chance to experience its thriving coffee scene.
Highlights in Colombia
Marvel at the creative street art in Medellin
Explore the coffee triangle and tour a family-owned coffee farm
Unwind at the tropical paradise of Tayrona National Natural Park
Trek through the jungles and discover the lost city of Ciudad Perdida
Witness a flowing rainbow of colors at Caño Cristales
Scuba dive and whale watch on the Pacific coast of Choco
Spending in Colombia
Colombian cuisine is filling, and local restaurants offer affordable meals. Local transport is cheap, but be prepared to shell out a little more for intercity transportation.
Visa Situation: US Citizens do not need a visa to enter Colombia and can stay for up to 90 days in a 180-day period.
RELATED:
7 Cool Medellin Tours and Day Trips That Are Actually Worth It (Colombia)
2-Week Colombia Itinerary: Exploring the Andean Coffee Region
5 Things to Do in Salento, Colombia That Aren't Cocora Valley
31. Ecuador (My Fav Cheap Country to Live in and SURF!)
High quality of life and low cost of living in a Latin American country with relatively low crime rates and a small-town feel? Just a four-hour plane ride from Miami? Sign me up! There's also a nice healthy expat community, internet cafes in abundance, and a wide variety of rich and delicious food.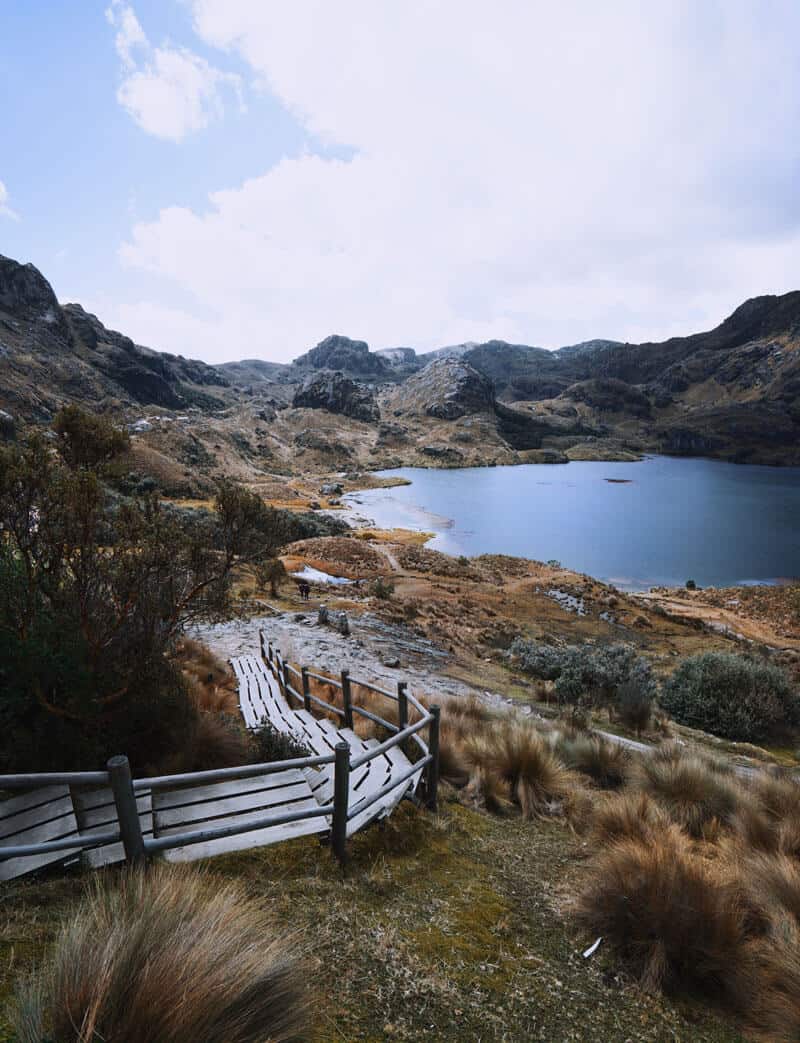 Highlights in Ecuador
Hike through Cajas National Park
Take a free walking tour through Quito
Climb to the base of a volcano in Cotopaxi
Relax in the hot springs in Baños
Get lost in the Secret Garden in Cotopaxi
Spending in Ecuador
Accommodation is pretty cheap in Ecuador, and so is food if you stick to local spots.
Visa Situation: US Citizens do not need a visa to enter Ecuador and can stay for up to 90 days.
RELATED: Things to Do in Ecuador: An Adventurous 7-Day Itinerary
32. Peru
Peru will offer you sky-scraping mountains, warm windswept beaches, and walkable metropolitan cities. It's modern, it's lively, and it's steeped in history.
And on top of it all, it's super laid back and affordable. This is the place to throw on your tank top and your flip flops, strap on your backpack and just spend your time wandering.
Highlights in Peru
Hike the famed Inca Trail to Machu Picchu
Discover the colonial city of Cusco
See penguins in Paracas ("the poor man's Galapagos)
Secure your chance to visit the Amazon Rainforest in Iquitos
Spending in Peru
Peruvian food varies a lot by region, but you can almost always bet on finding some tasty and cheap street food to keep costs low and your belly full.
Visa Situation: US Citizens are approved for a time up to 180 days upon entry. Extensions are not typically granted.
RELATED: 11 Ways to Get Free Accommodation While Traveling The World!
33. Bolivia
Traveling through Bolivia will not appease those searching for comfort, but that's why this Andean country frequently tops the list of cheapest countries to visit in South America. Its dramatic landscapes, intriguing culture, and death-defying adventures are a roller coaster from day one.
The country is packed with exotic wildlife and its archaeological sites rival those of its neighbors. Not to mention, the customs of its indigenous population have been preserved for generations, and you'll witness many locals in traditional attire.
Highlights in Bolivia
Cycle down the exhilarating 'Death Road'
Go on a jungle safari through Madidi National Park
Take in the splendor of the Salar de Uyuni Salt Flats
Admire the alien-like landscapes of the Reserva Eduardo Avaroa
Explore the snow-capped peaks and soothing hot springs of Sajama National Park
Sandboard in Lomas de Arena
Spending in Bolivia
Meals are incredibly affordable when you stick to the local restaurants, and you'll save by booking accommodations in person. Long-distance trips are not costly but be prepared for some windy, bumpy journeys.
Visa Situation: US Citizens will need a travel visa to enter Bolivia and can stay for up to 30 days. Extensions are available once inside the country.
34. Argentina
One country that's not typically found on cheap travel lists is Argentina. But with a struggling economy, this cosmopolitan South American nation has become one of the best values on the continent (for the moment). You may want to jump on this one quickly before prices shoot back up to normal.
Spend some time in its booming capital of Buenos Aires, which has a glamorous European vibe. The north of the country is home to one of the world's greatest waterfalls, and you'll reach the ends of the Earth exploring Patagonia. Argentina won't be one of the cheapest countries to visit for long, so this is a temporary bargain.
Highlights in Argentina
Marvel at the sheer beauty of Iguazú Falls
Explore the barrios of Buenos Aires
Journey to Ushuaia, the world's southernmost city
Gaze at spired cathedrals and glacial lakes in the Lake District
Behold the massive Perito Moreno Glacier
Sip on wines from the world-famous Mendoza wine region
Spending in Argentina
In general, prices for food and accommodations are lower than usual but can fluctuate due to the unstable economy. Factor in long bus rides to your daily transport costs, but overnight buses can help you save on lodging costs.
Visa Situation: US Citizens do not need a travel visa to enter Argentina and can stay for up to 90 days.
35. Chile
Chile is the first world wonder of Latin America. Low corruption, a strong economy, and a happy, healthy population in general. It also has four seasons and an old-world feel with new-world accommodations like fast internet and far-reaching mobile service. And, it's almost all beach!
The entirety of Chile runs along the Southern Pacific Ocean. Obviously, for all of this, you'll pay a little bit more, and even more than a little bit in the big city of Santiago.
But, you can still live a totally awesome lifestyle on the outskirts of the metropolitan areas and ride into town using the great public transportation system.
Highlights in Chile
Explore the vibrant capital city of Santiago
Go sandboarding in Valle de la Muerte
Visit the hidden gem of Frutillar in Chile's Los Lagos region
Camp in the spectacular Torres del Paine National Park
Spending in Chile
Your most expensive cost in Chile will likely be activities – there's just so much cool stuff to do here! Also note that the further south you go, the more expensive things tend to be, especially food.
Visa Situation: US Citizens do not need a visa to enter Chile and can stay for up to 90 days.
Cheapest Countries in the World – Africa
36. Egypt
Egypt holds a special place in the hearts of curious history buffs hoping to discover the secrets of its ancient people. Unfortunately, the past decade has not been the prettiest for travel to Egypt. Political upheaval and violence deterred visitors for several years, but tourism is on the rise again.
With its collection of temples and tombs, the legendary Nile River, befuddling deserts, and delicious cuisine, Egypt should be high on any bucket list.
Highlights in Egypt
Stand in awe of the gargantuan guards outside Abu Simbel
Sail the Nile on a felucca in the relaxed town of Aswan
Check out the bizarre landscapes of the White Desert
Visit St. Catherine's Monastery and hike Mount Sinai
Wander the chaotic streets of Cairo
Scuba diving in the Red Sea
Spending in Egypt
Taxis are a common way to get around the cities but watch out for scams. Activities will likely be your biggest splurge, especially for history buffs. Inquire about a travel pass to save funds on attractions.
Visa Situation: US citizens must have a visa to enter Egypt. You can purchase a tourist visa when you enter the country and stay for up to 30 days.
37. Rwanda
Rwanda may have burst onto the tourist scene for its luxury lodges and mountain gorilla trekking, but it's possible to see it on a budget with a smart game plan. The country is easy to navigate and remains one of the cheapest countries in the world when avoiding high-end options.
Explore verdant rainforests, sparkling lakes, towering volcanoes, and gorgeous wildlife in "The Land of a Thousand Hills."
Highlights in Rwanda
Explore the hiking trails of Nyungwe Forest National Park
Unwind at Lake Kivu surrounded by palm trees and forested mountains
Roam the bustling streets of Kigali
Witness the reforestation efforts of the Gishwati Forest
Bike through the scenic Congo Nile Trail
Spending in Rwanda
There aren't many hostels, but the ones available are inexpensive. Camping is a popular alternative, and campsites are affordable. Street food isn't much of a thing, but local restaurants offer filling meals for just a few bucks.
Visa Situation: A tourist visa is required for US citizens entering Rwanda. Visas allow you to stay for up to 30 days and can be purchased upon arrival.
38. Morocco (Another Cheap Country I Lived in!)
Why go to Morocco? Hello?! It's one of the most visually and sensory stunning locations on the globe, with wildly untamed sand dunes and crashing surf and sea, all contained in an ancient country with thousands of years of history in its walls.
With its proximity to Europe, Morocco is the easiest gateway into Africa for many travelers. Don't let the close distance to Europe fool you though, this country has a culture all its own and feels like a whole other world.
A stay in Morocco is an opportunity to live among a modern Muslim population that is welcoming to Western visitors, a chance to check your privilege at the border, and an opportunity to practice your French!
It's hot, it's muggy, and the bells toll constantly for prayer, but it's also dreamy, romantic, and exotic in ways that few other countries are.
We paid $470 for five weeks in a great apartment with an ocean view and the surf just a few minute's walking distance away… Oh, and our surfboard and wetsuit rentals were only $7 per person for the entire day!
Markets are bursting with energy, and its bustling cities tantalize your senses, unlike any other country. Complete with the immense Sahara Desert, snow-capped mountains, and one of Africa's top surfing scenes, a journey to Morocco is one you won't soon forget.
Highlights in Morocco
Trek through the rugged High Atlas Mountains
Go on a desert safari through the vast Sahara
Explore the dreamy blue city of Chefchaouen
Unwind in an authentic hammam
Get lost in the eye-opening Marrakesh Medina
Trek through the fertile fields encompassing the Rif Mountains
Spending in Morocco
Local transportation is cheap, but it can be challenging to figure out. Also, consider buying a rail pass if you plan on traveling by train a lot. Stick to dorm beds instead of riads, and your housing expenses will stay low.
Visa Situation: US Citizens do not require a visa for entry and can stay fro up to 90 days.
RELATED:
A Magical Morocco Itinerary for 1, 2, or 3 Weeks: Backpackers Guide
53 Awesome Things to Do in Morocco That'll Make You Pack Your Bags Now
How Much Does It Cost to Travel Morocco
45 Essential Morocco Tips You Need for Your Trip
Cheapest Countries in the World – Caribbean
39. Grenada
Ah! The Caribbean islands. Who wouldn't want to chill and hang out on a warm Caribbean island for the rest of their lives? The thing about island life, though, is that quite often you have to either live a very basic life or you have to have a lot of money.
There's not much in between. There are, of course, always exceptions.
Of all the Caribbean islands, Grenada is one of the least visited by tourists, likely because of the rarity of large and glamorous resorts. But that's what makes it great! It's just a chill island that grows a lot of its own food resources, so the food is fresh, awesome, and cheap.
Settle in or near Grand Anse Beach or St. George's, the major city centers, and you'll be set with all the creature comforts you need to live a lovely island life where English is the national language, crime is low, and Americans are welcomed.
Highlights in Grenada
Dive at colorful coral reefs and underwater sculpture parks
Explore the old city in historic St. George
Beach bum at the sandy shores of Carriacou
Trek through jungles as you hunt for waterfalls in Grand Etang National Park
Spending in Grenada
Grenada is one of the more expensive spots to travel on this list, but if you stick to free activities like beach bumming and wandering the old city, it is possible to budget travel here!
Visa Situation: US citizens do not need a visa to enter Grenada and stay for up to 90 days, but you must have proof of departure.
Tips for Traveling to the World's Cheapest Countries
Save money before taking off (duh) but save more than you think. Just because it's cheap in some of these spots doesn't mean you can amble over with just enough cash. Bring extra, there's no one on earth who will be upset coming home with money. But caught out in another country without enough cash? You're in trouble.
Look up the scams and safety tips in the country so you'll avoid parting with money quicker than you think.
Traveling in the shoulder season will afford you more for less, and there will be fewer people. Win-win!
Scroll back up and click my guides for more specific info on each country!
Tips for Living in the World's Cheapest Countries
OK fine, you can use these tips in any country really!
I book places out for a month. I often get a significant discount for doing this. Also, homes and apartments come with a kitchen which helps me keep costs down. Also, did you know you can get FREE accommodation?
I also find places to stay for a month by asking locals and walking around. You can find SUPER cheap places this way too.
As mentioned above, I love to cook, I cook to keep costs down. Breakfast is one of the ultimate wallet-savers! Instead of shelling out $5-$15 every morning, I COOK. Eggs and toast can be made by a monkey and costs a couple of bucks at most to make at home.
I walk! Luckily, pretty much every place listed has towns and cities that are walkable. Use those legs! Also, if public transport is cheap, use it! Taxis can be rip-offs and use them only if you need to.
When thinking about the cheapest countries to live in, think about how a regular person lives, and live like that. A regular person doesn't travel 50% of the month, a regular person doesn't eat out every day, and they surely don't drink every night either. This is NOT a vacation, this is you LIVING in another country. This "I'm not on vacation, I'm living a normal life" mindset will help you keep costs down.
Be sure to double-check visa requirements before your trip. I've outlined the basics, but there's always some reading between the lines you'll need to do yourself.
Oh and don't forget to bring some extra cash for more FUN. I hope nobody is thinking, "What the hell is this girl thinking?! I want to live in the cheapest places in the world because I want to experience them! This list is shit."
This isn't the point. The point of this post is to show you the cheapest countries to live in and how much you need to literally have shelter, get around, eat, and maybe have a few beers… Just "normal life" stuff.
If you can keep living costs under $1.5k, imagine what you could do with $2k a month! And $2k a month is a pretty decent budget!
An extra $500 can go towards a rental car for the month, a few fancy dinners, some cool excursions, maybe some souvenirs for your friends and family (JK, spend it all on yourself.), and whatever else you want.
I have a feeling I'm going to get some people here denying the numbers, saying this is impossible, this isn't "living" this is barely surviving, and overall being super negative. Hey, not everything is for everyone.
But I'm here to tell you it's possible to live in these places for less than $50 a day. Will you be getting massages every day, getting fanned with a palm frond, and eating lobster every day? Hell no.
But you'll LIVE. Like a regular person, which is what these numbers are for. Just a regular person's life…which is what I do when I'm abroad more than half of the time anyway. It may seem like I'm always traveling – but I'm not! I'm just trying to live my regular life but in another country. 🙂
Take this info, let the wheels turn, and figure out the cheapest countries to visit or live in that are on the top of your list. Save money, maybe work abroad or remotely, travel, enjoy life, and have fun!
Which of these cheapest countries in the world is calling your name? Let us know in the comments!