When thinking about your upcoming travels, we really hope you consider these cheapest countries to visit in mind.
Traveling DOESN'T have to be that expensive, and there is plenty of ways to cut down the costs of your trip. The first step to cutting costs down is choosing a cheaper country to begin with, and that's what I can help you with.
While many of these spots may not come as a huge surprise, I'm sure you'll find some places that you didn't expect to be on this list! I've visited most of these cheap countries on the list, and it's possible to visit most of them for around $40 a day or less!
Don't lose this! Click to pin it now.
27 of The Cheapest Countries to Visit in The World
---
Before we even get into talking about prices for the cheapest countries to visit, there are a few things to keep in mind. Everyone travels differently, spends different, and has different needs. Take these amounts with a grain of salt. They are meant to make you think and have a base for what things cost. These prices aren't set in stone.
I will also try to keep this as updated as possible, as some places on this list fructuate more than others. Here are some things to keep in mind…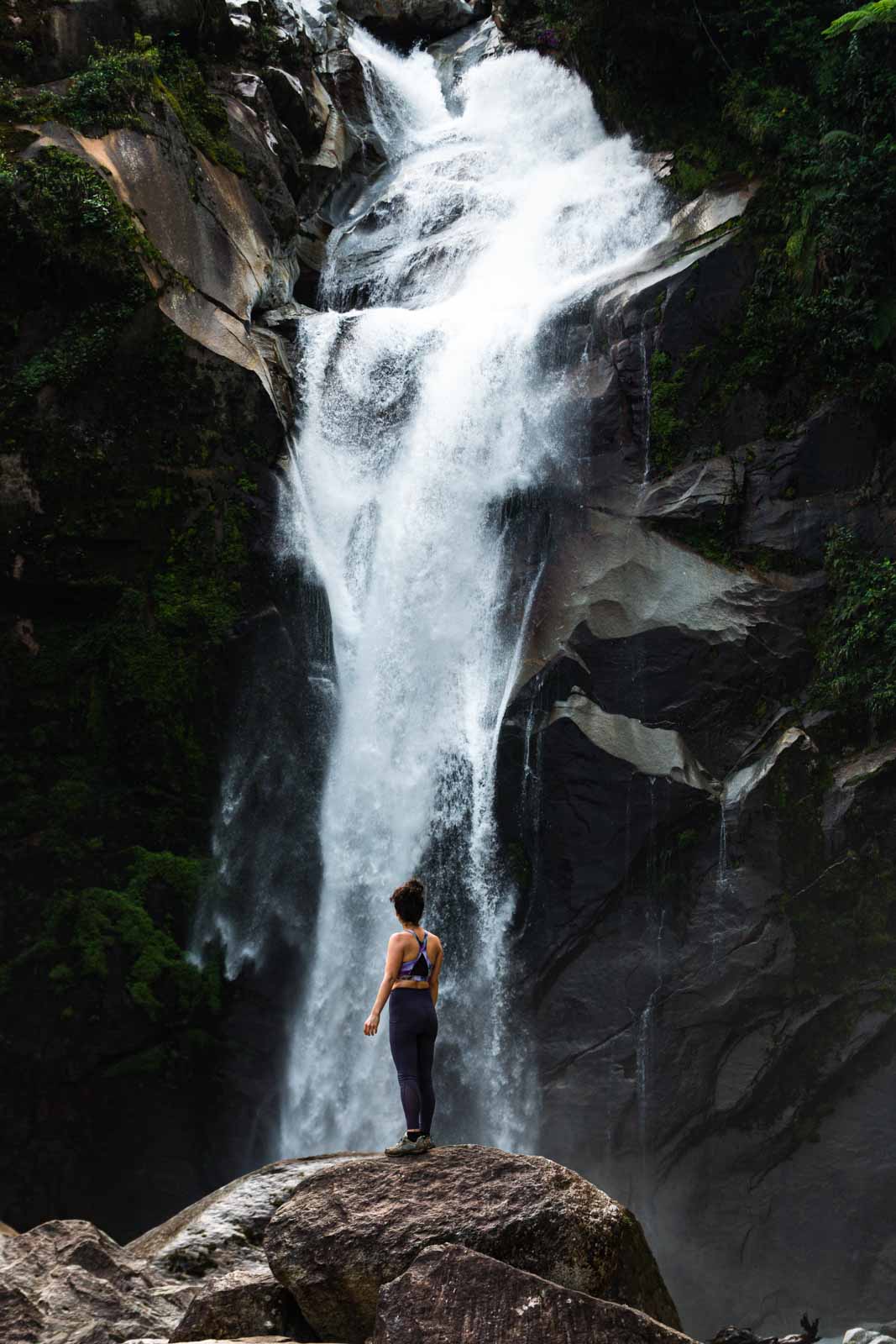 The numbers below are simply an average through countless hours of research, Numbeo figures, spending habits of previous travelers, and of course, personal experience.
These averages will need to be adjusted according to YOUR unique spending habits.
Meals are cheap if you eat at local markets/restaurants and cook for yourself. If you eat out at western restaurants or need a few drinks every day, then you'll need to add money.
Accommodations are for staying in hostel dorm beds or cheap guesthouses only. Need a fancier place? Private room? Add money!
Transport is for local means of transportation and not services tailored to tourists. I did the average of a single intercity ride and a long-distance trip for the numbers below. You'll need to add a bit more if you plan on taking a bus every few days or don't plan to walk a lot in the cities.
If you do a lot of activities/tours that require a fee, then your daily budget will likely be higher than these figures below. We did include a few of the main attraction costs, but not all of them.
Remember that traveling slower always results in spending less. The faster you go, the quicker your pockets will empty.
These numbers below don't include flights as that number varies wildly, depending on your originating country.
Everything is for a single person traveling. If you're splitting costs with a friend or partner, you'll get to save a few coins.
We also did not include things like internal flights, baggage fees, visa costs, or travel insurance. These costs would have been impossible to add!
The figures below mainly include food, transport, a few activities, and accommodation. The exact stuff you need to know!
Again, everyone travels differently, and it would be impossible to give you exact numbers without becoming your travel agent and understanding your exact needs (something I don't do). 🙂
So use these numbers as a base for planning a trip to a cheap country to visit and then modify the numbers to your exact needs. I hope this helps you plan your trip and feel free to click the links below each country where I've linked helpful travel guides that deep dive into what to do and the costs.
Resources for Your Trip:
Cheapest Countries to Visit in South Asia ($20-$30/day)
1. India – $20/day
India is a destination that overwhelms the senses with its chaotic streets, intriguing aromas, and diverse climates. Dressing appropriately can be tricky as you traverse from alpine terrain to tropical rainforests. Life in the city is a whirlwind navigating its ancient alleyways bustling with tuk-tuks, motorbikes, and colorful characters.
Traveling through India is a delightful blend of cultures, cuisines, and religious sites, and being one of the cheapest countries in the world makes it a steal for backpackers.
Highlights
Explore the glacial lakes and snow-capped peaks of Leh-Ladakh
Marvel at the grandeur of the Taj Mahal
Roam the Rann of Kutch salt desert
Take in the sights and sounds of the bustling capital of New Delhi
Enjoy the glistening beaches of Goa
Don't Miss: Trekking in Meghalaya to witness misty waterfalls, lush forests, and surreal caves.
Daily Spending
Most budget accommodations you find are basic but will rarely cost more than a few bucks, while local restaurants often serve filling meals for $5 or less. Book activities in person as you'll likely save every time.
Meals: $5-$8
Accommodation: $3-$8
Transport: $3-$6
Cooking Class: $10-$20
Entry fee to Taj Mahal & Mausoleum: $16.25
RELATED:
6-Day Golden Triangle Itinerary: India for Beginners
A 10-Day Rajasthan Itinerary to Jaisalmer, Jodhpur & Udaipur (India)
2. Nepal – $25/day
Nepal is a mountain trekker's dream, and there are enough supported Himalayan routes to last a lifetime. Besides the dramatic snow-capped peaks, daredevils have endless activity choices such as whitewater rafting, mountain biking, and rock climbing.
The hospitable locals have a unique culture all their own, and the eclectic streets of Kathmandu are decorated with gorgeous temples. A chance to witness a Nepalese festival is truly a sight to behold.
Highlights
Have the adventure of a lifetime on the Annapurna Base Camp (ABC) trek
Hike through the awe-inspiring Langtang Valley
Visit the gorgeous Buddhist stupas in Kathmandu
Push your adrenaline to the max by whitewater rafting the Karnali River
Don't Miss: Hiking to the Phulchowki Hill Station for surreal vistas of the Kathmandu Valley.
Daily Spending
Dorm beds and even some private rooms can be found well under $10, and local transport is exceptionally affordable. As long as you avoid Everest, trekking is doable on a backpacker-type budget.
Meals: $5-$10
Accommodation: $3-$9
Transport: $5-$8
Trekking permits: $20-$30 (for most trails)
Entrance fee to Bhaktapur Durbar Square: $15
RELATED: How to Go Trekking in Nepal and What Not to Do—Poon Hill Trek
3. Sri Lanka – $30/day
This island nation just south of India is teeming with pristine beaches and verdant forests rich with wildlife. The hilly terrain attracts ambling trekkers, and you'll come across loads of tea plantations and rustic villages.
Kandy is the cultural epicenter of the island, and the remains of ancient civilizations are waiting to be discovered. Trendy Colombo boasts a modern flair while the country's abundance of nature reserves attracts outdoor enthusiasts.
Highlights
Search for leopards in Wilpattu National Park
See the Temple of the Sacred Tooth Relic, the country's most cherished artifact
Drink tea from local tea plantations
Summit the spiritual Adam's Peak
Don't Miss: Trekking through the dense forests, jagged peaks, and tumbling waterfalls of the Knuckles Mountain Range.
Daily Spending
Meals and lodging may run slightly higher versus neighboring countries, but train travel will save you a hefty penny. The area to splurge is activities, as several may push your daily budget to the higher end.
Meals: $6-$10
Accommodation: $5-$10
Transport: $3-$5
Entry fee to climb Sigiriya Rock: $30
RELATED:
A Perfect 3-Week Sri Lanka Itinerary: Jungles, Train Rides, and Waterfalls
5 Great Ways to Get off the Tourist Trail in Sri Lanka
Cheapest Countries to Visit in Southeast Asia ($25-$35/day)
4. Cambodia – $25/day
A former sleepy escape on the buzzing Southeast Asia backpacker trail, Cambodia is now one of the region's most exciting gems. Despite the country's horrors in the past century, friendly locals and animated towns indicate it's on the upswing. Its enlightening temples, undeveloped islands, and genuine markets give often provide a more authentic travel experience.
No trip to Cambodia is complete without visiting the mystical Angkor Wat, despite a day pass throwing a wrench in your budget. However, there is much more to discover than the country's pride and joy. Its sun-kissed beaches rival its neighbors, cuisine fit for the adventurous foodies, and a history that overwhelms your emotions.
Highlights
Wander all the temples of the Angkor Archaeological Park
Escape the buzzing capital of Phnom Penh for the serenity of Silk Island
Sunbathe on the Cambodian islands before commercialization takes over
Trek through the lush Cardamom Mountains, one of Southeast Asia's last remaining rainforests
Eat a cricket or tarantula if you dare
Don't Miss: The laidback Rabbit Island (Koh Tonsay) for a full technology detox and endless sunshine.
Daily Spending
Although Cambodia is not the hidden jewel it once was, exploring this small country will still be easier on your pocket than nearby Vietnam and Thailand. Dorm beds can still be found for $2 or $3 if you look hard enough, and you'll find plenty of local markets to find cheap food.
Meals: $5-$10
Accommodation: $3-$10
Transport: $5-$10
Entrance to Killing Fields or Phnom Penh Museums: $2
Three-Day Pass to Angkor Wat: $62
5. Indonesia – $30/day
With thousands of islands, tropical rainforests, and humbling volcanoes, Indonesia has enough adventures to last a lifetime. You could spend months traveling here and not even scratch the surface to the majestic sights dotting its fertile landscapes. Everyone is familiar with Bali, but there is just so much more to see in one of Asia's cheapest countries to visit.
You'll discover one of the most versatile ecosystems on the planet, equally diverse local communities and too many breathtaking vistas to count. This is one place that taking your time is simply a must.
Highlights
Go scuba diving in the Gili Islands
Spot Komodo dragons in Komodo National Park
Witness a spectacular sunrise hiking to Gunung Bromo
Visit the orangutans residing on the island of Sumatra
Become mesmerized by the crater lakes of Flores
Don't Miss: The jagged rock formations of Pantai Pegadungan rising from the sea.
Daily Spending
There are plenty of affordable dorm beds throughout the country, and food is incredibly inexpensive. You'll have to increase your budget the longer you stay in Bali and the more island hopping you do.
Meals: $6-$12
Accommodation: $8-$12
Transport: $8-$14
Entry fee to Bunaken National Marine Park: $6
Entry fee to Borobudur: $25
RELATED:
A Guide to Backpacking Indonesia: Itinerary, Costs + Tips
7-Day Bali Itinerary: Beaches, Adventures, and Culture
6. Laos – $30/day
Laos is a golden destination for nature lovers, thrill-seekers, and foodies. Much of the country is forested which provides sensational trekking, kayaking, and zip-lining excursions. Renting a motorbike lets you cruise through the peaceful countryside, and the slow-paced lifestyle just rubs off on you.
Those hoping to escape the throngs of backpackers in Southeast Asia will find a heavenly retreat through Laos's vibrant cities and quaint towns. The ancient capital of Luang Prabang is often regarded as the most picturesque town in Southeast Asia and heralded as one of the premier foodie destinations.
Highlights
The temples and royal palaces of the UNESCO World Heritage Site of Luang Prabang
Experience the surreal beauty of Vang Vieng's karst mountains, peaceful rivers, and alluring caves
Chase waterfalls in the Bolaven Plateau
Study the fascinating statues of Buddha Park
Zipline through the treetops of the jungle with the Gibbon Experience
Don't Miss: The charming town of Champasak and the nearby Khmer ruins of Wat Phu which are older than Angkor Wat.
Daily Spending
Prices have increased slightly in Laos the past few years, but it remains one of the cheapest countries to visit. Accommodation will run roughly the same or slightly higher compared to neighboring countries, but activities is where you'll save.
Meals: $4-$8
Accommodation: $5-$10
Transport: $5-$15
Entrance to Kuang Si Falls: $2.50
RELATED:
Backpacking Laos: A 3-Week Itinerary—Where to Go, Costs, and Tips
13 Laos Tours That Are Totally Worth Taking
7. Vietnam – $30/day
Vietnam has skyrocketed on the tourist scene with its delicious street food, resounding culture, and dreamy countryside. The bustling Ho Chi Minh City and capital of Hanoi each offer distinct atmospheres that appeal to a variety of tastes. Smaller towns like Hoi An maintain their rustic charm, and the country is decorated with astonishing temples.
And Vietnam's natural scenery is simply off the charts! From the karst peaks of Halong Bay to the white-sand beaches of the Con Dao islands, the diversity of landscapes is among the best in Southeast Asia.
Highlights
See the limestone pillars, emerald waters and tranquil islands of Halong Bay
Explore the rice terraces in Sa Pa and trek to Fansipan Mountain
the peaceful waters of the Mekong Delta
Cruise off the coast of Hoi An to the picturesque Cham Islands
Wander the depths of Hang Son Doong, the world's largest natural cave
Don't Miss: Just to the northeast of the famous Halong Bay, you'll find the equally mesmerizing, less-crowded alternative of Bai Tu Long Bay.
Daily Spending
Vietnam has some of the cheapest and tastiest street food in Southeast Asia, with many meals only costing you $2-$3. Also, long-distance travel via bus or train provides incredible value.
Meals: $4-$8
Accommodation: $4-$10
Transport: $5-$10
Full-Day Excursion to Mekong Delta: $16
Halong Bay Day Tour: $30-$40
RELATED: A Two Week Vietnam Itinerary: Beautiful Bays to Epic Mountain Tops
8. Thailand – $35/day
Traveling through Thailand is a rite of passage for backpackers meandering around Southeast Asia. Its tropical climate, mouthwatering street food, glistening beaches, and thriving ex-pat community have made it a hub for budget travelers.
Although popularity has exploded and the country's south is a bit pricier than in previous years, it remains one of the cheapest countries in the world. From its dense jungles to world-renowned dive sites and the bursting energy of Bangkok, visiting Thailand is an indescribable experience.
Highlights
Experience the local culture by visiting the Damnoen Saduak Floating Market
Gaze at the majestic Chiang Rai White Temple
Have the ultimate diving trip in the Similan Islands
Explore the fertile landscapes of Khao Yai National Park
Sail through the pristine waters of the Phi Phi Islands
Don't Miss: Wandering the ruins of the ancient city of Ayutthaya
Daily Spending
Food is inexpensive in all regions of the country but expect accommodations to shoot up in price once you reach the southern areas and the islands. Local transport is super cheap, and intercity travel becomes pricier the more comfort you desire.
Meals: $6-$12
Accommodation: $7-$14
Transport: $8-$15
Chiang Mai Cooking Class: $20-$40
Entry fee to Grand Palace in Bangkok: $16
RELATED:
Backpacking Thailand: The Only Guide You Need to Prep for Your Trip
An Adventurous Thailand Itinerary: 2 Weeks – 2 Months
9. Philippines – $35/day
Consisting of over 7,000 islands, get ready for some serious island hopping in the Philippines. This archipelagic nation is slowly creeping on the radars of travelers everywhere, and it's becoming one of the next hot destinations.
Navigating the country can be a haphazard expedition at times, but the journey is half the reward. With its white-sand beaches, world-class diving, karst mountains, and rugged volcanoes, it's a paradise worth every penny.
Highlights
Swim in the crystalline waters of El Nido
Witness the underwater diversity of Tubbataha Reefs Natural Park
Capture a miraculous sunset on the island of Boracay
Kayak through the Puerto Princesa Underground River
Summit the majestic Mount Mayon volcano
Don't Miss: Surfing along with the fierce swells of Siargao.
Daily Spending
The main thing to factor into your budget is transportation since it can be rather challenging to reach different regions of the country. Accommodation prices are a bit higher than usual for Southeast Asia, but there are some real bargains if you find local guesthouses or even a shack.
Meals: $6-$12
Accommodation: $8-$15
Transport: $10-$20
Entrance fees for Underground River: $12
RELATED:
A Guide to Backpacking the Philippines: Itinerary, Costs, Tips + More
A Two-Week Philippines Itinerary—Beaches to Mountains
10. Malaysia – $35/day
Malaysia is typically not perceived as a backpacker haven, but there is a tremendous value, and you'll find one of the most developed nations in the region. Packed with verdant rainforests, booming skyscrapers, and vibrant coral reefs, Malaysia is a mishmash of technology and nature.
Trek through dense jungles, visit tea plantations and interact with a variety of communities in this cultural melting pot. From the bustling streets of Kuala Lumpur to the picturesque Perhentian Islands, don't miss out on all of Malaysia's grandeur.
Highlights
Visit the tea plantations and flower farms of the Cameron Highlands
Climb to the top of the Petronas Towers in Kuala Lumpur
Unwind on the white-sand beaches of Langkawi
Witness the cultural and architectural diversity of Georgetown
Summit Mount Kota Kinabalu
Don't Miss: Trekking through Taman Negara, one of the world's oldest rainforests.
Daily Spending
Local transport is efficient and affordable, while there are plenty of buses and trains connecting cities. Stick to street food since it's the least expensive and often the most delicious.
Meals: $6-$10
Accommodation: $7-$12
Transport: $5-$14
Entry fee to Kinabalu National Park: $3-$4
Snorkeling day trip at Sipadan Island: $30-$40
RELATED: A Guide to Backpacking Malaysia: Itinerary, Tips, + Costs
Cheapest Countries to Visit in Central Asia ($25/day)
11. Kyrgyzstan – $25/day
Think Switzerland on a shoestring budget. That's the driving force for trekkers and thrill-seekers visiting this small Central Asian country. Unforgiving mountain ranges, alpine lakes, and an interesting nomadic culture create a world of discoveries.
VISA restrictions have loosened in this former USSR controlled country, and the ancient history of the Silk Roads beckons new explorers.
Highlights
Experience the nomadic lifestyle by spending the night in a yurt
Visit the enormous Issyk Kul Lake, the second-largest mountain lake in the world
Go on a day trip to the soaring peaks of Ala Archa National Park
Reach Peak Lenin Base Camp, situated at over 7,000-meters
Embark on the trekking adventure of a lifetime through the Tian Shan Mountains
Don't Miss: The spectacle of eagle hunting which has been a part of Kyrgyzstan's culture for generations.
Daily Spending
Hostels and local guesthouses are increasingly common, with most places under $10. Local minibus rides are a super affordable way to get around town, and intercity bus rides are a bargain. Except for a few areas, hiking in Kyrgyzstan is free, making it one of the cheapest countries in the world for trekkers.
Meals: $5-$8
Accommodation: $6-$10
Transport: $3-$8
Tent Rentals: $2.15-$3.60
Yurt Stay: $10-$12
RELATED: 11 Ways to Get Free Accommodation While Traveling The World!
Cheapest Countries to Visit in the Caucasus ($25/day)
12. Georgia – $25/day
If you need a place to roam at a snail's pace, then this jewel of the Caucasus is calling your name. In addition to being one of the cheapest countries to visit, most travelers can stay visa-free for upwards of one year.
That gives you all the time in the world to explore the country's glorious mountains, bustling cities, rich culture, and delicious wine. Fall head over heels for the artsy vibes of Tbilisi, peaceful monasteries, or pebbly Black Sea beaches.
Highlights
Explore the grassy hills and soaring peaks of Tusheti National Park
Head to Kazbegi for sensational vistas of snow-capped peaks
Taste wine in the land which the delectable drink was invented
Hike through the diverse landscapes of the Lagodekhi Nature Reserve
Relax on the shores of the beach resort town of Batumi
Don't Miss: The jaw-dropping scenery of the picturesque village of Ushguli.
Daily Spending
City transport is ultra-cheap, and hitchhiking is possible for long-distance travel if you're flexible. Lots of dorm beds cost well under $10, and you can usually find local restaurants for meals at bargain prices.
Meals: $8-$12
Accommodation: $5-$10
Transport: $3-$10
Entry fee to the Georgian National Museum: $2
One bottle of domestic red wine: $7-$10
13. Armenia – $25/day
The small country offers an interesting blend of captivating history, rustic charm, and stellar landscapes. Travelers will discover the first European nation to make Christianity its official religion, one of the continent's oldest cuisines and tons of medieval architecture.
Armenia's mountainous terrain makes it a haven for adrenaline junkies any time of the year. After a day filled with excitement, you may even have the chance to enjoy dinner with hospitable locals inside their home.
Highlights
Visit monasteries dating back well over a thousand years
Explore the shores of the sparkling Lake Sevan
Race down the slopes of the Tsaghkadzor Ski Resort
Admire the breathtaking views of Mount Ararat and learn its Biblical history
Don't Miss: Riding the world's longest ropeway to the medieval Tatev Monastery.
Daily Spending
You won't find many hostels outside of the capital of Yerevan, but accommodations in rural areas are mostly basic. Outside of private taxis and marshrutkas, hitchhiking is the most common form of transport.
Meals: $8-$12
Accommodation: $6-$10
Transport: $3-$6
Entry fee to Zvartnots Cathedral: $3
Entry fee to the Temple of Garni: $3.50
Cheapest Countries to Visit in Eastern Europe ($25/day)
14. Ukraine – $25/day
A European vacation for a fraction of the cost! Ukraine is not only one of Europe's budget traveler goldmines but also one of the cheapest countries in the world. Cities such as Kyiv and Lviv are filled with remarkable architecture from multiple eras of history. The countryside is decorated with quaint towns, castles, and the crumbling ruins of centuries-old forts.
Those searching off-the-wall adventures will have a field day visiting catacombs, a former Soviet nuclear launch facility, and other quirky activities. Nature lovers will also find bliss in the Carpathian Mountains and the Ukrainian Black Sea coast.
Highlights
Visit St. Sophia's Cathedral in Kyiv
Dig into Ukrainian cuisine with a helping of borscht and salo
Brighten your Instagram feed with a photograph of a dazzling sunflower field
Navigate the tunnels of the Odessa catacombs
Experience dark tourism by paying your respects at Chernobyl
Don't Miss: Gazing at rare wildlife in Askania-Nova, one of Europe's oldest nature reserves.
Daily Spending
Major cities have plenty of dorm bed options for under $10, and you'll find lots of cheap local meals for $2-$3. Activities are inexpensive unless you're just itching to see Chernobyl, which will eat into your budget.
Meals: $6-$8
Accommodation: $6-$10
Transport: $3-$10
One-Day Chernobyl Exclusion Zone Tour: $100-$150
Cheapest Countries To Visit in the Balkans ($30-$35/day)
15. Albania – $30/day
Albania remains one of the last undiscovered gems of Europe, and it packs a punch with its untouched landscapes and historic sites. From the sprawling capital of Tirana to the intimidating Accursed Mountains, there is an adventure for all interests.
And, this small Balkan country is one of the cheapest countries in the world for a peaceful beach retreat.
Highlights
Relax on the picturesque beaches of the Albanian Riviera
Become mesmerized by the surreal waters of the Blue Eye
Explore the ancient ruins of Butrint National Park
Summit some of the tallest peaks on the Balkan Peninsula in the Albanian Alps
Admire the Ottoman architecture of the UNESCO city of Gjirokastra
Don't Miss: One of the world's most spectacular drives through the Llogara Pass.
Daily Spending
Food is inexpensive with many filling meals costing $5 or less, and most dorm beds will be priced under $10. Prepare to splurge slightly on activities since the country is filled with fascinating archaeological sites.
Meals: $8-$12
Accommodation: $6-$10
Transport: $5-$10
One-Way Ticket Koman Lake Ferry: $6-$7
Entry Fee to the ancient city of Apollonia: $2.50-$3
16. Bosnia & Herzegovina – $30/day
Despite the Balkans receiving more attention than ever from tourists, Bosnia & Herzegovina remains one of the most underrated gems of the region. And that's truly a shame considering its cultural diversity, untouched natural scenery and charming villages. Since its one of the cheapest countries to visit in Europe, a trip to Bosnia & Herzegovina might be the continent's greatest bargain.
You'll find mosques, churches, and synagogues standing side by side in its cities, and its tranquil countryside is an escape from the modern world. For nature lovers, turquoise rivers, rugged mountains, and cascading waterfalls make this a heavenly destination to discover.
Highlights
Explore the enchanting waterfalls of Una National Park
Wander the streets of Sarajevo and learn its captivating history
Go whitewater rafting through the crystal-clear waters of the Neretva River
Walk across Stari Most in the dreamy Mostar Old Town
Race down the slopes of the Jahorina ski resort
Don't Miss: The alluring Vjetrenica cave in the Dinaric Alps.
Daily Spending
You'll find plenty of local eateries with filling meals for under $5, and dorm beds are affordable across the country. Local transport shouldn't cost more than $1-$2 for a one-way ticket, and you won't have to take many long-distance routes to explore the country.
Meals: $8-$12
Accommodation: $6-$10
Transport: $5-$10
Entry fee to National Museum of Bosnia & Herzegovina: $4-$5
One-Day Rafting Trip: $25-$40
RELATED: Things to Do in Bosnia: 5 Experiences You Shouldn't Miss
17. Bulgaria – $35/day
If you're up for a melting pot of natural terrain and intriguing cultures, then Bulgaria has lots to offer. Lying on the shores of the Black Sea, Bulgaria is a splendid place to begin a Balkan adventure. From its striking beach resorts to the rugged Pirin Mountains, nature lovers will not be disappointed.
The nation's capital of Sofia has an ancient history, and the delightful town of Veliko Tarnovo is decorated with quaint cafes and historic castles. With Slavic, Thracian, Bulgar, Greek, and Turkish influences, it's a country with an identity all its own.
Highlights
Go trekking in the Rila Mountains, the highest mountain range in the Balkans
Visit the archaeological sites of Plovdiv
Relax on the sandy beaches of the Bulgarian Black Sea Coast
Have a snowy adventure at Bansko ski resort
Wander the peaceful Rila Monastery
Don't Miss: Hiking through the limestone cliffs of Emen Canyon.
Daily Spending
Groceries are super cheap, and you'll find plenty of dorm beds in the $8-$10 range. Many activities are free or inexpensive but limit intercity travel to avoid pushing your budget to the max.
Meals: $8-$12
Accommodation: $6-$12
Transport: $8-$15
Entry fee to the Varna Archaeological Museum: $5-$6
18. Romania – $35/day
Medieval towns, vampires, and the wild Carpathian Mountains highlight this overlooked European country. Traveling through Romania is like being sucked through a time portal and sent back into the Middle Ages. Historic castles, walled cities, and untouched wilderness gives the country a unique aura you're unlikely to find elsewhere on the continent.
Between mind-blowing Transylvania, charming villages, and heartfelt locals, Romania has much to offer budget travelers.
Highlights
Summit Mount Tampa with a scenic view overlooking the city of Brasov
Cruise through the Danube Delta
Walk through the medieval streets of Sighișoara
Hear the legends of Dracula at Bran Castle
Lace-up your hiking boots and go trekking in the Carpathian Mountains
Don't Miss: Exploring the picturesque village of Măgura.
Daily Spending
There is a wide range of dorm bed prices, so it's worth taking the time to scope out deals. Local meals may be a bit pricier but are nourishing and worth every penny.
Meals: $10-$15
Accommodation: $8-$14
Transport: $7-$13
Entry fee to Salina Turda Salt Mine: $9-$10
Bike Rentals: $3-$4
RELATED:
Finding the Beauty in the Beast – Bucharest, Romania
Things to Do in Transylvania, Romania (It's Not Just About Dracula)
Cheapest Countries To Visit in Latin America ($25-$40/day)
19. Nicaragua – $25/day
Nicaragua is a nature lover's paradise and one of the cheapest countries in the world to boot. Go surfing, hike a volcano, or simply lounge on the beach to enjoy the country's picturesque scenery.
To the south, the charming city of Granada is filled with colonial architecture, and you're still on the doorstep islets and volcanoes. The country does have safety concerns, and it's important to judge wisely when timing your trip.
Highlights
Drive to the crater of the Masaya Volcano
Sail to the island of Ometepe inside Lake Nicaragua
Hike through the dense forests of Miraflores
Hang ten in the surf haven of Playa Maderas
Don't Miss: Volcano boarding down the steep slopes of Cerro Negro.
Daily Spending
You'll usually find street food for only a couple of bucks, and transport between cities is normally around $3-$4. Most activities are cheap, but make sure to shop around with lots of options.
Meals: $6-$10
Accommodation: $6-$12
Transport: $3-$8
Entry fee to Masaya Volcano National Park: $4
20. Bolivia – $30/day
Traveling through Bolivia will not appease those searching for comfort, but that's why this Andean country frequently tops the list of cheapest countries to visit in South America. Its dramatic landscapes, intriguing culture, and death-defying adventures are a roller coaster from day one.
The country is packed with exotic wildlife and its archaeological sites rival those of its neighbors. Not to mention, the customs of its indigenous population have been preserved for generations, and you'll witness many locals in traditional attire.
Highlights
Cycle down the exhilarating 'Death Road'
Go on a jungle safari through Madidi National Park
Take in the splendor of the Salar de Uyuni Salt Flats
Admire the alien-like landscapes of the Reserva Eduardo Avaroa
Explore the snow-capped peaks and soothing hot springs of Sajama National Park
Don't Miss: Sandboarding in Lomas de Arena.
Daily Spending
Meals are incredibly affordable when you stick to the local restaurants, and you'll save by booking accommodations in person. Long-distance trips are not costly but be prepared for some windy, bumpy journeys.
Meals: $6-$10
Accommodation: $7-$12
Transport: $8-$15
Entry fee to the Pampas: $20
21. Guatemala – $30/day
Costa Rica is the star of Central America, but Guatemala has plenty of sensational sights to brag about. With a much lower price tag, Guatemala is one of the cheapest places to visit for an unforgettable thrill ride.
Ancient Mayan ruins, smoldering volcanoes, and tropical rainforests dot the landscape and cities ooze colonial charm. Its rich culture and calm atmosphere help you amble at a slower pace to enjoy the natural splendor everywhere you turn.
Highlights
Explore the Mayan ruins of Tikal
Waltz through the colorful streets of Antigua
Head to Lake Atitlán and gaze at its surrounding volcanoes
Marvel at the impressive geologic formations of the Lanquín Caves
Don't Miss: Swimming in the turquoise blue pools of Semuc Champey.
Daily Spending
Locals use the chicken buses to get around and are the cheapest form of transportation. Stick to local restaurants and you can easily find two-course meals for under $5.
Meals: $10-$12
Accommodation: $8-$12
Transport: $3-$8
Entry fee to Tikal Ruins: $22
Entry fee to Semuc Champey: $6.55
RELATED:
Your Perfect Guatemala Itinerary: 1-3 Weeks + Tips!
17 Adventurous Things To Do in Guatemala + Tips For Your Visit!
22. Colombia – $35/day
Colombia may have a dark past, but the colorful country is emerging from the ominous clouds of the drug cartels. The country is now full of life, and its welcoming locals are some of the most resilient in South America.
From its idyllic beaches to the lush Amazon rainforest, Colombia is brimming with natural scenery. And don't miss the chance to experience its thriving coffee scene.
Highlights
Marvel at the creative street art in Medellin
Explore the coffee triangle and tour a family-owned coffee farm
Unwind at the tropical paradise of Tayrona National Natural Park
Trek through the jungles and discover the lost city of Ciudad Perdida
Witness a flowing rainbow of colors at Caño Cristales
Don't Miss: Scuba diving and whale watching on the Pacific coast of Choco.
Daily Spending
Colombian cuisine is filling, and local restaurants offer affordable meals. Local transport is cheap, but be prepared to shell out a little more for intercity transportation.
Meals: $8-$12
Accommodation: $7-$12
Transport: $10-$15
Coffee Farm Tours: $6-$20
RELATED:
7 Cool Medellin Tours and Day Trips That Are Actually Worth It (Colombia)
2-Week Colombia Itinerary: Exploring the Andean Coffee Region
5 Things to Do in Salento, Colombia That Aren't Cocora Valley
23. Argentina – $35/day
One country that's not typically found on cheap travel lists is Argentina. But with a struggling economy, this cosmopolitan South American nation has become one of the best values on the continent (for the moment). You may want to jump on this one quickly before prices shoot back up to normal.
Spend some time in its booming capital of Buenos Aires which has a glamorous European vibe. The north of the country is home to one of the world's greatest waterfalls and you'll reach the ends of the Earth exploring Patagonia. Argentina won't be one of the cheapest countries to visit for long, so this is a temporary bargain.
Highlights
Marvel at the sheer beauty of Iguazú Falls
Explore the barrios of Buenos Aires
Journey to Ushuaia, the world's southernmost city
Gaze at spired cathedrals and glacial lakes in the Lake District
Behold the massive Perito Moreno Glacier
Don't Miss: Sipping on wines from the world-famous Mendoza wine region.
Daily Spending
In general, prices for food and accommodations are lower than usual but can fluctuate due to the unstable economy. Factor in long bus rides to your daily transport costs, but overnight buses can help you save on lodging costs.
Meals: $10-$15
Accommodation: $8-$14
Transport: $10-$20
Entry fee to Iguazú Falls National Park: $12-$13
Camping in Torres del Paine National Park: $7.50-$20
24. Mexico – $40/day
Right on the backdoor of the United States, Mexico is one of the cheapest places to visit for an exciting adventure to discover a whole other culture. Cuisine infused with intense flavors, heart-warming hospitality, and colorful colonial towns captivate the hearts and souls of its visitors.
And with its immense size, you'll find a country equally as rich in jaw-dropping natural scenery. Explore snow-capped volcanoes, pristine beaches, crystalline lakes, and tropical rainforests during your journey.
Highlights
Kayak through the shimmering waters of Laguna Bacalar
Summit the mighty Pico de Orizaba, one of North America's highest peaks
Take a dip in the mesmerizing cenotes on the Yucatan Peninsula
Discover Mexico's foodie capital of Oaxaca
Get a dramatic bird's eye view of the jungle atop the Ek Balam Mayan ruins
Don't Miss: Kayaking in the Sea of Cortez to spot its diverse marine life.
Daily Spending
Food is inexpensive throughout the country if you stick to local markets and cooking your own meals. Accommodations will be pricier in touristy areas such as the Yucatan. Your transportation budget will largely depend on how much of the country you wish to see.
Meals:$6-$10
Accommodation: $8-$14
Transport: $10-$20
Entry fee to Teotihuacan: $4-$5
Entry fee to Chichén Itzá: $12-$13
RELATED:
A 3-Day Mexico City Itinerary: Boats, Pyramids, Churros, & Squirrels?
A 2 Week Mexico Itinerary for Beach and Mountain Lovers
Cost of Living in Mexico: 16 Top Destinations!
Cheapest Countries to Visit in Africa ($25-$35/day)
25. Egypt – $25/day
Egypt holds a special place in the hearts of curious history buffs hoping to discover the secrets of its ancient people. Unfortunately, the past decade has not been the prettiest for travel to Egypt. Political upheaval and violence deterred visitors for several years, but tourism is on the rise again.
With its collection of temples and tombs, the legendary Nile River, befuddling deserts and delicious cuisine, Egypt should be high on any bucket list.
Highlights
Stand in awe of the gargantuan guards outside Abu Simbel
Sail the Nile on a felucca in the relaxed town of Aswan
Check out the bizarre landscapes of the White Desert
Visit St. Catherine's Monastery and hike Mount Sinai
Wander the chaotic streets of Cairo
Don't Miss: Scuba diving in the Red Sea.
Daily Spending
Taxis are a common way to get around the cities but watch out for scams. Activities will likely be your biggest splurge, especially for history buffs. Inquire about a travel pass to save funds on attractions.
Meals: $6-$10
Accommodation: $4-$10
Transport: $5-$10
Entry fee to Giza Pyramids Site: $12-$13
Entry fee to Luxor Temple: $10-$11
26. Rwanda – $30/day
Rwanda may have burst onto the tourist scene for its luxury lodges and mountain gorilla trekking, but it's possible to see it on a budget with a smart game plan. The country is easy to navigate and remains one of the cheapest countries in the world when avoiding the high-end options.
Explore verdant rainforests, sparkling lakes, towering volcanoes, and gorgeous wildlife in "The Land of a Thousand Hills."
Highlights
Explore the hiking trails of Nyungwe Forest National Park
Unwind at Lake Kivu surrounded by palm trees and forested mountains
Roam the bustling streets of Kigali
Witness the reforestation efforts of the Gishwati Forest
Don't Miss: Biking through the scenic Congo Nile Trail.
Daily Spending
There aren't many hostels, but the ones available are inexpensive. Camping is a popular alternative, and campsites are affordable. Street food isn't much of a thing, but local restaurants offer filling meals for just a few bucks.
Meals: $8-$12
Accommodation: $10-$15
Transport: $8-$15
Fees to Gishwati Mukura National Park: $10-$35 depending on activities
27. Morocco – $35/day
With its proximity to Europe, Morocco is the easiest gateway into Africa for many travelers. Don't let the close distance to Europe fool you though, this country has a culture all its own and feels like a whole other world.
Markets are bursting with energy, and its bustling cities tantalize your senses, unlike any other country. Complete with the immense Sahara Desert, snow-capped mountains, and one of Africa's top surfing scenes, a journey to Morocco is one you won't soon forget.
Highlights
Trek through the rugged High Atlas Mountains
Go on a desert safari through the vast Sahara
Explore the dreamy blue city of Chefchaouen
Unwind in an authentic hammam
Get lost in the eye-opening Marrakesh medina
Don't Miss: Trekking through the fertile fields encompassing the Rif Mountains.
Daily Spending
Local transportation is cheap, but it can be challenging to figure out. Also, consider buying a rail pass if you plan on traveling by train a lot. Stick to dorm beds instead of riads, and your housing expenses will stay low.
Meals: $10-$14
Accommodation: $7-$12
Transport: $8-$14
Entry to public hammam: $1-$2
RELATED:
A Magical Morocco Itinerary for 1, 2, or 3 Weeks: Backpackers Guide
53 Awesome Things to Do in Morocco That'll Make You Pack Your Bags Now
How Much Does It Cost to Travel Morocco
Tips For Traveling to The World's Cheapest Countries
Save money before taking off (duh) but save more than you think. Just because it's cheap in some of these spots doesn't mean you can amble over with just enough cash. Bring extra, there's no one on earth who will be upset coming home with money. But caught out in another country without enough cash? You're in trouble
Look up the scams in the country you're going to avoid parting with money quicker than you think.
Traveling in the shoulder season will afford you more for less and there will be fewer people. Win-win!
Scroll back up and click my guides for more specific info on each country!
Don't even think about taking off without travel insurance! Depending on my trip, these are what I use:
Which of these cheapest countries in the world is calling your name? Let us know in the comments!
---
---
>>> Read More! <<<
How to Travel Europe for Cheap! How Far a $2k Budget Can Get You
31 of the Cheapest Places to Live in the World: Under a $1000!
How Much Money Do I Need to Travel Southeast Asia
What to Wear in Morocco Packing List: All Your Must-Have Items
Choosing the Best Hard Shell Luggage for Your Trip (+ 11 Great Suitcases)
---
---
Don't lose this! Click to pin it now.