Sayulita, Mexico popped up on my radar when I was looking for a place to lay low and surf. Next thing you know, I was booked to visit and stayed six months! It was a great base and I got to explore a lot of the things to do in Sayulita as well as the surrounding areas.
The beaches are gorgeous, the surf was fun, and the food was damn good! Here's everything you need to know about what to do in Sayulita, where to eat, and more!
Things To Do In Sayulita, Mexico
---
After living here for months, I think these are the best thing to do in Sayulita. Here's a map to help you better see where everything is as well.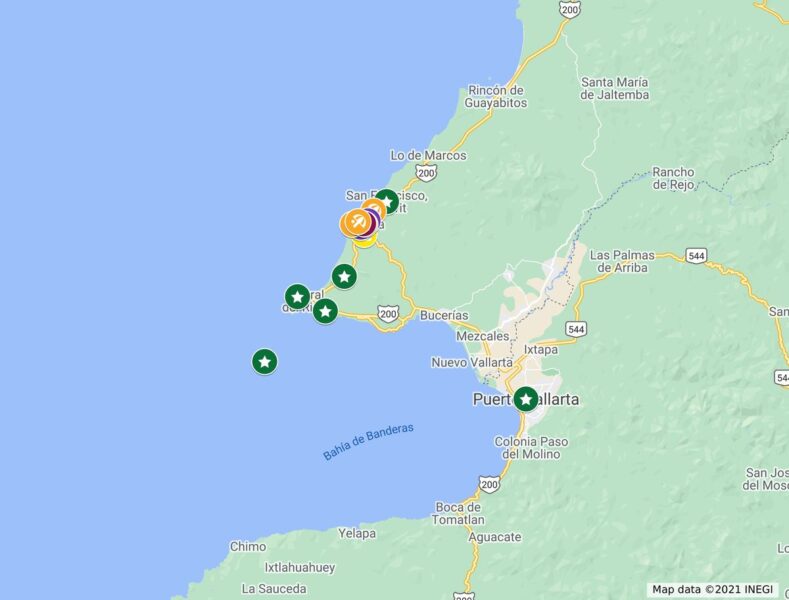 1. Surfing at Sayulita Beach (My Fav Thing to Do in Sayulita!)
Surfing is pretty much the thing to do in Sayulita. That and beach bumming; otherwise, there isn't actually THAT much to do here! The surfing in Sayulita is a lot of fun and perfect for beginners to head in and get their confidence up. I know it helped me! It was rarely scary, and the gentle beach break made me feel a bit safer.
The best time to surf is in the early morning or early afternoon as the waves get a bit crowded as the day goes on, and when the swimmers are out too, it can get a bit difficult to catch a wave!
You can head to Sayulita Surf School; they are right on the beach, and you can either take lessons or just rent a board! Tell Sergio I said hello!
2. Private Tequila Tasting
Love tequila but can't walk home after having it? How about have it served to you at home?
Here's a fun alternative to a night out! You can get tequila delivered and presented to you and your group at your hotel. Get everyone together, learn a bit about mezcal from a local, and do a tasting paired with delicious authentic Mexican bites to eat.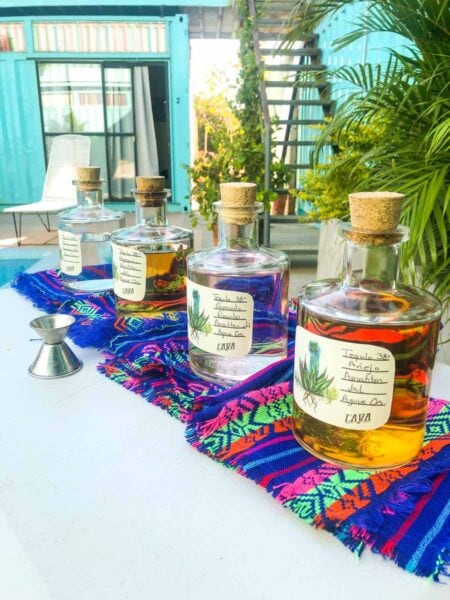 The duo behind Taste of Sayulita is super sweet and knows their stuff! Make sure to tell Hailey and David I said hello!
3. At Home Massage
Speaking about doing things at home, how about a massage in your hotel room? Sometimes beach massages are nice, but you can't control the mariachi band that comes by or the shouting kids… Also, does anyone else feel super sleepy after a massage and hate having to make it home after?!
Well, you don't need to stumble sleepily home in Sayulita. Just get Nahomy to come to your hotel room, and she will give you the best massage of your life! Seriously, she is VERY GOOD. She'll bring the bed and the whole vibe straight to your hotel so that you can be near your snacks and bed afterward.
RELATED: Your Guide To Living in Sayulita – Digital Nomad Life & Cost of Living.
4. Wander the Hippie Market
If you're on the hunt for souvenirs, really cool jewelry, or some knickknacks to decorate your home with, there's a cute hippy market located at the bridge in town. Wander the dirt path here and see what you come out with on the other end!
5. Sayulinda Roof Top Pool
If you're not staying here, you can still grab a day pass and head up to their awesome rooftop pool! With Gringo Hill in the back, the town around you, and a bit of the beach right in front, the infinity pool at Sayulinda Hotel is beautiful and a fun spot to chill for the day.
They have a full bar up here so you can lounge and drink for as long as you'd like. Behind the pool is a really cool and well-designed hammock lounge area. If you've been to the beach a lot, hang out at this pool to switch it up!
6. Friday Market
I loved wandering this market on Fridays. I'd often get freshly baked bread from here, get my falafel fix, and I even got some cute locally made swimsuits here too (tell Jazz I said hi!).
There is a lot of organic produce, fresh cheeses, and vegan fare to enjoy. There are some super cute vendors that set up at this market each week, and it's definitely worth checking out.
7. Temazcal Ceremony
A Temazcal is a traditional sweat lodge to the ingenious people of Mexico. I was hesitant and a bit scared at first, but I left feeling lighter, refreshed, challenged, and honestly, damn good!
The ceremony is lead by a shaman and takes a few hours. You're sweating out impurities and cleansing your soul. You can contact Rancho Poco a Poco and tell them I said hello!
8. Grab a Drink
If you're in the mood for some booze, Sayulita definitely has you covered!
YamBak – The place to go to for craft beer and to chill late at night
Chillum Bar – They often have great live music (and surprisingly decent sushi)
Bar Le Zouave – This is a chill AF Moroccan Mexican bar with a very cool atmosphere
Tierra Viva – Love this spot for mimosas and brunch
Las Sireanas – Cool beach bar for a marg or a beer on the more chill area of the beach
Sayulita Public House – Grab a beer and the bar seating on the second floor for optimum people watching
RELATED: Your One Week Yucatan, Mexico Itinerary.
9. Sunset on Carracitos Beach
Sayulita has a north-facing beach, so there are no sunsets there. I hope that didn't burst any bubbles, but the main beach still gets great pops of colors. For some sunset views, you'll have to head to a pretty lonely but gorgeous beach on the west, on the other side of the point—Carracitos Beach.
This is my favorite because nobody is here, there are no vendors, no food or facilities, and you can see Monkey Mountain in the distance. It's a beautiful beach for sunsets, but take care of walking back at night as it's about a 20-minute walk from town.
10. Sayulita Beaches (The Best Thing to Do in Sayulita—Of Course!)
Obviously, I couldn't leave you hanging without mentioning the best thing to do in Sayulita: The beach! Sayulita has four main beaches that are within walking distance from town.
I've only briefly mentioned them here because I wrote up a whole guide on Sayulita's Beaches.
Sayulita – This is the town's main beach. There are plenty of sun loungers to rent and it's a surf beach! You can easily rent from Sayulita Surf School, which is where I rented from. Unfortunately, the beach has LOTS of people, which sometimes makes for a crowded surfing experience. To just chill without the crowd, head a bit north on the beach.
Malpaso – A gorgeous beach far from the crowds. You'll need to walk about two miles just to get here but it's well worth it. Try to find the secret cove! There are no facilities here, and you'll likely have the beach to yourself.
Los Muertos – This is the second most popular beach around Sayulita, but it's still pretty chill. After walking past the town's cemetery, you'll reach the appropriately named, Playa Los Muertos (Beach of the Dead). You'll find a single line of umbrellas and some calm water tucked in a cove. It's only about a 10-minute walk from Sayulita Beach.
Carracitos – This one is my favorite as you've read above; after walking about 20 minutes from the center of town, you'll reach Carracitos. A stunning beach, with sunsets, and almost nobody there at all.
11. Grab Something to Eat
Eating is actually one of the best things to do in Sayulita because you're pretty spoilt for choice! In fact, I ate out at so many places I figured I'd just write a whole post on some of my favorite spots!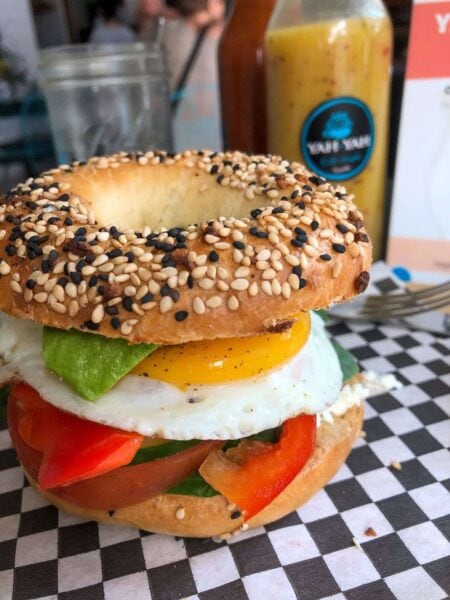 I've compiled a quick list here for you to browse too.
Alquimista – Aguafresca and chilaquiles, hands down the best in town if you ask me.
Naty's Kitchen – Cheap, quick, and yummy. Period. They have a good selection of vegan and meat options.
Gaby's Tacos – Easy, cheap, and DELICIOUS fish tacos from a literal hole in the wall on the main strip.
Tierra Viva – Shrimp benedict and mimosas for brekkie.
Pizza Veniza – Best pizza in town and only $5 with anything you want on it.
Mary's Tacos – A good spot to have Mexican food on the strip but with proper tables and service!
Casa de Chile Relleno – Chile Rellenos (duh!) and some damn good nachos that are massive. I like their upstairs seating too because the street level can get hectic.
Anchor, Miscelanea, and Yah Yahs Cafe – All are excellent places for brekkie, bagels, coffees, and such.
RELATED: Restaurants in Sayulita, Mexico – Where To Eat and Drink!
Things To Do In Sayulita — Day Trips!
12. Monkey Mountain Hike
The Monkey Mountain hike is pretty much the only hike in the area, and it's definitely worth it. If you visit Carracitos Beach, you'll be able to see Monkey Mountain in the distance. It's the only place to get unmatched views from above the Bay of Banderas, Sayulita, the nearby beaches, and even Punta Mita!
This is a 4-mile out-and-back hike that's rated moderate. You'll either take a taxi to the start or get a tour to Higuera Blanca, where the trail starts.
From there, you'll have a slow and steady climb up through the jungle, thankfully mostly shaded! Eventually, you'll reach the top, which requires some rock bouldering to make it to the summit.
The views stretch for miles, and while most see just the single viewpoint towards Punta Mita, if you climb just a bit behind you, you'll see the other side towards Sayulita too! The second viewpoint doesn't have any people, while the main one is small and often can have a few people gathered at it.
It will be sweaty and hot, so bring lots of water! There are no facilities in the area once you start the hike. If you choose not to use a guide, Maps.Me will lead you there; however, you will need transportation out here either way from Sayulita.
13. San Pancho
Grab a bus at the Sayulita bus station, and in 15 minutes, you'll end up in San Pancho, the beach just north of Sayulita. It's a cute a charming town with shops and restaurants – a mini Sayulita if you will. The beach is massive and is quite a bit less crowded than the main beach in Sayulita.
For intermediate and advanced surfers, these waves may be for you.
RELATED: A 2 Week Mexico Itinerary For Beach and Mountain Lovers.
14. Surf at La Lancha
You can hit up Sergio again from Sayulita Surf School and ask him to take you to La Lancha if you don't have your own board and car. It's just about 20 minutes from Sayulita, and this beach is well worth visiting!
It's a huge stretch of sand backed by orange-dusted cliffsides. While there's a 10-minute walk from the parking area through the jungle to get here, it's no secret! But since it's so big, there's still plenty of space for everyone to bask in the sun (there's isn't much opportunity for shade!) and to take on the waves.
15. Bike Around Puerto Vallarta
Puerto Vallarta is definitely worth checking out but walking around may take you a while. To solve this, how about hopping on a bike and breezing through the boardwalks while stopping at taco stands, beaches, landmarks, and markets along the way.
There are bike tours that take you around town and depending on the day you book, you'll have different activities as there's something always happening around Puerta Vallarta.
Guac and tacos fuel you along the way and PV has a beautiful pedestrian and bike lane that runs along the main strip, making it a safe and fun ride (coming from someone who regularly doesn't like bike riding!)
16. Check Out Punta de Mita
Punta de Mita is the local area of the Punta Mita peninsula. Most of the peninsula, and the incredible beaches around it, have been taken over by fancy resorts. If you visit the area, you'll notice the contrast!
Punta de Mita town has a bunch of restaurants on a beach that's good for paddleboarding. The area would be worth a day trip so you can see both sides of the area. Some of the resorts offer a day pass if you aren't staying there to enjoy their facilities.
If you're staying the night in the area, Onda Hotel is actually a charming place. They made all of their rooms out of shipping containers, there's a pool right in the middle, and they are just a couple of minutes walking from the beach.
17. Isla Marietas (The Best Thing to Do from Sayulita!)
No doubt you've seen pictures of this place in an advertisement for the area, these islands are the sweetheart of Nayarit for sure! The islands are now pretty regulated after years of over-tourism.
The ticket to get here ain't cheap (around $100), but the Hidden Beach is pretty damn beautiful, as is Playa la Nopalera on the next island.
There's a crushed sea cave you have to swim through to get inside, marine life, whales breaching, and blue-footed boobies awaiting you at these islands. It's definitely worth a day trip from Sayulita. I recommend doing the tour as early as you can schedule it instead of waiting until the afternoon.
Ricardo was an awesome guide! You can contact him at +52-322-123-7828
RELATED: A 3-Day Mexico City Itinerary: Boats, Pyramids, Churros, & Squirrels?
Where To Stay In Sayulita
I must say, Sayulita is NOT cheap for accommodation, you're not going to find that great of a deal on accommodation, it just happens to be a pricey place for Mexico. But here are some great places to choose from.
I LOVED my house because it was out of town which meant zero noise from the roads or bars. I also had a massive patio, the loveliest landlords, and a huge room.
Considering I work from home and spend a lot of time at home, I wanted a lot of space, including outside space. The internet wasn't the greatest but that's most places in town.
Pacifico Properties is a great resource for beautiful places to stay around Sayulita. Villas del Palmar is perfectly located slightly down from the main area of the beach, which means you get to be close to the action but without having 38572489 other people right next to you! They have a pool and beach access, unique layouts, and all the places have an outdoor space, of course!
Elegant Casa With Outdoor Porch: Located on a hill and only a short walk from town, this elegant casa has a courtyard patio, a large outdoor veranda, and a fully equipped kitchen.
Casa Risa: A two-bedroom house in the southern part of town near the best beaches, Casa Risa has an open floor plan, a covered patio surrounded by gardens, and a full kitchen.
Casa Kanelo: Bright one and two-bedroom units in a colorful building with access to a shared pool and garden. Each unit has a full kitchen, balcony, and air conditioning.
Mar y Sueños Apartments: Located right by Sayulita Beach and close to town, these studio apartments have free WiFi, kitchens, air conditioning, and balconies. There is a shared rooftop terrace, hot tub, and a garden with a swimming pool.
Villa Iguana Verde: Located in a quiet neighborhood close to the town and beaches, Villa Iguana Verde offers units with full kitchens, air-con, private patios, and free WiFi.
How To Get to and Around Sayulita
From Puerto Vallarta Airport you can easily take an Uber, it's the easiest choice. Simply walk out of PV airport, make a left, then at the end of the building, make another left and walk over the pedestrian bridge. Once you reach the other side, order your Uber from there – they can't pick you up from the Airport.
Getting around Sayulita is super easy, just use your legs. I walked the entire six months, everything is pretty damn close! You'll see lots of golf carts roaming around and it's a great way to get around but they aren't that cheap.
Tips for Visiting Sayulita
10%-20% tips are the norm in the area so add a few pesos to your bill.
ATMs are everywhere but I recommend using the machines inside stores.
Make sure to go to the ATMs early if you're here for a holiday or a busy weekend, sometimes the ATMs run out of cash over the weekend.
Sayulita is hilly and covered in cobblestones and semi-broken walkways. So maybe wearing some comfortable walking sandals would be smart.
The exchange rate you find around town won't favor you much. I'd only pay in pesos.
This place can fill up for the holidays and it gets expensive too!
I hope my list of things to do in Sayulita helps you better plan your trip here!