I had no idea about the things to do in Guatemala, what it's known for, or really anything about its history! That's the beauty of travel to me, I'm curious about these things, and instead of just looking up tons of information every time I jet off, I just go and find out!
So I went backpacking Guatemala for nearly a month after I Googled a few things and then just hopped on a place. And without surprise, I left the country, already wanting to come back. Its rich history, lush jungles, intense waves, kind people, colorful architecture, daring volcano hikes, and budget prices made me oh so happy!
So now I share with you all the things to do in Guatemala that I love, things I wish I had time for, and all the other tips and information you need to explore gorgeous Guatemala.
Your Guide to Backpacking Guatemala
---
Here's everything you need to know before embarking on your journey of backpacking Guatemala!
I separated everything out per area so you can get an idea of what to do in each spot. You'll also get my best tips and a packing list below, plus some other need-to-know info.
Backpacking Guatemala Itinerary
Here's a 4-week itinerary exploring Guatemala's culture, history, and natural beauty. You'll get to see some of the country's most iconic and beautiful destinations! Of course, you're welcome to mix things up as you wish, but this should be a good guide on what you can fit into each week.
Don't worry, I will go into more detail on what to do below! Here's my full article on deciding on your Guatemala itinerary.
Guatemala Week 1:
Antigua: Explore the colonial town of Antigua, take a coffee plantation tour, and hike volcanoes like Pacaya, Acetanango, and Fuego.
Lake Atitlán: Take a boat out on the lake to reach any of the charming towns of the lake. Hike, SUP, yoga and hike volcanos.
Guatemala Week 2:
Xela – Tackle the Santa Maria hike and scope our Santigauito Volcano, then relax in thermal waters.
El Paredon – Try your hand at surfing or just hone in on your skills of being a beach bum or pool lounger.
Guatemala Week 3:
Rio Dulce: Take a boat tour of the river, visit the nearby waterfalls, and explore the local wildlife.
Livingston: Visit the Garifuna village, learn about the local culture, and enjoy the beautiful beaches and Caribbean vibe.
Guatemala Week 4:
Semuc Champey: Hike to the viewpoint for stunning views of the turquoise pools and cascading waterfalls, and explore the nearby caves and natural wonders.
Flores and Tikal: Head to the colorful town of Flores, located on Lake Petén Itzá. Use Flores as a base to explore the ancient Mayan ruins of Tikal, climb the pyramids, and learn about the Mayan civilization. Then head to Belize!
READ MORE: Your Perfect Guatemala Itinerary: 1-3 Weeks + Tips!
Backpacking Guatemala—Things to Do in Antigua
Nestled in the heart of Central America lies Antigua, Guatemala, a vibrant city bursting with color, culture, and history. From its charming cobblestone streets to its stunning colonial architecture, Antigua is a feast for the senses.
Whether you're exploring the local markets, savoring the delicious cuisine, or simply soaking up the vibrant atmosphere, there's something for everyone in this enchanting city.
1. Hike Pacaya
With a national park all to itself, Pacaya volcano looks like a formidable volcano to crack. We are talking steep climbs pretty much the whole way up the dried lava field.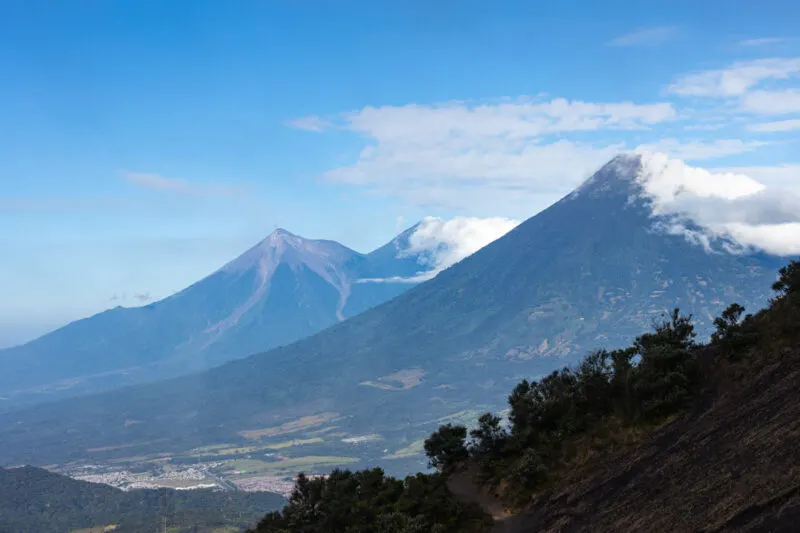 Although it isn't the longest of hikes (3 miles total), it is tough going! But when else will you get the chance to climb up an active volcano? You can usually see smoke billowing out of its peak even as you climb.
Traverse the rocky landscape, admiring unique lava formations and the views of the surrounding equally impressive volcanoes, before having a quick pit stop to roast marshmallows using the heat from the ash and hot rock. Ever had volcano-roasted marshmallows before?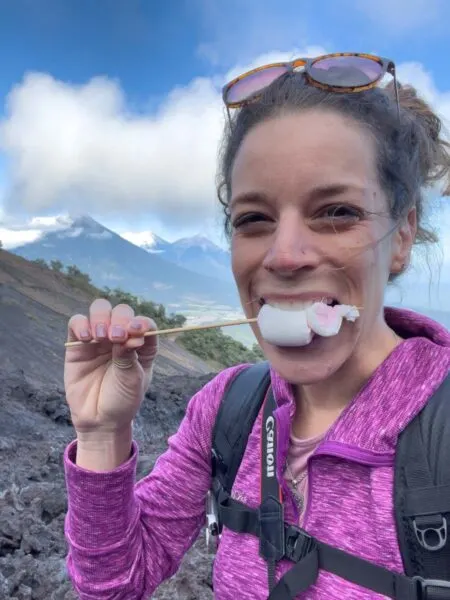 The hike is only about an hour outside of Antigua; it is a great day trip to add to your Guatemala itinerary.
→ Book the tour I did: Pacaya Volcano Trek
2. Hike Acatenango and Fuego (My Personal Fav Thing to Do in Guatemala!)
When in Antigua, add the Acatenango hike to your bucket list of places to visit in Guatemala. A volcano hike is pretty much a right of passage in Guatemala, and Acatenango is, without a doubt, one of the best.
You can hike Acatenango in a day, although it is a LONG day. You are better off choosing a two-day hike as you'll have the incredible opportunity to watch the neighboring Fuego erupt into the night sky.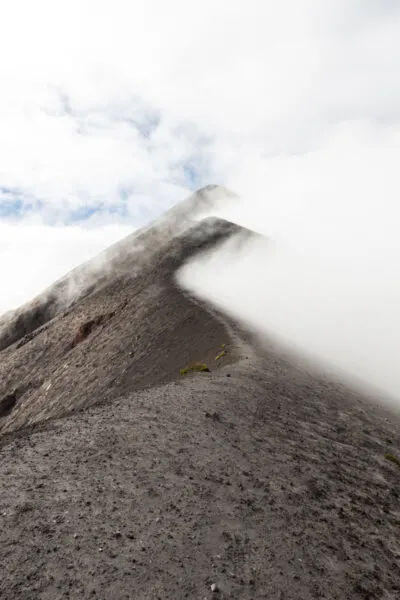 This hike is HARD. Seriously, if you are an inexperienced hiker, it might be best to give this one a miss. It is pretty much a verticle climb, or at least it feels like it is, and over two days, this can be pretty draining. However, it is so cool to say you have climbed up a volcano and get very close and personal to a highly active one.
There are a few different tour companies to consider, some of which offer a little more luxury than others (think a slightly more comfortable mat when it comes to the overnight stay and a small shelter versus a tent). I LOVED the tour I went with, they are the most reputable in town. They have a small shelter which is a bit nicer than a tent.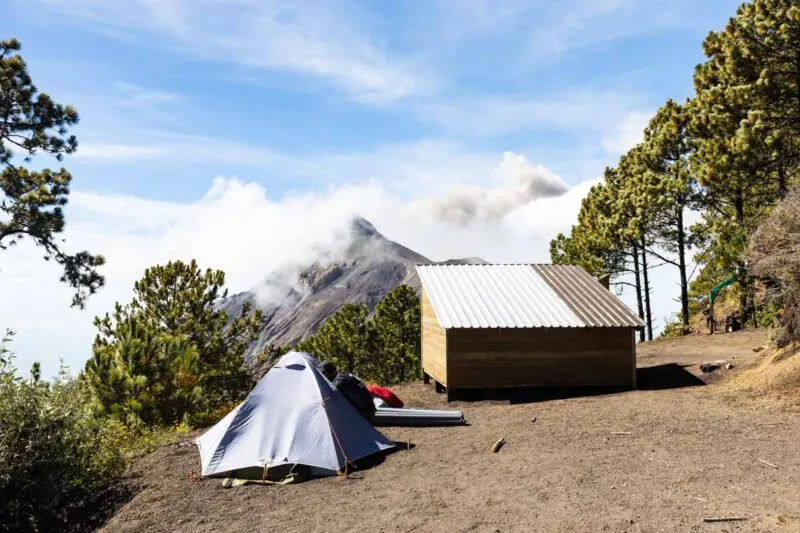 This hike is over 8 miles round trip NOT including the addition of hiking to Fuego (another 3-4 miles). Make sure you're decently fit. I hike often and this hike still kicked my ass but it was 100% worth it!
→ Book the tour I did: Acatenango Overnight
3. Roam Ancient Ruins
Some awe-inspiring ruins surround the city of Antigua. Sure it might not be the most adventurous of things to do in Guatemala, but even if you're not a history buff, some of them are well worth checking out and will give you a little more insight into the history of this fascinating country.
You'll need a lot more than a day if you want to see all of the ruins that surround the city. But a few highlights include Convento De Las Capuchinas, a massive convent complex full of nuns until the earthquake of 1773. It is now open to the public, making it the perfect place to stroll around and admire the views from the rooftop.
La Recoleccion is another not to miss ruin. A church that was destroyed by earthquakes but rebuilt time and time again. Although they are just ruins now, you can still make out how stunning this church once would have been.
Convento Santa Clara is another incredible set of ruins, once a church and a convent. The partitions that the nuns would have stayed in can still be seen today.
There is something so incredible about walking through the tumbling and crumbling ruins, imagining what each of the buildings would have been like in their glory days.
→ Book this Guatemala tour: Antigua Walking Tour
4. Get Views at Cerro de la Cruz
For one of the best hikes near Antigua, take the Cerro de la Cruz hike. Starting just north of the city, the stone cross sits high on its lofty perch overlooking the buildings, with Volcan de Agua as a backdrop.
The cross itself is devoted to the city's patron saint, and there are a few different hikes when it comes to reaching it. Some are longer than others. For those looking for the views and not the leg burn, the Cerro de la Cruz short trail is just 0.5 miles out and back, while others will take you up the hill, making you work for that terracotta vista.
READ MORE: 15 of The BEST Things To Do in Antigua, Guatemala
Backpacking Guatemala—Things to Do in El Paredon
Nestled on the Pacific coast of Guatemala lies El Paredón, a hidden gem that's quickly becoming a must-visit destination for adventurous travelers. With its pristine black sand beaches, awesome surfing, and laid-back vibe, El Paredón is the perfect place to escape the hustle and bustle of everyday life.
Whether you're catching waves, lounging in a hammock, or exploring the nearby mangrove forests, there's something for everyone in this paradise.
5. Surf (One of My Fav Things to Do in Guatemala!)
El Paredon is known for its surfing culture; let's call it the surfing mecca of the country and one of the best places to visit in Guatemala. It is arguably the best surfing spot in the country yet doesn't look much more than a small fishing town. Although I think this adds to its appeal.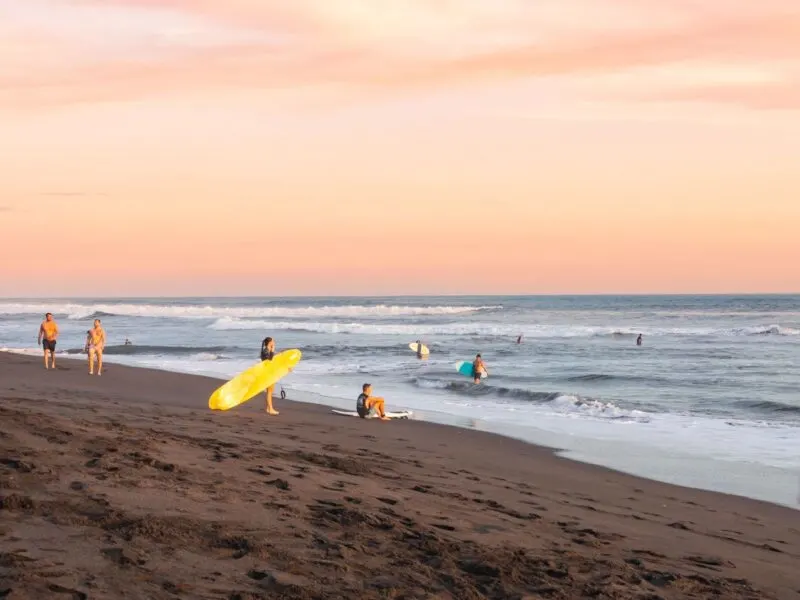 Surfers should head to El Paredon Surf Camp, which offers an effortlessly cool place to hang out with like-minded travelers before getting your surf on. The water off of the black sand beaches offers consistent breaks all year round, with the most significant breaks in the summer.
So what are you waiting for? Air out those beach shorts, give your board a little wax, and hit the waves to see all the hype.
6. Kayaking Through the Mangroves
There is something so mysterious and incredible about kayaking through the mangroves in Guatemala.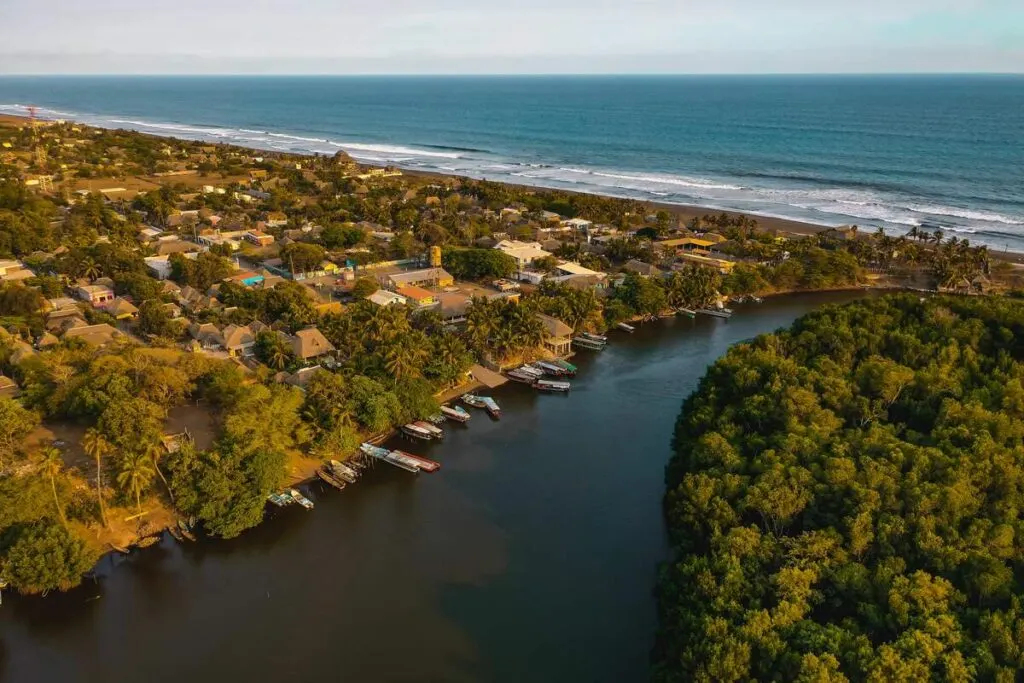 Weave your way in and out of small inlets, alive and teeming with wildlife. Some of the pathways through the water are so crowded with the gnarly tree roots sticking out of the water you will wonder how you will ever be able to pass through, but the knowledgeable tour guides always seem to find a way.
Keep your eyes peeled for the weird and wonderful four-eyed fish; as the name suggests, this fish does have four eyes!
7. Chill at a Beach Club
If you're looking for a fun and relaxing way to spend a day in El Paredón, look no further than the beach clubs. These clubs allow visitors to use their facilities and pools for a fee, giving you access to all the amenities you need for a perfect day at the beach.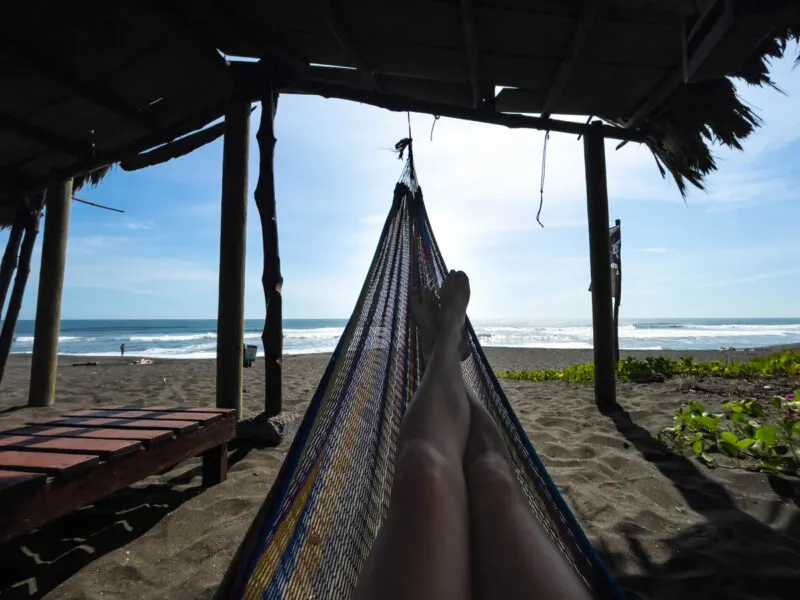 The fee you pay goes towards food and drink too so it's really a steal and really, beyond what was mentioned here, there isn't much else to do here when backpacking Guatemala, so plan on just chilling!
Backpacking Guatemala—Things to Do in Xela (Quetzaltenango)
Nestled in the highlands of Guatemala lies Xela, a vibrant city bursting with culture, history, and natural beauty. From its colorful markets to its stunning colonial architecture, Xela is a feast for the senses.
Whether you're exploring the nearby hot springs and waterfalls, hiking through the surrounding mountains, or simply soaking up the vibrant atmosphere, there's something for everyone in this enchanting city.
8. Hike Santa Maria
Just a 30-minute bus ride from Xela is one of the best hikes in Guatemala. You'll never get tired of hiking volcanoes in this country, and Santa Maria offers some of the area's most stunning views.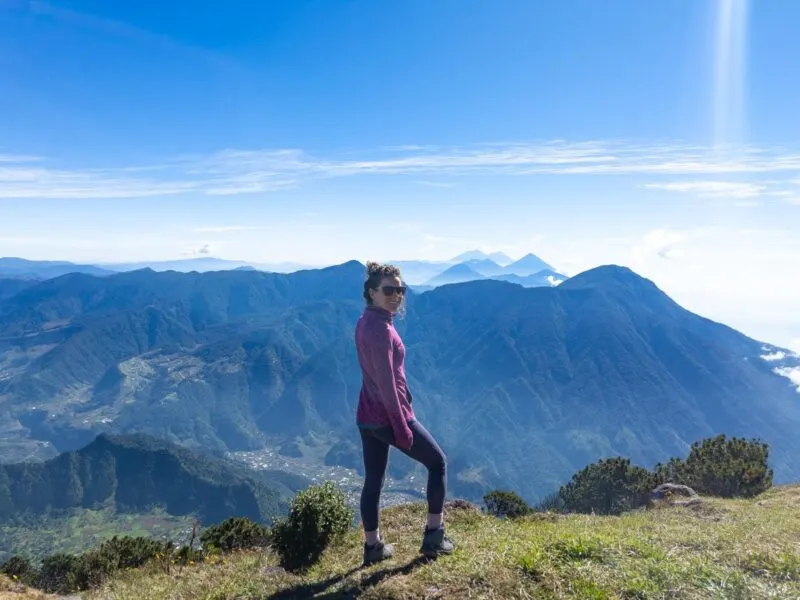 You can do the hike on your own, but many people would recommend hiring a guide, so you know exactly what you are doing and can take the safest route up and down. The guides know their stuff and will likely fill you with information on your way up.
Many people choose to stay the night at the top, so you can wake up to one of the most stunning sunrises that you will ever see.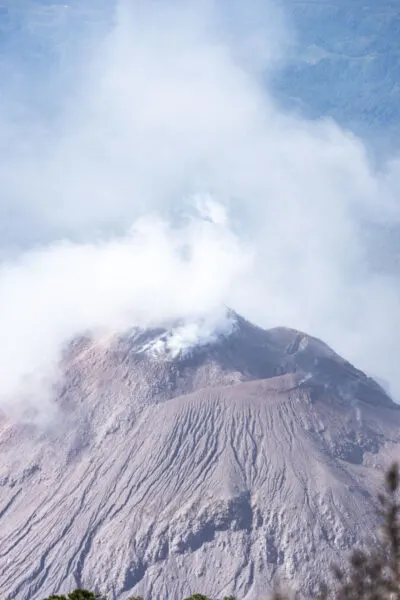 At 12,357 feet, it is no easy climb, but it is well worth the effort. The neighboring volcano, Santiaguito Volcano, is where all the action happens. It even sometimes spouts out lava so that you can catch one of the most magical shows in the world.
On a clear day, take a look around, as you can often make out some of the other surrounding volcanoes.
9. Peek at Santiaguito
If you've already hiked Santa Maria, you may have seen that other volcano calling you. Santiaguito is an active volcano with hot ash and rocks spewing every few hours. Don't let this put you off, though. It is a spectacular yet challenging hike, and it is pretty cool to say that you have hiked an active volcano.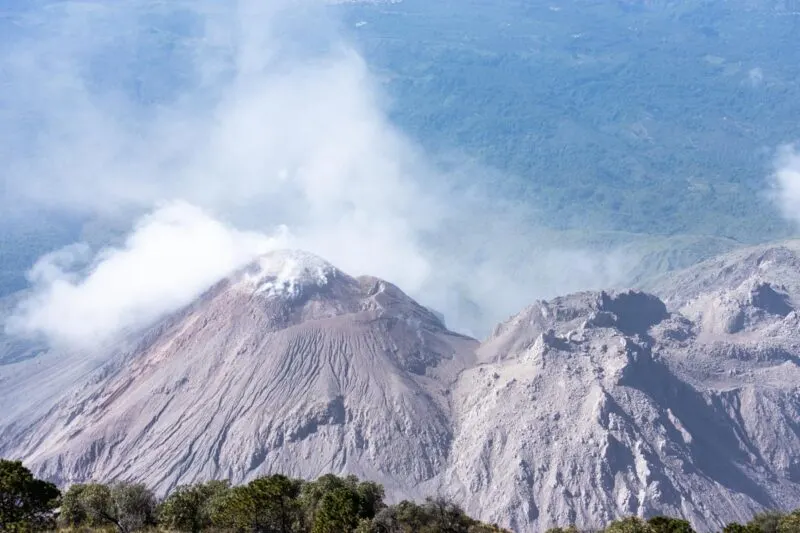 I must say, my only regret is after I hiked Santa Maria, I wish I had continued to Santiaguito. You're already halfway there and combining these two trails if you're up for it (Santa Maria is TIRING!), would be smart. We, unfortunately, didn't realize these two volcanoes shared a trailhead until it was too late! Damn!
Just note that the trail takes you to a viewing area and hiking closer is dangerous and difficult because this is an active volcano!
10. Fuentes Georginas Thermal Pools (the Most Relaxing Thing to Do When Backpacking Guatemala!)
Volcanoes have shaped this part of the country, and as well as giving us epic hikes, they have also given us the perfect way to relax afterward, in the form of hot springs.
The volcanoes do an excellent job of warming up the waters of the surrounding pools, giving you an effortless way to have an outdoor bath without splashing out hundreds on a fancy hotel.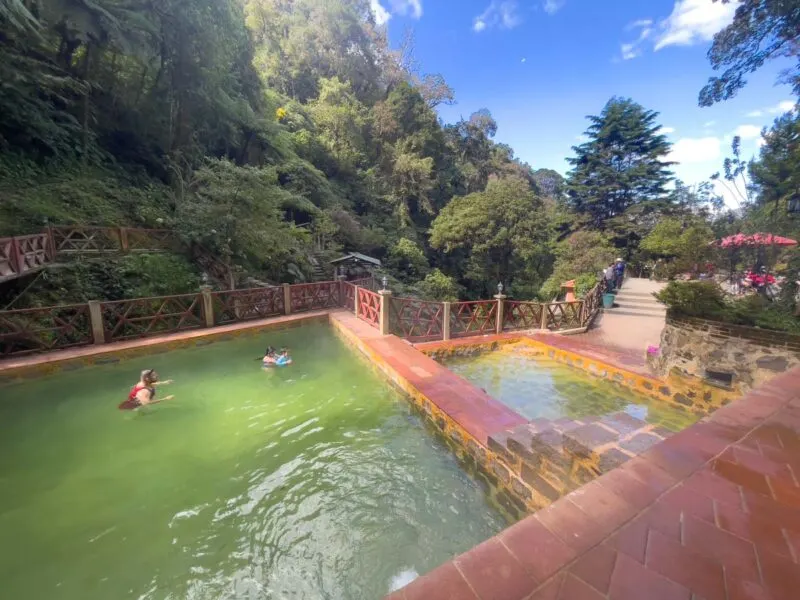 Fuentes Georginas Hot Springs is one of these natural wonders, heated by the Zunil Volcano. Although the pools here are man-made, it is easy to forget that fact, as you're almost surrounded by a thick jungle.
For the small entry fee, you can spend as long as you like relaxing in the waters, so if you're not careful, an hour can very quickly turn into the whole morning or afternoon. If you can get there in the morning, you are much more likely to be able to enjoy them without the crowds.
Each of the four pools is different temperatures, so try them all and see which you like best. There is also a short hike and a restaurant on site.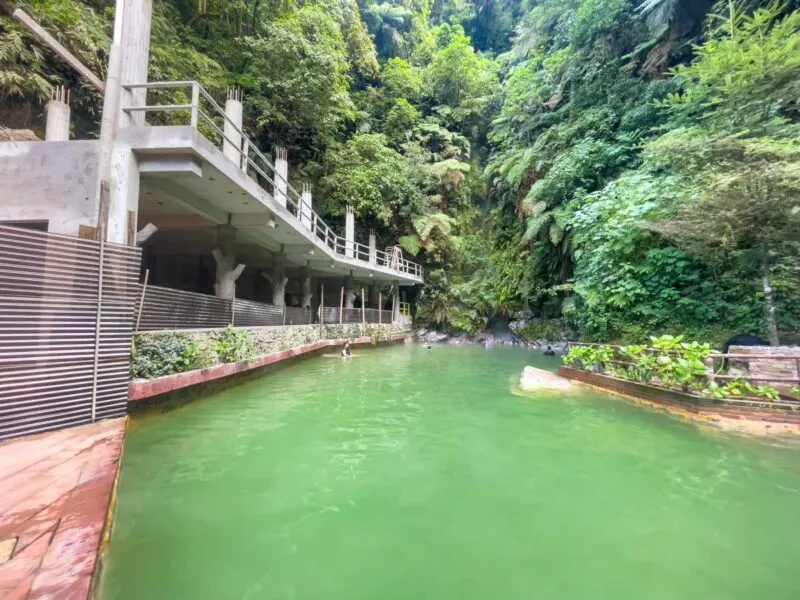 The only issue is getting out there! You can figure it out through bus transportation, an Uber or taxi, or, the easiest way to get there is to book a tour since the springs are about an hour outside the city. It is one of the best things to do in Guatemala and definitely worth the journey.
→ Book this Guatemala tour: Fuentes Georginas Hotsprings
11. Check Out Cerro el Baul Viewpoint
Prepare to enjoy one of Guatemala's best viewpoints with minimal effort involved. The lava dome of Cerro el Baul is drivable, so if you don't fancy the climb, you can pretty much sit on your bum to the top. This lofty viewpoint offers breathtaking vistas of the valley of Quetzaltenango. It's a favorite picnic spot for the locals too!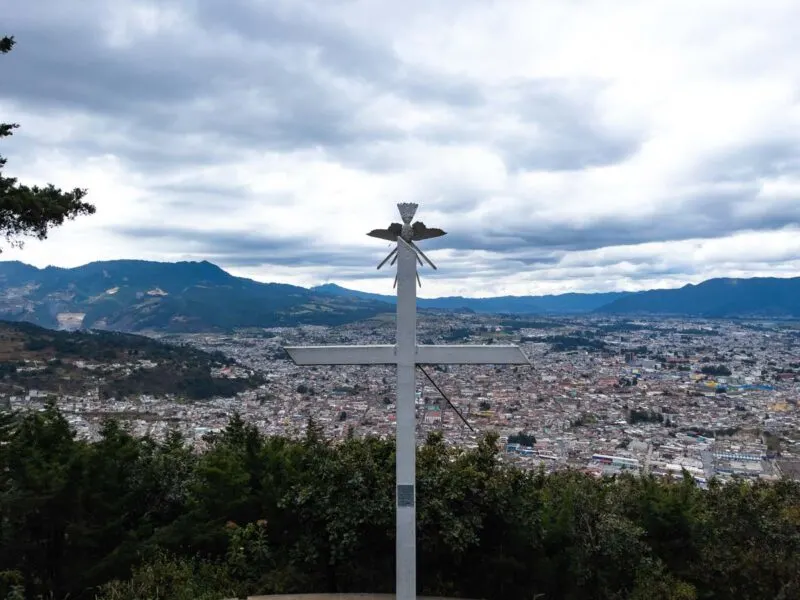 RELATED: Your Perfect Guatemala Itinerary: 1-3 Weeks + Tips!
Backpacking Guatemala—Things to Do in Lake Atitlan
Nestled in the heart of Guatemala's highlands lies Lake Atitlan, a breathtakingly beautiful body of water surrounded by towering volcanoes and lush, green hillsides. With its crystal clear waters and stunning mountain vistas, Lake Atitlan is a must-visit destination for nature lovers and adventure seekers alike.
You can go kayaking on the tranquil waters, hiking through the surrounding hills, or simply relax on the lakeshore and take in the stunning views, Lake Atitlan is sure to leave you feeling calm, refreshed, and inspired.
12. Kayaking or SUPing Lake Atitlan
When you are not gazing in awe and wonder at the lake, you should spend some time on the water instead. Kayaking/SUPing offers an easy way to explore the shores of the lake, and there are plenty of places you can do it.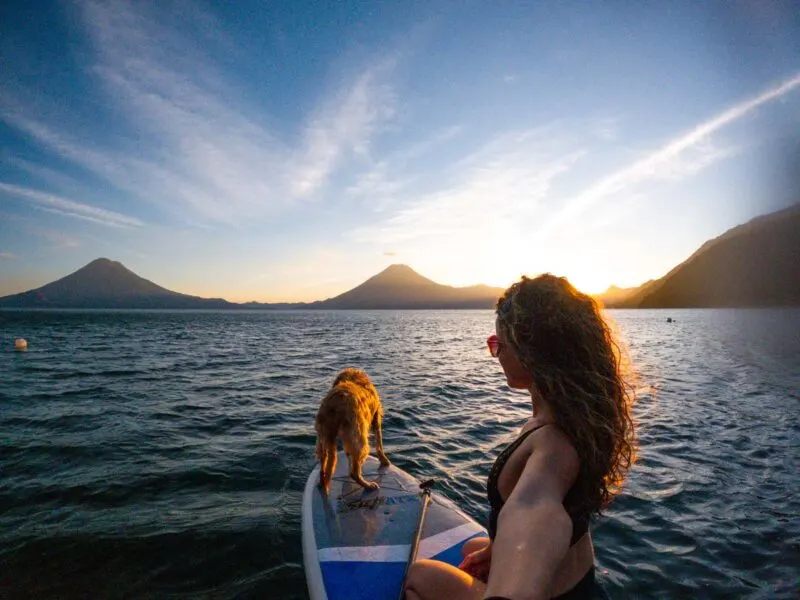 Most of the towns that sit on the shore and some of the hotels have kayaks that you can rent by the hour or day, so pick an area of shoreline that looks interesting and get out and explore.
If you don't fancy going out by yourself and want a little bit of structure to your trip, you could always go on a guided kayaking tour, some of which will take you to neighbor towns such as Santa Catarina or San Pedro.
13. Indian Nose Hike
This hike is undoubtedly one of the most stunning places to visit in Guatemala. The hike should take around 45 minutes. If you can bear to get up early enough, try and reach the peak for sunrise, and trust us, you won't be disappointed.
There is something so magical about seeing the light over this beautiful expanse of water, hemmed by the pointed peaks of the surrounding mountains. Although you can do the hike yourself, it is easier and safer to take a tour.
The first part is pretty flat, so make the most of it, as it will not be staying this way for very long. As you continue, the pathway turns into steps, while still tiring, definitely makes the climb that little bit easier. When the steps end, catch your breath; you have made it to the halfway point of the accent.
After a bit more of a climb, without the efforts to help you this time, you will reach the first viewing platform. Stop to take it all in, but the best is yet to come! Brace yourself and cross the final hurdle to the peak of the climb and the viewpoint that can be found there. If you are lucky, you might even be able to see a volcano erupting.
→ Book this Guatemala tour: Indian Nose Hiking Adventure
14. Explore Cerro Tzankujil
There is not one spot around the lake that isn't beautiful, but if you're on the hunt for somewhere special, pay a visit to Cerro Tzankujil Nature Reserve (20 quetzals entrance fee/$2.50). The reserve can be found on a sacred hill overlooking the water just west of San Marcos.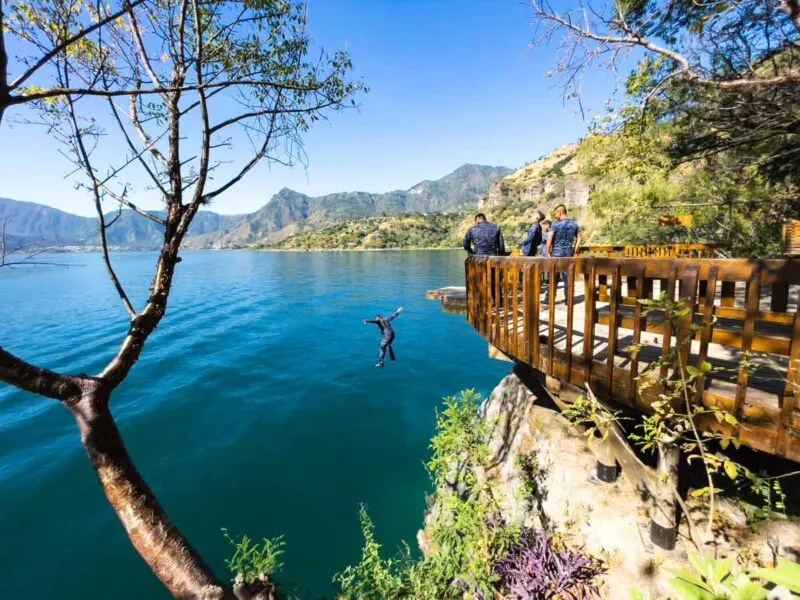 It's like an oasis, with pebbled pathways leading down to secret swimming spots. If you're looking for daring things to do in Guatemala, there is also a diving platform where you can take the plunge into the rich blue waters below.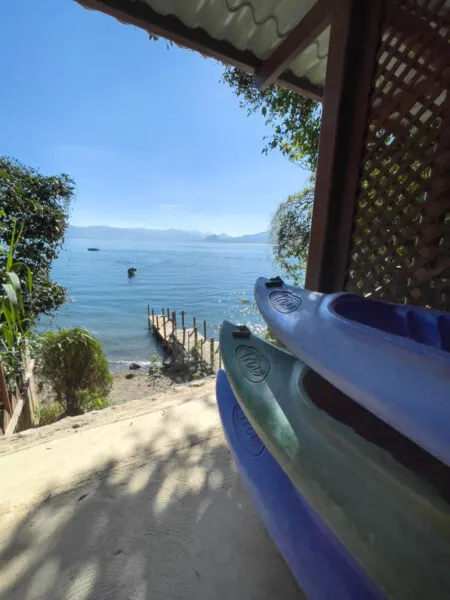 It's 20 meters down into the water, so this isn't one for the faint of heart. No one will judge you (much) if you would rather just watch others flinging themselves off of the platform. There are trails to viewpoints and kayak rentals here as well.
More Things To Do in Guatemala
Because I like traveling a bit slower, I didn't get to go EVERYWHERE I wanted while backpacking Guatemala. I honestly never do, there's always more to see, but that's another story! With that said, I wanted to add on a few more famous locations for you that I can't wait to see next time I visit!
15. Tikal
If you love ancient ruins, then a visit to Tikal should be on your list of places to visit in Guatemala. Tikal was once the biggest city of the Mayan civilization and is now one of the most important archaeological finds in the area.
The massive site is dotted with hundreds of buildings, including temples and palaces up to 200 feet tall. Take your time walking the well-marked pathways between structures, and you might spot buildings used in Star Wars: A New Hope or the James Bond film Moonraker.
A visit to Tikal is best done as a day trip from nearby Flores. Although there are local chicken buses that run between the two, most people book a tour. Some tours include a guide, but others act more like a shuttle bus and leave you to explore the ruins on your own.
→ Book this Guatemala tour: Tikal Day Tour from Flores
16. Semuc Champey (Probably The Most Famous Thing to Do in Guatemala!)
The look of the pools alone might be enough to convince you to add Semuc Champey to your itinerary, but there's plenty more here for the avid adventurer to enjoy.
You could of course spend your day relaxing in the turquoise waters, but at a minimum, we suggest taking the hike up to El Mirador, where you can see the whole site below you. For anyone seeking something more thrilling, you can visit the network of underground caves, go tubing down the river, or enjoy the rope swing.
Semuc Champey is tucked away deep in the jungle and inaccessible by regular transport. Most people choose to hike the 2.5-mile journey from the closest town of Lanquin, though you can get a 4×4 shuttle if you're pressed for time.
→ Book this Guatemala tour: Semuc Champey 3 Days
17. Grutas de Lanquin
Just outside of the town of Lanquin, you'll find the entrance to a massive cave system forged by underground rivers. The true expanse of the Grutas de Lanquin has never been fully explored, but to make visiting more accessible, around 450 meters of well-lit pathways have been installed.
Power outages are common, however, so it's best to bring your own flashlight and try not to venture off course.
While many attractions are best visited at the crack of dawn, you'll get a special experience here if you plan your trip for sunset. As dusk arrives, thousands and thousands of bats will exit the caves, making for a pretty spectacular overhead show.
You can see these caves when you're visiting Semuc Champey as they are quite close! This tour takes you to everything!
→ Book this Guatemala tour: Semuc Champey 3 Days
18. Livingston on the Caribbean Coast
Simply getting to the town of Livingston is a bit of an adventure. The coastal town is surrounded by thick forest, unconnected by roads. The only way to get to Livingston is by boat – either by river or ocean. It's this isolation that makes it one of the more interesting places to visit in Guatemala, with a culture all of its own.
Top of your list should be experiencing the Garifuna culture, with drumming and dancing held at some of the local bars. Make sure you try the local dish known as topado, a fish and coconut soup, or take a cooking class to learn how to make it yourself.
Around 1.5 hours hike from town you can find Siete Alteres (Seven Altars), a series of seven waterfalls with beautiful freshwater pools you can swim in.
19. Finish Backpacking Guatemala and Head to Belize!
These two Central American countries are located right next to each other, making it easy to explore both in one trip—And I can't recommend it enough! From the stunning Mayan ruins in Guatemala to the pristine beaches of Belize, there's something for everyone in this dynamic duo.
To travel from Guatemala to Belize, simply take a shuttle from Flores, Guatemala, and cross the border into Belize. You'll first reach San Ignacio, but you can continue on to Belize City and then to either San Pedro or Caye Caulker all in one day!
The journey is easy and hassle-free, and the border crossing is relatively quick and painless.
Once you arrive in Belize, get ready for an adventure like no other. With its crystal clear waters, colorful coral reefs, and pristine beaches, Belize is a tropical paradise that's just waiting to be explored! Here are all of my favorite things to do in Belize.
Tips for Traveling Around Guatemala
Use GuateGo to book your transportation – But only if you want to make your life easier. There are the cheap chicken buses but what you don't pay in cash you'll pay DEARLY for in time. They take much longer, stop more, and can be a bit sketchy at times. I use GuateGo simply because they made my life easier and I got to spend more time at the destination than the bus itself.
Use anti-theft bags – I had zero issues while visiting the country but I always use my anti-theft bags. It helps me keep peace of mind and they are just simply great bags for travel! Mine still look new after years of abuse.
Habla Espanol – It's not essential to speak Spanish but boy does it help! I got some great practice while I was here, it was amazing! In fact, it's a great place to learn, so perhaps pick up a few lessons while you're here.
Just go to the ATM – This is a tip for really anywhere in the world. I hate using exchanges, they are rife with scams. An ATM will never screw you (use ones in stores/banks only), just get a card like Charles Schwab that doesn't charge you fees and be sure there are ATMs available in the town you are going to! (El Paredon doesn't have one!)
Bring layers – Not only did it get cold at night when I visited in November but it was FREEZING at the top of the volcanos. Don't forget it won't be hot 24/7.
Watch yourself at night – I felt safe in Guatemala but it's often because I know getting drunk and walking at night is a big no no. Go out with a group or perhaps not at all (at least don't get smashed) and then walk alone at night. It's just a bad idea.
Take the tour – While some things definitely don't require a tour (like city walking tours) they can definitely enhance your time! However, attempting some of the volcano hikes solo, might not be worth it. Your time figuring out the chicken buses, haggling, getting lost etc, can eat away at your enjoyment. Just book the tour and enjoy your time! Plus it's safer and a way to make friends.
Visit anytime – Backpacking Guatemala is great year-round but the rainy season is May-September.
RELATED: Best Anti Theft Backpacks, Bags, and Purses + Tips for Keeping Your Stuff Safe!
Backpacking Guatemala Budget
Overall, Guatemala is pretty budget-friendly and is certainly a great destination to visit when you're not trying to spend TOO much money. Here are some example costs to give you a better idea of how much you'd spend here!
Tours and Fun Stuff:
Overnight Camping Acetenango Hike – $90
Pacaya Day Trip – $15
Cerro Tzankujil Nature Reserve Entrance Fee – $2.50
Mirador in San Juan Lake Atitlan – $4
Accommodation:
Antigua private room with shared bathroom – $15
Splurging on a pretty bungalow in El Paredon – $49
Food in Guatemala:
Amazing western breakfast with eggs, bread, huge french press, fruit, and yogurt in Antigua – $5
Cheap vegan lunch in Xela – $2.50
Good pizza in Panajachel – $10
A night out with beers and nachos with friends in Antiga – $30
Transportation
Uber in Xela- $3.25
Uber Guatemala City to Antigua (1 hour) – $18
Antigua to El Pardon shuttle – $25 (shuttles are currently operating at half capacity and have raised their prices)
Boat in Lake Atitlan – $2
How to Backpack Guatemala for LESS
How can you travel to Guatemala for LESS? What if I told you there's a way to travel Guatemala without paying a pretty penny for your accommodation costs, and maybe even your food?!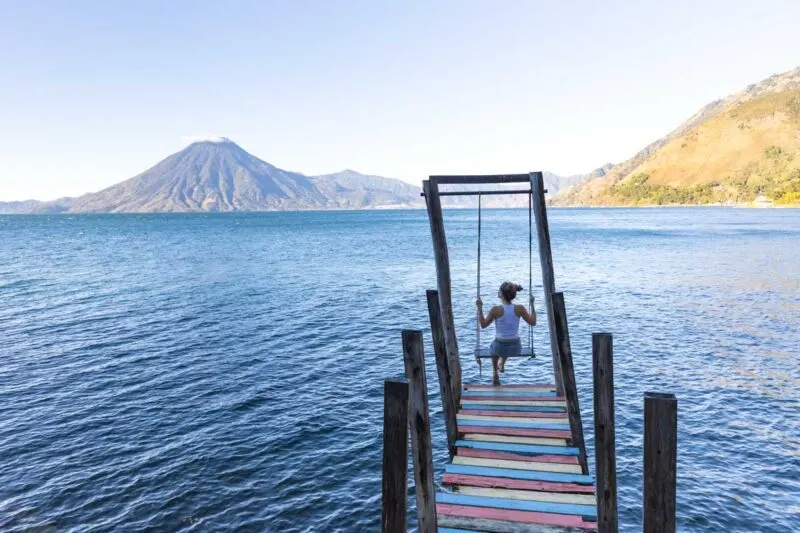 This is actually what I did to keep costs down exploring Guatemala AND it helped me meet locals. I did a few Worldpackers experiences and had the time of my life! I had so much fun, met new people, and saved a huge chunk of cash because I didn't pay for accommodation in Xela or Lake Atitlan!
Grab $10 off Worldpackers and explore all the cool experiences you can do while visiting Guatemala!
Read more about Worldpackers and how you can use it to travel the world for LESS (honestly, this is a backpacker's dream)!
How to Get Around Guatemala
Using GuateGo – My choice for easy bus/shuttle bookings! You can book online and have all your transport sorted within a few clicks. It's just so much easier, and they pick you up from your hotel. Book tickets here.
Just booking on a whim – Totally possible! Just know sometimes it's best to still pre-book so you can get the day and time you want. You'll have to "shop" around for the best choice. Sometimes through your hostel is OK but showing up at the bus station can be better. Also know it's usually a shuttle as large buses don't do great on the narrow curvy roads here.
Taxis, Tuk Tuks, and Ubers – Taxis are generally pretty safe, Ubers are exactly like what you know from home, and tuk tuks are tiny moto-taxis which are great for around town (but I personally prefer walking). All of them are popular and fine to use! Ubers aren't everywhere, just the bigger cities like Xela, Antigua, Guatemala City…
Chicken buses – Old school buses, super cheap, not mega convenient though. This will surely be the longest way to get around but is great for mega-budget backpackers. Just be mindful of your things while riding and plan for rides to take nearly double as long.
What To Pack for Backpacking Guatemala
A GOOD backpack: Don't get caught out with broken straps on day 5! Been there and done that, 10/10 don't recommend it. Check out these awesome backpacks for women.
A portable water bottle with filter: When backpacking in Guatemala, a portable water filter is a great item to pack. It'll allow you to safely drink water and not create more plastic waste.
A headlamp: A headlamp is a must-have item for any adventurous backpacker. I like carrying it on me if I know I'll be out at night as well.
A sarong: A versatile and lightweight item to pack is a sarong, which can be used as a towel and a beach cover-up. I don't travel without one!
Credit Card and ATM card: While credit cards are accepted in some places, you have to carry cash on hand for the majority of things. Don't get caught out without the right travel cards!
Portable charger: Keep your devices charged and ready for all your adventures with a portable charger. Remember, phones need more juice when they're playing camera and navigating all day too!
Lightweight, breathable clothing and a few warm items: Guatemala's climate can be warm, so it's important to pack comfortable, breathable clothing that will keep you cool and dry. With that said, if you're hiking, it can be cold at the tops of the volcanoes! A light rain jacket would be a good idea too.
Good hiking shoes: If you plan on doing any hiking or exploring Guatemala's rugged terrain, be sure to pack a sturdy pair of hiking shoes or boots. You can't get away with just walking shoes for some of these trails, I wouldn't recommend it.
Insect repellent: Mosquitoes and other insects can be quite common in Guatemala, so be sure to pack insect repellent to protect yourself.
Sunscreen: The sun in Guatemala can be blazing! Be sure to pack plenty of sunscreen to protect your skin and your pocket because it's expensive to buy here.
Tips for Booking Your Trip:
---
---
---
---
How stoked are you to travel to Guatemala?! It's incredible and the only thing I regret is not spending even more time there. I can't wait to return! I hope my tips and list of best things to do when backpacking Guatemala helped—happy, and safe travels!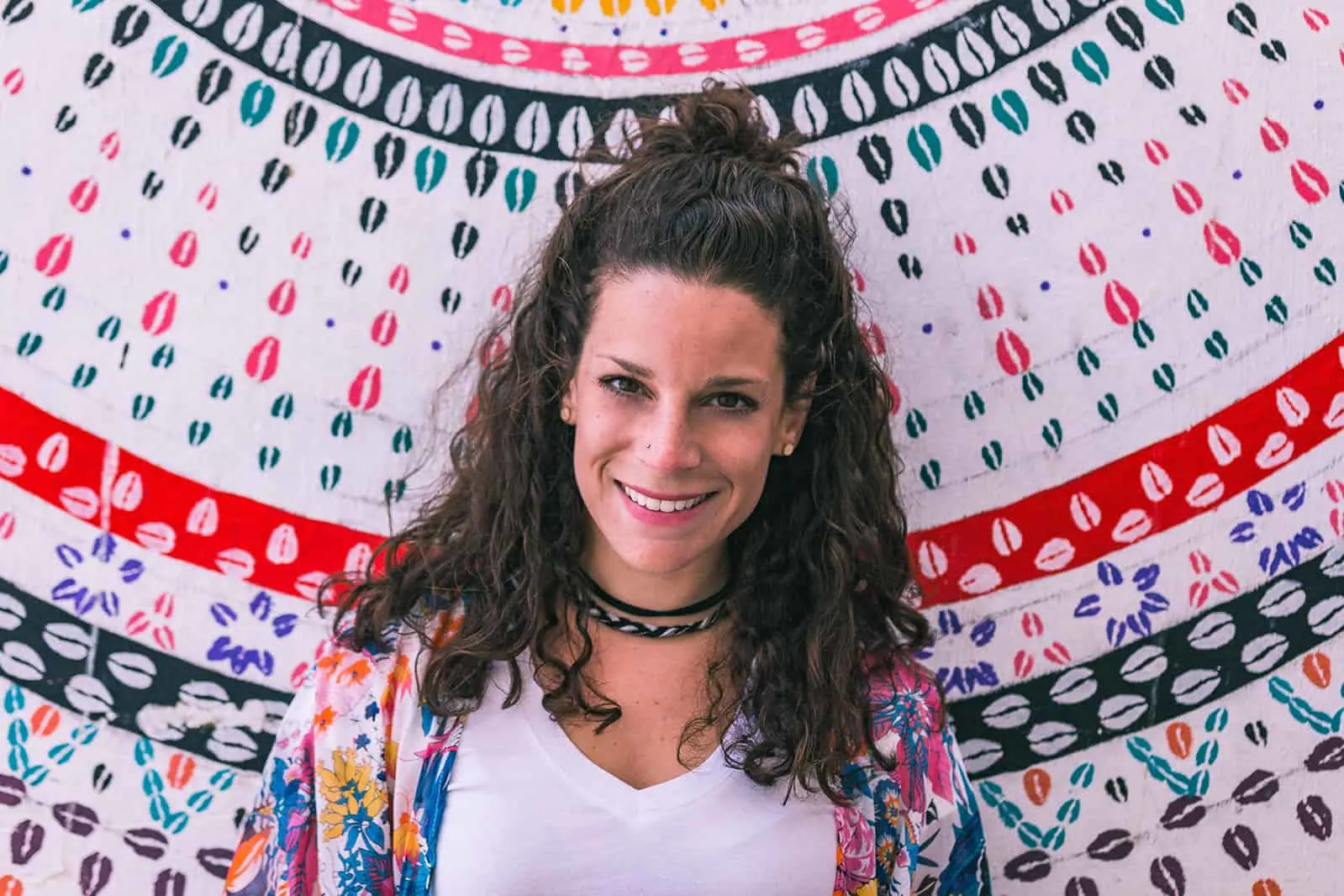 Nina Ragusa is an adventurer, messy bun master, breakfast fan, and full-time travel blogger. She's been abroad since 2011 and blogging on Where in the World is Nina? for nearly as long. Nina helps people like you move around the world while making money. She loves talking about how to work abroad and online to travel longer!