The enchanting town of Carvoeiro got its start as a quaint fishing village. However, its beautiful beaches, stunning coastal landscapes, and small-town charm have transformed this historic town into the perfect holiday destination.
There are tons of things to do in Carvoeiro and the surrounding area. It's one of the most spectacular places in the Algarve, but it has yet to be completely overrun by tourists seeking the best beaches.
So, whether you're looking to relax on a gorgeous beach, explore the historic city center, or embark on a coastal hike, continue reading to discover the best things to do in Carvoeiro!
Things To Do in Carvoeiro
---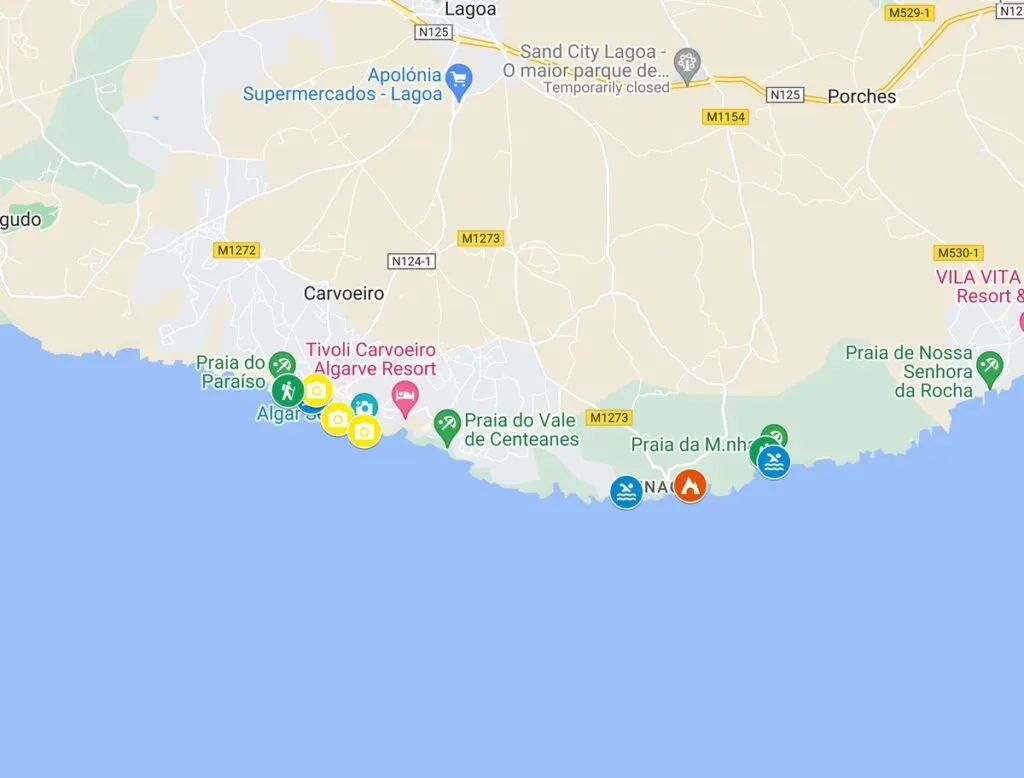 1. Praia de Carvoeiro (Carvoeiro Beach)
Like so many other areas across the Algarve, one of the best things to do in Carvoeiro is to bum on the beach. Carvoeiro Beach does not disappoint. It is one of the most beautiful beaches in the region, with soft golden sand and cliff-lined shores.
It's also incredibly accessible from the city center. The beautiful white houses from town spill out onto the shore, which adds a layer of convenience and attractiveness to the beach.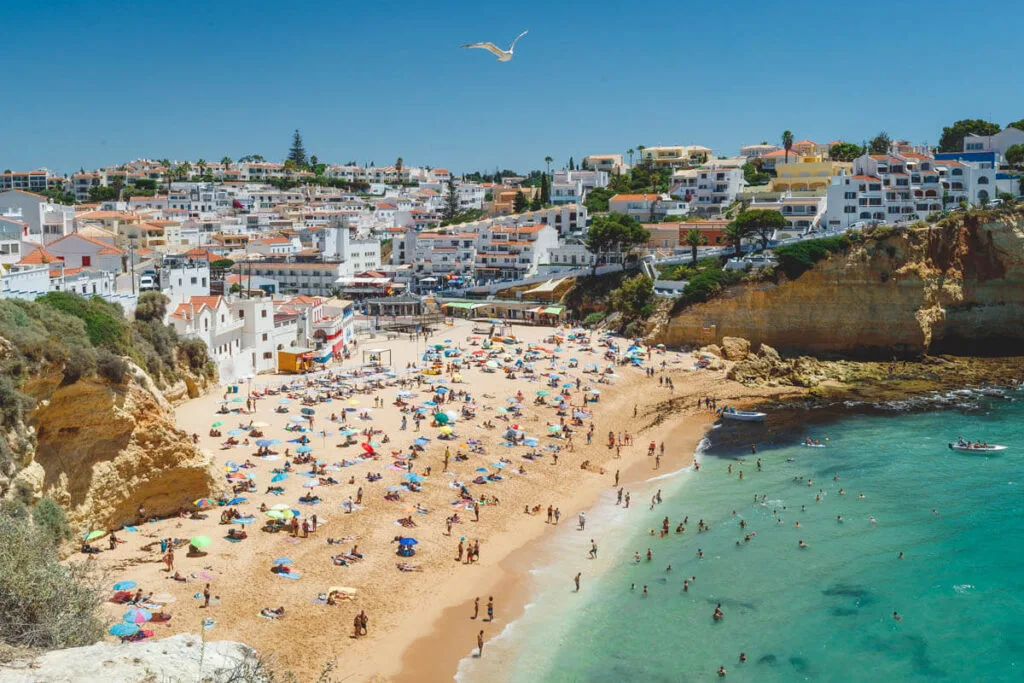 Because of its central location, the facilities on Carvoeiro Beach are top-notch. Lifeguards are available in the summer, between mid-May and mid-October.
A boardwalk also leads to panoramic views from the top of the cliffs. Once you've had enough fun in the sun, you can head to one of the many bars, restaurants, or cafes that line the shore.
Carvoeiro Beach gets extremely busy in the summer. Plan to arrive early to snag a good parking spot and stretch sand to lay your towel.
2. Carvoeiro Town
While you're in Carvoeiro, take some time to meander around town. Lovely white-washed buildings with colorful details line the streets and house countless restaurants, bars, cafes, and ice cream parlors. Carvoeiro is the perfect place for sampling local cuisine and sipping Portuguese beers on terrace bars.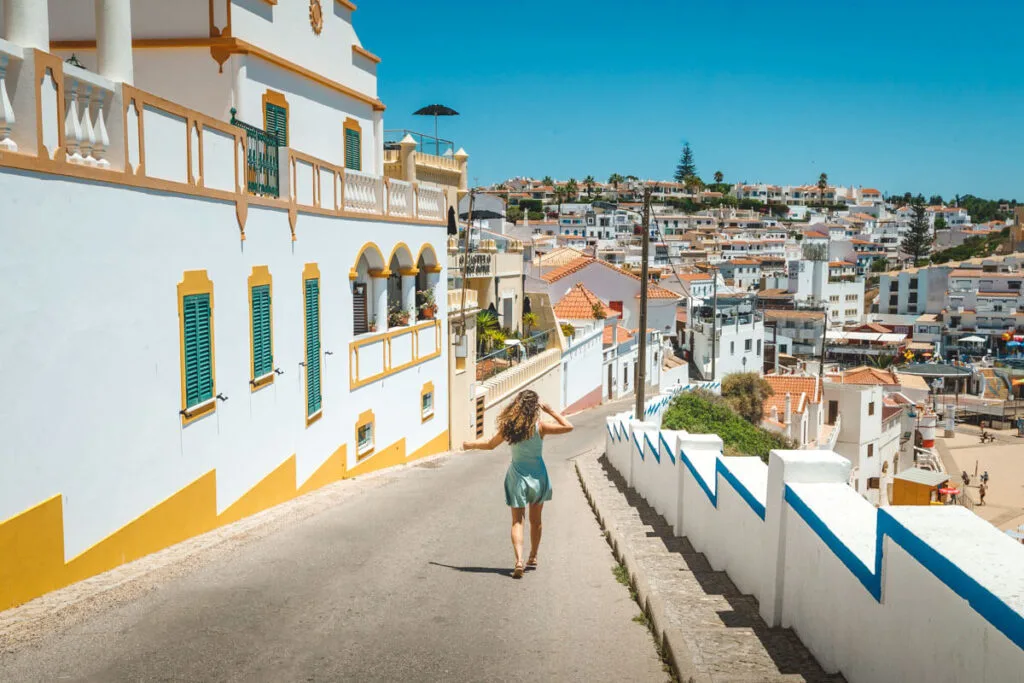 During the summer, the town features live music and events. The Black & White Night is one of the most popular festivals of the year and features numerous stages for live music and dance performances. The festival takes place in June and is completely free—make sure to wear black or white!
Some quick restaurant recommendations:
Decadente– cute cafe for small bites and drinks
Earth cafe – quaint coffee and cake shop
Donna Maria – sunset dinner and drinks on the beach
Happy's – tasty Portuguese fare at good prices
3. Carvoeiro Boardwalk
Strolling along the boardwalk is another one of the best things to do in Carvoeiro. The boardwalk is built into the cliffs above the town and offers epic views of the coast and the village below.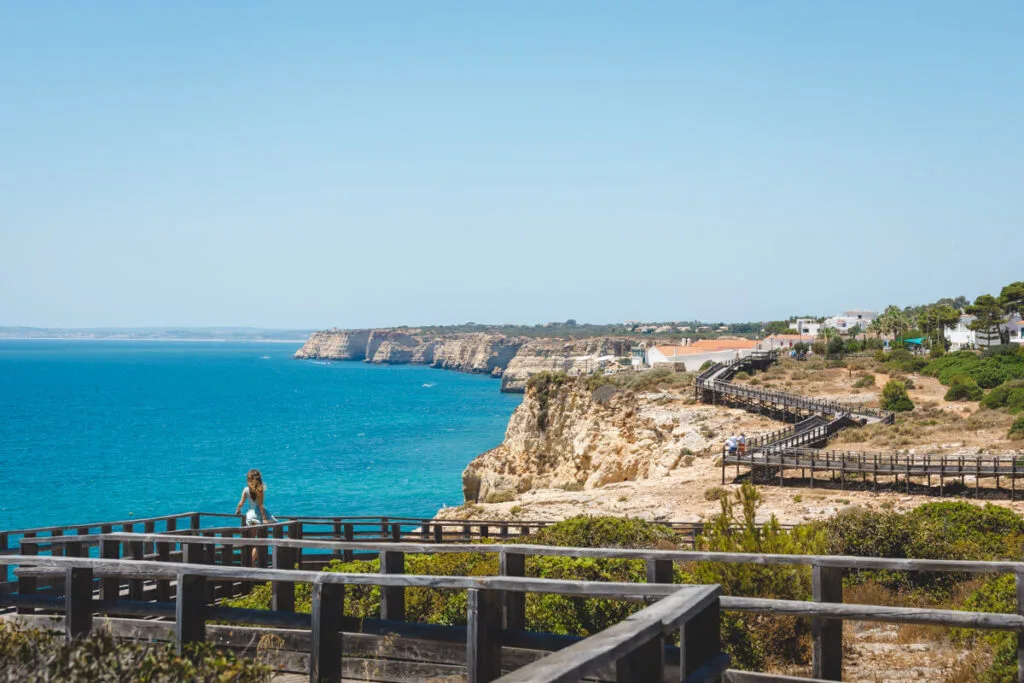 The warm hues of the cliffs combined with the bright blue water in the distance are a sight for sore eyes. As you walk, you'll also see some caves, interesting rock formations, and various bird species.
You can access the boardwalk from the Fort of Nossa Senhora da Encarnação or Algo Seco.
4. Algar Seco
The Algar Seco sea caves are perhaps the most spectacular of all the things to do in Carvoeiro. The area is comprised of caves, tunnels, and otherworldly rock formations formed by wind and seawater over thousands of years.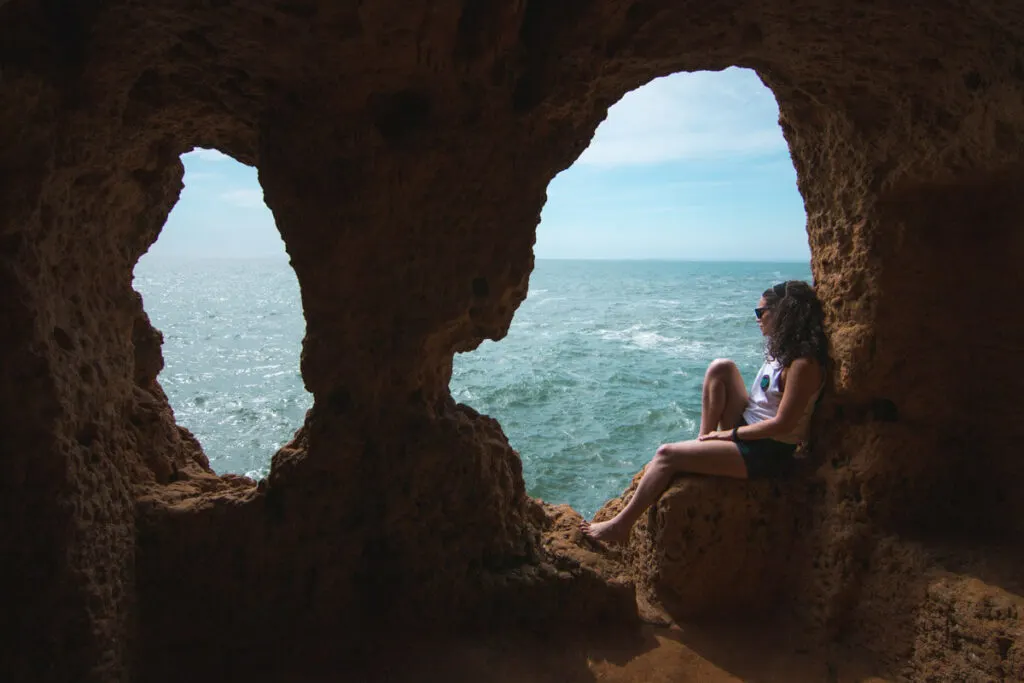 The highlight of Algar Seco is the Boneca Eyes—two holes in a rock formation facing out to sea. There are many fantastic formations, passageways, and a natural pool to discover here.
Once you've explored the area, you can refresh yourself with a cold drink and a bite to eat from the nearby Boneca Bar. Pro tip—come in the later afternoon to enjoy a colorful sunset from the clifftop terrace!
You can access Algar Seco from the Carvoeiro Boardwalk or take a boat or kayak tour.
5. Trail of Headlands
No one would judge you for lazing on the gorgeous beaches of the Algarve for the whole of your trip. But those searching for more adventurous things to do in Carvoeiro can hit the rugged Trail of Headlands.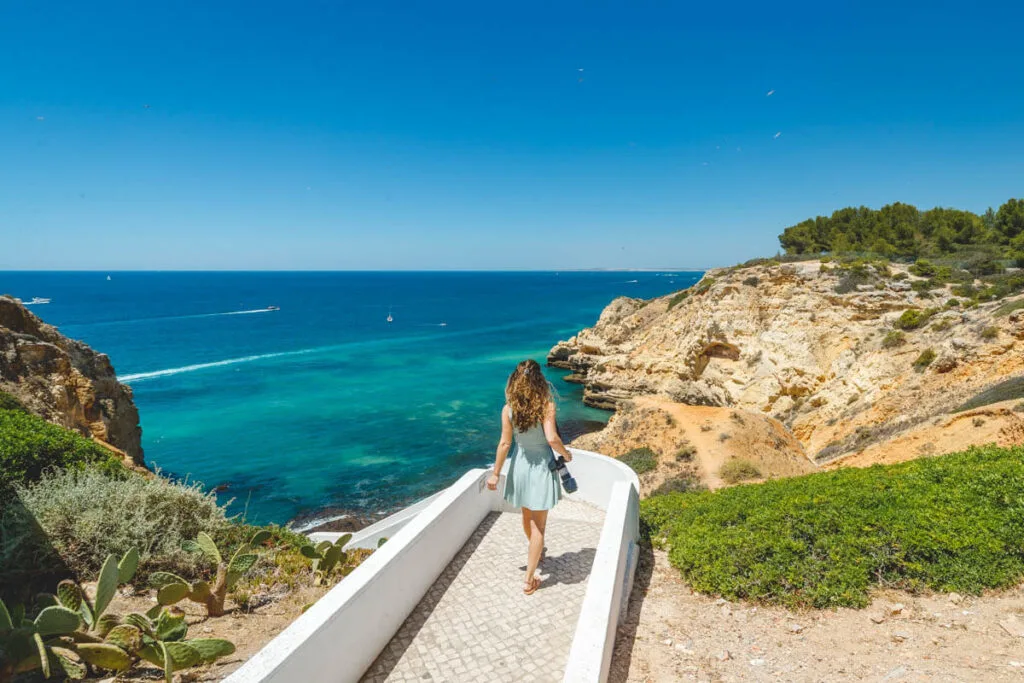 This 13km/8 mile (round trip) route follows the coast from Carvoeiro north to Ferragudo and features some of the best scenery in the Algarve. The jagged coastline is an obvious highlight, but you'll also pass by clandestine beaches, little valleys, and giant sea stacks.
This is an out-and-back trail, so if you don't feel like trekking the whole thing, you can always turn around and head back the way you came. This map can help you understand more but I'd end the trail a bit sooner than it shows!
Short on time?
Even if you're short on time, Carvoeiro is still worth experiencing. You can squeeze in Carvoeiro and some of the surroundings with a Carvoeiro and Benagil walking tour.
RELATED: 11 Adventurous Algarve Tours Worth Taking (Portugal)
Things to Do Near Carvoeiro That Are Worth It
If you love Carvoeiro and can't get enough of the Algarve region, check out some of the nearby attractions.
6. Praia do Carvalho
Praia do Carvalho is another pristine Algarve beach that deserves a spot on every beach bum's bucket list. This is a slight stretch of sand surrounded by towering cliffs.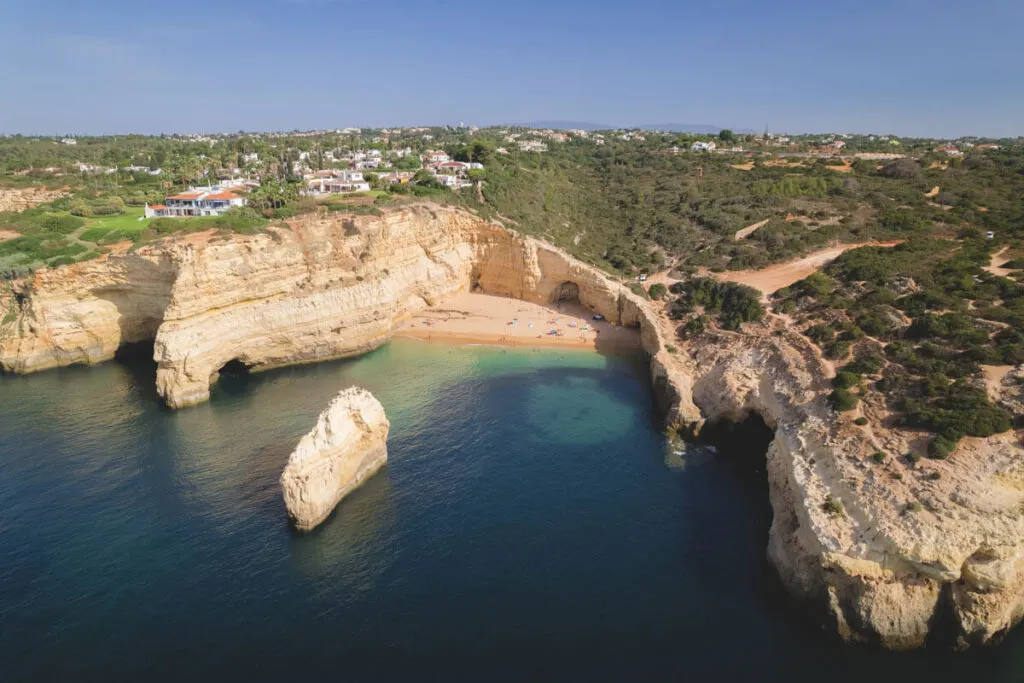 In addition to sunbathing and soaking in the views, this gorgeous spot is excellent for snorkeling, cave exploring, and cliff walking. The best part is, it's never overly crowded!
7. Sete Vales
Sete Vales, or Seven Hanging Valleys, is another epic hiking trail that hugs the coastline on the outskirts of Carvoeiro. Spanning from Algar Seco to Marinha Beach, this 6km (one-way) hike is one of the most scenic in the Algarve.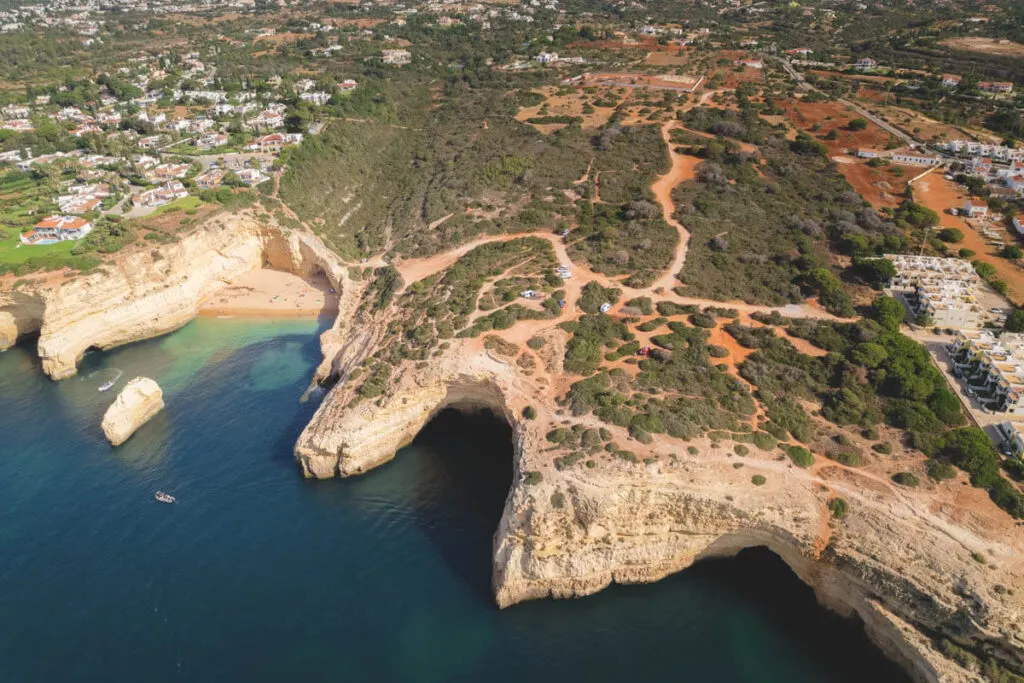 In fact, this trail connects Carvoeiro to Benagil, and the walk is a stunner! It will bring you to the top of Benagil Cave as well, so you can peer down inside.
8. Benagil Cave
If you were impressed by Algar Seco, then you'll love Benagil Cave. This sea cave is one of the most famous landmarks in the country, with a cathedral-like roof and various windows looking out into the ocean.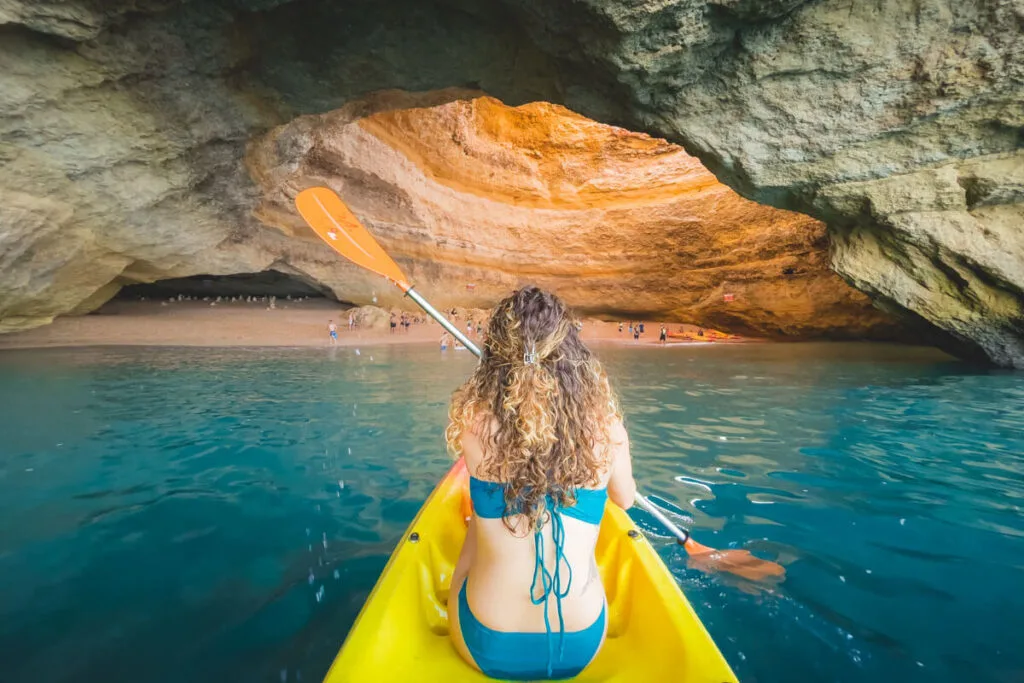 Since you'll need a boat or kayak to reach the cave, a guided boat tour or kayak rental is the best way to explore it. Benagil Cave is extremely popular, so try to get there as early as possible to beat the majority of the crowds.
Also, I think getting there by kayak is best as you can explore on your own. With a boat tour, you can't get off the boat. Sometimes, they can't even take you into the cave because of the tides. So if you want more freedom to roam the cave, kayak here!
READ MORE: Kayaking Benagil Cave Tour—Everything You Need to Know!
9. Marinha Beach
By now, you know that the Algarve is full of breathtaking beaches. But it's hard to overstate the beauty of Marinha Beach. It's been nominated as the most beautiful beach in Europe several times, thanks to its golden sand, staggering cliffs, and magnificent sea stacks.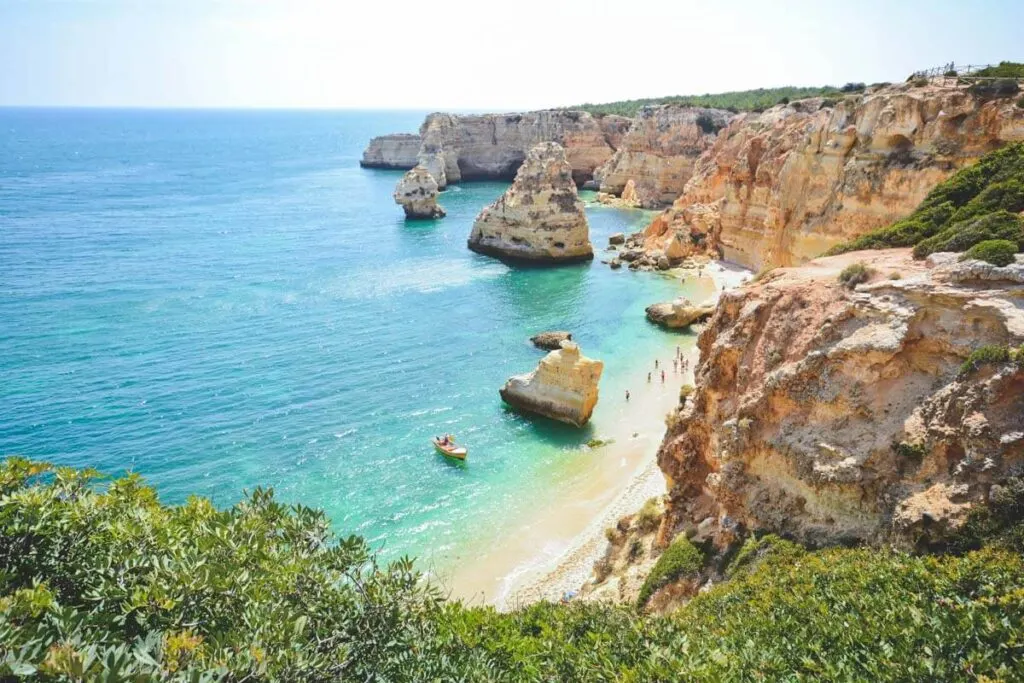 It may not be as convenient as a beach day at Carvoeiro Beach, but those who make the trek to Marinha Beach won't be disappointed. Remember, you can even WALK here if you're up for it! The coastal trails connect almost every epic place in the Algarve. Just take the boardwalk I mentioned above and keep on walking, this map shows you more.
Of course, if you have a rental car, it will be much easier to get here as it's only 15 minutes away.
RELATED: A Perfect 3-7 Day Algarve Itinerary: Hike, Surf + Beach Bum! (Portugal)
How to Get to Carvoeiro
From Faro, it's only about an hour's drive to Carvoeiro. If you're flying into Faro, you can rent a car or hop on a bus. When you arrive at the bus station, there will be quite a few options but booking online is usually way easier.
If you're coming in from Lisbon, your ride will be around five or so hours. Unless you're renting a car, you'll head to the Sete Rios Bus Station in Lisbon. From here, you can hop on a bus easily and head south.
This is the easiest and best site to use for booking any bus transportation within Portugal.
Once you're in Carvoeiro, it's relatively easy to walk pretty much anywhere! Some of the places on my list above will be best on a tour or if you have a rental car, but the town itself can be done on foot.
Where to Stay in Carvoeiro
Algar Seco Parque
You'll find this laid-back resort just five minutes walk from the caves it's named for. Whether you opt for a studio, suite, apartment, villa, or bungalow, you'll have a private balcony and a cozy fireplace.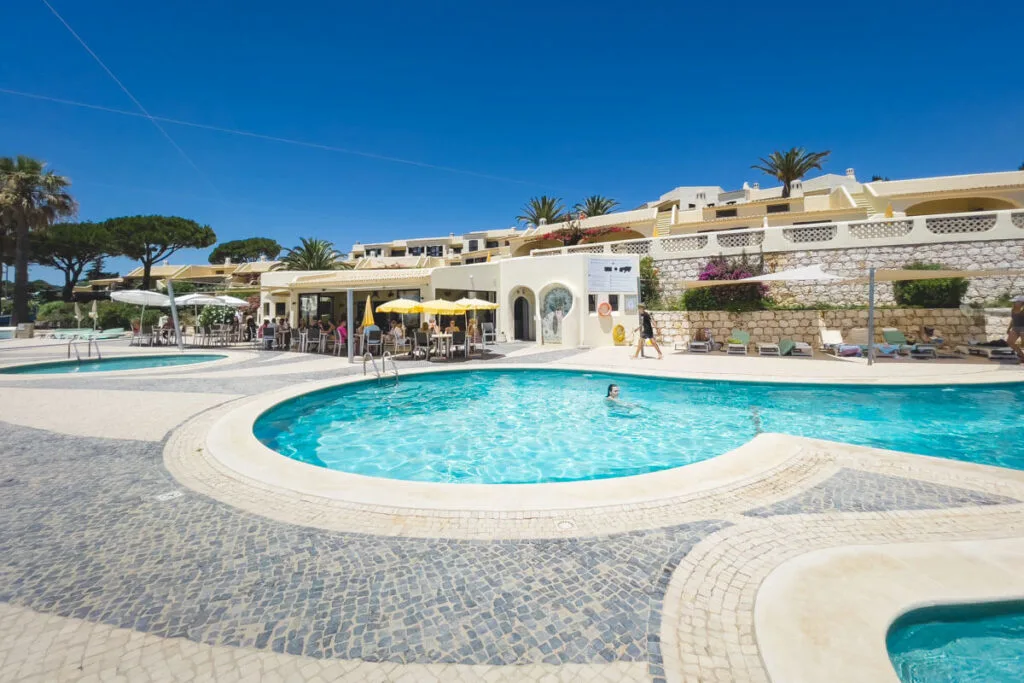 You have a choice of swimming pools to enjoy, along with landscaped gardens and a restaurant with ocean views.
O Castelo Guest House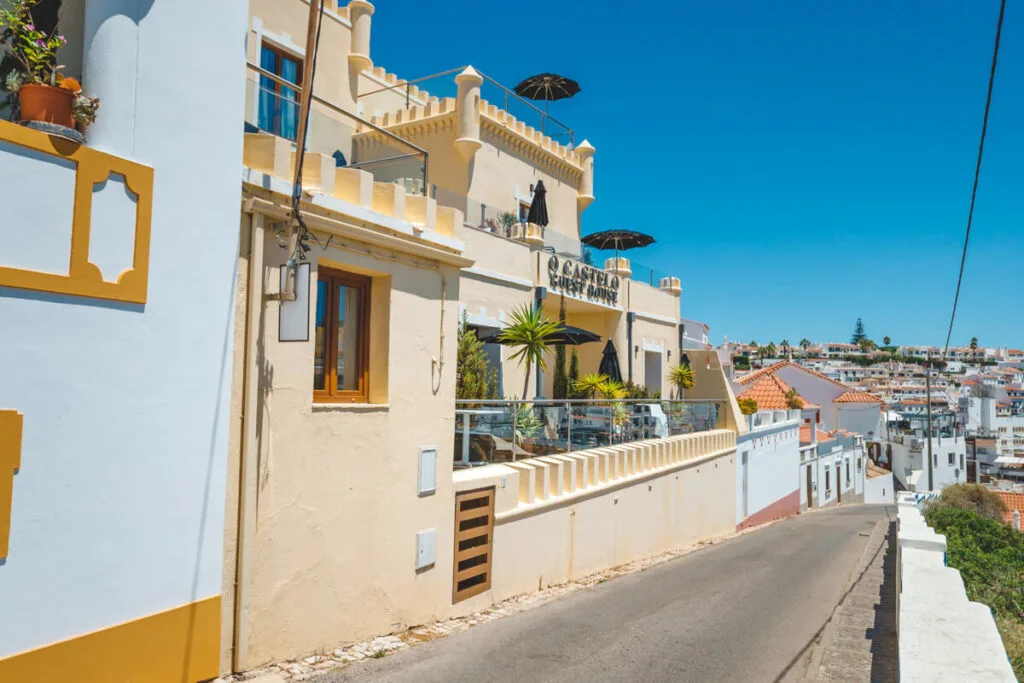 If ocean views are on your accommodation checklist, book a room at this cosy B&B. It's a good choice for couples – you can enjoy breakfast from your terrace overlooking the water. When you do want to get out and explore, you'll be just metres from the beach.
Tivoli Carvoeiro Algarve Resort
For a little extra luxury, check in at this clifftop resort. Rooms range from generous doubles to family rooms and premium suites with an outdoor jacuzzi.
Whatever you choose, you can expect extra touches such as luxe décor, electronic safes and Nespresso machines. The resort features three restaurants, three bars, and stunning views over Praia de Vale Covo.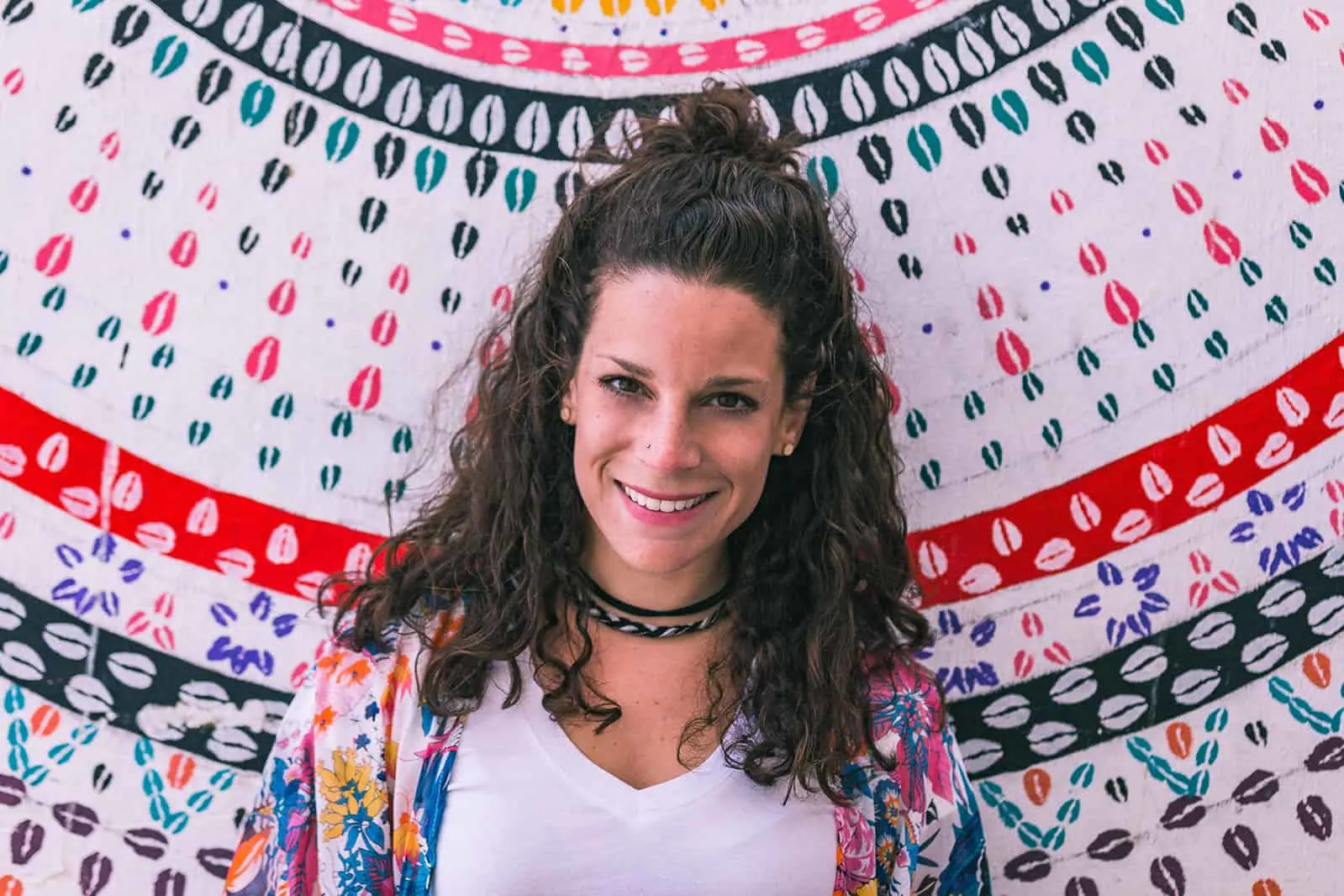 Nina Ragusa is an adventurer, messy bun master, breakfast fan, and full-time travel blogger. She's been abroad since 2011 and blogging on Where in the World is Nina? for nearly as long. Nina helps people like you move around the world while making money. She loves talking about how to work abroad and online to travel longer!