I don't have much.
I am certainly not rich.
…and therefore I need to be careful with my money, like most travelers out there.
Do you feel me? I think we all need a lesson in how to travel on a budget. Luckily for you, I've learned so many lessons, you can just read this and be way more prepared for your adventures without draining your wallet of every last coin.
These will be overall how to travel on a budget type tips, I will be linking in more posts on more specific stuff within the article. So you're pretty much going to be a travel budgeting wizard badass after reading this.
How to Travel on a Budget: My Best Budget Travel Tips
1. Ditch the Closet
When you travel light, your baggage costs will be less or possibly zero. It also makes for an easier time traveling if you're not lugging several things of baggage.
I first came out here with a busload of clothes. OK really, a large backpack and one suitcase, but still, it mine as well have been a busload. It was ridiculous. To be fair, I was coming out here to teach English, so that's why I thought I needed all these things.
No. No. No. Leave it at home or buy something at the destination if you desperately need it.
2. Local Grub
When traveling in most places, especially Southeast Asia, it's smarter to eat local food. When you eat local food, you'll be saving a good chunk of money. For example, a pad thai only costs about $1, so if you eat that instead of a pasta dish that might cost $4-5 dollars for dinner, you'll be saving a decent amount of money. That's at least another few meals.
A lot of people are afraid to eat at the local markets, but to be honest they actually not only have the cheapest food, but most of the time it's better tasting and more authentic. Have you seen the food I eat? It's delish! Also, yes- for the most part it's safe. Why else are all the locals lining up?
Don't be scared to eat at the local markets!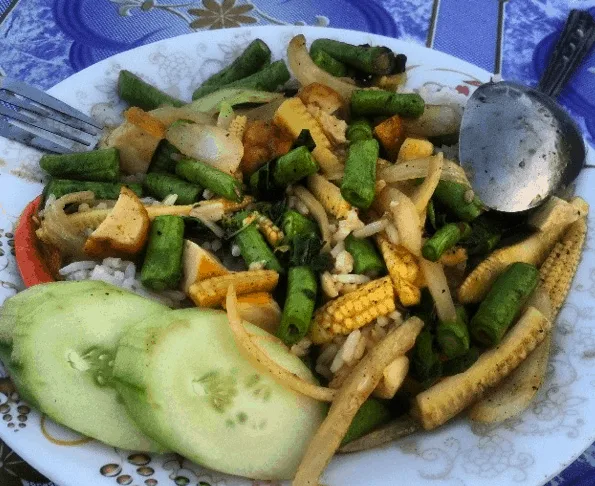 3. Market < Shop
If it's time for shopping, look out for the street markets. If you can find it at the market, it will guaranteed be cheaper than a store. Think about it, a store has to pay rent and has overhead costs, therefore they have to market their things at a higher price. When you're buying from the person who just set up a stall 2 minutes ago in the middle of the street, they're going to have cheaper prices.
4. No 24/ 7 Drunky Monkey
You're here to travel so don't go out every single night getting $h*t-faced and partying all night. You're not going to wake up and get anything done, and you're wasting a lot of money. I usually keep going out to an absolute minimum personally, because instead of spending my money on alcohol, I would prefer to spend it on food or shelter, and oh yeah, epic experience! This isn't to say you should be a hermit and never go out… Just be smart about it and just see how much money you'll save staying in a few nights.
5. DIY
Try to avoid tour guides and other travel agencies booking things for you because you will surely pay more this way. The majority of the time, you will be able to find your way to the attraction and figure everything out for yourself. You will end up spending a lot less money in the long run.
For example, when I went and saw the temples of Angkor Wat, instead of going on a whole day tour, I did it myself with a few new friends who shared a taxi with me. We bought the entrance ticket and did our own thing. No unnecessary extra costs, no other activities that I wasn't really interested in etc. We managed our own day and had an amazing time.
With that said, there are some situations where you would want to book through a travel agency, or you might not have a choice. For example, I sometimes suck it up and pay extra money for a bus ticket, because the bus station is really far out-of-town and it wouldn't make sense to pay a taxi to get out there just to get a ticket. Just gauge what would be the better and cheaper option in your situation.
But a general rule, DIYing your way around will be cheaper... And usually more adventurous too!
6. Ask First
When you're looking for prices for something, like transportation or perhaps an item that you're looking for, try asking the person running your guesthouse or your waiter (a neutral party) how much things should cost. That way you have something to gauge the price off of when you're negotiating

If you have a base, then negotiating will go a lot smoother. This is one of my favorite and most useful budget travel tips.
7. Slick Negotiating
On that same note, to keep your costs down, you're going to need to know how to negotiate. Obviously, you never want to negotiate a price that would be insulting to the other person. Don't ever ask for such a significant discount, because then they might not even want to deal with you and it's rude. This is another reason why asking someone else for the average price beforehand is a good idea. If you don't have a starting number, it would be best to start with a reasonable price that you would be comfortable paying and see how it goes. Be flexible.
Here's how to not be a d-bag when negotiating in Southeast Asia (and practically everywhere).
If you happen to be staying in the country for a long time, try to learn the number system. In most languages, it's really not that hard. Once you know 1-10 you should be fine with the rest.
Knowing the number system would be extremely beneficial, plus showing that you know a bit of the native language might give you some extra leeway too.
PRO TIP: Remember to make sure if negotiating is acceptable in the country. In Southeast Asia, it's very common. If the price is actually posted, a rare occurrence, then that's the price you pay.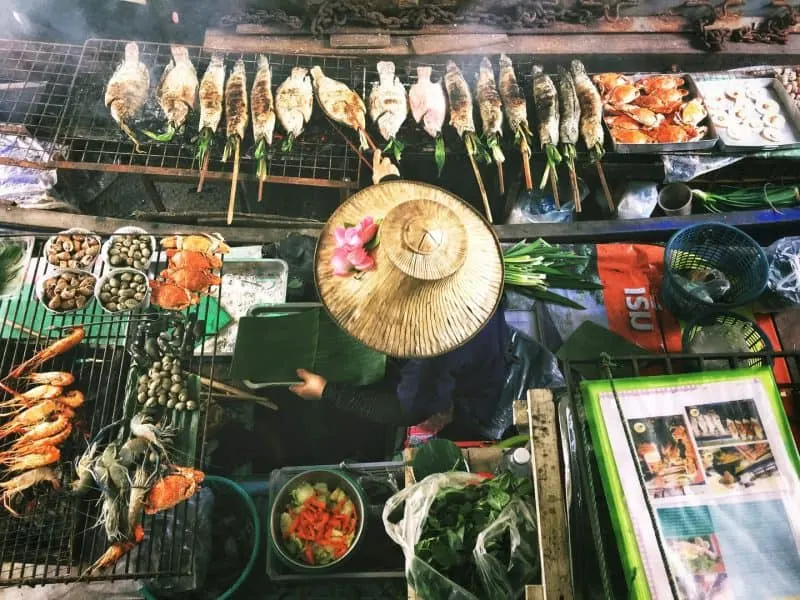 8. Simple Sally Saves
If you're really trying to save money, don't be someone who is extremely petty and picky about everything. Don't expect to stay in five-star hotels and eat at fabulous restaurants every night. If this is what you want, you're not traveling on a budget. If you're out here learning, how to travel on a budget, the first step is to get simple.
You don't need the room with an HDTV or one with the seaview balcony or a business class flight. Those are luxuries.
9. Money X-Changer
Don't be stupid about the exchange rate. Make sure that you know what the exchange rate is, especially when you're traveling from country to country and you're exchanging currencies often. Study up on that before you hit the streets. They can sense a sucker a mile away.
On the same note. Give yourself a few minutes to study some of their notes and coins. Familiarize yourself so you don't get a 100 and 1000 mixed up or receive the wrong change.
10. Big City Ballin'
Big cities equal big money. If you're in the big cities expect to pay more. Try getting to the smaller towns, get off the beaten path, go somewhere that you know is going to be cheaper than the big city you're in now. The prices will drop immediately.
11. Know Surprises
A big part of travel budgeting is eliminating all of the surprises. Make sure to call your bank first and see how much they're going to charge you for every transaction and make sure that you know what the ATM fees are in the country you're going to.
For example, in Thailand, it's usually a $5 standard fee to use the ATM. Visa costs, medical needs, baggage costs, etc… All the non-expected things are what's going to throw you off budget, get it panned out now. You will be sure to have surprises along the way anyway, so eliminate any imminent ones beforehand.
PRO TIP: If you're American, get a Charles Schwab bank account. NO ATM or foreign transaction fees Whoop Whoop!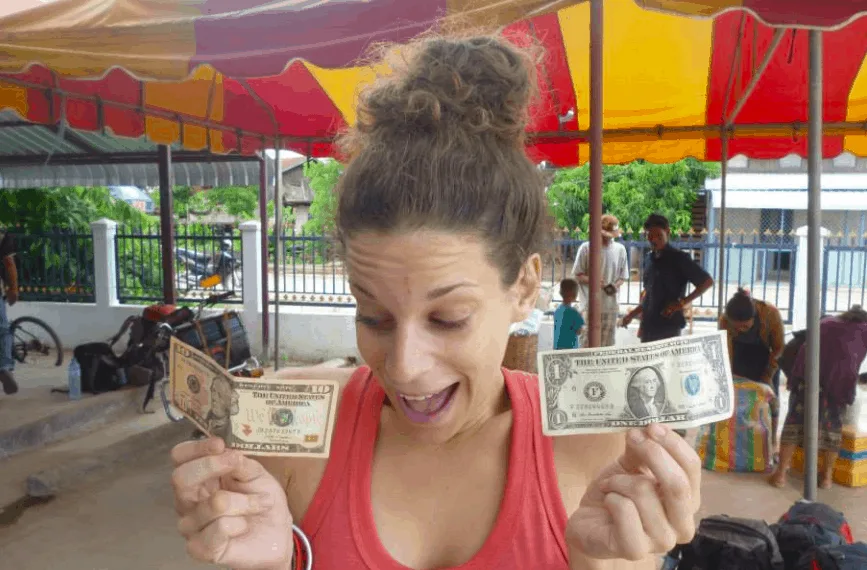 12. Get it Low
Do some research about the country before visiting and see when high season is. When it's possible, try to go on the outskirts of high season or just pop up during low season.The weather is often fine and you can definitely get some better deals.
Just be sure that the area that you want to go to doesn't close down during low season. For example, I nearly went to the Perhentian islands in Malaysia during low-season and pretty much everything is shut down. Good I found out beforehand.
13. Travel Without the Tout
During your travels, you will be approached, yelled at, shouted at from afar, and who knows what else, by touts. These are the people waiting for you when you get off the boat with pictures of some "luxurious hotel for a great price" or a taxi because your guesthouse "is too far."
While in some cases, you might not have a choice, kind of like when I arrived at Koh Phi Phi during a horrible storm and took the first tout up on their offer for a hotel, which of course, turned out to be a shit-hole and nothing like the pictures. But I had to do it, hypothermia was creeping up on me since I was on a boat for three hours in what must have been nothing short of a monsoon…. but that's another story.
When you can, push past these people and go find a spot for yourself. If you get a room or a ride from the touts you will be paying more for less. Trust me. Do a bit of leg work and you will find something so much better and in your budget. For the taxi touts, I tend to look out for the ones that aren't practically begging for you to ride in their vehicle. I'll go up to the dude smoking his cig acting all cool and chill while leaning on his tuk-tuk and ask if he is available. It always ends up working out better this way.
14. Choose your Transport Wisely
Of course, this depends on how much time you have, but if you can, avoid flights while visiting numerous countries in a particular area. If there is a bus or train that goes there, it will hands down be your cheaper choice.
This will also add to your adventure. The overnight trains in Thailand and Malaysia are actually pretty awesome in my opinion. I always get the berth, which is essentially a small bed with a curtain. You can sleep your way to your next destination for a quarter of the cost. Sure your journey will be 12 hours instead of 2 hours, but you're saving money and adding another awesome experience to your list.
15. Stay Put
If you plan on traveling long-term, two things:
A. Stay some place for a while that's near cool stuff. If you are on the road indefinitely, there is no rush to see everything. Chill in a nice spot where there are things to do at your own leisure. Don't be constantly on the move.
B. When you do stay put for a while, find an apartment. They will be cheaper or equal to the cost of a guesthouse, but way better. You will get more for your money, like your own bathroom, perhaps a living area, and sometimes a mini kitchen which will help keep costs down even more.
16. Don't Convert
This is more for the people who are traveling long-term/ living/working abroad. Wherever you're from, stop converting back to your home currency. A wise friend of mine told me a great travel budgeting tip when I first moved to Thailand and it was very simple. "You're not making US dollars anymore. Stop converting." It helped learn how to travel on a budget much better and faster.
17. Get a Deal
There are tons of ways to get good deals. In short:
Groupon – Have you checked Groupon? They have some pretty epic travel deals! Sometimes you can get really lucky with flights, excursions, entire packages etc…
Flights – How do you book your flights? This is SO important! This is how I find my cheap flight deals to everywhere. Literally.
Tours – Usually not my thing, personally, but sometimes it's necessary. Viator and G Adventures are the most popular and reputable tour companies to book from,
Insurance – Motorbike accident? Cut your foot on some coral? Need to see the doctor? Emergency? Ekkkk… Grab some travel insurance. Safety Wing and World Nomads are two excellent choices.
Transferring of money – Need to transfer money and perhaps in different currencies? Transfer wise offers THE BEST transfer rates.
Internet – You have three options:
Use only wifi when it's available in your hotel or cafe.
Use your phone from back home and rack up charges, unless you have T-Mobile. They offer free international data and it's what I currently use.
Buy a SIM card and prepaid data when you get to the country you're going to.
More travel resources can be found here.
RELATED: Best International SIM Cards & How to Keep in Touch When Traveling
18. Look Now Book Later
Look up some accommodation options in the areas that interest you just to know what's up. You don't want to accidentally head for the most expensive area on an island. Booking ahead doesn't always bring you the best deals. Unless you are going during a holiday weekend or high season (and sometimes even then it doesn't matter), there isn't much of a need to book ahead. The cheapest places aren't always listed online. Make note of the places, but don't book.
If you need to have things book ahead of time, try Airbnb (FREE $20 if it's your first time) as I believe you get way more bang for your buck. Otherwise, I use Booking or Agoda.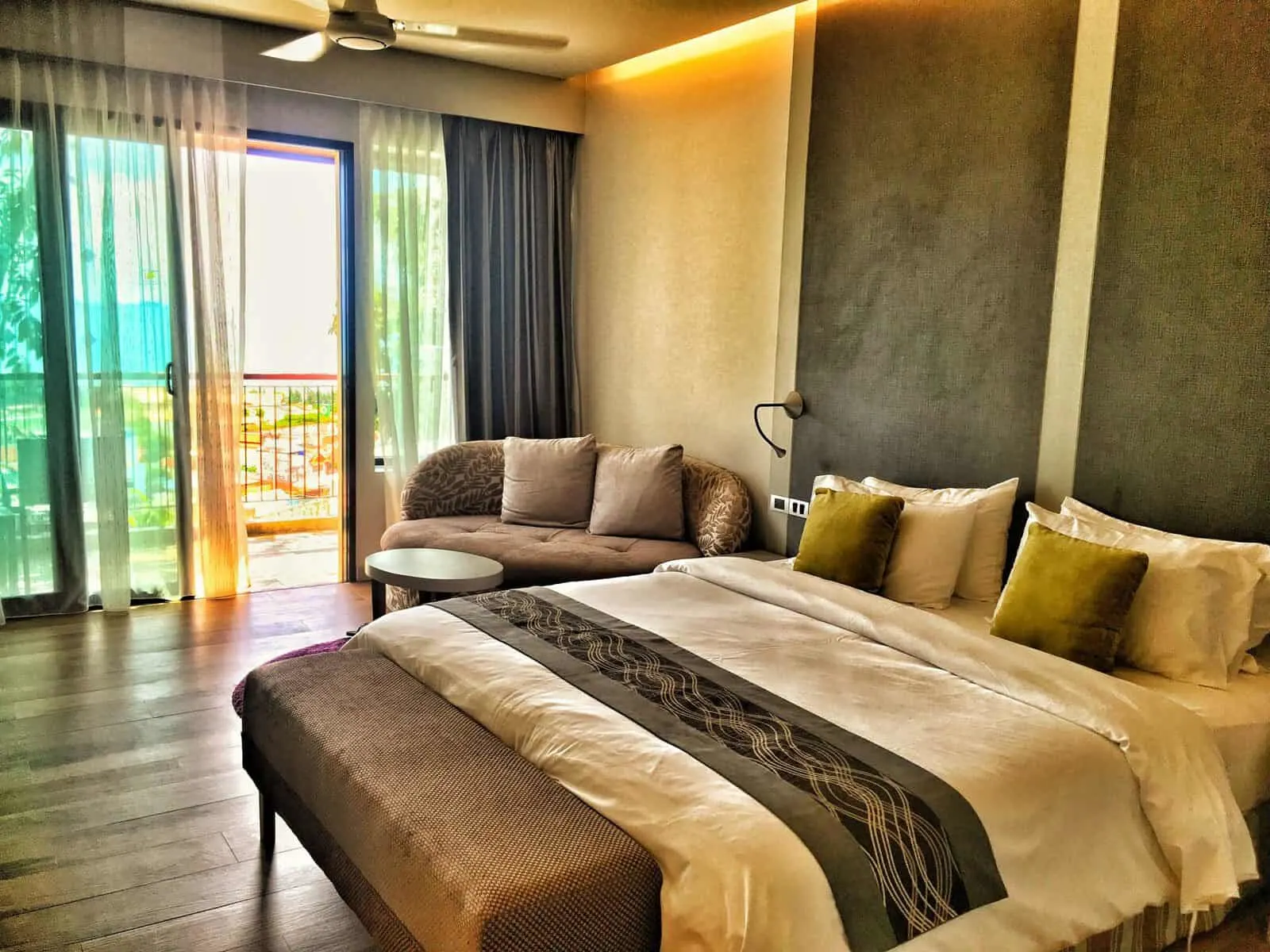 19. Fly Here or There
Give all airports a chance. If you are traveling around China, check to see which airport is having the best deals and then work from there. If you are traveling to multiple countries, see which is the cheaper country to fly to first. This is key to planning a trip on a budget.
Be flexible with your dates and use websites like skyscanner.com to take advantage of browsing through tons of flights for the week or the month. Pick the cheapest days of the month and work with them.
20. Make Friends
This is for everyone, but especially all my solo travelers. When you travel in numbers, costs go down. So with that said, make friends. If you are going somewhere in a tuk-tuk, ask the travelers next to you what they are up to for the day? Maybe they will share it with you? You never know. I have shared rooms, food, taxis, boats…etc with other travelers and not only did I get to pay less, I made new friends. That's always nice when you're traveling solo AND broke.
I hope this helps you travel better and cheaper so you can keep on traveling for longer! Feel free to add any other amazing budget travel tips you might have discovered during your travels or feel free to ask any questions that you may have below.
Pinning is winning!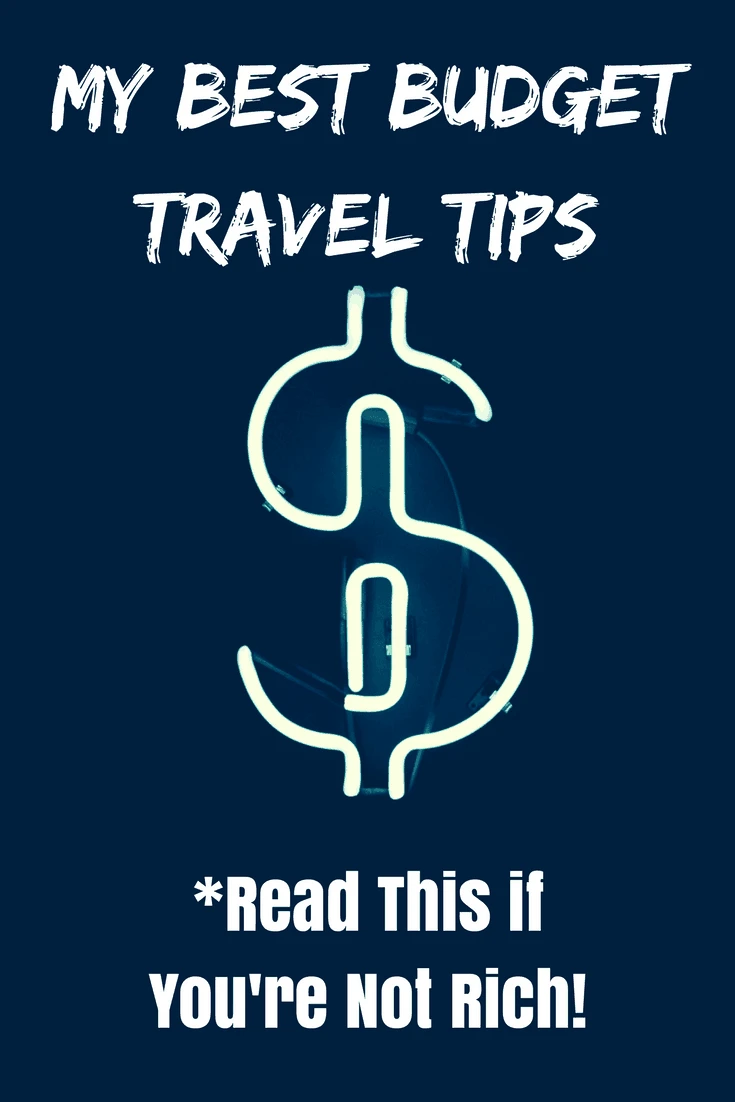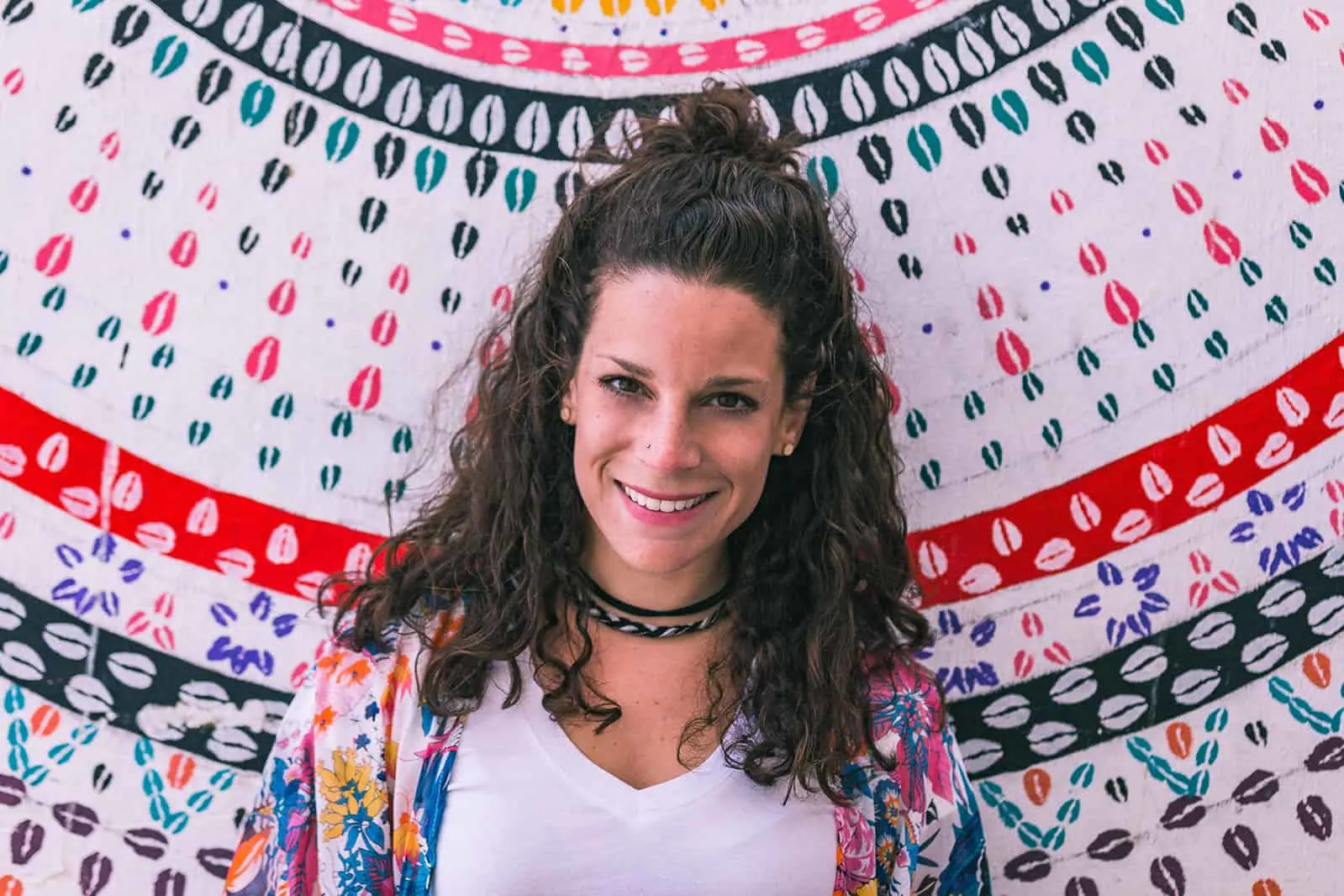 Nina Ragusa is an adventurer, messy bun master, breakfast fan, and full-time travel blogger. She's been abroad since 2011 and blogging on Where in the World is Nina? for nearly as long. Nina helps people like you move around the world while making money. She loves talking about how to work abroad and online to travel longer!