When most people think about Cambodia, they think of Angkor Wat. When you're home to the largest religious site in the world, it's kind of hard to pull away and be thought of for something else.
But there's so much more to this country than a large temple complex.
Good food, gorgeous coastlines, islands to get lost on, captivating sites, a deep and dark history to take in, budget-friendly prices (I'm talking about beer for less than a dollar), and kind and welcoming locals…
There are a lot of reasons to love Cambodia.
And the best way to visit, at least in my eyes, is to backpack Cambodia for around two weeks. While most slide in a visit to Cambodia while they are visiting some of the more popular neighbors, I hope this post encourages you to stay for a bit longer than a few day pop in just to see Angkor Wat.
Here's everything you need to know about backpacking Cambodia!
Don't lose this! Click to pin it now.
RELATED: Backpacking Southeast Asia: Itinerary, Costs, And Tips!
Backpacking Cambodia
---
Cambodia often gets a quickie visit from tourists who come to see Angkor Wat and then rush off to "bigger better" sites in the region.
How can it possibly compete with its two larger and more developed neighbors—Thailand and Vietnam?
It's got just a tiny stretch of beach; it's brutally violent history is still very fresh and raw in the country, and it is still today embroiled in political drama.
But you know I love to show you places beyond the surface and how they are totally worth a visit, so that's why backpacking Cambodia is must.
The Good, The Bad, The Ugly
The history is brutal, yes; it is violent, yes. But part of traveling the world is absorbing all of the cultures. Not just the beer and breakfast in bed at your hotel.
The Khmer Rouge, a ruthless and bloody communist regime, took power in 1975 and, led by the dictator Pol Pot, proceeded to murder millions of Cambodians on a whim. No one was safe.
The city of Phenom Phen now stands as a living breathing testament to the senselessness of power structures and enforced will of the government on that of the people.
Cambodia still lives with that nightmare, and that feeling is in the air in certain parts of the country.
But if you can feel the depression in the air in Cambodia, you can also feel the pride in a history well lived and a future well healed.
Cambodia was once a powerful empire in its own right, with castles and temples to rival any other in Asia. The people are also genuinely kind in most places.
The children will treat you like a celebrity, and many of the proprietors will treat you like royalty.
Cambodia is on the up, and it's welcoming you to join and enjoy what they offer.
Backpacking Cambodia Itinerary: 2 Weeks
---
Visiting Cambodia for two weeks? I have you covered with how to best set up your time here but, of course, it's all up to you in the end. The itinerary begins in the north, in Kratie, as this is how I did my Cambodia itinerary.
I had just finished up my time in Laos and I continued my way further south into Cambodia. Of course, you could simply do this itinerary backward if you're coming from Thailand like many do.
If you have less time, perhaps a week, I'd encourage you to learn about this fascinating country and hit up the main cities, Siem Reap and Phenom Pehn, and maybe get a bit off the path in Kep and Kampot.
If you are only looking to beach bum during your short stay, I'd say head to Koh Rong and the rest of the islands and then see Angkor Wat on your way back out.
If you have a full two weeks in Cambodia, I hope this itinerary serves you well then!
Backpacking Kratie – 1 Day
Dolphins! Seriously though, who doesn't love dolphins?
On the Mekong River, just 11 miles outside of Kratie, you can take a half-day trip on a motorboat or a kayak to try to see the famed and ephemeral Irrawaddy dolphins.
Yes, I said "try" to see the dolphins. Not only are these snub-nosed dolphins extremely endangered (recent reports say there are fewer than 100 of them left in existence), but they are also super shy and ninja-like.
So you may find yourself spotting the back of a dolphin that barely breached for a split second, like some unlucky tourists. Or, like me, you may spot them often, but have almost zero chance of getting a picture. They are so fast. Those damn ninja dolphins…
Some visitors have had tremendous success, spending time with these freshwater dolphins splashing and playing around the boat. So you'll be taking your chances.
Your best bet when planning your Cambodia itinerary is probably to rent a kayak during dry season when the dolphins are most active. There's also no motor to scare them away.
There's also a super small island in the middle of the Mekong River just a bit south of Kratie, Koh Trong. It's about 9 kilometers all around and you can bike, bask, and just chill…on a mini island… in the middle of nowhere. Pretty cool intro to Cambodia I'd say!
Backpacking Phnom Penh – 2 to 3 Days
The capital of Cambodia, Phnom Penh is home to history both beautiful and tragic.
While it's full of chronicles of colonization and genocide, this city is now a bustling metropolitan cultural center that honors its past and boasts of its resilience.
It's worth taking a few days to explore the history of the area in places like the Choeung Ek Genocidal Center and the Tol Sleng Genocidal Museum. Choeung Ek is also known as The Killing Fields.
This open space is where Pol Pot and his brutal regime, the Khmer Rouge, beat, tortured, and killed en masse 1.7 million Cambodians in a genocide campaign.
You will see signs marking "100 infants and mothers" or "166 headless people," so that you feel as if the deaths and the destruction are still fresh.
Tuol Sleng is the Killing Fields museum today that was once a prison, known as S21, where Cambodians where held, interrogated, tortured, and killed by the Khmer Rouge.
You can walk through the prison, view photographs of prisoners from that time, and experience a small bit of what the Cambodians lived and died through under the ultra-communist regime.
The National Cambodia Museum is a much lighter space to occupy, a refreshing break from the somber tone of The Killing Fields.
The purpose of this museum is to preserve and highlight Cambodian culture as it has evolved throughout the centuries. This place is a great stop for history junkies backpacking Cambodia.
Wat Phnom is an absolute must in Cambodia. It is the religious and cultural center of the city. Legend has it that hundreds of years ago, a wise old woman, Grandma Penh, discovered four Buddhist statues in a koki tree growing out of the river.
She had a small hill constructed to play and pay homage to the statues, and the stunning architectural structure that is Wat Phnom stands in that exact spot today.
There is something magical about being in the heart of a place that is so profound to so many people.
A major landmark in Phnom Penh, The Central Market is a nod to French Colonization during the art deco era. It is basically a giant gorgeous indoor mall. The four branches are lined with stalls selling everything from dazzling jewels to second-hand clothes.
Recommended Phnom Penh Tours:
Backpacking Kampot/Kep – 2 to 3 Days
As you make your way from Phnom Penh to Sihanoukville on the southern coast, stop in Kep and Kampot for a distinct mix of laid-back vibes on the water in these small but active towns.
I personally hung more in Kep, because it is the more laid back of the two, but you could set up shop in either town as you explore the surroundings for a few days.
Kep is the much smaller of the two, which also makes it less expensive to stay and easier to get around on foot. Kampot is much more spread out and hilly.
While here, you should check out Bokor Hill Station. Take a tour through this eerily haunting abandoned resort constructed under French rule decades ago.
It is said to be haunted by the 100 workers who died erecting this building in a rapidly short span of time.
Of course, there are the stories of the people who gambled their last pennies away at this casino and headed out back to the cliff with a beautiful view of Cambodia's coasts and jumped to their deaths too…
There is news that Bokor Hill has been turned back into a plush hotel, though! While I'm not sure what's in store for Bokor Hill, there are other old buildings of interest and with a guide, the stories that come along with it. There are great views of the coast, a vine-ridden church, the old palace, and a massive Buddha on a hill…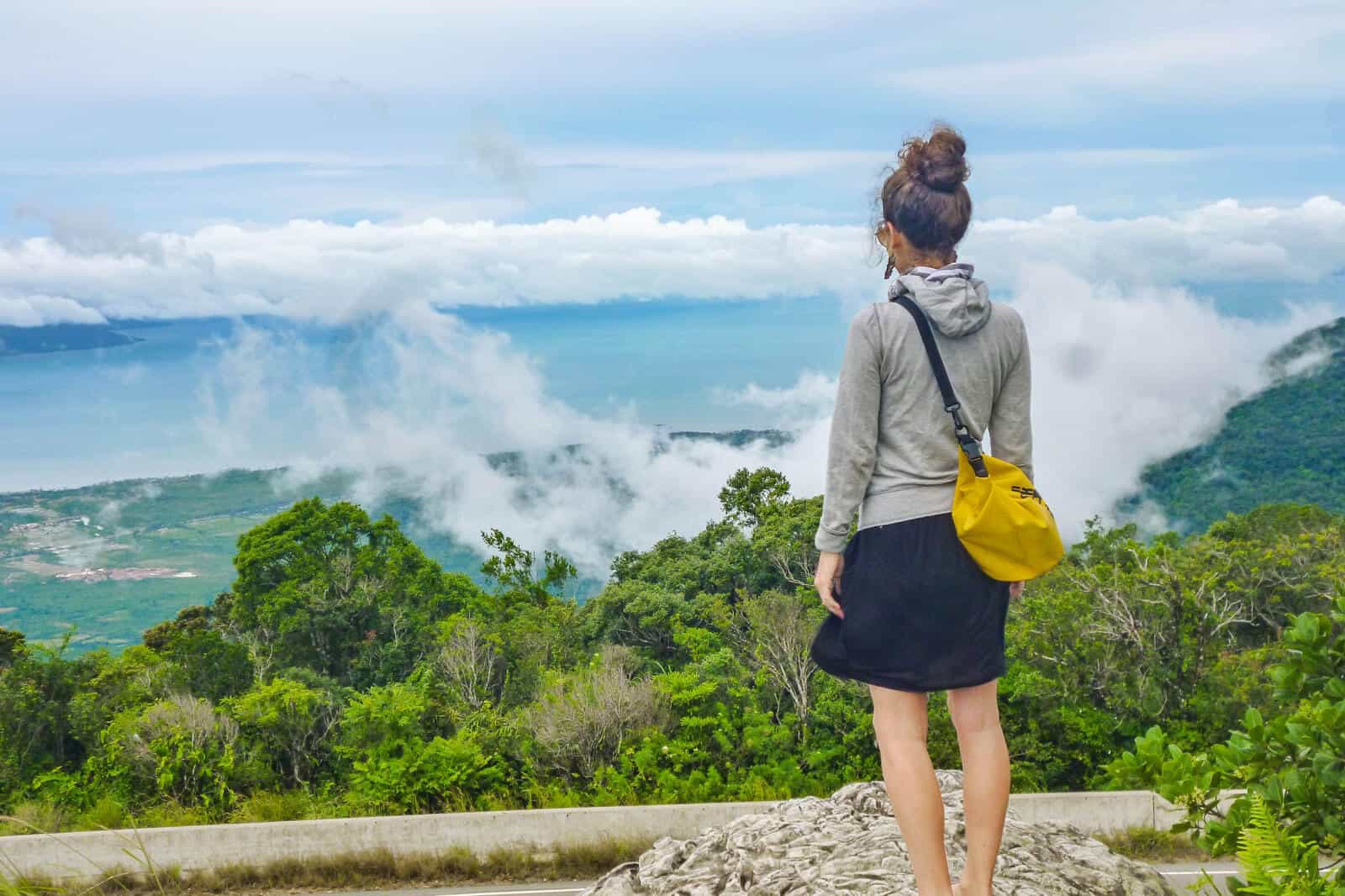 Now that you're thoroughly weirded out by the ghostly Bokor Hill, go breathe some fresh air on a pepper farm.
Yes, the Kampot Pepper Farm is a must for your Cambodia itinerary. You'll see acres of plantations filled with this glorious green plant that grows sweet, pungent peppers—I bet you didn't know this is how pepper looks before it's ground up on your food!
Basically, chill, wander and eat lots of seafood while in Kep and Kampot.
Backpacking Sihanoukville & Koh Rong – 2 to 3 days
Ah! The beach! You have finally arrived at Sihanoukville, and now it's time to beach bum it up! Yes, Sihanoukville is right smack dab on the southern coast of Cambodia, and while it is definitely not the most gorgeous beach you'll see, it's a gateway.
This little beach city is prone to the mass development of shady casinos and lame shopping malls. Somehow with all the places in Asia that have gotten tourism right, Sihanoukville has gotten it pretty wrong.
But, who cares?! You're at the beach, and for all that Sihanoukville lacks in serenity and charm, it makes up for by being the gateway to finding it.
The surrounding beaches and islands off Sihanoukville are one hundred percent worth a stay.
Otres Beach is just south of Sihanoukville proper, so grab a bike and head down to gorgeous sand and clean water, pick a chaise lounge and enjoy a cocktail on the beach.
Rent a bungalow and fall asleep to the sound of the waves. Otres Beach, for all its popularity, has managed to keep it small and simple, but change is inevitable, and it doesn't seem like it will be this way forever. There's apparently a decent amount of construction going on here and a bit of paradise being lost But…
If you're visiting at the right time of year, jump on a ferry and head out to Koh Rong for the duration of your stay.
It's about 25km from the coast of Sihanoukville, and it is the quintessential paradise island in the Gulf of Thailand you're hoping to find. You can rent a bungalow and relax on the beach all day then hit the restaurants and beach parties at night.
Easily the coolest attraction on this island, aside from the trekking, the diving, the snorkeling, is the way the water shimmers and sparkles and you seemingly have zero worries. At night, it's the same but with bioluminescent plankton swimming around you. Magical.
For more seclusion, visit the neighbor, Koh Rong Samloen. I'd probably say to spend all of your time on the island if you can as they will be more laid back than chaotic Sihanoukville.
Recommended Koh Rong Tours:
Backpacking Siem Reap – 3 Days
Obviously, if you're headed to Cambodia, you plan to see one of the largest religious monument in the world, Angkor Wat. It is as spectacular as they say.
Angkor Wat blows your mind just with its sheer massiveness, not to mention the hundreds of years of history and evolution from Hindu temple to Buddhist temple.
There are plenty of temples in the complex to immerse yourself in the culture and history of the area. Honestly, Bayon is my favorite. The temple looks like no big deal as you approach it, just a worn down construction of rocks. But as you enter the temple, it hits you. You're surrounded by stone faces gazing down at you.
The king who had this temple built to himself aimed to exude the godlike powers required of a widespread leader of his time. He accomplished that task with this temple, to say the least.
Note: You can purchase your Angkor Wat pass at the official ticket center or online here and they will deliver your tickets to your hotel (super convenient and no waiting in line!). The ticket counter is located 4 km away from the city and opens from 5 am – 6 pm
You've got to finish your temple watching day at Phnom Bakheng.
It dominates the flatland, spread out for acres, and it is the ideal location while backpacking Cambodia to sit and enjoy a gorgeous Cambodian sunset as the sun drops down behind Angkor Wat.
I'd actually say you could see all there is to see in one day in Siem Reap, and another at Angkor Wat.
But for all my history and slow living people out there, you can get a three-day pass and check out the entire temple complex for as long as you like, day after day. Personally, one full day was enough for me.
You can get a tuk tuk to take you out there for about $15 for the day, driving you from one temple to another or if you want a deeper immersion and understanding of the complex, grab a well worth it tour for around the same price!
You should also head down to the market in town and snack on some bugs (or real food), pick out cool artisanal souvenirs, and soak in the culture of the area. There's also some fun nightlife in the city if that's your thing.
Recommended Siem Reap Tours:
→Prebuy Angkor Wat tickets here
Backpacking Battambang – 1 Day
You've made it to the end of your trip! This is the jumping point for those on the way to Thailand next. Or for those coming from Thailand, you could simply do this Cambodia itinerary backward.
Battambang is on your Cambodia itinerary for the mysterious and seemingly hidden Wat Banan temple.
Head out about 22km from town, and you'll climb up a steep stone staircase to reach the entrance to what feels like a secret cave. It's a hundreds of years old temple set in the country's second largest city.
While in town, check out a few of the cute cafes along the river while grabbing a healthy bite to eat. There's not too much to do here but to experience a cool local city, visit that off-the-path temple, and hang out.
You could take a ride on a bamboo train, as it's the most popular thing to do here, but I passed on that. Way too many people complain of being hassled and even threated, or "at the least" bothered endlessly for more money after the ride has started. I avoided the drama.
*There is a new bamboo train ride in Battambang now, that apparently isn't as good as the real and original one now either. It's in a barren area. So sounds like a lame ride that you'll pay just to get hassled for more money on.
TIP: Be cautious when crossing the border back into Thailand from here. Getting in/out of Cambodia is full of scammers. They will try to tell you to pay more money at the border when you have a bus ticket straight to Bangkok in your hand.

Put your foot down, ask to get on the bus now because you've already paid for a ticket, or wait. Don't give the scammers more money for a ticket you've paid for already. Make sure you get all the info regarding the bus switches at the border and timing and buy it from the bus station.
Recommended Battambang Tour:
Food in Cambodia
Food in Cambodia will only set you back a few bucks a meal and is usually pretty damn good! I must say, being that I spent a lot of time in Thailand, I got a bit spoiled. I think the food is lacking in flavor a bit in Cambodia comparatively, but nothing that some extra chilies on the side won't fix!
On the other hand, if your mouth is still burning from Thailand's food, you'll love Cambodia's food!
Here are some popular dishes aside from the regular fried rice and noodles dishes…
Fish Amok – Ginger, lemongrass and coconut milk curry on fish wrapped up in a banana leaf.
Red Tree Ant with Beef – No joke, literal ants with your beef. It's a thing and it's served with some chili and rice.
Khmer Red Curry – Not as spicy as Thailand's and usually made with potatoes, lemongrass, and coconut milk.
Banana Flower Salad – Usually served with chicken, garlic, chilies, lemongrass, and some lime.
Crab and Pepper – A Kep staple, fresh crab with Kampot pepper. This couldn't get any more local.
Green Mango Salad – Crunchy and a bit spicy, served up with sliced tomatoes, shallots, pepper, and basil.
The Cost of Backpacking Cambodia
To budget for two weeks in Cambodia, see below for average prices in USD (per person).
All of the prices here are estimates and averages and, of course, vary depending on your style of travel. Your trip can be way less and way more, but it's a good measure to average at least $25-$50 per day dependin on your spending habits. Hopefully, these estimates help you make an informed decision on how much it would be to backpack Cambodia.
Food costs, if you're eating local, average $1-3. You can rent a motorbike for about $8-$20 depending on the motorbike and a bicycle will only cost a few bucks for the day.
The average total for backpacking Cambodia for two weeks – $400-$650
This is not including, visa, flights, excessive drinking etc. If you're traveling with someone else the per person cost will go down as well since you're sharing taxi and room costs.
Best Time to Visit Cambodia
Heads up! It is always warm in Cambodia, even when it rains. Nevertheless, the best time to go to Cambodia climate-wise is obviously during the dry season, which is November to March.
BUT!
If you're anything like me and you'd rather risk a drizzle and avoid wild crowds of tourists, go at the very end of the wet season, as it's nearing dry season, from May to early October.
You'll save even more money this way too, getting in before the tourist price hikes take effect.
How to Get Around While Backpacking Cambodia
From city to city: When you're traveling from one part of Cambodia to the next, you have two options. You can take a bus or a train.
The train in Cambodia was only recently revived after being halted for years.
It now runs on weekends and holidays from Phnom Penh to Sihanoukville via Kampot. It could be a fun experience to mix it up from a lot of bussing.
The other option and the only real option in some cases is to jump on one of the many buses coming into and leaving from Phnom Penh.
Transportation Tip for Cambodia: While you can simply book at the pier, bus or train station, you may want to book ahead for certain legs of your journey to guarantee that you get a seat on the day you need to travel. 12go.asia is the best way to do this. Book your next trip ahead of time so you have one less thing to worry about. Click here to book a ticket through 12go.asia
Within the city: If you're looking for how to get around or venture a way out, from each city you're stationed in, you have a few options, You could rent a bike, motorbike, or flag down a remork/tuk tuk taxi.
Also, most Cambodian cities now have Grab, so download the app and just use that to avoid the hassle of negotiating.
Backpacking Cambodia: Is it Safe?
Yes. It's safe. The end.
Just kidding.
C'mon, think about it: Cambodia is a country with a lot of people looking for money and not a lot of money to find… except for the tourists. So yeah, you're going to find some petty theft, which of course can be pretty scary.
You don't want to be robbed in a foreign country, so the best way to prevent this, aside from not flaunting jewelry and expensive items, is by using anti-theft bags and being hyper-aware at all times. This is something you should do anyway, anywhere.
But the truth is, the crime is mostly not violent, and you really just want to be on your watch any time you travel abroad. Cambodia is no exception. Overall, you're fine, just use common sense.
RELATED: Southeast Asia Packing List: Everything You Need (For Men and Women!)
The Visa Drama for Cambodia
You likely need a visa, double check for your country, but Americans – yes, you need one too.
You can get one when you enter the country, at a land border crossing or just simply get it online. Most do the former which is why there's "drama."
You can get the visa yourself at the border but every bus from anywhere will hassle you to hand your passport over for them to do it quicker (and it is quicker) but you'll pay an extra $5-$10+ or more for this scam "service."
They get creative, there's maybe even an extra $1 for a "health inspection" or all of a sudden the "fees went up" or maybe today's a "holiday" and the border has to charge move for holiday pay. They will get extra cash out of you somehow.
It's annoying but inevitable. There are stories of people being left at the border because they didn't want to pay this "fee" but everyone else did on the bus, so the bus left them. There's the story of people waiting hours and hours to get their visa while the old mighty stamp-ruling individuals did jack all behind the counter.
It's an F-ing ballache to cross this border. So your choices are:
Deal with the shit hand you've been dealt and pay your way to convenience.
Apply online so you have the visa already and can avoid further drama.
Don't think you're in the clear if you apply online though… They WILL find a way to scam. The borders to Cambodia are notorious for scamming and you'll pay, with time, money, headaches or a combo of these.
Never trust the "guides" around the border crossings or the "guides" that come on the bus to direct you etc… They are more likely than misguiding you.
Honestly, the best way to handle coming into Cambodia is getting it online and then flying in. Ha! No border crossings this way, just the official immigration at the airport.
Tips for Backpacking Cambodia
You're planned, organized, scheduled and ready to book your flight! Here are a few more things to know before visiting Cambodia…
Don't be an asshole. I know. I know. I say it a lot. But the truth is that it's really easy to put our privileged western world sunglasses on and piss all over the locals. Don't do it. I'm pretty sure your mama raised you better than that. Be kind and respectful. It breaks my heart when I see this.
Prepare to be pestered. Yes. If you don't like to be bugged constantly for something to buy, Cambodia is not the place for you. Even the kids will try to sell you something! Say no thanks and walk away.
The currency in Cambodia is USD. This makes it super easy for Americans… Until they give you change in Riel, their other currency. Anything under $1USD is given in Riel as there are no American coins in use, just bills. Take an extra second to look at your change and make sure you do the math right. You'll have to deal with TWO currencies here.
You can't rent Motorbikes in Siem Reap. It's illegal. And no, don't rent it elsewhere, drive to Siem Reap and think you'll be OK.
Have USD on you to pay for your visa. Bring the exact amount for the visa (at the time of writing for American's it's $30) You'll also need two passports sized photos.
The border drama is real. As mentioned above, be prepared to get hustled hard if you're making a land border crossing, at any of them!
DON'T FORGET!
You'll need travel insurance before taking off to Cambodia. I use Safety Wing or World Nomads depending on my trip, get a quick quote and purchase it before your trip.
Grab a quick quote now: Safety Wing | World Nomads
Read More About What to Do in Southeast Asia:
→ Check out EVERYTHING you need to know about Southeast Asia
→ Here's the only Southeast Asia packing list you need
Where to next?
Thailand | Laos | Malaysia | Singapore | Indonesia | Philippines | Vietnam
So when are you jetting off to backpack Cambodia? Let us know your plans in the comments!
---
Busy? Click the picture to Pin this for later