If views could win awards, then the views at Sugar Beach would win in a landslide.
When you think of Caribbean islands on a postcard, THIS is what you see! Along the picturesque southwestern coast of St. Lucia lies a beach that's as sweet as its name implies—Sugar Beach.
The majestic Pitons in view, the water as clear as can be, fun snorkeling, a stunning world-class resort, dazzling white sand… what more can one ask for?! Well, maybe some clarification on what exactly is Sugar Beach?
It's a bit confusing if I'm being honest. How do you get here? Is it a resort? A beach? Both!? In short, yes! But let me explain a bit more…
What Exactly is Sugar Beach?
---
Sugar Beach, also known as Jalousie Plantation Beach, offers a blend of a private resort and a stunning public beach. This dual identity might sound a tad confusing, but allow me to explain…
Sugar Beach, A Viceroy Resort
Known for its opulence and exclusivity, Sugar Beach, A Viceroy Resort, is perched between the lush slopes of the UNESCO World Heritage-listed Pitons (you know, those two cool peaks in St. Lucia!)
Here, you can indulge in spa treatments within rainforest treehouses, stroll barefoot on soft white sands, head to the beachside restaurants with stellar views, and retreat to your private cottage tucked into the mountains.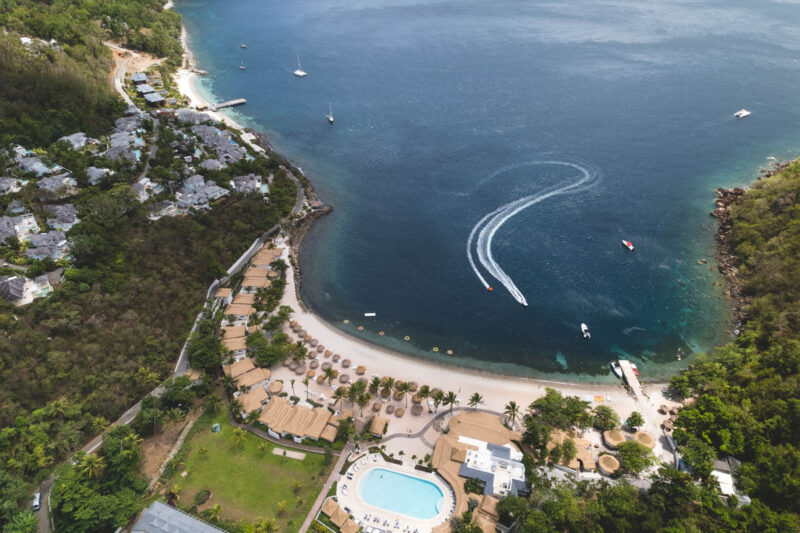 Aside from the beach view, the resort's historical backdrop is an 18th-century sugar plantation!
The accommodations here range from secluded beachfront bungalows to charming mountain cottages and suites surrounded by lush gardens. You'll have front-row seats to the stunning Sugar Beach (the actual beach!) with the option of hanging out in a cabana on the sand or stretching out by the pool.
This is hands down one of the best places to stay in St. Lucia!
Is Sugar Beach Resort All-Inclusive?
It can be! Sugar Beach Resort isn't an all-inclusive property in the traditional sense. It offers several dining options, from casual beachfront fare to fine dining experiences.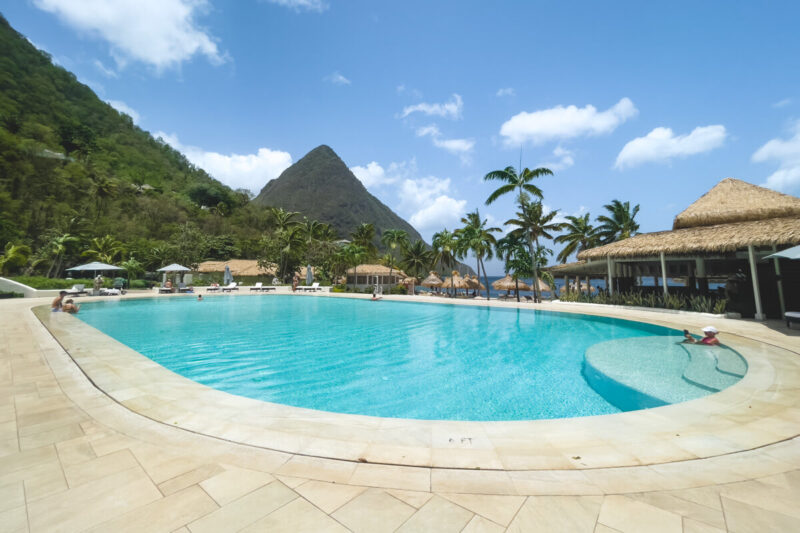 Guests can choose from these options based on their preferences. It's worth noting that while the resort provides a luxurious stay, dining costs are typically separate unless you select their dining packages (which is essentially their version of "all-inclusive").
Sugar Beach—Just The Beach! (AKA Jalousie Plantation Beach)
Most people will call this place Sugar Beach, but it is also known as Jalousie Plantation Beach. It was essentially rebranded along with the hotel!
In short—This is probably the most stunning beach in St. Lucia, if not the Caribbean!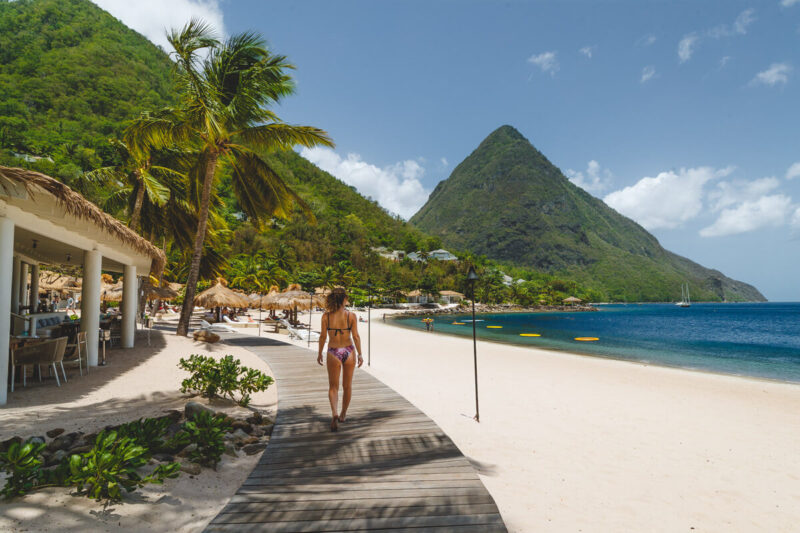 The soft, sugary sands meet the crystal-clear waters of the Caribbean Sea with two iconic volcanic spires known as the Pitons, providing a dramatic backdrop as you swim or bask under the sun. I've grown up going to beaches, and I've seen plenty around the world; I have to say, the hype is true; this is a damn nice beach!
RELATED: 9 Incredible Beaches in St. Lucia for Epic Beach Bumming
Do You Have to Stay at Sugar Beach Resort to Get to the Beach?
OK, so you understand there's a beach here and a resort by the same name—So do you have to stay at Sugar Beach to access Sugar Beach?
No! You don't have to be a resort guest to access the beach. Woo!
And no, there's no fee or anything else to get in here. This beach is public. In fact, ALL beaches in St. Lucia are open to the public, no matter how private they may look. Which brings us to…
READ MORE: Where to Stay in St. Lucia: 10 Incredible Resorts!
How to Get to Sugar Beach?
Getting to Sugar Beach is an adventure in itself. The resort is in a secluded bay between the Pitons, accessible primarily by boat or through a winding road.
Most people coming here opt for a scenic boat ride, which offers a unique perspective of the Pitons and gives you access to the beach and the snorkeling here for the day!
Your other option for getting to Sugar Beach is to drive here. This is how we visited Sugar Beach twice. I really recommend renting a car to get around St. Lucia. You'll see a lot more!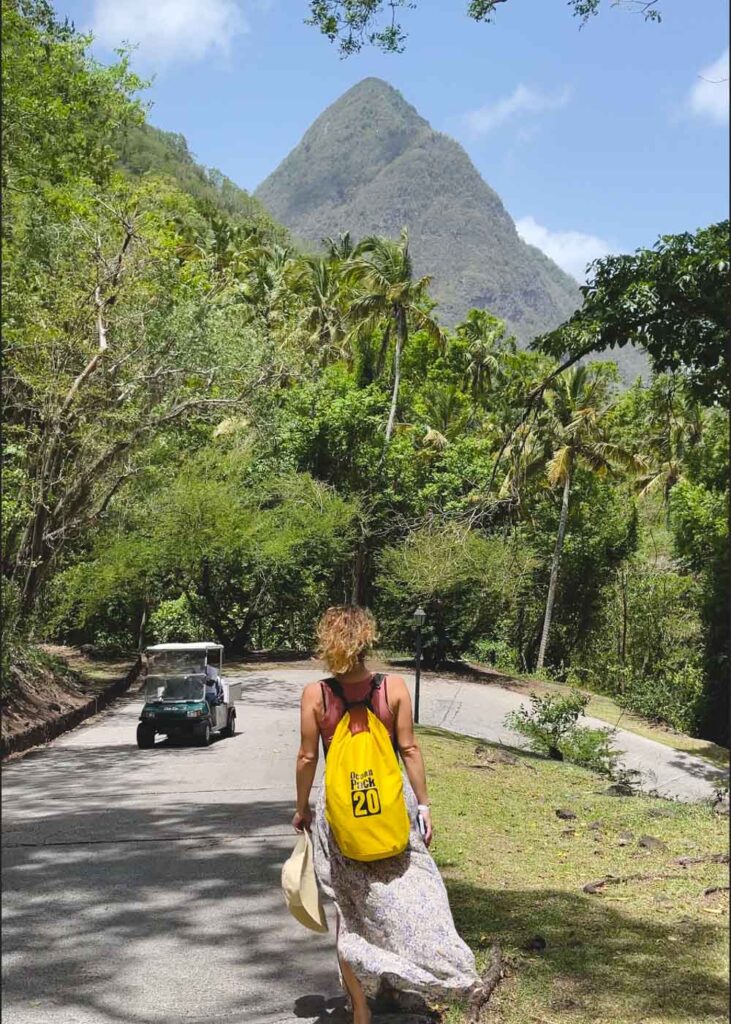 You'll drive to the resort, speak to the person at the gate, and you will let them know you're here for the day. You'll likely have to park only halfway down the hill. Which means you'll be walking the rest of the way down!
It will take about 15 minutes of walking down a steep windy road to reach the resort and the beach.
You might be thinking walking back up would be terrible! And you're not wrong, but I'll tell you below how to get back up the easy way!
RELATED: 19 Things To Do in St. Lucia—Best Beaches and Adventures!
What's There to Do at Sugar Beach?
So what can you do here, particularly if you're not staying at the resort like I wasn't?
Beach Bumming
Duh. Plop yourself down on the sand or take a dip in the refreshing water. You can spend all day here if you'd like. It will definitely feel like you're kind of at the resort as yes, it does take up pretty much the whole beach but it never felt crowded here.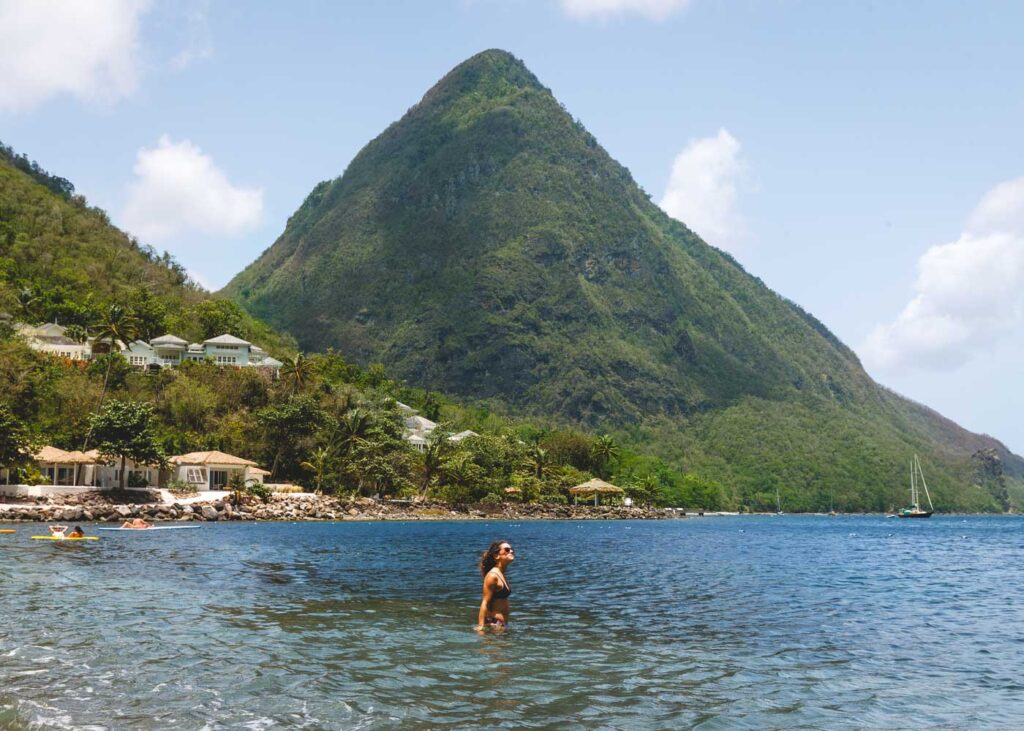 If you want to really pretend you're staying at the resort, you do have the option of renting a chair based on availability. You'll get the chair for the day for $75 USD.
Snorkeling at Sugar Beach
The snorkeling area is conveniently located to the right of the beach and is clearly marked with safety ropes and a small dock, you can't miss it.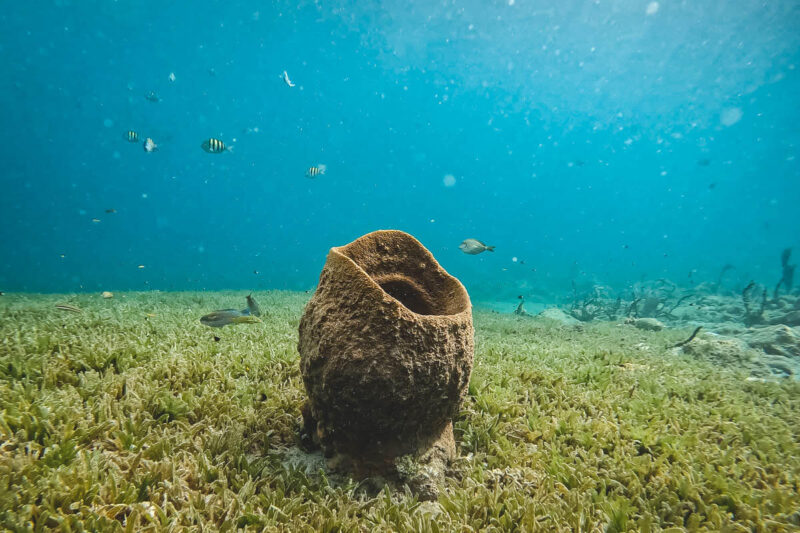 It didn't take me too long to hop right in the crystal-clear waters, but one piece of advice quickly became apparent: start swimming almost immediately. The reason? Well, there are some rather inconspicuous sea urchins near the seabed, so swim away quickly!
Once submerged, I was swept away in the underwater world. While the coral may not immediately strike you with its vibrant colors, the coral became alive when I took a dive down.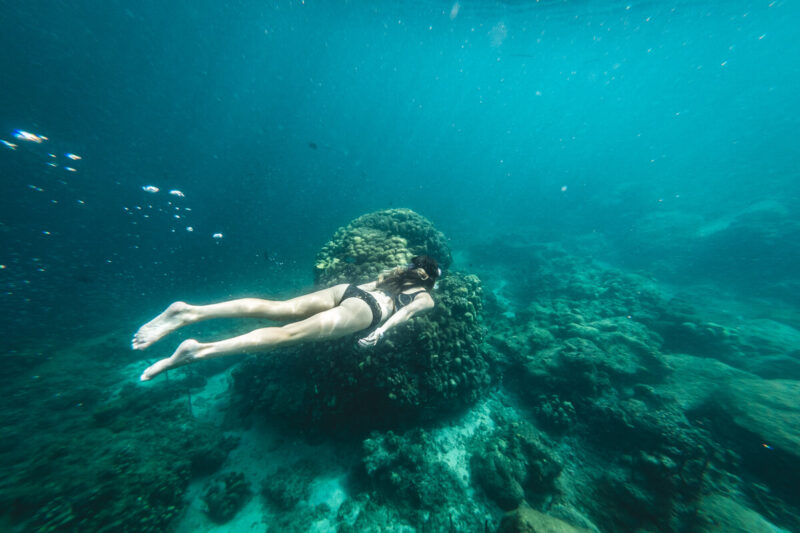 Schools of fish glided by my mask, and just as we were heading in, a nimble sea snake skirted the seabed and hid in a rock! It's not the best snorkeling in the world, but it's still a fun thing to do at Sugar Beach!
Either bring your own snorkel or rent from the hut right on the beach, easy! You can also kayak around the bay here as well if snorkeling isn't your thing.
Take a Tour to Sugar Beach
The only other way to see Sugar Beach if you're not staying here or renting a car is to take a tour here, which isn't a bad idea because you can customize your tour!
Typically you can reserve a boat for your party and tell the captain where you'd like to go, Sugar Beach is a given for most people, but what else would you like to see?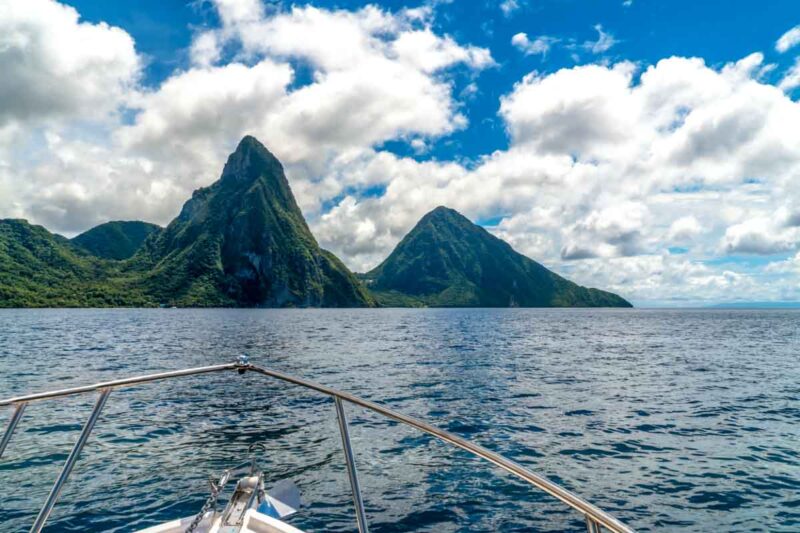 There are tons of other beaches in the area that you definitely need a car to get to, like Anse Chastenet. Read my guide to St. Lucia so you can choose some other cool spots to add to your itinerary for this tour.
Here's my recommended tour to get you out to Sugar Beach and anywhere else you'd like.
Grab a Drink or Bite to Eat
The only real place to eat here is at JaLousie Grill, which is a restaurant at the Sugar Beach Resort. You're not going to get a deal on the fare here, that's for sure, but it's at least done really well!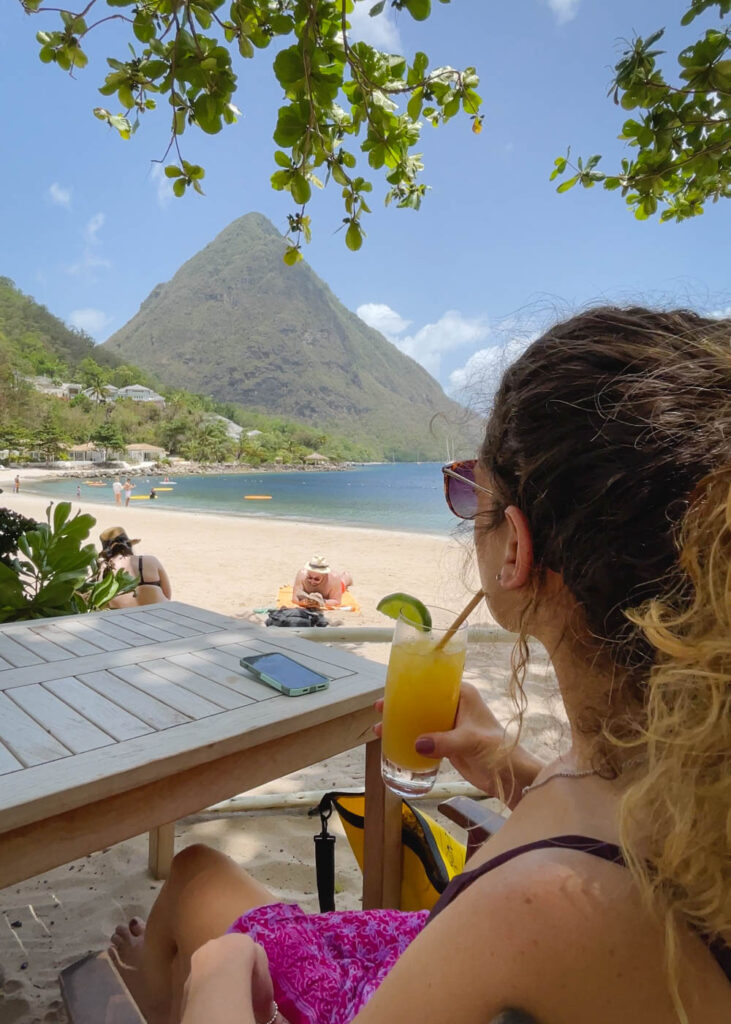 We grabbed some cocktails that were so good, and we couldn't have had a better view while sipping on them either. Plus, there's a huge extra perk for ordering something from their restaurant…
How to Get From Sugar Beach Back to Your Car!
I know you don't want to walk up that hill, trust me, we didn't either! Luckily there's a bit of a hack to get you back in a flash. Simply order something from their restaurant, keep your receipt, and when you're ready to head back up to your car, they will take you up in a van.
This was a lifesaver, as I know it would have taken around 30 sweaty minutes to get back up there and it was HOT.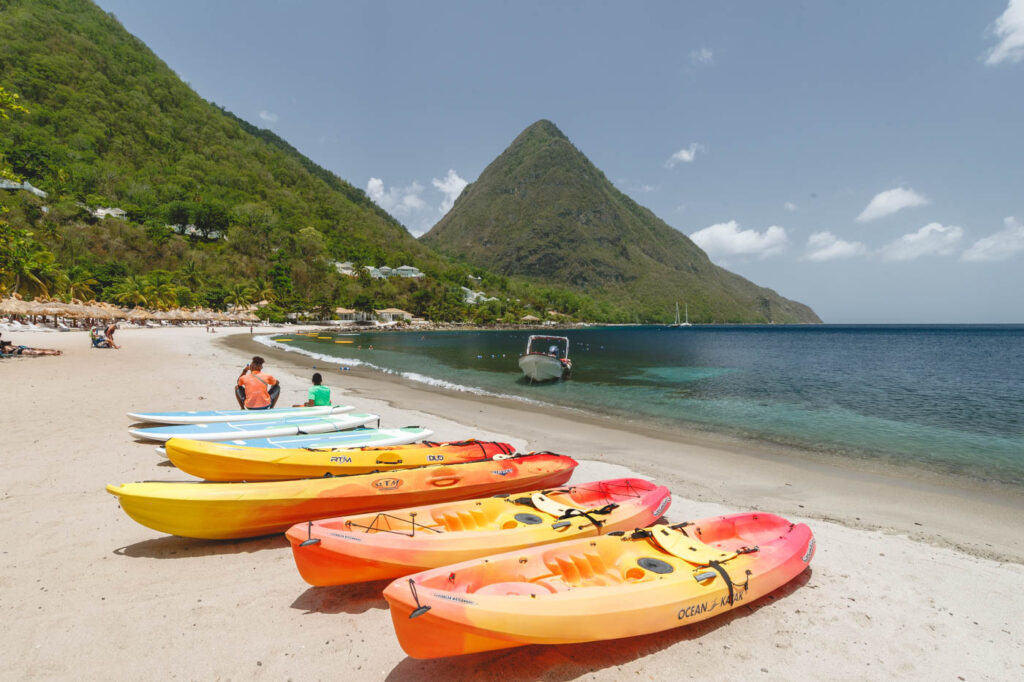 Final Thoughts
It's a real stunner, I have to say. This was one of the best things to do in St. Lucia! If you can make a visit to this beach, definitely do so—it will be worth it!
So to summarize:
I hope this helped you plan your visit to Sugar Beach in St. Lucia!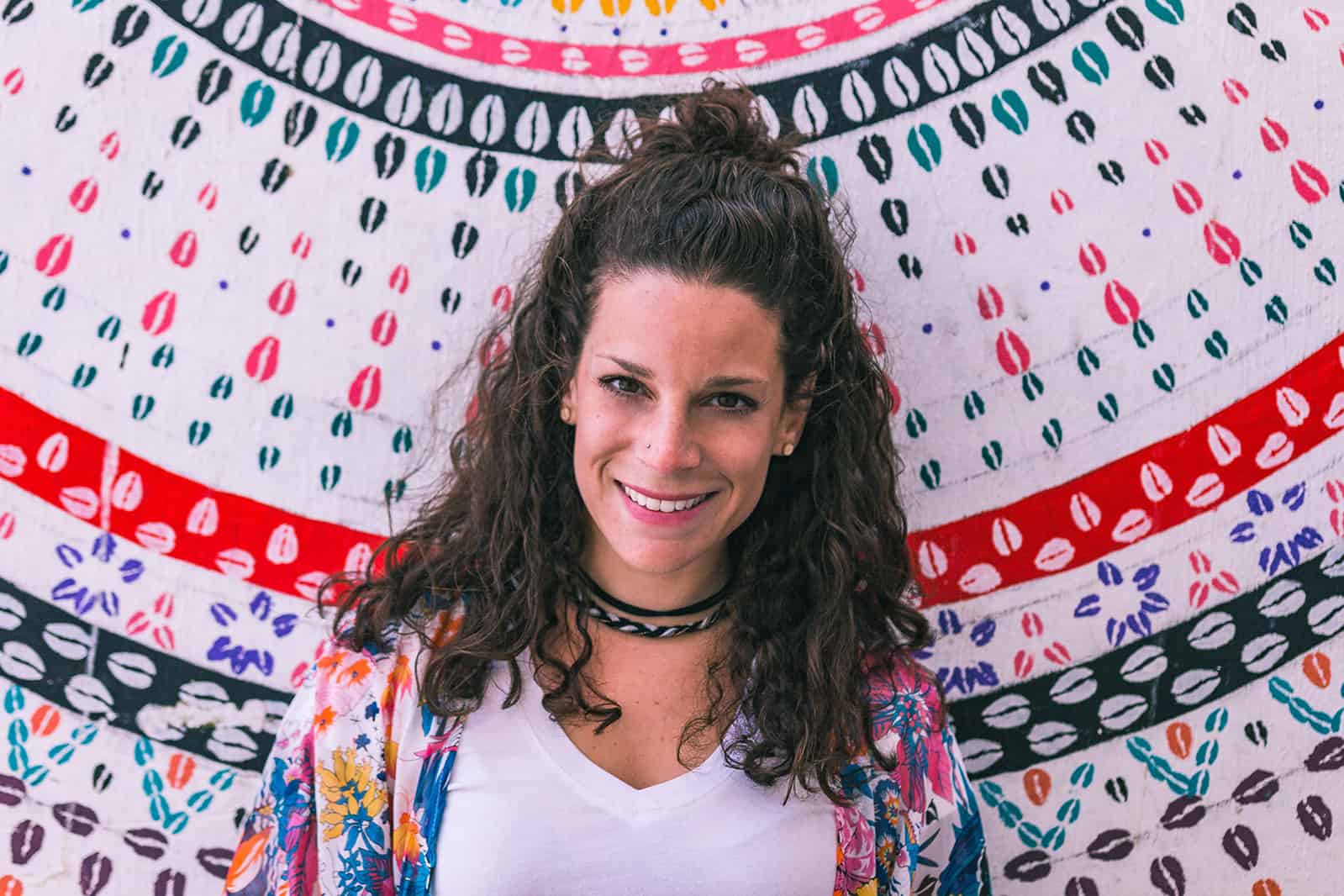 Nina Ragusa is an adventurer, messy bun master, breakfast fan, and full-time travel blogger. She's been abroad since 2011 and blogging on Where in the World is Nina? for nearly as long. Nina helps people like you move around the world while making money. She loves talking about how to work abroad and online to travel longer!