Antigua, Guatemala, is the vibrantly colored and charming cultural hub of the country. The architecture is astounding, with a mix of cute boutiques and cafes, Baroque Antigueño styled buildings, and ruins from earthquakes that hit the country.
There are so many things to do in Antigua, Guatemala! Aside from admiring the architectural wonders, you can find yourself shopping for local treasures, getting up high at the rooftop bars and viewpoints, and getting even higher by hiking up the surrounding volcanoes (highly recommend)!
The city is magical, and although I had six days, it still wasn't nearly enough to get to everything. With that said, this list will do you well for your visit; I'm sure you'll love it here just as much as I did.
Things To Do in Antigua, Guatemala
---
1. Cerro de la Cruz
Cerro de la Cruz translates as "hill of the cross", and it is quite clear to see why. A mighty cross stands imposingly atop a massive hill just outside the city. Of course, with height comes views, and that's precisely what you'll get once you reach the hill's summit, with views stretching out over Antigua and the imposing Volcan de Agua.
View seekers should put this on top of their list of things to do in Antigua, especially as it is so easy to reach either by walking or by car. I chose to walk since the base was only 10 minutes from my hotel. It only takes 10-15 minutes to get to the top.
2. Pacaya Volcano Day Trip
It is so easy to take a day trip to Pacaya from Antigua. As one of the country's most active volcanoes, it is undoubtedly an exciting trip! Expect to be hiking for around 2 hours with some awe-inspiring views.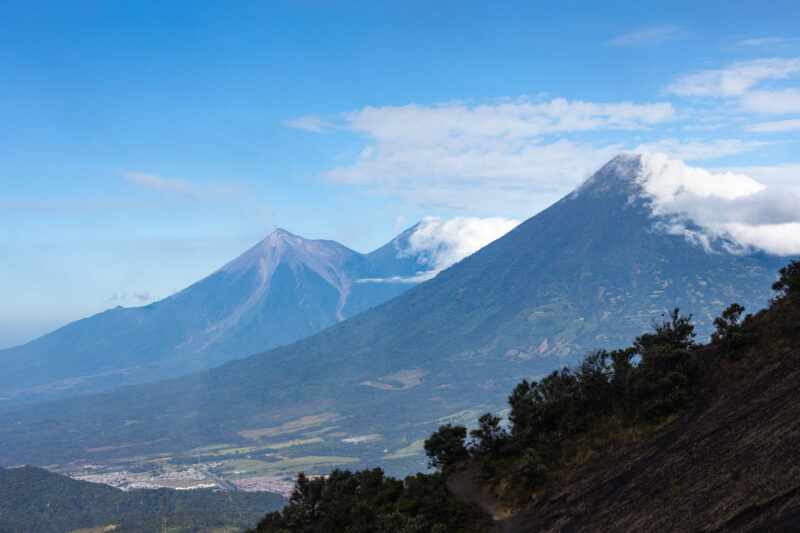 It is not possible to reach the summit of the volcano, however, the trip still provides one of the best volcano hiking experiences around, especially as the volcano is still active. You'll feel and see the activity around you as you climb, be it the smoke billowing out of the summit or even the odd flash of orange lava.
Something to note: This volcano is active, but it's not constantly spewing out lava. So if you see photos of people with red hot lava behind them, that might not be the case for you unless there's current activity. There wasn't lava when I was here, but it was still worth the trip!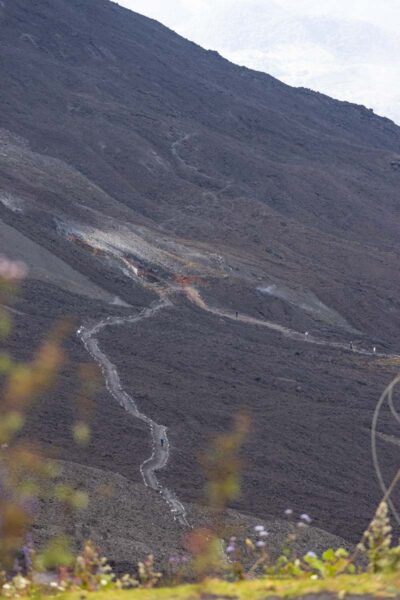 Want to do something extraordinary? At Pacaya, you can roast marshmallows using the heat from the volcanic rock! Trust me; marshmallows have never tasted so sweet… after you have dusted off the ash that is.
This volcano is around an hour and 15 minutes from Antigua. Although it is a bit of a challenge, it is slightly more accessible than some of the other volcano hikes in the area, like Acatenango (wait for it….)
→ Book the exact tour I did: Pacaya Volcano Trek
TIP: I did this tour FIRST THING. Like, literally the day after landing. It was so much fun and I made friends right away on the tour. We ended up doing a bunch of things together for the rest of my time in Antigua. Highly recommend this one for an easy "in" with the bonus of meeting friends.
RELATED: Your Perfect Guatemala Itinerary: 1-3 Weeks + Tips!
3. Shopping Around Antigua
Get your craft on at Nim Po't, a huge handicraft store in Antigua. The iconic shop is so much more than the place to pick up your wool or sewing needles. As you walk through the door, you'll be transported into a world full of traditional cultures.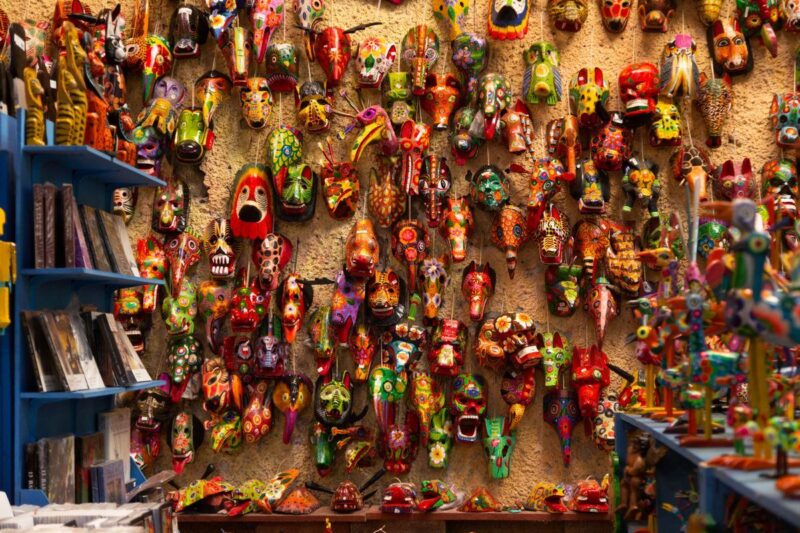 The handcrafted products found on the packed shelves come from different regions around the country so that you can sample a little bit of everything. Types of products include wooded sculptures, ceramics, bags, jewelry, art, and musical instruments, to name a few, so you'll be able to take a tiny part of Guatemala home with you.
To the far west of the city is a local market too. If you want to wander around souvenirs, nick nacks, and grab some local produce; this is the spot.
Lastly, Centro Comercial la Fuente is a beautiful spot with some handicrafts and cute cafes in a courtyard setting. A small mistake I made was not rolling through Antigua again before leaving Guatemala. It was my first stop and I didn't want to shop and then carry around everything for the next month. So perhaps make it a point to stay another night here to shop before heading out.
4. El Arco de Santa Catalina (Most Famous Thing to do in Antigua)
When you Google Antigua Guatemala, photos of the Santa Catalina Arch are what will grace your computer screen, this stunning piece of architecture spans the street, its rich yellow paint helping to make it a true icon of the city and a must-do on any list of things to do in Antigua, Guatemala.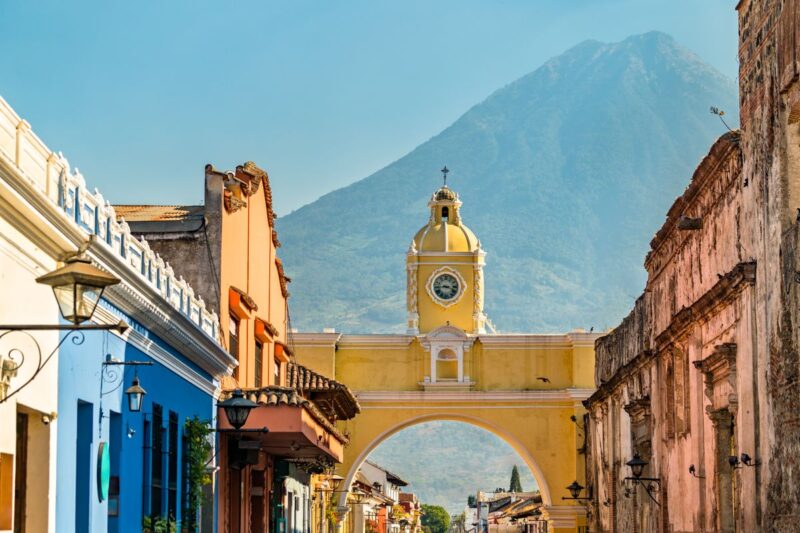 There isn't necessarily anything to actually DO here, it's more of a 'walk down this pretty street' type of thing. But it's really worth it to stroll around and get this great view with Volcan de Agua in the back. There are tons of cute shops and restaurants down here as well.
5. Acatenango and Fuego Hike (BEST Adventurous Thing To Do in Antigua)
Although pretty challenging, Acatenango is the most famous volcano hike near Antigua. It is the third-highest volcano in the country, so trust us when we say your legs will feel it. Although it used to be pretty active, you can rest assured that it has now been declared dormant.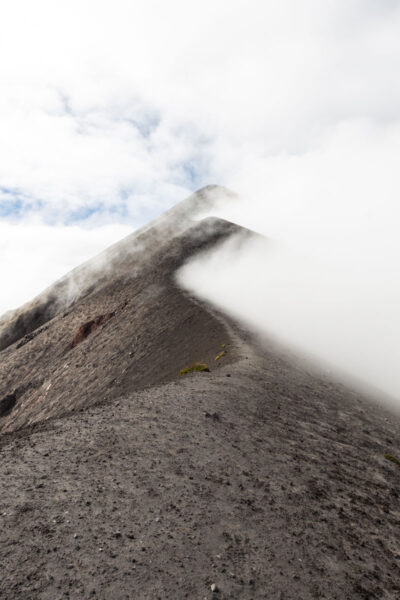 On your hike, you'll traverse high farmland, high alpine forest, cloud forest, and volcanic temperate zones, so you'll be experiencing a lot of the Guatemalan landscape in one hike.
The views from the summit are incredible, and it makes for the perfect spot to watch the neighboring active Fuego volcano. Or if you're up for it, take the hike further and get up close and personal Fuego's fury!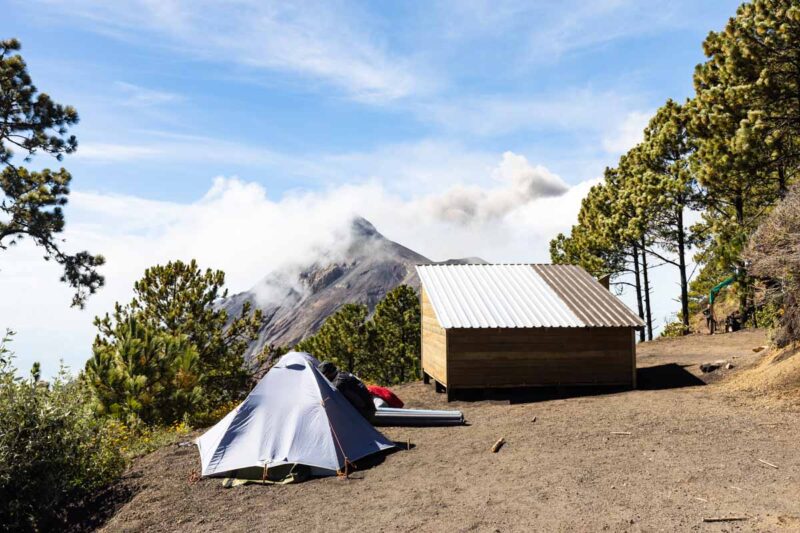 You'll be able to see lava spewing and spurting from Fuego, a once-in-a-lifetime experience! There are plenty of tour companies that will give you the best and safest hiking experience, but this one is the most recommended and the company I went with.
The best thing about doing this tour is you can book the hike to Acetanango, hike it, and when you're literally there in front of Fuego, decide if you want to do the added hike to Fuego (which does cost more). No need to decide now and pay for it in advance which is great if you're feeling too tired (the hike is HARD!) or if the weather decides to act up.
→ Book the tour I did: Acatenango Overnight
6. Cooperacion Espanola
The cultural center offers an oasis of serenity in the middle of a busy city. Once just some ruins, the area has been cleverly converted into an exhibition space and restaurant. Check out what is going on in the center when you visit, as there is usually some form of cultural event taking place, with some wonderful artwork to browse.
As a completely free thing to do in Antigua, it is worth a visit, especially as the grounds are so beautiful. The building itself is just worth a wonder, with bright, colorful walls and archways. Seeing as it is right in the city's center, it is pretty hard to miss.
7. Corazon de Agua Ecological Park
Escape the crowds at the Corazon de Agua Ecological Park, a hidden gem outside Antigua. The hikes in the park are often overshadowed by some of the more impressive hikes in the vicinity, but not everyone wants to climb a volcano; it isn't for everyone. Since I'm crazy, I went for the volcanos but this was high on my list, I just ran out of time.
The Corazon de Agua hike is a pretty well-marked trail that will have you at the summit in less than a few hours. When there are no clouds, you should be able to see Lake Atitlan and the surrounding villages that dot the hillside.
You can camp at the top for a small fee, which is a pretty cool place to pitch a tent. However, there are limited facilities, so expect a rugged camping experience. Going by car is probably the easiest, but if you don't have that luxury, then you could always get the chicken bus to one of the nearby villages, like Magdalena Milpas.
8. Rooftop Bars
Antigua is not short of stunning views, so it makes sense to have many places to admire them. Here are a few of the very best rooftop bars the city offers.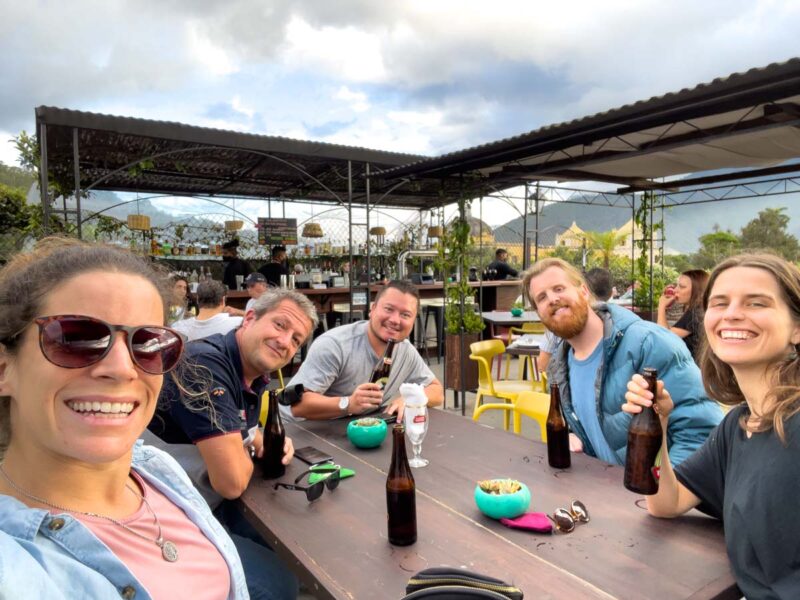 Cafe Sky – Cafe Sky offers some of the best sunset views around. There is nothing quite like admiring the active Fuego volcano while tucking into some of the finest food and drink in the city.
Lava Terrace – For a bit of laid-back dining, head to Lava Terrace. The bar itself has a bit of a party vibe, think fishbowl and loud music. But if that's not what you are after, there is also an awesome food menu and incredible views of the city from the roof terrace.
Rooftop Antigua – Rooftop Antigua has one of the best terraces to sip a cold drink and admire the surrounding volcanoes. From coffees to beers, there is quite a selection, plus tasty food to go with it.
Los Tres Tiempos – When you visit Los Tres Tiempos, if you are only going to order one thing, make it the famous pepian. The stunning restaurant is known for their traditional Guatemalan food, so if it's amazing dishes you are after, this is where to head.
Antigua Brewing Company – Craft beer, bar food, and good views! (Literally saw lava from Fuego while sipping a beer here!)
9. Chocolate Museum
Get your chocolate fix at the Antigua Chocolate Museum, a venture that lets you learn more about the wonderful world of chocolate. Get up close and personal to real cacao pods, with plenty of knowledgeable staff to tell you all about this delicious food, from harvest to production. It is one of the tastiest things to do in Antigua, Guatemala.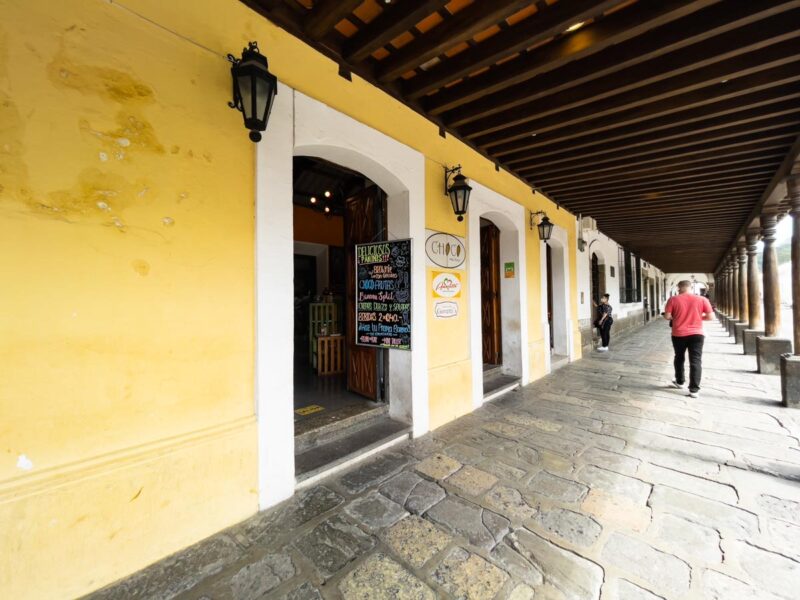 If you are a real lover of chocolate, you may want to consider a few of the activities that the museum offers, such as the Bean to Bar workshop, where you'll make your chocolate creation, try and prepare a range of drinks and take your creation home with you.
If you don't have time for the full experience but can't bear to leave empty-handed, the mini chocolate workshop is your answer.
→ Book this Antigua tour: Bean-to-Bar Chocolate Workshop
10. Central Park
Central Park is often thought of as the center of all the action in the city. The perfect place to pick your favorite bench, plant yourself down, and people watch until your heart's content. Sometimes, the best things to do in Antigua don't involve doing much.
Impressive colonial-era buildings surround the area providing a unique backdrop, while the park is dotted with trees and shady spots to enjoy a coffee or snack.
11. Tanque la Union
When looking at Tanque la Union, you would never imagine the building's former purpose. Locals used the building as a public laundry, washing their clothes in the water. Today it is a wonderfully historic place to visit and is especially beautiful at night when the structure is all lit up.
12. Palacio del Ayuntamiento
Palacio del Ayuntamiento is not just a fancy building. There is a lot of history and culture residing within the many arches and stone columns. It is also known as Antigua City Hall, once a jail and the seat of the Spanish colonial government.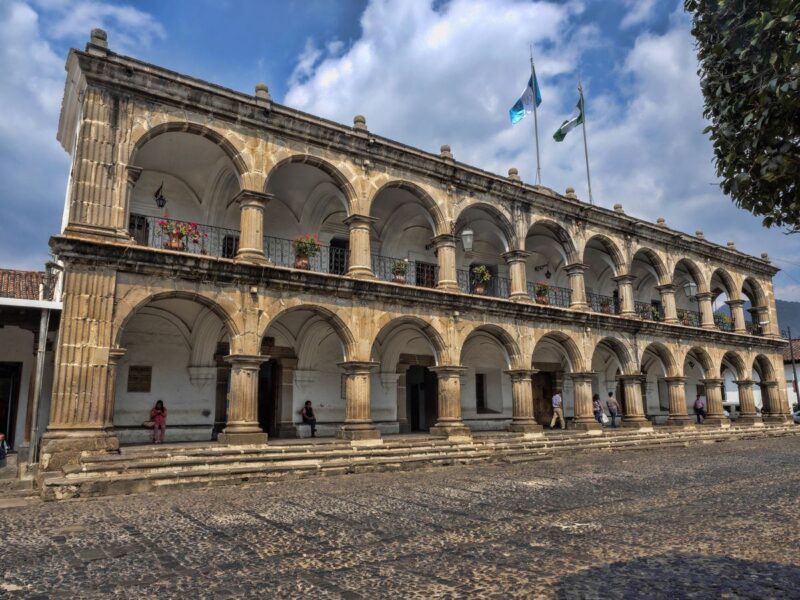 Although much of the building is still used for business, you'll have the chance to peek inside if you visit the Museo del Libro and Museo de Santiago. Museo del Libro contains a replica of Central America's first printing press, while Museo de Santigo has weapons on display and sits where the prison once was.
13. Antigua Guatemala Cathedral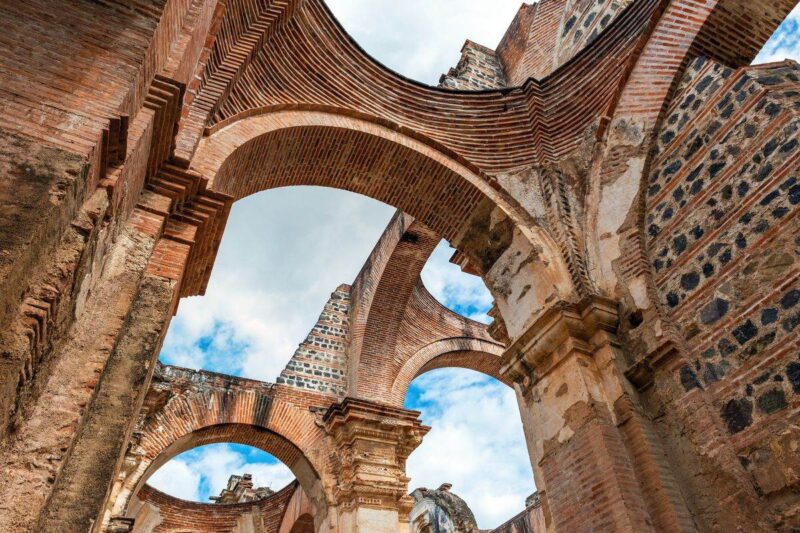 Looking proudly out over Parque Central is the Antigua Guatemala Cathedral. The outside facade is impressive, especially as it has had to be rebuilt multiple times due to earthquakes. What's funny is they only seem to have rebuilt the critical parts, meaning much of the church is still in ruins at the back of the building.
RELATED: 17 Adventurous Things To Do in Guatemala + Tips For Your Visit!
14. Where To Eat in Antigua
One of the best things to do in Antigua is EAT! There are some great spots to get some grub, and you'll find some fast food joints, cheap local stalls, fancy places, and breweries with views! Here are a few mentions of great spots to eat and drink.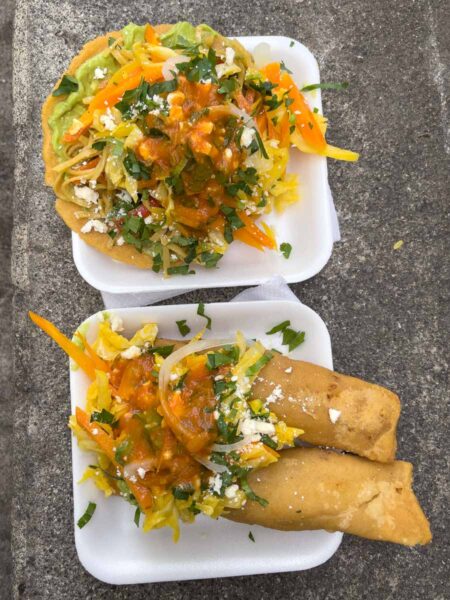 Los Tres Tiempos – Nice local food!
Cafe Cafe Guatemala – Amazing breakfasts and coffee!
Sat Nam – Best spot for vegetarian food.
El Viejo Cafe – Great food and bakery.
Cafe Boheme – Good coffee, drinks, health bowls, and nibbles with a rooftop.
Guateleria – Candy, cakes, and local food.
Cafe Sky – Hot chocolate, cocktails, and food with a view!
La Bruja – For vegan food
Antigua Brewing Company – Craft beer, bar food, and volcano views!
Parque La Merced – A few ladies have super easy and cheap food carts out here serving up local quick meals.
15. Things to Do in Antigua: Best Day Trips!
While there are tons of great things to do in Antigua, there's nothing wrong with heading out for the day and experiencing another spot.
These are also great options for those who don't have enough time to go much further into Guatemala. You can use these day trip ideas, and you won't even have to check out of your hotel in Antigua, saving you some time!
Iximche
Be prepared to get your culture fixed at Iximche. The archaeological site is an easy day trip from Antigua and offers a little something different from climbing volcanoes. The area used to be the capital of the Kaqchikel Maya Kingdom.
The buildings have since been restored, so you'll be able to see the palaces and temples in their former glory. Go with a guide to get the most out of your trip, and you'll come back filled with knowledge, ready to tell anyone who will listen.
→ Book this tour: Iximche Day Trip
Lake Atitlan
Where to start with Lake Atitlan. This stunning lake should be a travel destination in itself, and you could spend weeks on the shores and not see all that it has to offer. If you only have limited time, then a day trip will have to do, but chances are you'll be swept up in the lake's magic and will be back.
The vast lake is surrounded by sweeping hills and valleys and the notable volcanoes that dot the skyline no matter where you look. Hike up one of the volcanoes for magnificent views, watch the sunset while on an evening cruise, enjoy a thermal bath, hire a kayak, and explore.
Visiting the bustling town of San Pedro or climbing Indian Nose, the options are endless, but you certainly won't be bored. Unfortunately, you won't get to do most of these things just on a day tour, but that's OK! At least you can still visit to get a taste.
It's not recommended to attempt a Lake Atitlan day tour yourself, the logistics will leave you with little time to enjoy. So book a day trip tour instead to get the most out of your day. It's also worth noting, only book a day tour if you have no time to go for a few days to visit yourself! You'll only get to do a small portion of it on a day tour but better than nothing.
→ Book this tour: Lake Atitlan Day Trip
Chichicastenango Market
If you're looking to get an insight into the true Guatemalan way of life, pay a visit to Chichicastenango Market. The market takes place every Thursday and Sunday, so you have a couple of chances to visit this vibrant market and overload your senses in a good way.
Listen to the call of market traders and marvel at the brightly colored textiles, feeling the soft fabric between your fingers. You can watch local women practice the art of weaving and taste and smell some delicious traditional dishes, many of which are cooked right in front of you.
Don't expect to find the usual tourist souvenirs you can pick up elsewhere in the country; instead, the market is filled with things that the locals need, making it a fantastic, authentic experience.
→ Book this tour: Chichicastenango and Lake Atitlan Tour
If you're really short on time, you can combo some of these day trips, or see even further places from Antigua with ease if you grab a tour instead.
Where To Stay in Antigua, Guatemala
There are tons of cute spots to choose from in Antigua. From cheap hostels to lux rooms! Here are a few recommendations from around the city to chose from.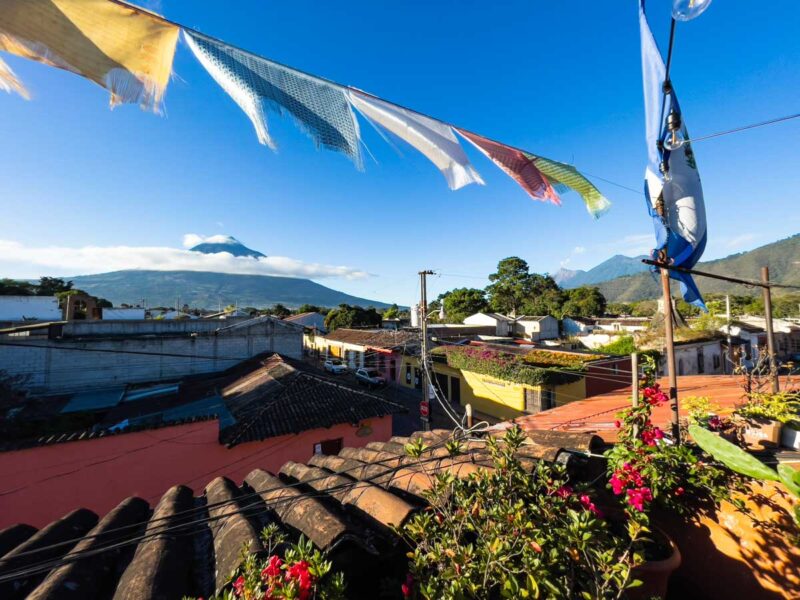 Getting Around Antigua, Guatemala
This one is easy, by foot or tuk-tuk! These are the best ways to get around. I love walking so I only walked, the entire time. The only time I used transportation was when I went on a day trip outside of the city.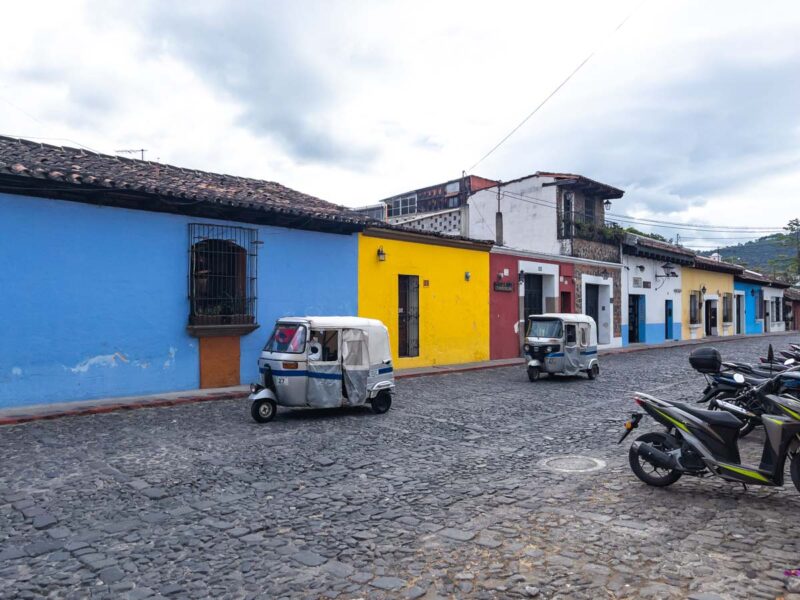 If you're not much of a walker, the tuk-tuks are easy and reasonable around the town. It will probably cost around 15 quetzals (about $2) to get somewhere else around the town, but you'll need to haggle a bit. There are also taxis roaming around town but I really didn't find them necessary to get anywhere within Antigua.
How to Get to Antigua, Guatemala
You're probably going to be coming from Guatemala City, possibly from the airport, just like me! You likely want to get out of the city as soon as possible, too; I don't blame you. Most tourists don't stay in the city, especially when gorgeous, safer, and cooler Antigua isn't very far at all (around an hour depending on traffic)
Uber here is easy, efficient, and cheap. I took an Uber from the airport to my hotel for $18.
You can also book this airport transfer to Antigua if you're not staying in Guatemala City.
The cheapest way to get from the airport to Antigua is by chicken bus. You'll only pay about $3 for this mode of transport, but is it worth it?! I'd honestly advise against it, particularly if you don't speak Spanish. It's not the safest, it will take the longest, and can sometimes be a bit dangerous.
I'd say grab an Uber or do an airport transfer. Those are the best options.
If you arrive late and have to stay in Guatemala City for the night, I'd recommend GuateFriend Hostal. They include airport transfer to and from their place, making it easy and safe for you to arrive/leave Guatemala City. Then book your transfer to Antigua for the following day!
Tips for Booking Your Trip:
---
---
---
---
Hope this helped you plan what to do in Antigua and gave you some ideas on how to best enjoy your time!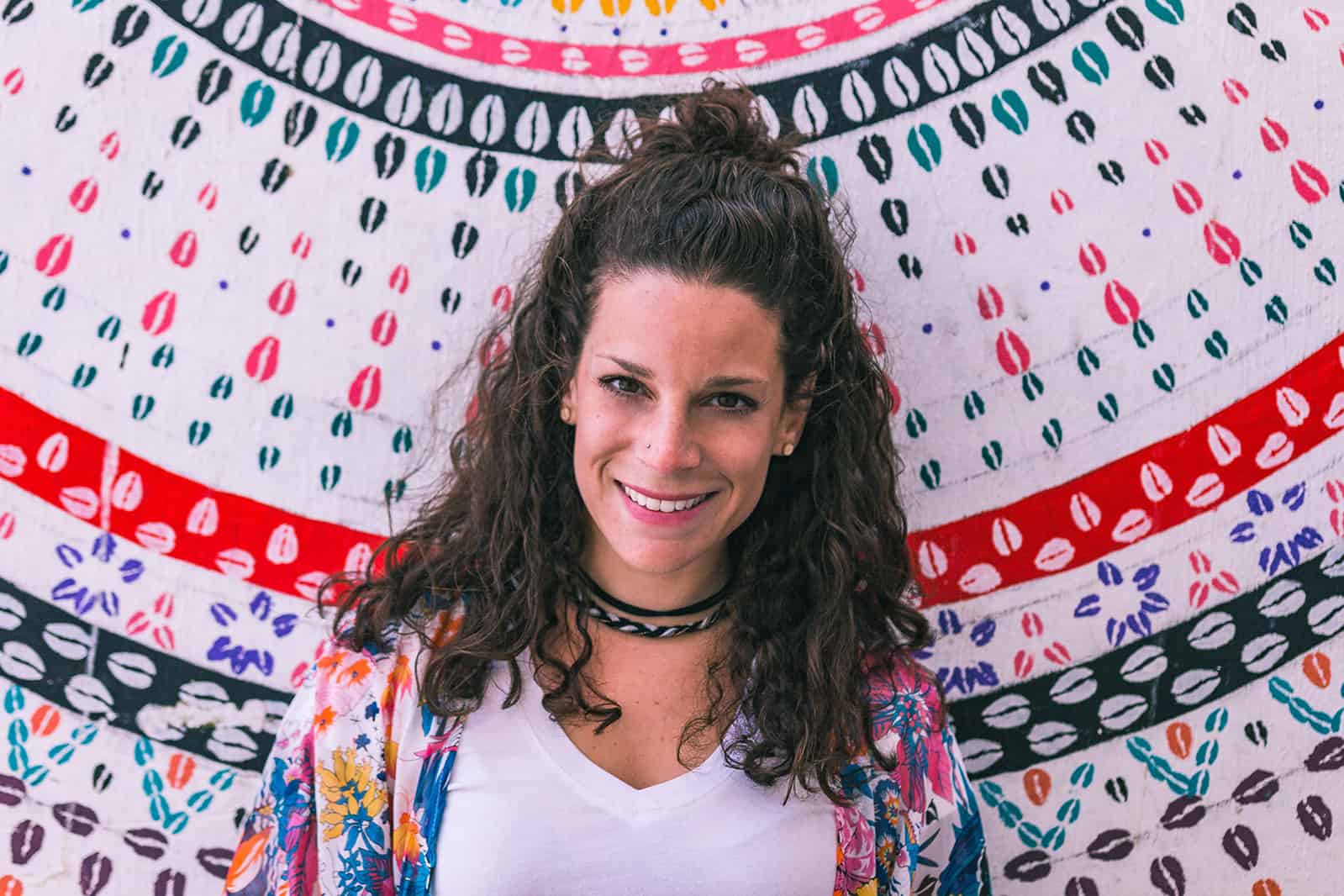 Nina Ragusa is an adventurer, messy bun master, breakfast fan, and full-time travel blogger. She's been abroad since 2011 and blogging on Where in the World is Nina? for nearly as long. Nina helps people like you move around the world while making money. She loves talking about how to work abroad and online to travel longer!