After spending a month lazing and lounging on the beaches of Puerto Escondido, I think I have found the best beaches in the area—All of them!
Yes, there are really just eight beaches in Puerto Escondido unless you start driving a bit further north or south, so I have compiled them all here for you. Each one is great in its own way and who am I to tell you which one to lounge on anyway?
I have all the info here so you can make your own choice on which of these beaches in Puerto Escondido is best for you!
Best Beaches in Puerto Escondido
---
1. Playa Bacocho
White sands stretch out almost as far as the eye can see along the stunning Playa Bacocho Beach. Lined with swaying palm trees, it is literally what you would see on a "wish you were here" postcard. But you will be too busy having an incredible time to send one of them.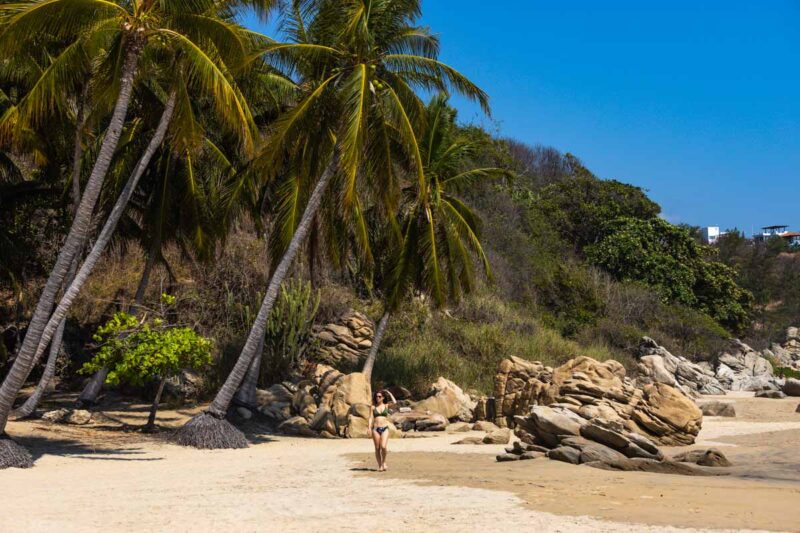 So, what could be better than a picture-perfect beach? A picture-perfect beach that is home to a turtle release sanctuary! At 5pm every day, the baby turtles get released, and it is one of the most magical spectacles to witness.
For a small fee, you'll be able to learn about the vital work of the sanctuary and even hand-deliver a baby turtle down to the water yourself. If you can think of a better (or cuter) beach activity, please let us know!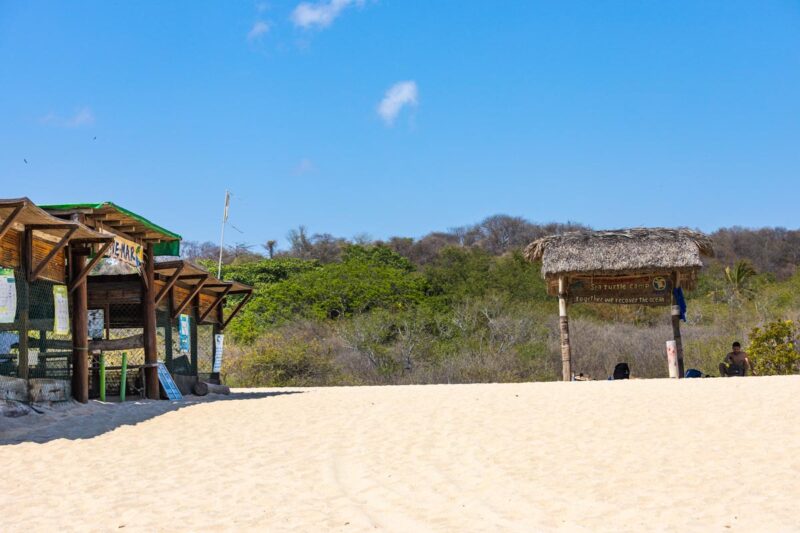 There are only two small beach clubs along the stretch of beach, which helps to keep it relatively undeveloped. Beach Club Villasol hosts an open-air cinema every Wednesday, and it's free to watch. It's the perfect way to end a day relaxing on the sands of one of the best beaches in Puerto Escondido.
This is not a surfer's beach, as the waves are powerful, so watch out even when floating!
2. Playa Coral
Wearing clothes, not for you? Playa Coral is a nude beach, so expect to be at one with nature (if you want to be). This beach is a lot less full of people than some of the surrounding stretches of sand and has a rugged charm. It is the perfect beach if you want to relax and soak up the sun without being hit by rogue surfboards.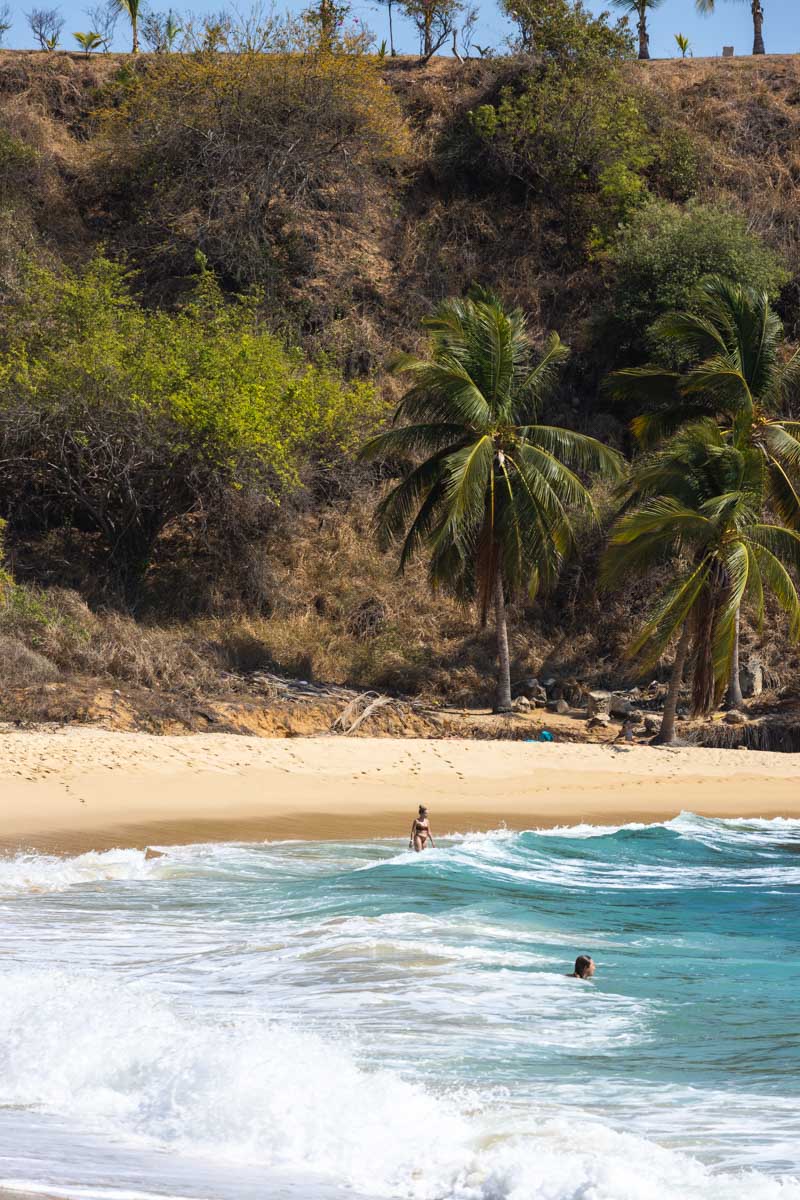 There are still a few beachside restaurants where you can grab a snack and drink and watch the sun go down seemingly below the waves, with the sugary soft sand between your toes.
It can be tricky to reach, as you will have to traverse a winding path down the hill. But this adds to the adventure and secluded vibe, stopping it from being packed with people.
To reach this beach you can grab a taxi from town and then you have two choices. Either tell the taxi to drop you off at Playa Bacocho or enter via Villa Mexicana for 100p (US$5) per person to use their direct entrance. We just walked from Bacocho!
3. Playa Carrizalillo—Most Sought After Beach in Puerto Escondido
Bigger does not always mean better, and that is certainly the case for Playa Carrizalillo, one of the smallest beaches in Puerto Escondido. This cute little cove has become the go-to for beginner surfers. The cove creates the perfect amount of waves, not too high, but not non-existent.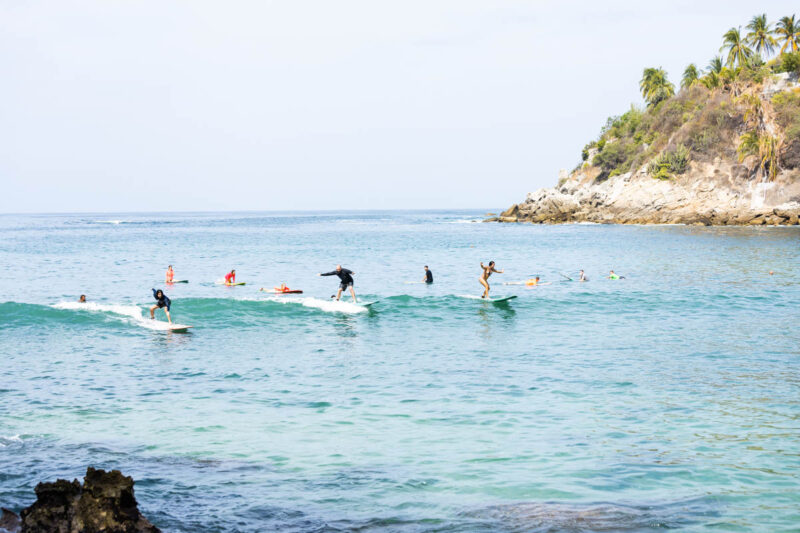 You can rent surfboards from some of the shacks surrounding the beach and even arrange lessons with the locals. You'll be a pro on the waves in no time.
Surfing costs:
Surfboard rentals are 200p per hour or 800p for a day (US$10/40).
Lessons are 800p for a 1-2hr lesson.
Once you are done on your surfboard, you will have earned a drink. Take your pick from one of the thatched beach bars that line the sand, which perfectly vibe with this chill cove. These palapas offer everything from ice cream and drinks to various homemade items.
If you buy from the vendors, they will often provide free use of their loungers to soak up the sun and admire the surrounding beauty. So if surfing is not for you and you prefer the more laid-back way of life, the beach offers cabana rentals and rental umbrellas and beds for ultimate relaxation (usually around 300p/US$15 for the day).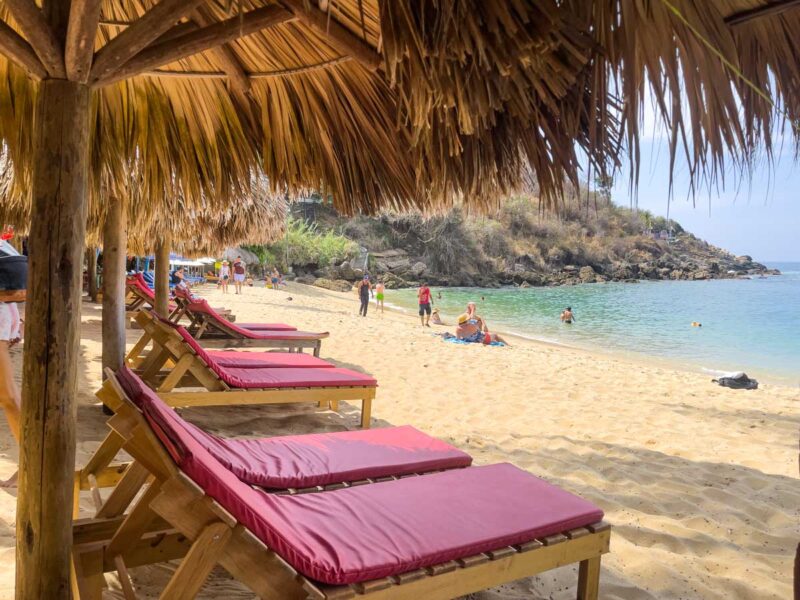 The crystal clear waters are relatively calm and shallow, making it the ideal spot for families hoping to paddle or try their luck at snorkeling. The rocks at the right end of the bay offer the best chance of spotting some of the colorful marine life that inhabits the area.
To the right is surfing, so don't go there and since there are some waves here do be careful when swimming.
Be prepared, as to access this beautiful cove, you have to head down 160 or so steps, and what goes down must also come up…
Where to Stay Near Playa Carrizalillo in Puerto Escondido:
Villa Maria B&B – Indulge in comfort with big beds, a designer swimming pool, and freshly cooked Mexican breakfast.
Villas Carrazalillo – Close to downtown, but with views of the ocean, this hotel offers the best of both worlds.
READ MORE: Your Guide to Playa Carrizalillo in Puerto Escondido Mexico
4. Puerto Angelito
Puerto Angelito is a perfectly chill beach located in a picturesque bay. The water is nice and calm, providing the perfect conditions for snorkeling or paddleboarding, but be aware you will be sharing the water with lots of boats.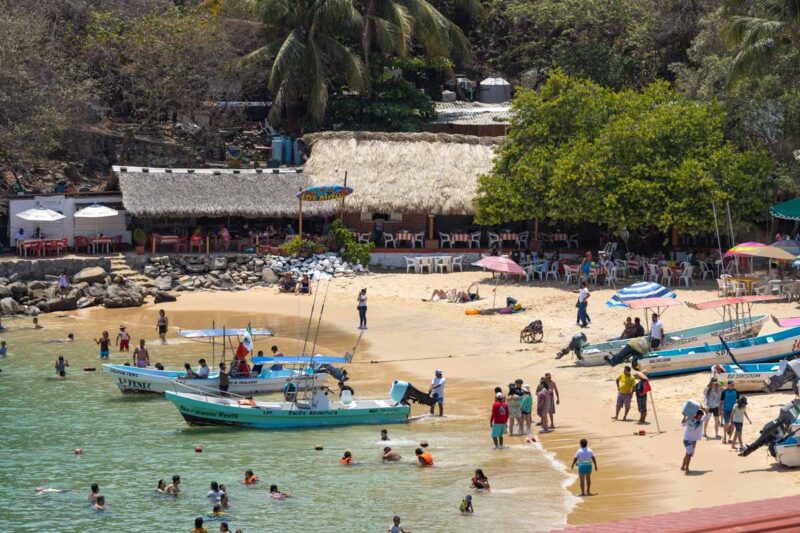 These boats offer boat and fishing tours along the shores of Puerto Escondido, a great way to view the coast from a very different perspective. The waters are clear and offer excellent visibility for snorkeling, and the colorful coral and darting fish tend to put on a bit of a show.
A rocky headland lies at the beach's northern end, just waiting to be explored, and the many beachfront restaurants offer ample dining options.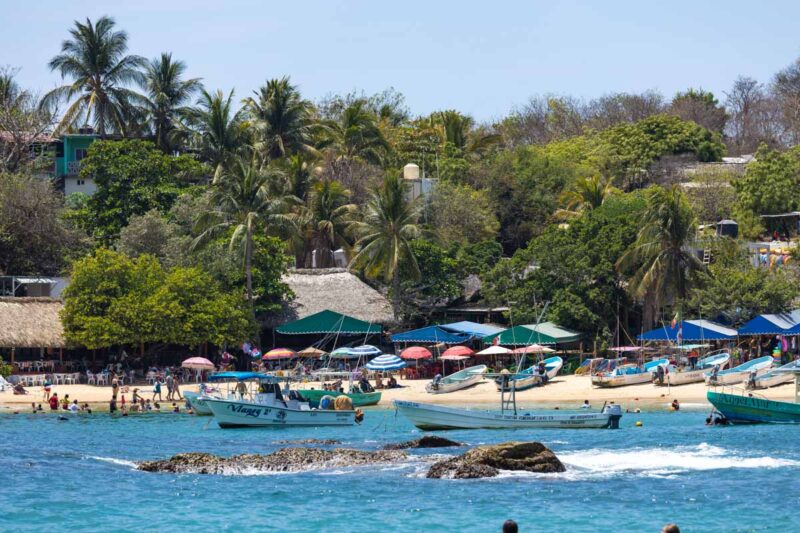 Sharing the same bay is Playa Manzanillo, so you can have the best of both worlds when you visit. Head to the southern end of the bay and walk around the rocks to reach paradise number two.
5. Playa Manzanillo
Playa Manzanillo is located in the same bay as Puerto Angelito, and both are as beautiful as each other but offer a different vibe. This cove is even more chill, if that is possible, with swaying palm trees and vendors selling their wares on the sand.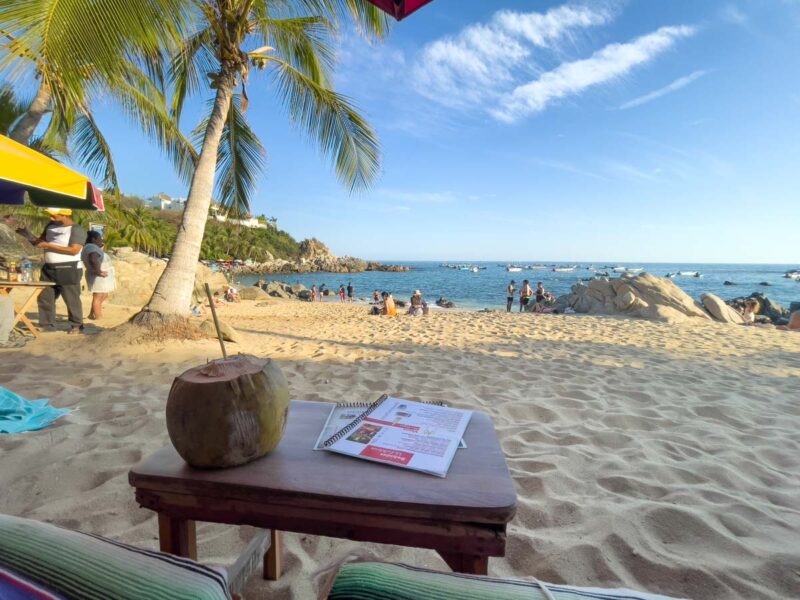 A few boats are bobbing in the bay, but not quite as many as in the waters of Playa Angelito, which makes it a little better for swimming. You will find just as many Mexican families here as you do foreign tourists, which is excellent if you want that local feel.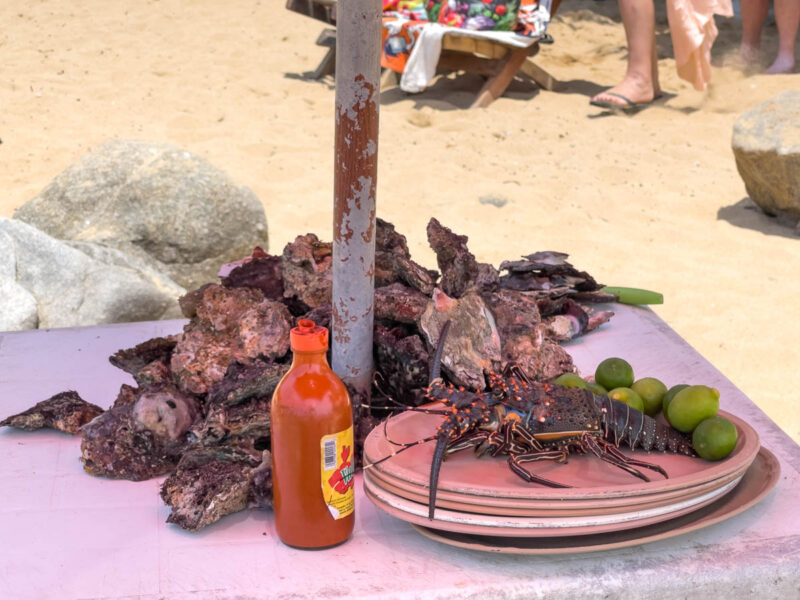 Because of the sheltered bay, the waters are calm and clear, so you have a perfect chance of spotting something cool under the gentle waves. Playa Manzanillo has you covered for the perfect combination of local culture, calm waters, and delicious food options.
RELATED: A 2 Week Mexico Itinerary for Beach and Mountain Lovers
6. Playa Principal
Playa Principal is the 'town's' beach in Puerto Escondido. It's large and lined with restaurants and hotels. It is a busy beach, but it has everything you need for a full day of beach bumming and swimming.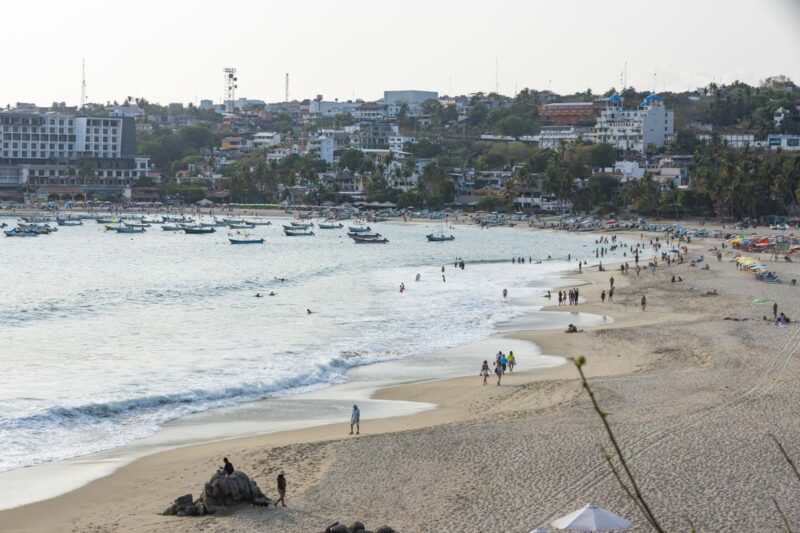 It is located right in the heart of the town, which means easy access and no need to trek up and down hundreds of steps to reach the golden sands. For many, it is one of the best beaches in Puerto Escondido purely due to the ease of visiting, but it is also beautiful in its own way.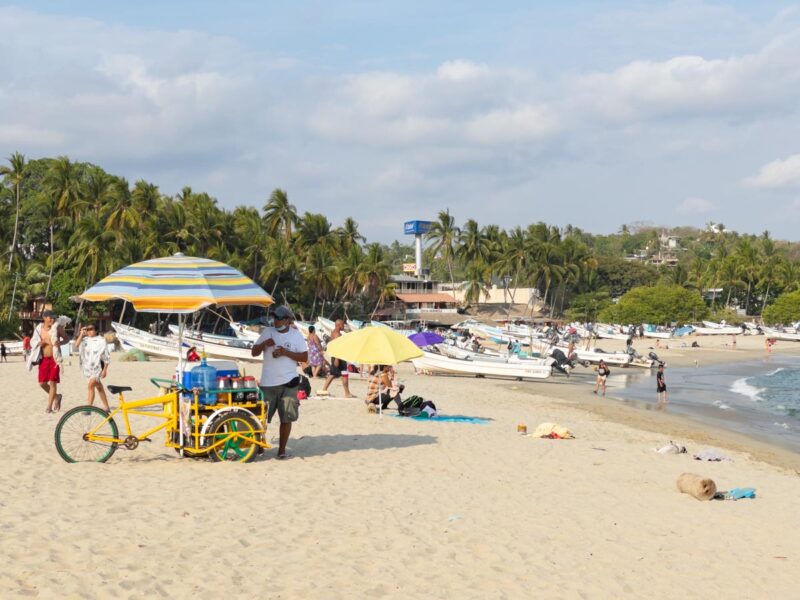 The beach is nice and narrow, meaning the water is closer for paddling access. At the back of the beach, you can find El Adoquin, a fully pedestrianized, bustling street filled with bars, restaurants, souvenir shops, and other amenities.
If you are there in December, you might be able to catch the Blessing of the Fishes boat procession.
Restaurante Junto al Mar was a favorite with some truly delicious seafood. We got a massive seafood combo which was a feast for two!
Where to Stay Near Playa Principal in Puerto Escondido:
Tower Bridge Hostel – A great place to meet new friends, and within easy reach of three beaches.
Puerto Dreams Hostel – An affordable hostel in downtown Puerto Escondido with a super cool roof terrace.
Shavanna – Enjoy designer surrounds without the price tag at this beautiful boutique hotel.
RELATED: Where to Stay in Puerto Escondido, Mexico—Best Hotel and Area For You
7. Playa Zicatela—The Best Beach in Puerto Escondido for PRO Surfers
You may have heard of Playa Zicatela; in fact, it is pretty legendary! This 3.5 km stretch of beach is arguably the best surfing spot in Mexico. The beach's northern end is where all the action is, complete with noteworthy surfing waves including the Mexican Pipeline.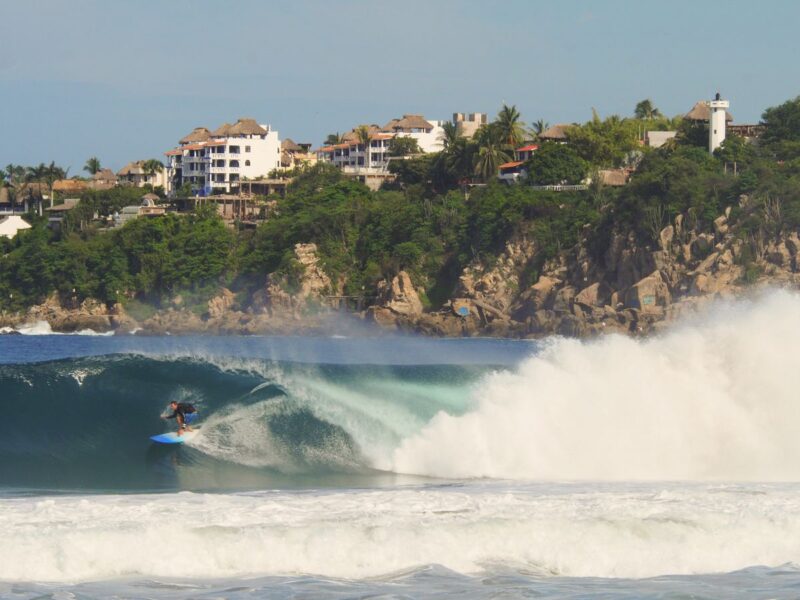 The area is known for having the third largest waves globally, so it is not for the beginner surfer. The waves can reach between 6 and 15 feet, sometimes 20 feet; now that is big! It is undoubtedly one of the most extreme surfing beaches in Puerto Escondido.
While the waves are mesmerizing to watch, especially when there's a brave surfer riding them, the unfortunate thing is this is a rough beach for swimming. In fact, it's pretty dangerous a lot of the time. Keep an eye out and take care taking a dip here!
With that said, the big waves are far from all that Playa Zicatela has to offer. The vast stretch of sand is a haven to relax on, and there are plenty of beachside bars and places to grab a bite to eat.
You can also head up to Mirador El Morro for some truly stunning vistas over the vast beach.
Where to Stay Near Playa Zicatela in Puerto Escondido:
Selina Puerto Escondido – One for digital nomads, Selina's combines beautiful rooms with a well-equipped coworking space.
Hotel Rockaway – The location right on Playa Zicatela will delight any surfer, but you also have the option of two swimming pools in the hotel.
Casa Joseph – An adults-only hotel with some welcomed extras like daily yoga classes and beachfront cabanas.
READ MORE: Your Guide to Playa Zicatela + La Punta Zicatela in Puerto Escondido, Mexico
8. La Punta Zicatela—The Hippy Beach in Puerto Escondido
It may be pretty touristy, but people flock to La Punta Zicatela for a reason. This area of beach sits at the southern end of Playa Zicatela. It is mellow, laid back, and it is effortlessly cool. Expect to see vegan cafes, coffee shacks, and yoga retreats.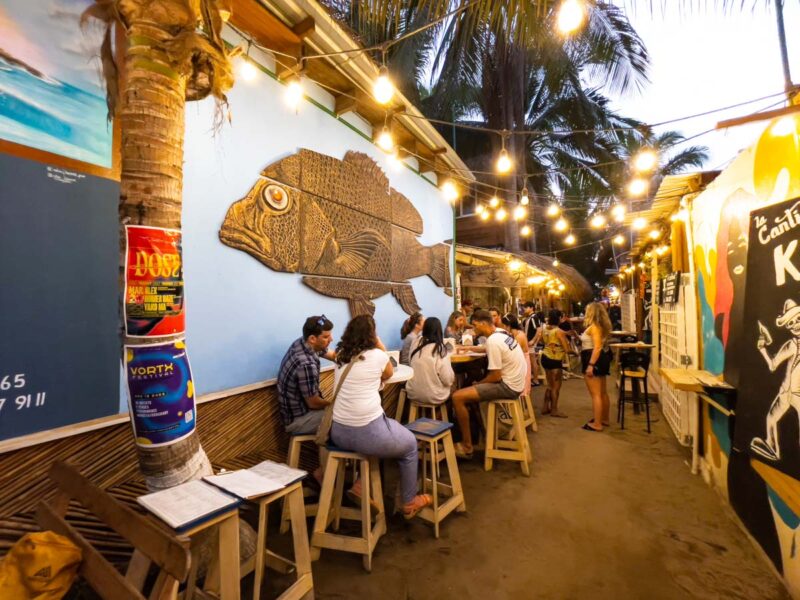 The area has a distinctly hippy-ish vibe, but everyone is welcome, and the bars get packed full of (some) locals and backpackers alike, sharing a beer and good times.
The waves here can still be big and the sea a little harsh, but it is nothing compared to the beach's northern end, so it's geared more toward beginners to intermediate surfers. Leave the north end to the pros.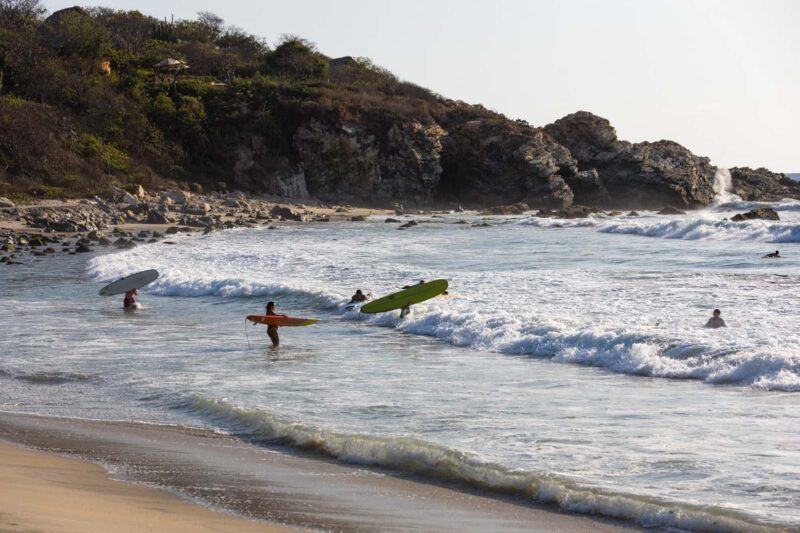 It is a great place to learn to surf if you have never been on a board before, with many companies and locals offering lessons.
It has one of the best sunsets on the coast, as the sun always sets over the waves! If you're hungry, the Fish Shack will make sure you never have another fried fish burger this good in your entire life. I'm totally ruined and nothing will match it!
If burgers are your thing, Alaburger is mighty tasty with beer and tuna burgers on the menus and the vibe is perfect!
→ Book a surf lesson in La Punta
Where to Stay Near La Punta Beach in Puerto Escondido:
Casa Punta – Just steps from the sand at La Punta, this hostel is all about chilling, complete with hammocks.
Villa Bonobo – A balance of luxury and affordability, this hotel offers both hostel beds and private rooms.
Punta Zicatela – Charming decor, sea views, and a great location – this hotel has it all.
More Around Puerto Escondido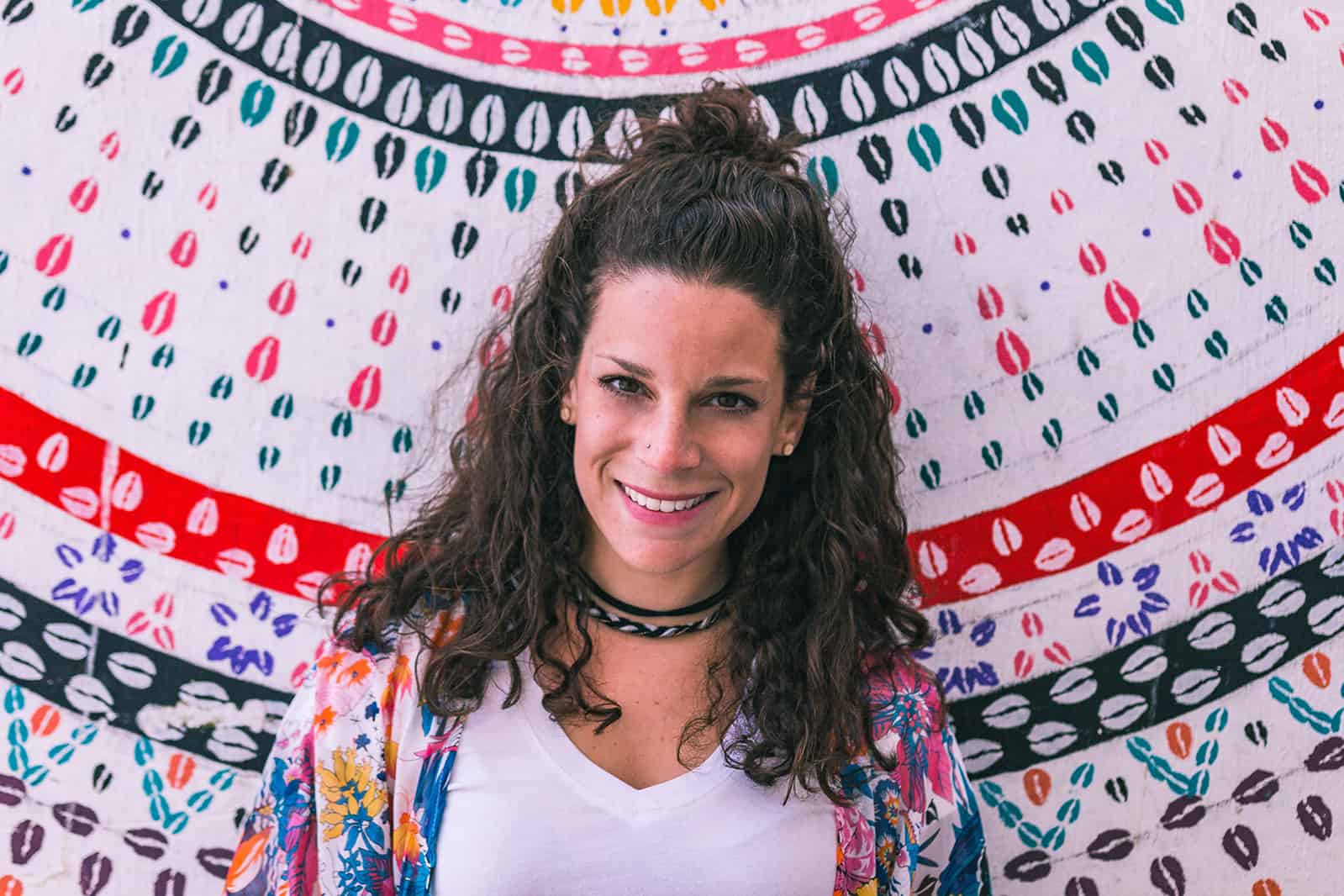 Nina Ragusa is an adventurer, messy bun master, breakfast fan, and full-time travel blogger. She's been abroad since 2011 and blogging on Where in the World is Nina? for nearly as long. Nina helps people like you move around the world while making money. She loves talking about how to work abroad and online to travel longer!