Over the past few years, I've received several questions about jobs in Thailand for English speakers. It was amazing to live and work in Thailand, and I wanted to spread the word, so finally, I've made an FAQ – I hope this answers your questions!
Working abroad is a rewarding experience, and jobs in Thailand for English speakers are plentiful. It's made all the better by the freedom, especially if you have a little extra cash.
Please note – These answers reflect my experiences. To teach abroad in Thailand, or anywhere in the world for that matter, many factors come into play. My school was in Ayutthaya, Thailand and I taught 15-18-year-olds.
If you want to share your own experience of jobs in Thailand, or anywhere else, feel free to share! If you have a question I haven't covered let me know.
Basic qualifications required to work in Thailand as an English teacher:
Native English Speaker

A Bachelors Degree, preferably.

TEFL Certification (Not always mandatory, but it was for me. It's a smart thing to have)

A real desire to help people learn English
1) I Want to Live and Work in Thailand! How Did You Start?
I did not get my job in Thailand prior to leaving the States. I was fresh off the plane, with no teaching experience, and I happened to meet an acquaintance who pointed me in the direction of a lovely school that was hiring.
Jobs in Thailand for foreigners are plentiful.
When you search thoroughly on the internet or make the effort of walking around and conversing with the locals, it is almost impossible not to find a job.
You can travel for a few days, mingle with the locals and someone will definitely point you in the direction of an establishment that is hiring.
Most of the school terms in Thailand start in May, ending around September. The next one starts around December and finishes in April.
Where to Search for Jobs in Thailand for Foreigners:
Sites to check out: seriousteachers.com, ajarn.com (Thailand, Laos and Myanmar), eslemployment.com, eslcafe.com…. or …. Hello! Just google 'ESL teaching jobs in ____.' You will be surprised how many choices you have.
Where to Get Tefl Certified:
Get certified through MyTEFL. A trusted company with great prices and assistance in job searching!
Use my code for a 50% off discount! Nina50
2) Is It Hard to Teach English in Thailand?
It wasn't particularly hard at my school. We had a relaxed environment where we played games everyday – I honestly felt more like an actress than a teacher, using dramatic reenactments and charades to get my point across.
The kids used to laugh a lot – whether it was with me or at me, doesn't matter. They were listening, participating and trying to understand, which was all I wanted.
It won't be a cakewalk either – sometimes students will cause problems, or refuse to pay attention. Sometimes you'll have 15 students in your class, and other times you'll have a throng of 50.
They won't give you stellar performances and across the board participation right away – and you cannot get mad at them for that. You have to put the effort into making your classes fun and include elements that the kids will enjoy.
For larger classes, which is what I dealt with, I came up with two tricks to help me:
Break them down into smaller teams of 4 or 5 so they won't be shy talking to you in front of 50 of their peers.

Get them playing – kids

love

competition.
Read up on this if you're not a native English speaker!
3) You Had No Training or Experience as an Educator. How Did You Teach Abroad in Thailand, or Anywhere for That Matter?!
To get jobs in Thailand for foreigners, all you need is to speak English. It must be your native language (so they say). That is the only requirement.
Most will require that you have a Bachelor's degree (in any discipline) and it would be preferred if you had a TEFL certification
I have met several people who live and work in Thailand with nothing but an English tongue – no documents, no training or experience. They got along just fine. I actually met many teachers who weren't even Native English speakers. They might have gotten paid lesser, but they did have a job.
4) Your Students Speak Thai but Not English, so How Do They Understand You?
Most of them don't. You need to speak slowly and clearly.
Visuals are key – use pictures, worksheets and drawings on the board, and they will eventually start to understand.
If I ever needed to explain something and they just weren't getting it, my Thai English teacher (The teacher that teaches them English in Thai) was usually sitting in the back of my classroom ready to help if called upon.
I did have a few misunderstandings with the Thai English teachers themselves, which made me wonder how they were teaching English to begin with…but the point is – Get up there, teach the language, and don't make it overly complicated for the kids.
5) Ah! I'm Horrible at English Grammar and Don't Know an Adjective from an Adverb!?
Most likely, you would only need to focus on conversational English. They have a Thai English teacher who gets to teach the technical stuff.
Your job will be to get them talking.
It depends on the school and what you are hired for, of course, but generally speaking, most schools want conversational English to be priority. That said, you can't be an idiot about it – brush up on your concepts before you begin teaching.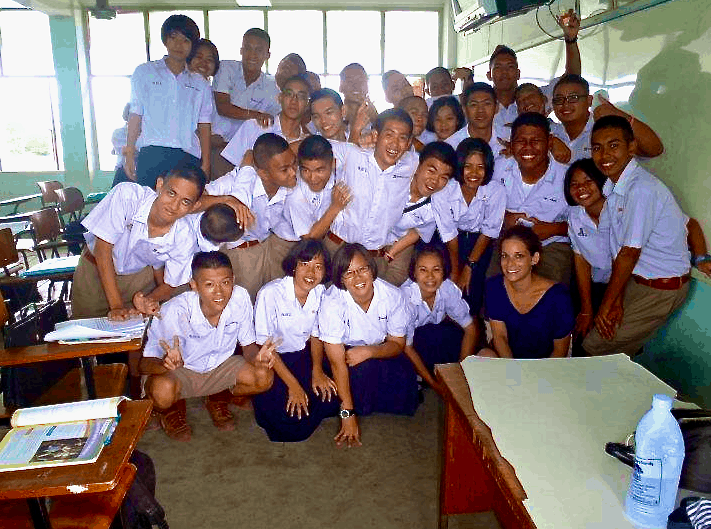 6) How Much Would I Make Teaching English in Thailand?
First, this depends on the city you're teaching in. Second, it depends on which level you are teaching – university level obviously pays more.
You need to do this research according to your needs – look at the jobs in Thailand and pick the place that would be the most comfortable. In general, the southern part of Thailand doesn't pay as much. Perhaps their logic is that people are willing to sacrifice money for living in paradise? Not exactly sure.
In Thailand, the average is around $1000 per month for about 20-25 teaching hours per week at a regular public school.
Teaching hours means the hours you are actually teaching in the room. Some schools might require you to stay on campus for extra office hours and other duties.
7) What Types of Schools Does Thailand Have?
There are public and private schools, language schools, and universities.
You'll likely get your first job at a regular public school. Private schools and universities are known to pay more but are harder to get a job at because they prefer some experience. Language schools are excellent for some extra income as you can teach after schools hours or on weekends. I'd highly suggest getting a job teaching business English or tutoring on the side for extra easy cash.
8) Why Did I Choose to Teach English and Live and Work in Thailand?
I initially wanted to go to Europe, however, after some research, it was apparent that Europe was going to be way too expensive. The teachers there make just enough to live and therefore, my travel bug would be put on hold again.
No way I would let that happen!
So, I started looking into Asia, since that's where some of the cheapest countries to live and work in are located.
The teachers didn't get paid much, but the cost of living was so low, it evened out nicely. I decided Thailand would be an easier country for me get settled in, being that I have never been to Asia before.
And finally, I was off!
9) Did You like Teaching English Abroad and Living and Working in Thailand?
I did! I think it's an exciting experience for anyone craving a fun challenge. It was great playing with my kids, watching them learn, and having them actually enjoy and participate in an activity I organized for them.
Was everything sunshine, puppies, and rainbows? Absolutely, 100%, NO. But then, is anything? There were times I got tired, annoyed, and downright frustrated – but this comes with the game. It was and always is, worth it.
I would do it all over again, and I encourage anyone who thinks they are up for it to give it a shot.
As far as being in Thailand, I loved it! I loved almost everything about it. In fact, I ended up living in Thailand and traveling the surrounding countries for about four years.
10) How Does the Work Permit Work?
I would highly suggest NOT trying to figure this out for yourself and letting your school help you out! If they don't do this for you, it's kind of a red flag. Make absolutely sure your school assists you, otherwise you'll be drowning in paperwork in a language you don't understand.
If you work without a work permit, you risk getting caught. With that said, there are people who do it and are fine. I wanted to do it legally and had the means to do it very easily through my school.
RELATED: Work & Live in Thailand: How to Do It? Cost of Living? And More!
11) Do I Need to Bring Anything from Home to Teach English Abroad?
Yes! You're definitely going to need:
Your degree. I needed my original as they wanted to feel the seal and verify it's real.

Your original TEFL certificate.
And clothing, obviously. Keep in mind what you might need to wear at your school. You must dress modestly.
Skirts and dresses below the knee, shoulders covered, and nothing too tight for the ladies. And for the men, slacks and a nice shirt will do. But more importantly, you need to keep in mind that clothing that fits might be hard to find in Thailand. If you're tall, or if your feet are larger than the standard Asian, you will definitely require larger sizing, making your clothes expensive and hard to find.
What Are Some of the Weirdest Things About Jobs in Thailand for English Speakers?
– The students were late to class and this was totally acceptable.
– Class can be canceled anytime, any day. Sometimes without your knowledge…
– The classes are separated "according to intelligence." Don't ask – just know it's not done very well, and it makes teaching even more challenging because the students are on different levels.
– There are holidays all the time… and I mean, all the time! I would get an average of 2-3 extra school days off every month. Swweeett!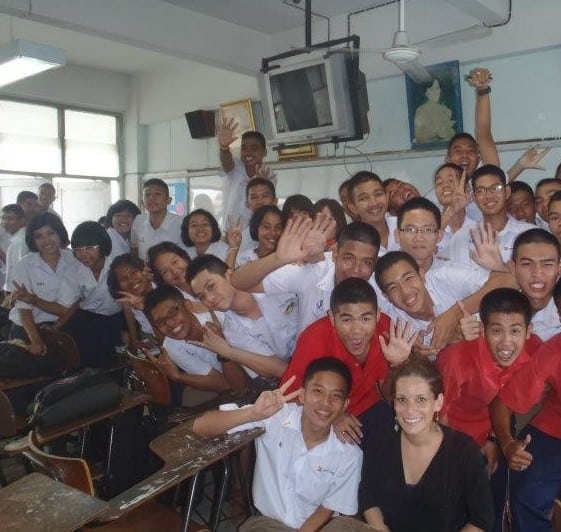 Last Words of Wisdom Before Setting off to Teach in Thailand…
Don't freak out. Just relax.

Don't take anything too seriously, but act appropriately. I mean this in terms of you and your teaching style. Be flexible and fun

, but be professional.

When in

doubt, plan

a game. This isn't a cop-out. You will actually get more students participating this way. As long as they are SPEAKING

English – th

at is really the only goal at the end of the day.
PS – They are fierce competitors. Keep score and the whole class is going to be roaring to beat their friends. They just love it.
Where will you go after Thailand?
Laos | Malaysia | Singapore | Indonesia | Philippines | Cambodia | Vietnam
So what do you think? Do you think you could work in Thailand? Could you teach abroad in Thailand?

If you're ready to get abroad and teach in Thailand, grab your TEFL certification with my discount code! Nina50
---
Pinning is super cool