Hiking to La Fortuna waterfall is a must-do activity while visiting La Fortuna! The waterfall is one of the most beautiful and iconic waterfalls in the country and is surrounded by lush tropical rainforests, making it a perfect place to experience the natural beauty of Costa Rica.
This glorious waterfall is located in the Arenal Volcano National Park, just outside the town of La Fortuna—A must-visit spot while backpacking Costa Rica. In this article, we will explore how to hike La Fortuna waterfall, what to expect, and some tips for making the most out of your visit.
TIP:
Short on time? On a budget and don't have our own car? This is the
ultimate tour
to take in La Fortuna! It includes La Fortuna Waterfall, hiking around Arenal, a visit to a local village, and some drinks at a hot spring to top it off! It's the best bang for your buck, I did it!—
Book it here
.
How to Hike La Fortuna Waterfall
---
The trailhead to the La Fortuna waterfall is located just a few minutes' drive from the town of La Fortuna. The entrance fee to the waterfall is $18, and it is open every day from 7 am to 5 pm.
The hike to the waterfall is relatively easy but can be challenging for those with mobility issues due to the steep stairs down to the falls. The trail is approximately .5 miles (.8 km) long roundtrip and takes around 30-45 minutes to hike. But be prepared to spend extra time swimming and enjoying the falls!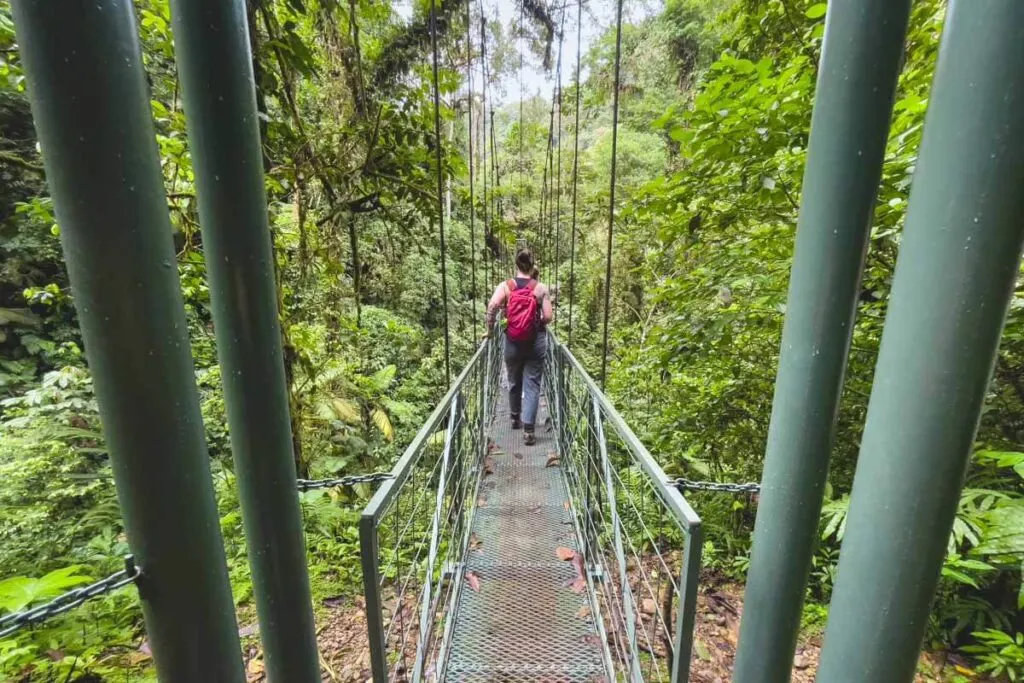 What to Expect on the Hike
The biggest thing to note about this waterfall hike is the steps. You'll have to hike down about 500 steps to reach a river. After that, you'll wade through the river to get to the other side and then scramble up some rocks to actually make it to the base of the falls!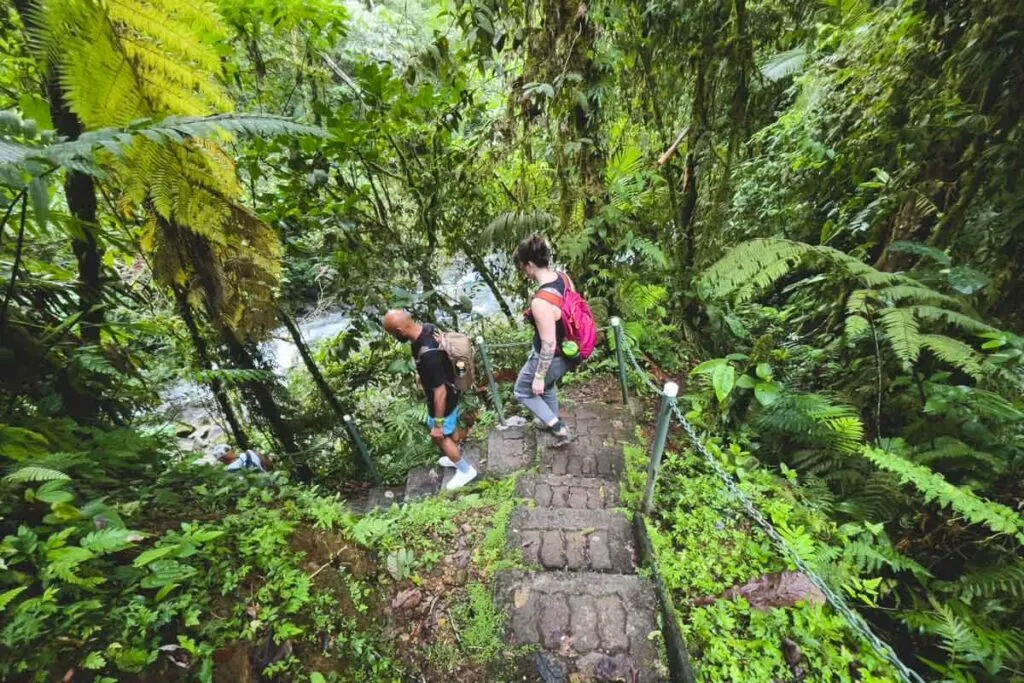 It's very easy if you are semi-fit, if not, it might be a tad challenging for you. Don't forget the way down is easy—but you'll have to hike those 500 steps to get back up! This is the only way to reach La Fortuna Waterfall.
Once you reach the base of the La Fortuna waterfall, you'll be amazed by the sheer size and power of the falls! The waterfall is approximately 240 feet (75 meters) tall and plummets down into a pool of chilly water surrounded by lush greenery. There's a constant mist coming from the falls, and its roar is deafening—that's how close you are!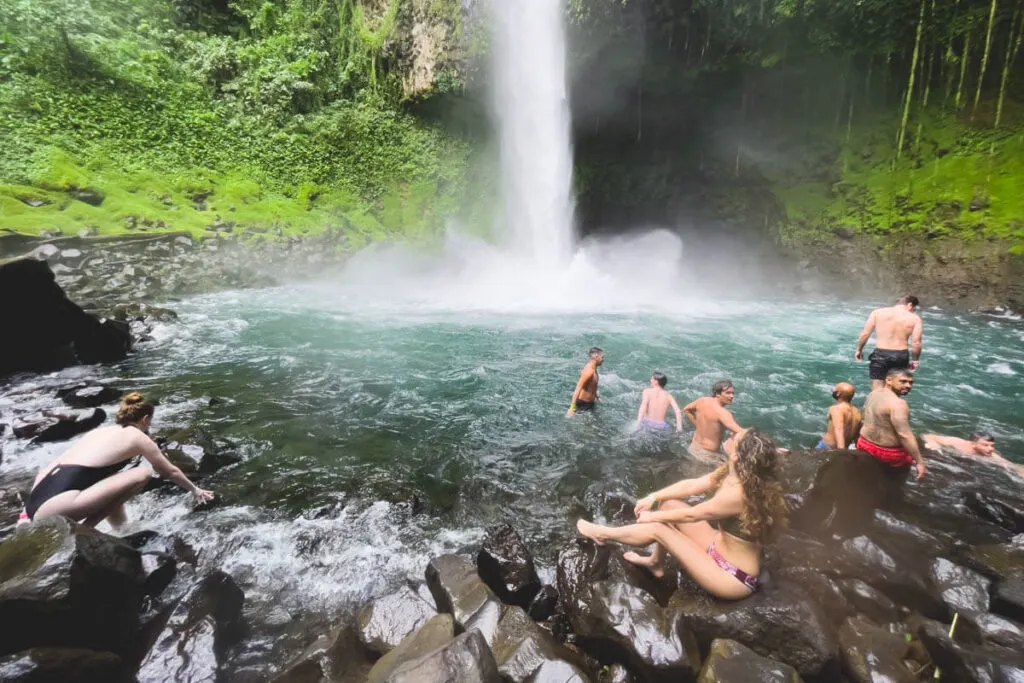 You can swim out a bit, but it's too strong and not safe either, so most people just swim at the pool's entrance. There are a bunch of rocks and boulders you can sit on while you admire the falls but don't expect to be alone! This is a popular spot. That being said, you can beat some of the crowd if you head in early.
Facilities at La Fortuna Waterfall
The parking lot is located near the trailhead, and there are several restrooms and changing rooms available before you begin the hike. The trail leading to the waterfall is well-maintained and has handrails and stairs. There are no facilities down below at the falls.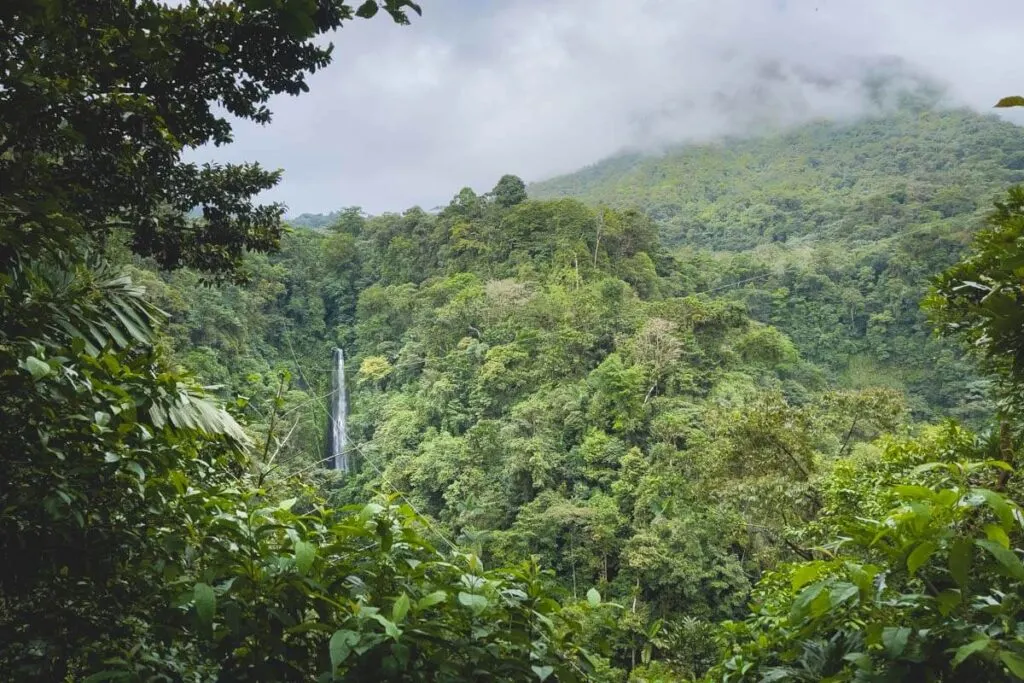 When packing, keep it light, and bring a dry bag. You will have to leave your things on the river bank or on a rock near the falls, all of which are likely to get wet! Not to mention the chance of rain in the area.
How to Get to La Fortuna Waterfall
If you're staying in the center of La Fortuna town, an easy way to get to La Fortuna Waterfall is by taxi. Taxis are readily available in La Fortuna, and you can easily call them anytime. The ride to the waterfall takes around 10-15 minutes and should cost around $10-$15 (one way). Unless you're with a few friends, this isn't the cheapest option.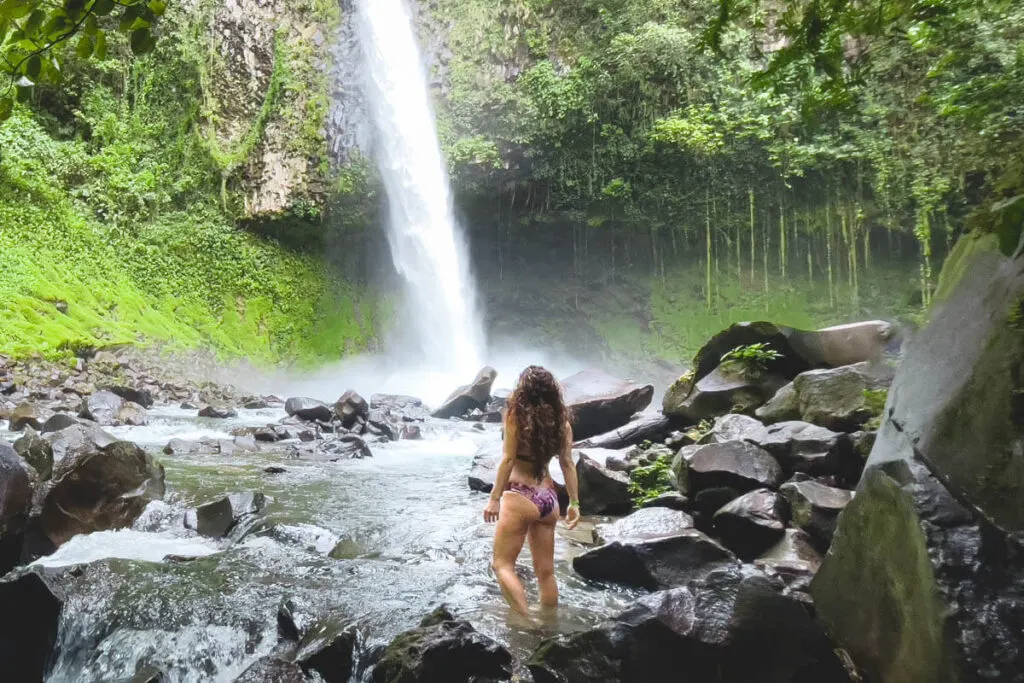 You can try Uber but it's not always totally reliable. If you're feeling adventurous, you can also rent a bike to make the journey to the waterfall on your own. However, keep in mind that the road leading to the waterfall is steep, so prepare for a leg burner. There is no public bus out here.
Lastly, you can take a tour. You don't need a tour to do this activity, BUT if you're trying to make the most of your time, a tour is a good option because it will include other activities in the area. If you pay to get to and from these activities yourself, with entrance fees, you sometimes even pay more, and it eats more of your time.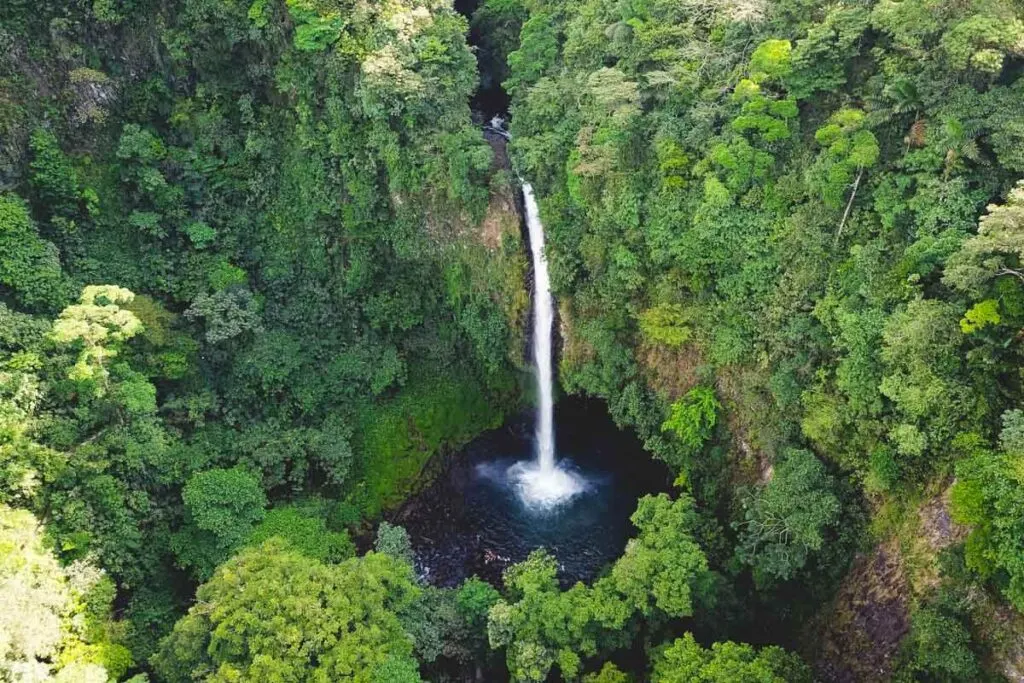 I did this tour, and it was massively worth it! We went to La Fortuna Waterfall, hiked around Arenal, and visited a local village and a hot spring (for a good price too)! If you don't want to have to think about how to get here and the other things to do in La Fortuna, then this is a good option!
READ MORE: 13 EPIC Things to Do in La Fortuna, Costa Rica—Your GO-TO Guide!
What to Bring For The Hike
Comfortable, sturdy shoes with good traction, but you may also want flip-flops at the falls. Don't forget you have to walk across a stream with a rocky bottom but also go up and down steps. Up to you!
Sunscreen and a hat if you wear one.
Insect repellent, as the area can have mosquitoes and other bugs.
A GoPro to take pictures of the waterfall and the surrounding jungle. Or perhaps a case. You can't really take much to the waterfall unless you don't mind it getting wet.
A reusable water bottle is a must.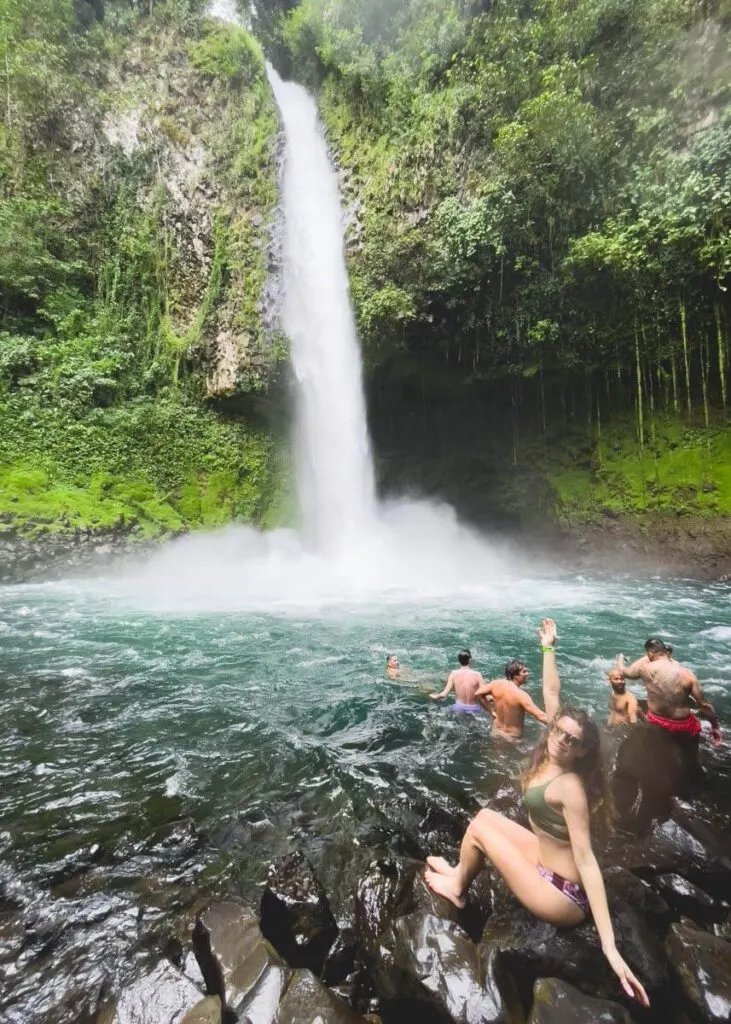 Bring snacks unless you're on a tour, as they will provide it for you.
A change of clothes and a swimsuit if you plan on swimming in the falls.
Cash or a credit card, as there is an entrance fee for the park.
A dry bag to carry your items so your stuff doesn't get wet. Remember, this area can be rainy, too, so a dry bag is a good idea no matter what!
Tips for La Fortuna Waterfall
Be prepared for the hike back up: Remember that the hike down to the waterfall is easy, but the hike back up can be challenging, especially for those who are not used to hiking. Take your time and rest as needed.
Swimming: The water at the base of the waterfall can be deep, and the current can be strong, so it's important to be a strong swimmer and exercise caution when swimming. The current can also be strong as you walk across the river to get to the falls.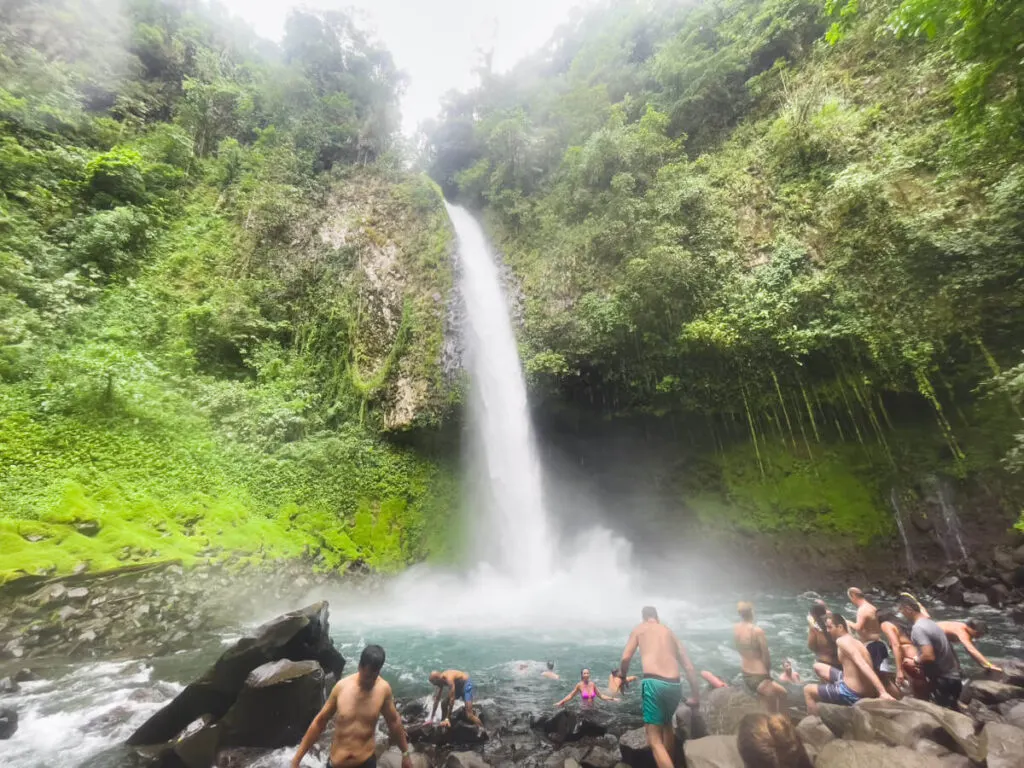 Pack lightly: There are no lockers or storage facilities at the waterfall, so it's best to leave any unnecessary belongings at your hotel. You don't want to lug anything more than needed up and down those steps.
Arrive early: The waterfall can get crowded later in the day, so it's best to arrive early in the morning to avoid the crowds and have the waterfall to yourself for a little while if you can. But this is usually for those who rent a car or hire a taxi.
Hands Free: For the last bit of the hike, you'll need your hands free because it's a rocky little walk in the river and then a bit of a scramble over some other rocks to actually make it to the base of the falls. If you don't want to do this, you can still get a glimpse of the falls before you enter the river.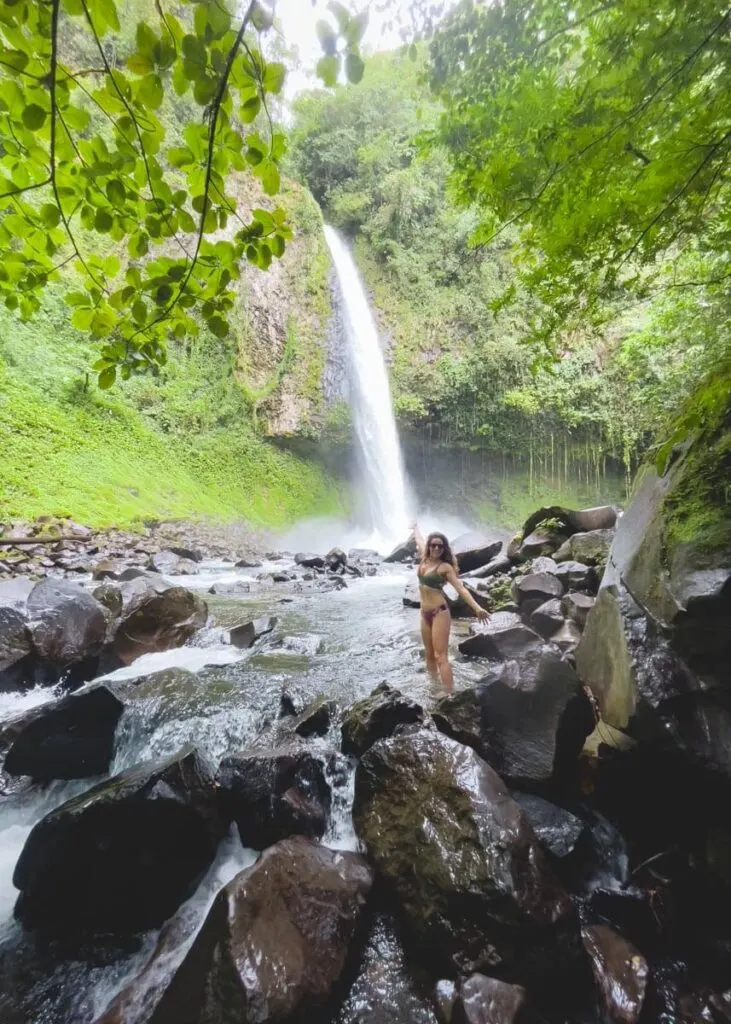 Take the tour: If you're trying to get the most out of your visit to La Fortuna, you can get more out of your time by grabbing a tour AND getting the other highlights in the area! I recommend one I did.
Camera: Everything will get wet! Be careful what you bring and how you bring it. It was really hard to get photos here too, as it's very misty!
BONUS Secret Waterfall—Catarata Escondida
There is a small waterfall next to La Fortuna waterfall that is free to visit! To find it, follow the path to the right of La Fortuna Waterfall's entrance. When you reach the gate, look to the left—You'll pass through the small entrance to get to the other side of the gate.
The trail is a bit muddy, and you will need to cross a small river, which can be slippery and waist-deep—but it will be worth it. You'll reach the end of the path, and Catarata Escondido will be on your left.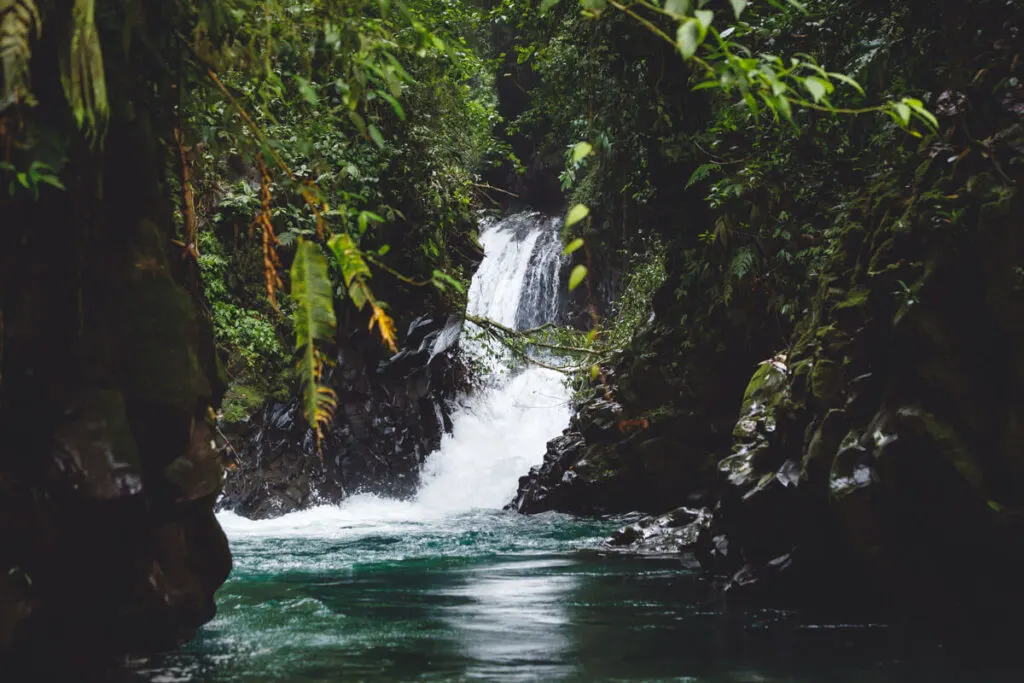 You can swim up a bit, but climbing up the right side of the waterfall to get a better look at the high tier is a bit dangerous and not recommended (uhm, kinda speaking from experience—ouch!)
It's a great add-on to hiking La Fortuna if you made it out here yourself and have the time. Don't forget to read my guide to La Fortuna for more info on the area!
I hope this helped you plan your visit to La Fortuna Waterfall!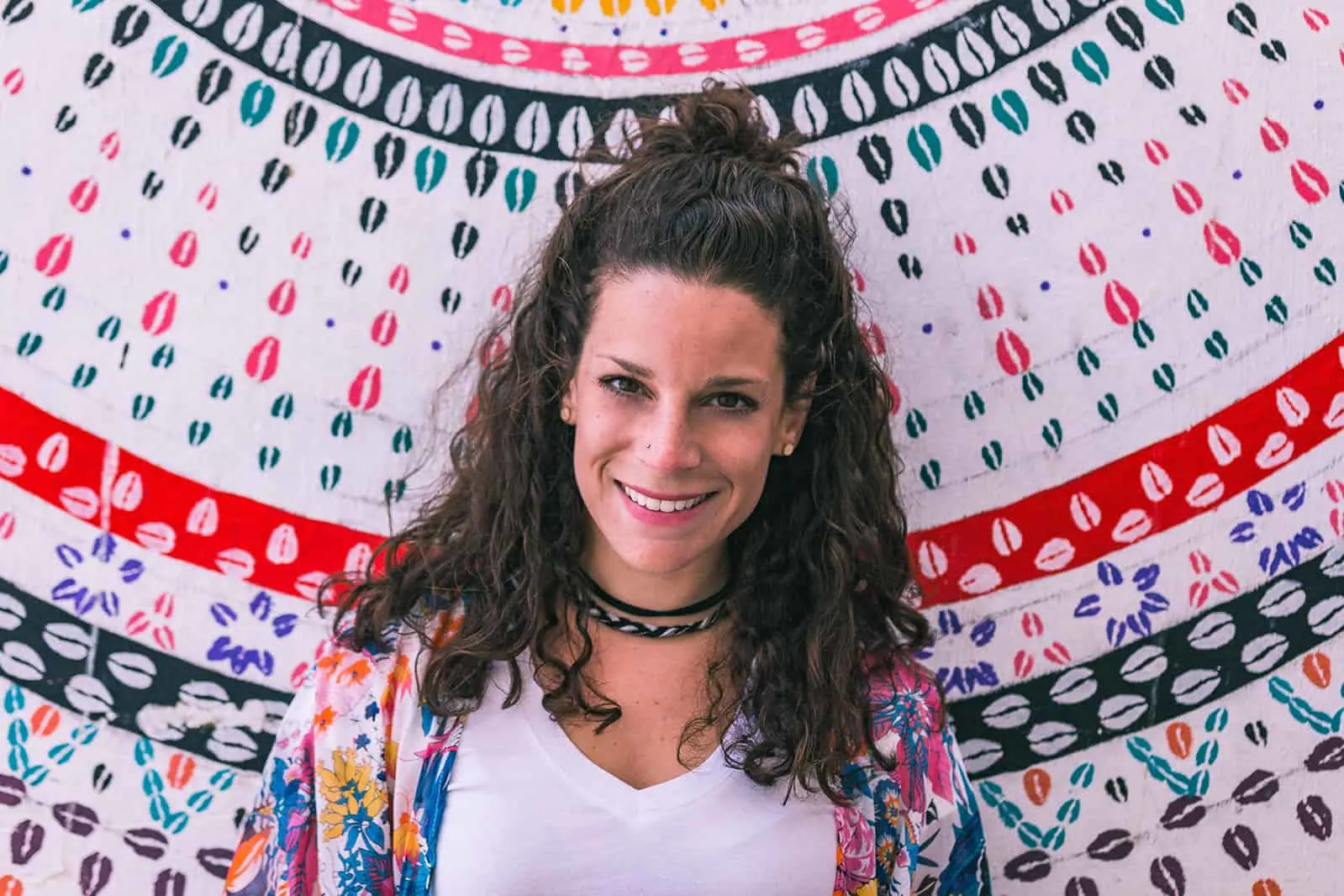 Nina Ragusa is an adventurer, messy bun master, breakfast fan, and full-time travel blogger. She's been abroad since 2011 and blogging on Where in the World is Nina? for nearly as long. Nina helps people like you move around the world while making money. She loves talking about how to work abroad and online to travel longer!