Whether you are looking for vast stretches of golden sandy beach, incredible hiking trails, and viewpoints, or nightlife to rival some of the biggest cities—all of the things to do in Albufeira have you covered.
Despite the town having a bit of a reputation for attracting party people, you will find so much to do in this lively town and the surrounding region, set on one of the most beautiful stretches of coastline in Portugal.
Best Things To Do in Albufeira
---
1. Miradouro Do Pau Da Bandeira
There is no better viewpoint in Albufeira than Miradouro do Pau da Bandeira. From this lofty location, you'll be able to look down over Praia do Tunel, the crashing sea, and the old town.
By day, you can enjoy a sweeping view of the Atlantic Ocean, and the golden sands of the beach, with Elevador do Peneco standing tall at the other end of the beach.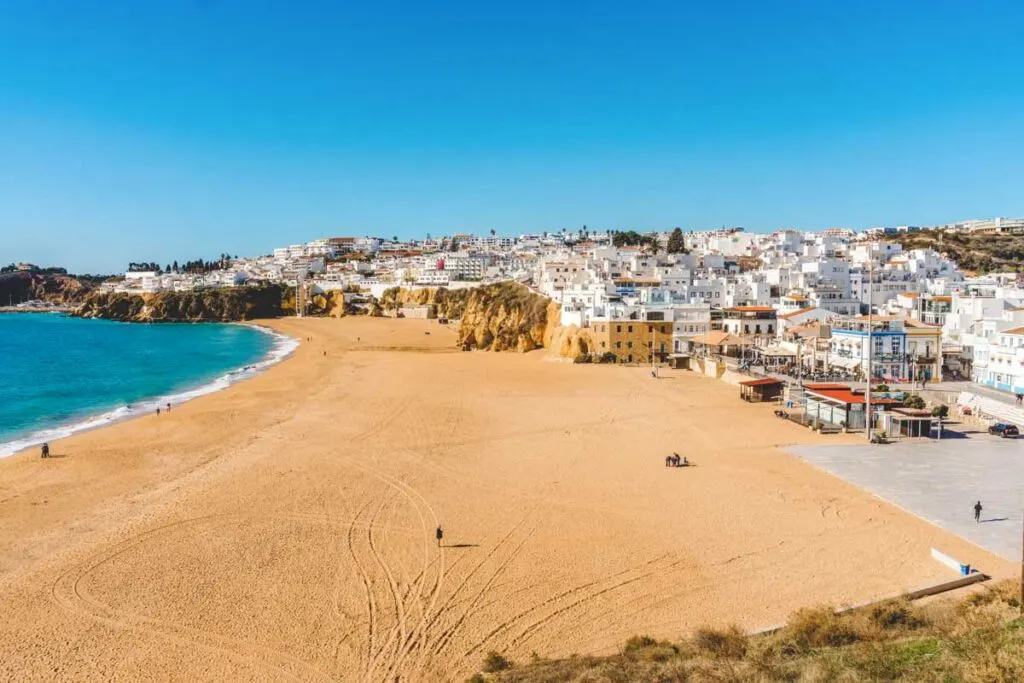 This viewpoint even has an exciting way to get down to the sands and lower street. You can reach the beach in a few seconds via the outdoor escalators directly off the viewpoint.
At night, the area transforms into a spot to admire the sunset, so be sure to visit the area on multiple occasions if you have the time on your itinerary of things to do in Albufeira.
2. Elevador do Peneco
Peneco Beach is a long way down from the main town, but don't despair; you won't have to lug your inflatables, bucket, shovel, and beach umbrella down countless steps; instead, you can use the handy and unique Elavador do Peneco!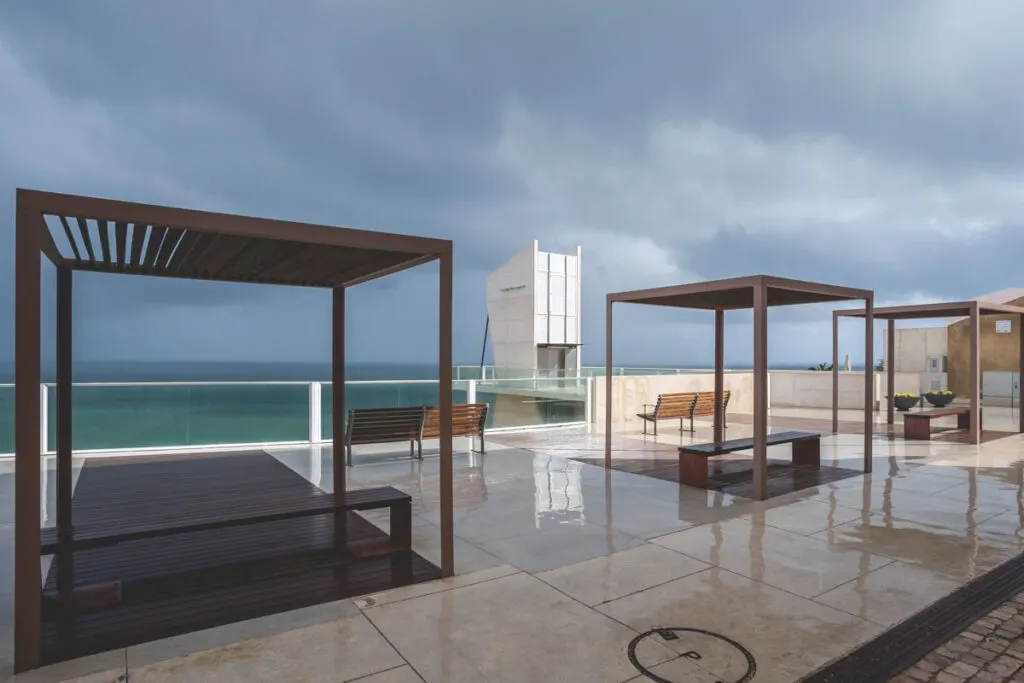 The towering Elevador do Peneco is located right on the beach, taking you up to an incredible view where you can take in the expanse of the golden beach.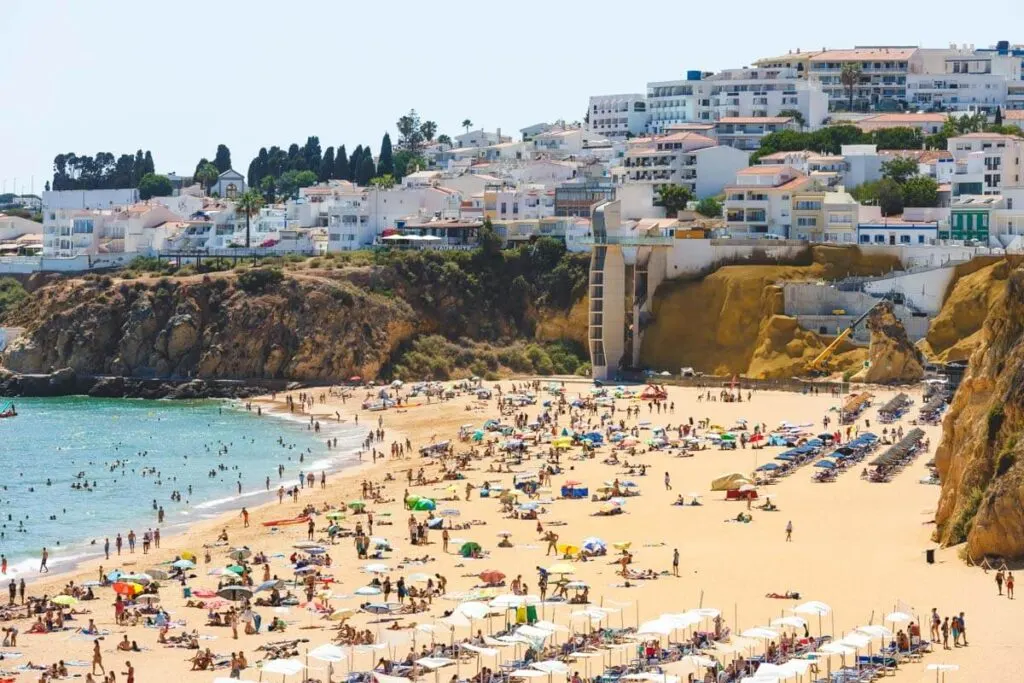 At 28 meters above the sand, it is a handy means of transport, a great observation deck, and a pretty random thing to find on a beach.
3. Salgados Lagoon (Lagoa Dos Salgados)
Praia dos Salgados (or Praia da Galé) is one of the most beautiful beaches in the Albufeira region and one of the more unique things to do in Albufeira. But those that visit don't just come to laze on the sand.
Instead, they explore the Salgados Lagoon behind the beach, home to an incredible abundance of bird life.
About 200 species of birds call the lagoon their home, including red herons, spoonbills, and even flamingos, so don't forget to pack a pair of binoculars. It is one of the most important freshwater wetlands in the region, separated by the sea from towering dunes.
So important is the area; it is forbidden to swim in the lagoon, so be sure to stick to the wooden boardwalks, including one that stretches across the lagoon itself.
4. Old Town Albufeira
Quaint cobblestone streets, an abundance of eateries and souvenir shops, bustling squares, and alfresco dining make up the charming Albufeira Old Town, a must-do on your list of things to do in Albufeira.
The old town still holds on to some of the town's history as a fishing village, and there is nothing more relaxing than sitting with an ice-cold beer in the old town square, shaded by trees, and watching the world go by.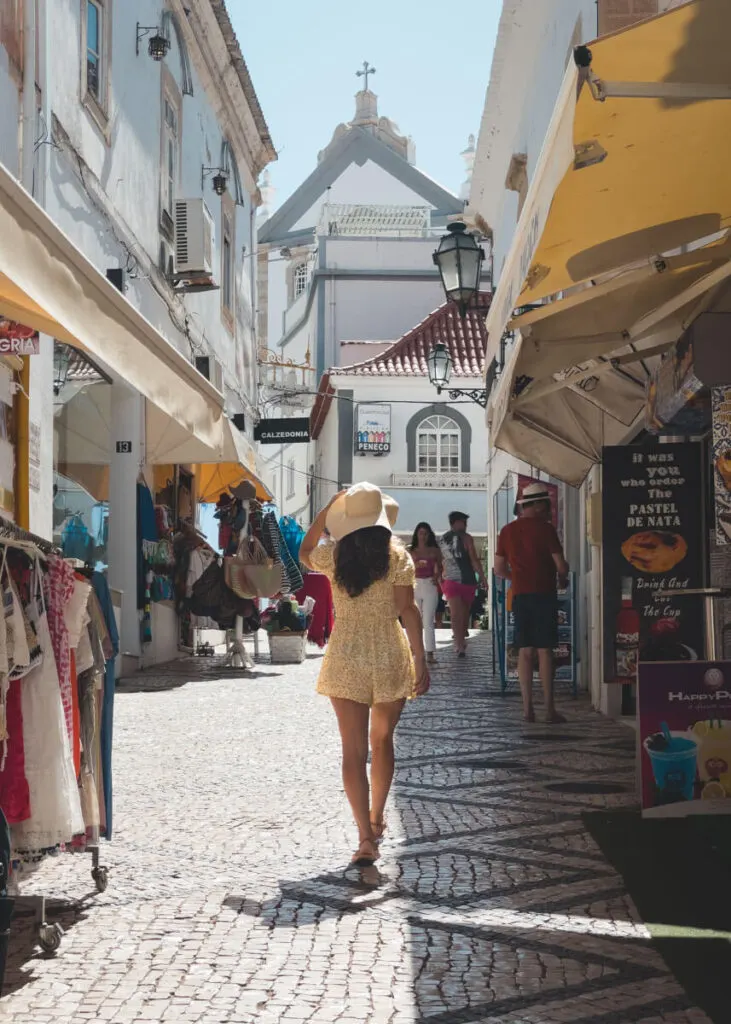 If you can bear to tear yourself away from the main square, which is often filled with music from the local buskers, delve down side streets and get lost in the maze of mosaic-covered pathways to see the real Albufeira. Pay a visit to the beautiful Sant'Ana Church and the Museum of Sacred Art for your culture fix.
5. Albufeira – The Strip (The Best Thing To Do in Albufeira at Night)
Yes, it is loud, and it can get busy there, but the drinks are cheap, the atmosphere is fun, and chances are you will have a fantastic night on the Albufeira Strip. The strip is located in the Montechoro area of town and is made up of bar after bar, bar after bar.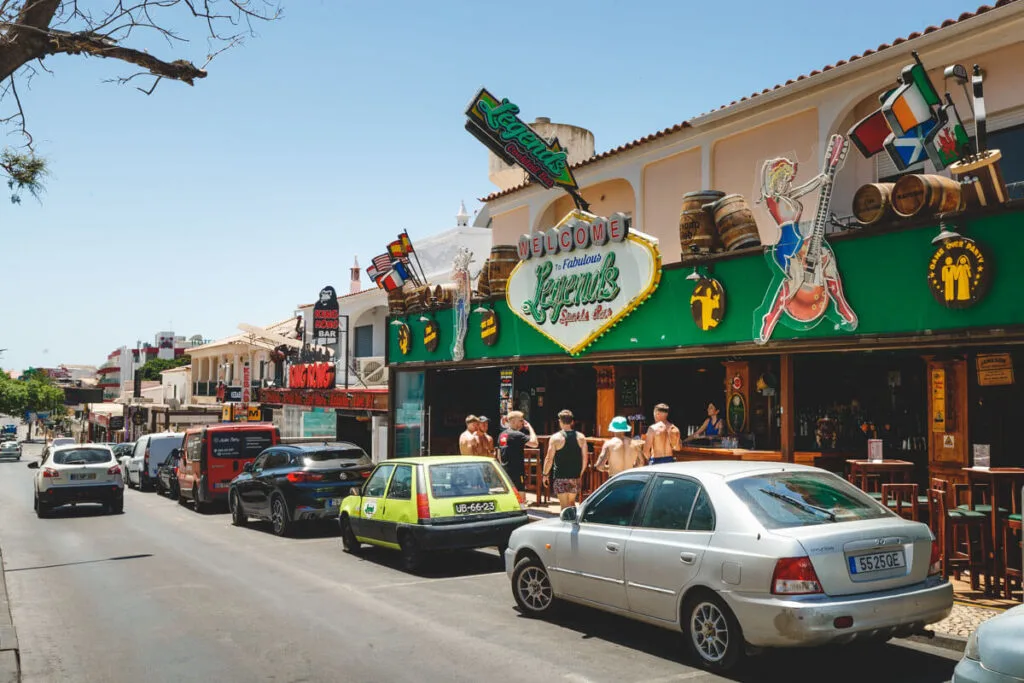 There are so many to choose from, although the guys that stand outside tempting you with drink deals might make the decision a little easier. As the sun goes down, the street will instead be lit up with neon lights and a distinctive party atmosphere that takes over the strip and surrounding roads.
You can also find some of Portugal's most prominent clubs and a few eateries to line your stomach before evening descends.
Tours to Take in Albufeira
So far you can DIY everything mentioned, but for some cooler activities and some more curated things to do in Albufeira, you will want to take at least one of these fun tours!
6. Tuk Tuk Guided Tour (The Best Thing To Do in Albufeira to Get Acquainted)
Albufeira covers a large area, and as it can get scorching during the summer months, walking from sight to sight can be sweaty business.
A great way to see the top sights is to take a 1.5-hour guided tuk tuk tour, allowing you to discover some of the region's hot spots with a knowledgeable guide. You will even be picked up right from your hotel.
You'll hit up some of the best beaches, learn about the history and culture of the area, and choose to stop for a selfie or two whenever you like. You will also visit the marina and fishing dock during your trip. Choose between a tour at night to see the nightlife in action or during the day to see the town in the sun.
Check Price:
7. Surf Lesson on Falesia Beach
Learn to surf in Albufeira! On this tour, you can learn to surf for 2 hours on one of the region's most beautiful beaches, Falesia Beach, with knowledgeable instructors tailoring their lessons to suit your level.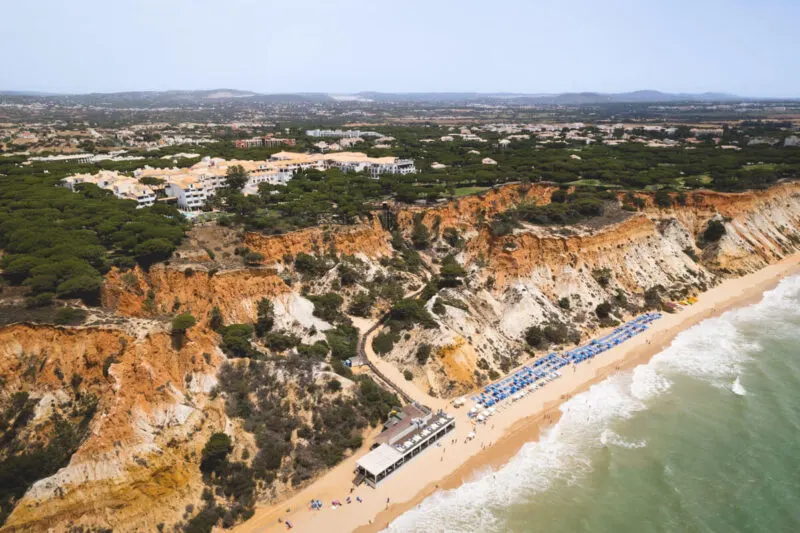 All equipment and insurance are included in the price of the trip. Whether you are a complete surfing beginner and want to start on the sand to learn a few tips or are ready to hit the water from the get-go, there are options. After a hands-on few hours in the waves, you can enjoy a bit of relaxation on the sand.
Check Price:
8. 4×4 Off-Road Safari Wine Tour
The Algarve countryside is stunning, and you can experience the tiny surrounding villages and picturesque orange groves on this fun day trip. Get picked up from your hotel and head off in a comfortable 4×4.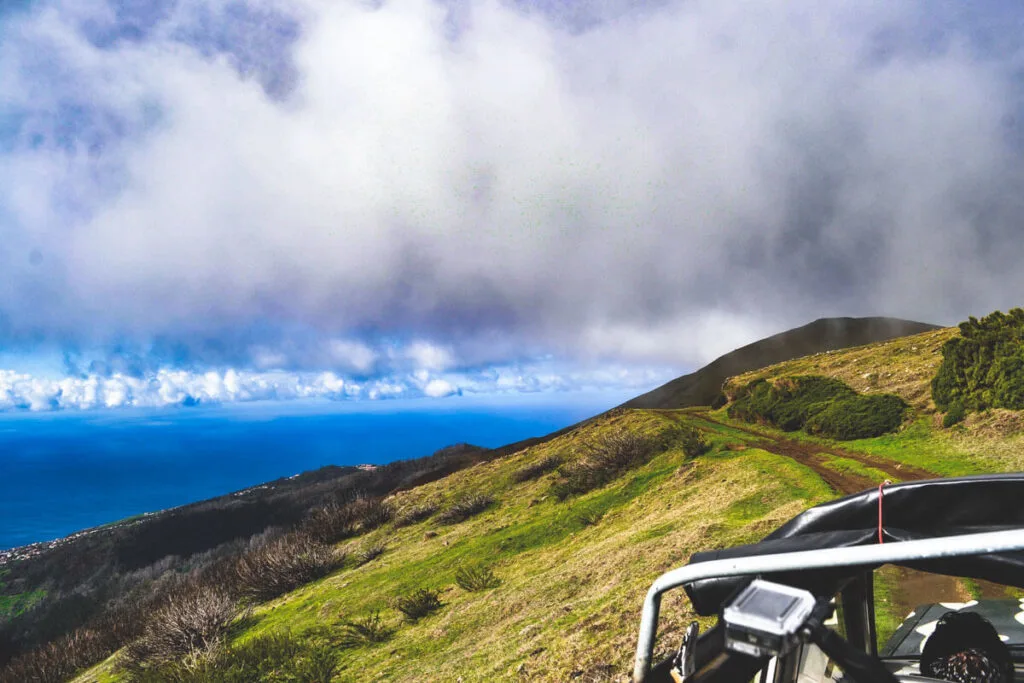 You should be prepared to head a little off the beaten track to secure the best panoramic views and adventures in forests of cork oak and vineyards. After learning a little about the process of cork and the history of the region, you can enjoy a trip to a local winery and taste some of the region's finest wines.
Sitting in the Portuguese sun, sipping on wine, and nibbling on fresh bread, cheeses, and hams is a feeling that is hard to beat!
Check Price:
9. Parasailing Trip
For those who want to add an adrenaline rush to their list of things to do in Albufeira, it doesn't get much more exciting than a parasailing trip, flying up to 262 feet above the town and coast!
You'll glide through the air, taking in the dramatic coastline and sea from a very different perspective than you are used to.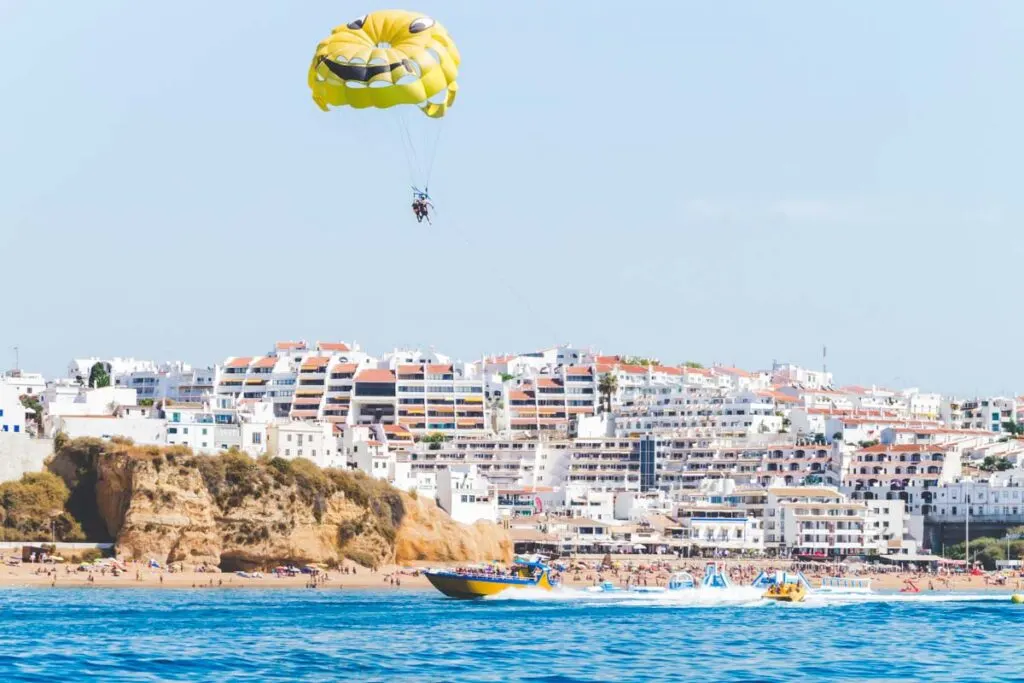 After heading out on a boat, you'll rise high up into the sky, either on your own or with one or two other people, and get some serious air time for about 10 minutes before gently heading back down.
If you want a last-minute thrill, why not agree to be dipped into the ocean for a second or two before putting your feet back on solid ground?
Check Price:
10. Dolphin Watching
Seeing dolphins in the wild is one of the most incredible experiences ever. Couple that with stunning coastal scenery and the chance to admire incredible caves, and you have got yourself a day to remember!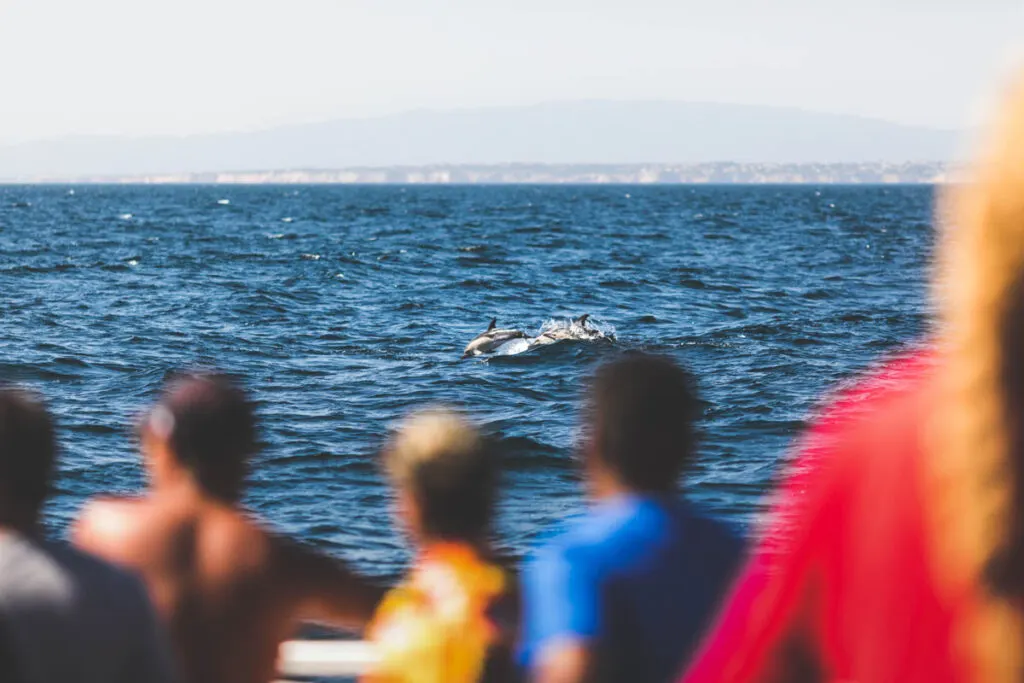 You'll head out onto the water on a high-speed boat, with the fresh sea air swirling around you, and head down the incredible Algarve coastline. Before long, you will reach Benagil Cave, often referred to as Benagil Cathedral, and as soon as you stand in this mighty rock formation, you will see why.
On the way back, the tour makes time for a dip in the crystal clear waters to cool off and enjoy your surroundings.
Check Price:
READ MORE: 11 Adventurous Algarve Tours Worth Taking (Portugal)
Beaches in Albufeira
The Albufeira region has incredible beach after incredible beach. It is hardly surprising that these golden swaths of sand are one of the main reasons people flock to the area.
It was a struggle, but we narrowed the beach options down a little to the top 10 beaches you should consider when deciding on things to do in Albufeira.
11. Praia Albufeira + Praia do Túnel (The Best Thing To Do in Albufeira for Some Fun in The Sun!)
Without a doubt the most popular beach in Albufeira, as not only are these beaches made up of gorgeous golden sand, but it is also bang in the middle of town.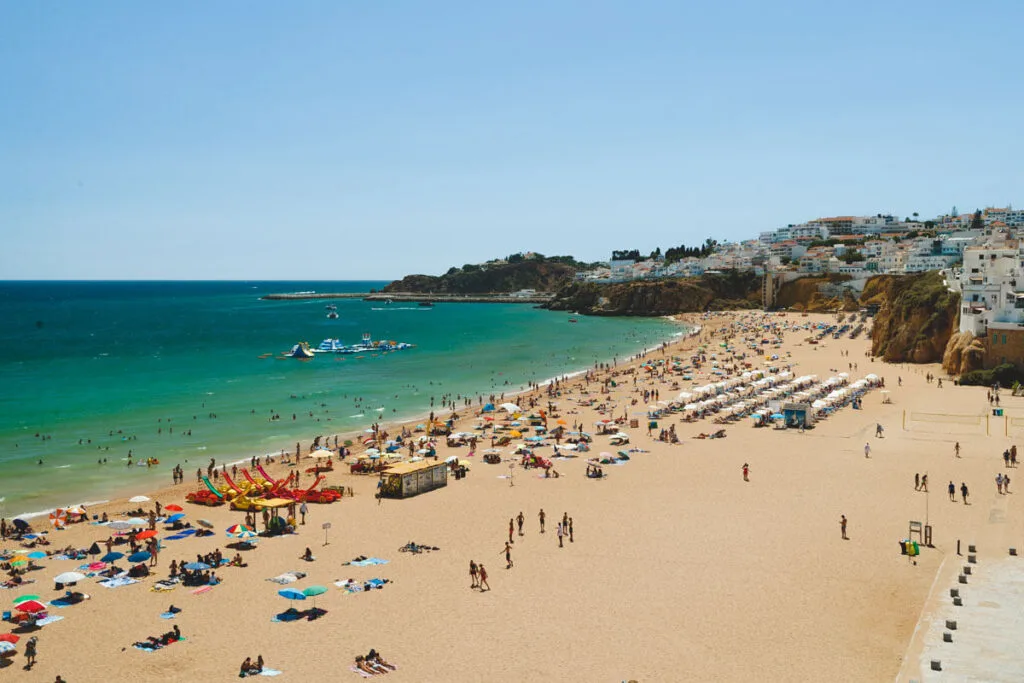 Although it is one stretch of sand, there are two beaches here, with plenty of beach chairs to rent and bars and restaurants just a step away.
12. Praia da Galé
If you're looking for a bit of space, head to Praia da Galé, one of the quieter beaches in the region. We have no idea why it tends to get fewer crowds, as the water is shallow, the sands are soft, and there are rock formations, dunes, and boardwalks to explore, with a few watersports opportunities.
Don't forget, this is where the Salgados Lagoon is, so you can do these both in one go!
13. Praia da Falésia
At 3.7 miles long, there is plenty of room for everyone to pull up on a patch of sand on this stunning stretch of coast.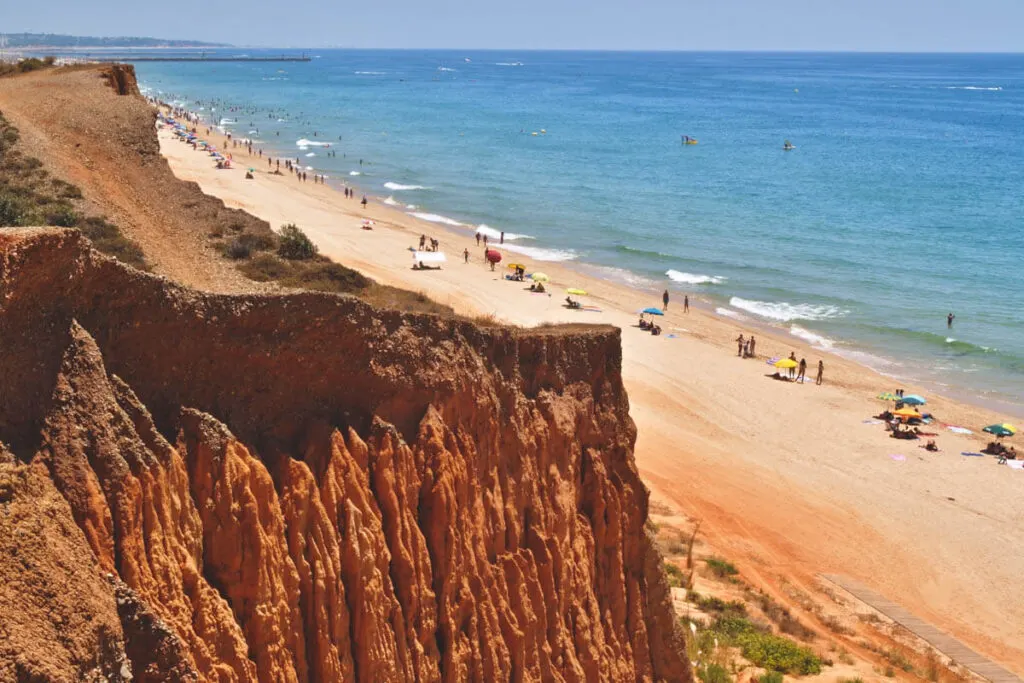 Praia da Falésia is famous for its incredible views, breathtaking sunset, watersports, and surfing opportunities; it has everything you need for a great day at the beach, with natural beauty as a bonus.
14. Praia da Oura
Praia da Oura tends to be full of the younger crowd during the day, largely thanks to its location right next to the famous Albufeira Strip, which comes alive at night.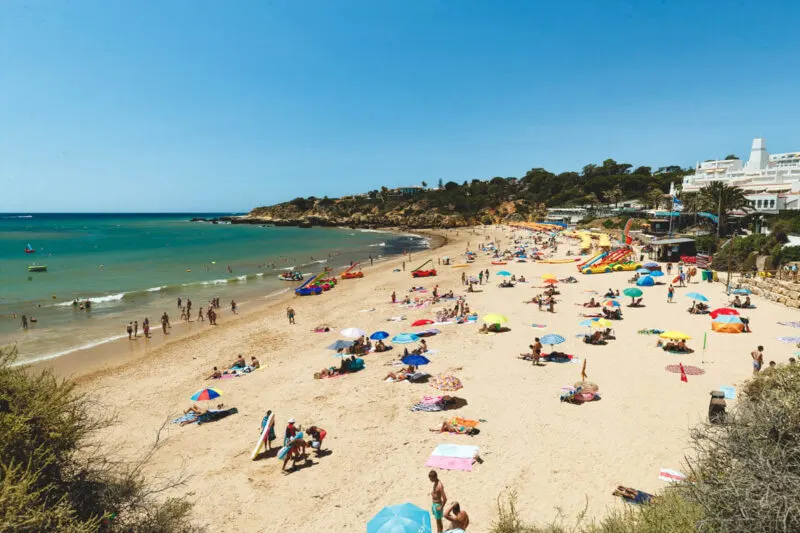 It's not all youngsters, though, as families and adventure seekers also flock to the sands to sunbathe, paddle, and swim in the clear waters.
15. Praia da Coelha (My Fav Thing To Do in Albufeira)
Praia da Coelha is a bit of a local secret; it's rarely crowded and offers a beautiful escape from the busy summer crowds of the town's more well-known beaches.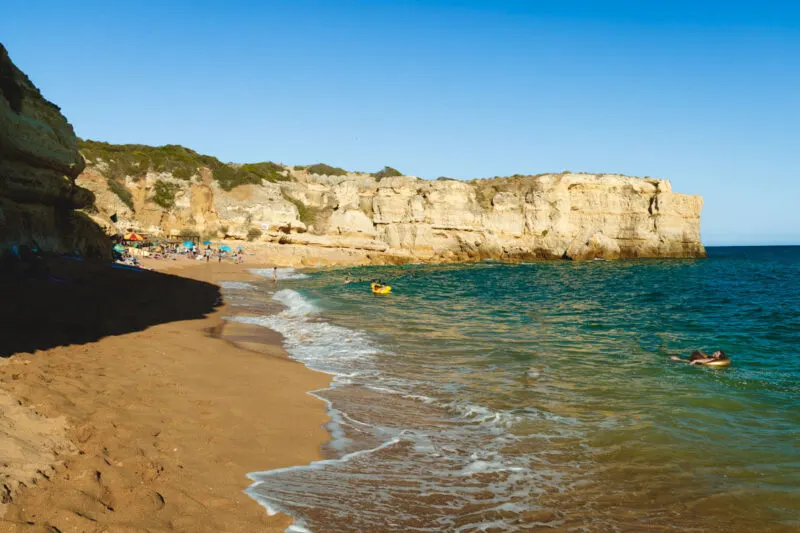 The surrounding cliffs make it extraordinarily picturesque and sheltered, and there are even some shallow cool caves to explore if you need a break from doing nothing.
Do note, at high tide the beach narrows quite a bit, so while not super busy, it might seem a bit busier since the slice of sand gets smaller!
16. Praia do Castelo
Praia do Castelo is a quieter beach due to its location a little outside of town, but if you are prepared to make the journey, you will be rewarded with golden sands, tall cliffs, and calm, blue waters.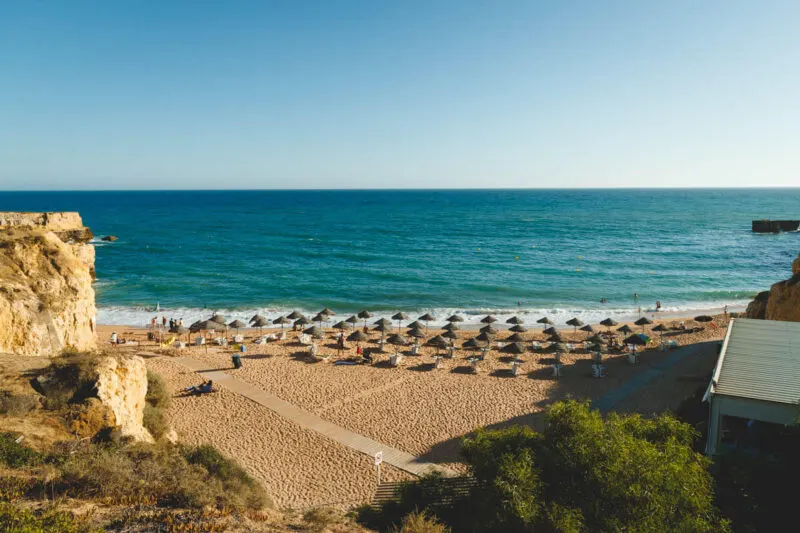 It's the perfect spot for lounging, snorkeling in the quiet waters, or hiring a kayak and heading out to explore the nearby rock formations.
17. Praia da Ponta Grande
You'll likely have the stunning stretch of Praia da Ponta Grande to yourself if you are prepared to put effort into getting to this beach. To reach the inviting sands, you will either have to scale the cliffs using nothing but a rope to help you or access the beach via boat, taking all your gear with you.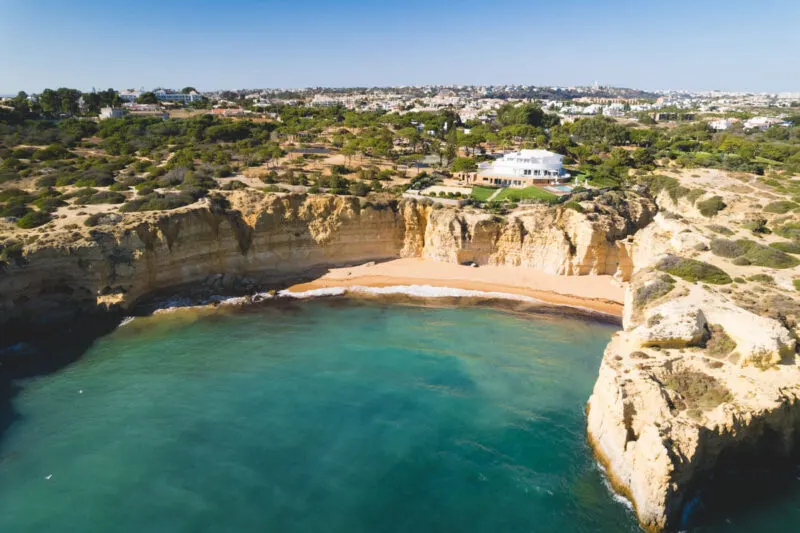 It may be a lot of effort, but the reward is something special.
18. Praia de São Rafael
Praia de Sao Rafael is one of the most beautiful beaches in the Algarve region. Backed by impressive cliffs and rock formations, the waters are sheltered and calm; there is nothing not to love.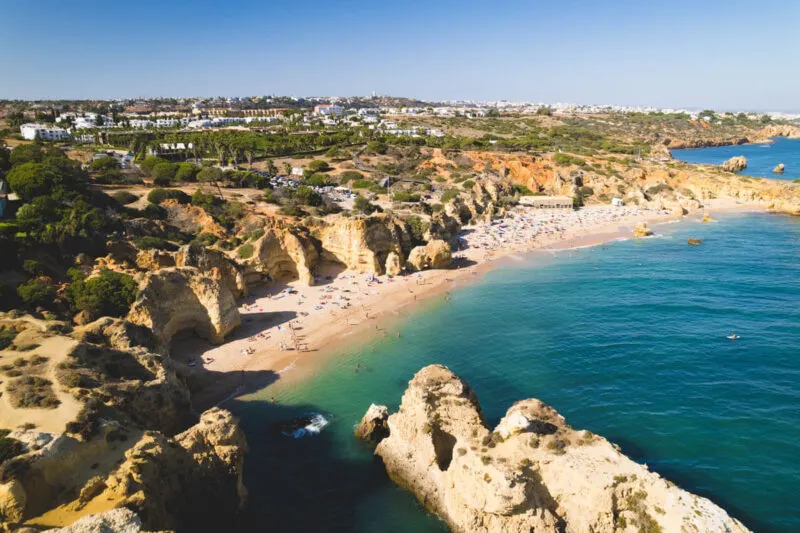 This beach is just outside of town, making it easily accessible but not as busy as the beaches right in town. Many kayaking and paddle boarding tours also leave from here, so there are lots to keep you busy.
19. Praia dos Arrifes
It may be tiny, but Praia dos Arrifes has a lot to offer those that grace its 75 meters of sand.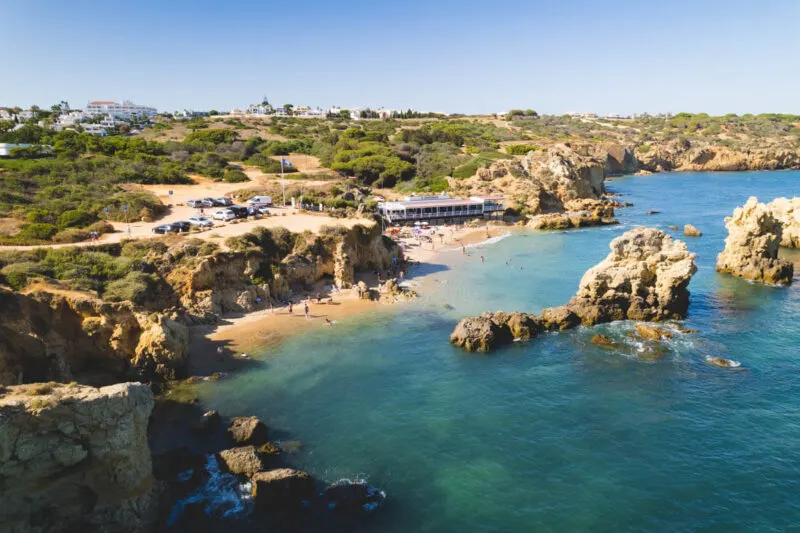 This beach is most well known for the impressive sea stacks that stand just out to sea, the great snorkeling, and the trails that crisscross the cliffs above leading you to other hidden coves.
20. Praia de Santa Eulália
Praia de Santa Eulia could be described as one of Albufeira's more upscale beaches. Boarded by lush vegetation and some seriously nice restaurants and beach bars, this beach is perfect for those that like the finer things in life.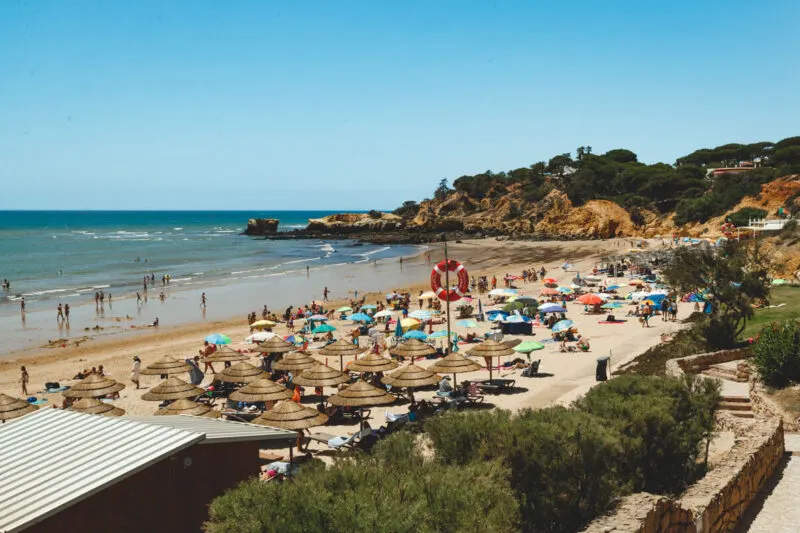 It is 2.5 miles east of the town with plenty of facilities and a calm atmosphere.
More Things to Do in Albufeira: Day Trips!
Luckily everything in the Algarve is close by, so you can see plenty of other things to do near Albufeira. Everything else here is no more than one hour away.
21. Carvoeiro
Prepare to witness one of the most beautiful sections of the Portuguese coastline at Carvoeiro. Here the golden cliffs reveal beautifully unspoiled beaches and bays at their base, accessed by picturesque wooden staircases.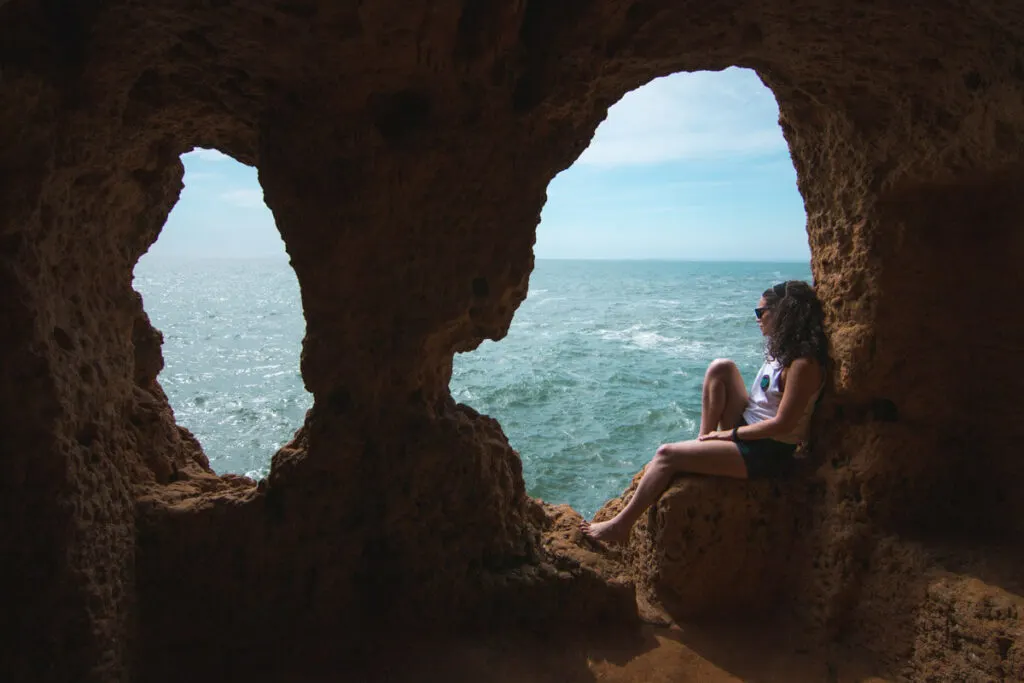 Check out the Algar Seco rock formation and the stunning Vale de Centeanes beach. The town itself is pretty and traditionally Portuguese, full of character and plenty of places to dine alfresco or grab a beer, and people watch long into the warm evenings.
READ MORE: 9 Captivating Things To Do in Carvoeiro, Portugal
22. Lagos
Lagos is a beautiful part of the Algarve, especially known for its breathtaking stretch of coastline. The Ponta da Piedade coast is made up of a golden time of headland, with cliffs that are rich in color and carved into unique and dramatic shapes due to the wind and crashing waves in the winter.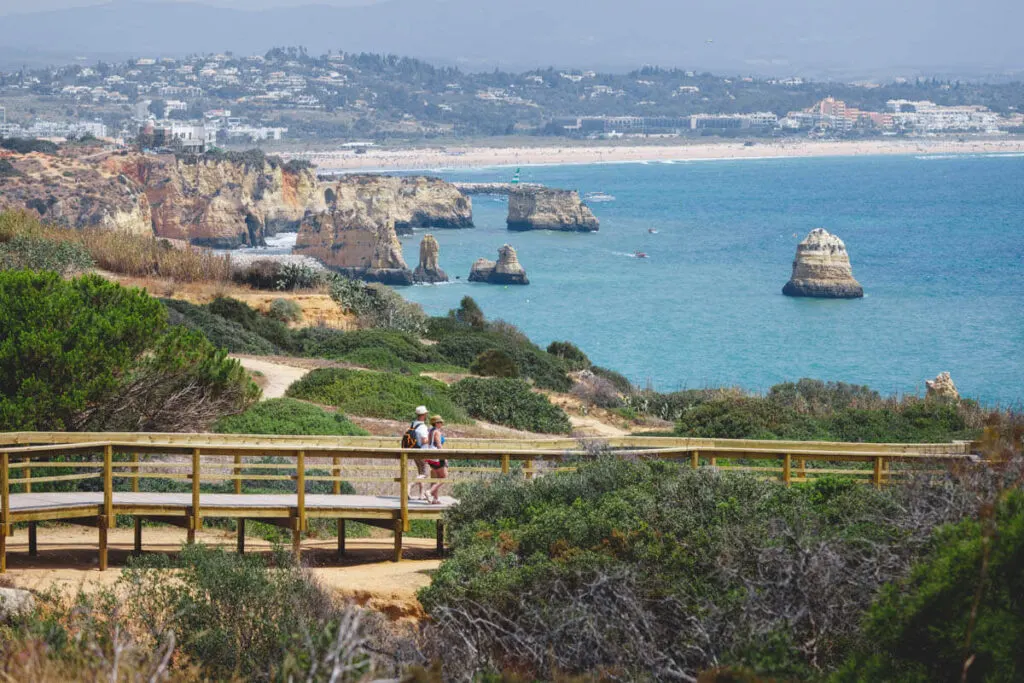 The town is worth the trip alone, with a charming old center with places to grab a bite to eat and cultural attractions such as the Igreja de Santo António, the Bandeira fort, and the Mercado Municipal.
READ MORE: A Perfect 3-7 Day Algarve Itinerary: Hike, Surf + Beach Bum! (Portugal)
23. Sagres
Taking a day trip to Sagres will feel like you have taken a trip to the end of the world, or the end of Europe at least. You'll find Sagres on the very southwestern tip of Portugal, in fact, the most southwestern tip of all of mainland Europe.
Standing on the sheer cliffs with the ocean stretching out before you, it is easy to see why until the 15th century, it was believed to be the end of the world.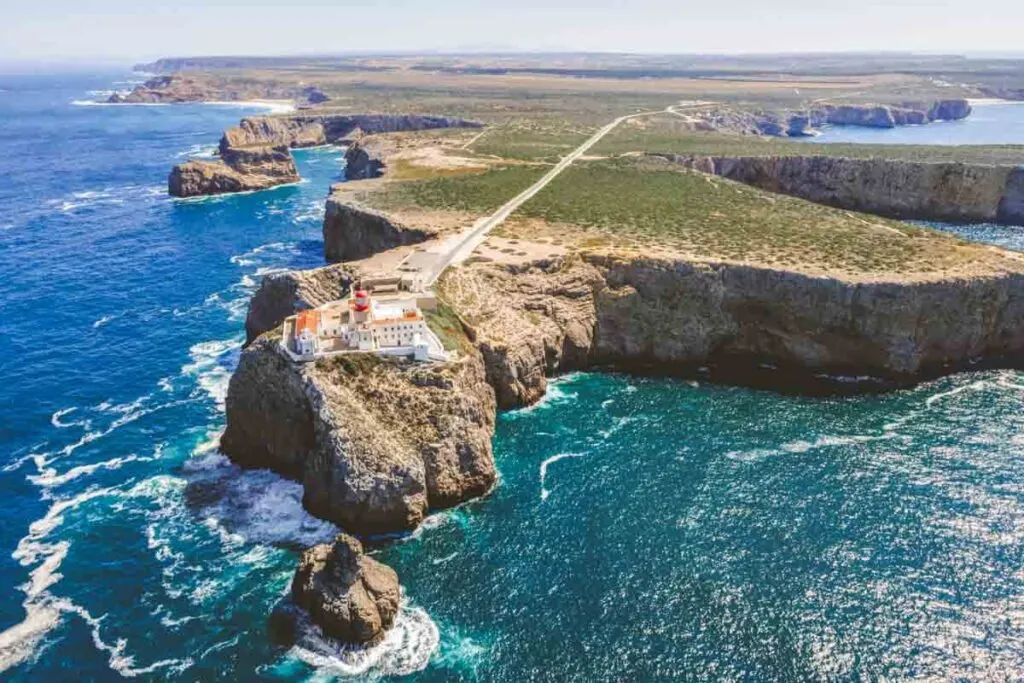 There are a few points of interest to explore when in Sagres. Cabo Sao Vincente marks the most southwestern point and is home to 75m sheer cliffs and a powerful lighthouse. Try to visit at sunset to see the sun dip below the expansive horizon and watch as the sky transforms every minute.
Fortaleza de Sagres Fort is also well worth a visit for a history injection, and the area is said to have some of the best surfing in Portugal, although the waves are not easy! For that, you'll have to head a bit north to Amado Beach, where the beginners flock to.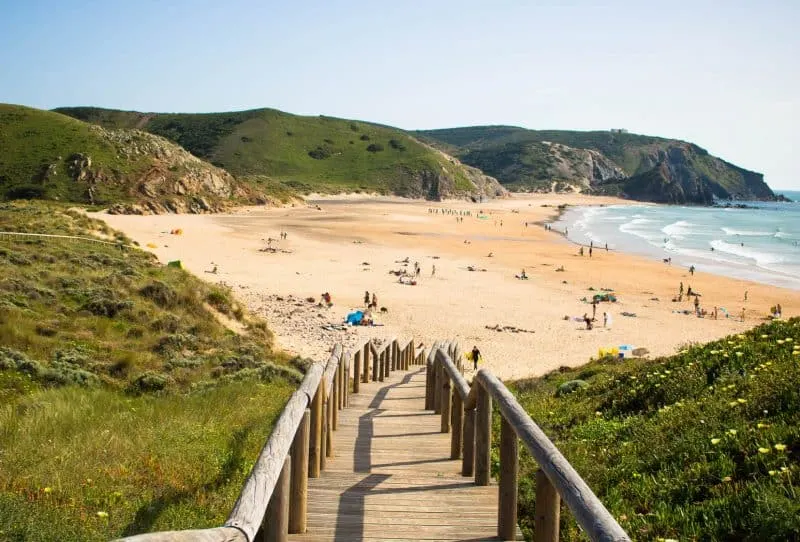 As a side note, when I'm in Portugal, I'm usually here! This is one of my favorite towns to base in, although, I will admit, it is sleepy. I've made a few friends (one human and multiple dogs) here, so that's why I return as well. This is one of the most chill towns in the Algarve.
How to Get Around Albufeira
Getting around Albufeira is easy. The Old Town is walkable, and Uber is available.
If you want to enjoy some of the day trips, then you can book tours or rent a car. You can check out car rentals here.
Where to Stay in Albufeira
If you're looking for quaint city charm, historical buildings, and local vibes, Old Town is the perfect spot to post up. You'll be able to explore the history, museums, open-air cafes, and roam the cobblestone streets taking photos to your heart's content.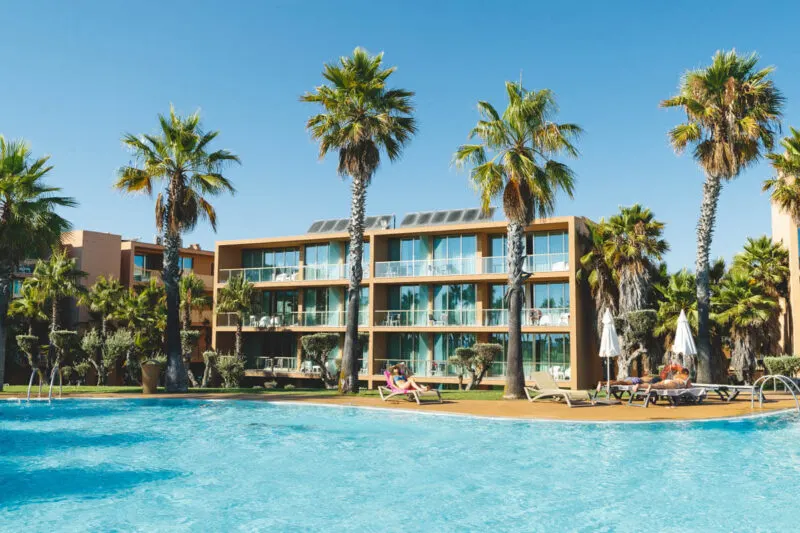 If you want to be right in the thick of the action and fun in Albufeira, stay on the strip. There's live music, bars, and restaurants, and you'll always be able to find a party, especially during the European summer months. You'll likely find plenty of cheaper/budget accommodation options here.
But, should you want a couples or family getaway with more nature involved and a quiet atmosphere near the beaches, look for the resorts in the Oura area, where you're close enough to go enjoy the night scene, but far enough away to relax on vacation.
Here are some top recommendations:
Salgados Dunas Suites
The Salgados Dunas Suites are for those looking for a bit of luxury on their vacation. With modern amenities, all of the rooms are decorated fairly standard, some boasting beautiful views of Salgados and Gale Beaches.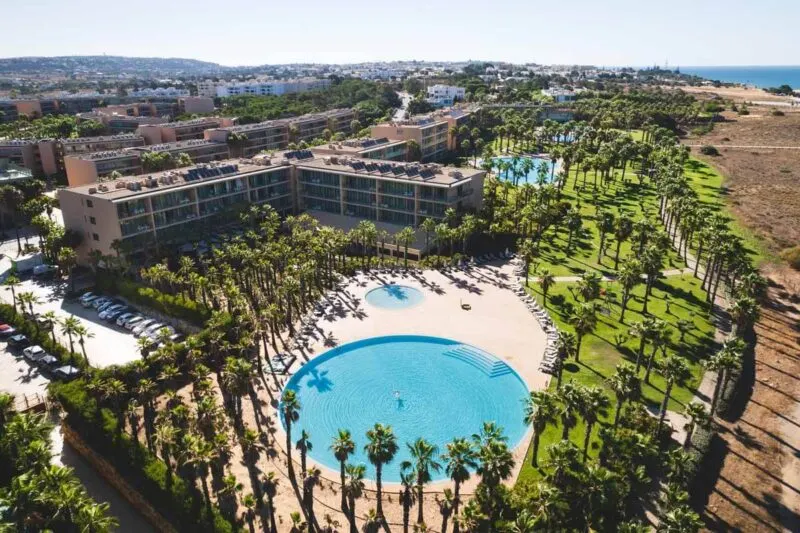 With no less than six swimming pools, restaurants, a rooftop bar, and tennis courts, you'll have no shortage of ways to fill your time. After all those activities, head to the on-site spa for a massage.
Check Price:
Pine Cliffs Resort
You truly can't beat the views from the clifftop location of this luxury resort. Further out of town (about a 20-minute drive), the exterior here presents a more traditional and local aesthetic, with curved archways and columns.
Hide away from the world on your private balcony, or participate in a game of tennis or golf course! The indoor pool, high-end restaurant, and luxury spa will allure you to extend your stay.
Check Price:
Vila Gale Cerro Alagoa
A little piece of luxury in the heart of the Algarve, this hotel features an interior heated pool and sauna as well we two exterior pools. You can enjoy a varied breakfast at their on-site restaurant, serving traditional Portuguese cuisine.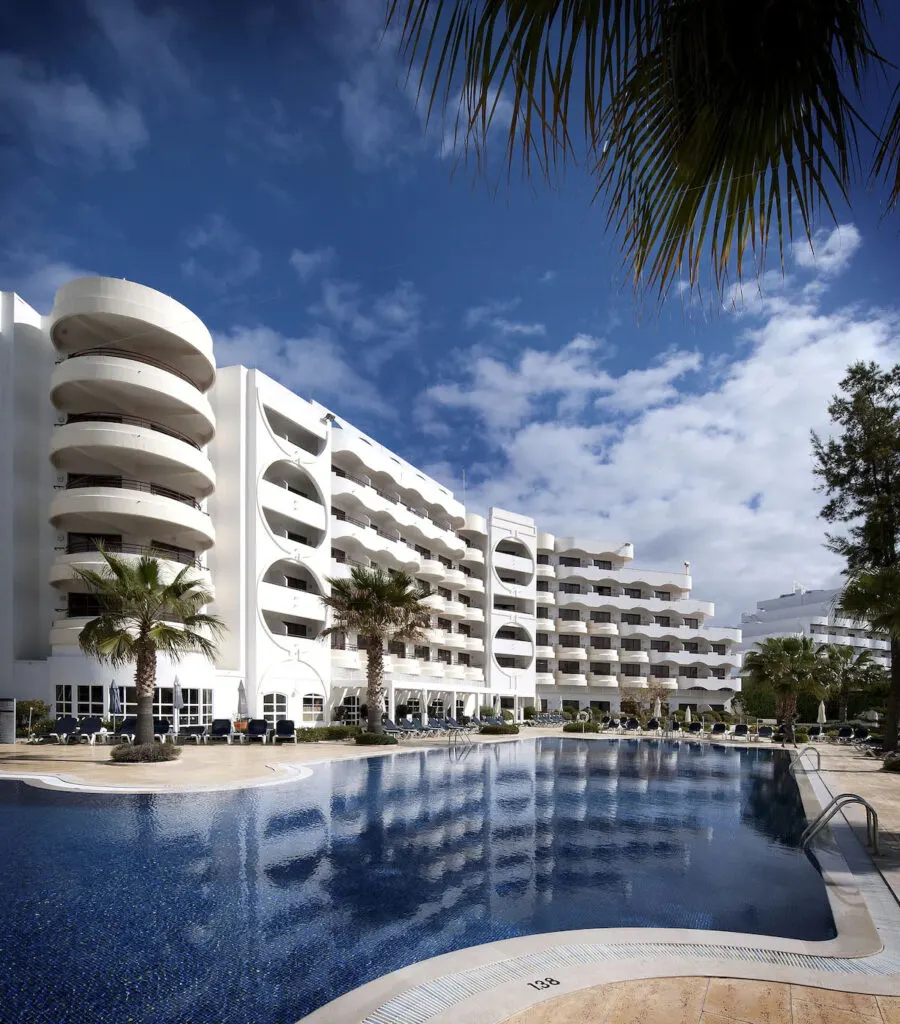 All rooms are impeccably decorated with chic furnishings and offer a mini-bar, air-con, and work desk. For something potentially new to try, get a massage complete with a Turkish bath experience! Finish off your evening at the highly eclectic, dimly lit bar for a nightcap.
Check Price:
Son of a Beach Hostel
An option for more social travelers, this hostel has a rooftop terrace and shared kitchen with casual, laid-back vibes. You'll be located in the old town but also nearby the beach, surrounded by easy access to bars and restaurants.
Stay in a dorm or splash out on a private double room, but either way, this is a nicer backpacking hostel for budget travelers. Take advantage of their free Wi-Fi and air-conditioned rooms on hotter days!
Check Price:
Hotel Baltum
Based in the middle of Albufeira, this hotel is the ideal pick for travelers wanting to go deeper into the local culture. Choose from rooms with private bathrooms or take advantage of fully-equipped apartments.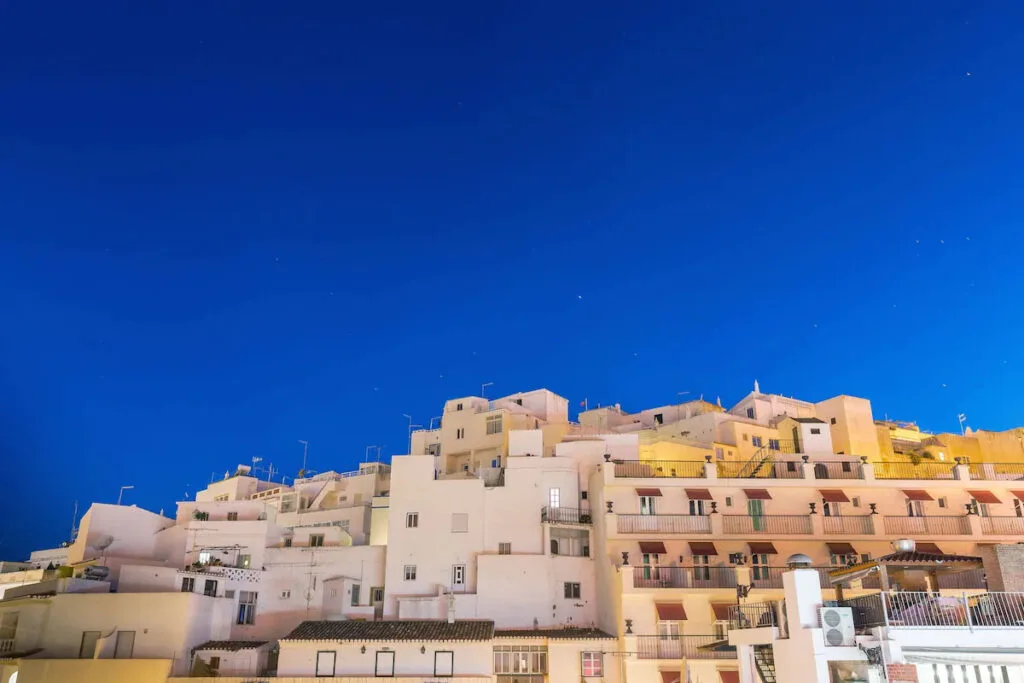 Take advantage of the city views at night on the rooftop terrace with a drink from the bar while enjoying a dip in the large hot tub available. The next morning, you can quell any kind of hangover with an 8-euro buffet breakfast.
Check Price:
MORE ACCOMMODATION OPTIONS IN ALBUFEIRA:
I hope this helped you plan your visit. There's surely no shortage of things to do in Albufeira, Portugal!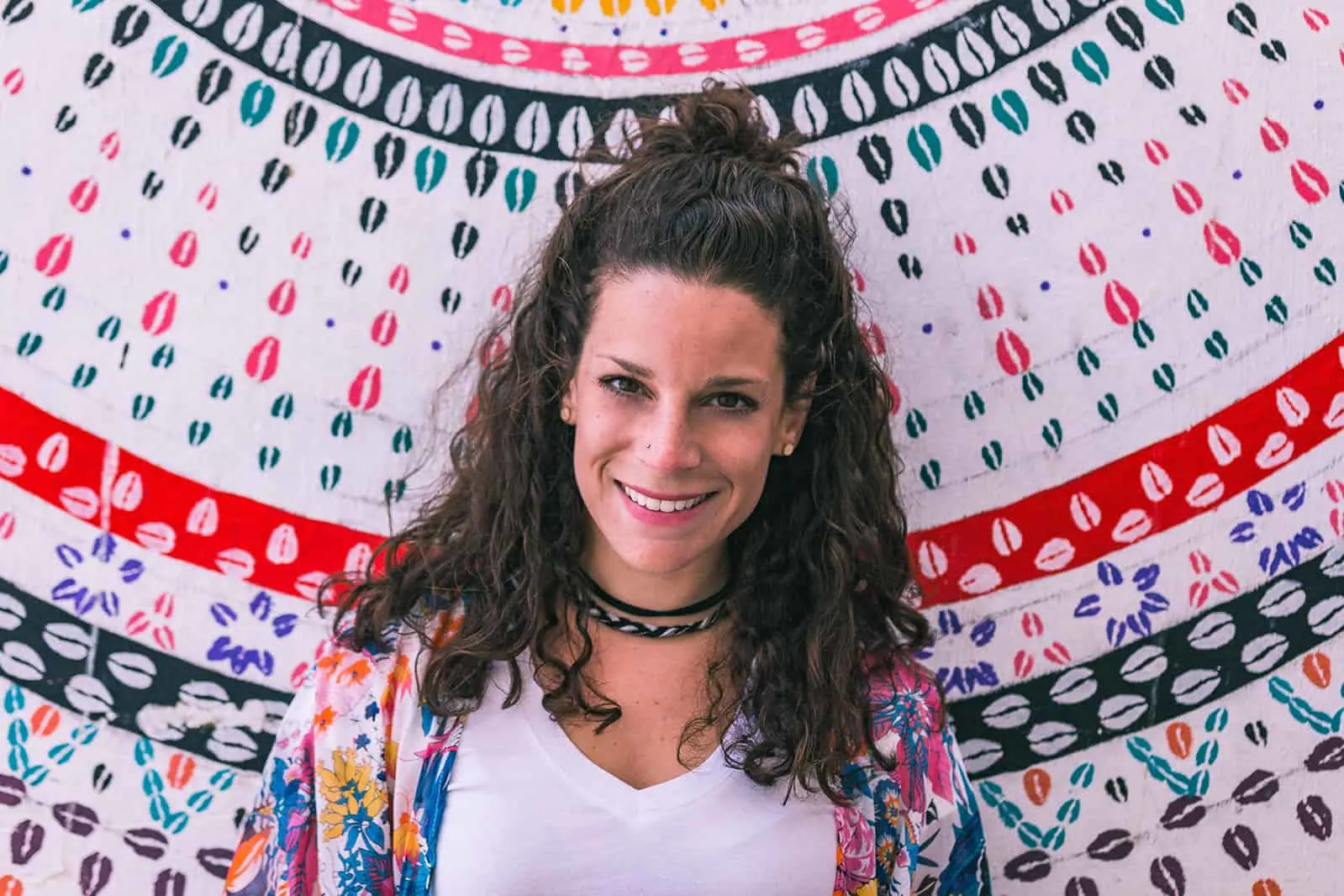 Nina Ragusa is an adventurer, messy bun master, breakfast fan, and full-time travel blogger. She's been abroad since 2011 and blogging on Where in the World is Nina? for nearly as long. Nina helps people like you move around the world while making money. She loves talking about how to work abroad and online to travel longer!