I sat back in my sea hammock, rum punch in hand, belly full, skin tanned, just thinking about how much I was loving life… Can this just be my life FOREVER AND ALWAYS, please? Pretty please?
Yep, life was good. But not all good things can last forever… sadly.
But for a week or so? Hey, I'll take it!
Wouldn't you? I'm quite sure you'll be feeling my sentiments during your time at an all-inclusive in Antigua. And I can only assume that's why you're here with me right now… Wondering where to stay and perhaps thinking, is it actually worth it?
SPOILER ALERT: It's worth it.
Let's get on with this – here's WHY it's worth it and some of the best all-inclusive resorts in Antigua.
Why an All-Inclusive Resort in Antigua Is Worth It
OK, so let's be real, Antigua's all-inclusive resorts are amazing, but we could probably say these reasons would apply to many all-inclusives around the world. I'm not one to stay in an all-incisive often, mostly because I travel and I'm not on vacation (yes, there's a difference.)
So when I was invited to visit Antigua and to stay at an all-inclusive, it was a magical dream to actually to be cared for and be on a semi-vacation (I was here to work after all, but it was easy to forget while at the resort!)
Here are the best reasons why it's an awesome idea to treat yo' self and stay at an all-inclusive in Antigua.
There's Zero Work Involved After Booking
Seriously, once you book, you can sit back and count the days until your flight takes off. When you stay at an all-inclusive resort in Antigua, your only job is to brush your teeth, beach bum, and decide to get seconds for dinner or leave room for dessert.
Your days will be full of doing whatever TF you want and listening to no one! So yes, this is an official VACATION.
Take it from me, the person who never vacations and only travels (yes, again there's a MAJOR difference), When you're at an all-inclusive resort in Antigua, you have nothing else to worry about.
No thinking about how to get here or there, no need to learn the currency, your food is taken care of so no worries on choosing a place to eat…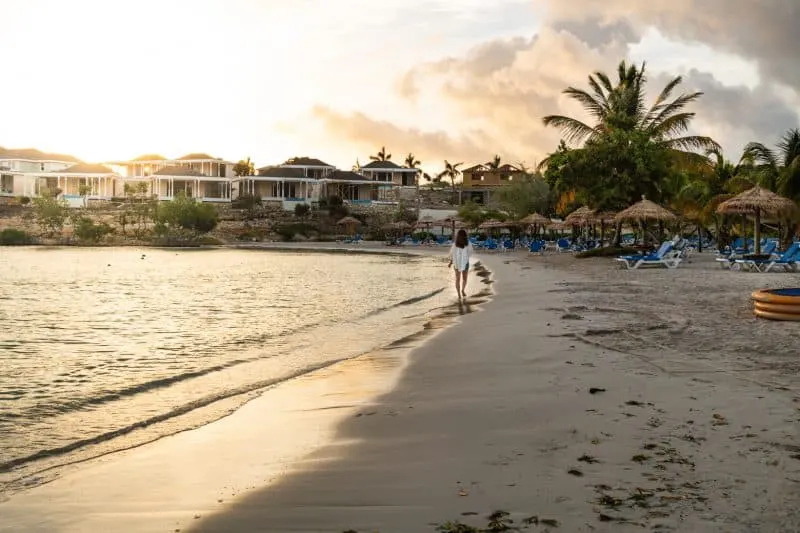 Just book your all-inclusive, and that's it.
DISCLAIMER: You DO have to do a bit after booking… Like packing, getting on a plane, and like, making it to the resort. I can't take responsibility for anyone missing their flights. Just making that totally clear.
Eating All Day Is Acceptable
Ever been to a restaurant and thought the portions were too small but didn't want to look like a ravenous pig ordering anything more? Have you been abroad, wanted to get adventurous with your meal order and when the food came, you regretted all your life choices because it's just not your thing?
Well, you're at an all-inclusive resort in Antigua, so there's nothing to worry about here. Eat all the things, all day, and if you don't like it, order something else! Better yet, hop up to the buffet and choose another item yourself.
Speaking of buffets, sometimes these are a hit or a miss (and by that, I mean they can be great or gross). Luckily I didn't have any "gross" moments, plus many of the all-inclusives in Antigua have on-site restaurants that are included – grills with easy and quick food, or restaurants you can upgrade to for the night.
Also, I can be picky (pescatarian/vegetarian) and I always found something yummy to gobble up at the buffets.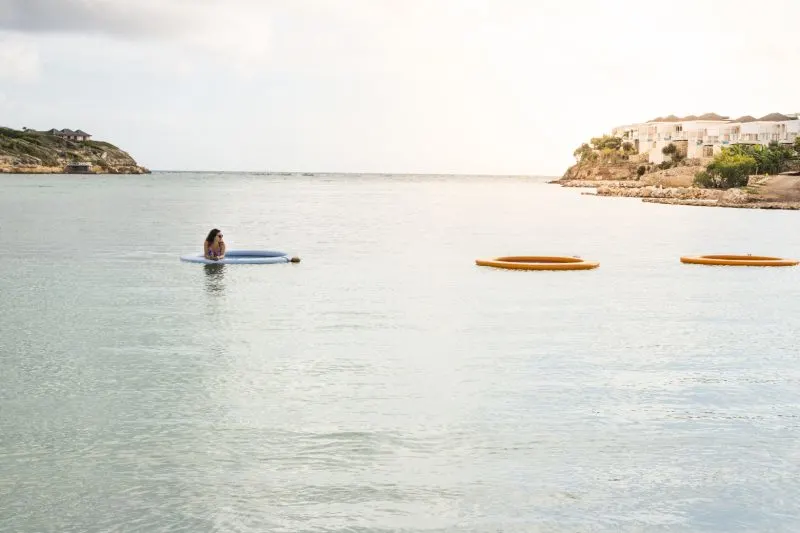 The beauty of all-inclusive resorts is the ability to feel no guilt in eating a lot (hello, that's a requirement while on vacation) and not having to worry if you're going to like the food. There's so much to choose from, and it would be impossible for you not to find SOMETHING you love.
My daily struggle was deciding whether or not I should go for seconds or look cuter in my bikini later… The food usually won. Oh well.
You'll Never Need Your Wallet
In what world do you not need a wallet?!
Well, at an all-inclusive resort…
That's about it. Remember point #1? Yes, even taking out your wallet can be considered "work." Everything has been paid for. Order the drink with your burger, go out on the kayak, sit on those beautiful lounge chairs with the palm frond umbrella… They have been paid for, so use them!
So, yeah, leave the wallet in your room. You won't be needing that anymore… Maybe even your phone too.
RELATED: Adventurous Things to Do in Antigua and Barbuda + Tips
The Service Is Next Level
This is relative, but overall, all-inclusive resorts tend to have excellent service because at the end of the day, the guests are on the property A LOT. The service at an all-inclusive resort in Antigua will be different than one at a hotel.
I visited numerous properties while in Antigua and every single person, from the barman to the grill master to the maid, was so sweet. It's perhaps a Caribbean thing too – everyone is so gosh darn smiley! Even the landscaper at the hotel wished me a good day each time I saw him.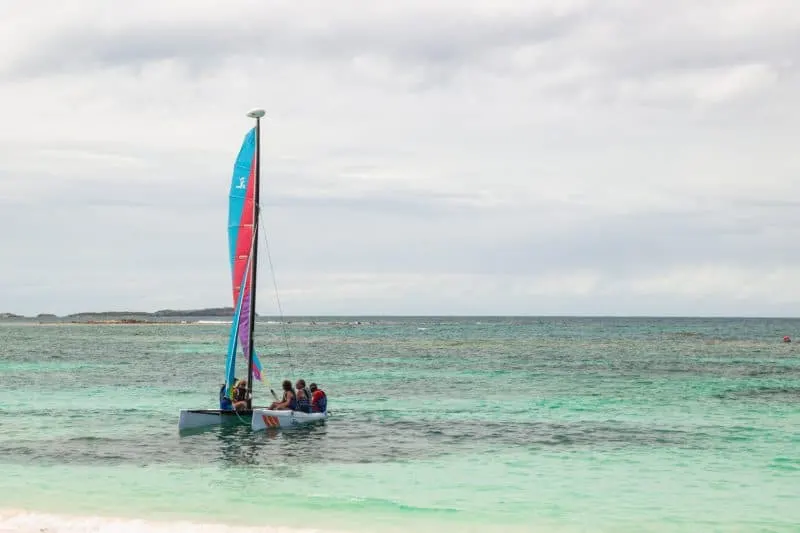 They are used to having to interact with guests more. After all, you aren't there to chow down a burger and leave – you're there, for like, a week…
They have to accommodate and provide a better level of service. You start to know their names, you make conversation– this isn't an in-and-out interaction, and it makes a huge difference. In addition, should you need assistance with anything, like really, anything… They can get it sorted for you.
Car rental, taxi, airport pick up, tour bookings, a bottle of water at 11 pm because you don't want to leave your room because you just got out of the shower and don't want to see another human until morning (yep, you can probably guess this was me. Oops, and thank you!).
You don't need to make special arrangements for anything – they got you!
You Never Have to Leave
… NEVER!
OK, fine, you'll probably want to leave at some point. After all, there are some fun things to do in Antigua! But do you have to? Nah. Food, bed, beach, pool, drinks… it's all right there.
There will likely be activities right at the resort as well. Most resorts will have kayaks, SUP boards, and even mini catamarans for you to take out and adventure on.
They even have shops on site, and I must admit Pineapple Beach Club wins for the world's cutest shops…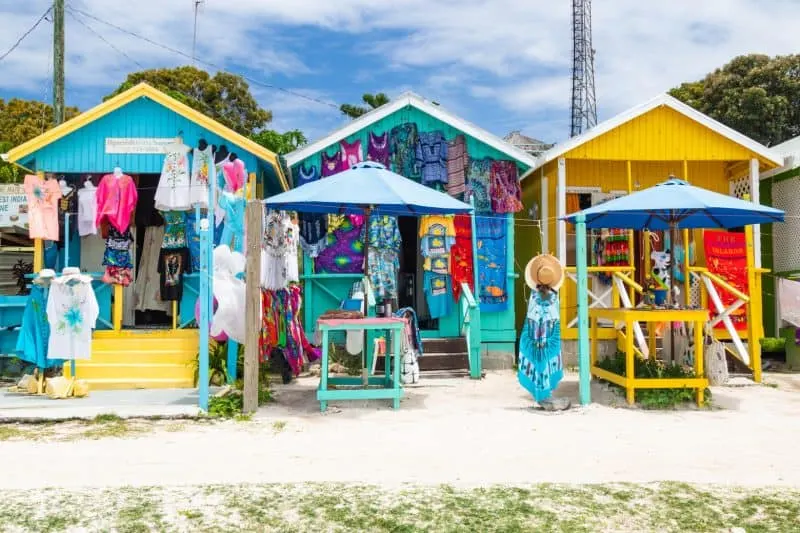 So if you REALLY wanted… You wouldn't have to leave, ever, for anything. Having this choice is a relief, and in all reality, you will go explore, but knowing you don't have to is always nice.
Best Resorts in Antigua: Where Should You Stay?
Right, so get to the point, Nina. All-inclusive resorts in Antigua are amazing. But where do you recommend we stay?!
Ah, so glad you asked! I DO have some recommendations for you, and I'm sure they will be everything you wanted and more.
Just a tiny discloser as I'm always super honest with you guys, I was invited to Antigua, and I stayed at the Verandah. I had the pleasure of visiting and hanging out at some of the other locations, but I didn't get to enjoy a night stay there.
That said, all opinions are my own, and I'm sure to remain as objective as possible. Also, the reviews from others speak for themselves as well! I've linked them below for you to gather others' opinions.
So which of these locations vibe with your vacation needs more?
1. The Verandah Resort & Spa, Antigua All-Inclusive
I was lucky enough to call this all-inclusive resort in Antigua my home for an entire week.
My villa was my haven and I really couldn't ask for anything more. I had an ocean view, a kitchenette, a comfortable bed, a large shower, and even a desk (as if I used it for more than just a surface for my water bottle).
My room happened to be around their pool, so I could jump in with literally just a few steps out of my front door. The resort is massive and has two beach locations along with two beach bars and grills. There are two pools, one being adult-only, a huge buffet, and a couple of restaurants all on site.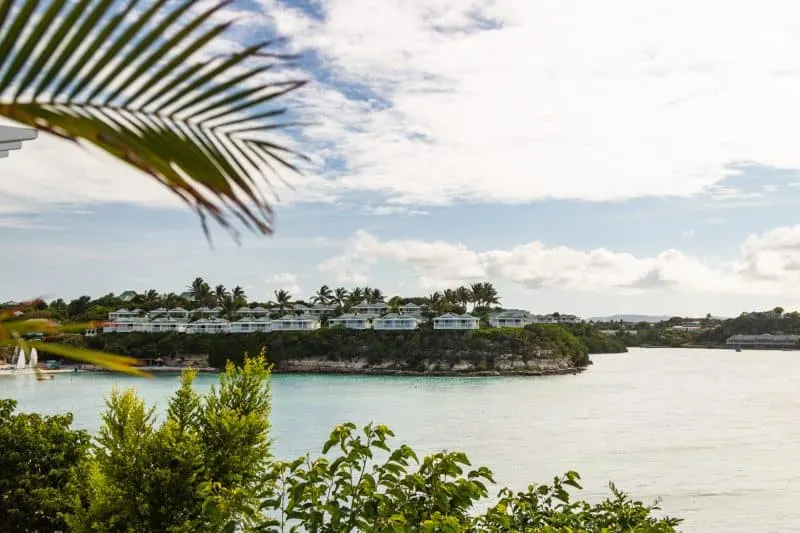 The best part was the ocean hammocks (I'm a simple person) and access to their fun toys like their SUP boards, mini catamarans, and kayaks which you can take out, free of change.
I could not have had a better experience, and it's no surprise this is a favorite resort on the island.
Highlights:
Spacious villas
Adult-only pool
Ocean hammocks + free water toy rentals
Access to sister resort – Pineapple Beach Club
Check Price:
2. Pineapple Beach Club, Antigua All-Inclusive
This adults-only all-inclusive resort in Antigua was my neighbor, and we spent a good amount of time popping into Pineapple Beach Club for some drinks and dinner, to hang out, and enjoy the live music.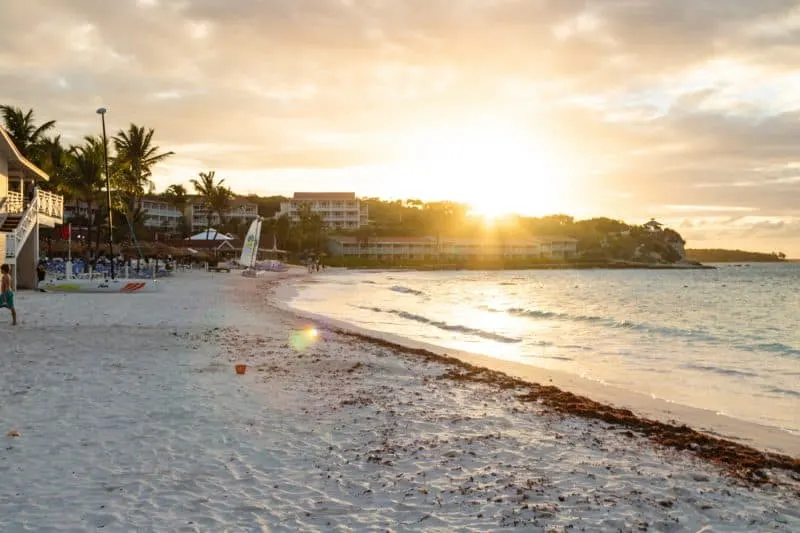 Considering this resort is sister to the Verandah, you have access to BOTH resorts and they can easily be reached by literally walking across the street.
The Pineapple Beach Club offers its own beautiful section of sand and sea, a couple of pools, and even beachside barbeques at night.
Highlights:
Adults-only resort
Access to sister resort
Live music
Cute shops on site
Check Price:
3. Galley Bay Resort & Spa, Antigua All-Inclusive
A couple's romantic getaway dream resort. Period.
This place is stunning from its incredible villas with private pools to its beachfront apartments and a striking slice of coastline. This adults-only resort is truly incredible and offers some serious perks without being pretentious in the slightest.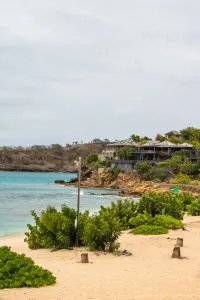 The little things here make a big difference. There's a cute rum bar, so venturing too far away to get a sip of rum and some nightlight before you turn in isn't necessary. The rooms come with snorkel gear so you can hop in and explore the sea at any time you please.
Their restaurant was top notch and they even have a spa on-site, so when I say you don't need to leave your resort, I'm not kidding!
Highlights:
Adults-only restore
Free snorkel gear + other water toys
Private dining options + rum bar
High-end spa on-site
Check Price:
4. Hammock Cove, Antigua All-Inclusive
Get ready guys, this is a new luxury all-inclusive resort that just opened, and it's literally two seconds away from the Verandah Resort!
We got to visit before they were open to see what the villas are like and it was INSANE. The villas have their own private pool, balcony with sea view, massive bed, a shower for two (or really like 10 because, yes, a bunch of us went in the shower to see how many could fit) and tons of other perks.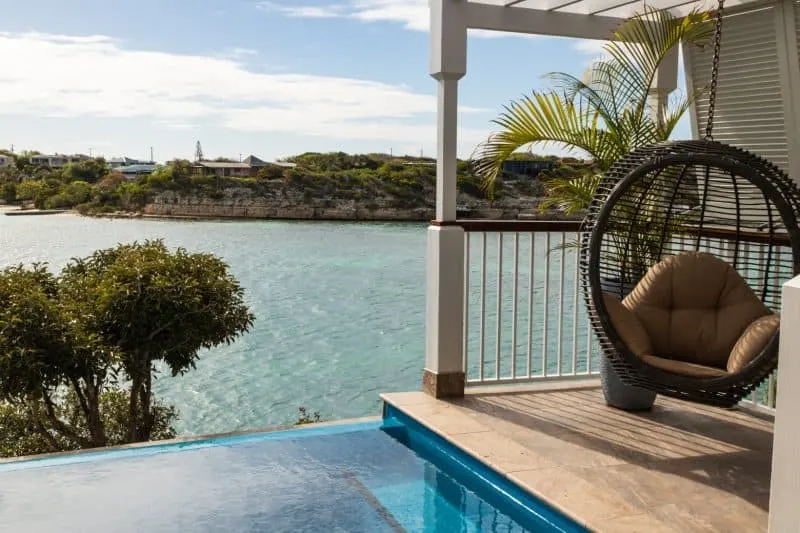 This is the ultimate spot if you're looking for a private and romantic getaway, so uhm, yeah, look no further.
Highlights:
Luxury, adults-only resort
Spacious villas with private pools + balconies facing the sea
Fine dining options
Fun activities on-site (cooking classes, live music, walking tours, water sports + more)
Check Price:
5. Sandals Grande Antigua, Antigua All-Inclusive
The Sandals chain is one of the best-known all-inclusive resorts in the Caribbean, and hey, sometimes the experience actually lives up to the hype!
Sandals Grande Antigua is a couples-only resort, so you'll never be disturbed by kids running around the pools while you're trying to relax. Speaking of pools, there are 6, one of which is a swim-up bar.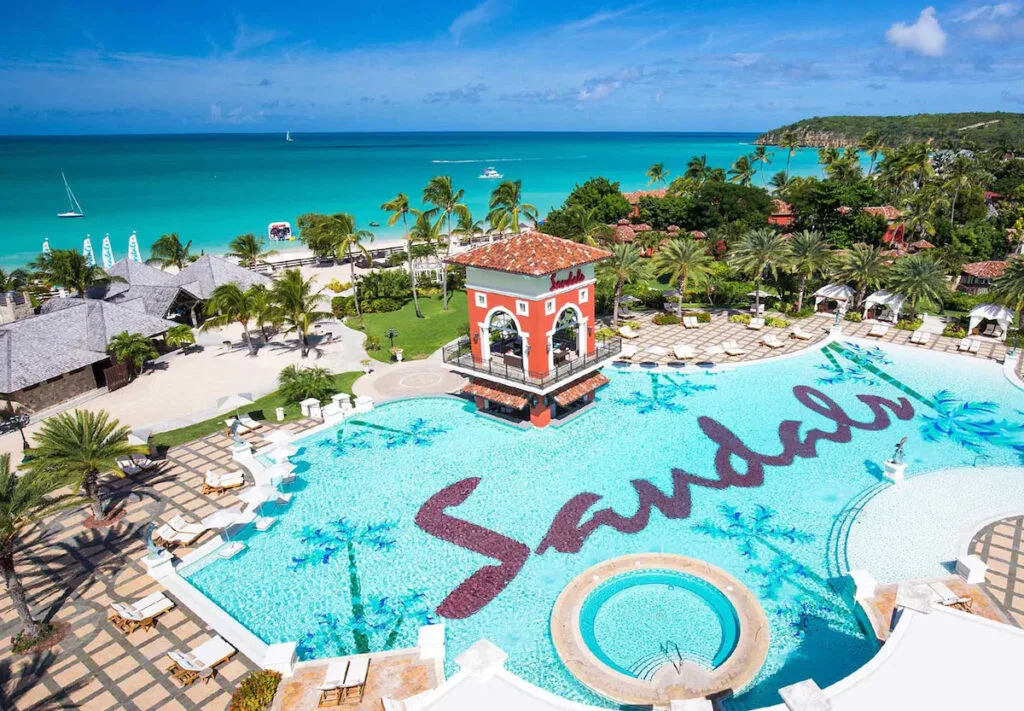 There is also a beautiful sandy beach where you can enjoy free activities (including scuba diving for those who are already certified), 11 different restaurants to choose from, and even a classic British pub (amongst other bar venues).
There are seriously so many options to pick from at this resort you likely won't even be able to experience all of them in one trip. This is one of the best Antigua all-inclusive resorts if you want a high-end experience, and the top-tier rooms come with plunge pools and butler service.
Highlights:
11 different restaurants
Couples-only resort
Top-notch amenities (scuba diving, butler service + more)
Beautiful location along Dickenson Bay
Check Price:
6. Hermitage Bay, Antigua All-Inclusive
If you're looking for a more intimate stay while still enjoying the perks of an all-inclusive, check out Hermitage Bay. The resort sits in the secluded Hermitage Bay, and with just 30 suites, you'll have no problem relaxing in solitude with your boo (kids under 14 are not allowed).
Don't make the mistake of equating the resort's small size with fewer amenities. This boutique all-inclusive has some seriously spectacular offerings. Enjoy a champagne breakfast in bed, airport transfers, meditation classes, and more, all included in your stay!
Of course, you'll find all the resort classics here as well, including pools, private beach access, multiple restaurants, and live music in the evenings.
Highlights:
Sustainable property + locally sourced ingredients at the restaurants
Small intimate resort in a secluded setting (Hermitage Bay)
Free airport transfers
Adults-only resort (14+)
Check Price:
7. Curtain Bluff Resort, Antigua All-Inclusive
Many Antigua all-inclusive resorts are couples-only, but if you're traveling in a group or with youngsters in tow, Curtain Bluff Resort is great for all travelers.
Half of the resort sits on the bluffs overlooking the sea, and the other half sits on the sandy shores between two beautiful beaches – pick your paradise!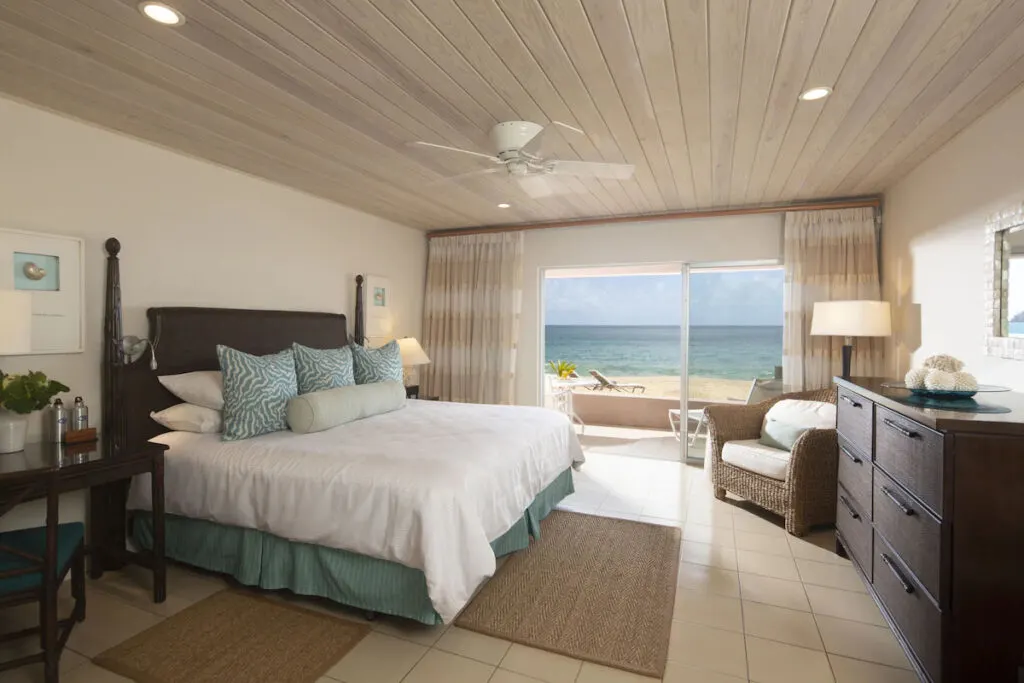 This is what I'd call an activities-forward resort – there are TONS of things to do here! Snorkeling excursions, scuba diving (for those who are certified), sailing, windsurfing, squash, a kids' club and more – and it's all included in your stay.
There's also an ocean-front pool and multiple restaurants – one formal option and one beachfront cafe.
Highlights:
Allows groups + children
TONS of activities
2 beaches + an ocean-front pool
Option for a bluff room with a sea view or an oceanfront suite
Check Price:
8. Keyonna Beach Resort, Antigua All-Inclusive
There's no denying that all-inclusive resorts in Antigua are definitely on the expensive side. And I won't lie to you and say there are budget options available because really, there aren't. But, if there is one that comes close to being affordable, it's the Keyonna Beach Resort.
This is a 3-star resort, and relatively cheaper than some of the other options on this list. But you wouldn't know it by the offerings!
It's true, there is only one restaurant, and there are no TVs in the rooms, but the other amenities and the price cut more than make-up for those "cons" – who wants to watch TV when you could be on the beach, anyway??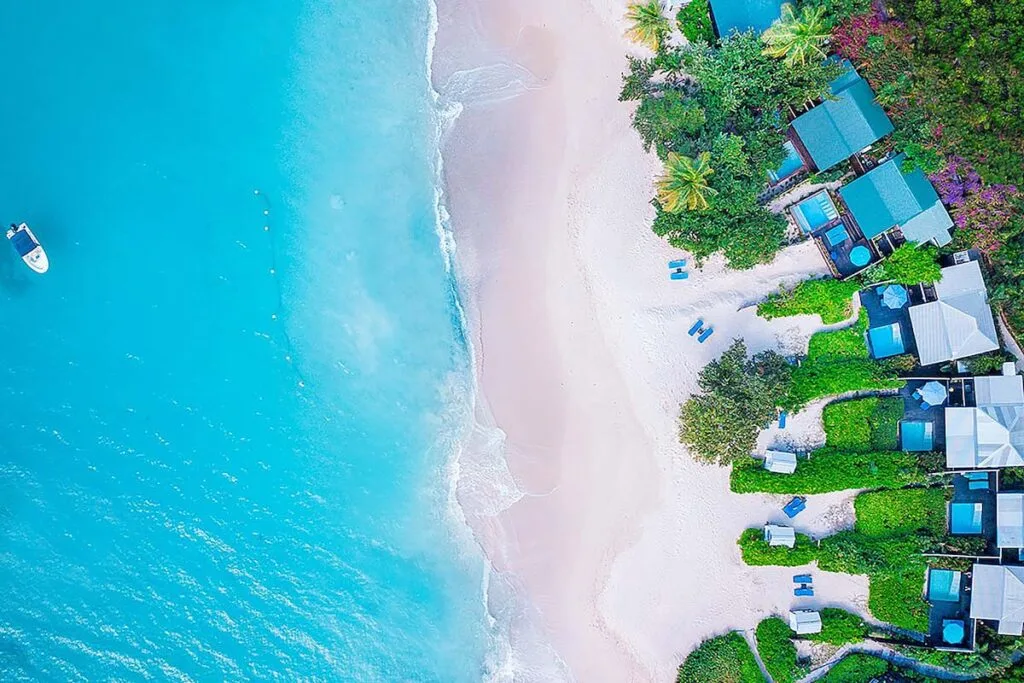 The resort sits directly on Turner's Beach on the southwest side of the island, and the sunsets here are some of the best in Antigua.
Other perks of Keyonna Beach Resort include the outdoor swimming pool, the short walk to the beach from every room, and the beach Bali beds assigned to each room – no need to put towels out to claim your spot every day!
Highlights:
More affordable all-inclusive option
Intimate + romantic resort with just 29 rooms
Adult-only resort
Rooms are right on the beach
Check Price:
9. Cocos Hotel Antigua, Antigua All-Inclusive
Another intimate pick for romantic getaways is Cocos Hotel. When you picture your dream honeymoon, I'm guessing you picture something like this: powdery white sand, cozy, Caribbean-style cottages overlooking the ocean, a private pool on your balcony, oh, and no kids running around… am I close?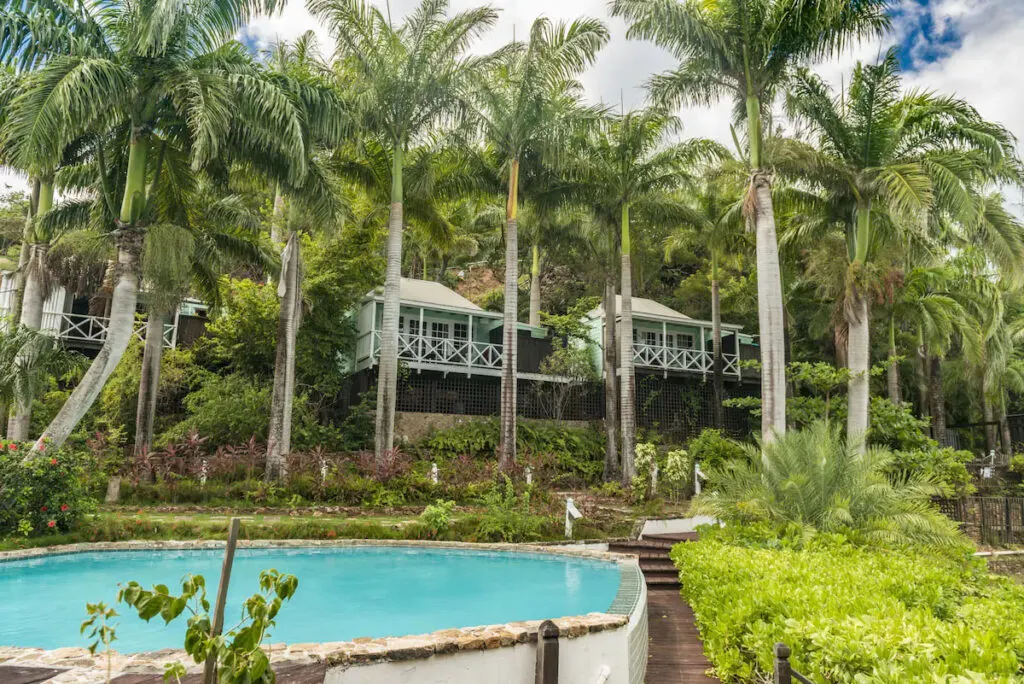 Cocos Hotel offers all this and more, and with just 34 cottages available, you'll get a relaxing, boutique experience with all the all-inclusive resort amenities. You can go snorkeling, beach bum, and enjoy live music in the evenings.
There is only one restaurant, but it is known for serving up fresh, local cuisine – what else could you ask for?
Highlights:
Adults-only resort
Small boutique-style hotel with resort amenities
Ocean views + hammocks in every cottage
Lush vegetation + beautiful beaches
Check Price:
10. Escape at Nonsuch Bay, Antigua All-Inclusive
Perched along the cliffs of the island's eastern coast, Escape at Nonsuch Bay is a luxurious all-inclusive resort with a rooftop pool and stunning views around the entire property.
There are only 40 suites, each of which is designed with a calming minimalistic style, plus its own private plunge pool on the deck overlooking the ocean.
There's also a fine dining restaurant and a private beach area where the water is deep enough for swimming and snorkeling.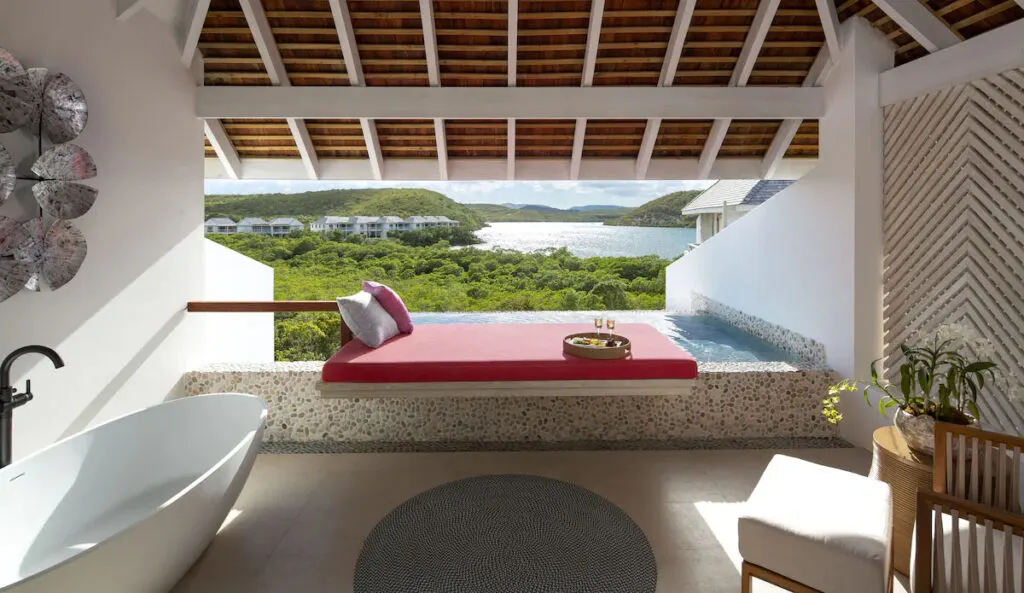 The Escape is actually part of the larger Nonsuch Bay Resort, so you'll also have access to all of the sister resort's amenities, including another restaurant, free sailboat rentals, three infinity pools, and an on-site spa.
What's better than being able to use the bigger resort's amenities and then returning to your own private oasis when you're ready for a more intimate experience?
Highlights:
Private, boutique-style resort
Access to sister resort's amenities
Private plunge pool in every room
Adults-only resort
Check Price:
11. Carlisle Bay Antigua, Antigua All-Inclusive
Carlisle Bay is another front-runner for Antiuga all-inclusive resorts that cater to all types of travelers. There are tons of activities included in your stay, from water sports like snorkeling and sailing to land-based fun like bike rentals and tennis.
There's also a kids' club to keep the young ones entertained as you soak up some sun on the gorgeous private beach.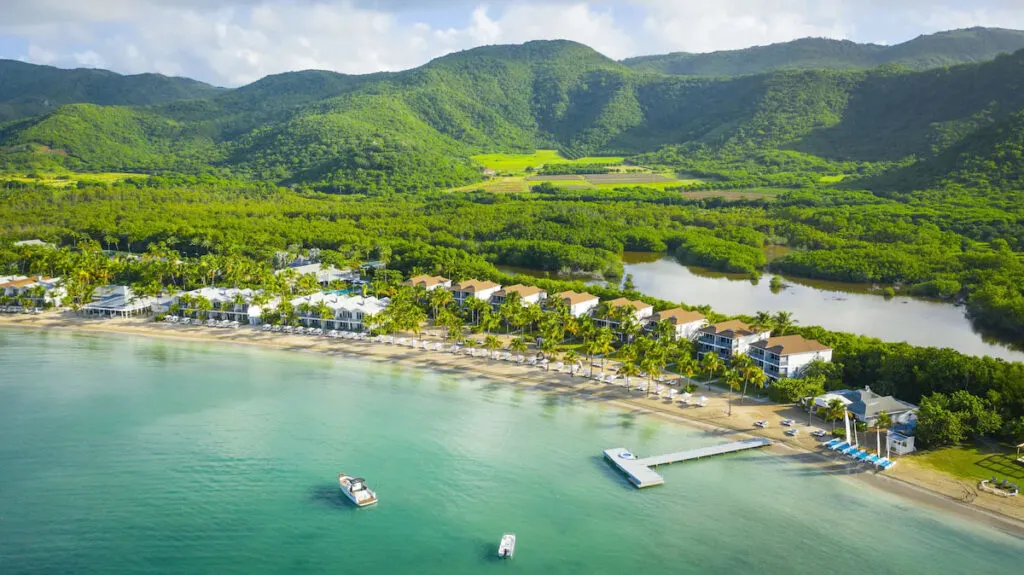 You'll certainly never go hungry thanks to the resort's four restaurants, which serve up a variety of cuisine, including Asian, Italian, and of course, Caribbean.
All of the rooms are suites, so you can look forward to a spacious retreat with either a balcony or covered patio with day beds for relaxing in privacy.
Highlights:
4 restaurants
Fun activities included in your stay
Spacious suites with patios or balconies + day beds
Private beach area + large resort-style pool
Check Price:
12. Blue Waters Resort and Spa, Antigua All-inclusive
Location, location, location. Situated near the historic Nelson's Dockyard marina on the outskirts of the bustling St. John's area, Blue Waters Resort and Spa is a great pick for those who want to stay close to all the action. But the location is just one of the things that this resort has going for it!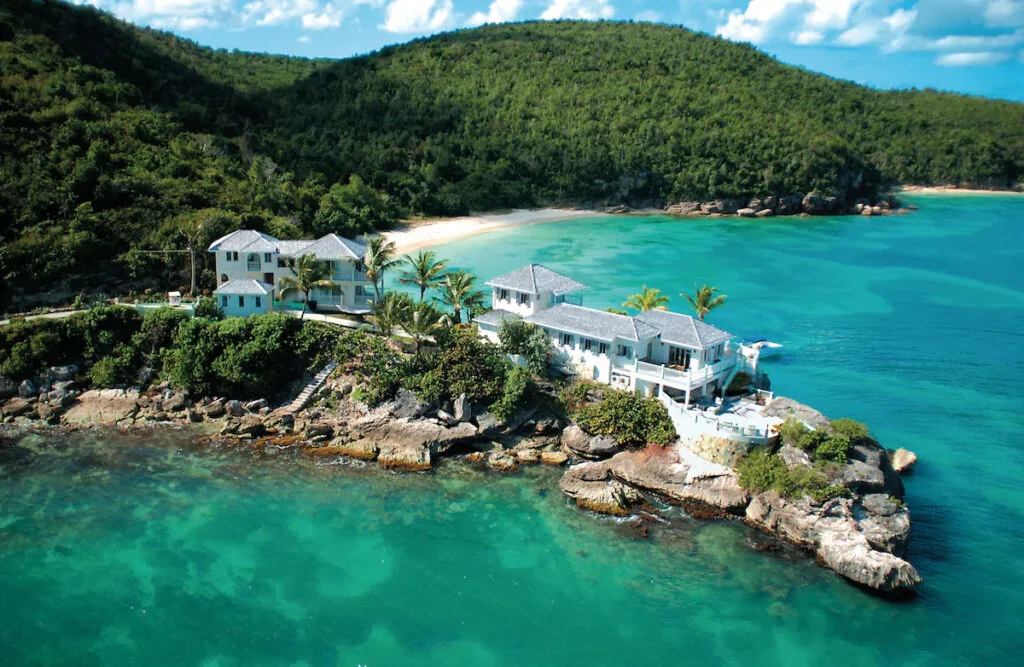 This upscale getaway has been in business for over 60 years, so they definitely know how to provide a top-notch stay. The service at Blue Waters is next level, and there are plenty of awesome amenities to keep you entertained.
Wander the expansive gardens, try your hand at sailing, or simply hang by the pool or bum on the beach.
Highlights:
Great location near Saint John's + Nelson's Dockyard
3 restaurants + 4 bars
Outstanding service
Beautiful + expansive grounds
Check Price:
13. Jumby Bay Island, Antigua All-Inclusive
This one is last on the list, mostly because it's ungodly expensive and most of us (ahem, myself included!) cannot afford this type of luxury. But hey, if you're looking to splurge on an all-inclusive resort in Antigua, there's no better spot than Jumby Bay Island.
This 5-star resort usually hosts celebrities and other well-to-do travelers, so you can imagine that the service and amenities are next-level insane. First of all, it's literally on its own freakin island – but not to worry, airport transfer is included in your stay.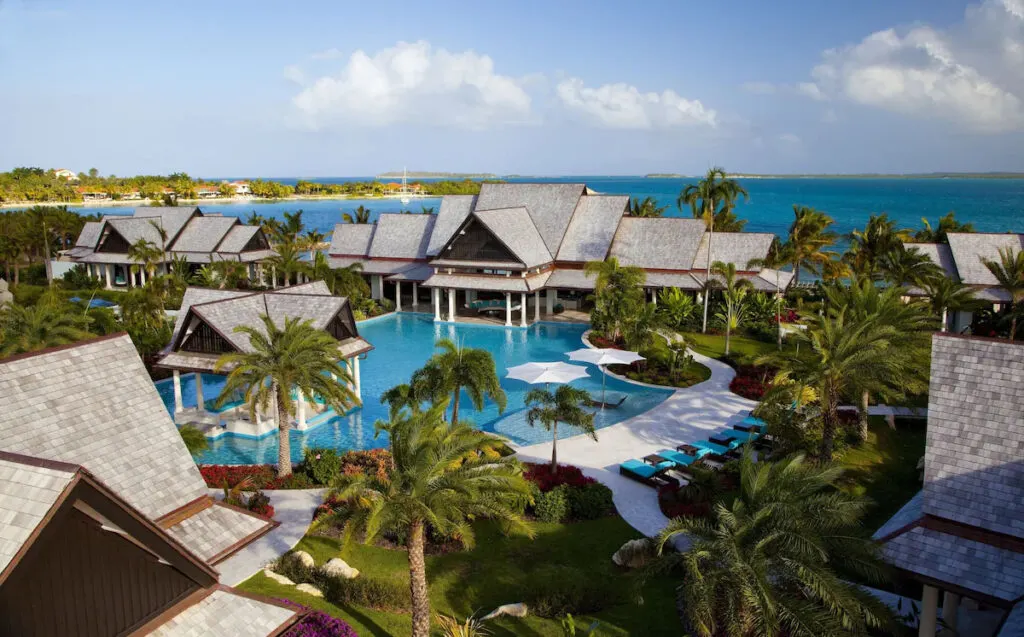 In addition, each villa has its own private pool and direct ocean views.
The included amenities at Jumby Bay also help to set this opulent resort apart and include dazzling evening entertainment, cooking classes, windsurfing lessons, and more.
Highlights:
Incredibly private – it's on its own island!
Amazing amenities included
Private pools in each villa
3 restaurants
Check Price:
OK, time for me to lie down and pretend I'm back in Antigua. I can't tell you how much I miss it! The friendliness, the ease of staying at the resorts, vibes, and views… I love Antigua! Get ready to fall in love, guys.
And I also got you covered if you're wondering what to do in Antigua, aside from enjoying your resort, that is.
More Around the Caribbean
When are you visiting Antigua? Where will you stay in Antigua? Let us know in the comments!
---
---
Thank you, Antigua and Barbuda Tourist Board, Elite Island Resorts, and Traverse for inviting me to this magical island. My opinion is the only one that matters around here… So… Ya know… All thoughts and opinions are my own, forever and always. #NoBias #NoBS
Click the picture to pin this for later!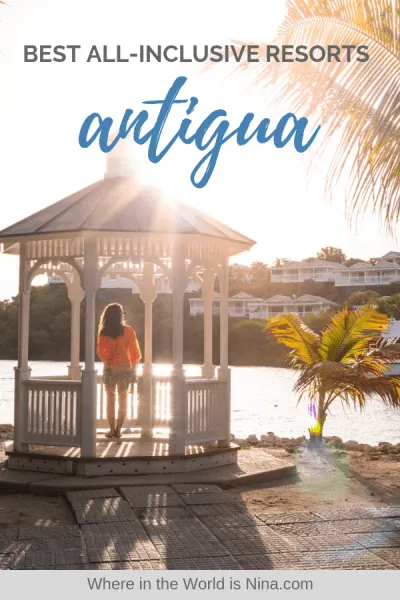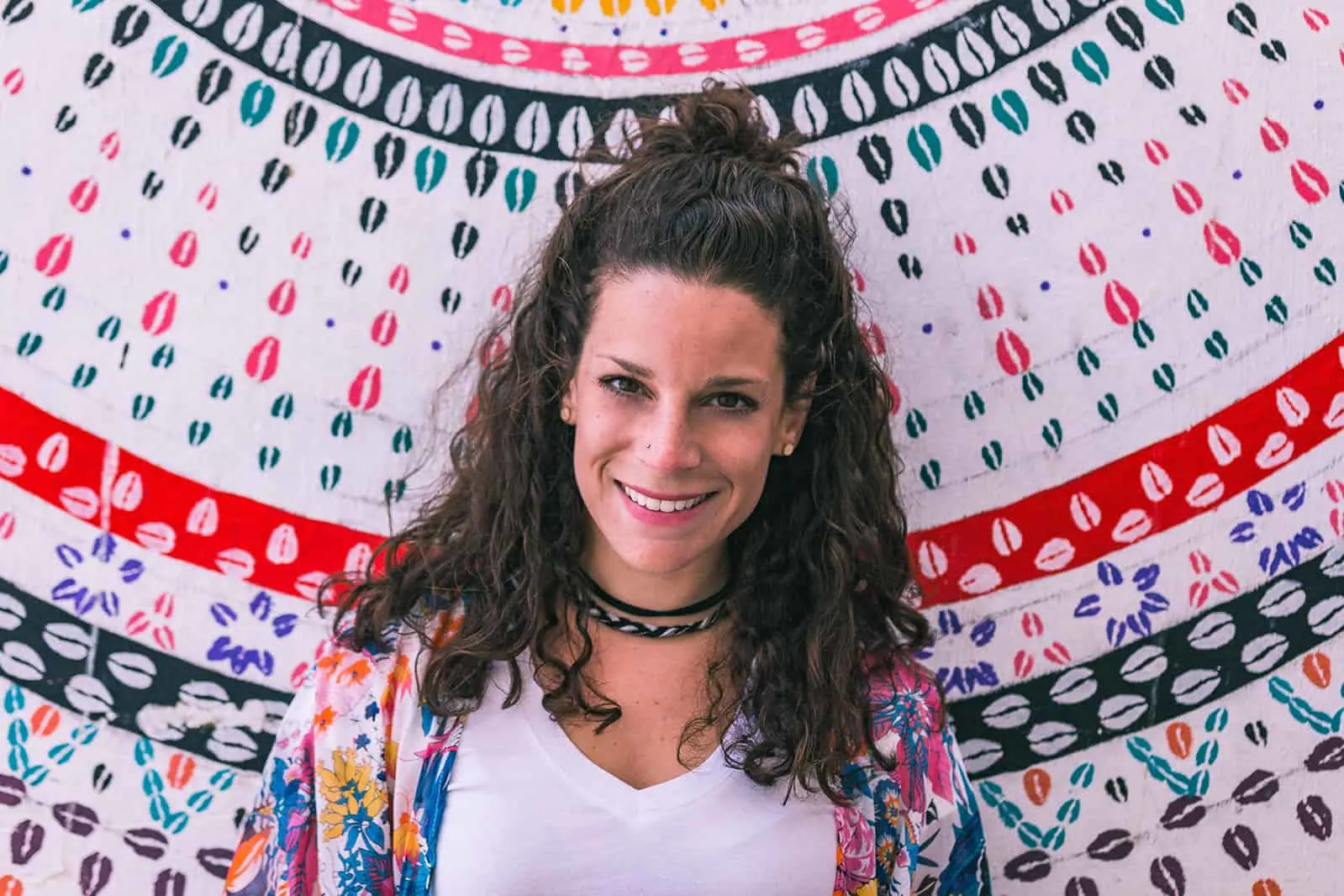 Nina Ragusa is an adventurer, messy bun master, breakfast fan, and full-time travel blogger. She's been abroad since 2011 and blogging on Where in the World is Nina? for nearly as long. Nina helps people like you move around the world while making money. She loves talking about how to work abroad and online to travel longer!