If you're wondering how to plan a trip, you've come to the right place. I think I can say I've mastered the art of planning trips since I've been doing it consistently for myself around the world since 2011!
I absolutely love finding a destination, seeing all the possibilities for exploration, finding out about all the cool things to do, see, and learn about a place, and putting all the puzzle pieces of a trip together.
I've conquered the art of trip planning, and now I am here to help you become a pro yourself! I've thought of all of the possible things that you need to put together—step-by-step—for a successful trip!
Here's everything you need to know on how to plan a trip, PLUS some things you may not have even thought of!
How to Plan a Trip— 13 Step-by-Step Directions!
1. How To Plan Where To Go On Your Trip
Honestly, this might be the most challenging topic of them all! Choosing WHERE TO GO?! And of course, you won't know how to plan a trip when you have no idea where you want to go… because you want to go everywhere!
If you already have clarity about this, that's amazing! However, there still might be a few important points in this post for you to consider when planning a trip, so hang tight and read through this section anyway.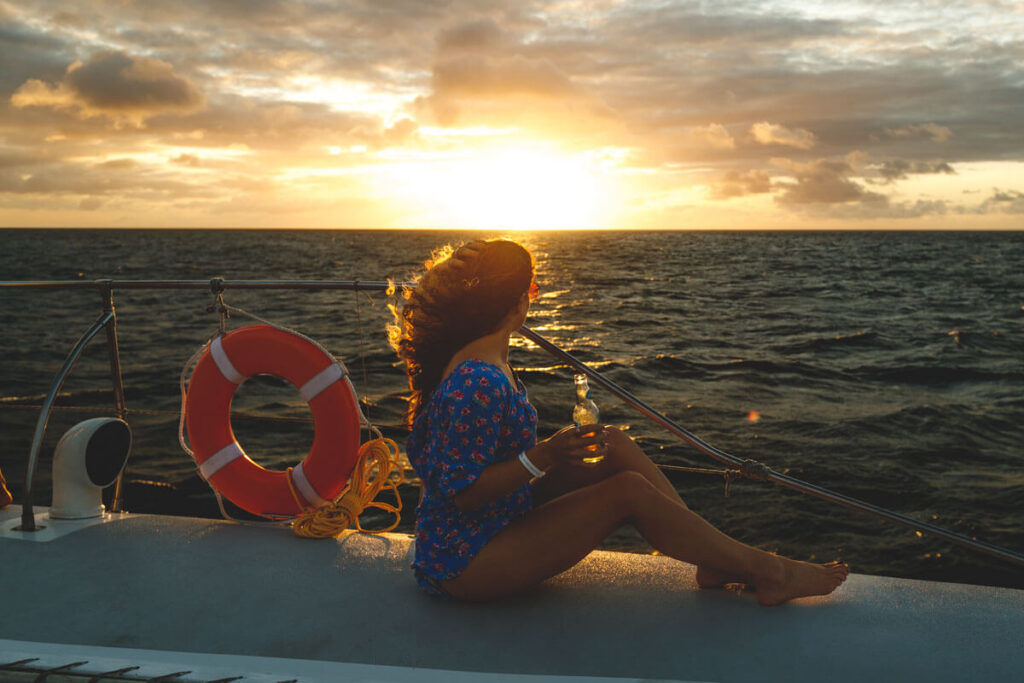 So, how to plan a trip when you're not sure where to go? Let's help you narrow down your possibilities…
Deals – Sometimes, you can let the deals show you the way! If a place is on your list and is sporting some very attractive flight deals, then perhaps the destination has chosen YOU!
When to go – Sometimes, a destination is best visited during a certain time, and maybe you have set dates in mind. Planning a trip around specific times and seasons will help narrow down your choices.
Budget -Sometimes, figuring out your budget will be an easy indicator of which countries can rise to the top of your list, and which will fall off because the budget won't allow for it.
How long – How long are you planning for your trip to last? This will likely depend on your budget and how many days you can get away for, and it definitely plays into planning a trip. Unfortunately, a road trip around the entire US isn't going to fit into a long weekend.
Don't worry, we're going to go into all of these in a lot more detail so buckle up. I'll help you figure out how to plan your trip by helping you think of everything needed to have a successful and epic getaway!
Clueless About How To Plan a Trip Without a Destination in Mind?
Are you indecisive like me? Is everything on the list and you have decision paralysis? I get it! And I have a fun option to help you choose. I call it Destination: Anywhere.
This "game" is best "played" if your dates are flexible – more on this below. But the idea of the game is very simple. I use Skyscanner's "everywhere" feature to help me choose my next destination.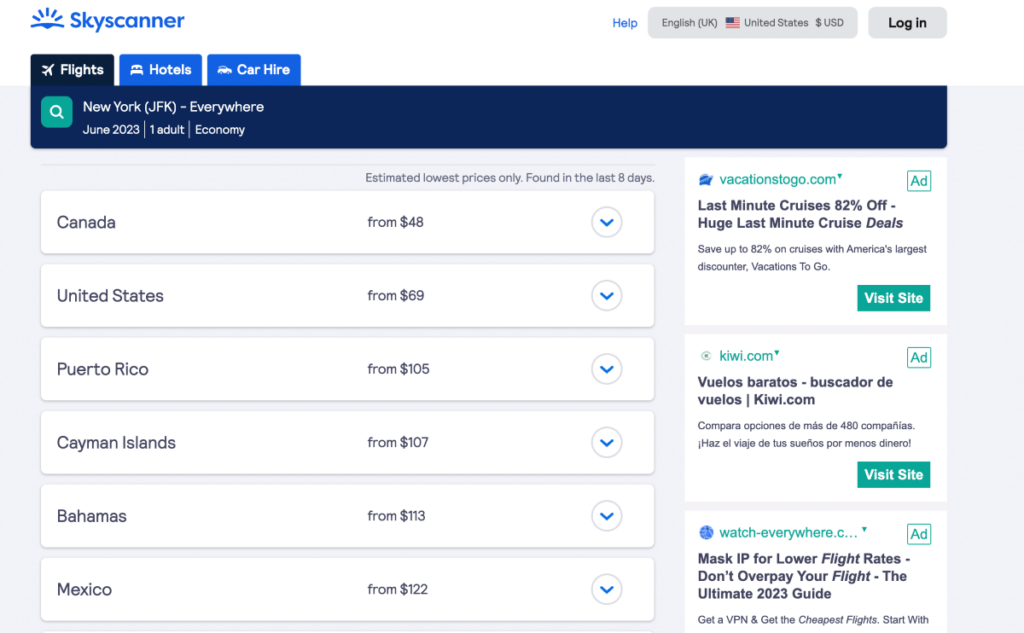 I type in the airport that I'm leaving from and put "Everywhere" as my destination. Skyscanner will now spit out a list of destinations from cheapest to most expensive. I look down the list and choose one of the cheaper destinations as my next destination!
If your dates are not flexible, you can do this, but choose the month you need to travel in for a list of the cheapest destinations for that month.
This is my favorite "game" to play when I'm in the first phases of how to plan a trip, being indecisive, and obviously, it's a great way to find deals to the cheapest places if you can be flexible!
Are you mega flexible and want to play more? I also play this game on Kiwi because they allow multiple continents and countries in the "leaving from" and "going to" boxes, which gives you tons more options to play around with when planning a trip.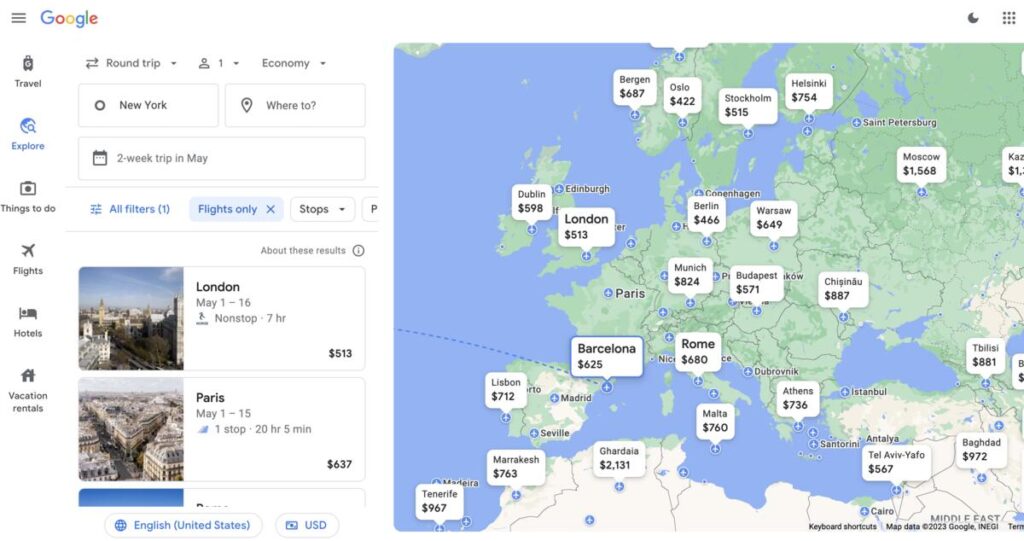 Google Flights also has a great option for exploring deals, with flexible dates and flexible destinations too! Their map allows you to zoom in on specific continents and countries or zoom out to get a worldview of the best deals.
2. Choosing When To Go On Your Trip
Choosing when to go on your trip is pretty darn important, and you will need to go about it in one of two ways:
Either your dates are fixed and can't be moved – Which means you can choose destinations that are best *insert your time frame.*
Or you can choose a destination that you want to go to and accommodate your dates to fit that country. In other words, *insert country* is best in XYZ months…
Keep In Mind the Seasons
This is an easy one to forget when you're first figuring out how to plan a trip, but we have hemispheres. Don't bring a bikini and some tank tops to New Zealand in June; you'll be freezing! Your summer is someone else's winter.
Next, you'll want to be sure to search for a country's shoulder seasons. Simply Google "shoulder season for XYZ country" and you'll find the info you need. Shoulder season is the border months between high and low seasons.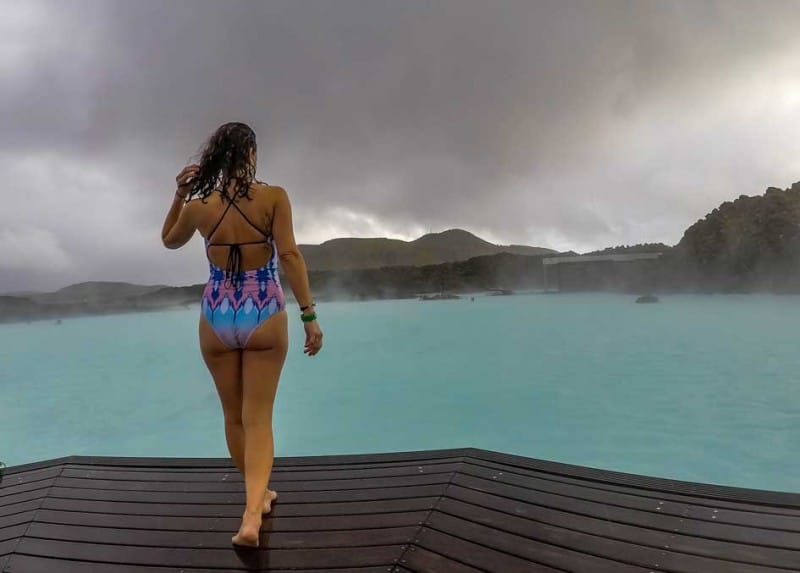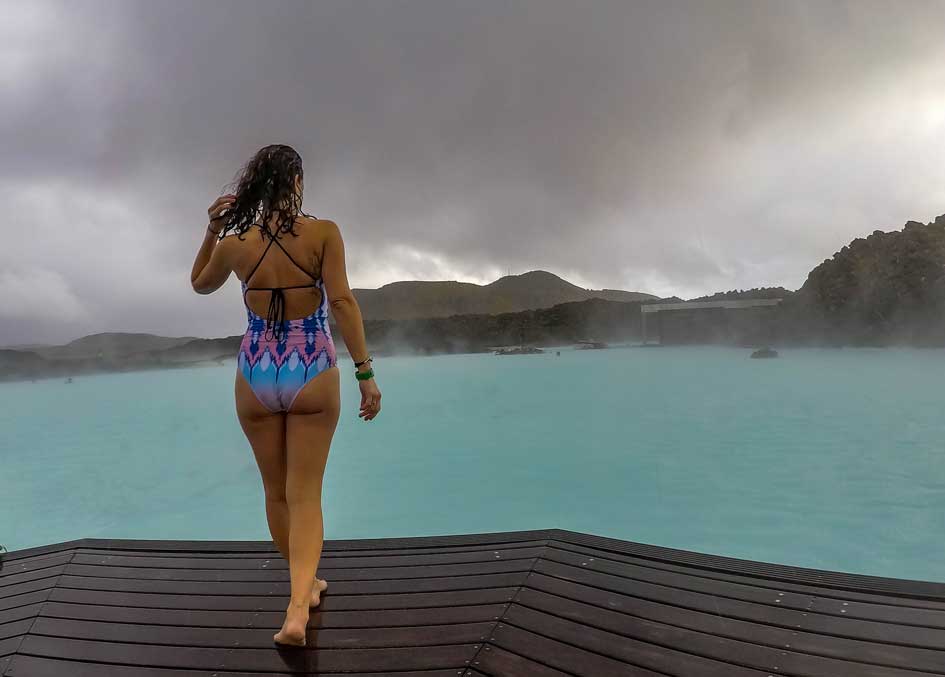 This is when the weather is still pretty good, but the prices have started to lower, and the crowds have thinned out. This is an ideal time to consider visiting when planning a trip.
If you come during the low season, prices will be even lower, but the weather might not be the best. Alternatively, if you come during high seasons, prices will be at their highest and everything is crowded.
You can expect great weather, though—So it's a trade-off! That's why aiming for shoulder season is a great option if you can make it happen.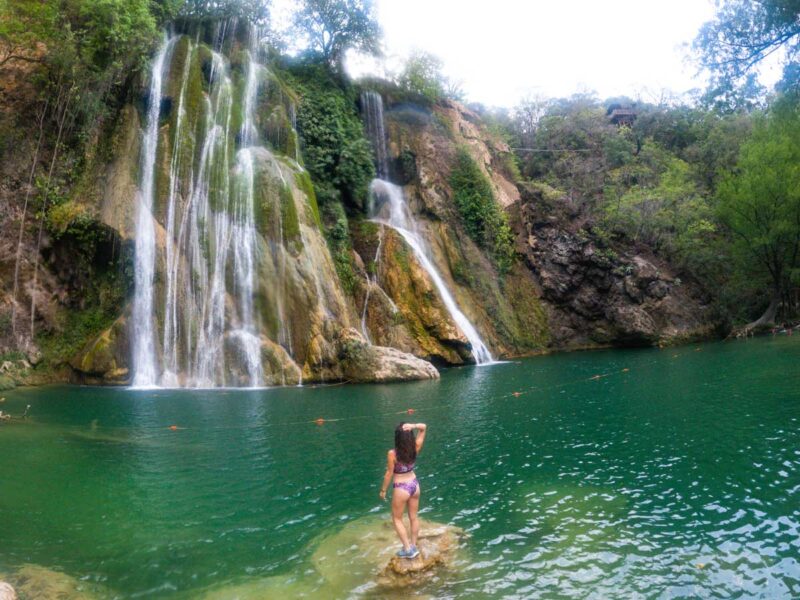 Lastly, you'll want to double-check check there aren't any holidays that you are not aware of happening for your dates! If you accidentally visit Mexico during Dios de Los Muertos, it will be an epic visit but you will be shelling out more cash for reservations and buses, and flights might cost more or be booked up!
If you're purposely traveling during a holiday, book early!
Wrapping Up Planning Your Destination
SO! I think that gave you something to chew on. Hopefully, by now, you have an idea of WHERE you want to go. Get some inspo on travel blogs (see my fav destinations), on social media, or by literally just clicking around on a map and looking at Google Images! Yes… I do this too!
Again if you're flexible, letting the destination "choose you" can be a great way to go. This is when you allow your dates to be flexible and see where's good to travel for the lowest cost rather than solidifying a destination and certain dates and then being "stuck" with whatever it's going to cost for that specific time.
3. How To Plan a Trip Budget
Your budget will have a massive effect on planning your trip, and this can only be determined by you!
There are tons of ways to save money while on the road like: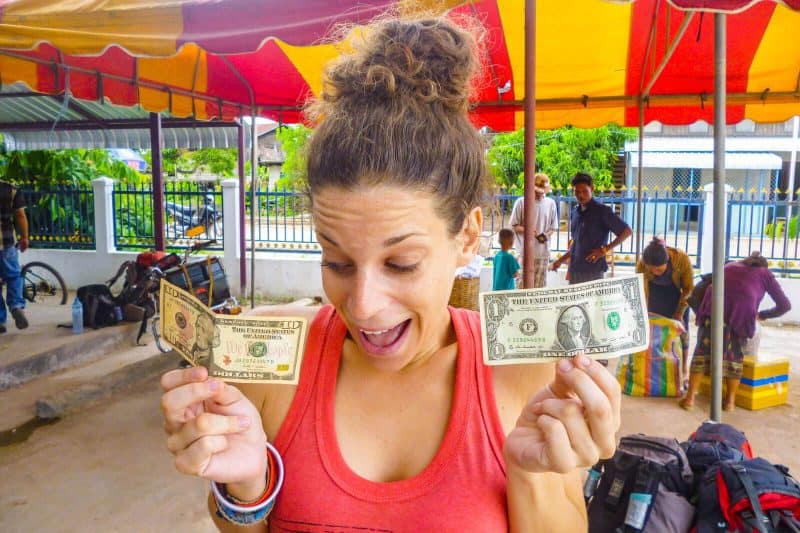 Other things to think about:
What kind of traveler are you? Do you backpack? Flashback? Are you a luxury type of traveler?
What types of things do you want to do? Lazing on the beach is usually free, but you'll need a bigger budget for tours if you want to hike mountains and zipline.
Are you squeezing in a lot? We will talk more about this later, but the more you squeeze in, the faster you go… The more money you spend!
Research Costs
Hopefully, by now, you've decided where you're going so you can try to find out if your budget is going to match the costs this trip will take.
Don't try to find out every single nickel and dime you will spend—just give yourself some roundabout numbers. Here's how I do it by simply Googling:
Accommodation – Look up the costs at the main areas you will be going to, find a place you'd actually book, and then take an average. Times this number by the number of nights you'll be there.
Food – Find average costs for breakfast, lunch, and dinner (or groceries!). Get an average for the day and multiply it by the number of nights you'll be there.
Transportation – Grab the flight cost, and then find out how much buses, trains, or rental cars cost around XYZ country. Find out a rough number here.
Fun – Find a few tours you'd want to do or find out the cost of a few activities. Add these up, then tack on a bit extra for surprise fun and get a total.
Extra – There should always be a misc category of money when thinking about how to plan a trip. Set aside a few hundred bucks to accommodate anything random.
Total all this up, and you'll have a rough budget for your trip! Make sure to go higher rather than lower with your numbers. Inflated numbers are better, so you can be happily surprised when you're under budget.
4. How Long Is Your Trip?
A huge thing you need to know when trying to figure out your budget is how long your trip is going to be. This makes a massive difference. Are you going for a long weekend? A couple of weeks? A few months? Never-ending?!
If you're here looking for long-term trip info, I got you! Everything I'm going over will help you on how to plan a trip, and I'll have extra sections for you on other things to consider with resources too.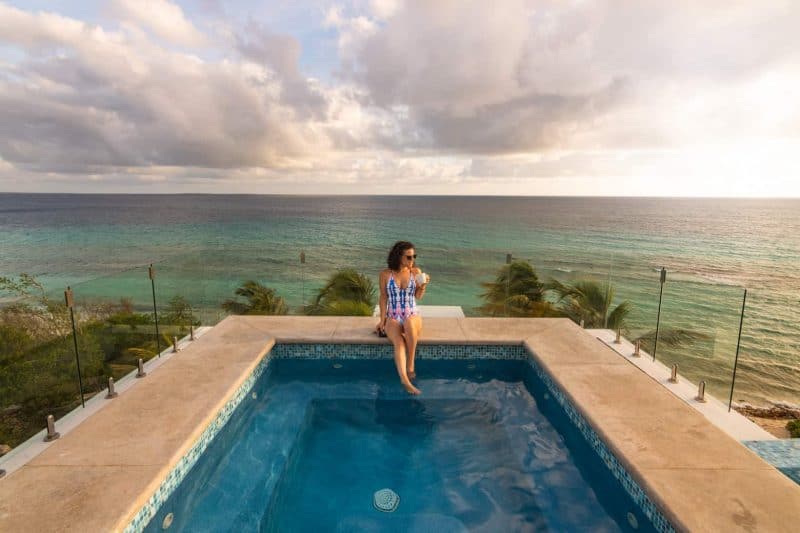 For the rest of you wanting to travel for a few days, weeks, or a few months— Deciding how to plan a trip according to length will be is an important factor in figuring out your budget.
If you plan on squeezing in five countries around Europe in two weeks, you're going to spend a heck of a lot more money than if you only did two countries in two weeks. So keep in mind if you're trying to keep your budget down, one of the biggest things you can do is not move around too much.
Of course, there are always going to the more affordable countries in the world, but then you have to accommodate for the flight, which may be more expensive. That being said, if you're traveling for longer, you could accommodate a more expensive flight IF you're staying in the region for an extended period.
I can't always get a deal on a flight, so when I'm paying a bit more, I make sure I'm really using it! It doesn't sting so bad to pay $1000 for a flight when I'm staying in that region for 4-5 months. But only 4-5 weeks? Ouch!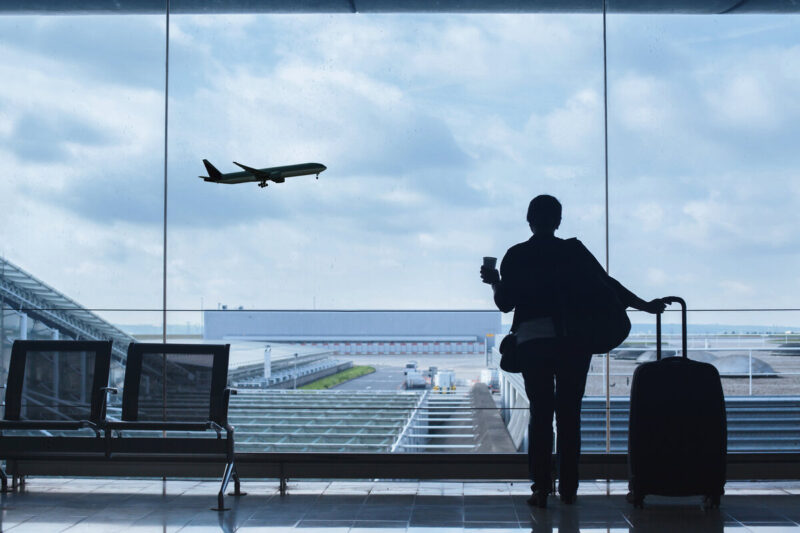 When doing this exercise, it's important to remember that it's just a rough estimate, so don't go TOO deep yet and always highball yourself. I always guesstimate on the high end of things, so when the numbers come out lower, it's a good day!
Or at the least, I spent a bit more, but I had overbudgeted anyway, and the numbers aren't a total shock.
Here are some budget articles to help you plan your trip better…
5. Choosing Travel Credit Cards for Your Trip
So if you're about the hit the "book it!" button, hold on for a quick second! You might want just wait a bit and make sure you get a really good travel credit card.
Before you finish planning your trip and start booking, grab yourself a perfect travel card and put everything you book ON this card. I use the Capital One Venture X credit card—this is one of the best travel credit cards right now.
You can review and compare travel credit cards here, and when you finally receive your travel card, you can start racking up the points on your new card, start receiving benefits from day one, and get to use those points to save on your travels!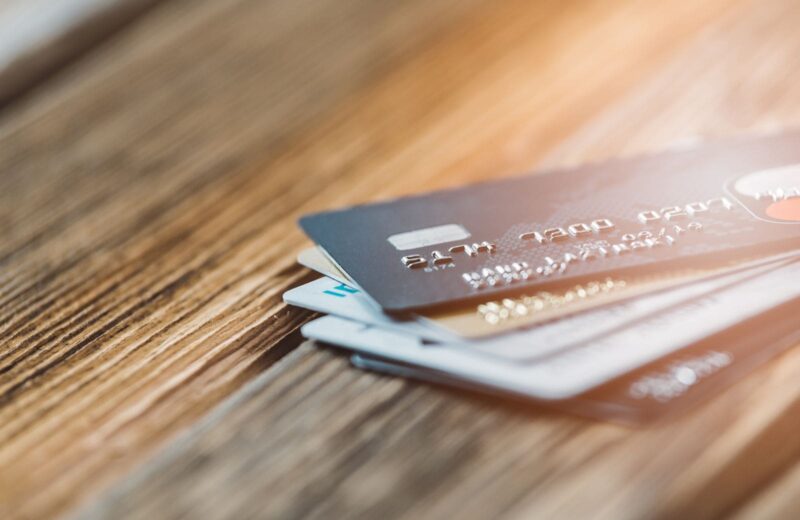 Aside from points, if you use a travel credit card, you can get other perks like a few hundred bucks in travel credits, access to Priority Pass Lounges at tons of airports, as well as a host of other extras!
Remember you can just set your credit card up to pay for things you are already paying for like gas, groceries, your phone bill, etc. Then just set up auto pay. You don't need to buy anything extra, you can earn points from your daily and monthly purchases that you'd be making anyway.
You might be thinking, SO WHAT'S THE CATCH!? And there isn't one… EXCEPT:
If you're not great with credit cards and have difficulty paying your full amount each month on your credit cards, SKIP THIS STEP. This step is ONLY for people who can pay their credit card balance off IN FULL each and every month.
Otherwise, you're paying interest which means you're essentially paying for the perks and more. If you pay off your card every month, these perks will remain FREE.
READ MORE: The Best Travel Cards (For Any Traveler) That Save and Earn You Money!
6. Dealing With Banking Abroad
We're going to make this quick and painless my friend—Don't you dare go abroad without an ATM card that doesn't charge you fees. You can search for one, or just do what I do: Get a Charles Schwab checking account!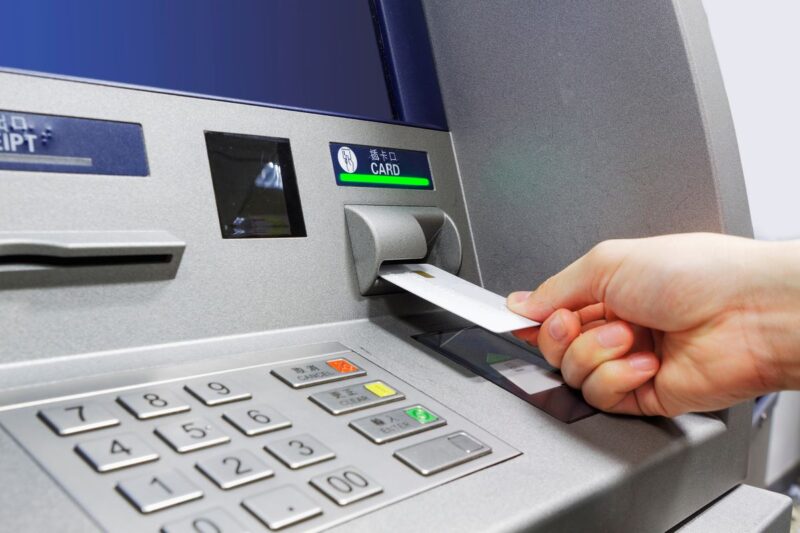 You won't be charged fees when using ATMs abroad, and you will be reimbursed each month for any ATM fees you are charged. Easy! Now you can access your cash from abroad for $0! This is choice advice for how to plan a trip with a budget in mind!
Tips for Banking Abroad:
When going to the ATM abroad, it's wise to use an ATM attached to a bank for safety.
Always wiggle the card in and out in case there's a skimmer.
Apply for TWO accounts so you have a backup account and card with you.
Always "cancel" the currency conversion that pops up on the ATM. It looks like you're canceling the transaction, but really, you're canceling their conversion and leaving it up to your bank, which will give you a worse rate. (This is common at ATMs in Europe)
Don't exchange money if you can avoid it. You should really only use the ATM to get cash, and that's it. Exchanging money is a pain and can be rife with scams. Plan on only using your ATM card to get cash.
7. How to Book Your Flight for Your Trip
It's time to start actually BOOKING! How exciting… So let's recap a few things and talk about some tips before you hit purchase.
Skyscanner is fun to play around with if you're flexible on where you're going and when. Set your destination to "everywhere," or at the least set your dates to just specific months to find the best dates to book.
Kiwi also has some features. You can set your "from" and "to" to be continents or multiple countries, so it gives you tons of flexibility.
The map feature on Google Flights is also a great tool to play around with.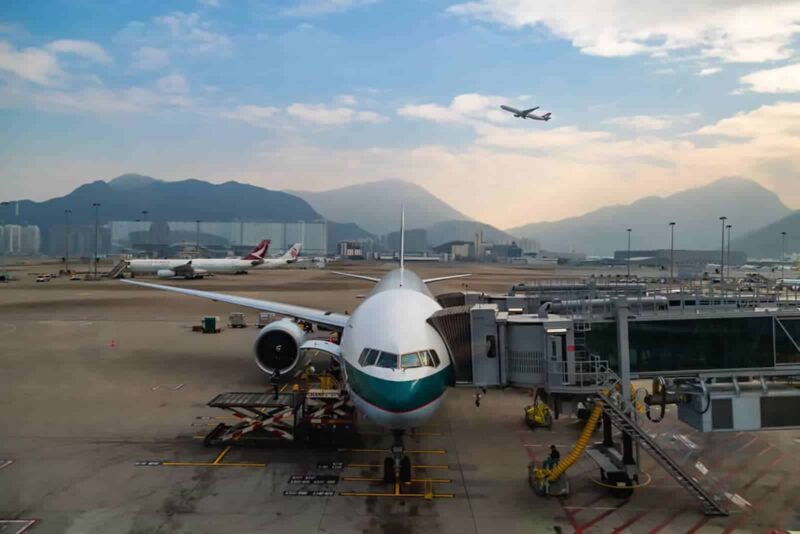 Tips on Booking Flights:
Sometimes using a VPN and incognito can help mask your searches and interest and therefore display better rates.
Play around with your flights if possible. For example, if you're heading from Portland to Bangkok, you may find cheaper flights going from Portland to Seoul and then Seoul to Bangkok. And now you get a bonus trip to Seoul!
Sign up for Airline Reward programs—It's an easy way to rack up points easily from carriers which can be equal to upgrades and other perks if you collect enough.
Don't forget to book with your new credit card for those miles and extra perks!
Don't Need a Flight?
Not every trip takes you up in the air, and there are plenty of ways to get around on the ground, especially abroad! If you need to get around by bus, boat, or train you can use: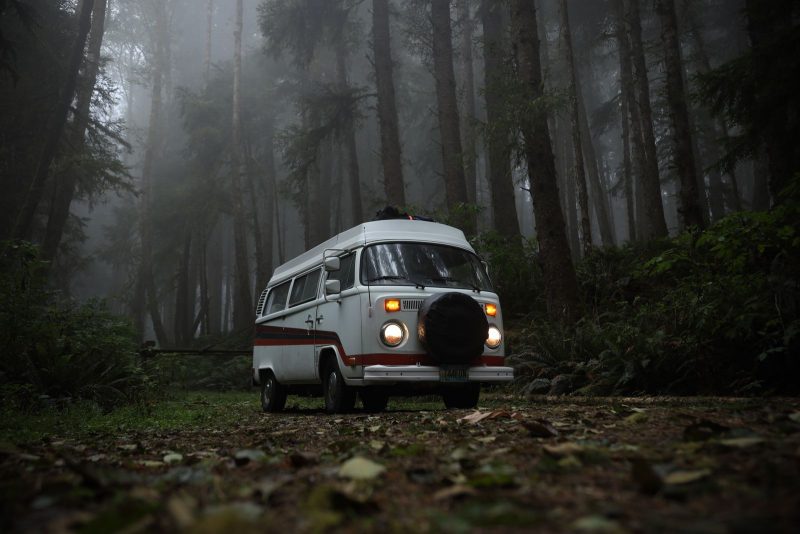 If you're traveling by car:
You can find car rental deals here.
Should you want to rent a van or RV to forgo the hotel room when road-tripping around the world, check here.
READ MORE: One Way to Everywhere: The Intrepid Souls Guide to Fly Anywhere on Cheap Flights
8. How to Book Your Accommodation
Depending on the type of traveler you are and how long you're going for, whether or not you should book everything ahead of time will be up to you to decide.
If you're going on a trip for a few weeks, you might want to book everything out so you don't waste time on the ground trying to figure out where to stay each night. You may also miss out on some deals.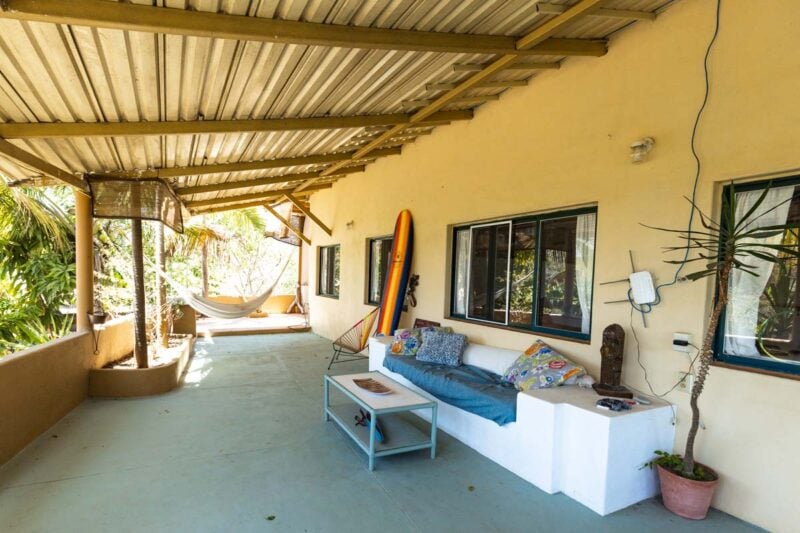 However, if your trip is a bit longer and you're trying to be a bit more flexible, you may want to hold off on booking out too much. Perhaps you can book your first few nights, then slowly book out as you move along your trip.
Planning your trip TOO much and booking too many things out can be constricting, especially if you have the flexibility not to do this.
With this in mind, how and where does one book?! I got you! Here are some things to consider when choosing a place to stay.
Location
Massively important! Where can you stay that agrees with your budget while also being safe and practical? You might want to book in the city if you want to walk around a lot, but if prices are too much for you, you may decide to book further out.
I usually choose this when I start to dig deeper into the things I want to do so I can make sure I'm in a centralized location.
How to Get Around
Somewhat related to the above, you will want to know how to best get around. If the city is expensive but has easy and cheap transportation, then it might be worth spending the extra penny to stay closer to a metro station, for example.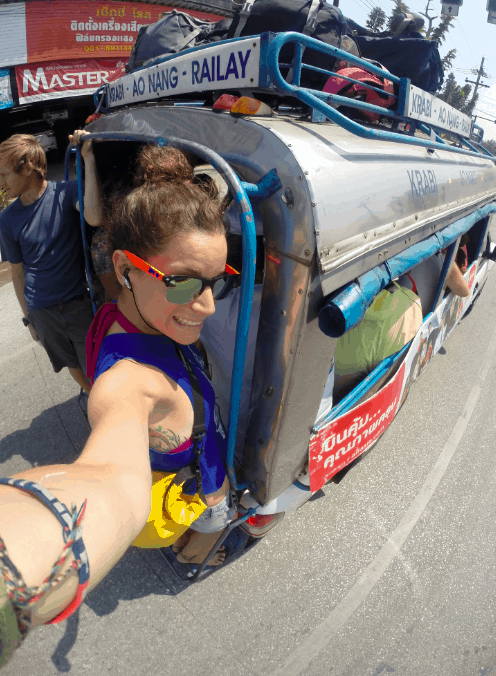 If it's cheap and easy to get Ubers, then you might just choose the space that's the coolest… There's a lot to consider here depending on where you are in the world.
Are You Staying for Longer?
If you're staying for a decent chunk of time, then you're going to want to think about comfort for the long term. You will most likely want something homier.
You should find a place that has a kitchen as it would be crazy to eat out consistently every day for all of your meals.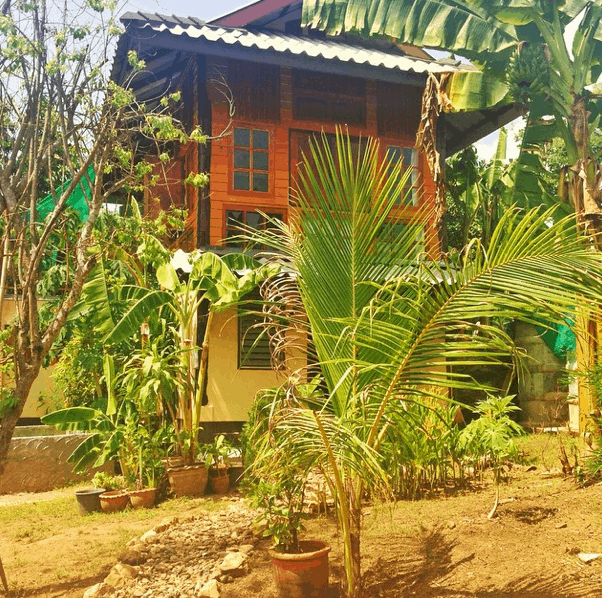 There is usually a "conflict" when finding a long-term place. You have to choose between these two main methods:
Convenience – Sometimes, booking a month online can give you a hefty discount as it's an extended stay. It's also super convenient to land and have a home for the next month. If I'm staying longer than I booked for, I extend my reservation in person to cut out all the fees. This is often not the cheapest option, though, as either way, you're paying a bit more because you're booking online.
Cheapest – Book a week using anything I mention below, and then shop for a spot on the ground! Ask in specific local Facebook groups, walk around, ask around, look for signs… It's actually pretty easy and definitely gets you the best deal. Plus, you can see the place before paying, which is always nice.
Planning Your Trip With These Booking Sites:
So after considering everything above, it might now be time to actually book a place!
To book a hotel, apartment, or holiday home, these are the main sites I use:
Finding Free Accommodation
Oh, surprise! Hi, yes, there are ways to get FREE accommodation! If you're only traveling for a couple of weeks, I'd say this isn't really for you. But if you're traveling for a few months or indefinitely, this is for you!
FREE Accommodation!
Yes, it's true, there are ways to get FREE accommodation! Here are my top favorites: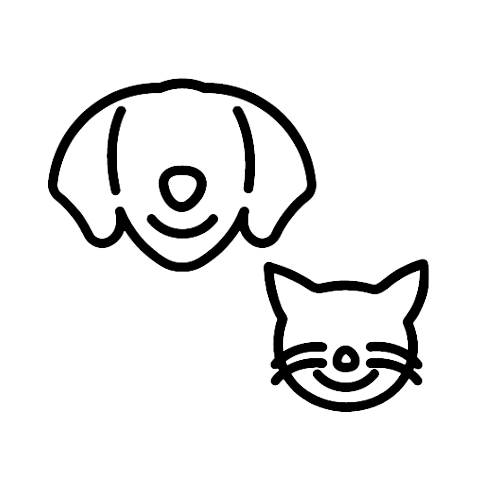 Get FREE accommodation by house and pet sitting around the world!
Use this link for a 25% discount (auto-applied at checkout).
Not sure if this is for you?
➡️ Check out this review to read more about it.
---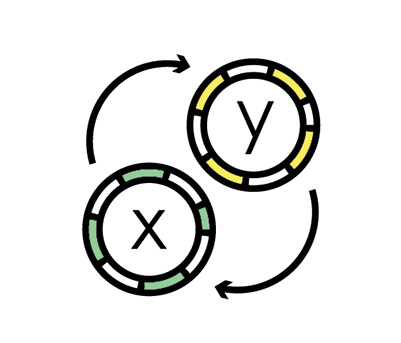 Get FREE accommodation and immediate local friends! Trade some of your skills to help a local and get a free room (and sometimes food and activities too!). You can do this around the world!
Use this link for a $10 discount!
Not sure this is for you?
➡️ Check out this review to read more about it.
---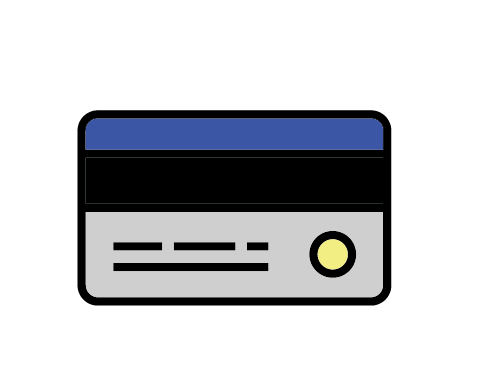 Other ways on >>> HOW TO TRAVEL FOR "FREE" /LESS!
Other ways on >>> HOW TO GET FREE ACCOMMODATION!
9. Planning Things To Do on Your Trip
Now another difficult decision—what do you want to do on your trip?! There are probably a ton of possibilities no matter where you're going. But breathe, and focus!
Don't run yourself dry on your trip and book too many activities. Alternatively, if you're not looking for a 100% relaxation type of trip, don't hold back and miss out on the fun activities!
It's a fine line to walk… I know…
So what I like to do is simply Google "Things to do in ____" and go from there. You'll get a huge list of things from Google, check out blogs from travel bloggers (ehem… Hello!), and even dip into Google Images to find inspiration for cool things you can do and see!
While a lot of times you can explore the country yourself or even do certain activities on your own, sometimes getting a few tours under your belt will be the best thing.
If you're traveling solo, I encourage you to book a tour on your first or second day! I promise you, you'll meet some friends!
You can speak to the local that's running your tour for extra tips and tricks while you're in their country, and you'll be able to use that advice while planning the rest of your trip!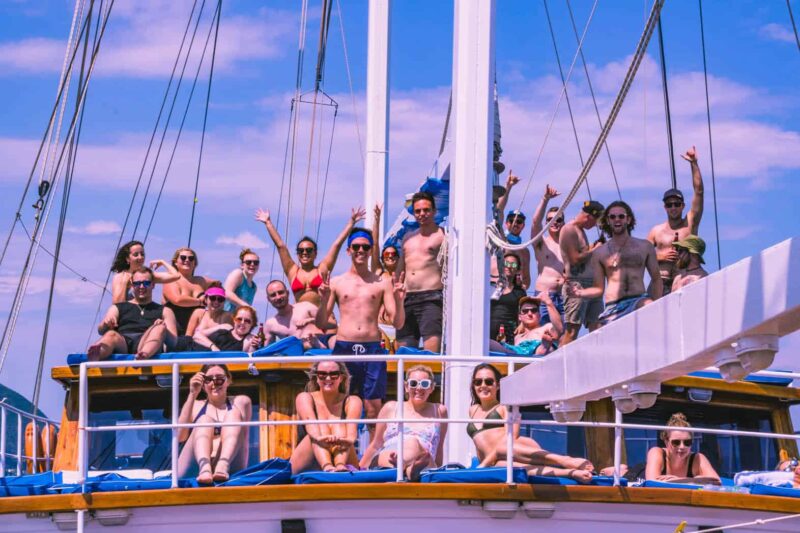 Tours are a great way to get a bit of deeper meaning while traveling a country. I know we sometimes think they can be a bit cheesy, or maybe you want to explore and have the place to yourself. But there's definitely a layer missing when you don't have a knowledgeable local telling you what's up!
So with that said, I'm sure you'll find a nice balance of using tours and adventuring on your own when planning a trip.
If you do want to book a tour and get your spot booked up, here's where to book:
10. Packing for Your Trip
I don't know about you, but I hate packing. Yes, even though I'm a traveler, I can't stand packing! And if I'm being totally honest with you, I still kind of suck at it after 11 + years of experience.
BOO! Pakcing sucks! I can do it, but still somehow, miraculously and weirdly enough, I always end up bringing a few extra things that I don't use. It's inevitable!
BUT the good news is, I know the basics of what you should bring. I'm not great with choosing my clothes, but the basics and the other stuff? I got it down!
Bags:
Packing Tips:
Packing lists for certain destinations:
Read more about packing lists here.
11. Traveler Insurance—Don't Forget This When Planning Your Trip!
Hey, wait a sec! Don't go anywhere without travelers' insurance. It can be pretty cheap and save you tons of money in case something happens.
I know we don't like to think of the negative things that could happen to us while we're having fun around the world, but it can happen! And these types of surprises are never fun.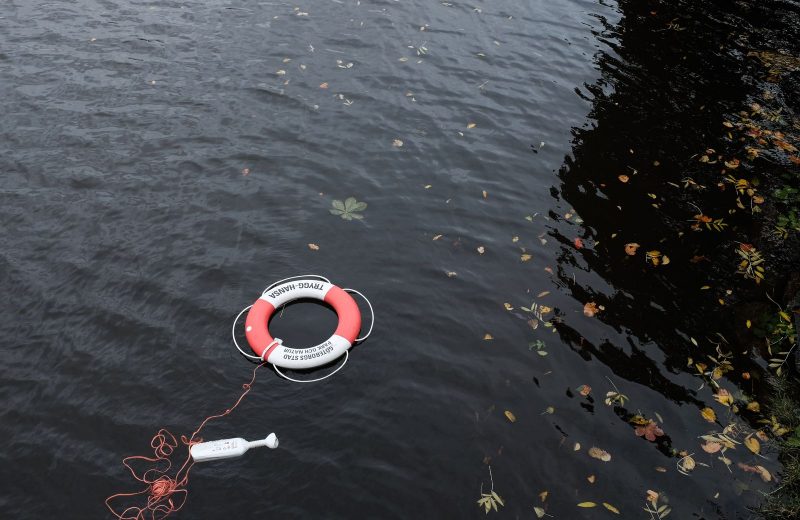 Make sure you're covered with travelers' insurance when planning a trip. The one I use is for almost everyone, but especially long-term travelers. I use Safety Wing because it's the easiest. It's subscription-based, so it covers you until you turn it off (or you can set certain dates if you know.)
They cover all the major emergencies you'd need and are affordable. Get your quote here!
READ MORE: A Guide to Finding The Best Long Term Travel Insurance
12. Misc Stuff You Should Think About When Planning a Trip
There are so many little things you can forget while thinking about how to plan a trip. There's only so much you can remember! I hope these reminders are helpful…
Visas
Hey, have you thought about visas yet while planning your trip? Or are you ignoring this part because it's scary? I know this can be daunting, but if you're from the USA, Australia, Europe, and Canada, you can probably go almost anywhere without needing a visa!
You'll most likely get a visa on arrival, or the country just stamps you in—so it's really nothing to worry about. But you still need to make sure!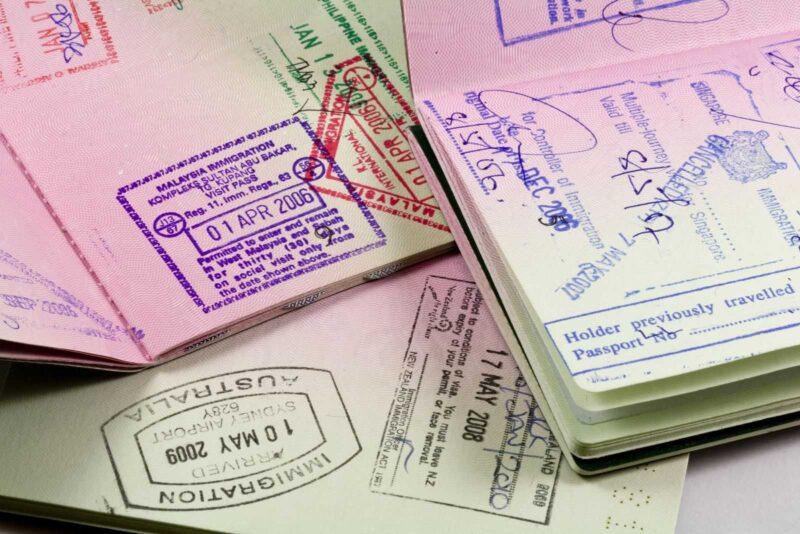 So, simply Google "tourist visa for XYZ country for US citizen" and you'll probably get your answer in two seconds.
If you do need to apply for a visa, I can guarantee that you need to do that before you get on a flight – so don't forget to do that!
If all of this is scary, doesn't make sense, you don't understand what the Schengen Visa for Europe means, or if you want to get a working holiday visa or something else—You'll want to read my guide to visas for US citizens.
RELATED: The Longest Tourist Visas for U.S.A Citizens, How to Extend Visas and More
Vaccines, Meds, Etc.
Does your destination require any vaccines upon entry? Do you need to get any prescription refills to bring with you? Do you require anything special that you may need to order before your trip? Or to see if you have access to it abroad? Go speak to your doctor!
Getting Things "Done" Abroad
Here's a weird one you may not have thought of, but aside from souvenirs, is there anything you want to bring back from the place you're visiting?
What about procedures? Like going to the dentist or buying a year's supply of contact lenses for less?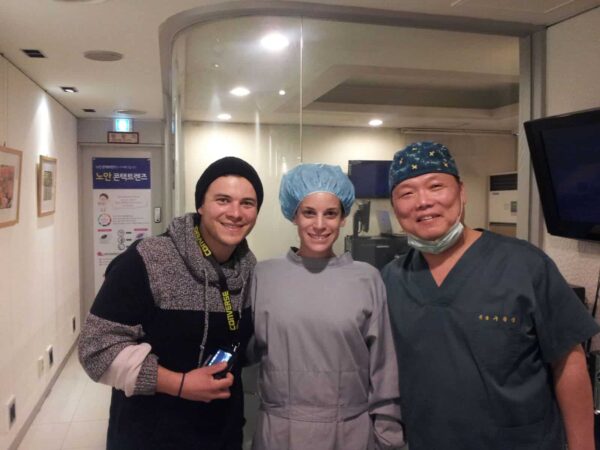 These can often be much cheaper abroad and a relatively easy thing to throw into your getaway.
For example, if you're going to Thailand and know you flying in and out of Bangkok, you could join Facebook groups for Bangkok aimed at travelers or expats, and inside those groups, you'll find suggestions for dentists in the area.
Stay an extra day in Bangkok before your flight out, and you can get some easy dental work done for less before heading home! I've done quite a few things abroad, including dentists in three countries, LASEK in South Korea, and even going to a dermatologist in Mexico.
How To Stay in Touch
If you're going on a trip for just a few weeks, double-check with your carrier and see if they have a decent international plan they can put you on temporarily. T-Mobile usually has a decent plan for trips under three months if you're already with them.
Another option is to pick up a SIM card on the ground. This is usually pretty cheap and very easy to set up. You can do this in almost any country in the world, and they usually have stands for picking up a SIM card in the airports, too.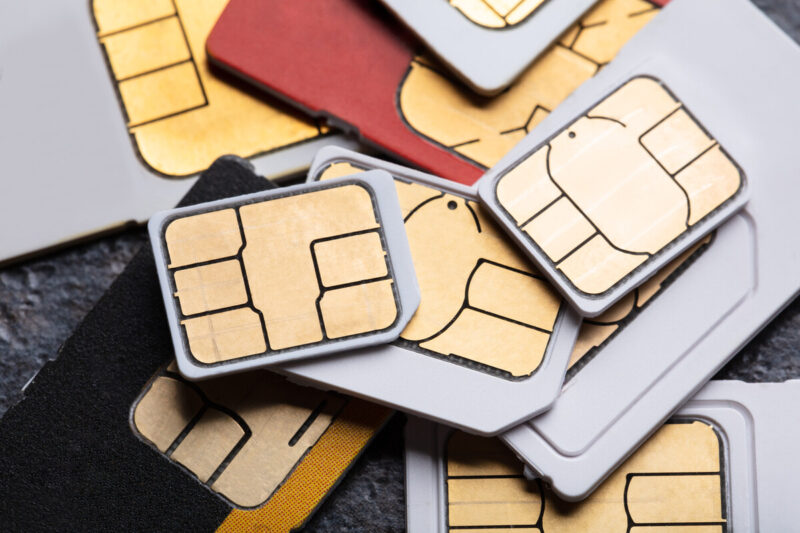 Lastly, you can check here for more SIM card options. There are other plans and even e-SIMs you can purchase to make sure you're able to get data and phone usage on the ground anywhere in the world!
READ MORE: Best International SIM Cards & How to Keep in Touch When Traveling
Download Helpful Apps
Google Map – Obviously! But also, make sure to download maps for offline use.
Maps.Me – Offline maps that are a good backup, great for trails, as well as other offbeat roads.
Google Translate – Invaluable! Especially its camera feature to translate signs and menus.
Money Lovers – I like this app for keeping track of my spending.
AllTrails – My fav hiking trail app!
WhatsApp – This is the ultimate texting app when you're abroad. It's not mega popular in the USA, but you'll definitely use it abroad!
Safety Reminders
Regardless if you're on a short or long trip, you'll want all crucial documents scanned and emailed to yourself and a loved one in case of an emergency.
Always Google safety tips for whatever country you're going to. You can also check here for safety tips you can use worldwide.
We spoke about travel-friendly cards already, but you'll need to make sure you have a backup in case you lose one! Personally, I have two ATM cards and two credit cards and I don't have them all in my wallet. They are spread throughout my bags in case I get robbed or somehow lose a piece of luggage.
Keep everything you have protected! I like using anti-theft backpacks, a hidden pocket scarf, and an AirTag to keep track of checked luggage.
Another reminder for travel insurance!
How To Plan a Trip: Last Minute Stuff
Call your banks and make sure they know you're traveling. You don't want to be stuck abroad without the usage of your cards because you got locked out!
Double-check their customs and some cultural differences. Certain gestures might be offensive. Something that you can do to show you're well mannered as a guest in the country. Knowing these things can go a long way.
Look up the basic phases of the places you're visiting. Hello, Thank You, Bathroom – the most useful ones!
Do you have everything booked? If not – don't worry! You can sort the rest as you go along. Booking things while on the go doesn't have to be scary! With that said, maybe book your first few nights and make sure you know how to get to and from the airport before jetting off.
Confirmations should be double-checked. If you do have some things booked, triple-check the dates, places, things needed, etc.
13. Extra Things To Think About—How To Plan a Trip for Long-term Travelers
Are you planning a trip for an indefinite amount of time? Amazing! Everything above will help you along your journey, and I've been sprinkling in some tips for long-term travelers But, there are a few other miscellaneous items you should wrap up and think over before jetting off.
Save and Sell!
If you're thinking of making big moves and traveling for the long term, then this section is for you!
Start SAVING! Here's my story on how I left the US and saved for two years by working three jobs. Cut back where you can. Part of this lifestyle is to learn that you can actually live with less than you think.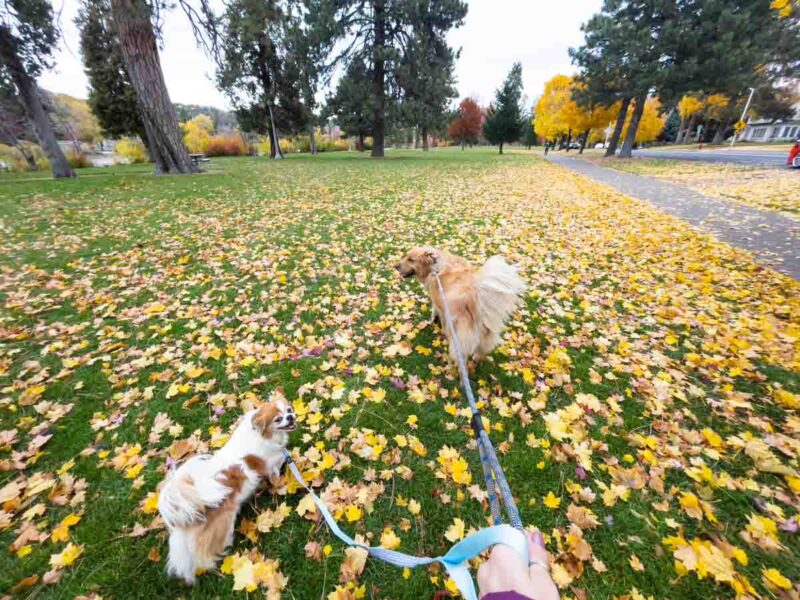 Pick up odd jobs, start looking for freelance work online, and do whatever you can to make or save an extra buck or two.
Another thing to do is to sell. it. all.
Yes, sell all of your stuff! Avoid a storage unit if you can. They will suck you dry every month while your stuff gets older and dustier. You probably need to get rid of everything save for a few boxes you can hopefully leave with a family member or friend.
One of the smartest things I did when I was planning a trip and left home was NOT store my stupid furniture, TVs, and clothes—I sold or donated it all, made a few bucks, and didn't accrue any monthly storage fees.
Automate Everything You Can
If you're planning a trip, put auto bill pay on everything you can think of. Honestly, do this anyway! Traveling or not! It's too easy.
Click "go green" on everything you can so all the institutions sending you mail stop doing so, and you get everything via email.
Find Work Abroad or Online
If you're heading off into the world to live, work, and travel indefinitely—WOO! Go you! But uh… You're going to need some income, I'm guessing? I got you! We won't get super detailed here because this is a massive topic, but I have resources for you to look into so you can take your next steps to find work.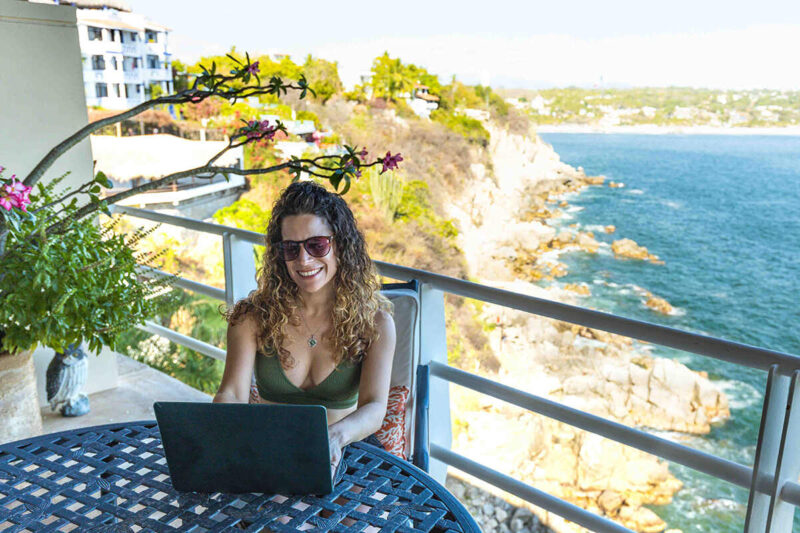 You can check out my massive how to live around the world resource page and also check out these other great guides that go into great detail on tons of other options for finding work abroad.
Phew! I hope this guide on how to plan a trip helped you! I know it's a lot, and you're welcome to refer to this guide as you flow through your trip process. It gets easier, promise!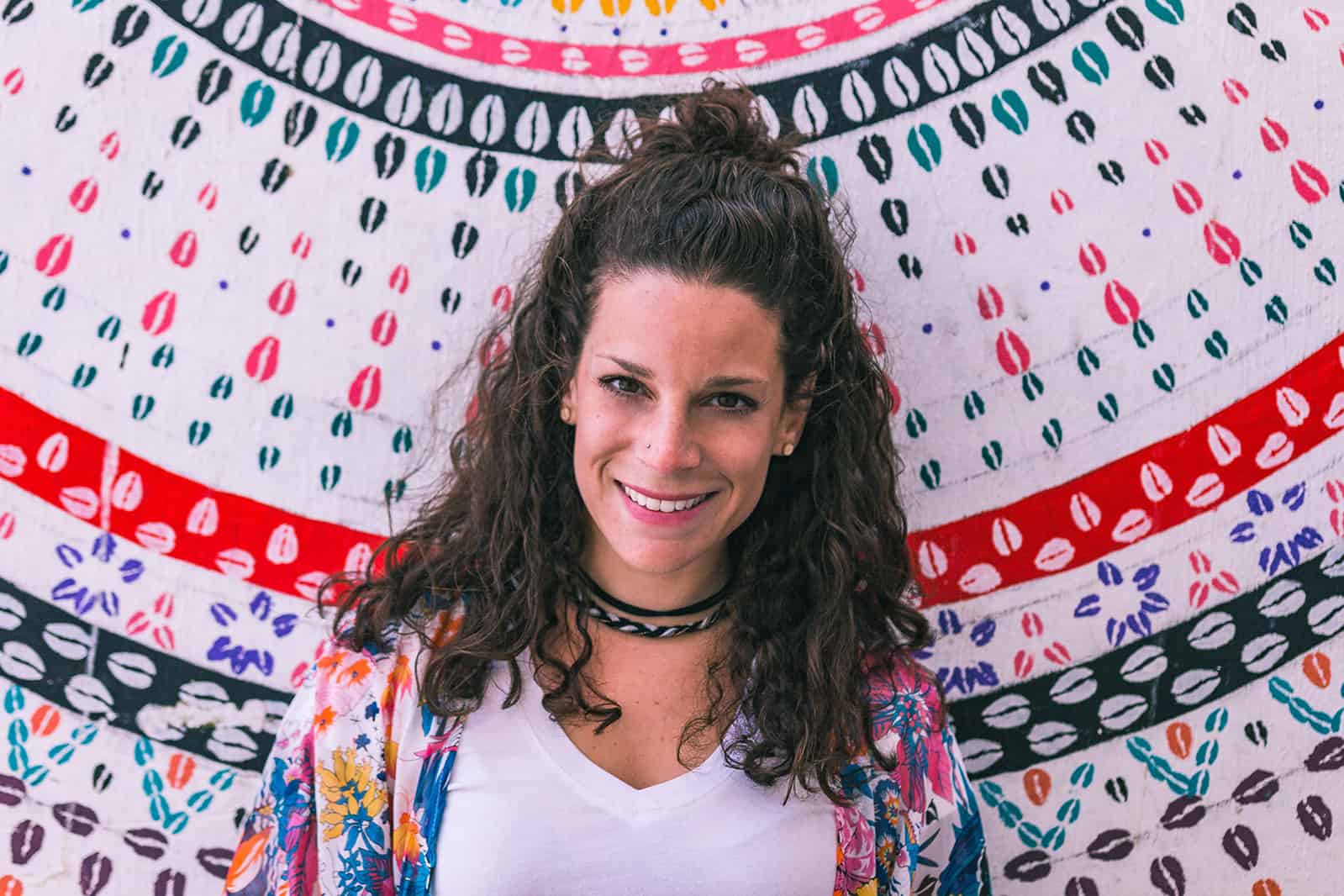 Nina Ragusa is an adventurer, messy bun master, breakfast fan, and full-time travel blogger. She's been abroad since 2011 and blogging on Where in the World is Nina? for nearly as long. Nina helps people like you move around the world while making money. She loves talking about how to work abroad and online to travel longer!