Are you ready to embark on an adventure like no other? Backpacking Costa Rica is your ticket!
Imagine traversing through dense rainforests, scaling towering volcanoes, and discovering hidden waterfalls in one of the most biodiverse countries in the world.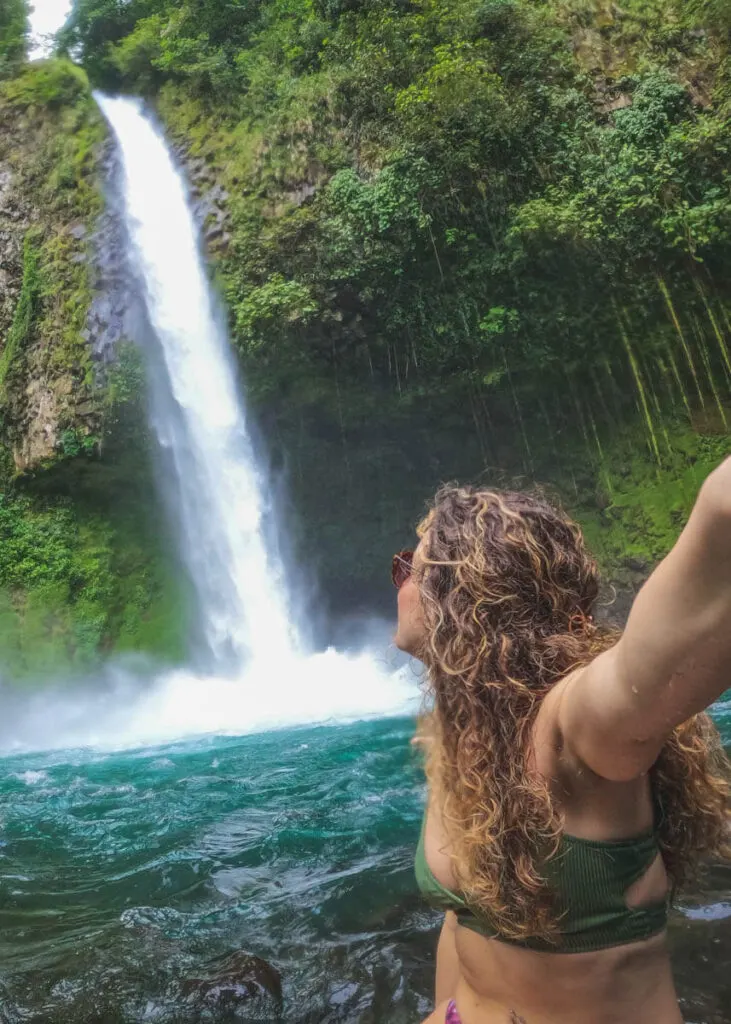 Backpacking in Costa Rica was a dream for me with its stunning beaches, vibrant wildlife, and friendly locals! Costa Rica has become a mecca for backpackers seeking an unforgettable experience abroad.
This Central American gem has something to offer everyone, whether you're a seasoned backpacker or a first-timer. So pack your bags, put on your hiking boots, and prepare for a journey that will leave you with memories to last a lifetime!
Backpacking Costa Rica
---
I spent an entire month backpacking Costa Rica solo, and I wrote up this guide along with tons of others linked below for you! This guide will give you a great overview on everything you need to know to travel the country but click on the specific guides for each town below for more specific info!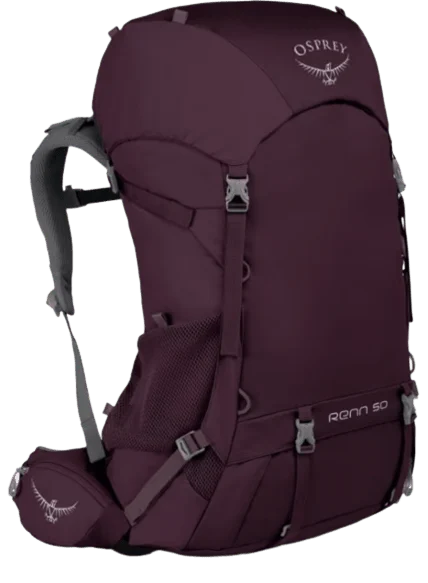 YOU NEED THIS BACKPACK!
Don't make the mistake of bringing a sh*tty backpack that'll break on your trip or kill your back!
This is the perfect backpacking backpack for any adventure!
Backpacking La Fortuna
Welcome to La Fortuna, the enchanting paradise nestled amidst Costa Rica's breathtaking landscapes. Picture this: lush rainforests teeming with life, magnificent waterfalls cascading down with sheer beauty, and the majestic Arenal Volcano proudly dominating the horizon. Brace yourself for an unforgettable adventure in one of Costa Rica's most sought-after destinations!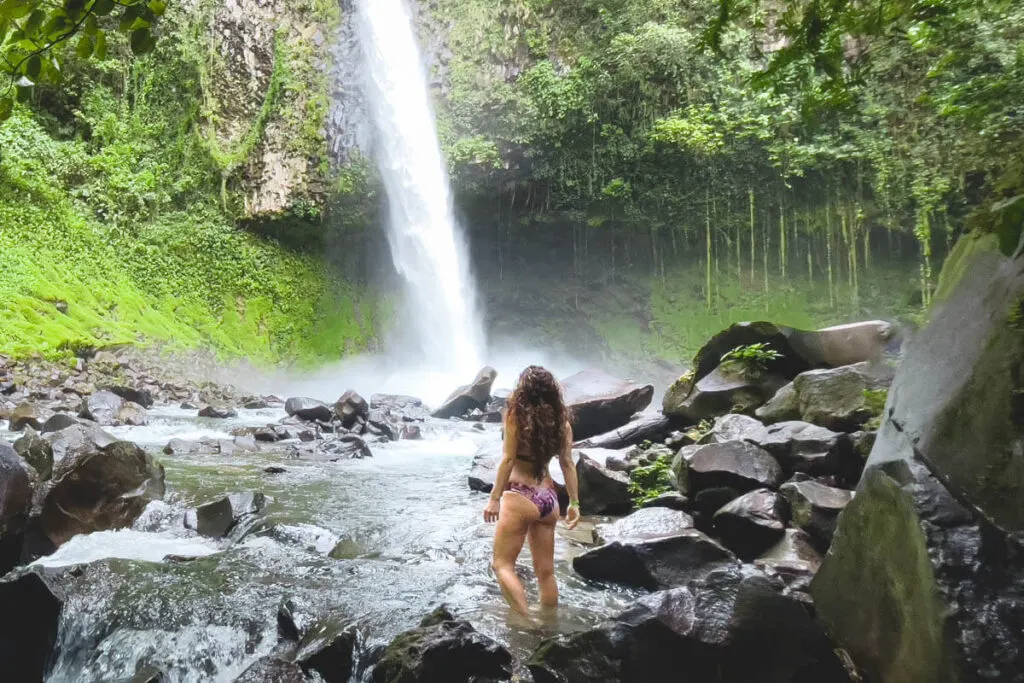 La Fortuna is a true haven for nature enthusiasts, offering a dazzling array of activities to suit every taste. Whether you're an adrenaline junkie seeking heart-pounding thrills or a laid-back backpacker craving serene exploration, this town has it all. Well, at least, I think so!
Embark on rousing hikes through the verdant rainforests, where wildlife greets you at every turn (snakes, sloths, and monkeys, oh my!). Discover hidden gems like the mesmerizing La Fortuna Waterfall, where you can cool off in its crystal-clear pools. And oh, Arenal Volcano! Its imposing presence sets the stage for awe-inspiring moments and breathtaking views.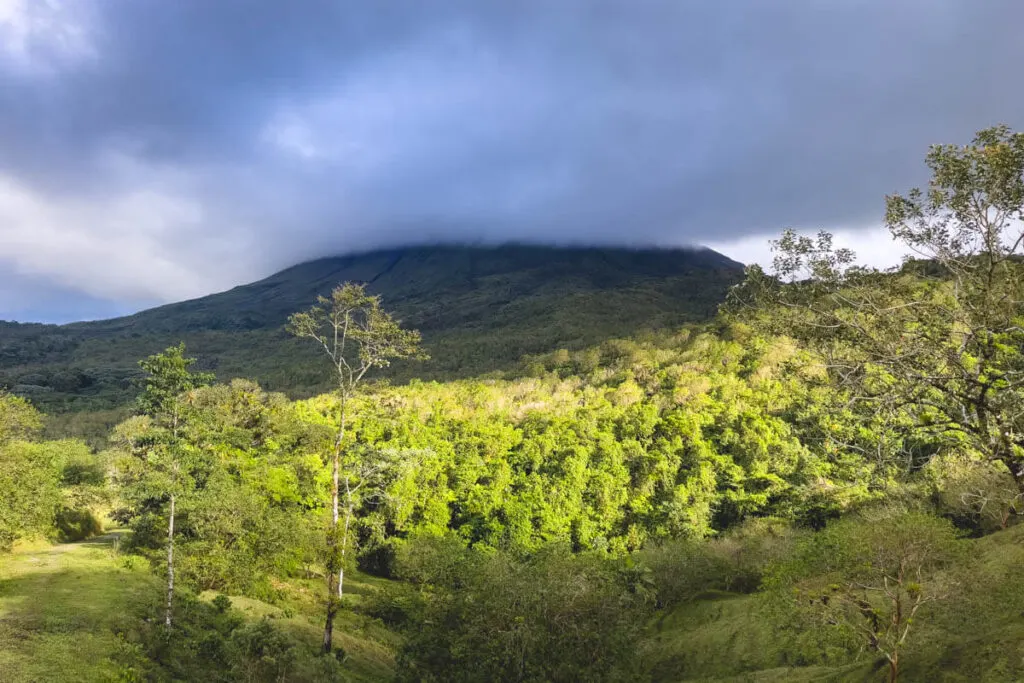 Of course, you can also take a dip in the soothing hot springs that naturally bubble with rejuvenating warmth and zipline through the treetops, feeling like a true Tarzan or Jane!
TIP:
Short on time? On a budget and don't have our own car? This is the
ultimate tour
to take in La Fortuna! It includes La Fortuna Waterfall, hiking around Arenal, a visit to a local village, and some drinks at a hot spring to top it off! It's the best bang for your buck—
Book it here
.
Here Are Some of the Must-Do Activities When Visiting La Fortuna:
Arenal Volcano National Park – Explore this vast park, home to the impressive Arenal Volcano. This active volcano has been dormant since 2010, but it's still a sight to behold. The park has hiking trails, bird watching, and opportunities to spot monkeys, snakes, sloths, and other wildlife too!
Hot Springs – La Fortuna's hot springs are a must-visit! These natural springs are fed by the geothermal activity of the Arenal Volcano, and they offer a relaxing, natural spa experience. Some of the best hot springs in the area include Tabacon, Baldi, and Eco Termales, or if you're a budget backpacker, head to El Choyin for free!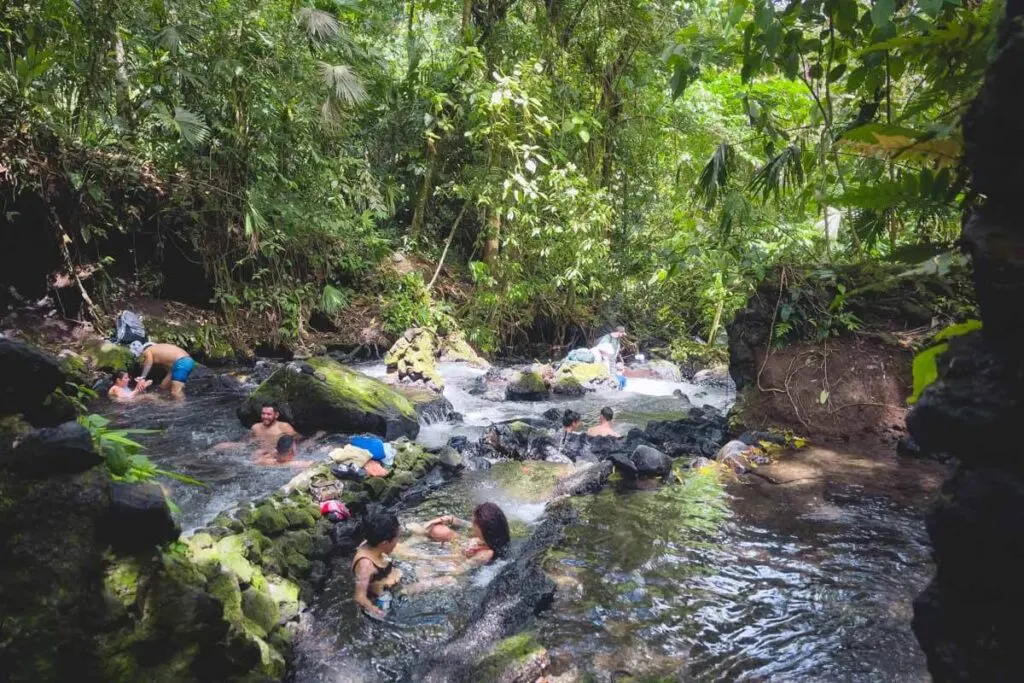 Adventure Activities – La Fortuna is an adventure-lovers dream destination. Get your heart racing with thrilling activities like ziplining, white-water rafting, canyoning, and horseback riding. For a more laid-back adventure, take a guided nature walk through the Místico Arenal Hanging Bridges or rent a kayak to explore Lake Arenal.
La Fortuna Waterfall – A short yet steep hike takes you to the base of this spectacular waterfall, which plunges over 200 feet into a natural pool below. Take a refreshing swim in the cool waters or just relax and soak up the stunning views. Read my guide to La Fortuna Waterfall!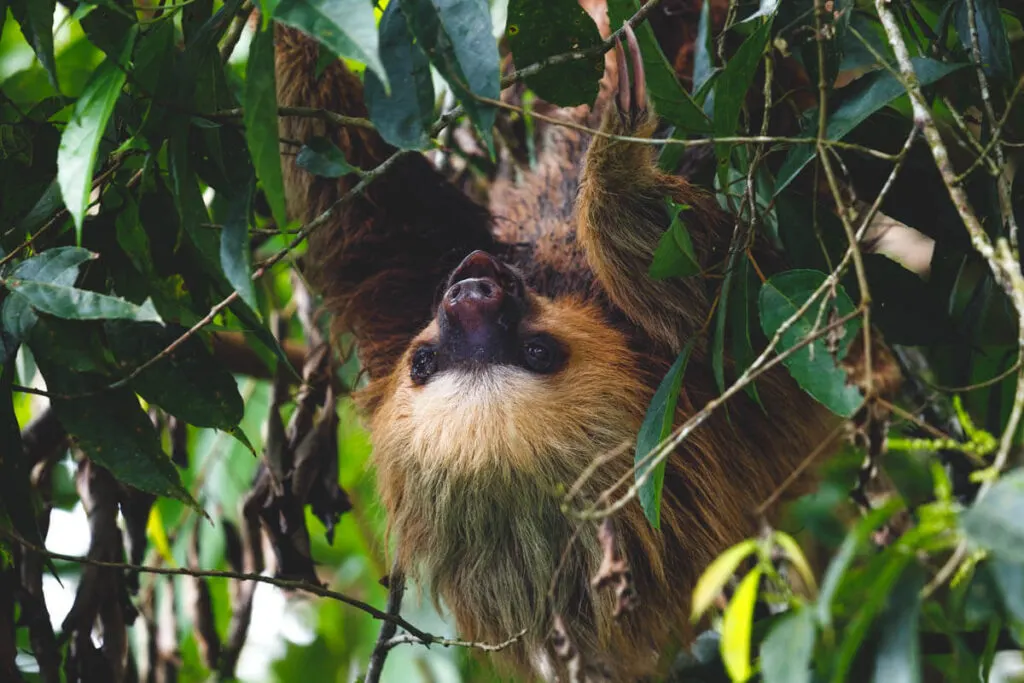 Wildlife and Nature Tours – Costa Rica is known for its incredible biodiversity, and La Fortuna is no exception. Join a guided tour to learn about the local flora and fauna, spot exotic birds, and maybe even see a sloth or a monkey swinging through the trees! PS – spotting animals in the wild isn't easy, you need to do at least one guided wildlife tour while in the country!
READ MORE: 13 EPIC Things to Do in La Fortuna, Costa Rica—Your GO-TO Guide!
Backpacking Monteverde
Ah, Monteverde, a place where nature works its magic to create a whimsical wonderland that will steal your heart. Nestled high up in the clouds, this enchanting destination in Costa Rica invites you to embark on a truly extraordinary adventure…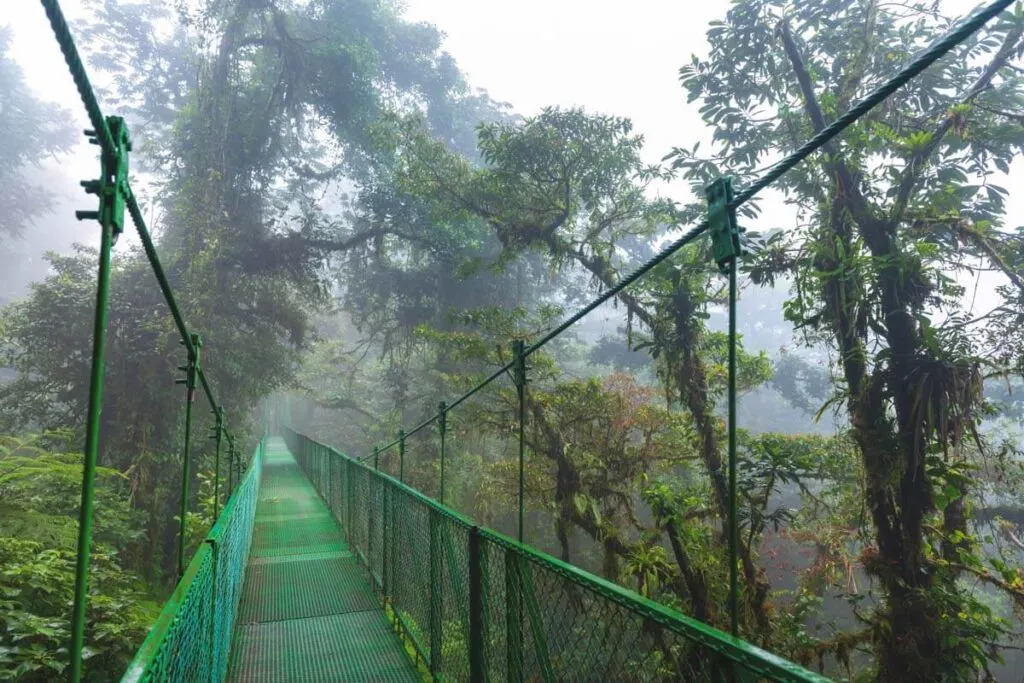 Imagine walking through mist-laden forests, where emerald-green canopies envelop you! Monteverde is a sanctuary for nature enthusiasts, offering a symphony of sights and sounds that will leave you in awe.
The crown jewel of Monteverde is its world-famous cloud forest reserve. Wander along misty trails, guided or solo, and let the ethereal beauty of the surroundings transport you to another realm. Suspension bridges invite you to explore the canopy from above, granting breathtaking vistas.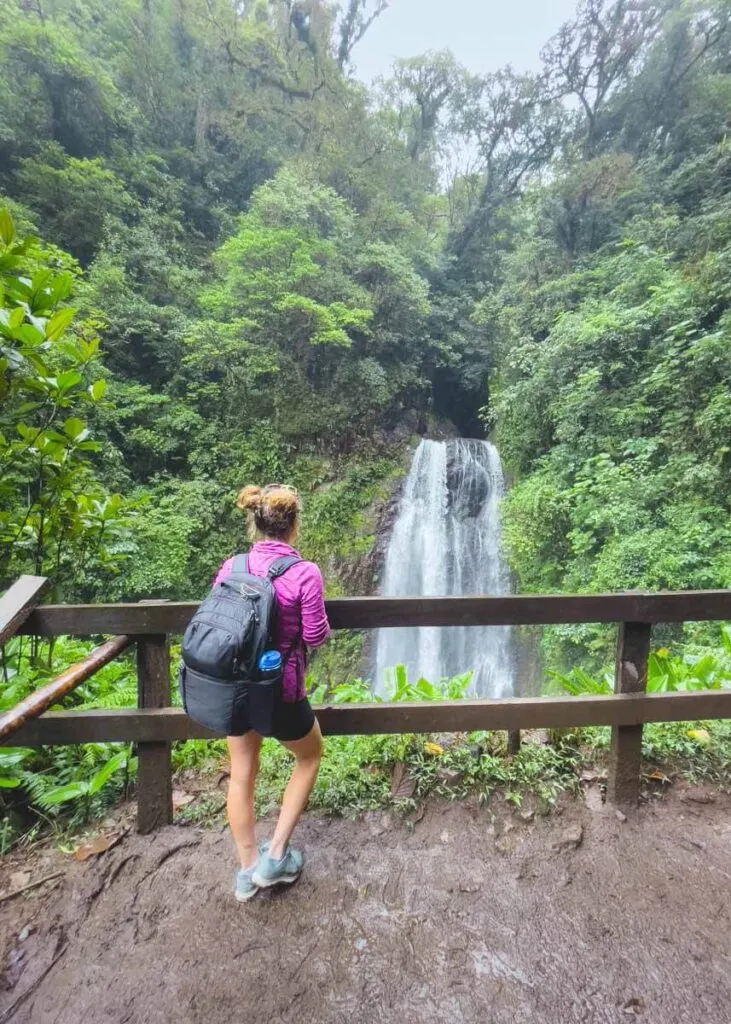 Adrenaline junkies, rejoice! Monteverde has an array of exhilarating activities to get your heart racing. Soar through the sky on thrilling zip lines (the longest in Latin America!), feeling the wind in your hair as you marvel at the stunning landscapes below. Embark on a captivating night tour, where the forest comes alive with the symphony of nocturnal creatures and a sky ablaze with stars.
Stroll through picturesque butterfly gardens, discover hidden trails leading to waterfalls, and more!
Here Are Some of the Top Things to Do in Monteverde:
Monteverde Cloud Forest Reserve – Covering over 26,000 acres, the Monteverde Cloud Forest Reserve is a natural wonder that houses a vast array of flora and fauna. Hiking through the forest's trails or taking a guided tour on the hanging bridges in the clouds is one of the top stops in Monteverde!
Ziplining and Canopy Tours – Monteverde is known as the zipline capital of Costa Rica, and thrill-seekers will love ziplining the longest zipline in Latin America here! Take in the forest canopy's spectacular views and enjoy the adrenaline rush as you soar through the air. You can even go "Superman style!" This is the exact one I did!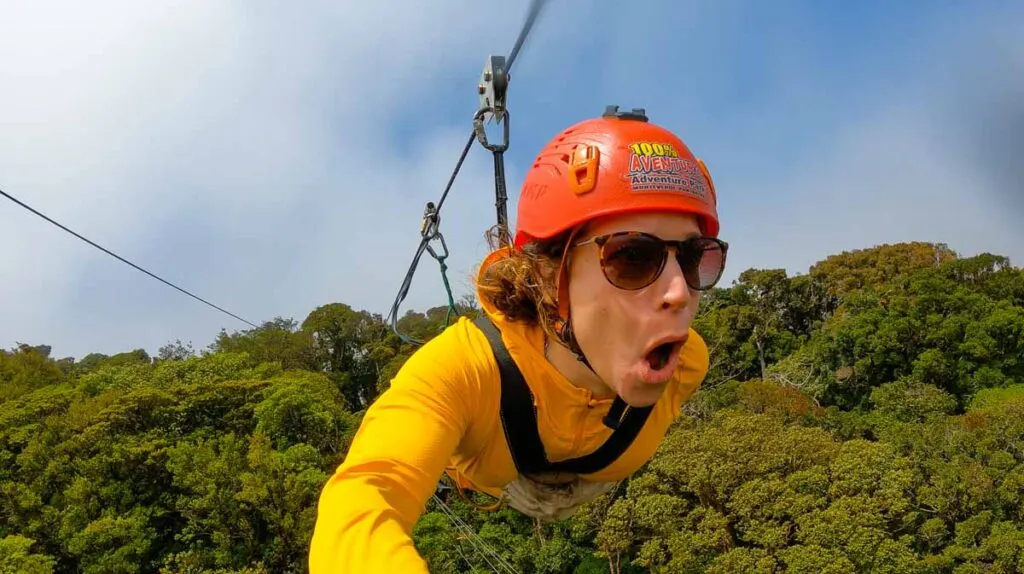 Coffee Tours – Coffee is an integral part of Costa Rica's culture, and Monteverde has several coffee farms where visitors can learn about the coffee-making process, from the bean to the cup (yum!). Take a tour of one of the local farms to learn about the history of coffee and taste some of the finest coffee in the world.
Night Walks – Monteverde's forests come alive at night with a host of nocturnal animals such as sloths, kinkajous, and bats. Don't get creeped out! Take a guided night walk to see these fascinating creatures.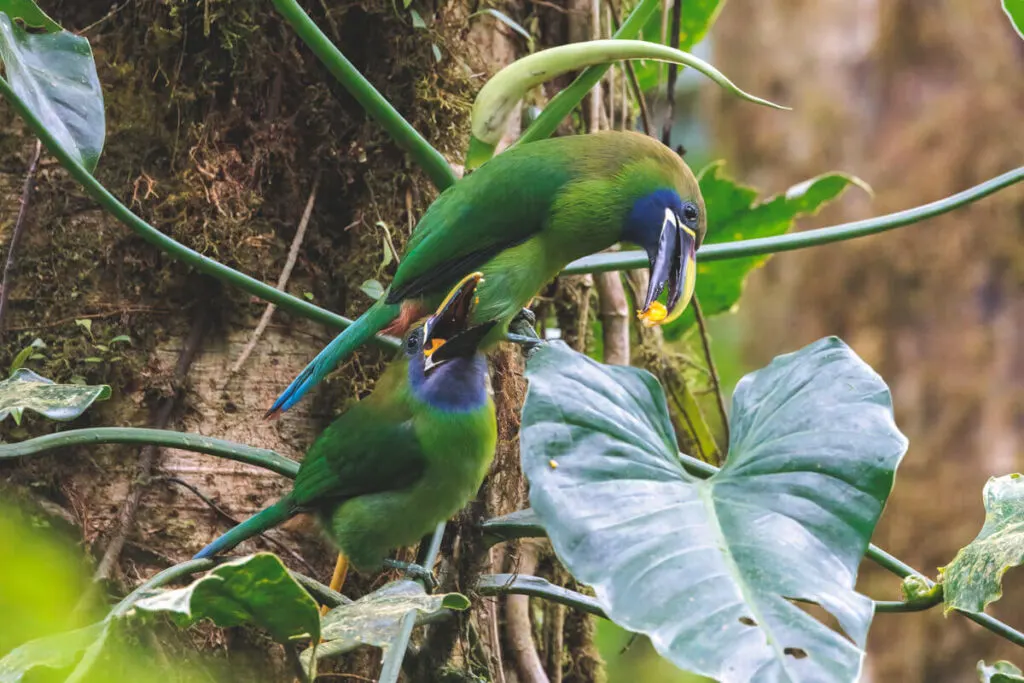 Bird-Watching – Monteverde is a paradise for bird watchers, with over 400 species of birds found in the area. Take a guided bird-watching tour to spot the iconic resplendent quetzal, emerald toucanets, or any of the other unique birds found only in the region. They are stunning and so colorful!
READ MORE: Things to Do in Monteverde, Costa Rica: Your FULL Guide!
Backpacking Santa Teresa
Santa Teres is a coastal gem that beckons you to bask on its beaches. Situated along Costa Rica's pristine Nicoya Peninsula shoreline, this laid-back haven is a sanctuary for digital nomads, sun-seekers, and surf enthusiasts alike.
Santa Teresa is a mecca for surfers, boasting some of the best breaks in the country. Grab your board and ride the waves like a true water warrior! Whether you're a seasoned pro or a novice eager to learn, Santa Teresa's surf culture will embrace you!
But Santa Teresa isn't just about catching waves; it's a holistic haven for wellness and rejuvenation. Discover the art of yoga and unwind with beachfront meditation sessions, finding solace in the soothing sounds of crashing waves and gentle ocean breezes.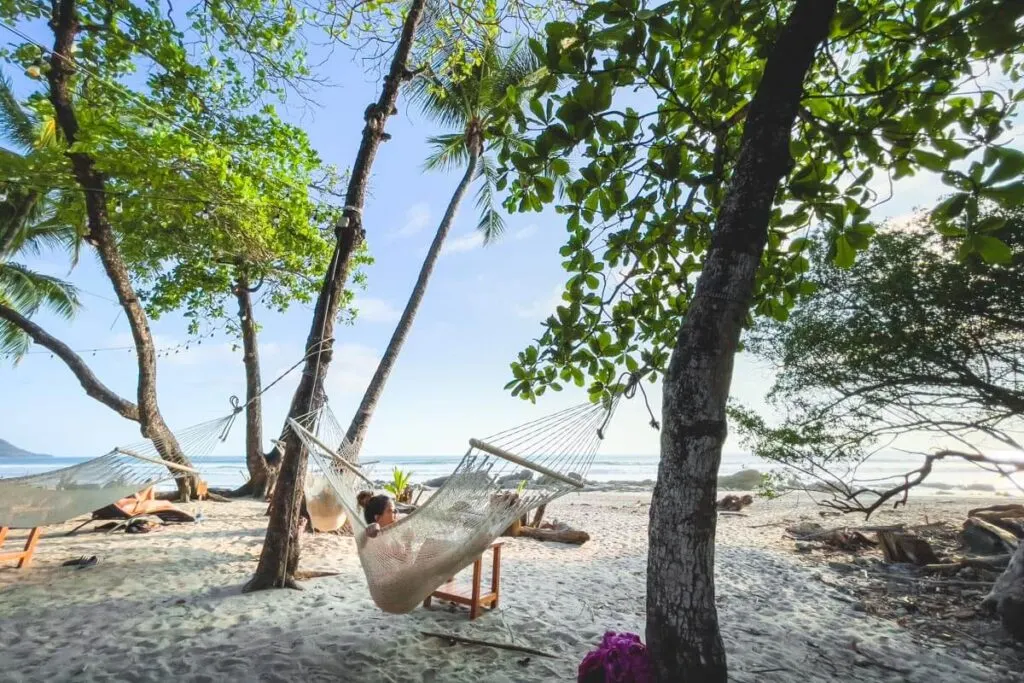 Nature lovers will find their bliss amidst the lush landscapes that surround Santa Teresa. Explore hidden trails that lead to secluded beaches, and lead you to tropical flora and fauna, as toucans and howler monkeys become your companions.
Santa Teresa is more than just a destination; it's a way of life. Slow down, embrace the pura vida mentality, and engage with the warm-hearted locals.
Pack your swimsuit, wax your surfboard, and prepare for bliss in Santa Teresa!
Here Are Some of the Top Things to Do in Santa Teresa:
Surfing – With consistent waves all year round, Santa Teresa is a surfer's paradise! There are surf schools and rental shops located along the beach, making it easy for beginners to take lessons and pros to catch some epic waves. There are two long beaches here just waiting for you.
Yoga – Santa Teresa has numerous yoga studios and retreat centers offering classes and workshops for all levels. Practicing yoga in this tranquil setting surrounded by nature is a truly rejuvenating experience, so much so, people simply get stuck here.
Beach Hopping – Santa Teresa has several pristine beaches with crystal-clear waters and soft sand. Each beach has its own unique charm, from the bustling Playa Carmen to the secluded Playa Hermosa. You can go tide-pooling a bit more south in Mal Pais too. There are literally miles of sand to enjoy here.
Montezuma – Head to the neighboring town of Montezuma to explore a cemetery island (yes, really!), check out solitude beaches, and take boat tours to Tortuga Island!
Backpacking Puerto Viejo
Puerto Viejo is a slice of tropical heaven where vibrant colors and the laid-back Caribbean vibe blend together. Nestled on Costa Rica's Caribbean coast, this town invites you to immerse yourself in its rich cultural tapestry and embrace the pure essence of paradise!
As you set foot in Puerto Viejo, time slows down, and worries dissipate into the sea breeze.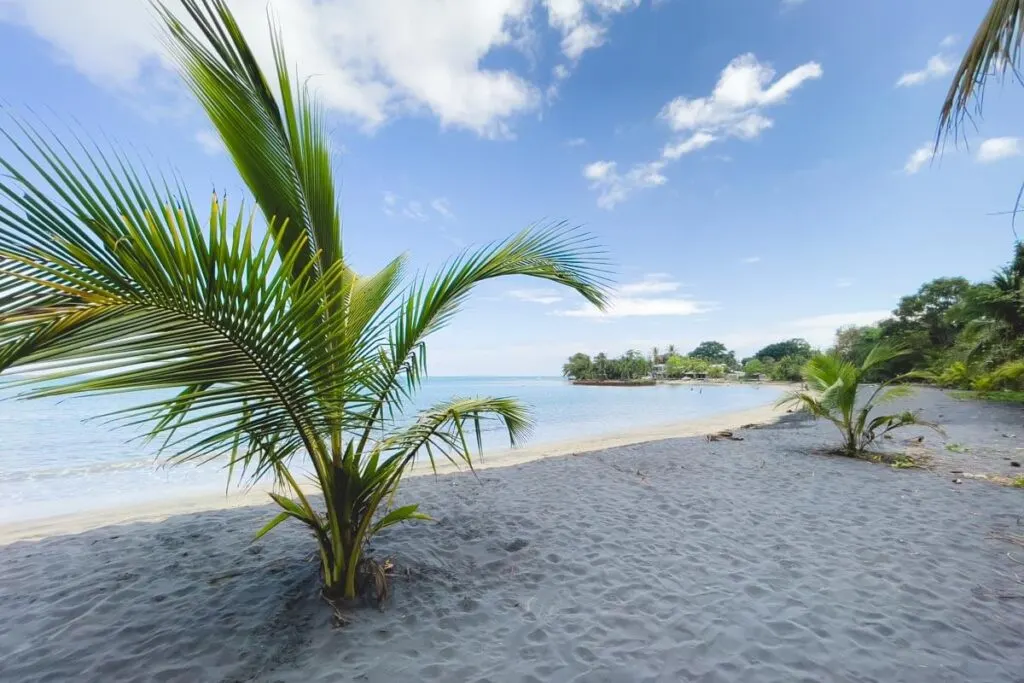 Puerto Viejo boasts some of the most stunning stretches of shoreline in the country. Sink your toes into the powdery sands of Playa Cocles, or catch some waves instead.
Nature enthusiasts will find their paradise in Puerto Viejo's surrounding rainforests. Embark on a jungle adventure and encounter exotic wildlife like sloths, monkeys, and colorful toucans.
When the sun sets, the vibrant nightlife comes alive in Puerto Viejo. Dance to the infectious rhythms of reggae, calypso, and salsa, letting the music guide your every move!
Here Are Some of the Top Things to Do in Puerto Viejo:
Beaches – Puerto Viejo has some of the most beautiful beaches in Costa Rica, with white sand and turquoise waters. From the lively Playa Cocles to the more secluded Punta Uva and several more in between!
Surfing – The Caribbean coast of Costa Rica is a surfing hotspot, with consistent waves year-round. Surf schools and rental shops are available in Puerto Viejo, making it easy for beginners to take lessons or for pros to catch some of the best waves, just head to Playa Cocles. A board is $5 an hour.
Cahuita National Park – Puerto Viejo is surrounded by lush jungles and teeming with wildlife. Take a hike to spot sloths, monkeys, toucans, and other exotic animals, or head underwater and snorkel! This is one of the best parks in the country, and I had the trail to myself half the time too!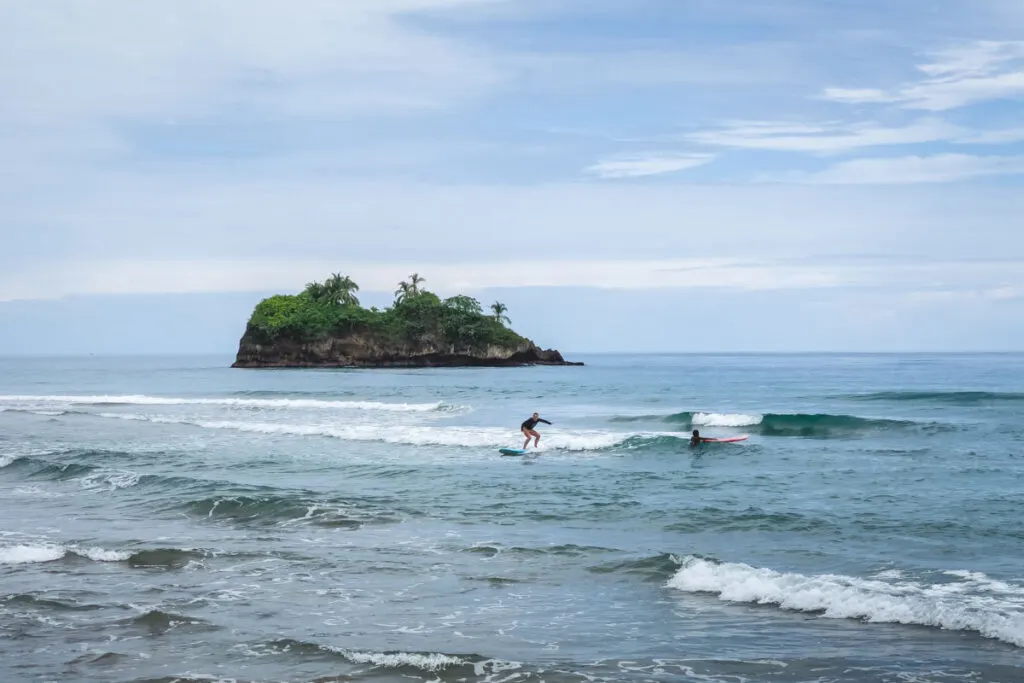 Local Cuisine – The Afro-Caribbean culture of Puerto Viejo is reflected in the local cuisine, with dishes that incorporate traditional Caribbean flavors and spices. Sample the delicious seafood, rice and beans, jerk, and plantains, or indulge in some refreshing coconut water after shredding some waves (my favorite!)
Nightlife – Puerto Viejo has a lively and eclectic nightlife scene, with bars and clubs that play reggae, calypso, and other Caribbean beats. Enjoy a cold beer or a fruity cocktail while soaking up the spirited atmosphere! This town is actually super fun!
Backpacking Manuel Antonio
Say hello to Manuel Antonio, where breathtaking nature and thrilling adventures converge to create an unforgettable Eden! Nestled along Costa Rica's stunning Pacific coast, this coastal gem invites you to explore its pristine beaches, lush rainforests, and a world teeming with vibrant wildlife.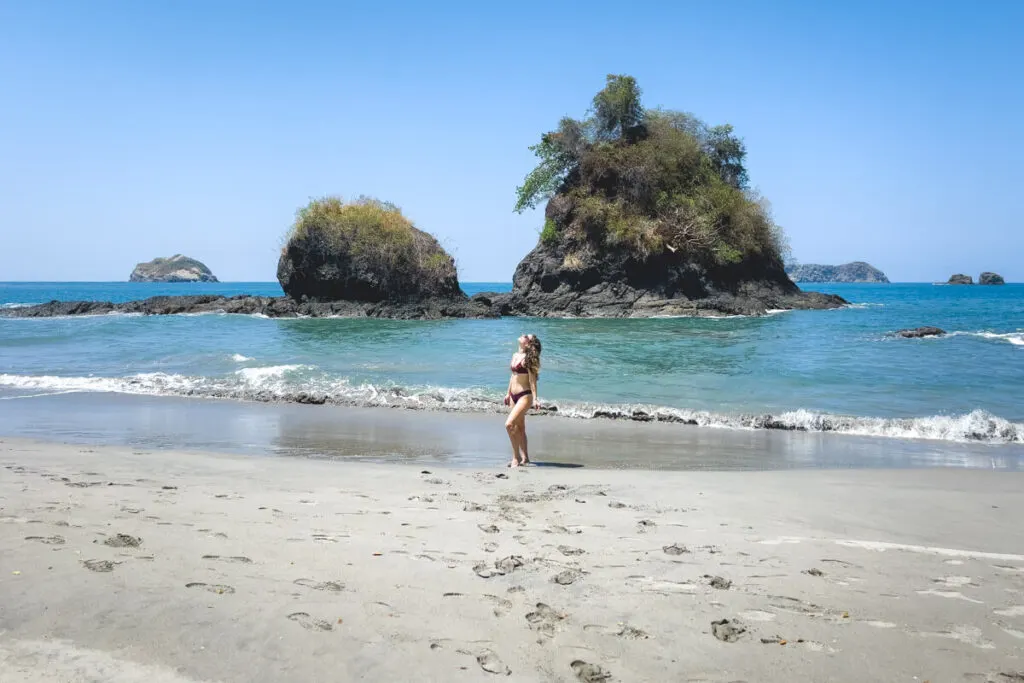 Prepare to be awe-inspired as you step into Manuel Antonio National Park, a true tropical wonderland and, unsurprisingly, the most popular park in the country. Monkeys swing through the treetops, sloths leisurely move among branches, and colorful toucans grace the sky above. Not to mention the beaches here are stunners!
Adventure awaits beyond the park's boundaries too—Embark on thrilling canopy tours, ziplining through the treetops, and revel in a bird's-eye view of this natural wonderland by parasailing.
Here Are Some of the Top Things to Do in Manuel Antonio:
Manuel Antonio National Park – It's the name of the town AND the park! This is one of the most popular national parks in Costa Rica, and for good reason. It boasts stunning beaches, lush rainforests, and abundant wildlife, including monkeys, sloths, and toucans. Take a guided nature walk to learn about the park's flora and fauna, or simply relax on one of the park's beautiful beaches.
Beaches – Manuel Antonio has some of the most beautiful beaches in Costa Rica, with white sand and crystal-clear waters. There's the popular Espadilla Beach and the more secluded Biesanz Beach, and some others that are only accessible through the national park. Bring a swimsuit everywhere you can in Manuel Antonio!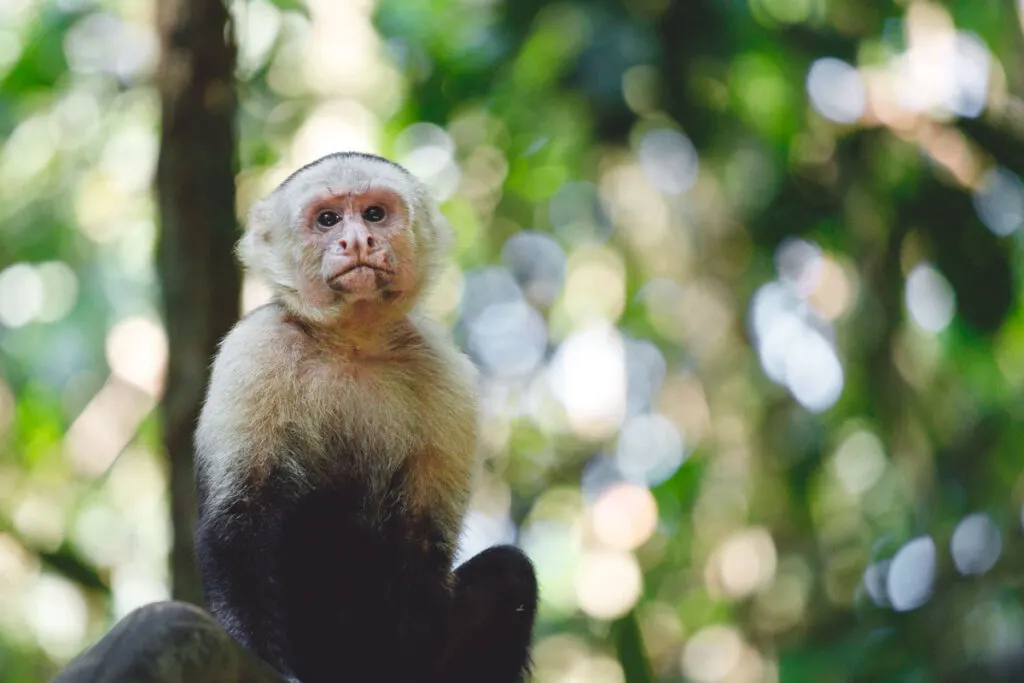 Surfing – The Pacific coast of Costa Rica is a surfer's paradise, and Manuel Antonio is no exception. Take a surf lesson or rent a board to catch some waves at one of the area's surf spots. It's best from May to November.
Sailing – Hop on a sailboat in Manuel Antonio, it's an unforgettable experience! Take a lunch out at sea and visit one of the most secluded beaches in the area.
Backpacking Uvita
Uvita is *kind of* a hidden gem nestled along Costa Rica's mesmerizing Pacific coast. This off-the-beaten-path paradise invites you to immerse yourself in the unspoiled beauty of nature.
Uvita is renowned for its stunning natural treasures, starting with Marino Ballena National Park. As you step foot on its sandy beaches, you'll be greeted by the sight of the iconic "Whale Tail," a sandbar formation shaped like a whale's tail that emerges during low tide.
Adventure seekers will find their thrill in Uvita's surrounding rainforests. Embark on exhilarating hikes through lush trails, stumble upon beautiful waterfalls, and encounter exotic wildlife like monkeys, sloths, and tropical birds along the way.
Uvita invites you to slow down, reconnect with nature, and embrace the tranquility that comes with being surrounded by unspoiled beauty!
Here Are Some of the Top Things to Do in Uvita:
Marino Ballena National Park – This park is home to some of the most beautiful beaches in Costa Rica, including the famous Whale's Tail, a unique sandbar formation that resembles a whale's tail from above. The park is also a popular spot for snorkeling and diving, with vibrant coral reefs and abundant marine life, especially whales! Speaking of…
Whale Watching – Uvita is one of the best places in Costa Rica to see humpback whales. Take a whale-watching tour to witness these magnificent creatures up close and learn about their behavior and migration patterns. It's incredible!
Waterfall Hikes – Uvita is surrounded by lush rainforests, with several stunning waterfalls waiting to be explored. Head to Catarata Uvita or Nauyaca Falls!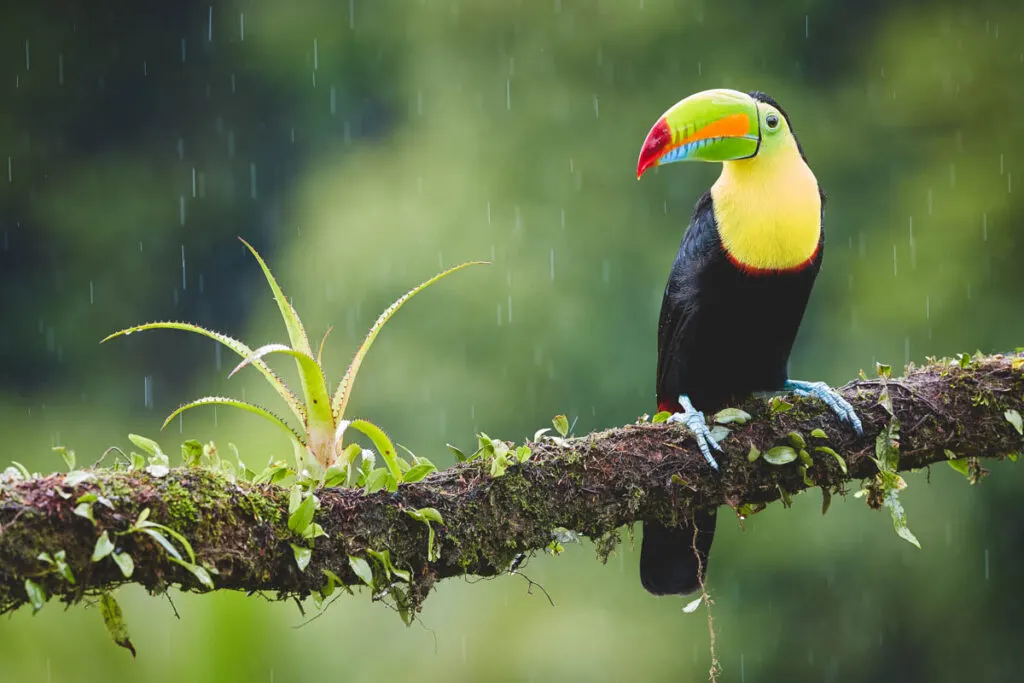 Wildlife Watching – Uvita is home to a diverse range of wildlife, including monkeys, sloths, toucans, and macaws. OK fine, these are all over Costa Rica in case you haven't noticed yet, but still! It doesn't get old…
Surfing – The Pacific Coast of Costa Rica is a surfer's paradise, and Uvita is no exception. Take a surf lesson or rent a board to catch some waves at one of the area's surf spots or even hop up to Dominical for more wave options!
READ MORE/RELATED: 11 Best Things to Do in Uvita, Costa Rica
Backpacking Other Areas of Costa Rica
There are plenty of other places, but above were some of the main highlights. Here are some other spots I love exploring while backpacking in Costa Rica!
Samara – A cute surfer destination that's a lot smaller and more chill than Santa Teresa that's worth visiting if you're just learning to surf or want to disappear from reality for a bit!
Rincon de la Vieja – The park is named after the active volcano Rincon de la Vieja, which is the centerpiece of the area. You'll be able to go hiking, horseback riding, and ziplining, and you can even explore the park's diverse flora and fauna, hot springs, waterfalls, and an array of wildlife, such as howler monkeys, jaguars, and tapirs! Check this tour here.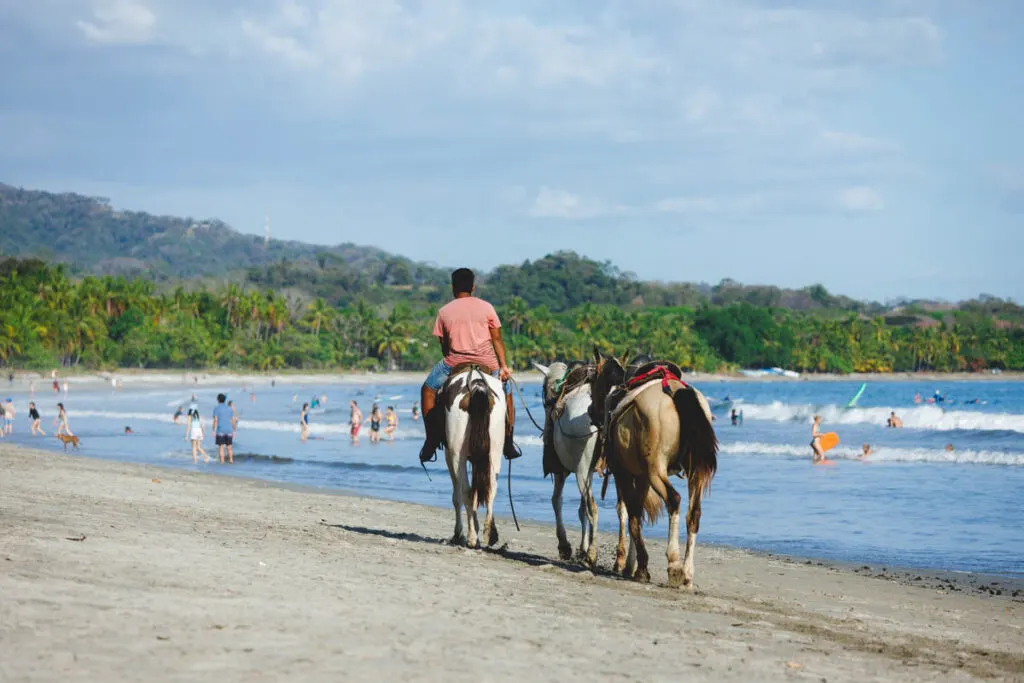 Playa del Coco – The town offers a cheerful and chill atmosphere with a variety of restaurants, bars, and shops but I'll be the first to admit it's not really a great backpackers destination, but it's a base for exploring nearby attractions such as national parks and wildlife reserves.
Tamarindo – Probably one of the most popular beach towns in the country, with surfing, kayaking, snorkeling, and scuba diving, as well as plenty of opportunities to explore the area's natural beauty with guided tours and excursions.
Limon – If you're headed to Tortuguero National Park or want to explore more of the Caribbean side of Costa Rica, Limon is the place!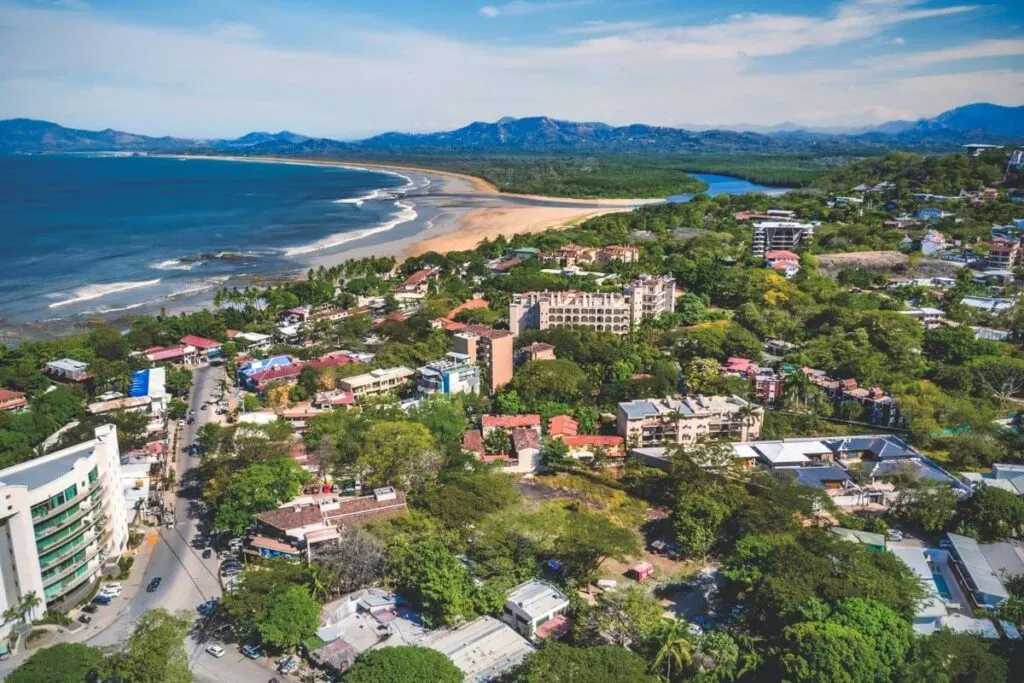 San Jose – While many people may avoid the capital, it can be a great base for exploring a lot of incredible nearby volcanoes and for visiting some of the most stunning waterfalls and sites in Costa Rica. There are tons of day tours like this one you can do, so you are out of the city all day anyway!
Backpacking Costa Rica Itinerary
OK, I won't repeat everything from above here, but here's a realistic itinerary of what towns you can fit into 4 weeks. Mix and match the ordering if you're coming for less than a month and choose your top favorite weeks from the options below!
Week 1 – Exploring the incredible cloud forests, waterfalls, and hot springs around Monteverde and La Fortuna.
Week 2 – Explore the Nicoya Peninsula. Have fun in Tamarindo, Get lost in Samara, and pick up surfing in Santa Teresa… Beach bum and surf to your heart's content! You might want to just choose 1 or 2 of these for a more chill beachy week.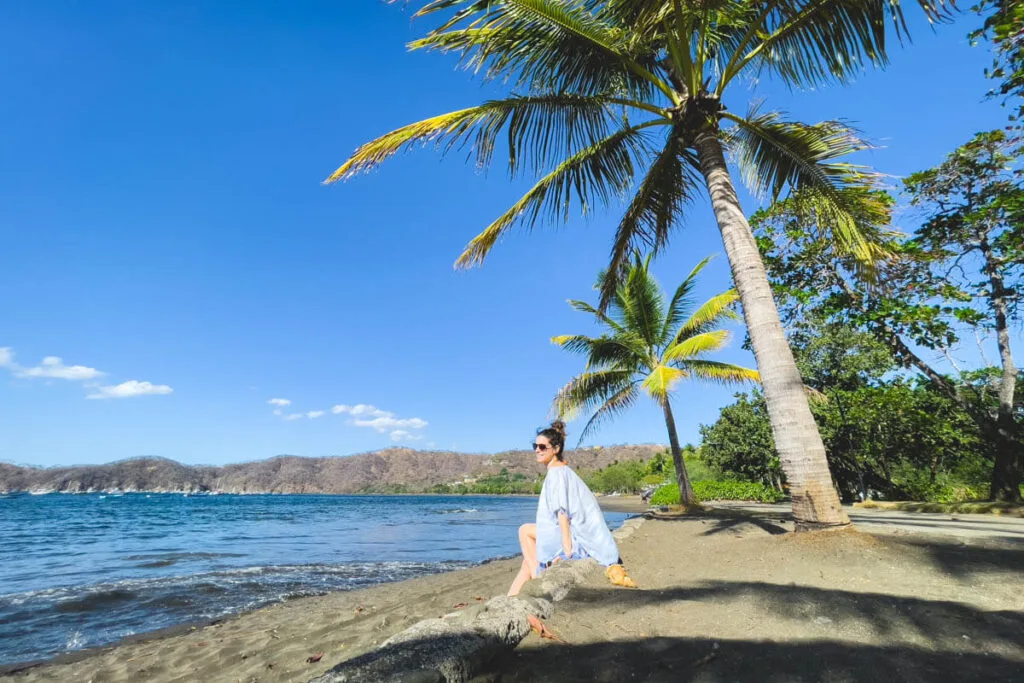 Week 3 – Explore the incredible town and park of Manual Antonio for a few days and then spend a couple more in Uvita soaking up the sun, visiting the whale's tail, and chasing more waterfalls. You could add on Dominical if you wanted to as well.
Week 4 – Head out to the Caribbean side, hang ten on the beaches of Puerto Viejo for a few days. Then spend a couple of days in San Jose before jetting off home and take some day trips to nearby volcanoes and waterfalls.
How to Get Around Costa Rica
Costa Rica is a great place to explore, but the modes of transportation can be a bit limited. For the most freedom, renting your own car would be a good choice, but it's going to cost ya! Otherwise, you can take tours, but that's a bit more limiting and also not cheap!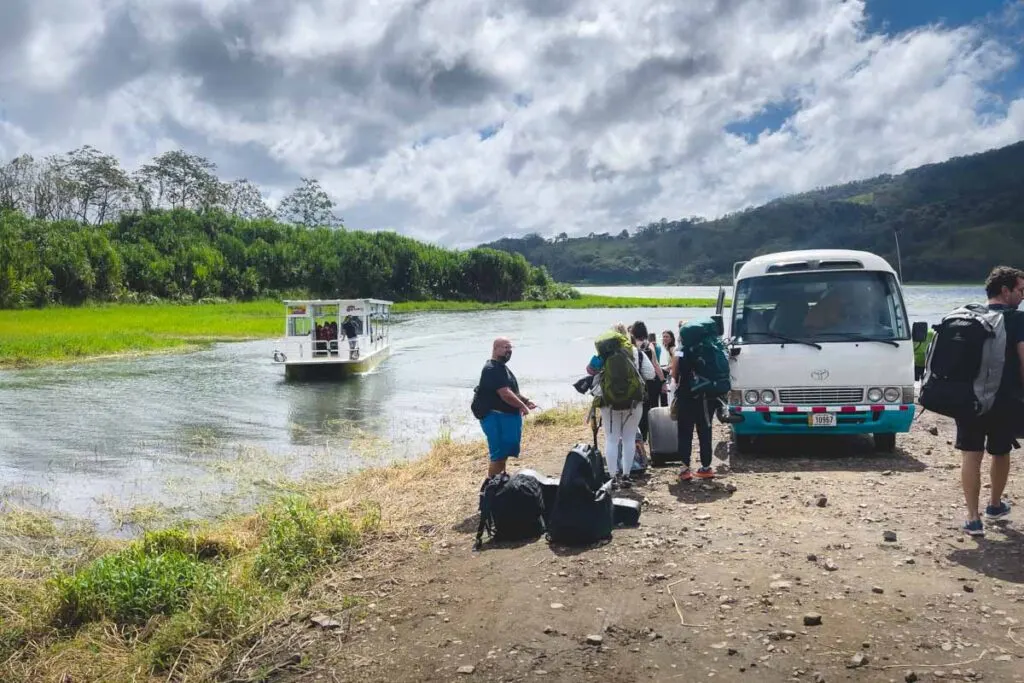 There are shuttles, taxis, and some public buses, but it depends on what you're doing and trying to see. You can explore the more specific guides I've linked above for more detailed info about each town. Otherwise, below is the general way to get around the country.
Rental Car
Renting a car is a popular option for those who want the freedom and flexibility to explore the country at their own pace. There are several international car rental companies in Costa Rica, as well as local operators.
The cost of renting a car varies depending on the type of vehicle and duration of the rental, but a typical rental for a compact car can cost around $30 – $50 + USD per day. It can be much more if you get a 4×4 or a campervan.
It's important to note that driving in Costa Rica can be challenging, especially in rural areas where many of the roads are unpaved and can be narrow and winding. Check here for car rental deals.
Public Bus
Public buses are the most affordable way to get around Costa Rica when backpacking, with fares starting at just a couple of dollars. Several bus companies operate throughout the country, with routes connecting major cities and towns.
The buses are often crowded and can be uncomfortable, especially on long journeys. Sometimes people stand if no seats are available and there isn't air conditioning. However, they are a great option for backpackers in Costa Rica who are okay with a bit of adventure.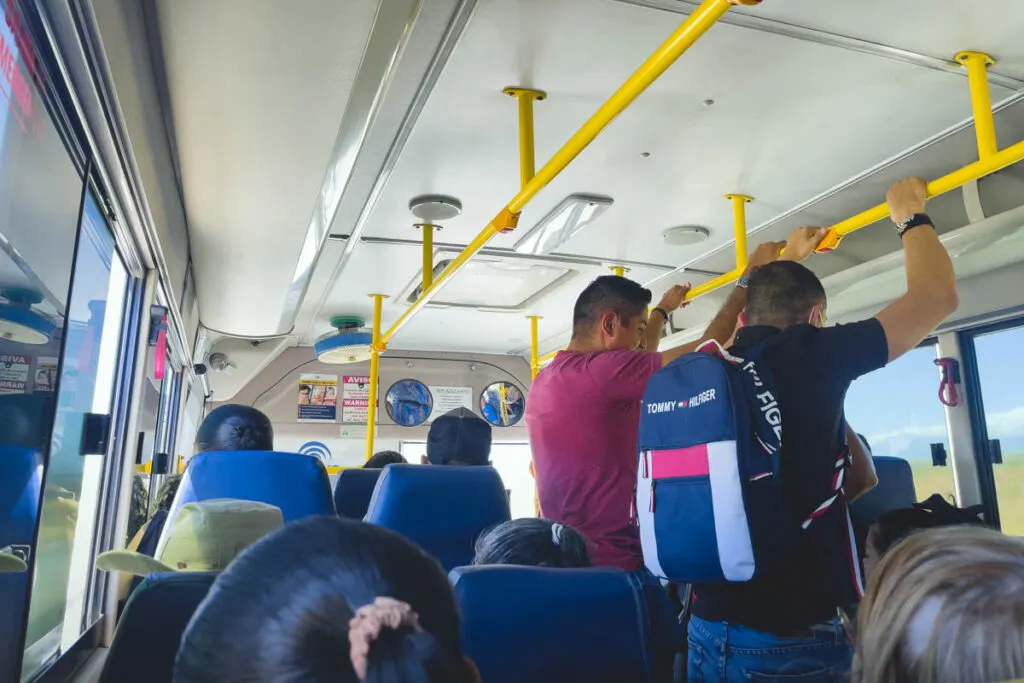 As you may experience, as I did, sometimes getting to the smaller towns may require you to take a few of these local buses, and shuttles don't always operate. (the Nicoya Peninsula, for sure!)
Sometimes going just a few hours away can take around half a day when using the bus system, so make sure you plan your trip accordingly! They can really eat away at your time in the country.
Shuttle Service
Using Costa Rica's shuttle services is a popular option for those who want to avoid the hassle of driving and don't want to deal with taking public buses.
Shuttle services are available throughout the country and can be easily booked in advance online (unlike the buses)! The cost of a shuttle service varies depending on the distance and duration of the trip, but a typical one-way trip from San Jose to Manuel Antonio can cost around $60 USD to give you an idea.
This is what I used the majority of the time during my visit to Costa Rica. The shuttles are super easy to book, there are only about 15-20 people in the vehicle, it's nice and comfortable, and has air conditioning… It's definitely the most comfortable way to get around when backpacking in Costa Rica.
As you can tell, though, this won't be the cheapest way to get around. In fact, the shuttles can really add up! But they are easy and quick, AND they include pick up and drop off at your hotel which is a major perk.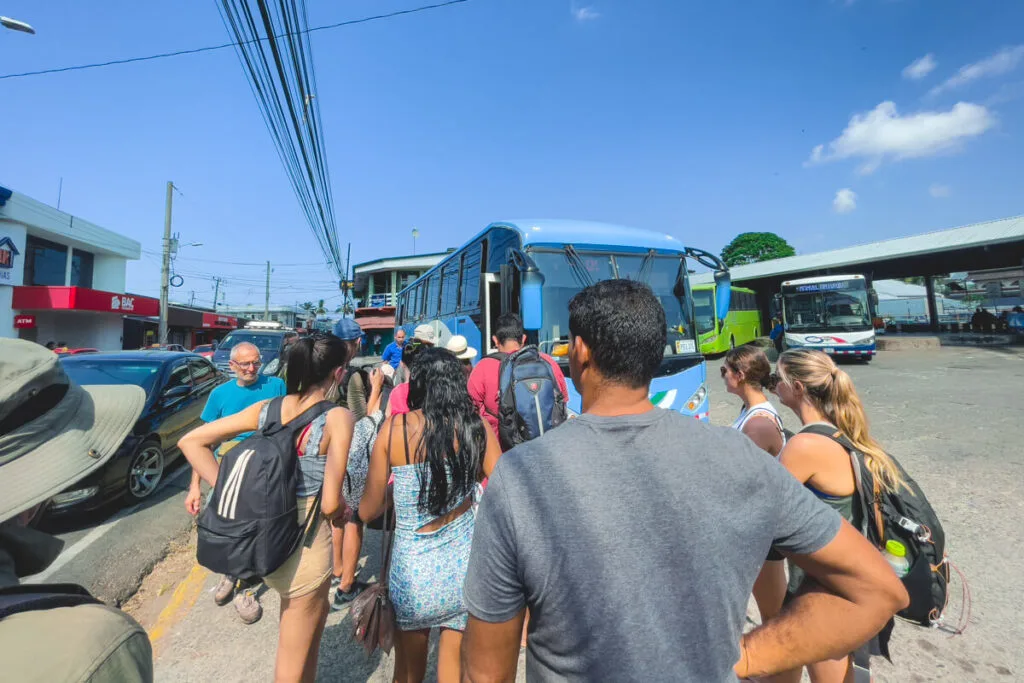 It's also important to note that traveling in Costa Rica can be slow-going, especially in the rural areas where the roads can be unpaved and winding. Be sure to leave plenty of time to get from one destination to the next, and don't hesitate to ask for recommendations and advice from locals and tour operators. Check for shuttles here.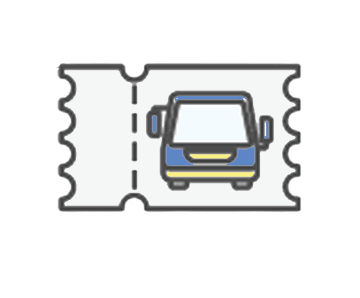 TRANSPORTATION TIP
If you're looking for bus or boat tickets around Central America and Mexico, you can easily book them online! Check Availability
Navigating Cities & Towns in Costa Rica
Picture this: you find yourself in the heart of La Fortuna, a compact little gem perfect for leisurely strolls. Here, you can freely wander around on foot, soaking in the charm of this delightful place. But hey, if you're venturing into Santa Teresa, things are a bit spread out—think 2.5-3 miles (4-5 km) of exploration ahead! Fear not, I got you…
First up, scout out hostels that offer free bike rentals. Yes, you heard it right. Grab one and pedal your way through town like a true adventurer. Alternatively, choose accommodations close to the bustling city center for easy access to all the action.
Keep a vigilant eye on your trusty steed at all times, or better yet, equip it with a sturdy lock for that extra peace of mind. Bike theft does happen!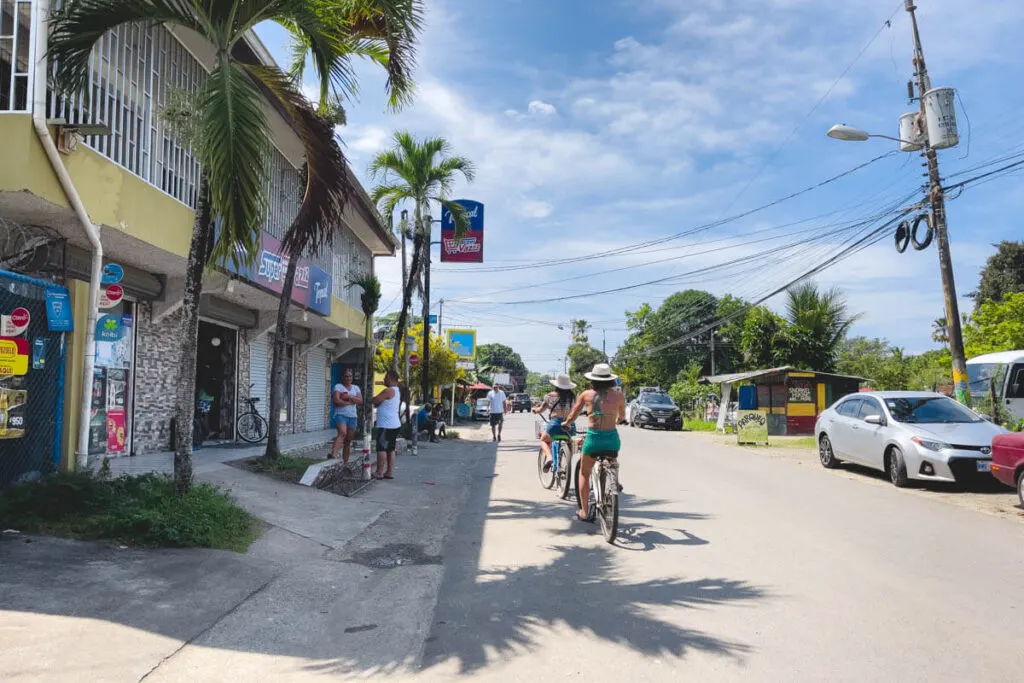 Inner-city buses work, but not all of them have it, and they can take a bit longer.
While the idea of zipping around Costa Rica at the wheel of a rental car may seem tempting, it can put a strain on your budget and add some unwanted stress to your adventure. Not to mention you have to pay for parking almost everywhere.
Want to rent an ATV? Here's the scoop: not only are they harmful to the environment, but they also have a notorious reputation for backpacker accidents. Bummer! Be careful.
For getting around, bikes and walking within the town are the best way to go. To get to other destinations just outside of town, either take the tour or negotiate with a taxi. This is pretty much what I did the whole time, and got around just fine.
Best Time to Go to Costa Rica
Costa Rica has a tropical climate, which means that it is warm and humid year-round, but there are distinct differences in weather patterns throughout the year.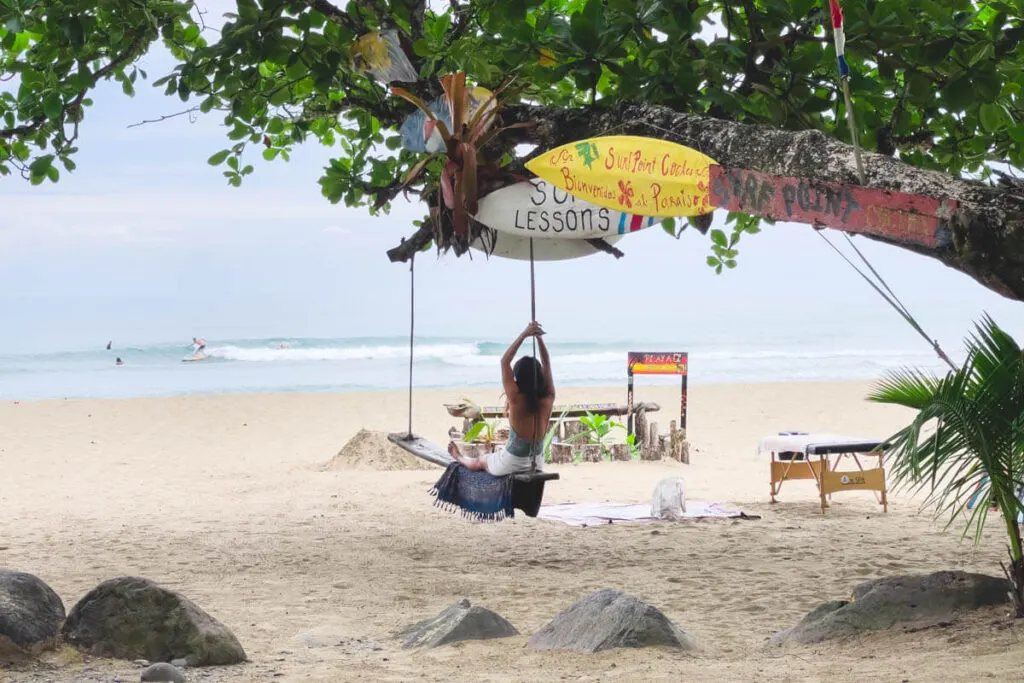 The best time to visit Costa Rica depends on your interests and travel preferences. Here's a breakdown of the different seasons and what to expect:
Dry Season (December to April) – This is the most popular time of year to visit Costa Rica, as it is the driest and sunniest time of the year. The warm and sunny weather makes it perfect for outdoor activities such as hiking, surfing, and beach lounging. The downside of visiting during this time is that it can be crowded and more expensive.
Green Season (June through October) – This is the rainy season in Costa Rica, but it doesn't mean that it rains all day every day. The rain usually comes in short bursts in the late afternoon or evening, which can make for some beautiful sunsets. The green season is a great time to visit if you want fewer crowds and lower prices. It's also a great time to see the lush green landscapes that Costa Rica is known for!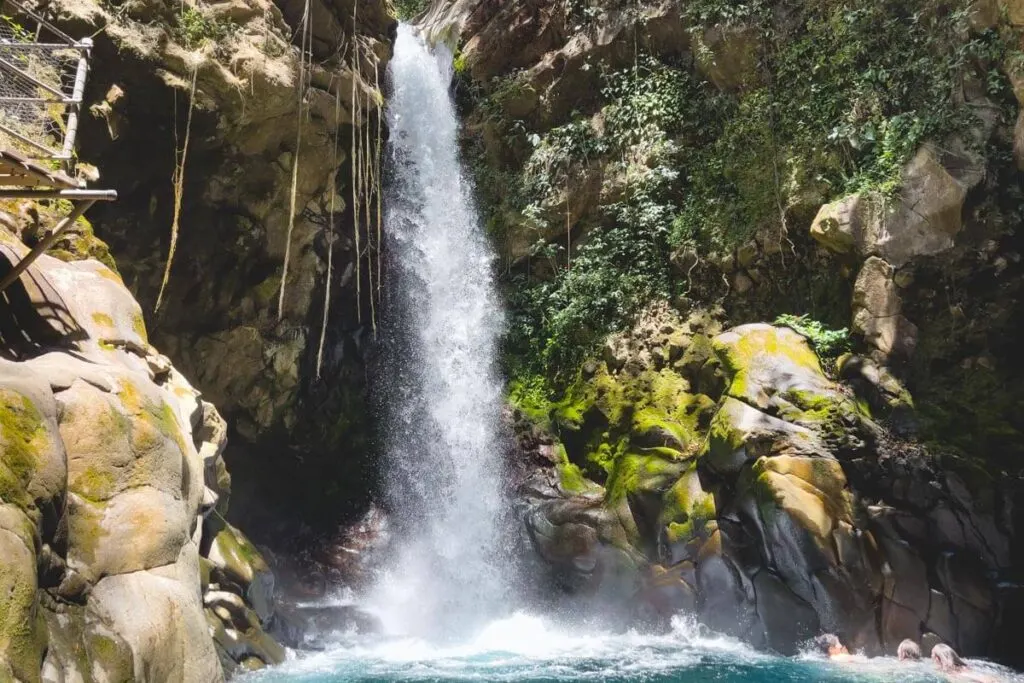 Shoulder Seasons (May and November) – These are the months when the rainy season is transitioning to the dry season and vice versa. The weather can be unpredictable during these months, with some sunny days and others rainy. However, these are also great months to visit if you're looking for lower prices and fewer crowds.
When planning your trip to Costa Rica, it's important to remember that the climate can vary depending on the region you're visiting. For example, the Caribbean coast tends to be rainier than the Pacific coast, and the Central Valley region can be cooler than the coastal regions.
What to Eat in Costa Rica
Let's be real, Costa Rica isn't really known for its cuisine! I hope you really like rice and beans OR are willing to shell out some extra cash for something a bit more Westernized. With that said, here are some of the top foods to try when visiting Costa Rica: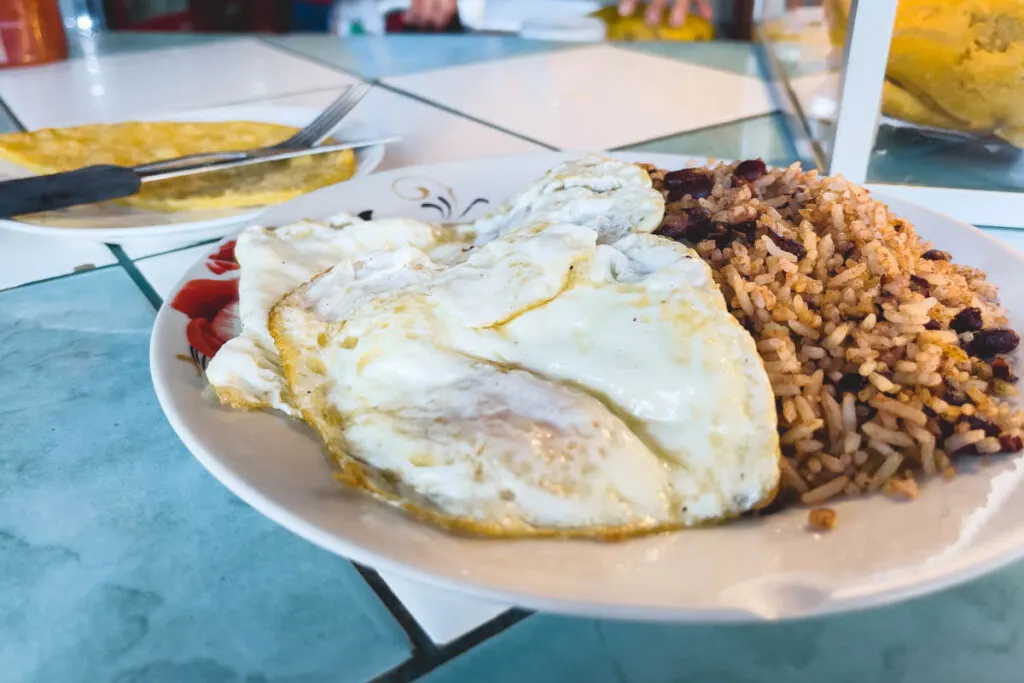 Gallo Pinto – This traditional breakfast dish consists of rice and beans mixed with onions, peppers, and cilantro. It is often served with eggs, plantains, and sour cream.
Casado – This popular local lunch typically includes rice, beans, plantains, salad, and your choice of meat or fish. It's a hearty and filling meal that will help keep you in line with your budget!
Ceviche – This seafood dish is popular throughout Central and South America, but each country has its own unique spin on it. In Costa Rica, ceviche is typically made with tilapia or shrimp and marinated in lime juice, onions, peppers, and cilantro. It's a refreshing and flavorful dish that is perfect for a hot day.
Sopa Negra – This black bean soup is typically served as a starter or light lunch. It is made with black beans, onions, peppers, and cilantro and often has a hard-boiled egg on top. It's a simple, comforting dish perfect for a rainy day.
Arroz con Pollo – This is a classic chicken and rice dish that is popular throughout Latin America. In Costa Rica, it is typically made with rice, chicken, and vegetables such as peas and carrots. It's a comforting and filling dish that is perfect for a family dinner.
Tres Leches Cake – This dessert is popular throughout Latin America, but the Costa Rican version is particularly delicious. It's a sponge cake soaked in three types of milk (hence the name) and topped with whipped cream. It's a rich and indulgent dessert perfect for satisfying your sweet tooth.
Fruit – Oh, all the fresh and delicious fruit! Take advantage of it and feel free to splurge on getting fruit shakes or juices, they are worth it. Don't forget to hydrate with coconuts on the beach!
Cost of Backpacking in Costa Rica
Everyone spends differently, and you'll notice many ways to go about backpacking in Costa Rica. I'm definitely more on the flashpacking budget nowadays, you can get around Costa Rica for cheaper than I did it.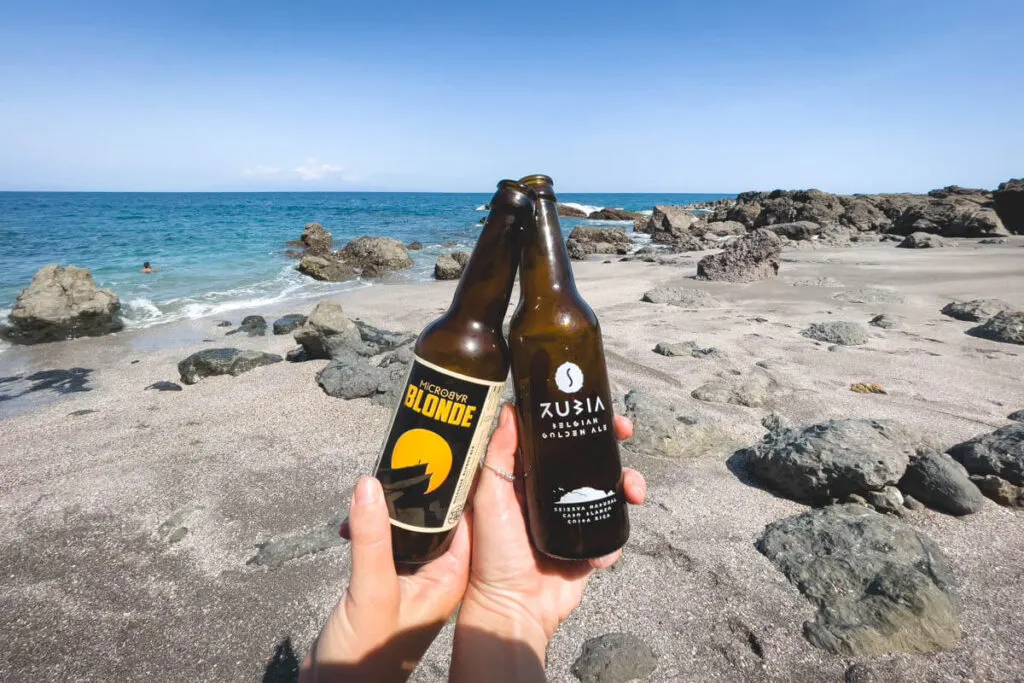 But if you want an estimate on what type of budget you'll need, mine could be a good middle ground.
Lodging – $1270
Food and drink – $830
Activities – $500
Transportation – $400
Groceries – $70
I spent about $3,000 for one whole month in Costa Rica. (not including my flight).
I was NOT staying in dorms (only private rooms), took some tours (could have done more), didn't rent a car, and didn't hold back on going to some of the restaurants that cost a bit more, either. I couldn't live on rice and beans for a whole month!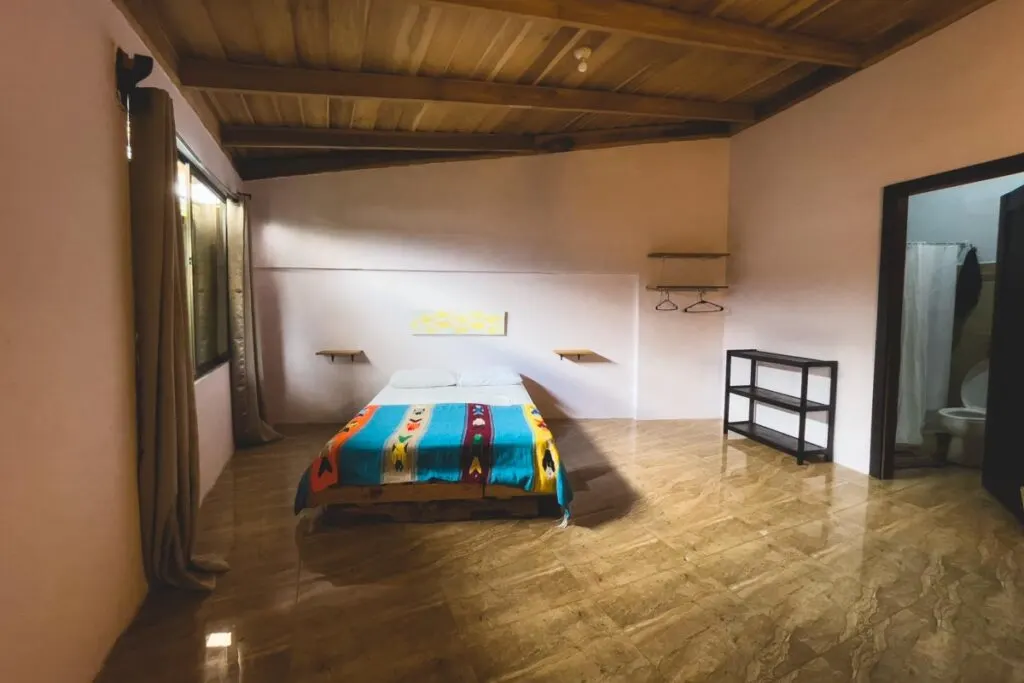 It's also important to note that I took a bunch of shuttles too. You can cut back on costs and only take local buses, but it really eats into your day, and they could be better. I also rented a surfboard a few times, but I didn't really drink aside from a few beers here and there.
You'll want to budget for some of the fun activities around Costa Rica; otherwise, you won't get to see much. Don't forget all the national parks have an entrance fee, and that cost was factored into the activities category.
How to Keep Costs Down While Backpacking Costa Rica
Order Casados – This is one of the cheapest meals to eat in Costa Rica. You might get tired of it, but it hits all the marks. A protein, rice, beans, and usually a salad and maybe some plantains.
Bakery stuff – I went to the little panaderias and grabbed a couple of items like a pastry with fruit or something, and these were great for breakfast, especially early mornings! Easy and cheap.
Buses – As I mentioned, these will be the cheapest way to get around, but it will eat at your time, so if you have time to spare, then this is the way to go, as shuttles are a bit pricey.
Accommodation with a kitchen – Eating out isn't the cheapest and it's not even anything that great (sorry, Costa Rica! Love you!) So get accommodation with a kitchen to cook a few times.
Worldpackers – Do a work exchange and get free accommodation and sometimes food and tours!
Where to Stay in Costa Rica
You can find some pretty decent accommodation around Costa Rica! I'd say Santa Teresa was the priciest for what you got, and San Jose was the best bang for a decent price. But… it's San Jose.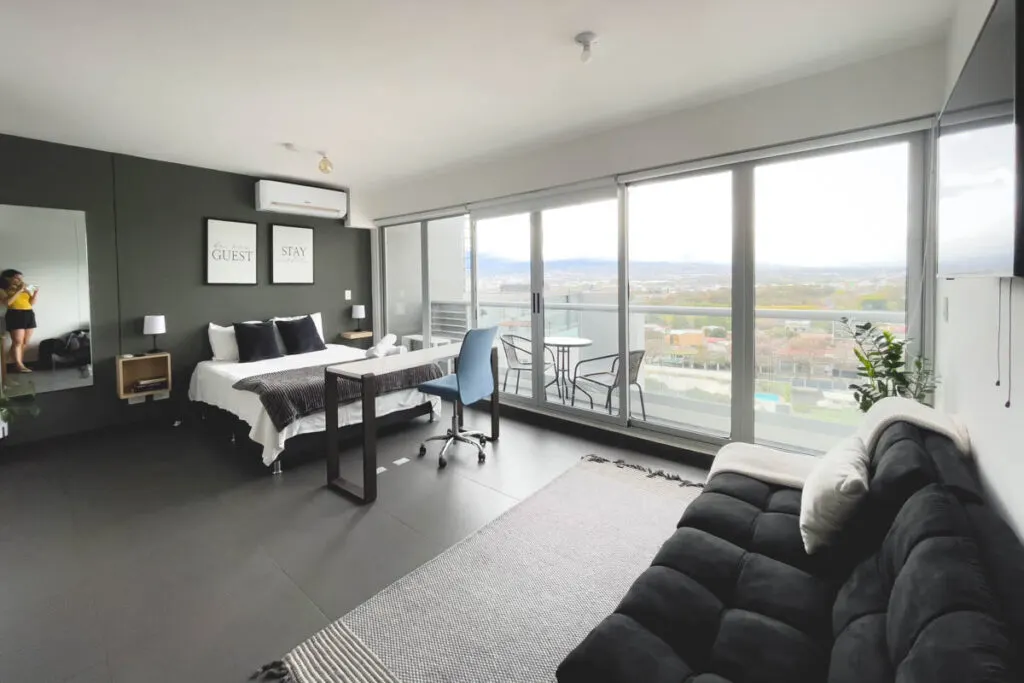 Backpacker hostels in Costa Rica were always really nice and friendly from what I saw, but I also don't do dorms and always got a private room. These were my favorite, as it was nice to meet people and find out about cool stuff going on without having to hear someone snore all day!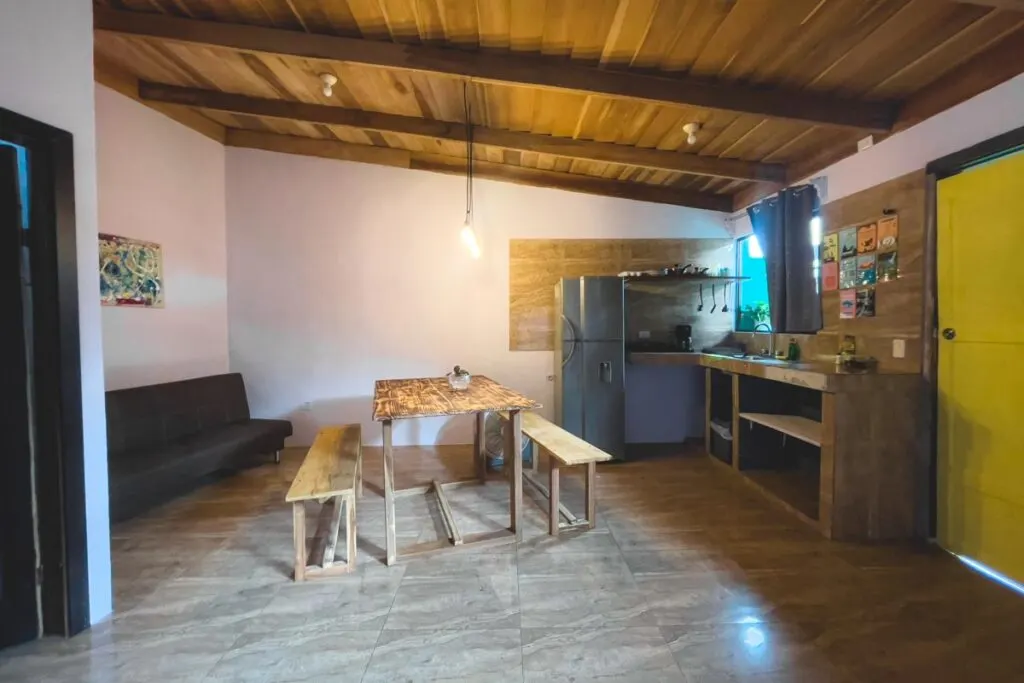 So where to stay in Costa Rica? It's up to you! Here are some of the highest rated spots around the country:
---
Safety in Costa Rica
Costa Rica is a relatively safe destination for tourists, but it is still important to exercise caution and be aware of common scams. The country has a relatively low crime rate, and violent crime against tourists is rare.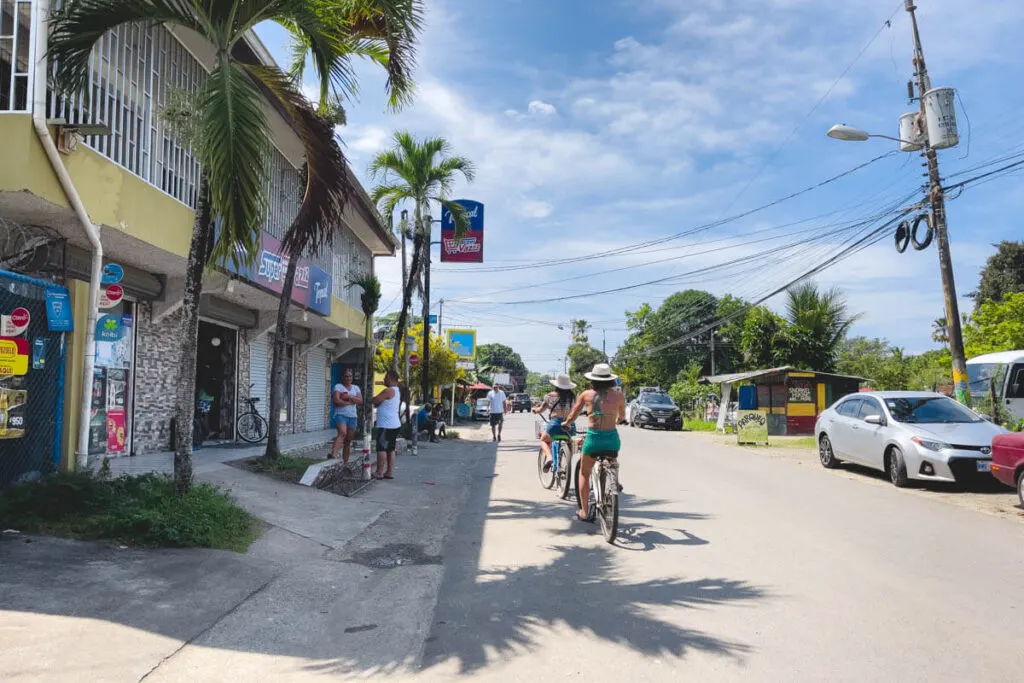 However, petty crimes such as pickpocketing and theft can occur, particularly in tourist areas and crowded places. You should be vigilant and take precautions to protect your belongings, such as keeping valuables out of sight and in a anti-theft bag and not carrying large amounts of cash.
Using your common sense is mostly all you will need during your visit. Being that I was a solo female traveler during my time here—I think Costa Rica is one of the safest countries I've ever solo traveled!
I didn't get hollered at, nobody tried engaging in any uncomfortable conversation with me, and overall my feeling was that I could be me here! I wore what I wanted and explored at my leisure while just keeping my wits about me with a normal level of precaution that I would use anywhere.
I'm not one to go out at night either or heavily drink, but I felt just fine the few times I had a few beers or found myself walking home after dark.
What to Pack for Costa Rica
Lightweight, quick-drying clothing: With Costa Rica's tropical climate, lightweight and breathable clothing is a must. Quick-drying fabrics and flowy items for ventilation!
Hiking shoes and sturdy sandals: With the country's many national parks and outdoor activities, a good pair of shoes is good call. You'll need a pair of hiking shoes and a pair of sturdy sandals that can handle uneven terrain and keep you comfortable walking around town.
Sunscreen: You'll definitely need this here. The sun is strong, and it's pretty expensive to buy once you're here. Reef-safe is best!
Insect repellent: While not all areas of Costa Rica are heavily populated with mosquitoes and other insects, it's always a good idea to be prepared. Insect repellent can help protect against bug bites and the diseases they may carry. I needed it along the coast a few times.
Water bottle: Staying hydrated is important in Costa Rica's hot, humid climate. Bring a reusable water bottle to fill up at the many drinking fountains and refilling stations found throughout the country. Most of the water in Costa Rica is potable!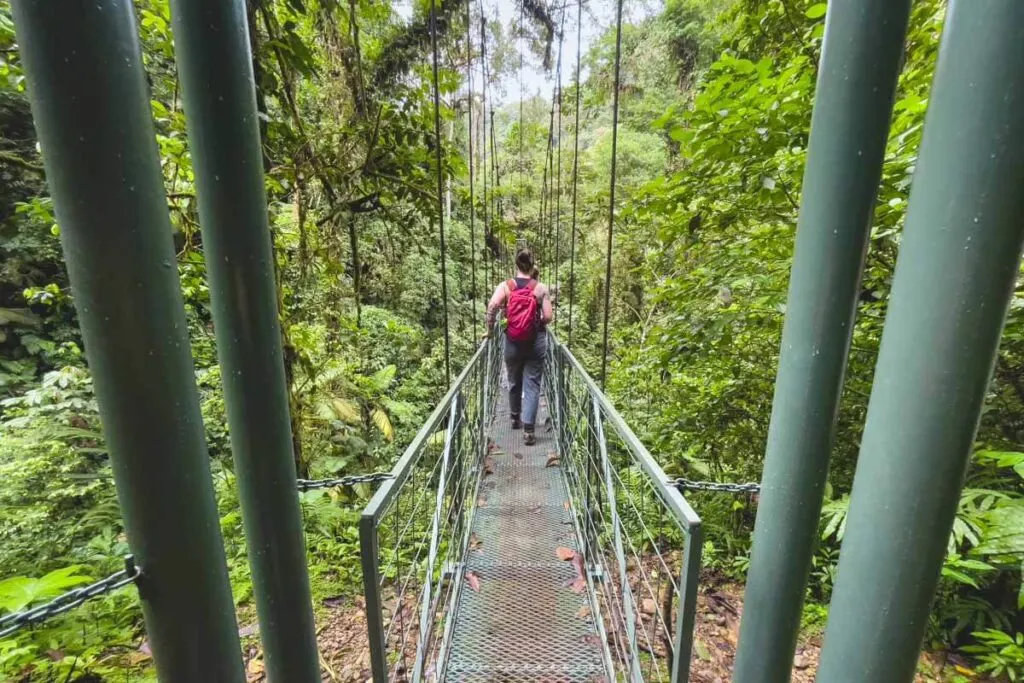 Rain jacket and something warm: Even during Costa Rica's dry season, rain can still occur. A lightweight rain jacket can come in handy for staying dry during a sudden downpour. The shuttle can be cold, and it gets chilly at night in Monteverde and La Fortuna.
Hat and sunglasses: Protect your face and eyes from the sun's harsh rays by bringing a wide-brimmed hat and sunglasses, you'll need them when wandering around the parks.
Binoculars: Costa Rica is home to a diverse range of wildlife, so bring binoculars to get a closer look. If you take some tours, the guide will have one for you to borrow (or a telescope to use). If you don't plan on doing tours, I highly recommend you bring one yourself to try and spot some of the animals or…
Camera: If you're not bringing binoculars, make sure your camera can accommodate a zoom lens (I brought a 70-200 with the ability to crop in further) so it could act as my camera and my "binoculars!" You may also want a GoPro for activities like snorkeling, kayaking, and waterfall chasing.
Anti-theft backpack: Keep your belongings safe and secure with an anti-theft backpack that features slash-proof fabric and locking zippers. I never travel without mine!
Swimsuit: Don't forget to pack a swimsuit to enjoy Costa Rica's beautiful beaches, hot springs, and waterfalls! And bring a few, sometimes, they don't dry overnight, and nobody wants to put on a soggy swimsuit.
Make Sure You're Covered Abroad!
Travel insurance can save your @$$ abroad and it doesn't have to be expensive! Safety Wing is what I use because it's affordable, perfect for long or short term travelers and covers the important stuff (including COVID-19).
Tips For Costa Rica
Plan your itinerary around the weather: Costa Rica has two seasons – the dry season (December to April) and the rainy season (May to November). While the dry season is more popular with tourists, the rainy season can be a great time to visit if you don't mind a little rain. The rainforests are at their greenest during this time, with fewer crowds. Of course, it's the season to save some cash too!
Learn some basic Spanish: While many Costa Ricans speak English, it's always a good idea to learn some basic Spanish before you go. This will help you communicate with locals and navigate your way around the country. Some useful phrases to learn include "hola" (hello), "por favor" (please), "gracias" (thank you), and "¿dónde está?" (where is…?).
Save some extra cash: Costa Rica is NOT cheap by any means. You should pad your wallet with a few extra bucks before heading over.
Pack for all types of weather: Even during the dry season, you should be prepared for rain. Bring a lightweight rain jacket, quick-drying clothes, and comfortable shoes for hiking and exploring. If you plan on visiting higher elevations, such as Monteverde, bring layers, as it can get chilly.
It takes a while to get around: I know Costa Rica isn't the biggest country, but it does take some time to get around, and some roads are windy and filled with potholes making the driving distance even longer.
Don't be afraid to try new things: Costa Rica is a great place to step outside of your comfort zone and try new things. Whether it's ziplining through the rainforest or practicing your Spanish with locals, be open to new experiences and embrace the Pura Vida lifestyle!
Drink the water: Tap water in most cases, is safe to drink in Costa Rica!
USD and Colones: The local currency is Colones, but a lot of places also accept USD.
Cash or Card: You'd think more places would take cards here, but sadly, it wasn't the case! I like using my card as much as possible, especially for bigger items like accommodation, but at least half of my hotels needed me to pay in cash. Some restaurants only accept cash as well. Read more on the best travel cards and how to bank abroad.
Be respectful of the environment: Costa Rica is known for its commitment to sustainability and preserving its natural resources. When you visit, be mindful of your impact on the environment. Avoid single-use plastics, stay on designated hiking trails, and support eco-friendly businesses.
Get a guide: You might want to save a few bucks and not hire a guide but let me tell you—if you want to see animals, it might be a good idea to do so! Especially if you're trying to spot a cute sloth, they are elusive! Hire a guide at least once.
Support local businesses: Costa Rica has a thriving tourism industry, but it's important to remember that many locals rely on tourism to make a living. When you visit, try to support local businesses as much as possible. This can include staying in locally-owned hotels, eating at family-owned restaurants, and purchasing souvenirs from local artisans!
Pura Vida!: Embrace the Pura Vida lifestyle, respect everyone, and have an amazing time!
My Over Thoughts on Costa Rica
Well, I freakin loved it, obviously! There are such good vibes in Costa Rica. Despite it being one of the top tourist countries in the Americas, I didn't feel unwanted or unwelcomed for being a tourist. Everyone was SO sweet, almost every single interaction I had with Ticos (Costa Ricans) was positive.
As a solo female traveler, this is definitely one of the safest countries I've ever been to. I couldn't believe I didn't get hollered at either, which is very typical for Latin America.
The general feeling is just happy and chill here, I'm not sure how else to describe it. Everyone is in on the Pura Vida lifestyle, and it is truly something that you can feel and pick up on here!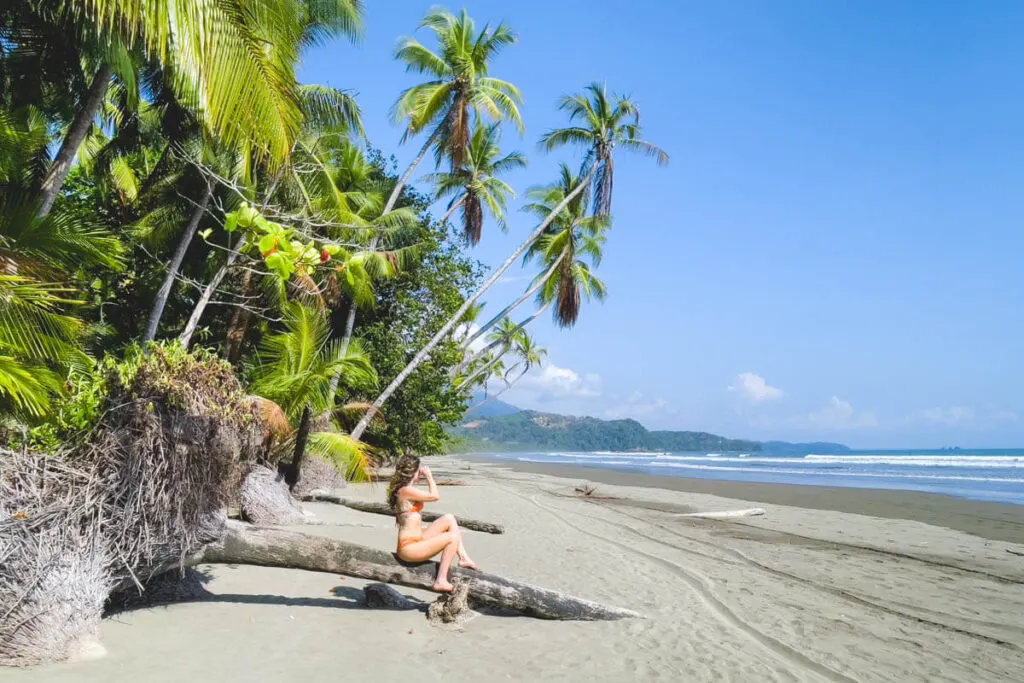 Something that isn't super great about the country is that everything costs money to get into, even nature. Almost every single "attraction" costs money, and sometimes it's kinda steep! HOWEVER… everything was also well-maintain, clean and beautiful! So at least you see the money is at work here.
Speaking of clean, this might be one of the cleanest countries, especially for Latin America, that I've been to. It's not to say they are perfect, but I was pretty impressed, especially compared to the neighbors, Southeast Asia, and shoot, and even some places in the USA!
The food leaves something to be desired, and the overall cost of the country is a bit steeper than some other spots, but otherwise, Costa Rica is WORTH IT in my book.
I hope my guide to backpacking Costa Rica was helpful in planning your trip! Enjoy!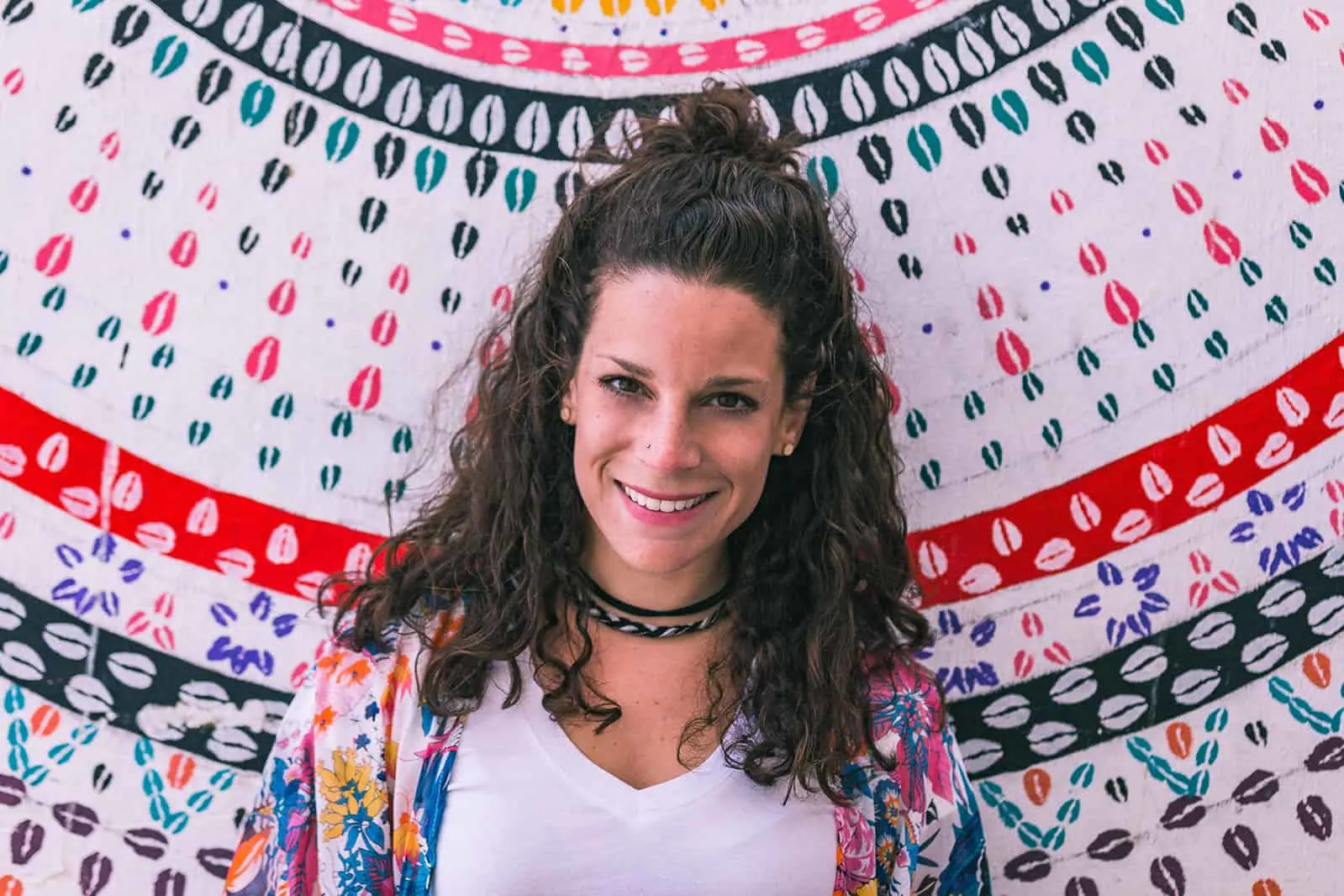 Nina Ragusa is an adventurer, messy bun master, breakfast fan, and full-time travel blogger. She's been abroad since 2011 and blogging on Where in the World is Nina? for nearly as long. Nina helps people like you move around the world while making money. She loves talking about how to work abroad and online to travel longer!