UPDATED: 4/2017


The Philippines is moving on up on the places to visit in  Southeast  Asia,  but trust me, it's not there yet.  It's still a bit under the radar compared to its neighbors. Fortunately, this means it's a great time to visit.
The Philippines is definitely on my favorites list and on my repeat list. I  spent a month here and it wasn't nearly enough,  I think a year wouldn't be enough! But a two-week itinerary for the Philippines is better than no weeks!
I know most have short holidays, so if you're planning on coming here for a couple of weeks and don't want to be spending it on busses, boats, and planes the entire time, try focusing on the two areas I'll be mentioning below.
I would spend one week at each. It gives you a good look at the mountain life and island life. The perfect blend for your Philippines itinerary. Promise!
Both have different feels and it would be cool to see both sides of the country with your limited time. You'll also get a lot out of staying in these areas, don't think you'll be low on things to do! At the same time, you won't be rushed around like you're on a psycho whirlwind tour – because that's not much of a holiday, is it?
So let's get you prancing around the fabulous Philippines…
Best Two-Week Itinerary for the Philippines
BEACH LIFE IS THE LIFE FOR ME
The first week on your Philippines itinerary will be spent on the beach!
Palawan
This is one of the most popular islands in the archipelago and for good reason. It just so happens to be one of the most beautiful islands on earth! When you visit Palawan, you might want to remain here for your entire holiday but if you want to see its highlights…
The Subterranean River
This is a UNESCO World Heritage Site and part of the New Seven Wonders of Nature. A magnificent cave is carved into the ancient limestone forming a huge underground waterway that runs for 24 kilometers. You can take a boat tour through the water here and admire some of the cave structures.
Honda Bay
A beautiful day, set on the sea, popping around to a few different islands for a spectacular look at some pieces of paradise would sound like a lovely day to anyone. Starfish Island was the highlight, in my opinion, with light pink colored starfish covering the ocean floor! Tropical fish whizzing by and clear blue water for miles makes this spot a wonderful choice for a day trip! The boat tours will bring you a delicious seafood feast to keep your pumped and energized for the rest of the day.
Here is my experience and more information on both of these destinations.


El Nido
The best for last!  El Nido is a tropical slice of heaven. The scenery here is unprecedented and the islands are simply incredible. The water is every shade of blue you can think of, clear, teeming with marine life, and the surrounding areas are studded with majestic limestone rocks jutting out of the water all around you.
The actual town is quite cute and surprisingly underdeveloped considering the amount of tourism that's flooded through here yearly. The town's beach isn't that great but there are cute bars along the shore to at least have that novelty beer on a beach thing going for it.
Hop over to Corong Corong which is just a few minutes drive down the road for a gorgeous and quite beach to bask on all day or you can keep yourself busy with island hopping tours. I went on two and would have been happy to go on more!
Oops! I spent a whole week here! Here's everything on El Nido. I could have stayed longer…


TIMING: I would do day tours, one to the Underground River, one to Honda Bay and then spend the rest of your time in El Nido.
LET'S EXPLORE MOUNTAIN LIFE
Despite being a professional beach bum, I do love the mountain scenery as well so that's why your next week on your Philippine itinerary is going to give you a totally different feel…
North  Luzon  –   Cordillera Region
Get ready for a bit of cold weather and a very different vibe than Palawan, up in North Luzon. This will be a good way to switch up the scenery on your two-week itinerary for the Philippines.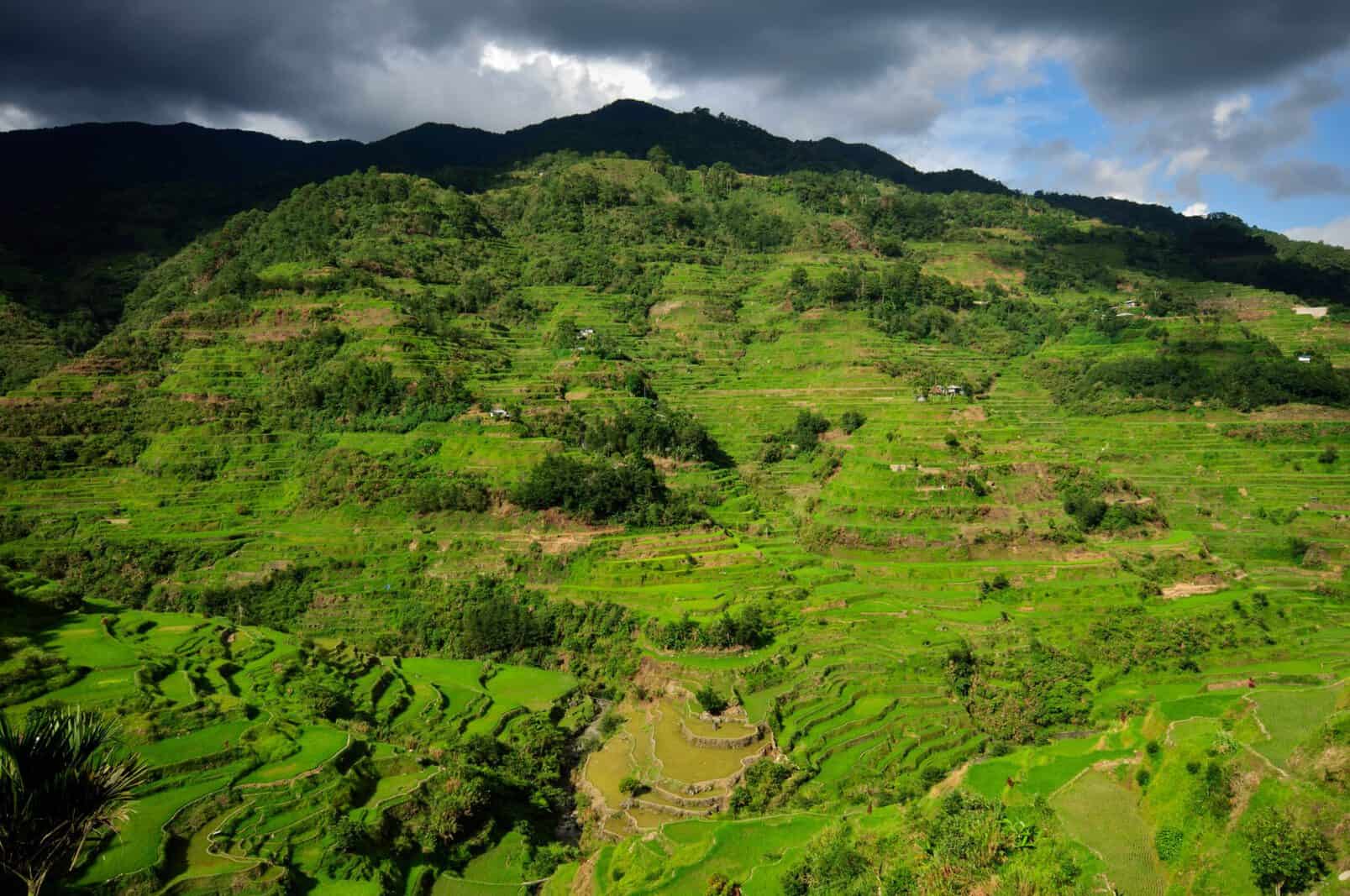 Banaue
This is a charming town that is simply gorgeous. You are surrounded by lush greenery and the rice terraces are already in view the moment you arrive. The people are calm and helpful, it's a great spot to chill for a night or two. It's a sleepy town, so don't expect much at night. The viewpoints around the town are certainly worth a look at. You can catch a trike ride to any of them for not much money. The clean mountain air will fill your lungs and feed your mountain-loving soul but I would suggest spending more time in Sagada which has all of that but a bit more life to the town.
Batad
This is where the UNESCO World Heritage rice terraces are located that the Ifugao have kept alive for centuries far before colonial times. The terraces are a legacy that have been passed down as a way of farming rice and it's still used today. It, of course, also makes for an incredible sight. They are truly breathtaking and getting to wander around them is humbling.
Meander the skinny pathways through the rice terraces and make your way to Tappiya Waterfall in the middle of the fields. Take an invigorating dip in the water in preparation for your long hike back. The water is cold and refreshing which definitely helps to wash away the sweat you've accumulated during your hike!
Here is what I did and more information on this beautiful region.
Sagada
A super chill and laid back town, this is a  place where you can get lost for a while.  The weather is still cool, the town is adorable, and the scenery is beautiful. There are waterfalls to explore, mountains to hike, and viewpoints to admire the jaw-dropping beauty.
The famous hanging coffins are here on display, a creepy, yet intriguing site to see after a brief walk through a forested valley. The cave system is spectacular as well as adventurous if you explore the long cave connection with a  guide. This was the most adrenaline pumping activity I did in the country and I highly recommend it.
You will be climbing through rock holes, swimming in cave lakes, and making your way through stalactites and stalagmites as you are guided with only a gas lamp in your guide's hand. How many times do you get to explore and hike through a large cave? Never.
Note: Don't try this without a guide! This cave is MASSIVE and you will totally get lost. The holes we had to go down and things we climbed over are not obvious and a person who doesn't know the trail will 100% get lost. If you want to go alone, I hear the short cave connection is fine but not adventurous at all.
So the point of the story – do the long cave connection with a guide. Get 3 people in your group to make it cheaper. I met two girls and invited myself. It was awesome!
My time here was blissful and I wish I could have stayed longer. Here's more information on Sagada.
TIMING: You can stay in Banaue for two days and make a day trip to Batad to see the Rice Terraces for one of those days, then spend the rest of your time in Sagada.
More information for your two-week itinerary for The Philippines:
Transport info: To maximize your time, you'll need to take a flight from Manila to Puerto Princesa and then back again. Considering it's very likely that you will be flying into Manila to start, it would make more sense to just buy a round trip flight from Manila to Puerta Princessa and then back to Manila to explore North Luzon.
Honestly, with over 7,000 islands, it's hard to go wrong. But if I had to recommend a two-week itinerary for the Philippines, this would be it! It's giving you a taste of two sides of the Philippines, and again, you won't be rushing around like a maniac. If you're looking to splash out a bit more and want to party, Boracay is the hot spot in the Philippines for that. I chose not to go because it's more expensive and the flights there were ridiculous during the time I was there, which was shoulder season! I wouldn't even consider it during high season.
So why is this the best two-week itinerary for The Philippines?
Becuase I spent a month here (UPDATE: I went back! Total time spent in the country – six weeks) and these were (still are) my two absolutely favorite places the Philippines offers. I want to explore more islands and I will! Again, if you're going for a short time, this is the best Philippine itinerary to get the best of both worlds without rushing too much!
I seriously fell in love with the country. I can't wait to go back again.
What else did I explore in the Philippines?
I explored Bohol and went off the grid on Panglao, I hunted for witches on Siquijor, I danced my ass off at the Neverland EDM concert in Manila, and I nearly got deported. On my second visit, I went to Manila, visited one of the most incredible sandbars in the world at Kalanggaman Island, and visited Leyte and Samar, some of the worst-hit islands during Super Typhoon Yolanda.
I've hooked you up with some tips on the Philippines too. Sooo…Have you booked flight yet? You probably should.
What do you think of this two-week itinerary for the Philippines? Does this sound like ultimate Philippine Itinerary to you? What are you most excited about?
Pin this if you loved it!