This Bosnia experience piece is authored by Robert Schrader.
With a size smaller than many U.S. states (not to mention, most other European nations), tiny Bosnia and Herzegovina often disappears from traveler's radars for purely practical reasons. Adding to this is the unfair impression that Bosnia is somehow unsafe, never mind the fact that the Balkans have been at peace for nearly two decades.
This would be unfortunate on its own, but it's especially so because Bosnia is so full of incredible, singular things to do.
Here are five amazing experiences in Bosnia that will add this tiny country to your bucket list in a big way.
Things to Do in Bosnia: 5 Experiences You Shouldn't Miss
---
1. Traipse Through Mostar's Old Town
If there's one place in Bosnia that exemplifies the amazing transformation of Bosnia since the end of the war, it's Mostar. Badly bombed by Serbian forces in 1992, it's now one of Europe's most satisfying old towns, a picturesque menagerie of mosques, handicraft shops and stone bridges over some of the clearest water you've ever seen.
Out of all of the things to do in Bosnia, if Mostar is a tourist trap, you won't ever want to be free! It's gorgeous year-round, but you can't beat visiting during Europe's autumn!
2. Take A Dip At Kravice Waterfall
The bad news is that you basically can't use public transport to get to Kravice, a massive waterfall that gives Croatia's better known Plitvice a run for its money.
The good news? Whether you rent a car or hire a taxi, the small expenditure of reaching this magical cascade is more than worth it, particularly if you visit Bosnia during summer.
3. Watch The Sun Set Over Sarajevo
"If you liked Mostar," my guest house owner told me on the way to the Mostar bus station, "you're going to love Sarajevo." I found this difficult to imagine, given how perfect Mostar was in my eyes, but Sarajevo charmed me sure enough, with an eclectic city center that blended Islamic, Soviet and classical European architecture, and a mountainous landscape that offered, among other things, a perfect perch for sunset: Zuta Tabija, or the Yellow Bastion.
---
---
4. Hear The Stories Of Srebrenica
While war in the Balkans has been over for a long time, it's important never to forget the atrocities that happened here. An easy and enlightening way to do this is to visit Galeria 11/07/95 in downtown Sarajevo.
An interactive museum that presents the stories of this tragedy in an engaging, human way, a visit here will touch your heart and stimulate your mind, even if you can't fit a visit to Srebrenica itself into your Bosnia itinerary.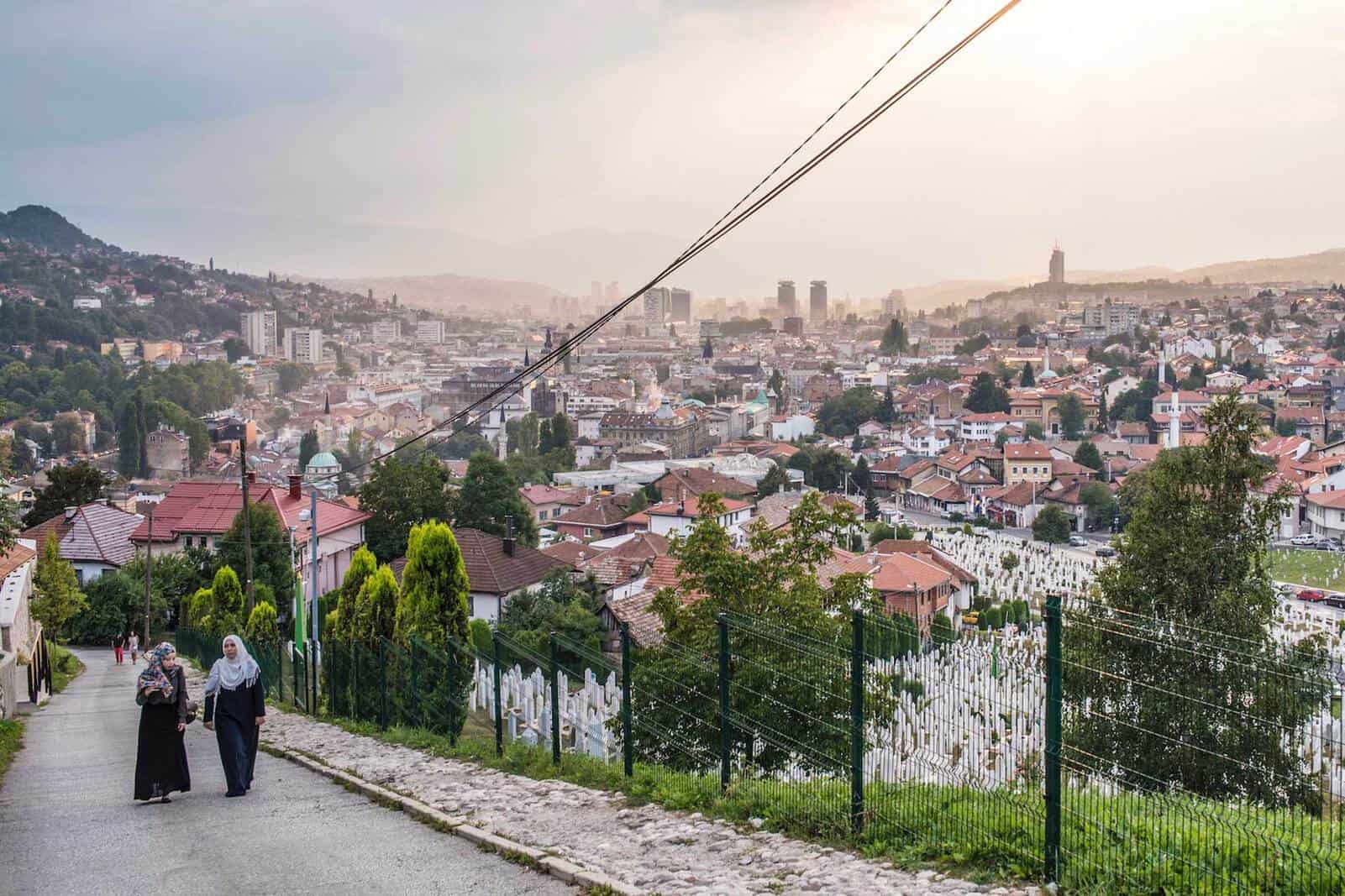 5. Taste Cevapi—But Don't Stop There!
It's always a good idea to save the best for last, and in Bosnia as in many other places, the best thing is the food. The most common and popular Bosnian food is Cevapi, a meat-and-onion sausage grilled and served piping hot. You're certain to eat plenty of these during your time in Bosnia, but you should also branch out whenever possible.
In particular, Pod Lipom in Old Town Sarajevo is a great place to do this, especially if you choose the "Sarajevo Sample," which like its name describes offers you a little taste of everything!
While Bosnia is certainly deserving of more than a day we all know we NEVER have enough time, anywhere, for anything. So if you're trying to squeeze in a visit to Mostar from Croatia or Montenegro, here's how you can make a day trip here happen.
Out of these things to do in Bosnia, which is having you pack your bags now? Tell us your plans in the comments!
---
>>> Bio
Robert Schrader is a writer, photographer and creator of the travel blog Leave Your Daily Hell. When he's not exploring Bosnia and the rest of the Balkans, you can find him in Bangkok, where he's currently trying to master the Thai language. Follow Leave Your Daily Hell on Facebook, or follow Robert on Instagram.
---
Pin this!