Backpacking the Philippines is highly underrated and I simply can't understand why.
Sure, it's not "attached" to the main Banana Pancake Trail in Southeast Asia but it's an easy and cheap jaunt over the pond to get here. I really am baffled at how more people don't include the Philippines on their backpacking trips through Southeast Asia.
I have an affinity for Thailand as it's my second home but the Philippines? It's freaking magical and dare I say, my favorite?!
Ah, I can't choose favorites, but it's damn beautiful and adventurous, and I'll tell everyone wanting to go to Southeast Asia that they HAVE to include it. Since you're already here, it doesn't look like you need anymore convincing.
So what are you after while backpacking the Philippines? Mountains and hiking? Beach bumming and snorkeling? Island hopping or cruising the coast on a motorbike?
The possibilities are endless in the Philippines, you'll soon find out why this place is so freaking wonderful and then wonder like I do, why so many people skip it!
Don't lose this! Click to pin it now.
RELATED: Backpacking Southeast Asia: Itinerary, Costs, And Tips!
Backpacking The Philippines
---
There's a mad crazy list of reasons to get your backpack on and head over to the Philippines ASAP.
Backpacking the Philippines will find you exploring virtually untouched islands filled with mystery and wonder, diving into crystal blue water to come face to face with gorgeous sea life, shaking your booty at beach parties, meeting awesome locals at festivals, and climbing up the sides of waterfalls and volcanos.
The Philippines is one of my favorite places to be, bar none, and I have been to many, many places over my years as a nomad.
I would spend much more time there if it weren't for the atrocious internet service (literally the only downside!). Hard to keep a busy website up and running with poor internet connections.
Here are my tips for things to do in the Philippines, where to go, expected costs and more.
How to Get to the Philippines
Well, the Philippines are spread over 7,000 islands so you won't be driving across a border or taking a train.
Your best bet is a flight into either Manila or Cebu regarding ease and affordability. They are the largest airports in the Philippines so they will offer a broader range of options.
Once you make it to the Philippines, through either of those airports, you'll likely have to book domestic flights to get around, unless you want to spend A LOT of time on buses and boats. More on that later.
Backpacking the Philippines: 1 Month Itinerary
---
In case you don't have a lifetime to spend here (sad face), here's a great way to spend a month in the Philippines. Don't have a month? Choose your favorite weeks listed here and just do that.
This itinerary is a quick rundown, I have TONS more specific posts on the Phlippines linked at the end of each week listed here for more info.
Backpacking Palawan – Week 1
Oh, Palawan. I got lost here as I hopped from island to island and from adventure to adventure. It is that incredible, gorgeous and alluring — beaches for days, unbelievable black rock islands galore, and lush greenery surrounding you.
El Nido is the most popular spot on Palawan with miles of sparkling coastline and a funky little town to hang out in; there were so many things to do in this region, it was dramatically challenging to tear myself away. I accidentally spent a week here alone. Oops!
While Honda Bay sits on Puerto Princesa's coastline, it is worth a mention of its own, so you don't miss it while backpacking the Philippines.
The island hopping tour you can take out into the bay is just magnificent. Hello! There's an entire island of starfish!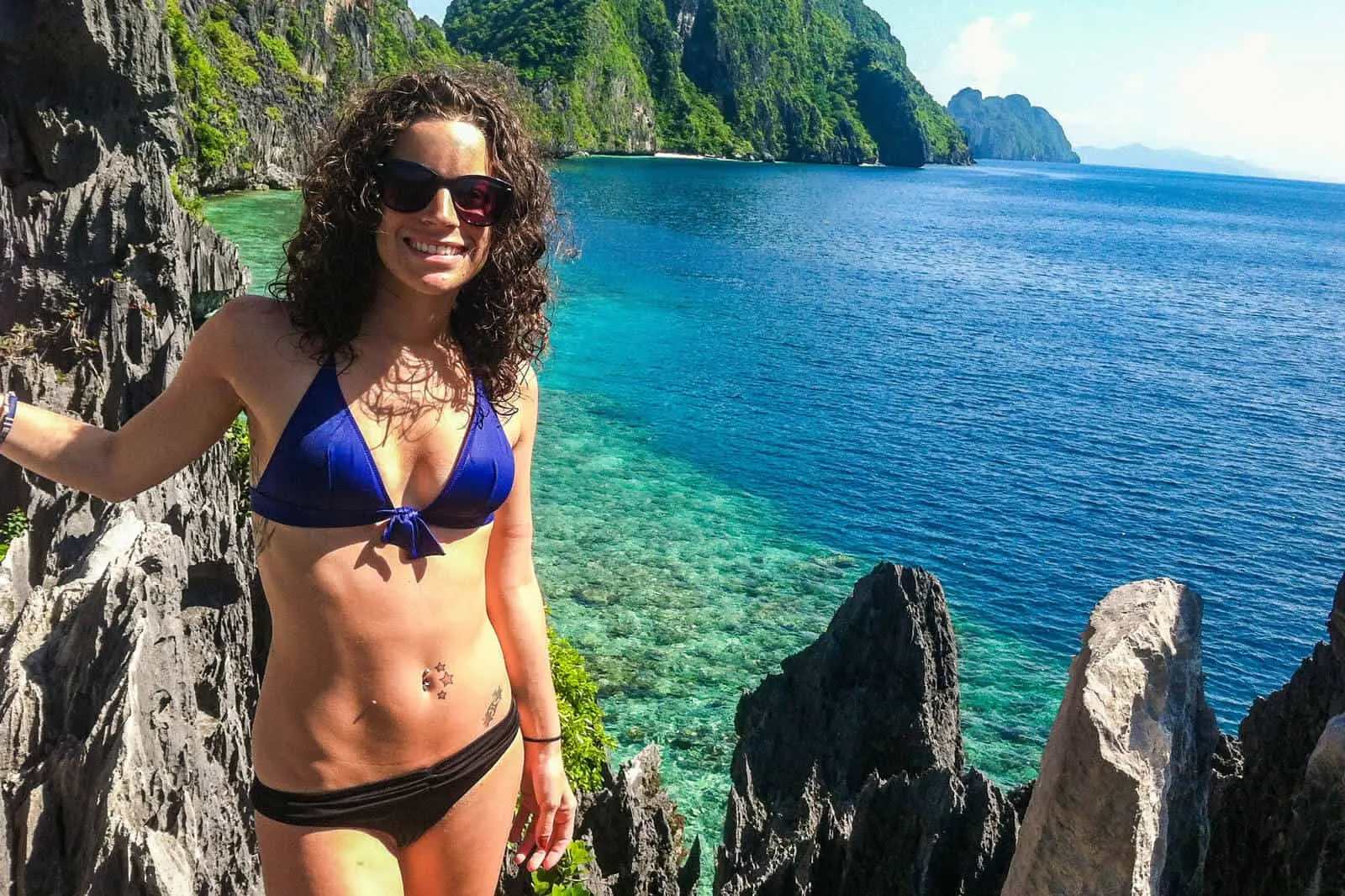 Bonus: You can even take a tour into a tiny cave entrance that opens up to the UNESCO World Heritage Site of the Underground River.
Of all the things to do in the Philippines, Puerto Princesa will inevitably be your list as a base or as your intro to Palawan. Just a tour of the city would be worth be worth it if you have some time, but this will be the hub you make some of your trips from as well as the city where Palawan's main airport is.
Read more: El Nido Island Hopping | Things to Do in El Nido | Things to do in Puerto Princesa
Recommended El Nido tours:
Recommended Puerto Princesa tours:
Backpacking the Central Islands – Week 2
You've heard the expression "it's a jungle out there?" Well, in this case, it is!
Head out to Nut Huts on Bohol for at least a one night stay. Wake up to a sweetly flowing river and then take a wild ride through the jungle.
You can head out to Chocolate Hills, check out a tarsier at a wildlife refuge, and walk across one of the hanging bridges. There are also plenty of beaches, because duh, you're always on an island in the Philippines.
The island of Cebu is really all about the site seeing, both above and below the water. With tons of Spanish architecture from colonization days, markets with colorful fare, and giant indoor shopping malls, there's plenty to see, but the real deal is under water. Cebu plays host to some of the countries best diving and snorkeling.
Siqiour is a pretty little island with a spooky history of witchcraft and shamanism; it's is worth a stop as you backpack the Philippines for bragging rights alone.
You survived! Honestly, motorbiking the algae-covered backroads was the only dangerous thing I encountered. I rode my bike around the island in search of waterfalls and elderly wizards. I found the waterfalls…
Read more: One Day Bohol Itinerary | Siquijor Island: Crazy Bike Rides and a Witch Hunt
Recommended Bohol tour:
Backpacking North Luzon – Week 3
I fell in love with Sagada at first sight. If you think chilling on the beach is cool, try chilling in a sleepy little town in the northern mountains of the Philippines.
The people are charming and welcoming, the waterfalls are amazing, and there are cave adventures to be had.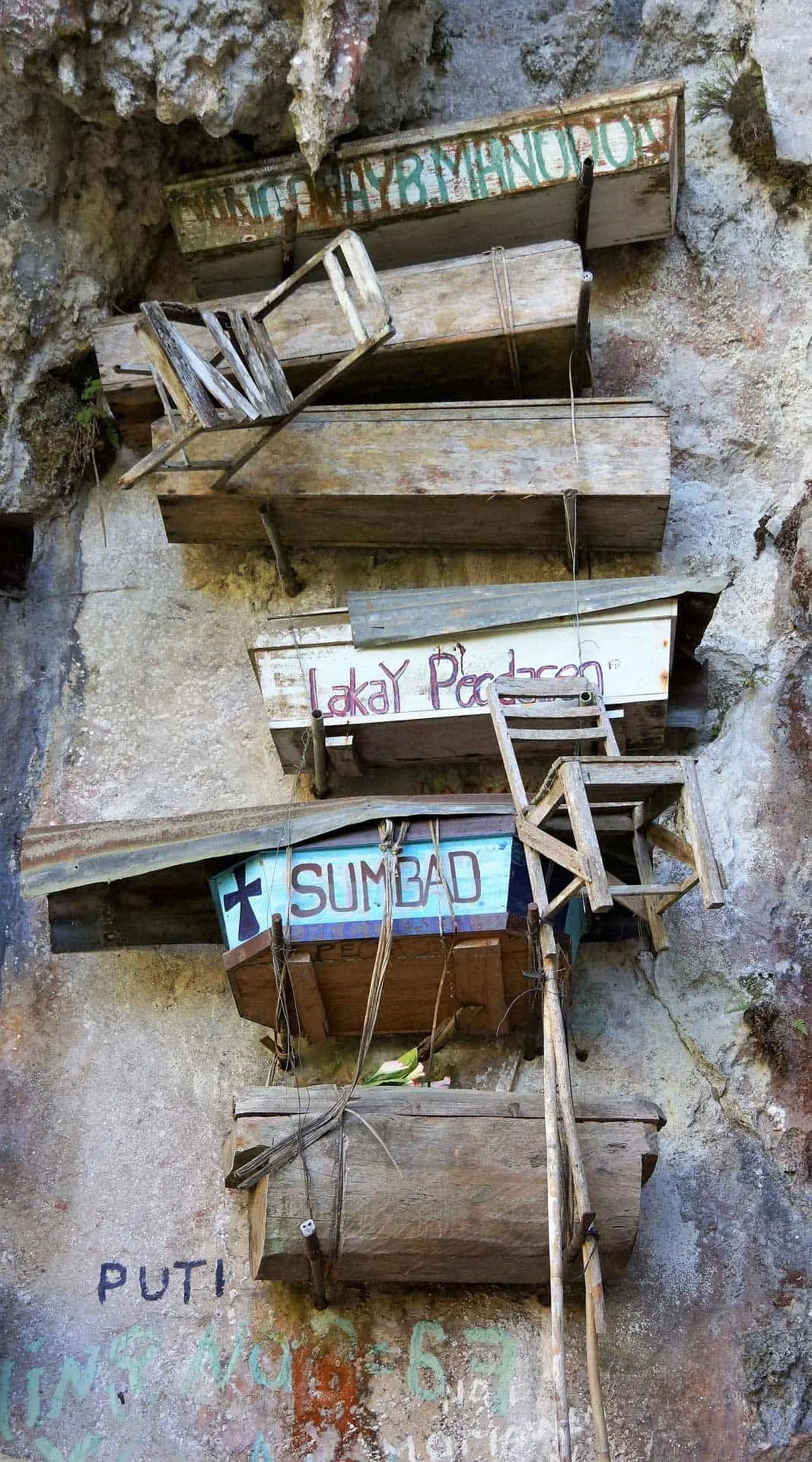 Oh… did I forget to mention the hanging coffins? Yea, put this one on your list of places to go.
The north is a world away from the beaches and the islands. Here in Banaue and Batad, it's all laid back, lush and mountainous all around. The primary purpose for adding this region to your backpacking Philippines itinerary is for the rice terraces.
The road trip up is rocky and wild, but the hike in and out isn't too strenuous. It's worth the views. Sagada is another town I got lost in, make extra time in the area if you can!
Read more: 2 Day Sagada Itinerary | Exploring the Rice Terraces of Banaue and Batad
Recommended Sagada tour:
Explore the Sumaguing Cave Connection: The caving was 400 pesos each (3 people). We went with Saggas for our tour company, not the tours from the tourist office which were pricer.
Backpacking Manila and Beyond – Week 4
Brutally struck by the Super Typhoon back in 2013, the islands of Samar and Leyte are still recovering from extensive damage. Even so, they are gorgeous beyond belief and worth the visit as you backpack the Philippines.
Beyond kayaking cool caves and eating lunch in a river in Samar and beach bumming it on on one of the world's coolest sandbars in Leyte, you will also be contributing to the rebuilding process by bringing your tourist dollars to the area.
It's a beautiful place that's highly underrated.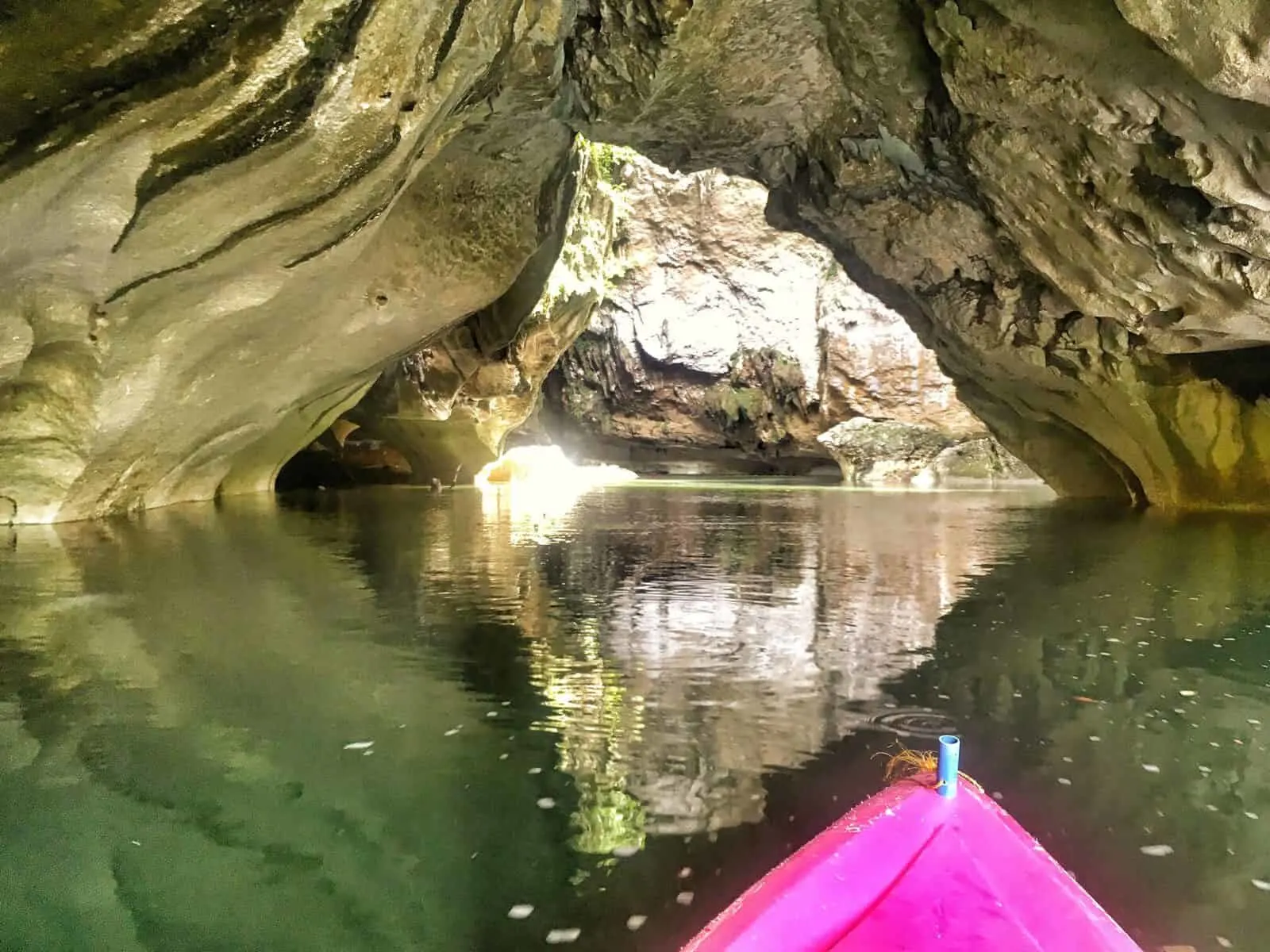 Lastly, you'll likely end up in Manila for your flight out which has some interesting spot like Intramuros or a day trip to Corregidor but yes, the rumors are true, the traffic is the most chaotic I've experienced, and it's a bit rough around the edges.
But if you're here, you mine as well embrace it! Or, if you're not feeling it, there are some outstanding day trips from Manila that could extract you from the bustle.
Read more: What to do in Leyte and Samar | Day Trips In and From Manila
Recommended Manila tours:
→ Curious about the ultimate 2-week itinerary… If you have less than a month to spend here, here's what I suggest you do for two weeks in the Philippines.
Best Food to Try as You Backpack the Philippines
Take your tummy on an adventure with all the food in the Philippines. Unfortunately, the food wasn't my thing as I'm vegetarian, so yeah, fellow veggies, good luck! It's not good nor easy.
Adobo – Meat is slow cooked in this thick and rich spiced up dish. It's very similar to the dark rich sauces from Mexico.
Lechon – Stuffed, roasted pig! For my pork eaters out there, this is a classic dish reminiscent of the apple in the mouth whole pig over a fire deal.
Sisig – Extra pig parts. Yep! No food goes to waste in the Philippines. They take the cheeks, the liver, and other leftover parts and turn them into what becomes taco meat. Again, if you're adventurous and a meat eater, this one is for you!
Pinakbet – This is a healthy mix of vegetables and spices that includes okra and eggplant with shrimp paste and pork.
Sinanglay – Tilapia, spiced up, simmered in coconut milk, and wrapped in pechay leaves. This dish is a classic Filipino staple.
Chopsuey – One of the only vegetarian dishes, veg in a thicken starch sauce. I have to say, it's not very exciting at all, but I was essentially forced to eat it a lot.
Bicol Express – I loved this dish—when I found it made fresh (aka I could ask for it to be made with no meat). It's a spicy coconut sauce with veg.
Belut – a developt bird embryo, often duck, boiled. It's revolting in my eyes, you're eating a nearly hatched bird.
Meat and rice are VERY popular in the Philippines, and it's mostly what they eat. Markets, I found, we not like Thailand or other areas of Southeast Asia where they can make things fresh and to order. In the Philippines, most of it was made so getting things vegetarian was not an option.
Fast food is very common as well, which, to me, isn't something I want at all. I'll never forget, I landed late and literally, my only option near my hotel in Cebu City was a McDonald's cheeseburger without the meat. Let that sink in. This was my only reasonably priced choice. In a big city. With about ten restaurants around me.
Eating here was rough, and I spent more money because I had to eat at "nicer places" which served more Westernized meals as opposed to local, which is usually what I prefer.
How to Get Around While Backpacking the Philippines
As you hop from island to island, you're likely going to take a plane, so be prepared and book your flights in advance to get the lower price. If you don't mind shelling out a few bucks extra, and can afford to be more flexible, wait until it's a few days out and you've made your final decision.
There is a risk in waiting though, as it depends on which islands you want to visit and when.
When I was here, I was trying to get a flight to Camiguin, but at that time, there were only 2-3 flights going in and out a week! So it's something to keep in mind, there aren't going to be flights all day every day.
This is the same for boats. Not every boat to every place is running every day. Trust me; I learned the hard way, again. I was stranded for an extra night because no boats were running to my destination one day, oops.
The transportation system (or lack thereof) in the Philippines can get a bit frustrating and messy. It's not consistent, and it can get a bit frustrating going from island to island.
Within the islands, you'll be using trikes (tricycles) the equivalent of a tuk tuk, renting a motorbike, or taking buses. These all vary from island to island.
Buses used to be extremely difficult to deal with. When I was in the Philippines just a few years ago, it was almost impossible to book yourself in ahead of time. Tour companies online wanted more money, and they wanted a sketchy money transfer that took days clear!
Either that or you had to walk into the bus station to purchase, ain't nobody got time for that! Luckily, there's a good fix now and it's my top tip for dealing with transport in the Philippines.
Use 12go.asia to book your transport ahead of time.
Transportation Tip for the Philippines: While you can just book at the pier, bus or train station, you may want to book ahead for certain legs of your journey to guarantee that you get a seat on the day you need to travel. 12go.asia is the best way to do this. Book your next trip ahead of time, so you have one less thing to worry about. Click here to book a ticket through 12go.asia
Best Time to Backpack the Philippines
The dry season runs from November to April, which is when the country is at its hottest, and it also means that's peak tourist time and high season prices are what's on offer.
The cooler months are December to February but the best months regarding weather and prices are going to be those shoulder season months, May and November
May through October are usually the rainiest months but the rain in the Philippines at these times is more like a light warm drizzle, maybe a day or two of rain but nothing like a total monsoon on your travels.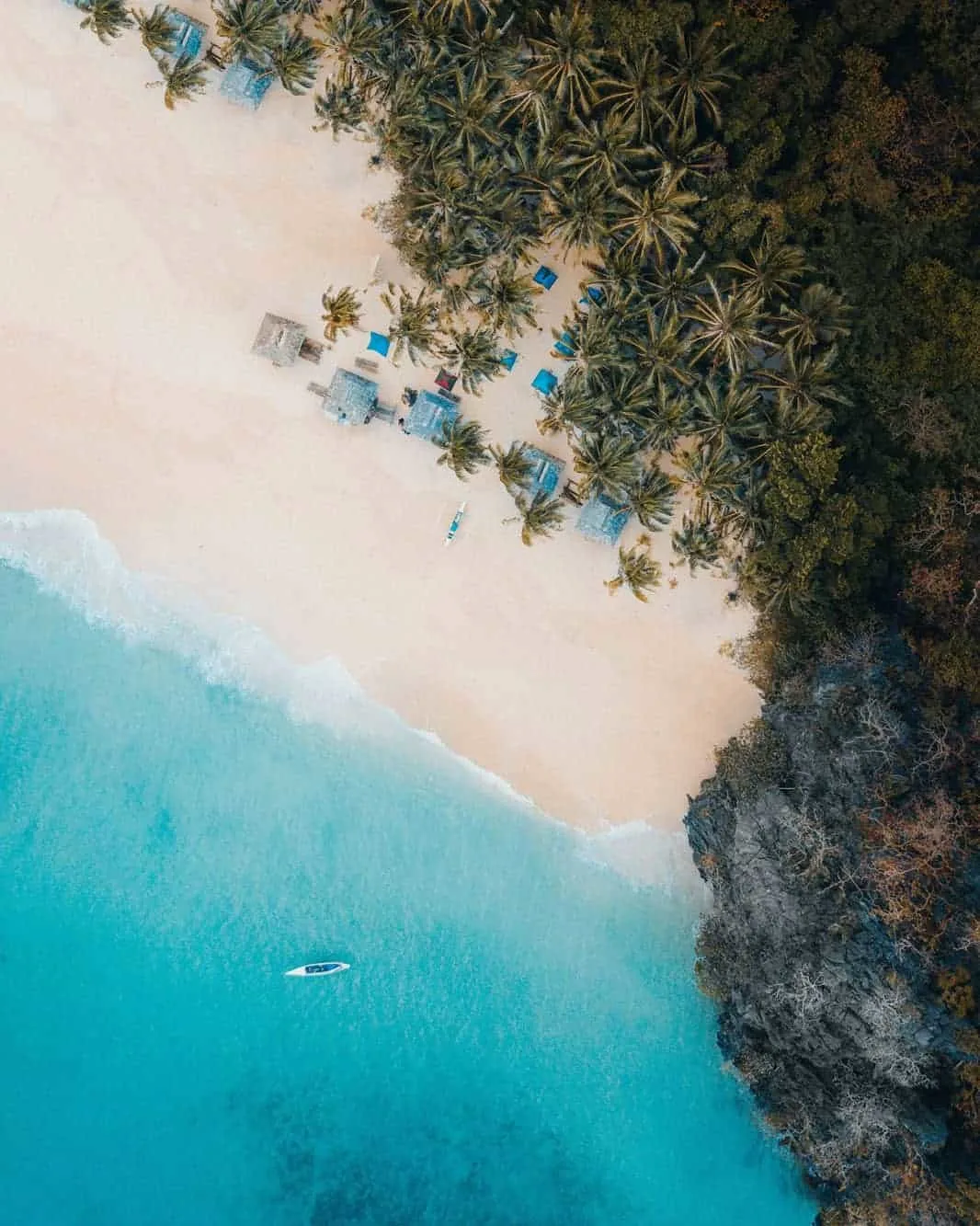 Something to note before coming over and backpacking the Philippines is their typhoon season which is unpredictable. They can come in August or in February and anytime in between. Sometimes it's a strong storm; sometimes it's a catastrophic natural disaster.
The Philippines is on the Ring of Fire, and they get battered by storms regularly so keep this in mind and remember to get yourself travel insurance in case your travels get canceled or worse, you're there when a typhoon hits.
Cost of Backpacking the Philippines
It is relatively cheap, even during peak season, to backpack the Philippines.
The average overnight stay in a hostel will run you less than $10 a night.
If you want a hotel, you'll spend around $35 a night at the most.
An inexpensive meal will put you out $3.
And renting a motorbike will cost you at most $10.
Which gives you an average one-month living expense of well under $1000
Tips & Scams to Avoid While Backpacking the Philippines
I'll keep this section short as I have an entire post dedicated to explaining exactly this.
Scams are prevalent around the world and the Philippines is no different. There isn't anything new here and the same old tricks are being used to scam tourists out of more money.
Watch your cash when doing money exchanges.
Taxis will rarely want to use the meter and always try to get more cash out of you.
They will blame motorbike damage on you although it was there before.
Be wary of extra cheap tour agencies, they could be selling you fake tickets.
Some of my best tips and things to keep in mind…
Be aware that wifi will be terrible in the Philippines. Don't depend on it.
Book your transport through 12go.asia like mentioned above to skip the aggravation and scams.
FLY when you can. Sometimes it saves you cash and time.
Book buses for popular routes in advance, they sell out. Example: Manila to Banaue.
For more scams to avoid and tips for your backpacking trip, check this post out.
Is It Safe to Backpack the Philippines
No less safe than walking through New York City in the middle of the day!
Common sense is required here, people. You're in a foreign country, full of tourists, and with a low cost of living. There will always be people ready to take advantage of you.
Trust your instincts. If something feels sketch, trust that feeling. You simply cannot travel the world afraid all the time, but you also cannot walk around with your head in the clouds.
Find your happy medium. Be vigilant, be aware of your surroundings, and do your research!
Mindanao is one of the main regions that makes it in the news as being unsafe, however, Camiguin Island was a place I REALLY wanted to visit but due to the lack of ferries and flights heading that way from where I was, the timing didn't work out. The island is safe. The entire area isn't "bad" just a few sections.
Simply do your part by researching the areas you wish to visit, overall, backpacking the Philippines is as safe as can be and the areas I've mentioned in my itinerary are frequented by tourists and are safe.
Philippines Backpacking Check List
Of course, everyone is different and it definitely depends on which islands you're going to as well. It DOES get chilly in the mountains but down on the coast? You'll be roasting in a swimsuit all day.
So here's a quick packing list to get you started and you can tweak to what you need. Here's a more in-depth packing guide for the Philippines.
2 kimonos for going over tanks or swimsuits
1 pair of sandals
1 pair of sneakers
2 pairs of socks
1 pair of jeans
1 lightweight but warm jacket (this will be used on the freezing planes and buses too!)
Sun Protection
Electronics
JSVER cube (you'll be the hero with the extra outlets!)
All the wires you need for your devices, finding them here will be annoying.
Extra batteries if needed.
Skyroam device – Wifi is terrible in the Philippines. Bring your own portable wifi! (Code: Nina77 gets you 10% off!)
Toiletries
Travel Insurance
Yep, don't forget to pack this! Read here why or if you already know you need it, get a quick quote from the two companies I always book through depending on my trip:
Safety Wing Quote | World Nomads Quote
The Philippines is downright enchanting and drop dead gorgeous. There's no doubt about it. I've said this a million times to anyone who has asked: if it wasn't for the lack of great food and the abysmal wifi situations (hello, I'm vegetarian and I work online!) I'd 100% live in the Philippines for a while.
In fact, my very first visit was supposed to be me checking it out to move there. Unfortunately, as soon as I realized how bad those two situations were for me, I couldn't make the move. But I love visiting and so will you!
More Around The Philippines
Where will you go after the Philippines?
Laos | Malaysia | Singapore | Indonesia | Thailand | Cambodia | Vietnam
I hope this guide helps you backpack the Philippines better! Let us know where you're going or if you have more questions in the comments!
>>> EVEN MORE ABOUT THE PHILIPPINES <<<
How to Get to El Nido From Puerto Princesa (Palawan, Philippines)
Where to Stay in El Nido: Hostels, Hotels and Resorts
Things to Do in El Nido: A Guide to 3-5 Days in the Philippine Paradise
13+ Day Trips and Tours to Take in Manila, Philippines
Your Intro to Palawan, Philippines: 9 Things to Do in Puerto Princesa
Years After a Super Typhoon: What Traveling Leyte and Samar Are Like Now (Philippines)
A Guide to Kalanggaman Island: Basking on One of the Best Sandbars in the Philippines
2-Day Sagada Itinerary in a Blissful Sleepy Town in the Mountains of the Philippines
Exploring the Rice Terraces of Banaue and Batad
Siquijor Island: Crazy Bike Rides and a Witch Hunt
A One Day Bohol Itinerary – Jungle Huts, Tiny Monkeys, and Chocolate Hills
Cebu City- Boo / Neverland Manila Festival- Yay!
Welcome to the Philippines! Not
---
---
Busy? Click the picture to Pin this for later