Salento is a mecca for visitors in Colombia. Everyone comes here and for good reason too!
Most of them are heading to the gorgeous Cocora Valley to admire the insanely beautiful wax palms that tower above the valley.
But there are more things to do in Salento, so I hope you stay a while! Here were my favorites…
Don't lose this! Click to pin it now.
5 Great Things to Do in Salento
---
1. Get up High at the Miradors
Get those legs stretched out from your bus ride to Salento and head up to the mirador over the town and into the lush forests on the outskirts.
Salento is a gorgeous pueblo with rolling hills as the backdrop. Simply head up the stairs from Carrera 6. You'll get great views of the colorful town, but it's nothing mega spectacular. There's another spot with a better view.
When you head up the stairs, go to the left. After walking for a few minutes, you'll see another viewpoint overlooking the forest and the valley that flows between the verdant hills. This view was my favorite, as it was a great intro to what was to come during my time in Salento—hiking in the fantastic Andes!
2. All the Chocolate Things
OMG, don't forget to do chocolate things while you're here! Please, you'll regret your life choices very quickly. We found the loveliest place to get a deep dive into the chocolate that comes from Colombia.
This place grabbed Garrett's attention when he was strolling solo one day. He walked passed it while they were roasting the cocoa beans and came home to tell me we HAD to go, it smelled so good.
It turns out, he was right, this place was ace, and I'm glad we went. I like chocolate but wouldn't consider myself a "chocolate person" necessarily. But this spot is a must!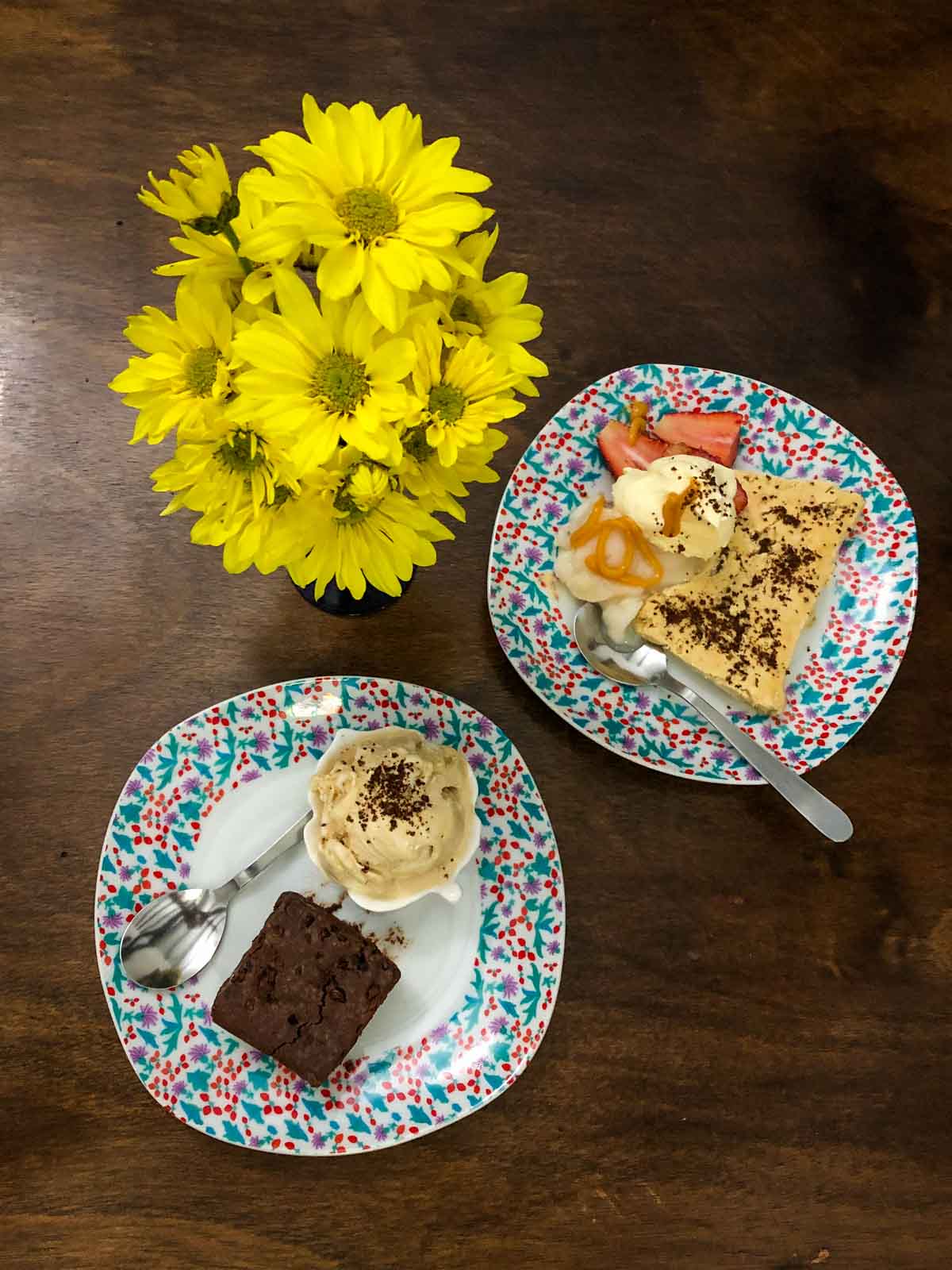 We had hot chocolate with QUESO. Yes, they put cheese in their hot chocolates, not so sure I'd do it again, but it was fun to try. The hot chocolate itself was nothing like I've ever tasted in my life. They don't add sugar at all, and you really can tell; it tasted so PURE and chocolatey. It seems so obvious when I write it, but really, you have no idea what real chocolate is until you taste it in its purest form.
Their chocolate snacks, nibs, and desserts were absolute perfection as well. We considered this dinner because we are adults and can make those types of decisions for ourselves. It was one of my better adult choices in life.
On top of all the delicious items we consumed, the owner is the sweetest man and will explain everything to you from how they grow their plants to a fun taste test with the chocolates all while explaining the process.
All you need to do is order some items, this isn't a tour or anything, which made it so much more authentic and remarkable. He just stands at your table and chats chocolate while you're tasting.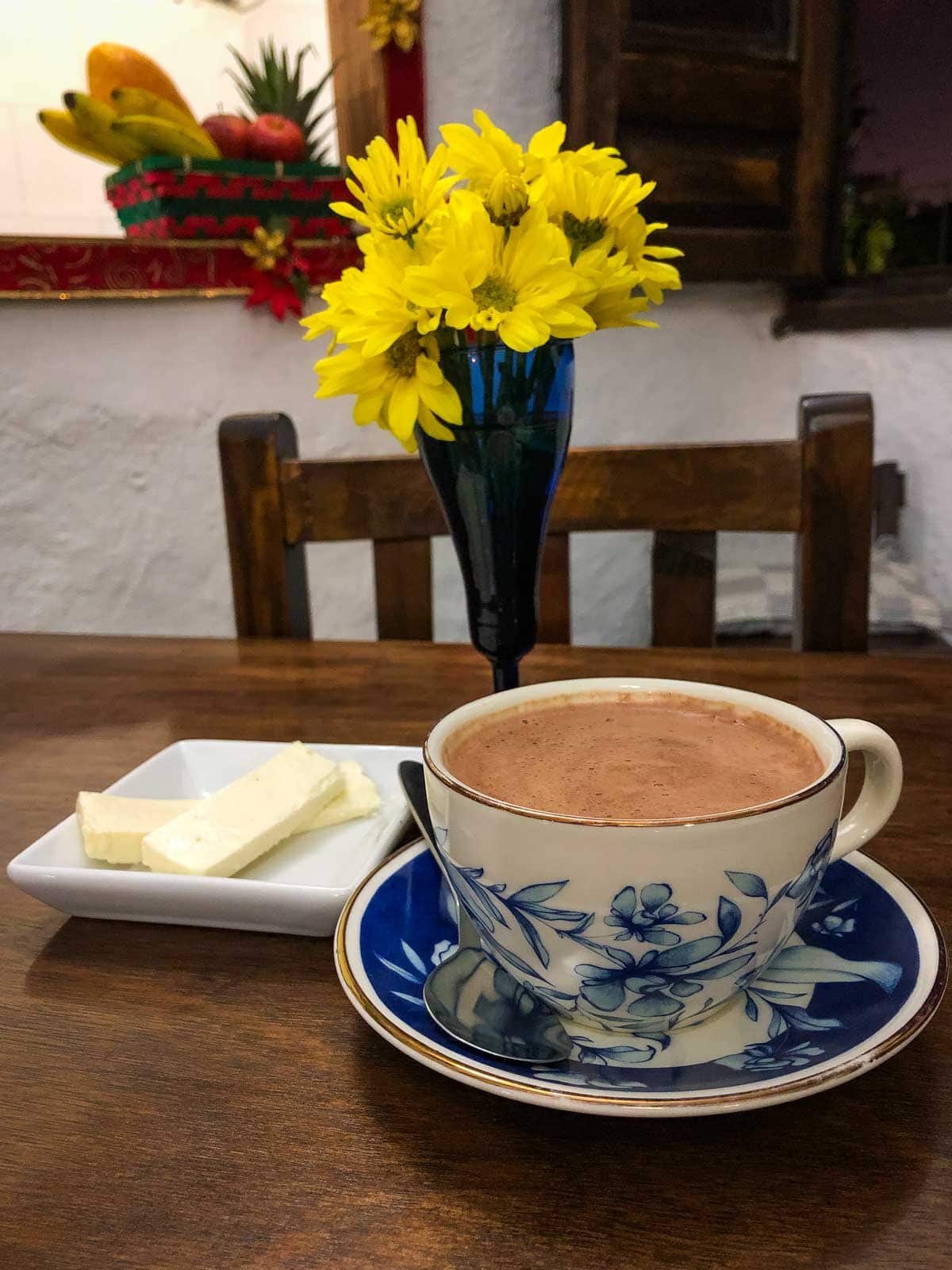 This is a family business, and you have never seen a family so proud of their product! Go over and support them and their yummy chocolate.
The place is called Sueno de Fresa (or Strawberry Dreams) right next to Casa Olier Hotel—I don't under their name choice, I forgot to ask, but yes, there's chocolate here. 🙂
RELATED: A Guide to Jerico, Colombia—Don't Miss This Charming Pueblo
3. Legendary Summit Hike at Los Nevados
Well, hello, Andes Mountains. Why did I not know anything about you? Why did I think you weren't that tall? Why did I underestimate you?
I'm so sorry; please forgive me. You blew me away!
I don't know what I really thought about the Andes, I just never looked too hard into them and didn't know much. There's snow in Colombia? Glaciers?! WHAT?! Apparently, I live under a rock, even after years and years of travel. To be fair, Colombia was my first South American country, so I won't be TOO hard on myself.
So here I was, in Salento, and prepped and ready to hike in the Los Nevaods Mountains, and guys, I can't recommend this national park enough.
It was one of the most brutally beautiful places I've been to. The summit was the highest I had ever been and THE hardest multi-day hike I've done to date.
Salento is one of the main entrances to this incredible park, and you shouldn't pass it up.
RELATED: Trekking in Los Nevados National Park: 3-Day Paramillo Del Quindio Summit (Colombia)
Paramillo del Quindio Summit
I summited Paramillo del Quindio on a three-day trek in the Los Nevados Mountains, but there are a few summits in the area to conquer. I would return to hike some more as it was so gorgeous.
You'll head through a bit of Cocora Valley and then immediately turn into the lush forest with a steep climb. Eventually, you'll make it to the incredible, and alien Paramo ecosystem with plants and views like you've never seen.
You'll summit Parramillio del Quindio, take in the surrounding peaks like the tallest in the park, Tolima, and then head out back through the forest to come out the other end of the Cocoa Vally and its bizarre and beautiful wax palms.
This hike is not to be underestimated, we did around 20km per day, stayed in basic farms, and summited a mountain at 15,000+ft/4750 meters.
You'll need proper gear and a positive mindset. If you think you want to take on this hike, I'm here for you!
Read up on everything you need to know before hiking Paramillo del Quindio in Los Nevados.
4. Easy Day Trip to Filandia
I got to see quite a few colorful towns during my time in Colombia. Medellin, Guatape, Jerico, Jardin, even Salento… They have nothing on Filandia. This often-overlooked town is deserving of a visit!
It exudes charm; it's not as touristy as some of the others, has a fantastic coffee scene (of course!), and has the most colorful and beautiful streets I saw in Colombia.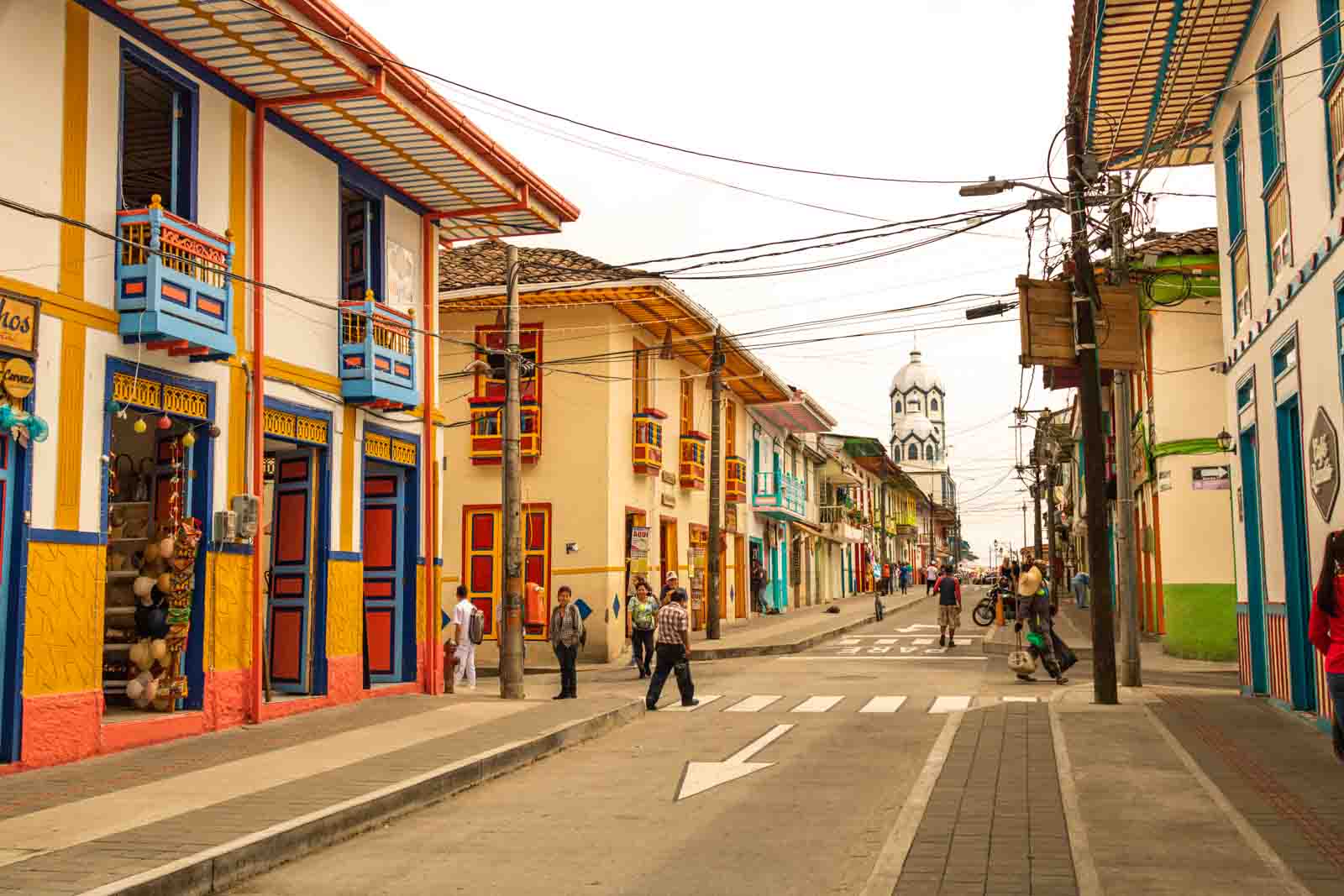 I'm not sure how Filandia is just killing it on the color splash scene, and nobody knows about it. I mean, overall Colombia has that vibe down, but Filandia takes it to a new level, and I think it has the most beautiful streets in the areas I got to see.
This is a cool thing to do outside of Salento. It's only around 30 minutes on public transport outside of Salento and well worth it.
5. Of Course, Coffee Things!
Uh, duh. Did I need to mention this? I think I put coffee on every single post of mine that I've written about Colombia because let's get real; we're chilling the coffee region, people! When in Colombia, particularly the coffee region, one does coffee things, no?
There are plenty of opportunities too, some cool coffee shops in town are Café Jesús Martín, Cafe Matto, and Cafe Don Matias.
You've also got to do a coffee tour! If you haven't done one yet in Colombia, this is the place to do it!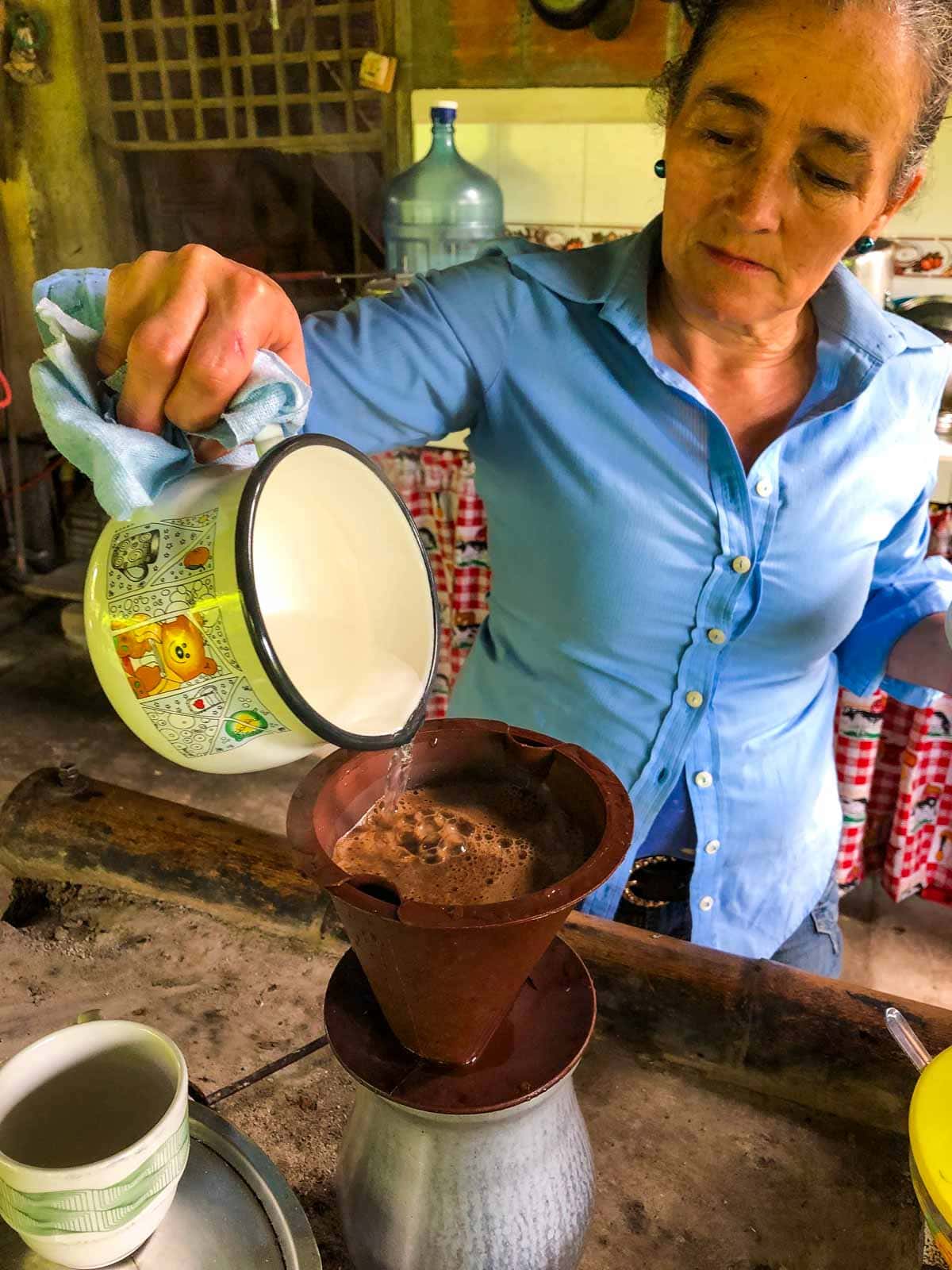 I actually took a day trip to Filandia to do my coffee tour, and it was perfect. The coffee tours here are a little less busy than some of the other places in Colombia.
Not many people know about it, and we had the tour to ourselves. The woman, who only spoke Spanish, gave us the entire lowdown on making coffee (don't worry, they have an English speaking guide too, but Garrett and I needed to practice our Español!)
You won't believe the amount of work that goes into making coffee until you do a coffee tour, wow!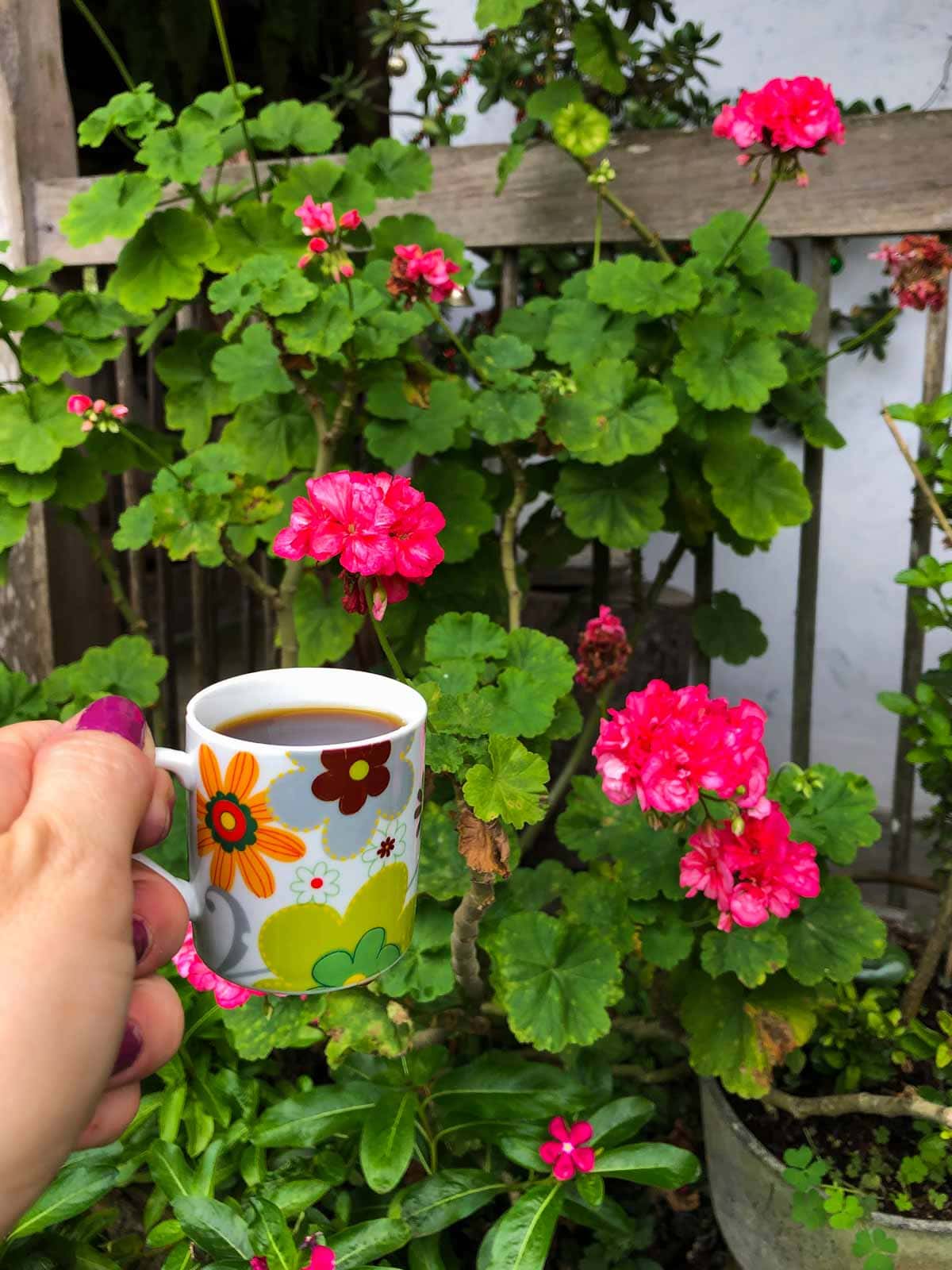 This is a must thing to do in Salento or Filandia for that matter, it's just "the thing," and it's damn delicious and fascinating. Just like the chocolate, you've never had a cup of coffee straight off the farm and freshly roasted and brewed before your eyes. And actually, you get to help—You'll help gather the beans, wash, dry, roast, and grind while learning about the whole process.
I was genuinely shocked by how much work and effort is made for such tiny little beans; you definitely get a new level of respect for the farmer and the bean.
What's up With Cocora Valley?
Nothing, it's great! I just wanted to offer up other things to do in Salento, aside from Cocora Valley. But I get the hype. It's pretty damn cool! I got my taste of Cocora Vallery on my Los Nevados hike, though, and I was happy with what I got to see.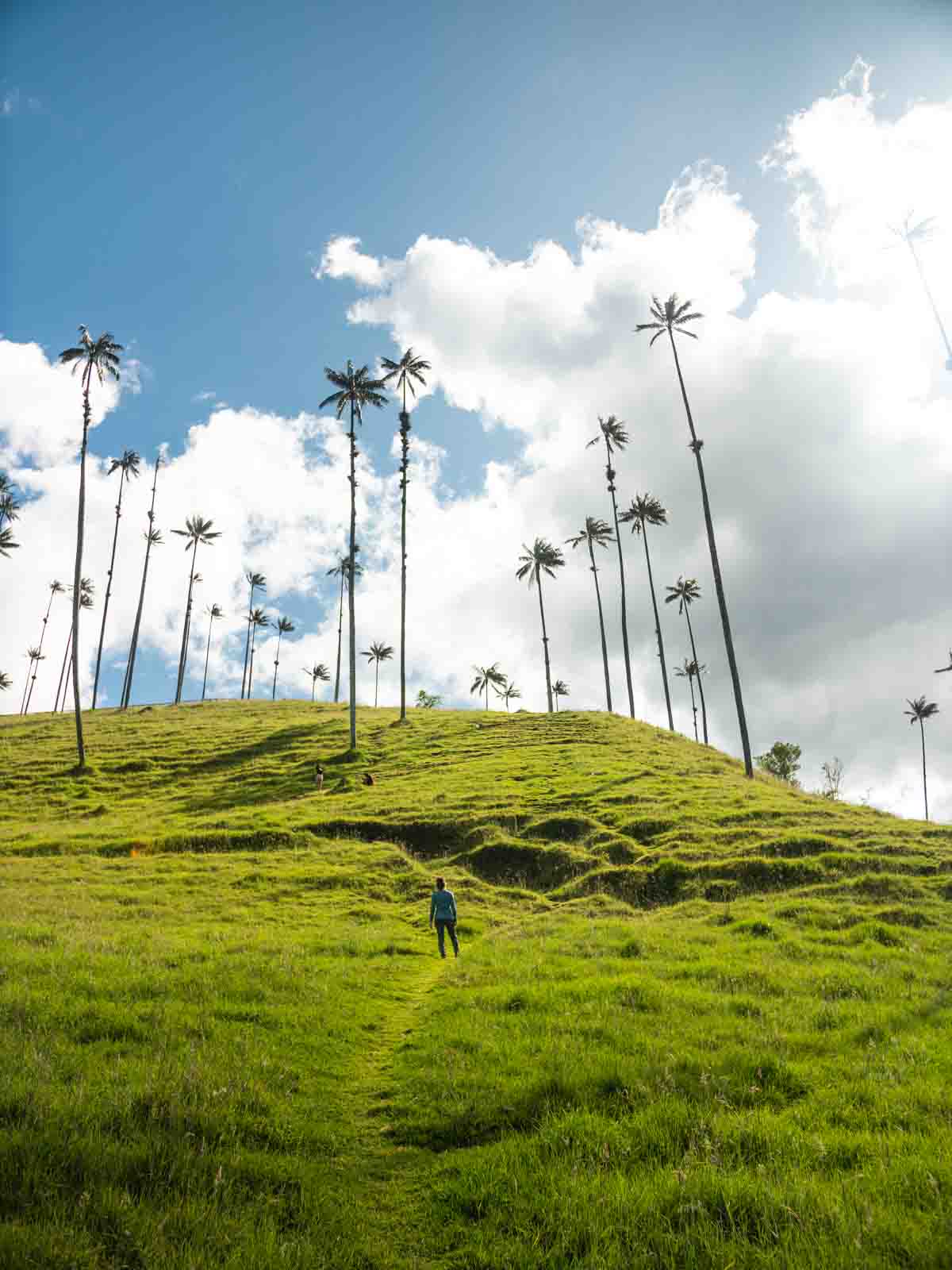 After all, these are the tallest wax palms on earth; they're gorgeous and majestic AF, but it would be a shame to miss out on the rest of Salento, so I hope you stay a few extra days in the area.
RELATED: A Guide to Jardin, Colombia—the Prettiest Pueblo You Ever Did See
Where to Stay in Salento
Posada del Angel Hotel – You won't get the most spacious room in town, but for the price and the view, we loved our little hotel room overlooking the hills. We were just a mere block from the square but didn't get any of the noise either. This spot had great value!
The Corner Hostel – This spot is right in town and mega cheap!
Estrella de Agua Hostel – They have the most important accessory for being a great hostel in Colombia, tons of hammocks. Oh, and a good location too.
For something a bit nicer without going too crazy over budget, Hotel Salento Real Eje Cafetero and Hotel El Mirador del Cocora are both nice options as well.
How to Get to and Around Salento
Getting to Salento from Cali:
You'll need to take a bus from Cali to Armenia first. You'll then switch to a smaller bus to go the rest of the way to Salento. Buses leave Cali towards Salento roughly every hour. It will take around five hours.
Getting to Salento from Jardin:
From Jardin, you'll need to take a chiva to Riosucio. From Riosucio, you'll catch a small bus to Salento. It will take pretty much all day, make sure to grab a morning chiva from Jardin, so you don't arrive at night.
Arriving at Salento Bus Station:
Surprisingly, no taxis or anything were waiting here. We arrived in the middle of the day too! So be prepared to walk to your accommodation. Luckily, the bus station is in town, and Salento is pretty small.
If your accommodation is on the outskirts of the town or you have a lot of stuff, it might be worth asking your accommodation for a ride.
Getting to Filandia or Cocora Valley from Salento:
These are both very easy to do! Directly in the main square of Salento, you'll see a bunch of jeeps and a little stand selling tickets. Simply walk up, get a ticket, and be on your way. Jeeps around these areas are pretty frequent, but be prepared to wait for the jeeps to fill up or to wait in a small line because they will only go when it's on the hour, and the jeep is full.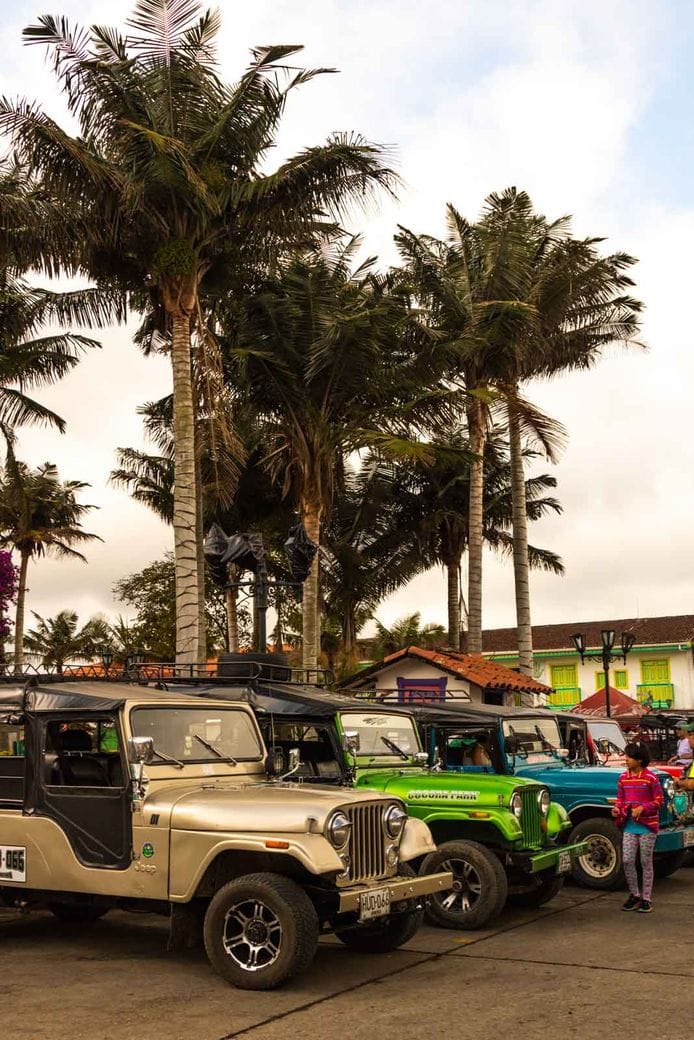 When we were in Filanida trying to go back to Salento, people were waiting to get on the jeep, but they had to wait an hour for the jeep to get full! Of course, there is always the option to pay more to convince the driver to go now.
I hope you found some great ideas about fun things to do in Salento. Which one of these things are you most excited to do? Let me know in the comments below!
---
---
Don't lose this! Click to pin it now.