Visas can be VERY confusing to understand, especially when you're new to trying to live a life abroad. You're always having to check and worry about visa information—at least that's how it seems.
It doesn't have to be complicated, though! I hope this post helps explain what to look out for, understand the most popular visas, and which are the longest tourist visas that U.S.A citizens can get.
Longest Tourist Visas For U.S. Citizens (And More!)
I've laid out everything below to show you that there are some cool countries out there where we can "live" even on a tourist visa. Six months to a year is an excellent chunk of time to spend in a country you LOVE and want to get to know more.
And, with quite a few places around the world that offer longer visas, you can do precisely that.
Below are some of the most popular countries and their visa situation, and countries that offer us the longest/ best tourist visas in terms of length of time, cost, and that aren't too much of a hassle to obtain.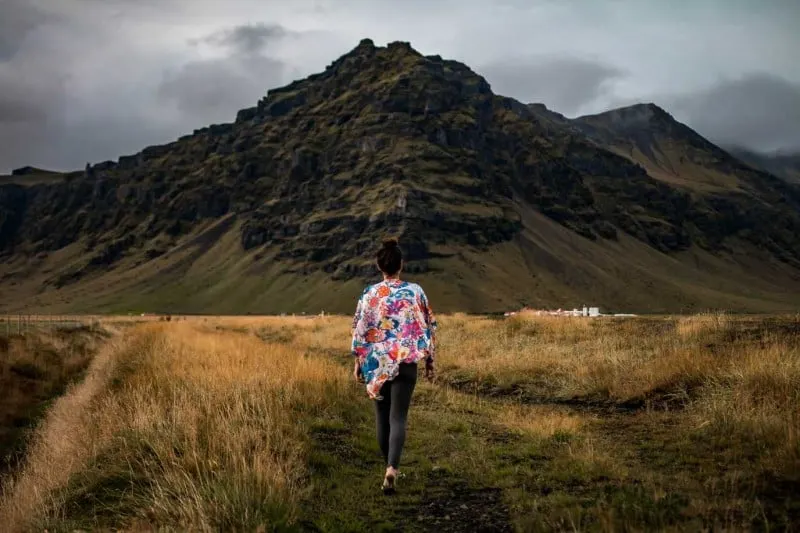 Do note—This list is not exhaustive, and also, it was valid at the time of writing. I will do my best to keep this up to date. However, countries can change their rules at any time. So before heading out, ALWAYS triple check the visa requirements of a country.
There's also "a lot more to it," as in, each country has its way of accepting an extension request or requiring you to apply before getting the longest visa. It's impossible to list every visa situation, extension options, costs, rules, etc for each country.
This will give you a good gist of the tourist visas out there but definitely take this info and then do some digging on the countries that pique your interest.
Visa-Free Countries for U.S. Citizens
We are very lucky! Americans can visit as a tourist, visa-free, for the following countries:
(This means we can visit without the hassle of applying for a visa first! Always double check, as things can change)
EUROPE: Albania, Andorra, Austria, Belgium, Bosnia and Herzegovina, Bulgaria, Croatia, Cyprus, Czech Republic, Denmark, Estonia, Faroe Islands, Finland, France, Georgia, Germany, Gibraltar, Greece, Greenland, Guernsey, Hungary, Iceland, Ireland, Italy, Kosovo. Latvia, Liechtenstein, Lithuania, Luxembourg, Malta, Moldova, Monaco, Montenegro, Netherlands, North Macedonia, Norway, Poland, Portugal, Romania, San Marino, Serbia, Slovakia, Slovenia, Spain, Sweden, Switzerland, Ukraine, United Kingdom, and Vatican City.
OCEANIA: Cook Islands, Fiji, French Polynesia, Guam, Kiribati, Marshall Islands, Micronesia, New Caledonia, Niue, Northern Mariana Islands, Palau Islands, and Vanuatu.
AFRICA: Botswana, The Central African Republic, Equatorial Guinea, eSwatini, Lesotho, Mauritius, Mayotte, Morocco, Namibia, Reunion, Sao Tome, and Principe, Senegal, South Africa, and Tunisia.
AMERICAS: American Samoa, Argentina, Belize, Bermuda, Brazil, Canada, Chile, Colombia, Costa Rica, Ecuador, El Salvador, Falkland Islands, French Guiana, Guatemala, Guyana, Honduras, Mexico, Nicaragua, Panama, Peru, and Uruguay.
CARIBBEAN: Anguilla, Antigua and Barbuda, Aruba, Bahamas, Barbados, The British Virgin Islands, Cayman Islands, Curacao, Dominica, Dominican Republic, French West Indies, Grenada, Haiti, Jamaica, Montserrat, Puerto Rico, St. Kitts and Nevis, St. Lucia, St. Maarten, St. Vincent and the Grenadines, Trinidad and Tobago, Turks and Caicos Islands, and the US Virgin Islands.
MIDDLE EAST: Armenia, Israel, Oman, Palestinian Territory, and Qatar.
ASIA: Brunei, Hong Kong (SAR China), Indonesia, Japan, Kazakhstan, Kyrgyzstan, Macao, Malaysia, Mongolia, Philippines, Singapore, South Korea, Taiwan, Thailand, and Uzbekistan.
EVISAS: These countries offer USA citizen e-Visas, meaning you can apply online and receive a visa for entry in your inbox. No need to show up to the embassy to apply.
Angola, Azerbaijan, Benin, Djibouti, Ethiopia, Guinea, India, Kenya, Myanmar, Türkiye, Uganda, Uzbekistan, Vietnam.
Six Months To 1-Year Tourist Visas for U.S. Citizens
For this list, you'll have tourist visas given on arrival that don't cost anything. You can land and automatically get six months to one year in the following countries with your U.S. passport.
1-Year Tourist Visas:
6-Month Tourist Visas:
Here's a weird one! In Svalbard, Norway, you can live and work there indefinitely, and it doesn't matter where you're from – no visa is required. Note that it's not cheap, it's best if you have a job online, and there's no sun for half of the year!
There's a lot to know—you can explore this option more here.
Countries That Offer 6+ Months Through Extensions From Within The Country
The following list shows *some* countries that offer some visa-free options, as in you land and automatically get X amount of days, but they also offer extension options.
This means that you can extend your tourist visa from within the country to add additional month(s). Requesting an extension will involve paying a fee to extend, and generally speaking, you will need to go to an immigration office in the country to request it. Some will offer online services for extensions. It varies per country.
Ecuador – 90 days, but you can extend for an extra 90 days.
Colombia – 90 days, but you can extend for an extra 90 days.
New Zealand – 90 days but can extend up to 9 months total in 18 months.
Australia – You can purchase a tourist visa for up to 12 months.
Peru – 90 days, but possible to extend for another 90 days.
Belize – 30 days, but you can pay to extend up to six months.
Bermuda – 30 days, but you can pay to extend up to six months.
Jamaica – 90 days but you can extend for an additional 90 days.
Uruguay – 90 days, but you can extend for an additional 90 days.
Nepal – You can purchase a tourist visa that gives you 180 days in a year period.
India – You can purchase a tourist visa that gives you 180 days in a year period.
Chile – 90 days but you can extend for an additional 90 days.
Brazil – 90 days but you can extend for an additional 90 days within a year period.
This is a good list of some of the easiest ways to get six months + on a tourist visa. As you'll see below, there are other ways to get more than 3-6 months, but they require a bit more work.
RELATED: How To Live and Work in Australia as an American Expat
What About All the Countries That Offer 30 or 60 days?
There are plenty! I was mostly showing the countries that gave U.S. citizens the LONGEST tourist visa/popular spots that offer longer visas through extensions. We have tons of countries that accept us and give us an *often free* 30-60 day tourist visa as well.
You can scroll back up to see all the visa-free countries Americans can visit, pretty much everything on that list is as least 30 days, if not more.
One to two months is still a really great chunk of time plus you can use this type of visa as a good break to "refresh" your tourist visa for another country. More on this below!
Resources for Your Trip:
Visiting the Schengen Zone (Most of Europe)—Explained.
This is only a 90-day visa but I'm mentioning it here because Europe has tons of countries of interest and I'm willing to bet many of you reading this want to know about European countries and their visas when planning your trip!
Luckily, there's one visa that encompasses 27 European countries, it's called the Schengen Visa. If you want to visit the countries mentioned, you'll get a Schengen Visa upon landing in any of the countries mentioned here:
Anyone landing in any of the countries listed above will be granted a Schengen Visa automatically. Unfortunately, the Schengen Visa only gives you 90 days in six months.
Your six month period will start on the initial date you fly in. You can leave and come back as many times as you'd like and visit any of the countries listed above. But when you've accumulated 90 days in this zone, within six months, you will need to leave.
You will need to wait until the six-month period has ended to begin a new six-month period in the Schengen Zone, which will grant you another 90 days.
In total, you can't spend more than 180 days in any of the Schengen Zone countries mentioned in a one year period.
You should note many gorgeous countries like Montenegro, Romania, Albania, the UK, and more are NOT in the Schengen Zone, so don't take this as if you need to leave Europe. Not all of Europe is in the Schengen Zone.
UPDATE: ETIAS — Europe's Upcoming Visa Requirement for Americans in 2024!
The European Travel Information and Authorization System (ETIAS) is a mandatory entry requirement for visa-exempt visitors planning to explore any of the 30 European nations. This system is directly linked to an individual's passport and remains valid for a span of three years or until the passport's expiration date, whichever comes first. Should you acquire a fresh passport, obtaining a new ETIAS travel authorization becomes necessary.
Once you possess a valid ETIAS travel authorization, you gain the privilege to enter these European countries multiple times for short stays, usually up to 90 days within any 180-day timeframe. However, it's essential to note that ETIAS does not guarantee automatic entry. Upon arrival, an immigration officer will review your passport and other required documents to ensure that you meet the necessary entry criteria. The cost of ETIAS is €7.
List of countries where an ETIAS will be needed:
Austria, Belgium, Bulgaria, Croatia, Cyprus, Czech Republic, Denmark, Estonia, Finland, France, Germany, Greece, Hungary, Iceland, Italy, Latvia, Liechtenstein, Lithuania, Luxembourg, Malta, Netherlands, Norway, Poland, Portugal, Romania, Slovakia, Slovenia, Spain, Sweden, Switzerland.
RELATED: Architecture to Adventure: An Epic One-Week Road Trip Croatia Itinerary.
Important Passport Tips
Don't jet off just yet, we still have TONS more to go over but before we do, it's important to remember a few passport tips. I've seen SO many travelers ready with everything for their trips but then forget the most important part—Making sure their passport is ready!
Don't Cut it Close: Make sure your passport has at least 6 months left before it expires. Some countries want that buffer! Yes, your expiry date means nothing, it "expires" 3-6 months "early!"
Copy and Save: Before you jet off, photocopy your passport's important pages, including the ID page and any visas you might have. Shoot yourself an email with the copies or store them safely online – better safe than sorry!
Visa Know-How: Check out what visas you might need for the countries you're visiting. Some require it, some don't, and some have special conditions. We are going over a lot in this post but checking before your trip is a must. See photos below!
Page Space: Flip through your passport and check if you've got enough blank pages left. Some countries want to see a couple of fresh ones for stamps.
Passport Love: Keep your passport looking good – no water damage, tears, or doodles. Otherwise, it might not fly.
Be Savvy with Laws: Get to know the local customs and laws of the places you're exploring. Show some respect and avoid misunderstandings.
Guard that Passport: Keep your passport safe while you're on the move. Use a hotel safe and wear something anti-theft, so you don't risk losing it. I never take mine out with me for the day.
Extra Protection: Get travel insurance for those unexpected hiccups – like medical issues, trip changes, or lost belongings, including your passport.
Double-check requirements – What does the country require of you? It might not require a visa for entry, but it might require proof of vaccination, proof of an onward ticket, or something else! This is something you need to look up.
Checking Visas, Requirements, and More Before Take Off
Some of the tips above may be a bit confusing, and you might be wondering—OK, but how do I make sure of all of these things, and where's the list of requirements?!
I'll show you the best way to check for any country's requirements!
You're first going to Google "us citizen requirements for visiting *country name*"
Then you'll always want to check on the official US State Department site – https://travel.state.gov/
Then you'll see a box like we have below. This example is showing Thailand's requirements. You can see almost every single bit of info you can ever need right here. You'll see how many blank passport pages you need, if a tourist visa for Americans is needed, etc.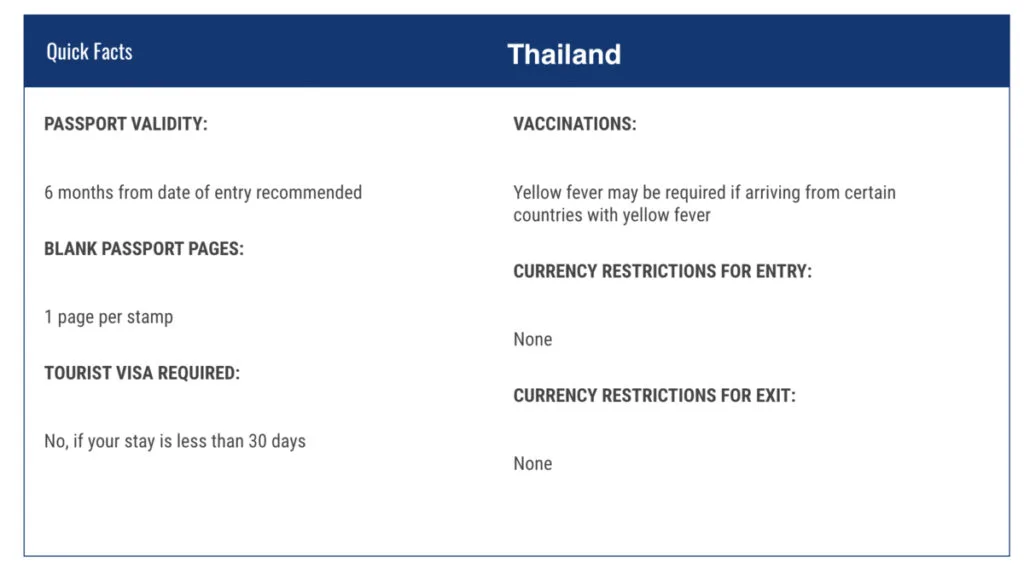 Here's another example for India, a country that does require U.S. citizens to apply for a tourist visa prior to visiting.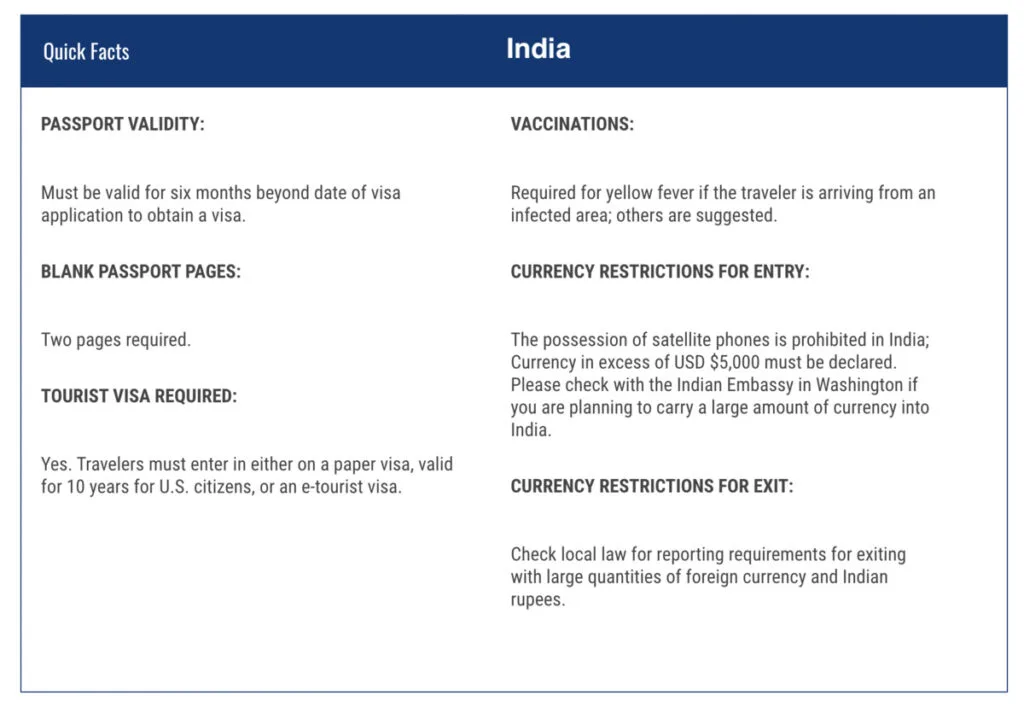 While some of these things seem trivial, like who really cares if I have 2 or 5 blank pages in the passport—they are ESSENTIAL, and you can be denied boarding.
Keep in mind how many countries you're visiting and how many stamps you might accumulate during your travels. Don't be shy and ask the border agent to stamp in blank areas when you're running out of pages, I have had to do this many times.
What if I Overstay My Visa?
JUST DON'T!
It's very easy to read the rules online or even ask the border agent while they stamp you to be sure. You should know your departure date, plain and simple. With that said, if you overstay a few days or even a few weeks, most countries will impose fines. Some are brutal!
If you overstay months, you could face worse consequences including getting banned from the country. So just don't.
Also keep in mind, if you overstay even by just one day, you can't ask for an extension. So you need to immediately leave the country before you rack up any more overstay fees.
Don't wait until the last second to understand what you need to do in terms of your departure date or the date you need to request an extension.
"Refreshing" a Tourist Visa With Border Runs
Now that we've discussed some of the longer tourist visas one can get that are around six months or so, let's talk about how we can get extra time in a country despite the country NOT offering any more extensions.
Do note this is a GRAY AREA. We are bending the rules just a bit, but nothing here is illegal or wrong.
Let me explain, a border run is when someone has no time left on their tourist visa but they don't want to actually leave the country yet. So what they do is cross the border to a neighboring country and then come right back in the country, thus earning a fresh tourist visa.
Do note that if the country CLEARLY states you only get 6 months in a 12 month period (for example), this border run tip wouldn't work. It's obvious that they can't offer you anything more if that's stated.
However many countries don't necessarily set those limits. They might say, you only get 90 days, but they don't specify that you can only do 90 days in a set time period. An example might make this easier to understand…
Thailand Border Run Example
One of the most common places you'll hear about border runs is in Thailand, although this concept can be used anywhere it's "allowed"
First, if you apply for a Thai tourist visa outside of Thailand, you can pay and get three months (technically two months, with a one-month extension). After three months, you could potentially hop down to Malaysia to either apply and get another three-month visa or quickly cross the Malaysia border, and come back into Thailand. Doing the latter would earn you 30 days then you have the option to extend that visa for another month!
So as you can see, this is a little "hack" to get some extra time in a country. You DO have to make the effort to cross a border and spend a bit of cash to do this, potentially even staying the night (especially if you want that three-month visa).
I have done this myself quite a few times but I always spread it out a lot and would stay out of the country for a few weeks, come back with a 90-day visa, do a border run hop to earn another 90-day visa, and then I'd go travel again, staying out of Thailand for a while, then come back for a while…etc. I played with it a bit but I never abused it!
I usually used the method I explain below and "refreshed with travel" rather than just a hop over the border and back.
Again, I'll say this as a warning – this is a grey area. They don't have rules against this HOWEVER they have cracked down on people abusing this. If they see you're doing this too much, it could be a problem. How much is too much? That's up to the person who gets your passport. Use this tip carefully!
RELATED: How Much Does It Cost To Live in Thailand And Other FAQ.
"Refreshing" a Tourist Visa With Just Travel
Now another way you can do the above is to make an actual trip out of it! This might seem a bit obvious but just in case it's not…
You can stay somewhere for X amount of time, then go visit a neighboring country for a week or two, make an actual trip out of it, have fun, and then return to the initial country you want to stay in longer at a later date.
This is a less suspicious plan, and isn't this the point of living this life anyway? To travel more!
This is something I'd do very often when I based out of Thailand a few years back. I'd generally spend about 8-9 months in Thailand but I'd visit plenty of other neighboring countries in between, when my visa was running out, then come back a few weeks later with a fresh one.
RELATED: Work & Live in Thailand: How To Do It? Cost of Living? And More!
2014 Example Year of "Refreshing" My Visa
Here's a year of me using border runs and traveling to "refresh" my visa in 2014 to better help you grasp this. This was my REAL year in 2014. I fell in love with living in Krabi, Thailand and I used it as my base.
Here's how I "lived" there on my tourist visa. Note that I was solely working online at this time.
Jan – Mid March – Living in Krabi, Thailand (90-day visa)
End of March – Kuala Lumpur, Malaysia, I traveled & went to a music festival (visa-free entry to Malaysia and I obtained another visa for Thailand while I was there)
April – Back to living in Krabi, Thailand
May – My friend visits, we travel all around Thailand together.
June – Living in Krabi, Thailand (I went to Penang, Malaysia for a few days to renew my visa for Thailand, this was a short visit to just get a Thai visa from the embassy in Penang)
July – Mid Sept – Living in Krabi, Thailand. Also went to the Full Moon Party and to Tonsai numerous items for rock climbing.
Mid Sept – Oct – Traveling all around the Philippines. (easy visa free on landing)
Nov – One month back in Krabi (came in on a free 30-day visa)
Dec – Indonesia to travel and for another music festival in Jakarta. (easy visa free on landing)
Potential questions you might have…
Yes—I did keep my apartment in Krabi the entire time. It was cheap and just made sense to keep it.
Yes—I was totally solo but I made friends in Krabi and everywhere else I went. It's honestly pretty easy!
Yes—I worked online the entire time and just took a day to two off here and there for my transit/travel days. But generally speaking, I worked every week and had fun in between!
RELATED: Krabi Itinerary: Things to do in Krabi, Thailand for 1-7 Days & When to Visit
What Does a Typical Year Look Like for Me Now?
In my first four years, I mostly based out of Thailand. I loved it because Southeast Asia is an incredible place to explore, absolutely gorgeous, and very affordable.
I then lived in Australia for a year in 2016. The last few years I've been living randomly in places for a few months. As my years have gone on, my business has grown which has afforded me more flexibility (and money) as well. So my travel lifestyle is constantly changing.
Here's a more current example of a year. This was my 2019 living abroad schedule:
Jan – beginning of May – New Zealand (tourist visa, I was able to extend my tourist visa from within the country.)
May – Antigua for a week (easy tourist visa upon landing)
End of May – June – Florida visiting family
End of June – Anguilla for a week (easy tourist visa upon landing)
July – Aug – Exploring Oregon (building my second blog on Oregon)
Sept – Road trip Montana, Wyoming, South Dakota
Oct – Living/road tripping Oregon
Nov – Visit fam in Florida again and move to Colombia (easy tourist visa upon landing)
Dec – Living in Colombia
More time is spent visiting my family in Florida every year and I now have a business about Oregon, so I go back and explore Oregon each year to build content for that business.
When I say "living" in Colombia or New Zealand, I mean having plenty of "regular days." As in, I work, eat, sleep, repeat just as anyone else would. I just do it in another country while I get to live, explore, and enjoy a cool new place every few months.
How To Research Tourist Visas + Tips
As I've mentioned, this post doesn't list every country in the world and their visas. Google is your friend!
The best way to find out the tourist visa for a country is by Googling something like:
"Tourist visa for XYZ country for US Citizen."
And then…
"Extending tourist visa for XYZ country for US citizen."
Make sure you don't forget:
Yes, you should add "US citizen" or whatever country you're from to your searches because the rules change depending on what country YOU are FROM!
Many countries require you have a certain amount of blank pages in your passport. Some visas and stamps for countries take up a LOT of room.
Most will want at least 3-6 months of validity left on your passport. Make sure it's way more for this type of lifestyle.
It's common to hand in a passport-sized photo for visa extensions so it would be a good idea to have a few of those photos handy (or be prepared to get them done abroad which is easy enough too!)
Pay attention to your stamp date! You DON'T want to overstay. Countries have fines for overstays. You also can't ask for an extension once you overstay. You need to leave the country immediately and pay the fine. Stay too long over your visa and you could get banned.
You CAN'T get any type of employment in the country on a tourist visa! You CAN work online though!
What About Work Visas for U.S. Citizens?
There are a few other ways to gain a WORK visa for a country, which would grant a year + in a country. Again, and as always, every country has its own opportunities and rules. I'll try to cover the best, most popular, easiest to get, etc…
Working Holiday Visas
Americans have a few working holiday visa opportunities! This means you can apply for a work visa through these programs the countries offer and then live, work and travel the country at your leisure.
The best ones are the Australian Working Holiday Visa and the New Zealand Working Holiday Visa.
Do note that sometimes your working holiday visa could lead to sponsorship. This means your place of employment likes you and extends a sponsorship offer in which they will help extend your work visa in the country.
Skilled Visa
Some countries offer Skilled Visa for those who perhaps work in a profession that the country is in need of.
The best way to find out about these opportunities is to Google a country of interest and see if they offer skilled visas. Something like "XYZ country skilled visa list" or something should yield a list of professions the country is looking to hire from abroad.
Here's the current list of Australia's skilled visas as an example.
The jobs needed can be in IT, STEM, healthcare, construction, engineering, etc… Again, it's best to Google the country's list to check and see what they need.
Finding Work Otherwise
Otherwise, you'll need to find employment in another country in the traditional way. The way you look for these jobs is to simply Google them.
The company must be specifically looking for foreign individuals and have the ability to offer a sponsorship visa of some sort. Common job search sites can be a place to look for these types of jobs. You often need a sought-after skill or potentially need to be fluent in the language of the country you're seeking work in but it all depends! This, of course, varies greatly as each country and company will have its own rules and needs.
Generally speaking, you'd get hired and the company would assist in the work visa process.
Of course, there are always U.S. companies that might send their employees to work in another country or offer travel perks or even offer to move you abroad.
There ARE opportunities out there, but it's impossible to talk about them all or find them all to list here. Use your networks, use your knowledge so far, look into your current company and its opportunities, look into Working Holiday Visas. There are opportunities to work abroad, but it is a little bit harder when compared to just working online…
Digital Nomad Visas
There are digital nomad visas nowadays, and they are becoming more popular than ever! Of course, the only caveat with this visa is that you need to work online.
You can't work for a company IN the country, but if you have income coming in from the outside and only need a computer and a wifi connection to work, you could be granted a digital nomad visa.
This visa varies by country and not all of them offer one. The reason you may want one is that you get to stay in the country for longer than the average tourist visa. This is perfect for those who want a base somewhere and want the option to live in a country for a year or so to work and travel.
READ MORE: 18 Digital Nomad Visas for Remote Workers.
Of course, if you're just working online you don't technically NEED a digital nomad visa, it's just an option as a way to get a longer visa. You can still hop around on tourist visas just like I do, and therefore rarely if ever, have to apply for visas.
More Working Holiday Visas
I hope this was helpful in explaining how you can "live" abroad on tourist visas or how to get other visas that can afford you even more time in another country.