You're stoked to dig into your first crepe while sitting at a cute cafe in Paris. You drape your purse on the back of the seat and order a Nutella crepe (duh). When you get up to leave, you notice your wallet was swiped!
Or picture this: You fall asleep on the long haul sleeper bus in Thailand and you wake up to your backpack ransacked.
Is there much worse than getting robbed while traveling?
Very few things are! Getting anything stolen from you while abroad is an invasion and assault on your privacy, personal items and space. Nobody should have to deal with it but no matter where you are in the world it's something you may very well face.
While this is a post on the best anti-theft backpacks and bags for travel, these can serve you well anywhere, even at home, because make no mistake, theft can happen anywhere!
While you're out drinking, shooting some pictures with your bestie, or attempting some shut-eye on a long bus ride, having the peace of mind that your stuff is safe is a must.
Here is my take on some of the best anti-theft backpacks and travel bags out there and my favorite brand.
The Best Anti-Theft Backpacks and Anti-Theft Travel Bags:
Almost everything I mention below is by Pacsafe.
Why have I mentioned so many Pacsafe items? Is this sponsored? NO. I just actually love their stuff and have been using it for years now.
20 years ago Pacsafe founders Rob Schlipper and Magnus McGlashan decided enough was enough. Far too many people were being robbed as they traveled, and the friends worried that this would dissuade people from travel.
And that's how Pacsafe was born. These anti-theft travel bags are indisputably the safest bags you can travel with.
They have cut proof technology, so your slash-proof bag can't be sliced while you're on a crowded subway and neither can the strap on your purse. Their secure backpacks also have a zipper that can't be punctured and zips that will lock into each other.
Maybe pictures will help? This picture from the Pacsafe website shows some of the features a bit better.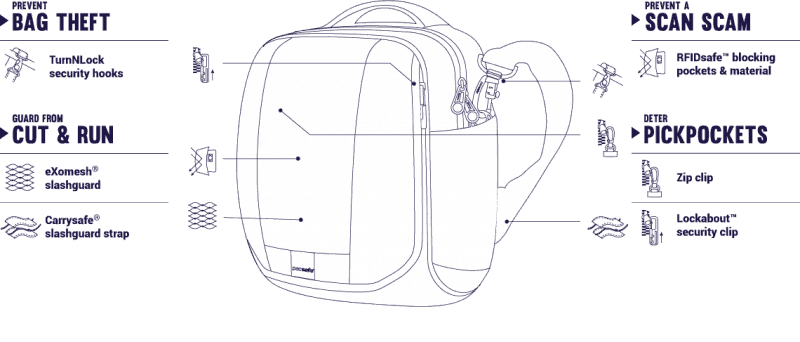 Yes, I know, Pacsafe anti-theft travel bags aren't the cheapest on the market but they are worth the investment. After all, what's more expensive? An invaluable anti-theft backpack or replacing all of your belongings? Not to mention what your peace of mind is worth, or all the time it will take you to file reports and replace your stuff.
Another thing that makes these the best anti-theft travel bags is that it will last you ages.
You save money not having to replace a million bags from Walmart that wear out faster than I can choose my next travel destination.
My two-year-old purse legit still looks brand new and I don't treat myself nicely! OK, enough praising Pacsafe like a deranged and obsessed ex-girlfriend, let's just get down to it. Which are the best anti-theft backpacks and anti-theft travel bags?
Best Anti-Theft Backpacks
---
Best Anti-Theft Backpacks for During the Day
The best anti-theft backpacks on the market should be compact, slash proof, stylish, comfortable, and functional, right?
Well, these have those specs down pat. These all have a ton of different compartments for keys, notepads, and a laptop/tablet too. I have used my Citysafe bag heading out to town during the day and even on a day hike chasing waterfalls.
These won't hurt your shoulders after a day of walking around and you can still look cute!
[box]
Shop these anti-theft backpacks:
Venturesafe | Citysafe | Slingsafe [/box]
Best Anti-Theft Backpacks for Carry On
Bigger than the daypack, these are the best anti-theft backpacks you can pack onto a plane with all your personal items. I use the 45L to keep my essentials with me, change of comfy clothes, a good pair of shoes, all of my electronics, and essentially all the extra crap I couldn't shove into my checked-in bag.
[box]
Shop these anti-theft backpacks:
Venturesafe 45L | Venturesafe 30L[/box]
Best Anti-Theft Backpacks for Checking In
This 65L backpack is perfect for those who don't want roller luggage, only want to bring one bag to check in, and want it kept SAFE. This is one of the best anti-theft backpacks out there this size.
Just because it only houses clothes and toiletries (because of course, you don't put anything valuable in your checked in… right?!) it doesn't mean it shouldn't be kept safe. It's also a bit manhandling proof since it can't even be slashed with a knife.
(Hear that TSA? Just try me! You're not breaking this bag!)
[box]
Shop this anti-theft backpack:
Venturesafe 65L [/box]
Best Anti-Theft Backpacks for Carrying Electronics
Cameras, laptops, lenses, hard drives, lens filters, tripods and more… I carry a bunch of expensive gear and Garrett carries even more. While I don't need a bag as large as the Venturesafe 40 for all my electronics, Garrett does! He uses the Camsafe insert so there's a removable compartment for his camera gear.
This is particularly convenient because when he needs to go carry only, he can take out the camera insert, use that as a bag to put under his seat and then he can fill up the Venturesafe 40 with everything else. The camera insert can be an insert or a bag itself!
I use the smaller Camsafe 17 as I don't have as much gear as Garrett but you could, of course, get the larger Venturesafe pack and use the extra space for clothing and other items, it's not just for electronic gear.
[box]
Shop these anti-theft backpacks:
Venturesafe 40 | Camsafe 17 | Camsafe Insert[/box]
Best Anti-Theft Travel Bags
---
Anti-Theft Travel Purses
I love this purse. Thankfully, just because it's an anti-theft purse, doesn't mean it's hideous! It is smaller than the daypack but is still a great slash-proof bag providing you with the protection you need.
It is my up close and personal anti-theft bag that I wear anytime and anywhere. I can pack my personal stuff plus it even fits a tablet and a water bottle. If I'm really trying to dash out with only a purse, I can even fit my DSLR in it.
Don't need to bring much? Just going out for the night? The ultra-thin and light anti-theft purse is perfect for exactly that. Put your necessities in, zip up, and have fun.
[box]
Shop these anti-theft travel bags:
Vibe Crossbody | Slim Crossbody | Other Styles [/box]
Anti-Theft Travel Tote
Love your totes? You can get an anti-theft one of these too. Roomy and safe, crossbody or on the shoulder. This anti-theft travel tote is a perfect weekender bag, carry on, or the extra bag you bring when you know you'll go overboard with souvenirs.
[box]
Shop this anti-theft travel bag:
Travel Tote [/box]
Anti-Theft Luggage
Still need a big bag on wheels? You can nab yourself an anti-theft one right here which not only comes with the same anti-theft features but those safety features make the bag practically indestructible. The bag is still splashproof and has extra strong, anti-theft zippers, AKA when it gets mauled at the airport, it won't break!
[box]
Shop this anti-theft travel bag:
Toursafe Luggage [/box]
The Best Anti-Theft Accessories
---
Anti-Theft Scarf with Pocket
Not only super chic for any weather and region in the world, the infinity scarf is also a nice anti-theft accessory with a zipper pocket to store your phone, wallet, and some cash if need be.
Even if you're not wearing it one day, it's a secret hiding place for your cash stash. If you don't have one of these yet, girls, get one… Or two.
BONUS: This scarf is super cheap.
RFID Blocking Anti-Theft Wallet and Neckpouch
RFID, or radiation frequency identification, is a technology that can read through your purses and bags to get to your personal chips and computer technology. What RFID blocking wallets do is, well, just what it sounds like. They will block any thief from scanning your magstripe through your bag. This is a rare occurrence but an extra safety feature.
You can carry this with you inside your purse, your backpack, or get the neck pouch and just sling over like a crossbody bag. When I don't need anything but my phone and a card, I carry the neck pouch and then shove it in my purse like it's a wallet. Men will likely just want the wallet.
ProSafe 700 & Retractasafe Locks
This is a travel accepted lock, which means TSA agents can open and check your lock using secured codes, but you don't have to worry about randos going through your stuff and stealing anything.
The Retractasafe is a great lock for tying down everything so your bags literally can't go anywhere—not unless the thief has a lot of tools and time on their hands anyway. (See tip #5 below)
An Anti-Theft Travel Safe
Yep, you can have your own safe when you travel! No worries, you won't be lugging around a massive box, this flat anti-theft travel safe can keep your tablet, passports, money, and any other small items you can shove in totally safe. Stuff it, lock it up, and walk away confidently.
Anti-Theft Steel Bag Protector
Absolutely love the bag you have and don't want to spend money on a new one? I totally get it, that's cool. How about a steel eXomesh bag protector? Take it, wrap your bag, and there's nobody getting in!
Anti-Theft Hoodie
Yep, even your hoodie can be a theft-deterring item in your arsenal of anti-theft swag so ain't nobody touching your stuff! The hoodie is a cotton blend to keep you warm and comfy but has a badass array of secrets to keep sticky hands away.
11 strategic pockets, RFID blocking pockets, and a built-in "sleeping mask" which has nothing to do with anti-theft but is certainly useful for those long flights and bus rides.
Check Price: Men's Hoodie | Women's Hoodie
An Anti-Theft Belt
I don't wear belts but maybe you do? I know men will get some great use out of this item, for sure. There's NO way anyone would even know you have cash hidden in this money belt, it's far too secretive, which makes it the perfect anti-theft travel belt.
11 Tips For Keeping Your Stuff Safe Abroad
---
1. Use Charles Schwab bank (if you're American) so you don't need to be terrified of the crazy charges when going to the ATM often—They refund all ATM charges and don't charge a fee themselves! This way you can take out less more often.
2. When quality isn't severely compromised, try using off-brand things or make some of your things look roughed up. Pacsafe doesn't look flashy or have a large "expensive" looking logo which is a good thing! Don't look like you just spent a million bucks on everything you're carrying.
3. I never use room service unless I'm staying 5 + days and I make sure to take valuables with me the day they clean. I always have a "do not disturb" sign on my door—always.
4. If you don't have a Pacsafe bag right now, hiding things in weird places can work as well. I like to put things in the pillowcase, my panty bag, or some bizarre nook or cranny the room has. Putting things high up where people can't see them works too.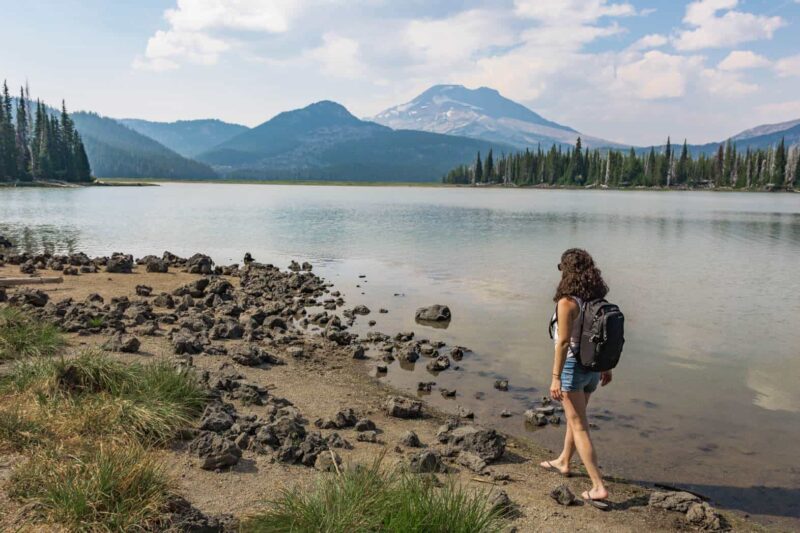 5. Since I use Pacsafe bags, I now put everything in the bag and then secure it to an immobile or large object. I put everything in the Pacsafe bag, use my steel rope that came with the bag, and then tie it to the bedpost or a large table, or 3 metal chairs…
Nobody is cutting through it, snapping off locks or able to move my bag to figure out how to open later. They will go to the next room to the unsuspecting poor soul who took no action to protect their things.
6. Do homework—look up the common scams and warnings in the place you're going to.
7. Never ever travel with a shoulder bag or a bag with an "open mouth" —it's the easiest thing to steal out of or off your person. In fact, it's extremely common for bags to be snatched off shoulder while the thief rides by you on a motorbike.
8. Download something like Prey Project to protect your phone and computer and make sure everything is backed up via Backblaze or the like.
9. Using your own lock on lockers and on your bags. If you stay in hostels, use your own padlock on the lockers.
10. If you have valuables while at the beach, use a dry bag and you can take it swimming. It's not meant to be submerged but I have and it was fine. You can wrap your belongings in an extra layer of plastic and then place them in your dry bag as an extra precaution.
11. If you've done your part and still get something swiped, at least you have travel insurance, right?! I use Safety Wing but World Nomads is also popular and would be my second choice. See which works best for you and your trip.
So which of these anti-theft backpacks and travel bags do you think would work best for you?
---
Pin this for later by clicking the picture!