If you're wondering about anti-theft travel backpacks for women, imagine this—You're about to dig into your first crepe while sitting at a cute café in Paris. You drape your purse on the back of the seat and order a Nutella crepe (duh). When you get up to leave, you notice that your wallet was swiped!
Or picture this: You snooze on the long-haul sleeper bus in Thailand, and you wake up to your backpack ransacked.
Is there anything worse than getting robbed while traveling?
Very few things are! Getting anything stolen from you while abroad is an invasion and assault on your privacy, personal items, and space.
Nobody should have to deal with theft, but it's something you may face anywhere in the world.
While this is a post on the best anti-theft travel backpacks for women, these are useful even back home. You must always have your guard up because theft can happen anywhere!
While you're out drinking, shooting some pictures with your bestie, or getting some shut-eye on a long bus ride, having peace of mind that your stuff is safe is essential.
Here is my take on some of the best women's anti-theft backpacks and bags out there and my favorite brand!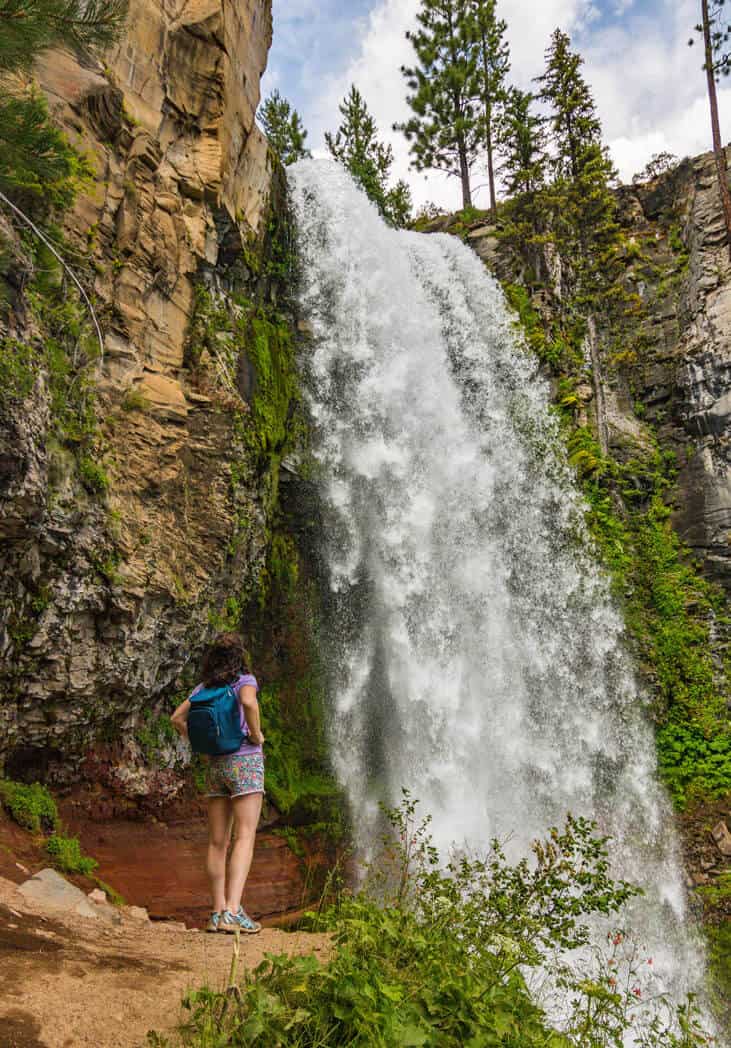 Why Have an Anti-Theft Backpack and Travel Bag?
When you circle the globe, you want to ease your nerves that your valuables are secure from thieves. Let's face it, theft happens everywhere around the world, and nobody wants their stuff stolen. It's extremely stressful having to replace a stolen phone, wallet, credit card, passport, camera, or other valuable items.
That's where an anti-theft backpack and anti-theft travel bags save the day. With the proper bags and accessories, you can lock up your precious items and keep them safe from thieves.
But you don't want just any bag when you jet off or sail to a new destination. You need a quality anti-theft bag with the right features that secure your belongings. And you want the necessary tools to protect the bag itself from being stolen. When searching for the best anti-theft backpack for women, look for these features to judge its worth.
Hidden Pockets
Your women's anti-theft backpack should have an assortment of secret pockets that are difficult for thieves to access. These hidden compartments, usually near the bottom of the bag, make great places for your most valuable possessions. Think credit cards, money, passport, or cell phone going in these deep and zippered pockets.
Lockable Zippers
If thieves can't even open your bag, then they won't get to your secret pockets. When you're walking around crowded streets, sneaky thieves often attempt to slide open your zipper behind your back. But lockable zippers deter these sticky fingers, and they'll look elsewhere.
RFID Technology
In today's modern society, technology is continually advancing to make travel easier. Unfortunately, technology also makes theft easier. If you're carrying credit cards, a laptop, or your passport, they are vulnerable to tech-savvy thieves who swipe your bag for your information. An anti-theft travel bag prevents this and saves your data from being stolen.
Slash-Resistant Material
Many thieves have a knife, box cutter, or something sharp to slice open bags to grab what you have and scram. Or, they'll cut the straps to take off with your entire bag. With slash-resistant material, this old trick will fail, and your bag stays with you.
Portable Cable Lock
You won't have your backpack with you 24/7 and might stress about placing it somewhere where thieves have no access. If you really love that new backpack, I get it. That's why your anti-theft backpack should come with a cable lock to secure it to an immovable object. Something that's not going anywhere, like a desk or bedpost.
Unless the thief is extremely crafty and brought tools, your bag will be safe while you're away.
Best Anti-Theft Bags & Anti-Theft Travel Backpacks for Women
Just a quick note, I'm speaking about anti-theft travel backpacks for women, but some of these bags and backpacks, of course, work for men also! The Venturesafe backpack I mention below is my partner's favorite backpack in the world!
Plus, the tips and other items I mention further in this article can also be for men.
Pacsafe Venturesafe X40 Anti-Theft Backpack – Best Overall
The best anti-theft backpacks for women on the market should be compact, slash-proof, stylish, comfortable, and functional, right?
Well, the Venturesafe X40 Anti-Theft Backpack has those specs down pat. The 40-liter bag helps you get the most use from your carry-on and has all the tools needed to protect your belongings. Lockable zips and slash-resistant material deter thieves, while the RFID blocking pocket protects your data. Internal pockets help you organize your valuables, and padded sleeves make a snug place for your laptop. And since it meets most international airline standards, the anti-theft backpack makes the perfect travel bag.
You can easily add on one of Pacsafe's camera inserts if you're a photographer or have any extra gear you want to pad.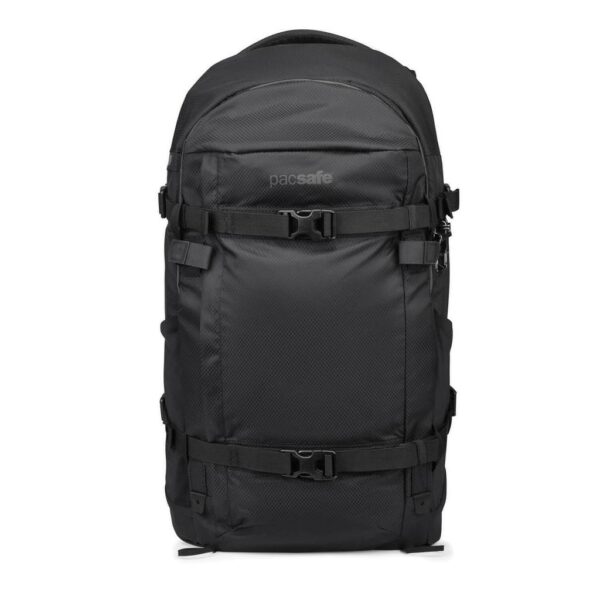 Best Features:
eXomesh slashguard material
RFID blocking pockets and material
Lockable zips
Roobar sport locking system
Carry-on size for most airlines
Pacsafe Camsafe X25 Anti-Theft Camera Backpack – For Photographers

(My Current Fav Anti-Theft Backpack for Women)

If you're on the go with your camera snapping photos, you want something lightweight and comfortable to get around. The Pacsafe Camsafe X25 guards your camera and other valuable possessions with top-of-the-line anti-theft technology. Its stainless steel wire mesh prevents cut and run theft, while RFID blocking material deters high-tech thieves. With the pop-n-lock security clip, you'll thwart bag snatchers eyeing your camera. A side panel gives you quick access to your camera, and the built-in rain cover keeps your equipment dry.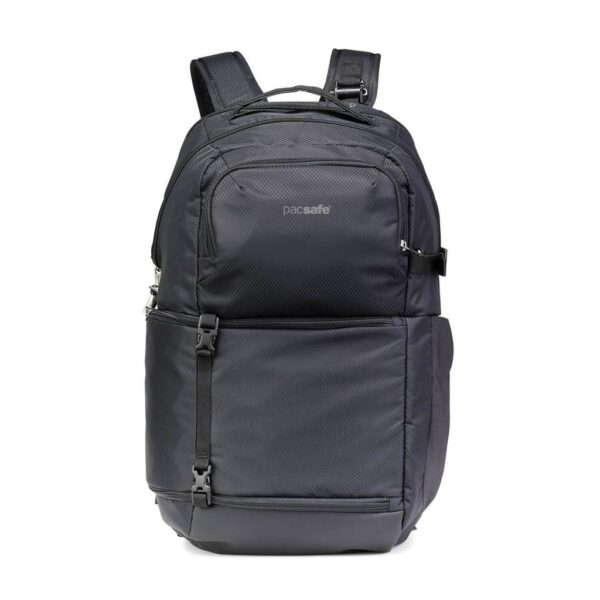 Best Features:
Slash-resistant material
Roobar sport locking system
Pop-n-lock security clip
RFID blocking pockets and material
Protective laptop sleeve
Pacsafe Venturesafe EXP55 Anti-Theft Travel Backpack –

Your GO Bag!

If you're the kind of traveler that doesn't want roller luggage and only bring one bag to do it all, the 55L Pacsafe Venturesafe will keep your stuff SAFE. It's one of the best anti-theft backpacks for women this size, and you'll fly easy knowing everything is safe regardless if you throw it up in the cabin as a carry on or check it in—You choose.

Its eXomesh slashguard technology means not even TSA can break this bag! The interlocking zippers deter pickpocketers and the stainless steel cable can lock the bag to an immobile object. And the padded shoulder and waist straps provide relief when you carry your bag upon your arrival.
Best Features: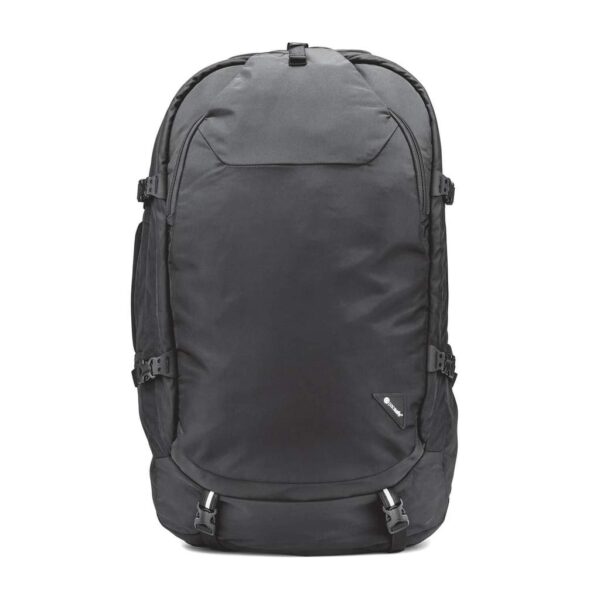 eXomesh slashguard wire mesh
Interlocking zippers
Stainless steel cable to lock to fixture
Padded shoulder and waist straps
Adjustable back harness
Baggallini Vacation Anti-Theft Day Backpack for Women – Daypack
When you need something lightweight on the move, the Baggallini Vacation Backpack provides a durable and comfortable anti-theft bag. At only 1.06lbs and 10″ x 3.5″, you won't get any achy shoulders when you're exploring a new city. Its cut-resistant double cable strap prevents thieves from slicing your bag off your back. Locking zippers deter sticky fingers from sneaking inside your bag. Place your sensitive items in the main compartment's RFID blocking pocket to protect your digital data.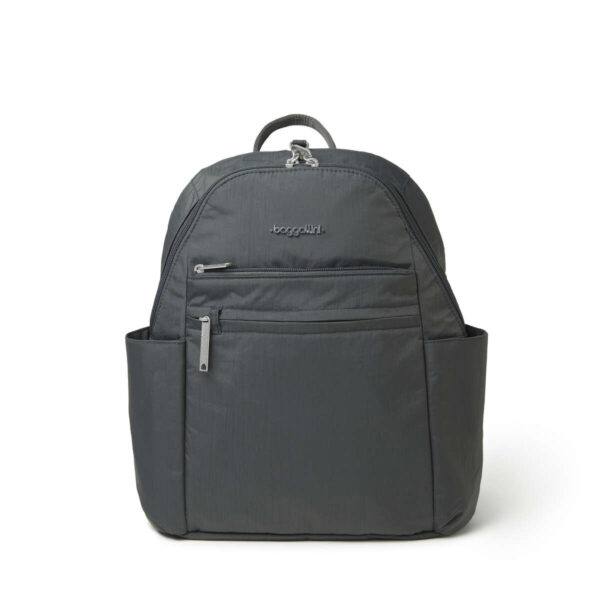 Best Features:
Lightweight
Slashguard cable strap
RFID blocking pocket
Locking zippers
Water-resistant
Travelon

Classic
Anti Theft Backpack for Women – Daypack
Travelon is another great anti-theft brand on the market, and their classic backpack makes a fantastic daypack for your travels. At 11 cubic liters, it won't weigh you down when you're prowling the streets or wandering nature. Its anti-theft system protects you from pickpockets with slash-resistant inner lining, locked compartments, and RFID blocking pockets. And the top-load backpack has a padded sleeve if you need your laptop for work on the road.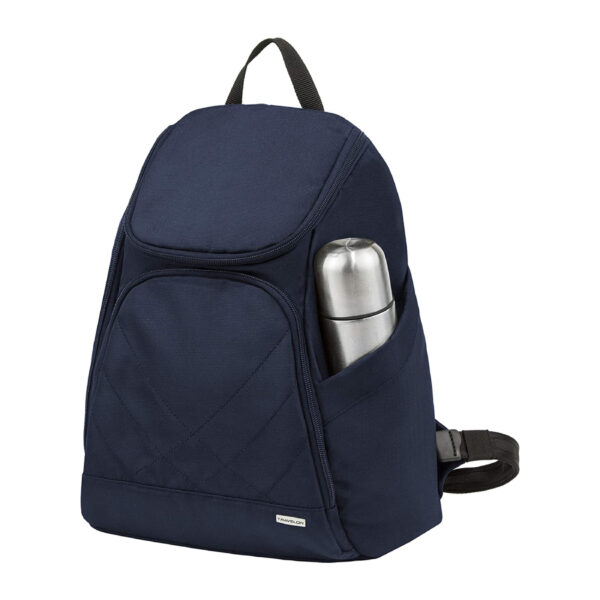 Best Features:
Slash-resistant mesh inner lining and strap
Locked compartments
RFID blocking pockets
Exterior slip pocket for external items
Key clip with LED light
Travelon

Classic Mini

Anti-Theft Shoulder Bag for Women- For Business on the Go
Any business travelers reading this? The sleek and comfortable Travelon Mini Shoulder Bag protects your electronics from damage and thieves. Cut-resistant material and a locking main compartment prevent anyone from getting inside your crossbody bag. Its RFID blocking card protects your digital data, while the portable LED light aids your vision at night. And the adjustable strap helps you find a comfortable position to carry your bag around the city.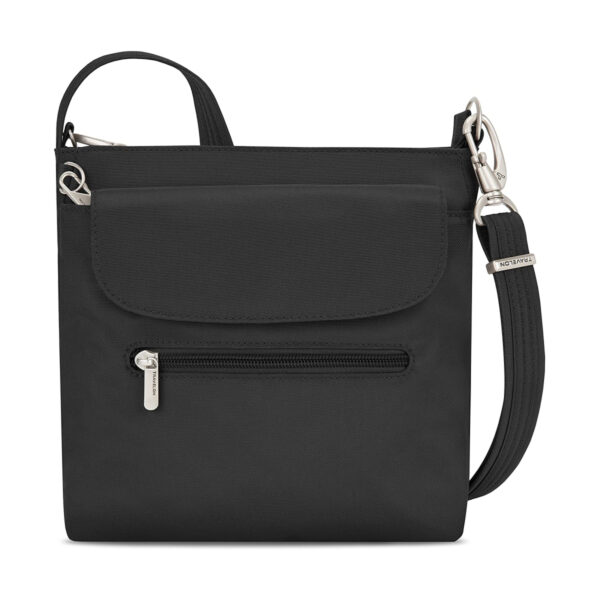 Best Features:
Locking main compartment
Cut-resistant material
RFID blocking card
Adjustable shoulder strap
Portable LED light
Pacsafe Citysafe CS200 Anti-Theft Handbag for Women – For Your Essentials
Have no pockets but still need to carry your valuables? The Citysafe CS200 makes a secure, lightweight anti-theft bag for women for your most sensitive belongings. Zip clips and slashguard technology prevent pickpockets, and the TurnNLock security hooks thwart bag snatchers. RFID blocking pockets protect your data the handbag's slashguard strap prevents cut and run criminals. And there's even enough room for a 13″ MacBook in this neatly organized handbag.
Best Features:
Carrysafe slashguard strap
Lockable zippers & secured zip tab
TurnNLock security hooks
Internal pockets
Internal attachment for wallet and keys
Pacsafe Women's Citysafe CX 3.2L Anti Theft Square Crossbody for Women – Purse
Ladies, if you want to look stylish while protecting your valuables, the Citysafe Anti-Theft Square Crossbody is a fabulous option. Use the crossbody as an everyday purse and feel confident knowing you have a security strap and clasp locking system to stop pickpockets. The RFID blocking pockets protect your digital information, so walk around with confidence in your fashionable anti-theft travel bag.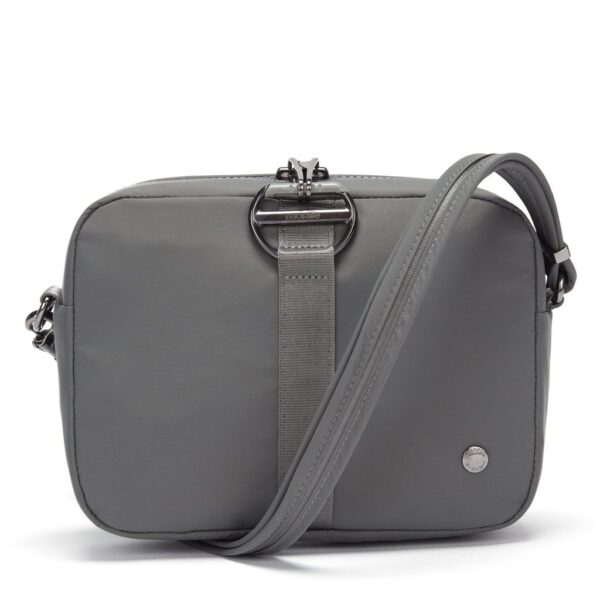 Best Features:
Attachable security strap
RFID blocking pockets
Clasp locking system
Baggallini Anti-Theft Activity Crossbody Bag – Purse
Baggallini has you covered ladies, and their anti-theft activity crossbody bag adds style to protecting your goodies from thieves. The 100% nylon bag features locking zippers and a slash-resistant double cable strap to deter sticky fingers. Its RFID blocking slots have room for multiple credit cards and your passport to protect your data from tech thieves. It's super light at 0.5lbs and is water-resistant in case you accidentally spill something. And it includes an adjustable strap that ties your anti-theft bag to a fixed object if you must temporarily leave it behind.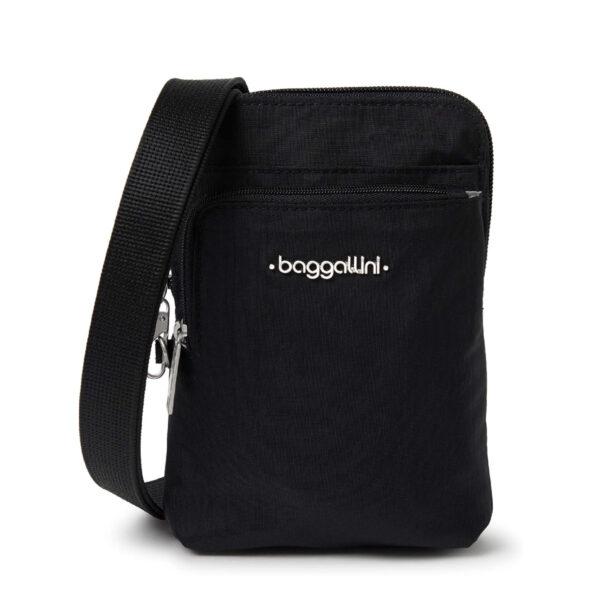 Best Features:
Locked zippers
Slash-resistant double cable strap and panels
Adjustable shoulder strap that can attach to fixed objects
Travelon Anti-Theft Waist Pack – Fanny Pack
If you're only carrying the basics, the Travelon Waist Pack frees your hands and helps you maintain that fast pace through the city. The anti-theft waist pack remains close to your body and has cut-resistant material to stop snatchers. RFID blocking pockets protect your credit cards and passport, while the adjustable waist strap ensures a comfy fit.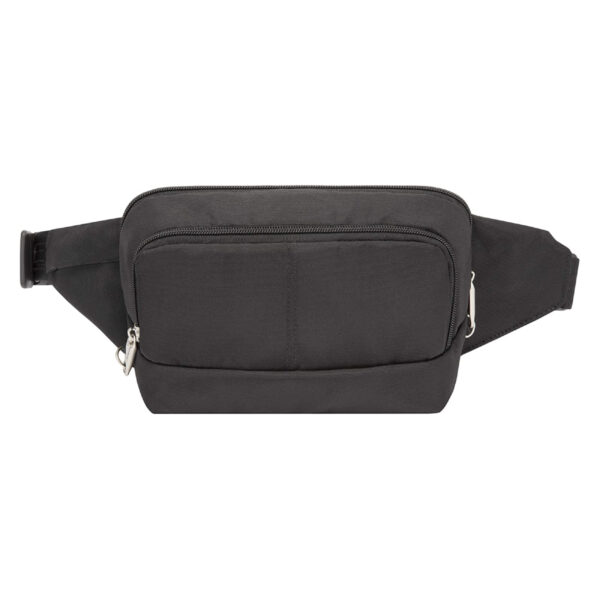 Best Features:
Locking compartments
Slash-resistant material
RFID blocking pockets
Adjustable waist strap
Pacsafe Venturesafe EXP21 42L Anti Theft Wheeled Carry On – Wheelie
Still need a bag on wheels? You can nab yourself this 42L Venturesafe to roll your luggage to your flight. The anti-theft wheeled bag secures your belongings with puncture-resistant and lockable zippers, slash-resistant material, and a locking cable. Organize your valuables into your carry-on, thanks to the RFID blocking pockets and material. Internal straps keep your belongings arranged neatly, and external compression straps help you carry the anti-theft bag if you wish. And the padded sleeve can hold your MacBook or small laptop.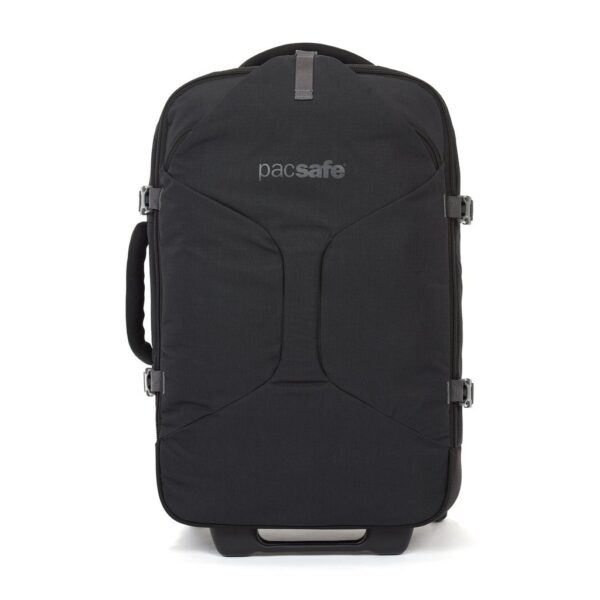 Best Features:
Lockable & puncture-resistant zippers
Stainless steel anchor cable to secure to immobile object
Internal straps and pockets to organize belongings
Best Anti-Theft Accessories
---
While a reliable women's anti-theft backpack or bag is your top priority, you probably won't always have every belonging inside your bag. For extra protection, consider packing some anti-theft accessories to secure your items that are outside your bag. Add them to your fashion style, protect yourself from nasty weather, and give yourself a few extra security blankets when jetting across the globe.
Anti-Theft Scarf with Pocket
Not only is it super chic and great for any weather around the world, but the infinity scarf is also an anti-theft accessory with a zipper pocket to store your phone, wallet, and some extra cash.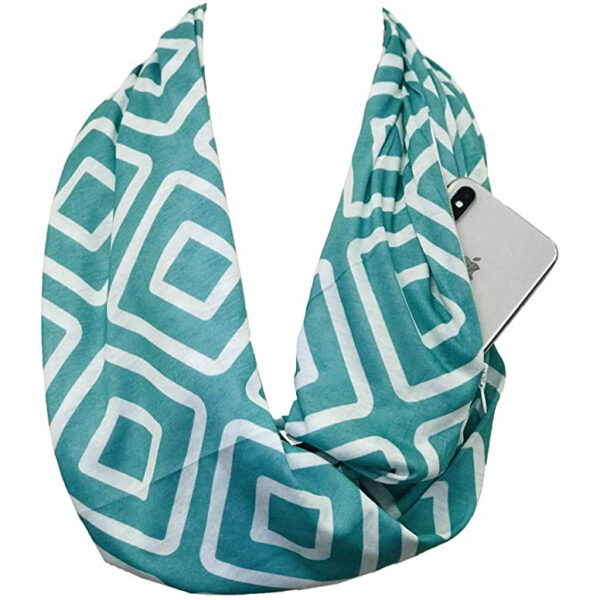 Even if you're not wearing the infinity scarf, it's a secret hiding place for your cash stash. If you don't have one of these yet, girls, get one… Or two.
BONUS: This scarf is super cheap.
RFID Blocking Anti-Theft Wallet and Neck Pouch
RFID, or radiation frequency identification, is a technology that can read through your purses and reach your personal chips and computer technology. What RFID blocking wallets do is, well, just what it sounds. They will block any thief from scanning your magstripe through your bag. It's a rare occurrence but requires an extra safety feature.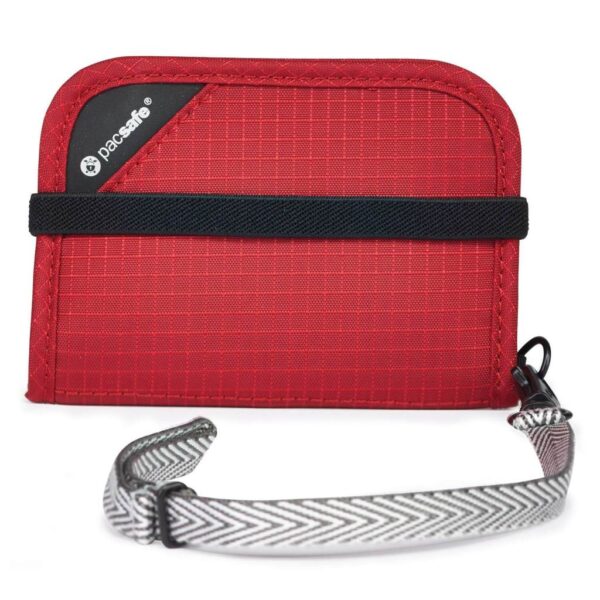 You can carry this with you inside your purse, your backpack, or get the neck pouch to sling over you like a crossbody bag. When I only need my phone and a card, I carry the neck pouch and shove it inside my purse like it's a wallet. Men will likely just want the wallet.
ProSafe 700 & Retractasafe Locks
This is a travel accepted lock, which means TSA agents can open and check your lock using secured codes. But you won't need to worry about randos going through your stuff and stealing anything.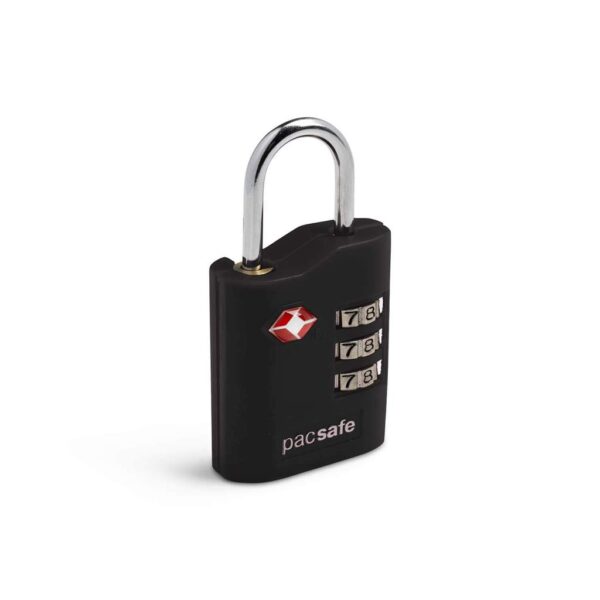 The Retractasafe is a great lock for tying down everything so your bags literally can't go anywhere—not unless the thief has lots of tools and time on their hands. (See tip #5 below)
Anti-Theft Travel Safe or Protector
Yep, you can have your own safe when you travel! No worries, you won't be lugging around a massive box. This flat anti-theft travel safe can keep your tablet, passports, money, and any other small items totally safe. Stuff it, lock it up, and walk away confidently.
Absolutely love your bag and don't want to spend money on a new one? I totally get it, that's cool. How about a steel eXomesh bag protector? Take it, wrap your bag, and there's nobody getting in!
Anti-Theft Vest
Yep, even a vest can be a theft-deterring item in your arsenal of anti-theft swag! It's light and machine washable for convenient travel and has a badass array of secrets to keep sticky hands away.
These vests have 18 strategic pockets (26 for men), including RFID blocking pockets to stop credit card skimming. They've even been engineered for weight balance and chiropractor-approved, just in case you plan on using every single pocket.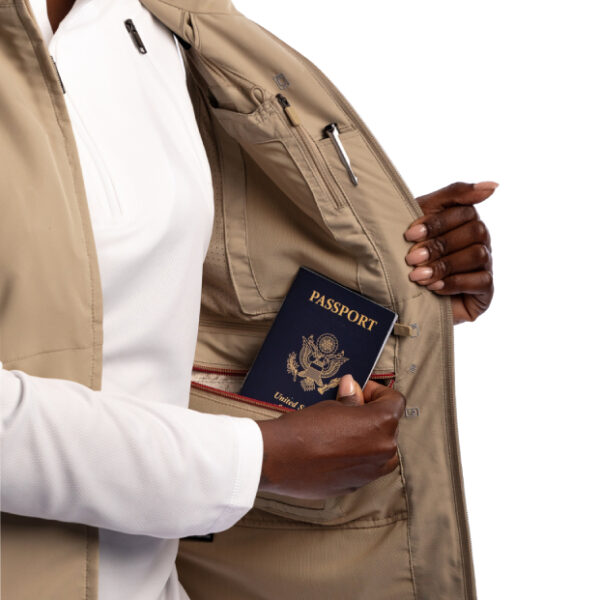 Check Price: Women's Vest | Men's Vest
Anti-Pickpocket Pants
If you tend to stuff things in your pants pockets, these cargo pants with concealed pockets will protect any valuables on you from pickpockets. Pretty much anywhere you travel, pickpockets are the most common types of theft and loose pants pockets are always a target. Instead of letting your phone, wallet, or keys dangle in a loose, exterior pocket, secure them inside interior pockets to deter sticky fingers.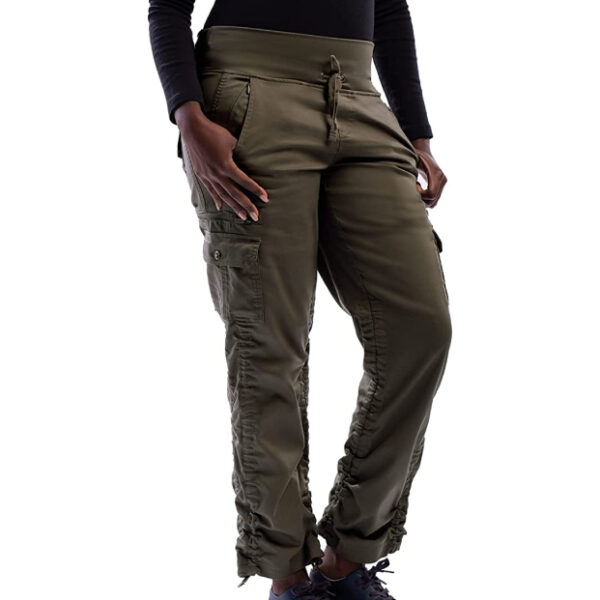 Check Price: Women's Pants | Men's Pants
Anti-Theft Belt
I don't wear belts but maybe you do? I know men will get great use out of this item. There's NO way anyone would even know you have cash hidden in this money belt, it's far too secretive. And that makes it the perfect anti-theft travel belt.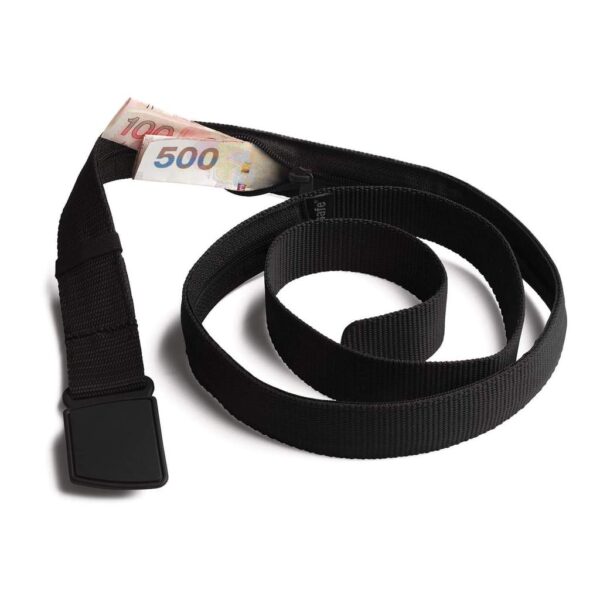 Anti-Theft Camera Neck Strap
Do you love taking pictures of your travels but are worried about the old "cut and run." Attach your camera to this DSLR Camera Neck Strap to prevent thieves from slashing your strap and taking off with your camera. That way you won't lose your memories and can take more memorable photos.
11 Tips For Keeping Your Stuff Safe Abroad
---
1. Use Charles Schwab bank (if you're American) so you won't be terrified of crazy charges when going to the ATM often—They refund all ATM charges and don't charge a fee themselves! That way you can take out less money more often.
2. When quality isn't severely compromised, use off-brand items or some of your roughed up things. Pacsafe doesn't appear flashy and doesn't have an "expensive" logo, which is a good thing! Don't hit the streets looking like you just spent a million bucks on everything you're carrying.
3. I never use room service unless I'm staying 5+ days, and I take my valuables with me the day they clean. I always have a "do not disturb" sign on my door—always.
4. If you don't have a anti-theft travel backpack right now, hiding things in weird places can also work. I like to put things in the pillowcase, my panty bag, or some bizarre nook and cranny inside the room. Placing things high up where they're out of sight also works.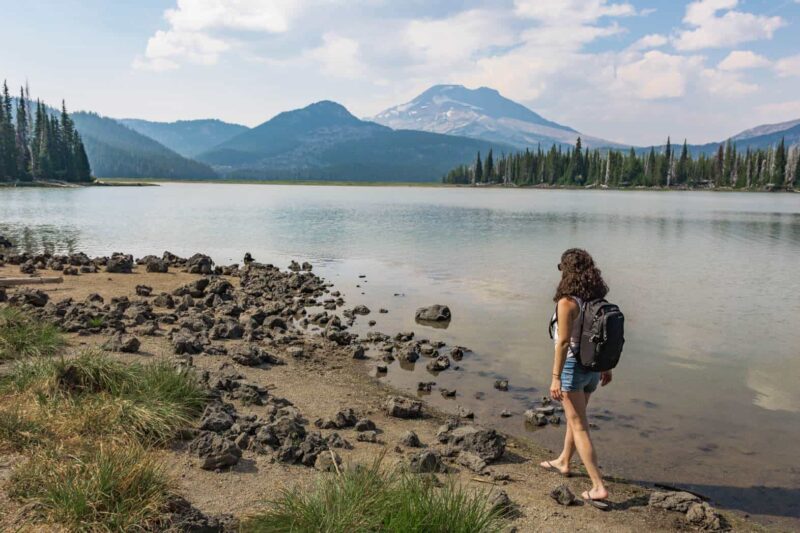 5. Since I use Pacsafe anti-theft bags, I put everything inside the bag and secure the bag to an immobile or large object. I use my steel rope that came with the bag and tie it to the bedpost, a large table, or 3 metal chairs.
Nobody is cutting through it, snapping off locks, or able to move my bag and figure out how it opens later. They'll go to the next room to the unsuspecting poor soul who took no action to protect their things.
6. Do your homework—research the common scams and warnings in the place you're going to.
7. Never travel with a shoulder bag or a bag with an "open mouth" —it's the easiest thing to steal from or take from you. In fact, it's extremely common for bags to get snatched from your shoulder while the thief rides by you on a motorbike.
8. Download something like Prey Project to protect your phone and computer to ensure everything is backed up via Backblaze or the like.
9. Use your own lock on lockers and your bags. If you stay in hostels, use your own padlock for the lockers.
10. If you have valuables at the beach, use a dry bag and that you can take swimming. It's not supposed to be submerged, but it was fine when I did it. You can wrap your belongings in an extra layer of plastic and then place them inside your dry bag as an extra precaution.
11. If you've done your part and still get something swiped, at least you have travel insurance, right?! I use Safety Wing, but World Nomads is also popular and would be my second choice. See what works best for you and your trip.
So which of these anti-theft travel backpacks for women and travel bags do you think would work best for you?
---
Pin this for later by clicking the picture!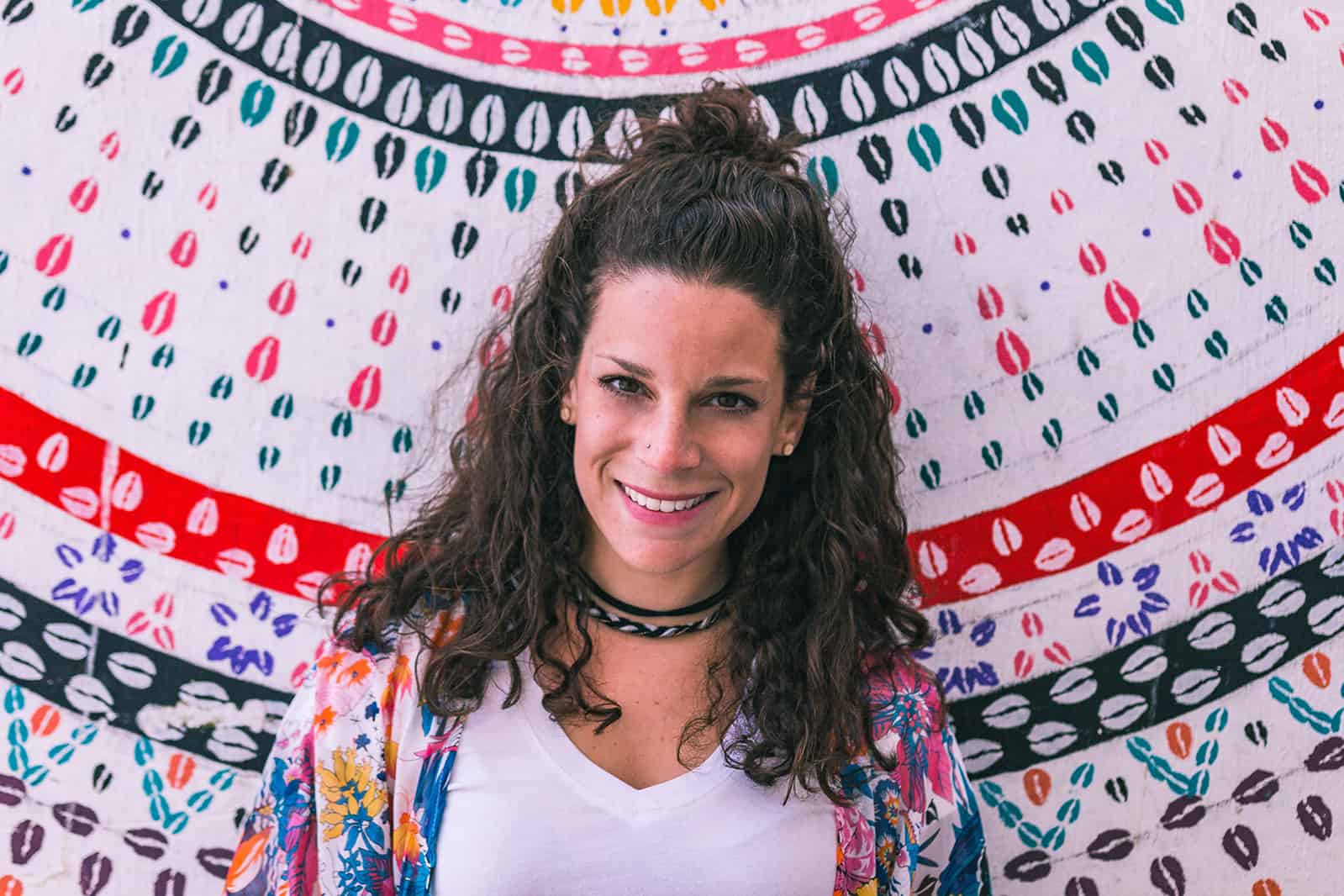 Nina Ragusa is an adventurer, messy bun master, breakfast fan, and full-time travel blogger. She's been abroad since 2011 and blogging on Where in the World is Nina? for nearly as long. Nina helps people like you move around the world while making money. She loves talking about how to work abroad and online to travel longer!