If you're wondering about the things to do in Lake Atitlan and then immediately get overwhelmed once you realize this lake is massive with several towns surrounding it—Let me help you!
Visiting Lake Atitlan is SO much more than a quick pop by to see a pretty lake and then go.
Each town on Lake Atitlan is special in its own way, with its own vibe, unique perspective, and list of things to explore. Many visitors at Lake Atitlan are searching for something different and deeper, some are here for a party, some seek adventure, and some are here to escape and melt into solitude…
All of these are attainable at Lake Atitlan. What do you want out for your visit? I hope my guide here can help you figure it out so you can maximize your visit!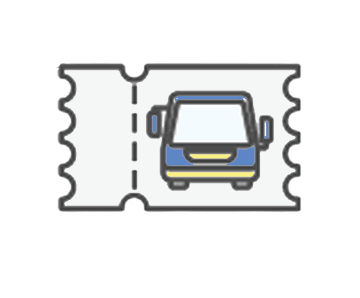 TRANSPORTATION TIP
If you're looking for bus or boat tickets around Central America and Mexico, you can easily book them online! Check Availability
Visiting Lake Atitlan—Towns, Things to Do, Where to Stay, & Tips!
---
After spending about 10 days relaxing, exploring, hiking, and swimming around Lake Atitlan, I felt like I needed another 10+ days to REALLLLY get to know it. The more I saw the more I wanted to stay to get more. Lake Atitlan has a lot to offer, so no matter if you have a few days, a week, or a month, you'll find plenty to tackle.
I'm only one person and while I did A LOT, I couldn't do everything. So below you'll find everything I did plus tons of other things that I wanted to do, that friends told me about, and locals recommended.
Everything here is split up by the town. The best way to visit Lake Atitlan is to choose the town(s) that you vibe with most. I'll help you figure everything out, no worries!
Oh, and sorry in advance but this post is MASSIVE!
Panajachel, Lake Atitlan
Panajachel is your backpacker base if you're looking for easy access around the lake, a bustling hub in the heart of all the action.
Thanks to its easy transport links, this tourist hotspot is likely to be the place you stay if you're looking to make day trips to the other towns around Lake Atitlan. It is also Lake Atitlan's "basecamp." This is likely the hub you'll be dropped off and picked up from when you're coming to and leaving the lake.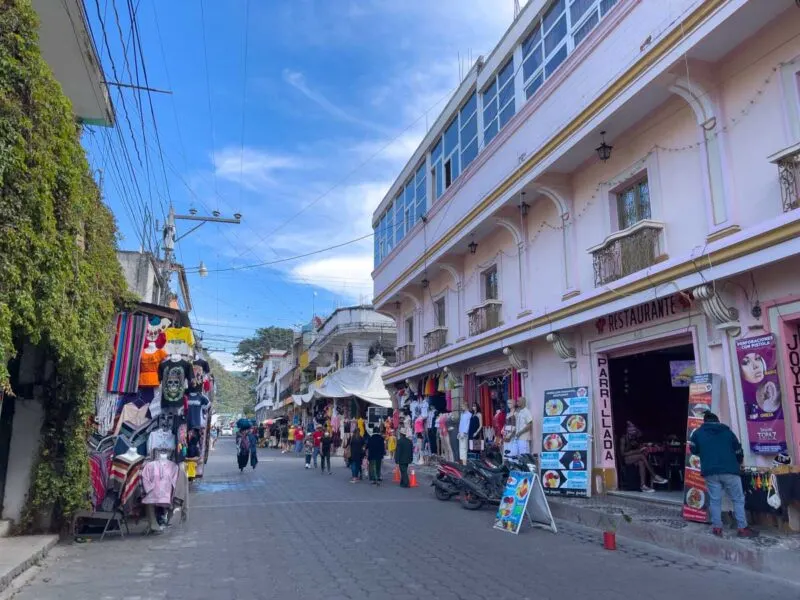 As the busiest town, it has everything you'll need for a comfortable stay, such as plenty of accommodation options, bars, shops, and more. It may not be the most unique or picturesque lakeside town, but it is the ideal place to start on your lakeside adventure.
Best Things To Do in Panajachel, Lake Atitlan
Mayan Ceremony
Take part in a traditional fire cleansing ceremony in the Sacred Caves of the lake. The ritual is conducted by a local shaman and is a once-in-a-lifetime experience. You'll learn all about the caves and the ceremony and feel as though you are part of the old Lake Atitlan way of life.
→ Book this Panajachel tour: Mayan Ceremony at the Sacred Caves
Shop
Shop until you drop in Panajachel, likely to be the most scenic spot you'll ever enjoy a bit of retail therapy. The road around the lakeshore and Calle Santander is where you'll find vendors selling goodies, including some beautiful native handicrafts.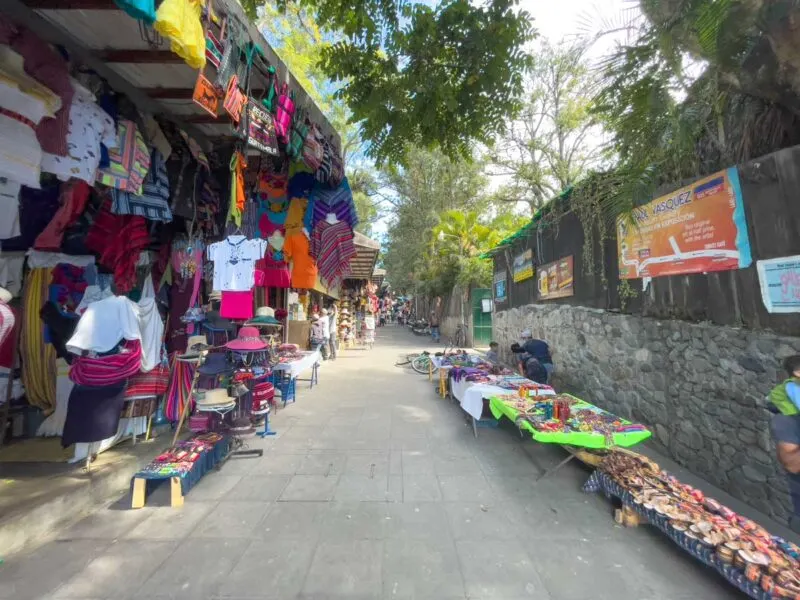 There is also a vast market used mainly by the locals to pick up foods and textiles. Still not satisfied? There are also a few shops selling high-quality clothing and goods scattered throughout the town.
Mayan Ruins
History buffs and ruin lovers, this one is for you. On this day trip, you'll be taken to the Iximche ruins and learn all about its vibrant past.
You'll soon know all there is to know about this 1000-year-old city and get a better insight into the Mayan people and how they lived their lives up to the present day. Even if you're not into history, this is a fascinating trip to make you feel all cultural and knowledgeable.
→ Book this Panajachel tour: Iximche Mayan Ruin
Cooking Class
An activity and food all rolled into one is a bonus. As well as spending the day learning how to cook the most delicious Guatemalan dishes during this activity, you also get to eat them at the end.
Over 4 hours, you'll learn how to cook three traditional dishes and understand what helps to create the succulent tastes and textures only found in this part of the world. You'll even get a recipe book to take home with you so that you can recreate the dishes at your leisure.
→ Book this Panajachel tour: Maya Cooking Class
Where To Stay In Panajachel
RELATED: Your Perfect Guatemala Itinerary: 1-3 Weeks + Tips!
Santa Cruz La Laguna, Lake Atitlan
Santa Cruz is steep; you'll get a workout just heading up from the lake.
The authentic town of Santa Cruz offers stunning vistas no matter which way you turn, with Lake Atitlan Guatemala on one side and lush jungle on the other. As a transitional village, you won't find as many tourists as in Panajachel or other towns, but that adds to its charm.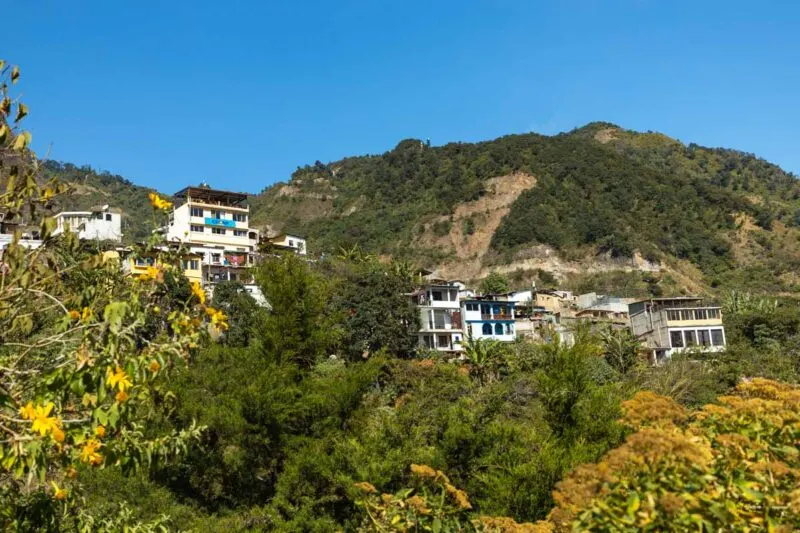 It can only be accessed by boat, which contributes to its isolated, exclusive vibe. The central portion of the town is located up one of the steepest hills, and although it's only a short 10-15 minute walk, I won't judge if you want to get a tuk tuk up to the top (it should only be a few quetzals anyway!)
Best Things To Do in Santa Cruz, Lake Atitlan
Walking up the Village
Yes, Santa Cruz is stunning, and yes, it offers some incredible views of the lake, but as we talked about, walking anywhere means you won't have to do 'leg day' for the foreseeable future.
Despite this, one of the best things to do in the town is explore it on foot because really, there's not THAT much else to do! After getting a good workout in and plenty of stops to admire the view, you can also do…
Drinks at Free Cerveza or La Iguana
Enjoy a drink right on the shores of Lake Atitlan at either Free Cerveza or La Iguana. Free Cerveza is a campsite oasis, with its restaurant and bar, so you can sip on a cool drink before tanning, swimming, or taking part in one of the many activities available. La Iguana is a hip and happening hostel with plenty of options for a nightcap.
Cafe Sabor Cruceno
Drink and dine with one of the finest views at Cafe Sabor Cruceno. Home to an expansive terrace, it is a beautiful place to enjoy a snack cooked up for you by young graduates.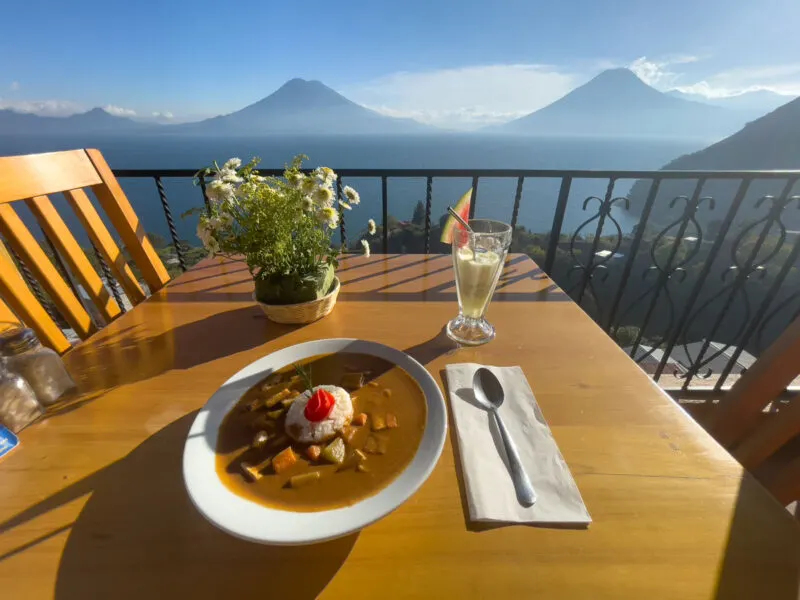 Suppose the delicious food has got you interested in learning how to make the dishes yourself. In that case, the venue also offers several cooking classes to polish up your culinary skills.
Kayak
One of the best things to do in Lake Atitlan is to get out on it, and Los Elementos Adventure has you covered with affordable kayak rentals.
The company offers it all, from renting a kayak by the hour and exploring on your own to going on a multi-day guided kayak tour. You can also hire a paddleboard if you want a different way to traverse the shores.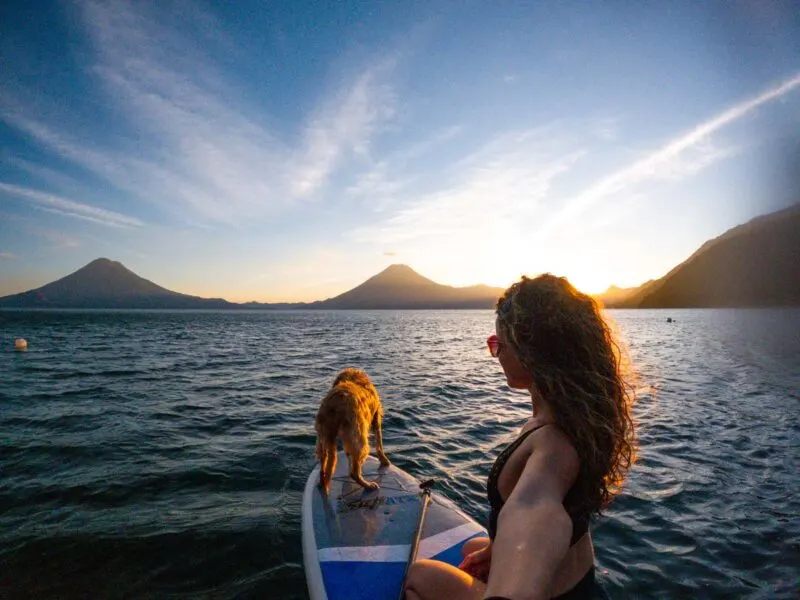 Cultural Private Tour
Take a deep dive into the local and cultural activities in the town by a resident. You'll have a packed day relaxing in a Temazcal steam room, learning about traditional clothing and jewelry, even having a go at making a textile piece of your own.
You'll cook food in a conventional kitchen and enjoy your meal with your knowledgeable guide. Everything is included in this full-day trip, so you should return feeling full and fulfilled.
→ Book this Santa Cruz tour: Traditional and Cultural Private Tour
Santa Cruz is the town I was based in; however, my accommodation was a 20-minute walk out of town! There is no car access to this area; walking is your only choice.
I will say, I highly recommend the place I stayed (more on this later), but otherwise, this town is one of the quiet ones. So make sure you know that before basing here. And if you want nightlife, stay at Free Cerveza or La Iguana.
Where To Stay In Santa Cruz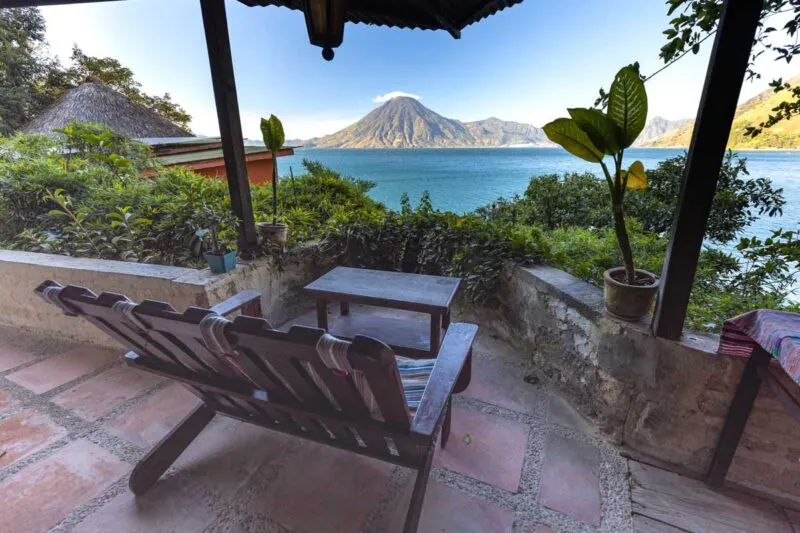 RELATED: 17 Adventurous Things To Do in Guatemala + Tips For Your Visit!
San Marcos La Laguna, Lake Atitlan
San Marcos exudes cool hippie vibes. The lake's most spiritual town and an 'energy vortex.'
Expect to find yoga retreats and classes, cafes serving tasty green smoothies, and a range of healing ceremonies in San Marcos. It is hard not to feel completely zen and chilled out in this town, even if all you're doing is sipping on a cool drink in one of the bars, watching the boats pass by.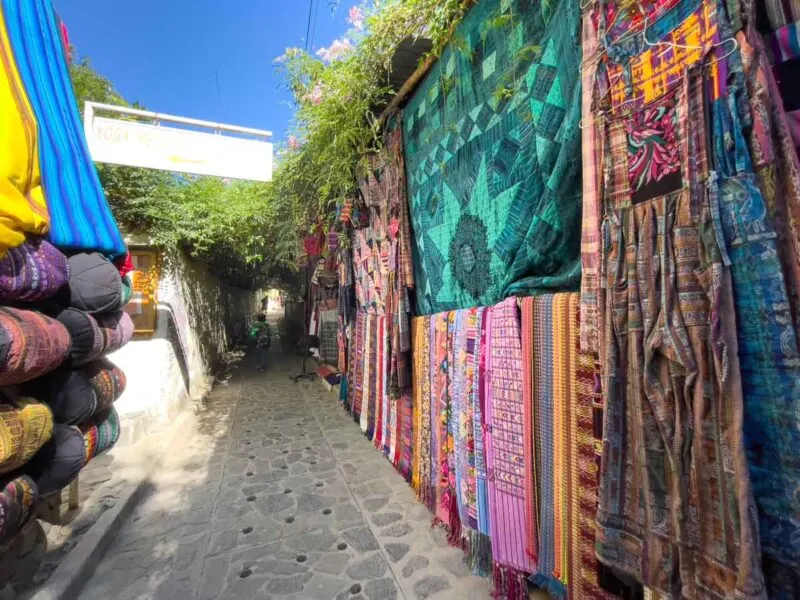 Best Things To Do in San Marcos La Laguna, Lake Atitlan
Eat at Samsara, Circles, Lush
There are plenty of places to pick up a snack in San Marcos, but a few favorites include Samsara, Circles, and Lush. Circles Cafe is small but relaxed, with a peaceful outdoor seating area surrounded by lush plants and gardens, the perfect place to pick up a healthy smoothie or baked snack.
Samsara is another outdoor vegan cafe specializing in its flavorful veggie bowls. Lastly, Lush is more on the upmarket side, offering organically sourced, plant-based foods on their expansive terrace.
Yoga
What better place to do yoga than the hippie paradise of San Marcos. The area is known for its spiritual energy, with people coming from far and wide to find their inner zen and downward dog on the lake shores.
There are plenty of places to practice yoga in the town, some of which offer a class or two, while others provide full-on multi-day retreats.
If you don't mind a little hike up the mountains, Yoga Forest is 15 minutes from the town and is a breathtaking place to practice the art. There is an expansive balcony-like platform with incredible lake and volcano views; you will struggle to find a more scenic spot to stretch and find your inner peace.
Cerro Tzankujil
Cerro Tzankujil is a beautiful nature reserve nestled on the shores of Lake Atitlan Guatemala, just to the west of San Marcos village. Pebbly trails wind through the undergrowth, leading to stunning vistas and secluded swimming spots.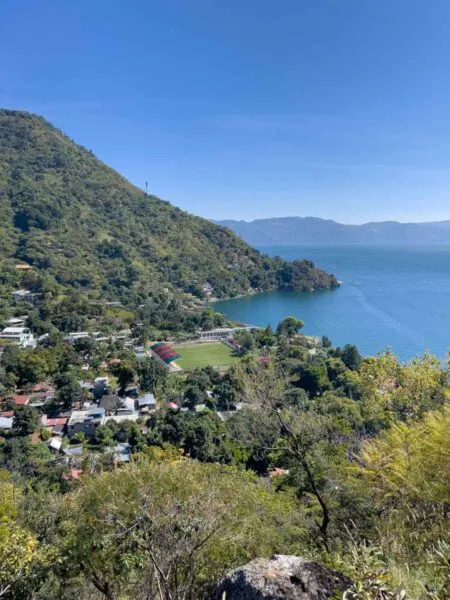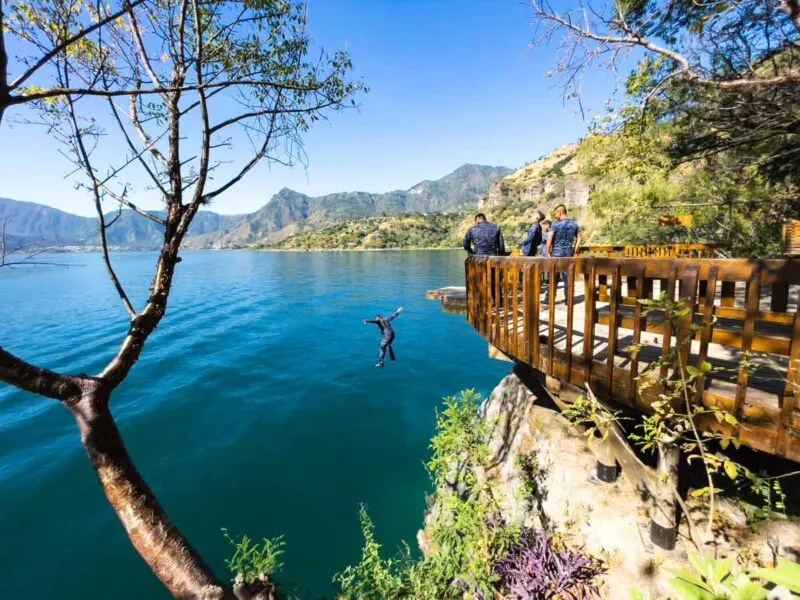 The diving platform is the real highlight here, and if you're feeling brave, you could take a plunge into the cooling blue waters below. You could also climb up to a Mayan altar on top of the hill, with lookouts along the way. It's an excellent way to spend the day, surrounded by lush landscapes and beautiful views.
Cacao Ceremonies
If you're visiting San Marcos and want to get a complete feel for the town, it may be worth participating in the Cacao Ceremony, one of the more unique things to do in Lake Atitlan.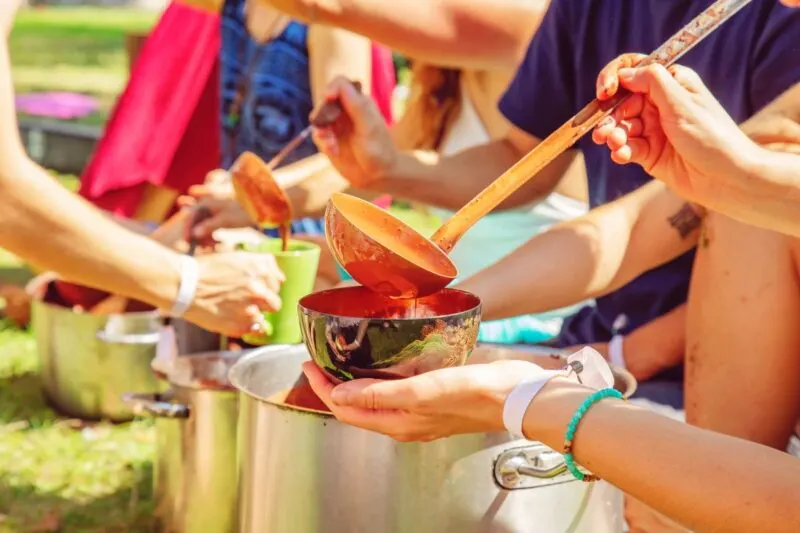 These ceremonies can last upwards of 5 hours, so expect to be on for the long haul, but they will provide you with unique healing and energy transferring experience you won't find elsewhere.
Yoga and Sound Ceremony
This inclusive full-day venture will help you relax, rewind and chill out for hours while learning some incredible facts about the locals and their beliefs.
Starting in the Yoga Forest, you'll practice the art of yoga, enjoy a delicious brunch feast, have a boat ride to and from San Marcos, and lastly, take part in a Cacao and Sound Ceremony. The ceremony is a beautiful experience and a unique way for you to uncover the magic of the lake and mountains.
→ Book this San Marcos La Laguna tour: Cacao and Sound Ceremony with Yoga
Where To Stay In San Marcos La Laguna
Jaibalito, Lake Atitlan
Cool, relaxed, and off the beaten path is what you should expect at quaint Jaibalito.
Despite being the least developed of the bigger towns around Lake Atitlan, Jaibalito is worth a visit if only for an afternoon. You won't find the crowds of backpack-wearing, cocktail-drinking tourists here; you can have this little bit of luxury. It's not reachable by car and many people may not have heard of it, but their loss is your gain.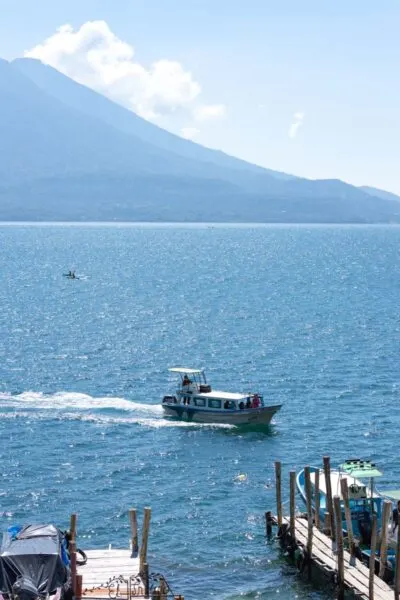 Best Things To Do in Jaibalito, Lake Atitlan
Indigo Restaurant – Eat at Indigo Restaurant for stunning lakefront dining. Undisturbed views and good food are all you need to spend the whole day here at Jaibalito. There is a fresh and seasonal menu and delicious cocktails; what more could you want?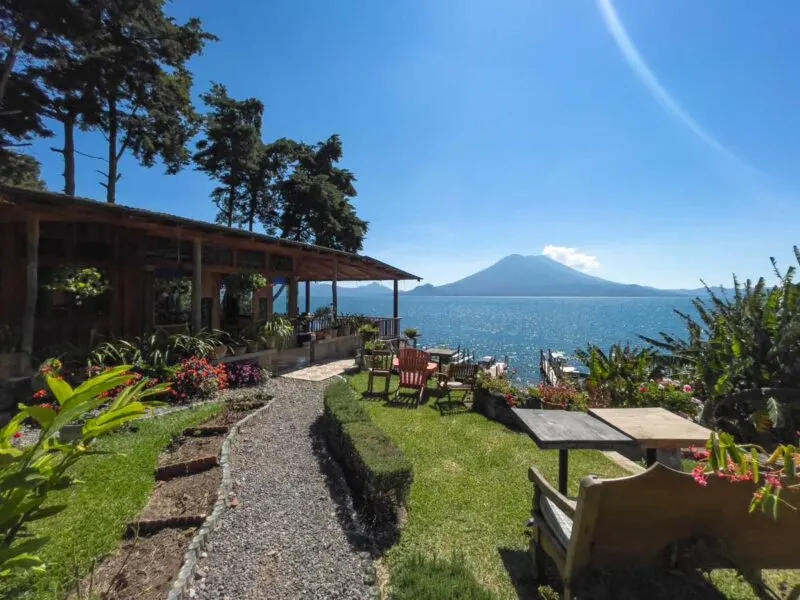 La Casa del Mundo – La Casa del Mundo is one of the most magical hotels in the world. You can only reach it by boat or by foot for a start, which already gives it that exclusivity. It has a hot tub, swimming holes, and beautiful views of the lake. The meals served are tasty, and the vibes super chill.
Where To Stay In Jaibalito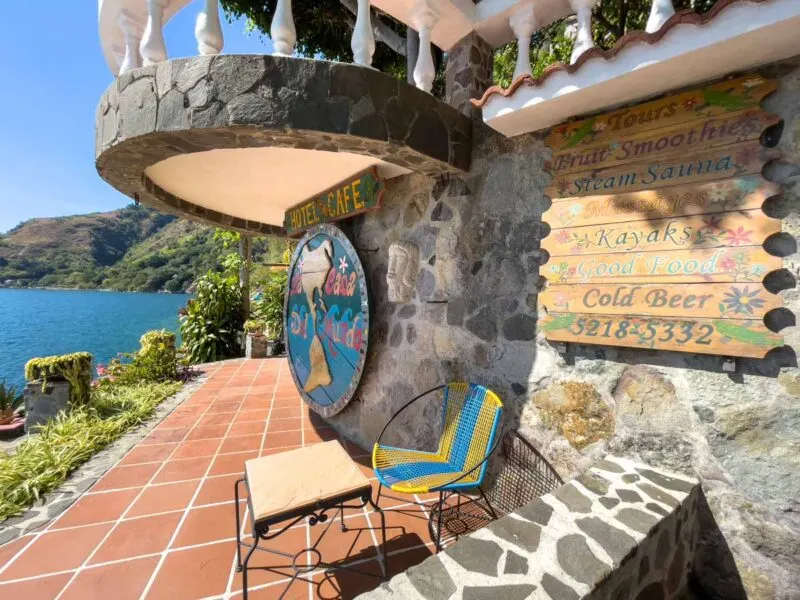 San Pedro La Laguna, Lake Atitlan
Hip and happening San Pedro is your go-to for fun places to stay on the lake.
San Pedro is backpacker central. Think cheap accommodation, great eateries, Spanish lessons, a beautiful setting, and partying the night away.
Surrounded by stunning scenery, no matter which way you look and a welcoming, happy vibe, chances are you'll be making your way to San Pedro at some point during your visit to Lake Atitlan Guatemala. You'll surely be drawn in by the music and vibrant atmosphere.
Best Things To Do in San Pedro La Laguna, Lake Atitlan
Kayaking
Pick up your kayak and be led by an experienced guide out onto the blue waters of the lake. On the 3-hour venture, you'll paddle over to Las Cristalinas, with plenty of time to rest your aching arms on the white sand beaches before paddling back. Your guide will tell you all there is to know about the area as you glide across the waters.
→ Book this San Pedro La Laguna tour: Kayaking on Lake Atitlan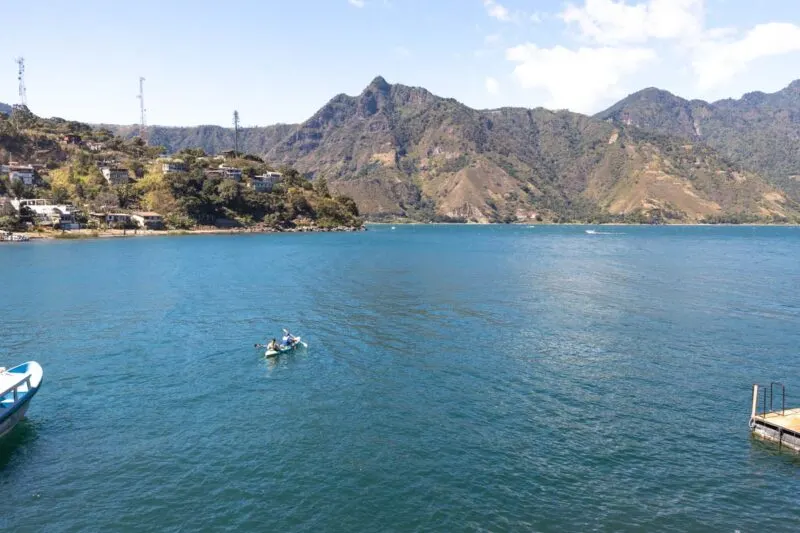 Party at Sublime
Bar Sublime is THE place to go at San Pedro when you are looking to throw some shapes on the dancefloor. As soon as the sun begins to set, the whole atmosphere changes, and the venue is filled with very different lights, cheap drinks, and great tunes.
Shanti Shanti
Shanti Shanti is a gorgeous place to eat in San Pedro, with decent food and beverages (the views are the main draw!). The seating arrangements are special, with various terraces layered down the hillside. Dine on tasty, hearty dishes while watching the kayakers below you, and think about how life can't get much better than this!
Shopping
Don't be afraid to do a little shopping while in San Pedro; there is no harm in picking up a little souvenir if something sparkly catches your eye.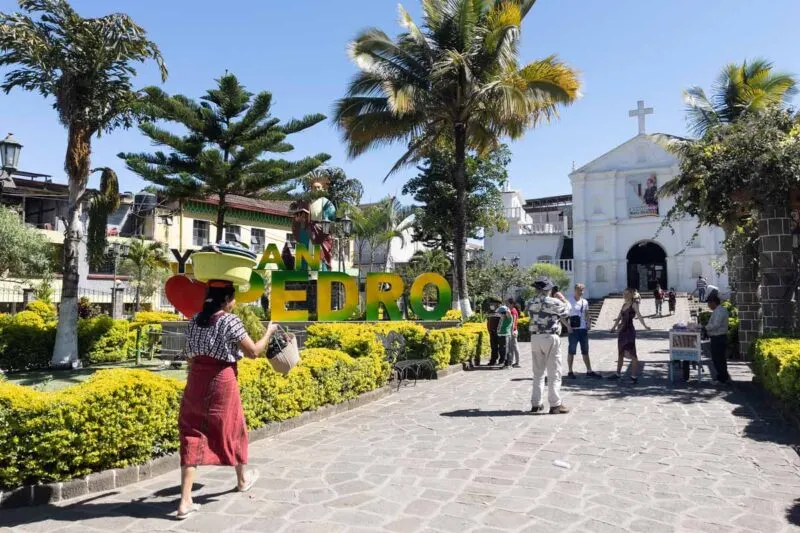 Like many touristy towns around the lake, you'll find many shops or stalls selling an abundance of brightly colored textiles, leather goods, food, and fabrics, all at a very affordable price. The entire town is walkable, so you should be able to hit up most of the streets in one morning.
Los Termales
Soak away those worries the Los Termales, San Pedro's thermal baths. The steaming waters are not hard to find. Just take the alleyway beside Buddha Bar, and before long, you'll reach the baths. Sure, they might not be all-natural, but that doesn't mean they are not super relaxing, especially after a day of hiking.
Local Markets
San Pedro has some of the most lively and bustling markets around, with tiny narrow streets crammed with market traders selling colorful fruits, veg, local crafts, fresh fish, and plenty of other wares.
You're bound to run into it while wandering around. If you're staying near the town, this is where you should do like the locals do and do your shopping. Get there in the morning for all the best stock and deals.
Where To Stay In San Pedro La Laguna
San Juan La Laguna, Lake Atitlan
Discover the charming town of San Juan, full of colorful murals and views that will take your breath away.
San Juan makes a great alternative to San Pedro if you are looking for a little bit more of a laid-back kind of lifestyle during your stay.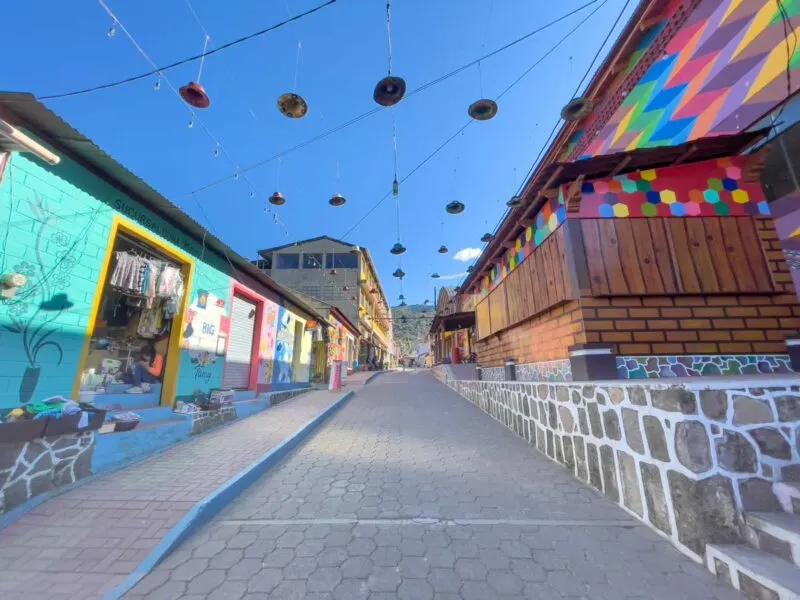 It is arguably the art and craft capital of the lake, with the local inhabitants taking pride in their work and painting galleries aplenty. The town is also known for its incredible views and panoramic vistas, which you'll never tire of gazing at.
Best Things To Do in San Juan La Laguna, Lake Atitlan
Mirador Kaqasiiwaan
Follow the brightly painted steps and murals to the stunning Mirador Kaqasiiwaan. You won't find many other viewpoints quite like this one. We are not quite sure what is more beautiful, the colorful platforms of the Mirador or the view itself, making it one of the best things to do in Lake Atitlan. (Entrance is $3.50)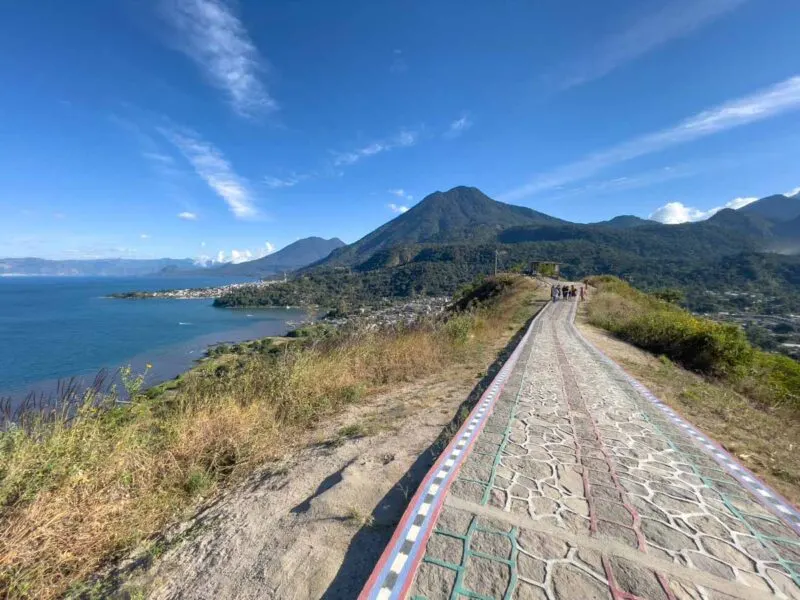 Indian Nose
If you can bear to wake up at 4 am (it is worth it, we promise), the Indian Nose hike offers one of the best sunrise spots. From the peak, you'll be able to see the lake and surround volcanoes in all their glory, flaming reds and burnt amber in the sun.
Although it is possible to hike yourself and pay the farmers, you would be better off getting a guide as you won't get lost in the dark and will be much safer. It is also possible to reach the Indian Nose hike by carrying on from Mirador Kaqasiiwaan.
→ Book this San Juan La Laguna tour: Indian Nose Hiking Adventure
Where To Stay In San Juan La Laguna
Other Lake Atitlan Towns
I didn't get to personally visit these next Lake Atitlan towns but I couldn't leave them off the list. This just goes to show you how many places there are to visit!
Santa Catarina Palopo
Santa Catarina Palopo is a beautifully colorful town, and oddly, it is one of the lesser-visited places on Lake Atitlan, Guatemala. Geometric patterns are painted on the houses all around. Seeing as tourists rarely venture here, you will experience how the locals live their lives and take some stunning photos.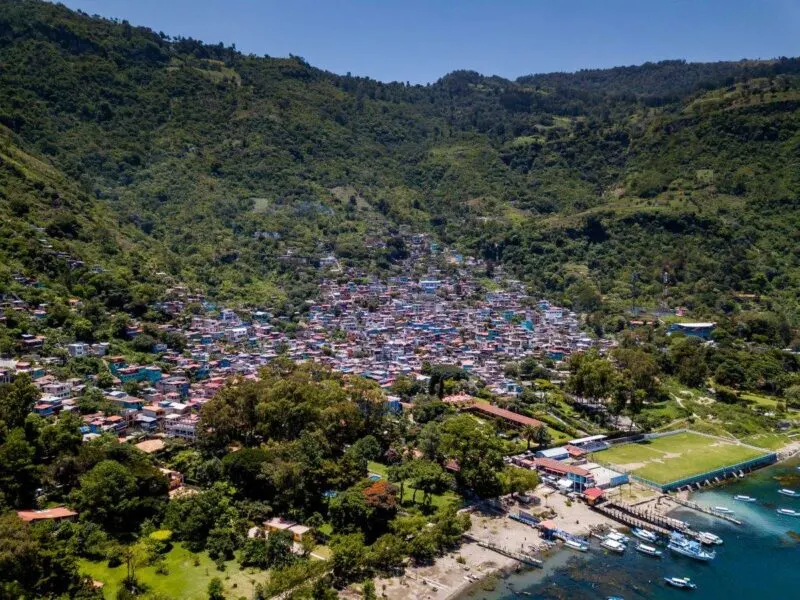 The most common thing is to admire the houses and learn about the art in one of the painting galleries. There is also a tucked-away little hot spring next to the lake, which is great for relaxation, as is Plaza Central, home to some stunning buildings. It is also the perfect place to take a kayak out onto the water.
Tzununa
Another lesser-known hidden gem is Tzununa. You won't find any market stall holders trying to sell you keyrings or 'traditional' jewelry here. A few cute eateries are dotted throughout the town, making for a peaceful place to grab a bite.
It is the perfect town to admire the beauty of the lake without the hustle and bustle of backpackers blocking your views. It is an excellent base for hiking the surrounding hills. All you have to do is pick one of the many paths and set off to explore.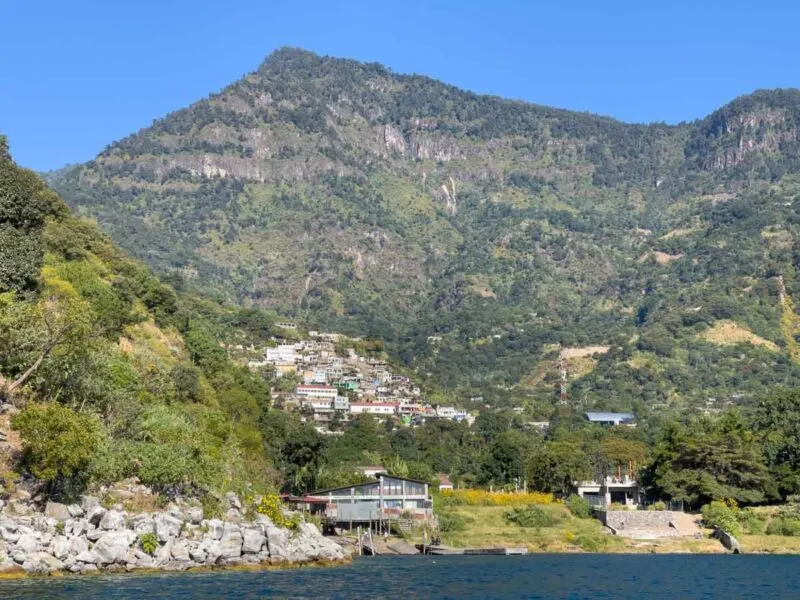 You might come across waterfalls or hidden viewpoints, but be sure you stay safe as a group. The Tzununa waterfall hike is a must for waterfalls lovers and is just a 40-minute walk from the village. For something a little different, head to Atitlan Organics, where you'll be able to visit an edible landscape or even take a course on permaculture.
Santiago
Santiago is a local town, holding a solid indigenous identity. A visit here will immerse you in the lake culture, allowing you to escape the tourists for a while. The women are often clad in traditional purple striped skirts and beautiful embroidered tops, with the men, especially the older generation, in matching pants.
Although the town is not necessarily set up for visitors, there is still plenty to see and do. There is a small museum devoted to the art of loom weaving, the parish church, and Central Park to explore, plus on Fridays and Saturdays, there is a bustling market where the locals do their shopping.
It is also the start of the Atitlan Volcano hike, the tallest yet least summited volcano on Lake Atitlan. Your knowledgeable guide will take you to the summit, telling you about the landscape and coffee plantations.
→ Book this Santiago tour: Atitlan Volcano Hike
How To Get to Lake Atitlan
You will likely end up in Panajachel first when visiting Lake Atitlan. You can stay there or immediately head out to another town via boat.
Getting to Pana (common nickname for Panajachel) is very quick and easy from Guatemala City, Xela, Antigua, and almost literally anywhere else! Considering many towns are challenging to get to by car or inaccessible by car, most of the time you're going to be dropped off at Pana, and from there you can easily catch a boat to the town you'd like to stay at.
Getting to Pana will require a shuttle. The roads around here are a bit narrow for buses, so shuttles are usually what's used. The easiest way to get around Guatemala, in general, will be by booking with GuateGo!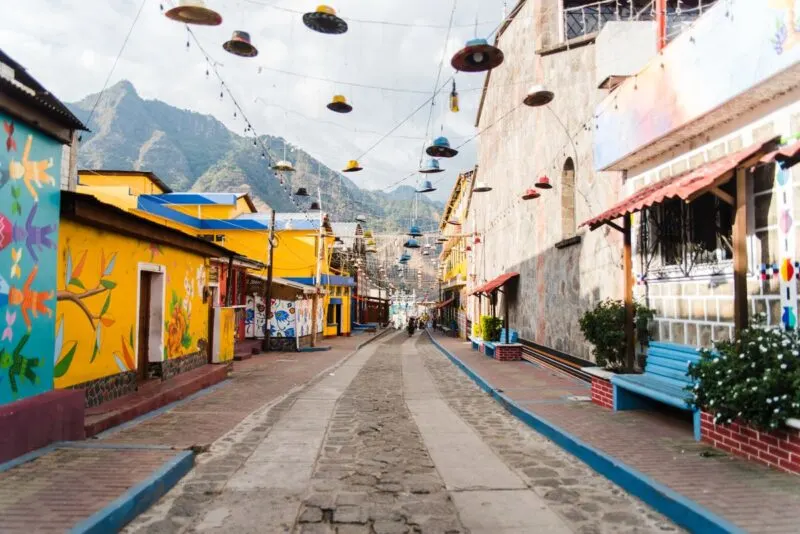 Check GuateGo for prices and schedules, and within a few clicks, you'll be booked! They will pick you up and drop you off at your hotel. Your other choice is by chicken bus, which will definitely be cheap but less comfortable and likely take twice as long.
You can also walk around and find places selling shuttle tickets to Pana, but I found GuateGo too easy, and that's how I booked myself transportation around the country.
How To Get Around Lake Atitlan
Boats are the best and sometimes the only way to get around the lake!
Traveling by boat is pretty quick, perhaps 10, 15, or 20-minute rides depending on where on the lake you're heading. Lake Atitlan uses boats to get around as the road is pretty crummy, and a 20-minute boat road would be over an hour in a car! And again, some places are literally inaccessible by vehicle, so boat travel it is around here!
The boats are all the same and frequently operate throughout the day. They aren't necessarily on any set time, but I never waited more than 10 minutes for my boat to take off.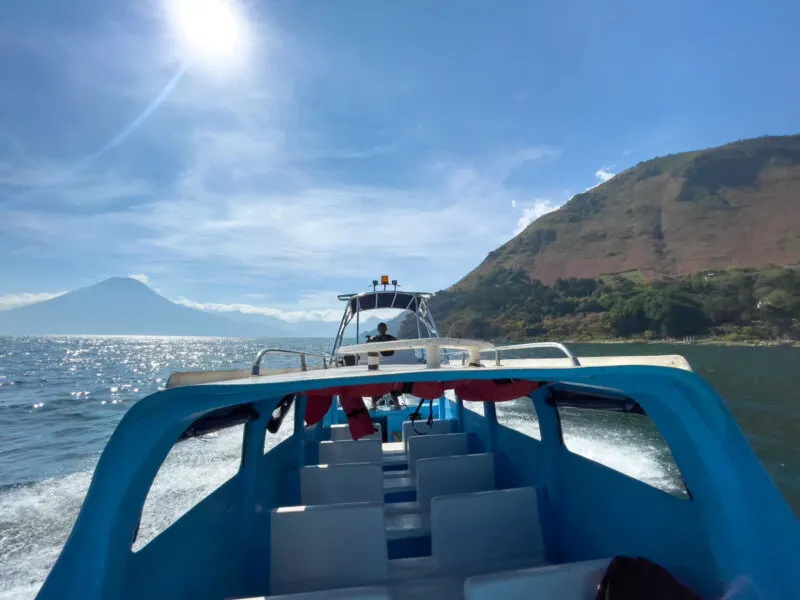 Boats usually start around 6:30 am and end around 7:30 pm. You can get a private boat if needed, and it's generally around 200q per my local friend, but if you're a bunch of tourists wanting one, I'd expect to pay a bit more.
Know that the boat drivers often charges tourists more than locals, so if you see this, just sit down and forget it, there's no use in arguing over a $1, and it's probably going to happen your entire time here (and you likely wouldn't have know it).
Expected boat costs:
Pana to Sunset Lodge (Santa Cruz) with my Guatemalan friend – 10q
Sunset Lodge to San Pedro solo – 20q
Santa Cruz to San Marcos solo – 20q
One of my boats was 25q, I don't recall where to where but it was the most I paid ($3.25).
Note that boats will stop at numerous towns along the way, so keep your ears open for the town you're going for, the boat driver will announce it.
Within the towns, you'll find tuk tuks to ride. A road goes around and connects towns, and it's possible to get a tuk tuk from one town to the next if you don't want to use the boat. For example, I took a tuk tuk from San Pedro to San Juan, they are pretty close! But most will be quicker and cheaper by boat (I think got it by now, right? Boats are the way!)
Once I was in a town, I just walked, each town is very walkable, although do expect some hills here.
Walking From Town to Town in Lake Atitlan
It's possible to walk from town to town depending on which towns you're starting from and heading to. BUT please ask the front desk at your hotel or a local at a restaurant before doing so. Not only can they tell you valuable info, tips, and point you in the right direction, they will let you know if it's advisable or not.
There are some routes that are not recommended to walk between. Whether it's unsafe because you're walking along the side of the road or if it's just not smart to do so. Always ask first!
So Which Lake Atitlan Town Should I Stay In?!
This is totally up to you! Hopefully, you can tell which town you may vibe with best from everything I mentioned above. The best thing about Lake Atitlan is that you're spoilt for choice on where to stay; there's a place for every type of traveler.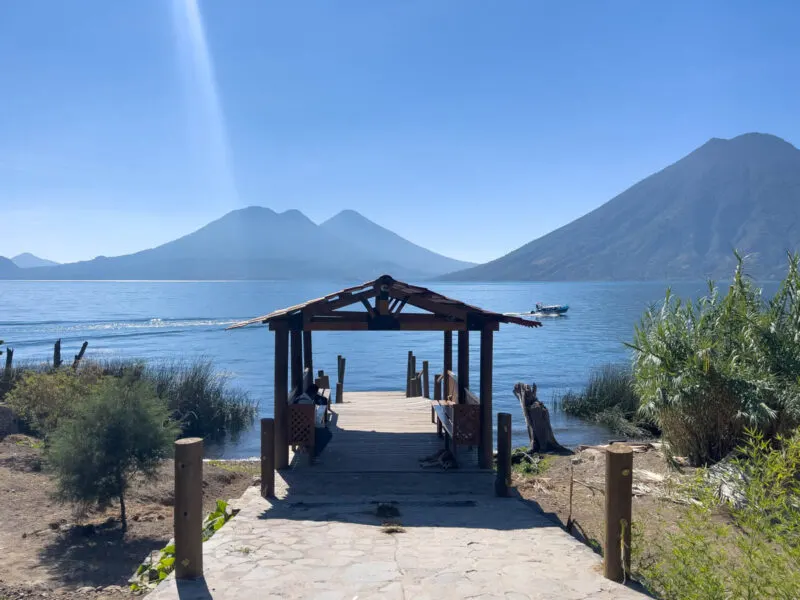 My suggestion would be to either choose one place to base from and explore or, at the most, choose two and split your time based between those. I would only choose two if you're staying at least a week at the lake; otherwise, keep it at one.
All the towns around Lake Atitlan are accessible by boat, and they only cost a buck or two. It's straightforward to get around no matter where you stay, so you really can't make a wrong choice here. And it's certainly not necessary to change your hotel every night just to see another town.
Tips for Visiting Lake Atitlan: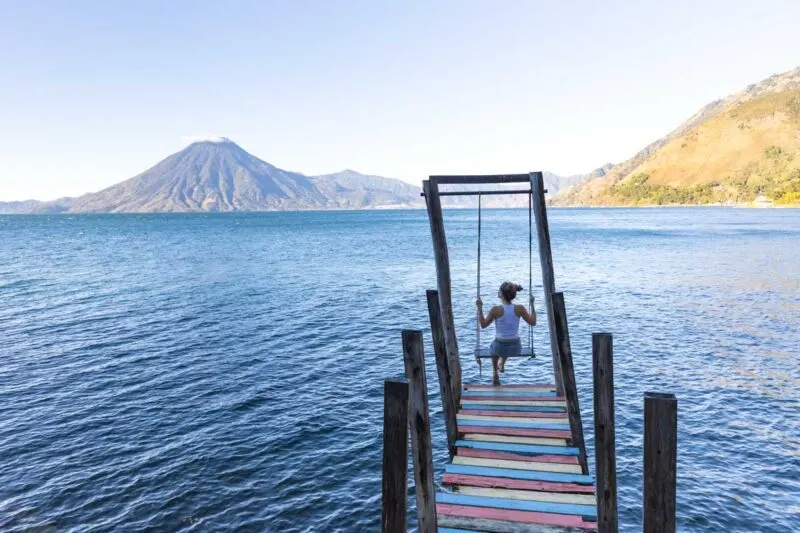 If you need an ATM, not every town around the lake has one. Tzuna and Jaibalito don't have one and a few others, including the popular village of San Marcos have only one. This can mean that the machine runs out of cash at times. So go in Pana or in San Pedro when you roll through and make sure you take out enough or at least keep enough in your pocket to get the boat over!
Don't forget that boats are the way to get around! If you get a bit seasick like me, you should be fine. It wouldn't be worth taking any meds before your boat ride since most everything is under 20 minutes! Just try to maybe get a window seat and avoid extra choppy days! The winds can get really crazy on the lake.
Don't swim in the major towns and areas too close to the big piers… It's not great or smart. Be on the lookout and ask about algae blooms, it should be pretty obvious though!
Nov-April is Lake Atitlan's dry season, and May-Oct is the rainy season. Afternoon showers are common during that time but everything is beautiful and green! The dry season means things are a bit dried and perhaps a shade of brown but when I went in Novemeber, just on the cusp, I found it to be perfect.
Spanish is obviously helpful in Guatemala but keep in mind most people around the lake actually speak a variety of Mayan languages, like Kaqchikel and Tz'utujil. In fact, Spanish is their second language but most will know it and speak it when needed.
Definitely don't forget to pack some warmer clothes, I got quite cold when the sun set. A rain jacket and a dry bag wouldn't hurt either for those rainier times! I also use my dry bag as a day bag sometimes if I know I'm doing water activities.
Lake Atitlan is safe but anti-theft gear won't hurt! Always watch your stuff, no matter how comfortable you are in the area, there are always opportunists lurking (this goes for anywhere in the world.) Using my anti-theft gear makes me feel better. It's anti-slash, I can lock them to a chair etc. It help me keep my peace of mind.
Stay where you live at night! Not only is it going to be safer, but if you need a boat after sunset it's going to cost you more, you'll have to haggle, and you'll need to find somenoe willing to take you. So make sure to be back in the town your accomdation is at before dark.
RELATED: Best Anti Theft Backpacks, Bags, and Purses + Tips for Keeping Your Stuff Safe!
Day Trips From Lake Atitlan
If you plan on basing at Lake Atitlan and want to take some day trips from here, you do have some choices! You'd probably need to stay in Pana while doing these day trips.
Chichicastenango Market
Shop until you drop at one of the country's most colorful and vibrant markets. Chichicastenango Market takes place in the western highlands, and on this full-day trip, you'll be able to experience it all. You'll go for a drive before arriving in the town's central plaza, where market trader set up their wares for a day of selling.
Admire the intricate handicrafts and get lost down the maze of alleys. If you go on this tour, you'll also have the chance to explore the town of Panajachel on the lake. The market takes place every Thursday and Sunday, so if you are in the area during this time, put this on your list of things to do in Lake Atitlan.
→ Book this Lake Atitlan tour: Chichicastenango and Lake Atitlan
Mayan Ruins
You can't visit Guatemala without admiring at least one set of ruins. It is like a right of passage. On this trip, you'll see the Iximche Mayan Ruins, discovering what life was like 1000 years ago.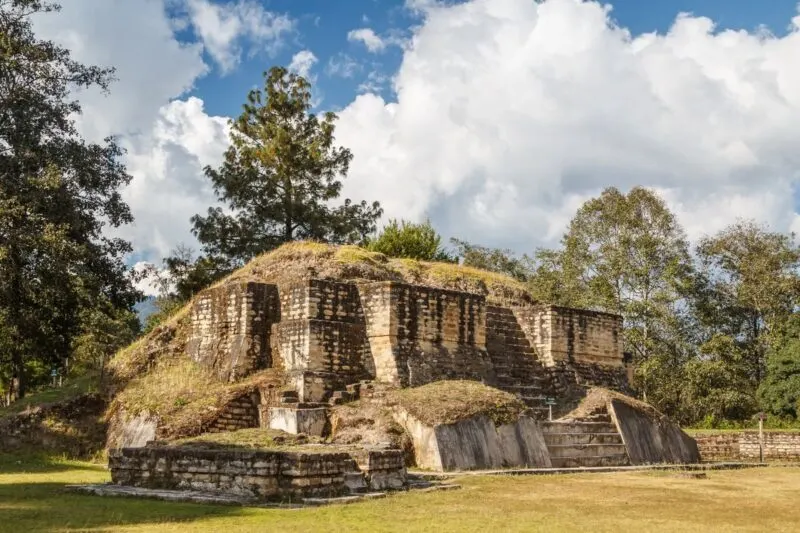 You'll see the remains of pyramids and temples and learn all about fascinating Maya history at the museum. It is a great excursion for history lovers and better insight into Mayan life.
→ Book this Lake Atitlan tour: Iximche Mayan Ruin
Day Trips to Lake Atitlan
Sometimes when you travel, you don't have enough time to see everything; we get it. So make the most of a bad situation and take a full-day tour to explore the lake, a great way to see a lot with a short amount of time.
On this full-day tour from Antigua, expect to see a few lake highlights, such as a stop at Panajachel and the chance to visit the vibrant market of Chichicastenango.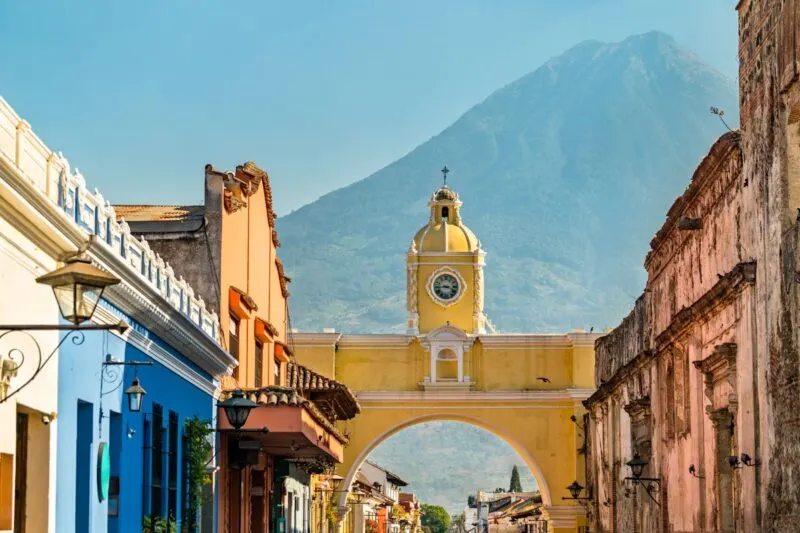 Another option is a lake boat tour from Guatemala City. Get out on the water, making stops at Santiago Atitlan and Panajachel. The comfortable boat gives you a great vantage point of many towns and the surrounding volcanoes.
When in Santiago, you'll learn more about the traditional Tz'utujil Mayan lifestyle and are given free time to explore on your own and sample some of the local cuisines.
→ Book this Lake Atitlan tour: Full Day Tour from Guatemala City
Tips for Booking Your Trip:
---
---
---
---
I really hope this helped you plan your trip to Lake Atitlan!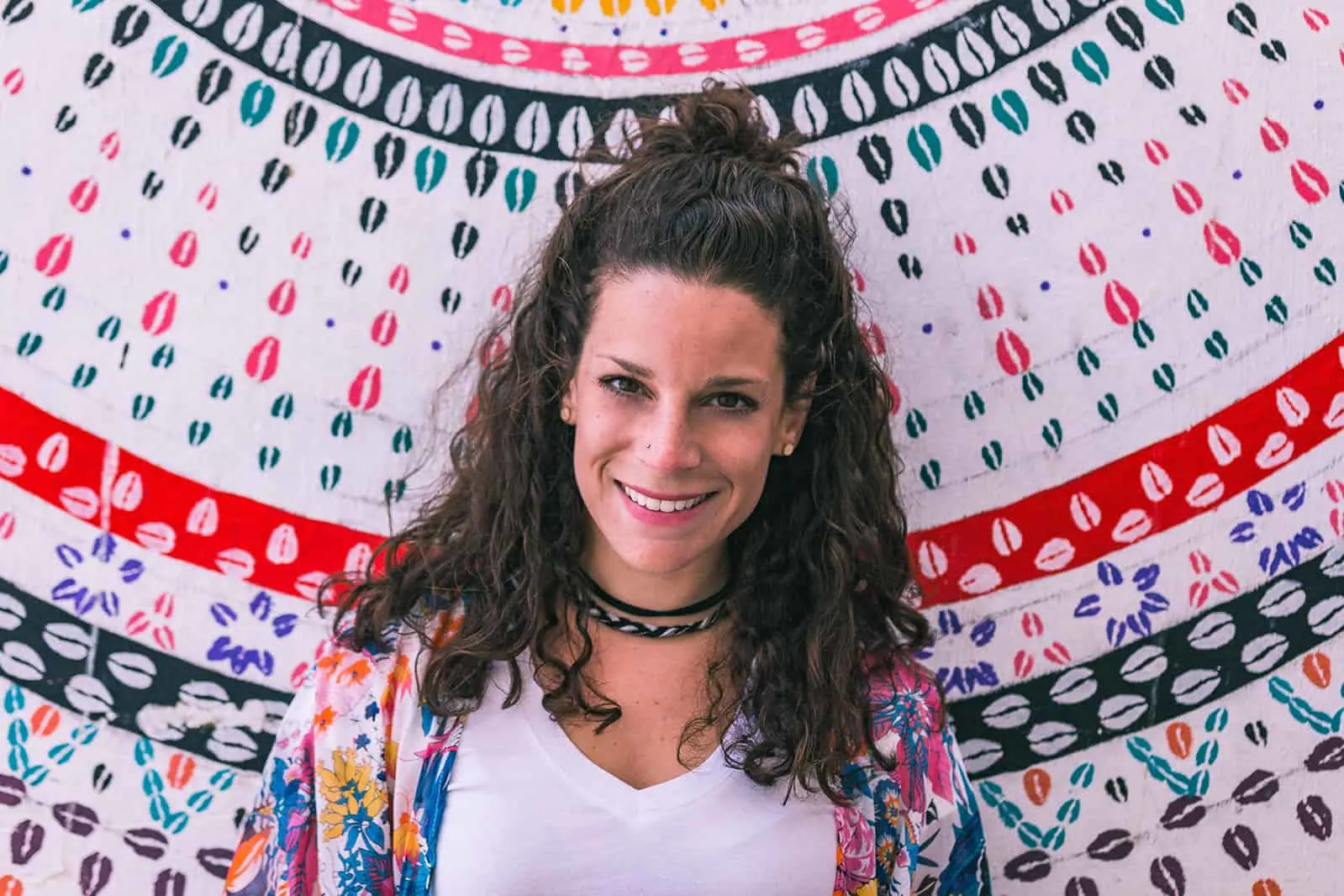 Nina Ragusa is an adventurer, messy bun master, breakfast fan, and full-time travel blogger. She's been abroad since 2011 and blogging on Where in the World is Nina? for nearly as long. Nina helps people like you move around the world while making money. She loves talking about how to work abroad and online to travel longer!