The following Ecuador itinerary is authored by Isabella.
I spent three months exploring this amazing country and what impressed me the most was its incredible biodiversity enclosed in such a tiny territory.
Thanks to the privileged tropical geolocation, right on the equator, the presence of the Andes, and of the ocean's currents on its coast, Ecuador is a real paradise for any type of nature lover.
Hikers would be entertained for a good while as Ecuador has about 80 volcanos, the highest being the Chimborazo reaching up to 6,268 mt (20,564 ft), and the more popular and friendlier Cotopaxi reaching the 5,897 (19,347 ft).
Experienced divers aspire to discover the underwater world of the unique Galapagos Islands with an extraordinarily rich marine life, and unique ecological system.
It's easy to spot dolphins, killer whales, hammerhead sharks, and other shark species, not to mention the graceful giant manta rays and funny penguins.
Birdwatchers will find their heaven on earth in the tropical cloud forest of Mindo, and of course the unique Galapagos islands as well.
And culturally speaking, Quito, the capital city, has quite an interesting history to tell. Through museums, old churches of the historical center, and the trendy neighborhood of La Floresta, you'll witness modern culture with colorful graffiti, local artisans, and other cool spots.
We'll go over all of this here in this epic one-week Ecuador itinerary, but no worries, I'll throw in some extra add-ons if you happen to have more time!
Don't lose this! Click to pin it now.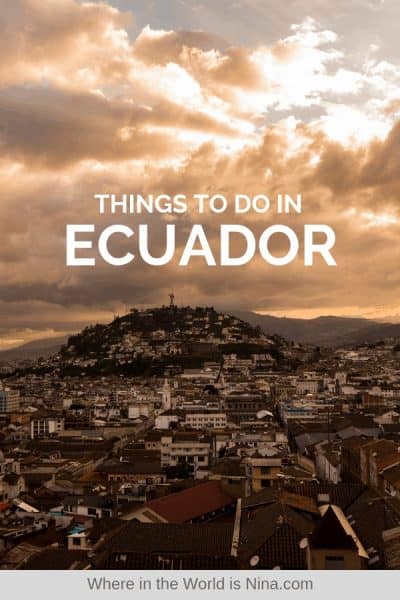 Things to Do in Ecuador: A 7-Day Itinerary
---
I really wanted to spend more time there but Immigration laws won't let tourists stay longer than 3 months, which could seem an eternity to you but as a slow traveler and passionate nature photographer, it was too fleeting for me.
I tried to make the best of it, though, and squeeze in as much as possible in my itinerary and I promised myself I will be back next year to cover what I have missed.
If you have only one week though, worry not, because you can still manage to see quite a bit. It's such a small country and distances among the places of interest are relatively short.
So without further ado, here is my suggested seven days Itinerary for Ecuador.
Ecuador Itinerary Day 1 – Arrival in Quito
You will arrive at Quito Airport and be transferred to the city center. I would suggest you should book your transportation before or you can take an authorized taxi. You could ask your hotel also as they can organize it for you.
Talking about hotels I loved the neighborhood of La Floresta and I also found it safer than the historical Center, but I reckon that the majority of the museums and things to see are located around the Plaza Mayor, in the heart of the city.
My favorite hotel there is Hotel Carlota an exquisite design hotel in a refurbished colonial building which is also committed to maintaining a high environmental standard.
Depending on your arrival time you can familiarize with the city and have a walk in the main plaza and the surrounding areas.
However, it's not advisable to walk around at night in the historical center, sadly.
Ecuador Itinerary Day 2 – A Day Exploring Quito
I always suggest taking a free walking tour of the city. I took 3 of them and I had a blast every single time. The guides are normally students and very passionate and knowledgeable about their city.
Just know that although they are indeed free, a tip is still expected, and sometimes demanded, in a nice way. I found it quite awkward at first, but then I realized that tipping is not so common in many cultures, hence the need to ask.
After the walking tour around the historical center, you could then walk to the modern neighborhood of La Mariscal in the afternoon, have lunch in one of their trendy restaurants, such as Miskay, which serves Ecuadorian gourmet cuisine.
In case you are taking the tour at La Floresta or the night tour in Guapulo neighborhood, which is also very interesting, you can then stroll around the historical center on your own in the morning and have lunch in the Restaurant El Mosaico for a great meal and a great view over the city.
Since the restaurant is a little off the beaten track in the city center it is advisable to go by taxi or Uber.
A note on the transportation in Quito. Uber is not legal in Ecuador, but everybody uses it. I did, and I felt safe all the times and it is indeed much cheaper. Taxis are ok too, just make sure they are using a taximeter or they tell you the price before you hop on the vehicle.
For more detailed information you can refer to this guide to visiting Quito.
Where to Stay in Quito:
Recommended Quito tours:
Ecuador Itinerary Day 3 – A Day in Mindo
Mindo is a small town at about 3 hours from Quito but in a completely different ecosystem. It's cloudy forest and lush tropical vegetation makes it a beautiful, a tiny laid-back town to chill in. It's home to of an incredible variety of birds and spectacular waterfalls. I could have stayed an entire week there.
Although I am an advocate of the DIY kind of travel, in a situation with limited time I would go on a tour in order to optimize and see as much as possible in one day. There are trips available with travel agencies in the city or you can book it online (links below).
Just make sure they include the hike to the waterfalls sanctuary because I believe it's the highlight of Mindo.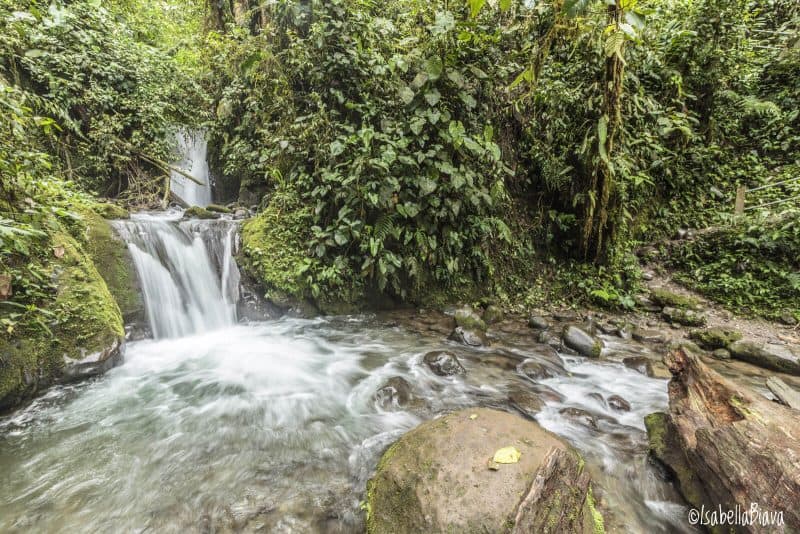 If you want to go on your own and spend a night there, you can definitely hike through the waterfalls on your own. Just ask your host how to get there. It's very easy.
There is also a variety of bird watching tours with specialized guides or you can check out some local farms where you can have access for 5 USD, and admire the friendly birds coming over to the trees and fruits trays that are laying there to attract them.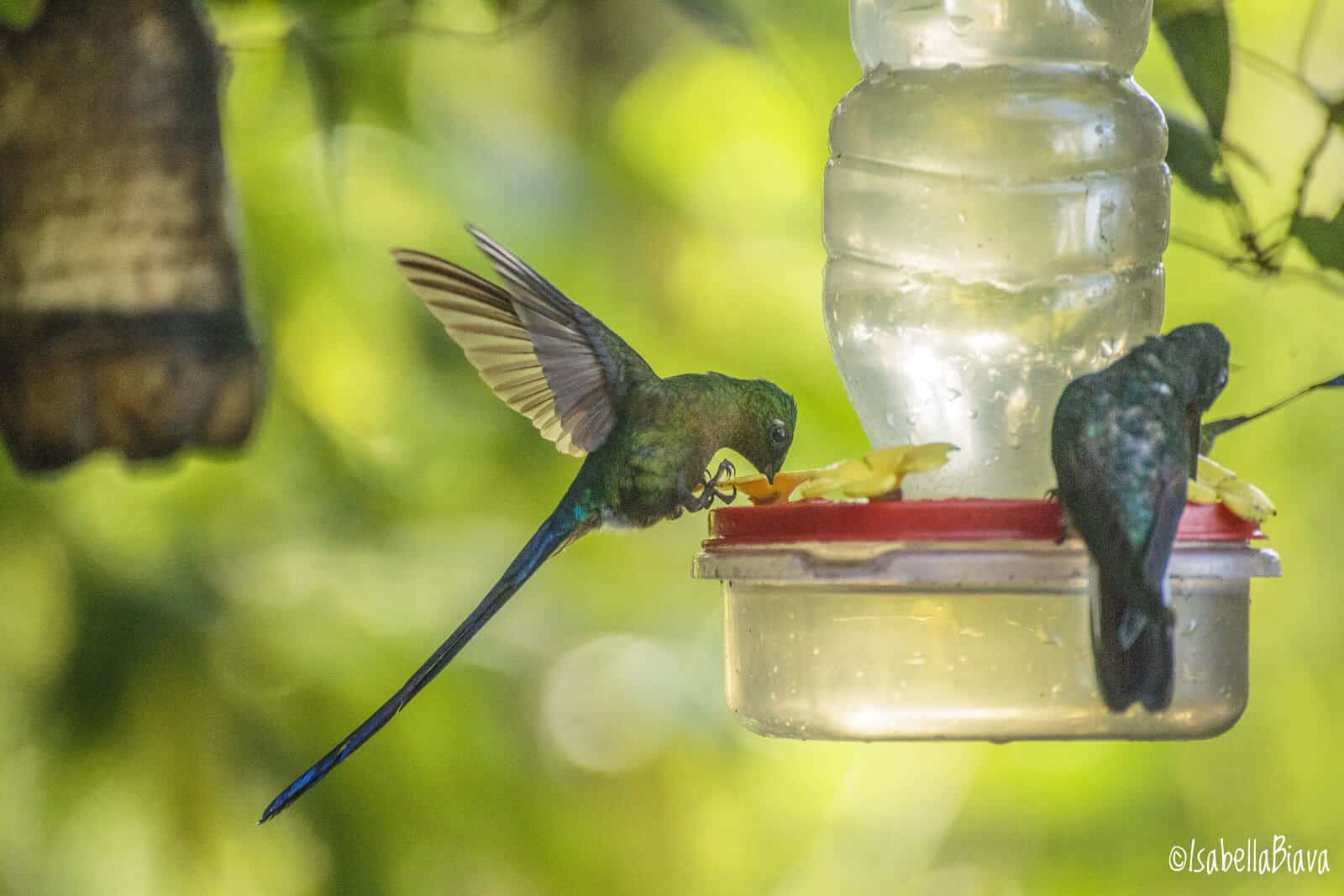 By bus is about 3 hours ride from Quito.
Where to Stay in Mindo:
Recommended Mindo tours:
Ecuador Itinerary Day 4 – Arrival at Secret Garden Cotopaxi
The hike to Cotopaxi can be easily done in a one-day tour from Quito as well, just with an early wake-up call, as tours leave at 6 am.
However, I did it differently. I booked the Cotopaxi Secret Gardens, an amazing hostel in the foot of the Cotopaxi in a spectacular atmosphere.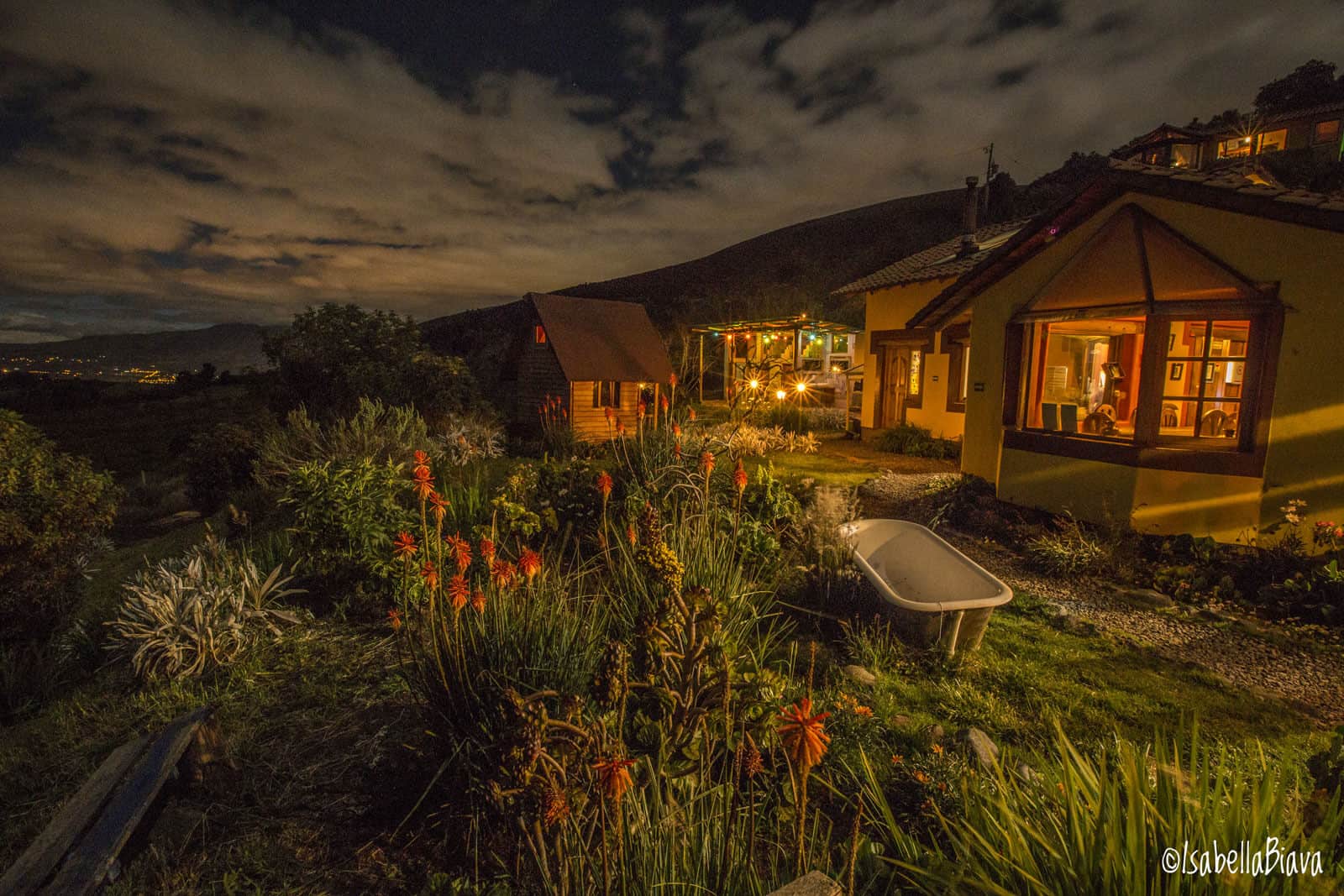 The place in itself is out of this world, not a luxury stay but a cute little property very well maintained and organized, great food and service, surrounded by colorful flowers and spectacular sunsets. It's like living in a fairy tale.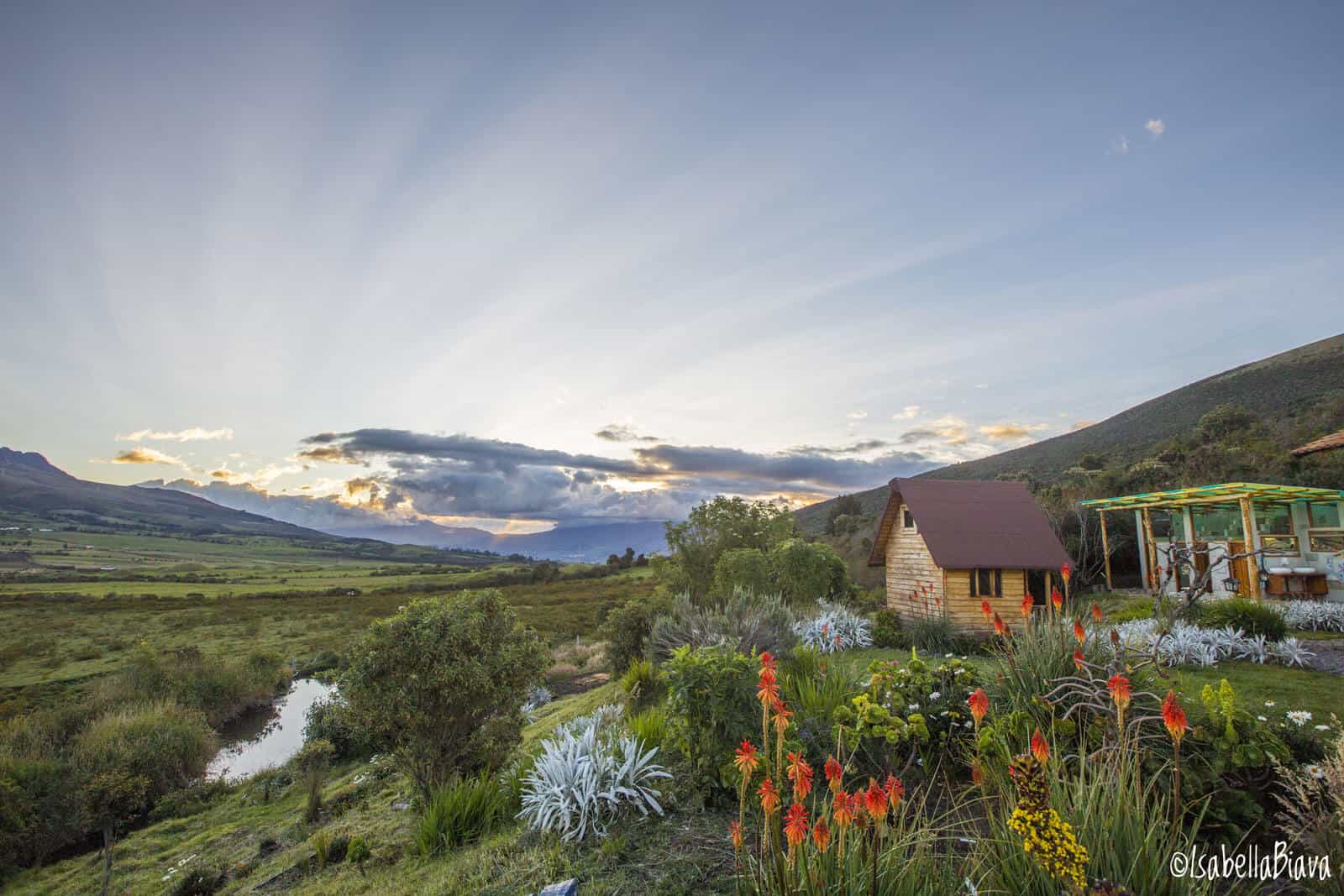 You could spend one night and then when you arrive, you'll have time for a short hike to a waterfall. The following day you can tick off your Cotopaxi hike before leaving for your next destination.
EDITORS NOTE: I too have visited Secret Gaden Cotopaxi and I'm OBSESSED! It's one of the best things to do in Ecuador, not just because it's right there in front of Cotopaxi, but because it's one of the coolest places I've stayed in all my travels!
Ecuador Itinerary
Day 5

–

Hiking Cotopaxi and Transfer to Baños

On day 5 you can hike Cotopaxi before moving on to your next destination. The transportation will wait for you to return and have your lunch waiting.

The bus price to Baños ranges according to the number of people, starting from $5 USD each.
More About the Cotopaxi Volcano
It's definitely a mild hike if you don't suffer from altitude sickness. No matter how much you are trained and fit, if your body doesn't like altitude it will let you know for sure and you have to listen.
The bus will take you to a parking lot a couple of kilometers passed the entrance of the park. From there, an experienced guide will take you on the hike. It's steep and sandy, which makes it more difficult as your steps will sink in the sand. If it's also windy it gets even more complicated, but doable.
It's a relatively short walk up to the base at about 4000 meters. Then you can decide if you wish to walk further, which would be another 30 to 45 minutes of steep hiking in a higher altitude and possibly snow, up to the beginning of the glacier.
I didn't make it this time and stayed warm and cozy at the restaurant with other tired hikers while waiting for the rest of our crew to get back.
If you wish to get serious and reach the summit, you will need to organize it in advance and hire a specific guide to take you there. You would normally get to the base in the afternoon and start hiking at midnight with the idea to get to the peak by sunrise.
I am sure it must be spectacular, but I didn't do it. It is also quite expensive at around 280 USD.
Alternative Option to Visit Cotopaxi
If you don't want to stay at the Cotopaxi Secret Garden you can take a daily tour from Quito and then the following day get a bus from Quito to Baños, which is around a 4 hours drive.
Recommended Cotopaxi tours:
Ecuador Itinerary Day 6 – Baños
When I arrived at Baños I understood why this cute little town is one of the coolest things to do in Ecuador. The center in itself doesn't have much to offer, besides nice little cafes and restaurants.
However, it is located in a valley surrounded by lush green mountains unbelievably rich in water. I have never seen so many waterfalls in one place.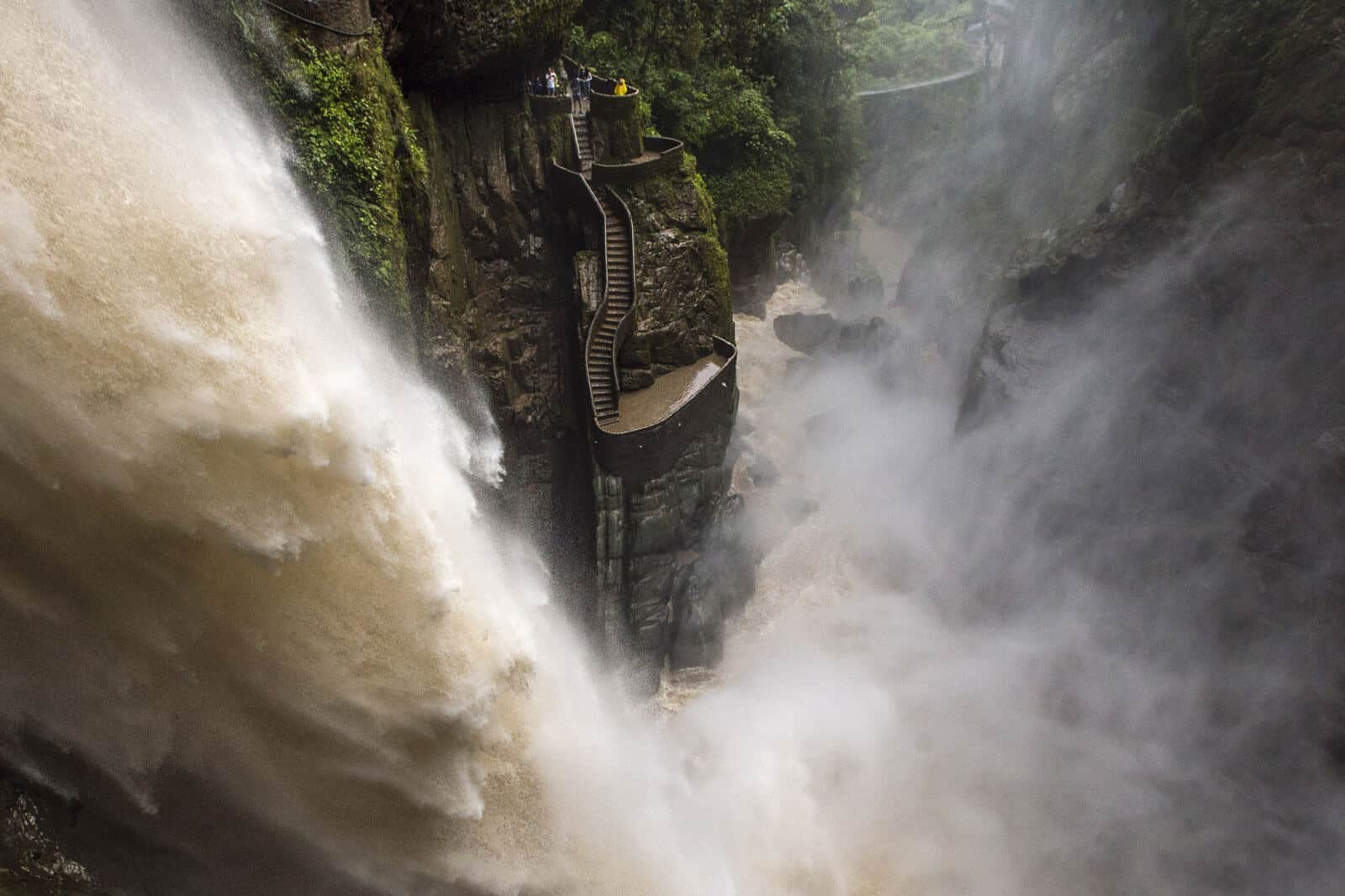 Baños is also highly frequented for its hot springs, and the nicest hotels have them inside the property for the guests' enjoyment.
What to Do in Baños
I would suggest that on your full day you rent a bike and do the waterfalls tour. It's easy, you don't need a guide and at the bike rentals or at your hotel they will show you the way. It's a spectacular route through so many waterfalls where you can also make a few stops for some extreme adventures on the zip lines.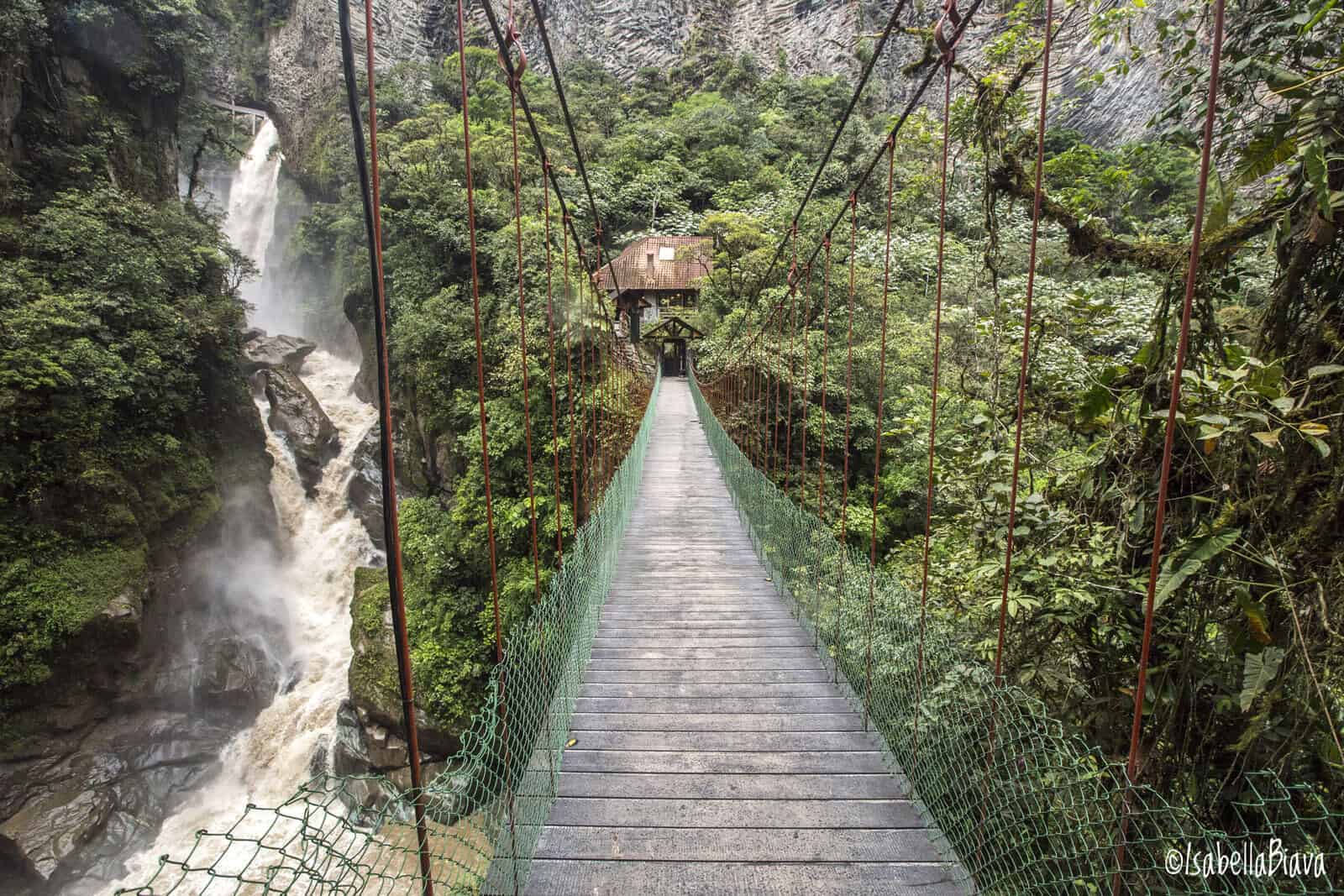 Just make sure you get in time to see the last one, Pailon del Diablo, which is the most spectacular, for sure a MUST. It closes at 5 pm so you will need to get there at least by 3.30 pm.
On your last day in Baños, I would I recommend you choose an afternoon bus and use the morning either to chill in your glamorous hotel or have a quick ride to the most Instagrammed swing in the world, La Casa del Arbol.
If you are not familiar with it, La Casa del Arbol is a tall swing on the rim of a hill right above Baños and facing the majestic volcano Tungurahua. With the help of local guys, you will be literally thrown up in the air, swinging in the empty space. I confess I was about to do it but just before being pushed I literally freaked out and I moved away. I was happy enough with watching.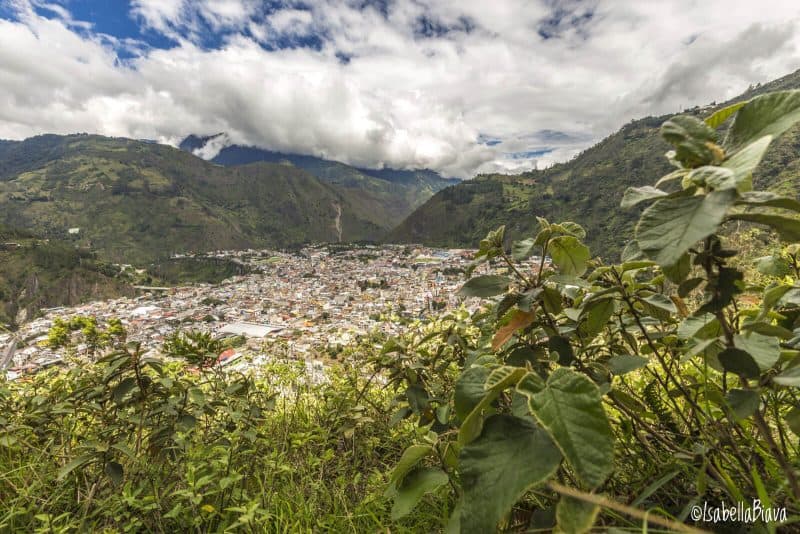 The entrance is $2 USD as it's a private estate and to get there you can either catch a bus from town or get on a taxi if you are in a hurry. I hiked up and down and I found it an amazing hike but it took me about 4 hours, because of the thousands of pictures I took.
Where to Stay in Baños
Here I would really suggest you should book one of those fancy places such as LUNA VOLCAN, a spectacular property located on the hills surrounding Baños with breathtaking views over the valley, especially from the pools. All worth the extra money.
For cheaper options try:
Recommended Baños tour:
Ecuador Itinerary Day 7 – Arrival in Quito
Once in Quito, if you have an early flight the following morning I would suggest you stay in a hotel close to the airport.
You can find many great options. I stayed at La Mercedes at a couple of km from the Airport. It's a relatively new small property, with a modern feel and great amenities, and breakfast included.
Or if you prefer to stay in town (remember that the city center is at about 1 hour from the airport) I would suggest the hotel Casa Aliso, a boutique hotel in the heart of the trendy neighborhood of La Floresta.
That is how I would organize my week in Quito. However, if you could stretch it to 2 weeks, I am offering a couple of add-on options…
Where to Stay in Quito:
Add on Option 1 – Extension to the Galapagos Islands
One of the most interesting ecosystems in the world, which is very delicate and in much need of conservation good practice in order to be kept preserved.
It is a paradise indeed for nature lovers and conservation advocates.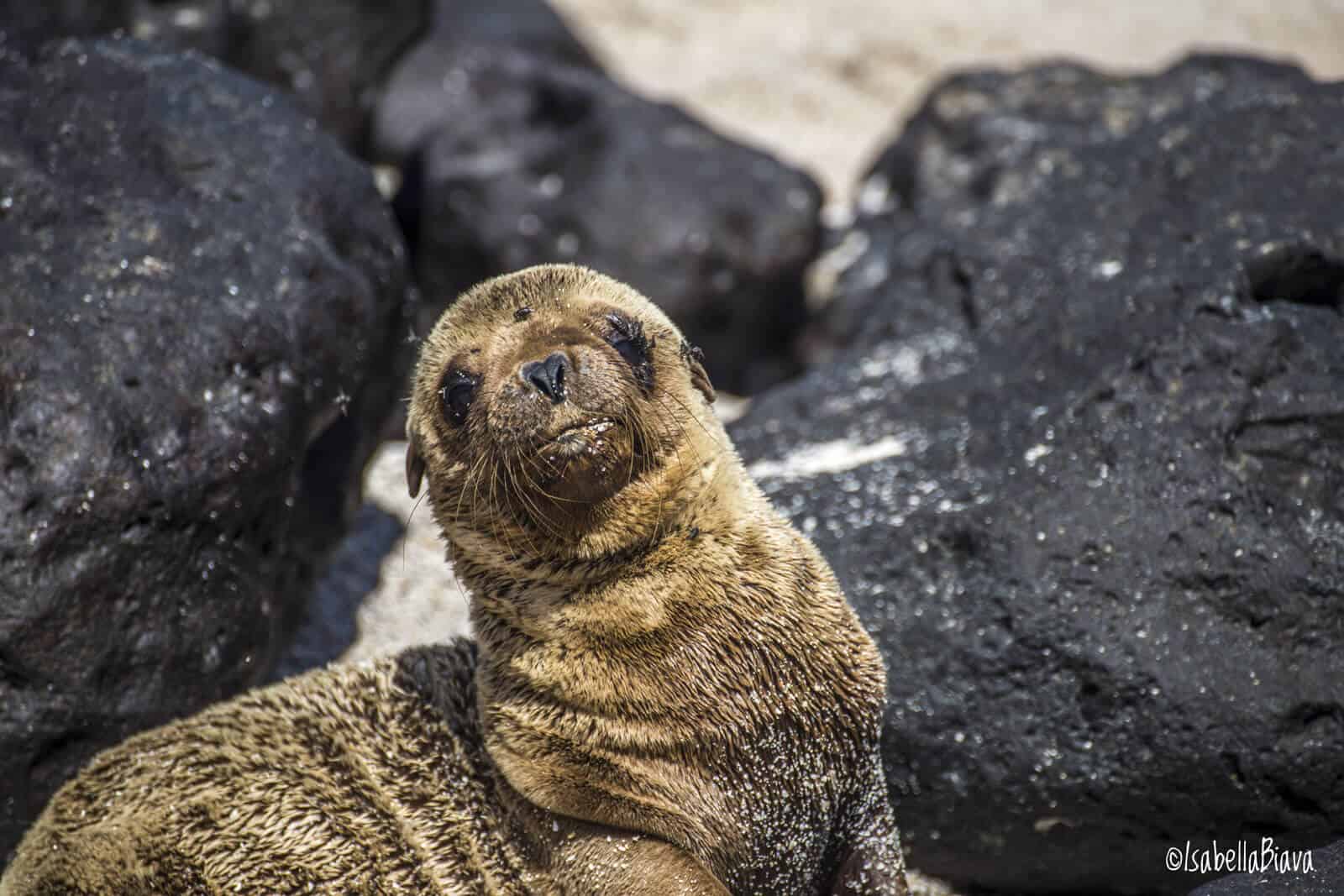 You can either join a cruise that cost approximately $800 USD for an economic 3 days cruise to an outrageous $8000 USD for diving cruises, it all depends on what kind of itinerary and boat you choose. There are a lot of last-minute deals either online or through a local travel agency.
Or you can decide on a DIY trip, pick an island or two, and do daily tours from there. I assure you, this could be done on a relatively modest budget and you can still see a lot.
Things to Know About the Galapagos Islands
There is so much more to say about the Galapagos. However, here is a list of the few essential things you should know before organizing your trip.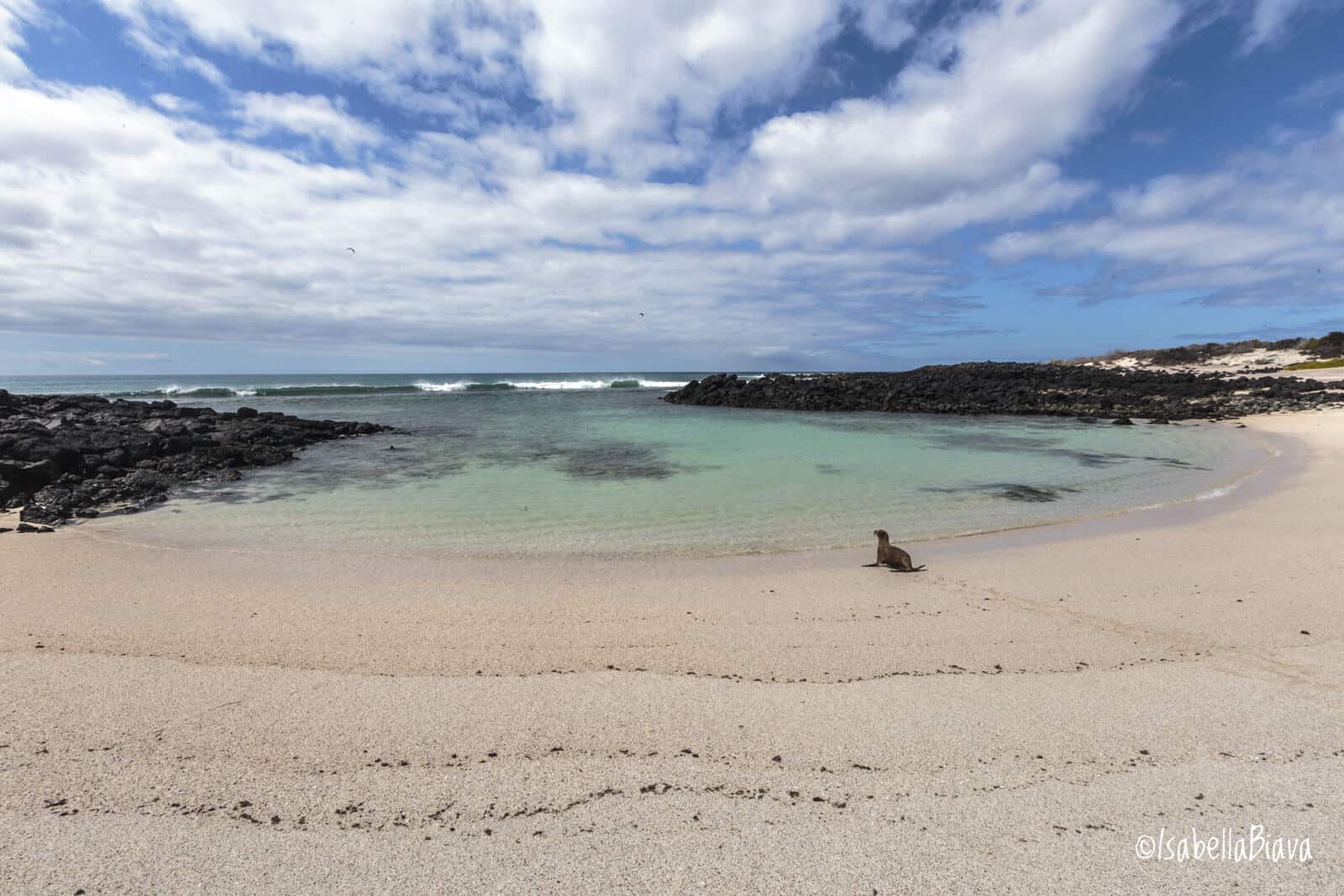 Everything else about the Galapagos islands is included in this complete guide on how to visit the Galapagos islands.
Recommended Galapagos tour:
Add on Option 2 – Extension to Otavalo
If you have an extra week and you don't care about the Galapagos, there are plenty of other amazing things to do. Otavalo is one of them.
I fell in love with this place for many reasons. Otavalo is famous for its artisan market where all the indigenous communities from the surrounding villages come to sell their products.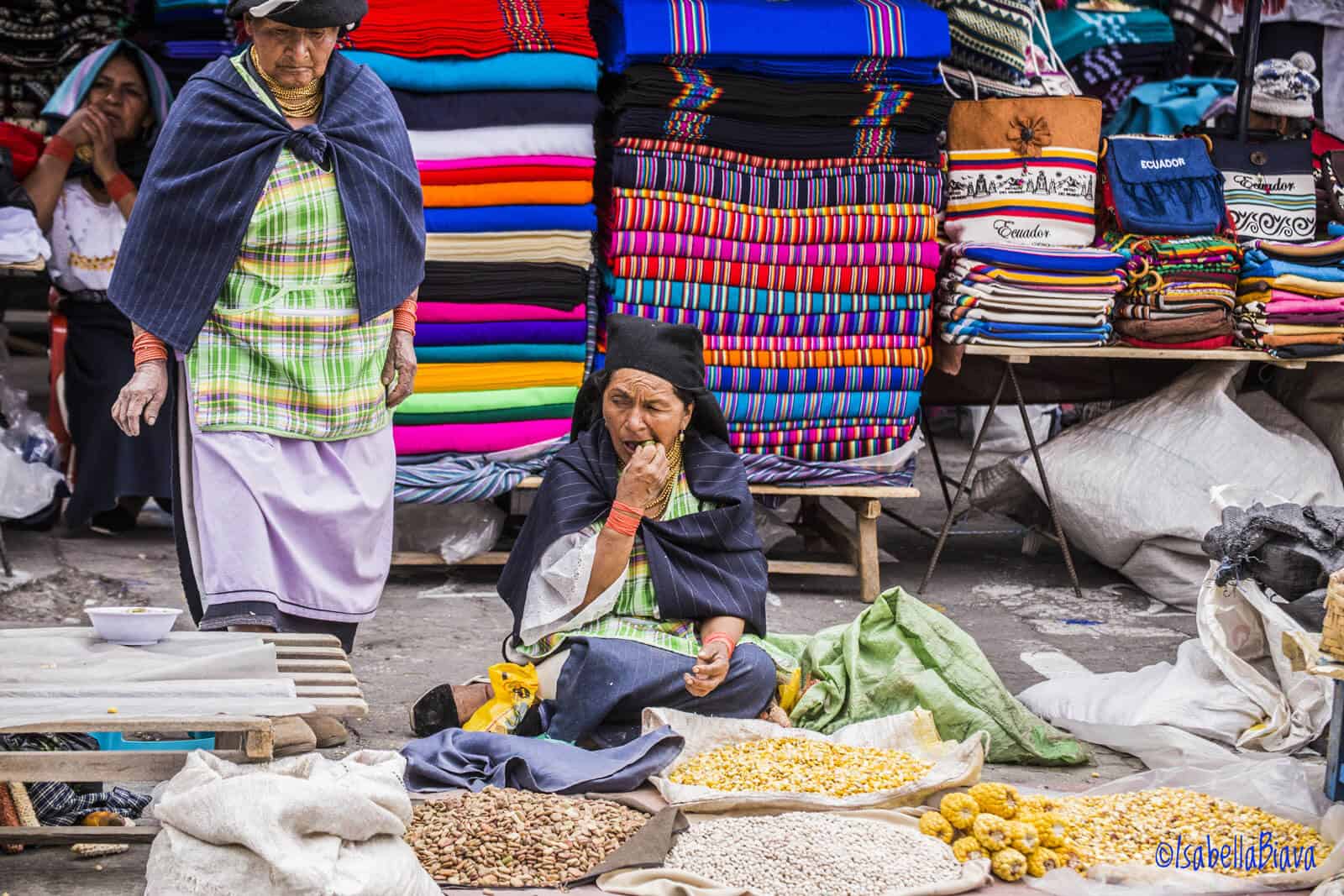 The market is held every day in the Plaza del Mercado but on a Saturday, it spreads out through the nearby streets.
Things to Do in Otavalo
However, besides the famous market, what I loved the most was the number of spectacular hikes that you can do in the region and if you have to pick one, the hike around Cuicocha Lake is for sure the most interesting and fun.
You can definitely go on your own without a guide. It's a 14 km easy hike around the spectacularly blue lake.
If you want to challenge yourself instead, with a higher altitude and a strenuous hike, you can get to the top of the Imbabura mountain, for which you would need a guide instead.
Local agencies will help you with that and many other spectacular tours.
Recommended Otavalo tours:
If you choose this add on, you can plan 4 days in Otavalo and extend your stay in Mindo and Baños of one day and do your itinerary in a more relaxed pace, leaving an extra day in Quito.
Add On Option 3 — Head to The Coast
EDITORS NOTE: Isabella has an amazing list of things to do in Ecuador here and honestly, there's so much more!
Olon
I first just wanted to add on my extra bit for one of my favorite places in the world… Olon! If you're keen to brush up on your Spanish while catching some epic waves, Olon is THE PLACE.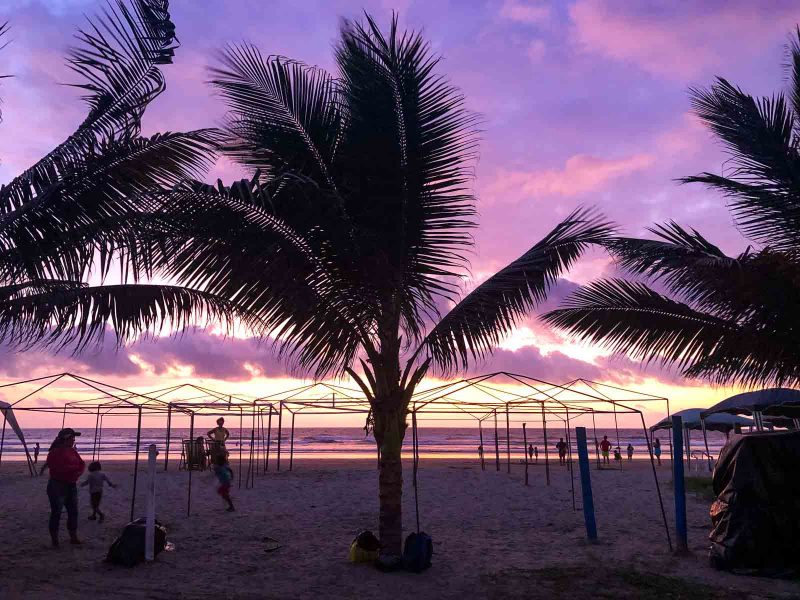 You may have heard of Montanita in your research for Ecuador, and while that's a great spot to visit, if you're not a mega partier, you might not be feeling it. I know I wasn't when I first was reading up on it. But, just 10 minutes north, is my little slice of paradise that I'll share with you.
Olon, Ecuador is my happy place and I've visited twice now and have gotten "stuck" for months at a time. This is where I've been learning Spanish over the years, and I've even continued online with the teachers at the school I met here.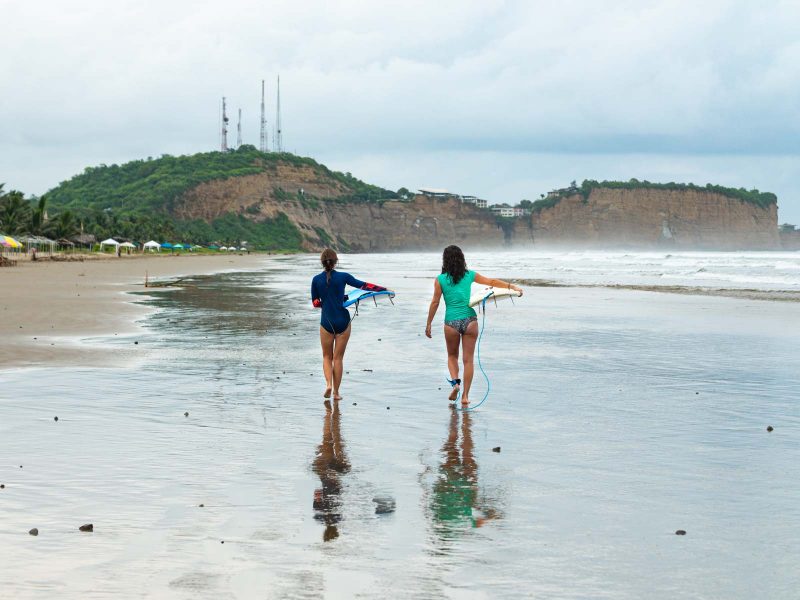 I also take surf lessons at the same school! What's better than chilling, surfing, and learning Spanish in a coastal gem of a town?! For me—Not much!
This is MY favorite thing to do in Ecuador, and maybe it will be yours too! Read up on everything I love about Olon.
Montanita
This town is probably the best-known spot on the coast. It's the ultimate party town, and a great place to visit on an Ecuador itinerary if you want to make new friends and enjoy letting loose with a cocktail or two.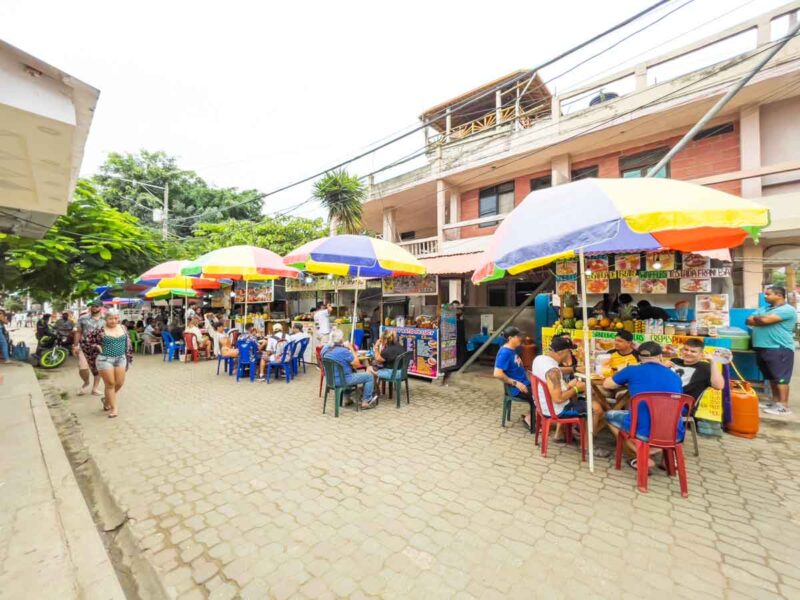 That said, there's still lots to do here if you're not into nightlife. Like Olon and Ayampe, Montanita has excellent opportunities for surfing, water sports, or simply relaxing on long stretches of beach.
Ayampe
If you really want to get away from it all, head to Ayampe. It's smaller than Olon, but has the same chill vibes. To be honest, there's not a lot to do here, but that's part of the charm.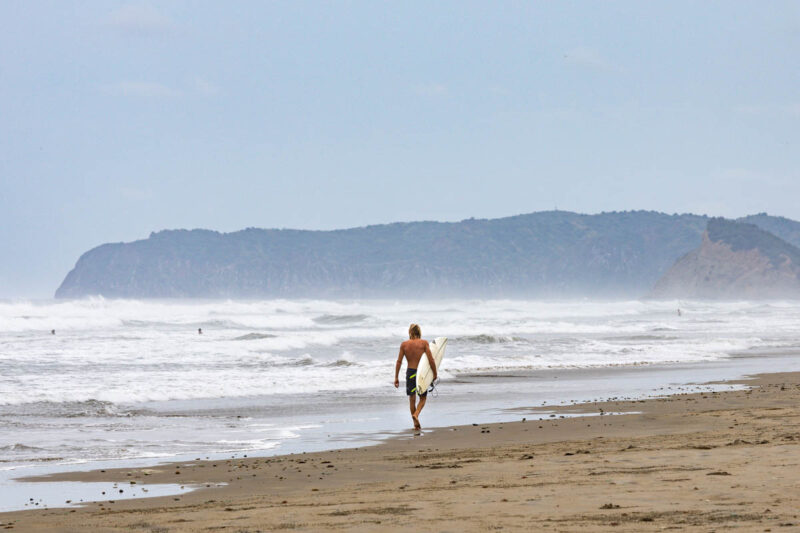 Surfing is the number one activity here, and this could be a great place to learn if you want to wobble your way through it without too many onlookers.
We hope this was a comprehensive guide to help you craft your own amazing Ecuador itinerary.
Which of the things to do in Ecuador are you most excited about? Let us know in the comments!
---
>>> Bio
Isabella is a restless vagabond, in love with nature and wildlife and many other things. She is on a personal quest around her beloved Latin America with her faithful Canon and 2 heavy backpacks. If there is one sure thing in her life is that she will never learn how to pack light. You can read her travel stories in her blog Boundless Roads
---
Busy? Click the picture to Pin this for later