I have to be honest; I didn't know what to make of Colombia before going. I wasn't sure what to expect, and I wasn't sure if I was going to love it. After spending a few months living and traveling through the Andean Coffee region, it became clear.
I love Colombia, and I need to know when I can get back here because I'm not done!
I did NOT want to leave, although I was off to Ecuador, which was equally amazing; I left Colombia very unfinished!
I lived in Medellin for nearly two months and then took a few weeks to explore the areas just south of Medellin. Here's my recommended two-week Colombia itinerary for the Coffee Region.
Don't lose this! Click to pin it now.
A 2-Week Colombia Itinerary Through the Andean Coffee Region
---
The Colombia itinerary below is everything I LOVED during my visit, but I won't go into much detail here. I have articles on each of the areas I talk about below, so for more info on them, click that post!
My itinerary starts in Medellin and ends in Salento (or Cali).
2-3 Day Medellin, Colombia Itinerary
I ended up in Medellin for almost two months, just hanging out and working at this well-know digital nomad spot. It turns out – I wasn't too into Medellin for living or working. I didn't vibe with the scene as well as I had hoped!
BUT it doesn't mean the city isn't worth a visit. I just personally wasn't into living there! It's a very cool spot for a few days and is a great hub for all the day trips you can do from here.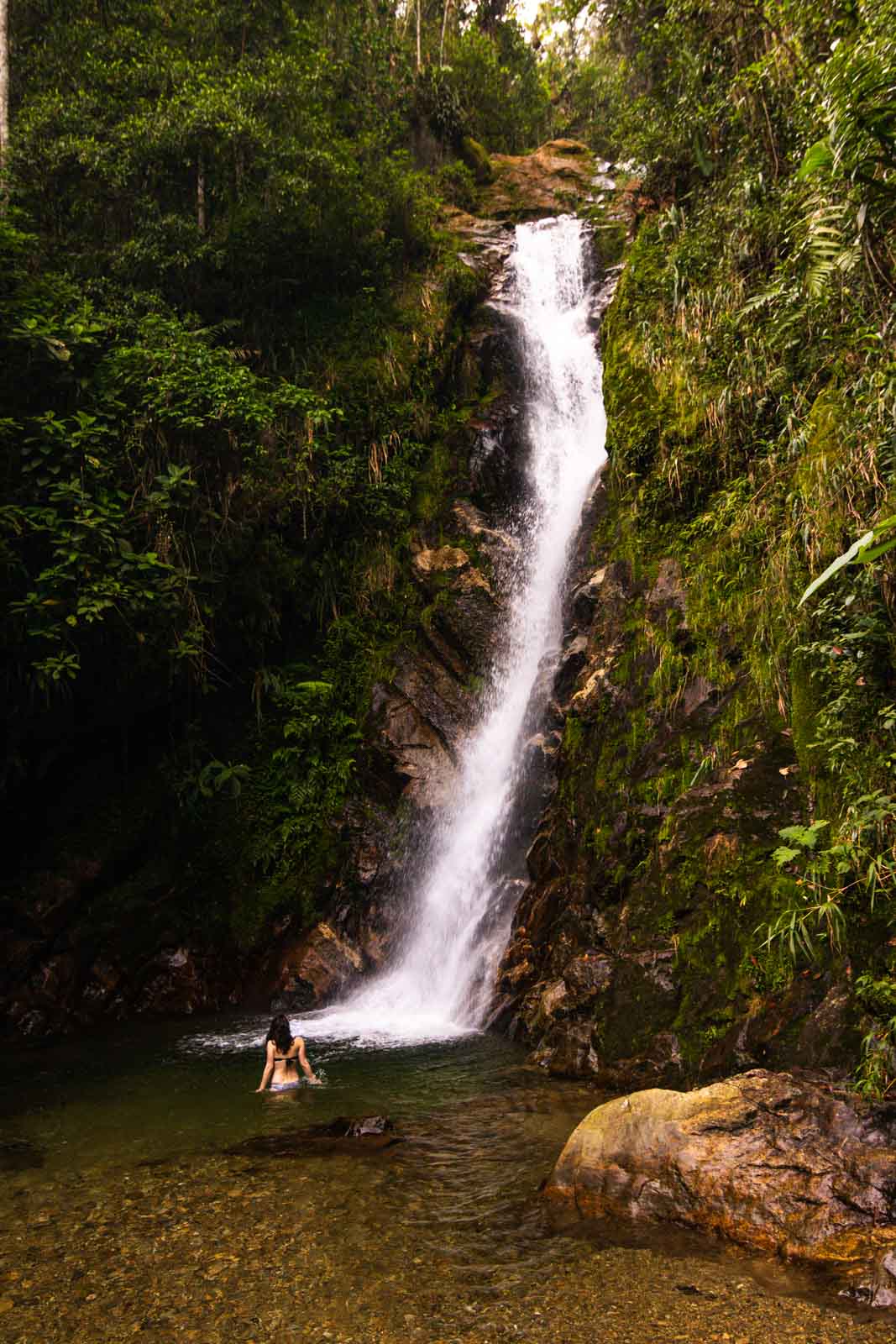 Medellin Itinerary Highlights
Communa 13 – Visit this neighborhood in Medellin that was once one of the most dangerous and is now one of the most beautiful and safest in the city.
Waterfall hikes – There are waterfalls just outside the city and hidden in the mountains that surround the valley—yes WATERFALLS just 20-30 minutes from a massive city, amazing!
Explore the "pockets" – Walk the historic streets, party in Poblado, get craft beer in Laurels, eat at Buena Mesa in Envigado… There are so many "pockets" of cool neighborhoods.
Guatape and El Penol – The most popular day trip from Medellin is to this jutting rock called El Penol that provides marvelous views from on top of weaving green peninsulas in the deep blue water. The day trip out here includes a stop in the colorful tourist town of Guatape as well.
RELATED: 7 Cool Medellin Tours and Day Trips That Are Actually Worth It (Colombia)
2 Day Jerico, Colombia Itinerary
Jerico was a cute and quiet refuge for us after spending almost two months working and hiding away in the stuffier city of Medellin. We got here, and it was as if a weight fell off of our shoulders, and our lungs were clear again.
While there isn't a long list of things to do in Jerico or anything, the town can certainly sweep you up with its laidback feel and scenery.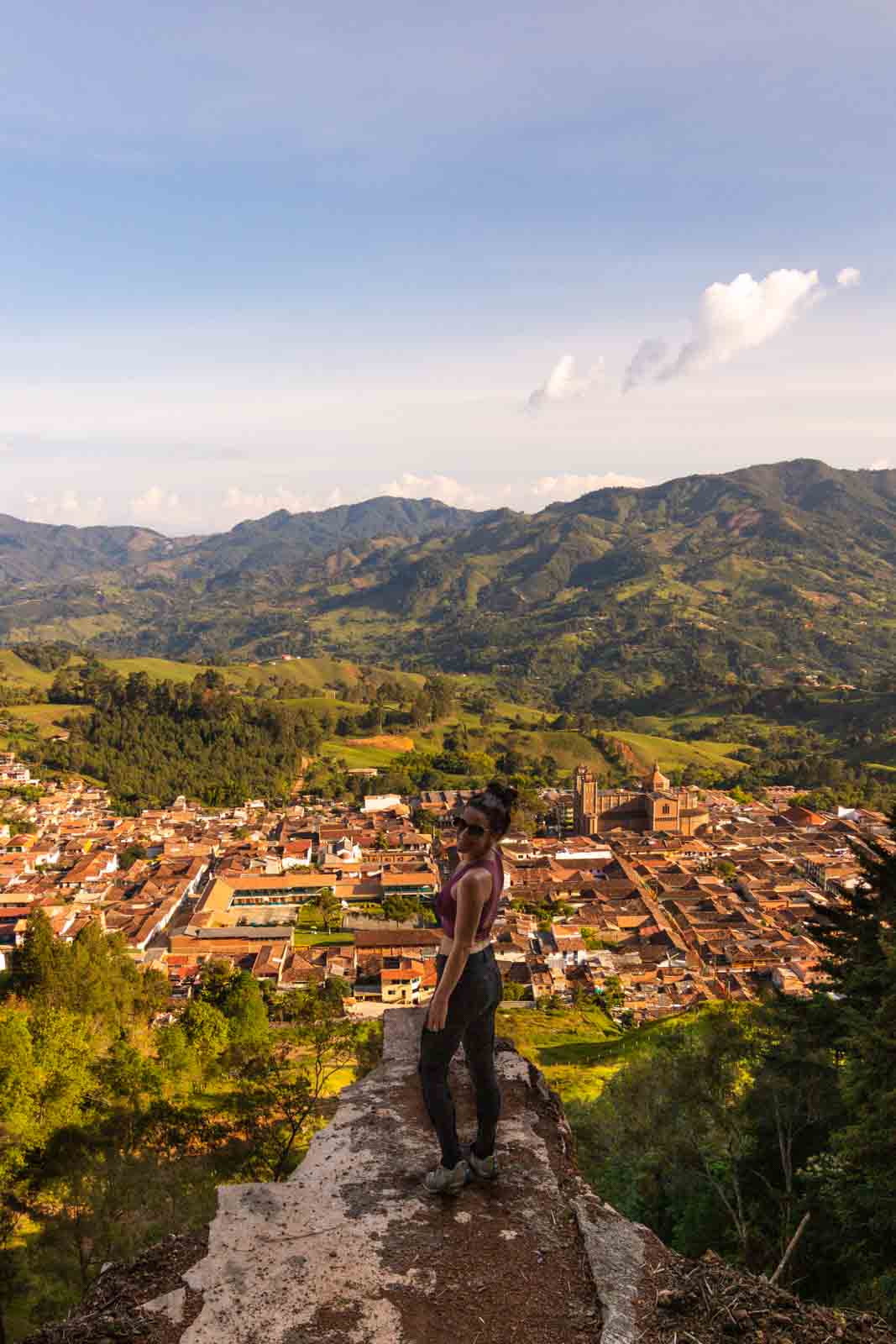 Jerico Itinerary Highlights
Cerro Las Nubes hike – This is the hike to do in town, and it offers up some spectacular views of Jerico.
Paraglide – A popular spot for paragliding is just outside of Jerico. Blissfully glide through the Andes and over the Cauca River.
Drink all the coffee, hang out in the foothills overlooking the town, and try to catch an event at Bomarzo.
RELATED: A Guide to Jerico, Colombia—Don't Miss This Charming Pueblo
3 Day Jardin, Colombia Itinerary
Jardin is one of those sweet pueblos that you can picture yourself getting lost in. It's the one spot I hope I can go back just to take in and relax for a while.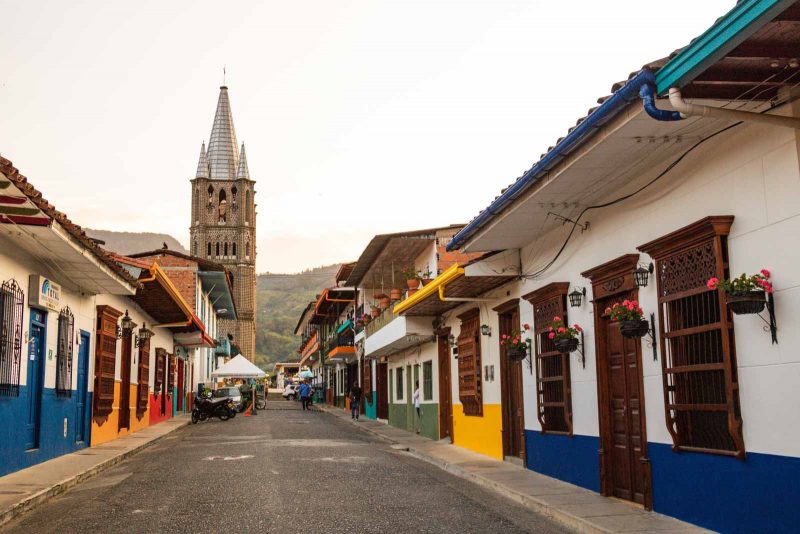 The doors and windows are decorated in a myriad of designs and colors, the surroundings are verdant hills in every direction, and the vibes still feel untainted and authentic. It also happened to be the place I found the BEST vegetarian options, so I was in foodie heaven too.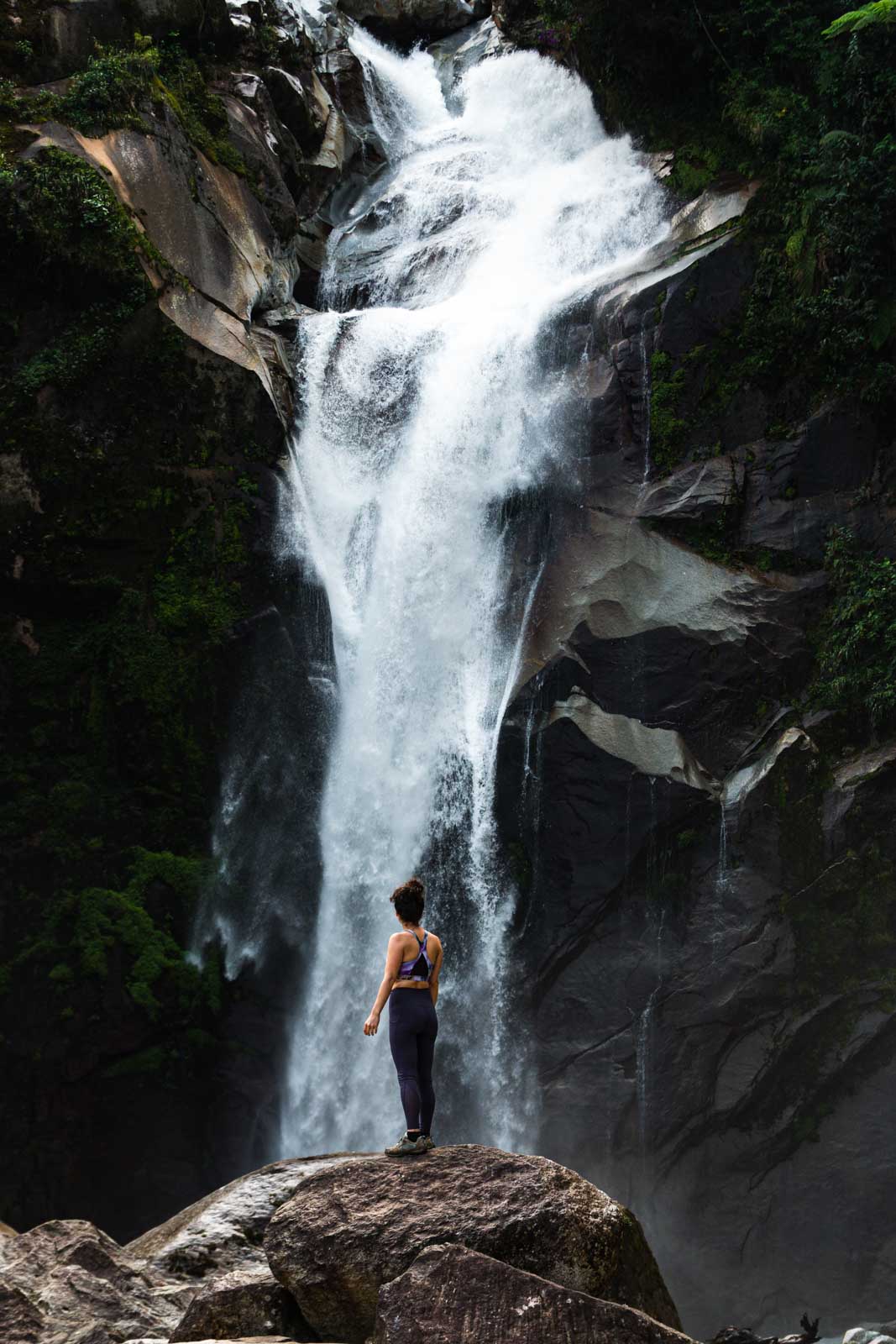 Jardin Itinerary Highlights
La Cueva de Esplandor – A beautiful cave tucked away in the middle of the jungle with a gushing waterfall coming out of it! Here's everything you need to know before hiking to La Cueva de Esplendor.
La Garrucha – An adorable old school cable car that takes you from the hills back down to the valley or visa versa.
My loop hike – I made up a little loop hike that goes around the river in Jardin, up to a few small waterfalls and around the hilly outskirts with views of Jardin.
Taparto Waterfall – Taking a day trip to this hidden spot with a local was one of the best things I did in Colombia. There's a gorgeous hike to get to them and a jungle scramble at the end to get to the lesser-visited top tiers!
RELATED: A Guide to Jardin, Colombia—the Prettiest Pueblo You Ever Did See
5-6 Day Salento, Colombia Itinerary
Salento is famous for its access to Cocora Valley, the famous hike taking you on a journey through a forest of the tallest palm trees in the world. While I think the hike is well worth it, there are quite a few other things to do in Salento too.
The town itself is the typical color splash you've come to expect from charming Colombian pueblos. Calle Real is a tourist street full of people, artisanal shops, and eateries. There's also a river that rolls through town that you can walk along.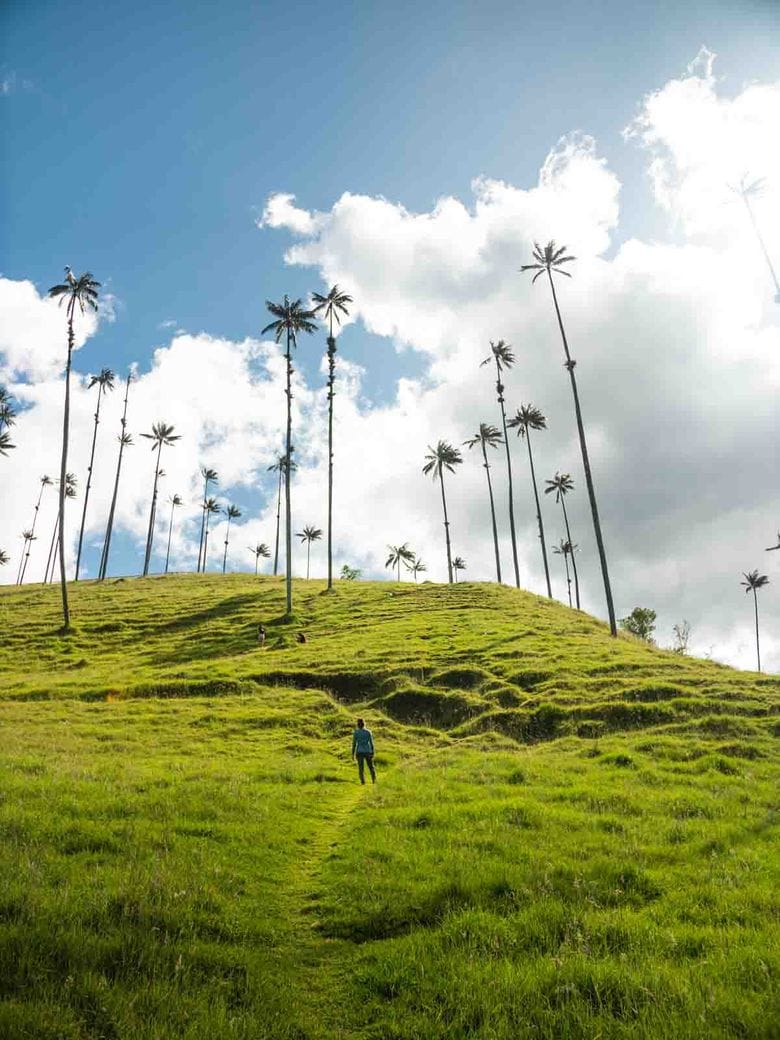 Salento Itinerary Highlights
Miradors – Stretch those legs and take a short walk to get two views, one over Salento and the other over the gorgeous lush valley.
Paramillo del Quindio – The epic 3-day hike in Los Nevados National Park. The highest I've ever hiked and one of the best adventures I've done. Here's everything you need to know about this hike in Los Nevados.
Coffee and chocolate things – Eat and drink all you can here. You've never tasted coffee and chocolate like this!
Filandia – A well worth it a day trip to the adorable town of Filanida, which I thought was the prettiest of them all on this list.
RELATED: 5 Things to Do in Salento, Colombia That Aren't Cocora Valley
How to Get Around Colombia
Uber
Uber is sometimes in big cities. There's some drama, and when we were there, it existed! However, shortly after we left, they banned it (again?). Anyway, don't rely on Uber, check to see which app is available at this current time. The thing to note here is that regular taxis are usually a bit sketchier than a taxi from a rideshare app.
Buses
Buses were easy and pretty cheap all around Colombia. Simply show up to the bus station and purchase your ticket; we never had a problem finding a ride the day of, but be careful around holidays and events!
For specifics on how to get from A to B, I give directions in the more specific blog posts above!
Taxis
In big cities, there will be taxis. And like other big cities in the world, they can be a rip-off. All the typical stuff that taxis do happen here too. Charge too much, don't want to use a meter/its rigged… We always used a taxi app of some sort to avoid this—especially in Medellin.
The other smaller towns mentioned here are mostly walkable or use jeeps that have their prices posted, or chivas that also have a standard price… Transport was very easy overall.
Tips for Colombia
Don't give papaya/no dar papaya – You'll see and hear this everywhere you read about Colombia. In other words, don't make yourself a target! Flashing your new iPhone, gold rings, or leaving a bag unattended is "giving papaya."
Going out at night – It's advisable to take a ride rather than walk and try going out with someone else. Definitely don't be conspicuous or have a phone out… Take greater care at night wherever you are.
Spanish – Hopefully, you know at least the basics. You'll need some Spanish most of the places you end up in. This goes for most of South America!
Anti-theft gear – It's a hell of a lot safer than a regular bag, and I use these around the world! Nobody is getting in these, and they help keep peace of mind. Don't travel without at least one anti-theft bag!
Stereotypes – Cocaine and Pablo Escobar are not things the country is necessarily proud of. So don't come here thinking this stuff is what the country is about. It's not! And even bringing them up with locals could be quite sensitive.
Holidays – Are serious here! Make sure you're not visiting during a holiday or, at the least, book well in advance if you are. Their holidays typically last longer too. Christmas was celebrated the entire month of December and part of November. Then when New Years' hit, people were still out on vacation (aka the hotels were booked out) well into the first and part of the second week of January.
Grayl Waterbottle/Steripen – Find a way to filter water! These are our two methods, and both worked fine on our Colombia itinerary. Some places have safe tap water, but it's very chlorinated and metallic tasting, so if you use a Steripen, you may want to pair it with a filter water bottle for taste. The Grayl will do both.
What places are you going to add to your 2-week Colombia itinerary? Which one of these destinations are you most excited to visit? Let us know in the comments below!
---
---
Don't lose this! Click to pin it now.