So you're on the hunt for the best Morocco tips to prepare for your visit, I gotcha!
After spending nearly three months in the country, road tripping, experiencing the north and the south, the big cities, and the beach towns, I think it's safe to say I got to know Morocco pretty well!
And like every other country on earth, there are a few things you need to watch out for and be aware of. No worries though, overall Morocco is safe, the people are generally kind, and you will have an amazing time!
Just keep these in mind…
Morocco Tips and Advice
---
Weather and Clothing Tips For Morocco
1. It's not always sunny in Morocco. In fact, Morocco gets SNOW in case you didn't know (it didn't even cross my mind). If you're headed to Chefchaouen with a flowy dress and nothing else in February or March, you're making a big mistake.
2. Check the weather ASAP and then double check it.
PRO TIP: Don't be in denial until the minute like I was. I checked the weather and I didn't believe my eyes. Last minute, as in, my Uber is outside waiting to take me to the airport last minute, I grabbed my favorite jacket (down and raincoat in one FTW), and I'm SO happy I did.
PS- I'm f*cking frozen in the first pic of this post but took my jacket off for the photo lol, do you see the snow in the back!?
3. Don't underestimate the wind. It can be quite hot outside but when that gust of wind comes by (and sometimes it hangs out like a stage 5 clinger), it can get quite chilly. Essaouira is literally known for its wind and many places along the coast of Morocco, including Taghazout, can be quite windy, which equals the need for at least, a light sweater in spring.
4. Cover up, lightly. Considering you're visiting a Muslim country, and the weather can be a bit of a surprise depending when you go, I'd highly suggest bringing clothing items that are less revealing, light, and can easily be layered. This doesn't only go for women but for men too. Don't walk around shirtless or in those muscle t's while you loiter around a mosque, it's just bad taste.
There's a lot more to Morocco regarding weather and what to wear. Read up more on when the best time to visit Morocco is and what Morocco is like Feb-April. And here's where you can read more about what to wear in Morocco.
Transportation Tips for Morocco
5. Which bus to ride? The CTM is the best bus to take around the country. It's more expensive but it doesn't stop as often, it's supposed to be the safer option and the easiest. When you get to the CTM bus station in the big cities, you're there to take the CTM bus, the only one. So there aren't 100 companies begging for you to buy a ticket when you walk in.
6. Bring some coins if you have luggage. Remember, after purchasing your bus ticket, you will need an extra 5 dirhams to check in a bag in the undercarriage. (This is paid 60-30 minutes prior to boarding the bus, not when purchasing the ticket)
7. It's advisable to book your bus tickets at least one day beforehand depending when you're visiting. They can fill up! If you're on a tight schedule, even sooner.
8. You can book at any CTM! Should you be in one city and already at the bus station, you're able to book your other bus tickets there all in one go—which makes life easier as you don't need to worry about going to the bus station a few days ahead of time to get the ticket and then again to actually take the bus five times during your visit.
9. If you're renting a car, there's no need to choose a hotel with parking. Someone advised us of this but we found it to be a bad tip. First, it was hard to find hotels near the medina (no less inside) with parking, and second, it's not necessary. There's plenty of paid parking options around the medina for only $1-2 for the whole day. There's no point in getting a more expensive hotel, outside of the medina, for the sake of a parking spot.
10. Rent a car! To get the best of your Morocco trip, I can't recommend renting a car enough! It's the best way to see the country, it gives you ultimate freedom, and it's not as scary as you think. In fact, we felt perfectly safe the entire two weeks we were driving around. Here are all the driving tips you need for Morocco.
11. Taxis never want to use their meter. We got used to it. What you need to do is:
A. Agree on an amount first.
B. Only pay AFTER you get to your destination and all of your bags are in your hands (aka don't pay until the trunk is open, or better yet, avoid using the trunk if possible, they can hold stuff hostage but this is rare.)
C. Actually make sure you're at your destination. For example, we got taken to the closest bus station because our taxi driver was lazy and we had to pay for another one to get to the correct bus station. We didn't double check!
Example taxi fares that we paid that you can use as reference:
CTM bus station to Marrakesh medina – 50 MAD
CTM bus station to Chefchaouen medina – 25 MAD
Agadir to CTM bus station – 30 MAD
Fes medina to CTM bus station – 20 MAD
Marrakesh medina to the airport – 80 MAD
12. Never catch a taxi outside the main areas or bus station. Always walk a bit outside of the main and busy areas and catch one there.
13. Never use the taxis that beg you to get in their car. Like when you're outside a bus station and the dude is yelling, "taxi taxi!" in your face… Don't ride with him. Ride with the dude across the street minding his own business. (This is my rule for around the world)
Food and Drink Tips for Morocco
14. Never drink tap water. Bring your water filter or buy water.
15. Alcohol is not really a thing here. Sure you can find, yes, it's available (at hotels/bars), but it's not easy to find and you'll often pay dearly. We found a crappy beer for $2.50 at our hotel once. And we bought "illegal" wine for $15 at another (it wasn't really illegal wine, it just was sold "under the table.") We, more often than not, saw and heard of beer and drinks costing $7-13+ though in the city at nicer hotels and clubs. Again, it's not widely available—so you shouldn't have any expectations.
16. Haggling with food and groceries is distasteful. Shop around without purchasing to gauge what prices are and then go back and purchase. Most times I didn't feel like I was given a tourist price for groceries and they were fair.
17. Shop around for where you eat! Especially in the busy medinas like Fes and Marrakesh! The touristy restaurants, like in many countries, charge ridiculous amounts for the same food you'd get at a more local place for a fraction of the price.
18. Menu scams are popular. This didn't happen to us, but a scam here, and many other places around the world involve giving you a menu with regular prices only to up the prices on your bill. When you ask to see a menu again to check, they give you the inflated one.
19. Other similar scams involve a "special" tourist menu, aka a menu with inflated prices or mysterious charges for things you didn't order. Another would be to charge you for the bread and olives they place on your table—unless stated on their menu, these items are ALWAYS free. Also, they will place it on the table without you asking, implying they should be free. Double check your bill.
Shopping Tips for Morocco
20. Shop on the road. If you end up taking a road trip, try buying garments and trinkets on the side of the road and in the small middle-of-nowhere towns. You could get a cheaper price. I got quoted 250-300 MAD for dresses in the towns and ended up getting quoted 130 MAD on the side of the road and ultimately got it for 90!
21. Marrakesh markets can be intimidating for some newer travelers, don't feel obligated to shop here. Literally, all the big cities and even some of the smaller ones, have the same stuff. If you do end up in Marrakesh and want to buy something without too much haggling, look out for the places with price signs already up. I found some near the Secret Garden (coordinates here) and nobody was in my face.
22. Where are you from? Don't feel obligated to say where you're from before getting a price. They are trying to gauge how much they can charge you. I know it feels like they are trying to be BFFs with you but think about it. When I ask how much something is, please tell me why you need to know where I'm from before answering my question? Hmm… Maybe because of countries like Australia, US, and the UK automatically = filthy rich. Uh, no.
23. Never state a price before they do. When shopping, never answer their question when asked: "how much will you give me," say no, I want to know how much it is. Then start negotiating. If you give them a number off the bat you could likely be offering way more than what they would have given it to you anyway.
Morocco's Common Scams
24. It's NOT closed. Don't listen when they tell you the path (or restaurant) is closed in big cities. Find out for yourself. It's 99% of the time just a decoy to "help you" find something then ask for money. Or, "best case scenario" they lead you to their friend's place hoping you buy something (so they get a commission).
25. On a similar note… they pretend they are helping you out of the goodness of their hearts and then expect money. Never accept directions from the random person who offers help on the street. Only get help when you ask for it and usually it's best to ask a concierge or random shop owner.
26. Be wary of restaurant recommendations from your concierge or your new "friend." When they say their friend has a place, they are happy to set you up, or even pick you up from your hotel, this is a massive, in your face, red flag. What they are actually doing is setting you up to go to the most expensive restaurant in the area.
We semi-fell for this a few hours after landing in Fes. I knew something was up, but no money had left my hand so I went with it giving the concierge the benefit of the doubt. We got to "her friend's" restaurant, saw the prices, and immediately walked out.
They were trying to charge us $30 per person (for f-ing salad, couscous and a piece of fruit, no less)! I don't pay this in the US… I'm surely not paying it in Morocco.
Walking Around Tips for Morocco
27. Learn to ignore. When offered things, like to walk in a store and look around (because obviously you need an invitation to do this…?! *eye roll*) or the dude selling necklaces around the street (because who doesn't impulse shop from random people walking around on the streets…) say "no thank you" ("laa shukraan" in Arabic) and then ignore. You're under no obligation to do anything more or less and the more you interact the more they try!
28. Be vigilant in the larger cities. It's easy to spot a follower if you're actually paying attention. Garrett and I spotted a few people who were very obviously following us. Make it obvious you know without saying anything (AKA stare them down with a stank eye look…) if that's uncomfortable, pop into a store, pretend to shop and they won't wait for you for long.
29. Always wear your bag in the front, use anti-theft bags, and be overall very aware where your things are. If you have things in your pockets, you're almost literally asking to be robbed. Thieves love people like you.
30. Watch out for hotel name changes. Sometimes hotel names on booking sites have different names in real life! Sometimes there's an extra word like our hotel, Auberge Ouritz (on booking) was Auberge Berbere Ouriz (on the sign) in Adgz. And our Ouarzazate hotel was almost totally different! If it wasn't for the map, and me asking, "uh, is this you guys?" we would still be searching for it…
31. Don't get taken in by the wrong hotel. On a similar note, make sure your hotel is the hotel you're walking into. Once we started checking into a hotel in Fes that had one letter difference in the name, they were neighbors. Very confusing! And in Imlil, we essentially got lied to, said we were in the right hotel, and we weren't! Booking.com emailed me to tell me I never showed up to my hotel and that's how we found out! (The names were extremely similar and the signs, obstructed.)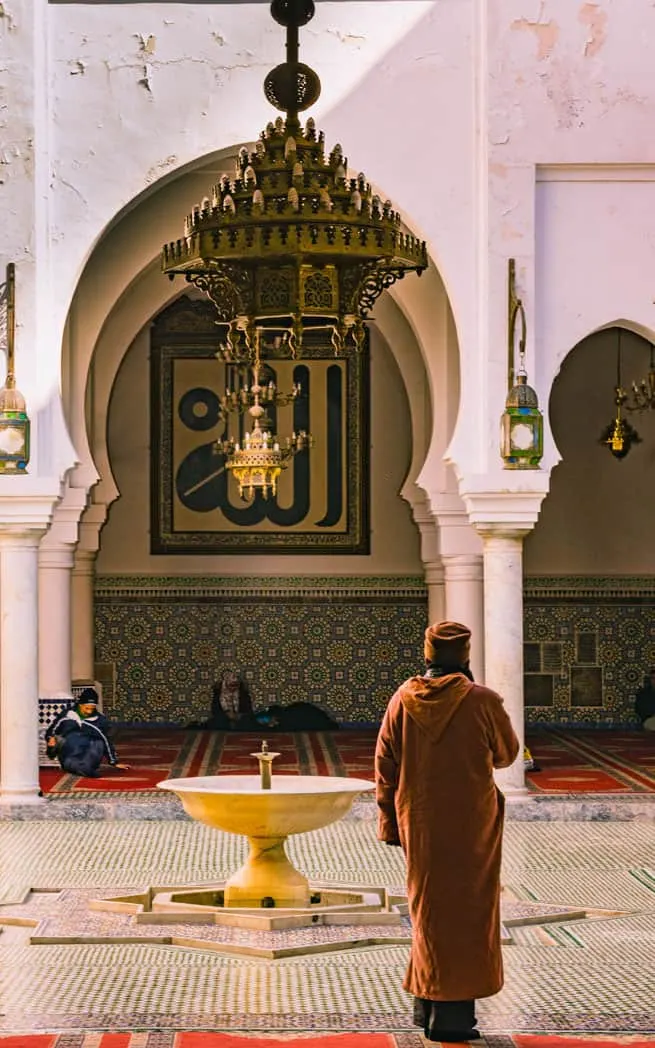 32. The mosques are beautiful but unless you're Muslim, you're not going in! Just letting you know so you don't get your hopes up. You are allowed to peek in from the doorway if it's open but that's about it.
General Morocco Tips
33. This isn't a party place. Before coming here and getting your bubble burst, let me tell you this is not a place to go and party, have all night ragers, get shit faced with your mates, and enjoy the nightlife.
Sure, there are a couple of bars and clubs in the cities and definitely in Marrakesh, where you could have all these things, but there are far better places in the world to tip one or five beers back with friends. Come here for everything else but partying. Unless you like getting "wasted" on tea, then Morocco is THE place.
34. Get a SIM card at the airport. It couldn't be easier or better! Maroc Telecom sells SIM cards for dirt cheap; 50MAD gets you 5GB of data! And the service is pretty damn good too.
35. Est-ce que tu parles français? If Arabic isn't clicking with you (because seriously, what do I do with these squiggle lines and dots?! I kid…), French is another language you can get by with, easily. I found Arabic to be better though as it's truly their language and shows you're trying a bit more. They only use their French for the tourists.
36. Download Google Translate right meow. How have you not already? It's an essential tool when traveling anywhere. Also, download Arabic and French within the app so you can use it offline!
37. Also, download Maps.Me. Again, how have you not already!? This is the map I ALWAYS use. For one, it's an offline map (make sure to download it when on wifi first though) and second, it actually sometimes has better info than Google maps, like dirt roads and walking trails.
38. Don't take pics without asking first! They are VERY camera shy.
39. Be careful with animal "attractions" or activities. While I found the camels and horses look well treated in most areas, there are "snake charmers" lurking around and there are shepherds who tie their goats to tress for money. Don't support this! Read more about the goats climbing trees.
40. Don't do any drugs! Did I need to say this? If you're compelled to anyway, (and this goes for around the world) never buy from the person offering it to you. You should be the one asking. Just know, people work with police and you can get in serious trouble.
Solo Female Travel Tips for Morocco
Before we even get into this, anyone thinking, wait a sec, Nina travels with her boyfriend now! She ain't solo! Well, you're right. But I was a solo traveler for over four years and I still love it. I walked around alone for hours and hours in pretty much every major city we went to, even Marrakesh and Fes. Garrett and I are NOT attached at the hip 🙂
So, all my solo traveling chickas out there, heeeeyy. This is for you!
41. Clothing is obviously the first thing. I won't talk too much about what to wear here as I have an entire post on it but seriously ladies, if you don't want attention, cover up. Becuase guess what? You're still going to get attention.
But if you're wearing booties shorts and a tank top because it's hot, their stares will burn holes into your soul (oh, and you're being rude and disrespectful too). Wear something light but covering. Read more about what to wear in Morocco before jetting off!
42. When walking around alone, here is exactly what I do in countries where "it's weird to be a solo female."
My backpack is always in front. If you don't wear a backpack when you're out and about, make sure you're wearing a crossbody bag. This is regardless of you're solo or not, shoulder bags are literally the worst thing to wear.
I like to wear sunglasses as, first, I'm never walking around a night, EVER, so it's likely daylight out, and second, it helps me avoid eye contact.
I wear my headphones when I walk around. Some have said, "oh then you can't hear things" but that's kind of the point! You don't hear the hollers, the catcalls, the unwanted whistles, or any of the BS. It makes it easier to ignore which is what I'm trying to do. I always walk around during the day and in fairly bustling areas. If night is falling and you're in a lonely area, I would discourage headphones. (for the record I never blast them either, I can still hear things!)
My resting bitch face is on point. I've had a RBF since I can remember. I'm the girl that people look at, and say, "you should smile!" To which I want to actually rip their f*cking face off but I casually ignore, usually. My RBF looks mean, which makes me less approachable, which, honestly, is exactly what I want. I want people to look at me and say, "oh damn, I don't wanna mess with her."
Look like you know what's up. In the medina of Fes, it's literally impossible to know where you're going. The streets don't make sense. Pretend you know what's up when you're wandering. You won't, but LOOK like you do. Ignore any and all help, like mentioned above, only ASK for help, don't take unsolicited help. Ever.
Lastly, don't be scared, you're FINE! Seriously, after reading all the Morocco tips here you may think it's scary AF to go to as a woman but it's not. You're good to go because you've read up on tips, you're smart, you have the right gear, the right mindset, and you're READY!
To experience the least hassle, I recommend sticking to the coastal towns and less busy spots. The cities are where most of the unwanted BS happens!
Now go out there and be the badass solo traveling woman you are!
Other Random Morocco Tips to Keep in Mind: (And Personal Opinions)
43. I'm going to be blunt and say stop following what others do! Morocco is known for a few "Instagrammable" locations but it's SO much more than that. Also, good news is, there are plenty more "instagram worthy" places that just haven't been popularized yet. I encourage you to go off the path a bit. It's more authentic there and actually, you get hassled WAY less.
44. On the exact opposite note, book ahead of if you're dying for the Instagrammable places. They sell out way far out in advance.
45. Marrakesh doesn't = Morocco. In fact, the real TRUTH: I only went to Marrakesh so I could compare the rest of the country to it. It actually wasn't as bad as I thought (I'm also a pro traveler though…) but if you don't want to deal with the hassling and the overall "intenseness" of (what you think) Morocco is, DON'T go to the big cities. It's OK! Morocco has plenty of other places to see.
Were these Morocco tips helpful? Let me know in the comments what you're up to in Morocco and if you have more questions!
---
---
>>> Even More About Traveling Morocco <<<
9 of the Best Day Tours From Marrakech
25 Tips for Driving in Morocco & Why a Morocco Road Trip Is a MUST!
Toubkal National Park: An Easy Trek Around Imlil, Morocco
Best Time to Visit Morocco: When Spring Is in the Air!
Finding Goats in Trees in Morocco: Yes, This is Real Life!
8 Things to Do in Ouarzazate: A Movie Buff's Paradise in Morocco
How to Visit Paradise Valley Morocco: A Day Trip to an Oasis
7 Badass Beach Towns in Morocco for Surfers and Professional Beach Bums
What to Wear in Morocco Packing List: 13 Must-Have Items
This Is What It's Like Camping in the Sahara Desert in Morocco—Erg Chigaga Trip
Finding a Surf Camp in Taghazout & Becoming a Badass Surfer (Kinda)
What NOT to Miss on Your 5-Day Morocco Itinerary
---
---
Don't lose this post! Click the picture to pin it for later.