I lived in Thailand for years.
My original plan was to teach for a year and then head out, but I fell in love with the country and its perfect placement in that part of the world.
From Thailand I could travel to surrounding countries, visiting for as short or as long a time as I wanted and still come back to a home base.
There are just so many things to do in Thailand that it has taken me forever to put together a Thailand itinerary, to narrow down a priority list for visitors, new and old, who want to explore one of the most magical countries and my second home, Thailand.
What you'll see below works for everyone.
The main points of the Thailand itinerary below will take you about 2 weeks. But you could pick and choose among the major places and shorten/lengthen your trip up considerably.
Visit Bangkok and a few surrounding areas with just 1 week in Thailand. Build the Gulf Islands onto your Bangkok trip and you're looking at 2 weeks in Thailand. And if you add on ALL the extra options I'm giving you, you could end up falling in love with this country and staying for months (oops!/not).
Don't lose this! Click to pin it now.
Thailand Itinerary: The Best Things to do in Thailand With 2 Weeks +
---
The key to this list is to pay attention to the hierarchy. If you have less time, hit the biggest boldest titles below.
If you want to spend more time in one particular area like the jungles and mountains or the islands, you can build on with the "add-ons" I've provided. Don't want to visit the beaches? Cool, you have plenty to choose from just hanging out in the north.
There are so many things to do in Thailand, the itinerary below could go beyond two months if you're on a loose schedule and feel like staying a while (you will).
I'll give you a sense of the number of days to spend in each place (and these are a minimum). Also be sure to account for the travel time it will take you to get from one spot to the next.
If you simply do the 2-week itinerary, you'll notice it's just shy of 14 days giving you a few days for transit.
You'll begin in Central Thailand because most flights arrive in Bangkok. Should you want to start in another major area of Thailand and are low on time, hop on a flight as it's going to be the quickest way to get there.
Resources for Your Trip:
Thailand Itinerary: Bangkok for 2-3 Days
Every Thailand itinerary includes Bangkok. It's hard to ignore those cheap prices to the busy and bustling Suvarnabhumi Airport.
Obviously, there's a ton to do here, and if you're looking for a party or a fancy night out on the town, Bangkok is where it's at. You'll want to check out the Lebua (yep, the hotel from Hangover II) or Vertigo for their sky bars. The views are next level, pun intended.
You'll probably want to check out The Grand Palace, the biggest tourist attraction in Bangkok, once home to the king. Although skipping the entrance fee to get in and just enjoying the outside is totally cool too (you'll be seeing tons of temples, the entrance fee to this one is stupid ridiculous)
When you're in the mood for a little romance, float down the Chai Phraya River in a ferry that makes several stops along the way. You can get on and off as you like or simply gaze out at the dramatically changing scenery as it goes by. Get the camera ready before you float by Wat Arun.
If you're here during the weekend and are itching to get some shopping in (although this may be better for your visit to Bangkok on your way out) take a few hours (or an entire day) to wander Chatuchak Market. Shopping or not, this place is a sight to see. It's the largest open-air market in the world and the buying opportunities don't disappoint!
The infamous Khao San Road will certainly attract those backpacking Thailand. Shopping, bars, street food carts… It's the mecca for backpackers and can be worth a visit but its certainly not the best place to hang out in Bangkok.
For those a bit more flashpackery or those wanting to get out of their backpacker mode…
For a more sophisticated visit to Bangkok, hanging around the Sukhumvit area may suit you better. Less backpacker-y, more modern and hip. Thonglor is a popular area for the locals to party, Ari is small but it's an up and coming cool neighborhood to chill at, and Ekkemai is a cool and trendy spot to sip on coffee but the night scene-seekers move to the nearby Thonglor at night.
Your Thailand itinerary would clearly not be complete without a quick trip to Bangkok, but you really can move on from here and get on to much better things to do in Thailand.
RELATED: 3-Day Bangkok Itinerary For First Timers (Thailand)
>>> Add-On – Koh Samet or Koh Chang (2 Days Each)
Beaches!
Koh Chang is one of my all-time faves in all my travels. This island is full of the most beautiful beaches and getaway spots.
Lonely Beach is absolutely the best for sunsets and is known as the backpacker beach. Kai Bae Beach is also great to lay low, stay close to the bustle but not in it and is less commercial. White Sand Beach is the most touristy of them all and I never stayed in this area but it's the most convenient being so close to the ferries.
The island is pretty massive (3rd largest in the country) so there's still plenty of opportunities to get lost and away here. Long Beach is one of the most remote beaches on the island.
You can go jungle trekking and then island hop to the nearby paradise of Koh Mak.
Koh Samet is another great island outside of Bangkok. This is the thing to do in Thailand if you're looking for a true "Thai" experience as this is where all the Bangkokers flock to for the weekends.
Many locals throng to Koh Samet because it's a quick island getaway, just about a two-hour bus ride then under an hour boat ride from the mainland. The island is also mostly a national park, so you'll get a ton of natural landscape.
>>> Add-On – Kanchanaburi (1 – 2 Days)
So no surprise that the first thing everyone thinks of is "Bridge over the River Kwai."
No, the movie wasn't filmed here (it was filmed in Sri Lanka, oddly enough) but this is the real bridge of so many deaths during WWII as the Japanese forced POWs to build this railway bridge. You can certainly visit this for memorial purposes.
Beyond the morbid, this area is simply gorgeous. Waterfalls abound at Erawan National Park, the river area is rich in history, and the caves are fun to explore. You can tackle Kanchanaburi as a day trip from Bangkok on your Thailand itinerary if you are low on time.
>>> Add-On – Lop Buri (1-2 Days)
A great opportunity to hang with wildlife and wild nature, Lop Buri is best known for its marauding macaques.
Monkeys live freely in the streets around "Monkey Temple," and are known to harass passerby for snacks (or steal them from stores—yes, seriously!). If that wasn't enough, go spot monitor lizards and chill with them on the banks of the lake, Ang Sub Lek, just on the outskirts of town.
You can also check out the bats as they fly out of Wat Khao Wong Khot cave temple at night.
Finally, walk among the wildflowers. Acres of sunflower fields stretch out in Lopburi as far as the eye can see (from November to January). It's like a scene out of a movie. You'll be dying to walk through it with your arms out.
Of course, there are plenty of beautiful ancient temples to explore as well.
>>> Add-On – Khao Yai National Park (1-2 Days)
Crocs, monkeys, and elephants, oh my! Khao Yai is one of the country's best national parks to visit and considering it's super close to Bangkok, it's also super easy to get to. You can take a long day trip, spend a night camping, or spend around 5 days exploring this area by trekking and waterfall chasing.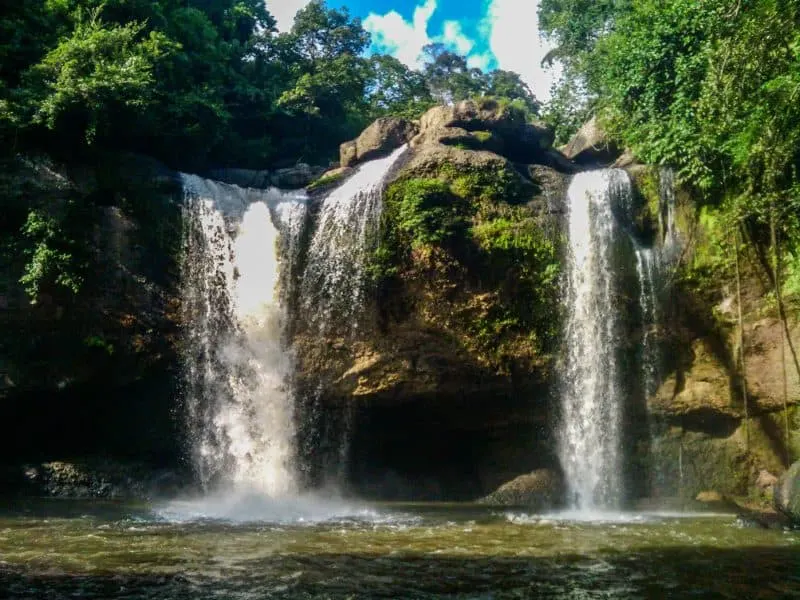 Taking a tour will be ideal as you'll need to be guided through the treks anyway (there are wild animals everywhere). This way you can have a guide and transportation taken care of as you'd need your own car to comfortably navigate your way here and around.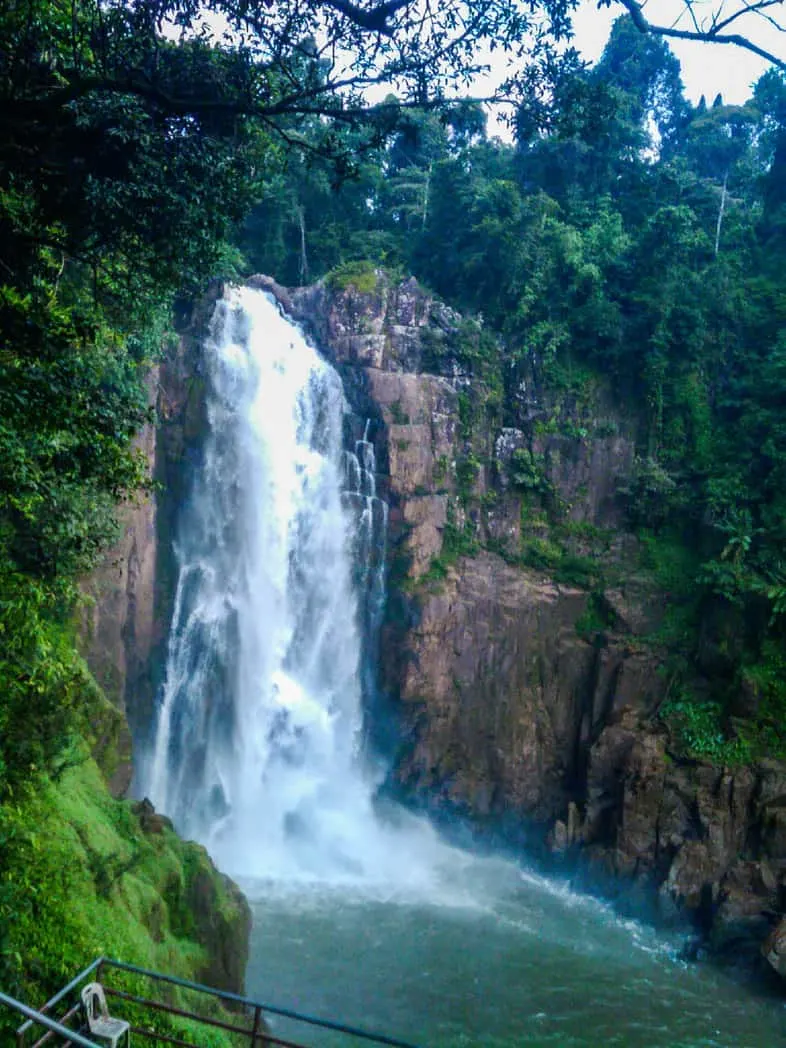 Most recommended tours:
>>> Add-On – Ayutthaya (1 Day)
Temples. Temples. More temples…
Ayutthaya is home to a handful of the most majestic temples because it was the second capital of the kingdom of Siam. If you're a history buff, or a temple explorer, this day trip from Bangkok is one of the top things to do in Thailand for you.
It doesn't hurt that it's a UNESCO World Heritage Center.
Oh, and fun fact, Ayutthaya was my first home when I lived in Thailand. I got my first job teaching English here.
Most recommended tours:
>>> Add-On – Sukhothai (1 Day)
Another UNESCO site, and it's full of gorgeous historic temples from its days as the first capital of Siam.
You should certainly choose this option if you're headed north by bus or by train as it's on the way to Chiang Mai. If you are not headed north at all, Ayuttaya is your best bet for seeing beautiful temple ruins.
Most recommended tours:
Thailand Itinerary: Chiang Mai for 2-3 Days
This city is filled to the brim with modern conveniences, luxury resorts, bargain markets, all topped off and surrounded by stunning views of natural landscape and glorious ancient temples.
Chiang Mai is a tourist attraction for sure, but it's one of the good ones. The city's got something for everyone; if you're a history buff, visit a temple or two or ten.
Easily the most famous and most visited thing to do in Thailand is Wat Phra That Doi Suthep, with its steep mountain ride up and then its precipitous final walk, and Wat Chedi Luang, which is within walking distance of most hotels and hostels in Chiang Mai and is gigantic as the highest point in the Old City proper.
Shopper? Go pinch your hard earned pennies at one of several open-air markets. The Sunday Walking Street and the Night Bazaar are just two among many.
There's also a jumping nightlife, a splendid variety of top-notch restaurants, an elephant sanctuary, and so much more. This part of your Thailand itinerary will have you on your feet with your eyes wide open!
RELATED: 7 Unusual Things To Do in Chiang Mai
>>> Add-On – Chiang Rai (1-2 Day)
Okay, so I say "one day," but you could spend much longer in Chiang Rai.
Chiang Rai is just such a cool spot to chill just a few hours outside of Chiang Mai. There's a "beach," the Black House and the very famous (Wat Rong Khun) White Temple just to name a few of the famous spots.
A one day visit is possible with a day tour from Chiang Mai, if you come on your own, you'll need at least two.
Most recommended tours
>>> Add-On – Doi Inthanon (1 Day)
Doi Inthanon is a great day trip from Chiang Mai. Behold, the tallest mountain peak in the country! Surprisingly, it's even a bit chilly up here if you're up in the morning hours. Camping, waterfall chasing, trekking and more can be enjoyed here.
Most recommended tours:
Thailand Itinerary: Pai for 2 Days
Get lost.
Seriously, this is my advice to anyone who ever visits Pai. It sucks to get to (3 hours and over 700 turns) but totally worth the trouble.
You could spend an entire month in Thailand here (I've spent probably 7 months in total). Waterfalls, super laid back and adorable cafes, circus school… You name it. You can spend 3 days or 3 months and never get tired of wandering and chillin here.
RELATED: 27 Things to Do in Pai, Thailand + Where to Eat and Sleep
>>> Add-On – Mae Hong Son Loop (5 Days)
The Mae Hong Son Loop will take you through gorgeous country and hillside territory of Northern Thailand.
Rent a motorbike and stop in the little villages for a rest, a snack, and to explore.
This loop is quite popular with tourists; you'll typically leave from Pai or Chiang Mai, depending on where you want to start/end the trip.
You'll want to take your time on this loop, stopping at hostels or hotels along the way, as it's not only 600 km long, but it's also windy and mountainous.
Thailand Itinerary: Gulf Islands for 2 – 4 Days
Yay! Beaches!
Three islands make up the bulk of the Gulf Islands people visit. Koh Tao is the ideal spot for scuba divers and snorkelers. It is known as the mecca for diving.
You can even get dive certified here in a three-day course. If you're interested, check out New Way, Scuba Junction, or Simple Life for some of the recommended places to get certified from.
Koh Tao has a super laid back chill vibe that says sit on the beach and watch the waves or wave at the sea life underwater. You can even hike or rock climb on some pretty isolated territory out here.
Koh Phangan is just a quick ferry ride from Koh Tao.
This is a must stop on your Thailand itinerary if you've still got the rave itch in you. My intense party days are a thing of the ancient past, so the Full Moon party would be a bit much for me now with its 5,000 and even up to 30,000 party goers bumping to DJ spins all night long.
But it's not to say I haven't been to a few in the past. 🙂
However, when Koh Phangan is not vibrating in its foundations, it's actually a beautiful, serene, out of the way spot to rest and relax IF you know where to go. Almost any area in the north of the island is "safe" from the revelers.
Koh Samui is the luxury stop for my fancy-schmancy readers. You'll get the five-star treatment with resorts and gourmet chefs preparing food. If you're into that, check it out. Just be prepared to spend much more here than you would on the other two islands and the rest of Thailand really.
>>> Add-On – Prachuap Khiri Khan & Sam Roi Yot (3-4 Days)
This adorable not-so-out-of-the-way fishing village really should not be an "option" on your Thailand itinerary. If you're this close, go.
Prachuap is the spot to go to just bliss out on a peaceful and lovely atmosphere away from most tourists. An army base is home to Ao Manao beach, is a stunning contrast of bright green mountains and pine trees against the blue sky and resting on sandy beaches with crystal waters.
From there, head over to Kao Lommuak, a "jagged mountain" you can climb to the top of to get a view out across the sea worth the steep hike.
*IMPORTANT* look out for dusky leaf monkeys here. They are the cutest, most docile, adorable monkeys you ever did see, unlike the cheeky and terrible macaque monkeys which you will see far more often.
Ah, I just don't know if three days is enough but then again, I lived here for two months!
You also really need to travel inland a bit from Prachuap and visit Sam Roi Yot, a national park whose name means "the mountain with 300 peaks."
The landscape here is a brilliantly mesmerizing sight to behold. You have to visit the Phraya Nakhon cave, full of arching chambers that let sunlight in from above, and the Thung Sam Roi Yot freshwater marsh, to look out over flat fields and up at the steepest mountains you can imagine.
Do keep in mind both of these spots are not heavily visited by tourists so having a car, enough money for taxis/tuk-tuks, or know how to ride a motorbike would be helpful. Cheap and easy public transport isn't as available, particularly in off-season.
Most recommended tour:
>>> Add-On – Khao Sok (2 Days)
If you need a bit of a beach break (weirdo) head into the jungle and explore Khao Sok. The gorgeous lake surrounded by the karsts is perfect for kayaking and canoeing, and the overwater villas backed by the lush trees seriously makes this place a paradise.
Most recommended tour:
Thailand Itinerary: Krabi for 3 Days
Krabi is amazingly beautiful and so much fun! Island hopping and snorkeling are some of the best things to do in Thailand in this area.
Railay and Tonsai are also super cool spots to hit in Krabi for beach time. Both are only accessible by boat, even though they are connected to the mainland of Thailand.
Both beaches are perfect for just hanging in the sand or, even more popular on these beaches, rock climbing. Rock climbers flock here for the challenge. If you're feeling especially daring, you can even deep water solo.
Out of all the things to do in Thailand, Krabi is one of my favorite places to explore because there's just so much to do. But then again, I'm probably biased as I lived in the area for over a year.
>>> Add-On – Tup Kaek (1 Day)
A relaxing day trip while you're in Krabi, Tup Kaek is the lonely luxury beach among your options here. White sand beaches, calm, shallow waters… Oh, wait, and a massive mountain to climb?
Yes, don't just come here for another beach, climb Tup Keak first. This is about a 4-5 hour round trip hike depending on how quick you are and the views up top are so worth it.
>>> Add-On – Ao Thalane (1 Day)
One word: remote. Ao Thalane is the spot to add to your Thailand itinerary if you want to get away for a bit. There is little activity here outside of kayaking and only a few restaurants.
Come here to kayak calm waters among the mangrove forests and find hidden lagoons and beaches; you'll hear birds calling and watch monkeys jumping among the trees. It's an experience that will etch itself into your memory.
>>> Add-On – Ao Luk (1 Day)
Now you're in paradise. I honestly don't know how Ao Luk has remained so untouched by mass market commercialization, but it has. The Than Bok Khorani National Park offers a trail through the rainforest, past trickling waterfalls, and into deep caves.
On the Tha Pring Canal, you can hire a long boat to take you out to explore mangroves and even more caves. This day trip is one of purely visual pleasure.
>>> Add-On – Koh Phi Phi (2 Days)
Leonardo DiCaprio and his movie "The Beach" made this place popular. Everyone planning a trip to Thailand, I'm sure, has stumbled upon this place in their research.
You can add this to your Thailand itinerary just for Leo (sad note: he won't actually be here), or you can come and look at out the beautiful beaches and rest in the soft sand. It's the location for a movie for a reason—it IS beautiful but…
Just note that this is one of the most touristy places in Thailand. Personally, I am not the biggest fan. The vibes are all about the parties, the beaches have become less than average, and the prices are inflated. I know most dream of coming here but if you do, set that bar a few notches down so you're not disappointed.
Most recommended tours:
>>> Add-On – Koh Jum (2 Days)
There actually isn't too much to say here. This island is not super popular and it's sprinkled with adorable beach bungalow huts. Come swim, sunbathe, read, do nothing… This is one of the most chill islands in the area.
For those who need adventure, there's a bit of hiking around Koh Pu and snorkeling and diving opportunities.
>>> Add-On – Koh Lanta (2 Days)
Another beautifully unspoiled island off Krabi, Koh Lanta is mostly Muslim (i.e. conservative), so progress is long and slow to unravel, which means the pace here is way calmed down and totally laid back… Actually, this is the case on most islands in Thailand.
Rent a motorbike, cruise the island, explore nature, chill on the beach, snorkel, take island trips… It can take forever to get here by buses and ferries so really dig in and luxuriate in the relative peace of the place once you arrive.
Phrae Ae Beach is where I usually hang out and stay as it's where most of the action is, the Old Town is nothing to write home about, so you may want to avoid if you're low on time, and staying in Saladan will be convenient as it's near the ferry but it's not the nicest area to stay.
TIP: Head south for quiet and lonely beaches.
>>> Add-On – Trang Beaches (2 Days)
The beaches in the Trang Archipelago are relatively untraveled compared to the much more popular (partier) beaches off the west coast of Thailand.
This reality makes it perfect for those of us who love to explore the unexplored.
Exploring Emerald Cave is easily one of the most remarkable things to do in Thailand in the area but it's also the most commercialized. Head there by boat into clear green shallow waters to explore this cove tucked inside of a cave surrounded by mangrove and jungle wildlife.
Just a word to the claustrophobic or those afraid of the dark, you have to swim through a pitch black cave to get to the cove. if you're on a boat tour, you will have a guided swim in front while everyone hangs on to each other in a line.
The cave echos the waves powerfully, swishes you around, and can be seriously frightening for some. Me being me, I was apprehensive yet did it anyway (because I like scaring myself) all while nervously laughing like a freak with my friend.
So how long do you think you'll be in Thailand after reading this? Has your 1 week in Thailand just turned into 2 weeks in Thailand? Or maybe your 3 weeks in Thailand has turned into over a month?
After living in Thailand for four years (while traveling to the neighbors), I can seriously say my list has grown longer instead of shorter. There are still so many things to do in Thailand, this magical country will forever be calling me back.
Where will you go after Thailand?
Laos | Malaysia | Singapore | Indonesia | Philippines | Cambodia | Vietnam
Where you are you going first? What are you most looking forward to? Let us know in the comments!
---
---
>>> EVEN MORE AROUND THAILAND<<<
"One Night in Bangkok … and the World's your Oyster"
Work & Live in Thailand: How To Do It? Cost of Living? And More!
27 Things to Do in Pai, Thailand + Where to Eat and Sleep
Where to Stay in Pai, Thailand: Pai's Hostels, Hotels and Resorts
21 Krabi Beaches That'll Make You Book Your Trip Today (Thailand)
9 Krabi Island Hopping Tours That Will Make Your Jaw Drop (Thailand)
Photo and Video Blog- Ao Luk, Krabi, Thailand
Krabi Itinerary: What To Do In Krabi, Thailand for 1-7 Days & When To Visit
First Timers: Rock Climbing Krabi, Tonsai and Railay, Thailand
Where To Stay In Krabi, Thailand For Any Budget
Where to Eat in Krabi Town: Night Markets and Restaurants
Krabi's Beauties: Railay Beach and Tonsai Beach, Thailand
A Thailand Visa Run Gone Wrong
The Low-Down: Thailand Tourist Visa and More
Thailand's New Year, Songkran, Is the World's Largest Water Fight
7 Unusual Things To Do in Chiang Mai
Photo Blog: Doi Inthanon, a Day Trip from Chiang Mai
Chiang Mai to Pai and Back! The Best Ways to Get Around (Thailand)
4 Lesser-Known Spots Around Mae Hong Son To Go To
Chiang Khong to Huay Xai Border Crossing (Thailand to Laos)
Chiang Rai Itinerary: 10 Things To Do In Chiang Rai That You Can't Miss
Thai Vegetarian Food That You'll Want in Your Mouth
7 Reasons Why Eating Thai Street Food Is The BEST & How To Avoid Getting Sick
Transportation Info and Tips for Thailand
Play it Cool: Thailand's Do's and Don'ts
Photo Blog: Kanchanaburi – Bridge on the River Kwai and Erawan Falls
OMG, My Holiday is Coming Up! Is it Safe to Travel to Thailand?
---
---
Click the picture to pin this post!