If you want to chill for a few months or settle indefinitely, you'll need to know the cost of living in Mexico before heading over! Mexico is exceptional in many ways, and it's no surprise many not only want to vacation here but also potentially move here.
World-class beaches, tacos 24/7, lovely people, affordable living, rich culture, and quality of life—what more can one ask for? Mexico is a destination that I return to constantly, and I have no plans on leaving it off my list anytime soon. I adore Mexico, and it's personally a top spot on my list for living, even if only for a few months.
Cost of Living in Mexico
---
I just want to preface a bit before getting into the details of living costs in Mexico. Here's how this post is set up!
This article is roughly ordered from the north of Mexico to the south.
Everything listed here is in Mexican pesos and converted to US dollars.
Aside from many visits, I've also lived in Sayulita, Mexico for six months. I'm only one person and I know you, the reader, deserve to have more comprehensive information on what living costs are like in Mexico, so I enlisted some help! I had some blogger friends weigh in on where they lived in Mexico and how much it costs them, making this article, MEGA LONG but also mega informative!
There are 16 incredible destinations from around Mexico and the living costs listed in this article. Each person that's contributed has lived at least 3 months, some for many years, in the particular city they are speaking about.
Everyone lives differently and you'll see below we have people who lived on a budget, some were in the middle and then a few high spenders. You'll get a taste of everything in here.
Some of us lived in Mexico solo, some have families, and some are with partners. The average monthly costs are listed at the end of each destination and are the average total cost per person. We have added the word "(shared)" to indicate if that total was in a shared situation. Solo people often have to pay a bit more if they aren't sharing costs.
So let's get to it! I hope this article on the cost of living in Mexico helps you get a better idea of what it's like living around this beautiful country!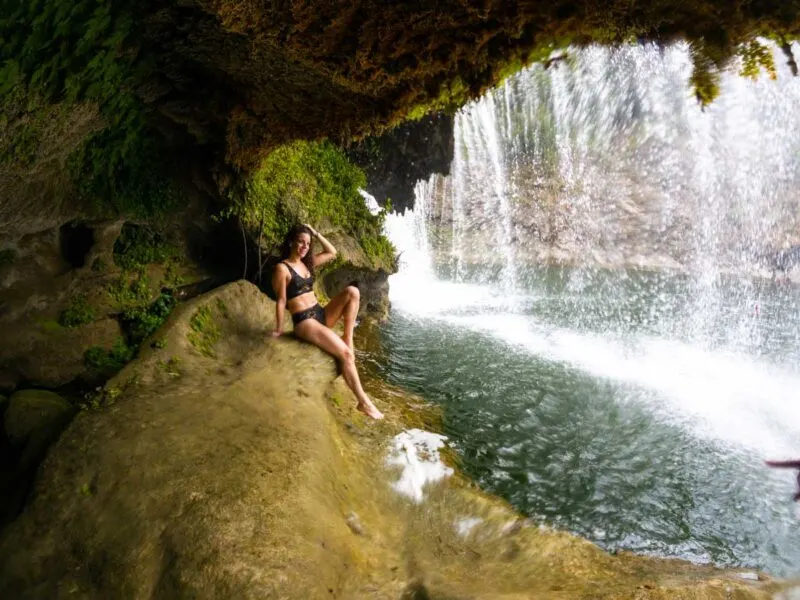 Average Cost of Living in Mexico
Before we get into the breakdown of each of the 16 destinations across Mexico and their cost of living, let's do a quick monthly average of all the numbers from below!
Average Cost of Rent: $640
Average Cost of Groceries: $150
Loaf of bread – $1.60
Liter of milk – $1.00
Dozen eggs – $1.50
1kg bananas – $1.00
1.5 liters of water – $0.80
Average of Restaurants
Budget – $4.50
Mid range – $12.00
High end – $40.00
The total cost of living ranges from everywhere below $400 to $2500 per month
Average Total Cost: $1240
1. Cost of Living in Mexico: Monterrey
Monterrey is in the north of Mexico, a two-hour drive away from the United States border. Many people here like the ease of access of simply driving across the border for the weekend. The city is surrounded by breathtaking mountains, a vibrant restaurant scene, and lots of natural beauty.
Rent in Monterrey
Living in Monterrey can be quite costly if earning a salary in Mexican pesos. I live half an hour drive from the city center in a 3-bedroom house in a gated community. There is a pool, a small football/soccer field, a kid's play area, and a clubhouse within the compound. As with many places in Monterrey, I had a beautiful view of the mountains.
The house itself is about 215 meters square, which is a lot of room for just two people, but working from home, it's always good to have extra space. The rent is about $750/month plus $150/month for utilities. However, in the expensive areas, rent can easily be $2,000/month for the same size.
Eating Out and Grocery Costs in Monterrey
Sibau is a pretty fancy restaurant with tacos, as well as other varieties of food. It can easily cost about $50 per person.
Botanero Moritas is a popular restaurant for none other than tacos. With about 8 tacos, two people can eat here for about $17.
Mon Paris, a French restaurant close by to where I live, although there are other branches, is a lovely place to sit and have a relaxing time. You can get a panini and a coffee for about $8. The ambience is my favorite thing about Mon Paris.
Many people I know shop at HEB, yes, like the one in Texas! Groceries for two costs about $340/month. Although there are markets you can shop around to buy things cheaper, this is further away than the 5-minute drive to HEB and not worth the hassle. A multigrain bread costs about $2, 4 bananas might cost around $1, and you can get about 500g of chicken breasts for $5.
Transportation Costs in Monterrey
Monterrey is not a city for walking. Most people have cars, with a typical cost of gas being $80/month depending on how much driving you do. Considering we're working from home, we probably spend about $60/month on gas. For those who can't afford a car, there is the bus system and, in some areas, the metro.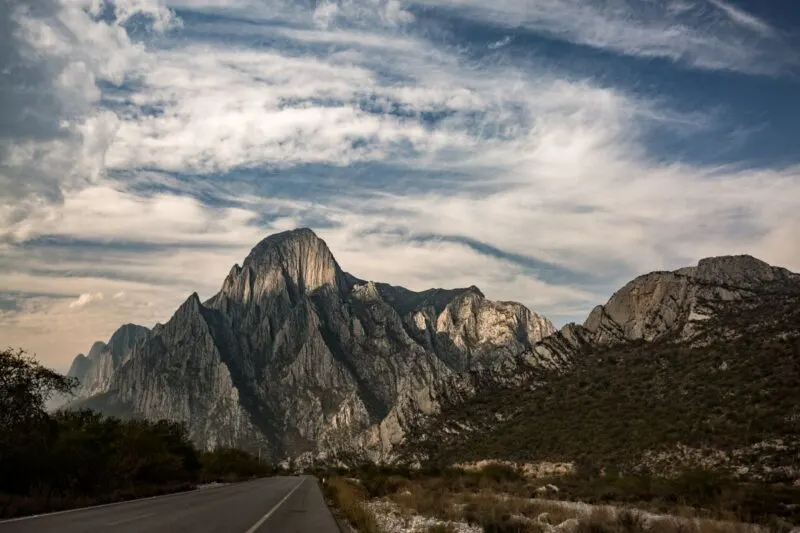 Other Costs in Monterrey
While Monterrey is not a beach town, there are many things to do in Monterrey. There are many parks and mountains for hiking. Huasteca is free, while entrance to Chipinque is $4, and Parque Fundidora, which has a mix of so many things, safaris, and salt caves.
Average Total Living Costs in Monterrey, Mexico—$850/per person per month (shared)
We weren't on a budget, nor were we splurging when we lived in Monterrey. However, being a bit more health-conscious and not eating out as much probably saved us some money. On average, my cost of living in Mexico was about $850 per month per person.
Contributed by Venaugh from Venaugh
2. Cost of Living in Mexico: La Paz
First, please know that La Paz is also in Bolivia, so don't be confused with your search results. Make sure you put 'Mexico' when researching since the La Paz in Bolivia is the capital and is also well-visited.
La Paz is located in Baja California Sur (BCS) and is still the most Mexican city in the Peninsula. Baja is more expensive than the rest of the country but very few people know that La Paz is super affordable to live in!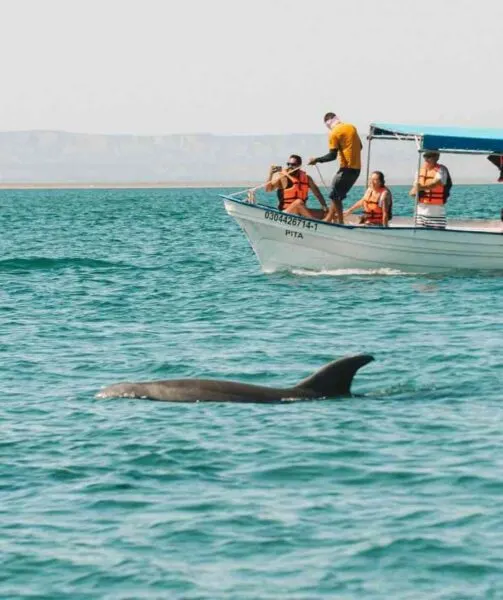 Many people who live around BCS go to La Paz because most of the highlights and things to do in the state are here. Whale encounters and Balandra beach (the best beach in Mexico) are the two most popular activities here.
When I lived in La Paz, I didn't have to make day trips! Another bonus is that just within La Paz, there are already nine beaches that divers worldwide come for.
If you're looking for a more affordable place to live in Mexico (and still have a deeply-rooted Mexican culture), La Paz is the place!
Rent in La Paz
I stayed in the Pueblo Nuevo neighborhood, where most expats reside. I paid $600 USD for a 2-bedroom apartment, and it's right next to Chedraui so I walk to get my groceries. My bank branch (BBVA) is also just across my street, and the water refilling station of the neighborhood is literally in my apartment complex.
It's also a house, so it's a perfect set-up for my pets. If you rent near the Malecon, most properties are condo-style, and I never lived in a condo because of my dogs. Plus, the center is double the price than in a Mexican neighborhood in La Paz like Pueblo Nuevo.
I paid US$20/month for the electricity bills during the summer months because the AC was on 24/7! During the winter, the bill was just $US7/month. Note that Baja California is a desert peninsula, so summers are sweltering and winters are colder than the rest of the country.
My fiber optic wifi at home was not part of my rent. I had to pay that separately and apply for the installation myself. The cost is US$17/month + US$50 installation fee, but you don't have to do this yourself if you don't want fiber optic. Most rentals in La Paz already have the basic 10 MBPS Internet plan.
Since I have Mexican residency, all these bills are automatically charged on my Mexican credit card. I don't have to think about paying them monthly.
Eating Out and Grocery Costs in La Paz
There aren't a lot of good food options in La Paz. Those beautiful restaurants in the Malecon are super fake. Pretty on the outside, bad (and expensive) food on the inside.
The best food in La Paz are the Mexican ones like Toro El Guero, a family-style restaurant that has all the seafood dishes. They have many branches in the city.
Street food stalls are also better than restaurants and they are clean so don't worry! There are many fish taco stalls in the area and all of them have long lines because they are so good and affordable (US$1.50 per piece).
Baja California uses Rappi and Didi for deliveries as there are very few options on UberEats. Rappi and Didi also charge a lower delivery fee than Uber (US$.50 USD vs US$2).
The supermarkets in La Paz are very Mexican, like Chedraui and Aramburo. No Walmart or Costco – people drive to Cabo for those supermarkets, but the local grocery stores are enough for me.
I spend about US$75 for two weeks' worth of groceries, and that already includes meat, fruits, vegetables, fish, chicken, yogurt, dog food, and everything I need. Bear in mind that I work at home, so I only eat out on the weekends. This is a one-person living alone budget.
There are mini supermarkets in La Paz, but I prefer Chedraui since I am closer to it. I also don't hoard and can just walk to Chedraui when I need something. This way, I don't waste food (and money) from storing them.
Transportation Costs in La Paz
Many expats say you need a car to live in La Paz, but that is only if you explore Baja Sur. I have a car, but I have barely used it since I like walking. The streets of La Paz are also super pedestrian-friendly, and there are bike lanes everywhere! It's super safe!
I also tried public transport, but they are not very reliable in La Paz as they don't come frequently. No timetable for busses, so it's a waiting game. A bus ride from my house in Pueblo Nuevo to Malecon costs US$0.50 per ride.
Other Costs in La Paz
The Baja California Sur things to do trend is to visit nearby towns for day trips. Los Cabos, Todos Santos, Cerritos, and sometimes all the way up to Loreto are some of the day trip options. Baja Sur is enormous, and there are so many activities here for divers and surfers. Baja is also a big fishing destination.
In town you can stroll the promenade at Malecon, discover unique street art, or visit the Catedral de Nuestra Senora de La Paz (all free!)
Average Total Living Costs in La Paz, Mexico—$1000/per person per month
I lived in La Paz for about three months, and I wasn't splurging since there weren't many restaurants or ocean clubs. My local friends also weren't interested in spending US$15 on restaurant meals. I actually saved a lot of money here and only spent it on day trips.
You need to know that La Paz is still a cash society, but the big establishments accept credit cards. Visa is the most-used, and almost no one accepts Amex.
Contributed by Maria Veloso from Mexico Insider
3. Cost of Living in Mexico: Cabo San Lucas
Los Cabos is a North American's favorite travel destination because it's so beautiful and a direct flight from the US and Canada. This is a Mexican destination that doesn't need any intro (or sales talk), but you may wonder why I chose to live here?
I started backpacking Mexico (particularly Baja California) as it's not a common backpacker destination – it is so expensive. Together with my dogs, I hopped on my car, started driving from Tijuana, and ended up in Los Cabos.
And somehow, I just felt at home! There are so many restaurants, beach clubs, beaches, and activities that made me NOT want to leave. I lived in many parts of Mexico, and Los Cabos felt like I was in a different country.
Rent in Cabo San Lucas
First, I rented a one-bedroom condo by the Cabo San Lucas Marina and paid a whopping US$1,800/month. The owner initially wanted US$3,000 for it because it's very centric but gave it to me for half the price because it was low season (summer). It also helps if you can speak Spanish.
I stayed there for two months and realized I was not in a place in my life where I wanted to pay expensive rent. I travel every three weeks, so the house is basically for the dogs and the pet-sitter. My dogs don't even like living in condos!
Then I moved to a Mexican neighborhood (across the Marina) and found a studio apartment for US$350. It was perfect for my lifestyle, and I didn't have to pay a lot even being in the center.
The landlady initially wanted US$550 for it since she knew I am a foreigner, but when I asked the Mexican neighbors, they were only paying US$350, so I had to re-negotiate.
Note that Los Cabos is the most expensive city in Mexico, so to give you an idea of my expenses, see below:
Electricity: US$25 (summer), US$8 (winter)
Water: $0.50 per month
Wifi: Fiber optic for US$20 per month
Gas (for cooking and water heater): US$7 per month
Petcare: US$15 per dog (grooming)
Housekeeper: US$7 USD per visit (I ask for deep cleaning once a week)
Eating Out and Grocery Costs in Cabo San Lucas
SUPER EXPENSIVE, but all worth it! There are so many restaurants in Cabo, and I love trying all of them! If you are a fan of food, Cabo has everything!
Cachet Beach Club (beachfront): US$15 for a ceviche plate, US$10 for a glass or chardonnay
Chamuyo (Argentine restaurant): US$30 for a rib-eye (FDA approved); US$100 for a bottle of good Argentine wine
Chubby Noodle (Asian): US$16 for a good ramen. They have this restaurant in Los Angeles and San Francisco, CA.
Rooftop 360: pool club with a view of the Cabo arch; US$50 consumable (min)
Salvatorre G's (Italian): US$20 for a massive pasta, literally for 4 people sharing. They are well-known for their big portions
For food deliveries, we use Didi, and the delivery fee is US$1.50.
Los Cabos has Costco! But as someone living alone, I don't need to shop here unless it's stuff for the house like fans, beds, etc. I also buy dog food here because it's cheaper. My dogs eat about 20 kg of food per month (2 dogs), and I pay less than US$45.
ALL, I mean ALL the Mexican supermarkets are in Los Cabos. I don't even have to share the list. Sometimes it's confusing where to go.
I also live in a Mexican neighborhood, so since I travel a lot, I learned not to store food. Whenever I need anything, I just go to the store and buy it. I spend about US$200 per month on food (including Walmart and La Comer runs).
Transportation Costs in Cabo San Lucas
Los Cabos is a driving city, but I live in the center, so I don't use my car. I just walk – it's super walkable since it's touristy! You don't even need to take the bus.
However, there are two cities in Los Cabos (San Jose del Cabo and Cabo San Lucas). They are 30 minutes away from each other, and the Uber costs US$30 (one-way). I live in Cabo San Lucas, and I don't go to San Jose a lot. If I do, I can drive or take the bus for US$3.
Other Costs in Cabo San Lucas
There are many beaches and hiking trails, and you don't even have to pay for them! You probably just have to pay for gas to drive there, and that's it! I do 3-day trips a week with my dogs and pay US$150 for gas. I have a pick-up truck that has a bigger gas tank, but if you have a sedan, you'll pay less.
For a little more adrenaline, you can head to the Baja Desert for a zipline adventure ($110) or a camel safari ($158).
Average Total Living Costs in Cabo San Lucas, Mexico—$2,500/per person per month
To be honest, I really splurge here. Even though my rent is cheap, I like to go out with friends and spend a lot on food and drink. I also go to beach clubs every week so my cost of living in Mexico is higher at around $2,500 per month.
Repairmen, spas, salon, manicures, pedicures, housekeepers, technicians, and service people for your home is also more expensive here than somewhere like Sayulita.
I moved here in September 2021, and I feel like I am not going to leave for a while. I signed a 2-year contract, and I am slowly designing my apartment and making it my own – I really love living here!
Good news – Los Cabos accepts Amex everywhere. I am finally using my Amex card since they don't really accept it in mainland Mexico or other parts of the country. I don't even withdraw cash here as everyone accepts cards!
Contributed by Trisha Velarmino from P.S. I'm On My Way
4. Cost of Living in Mexico: Sayulita
Sayulita is a laid-back surf town perfect for almost any traveler out there. It's one of Mexico's Pueblo Magicos (Magic Towns), sporting colorful murals and its own unique identity. If you're looking for a lively and walkable beach town that's not too big but not too small, has tons of dining options, and want to work on your surf game, Sayulita, Mexico, is THE place!
Rent in Sayulita
My house in Sayulita was incredible. It was a two-bedroom, two-bathroom apartment located on a local's property but completely private. We had a MASSIVE balcony overlooking the hills and nature, complete with a large outdoor kitchen and, of course, a quintessential hammock.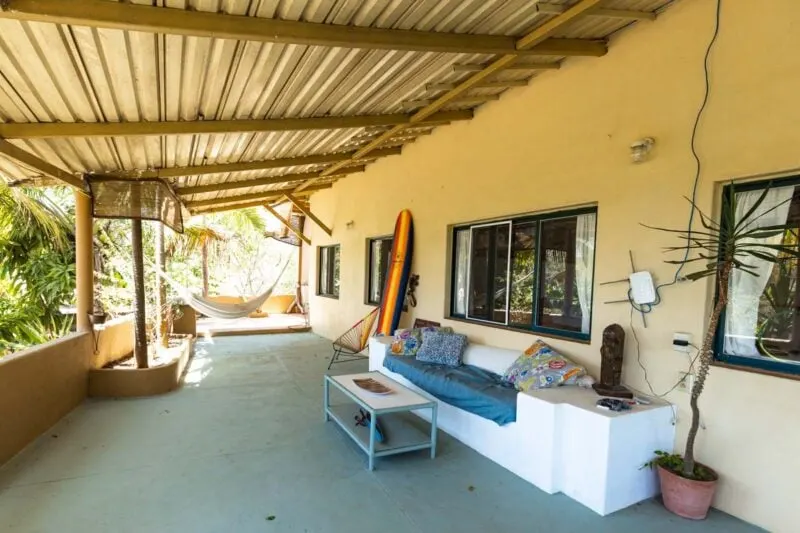 It was about a 10-minute walk to town, which I honestly loved, it was so quiet out here! Our rent was inclusive of all costs. Utilities, water, wifi, etc. we paid $1000/month.
I'd say Sayuita's accommodation prices are definitely on the higher end compared to other areas of Mexico and our place was not cheap. But we loved it, the owners were the sweetest and again, it was SOOOOO big. We searched for cheaper places and found some but they weren't saving us much and they offered up so much less than this place.
Eating Out and Grocery Costs in Sayulita
Gaby's Tacos has the best and cheapest fish tacos in town for only $1.25 per taco.
Pizza Venezia has the best pizza for the best price, you can top your pizza with anything for only $5!
Yah Yah's was my spot for a western-style breakfast bagel sandwich with a nice coffee for $6.50
Alquimista's chilaquiles and agua frescas were my guilty pleasure, I ate here way too often for only $7!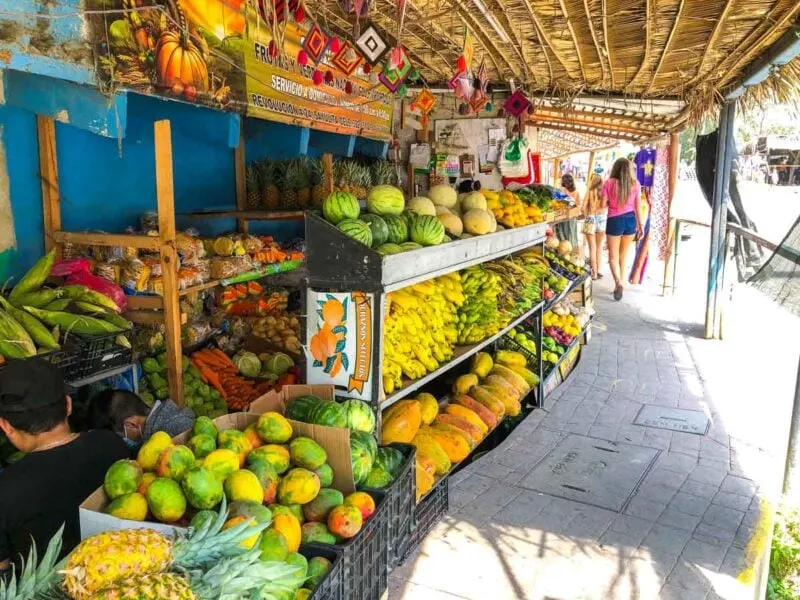 My favorite place to get fresh vegetables and fruits was at the open street shop with no name near the seafood market (Pescadería Piolín). I'd get a big bag of fruit and veg for around $5!
We would buy a kilo (about 2 lbs) of FRESH fish at that seafood market across the street for about $10. We spent around $150-200/month on groceries for two people.
Transportation Costs in Sayulita
The best way to get around is by foot! Some people rent golf carts as that's the next popular way to get around, but they aren't cheap, running you about $40-$60+/day!
It costs a dollar or two to get around town via taxi but I just don't see the purpose as it's small enough to walk around.
Other Costs in Sayulita
Surfing is the thing to do in Sayulita, and that's what I did! Sayulita Surf School is right on the beach, and they'll rent you a board for about $5 for a couple of hours.
Visiting Sayulita's other beaches are free if you walk, and if you want to visit San Pancho, the cute town next door, you'll just catch the bus for $1! The priciest thing we did was spend about $100 each for a private boat to take us to whale watching on the way to the Marieta Islands, which is a protected area, hence the steep price. Very worth it though!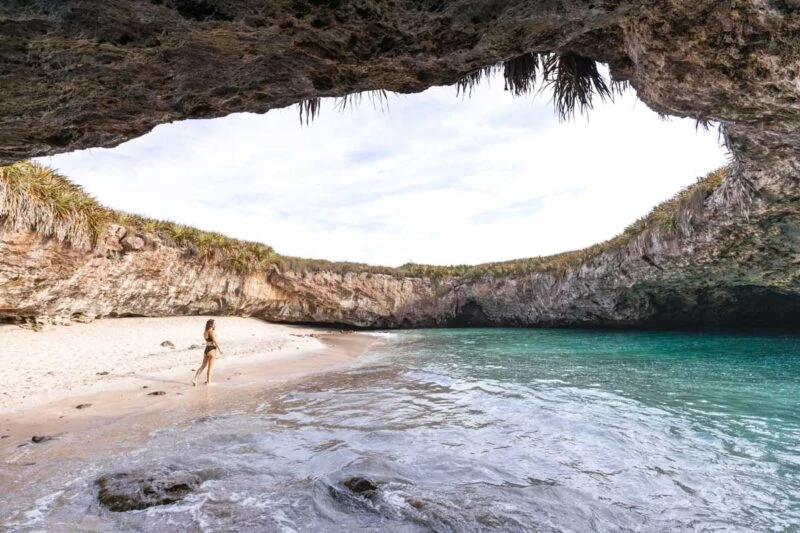 Average Total Living Costs in Sayulita, Mexico—$950/per person per month (shared)
I'd say we lived in Sayulita at the mid-range. We definitely could have found a cheaper place to live, but we loved it, and it was perfect for two people. We also paid $100 extra per month for my partner to use the wifi at a coworking space in town for better internet speeds, which might not be an expense you'll need to make.
After living in Sayulita for six months, splitting rent with my partner, surfing each week, and eating out often, our cost of living in Mexico averaged out to about $950/per person per month.
Contributed by ME! Nina, from Where in the World is Nina, the blog you're reading 🙂
RELATED: Your Guide To Living In Sayulita – Digital Nomad Life & Cost of Living
5. Cost of Living in Mexico: Puerto Vallarta
Puerto Vallarta is one of Mexico's most popular coastal cities to visit. It's on the Pacific coast, surrounded by the Bay of Banderas with the Sierra Madre mountains in the background, making it an ideal place for water sports, whale-watching, and hiking. If you're looking for the amenities of a city where there is still close access to nature, Puerto Vallarta is a great place to live.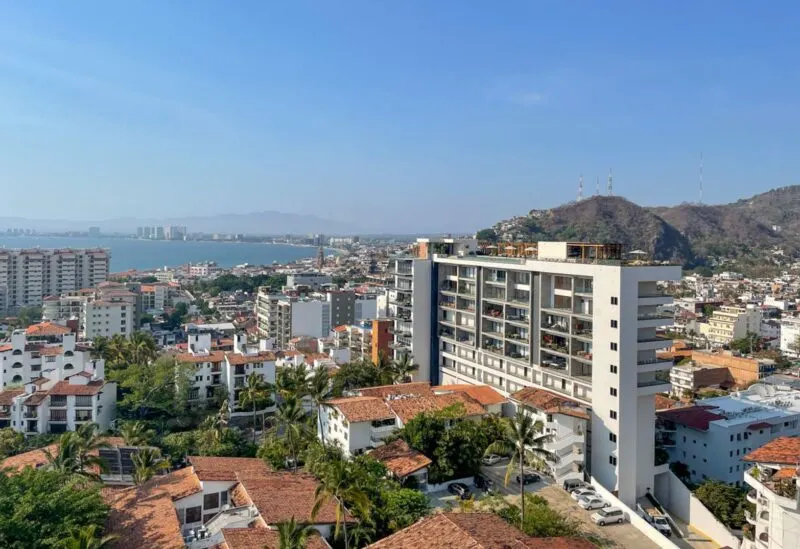 Rent in Puerto Vallarta
While living in Puerto Vallarta, I shared a 3-bedroom apartment for $800/month ($266 each). The apartment was a bit dated, but it included a lovely outdoor pool/lounge area, internet, as well as a cleaner who came twice weekly.

The apartment was in Las Glorias, just a 5-minute walk to the beach and about a 20-minute walk to downtown Puerto Vallarta. We got a good deal by renting directly from a local landlord. If you're using Airbnb, expect to pay a lot more.
Eating Out and Grocery Costs in Puerto Vallarta
One of the cheapest (and most delicious) places to eat are the street taco stands. You can get a filling meal of delicious tacos from Mariscos La Tía for just a few dollars.
A lunch with coffee will cost you about $10 – the Green Place is a great place to go.
For a fancy night out, head up the hill to Barcelona Tapas, where you can get an incredible meal of tapas and wine with a view for about $30.
Groceries are very affordable. Me and my roommates bought groceries together at Soriana for $60, which typically lasted us about a week, working out to just $80 a month each.
Transportation Costs in Puerto Vallarta
Puerto Vallarta is a small city, so it's easy to walk around and incur minimal transportation expenses. The city is well connected with busses that cost only 50 cents for a ride. Uber's and InDrivers (local car-sharing app) are also extremely affordable, around $2.50 to $5 for a 15-minute ride depending on demand.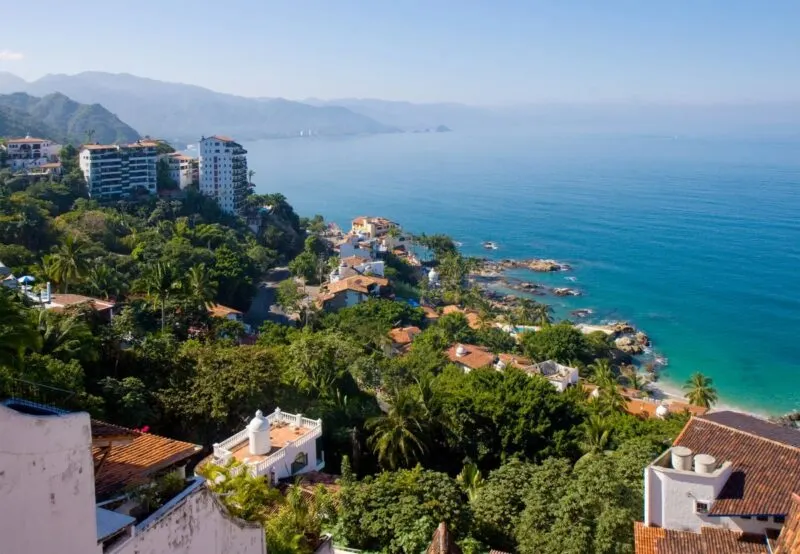 Other Costs in Puerto Vallarta
There are plenty of free and cheap things to do in Puerto Vallarta, like going to the beach, hiking along the coast, and snorkeling in the water. Tours will add to your expenses, but it's worth doing a few as there many beautiful attractions around. A two-tank dive to Los Arcos is $85, a day trip to Islas Marietas is $60, and a luxury catamaran tour is $85.
Average Total Living Costs in Puerto Vallarta, Mexico—$1200-$1500/per person per month (shared)
On average, I spent around $1200-1500 a month living in Puerto Vallarta, which included Spanish lessons, a few tours, and eating out often. If you're on a strict budget, you can get by with even less here!
Contributed by Lora Pope from Explore with Lora
6. Cost of Living in Mexico: Guanajuato
I live in Guanajuato's UNESCO World Heritage City, in the same state as the more famous San Miguel de Allende. But, with about 1/5 of the foreigners, because it's very hilly, there's not much parking, and well, none of their retiree friends live there.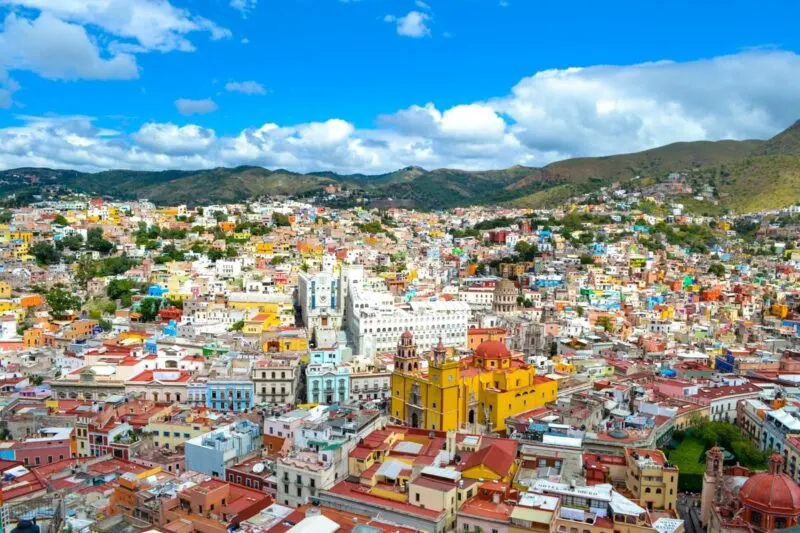 It is at 6,500 feet, in a very temperate climate, so none of the houses have heat OR air conditioning. A month or two each year, we have to dust off the space heaters and blankets. It's sunny almost every day and the only time we don't eat outside is when it's raining, which is rare in the high desert.
Rent in Guanajuato
I own the house I'm in now, but we first rented a 4BR/2bath place for $800, with utilities included. Most people I know who are renting are paying somewhere between $400 and $1,000 per month for a furnished house or apartment, the latter getting you something really nice and large. Students rent studios for as little as $150 per month.
Utilities are dirt cheap if they're not included: our electric bill is typically US$15 for two months. Water is not much more, and a $30 propane gas canister lasts three or four months. We have a bundle with cable TV, a landline, and 20 Mbps internet, and it's $26 per month. We could get 100 Mbps if we were willing to pay more for fiber optic to the home.
Eating Out and Grocery Costs in Guanajuato
If we go out to eat at the finest restaurants in town, we'll spend about what you do at a crappy Applebee's in the USA: $50 for two. The difference is, here that's with a few drinks and dessert. If we go out to a basic local place, it's three to five bucks for a filling lunch of several courses. A plate of tacos will be a few dollars. The very best tamales in town are 75 cents each.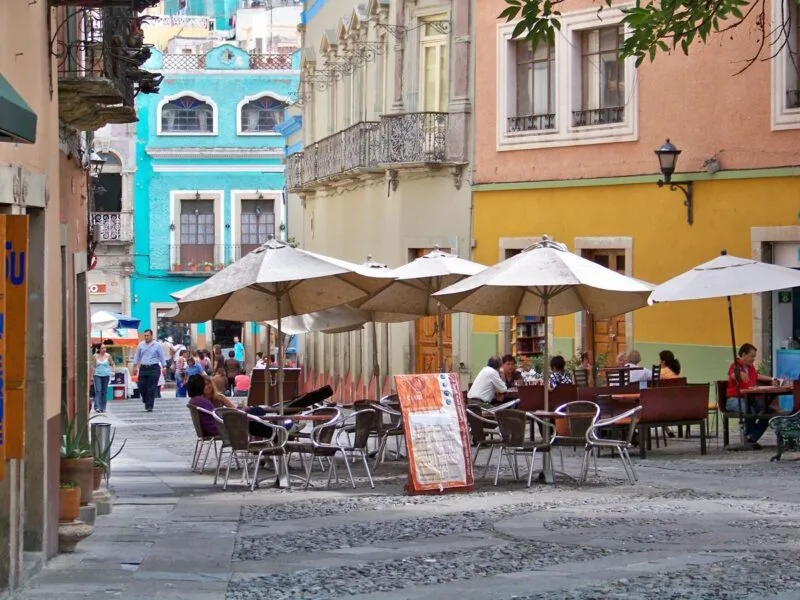 We spend around $300 per month on groceries, not being careful and not eating loads of imported food. Then another $60 or $80 on beer and booze. If we spend more than $10 or $15 on fruit and vegetables at the local market, it takes two of us to carry it all.
Transportation Costs in Guanajuato
A taxi across town is $3, a local bus tops out at 40 cents, and we often don't use either because there are more pedestrian streets than ones with cars on them.
Other Costs in Guanajuato
This is a university town, so there are lots of cultural activities. They have a professional symphony, and tickets are around $6. Most of the museums are $1.50, free on some days.
Average Total Living Costs in Guanajuato, Mexico—$1500/per person per month (shared)
About $1,500 in an average month if we don't go anywhere. I don't think we've spent more than $2,000 in a month on living expenses since we've been here unless there's travel or some big house project in the mix. It's kind of hard to do when you own your house, even if you go out a lot. We don't even keep track of it anymore, honestly, unless it seems like something is out of whack. If we go to the doctor or dentist here, we just pay out of pocket. It's $30 to $60 per visit, depending.
Contributed by Tim Leffel from Cheapest Destinations
7. Cost of Living in Mexico: San Miguel de Allende
San Miguel de Allende is a beautiful historic town full of food from worldwide, colorful architecture, and picturesque landscapes.
A UNESCO World Heritage Site, San Miguel de Allende is a popular spot for families, travelers, and long-term residents alike. For those looking to experience the rich culture of Mexico, San Miguel de Allende is a perfect destination.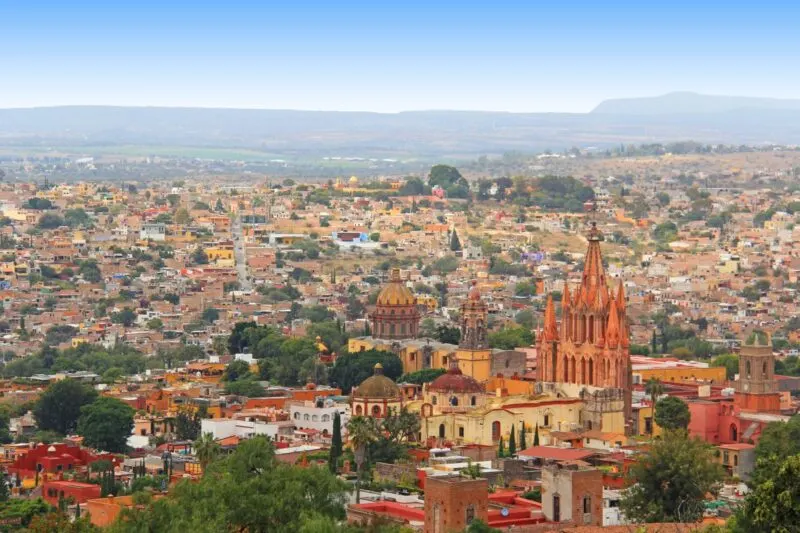 Rent in San Miguel de Allende
Our family of four stayed in a two-bedroom apartment in the San Antonio neighborhood of San Miguel de Allende. The apartment was part of a family complex but still separate from the owner's space, and included a rooftop terrace. We paid $1,000 per month, with electricity, wifi, and utilities included.
Eating Out and Grocery Costs in San Miguel de Allende
San Miguel de Allende has a wealth of options for food.
If you're looking for affordable food, head to the fondas (local food stalls) at Mercado Ignacio Ramirez where you can get a meal for less than $5. In the evenings outside of Mercado Ignacio Ramirez, you can also find tacos for less than $1.50 each.
But for a more upscale option, head to Sabroso Taqueria, where you'll find a vast variety of tacos, costing between $2-3 each.
If you're in the mood for global food, visit Mercado del Carmen. Meals there cost between $5 to $20.
The Mercado Ignacio Ramirez is a great option for fresh fruit and vegetables. Costs vary depending on what you buy but expect to pay between $5-$7 for a bag of groceries. Mercado de San Juan de Dios is also another option for fresh produce. For our family of four, we spent on average $500-600 per month on groceries.
Transportation Costs in San Miguel de Allende
Because of the significant presence of foreign nationals and travelers in San Miguel de Allende, taxis and Uber are easy to find in the city. Depending on the distance, a ride will cost $1-4. However, San Miguel de Allende is relatively small, and if you're staying near the Centro, you'll be able to walk around the city relatively easily.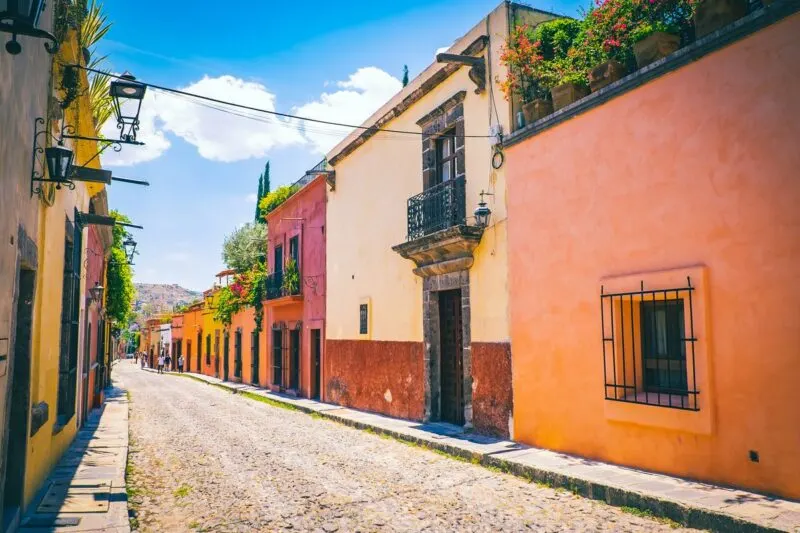 Other Costs in San Miguel de Allende
If you want to experience a tour of San Miguel de Allende, book the Tranvia Turistico, a tram ride that takes you through the city's streets. The tour costs around $4 for adults and $2.50 for kids. Another fun experience is visiting El Charco del Ingenio, a botanical garden on the city's outskirts. Entrance costs around $2-3.
Average Total Living Costs in San Miguel de Allende, Mexico—$1000/per person per month (shared)
Our family of four stayed in San Miguel de Allende for three months, focusing mainly on local experiences but splurging from time to time. With food, lodging, activities, and transportation, our average monthly cost was around $4,000.
Contributed by Astrid Vinje from Mexico Family Travel
8. Cost of Living in Mexico: Mexico City
Mexico City is the largest city in Mexico. It's sometimes called the "Tropical New York," and having been to both cities, they do feel similar in many ways.
CDMX, as it's known, is one of the world's major cities, with something for everyone. If you're looking to live in a place with fun things to do every day, fantastic nightlife, delicious street tacos, fascinating history, and so much more, Mexico City fits the bill.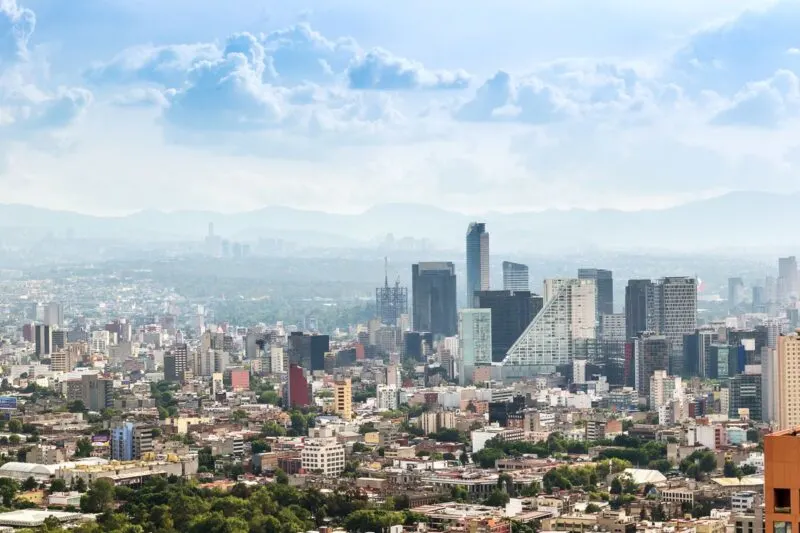 Rent in Mexico City
I lived in a large studio in Mexico City, which was perfect for me as a solo traveler. It was in the amazing Roma neighborhood, which along with La Condesa, are two of the most popular places to live for expats. (If your Spanish isn't great, opt for one of these.) I could walk anywhere I needed to, and if not, there's Uber and an excellent public transportation system.
Since I rented from Airbnb, my rent included utilities, water, WiFi, a cleaning lady once per week, and laundry service for $750/month.
Eating Out and Grocery Costs in Mexico City
Taqueria El Turix in Polanco had the best cochinita pibil tacos! Though these are one of the traditional Yucatan foods, the line would go around the block for their $1 tacos!
Cafe Cardinal in La Condesa was my favorite place to work and drink coffee. They import beans from farms all over Mexico, and a cup was only $1.
La Esquina del Chilaquil has the most amazing chilaquiles tortas for breakfast at just $2 per sandwich.
For tacos al pastor, head to Taqueria Orinoco in Roma Norte. They are a favorite of locals and visitors alike, with $2 tacos.
My favorite place to shop for fresh produce was Mercado Medellin, which wasn't far from my apartment. I could get a big bag of fruit and veggies for about $10! I'd stop at my local bakery (Patisserie Dominique) for bread and have snacks for the house for the week.
I spent about $75/month on groceries, but I ate out a lot, so also about $150/month eating out. This mainly consisted of street tacos and casual restaurants where locals ate.
Transportation Costs in Mexico City
If you live in a walkable part of Mexico City, like Roma, the best way to get around is by foot. You can also use the buses, metro, bike rental programs like EcoBico, or scooter rental apps (Bird, Lime, etc.). When you're going far, you can take Uber.
Other Costs in Mexico City
There are so many things to do and see in Mexico City. You can just walk around the neighborhoods and check out the street art or spend the day in Bosque de Chapultepec Park for free!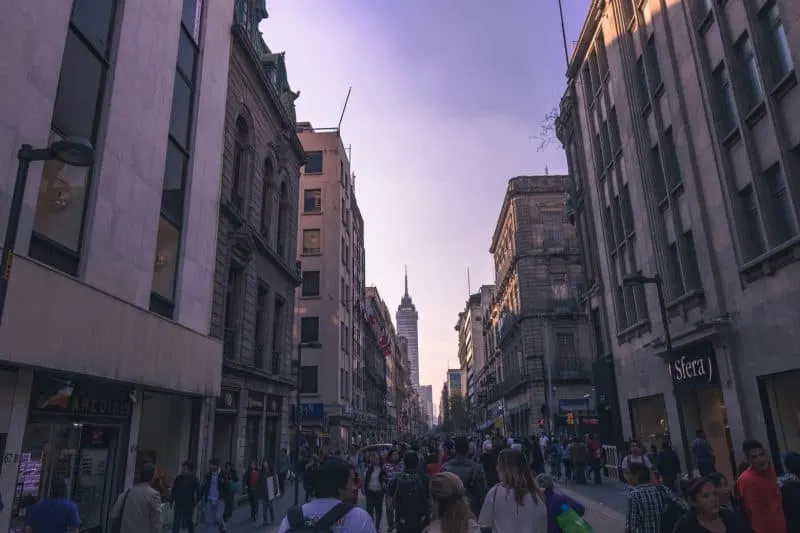 Located just outside of the city, there are many amazing day trips. ADO, Mexico's largest bus company, has routes everywhere. You can visit places like Tepoztlan, Valle de Bravo, and Las Estacas National Park for about $10 round trip (for just the bus tickets).
Average Total Living Costs in Mexico City, Mexico—$1100/per person per month
I lived in Mexico City at a mid-range budget. If I lived with roommates or in a less popular area of town, I could have found a cheaper place to live — but I was so enamored with Roma.
After living in Mexico City for one year, in the coveted Roma neighborhood, eating street food often, working from a local cafe, and taking Uber to get around, I averaged about $1,100 per month.
Contributed by Shelley from Travel To Merida
RELATED: A 3-Day Mexico City Itinerary: Boats, Pyramids, Churros, & Squirrels?
9. Cost of Living in Mexico: Xalapa
Xalapa is a mid-sized city located in the mountains of southern Mexico. Four hours from Mexico City and 1.5 hours from the port city of Veracruz in the Gulf of Mexico, Xalapa is known for its lush scenery, bohemian culture, and coffee production.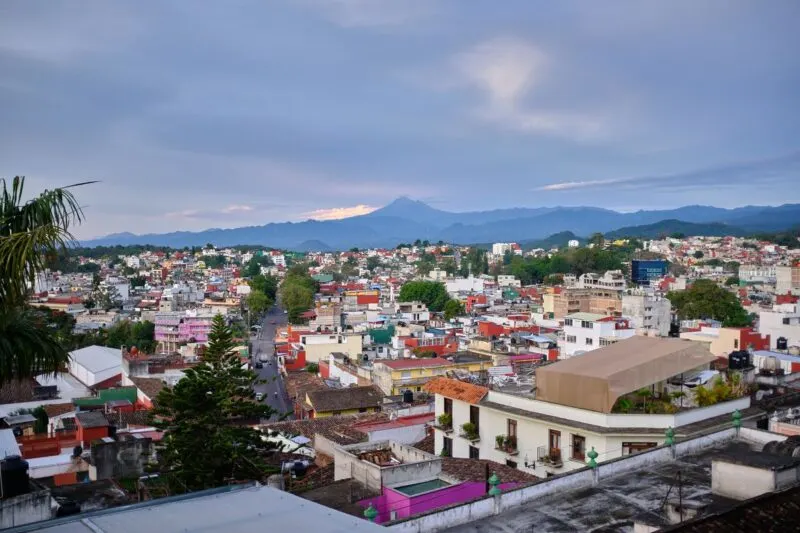 It may be off the beaten path, but Xalapa is a fantastic base for anyone looking to immerse themselves in Mexican culture and enjoy la vida cotidiana with an affordable cost of living.
Rent in Xalapa
I moved to Xalapa with my boyfriend (who was from there) and lived there for about three years. We rented a three-bed, three-bath house within walking distance of the city center.
There was a large, enclosed patio at the back of the house with laundry and a balcony on the front. The house was located at the very end of a cul-de-sac, and the lot across the street was undeveloped and full of lush plants, offering a garden-like setting.
For rent, we paid $315 per month before utilities. We negotiated our rent down by about $50 based on the rental market and the fact that the property was unfurnished.
We paid an additional $35 per month for TotalPlay internet, $7 for electricity, and $5 monthly for water. Our house had a stationary gas tank, which we refilled as needed. We spent approximately $8 per month on gas.
We also hired a housekeeper to come once per week to clean and prep meals, and that cost about $70 monthly.
Our monthly total for rent, utilities, and housekeeping was about $440 USD.
Eating Out and Grocery Costs in Xalapa
One of the best things about living in Xalapa was the fantastic food. Here are a few of my favorite haunts.
Tom Mix had the best pastor tacos. Our go-to order was the ½ kilo package, which came with tortillas, salsa, toppings, and charro beans all for about $6
Pizza Lola was a favorite date night spot of ours. A bit of a splurge by Xalapa standards, a delicious thin-crust pizza cost about $13. The $4 mojitos were also a big draw!
Kariva Cafe was my favorite coffee shop to work from. For $4.25, a latte and a sandwich felt like a total steal of a lunch!
Asadero Cien specialized in steaks and northern-style arrachera tacos on flour tortillas. The sopa Azteca was incredible. If we went all-out and ordered all our faves, a meal for two ran about $40.
I could buy a week's worth of fresh produce and eggs at the local mercado for about $7.
For meat and dairy, we favored Costco. We'd visit every 6 to 8 weeks to stock up on meat, cheese, dog food, and paper products. Usually, these trips cost about $60. I'd supplement these with visits to Chedraui in between.
Each week, I purchased locally grown and roasted coffee beans from Kariva Cafe for about $5 per pound.
In total, we spent an average of $150 per month on groceries.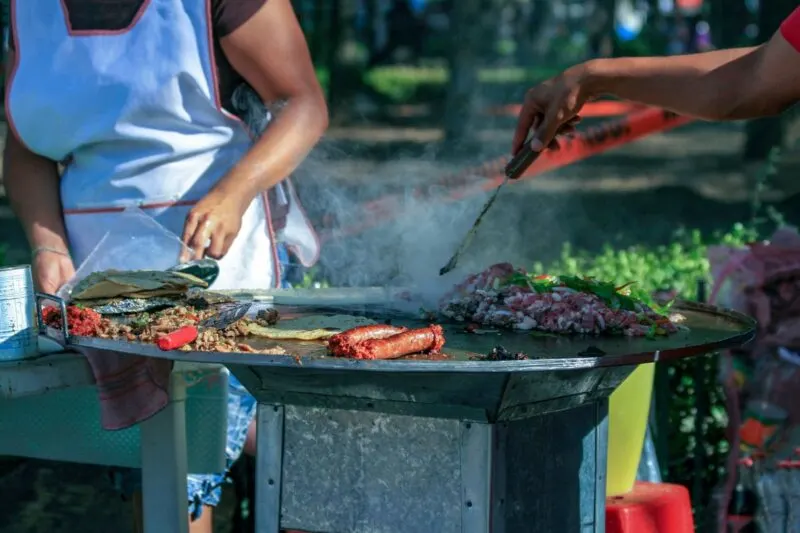 Transportation Costs in Xalapa
Because my house was so central, I was able to go around mostly on foot. A taxi is the easiest option for anything beyond the city center in Xalapa, with trips ranging from $2 to $4.
Other Costs in Xalapa
Lots of the best things to do in Xalapa are free or cheap. There are several public parks where you can exercise or soak up views of the surrounding mountains.
Frequent art exhibitions, fairs, performances in public spaces, and even several fun getaways are possible from Xalapa. A day trip to the coastal city of Veracruz to lounge on the beach would cost about $10 round trip on the bus, or you can visit the pueblo magico of Coatepec for under $1.
Average Total Living Costs in Xalapa, Mexico—$400/per person per month (shared)
My budget when I lived in Xalapa was low. I was sharing costs with my Mexican partner, so our cost of living was aligned with what he earned working locally. His insight into the local way of life certainly saved us a lot of money, allowing us to splurge on things like weekend trips, eating out, and a much larger house than we realistically needed (to welcome international friends and family). We lived in Xalapa for about three years and averaged approximately $400 per person per month.
Janine DeVault from Janine in the World
10. Cost of Living in Mexico: Chelem
Chelem is a small village on the Yucatan coast about a half-hour from Merida and around two hours south of Cancun. It's a friendly little village that we chose to retire to after much research, and we lived there for over a year.
Rent in Chelem
Rent depends on whether you choose to live on the first row, which is beachfront, or further back closer to the main highway that goes along the coast road. A rental will cost from around $800 to $3000.
We rented a gorgeous front row villa for $800 a month; we had four bedrooms, four bathrooms, and a fabulous pool with views onto the Bay. Our monthly expenses were around $1400, which included wifi, electricity, and water was free from the tinaca on the roof.
Eating Out and Grocery Costs in Chelem
Taco Maya has the best fish tacos in town for only $5.00 for 4 tacos
Brujitas Chelem Glorias you can have a tamales for $4.00
On Sundays, in Chelem you have to get up early to grab some famous conchinita pibil at many roadside stands for less than $5.00 for a massive portion.
The Bullpen is a local favorite for meeting and making new friends. They serve both American and Mexican food at an average cost of $7 for ribs and all the fixings. They have great weekly events and live music as well.

There is a small market in Chelem where you can buy meat, poultry, and vegetables and several shops that sell fruit and vegetables. A bag of mangoes, bananas, pineapple, pitaya, watermelon, jicama, cucumber, and carrots enough for smoothies for two weeks costs about $7.00.
Transportation Costs in Chelem
In Chelem, there are combis which are small transit buses that will take you into larger centers such as Progreso from where you can grab a bigger bus to Merida. The cost is usually around .50 cents. We purchased a car that cost around $8000, but the insurance was only $20 a month.
Other Costs in Chelem
Chelem is ideally located to explore the many Yucatan cenotes and swim in the fresh waters. There are dozens of Mayan sites to visit to learn about the indigenous heritage of the Yucatan Peninsula. You can also visit the Ria, which is an amazing place to observe the flamingos coming in for nesting. The Ria also contains huge iguanas and the native agouti, which looks like a raccoon.
Average Total Living Costs in Chelem, Mexico—$850/per person per month
We lived quite cheaply in Chelem, rent is pretty expensive as most houses being rented are American style, and there is not much available to rent on a long-term basis. It was a very tranquil location, just sun, sea, and sand the perfect place to relax. I would say our cost of living in Mexico averaged around $1700 a month, and that was with a car and car insurance.
Contributed by Faith from XYUandBEYOND.
11. Cost of Living in Mexico: Merida
Merida is the capital of the Yucatan state of Mexico, famous for its unique cuisine, endless cenotes, and having spent multiple consecutive years ranked as the safest city in all of Mexico.
It was actually recently ranked as the safest city in all of Latin America and the second safest city in North America, taking second place to Quebec City, Canada. That means there is no city in the United States that is safer than Merida, Mexico!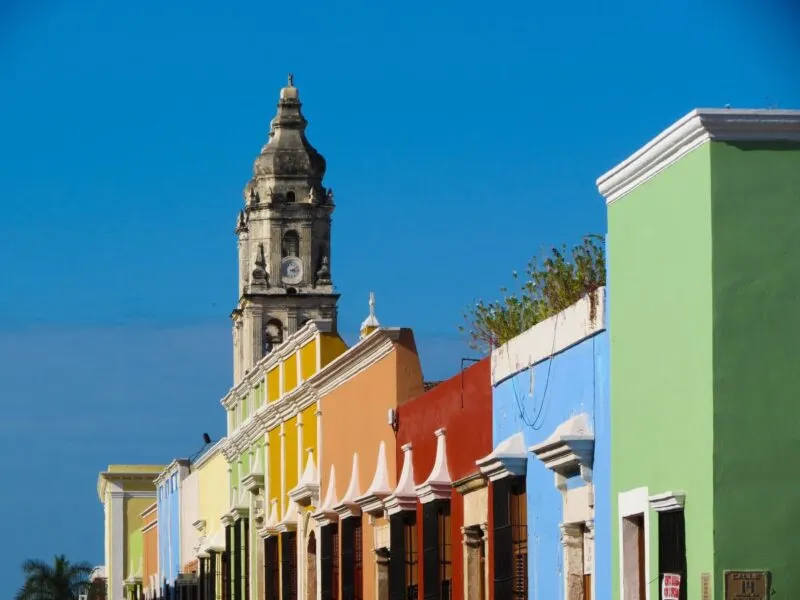 Rent in Merida
Merida is also one of the more affordable cities in all of Mexico. During my first stint, I lived in a one-bedroom, two-bath apartment in the middle of Centro (city center) in my favorite neighborhood for 5,000 pesos or about $250 USD per month.
The apartment was very spacious-in fact, the entire second floor was only my bedroom and bathroom. This $250 included all of my bills except for electricity, for which I paid about $25 per month, and I'm a heavy AC user!
For the rest of my time in Merida, I stayed in a two-bedroom two-bath house with a private swimming pool with all bills included for 10,500 pesos/$525 USD.
Friends who have paid more (in the range of $800-1200) have detached guest homes, huge pools, and chefs kitchens.
Eating Out and Grocery Costs in Merida
Merida restaurants range from street food to some of the best fine dining in Mexico.
Check out simple cocina economicas for some of the best versions of local dishes for about $3 for a meal of fish or meat, rice, beans, tortillas, and sometimes a soup as well. The menus rotate weekly, but you can always find frijol con puerco on the menu every Monday, as it's a local tradition.
SOCO Panaderia is a must for breakfast. You can choose from hand-made pastries and croissants or more substantial dishes like breakfast sandwiches and French toast for about $5.
Micaela offers my favorite seafood lunch in town. Main dishes like octopus or an entire grilled fish will set you back about $12.
Merida has an impressive fine-dining scene with local chef Roberto Solis behind many of the cities best restaurants, such as Nectar, Huniik, and Hanto. Other fine dining restaurants from other chefs include Kuuk, Pichete, Ixim, and Fronto. Tasting menus will set you back up to $100 USD per person.
You can buy fresh fruits and vegetables and staple items such as beans, rice, and eggs at the small tiendas you find in every neighborhood, with most neighborhoods having several.
There are larger local markets in the city offering everything from expanded fruit and vegetable selection to cheeses, meats, stalls selling street food, and even clothing and electronics. The city has several of these markets, but the most popular is Lucas de Galvez.
There are also two popular Saturday markets with some locals selling their offerings but mainly expats selling items such as homemade breads, cheeses, hummus, salsas, pasta, and much more. These markets tend to be more expensive as they're aimed at expats, but the selection is nice.
For bigger grocery shopping days or when you need import items or specialty cuts of meat, I use Chedraui Selecto. They have an impressive wine selection as well.
Transportation Costs in Merida
Depending on where you live, you're likely able to walk most places. When I lived in Centro, I would walk almost everywhere.
If you need to go further, most Uber rides across town will set you back $3-5, or you can ride the public bus for something like 6 pesos.
Ubers are so affordable I never used public transportation except to go to the nearby beach town of Progreso, which costs 21 pesos or $1 USD. You can take the bus from the downtown bus terminal or flag down any bus that says Progreso in the window.
Other Costs in Merida
There's so much to see and do in Merida, but one of the things people enjoy most is touring haciendas (huge estates) and cenotes.
I love to rent a car (I use Veloz – $30 USD per day with full coverage insurance) and make my own tour. Cenote entrance fees start at $1 and go up depending on how developed they are.
You can explore the local culture at the Gran Museo de Mundo Maya Merida (entrance $7.50) or a game of the traditional Mayan sport pok ta pok (free with reservation).
Average Total Living Costs in Merida, Mexico—$1500/per person per month
It's possible to live on a smaller budget in Merida, especially if you mostly cook at home and aren't into going out as much. I tend to eat most of my meals out at nicer restaurants and go out for drinks with friends quite often, but I would say most could live comfortably in Merida for less than $1500 per month.
Contributed by Nathan Aguilera from Foodie Flashpacker
12. Cost of Living in Mexico: Cancun
Cancun is one of the most popular beach resort towns in Mexico, mainly known as spring breakers and party lovers destination, but also a great place to live for many expats who enjoy a spectacular beach, world-class restaurants, and being close to all the major attractions in Quintana Roo.
Rent in Cancun
I changed houses a few times during my seven years living in Cancun. I stayed on the beach once, in Puerto Juarez. Not the nicest beach but with spectacular views. I was lucky to find a cheap rental at that time, but the average price for a seafront apartment in an old building is now around 800 USD.
If you want luxury accommodation, you may need to stretch up to 1200 USD a month in that area.
My latest apartment before leaving Cancun was in the heart of the city downtown, close to the Avenida Tulum, in a residential area. It was a cute one-bedroom apartment with a spacious living room, half furnished, and I paid 450 USD a month, including utilities, except for WIFI.
Eating Out and Grocery Costs in Cancun
Los Aguachile for the best seafood in a cozy environment you can find different prices from 50MXN ($2.40) for 1 taco to 400MXN ($19.50) for grilled octopus
Puerto Madero is one of the most high-end restaurants in Cancun, in the hotel zone. It's mainly loved by meat-eaters although you can find all sorts of dishes. You can pay from 200 MXN ($9.80) for an appetizer to 1000 MXN ($48.80) for a parrillada (grilled meat mix)
Che Che for breakfast or lunch and a great place to work from is Che Che a cozy place on Avenida Nader in Cancun downtown. You can find breakfast bowls at 145 MXN ($7.10) or an omelet at 145 MXN as well. Juices at 65 MXN ($3.15) and smoothies at 98 MXN ($4.80)
My favorite place to buy vegetables is Mercado 23 because I love to support the local economy, but prices are usually a little higher than Walmart. When I was in a rush, I used to go to Superama in Avenida Tulum below Ibis Hotel. You can find fresh vegetables of all sorts.
Fruit and vegetable prices tend to change, but you can consider around 40 MXN ($1.95) for 1kg of papaya, mango, or zucchini, or 46 MXN ($2.25) for 20L of water.
Transportation Costs in Cancun
I am afraid the best way to get around is by your own car. I survived two years on taxis, but it was a pain. Taxis are either shabby or expensive, sometimes both. There is no uber in Cancun, and public transportation is messy and unreliable unless you want to get from the Ceviche roundabout all the way to the hotel zone, which is relatively straightforward and busses are spacious and decent. The cost is 20 MXN ($1.00) per trip.
Other Costs in Cancun
Although the main attraction is the spectacular beach there are many things to do in Cancun, including a trip to Isla Mujeres for about 60 to 90 USD (depending on which boat), or 7 USD for the ferry if you go on your own.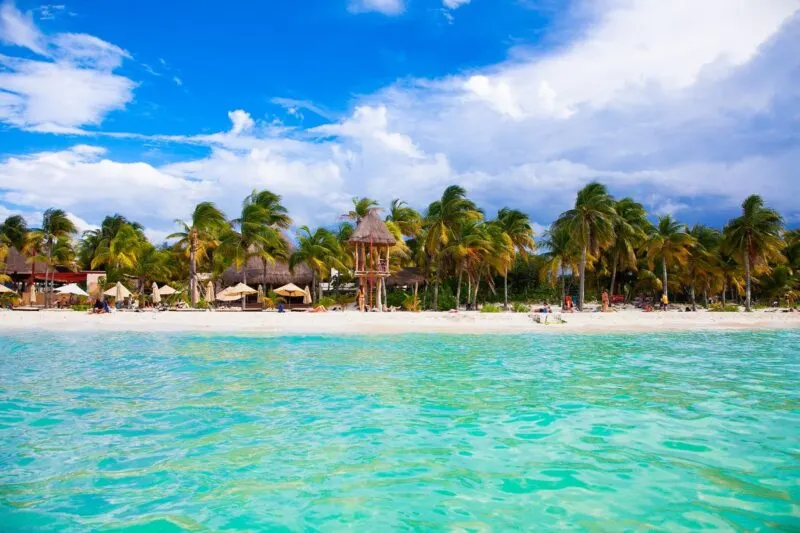 Otherwise, there are many tours to visit Chichen Itza (60USD) and Tulum + Cenotes (100); the costs vary depending on the company, so the prices indicated are approximate.
Average Total Living Costs in Cancun, Mexico—$1200/per person per month
I lived on the cheap when I arrived in Cancun but as my salary increased, so did my living cost. I wasn't splurging, but I would indulge in guilty pleasures such as organic food and a car or a better house in the city center. In my last year in Cancun, my average cost of living in Mexico was around 1200 USD per month, including restaurants, weekend trips to Tulum or Playa del Carmen, rent, groceries, yoga, and gym, but I rarely participated in nightlife.
If you live on the cheap, you could easily spend a little less and still have a life. It really depends on your priorities.
Contributed by Isabella Biava from Let's Travel to Mexico
13. Cost of Living in Mexico: Playa del Carmen
When the world shut down in 2020, and many of us non-stop travelers had to find a place to bunker down in for a while, one of my top choices was Playa del Carmen. I'd been there several times before and really loved the chill vibe and easy accessibility to anything you need.
Some people say it's touristy, and it is, others say it's dangerous…and it can be (so be sure to read my essential safety post about this area), but I had a freaking fabulous time living there for six months!
Rent in Playa del Carmen
It's cheap, and it's in paradise. My rent for a two-bedroom penthouse with a private rooftop and jacuzzi was only about $1800/month.
It was walking distance to 5th Ave, the beach, my salsa studio, and grocery stores, so I never even really had to use transportation. The taxis are sketchy anyway, so please be sure to only use one of the approved numbers for touristy taxis in my safety post.
Eating Out and Grocery Costs in Playa del Carmen
There are tons of great restaurants, but I'll sum up my favorites:
Lido Beach Club is my number one of course, because not only is the food affordable and amazing with lots of vegetarian options like jack fruit tacos, but it's right on the beach! You can get the taco dishes for around $6, but they have an extensive menu with full platters for up to $15.
For a nicer dinner, I have a secret spot called Amorr, that's tucked away on 5th Ave, and actually has a small cenote behind it. The cheapest thing on the menu is around $11, so prepare to spend a bit more here.
And of course, for cheap delicious food, you have to go to Cerveseria Chapultapec, where everything is 1 peso (5 cents)! But maybe go during the day, because there's also rumors that it's run by cartel.
Weekly groceries from Mega only cost about $50 for the week for one person, or you can go to one of the many local fruit and veggie shops for cheaper prices and locally sourced food! If you're a vegetarian/vegan, there's also a grocery store just for you called Mr. Tofu, but it's pricey since they import almost everything from the US.
Transportation Costs in Playa del Carmen
The only thing that's not ideal about Playa del Carmen is the transportation situation. It's expensive and annoying to rent a car most of the time (unless you speak Spanish and can pass for a resident as I did), and also costly to get a taxi to get there or anywhere from Playa. There's a safe tourist bus though, that goes from the airport to Playa to Tulum!
Other Costs in Playa del Carmen
Spending time on the beach is obviously one of the best things to do here, and thankfully free. But Playa de Carmen is also known for all kinds of diving, which can run from around $80 for a half-day scuba dive to bull shark diving at around $120.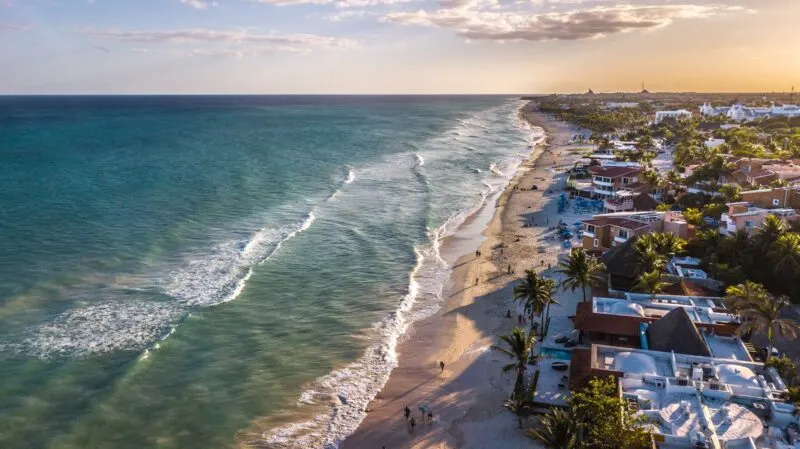 You're also well placed for tours to Chichen Itza ($45), Xcaret eco-archaeological park ($110 entrance fee), and local cenotes.
Average Total Living Costs in Playa del Carmen, Mexico—$1500/per person per month (shared)
I'd say my average monthly cost of living in Mexico, WITH a bf, eating out all the time, with a personal trainer, and salsa classes, was only about $1500. And I'd say you can do it on a budget comfortably for $1000 but depending on the type of accommodation you choose (it would probably have to be a shared apartment). For solo people, it would probably be more like $1800 because of the steep rent costs.
Contributed by Alyssa Ramos from My Life's a Movie
14. Cost of Living in Mexico: Tulum
Tulum. frequently referred to as the "Manhattan of Mexico" due to its ever-increasing cost of living and desirability, offers unparalleled access to what can only be described as paradise.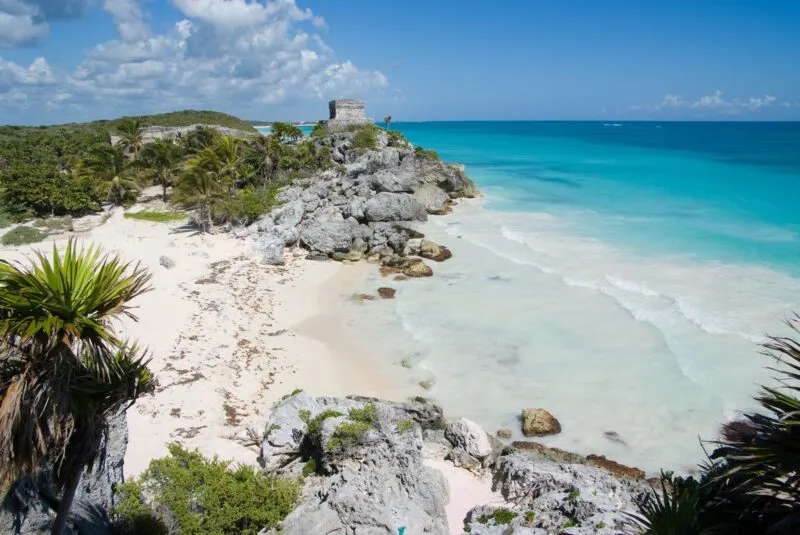 Between its white sand beaches, myriad of dining and nightlife options, and its notorious digital nomad culture, it's easy to see why people are drawn from all corners of the globe to this beachfront hotspot amidst the Yucatán Peninsula.
Rent in Tulum
I opted for a more modern, centralized apartment in the Aldea Zama neighborhood, which strikes a great balance between the beach and downtown districts. I ended up spending $1,400USD/month on rent alone.
Eating Out and Grocery Costs in Tulum
Liefs Vegan Van & Farm is a notorious favorite amongst nomads (be sure to try their frothy coconut iced coffee!), as most meals would run in the $7USD-$15USD range depending on if it were street food or proper sit-down service.
The Fresh Market is a popular choice amongst residents for their basic grocery needs, with a haul ranging in price from $50USD-$100USD/week, depending on how many mouths you're feeding and/or if you intend to cook at home a bit more.
Transportation Costs in Tulum
I purchased a scooter to get around, which added to my expenses. However, you could always elect to catch a colectivo to cut costs if your destination wasn't in the immediate vicinity.
Other Costs in Tulum
Much of the remaining cost of living came from paying for entry to privatized co-working spaces, entry to beach clubs or commercial cenotes, and of course, eating out.
Probably the most famous places you'll want to hit up are the Gran Cenote ($25) or the Tulum Mayan Ruins ($16).
Average Total Living Costs in Tulum, Mexico—$2400/per person per month
Like anywhere, the cost of living in Mexico will depend on your lifestyle and ability to compromise. If you're aiming for cost-efficiency above all else (meaning you opt for less accessible housing, limit your eating out, and walk or ride a bicycle as your primary means of transportation), it would be incredibly easy to live on as little as $600USD/month.
Needless to say, half the fun of living in a new country is being able to splurge a bit to get the most out of your experience there. While I felt like there was ample opportunity to cut back on costs, I prioritized things like location and socializing a lot (eating out every day), which was reflected in my monthly expenses during the six months I lived there.
Should you get the chance to visit, be mindful of your financial limitations but don't hold back on partaking in all of the remarkable community events that will ultimately contribute to your Tulum living experience!
Contributed by Natasha from Planes, Trains, and Karcz
15. Cost of Living in Mexico: Oaxaca
Oaxaca is a mountain city in the South of Mexico famed for its cuisine, culture, and traditions. If you're looking for an authentic slice of Mexican life without the beach clubs and high rises, a city packed with incredible dining options and organic markets tucked away around every corner, then Oaxaca City is an excellent choice.
Rent in Oaxaca
My two-story, two-bedroom bungalow was in the heart of the city's oldest neighborhood, Xochimilco. The house was traditional yet comfortable, and we had beautiful views. We were surrounded by great coffee shops and restaurants in a neighborhood famed for its pretty cobbled streets. It was only a 15-minute walk to the middle of the action in Centro.
Our rent included costs such as utilities, water, and WiFi – everything we needed except for the gas, which we paid to fill approximately every three months. We paid $500/month for a 6-month lease.
Eating Out and Grocery Costs in Oaxaca
Tlayudas Don Ramon makes excellent tlayudas (an Oaxacan specialty, like a pizza made on a large tortilla) for less than $2.
Ancestral Cocina Tradicional is my favorite restaurant for breakfast in Oaxaca. I recommend the chilaquiles for $6
Mexita makes great wood fire pizzas, a large pizza will cost $11, don't miss the homemade limoncello to finish.
Oaxaca city has markets all over town; my favorite place to pick up everything I needed was the Mercado Sánchez Pascuas. A huge bag of produce and cheese would cost less than $5.
By shopping primarily at the small Mercados around Centro, we spent only around $100 a month for groceries for two people.
Transportation Costs in Oaxaca
The best way to get around Oaxaca is by foot, although there are buses that are easy to catch and will set you back less than a dollar per trip. While Oaxaca does not have Uber, there are also taxis – but the price is variable based on distance and whether you opt for a shared colectivo, or a private car.
Other Costs in Oaxaca
Some of the most enjoyable things to do in Oaxaca are free, such as wandering the different neighborhoods and exploring incredible markets. You can visit some of the different ruins and natural wonders around the region, such as Monte Albán and Mitla, which will cost $3.00 per person in entrance fees.
Average Total Living Costs in Oaxaca, Mexico—$700/per person per month (shared)
We lived in Oaxaca at the mid-range. We had a moderately priced house, but I like to eat out at restaurants often. On average, over six months living in Oaxaca City and splitting the cost with my partner, we averaged about $700 per person per month for our cost of living in Mexico.
Contributed by Anna McPhee from Anna Meanders
16. Cost of Living in Mexico: Puerto Escondido
Puerto Escondido is one of the best beaches in Oaxaca (pronounced waa-haa-kah), located on the coast of Oaxaca State. The town is famous for its laid-back vibes, gorgeous beaches, and great surf waves.
If you're looking for great beaches and surfing during the day, bohemian nightlife options, and a smaller town feel, Puerto Escondido, Mexico, is perfect for you.
Rent in Puerto Escondido
I lived with a friend in Puerto Escondido, which helped keep costs down. The house was incredible and located a few blocks from La Punta beach—a very safe and cool area.
My rent, including all utilities, bills, and a cleaning lady twice per week, was just $500/month. If you plan to live alone, you will probably need to up that to $800-$1,000.
Eating Out and Grocery Costs in Puerto Escondido
Taqueria El Viejo has the best fish tacos in Puerto Escondido, specializing in smoked marlin fish. Their tacos were just $1.25 each, and so good!
Tlayuda is one of the most popular street foods in Oaxaca state. You can get some of the best at Tlayudas Doña Ade in downtown, for $4.
Cafe Choc in the Rinconada was a fun, colorful spot for a coffee, juice and western-style breakfast at only about $8 per person.
Where you shop for fruits and veggies usually depends on which part of town you live in. As I was in La Punta, my closest market was Mercado Zicatela; however, Mercado Benito Juarez is another excellent option on the west side of town.
You could get a big bag of veggies and a kilo (2.2 pounds) of fresh fish or shrimp for about $10. It was perfect for making ceviche! In total, I spent about $100 per month on groceries.
Transportation Costs in Puerto Escondido
The best way to get around is by scooter or bike. It gets sweltering in Puerto Escondido, and the town is quite spread out, so you won't want to walk too far. When you can't walk, there's a colectivo (shared van) that goes up and down the main road through town for only $0.50 per ride.
Other Costs in Puerto Escondido
Puerto Escondido is all about surfing and beaches. Some beaches aren't for beginners, but you can find surf lessons on one that is for about $10 for two hours.
When you tire of the best beaches in Puerto Escondido (Carrizalillo, Zicatela, Bachocho and Puerto Angelito), you can visit other beach towns in Oaxaca, like Mazunte, Chacahua and Huatulco.

Another option is to visit Oaxaca City, the state's capital. It is famous for the best day of the Dead celebration in Mexico and just a great place year-round. You can get from Puerto Escondido to Oaxaca City several ways, including the colectivo, which is the cheapest at only about $35 round trip.
Average Total Living Costs in Puerto Escondido, Mexico—$1000/per person per month (shared)
I lived in Puerto Escondido for three months, and I'd say I lived very well—though splitting the cost of a nice home by the beach definitely helped keep costs down. Including rent, bills, groceries, eating out (mostly street food), hanging out at beaches, and doing monthly weekend trips, my cost of living in Mexico averaged out to about $1,000 per month.
Contributed by Shelley from Travel Mexico Solo
We hope this helped you get a better idea of what the cost of living is in Mexico!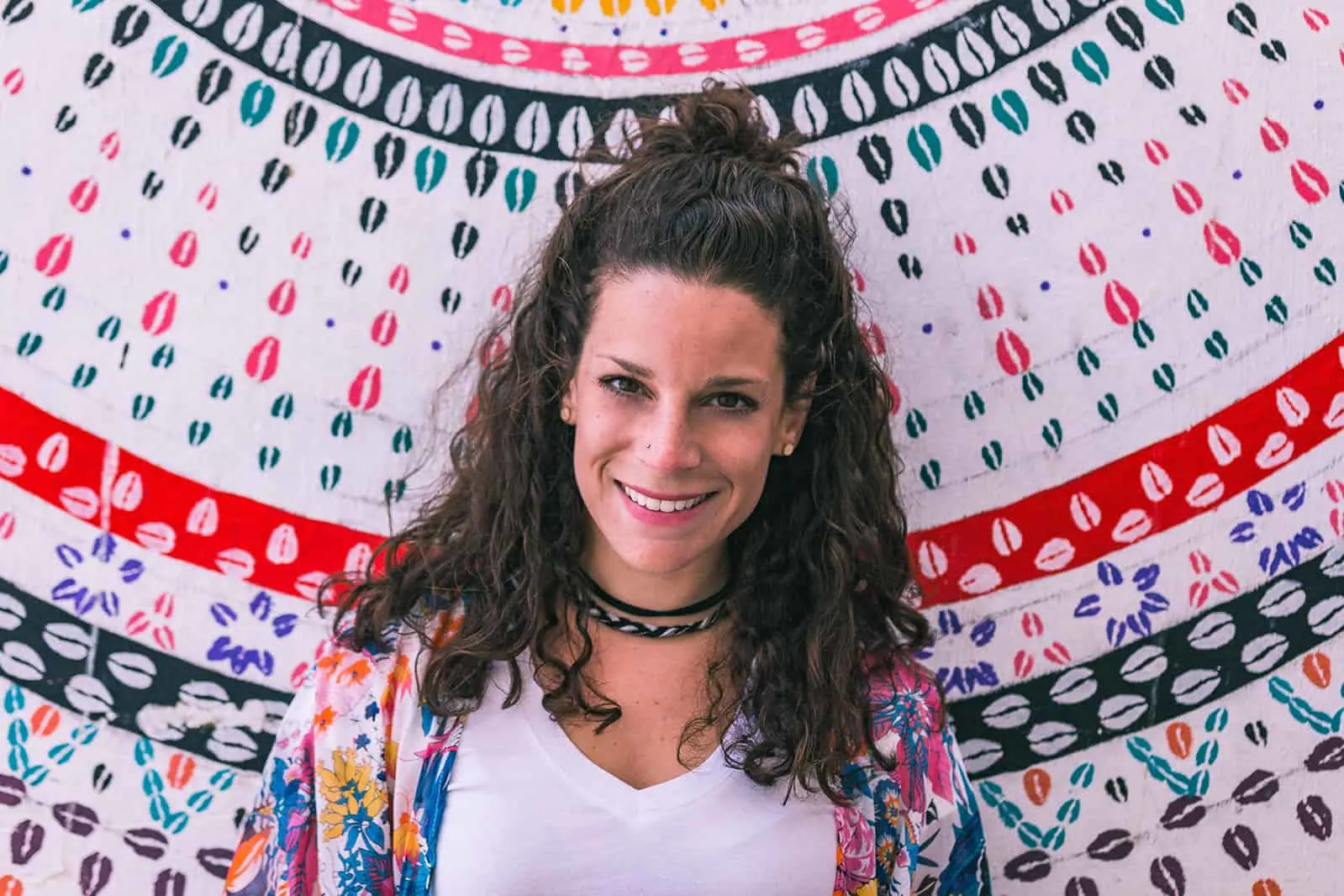 Nina Ragusa is an adventurer, messy bun master, breakfast fan, and full-time travel blogger. She's been abroad since 2011 and blogging on Where in the World is Nina? for nearly as long. Nina helps people like you move around the world while making money. She loves talking about how to work abroad and online to travel longer!