This article on being a digital nomad in Costa Rica is authored by Rachel.
With active volcanoes, cascading waterfalls, beautiful beaches, lush rainforests, and vibrant sunsets, Costa Rica is a land of stunning natural beauty. No wonder this Central American country is gaining a reputation as one of the hottest digital nomad destinations in the world!
Here's a guide on being a digital nomad in Costa Rica, where to base, that greatly coveted wifi info you want to know about, and more.
Is Costa Rica Good for Digital Nomads?
Costa Rica has a tropical climate, with warm temperatures and plenty of sunshine throughout the year. It offers a wide range of outdoor activities, including surfing, hiking, and exploring national parks.
This makes it an ideal location for digital nomads who enjoy spending time in nature, want to escape the cold winter months, or are looking to escape the chaos of city life.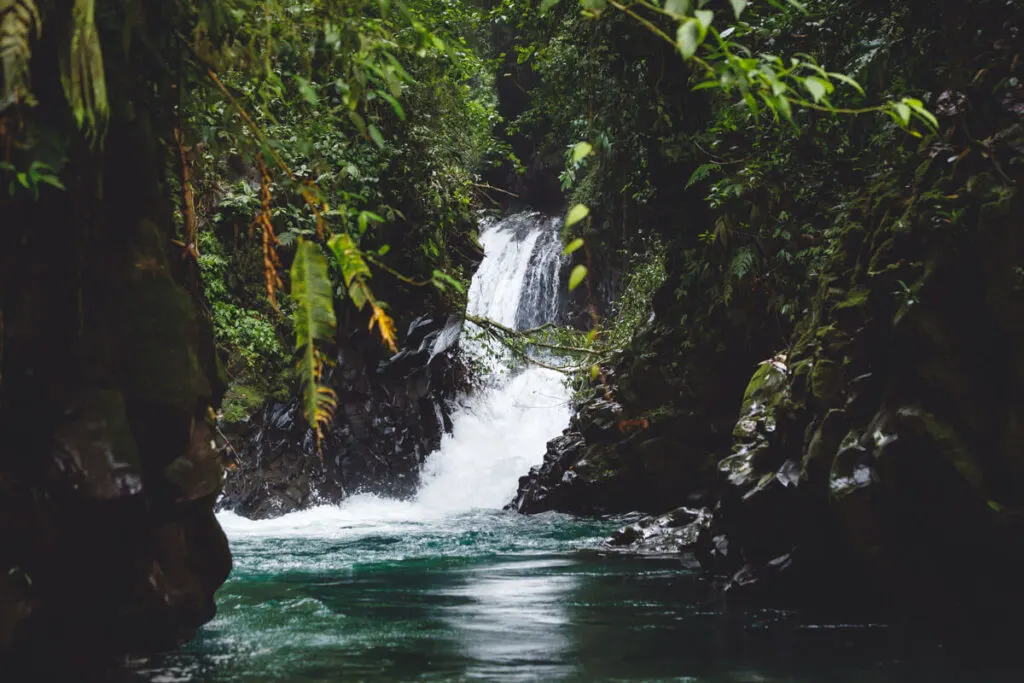 The country places a major focus on health and wellness, with a plethora of yoga studios, wellness retreats, and organic restaurants. Not to mention, the relaxed and laid-back lifestyle is sure to cure you of any corporate burnout.
There is not only a focus on personal well-being and physical health but on the health of the world around us.
One thing I love is that Costa Rica is a leader in sustainable tourism and eco-friendly initiatives. It is an attractive destination for digital nomads who are environmentally conscious and want to support sustainable tourism (which should be everyone, IMO).
Costa Rica is in the central time zone, making it a no-brainer for anyone working for a North American company. This is why I chose to be a digital nomad in Costa Rica, as my company was based in LA.
TIP: Costa Rica observes CST all year long – meaning they do not change their clocks. So in winter Costa Rica is the same time as Chicago, but in summer it's the same time as Denver.
Top 5 Things To Do in Costa Rica
Working remotely from Costa Rica comes with ample entertainment. Choose from a wide variety of activities that cater to all interests, from relaxing on the beaches to exploring the country's incredible jungles and trying adrenaline-inducing adventures.
Here's a very quick list of the top things to do in Costa Rica:
Explore the National Parks
Costa Rica is home to over 30 national parks. They offer incredible opportunities for wildlife viewing, hiking, and exploring the country's diverse ecosystems.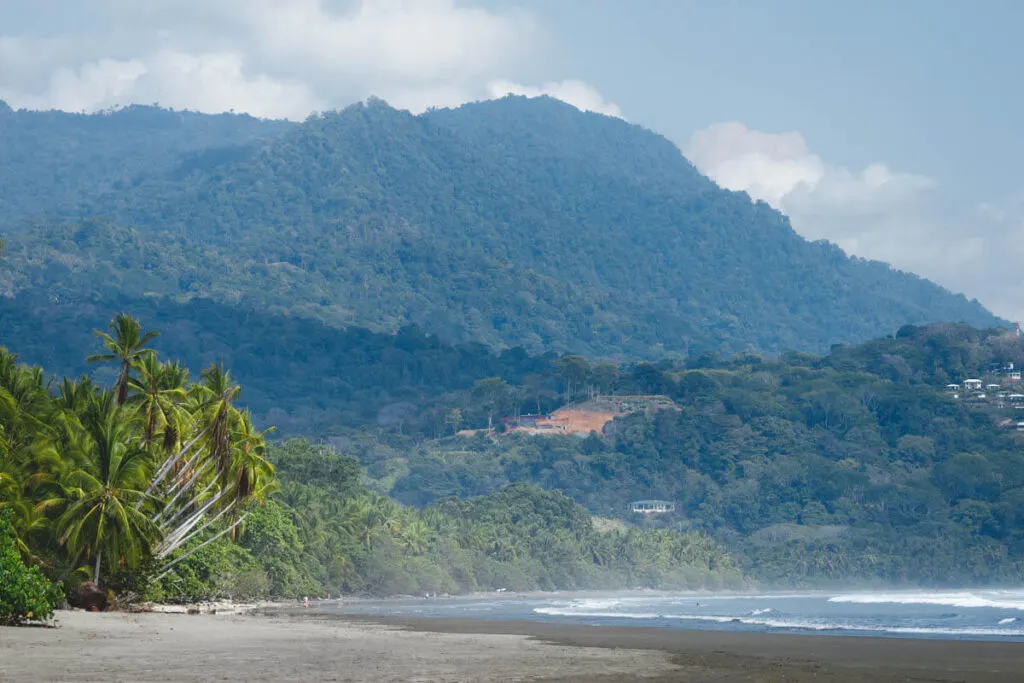 Popular parks include Manuel Antonio, Marino Ballena, Arenal Volcano, and Corcovado…
Relax on the Beach
With over 800 miles of coastline, Costa Rica has some of the most beautiful beaches in the world.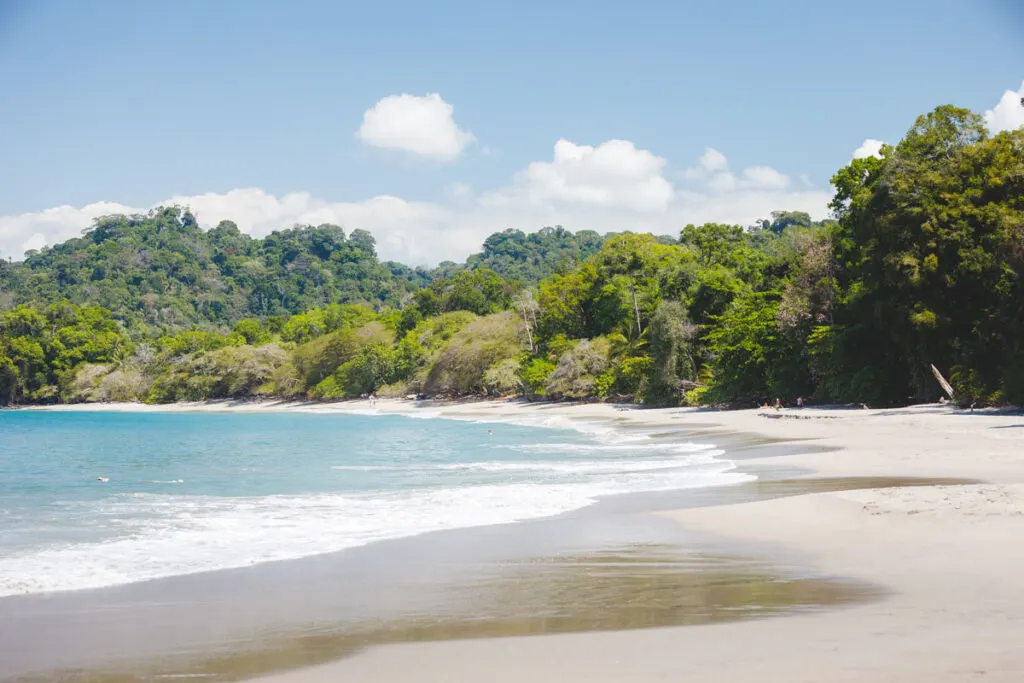 Relax on the white (or black) sand beaches, swim with the fish and sea turtles, and try activities such as surfing or paddleboarding.
Visit a Hot Spring
Costa Rica is home to numerous natural hot springs! These are the perfect place to relax and unwind after a day of exploring (or working). Popular destinations for hot springs include Arenal Volcano and Rincon de la Vieja.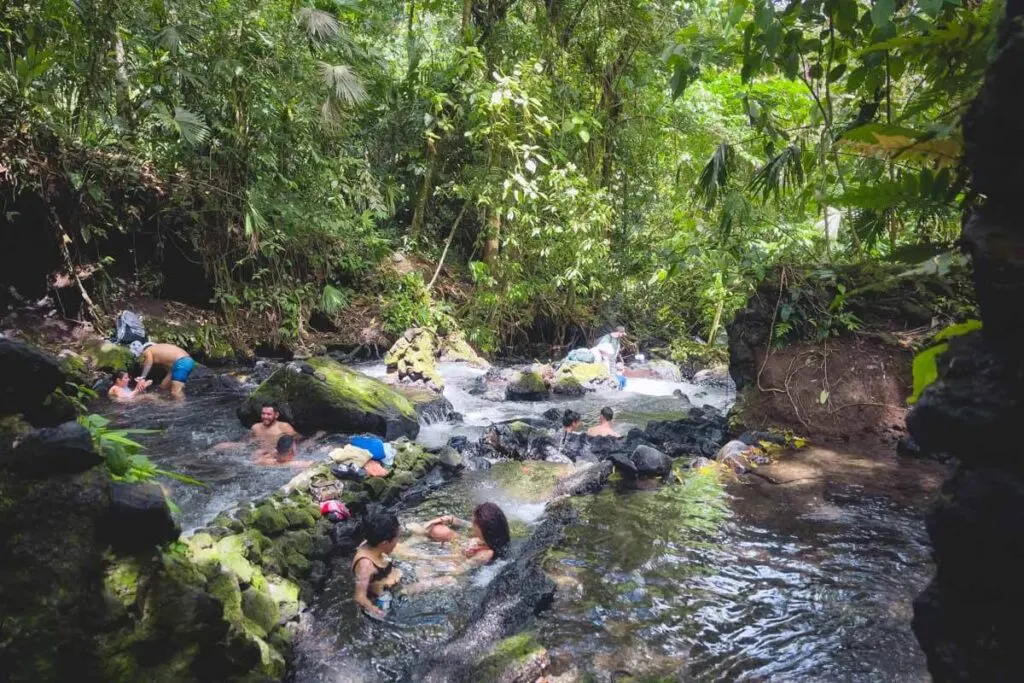 Relaxing in the hot springs is one of my favorite memories from my time as a digital nomad in Costa Rica. Tabacon Hot Springs in La Fortuna is just dreamy.
READ MORE: 13 EPIC Things to Do in La Fortuna, Costa Rica—Your GO-TO Guide!
Try High-Adventure Activities
Looking for that adrenaline rush? Costa Rica offers a wide range of adventure activities, like white water rafting, parasailing, kayaking, surfing, and snorkeling.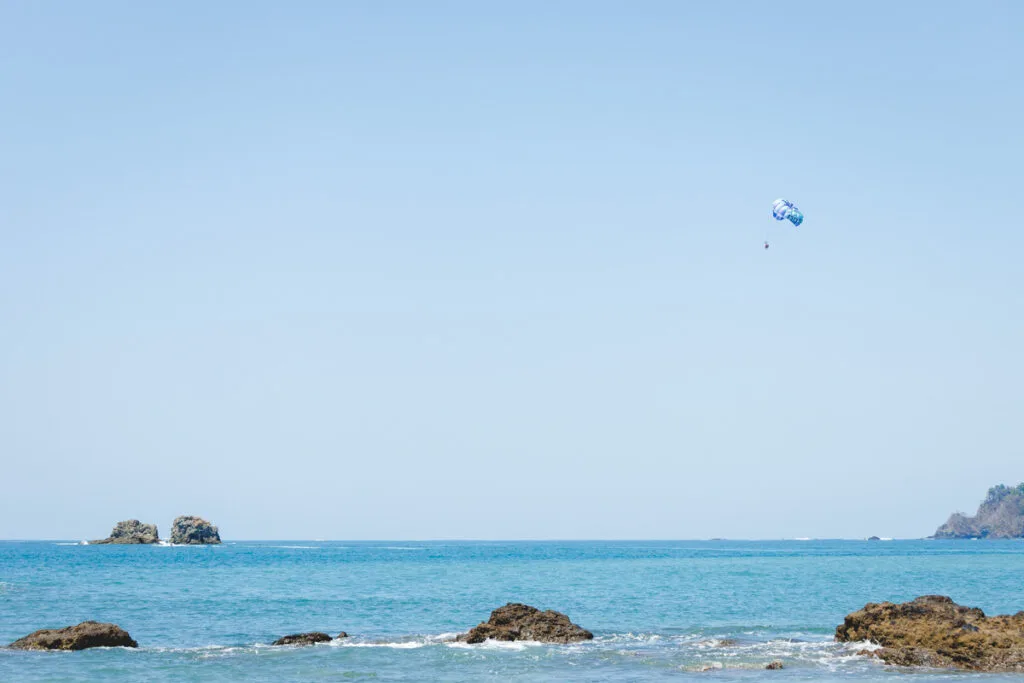 You can also go on guided tours exploring the country's rainforests, waterfalls, and maybe even see some monkeys!
Costa Rica has legendary zip-lining experiences, taking you soaring through the rainforest canopy and clouds. Popular destinations for zip-lining are Monteverde and Arenal Volcano.
READ MORE: Things to Do in Monteverde, Costa Rica: Your FULL Guide!
Learn to Surf
You can't go to Costa Rica and not surf—it's just not right. Surfing in Costa Rica is extremely popular due to the consistent waves and warm waters all year long.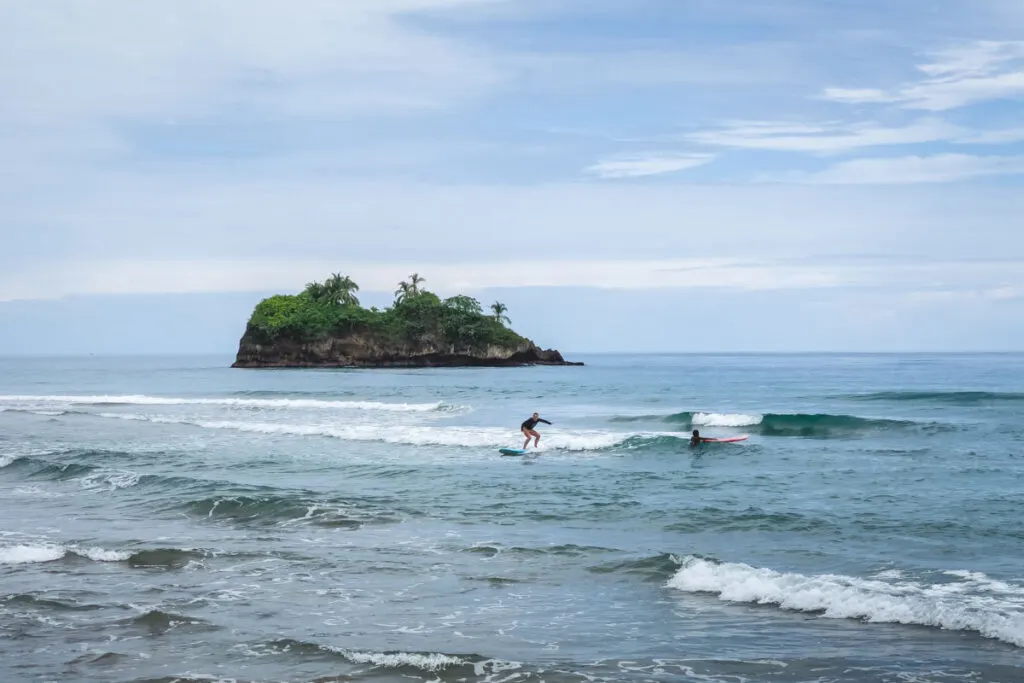 The Pacific coast is particularly well-known for its world-class surf spots, with breaks that cater to all levels of surfers. Costa Rica is actually where I first learned to surf, and although I'm still terrible, I love the challenge.
How To Get to Costa Rica
The easiest way in and out of Costa Rica is to fly into the main airport in San Jose. However, there is another smaller airport in Liberia that is more convenient if you plan to stay on the West Coast. Many international cities have direct flights to both of these airports.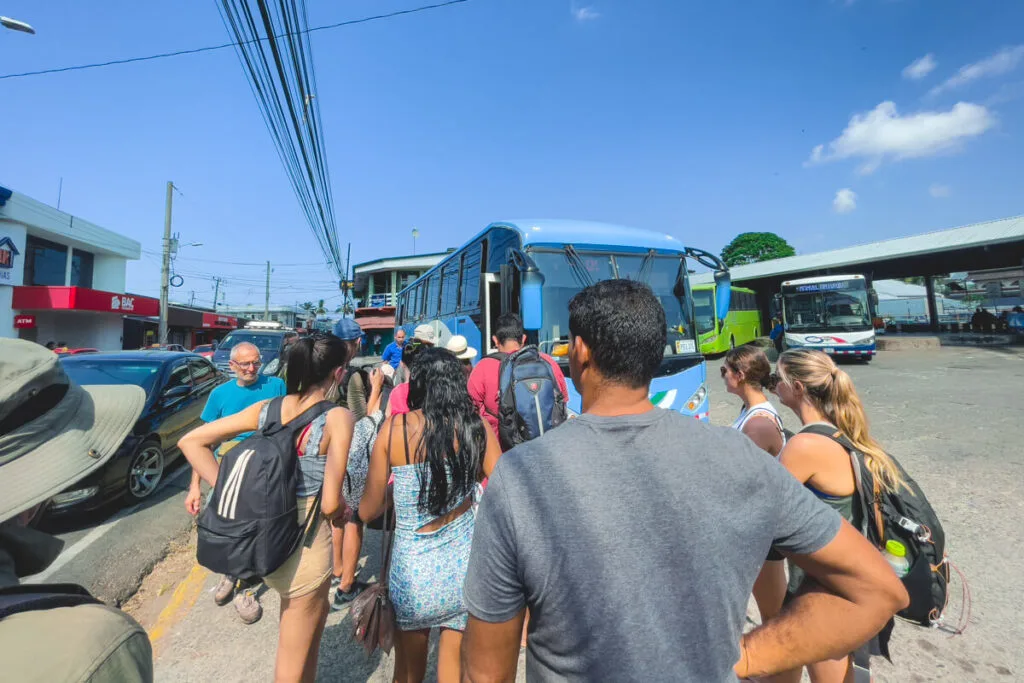 If Costa Rica is not the only place on your Central America itinerary, you can easily travel between countries via shuttle vans. Shuttles travel daily between Costa Rican cities as well as San Juan del Sur, Nicaragua and Boca del Toro, Panama.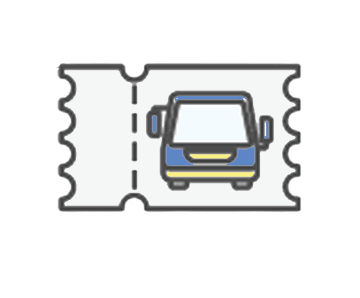 TRANSPORTATION TIP
If you're looking for bus or boat tickets around Central America and Mexico, you can easily book them online! Check Availability
Is There a Costa Rica Digital Nomad Visa?
The standard tourist visa for Costa Rica allows you to stay for 90 days (for US citizens) for free. Upon arrival in Costa Rica, you must present a return ticket, or a ticket to another country, proving you plan to depart within that 90 days. And in my experience, they are pretty strict about it.
One loophole to staying longer is by doing "visa runs" aka crossing the border and returning to restart the 90 days.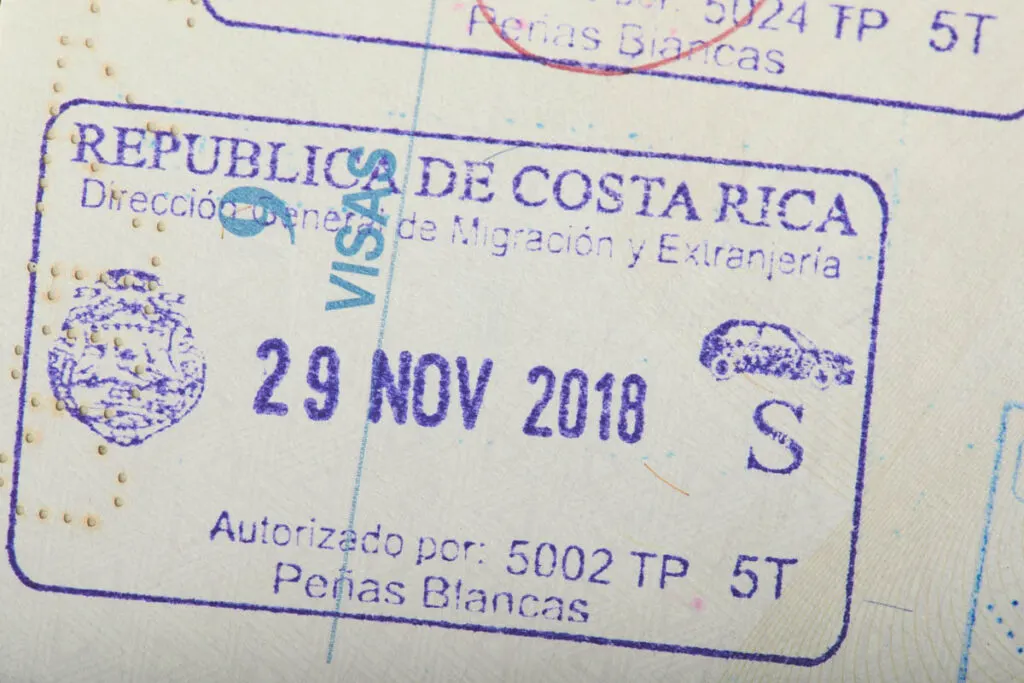 If 90 days in Costa Rica just doesn't sound like enough, and you don't want to go through the hassle of crossing the border constantly, fear not. I introduce you to the Costa Rica Digital Nomad Visa.
Benefits of the Digital Nomad Visa
Stay in Costa Rica for one year, with the option to extend for a second
Ability to open a national bank account in Costa Rica
Customs taxes waived on telecom and electronic devices needed for working remotely
Exempt from Costa Rica income tax
Visa benefits can extend to dependents such as a spouse or children
Requirements of the Digital Nomad Visa
Proof of employment to an entity outside of Costa Rica
Earn a minimum of $3000 USD per month; $4000 USD for families
Signed application forms available on their immigration site
Receipt of $100 USD visa fee payment
Bank statements validating income requirements
Health insurance coverage
The application process is relatively easy and straightforward, and once you submit all the necessary documents, it is processed in less than a month. Find out more information about Costa Rica's digital nomad visa.
Where To Live as a Digital Nomad in Costa Rica
In such a magical place, it can be hard to narrow down the best place for your home base as a digital nomad in Costa Rica.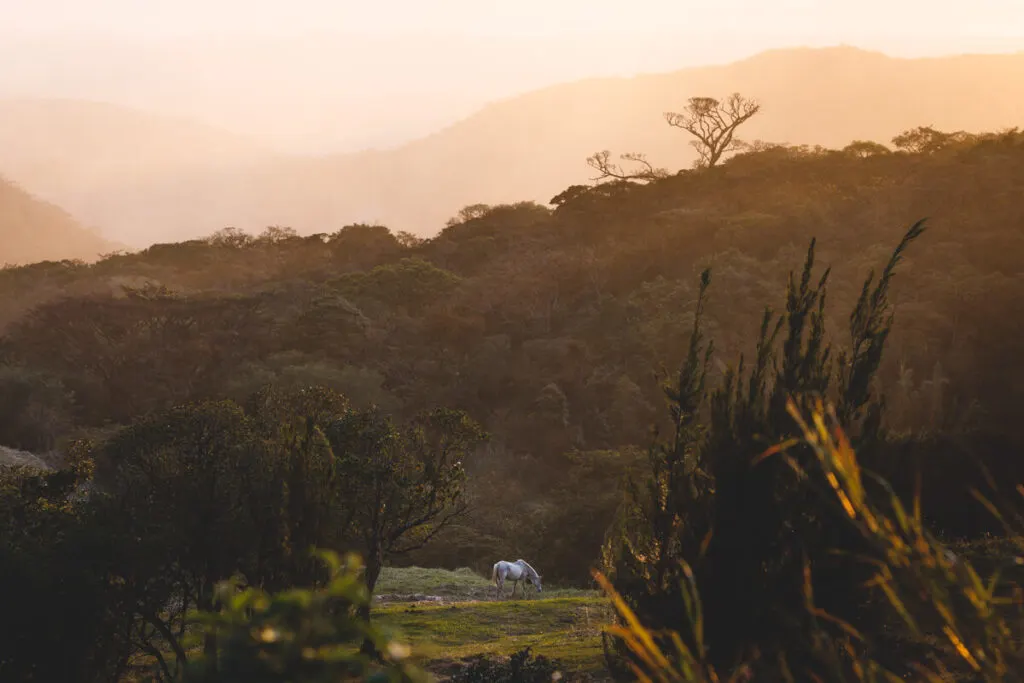 These locations offer a mix of beautiful surroundings, things to do outside work, and a laid-back lifestyle that make them attractive to digital nomads looking for a relaxed and inspiring environment to work and live in.
Here are the top places to be a digital nomad in Costa Rica:
Digital Nomad in Puerto Viejo
Puerto Viejo is a small town located on the southern Caribbean coast, known for its black sand beaches, lush jungles, and sloth population.
With a unique Afro-Caribbean culture, Puerto Viejo feels different from other parts of Costa Rica from its reggae music to delicious Caribbean cuisine and chill atmosphere. And let me tell you, they take Pura Vida to the next level.
Locals deem Puerto Viejo as the most laid-back place in Costa Rica, which is saying something.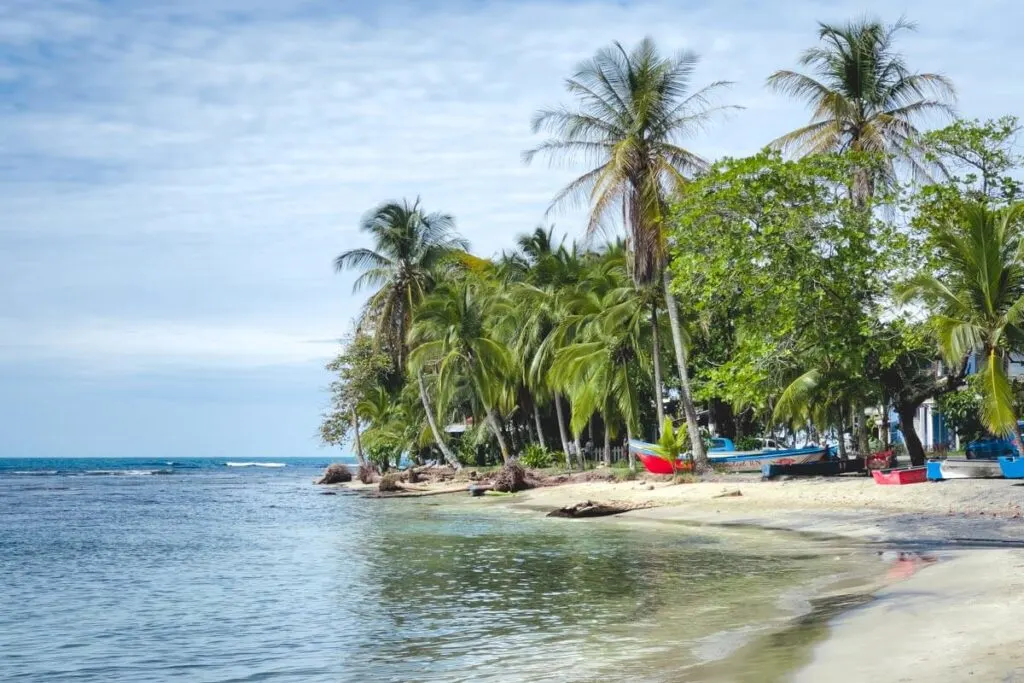 Although the Pacific side is more famous for surfing, Puerto Viejo is still a top surf destination. There are waves for both beginners and advanced surfers, including the legendary Salsa Brava; attempt at your own risk.
Even the beginner waves were a bit crazy for me, especially compared to other surf destinations in Costa Rica.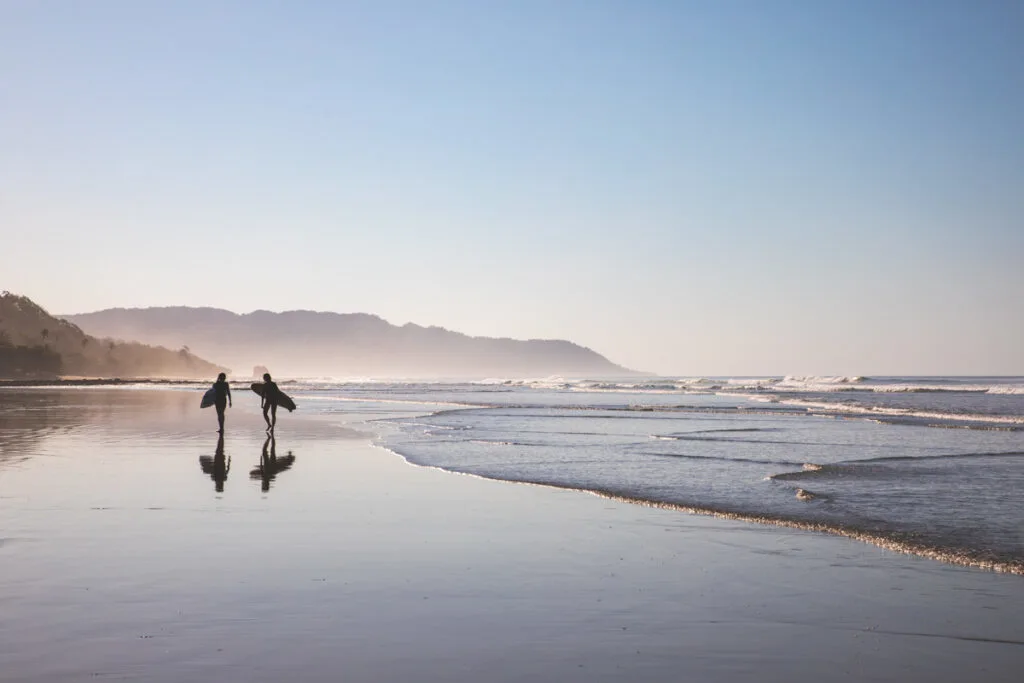 Not only is it a great place to chill out and surf, but Puerto Viejo also attracts a lot of digital nomads and backpackers, with many beachside cafes to choose from and even a coworking space. It's a digital nomad's dream!
READ MORE: Backpacking Costa Rica: Your Complete Guide!
How Is the WiFi in Puerto Viejo?
Although Puerto Viejo attracts so many travelers, it's definitely off the beaten path and doesn't exactly have the best infrastructure. Overall the WiFi speeds are good, but the town often suffers from power outages. Even the main coworking space isn't immune.
I travel with a portable MIFI device, and it was a life-saver several times during my time in Puerto Viejo.
Read more about being a digital nomad in Puerto Viejo.
Digital Nomad in Tamarindo
Tamarindo is probably Costa Rica's most popular beach town. Situated on the Pacific coast, Tamarindo boasts expansive beaches, trendy cafes, surf culture, and vibrant sunsets.
The beach here is actually one of my all-time favorites.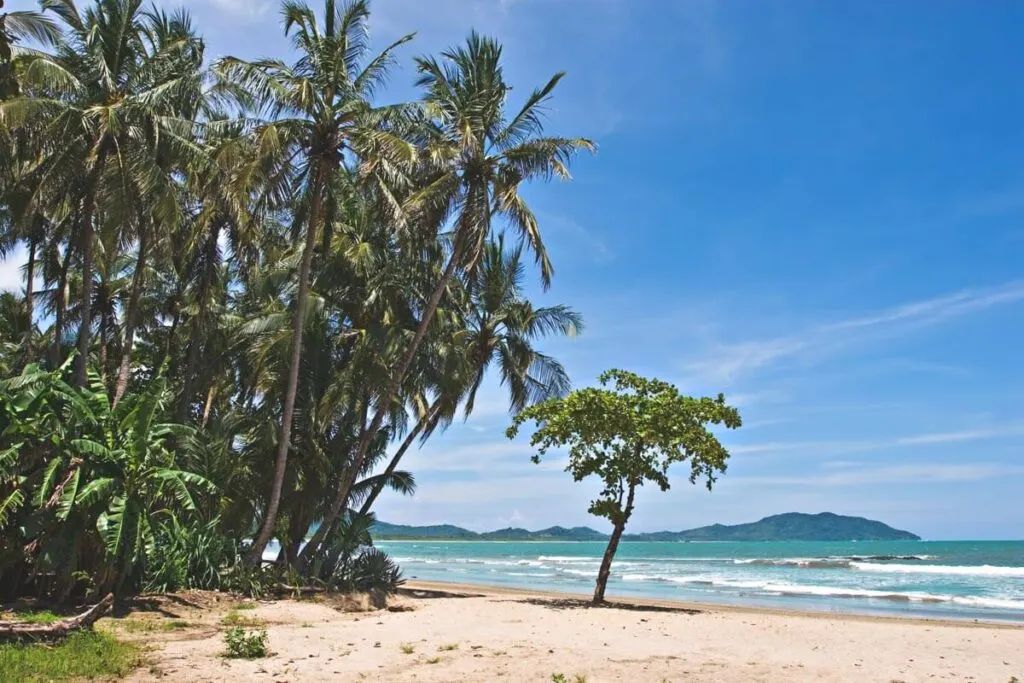 Digital nomads flock here to take advantage of the year-round sunshine, ideal surf conditions (even for beginners and intermediate), and general beach bum vibes. Tamarindo has a laid-back, bohemian atmosphere that attracts many digital nomads looking for a relaxed lifestyle to reset and recharge.
Tamarindo has a more developed infrastructure than many other parts of the country, with reliable internet access, a wide range of lodging options, as well as co-working spaces, and networking opportunities for digital nomads.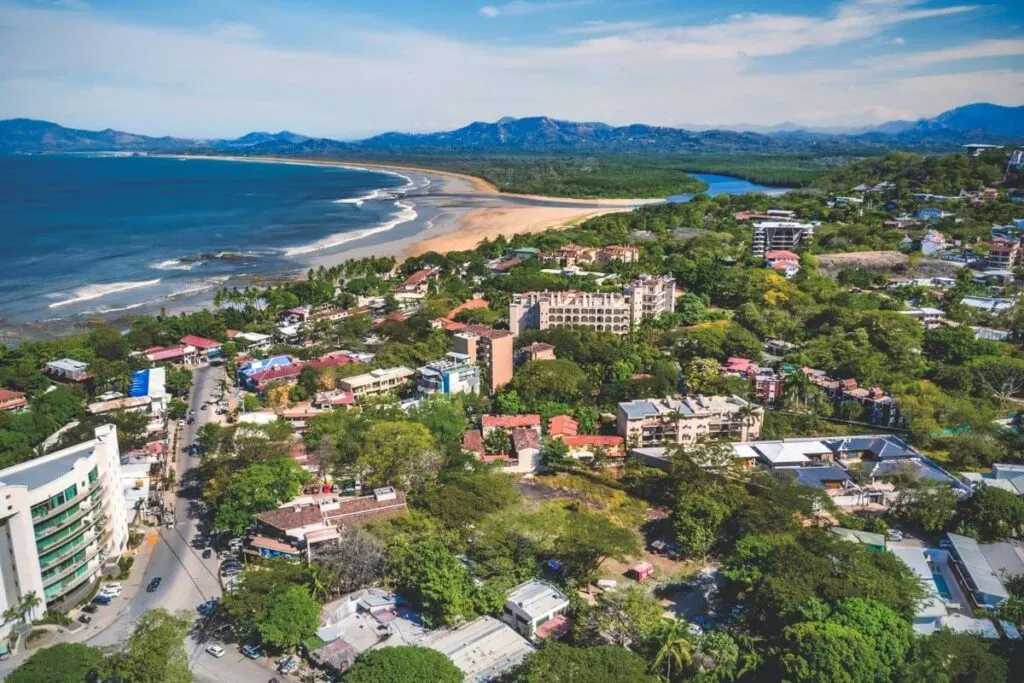 Coffee shops, bars, and cafes line the beachfront for a mile, where you can work remotely and take in the ocean views.
One pro or con, depending on how you look at it, is that Tamarindo attracts tons of expats, nomads, and travelers. So much so that locals jokingly nicknamed it "Tama-Gringo". Some types of travelers may actually prefer this, while some may choose to avoid Tamarindo.
How Is the WiFi in Tamarindo?
Tamarindo is much more developed than Puerto Viejo and Santa Teresa, and the WiFi here reflects that. It is also a bigger city with more options for coffee shops to work from and multiple coworking spaces boasting fiberoptic internet.
Digital Nomad in Santa Teresa
Santa Teresa is located on the Pacific coast of the Nicoya Peninsula. Like most places in Costa Rica, Santa Teresa is also known for its gorgeous beaches, consistent surf breaks, and laid-back lifestyle.
The town has a rapidly growing community of digital nomads and offers a range of co-working spaces, cafes, and accommodation options that cater to remote workers.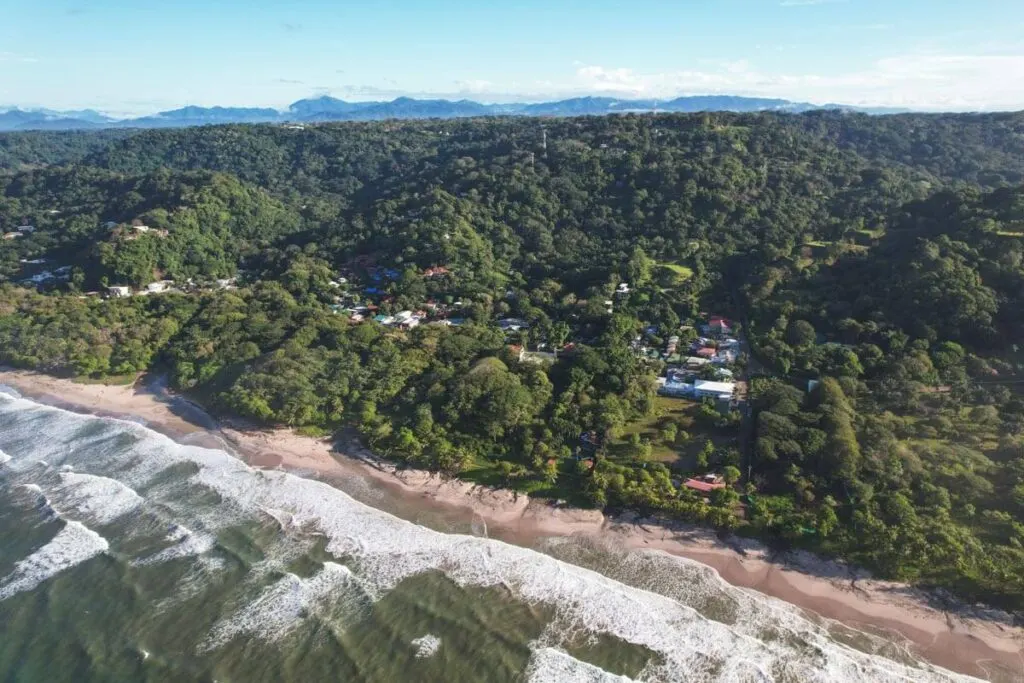 Not to mention the numerous yoga studios and eco-friendly practices, making it a great place to focus on health and wellness while working remotely.
Overall, Santa Teresa offers a beautiful and inspiring environment for digital nomads looking to work and live in a tropical paradise.
How Is the WiFi in Santa Teresa?
The quality of WiFi in Santa Teresa varies depending on where you are staying and what type of accommodation you have. Power outages can sometimes occur.
That being said, the WiFi in Santa Teresa is generally good and reliable, especially in coworking spaces and cafes that cater to remote workers. Some accommodations even offer dedicated workspaces and high-speed internet connections for their guests.
It's always a good idea to check with your host or accommodation before booking to ensure that the WiFi meets your needs as a digital nomad.
READ MORE: Your Guide to Things to Do in Santa Teresa, Costa Rica
Digital Nomad in Manuel Antonio
Yes, as in Manuel Antonio the national park; taking working REMOTE to the next level. A popular tourist destination, Manuel Antonio attracts digital nomads looking to get off the grid and immerse themselves in nature.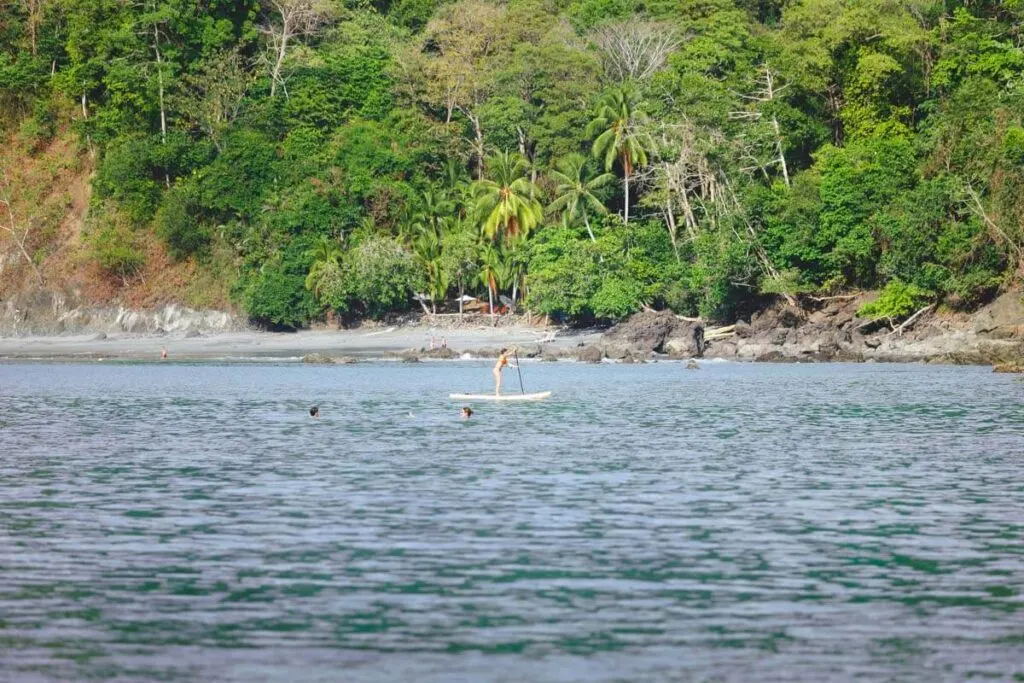 The area offers beautiful beaches, national parks, a variety of accommodation options, cafes, and even a co-working space!
READ MORE: 8 Best Things to Do in Manuel Antonio, Costa Rica + Tips!
How Is the WiFi in Manuel Antonio?
Very similar to Santa Teresa, the WiFi quality in Manuel Antonio can vary based on the type of accommodation you have, and there are occasional power outages.
But there is a Selina in Manuel Antonio which always serves as a good backup if you run into WiFi issues. If you are unfamiliar, Selina (a coworking space and hostel chain) has reliable internet and runs on its own generator, so they aren't affected by power outages.
Why Digital Nomad in Costa Rica?
Costa Rica is an amazing country and should definitely be part of your Central America itinerary. Between all the outdoor activities, focus on nature and health, and Pura Vida mentality, there really is no better place to be a digital nomad.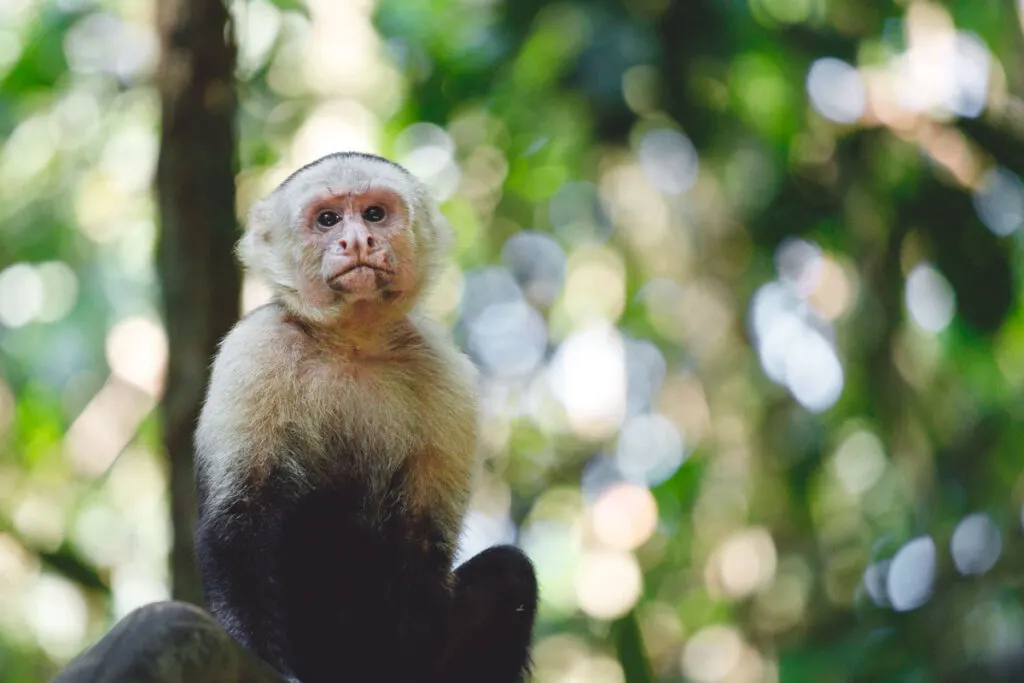 Whether you're looking to network with other remote workers, experience a new culture, or simply soak up the sun, Costa Rica is a top destination for any digital nomad seeking to live life outside the cubicle. So pack your bags, grab your laptop, and get ready for the adventure of a lifetime!
READ MORE: Backpacking Costa Rica: Your Complete Guide!
---
---
>>> BIO
As an adventurous digital nomad, Rachel has honed her expertise in working remotely while traveling the world. Having already visited and worked in over 20 countries (and counting!), she is dedicated to sharing her wealth of knowledge with fellow digital nomads and slow travelers. Her blog, White Collar Wanderer, provides invaluable travel tips and destination guides tailored specifically to this community, ensuring that everyone can make the most out of their journey.