This guide to Oaxaca State is authored by Eddie and Kelli.
Oaxaca might be our favorite state in Mexico (but that could also change depending on what day of the week you ask us). There are so many incredible and diverse things to do in Oaxaca.
With its own unique culture, ancient history, distinct and delicious regional cuisine, and above all, stunning and varied landscapes that include soaring mountains, virgin jungles, ancient ruins, and a thousand kilometers of unspoiled beaches, Oaxaca offers an endless myriad of experiences.
There is so much to do here that you could easily spend months without scratching the surface. Nevertheless, a few essential experiences should be on every Oaxaca Itinerary. So ditch the free walking tour, and let's set off into wild and diverse Oaxaca!
Things To Do in Oaxaca
---
1. Embrace Traditional Community in Pueblos Mancomunacados
High in Oaxaca's Sierre Norte mountains, a couple of hours northwest of Oaxaca City, eight villages offer a glimpse into the rural indigenous life of the modern-day Zapotec culture of southern Mexico. Here the population still embraces traditional approaches to agriculture, weaving, food, and sacred healing.
For a long time, the villages of the Pueblos Mancomunacados have practiced a custom of sharing resources to ensure the region's ongoing prosperity. Today they have added ecotourism to their arsenal, which is also utilized as a shared resource.
Extensive hiking and mountain biking trails connect the villages and ecotourism experiences, and low-key cabana-style accommodation is available. You can get a tourist map of the region from the ecotourism centers in each village.
Here you can also book accommodation, find guides, and pay the small levy to the community, which is used to reinvest into the local region.
2. Unplug in San Jose del Pacifico
This tiny village is perched in Oaxaca's Sierra Sur Mountain range, separating Oaxaca City from the coast. San Jose del Pacifico is known for its incredible natural beauty and moderate mountain climate.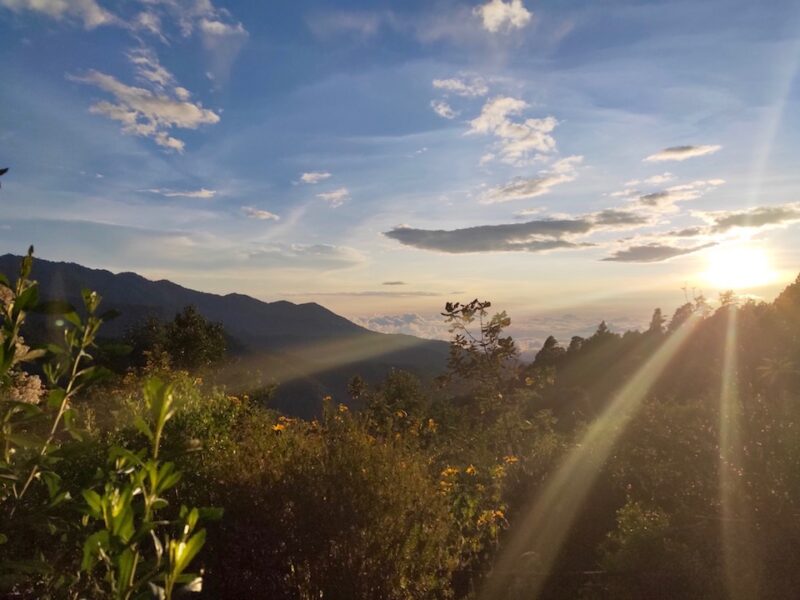 But it is perhaps most famous for the hongos magicos, the psilocybin mushrooms that grow here in the wet season, and the surrounding counter-culture that has emerged here.
San Jose del Pacifico is well worth a stop if traveling overland between Oaxaca city and the coast (or vice versa) or as a destination in its own right. You won't find high-speed internet, modern accommodation, or fancy dining in this small mountain village.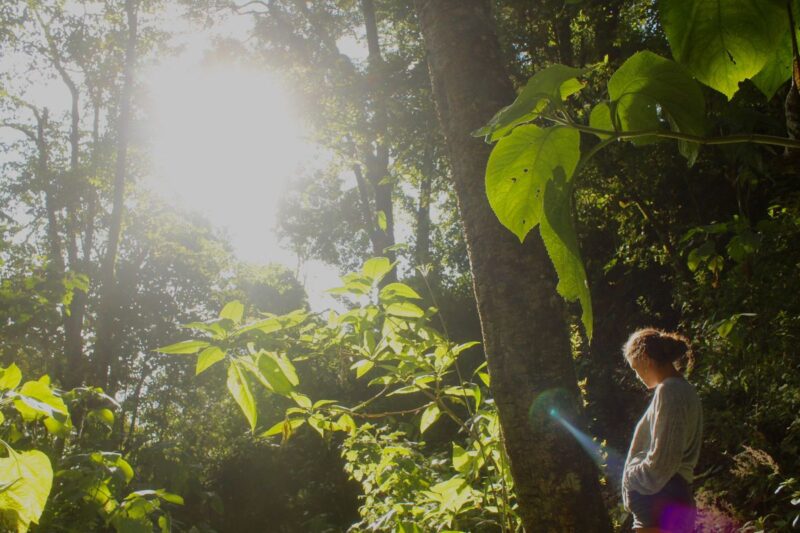 Instead, you can hike in the mountains, experience the lush mountain jungle and abundant wildflowers, participate in an ancient temazcal or sweat lodge ceremony, join meditative and yoga retreats or try the mushrooms that first put San Jose on the map.
RELATED: Cascada La Reforma—Puerto Escondido's Coolest Waterfall!
3. Embark on an Expedition to the Lost Paradise of Chacahua
Reaching this remote beach village is no easy feat, but it's one of the extraordinary things to do in Oaxaca. A tiny beach community separated from the coastline by the enormous coastal wetland of the Lagunas de Chacahua National Park, the journey here is an adventure in itself. For those that make an effort, a timeless paradise awaits.
From Puerto Escondido, you will need to travel north to El Zapotalito, where boatmen can be hired to take you through the maze of mangroves to Chacahua.
Navigating the labyrinth through the dense mangrove forest is exhilarating as expert skippers guide long skinny boats skillfully through narrow channels in the forest, now and then emerging into open water before plunging back into the forest.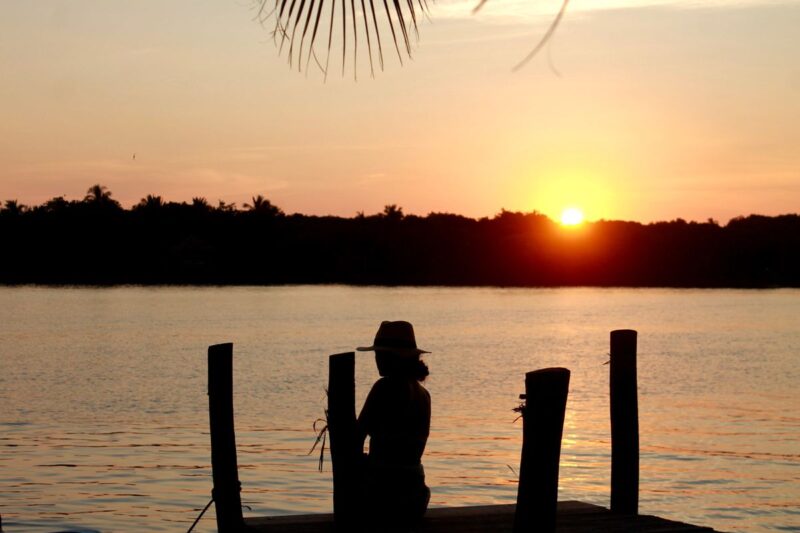 The turns and twists are fast and ferocious, and it's impressive enough that the boatmen remember the route, let alone navigate it at breakneck speed. As if speeding boats through the jungle were not exciting enough, you will need to keep your eyes peeled for the numerous crocodiles that call this estuary home.
Eventually, you reach the mouth of the estuary where the tidal waters flow to and from the sea. Here is the village of Chacahua. A coastal village has been protected from development and exploitation by its remote location.
Surf, hike, have a bonfire at the beach, and while away, the days lazing on the golden beach. That's it.
RELATED: A 2 Week Mexico Itinerary for Beach and Mountain Lovers
4. Sample City Life in Oaxaca de Juárez
Oaxaca City, the cultural epicenter of Oaxaca State, is one of Mexico's most authentic and exciting state capitals. History, a thriving arts and cultural scene, and the famous Oaxacan cuisine can all be found amongst this picturesque city's cobblestone streets and Spanish colonial architecture.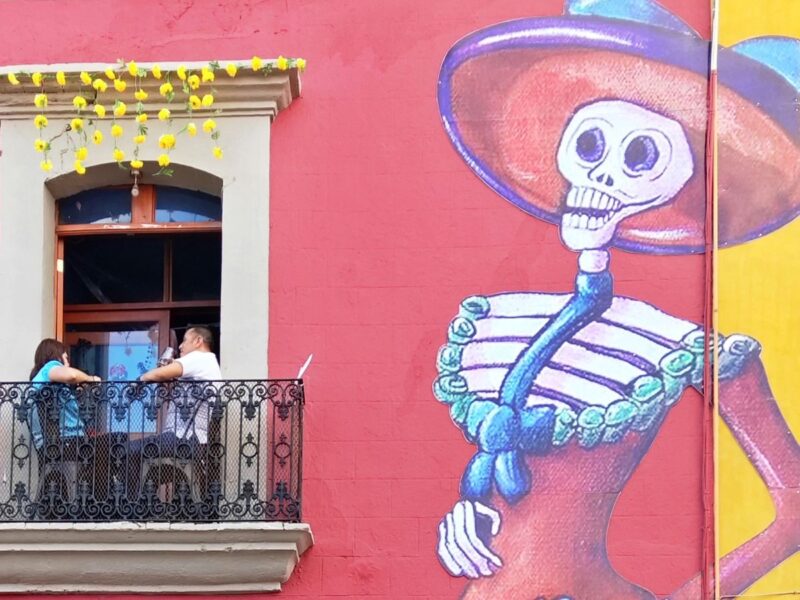 The walkable and bustling historic town center is home to beautiful churches, modern galleries, fascinating museums, trendy cafes, bars, and dining options that range from street stall tlayudas to world-class white table cloth affairs.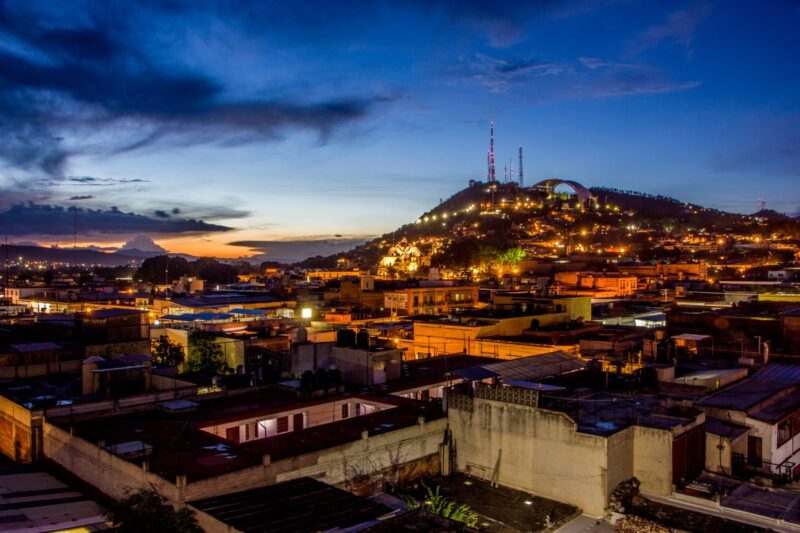 Close to the city center, you can also find the famous ruins of Monte Alban, the remains of a mighty Zapotec city that sit on a plain high above the Valley of Oaxaca. The city could easily be your main base as well; here's where to stay in Oaxaca.
→ Book a Oaxaca street food tour.
5. Get Off-Grid in Santiago Apoala
For those looking to experience the rugged natural abundance of Oaxaca State up close and personal, Santiago Apoala, in the Sierra Mixteca mountains north of Oaxaca City, offers such an opportunity.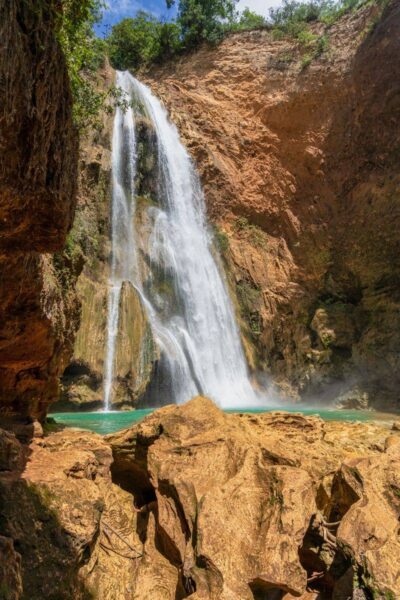 The challenge and the appeal of this region are that it remains off the popular tourist circuits. While getting here might be more difficult than other things to do in Oaxaca, you will likely get his special and authentic slice of Oaxaca mostly to yourself.
The town itself is tiny, but the beautiful surroundings of Santiago Apoala are home to beautiful waterfalls, pools, and caves. Several hiking trails begin in the town, and maps are available from the ecotourism center.
You can hire a guide from the local ecotourism center in town which also offers cabanas and camping areas.
To access Santiago Apoala, you will need either your private vehicle or to take a bus from Oaxaca City to Nochixtlan. From here you can catch a taxi to Santiago Apoala.
→ Book a day trip to Santiago Apoalo waterfalls and lagoons.
6. Step Back in Time in Yagul
Throughout Mexico, but especially in southern Mexico, the physical remnants of ancient civilizations lie hidden in the jungle. Oaxaca State is home to some impressive archeological sites, one of the foremost being Yagul.
The city of Yagul dates back to between 500 and 100 BC. However, the existing ruins were originally constructed around the 1200s. In the Zapotec language, Yagul means 'old tree,' and it was an important city during the mesoamerican period. Today it is one of the most studied sites in Oaxaca.
The large archeological site includes many of the structures from the city, and you can wander amongst them to truly get a sense of the scale, technology, and culture of the people who lived here long ago.
After exploring the labyrinth of buildings, climb to the top of the small hill nearby to enjoy sweeping views of the ancient city and the Valley of Oaxaca.
Despite only being less than an hour away from Oaxaca City, the ruins are scarcely visited, and you will likely have few tourists to share them with.
→ Book a Yagul guided tour from Oaxaca City.
7. Taste Traditional Mezcal in Santa Catarina Minas and Santiago de Matatlán
Oaxaca is Mexico's mezcal capital, and while many tourists never make it out of downtown Oaxaca City's numerous mezcalerias, those willing to travel a bit further have the opportunity to find this iconic and complex spirit at the source.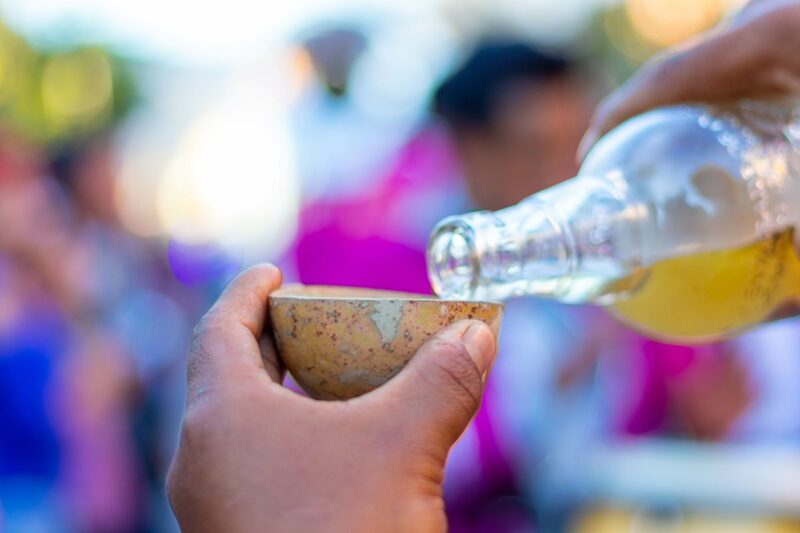 Discover the ancient production methods used to produce Mexico's national spirit for centuries.
The artisans that produce mezcal in batch distilleries in the pueblos of Santiago de Matalán and Santa Catarina Minas employ traditional production methods to produce some of the finest mezcals in the country.
Many distilleries welcome visitors who drop by and are more than happy to show off their facilities and wares. Some distilleries worth a visit include Lalocura in San Catarina Minas and Mezcaleria El Sabino in Santiago de Matatlán. Or join a tour.
→ Book a VIP mezcal distillery tour to Santa Catarina Minas.
8. Take on Zicatela in Puerto Escondido (popular Thing to Do in Oaxaca!)
This heavy beach break is why many people travel to Oaxaca's coastline. Found in Oaxaca's famous surf town Puerto Escondido, the wave at Playa Zicatela is sometimes referred to as Mexico's pipeline, and surfers from around the world have been making the pilgrimage to Oaxaca's legendary Zicatela for decades.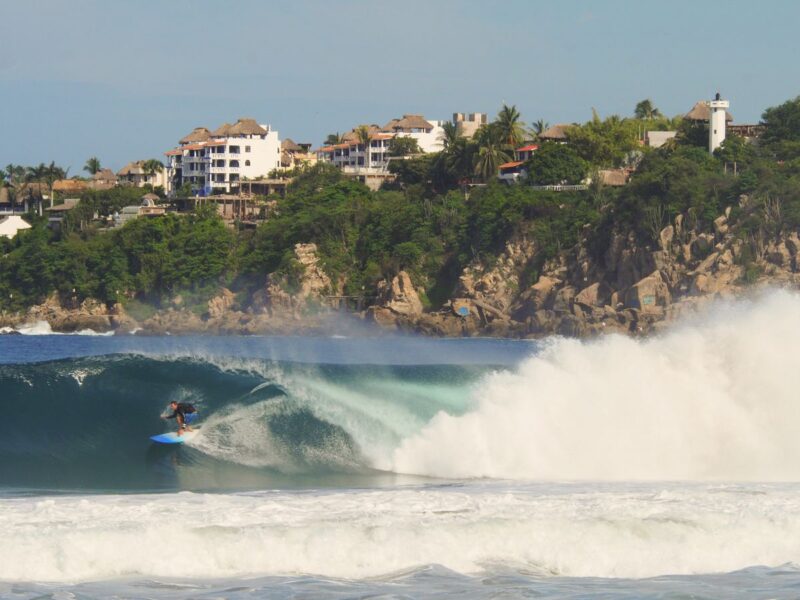 For those not quite ready for Zicatela but still wanting to embrace a bit of Mexican surf culture, the southern end of Playa Zicatela, known as 'La Punta, ' offers gentle conditions where beginners can learn to surf.
Beware, you'll share the lineup with plenty of others learning to surf, especially in the busy high season.
If surfing is not your thing, head round to Playa Coral, one of the most picturesque beaches in the area (and that's saying a lot), great for sunbathing and swimming in the somewhat protected cove.
READ MORE: Your Guide to Playa Zicatela + La Punta Zicatela in Puerto Escondido, Mexico
9. Let it All Hang Out at Zipolite
Relax, and divest yourself of all your worries, cares, and, if you like, your clothes at Mexico's only official nude beach.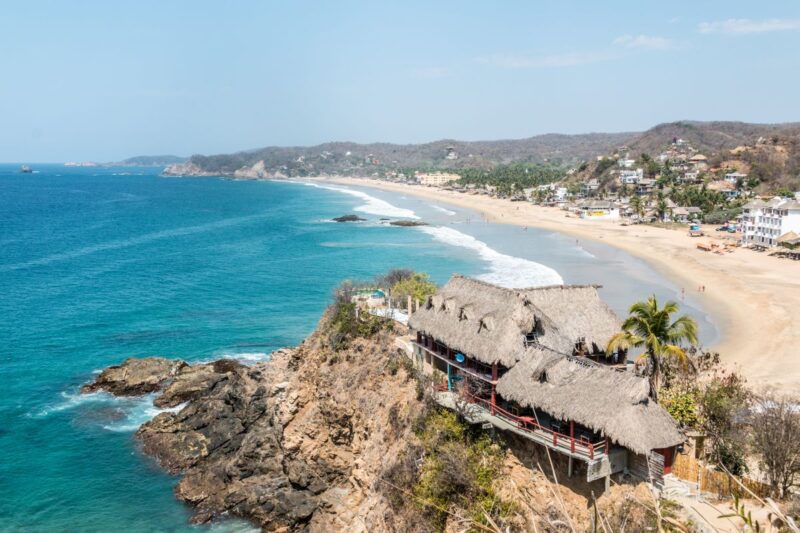 This beautiful beach has more going for it than a relaxed attitude. The long stretch of beach enjoys surf, beautiful headlands, and epic sunsets over the pacific ocean every night.
You'll find low-key boutique hotels and jungle bungalows the accommodation of choice here. Seafood restaurants line the beach, and there are some bakeries and alternative restaurant options in the town.
Be sure to check out the neighboring beach villages of Mazunte and San Augustin, each offering a slight variation on the bohemian feel of this section of coastline.
10. Set Sail to the Huatulco National Park
This stunning piece of coastline and the low-growth coastal forest behind it was declared a national park in 1998, preserving this picturesque paradise for generations to come.
The coastal forest is dense and hard to penetrate, so the beautiful bays of the Huatulco National are best accessed by boat.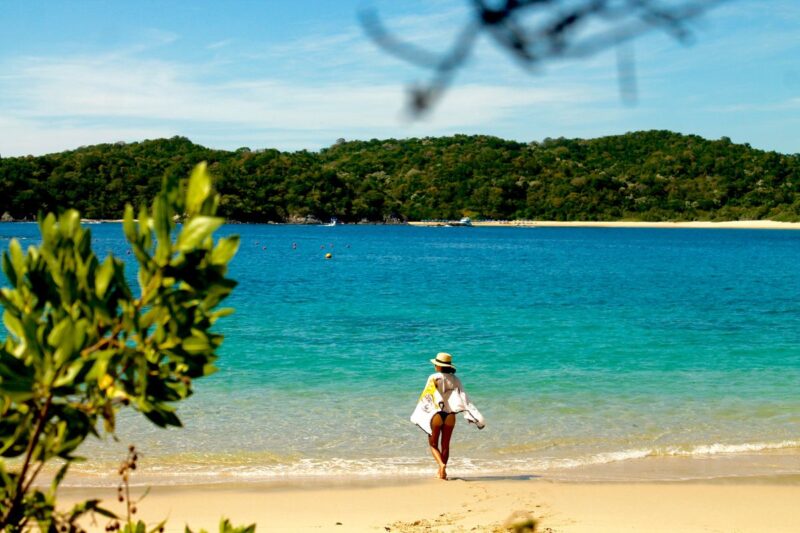 Pack a picnic and chart a course to the beautiful bays of Huatulco to spend a day snorkeling, sunbathing, and walking unspoiled golden beaches. It's one of the best things to do in Oaxaca State if you want to relax.
Just be ready to pull up anchor and head for the next bay should you see a tourist boat blaring Latin pop music closing in because they will quickly end the serenity. Tour boats arrive at 11:00 am, so the sooner you can get started, the better.
You can organize a boat tour from La Crucecita, the town to the east of the park, or Bahia de San Agustin, the tiny village on the western border.
→ Book a full-day boat tour of the bays of Huatulco.
Everything You Need to Know Before You Go to Oaxaca
How to Get to Oaxaca
Most tourists reach Oaxaca State by air, flying directly into Oaxaca International Airport in Oaxaca City.
It is also possible to fly directly to Oaxaca's coast via Puerto Escondido and Huatulco airports. These airports are both international, but most routes are domestic.
Some national bus services run buses to Oaxaca City and major centers.
Is Oaxaca Safe?
Oaxaca is generally safe and considered a low to moderate risk travel destination. That being said, it's always best to be conscious and aware of safety when traveling in a new place.
While Oaxaca is generally safe and free of much of the organized criminal element that has been widely publicized in other Mexican states, it is one of the poorest areas in Mexico, and petty crime is more prevalent.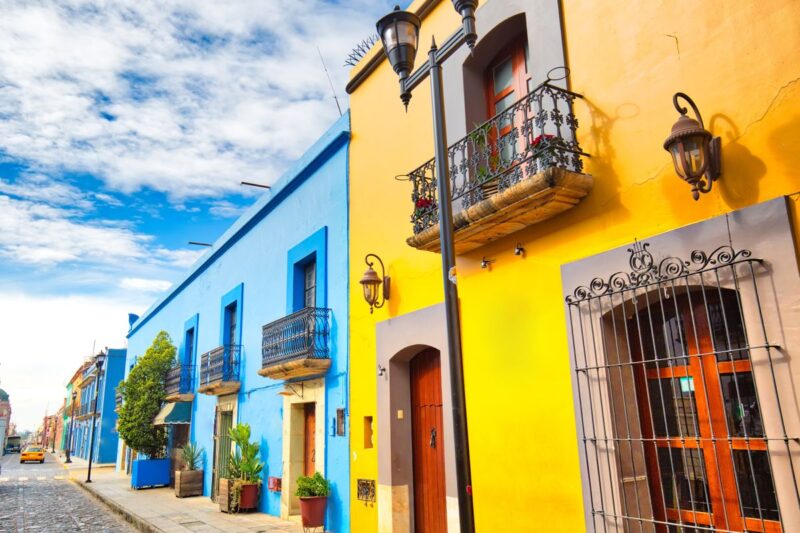 Be aware of potential scams. And take basic precautions to avoid becoming a target of opportunistic crime.
Be careful where you eat. Try to stick to restaurants and food stalls with a lot of locals to make sure you are eating somewhere with a good reputation and a high volume of food turnover.
Don't drive at night. Aside from the increased risk of accidents and crime, the infamous Mexican topes or speed humps can be almost impossible to spot at night and cause serious damage to your vehicle.
RELATED: Travel Safety Tips—No Matter Where In The World You're Going
How to Get Around Oaxaca
We strongly recommend self-driving through the state – there are so many things to do in Oaxaca that your own set of wheels is invaluable and will open up experiences that you won't get to see on the bus routes or with a tour.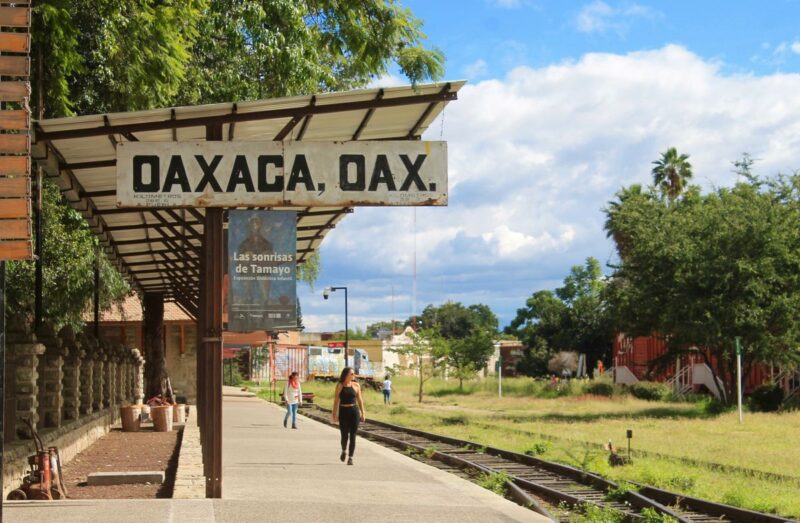 You can easily rent a car in Oaxaca City or important centers such as Huatulco and Puerto Escondido.
If you don't want to drive, an interstate network of buses and collectivos will get you where you need to go.
When is the Best Time of Year to Visit Oaxaca?
In our opinion, the best time to visit Oaxaca is whenever you can. There's always something going on. The climate is pleasant year-round, although you'll need to pack appropriately for the wet season or if planning to stay in the capital or mountainous areas during winter.
Our favorite time to visit Oaxaca is at the end of October and the beginning of November. Between the 31st of October and the 2nd of November, Mexico celebrates its most important cultural festival Dia de Los Muertos, the day of the dead. Oaxaca is where you will find one of the largest and most authentic celebrations in all of Mexico.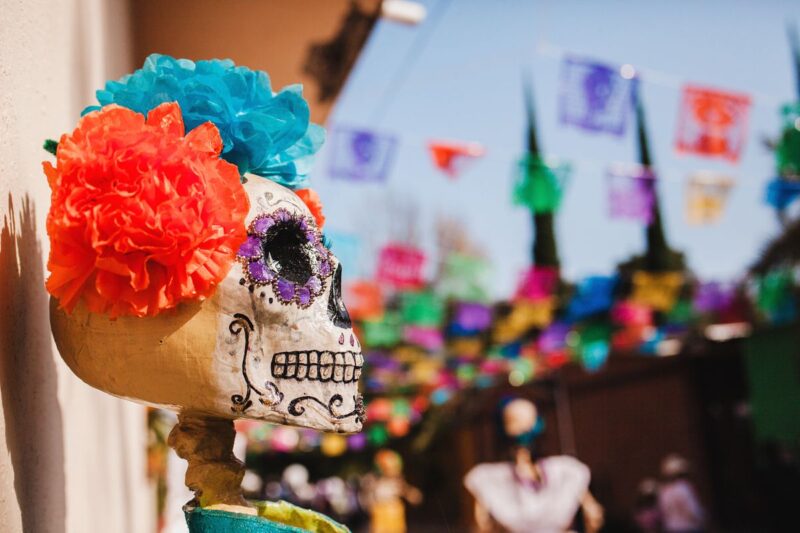 Oaxaca, in particular Oaxaca City, comes alive with excitement and anticipation during October, culminating in a 3-day festival of color, noise, dancing, parades, food, and most importantly, remembrance, as friends and families celebrate loved ones that have passed on.
June to August is the high season in Oaxaca, and prices are higher, and tourist destinations busier this time of year. Although temperatures don't fluctuate too much during the year, this is also the hottest and wettest time to visit.
Either side of the high season, from February to May and from September to November are great times to visit as there are fewer tourists to share it with.
December to January is another peak period for tourists flocking to Oaxaca for the holidays, and this can drive up prices and reduce availability.
Oaxaca gets the best swell from April until September if you're chasing waves.
Are There ATMs in Oaxaca?
Yes, of course!
There are plenty of ATMs in major towns and cities. In smaller villages, ATMs may not be available or may charge high fees, so it is always a good idea to take cash out when you are in larger towns.
Santander is the best bank in terms of fees and withdrawable amounts, but Bancomer and HSBC are also good.
RELATED: The Best Travel Cards (For Any Traveler) That Save and Earn You Money!
Can I Drink the Water in Oaxaca?
No. Like most places in Mexico, you can't drink the water in Oaxaca State unless it has been filtered or treated. Away from accommodation that supplies water jugs or filters, you will need to buy bottled water, or better yet, use a filtration water bottle.
Is Wifi and Cell Reception Reliable in Oaxaca?
Yes, there is reliable wifi and cell reception in the towns and cities of Oaxaca. However, Oaxaca is a large and widely undeveloped state.
While traveling between towns and in smaller villages such as San Jose del Pacifico or Santiago Apoala, reception and wifi can be slow and unreliable. Use the nPerf coverage map to find out which areas have coverage and what level of coverage is available.
---
---
>>> BIO
Eddie and Kelli are full-time travelers who juggle their jobs as English teacher and accountant and their blog, the Vanabond Tales a travel blog dedicated to going places in tiny spaces. They have been traveling since 2018 in various converted vans, and currently can be found bobbing around the Adriatic in their boat Whisper.