This Yucatan itinerary guide is authored by Shelley
Planning your Yucatan itinerary and looking for adventurous and off-the-beaten-path things to do in Yucatan? You've come to the right place, because I've been living in the Yucatan for almost two years now, and I'm here to help you plan a unique Yucatan Peninsula trip.
The great thing about this part of Mexico is there's no shortage of amazing places to see in Yucatan, both on land and in the water. From ancient Mayan pyramids to climb, to cenotes to swim in, there's really no shortage of things to do in Yucatan that you won't find anywhere else in the world.
Yucatan Mexico Itinerary
---
Where Is the Yucatan Peninsula?
The Yucatan Peninsula encompasses the entire southeastern tip of Mexico. As the word peninsula has likely clued you in on, it is surrounded by water on three sides. To the south and east, you can swim in the bright blue Caribbean Sea waters, and to the north, you have the Gulf of Mexico.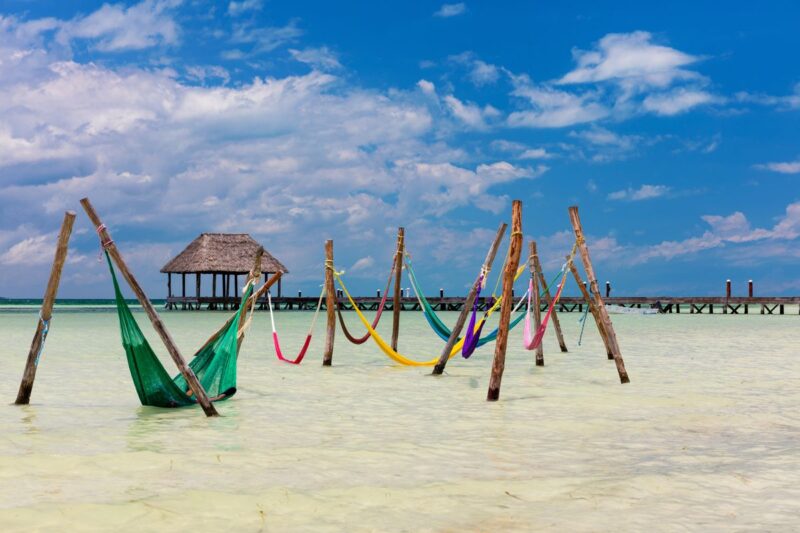 The peninsula consists of three states, Quintana Roo, home to the popular destinations of Cancun, Tulum, and Playa del Carmen; Yucatan state, where I live in the colorful, colonial city of Merida, and the off-the-beaten-path state of Campeche.
Now let's get to my one-week Yucatan itinerary for adventure seekers!
Yucatan Itinerary: Days 1-2
After arriving in Cancun, get your rental car… and then GTFO of Cancun! There's no adventure in Cancun unless you dive. In that case, there are some of the best reefs in the world right off the coast of Cancun, and also the Cancun Underwater Museum (MUSA) with about 500 submerged pieces of art.
From Cancun, take the ADO bus or jump in your rental car and head about two hours northwest to the small pueblo of Chiquila. Here, you'll actually leave the car in a paid lot for the next two days (at about $5USD per day), and board a 30-minute ferry bound for Holbox Island.
RELATED: A 2 Week Mexico Itinerary For Beach and Mountain Lovers.
Stay In: Holbox Island, Mexico
Holbox (pronounced hole-bosh) is a small island with no street lights, roads paved in beach sand and no cars allowed. Once a sleepy fishing village, the island has been gaining popularity in the last decade. For now, it is still one of the best Mexico hidden gems, and a great place to be out in nature and enjoy some of the coolest things to do in Yucatan.
Where to Stay:
Things to Do on Holbox Island
Whale Sharks: If you visit from June to September, take the tour to swim with the whale sharks. These aren't sharks at all, but rather the largest fish in the ocean, averaging a ginormous 25-feet in length. Each year, they migrate past Holbox Island for a few months to their breeding grounds. Whale shark tours: $100-150USD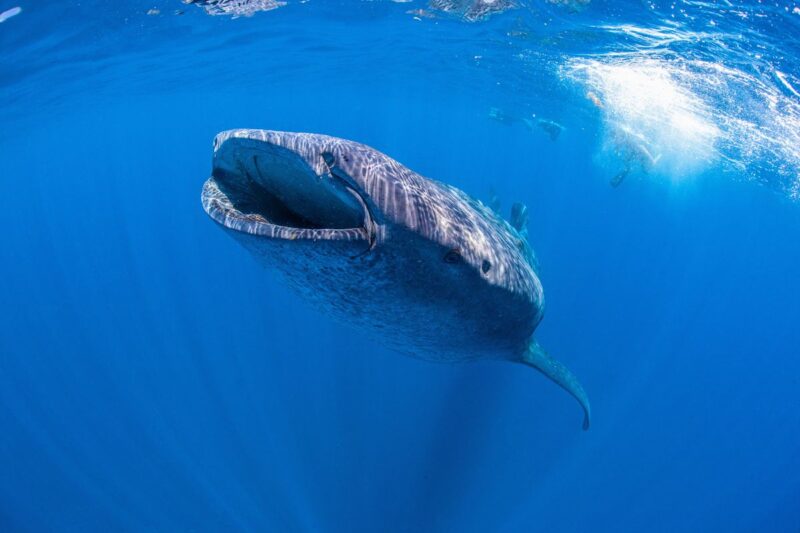 Yum Balam Reserve: This large nature reserve is located on the northern side of Holbox Island and is only accessible by boat, so you'd have to go on a tour. On the tour, you'll pass by several islands, as well as the Yalahau Lagoon, one of the best places for swimming and bird watching in Holbox. Yum Balam tours: $50USD
Kayaking & SUP: Rent a kayak and check out Holbox by water, as you pass through its protected mangroves to Isla Pasion (Passion Island) and Isla Pajaros (Bird Island). These islands are home to numerous bird species, including a large flock of flamingos that call Holbox home. A lot of people like to go out at sunrise on stand-up paddleboards to the islands as well.
Wind & Kitesurfing: The breeze on Holbox makes it ideal for windsurfing and kiteboarding. During the winter months, the north winds blow in, and you'll see the Caribbean Sea full of windsurfers and kiteboarders.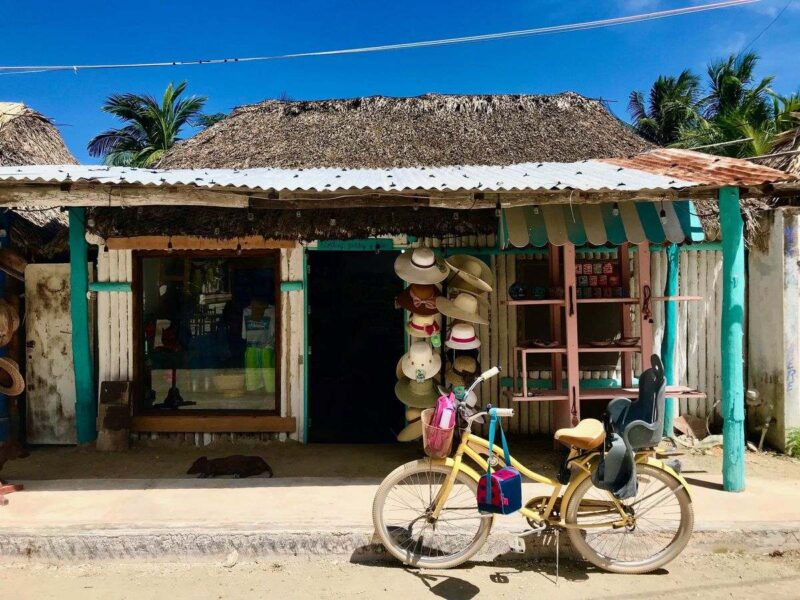 Bioluminescence: At night, head to Punta Coco to see the bioluminescent plankton dancing on the surface of the water. You can get in the water with them, and as billions of microscopic plankton land on your body, you'll start to twinkle — it's one of the best things to do in Holbox!
Yucatan Itinerary: Days 3-4
After taking the ferry back to Chiquila, get your rental car or take a bus to the pueblo magico (magic town) of Valladolid. Wondering just what is a magic town?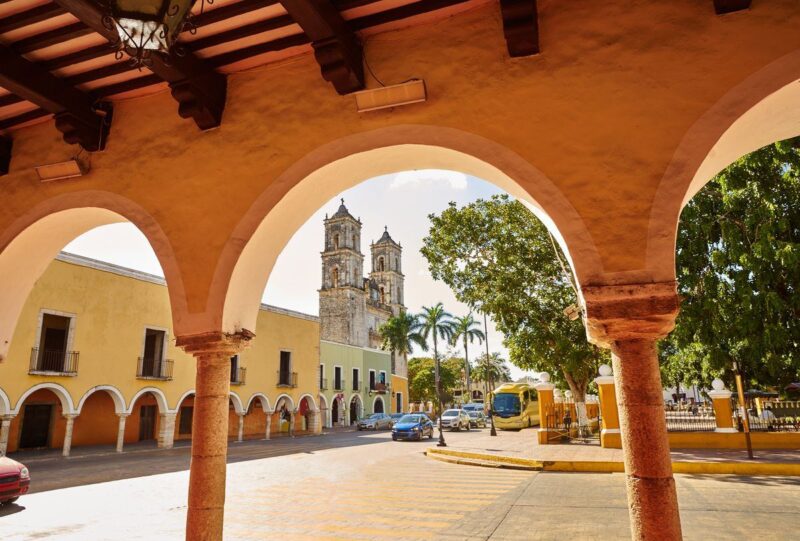 The Mexican Secretary of Tourism had designated about 140 pueblos, or small towns, as "magical" for things like unique history and folkloric traditions, natural beauty, and more.
Stay In: Valladolid, Mexico
Valladolid is one of the four pueblos magicos in Yucatan state. It is also one of the prettiest colonial towns, so after adventuring all day, you can stroll this colorful town and take in its beauty after a nice meal at La Casona, Yakunaj, and other great restaurants in Valladolid.
I suggest staying in downtown Valladolid because it has nice accommodations, and you're also close to the Chichen Itza and Ek-Balam Mayan Ruins, and many of the best cenotes in the Yucatan. If you've never heard of a cenote (pronounced sen-no-tay), let me explain…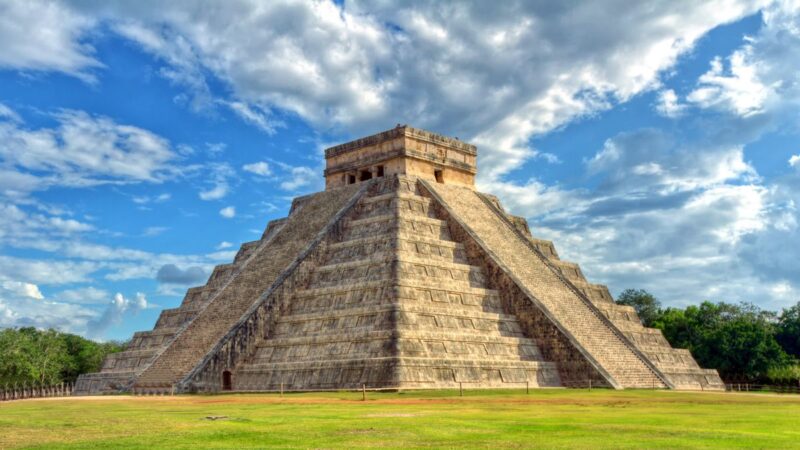 Cenotes are underwater sinkholes, containing the crystal-clear freshwater that flows beneath the entire Yucatan. They are only found in a few places on earth, with about 6,000 in the Yucatan; the largest amount found anywhere.
Where to Stay:
Day 3: Chichen Itza & Cenote Ik-Kil
Chichen Itza: As one of the Seven Wonders of the World, Chichen Itza is on most Mexico bucket lists, and is one of the top things to do in Yucatan. It is located about 45 minutes from downtown Valladolid, so head there in the morning after a hearty breakfast.
The site is quite large, so wear comfy clothes and sneakers, and don't forget your water bottle, sunscreen and hat. This is optional, but I really do recommend hiring a guide, which you can do right at the entrance.
As this is such a historic place, it's worth the $50USD for someone to explain every little detail to you — otherwise, you're really just looking at rocks! I have done ruin sites with and without guides, and some I say skip the guide for, but Chichen Itza is one of the few I say get the guide. Chichen Itza entry: $486 pesos ($24USD)
Cenote Ik-Kil: After a long and probably sweaty day, head to the Ik-Kil Cenote to cool off. As this is one of the most popular cenotes, and located only about 10-15 minutes from Chichen Itza, expect a crowd! Even so, it's the most popular because it's really gorgeous, so it's worth seeing and swimming in. Cenote Ik-Kil entry: $80 pesos ($4USD)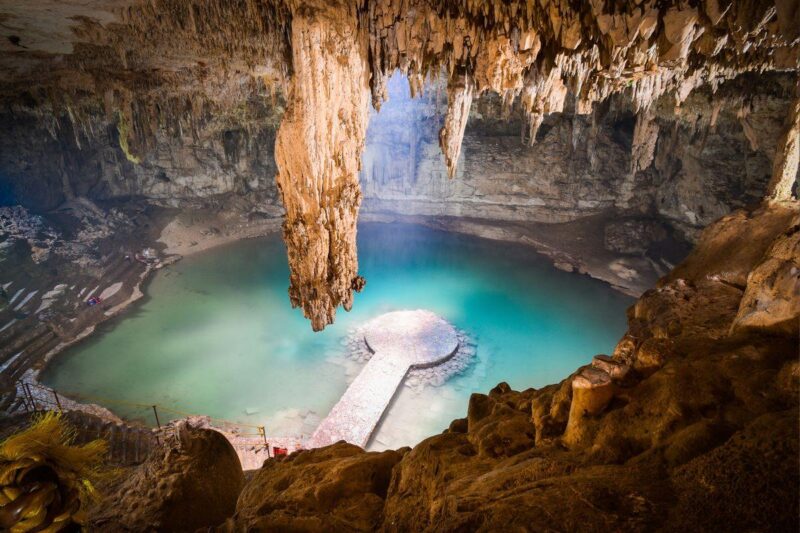 If you prefer uncrowded and off the beaten path cenotes, head to Cenote Yokdzonot and Cenote Chihuan, which is located inside a cave. If you still need more cenote time, head back to downtown Valladolid and hit up Cenote Zaci, which is free to swim in if you order a meal from the onsite restaurant. Cenote entry fees: $30-80 pesos ($2-4USD)
Day 4: Ek-Balam Ruins & Cenote Xcanche
A few years back, the Mexican government stopped allowing anyone to climb the Chichen Itza pyramids, but most of the other Mayan ruins in Yucatan allow it. To check out some fascinating ruins that you can climb, head to Ek-Balam. As these are much less touristy than Chichen Itza, you'll be among just a few people exploring the site. Ek-Balam entry: $413 pesos ($21USD)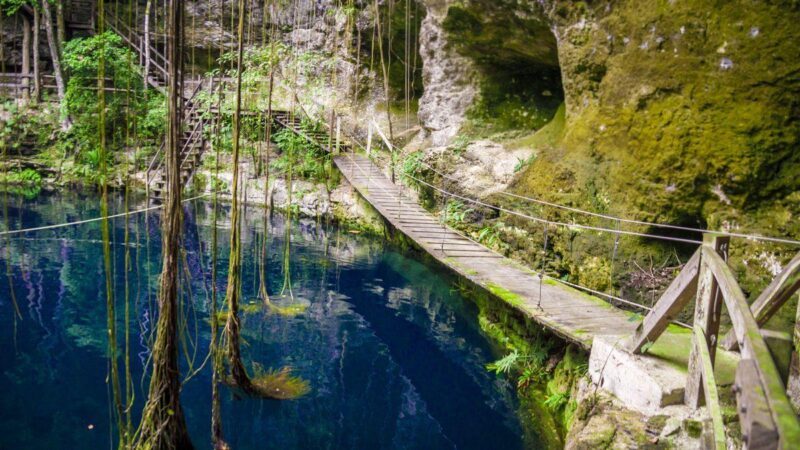 Cenote Xcanche: Located minutes from Ek-Balam, Xcanche Cenote is the place to cool down after exploring the ruins. This cenote is unique in that it offers rappelling, the zipline, and a rope swing to enter the cenote, but you can always just jump or walk in. Cenote Xcanche entry: $70 pesos ($3.50USD), but rappelling and the zipline are extra.
More Cenotes: No Yucatan itinerary is complete without visiting as many cenotes as you possibly can. As some of the prettiest and more off-the-beaten-path cenotes are near Valladolid, you might as well see a few more before leaving this area, like Cenote Oxman, Cenote Suytun, Cenote Samula, and Cenote Xkeken.
RELATED: A 3-Day Mexico City Itinerary: Boats, Pyramids, Churros, & Squirrels?
Make Sure You're Covered Abroad!
Travel insurance can save your @$$ abroad and it doesn't have to be expensive! Safety Wing is what I use because it's affordable, perfect for long or short term travelers and covers the important stuff (including COVID-19).
Yucatan Itinerary: Days 5-6
From Valladolid, drive four hours south to another pueblo magico, Bacalar. The small town of Bacalar is most famous for Laguna Bacalar, or Bacalar Lake, the second largest freshwater lake on Earth.
Stay In: Bacalar, Mexico
The native Mayans nicknamed this lake the "Lagoon of Seven Colors," because they say you can see seven distinct shades of blue. Because of its bright blue and clear waters, it is also known as the "Maldives of Mexico." Whatever you decide to call it, Bacalar Lagoon is gorgeous and provides a nice mix of relaxation in nature and adventure activities.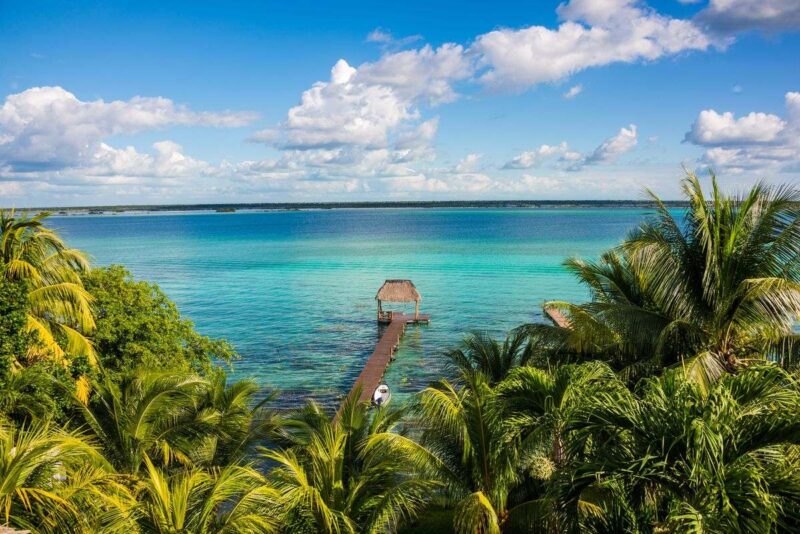 There are Bacalar accommodations downtown and around the lake. I recommend the lake because it's nice to walk outside your room and just jump in. Downtown, frankly, isn't super nice, but if you want to save some money, stay a few blocks off the lake instead of downtown.
Where to Stay:
Day 5: Boat Tour of the Lake & Cenote Azul
One of the top things to do in Bacalar is taking a boat tour around the lake — as it's about 25-miles (42m) from end to end, this is the best way to see as much as you can of it. You can also kayak the lake, but you obviously won't see all of it.
Bacalar Boat Tour: On the tour, you'll go to the Canal de Los Piratas (Pirate's Channel), where there's a shipwreck that people jump off of into the water. You'll also pass the Isla de Los Pajaros (Bird Island) and the three cenotes that are in the lake, Cenote Esmerelda, Cenote Negro, and Cenote Cocalitos.
Cenote Azul: The second most popular place to swim in Bacalar, Cenote Azul (Blue Cenote) isn't in the lake. You have to drive or walk to it, but it is one of the deepest cenotes in the Yucatan, at about 275-feet-deep (84m).
Day 6: Sunrise SUP & Los Rapidos
If you called it an early night and love mornings, Bacalar has some epic sunrises. For this reason, many head out early for stand-up paddleboard (SUP) yoga, or just a quiet paddleboard session when they'll have the whole lake to themselves.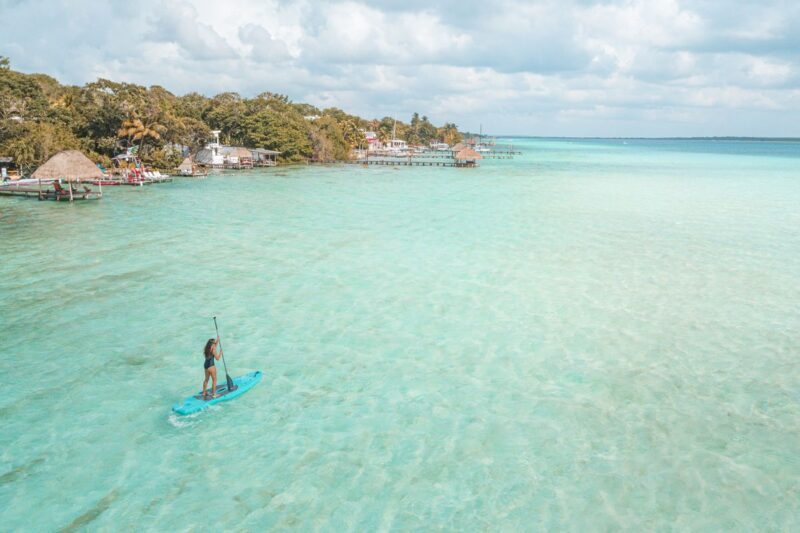 Los Rapidos: Los Rapidos, or The Rapids, is one of the Bacalar balnearios. These are basically beach clubs, except Bacalar is a lagoon, not a beach! There are a few around the lake, but Los Rapidos is the most fun.
As the name implies, there are fast-moving rapids here that you can swim in and float down. You can also rent a kayak and head in the other direction out into the lake to explore more of Bacalar Lagoon. There's a restaurant, bathrooms, water hammocks, and swings on-site, so it's a great place to spend the whole day.
RELATED: 17 Things To Do in Sayulita, Mexico.
Yucatan Itinerary: Day 7
Sadly, it's time to head back up to Cancun for your departing flight. The drive from Bacalar to Cancun is about 4.5 hours, so give yourself enough time.
If you want to squeeze in a few more things to do in Yucatan before leaving, there are some cool off-the-beaten-path Mayan Ruins on your way. Head to the Chacchoben Ruins and the Muyil Ruins, which are both just off Chetumal-Cancun Highway 307, the road you'll take all the way to Cancun.
When Is the Best Time to Visit Yucatan?
The best months to visit are November to March when the weather is the coolest. Located in the tropics, the Yucatan Peninsula is hot year-round, think 80-90°F, but the winters are nicer because the humidity and mosquitoes are at bay.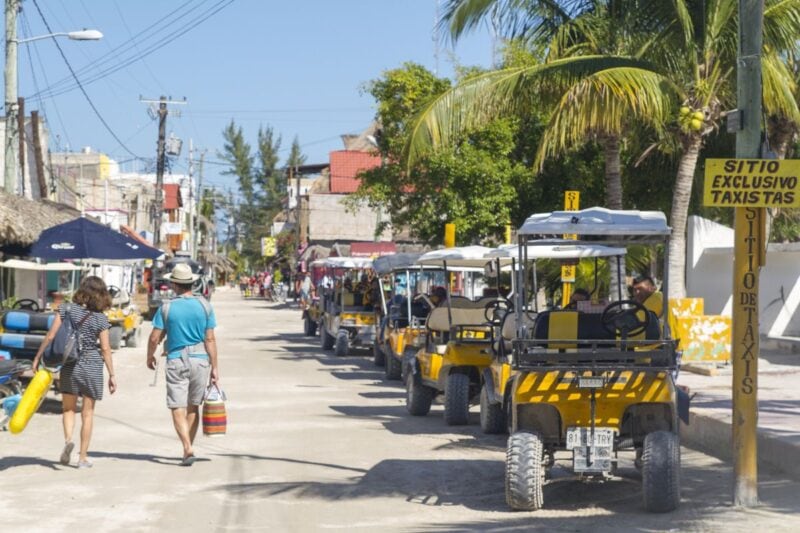 As it's surrounded by water, the entire peninsula is also susceptible to hurricanes, tropical storms, and daily rains during the April to October wet season. While Atlantic Hurricane Season technically runs from June 1 to November 1, the weather is usually nice by the end of October.
Do I Need a Visa for Mexico?
U.S. passport holders do not need a visa for Mexico, so you can even go do this Yucatan itinerary on a whim. For a list of all the countries Mexico does not require travel visas from, head here.
When you arrive in Mexico and go through Immigration, you'll receive a 180 day (6 month) FMM tourist card. Though it's called a card, it's really just a small piece of paper that you must hold on to and give back to Immigration when you leave the country — so don't lose your FMM.
How Do I Get to the Yucatan?
The easiest way to get to Yucatan is to fly into Cancun International Airport (code: CUN). There are other smaller, regional Yucatan airports scattered throughout the area, but it's generally the easiest and cheapest to fly into Cancun.
Renting a Car for Your Yucatan Itinerary
Cancun is also the best place to get a rental car, as you'll have the largest selection right at the airport. In general, it's quite safe to drive in Mexico, with the obvious caveat that you'll be in a foreign country, unfamiliar with the driving laws and local customs.
Take a moment to check out these 12 Useful Mexico Driving Tips, but rest assured, Yucatan road trips are very popular, and considered safe. In fact, for adventure seekers, the easiest way to navigate to all the best things to do in Yucatan is by driving, as many are a bit remote.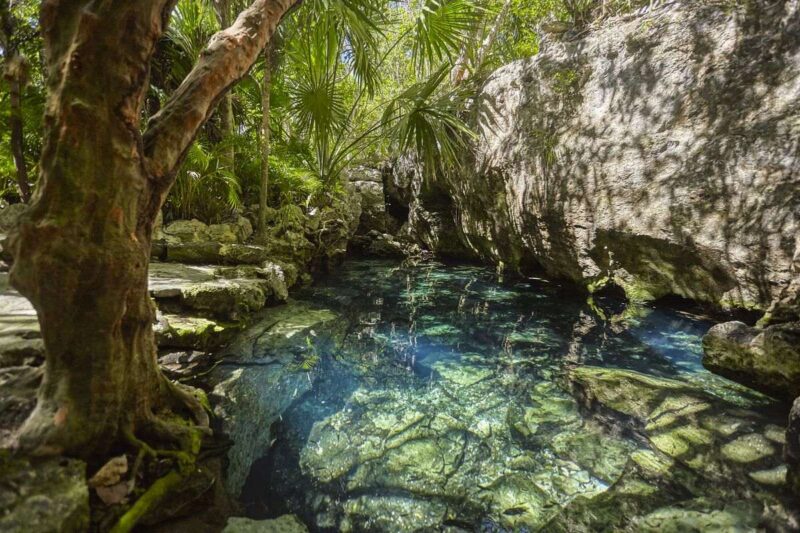 Prices vary, but you can usually rent a car for only $20USD per day if you decline insurance. This isn't something I recommend, but I feel most people rely on their credit card company for coverage nowadays since most companies provide it (or say they do; I've heard horror stories). If you opt for Mexican insurance, rental prices are closer to $50USD per day.
Yucatan Mexico Public Transportation
If you don't want to rent a car, there are still plenty of amazing and adventurous things to do in Yucatan in your future — they will just take longer to get to.
In all seriousness, Mexico has a great bus system, and you can actually travel the entire country via the ADO bus. This is Mexico's largest bus company, and all their buses have big, comfy, recliner seats, AC, outlets at each seat, and bathrooms onboard.
ADO is a more luxury-style bus than a "chicken bus," which is what's common throughout much of Latin America. Ticket prices will depend on where you're coming from and headed to, but for the comfort of these buses, they are quite reasonable at about $15USD for a two-hour trip.
---
---
>>> BIO
Shelley is a former Miami travel magazine editor who ditched the office for the world! After traveling solo to 14 states in Mexico, she now lives in Merida, Mexico full time. Shelley now helps other women cross Solo Travel and Mexico Travel off their bucket list through her Travel Mexico Solo blog and Dream To Destination podcast.
---