Beaches and bikinis for miles, weather set at a pretty consistent roasting level with a heavy dash of humidity, and terrain that's flat as a board.
These are the words that would NOT be used to describe Nepal (with the exception of humid) but these are the things I know best. I'm from Florida so "high altitudes, snow-capped mountains, and mountain trekking" are vocabulary words that are almost as foreign as Mars.
After I started traveling, I still never really experienced REAL hiking and trekking. So when the opportunity came up to go trekking in Nepal, I didn't even think twice. FINALLY! I get to experience some real mountains and trekking!
This Florida chick was so stoked to go but let's just say, not exactly the most prepared. With that said, here is everything that you SHOULDN'T do while trekking in Nepal and how to trek and enjoy the Poon Hill Trek, specifically.
What Not to Do If You're Going Trekking in Nepal
---
Don't Forget to Bring a Rain Jacket
You will literally be the most miserable person in the Himalayas if you get caught out in the rain without a rain jacket while trying to hike mountains. Oh, and make sure the jacket actually works and doesn't have any design flaws because that's the last thing you'll want to deal with while hiking.
My friend Anna bought her jacket in Kathmandu and while the shopkeep boldly poured water on the jacket to show that it was waterproof, it, in fact, was not. Anna got wet.
And for me? Well, my jacket was pretty awesome. I had a pretty good rain jacket that I actually bought prior to coming to Nepal and ready to use on my hike! I was pretty proud of myself for actually having this small detail ticked off and prepared for, as you'll see as you continue reading I was rather ill-prepared otherwise.
Sadly, my nude colored jacket with flower lining had a major design flaw.
The makers certainly wanted my armpits to breathe so I didn't repel my fellow hikers with my bodily stench which sounds like a great idea. However, the armpit holes were HOLES which welcomed the pouring water right inside… to soak me. Not cool, guys, not cool. Now I'm smelly and wet!
On a similar note, make sure your bag is protected as well. Get a back that comes with a "jacket" or you can buy one separately. Make sure that one works as well (wait for iiitt….).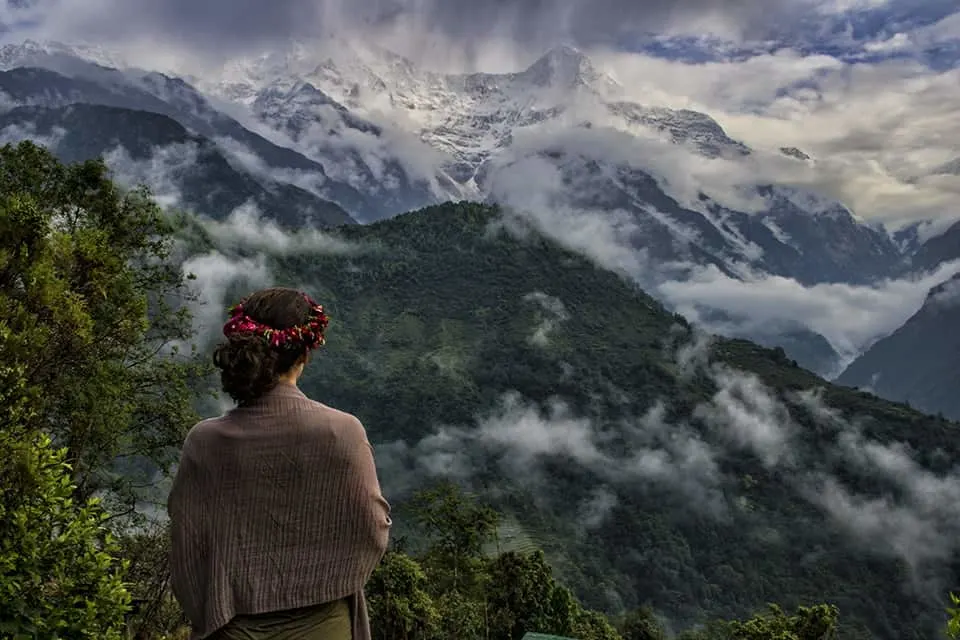 Don't Bring an Obnoxious Day Bag…
No need to look cute or fashionable, you're climbing a mountain. A friend who did this hike before told me someone on her trip wore a messenger bag (?!) to go hiking…
Don't make life more difficult, get a decent bag that you'll be comfortable carrying for long periods of time.
The backpack I had, had great back support and a waist belt to take the weight off my shoulders. It was great to have that extra support and no sore shoulders because everything else will be sore so take this win and run with it.
However, the "waterproof" rain cover that came with the bag – Yeah, definitely not waterproof. Thankfully the Canon was not spared in this mess and all was OK but it could have been bad! (This is what I get for buying cheap shit in Katmandu don't be like me).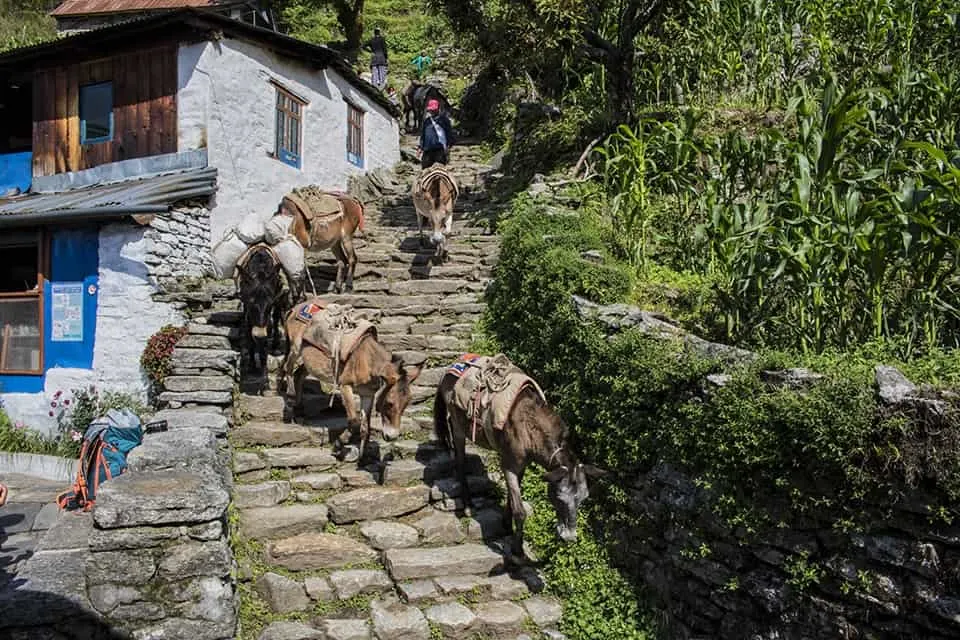 …Or Clothes
I'm the worst. I literally leave everything until the last minute. I was coming from Europe and I really didn't want to pay European prices for quick whatever clothes that I would be comfortable hiking in (and probably never wear again). So naturally, in my last minute moments before the trek (I'm talking literally the day before) I went shopping around Katmandu.
Now, I'm not really one to care too much what I look on a hike but I can tell you right now my crop tops and skirts that I was prancing around in Europe in, would not have worked!
The knock-off "branded" stuff for hiking though was actually kinda pricey ($30+) and, as I learned with my fake Deuter bag that I got, I didn't want my clothing falling apart on the trail!
So I wore some leggings that I had, bought one new pair and I had some oversized shirts and I got one more regular t-shirt. Three outfits for a five-day hike sounded good to me and I kept my costs under $30 including the cheapo bag. Everything worked out.
Bring comfy and hike appropriate clothing and if you plan on buying in Katmandu, just know you're going to have to pay more than you think for knock-off stuff!
I was fine with what I brought actually, I just needed a few more of the same things since I didn't want to be so stinky.
Actual hiking gear wasn't really needed and during this time of year, June, what I wore actually worked out really well and I was comfortable. I'll show items similar to what I brought with me below.
Don't Wear Short Socks
We're not trying to be vain or look stylish, guys, this is a hike. You need to be comfortable and protected. What could long socks protect you from? Well, when you're in a forest and it's raining, look down.
You just might see a gross little worm working its way towards you. Stand around any longer and that little worm will crawl up your leg and latch on to your ankles in a heartbeat.
That's no worm, that's a leech, and short socks are essentially a welcome party for them to chow down on your blood.
Gross. I picked off exactly three leeches from my ankles. Not cute. I was wearing short socks… Total fail.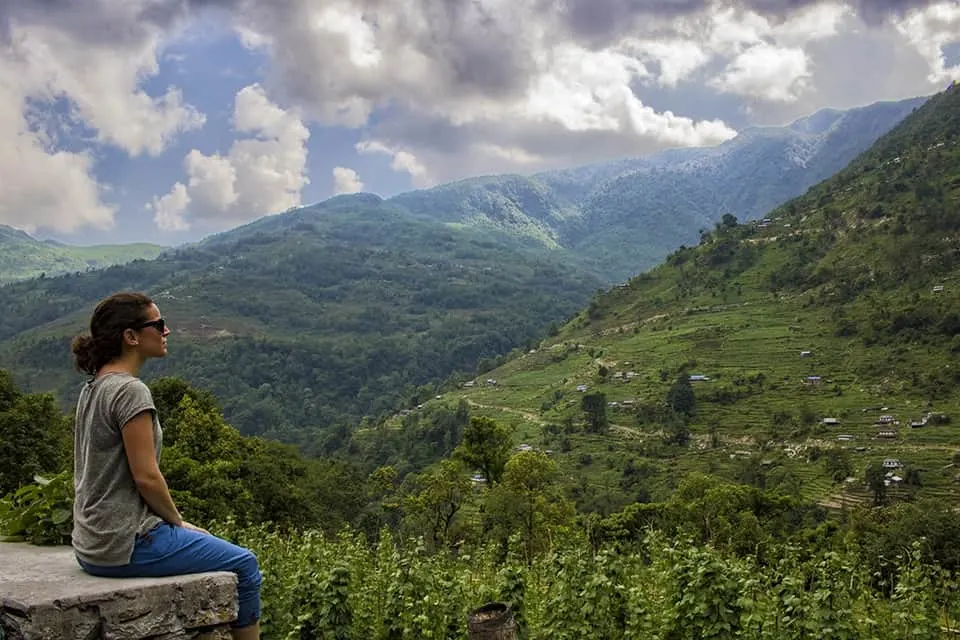 Don't Bring Everything You Own with You
Seriously, leave it in your hotel. Trust me. There's one thing to overpack while you travel but when you're hiking?
You will painfully regret everything and contemplate throwing things over a cliff.
You really don't need much. And you certainly don't need to bring everything that you brought to Nepal on the hike. You'll go back to where you started so just leave your stuff at the hotel you were at before the hike. Hotels are pretty used to it and have a storage room.
Don't Skimp on Getting a Porter
You have the choice to hire a porter or not. A porter is a person who does the hike with you but they carry your bags. You carry your small day pack with your camera, your rain jacket, some water etc… but they carry the rest.
It's really not that much extra per day and unless you're totally fine carrying your stuff, then I highly suggest splurging a bit and getting a porter to carry your things. They are well worth it!
Don't Forget Coffee
OK, this one if for my coffee addicts. I sometimes have a hard time with the cup of dark watery stuff that some countries call coffee. So I brought my own. And it was the best decision. I was pumped and caffeinated for my early morning wake up calls and happy to hike. I would have been a monster without proper coffee.
Tea is nice and all but um, no, I need coffee. Yes, need. I know you feel me fellow coffee fanatics.
PS- In case you're wondering how to make it in the mountains, you'll have to purchase a cup of hot water and let your little pep-filled granules sink to the bottom and then drink your coffee without getting to the last drop where the sludge sits. Not the nicest cup but at least it's actual coffee.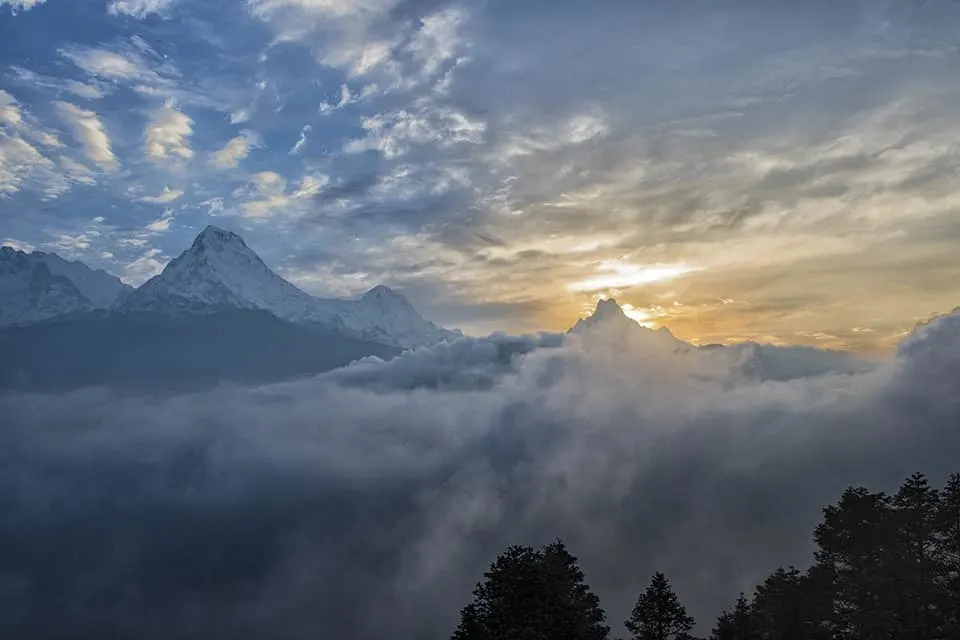 Don't Hate Going Uphill
I dislike going uphill. But I don't hate it enough to not going on a hike. At the end of the day, who actually likes going uphill? Probably nobody. It's not a fun task and it totally sucks if you're not in the best shape (Ehem… me.). But I'm totally fine going uphill when there's an epic reward waiting for me! So I didn't bitch (much).
If you really hate going uphill, don't do this hike. The first three days are literally all.up.hill.
Stairs will be lurking in your nightmares and the echoing of your heavy breathing will be ringing in your ears. Prepare yourself now.
Don't Think You're Too Good for Trekking Poles
I thought I was too good for trekking poles. Psshhh… Who needs those?! I'm fine. This isn't going to be that bad and it's probably an unnecessary thing to bring. I'll end up packing them in my bag the entire time and it's going to be a waste of money…
I thank my lucky stars that at the last moment I thought, "Well, it's only $7 for trekking poles, Nina. Maybe you should get them?"
Thank you, thank you, thank you! I'm so happy I was smart enough to change my mind last second. I think I would still be climbing the mountains using my hands to claw my way to the top. They came in handy the entire trek.
Going uphill? You sure are! But now you can use the trekking poles to help use some of your upper body to get up. Especially when you're on day three and your thighs are screaming.
Is it raining and everything is slick and slippery? No probs, dude, those trekking poles will help you stay firm and planted so you don't slide off a mountainside to your death or at least, inevitable horrible injury.
They aren't a requirement but I was happy I had them! At the end of the trek, I gave them to my porter who said he could use them which also made me happy.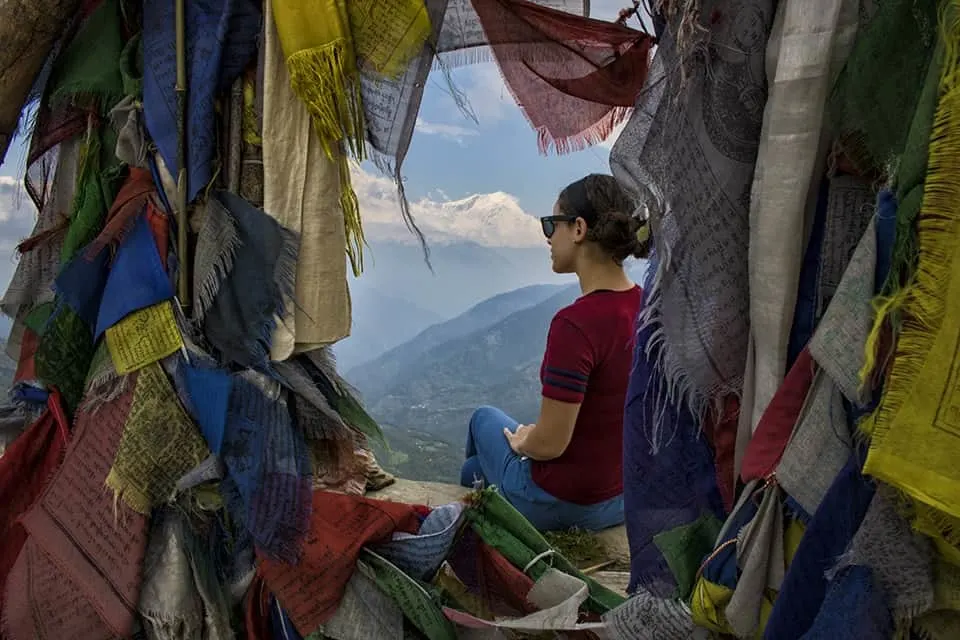 Don't Forget a Portable Charger
It would be wise to bring a portable charger that holds numerous charges. You never know if the tea house you'll be at will have electricity…that works. Some of the tea houses we were at only had one power strip with four plugs for community use and for an extra fee.
One place didn't have electricity for a good chunk of the evening due to weather.
If you want to charge your phone or camera stuff, you'll want a backup charging device!
This is the one I use for my phone and GoPro.
Don't Forget a Refillable Water Bottle
A. Let's be more green and stop wasting so much plastic.
B. You literally will need one. As you hike further into the mountains the people will only drink the boiled and filtered water they have.
There are no water bottles for purchase. You will just pay them for a water refill.
So definitely bring your own water bottle and bring one with an extra filter if you're slightly sketched out of the water. I didn't have an extra filter and I lived. You're going to be fine.
This water bottle will serve you well and is safe to use in Nepal.
Don't Underestimate the Difficulty of the Trek
Let's be real. I'm not THAT fit. It's the honest truth. So when I heard that this was the easier one of the treks, I felt pretty good.
I figured everything would be OK. And you know what? It was OK… But it was certainly not easy. "Easy" for Nepalis, perhaps, but it's more like intermediate for us not-so-fit people. I kept up, I was good to go, but the amount of uphill and stairs is A LOT.
One day consisted of over 6,000 steps as the sun bashed us from behind and school children ran up and down the steps on their way to school without a drip of sweat on them. Oh, and that was only part of the second day! Don't underestimate the stamina and fitness level needed but a the same time, don't put yourself off not going at all. Challenge yourself!
Don't Forget to Get a Sim Card
This isn't totally necessary but I'm super happy I got a SIM card. Usually, my T-mobile data works everywhere but Nepal was one of the countries where it didn't, so I got a SIM card and I was able to have internet everywhere (well, almost).
There were times in the mountains where the wifi at the tea house didn't work but my network did. You also have to pay extra for the wifi password at the tea houses… only to find out it doesn't work.
This might be a great time for a digital detox.
I had a mini one but considering I work online, it was good to check in here and there. Just be prepared to be pretty much offline the entire time though. If you need to be connected, trust a SIM card over the tea house wifi. It was only $16 at the airport for 3GB. (**Note that you'll need passport sized photos to get a SIM card at many of the places!)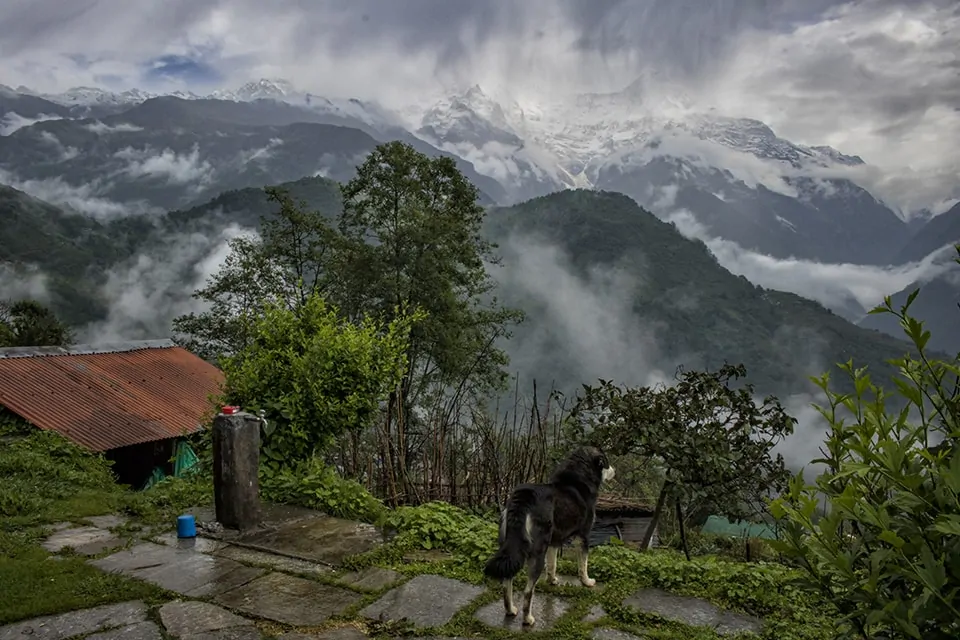 What Will My Days Look like on the Poon Hill Trek?
Here's a brief rundown on the trek:
Day 1: Start off in Pokhara, drive up to the beginning of the trail and hike for about four hours to Tirkhedhunga.
Day 2: Hike about five hours to Ghorepani.
Day 3: Wake up to catch the sunrise at the top of Poonhill which takes about an hour to hike to and then move along to Tadapani which is about another five-hour trek.
Day 4: Hike about seven hours to Ghandruk.
Day 5: Trek about an hour or two until you get to the meeting spot for trekkers and Jeeps to drive back to Pokhara.
For my group, we were eating breakfast by 6:30 am and trekking by 7:30 most mornings. We stopped at a random teahouse for a lunch and we would finish trekking for the day around 5 pm or so. Then we would chill out and just chat until we got sleepy which was often around 10 pm or so.
Breaks in between are frequent enough and as needed. Of course, there are plenty of spots to pull over and take pictures so you're not trekking the entire time and times will differ depending on your group.
You'll have a guide in front and in the back, so no worries on being slower and losing track of the group.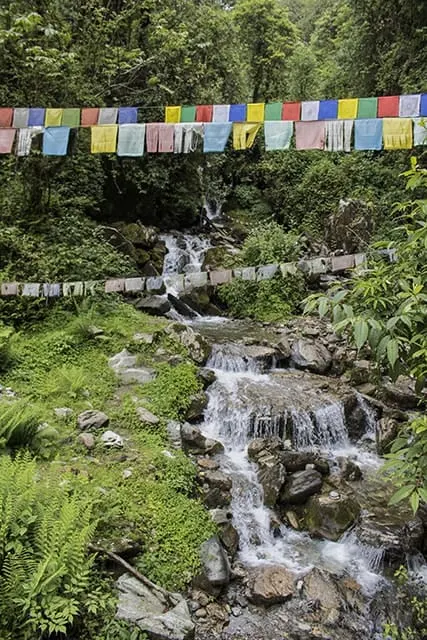 Poon Hill Trek Tour Info:
---
Poon Hill Trek With a Guide
It's highly recommended to do this trip with a guide. it will take a lot of the stress, planning, and logistics off your shoulders. Also, most of the trip is paid for so you don't need to worry about bringing too much money.
The extra would just be for any drinks. A water fills up costs less than a dollar.
I loved having a guide as there's a slew of questions that will come up that you'll want to ask! There's no need to care where you're going, what time you need to be where, will there be an open bed at the tea houses…etc because everything will be organized for you. Just put clothes on and walk out the door.
They even tell the tea house when to make your breakfast so you can get on the trail on time. It was nice not having to worry about ANYTHING.
They can also make sure none of you get eaten by any local animals which is always great! Just kidding!
Recommended Poon Hill Tours:
Poon Hill Trek Without a Guide
You'll need to prepare your trip and trail in its entirety.
If you go in peak season, it can be difficult to find your own accommodation in the villages. The villages are made up of tea houses and there's a limited supply of beds to divvy out to the trekkers.
It's not necessarily hard to find the trails, it's well trotted but there are definitely a few spots where you could make a wrong turn. At the least, I know I would want to do this trail with someone else and not totally alone.
Recommendation: Simply for the ease, I'd recommend getting a guide. If you're really wanting to save a few bucks, pack very little and go sans a porter instead (this means you carry everything for the five-day trek).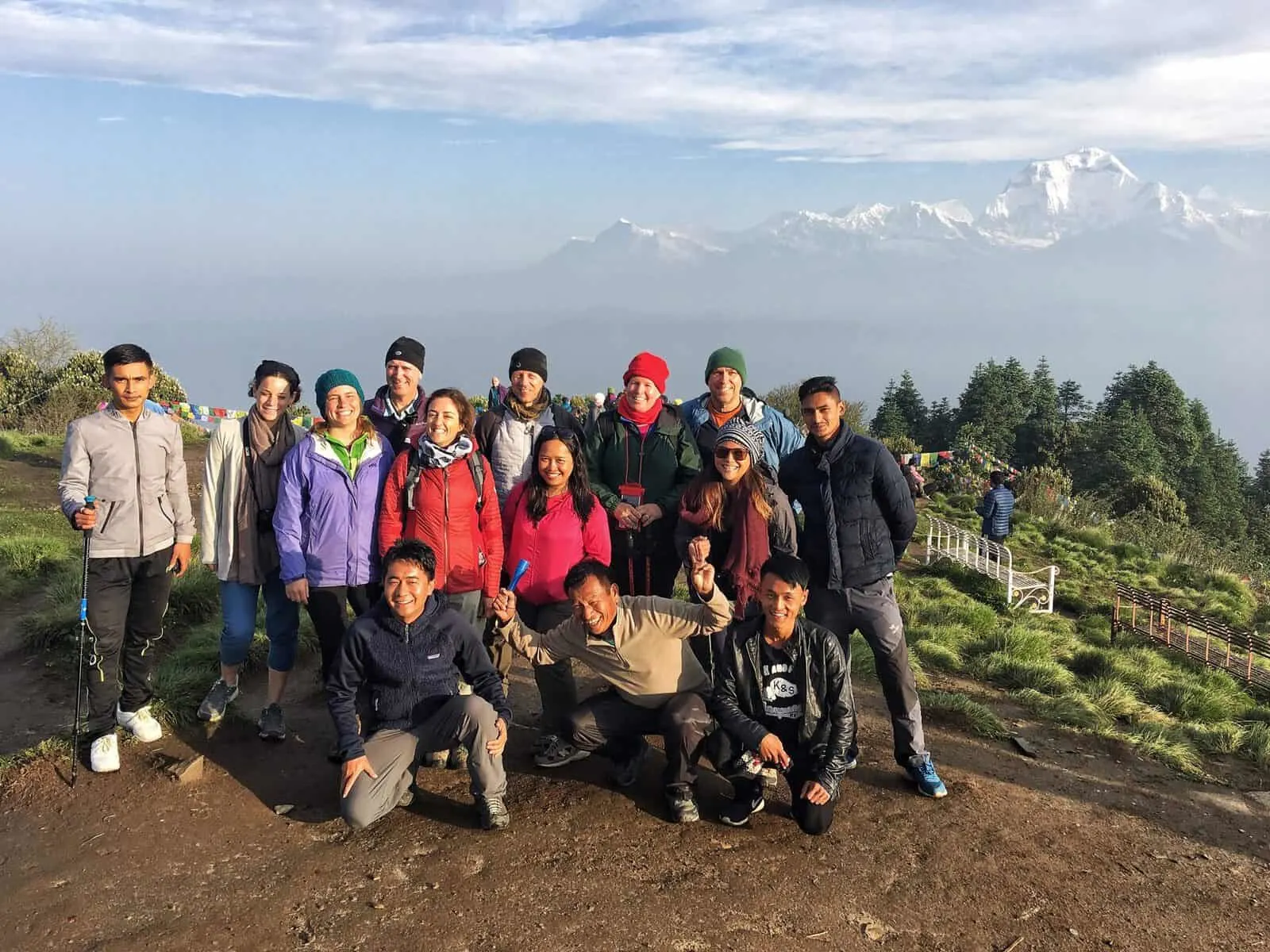 How's the Food on the Poon Hill Trek?
I was honestly surprised. I bought tons of meds for diarrhea, vomiting, and cramps and I didn't need to use them once on the trek. I was prepared for at least one night on the toilet. I had comes to terms with it. When my hike was done and I didn't have one tummy issue, I was shocked. Pleased but shocked.
The tea houses all serve the same food. Your typical stuff… Western breakfasts, pasta, Nepali food (Daal baht for the win! So delicious!), masala teas, Coke… Pretty standard and typical stuff and best of all, made with decent sanitary standards! Enough to where not one person I met on the trail and not one person in my group got sick. Wooo!
I'd recommend bringing meds anyway because you never know and I felt safer knowing I had them with me. I bought the meds for $1.40 USD at a pharmacy in Katmandu.
I also brought granola bars (I brought them from Spain, where my flight originated from, as it would have been more of a hassle to get them in Nepal) just so I had some backup snacks. They were a good choice to bring! Don't get a bar that has chocolate or any other "melty" substance.
COST: 200-300+ rupees a meal
A water refill is anywhere from 50-100 rupees – the costs goes up the higher you hike.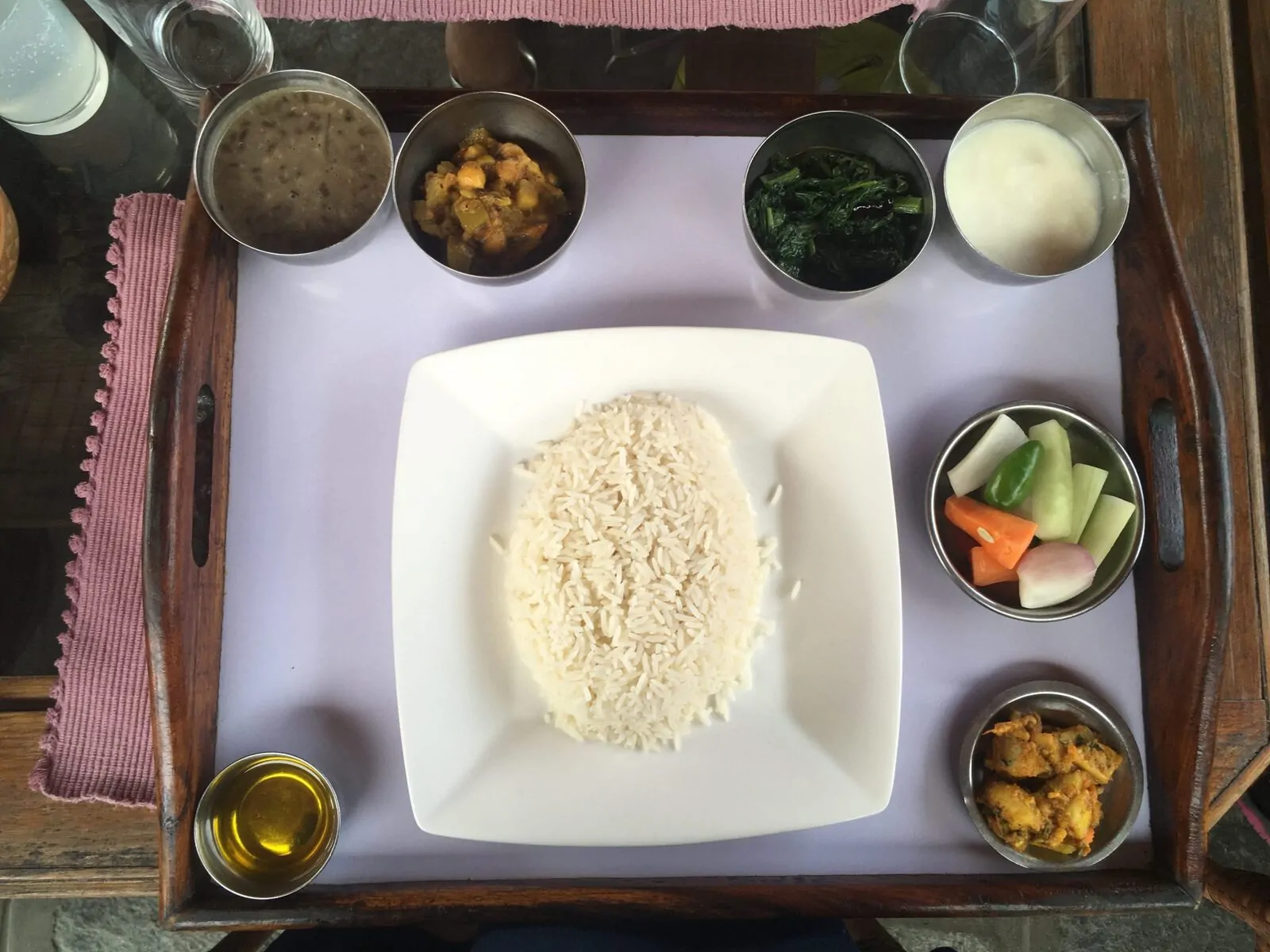 What's the Accommodation Like on the Poon Hill Trek?
Basic. Everything will be very basic at the tea houses. Tea houses are what they call the simple accommodations that are clustered on a side of a mountain. You get a room, a bed, and that's it. They do provide blankets, it will get cold at night.
I brought a sleeping bag slip just in case the sheets were not as clean as one would hope and I only used it once, otherwise everything else was pretty decent.
There is a shared bathroom and shower. You will often have to pay extra if you want a hot shower (you will) and if you want to use the wifi. I would say don't bother with the wifi. It rarely worked well and once you have a few people on it, you'd be better off just enjoying your surroundings rather than refreshing your Facebook app. Like I mentioned before, the SIM card was way better.
COST: 300-600+ rupees for the room (depending if you're sharing or not)
About 100-150 rupees extra for the coveted and precious hot water for your shower and if you want to attempt the wifi, that's another 100 rupees.
Where I stayed each night:
Tikhadhunga – Laxmi Guesthouse
Ghorepani – Hotel See You
Tadapani – Fishtail View top Lodge
Ghandruk – Snowland Lodge
(The last two spots have SPECTACULAR views just outside. Like… Unreal!)
Note: If you book a Poon Hill Trekking tour, you won't need to pay anything beyond extra snacks, drinks, hot water for showers, and wifi. I've included all pricing just for infomational purposes.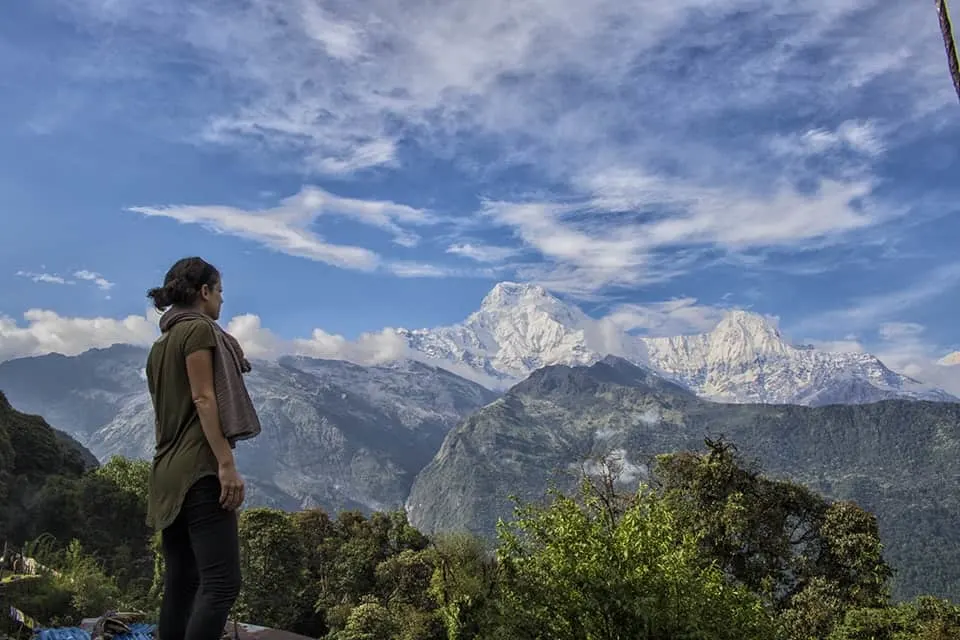 What About Altitude Sickness on the Poon Hill Trek?
The only time you'd be a bit at risk is when staying or trekking around Ghorepani 9,800 ft (2,987 m) and then even more so while going up to Poon Hill 10,500 ft (3,210 m). But it would probably be pretty rare. One person in my group didn't feel well at night in Ghorepani but made it up to Poon Hill in the morning no problem.
If it's any consolation, as mentioned, I'm from Florida and this is the highest I've ever been in my life that wasn't on a plane and I didn't get sick! Yeah… You should be fine.
The most I felt was a bit more out of breath than normal while walking up to Poon Hill. It took a while to get up there and I stopped often.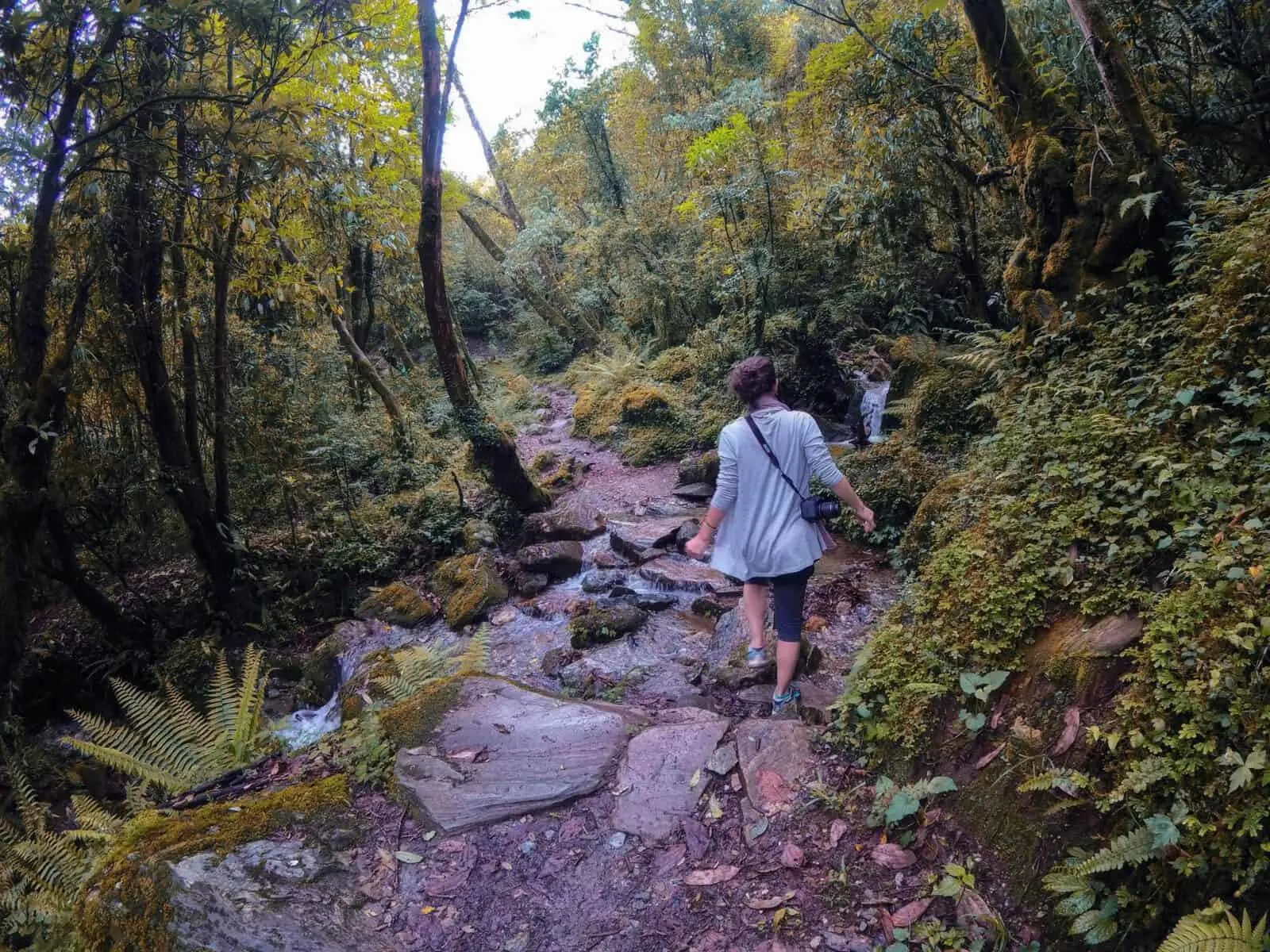 When Should You Trek Poon Hill?
Choose your dates carefully! My trip here was in June, which could potentially be one of the worst times since it's starting Monsoon season. However, we were still on the shoulder of it and it ended up being really good because none of the trails were busy.
I would have had a way different experience should everything had been super crowded. It's best to hike in March-June and September-November. October and November are the best weather wise but the busiest times to trek. Trekking in the winter also means a lot more gear. Trail closures can happen during the rainy season and during winter.
Poon Hill Trekking Tips:
---
The Basics on Nepal Trekking:
Don't forget to bring cash! You're not going to find an ATM in the mountains. And bring a bit extra to tip your guide and porter too.
I have heard of people bringing their own food and I'm a bit confused as to why. The food was pretty good at the tea houses and it was cheap. Don't worry and stress out over food, bring some snacks and just eat on the trail. Your back/porter will thank you.
It's OK to get Jeeps to nearer starting points on the trek. Some trekkers will start in a town and have to hike quite a bit on roads with passing vehicles stirring up dust the entire time. That's not the real hiking experience you were hoping for, right? Get dropped off closer to the main trails where vehicles can no longer pass, especially if you're low on time.
Don't trek alone. At all. Even if you refuse a guide, bring a friend.
Don't try trekking with a random "guide." Make sure the person is legit as it's illegal for a guide to trek without being under specific registered agencies so do your homework before you fork over cash for a guide.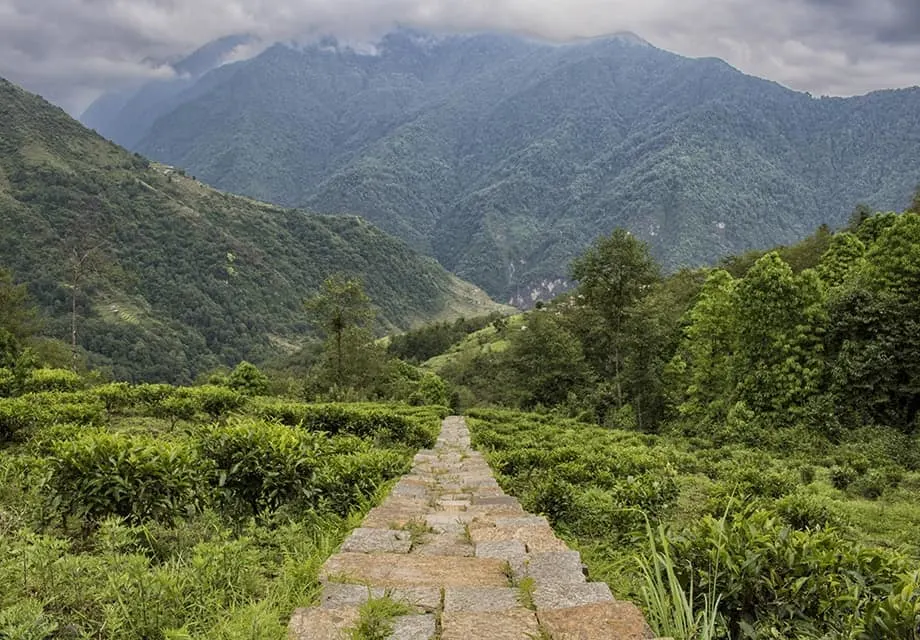 How to Pack for Trekking in Nepal:
Bring warm clothes. I was there in summer and I could have done with a slightly thicker sweater. You'll be hot during the day but at night it does still get chilly. Even starting the hike in the mornings will be chilly so I always carried my sweater with me. This is the jacket I bring EVERYWHERE now (didn't have it for Nepal, wish I did.) The puff jacket keeps you warm and the rain shell can be worn separately if it's raining but not too cold.
I wore running shoes and I was fine. Hiking shoes would have been nice because longer socks can then be worn but eh, I was OK. I only had to pick off three leeches.
Pack light! Your daypack needs nothing more than: Sunscreen, water bottle, some cash, a rain jacket, granola bars, camera equipment, something light to put on if it gets a bit chilly and a scarf. This is all I carried. My porter had the rest of my stuff.
The other things I packed that the porter carried were basic toiletries, a few shirts and a few leggings or pants, extra socks, flip flops, chargers for camera and phone. That's it. I kept it really light. If I was traveling without a porter I would have been able to carry pretty much everything I brought, but I'd leave an extra outfit or two at home. I would need to carry a larger bag as well. Also, the stink levels would probably be higher.
Should you be traveling in winter you would need to get extra gear. You can rent in Pokhara if you don't have nor want to buy any.
Tips on Getting Epic Views on Your Poon Hill Trek:
Catch as many sunrises as you can! We had a little bit of bad luck in the mornings as it was sometimes raining but a sunrise wake up will be well worth it if it's not.
If you're flying West after your time in Nepal, sit on the right side of the plane (when looking forward towards the pilot). It will be a spectacular Himalayan Mountain show for a solid 20 minutes!
The Poon Hill viewpoint is certainly the star but should it be overcast or raining during your stay, you just continue the route towards Ghandruk after the weather calms down and you'll still be able to get really nice views of the mountains just from a bit lower altitude.
Tadapani and Ghandruk both have teahouses set in really picturesque locations. If you don't get to stay where I stayed (mentioned above), try to get another spot with equally amazing views! This way when you get up for sunrise you just walk right outside.
No need to pay for a flight over the Himalayas and Everest when this was included with my flight back to Europe!
Where to Stay in Katmandu and Pokhara?
If you're coming to trek, you will inevitably be in and out of Katmandu and Pokhara. Since you're here on the trek, and you will be sleeping at the most basic of places… Maybe you're willing to splurge a bit before/after the trek? You kind of deserve it, no?
If you agree, I'd recommend Park Village Hotel in Katmandu. It's out of the hustle and bustle and is so relaxing compared to the chaos outside of its doors. Don't worry though, there's a free shuttle should you want to get in the crazy mix of Katmandu life.
Perks: Brekkie buffet that's on point, it's so quiet, and a pool with a view.
Check here for prices and comparisons.
More on a budget? I hear ya! Here are a few other options in Katmandu. The popular area to stay in is Thamel.
While in Pokhara, I stayed at Swapna Bagh which was great, especially for the price but here are some other Hotels in Pokhara.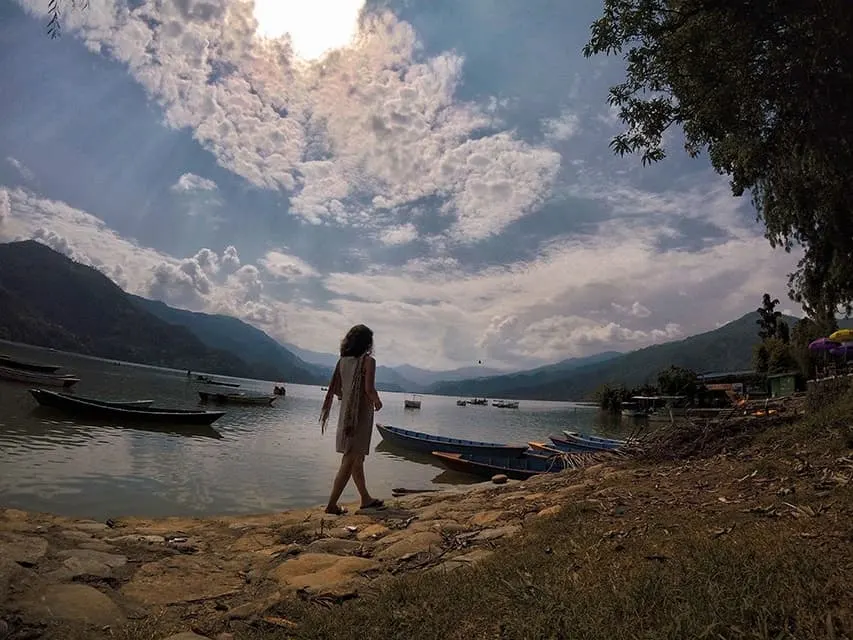 Don't forget to check dates and prices for this badass trek.
So would you do this Poon Hill Trek? Have you been trekking in Nepal and perhaps have some other tips?Leave some comments below!
---
Pinning is cool, dude
---
Please note this was a sponsored trip through the Tourism Board of Nepal and NATA however as always on every single one of my posts on this site, all opinions are my own. There's a strict no BS rule on this blog!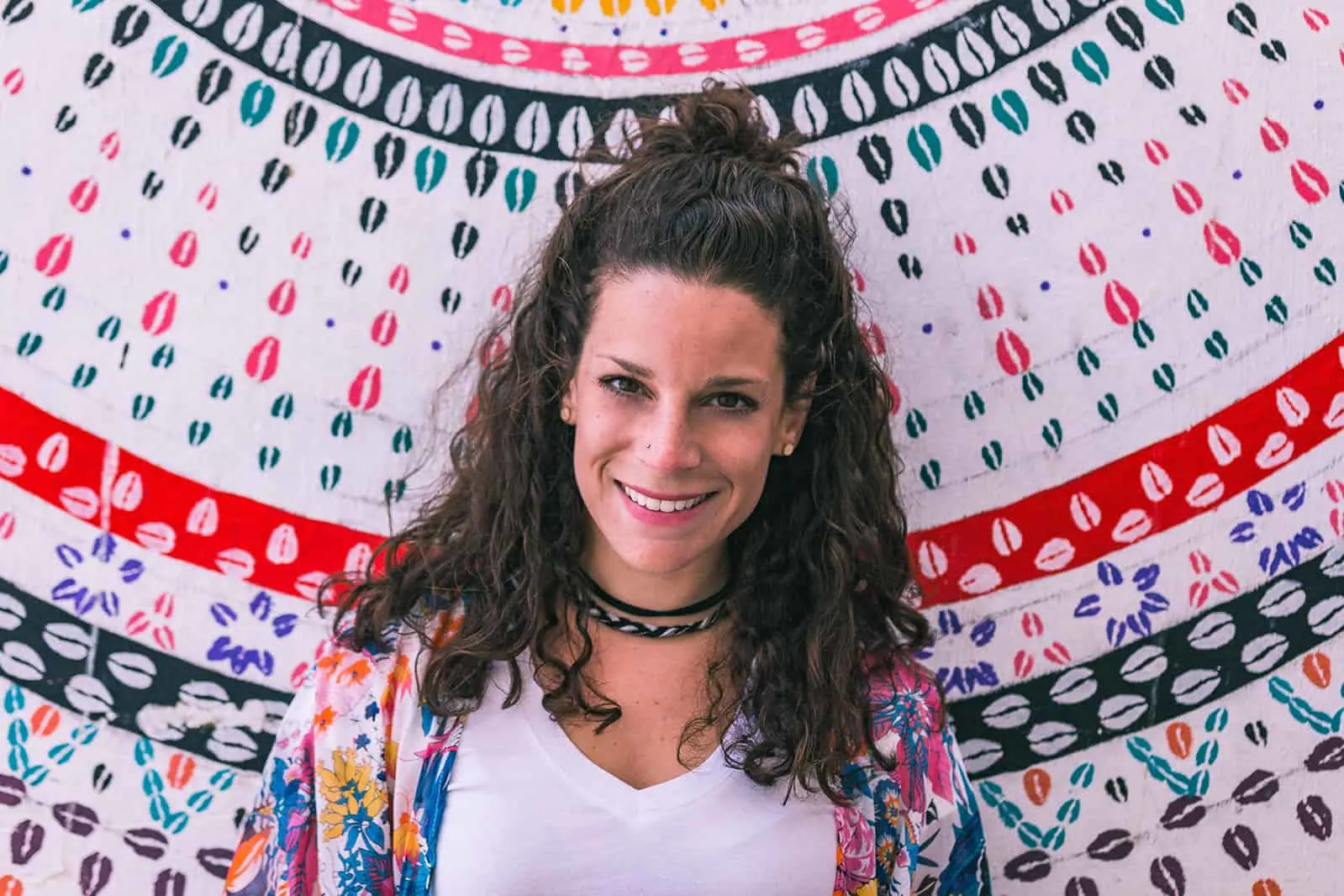 Nina Ragusa is an adventurer, messy bun master, breakfast fan, and full-time travel blogger. She's been abroad since 2011 and blogging on Where in the World is Nina? for nearly as long. Nina helps people like you move around the world while making money. She loves talking about how to work abroad and online to travel longer!