If there's one common thing I feel after every visit to a country, it's that I never had enough time to see it all. And that's because the more I explore, the more I learn about other things that I'd like to do. And so I always leave wanting more!
My Guatemala visit was no different. I stayed a month and honestly I needed two more. I'm sure you feel my pain. With that said, I'm here to help you build a Guatemala itinerary that you're going to love!
Let's get to planning!
Your Perfect Guatemala Itinerary
---
Yep, I'm going to call it perfect because really, YOU'RE going to make this itinerary precisely what you want it to be. I'm just going to be here in the background helping. Here's how we're going to do things…
I'm going to go over a specific area, recommend a few of the highlights, and tell you about how many days you're going to need. Still, ultimately, you're going to mix and match this info so that you can come up with the perfect Guatemala itinerary for you.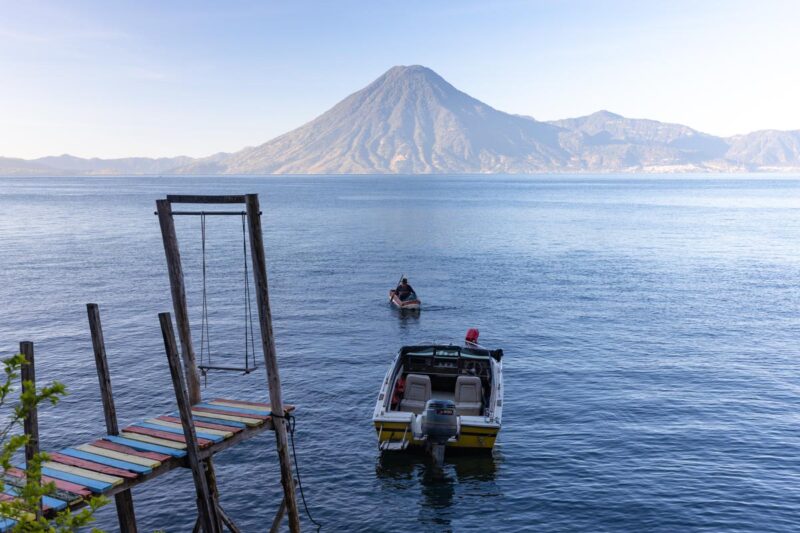 What we're NOT going to do here is rush too much. For the most part, I've already taken into account that you're a human, you'll need to sleep and eat, and you don't want to spend eons on a freaking bus!
This is precisely how I like to travel. I get a taste, but I can actually breathe while I'm in the place and like… actually enjoy it instead of worrying about catching the bus to the next place!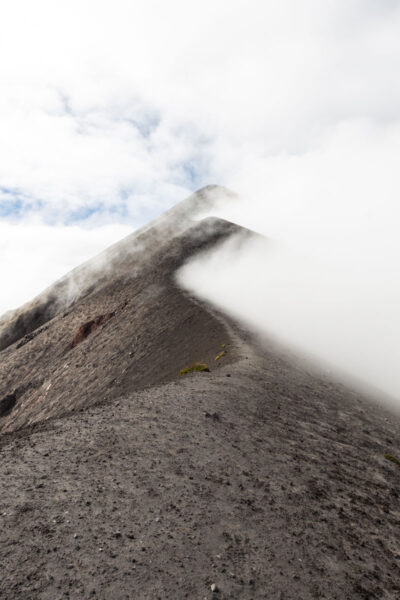 There are plenty of tour options throughout this post, which can help you efficiently squeeze in some more stuff. This can be a great option to see more without the hassle of trying to do it yourself, only to find it will eat an entire day of your trip! So seriously, if you're trying to squeeze in more, book the tour!
Lastly, this Guatemala itinerary will ultimately help you decide what you can fit in your timeframe. For more details on the actual locations and activities, I have more specific Guatemala guides to help you with that!
One Week Guatemala Itinerary
Let's get this out there now; one week isn't enough. I know, you probably know that, and you're probably "stuck" with just a week, so let's make the most of it, shall we? I know one thing is for sure, you don't want to be spending a ton of time on buses and planes, so let's not go too crazy! Cool?
Here's what I would suggest for a one-week Guatemala itinerary.
Antigua, Guatemala Itinerary for 3 Days
This is a given; you can't skip out on this gorgeous town. And you definitely can't skip out on climbing at least one volcano! And this will be the easiest and closest place to do so.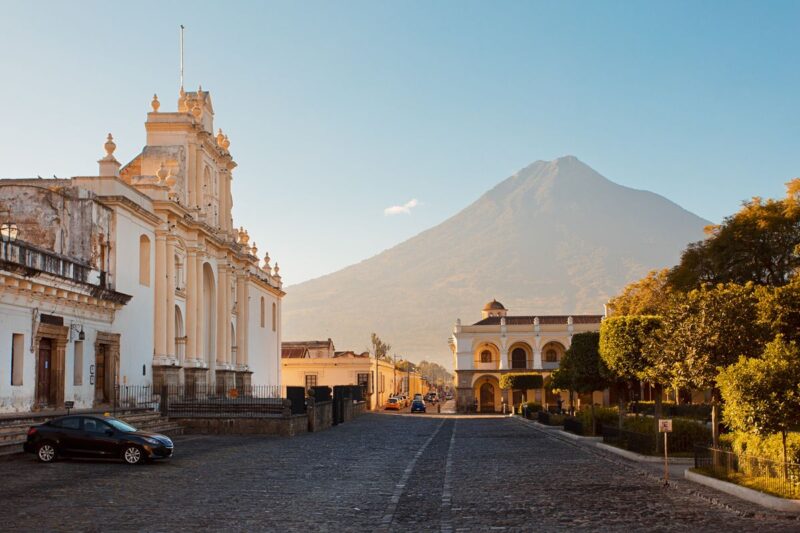 I don't think you'd be able to squeeze in a hike to Pacaya AND Acatenango and Fuego, so I'd choose one. Pacaya is a half-day trip, and Acatenengo and Fuego will be a 1.5-day trip. So that's going to take a big chunk of your time, and you'll be dead after. With that said, it's epic, so definitely go if that's your thing!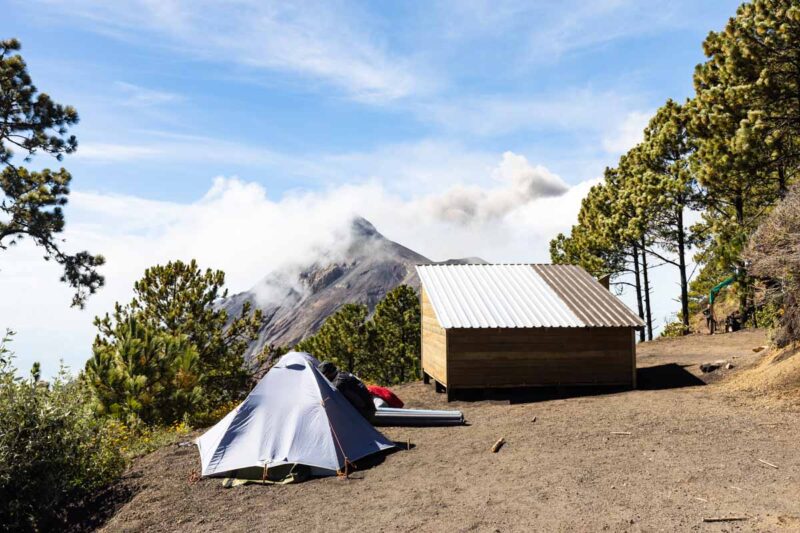 I'd probably suggest roaming the town on the first day, then doing the hikes.
The town is easy enough to walk around, get a feel for it, wander some churches and ruins, and eat at a few yummy spots in between your volcano hikes.
Where to Stay:
READ MORE: 15 of The BEST Things To Do in Antigua, Guatemala
Lake Atitlan, Guatemala Itinerary for 3 Days
The next best and the next closest cool thing to do on your Guatemala itinerary will be Lake Atitlan. Yes, while three days is hardly enough, it's certainly better than zero days.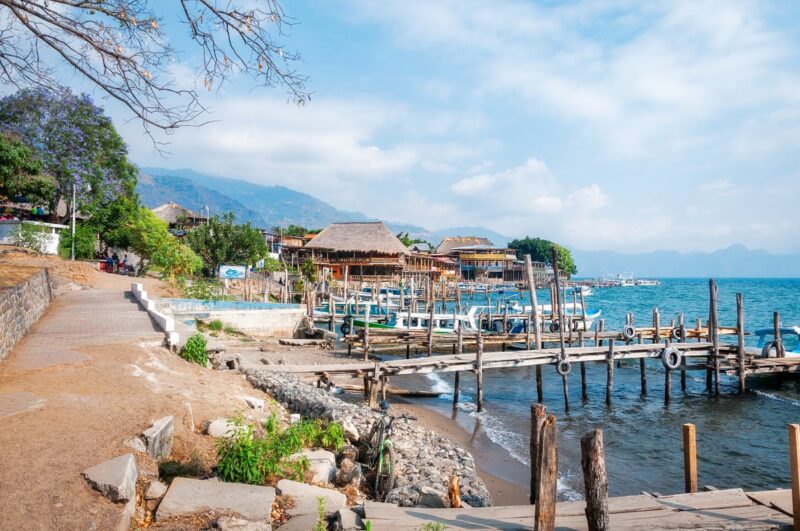 I'd highly recommend choosing your favorite sounding town using my Lake Atitlan guide and staying there the entire time. You can easily visit tons of other towns via a 20-minute boat ride. DON'T try to "hotel hop." It will eat into your time too much.
In fact, you can stay in Panajachel, which is the main hub for Lake Atitlan, so you can get checked in and then immediately start having fun.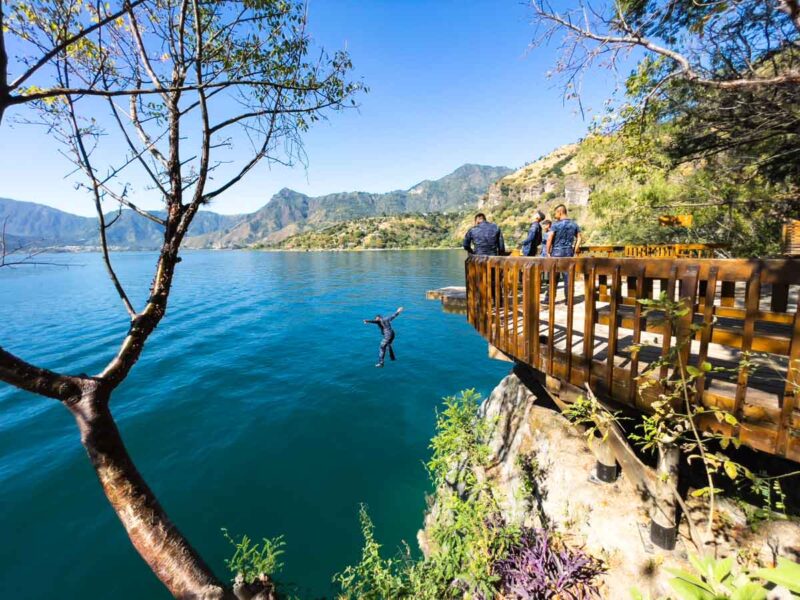 San Marcos deserves a visit, so you can check out Cerro Tzankujil and eat fantastic food. And if you love hiking as I do, you can visit San Juan and hike up to Mirador Kaqasiiwaan for a great view, or continue hiking further up to Indian Nose!
I'd also suggest kayaking or SUPing along the lake; it's simply beautiful to get out on the water! Or if it's your thing, there are tons of yoga classes happening around the lake.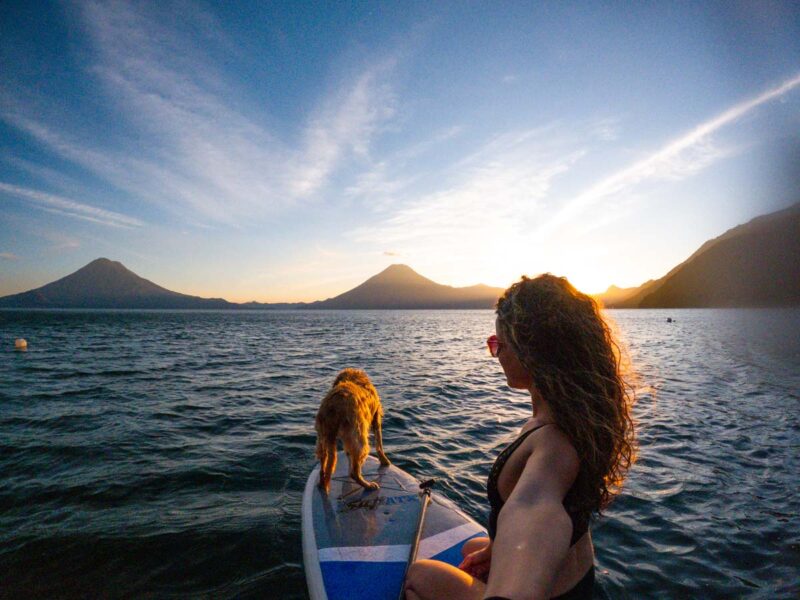 These activities should surely fill your time here. You won't be short on things to do in Lake Atitlan and my guide can help you choose more specifics during your time here.
Where to Stay:
Two Week Guatemala Itinerary
If you have two weeks in Guatemala, then that's fabulous! That's a good chunk of time to explore, but I'd still avoid going too quickly because that's no fun! You'll be exhausted and again spend a lot of time looking at the back of someone's head on a bus. Womp womp.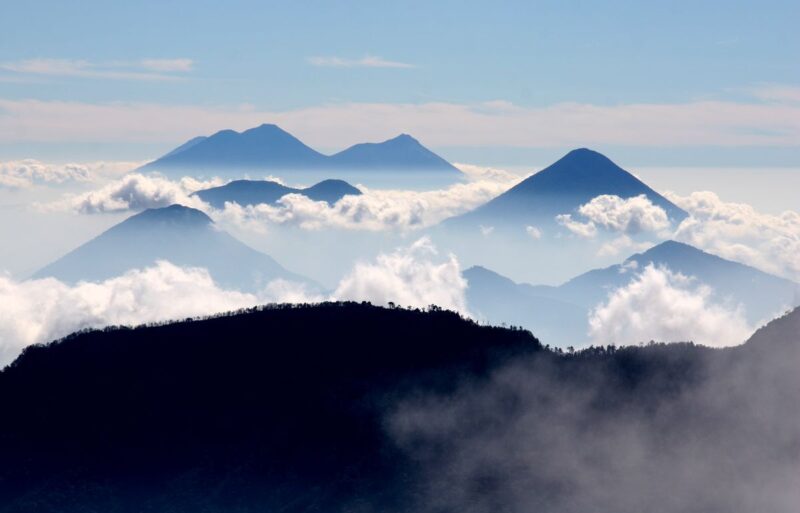 Now, Lake Atitlan is incredible, so if you wanted, you could do what I suggest below OR tack on a few extra days at the lake and ixnay Xela or El Paredon. That's up to you! It could also be great to see more of the country, so don't feel guilty for not staying at the lake longer (even though it has this "pull").
Here's what I'd suggest to add on for a two-week Guatemala Itinerary.
Xela (Quetzaltenango), Guatemala Itinerary for 2-3 Days
Xela isn't at the top of everyone's Guatemala itinerary, but I quite liked the city. It's lively, beautiful, and again, has some epic volcanoes to tackle! In fact, it's so ideally located that on a clear day, from the top of Santa Maria, you can see volcanoes from almost every direction. It's truly incredible!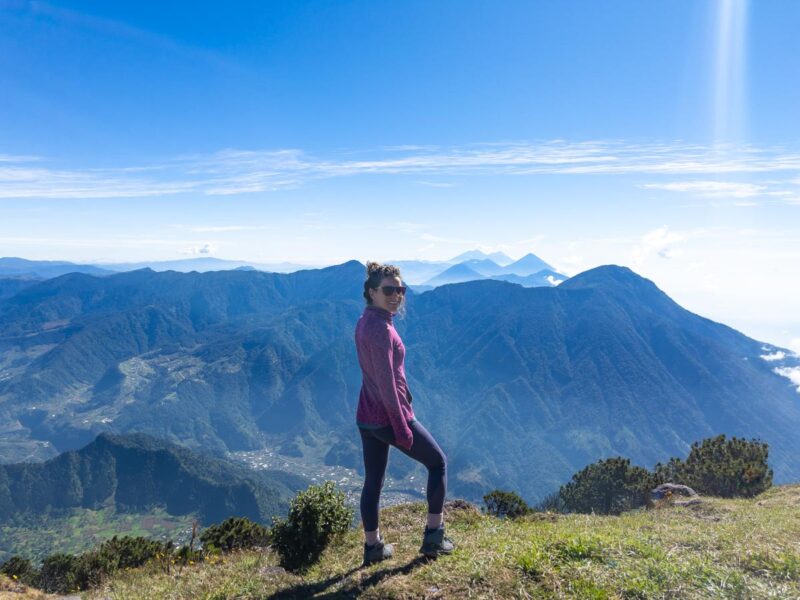 So, in case you haven't guessed it, I'd suggest hiking Santa Maria, if you love hiking and volcanoes as I do! The views are wild, and you're positioned perfectly to loom over the active Santiaguito, which you'll see below. I felt rumbling and heard bangs as I summited Santa Maria from this shorter but angrier volcano, which you can also hike to!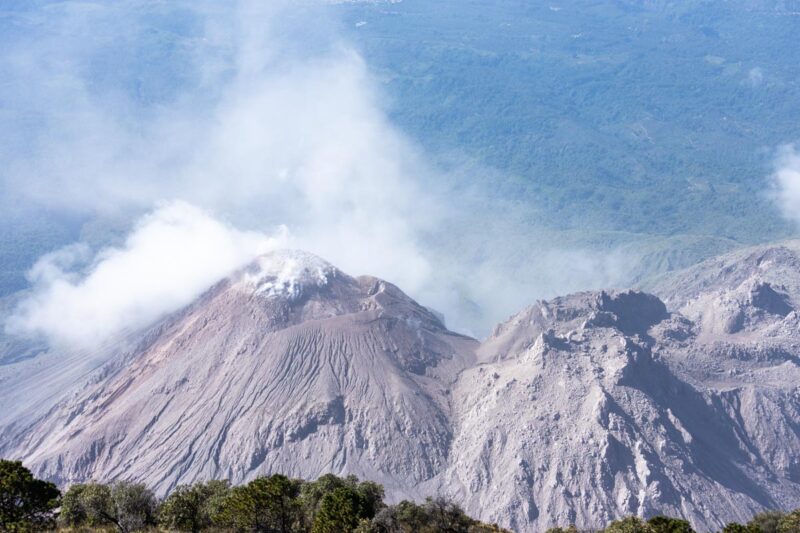 The city of Xela is worth exploring for a day too, Cerro El Baúl is the viewpoint overlooking the city, and the town's square is attractive and happening. For a day of relaxing, head to Fuentes Georginas, the hot springs just under an hour outside the city.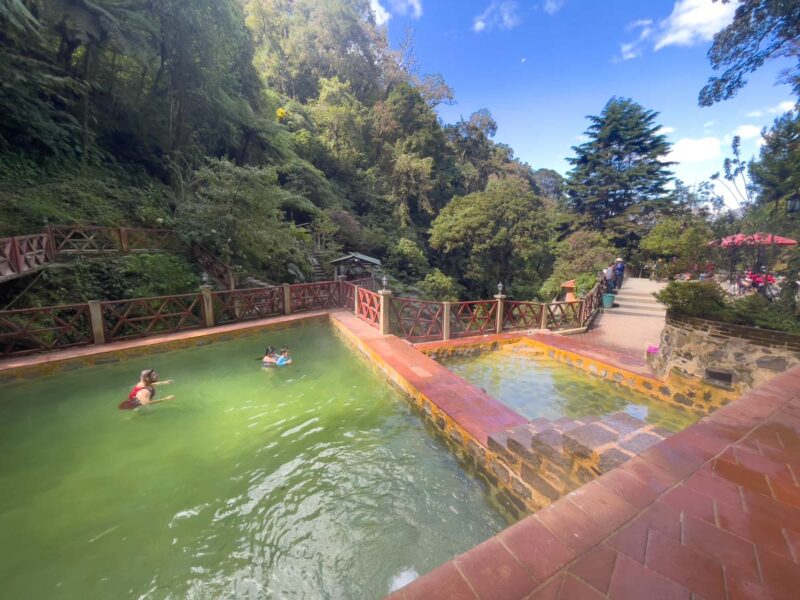 Volcán Siete Orejas and Volcán Chiquibal are also nearby gorgeous hikes to volcanoes and lakes, although you couldn't fit all of this in only a couple of days. So you'll have to pick and choose.
Where to Stay:
El Paredon, Guatemala for 2-3 Days
Surfs up, my friends! El Paredon is the surfing hot spot of the country. However, while the waves are happening, the town is tame. This is the sleepiest and tiniest surf town I've been in, possibly ever! But that's where its charm lies. Come here to chill, relax, and tackle the surf because that's pretty much it.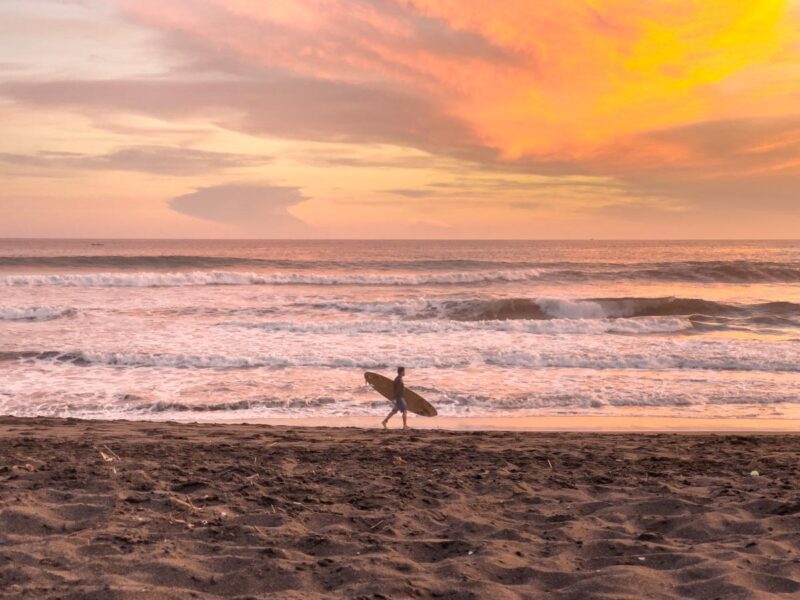 OK, actually, if you're a partier, this town does have some nightlife too. A few beach bars offer live music and often rage into the night, but other than that, this tiny town doesn't have TOO much to offer.
I surfed and then chilled out at the surf bars during the day with a beer and book! It was wonderful. But unless you want to surf a ton, I wouldn't stay beyond 2-3 days.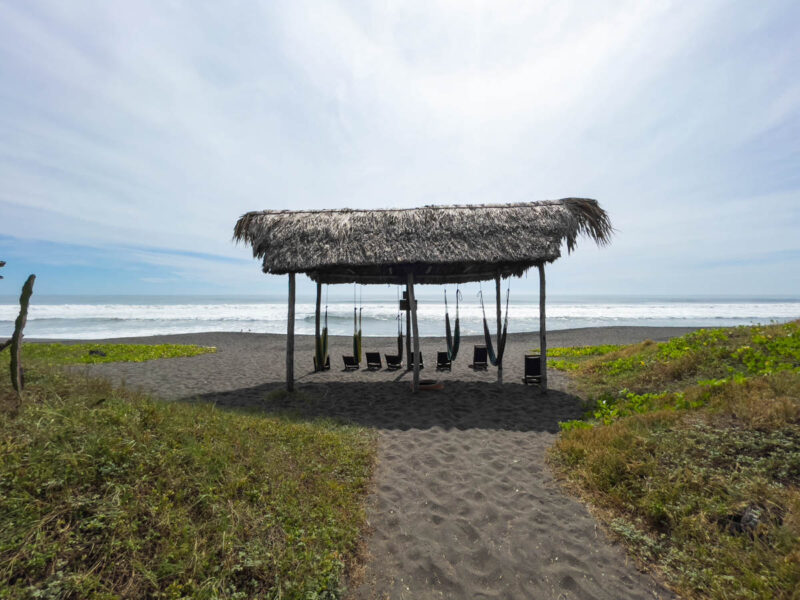 Keep in mind that this will not be a luxury beach vacation, with white sand and beach cabanas. The beach is bare, sporting hot black volcanic sand, and there are only a few upper-scale hotels to choose from.
Where to Stay:
Three Week Guatemala Itinerary
Do you have more than two weeks in Guatemala? Amazing! Luckily, there is plenty to choose from!
Want to spend a few days exploring the ruins of Tikal? I'd give yourself at least 3 to 4 days to get up there and explore.
You can switch coasts after El Paredon and check out the calmer waters of the Caribbean while you visit the cute town of Livingston on the other side of the country. A few days here will suffice.
Of course, if you want to visit the ever-popular Semuc Champey, the country's lush jungle-y swimming holes, you'll need to give yourself 2-3 days or so to enjoy. Feel free to add on the close by Lanquin Caves for some extra exploration.
So You Want to Squeeze In More to Your Guatemala Itinerary?
Everything in the 1-2 week Guatemala itinerary part was in the southern area of the country, and the third week offered up other options in the central or northern parts of the country. Obviously, you can mix and match as you please, depending on what you're most interested in.
And if you want to squeeze more into your Guatemala itinerary, then tours will be your answer. Figuring out everything on your own is 100% possible and fine, BUT it will eat into your time more. So if you're willing to pay a bit more if it saves you some time, then you can squeeze more of Guatemala into your trip!
→Try these tours:
From Antigua: 3 Days Semuc Champey
From Antigua: Acatenango Overnight
From Flores: 2 Days in Tikal and Yaxha
Tips for Traveling Around Guatemala
Use GuateGo to book your transportation – Getting a local chicken bus is your cheapest option, but you'll pay with your time and patience. To make life easier, I used GuateGo to spend less time in transit and more time at my destination.
Use anti-theft bags – I had zero issues while traveling these parts, but it's nice to have that extra peace of mind. These anti-theft bags are simply great bags for travel and mine still look new after years of abuse.
Habla Espanol – You can probably get around without Spanish, but knowing a few words will really help. In fact, it's a great place to learn, so perhaps see if you can squeeze in some lessons while you're here.
Just go to the ATM – This is a tip for really anywhere in the world if you want to avoid getting scammed by exchanges. And if you get a card like Charles Schwab you won't need to pay any fees. Just be sure there are ATMs available in the town you are going to! (El Paredon doesn't have one!)
Bring layers – It's not going to be hot 24/7 – especially if you're at the top of a volcano! Pack for cold nights.
Watch yourself at night – While I did feel safe in Guatemala, I was careful to watch what I was doing at night. Going out and getting smashed then walking home alone is not a great idea.
Take the tour – You won't need a tour for things exploring the town you're staying in, some of the best activities are made so much easier with a tour, like finding your way up the side of a volcano. Plus, it's a great way to meet people!
Visit anytime – Guatemala is great year round but the rainy season is May-September.
RELATED: Best Anti Theft Backpacks, Bags, and Purses + Tips for Keeping Your Stuff Safe!
Guatemala Itinerary Budget
Overall, Guatemala is pretty budget-friendly and is undoubtedly a great destination to visit when you're not trying to spend TOO much money. Here are some example costs to give you a better idea of how much you'd spend here!
Tours and Fun Stuff:
2 Day Camping Acatenango Hike – $90
Pacaya Day Trip – $15
Cerro Tzankujil Nature Reserve Entrance Fee – $2.50
Mirador in San Juan Lake Atitlan – $4
Accommodation:
Antigua private room with shared bathroom – $15
Splurging on a pretty bungalow in El Paredon – $49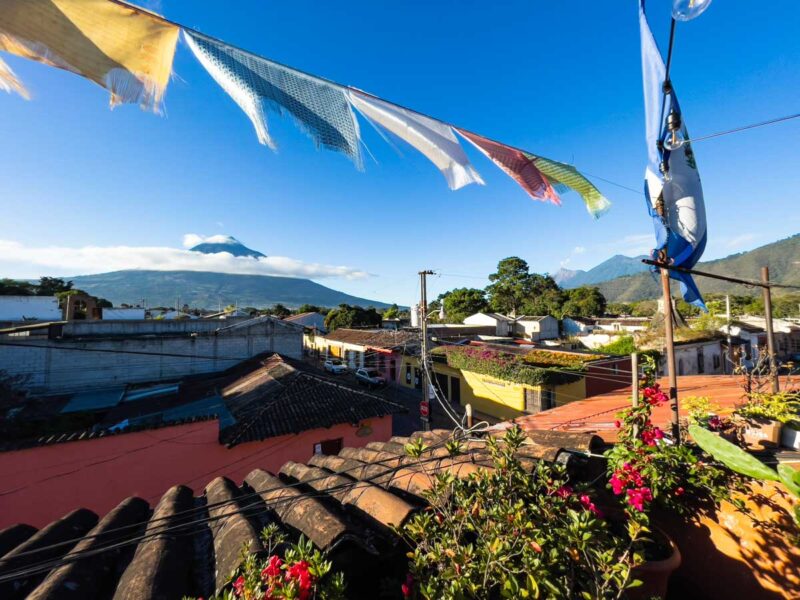 Food in Guatemala:
Amazing western breakfast with eggs, bread, huge French press, fruit, and yogurt in Antigua – $5
Cheap vegan lunch in Xela – $2.50
Good pizza in Panajachel – $10
A night out with beers and nachos with friends in Antiga – $30
Transportation
Uber in Xela – $3.25
Uber Guatemala City to Antigua (1 hour) – $18
Antigua to El Pardon shuttle – $25 (shuttles are currently operating at half capacity and have raised their prices)
Boat in Lake Atitlan – $2
Traveling Guatemala for LESS
Guatemala is easy on the wallet, but what if I told you there's a way to travel for LESS. You can cut your budget dramatically if you're not paying for accommodation.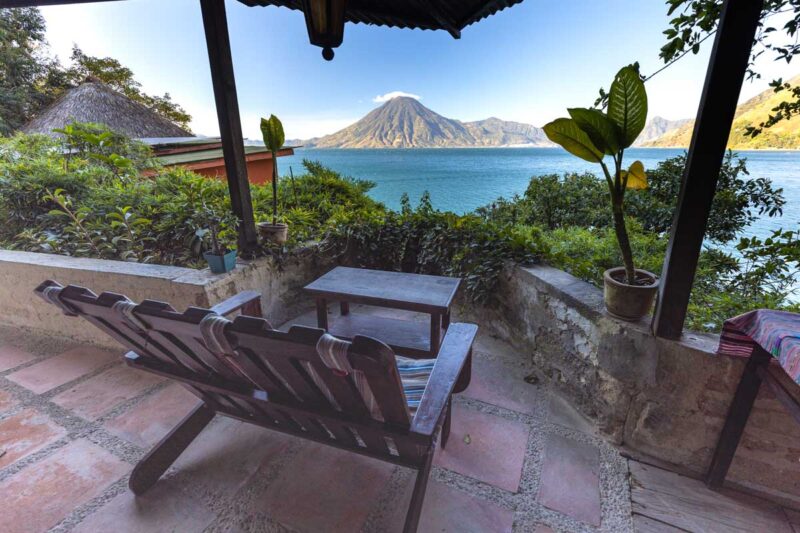 I used Worldpackers in Xela and Lake Atitlan to exchange my skills for free places to stay and even had some food included. It was a great way to experience local culture, make some new friends, and of course, make my dollar go further.
Grab $10 off Worldpackers and explore all the remarkable experiences you can do while visiting Guatemala!
Read more about Worldpackers and how you can use it to travel the world for LESS!
How to Get Around Guatemala
Using GuateGo – I used GuateGo for my bus/shuttle bookings in Guatemala. You can book online, so with a few clicks, you can get picked up from your hotel and a drop off at your next hotel. Book tickets here.
Just booking on a whim – Pre-booking can be the best option if you want a specific date and time, but winging it is totally possible! Sometimes through your hostel is OK but showing up at the bus station can be better. Also know you'll usually be getting a shuttle as large buses don't do great on the narrow curvy roads here.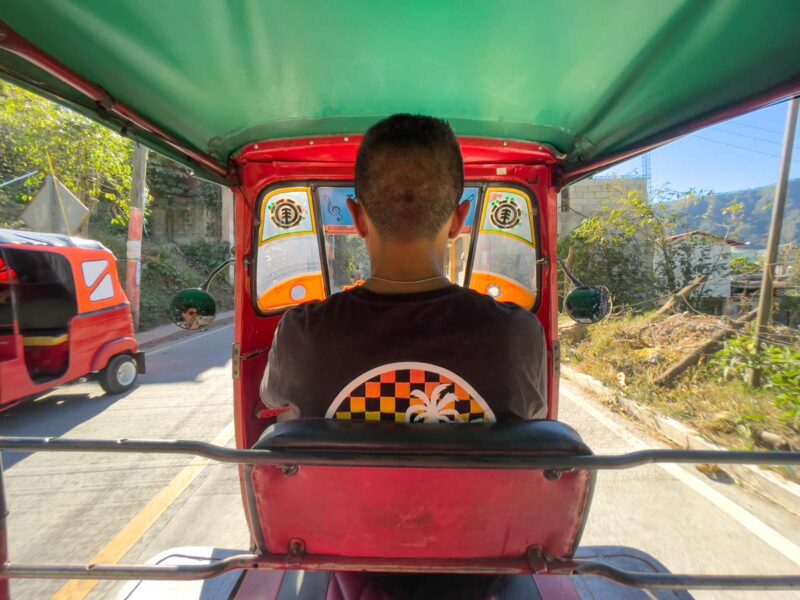 Taxis, Tuk Tuks, and Ubers – Taxis are generally pretty safe, Ubers are exactly like what you know from home but you'll only find them in some of the larger cities. Tuk tuks are tiny moto-taxis that are usually used just to get around town, but I personally prefer walking.
Chicken buses – These old school buses are the cheapest way to get around, but they're very slow and tend to make a lot of stops. You'll also need to be mindful of your belongings.
Tips for Booking Your Trip:
---
---
---
---
I hope this helped you make the perfect Guatemala itinerary!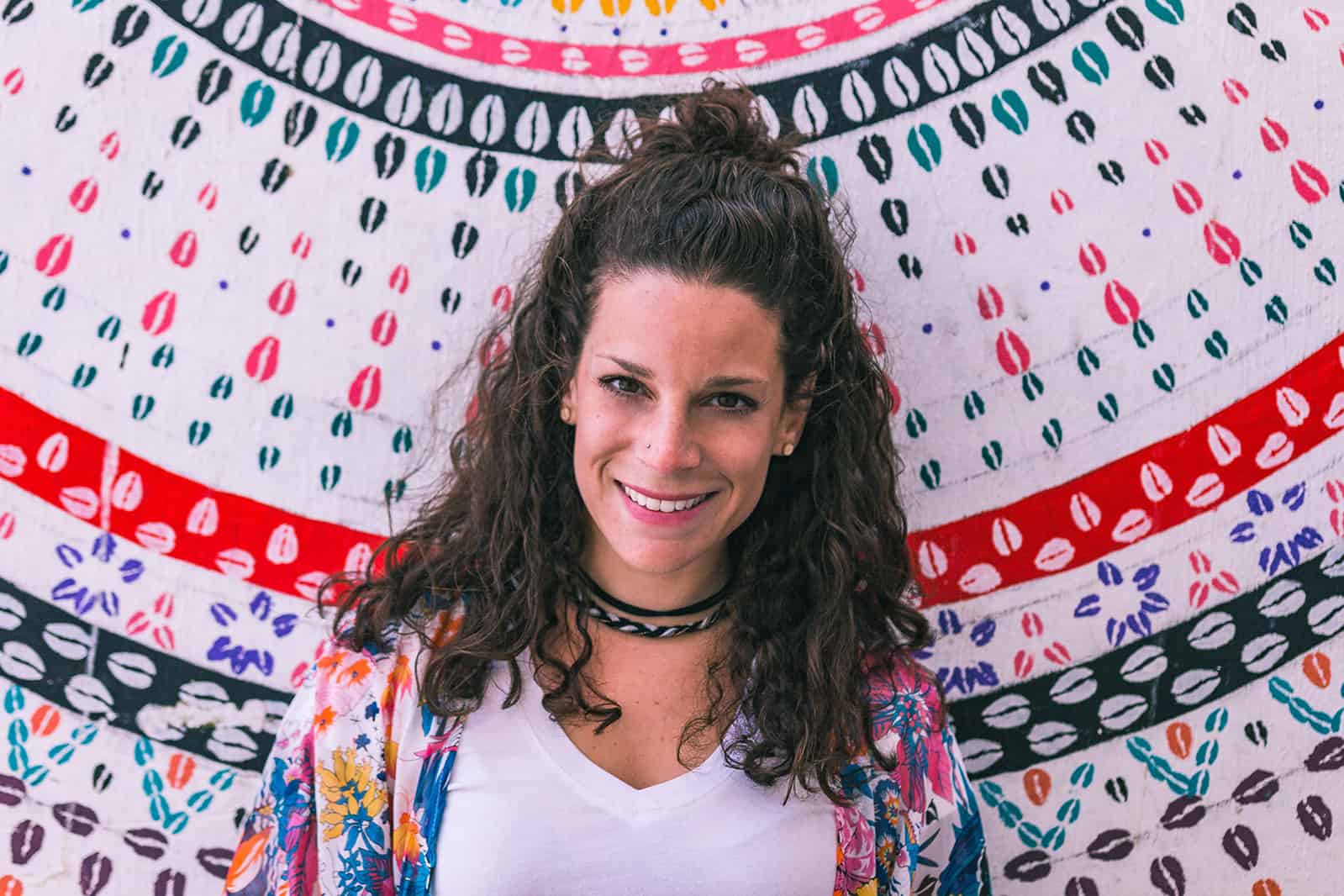 Nina Ragusa is an adventurer, messy bun master, breakfast fan, and full-time travel blogger. She's been abroad since 2011 and blogging on Where in the World is Nina? for nearly as long. Nina helps people like you move around the world while making money. She loves talking about how to work abroad and online to travel longer!