There are truly SO many things to do in Morocco. It would blow your mind if this list was actually complete (which I do plan on doing because I'm already dying to go back).
Instead, I've shared what I think are the truly badass things to do in Morocco and what I enjoyed most during my nearly three months exploring the country.
Spoiler alert: Pretty much everything I did was amazing, so settle in for a long list with TONS of pictures. Let's get into it—Yalla!
53 Best Things to Do in Morocco
---
Should you want more info on anything you read here, you'll find more detailed guides to most places I've been, so click on them for more of a breakdown!
1. Taking a Road Trip Around Morocco
We're starting off strong and bold. This is the BEST way to see all the things to do in Morocco. So before we go any further, if you haven't even thought about traveling around Morocco on a road trip, you might want to start! Yes, most of the roads are good…enough.
We wouldn't have seen half of the things on this list if we hadn't driven around Morocco. It's one of the best experiences I've had on my travels so far.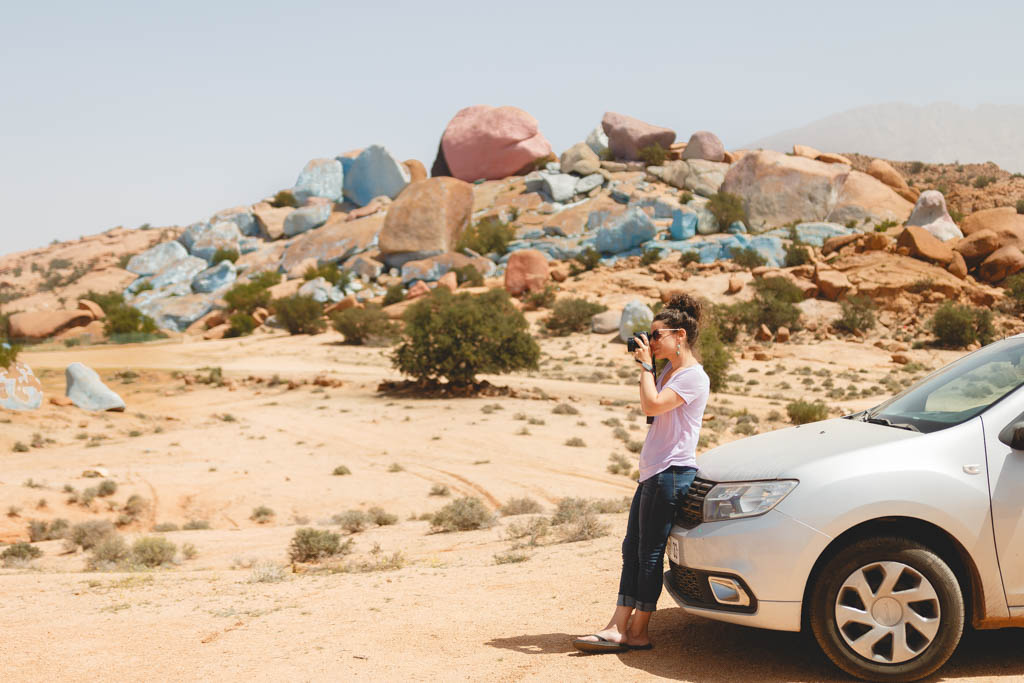 For two weeks, we rallied around, mostly in the south of Morocco, by car. We stayed in random guesthouses and hotels I found with less than 12 hours notice and were free to roam the open roads!
Check here for current car rental deals.
Here's everything you need to know about driving around Morocco.
2. Grab a Garment in a Souk
Waltz around like a local! Garrett and I fell in love with djellabas and HAD to have one. Djellabas are a loose, everyday dress that's unisex. I have a beautiful light green dress with gold detail djellaba, and I also got a melhfa which is more of a wrap type of dress that I use as a sarong too.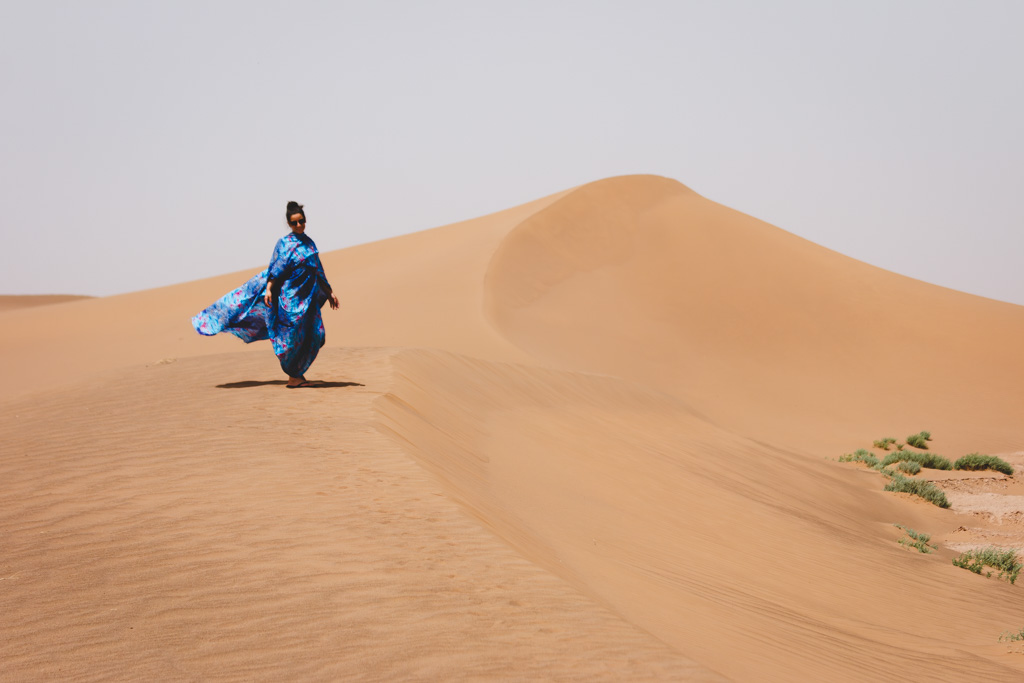 If you want to feel like you're in Morocco back home, definitely grab a comfy djellaba!
3. Go and Find the Tree Climbing Goats
Yes, not a joke. These cuties can be found in numerous locations closer to the coast, and pretty much anywhere argan trees sprout up. Keep your eyes peeled if you're taking a road trip. We stumbled upon them rather serendipitously, and it's the best way to do it.
While we were traveling through Tamri on our road trip, there they were, just hanging out, roaming free! Their shepherd was nearby, just letting the goats do their argan munching thing up in the trees.
However, you should rethink supporting the establishments that make it a roadside attraction. You might end up finding goats tied to trees. There's a debate because the goats in trees can provide families a way for income when crop season isn't great.
There's a tour such as this one that seems pretty good, but you'll have to use your judgment!
4. Go Wander Around All Things Blue (Most Famous Thing to Do in Morocco!)
Head up north to visit the popular blue city of Chefchaouene. It's seriously one of the cutest towns I've ever seen. One of the best things to do in Morocco is to simply wander the blue streets!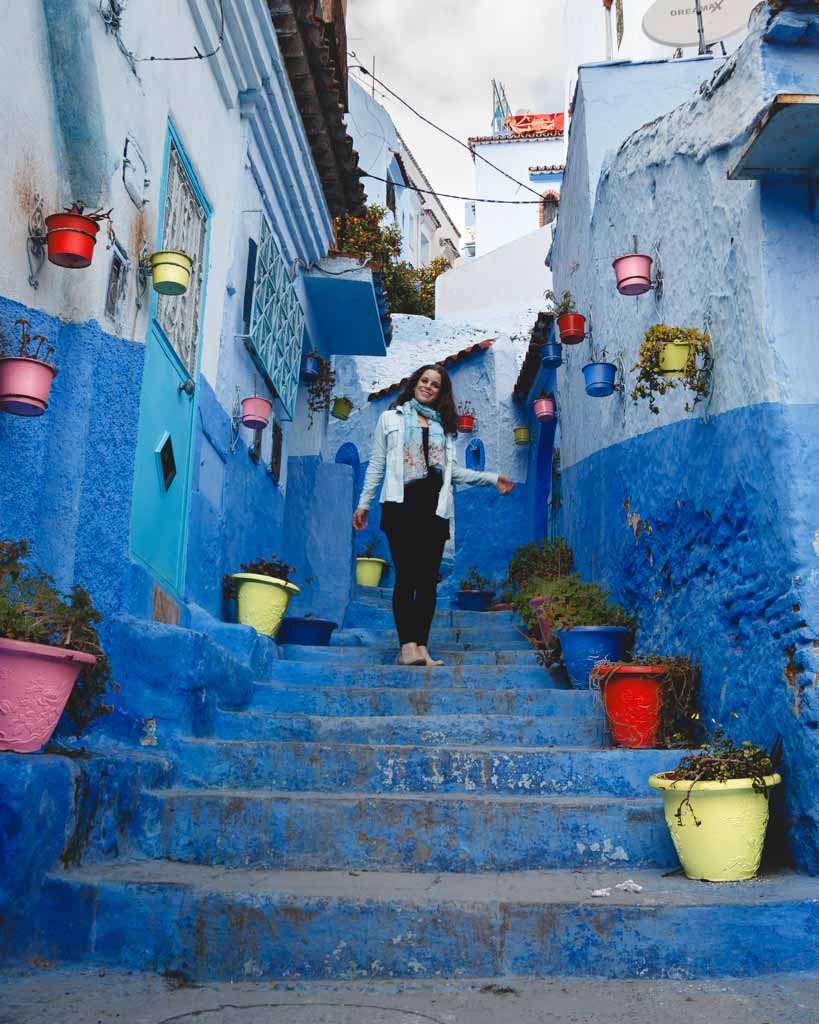 If you want to get more adventurous, there are hiking trails in the Rif Mountains that surround Chefchaouene. Staying in a riad or hotel that has a rooftop is a must. Even the most budget spots will probably have an epic view from their rooftop.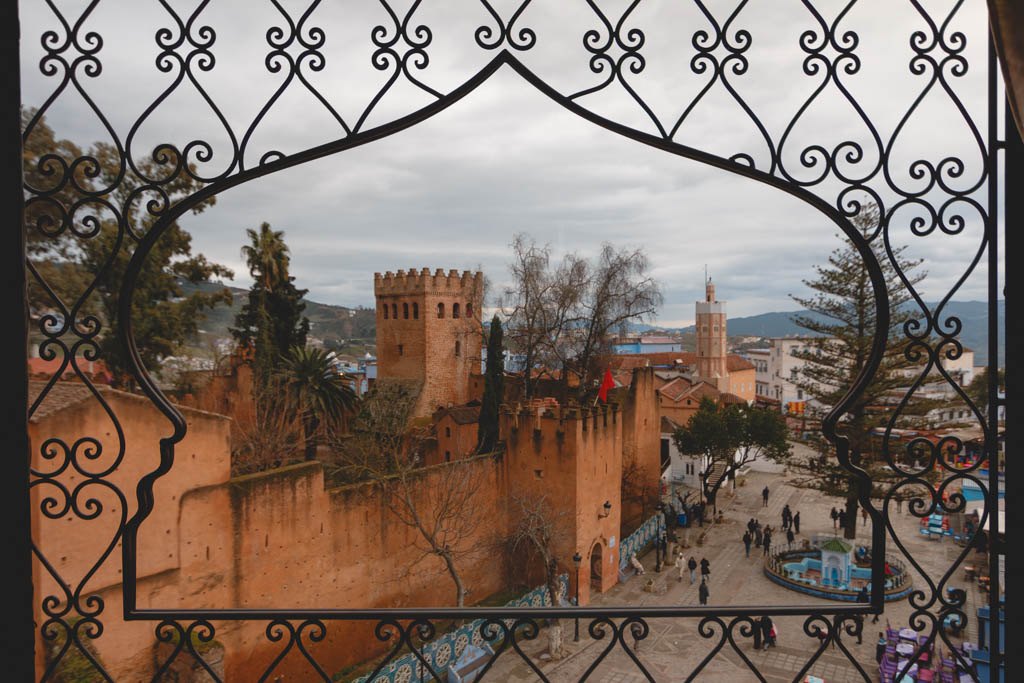 Stroll around the Plaza Uta El-Hammam, which is the town's main square, and shop along the alleyway medinas. Chefchaouene is a bit out of the way, so if you're short on time, you can take an easy day trip from Fes.
5. Get Blown Away in Essaouira—Literally
It's so windy in Essauira! So I'm not joking. You'll get blown away. But you'll also get blown away by the vibe of this cute and happening fishing town.
Like most places in Morocco, you have to wander the medina. Here in Essaouira, it is right on the water and has a rocky shoreline to watch the waves.
Essaouira is also a great spot for shopping, and watching the kite surfers bob up and down on the chilly waters. Oh, and avoid getting shat on by a seagull—They. Are. Everywhere.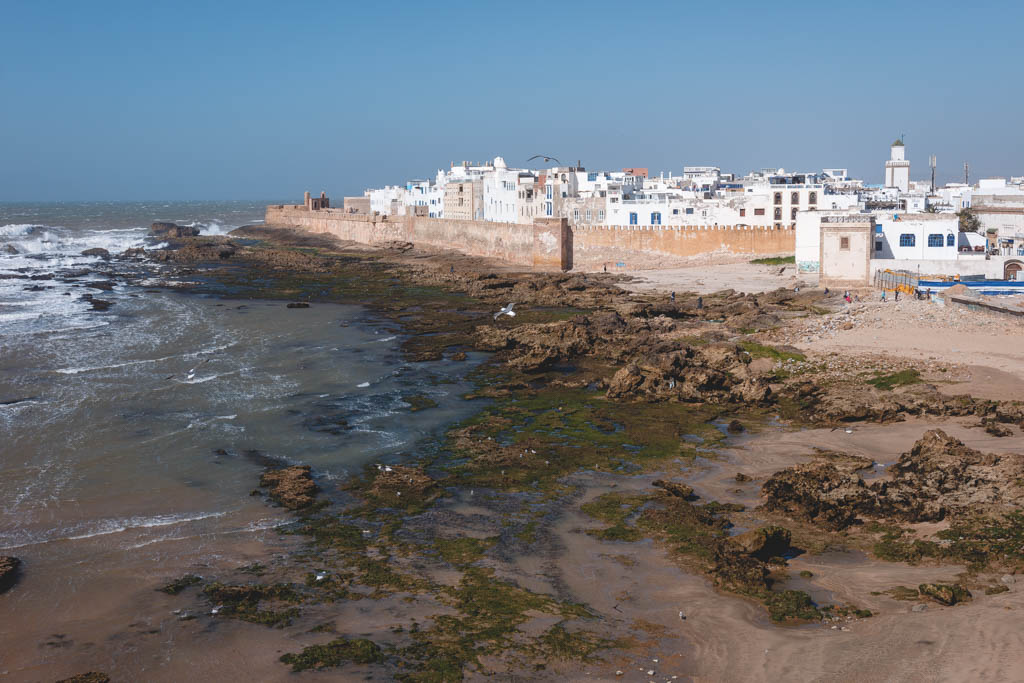 For some of the best views and another awesome thing to do in Morocco, you should definitely head up to Sqala du Port d'Essaouira. It's an 18th-century artillery platform that gives you great views and is right next to the fishing harbor of Essaouira.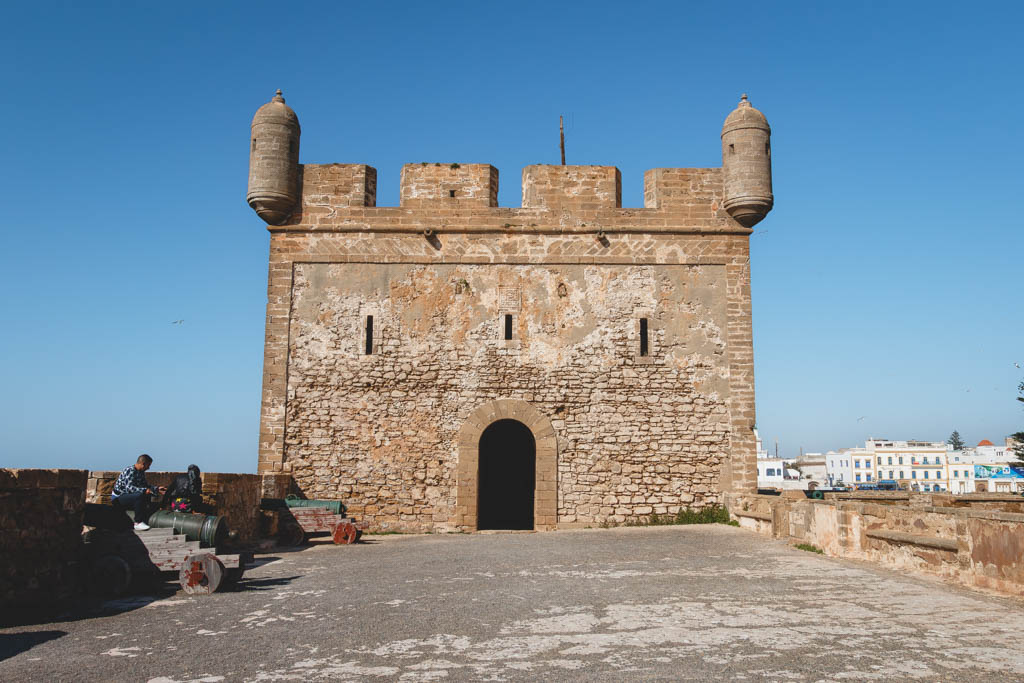 6. Go to Sidi Kaouki and Take on a Wave
What a charming sleepy surf town! Here you can get your surf on, too, if you feel the waves are calling your name. You can also bet there's hardly a lineup, either. You can expect heavy right-hand breaks here and often chop, but it's super fun for beginners in the whitewash.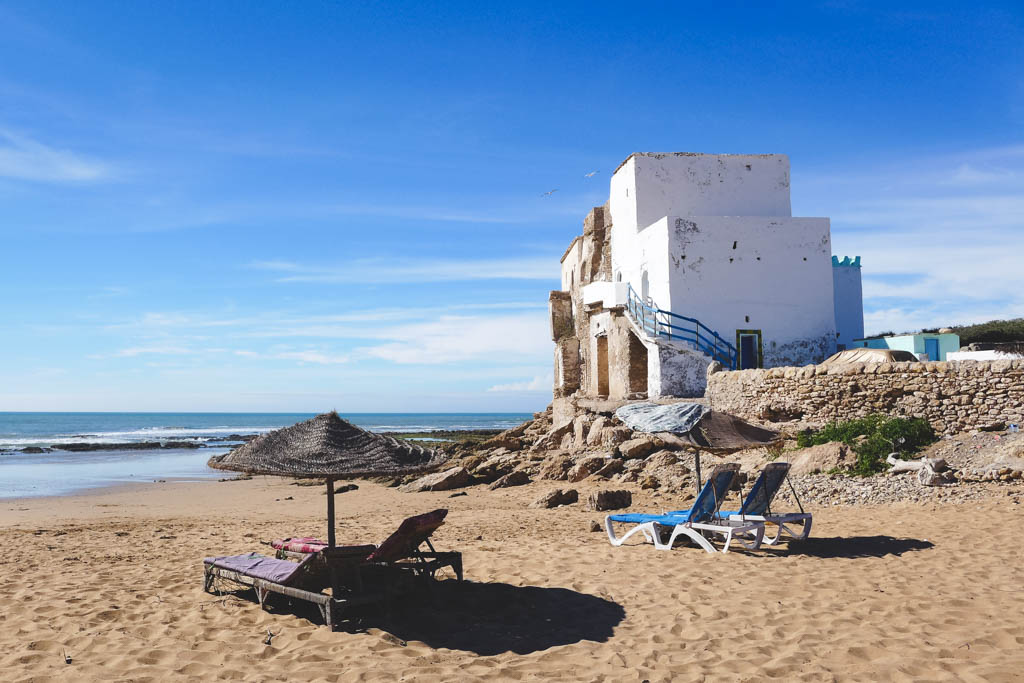 There are only a handful of cafes, surf shops, and hotels in the area. Oh, and of course, camels roaming the beach too.
7. Get Lost in the Fes Medina
Well, you actually have no choice. It's impossible NOT to get lost in this labyrinth. The old walls are incredible to wander around. The architecture is centuries-old buildings adorned with intricate tiles, ornate doors, and hidden courtyards.
As a traveler, getting lost in the Fes Medina is almost a rite of passage. Every turn is a surprise, a new discovery waiting to unfold, or a new obstacle to overcome.
You might stumble upon bustling souks, where artisans craft everything from vibrant textiles to pottery. The aroma of spices and sizzling street food fills the air, enticing you to sample Moroccan delicacies. Or some street kids trying to give you directions, but they take you the wrong way instead…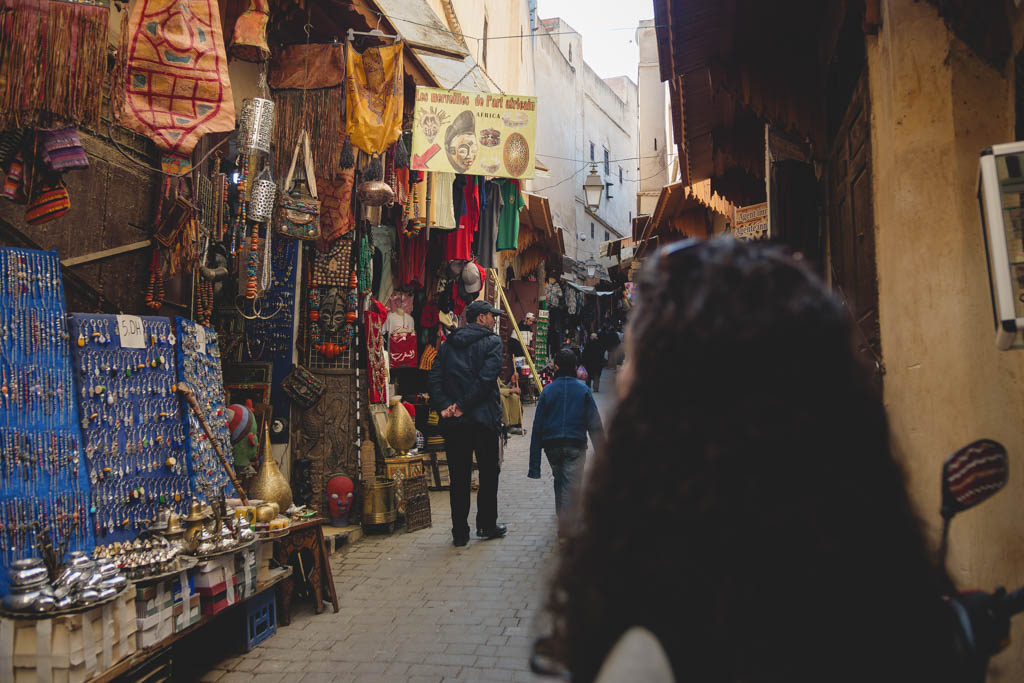 Yeah, that was new for us! Be aware people will try "helping" you find your way but don't trust anyone around with directions. You're better off wandering yourself. This is why I mentioned you will be getting lost here, because you most definitely will.
I actually went for a wander alone in the markets and nearly ran face-first into the head of a camel that was being sold by the local butcher. It's quite the experience to wander around here! Of course, to avoid getting lost, you can take an affordable and easy walking tour.
8. Get Addicted to Mint Tea
In Morocco, sipping on mint tea isn't just a habit; it's practically a way of life. During my time there, I found myself sipping like it was my tradition daily. You literally just throw branches of mint into your glass or the teapot. We ordered one each time we went out to eat.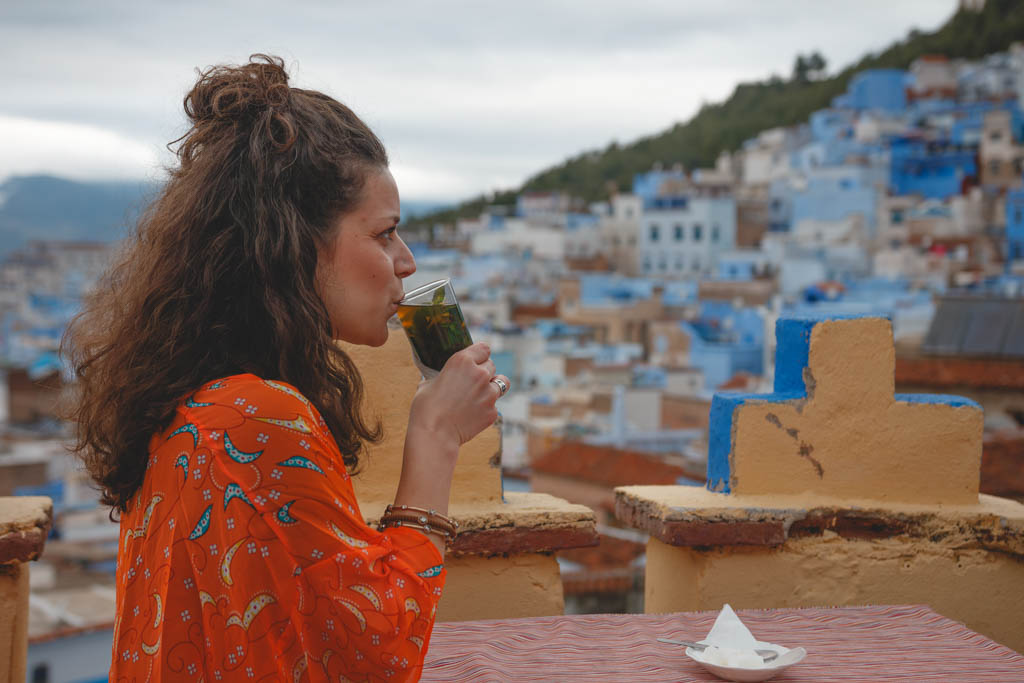 It's also a symbol of hospitality, a gesture of welcome. We received tea all the time! Even when just checking into our hotels. Moroccans take their time with this ritual, pouring the tea from a height to create a bubbly top.
And it's not a rushed affair; it's about slowing down, savoring the moment, and engaging with each other. So expect this randomly throughout your time in Morocco, and prepare to order it many times while going out.
9. Plug Your Nose at the Fes Tanneries (Stinkiest Thing to Do in Morocco!)
The sights and smells hit you all at once. Picture vast, open-air courtyards filled with stone vessels of vibrant dyes. There, tanners are hard at work, using ancient techniques that have been passed down through generations. They're dyeing and softening leather in a process that hasn't changed much in centuries!
You'll see hides stretched out to dry in the sun, and deep reds, blues, and earthy brown dyes in the tubs below. And yes, the smell—it's pungent due to the dyes and pigeon poo used in the process. But don't let that deter you; it's all part of the authentic experience.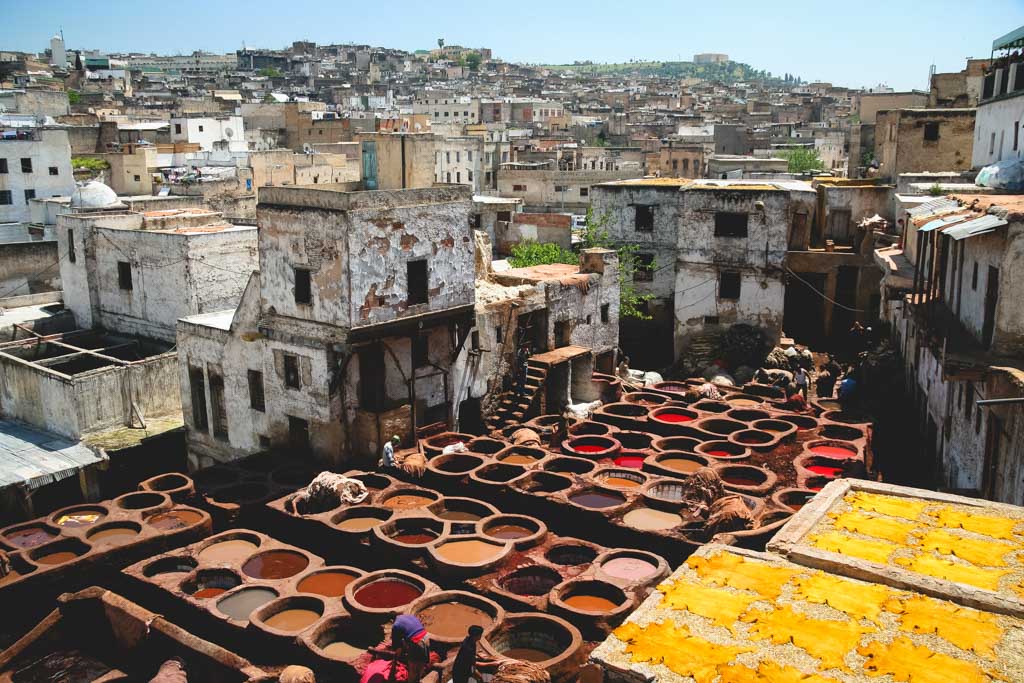 Reaching the Fes Tanneries can be a bit tricky. You'll navigate through the winding, narrow streets of the Fes Medina, and it's easy to get lost along the way (as I warned you above!). Although free to see, there are plenty of locals around who will ask for a tip to show you the way.
Alternatively, you can just take your few bucks and do an in-depth tour of Fes and the tanneries! This tour here is so cheap and takes you everywhere you'd want to go around Fes, no getting lost!
10. Try Argan Oil
Morocco is pretty famous for argan oil. It's like liquid gold. It comes from the nuts of the argan tree, which is native to Morocco and the only place they grow. The process of extracting oil is a labor of love, traditionally done by hand by local Berber women. They crack open the nuts, roast them, and then grind them to release the precious oil.
It's versatile and can be treatment for your hair, leaving it soft and shiny, or for cooking.
Uh, just don't look up where it comes from. Let's just say the goats that munch on the argan help out with the making of it…
11. Fall Into a Deep Love With Olives
Olives – a love you never thought was possible. I loved olives before, but after Morocco, I fell even harder for them.
Moroccans have an enduring love affair with olives, and you'll find them everywhere in Moroccan cuisine and culture. Whether it's the omnipresent olive trees that dot the landscape, the huge stand of olives at the markets, or the countless olive varieties, olives are an integral part of Moroccan daily life.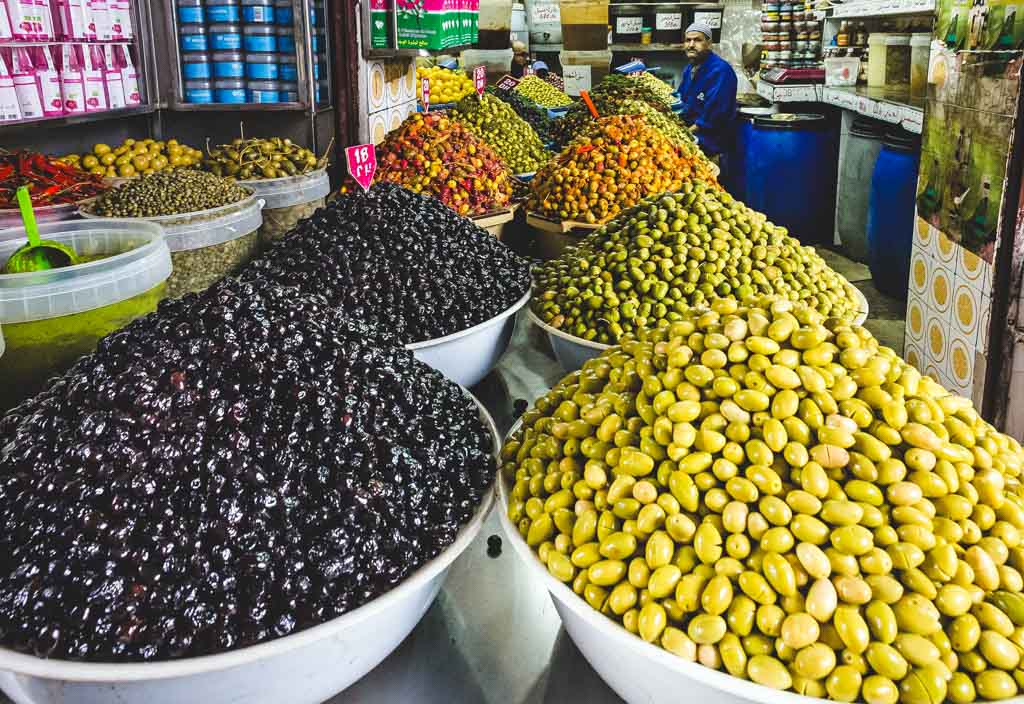 They're used in salads, tagines, and couscous dishes, and olive oil is the cornerstone of Moroccan cooking. It's not just about the taste—it's a staple for Moroccans! Speaking of…
12. Drown Yourself in Olive Oil
I never had olive oil so much in my life, and it was glorious. An oil that's somewhat treated as a luxury ingredient is suddenly cheap, available, and used in everything.
It's so good! It literally went on almost everything we ate, and we gave up butter entirely. Who needs to butter their bread when you can dip it in olive oil anyway?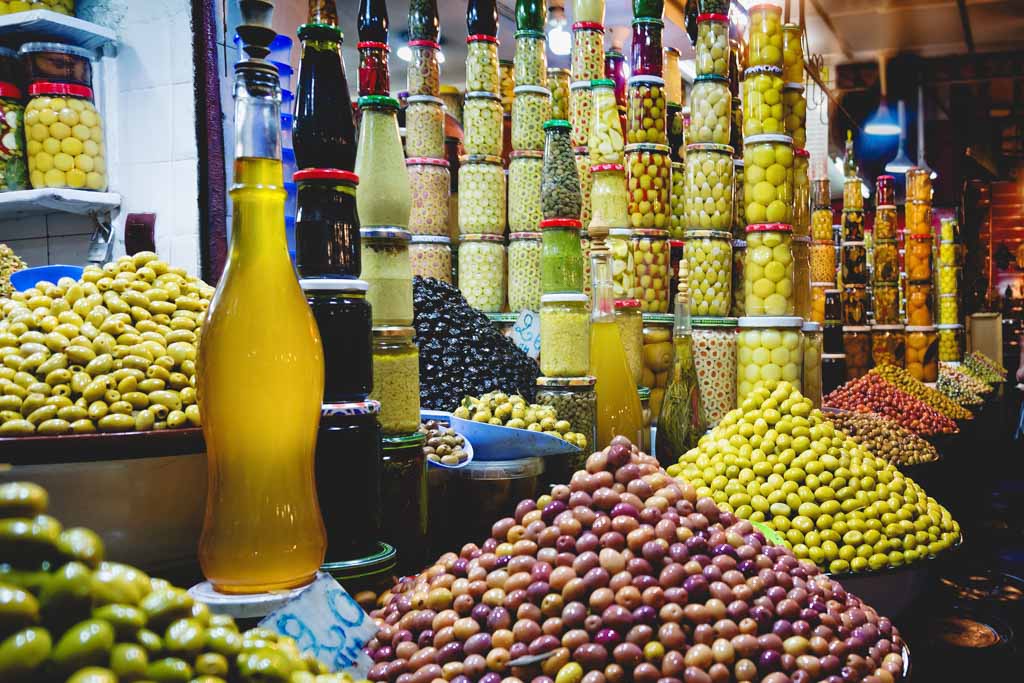 While traveling through Mirleft, I think we found the best oil we had in the ENTIRE country. We were pointed in the direction of an unassuming small shop that didn't sell much. But on the back shelf, they had old water bottles that looked like they had motor oil in them.
When we asked for oil, the gentleman behind the counter grabbed one of the water bottles for us. And yes, THAT was the best olive oil I've ever had in my entire life. No label, no shipping, and it was probably bottled just down the street yesterday… Try to get THAT type of olive oil during your visit.
13. Go to Imsouane to Catch a Break
Imsouane is where you go if you want to catch the longest right-hand surf break in the country. And maybe even get lost here for a few days (or a few weeks, whatever).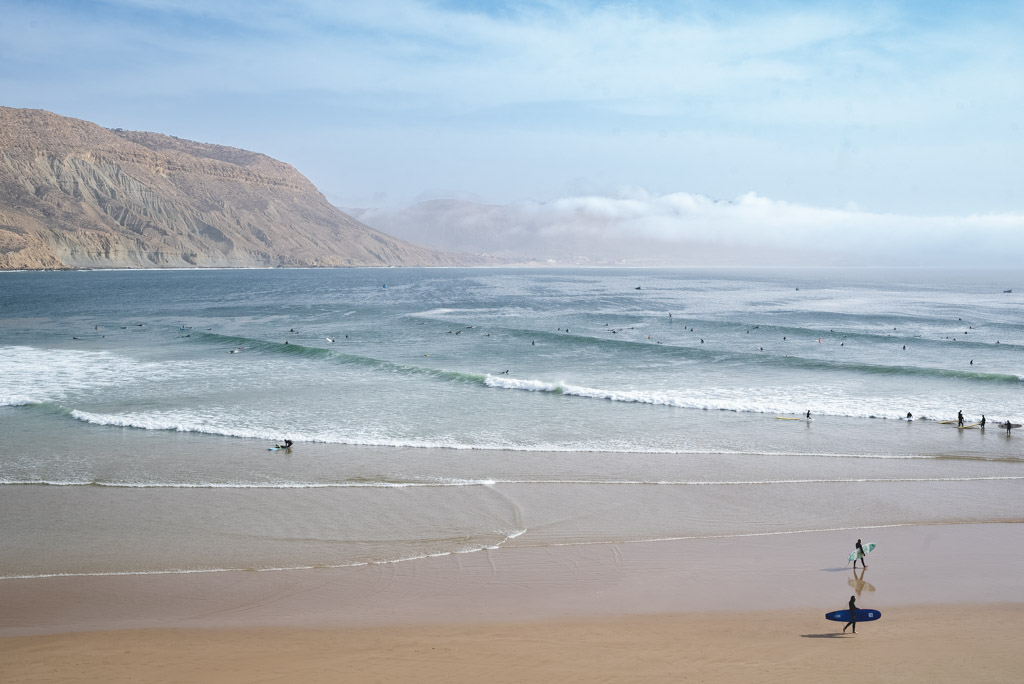 The waves here were so clean. And it was pretty epic to see the pros slay the big barrels on the back breaks and then to have my turn at the same wave after it got way smaller as it crept up on shore so I could play in the whitewash.
This spot was SO much fun to surf in, I just know I'm going to end up back here to surf again!
14. Ride a Camel
I'm all about animals being treated well, so definitely do your homework. But the desert experience I did treated their camels very well. They roamed the desert until it was time for a ride around some sand dunes. When you get to the desert, you will literally see herds of them!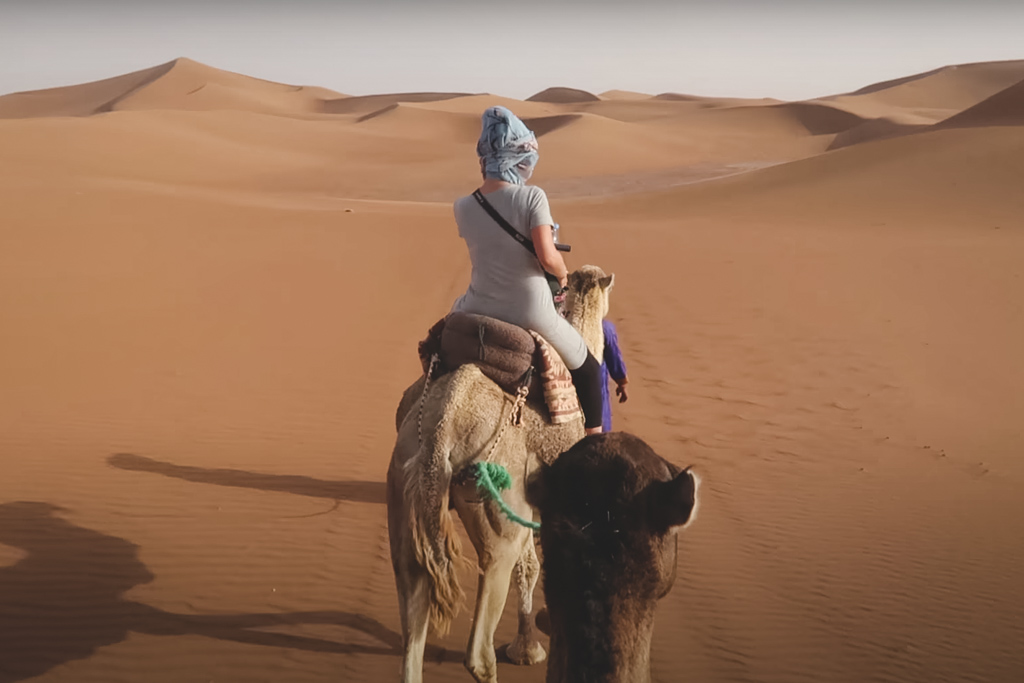 They are so cute, but I must admit, they are not that comfortable to ride. It sure is an experience, though!
15. Walk Under the Arch at Legzira Beach
You can chill at the beach all day, and hardly anyone will be here! The arch is a cool thing to do in Morocco, and while it's known, it's rarely busy at all. In fact, this place was double as popular when there were two arches to be seen. After a hectic storm, one crumbled, and there's just this one left now.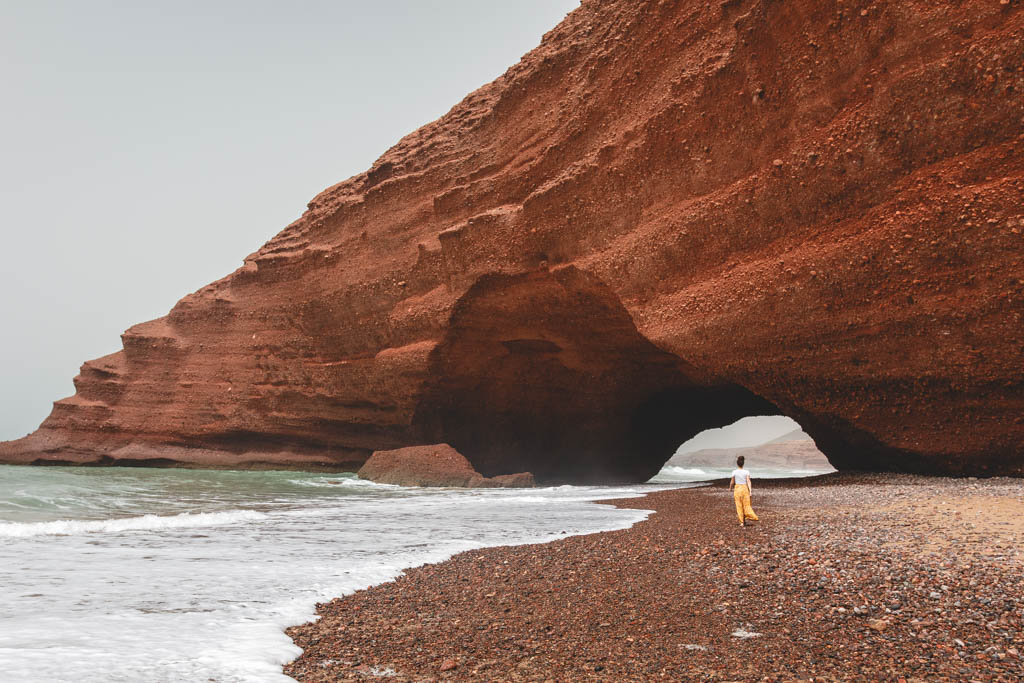 It's quite majestic, and the tiny town of Legzira, where this beach is located, is incredibly charming with its hillside cafes and surf shops. It's a good spot to spend the day if you're passing through.
16. Enjoy a Moroccan Breakfast
Fresh baked Moroccan bread, eggs, delicious spreads, and of course mint tea… In almost every place we stayed, there was an included breakfast, and it never failed.
Breakfast in most hotels is OK, at best, however, more often than not, it's sad—but not here in Morocco! Even at some budget guesthouses, we had a yummy breakfast included in the price!
17. See the Mysterious Ruins of Tombs of Merinids
The Merinid Tombs are a collection of ruined structures dating back to the 14th century! These tombs were built to serve as the final resting place for the Merinid rulers, who played a significant role in the history of Fes and Morocco as a whole.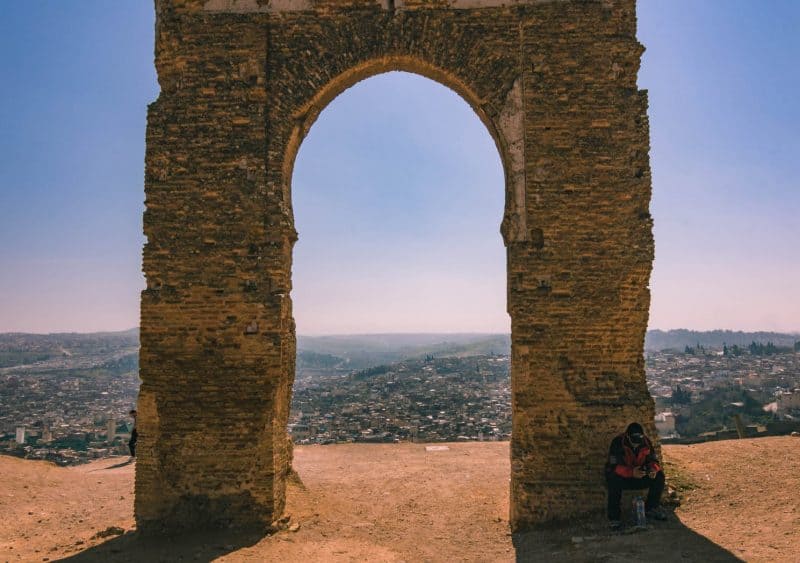 What's striking about these ruins is their lofty position, providing panoramic views of the ancient city of Fes and its medina. It's a stunning spot and makes for a slightly more peaceful escape from the bustling streets below.
While the tombs themselves are in a state of disrepair, the historical significance and the vistas make it worthwhile if you're in Fes anyway. It's particularly beautiful during sunrise or sunset when the warm hues of the city contrast beautifully with the surrounding landscape.
18. You HAVE to Have a Sahara Desert Experience (BEST Thing to Do in Morocco!)
Hands down, this is the best thing to do in Morocco. Clamber up the sand dunes of Erg Chigaga—These dunes are wilder, and you won't be sharing the view with 100 others.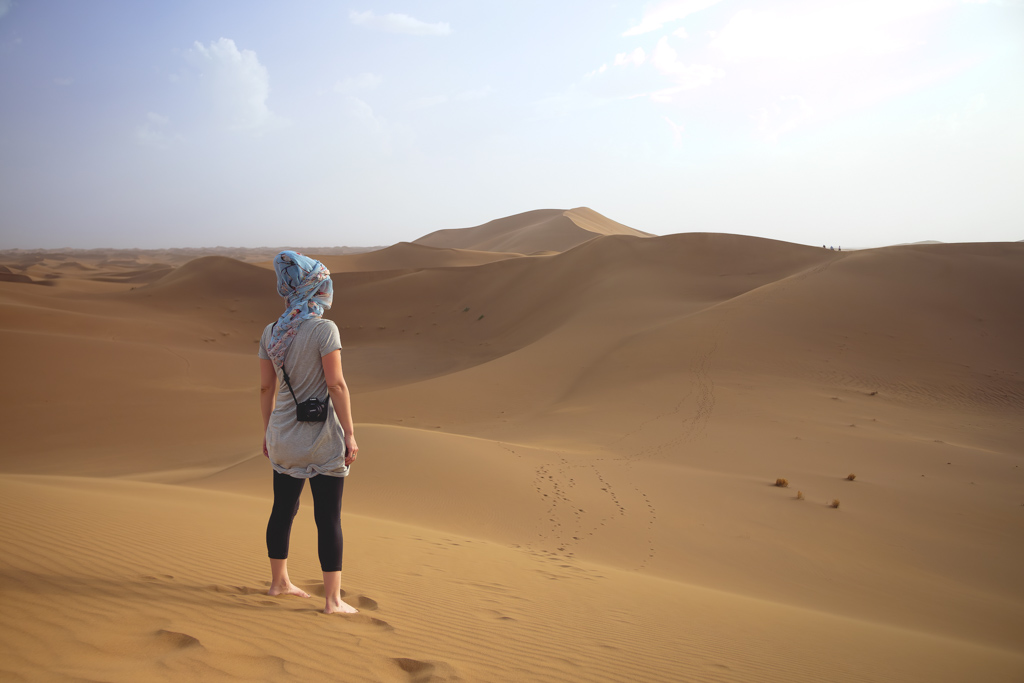 This is still hands down one of the coolest experiences I've had in my travels. If you do the exact desert tour I did, you can tell Brahim hello from me! My experience was magical. You can read more about how to stay in the Sahara Desert, and by the way, this is the more off-the-beaten-path tour of the desert!
You can visit the more popular and touristy one if you visit Erg Chebbi near Merzouga, which is a popular trip from Marrakesh. Both are a great way to get into the desert. It just depends on how much time you have and which experience you want when visiting Morocco.
19. Make a Pitstop in Mirleft
Oh, let me tell you about Mirleft—it's a hidden treasure along Morocco's southwest coast that I stumbled upon during my road trip. There are golden sandy beaches, and the crashing waves of the Atlantic Ocean create the perfect backdrop.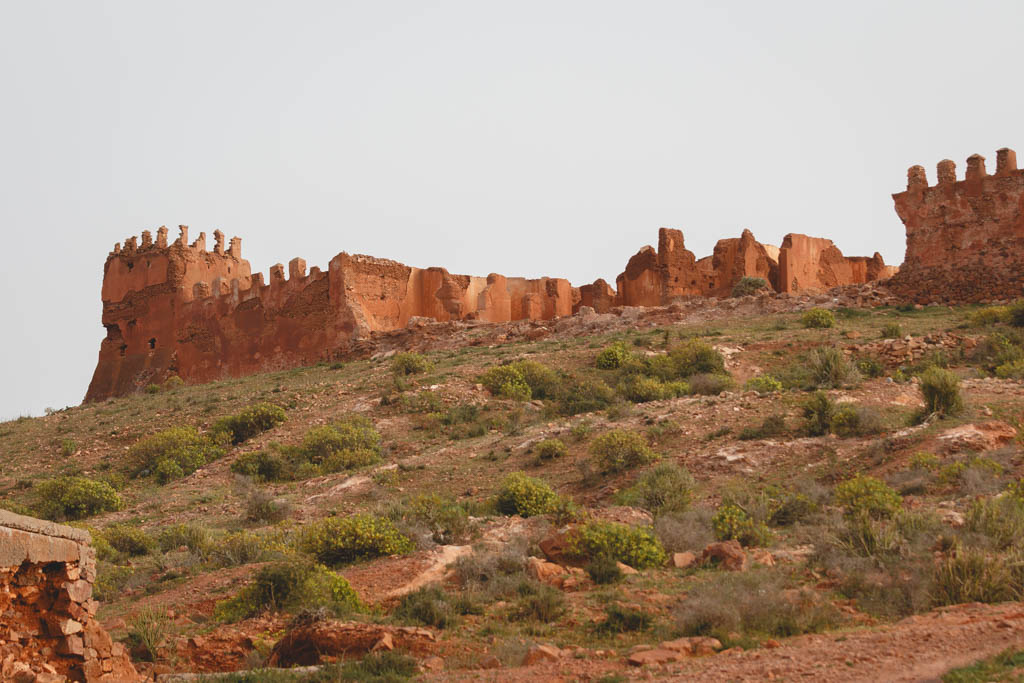 The vibe in Mirleft is laid-back, a far cry from the hustle and bustle of Marrakech or Fes. The town is a haven for surfers, with consistent swells that make it an ideal spot to catch some waves.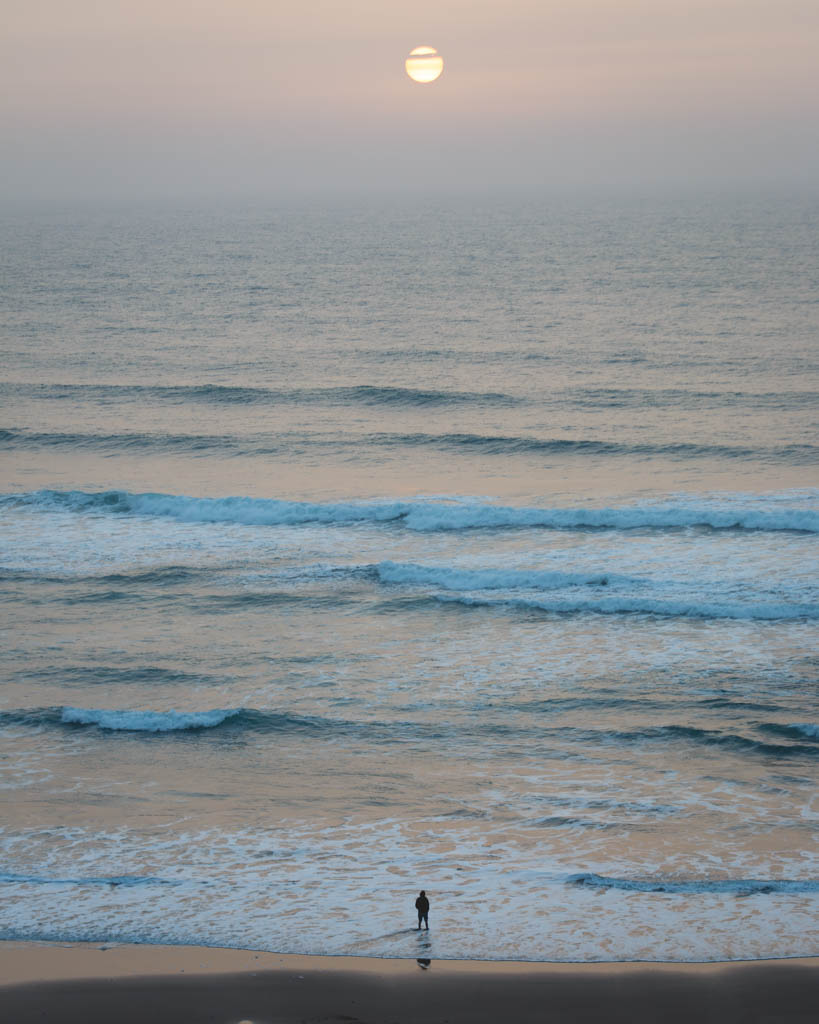 And the sunsets? They're nothing short of breathtaking. I spent my day exploring hidden coves and some old Spanish ruins. Mirleft offers a genuine Moroccan experience without the crowds, a place where you can truly unwind and soak in the beauty of the coast…or get totally lost.
Remember, this is also the place where I had the best olive oil of my life! Yes, it was THAT good.
20. Learn to Surf at a Surf School in Taghazout (Personal Fav Thing to Do in Morocco!)
Let me share my incredible experience of staying in Taghazout, Morocco, a surfer's paradise that stole my heart. We ended up living here for a few months, and this is where we based.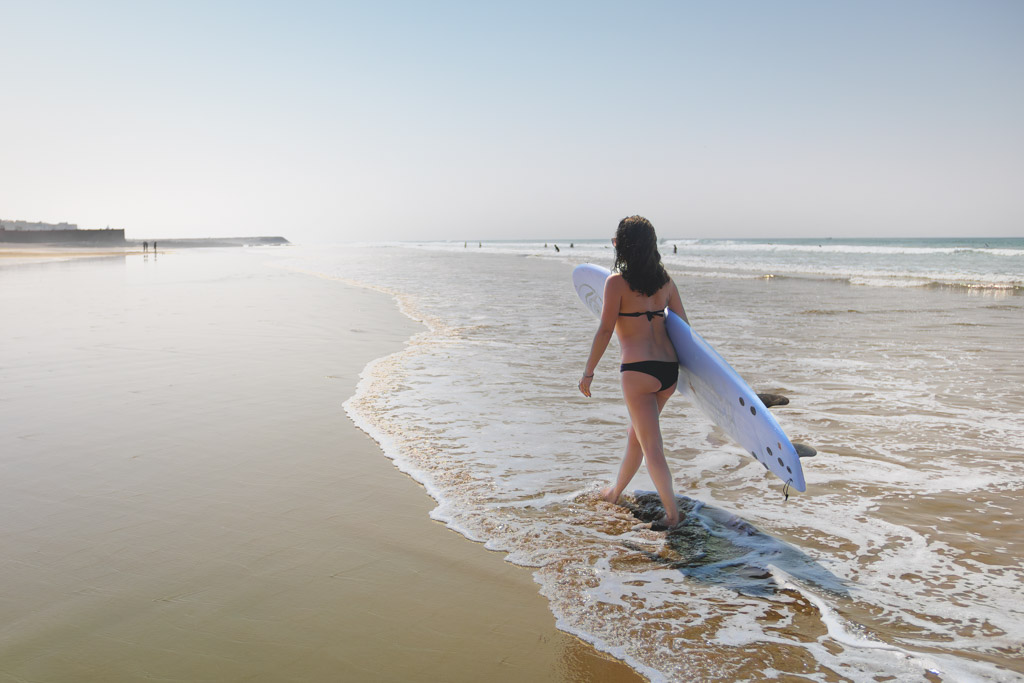 Imagine waking up to the sound of crashing waves, the sun painting the sky with vivid hues, and the salty breeze in the air – that's the daily routine in Taghazout. Staying in this laid-back coastal village was a dream come true. I was able to see the surf from my window!
Days were spent chasing the perfect wave, even though I was just a beginner. Taghazout's beaches are great for learning, and there are fun surf camps to join too, which is what we did for our first week. Then we went solo after that.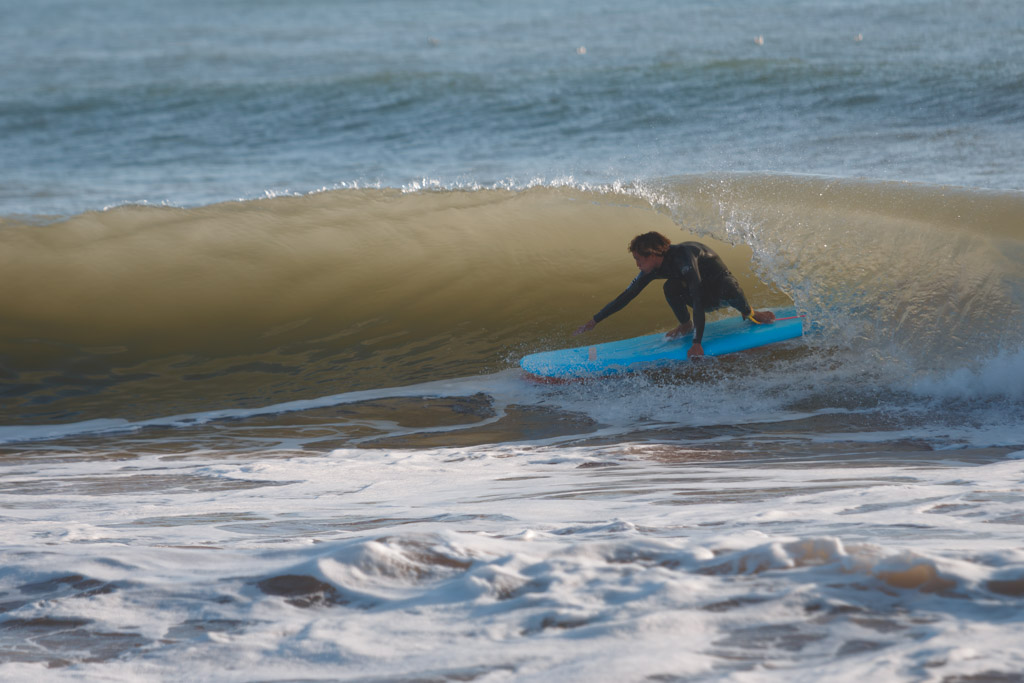 And when it was time to recharge after playing in the waves all day, the local cafes and restaurants served up some great Moroccan cuisine, including fresh seafood and delicious tagines!
We got used to the surf life here and were scheduled to go back for a few months in 2020, but obviously, that was canceled. It's still on the long list of places to return to and STAY for a few months!
21. Wave to Everyone When Driving
Because they will definitely wave to you. It was so sweet and heart-warming!
This "tradition" of waving to travelers is a testament to their hospitality. They would simply smile and wave at us while we drove down the road, every time. They are some of the friendliest people we've met!
22. Visit All the Kasbahs
Kasbahs, in general, are definitely some of the coolest things to do in Morocco! Kasbahs are like fortresses, and they are stunning! My absolute favorite kasbah was Telouet which is just about an hour north of Ouarzazate.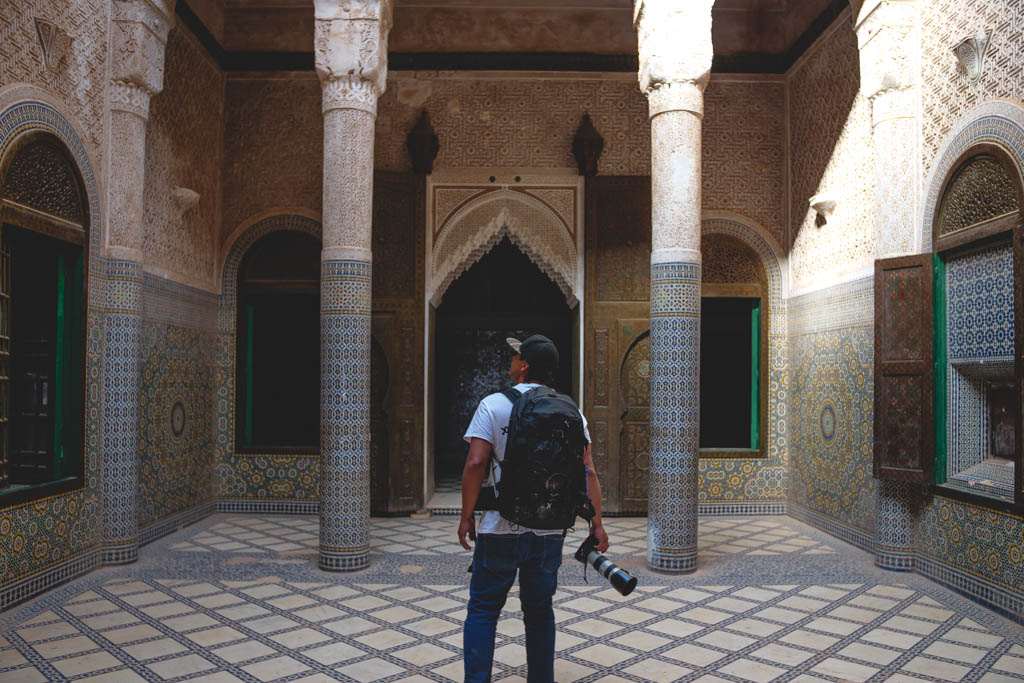 Ait Ben Haddou makes more of a splash, being that it was featured in Game of Thrones (as well as some other films and shows), but Telouet is a far better place, in my opinion (AKA fewer people).
Udayas in Rabat and Tamnougalt in Oarzazate are a few other popular ones. There will be tons of kasbahs to visit during your time here.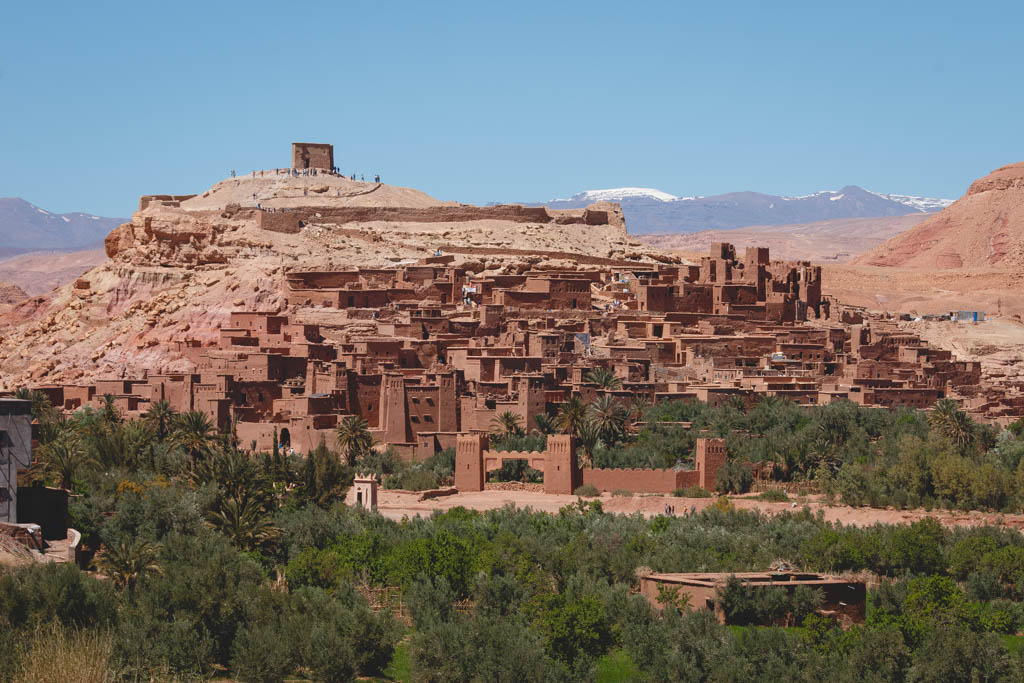 If you want an epic day from Marakesh to see the best kasbahs, this tour is the one! You'll get to see a lot in one full day, including Ait Benhaddou and Telouat Kasbah.
23. Wander Jemma El Fnaa Market
The Jemaa El Fnaa Market in Marrakech is an absolute sensory overload in the best possible way. Stepping into this bustling square feels like entering a world of magic, tradition, and vibrant chaos. I found myself completely enchanted—I love hectic markets!
By day, the henna artists create intricate designs, and a myriad of vendors sell everything from spices and textiles to traditional handicrafts. The aroma of freshly squeezed orange juice mingles with the scent of grilled meats, drawing you to the open-air food stalls where you can feast on delicious Moroccan cuisine.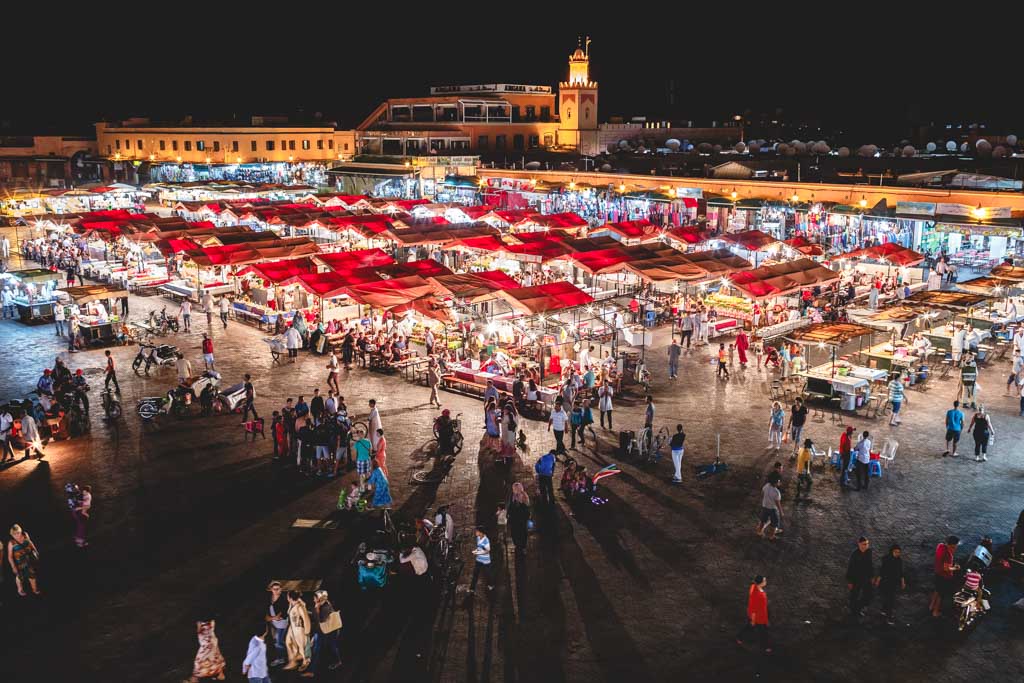 But it's when the sun sets that Jemaa El Fnaa truly comes alive. The square transforms into an open-air spectacle of musicians and dancers, the warm glow of countless food stalls and lanterns… and kind of a new but equally exciting chaos!
Navigating the maze-like streets surrounding the square is an adventure in itself, where you can get lost in the souks, haggling for treasures like rugs, ceramics, and leather goods. Good luck leaving empty-handed. I got two new pairs of earrings while I was here and said I wasn't going to buy anything!
24. Make a Detour and See Tinmel (Off-Beat Thing to Do in Morocco!)
It's a ridiculously ancient, gorgeous, abandoned, open-aired-mosque outside of Imlil in the High Atlas Mountains—And it's one of the best things to do in Morocco. If you can get there!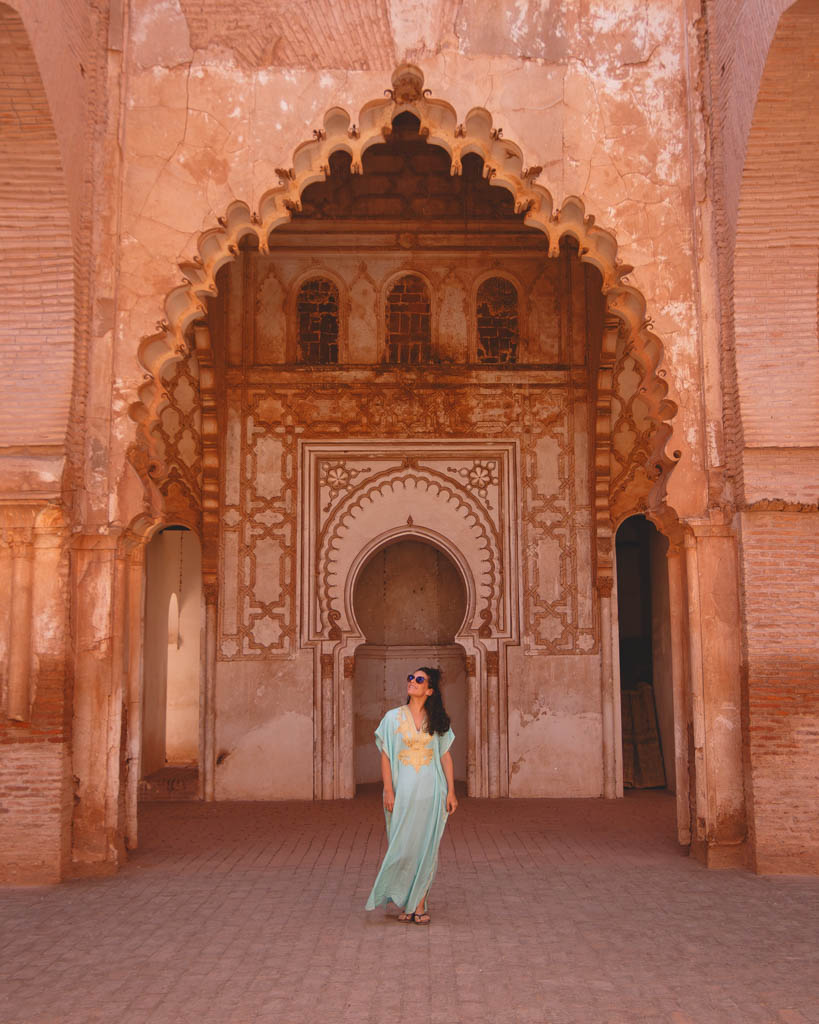 It's historically significant as the birthplace of the Almohad dynasty, and the mosque itself is a remarkable example of Almohad architecture. It's a UNESCO World Heritage site and is SO incredibly beautiful. If you're a non-Muslim, this will be one of the only mosques you can actually get into!
25. Pretend You're Famous at CLA Studios
It's one of the largest film studios in the world and has played a crucial role in numerous international film productions. There's a particularly famous set in the back which has played host to over 200 movies, including the Game of Thrones, Gladiator, Game of Thrones, and The Mummy.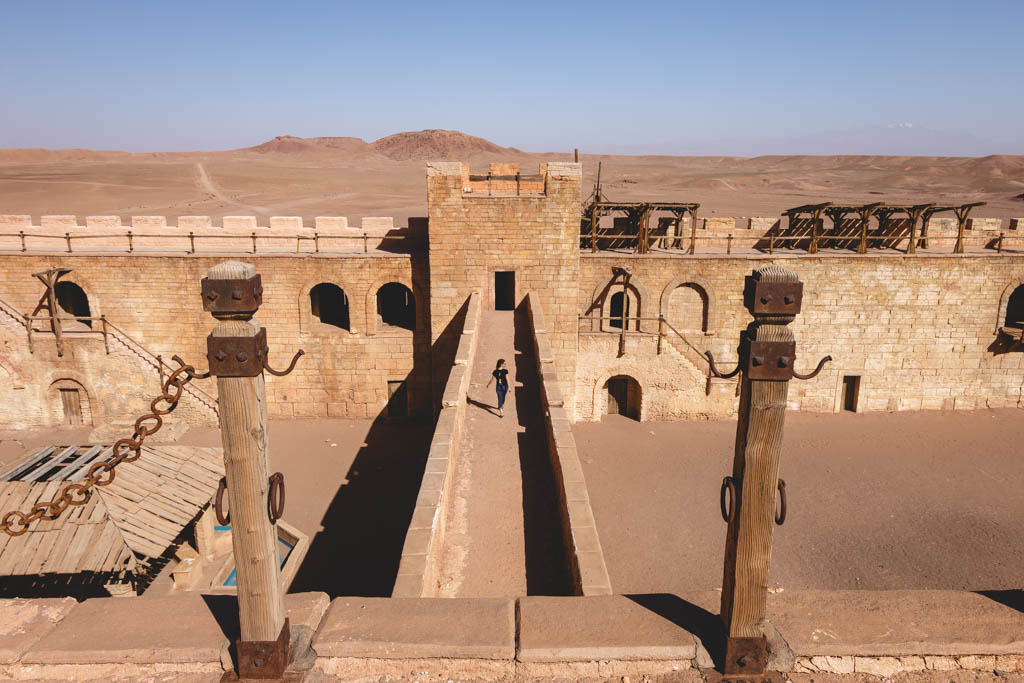 The studio's location in the desert landscapes of Morocco has made it a preferred option for filmmakers seeking to recreate diverse cinematic settings, from ancient civilizations to modern-day cities.
And for some reason, the old sets are open to visitors. So yes, we got to roam freely around these old sets like an adult playground!
26. Wander Around Tafraoute's Painted Rocks
These massive granite boulders, naturally sculpted by erosion, have been transformed into an outdoor art gallery. Local Belgian artist Jean Verame initiated the project in 1984 by painting a series of rocks in shades of blue, creating a striking contrast against the desert landscape. It was dedicated to his late wife.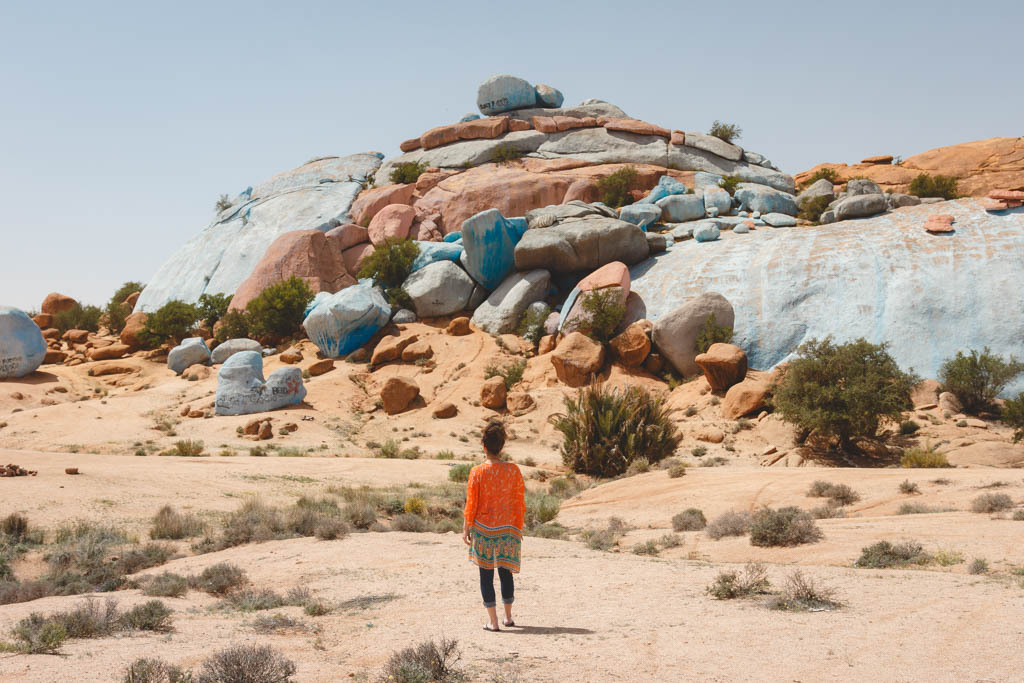 Over the years, more artists have contributed to this outdoor art installation, adding vibrant colors and imaginative designs to the rocks. The result is a surreal landscape where art meets nature, and visitors can wander the painted boulders, enjoying the wacky-colored rocks from afar or from the top!
27. Climb Past the Old Kasbah at Fint Oasis
Fint Oasis is a hidden gem in the arid landscapes of Morocco, just outside the city of Ouarzazate. It's a lush oasis that offers a stark contrast to the surrounding desert. It's marked by date palm groves, fields, and a network of water channels that wind through the landscape, creating a verdant layer in the desert!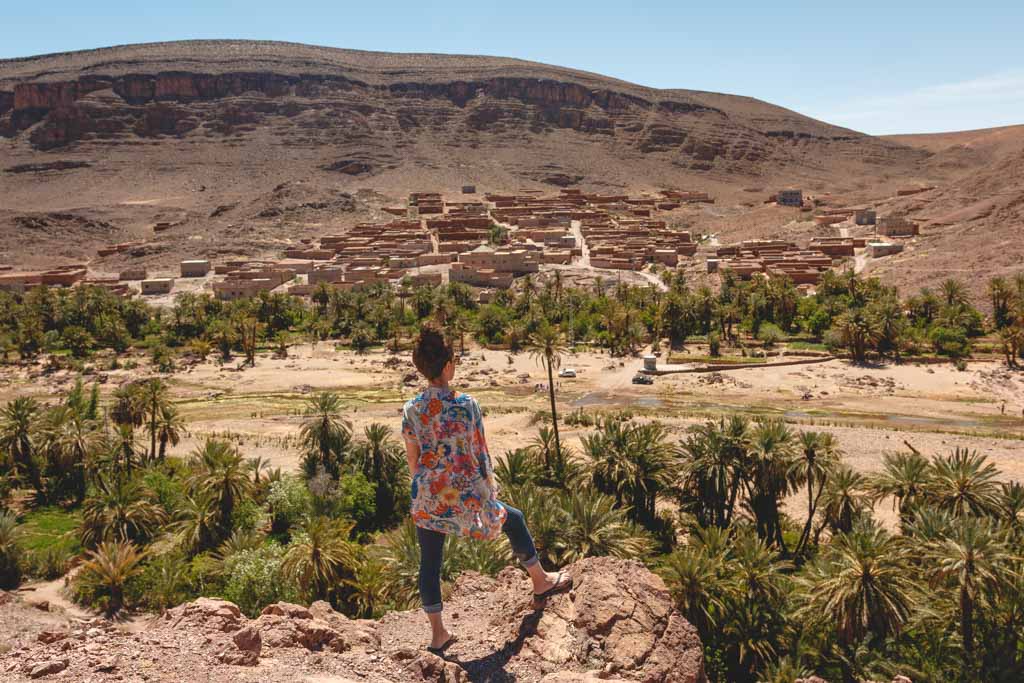 You can have a wander around the town and up to the viewpoint at the top of an old kasbah.
Fint Oasis is also a popular starting point for desert excursions, including camel rides and 4×4 tours into the surrounding desert wilderness.
28. Grab Yourself a Fish Tagine on the Coast
We ended up at this unassuming restaurant right on a stunning beach where you can hear the waves crashing. Here we got the standard mint tea and then one of the best meals we had in Morocco!
We ordered the fish tagine, and it's a meal I still dream about to this day! Yes, that's how good it was.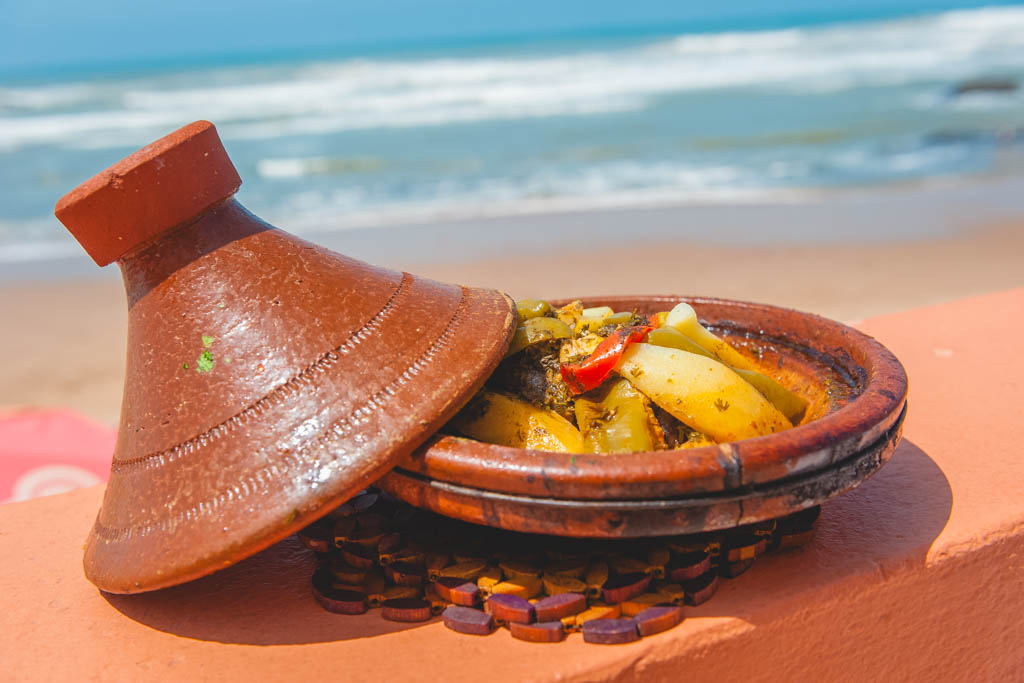 Eating Tagine will be a staple, and it's one of the best things to do in Morocco, but a fish tagine ON the coast? Don't miss out! Especially if you're in the tiny town of Legzeria and end up at the spot we did.
29. Let Your Jaw Drop at the Oasis Town of Agdz
Agdz is a picturesque town located in the Draa Valley region of Morocco, and it's often referred to as the "gateway to the Sahara."
One of the highlights of Agdz is its beautiful kasbahs—The town itself is home to several well-preserved kasbahs, and you can explore their architecture and learn about the history of the region. Weekly souks and more desert escapes and tours can be enjoyed from here too.
Agdz provides an authentic desert experience compared to some of the more touristy destinations in Morocco. Even simply enjoying the views you can see while driving around is great. It's pretty much a sea of palm trees with a multilayered mountain in the background—it's incredible!
30. Get Pulled Over by the Moroccan Police
Only to say hello to the smiling cop and tell them where you're going. Smile and drive on. This happened to us twice, and it was actually adorable. They are not after tourists, so if you're following the traffic rules, you're fine!
31. Eat Couscous on Fridays
It's a thing here. You'll soon find out. Families get together and eat their couscous that was slaved over all day (you aren't getting any instant couscous here.)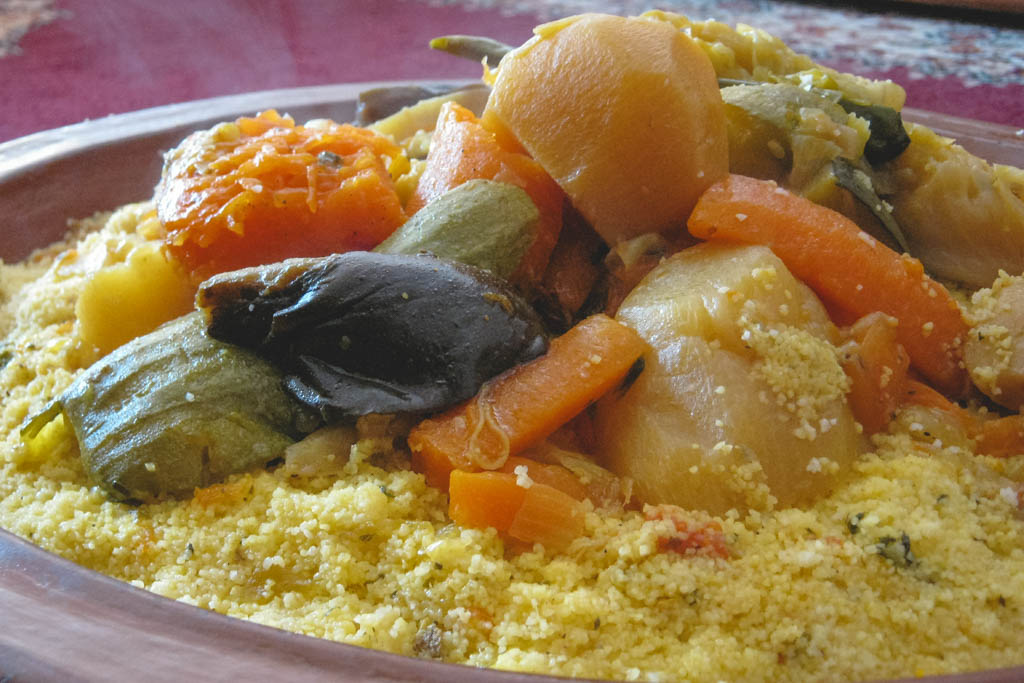 It's going to be a special on the menu at some restaurants, or if you're a digital nomad like me, who got to live in Morocco for a few months, you might be lucky enough to have the nicest neighbors. Each Friday, they made extra and gave us some!
32. Stay in a Riad (A Popular Thing to Do in Morocco!)
I rarely care where I stay, and while I didn't make a massive effort to stay in any crazy, ridiculously expensive riads, I found a cheap one and enjoyed it. Fully. Staying in one is a popular thing to do in Morocco and can certainly count as an experience in itself!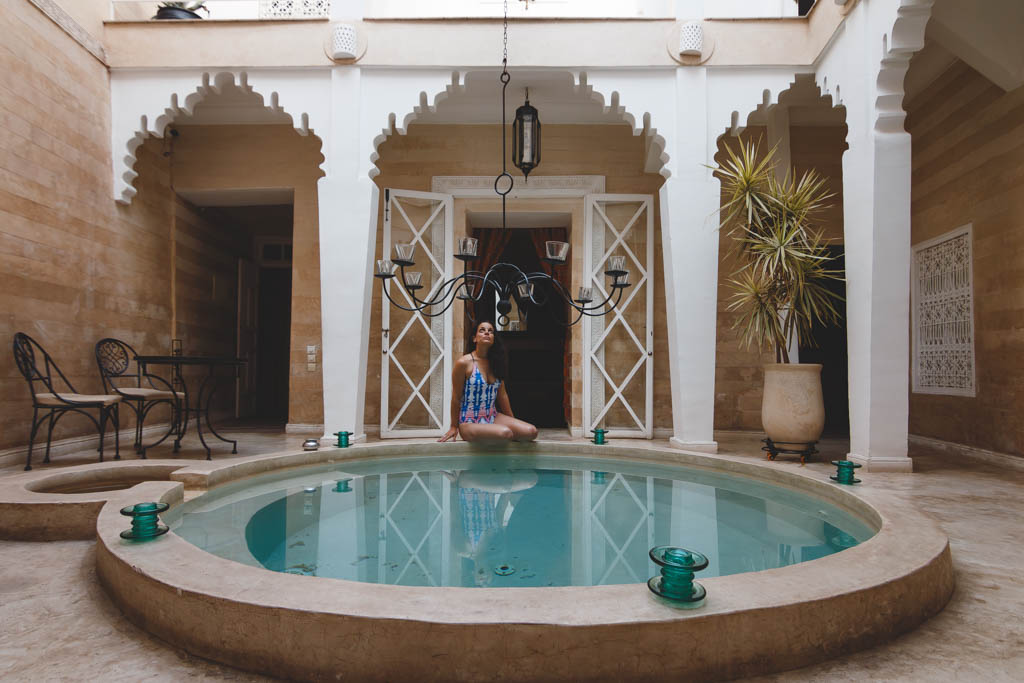 With that said, there are some epic riads to stay in around Morocco, and if I went back now with a bit more padding in my budget, I'd certainly stay in more.
33. Learn Hello and Thank You in Arabic
Bonus points if you learn it from a local for proper pronunciation (and interaction with a new local bestie).
Hello – "Assalamu Alaikoum" or in short and more commonly used, "Salam"
Thank You – "Shukran"
These are, at the least, what you should learn before you land! Honestly, this goes for any country. With that said, many Moroccoans you'll come into contact with will speak English.
However, something to note is they also often speak French, and sometimes Spanish too! So between these four languages, I'm sure you'll be fine getting around.
34. Experience Warm and Cold Weather
Yes, Morocco actually has seasons, and despite what you may think, it's not just hot. There's more than just desert here. In fact, there's even SNOW in Morocco!
So if you're going during the winter months, don't forget that jacket, like I nearly did. I literally grabbed it while my Uber was waiting outside to bring me to the airport! I was so thankful I did, too, because our first stop was in Chefchocene, and we woke up the next morning and there was snow.
Luckily for you, you don't need to worry, I made you a packing list for Morocco so you don't nearly turn into a popsicle like I did.
35. Gawk at the Atlas Mountains
Ah, the Atlas Mountains in Morocco – what an adventure! You can experience their beauty in a couple of popular spots. I trekked through the Toubkal National Park and got to see, but not conquer, North Africa's highest peak—Mount Toubkal!
The scenery here is nothing short of spectacular, with its terraced fields, quaint Berber villages, and stunning vistas that seem to stretch on forever.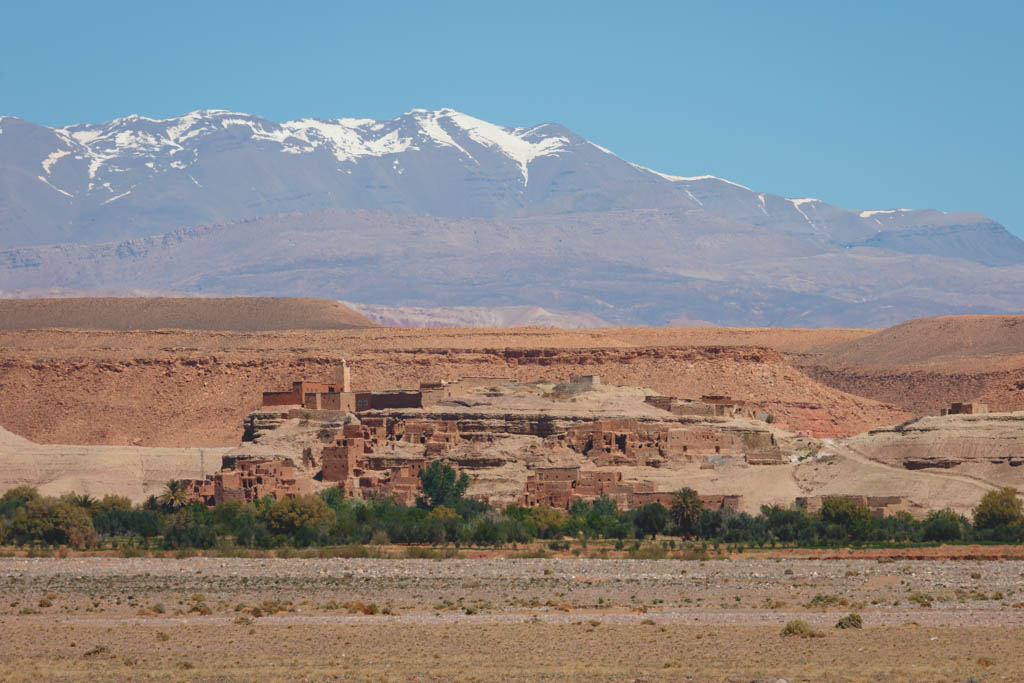 Then, there's the Middle Atlas, a more forested and rugged region. Here, the town of Ifrane is often called "Little Switzerland" due to its unique architecture and Alpine-like atmosphere. It's a great place to escape the heat and indulge in delicious Moroccan pastries.
Lastly, the Anti-Atlas region, with its dramatic red-rock landscapes and deep gorges, is a mesmerizing contrast. Here, you can venture into the Todra Gorge and Dades Valley, where you can marvel at the sheer cliffs and winding roads carved into the mountainsides!
36. Have a Bit of a Party in an Oasis
Paradise Valley is usually pumping with people having fun, cliff jumping into the large pools of water, and sunning their buns. And it truly does look like a mini oasis. Just make sure to go when it's actually wet!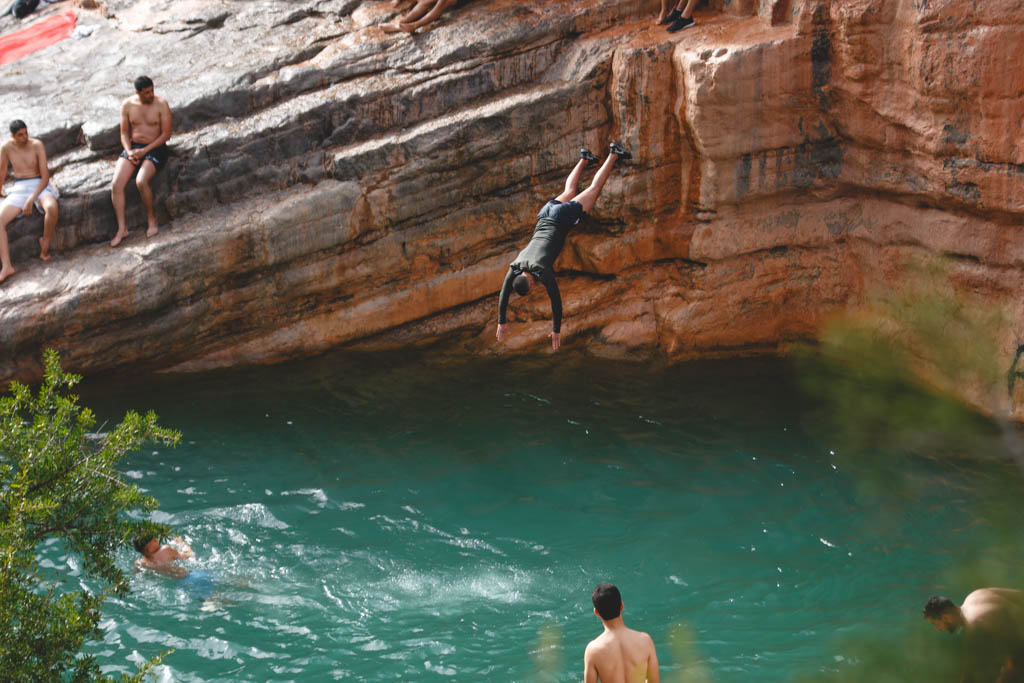 Paradise Valley makes for a great half-day trip from the coast. Bring your swimsuit and hop into the water. Buy some fresh juice from the stands, and stare up into the palm trees above you for a day at this local desert watering hole!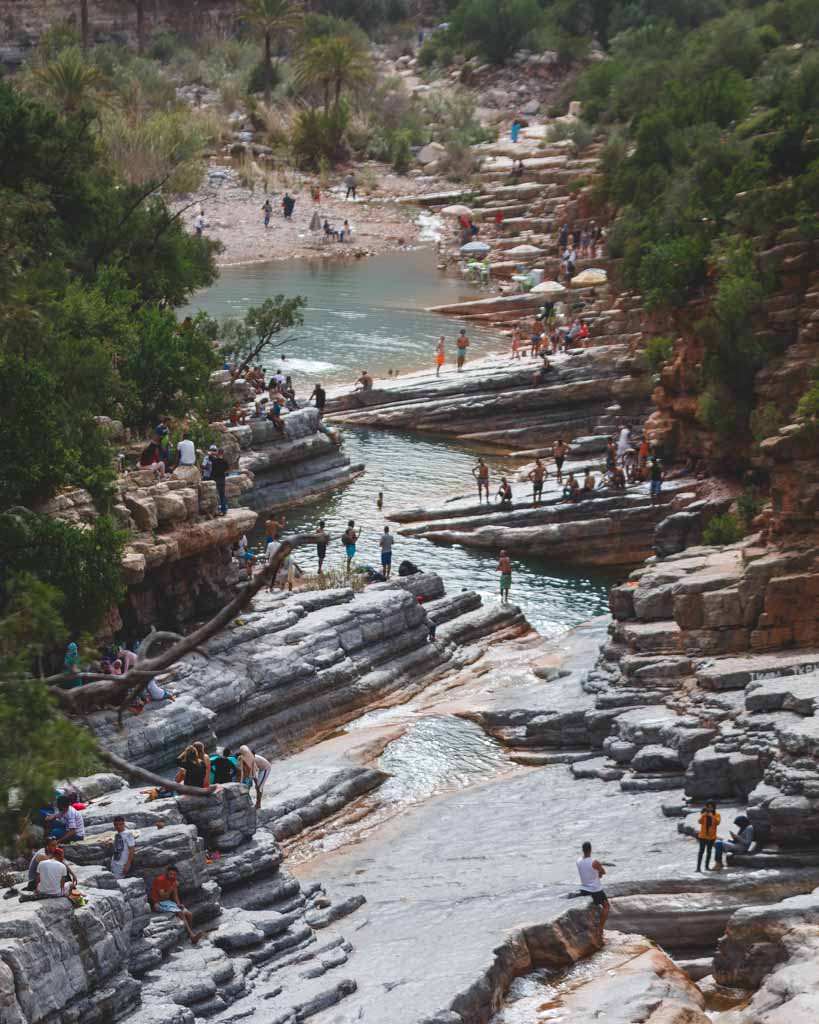 You can come here yourself if you're road-tripping, but otherwise, you can do a really easy and cheap tour from nearby towns like Agadir or Taghazout. Usually, late winter or early spring are the best times to go, but you can also ask a local how it is before going.
37. Try Msmen
Msmen is a mouthwatering, flaky, and slightly crispy square of heaven. It's perfect for breakfast with honey, jam, or cheese. This one is often a sweet treat or a good in-the-middle-of-the-day quick snack so you can keep going. It pairs well with tea but so does everything here in Morocco.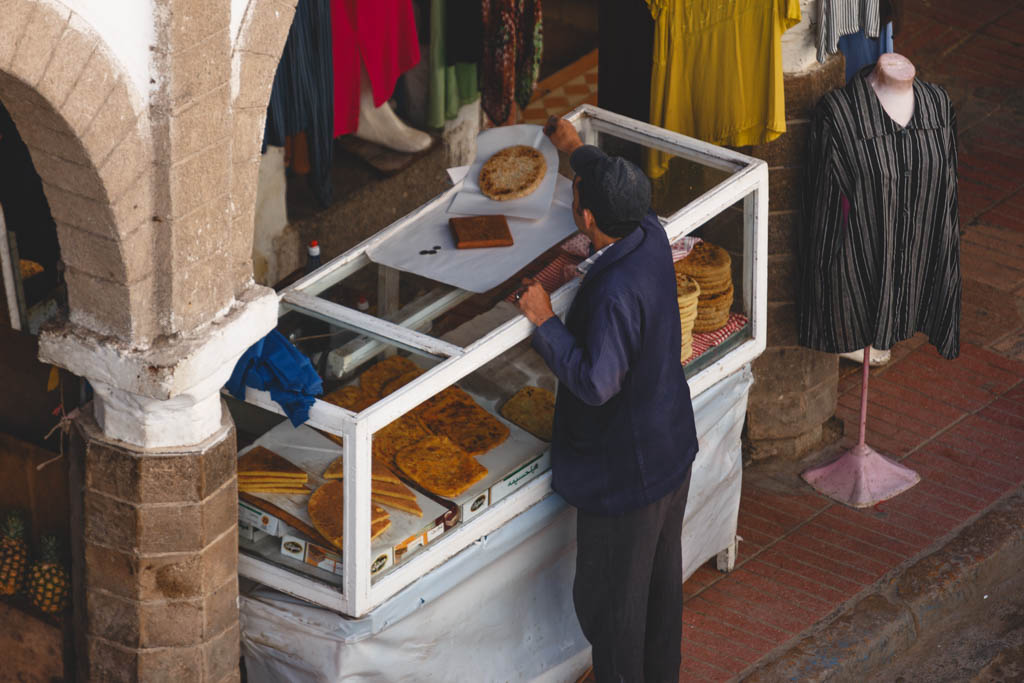 There are little stalls selling these stuffed crepe-like things everywhere. You'll be sure to find it anywhere you are while visiting.
38. Go Sober in Morocco
We found a beer in Ouarzazate for $2.50 and a bottle of wine for under $15…it's like a treasure hunt in the smaller towns to find alcohol for a reasonable price. It's also totally fine NOT to drink. In fact, you should probably go sober while visiting Morocco!
Most Moroccans follow Islam, and Islam forbids alcohol. This means drinking in Morocco is not easy or cheap. You'll have to find the few bars and restaurants that serve alcohol or, again, just plan on not drinking while visiting Morooco!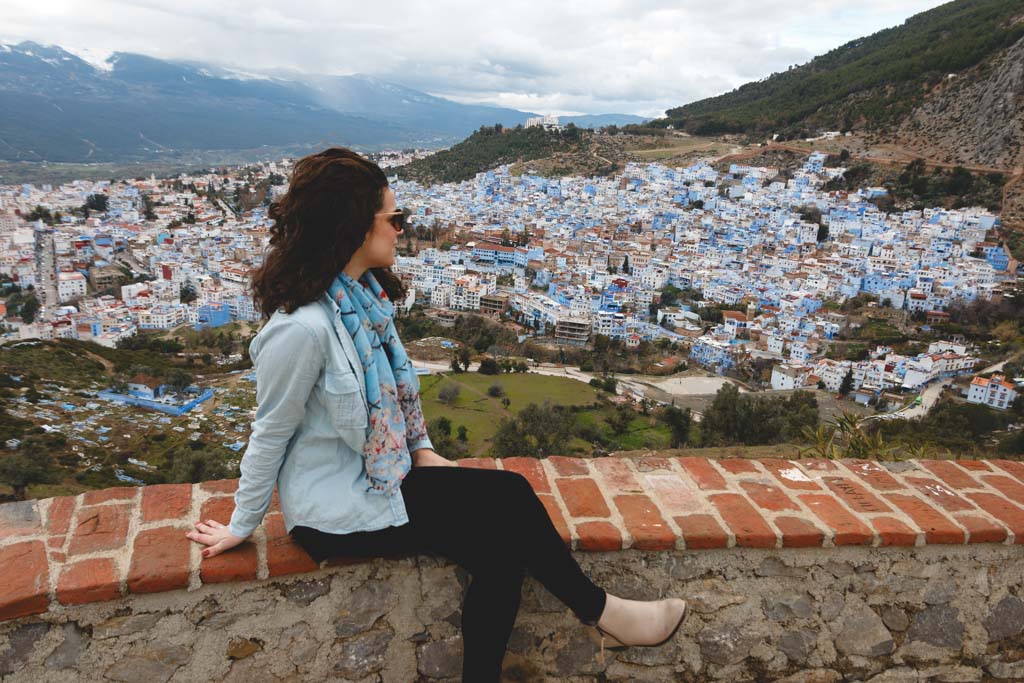 After nearly three months without alcohol, we felt we deserved some when we actually found it. Two drinks in three months isn't too bad!
39. Go on a Health Kick
While going sober in Morocco will certainly earn you some health points, you can take it further!
Yoga fans can find retreats in the serene landscapes of Marrakech, the Sahara Desert, or along the picturesque coastlines of Essaouira and Taghazout! It's actually quite popular for surf camps to offer yoga with their packages as well.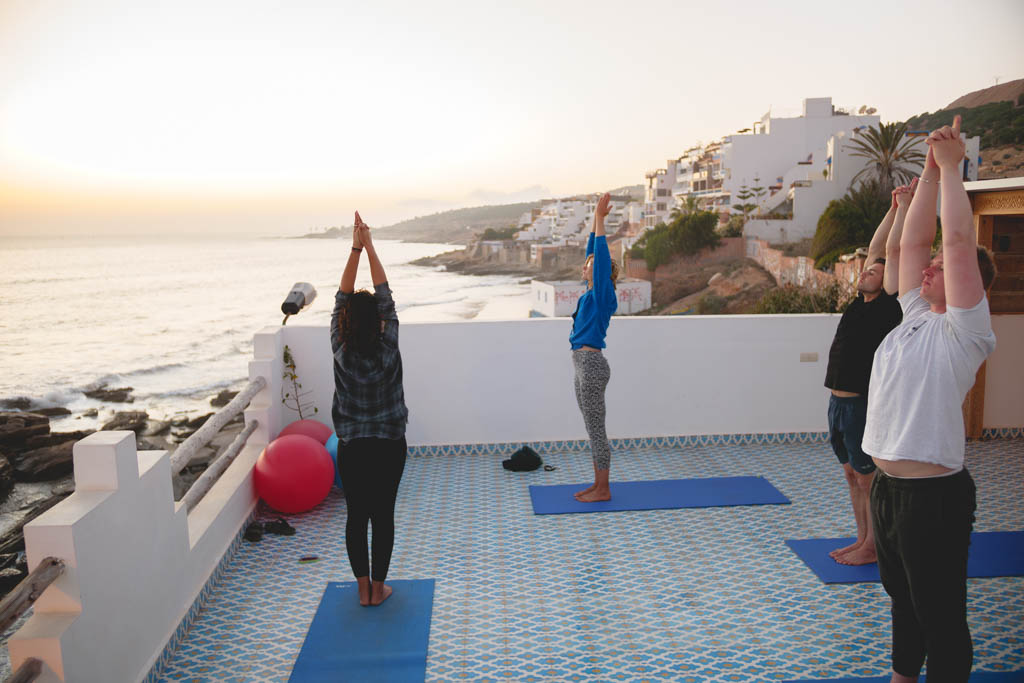 There are wellness retreats, traditional hammams, spa treatments, and more, depending on what wellness options you're after. If you're looking for an epic combo, you can adventure on quadbikes all day and then get a hammam and spa treatment afterward—check more out here.
40. Take a Trek Around Imlil
Imlil is a hiker's paradise. The town serves as a gateway to some of the most stunning trekking routes in the High Atlas Mountains. One of the most popular hikes from Imlil is the challenging trek to Mount Toubkal, which offers panoramic views of the surrounding peaks and valleys!
Beyond Mount Toubkal, there are numerous hiking trails that wind through the High Atlas. We did some nice quicker ones around town and up to great viewing points. You can explore remote Berber villages, traverse lush valleys dotted with terraced fields, and follow ancient mule tracks that have been used for centuries.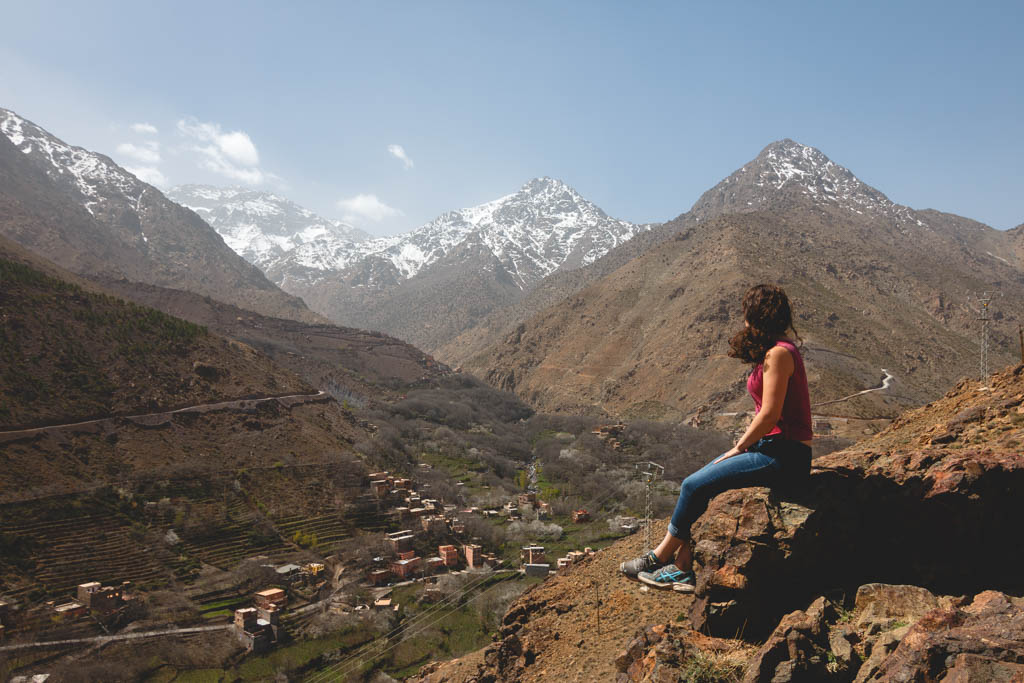 The town is cute and quaint as well and offers tons of places to enjoy a bite to eat, where you get to look out and enjoy the views! Here's a guide to Imlil.
If you want to summit Toubkal, it's a multiday trek, and you'll want a guide—try this highly-rated tour. If you're a bit low on time, you can take an easy day tour from Marrakech to check out Imlil.
41. Drive the Tizi's! (Scariest Thing to Do in Morocco!)
Driving around Morocco was a fantastic adventure. We crisscrossed the country, from the vibrant cities to the tranquil countryside, and the roads were generally in good condition. I think you know this by now, driving around Morocco was tons of fun, but you should be aware of the Tizi's!
The Tizi roads, like the famous Tizi N Test, wind through the High Atlas Mountains and offer some of the most breathtaking views you can imagine. However, they're not for the faint of heart.
These mountain passes can be narrow, steep, and full of hairpin turns that keep you on your toes. You'll encounter bold local drivers, herds of livestock, and even the occasional donkey or camel on the road.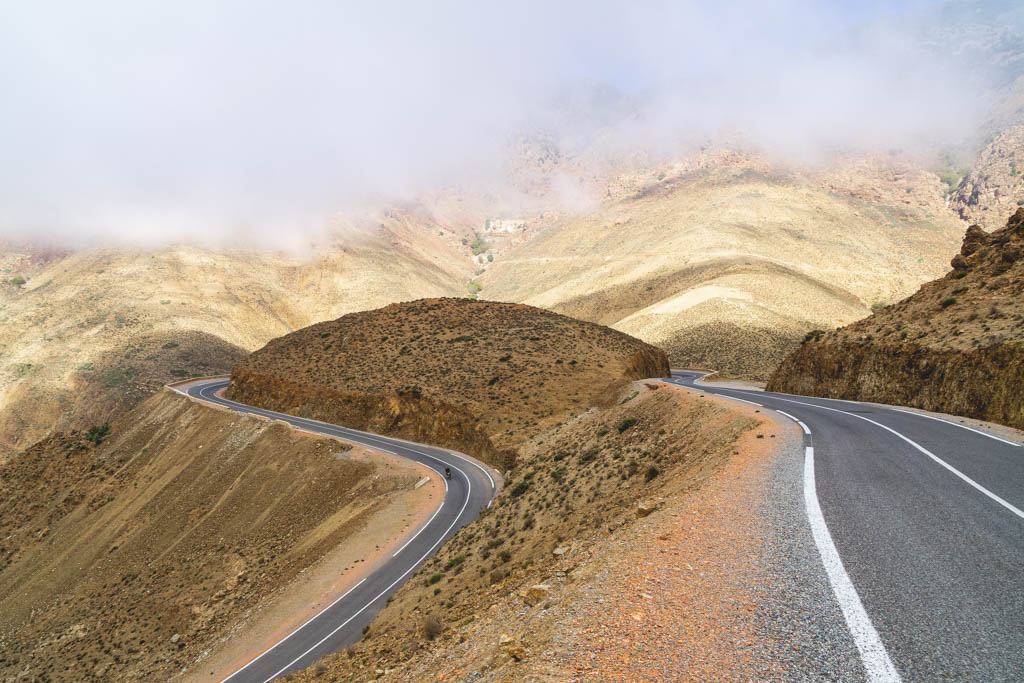 One thing to remember is that the weather can change rapidly, especially in the mountains. We drove through sun, and rain, so be prepared for different conditions is crucial. Checking road conditions and seeking local advice can be a lifesaver.
Some of the mountain roads in Morocco are certainly intimidating, but they are also super gorgeous and kind of fun too.
42. Try Exploring the Agadir Souk
You'll find a wide array of goods here, from traditional Moroccan handicrafts like rugs, ceramics, and leather goods to spices, clothing, and jewelry. The prices are generally reasonable, but haggling is a customary part of the shopping experience, so don't be shy about negotiating.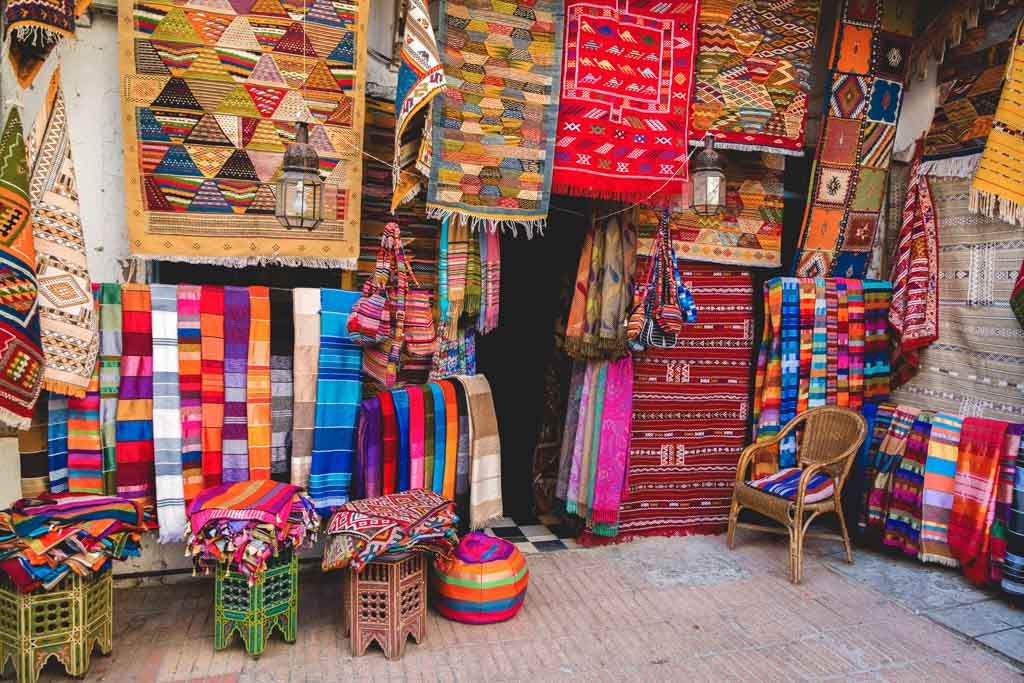 I got TONS of trinkets and good deals when I went shopping here. This is where I ended up doing most of my shopping to bring home some stuff for my family. It's less intense than the Jemaa el-Fna in Marrakesh, and you may even find some better deals here.
43. Catch the Desert Sunrise
You'll see the colors change drastically from one moment to the next. Pinks, yellows, oranges… they all come out to play! It's mind-blowingly beautiful and one of the coolest things to do in Morocco. My desert experience was magical and I have a guide telling you about the non-touristy way to see it.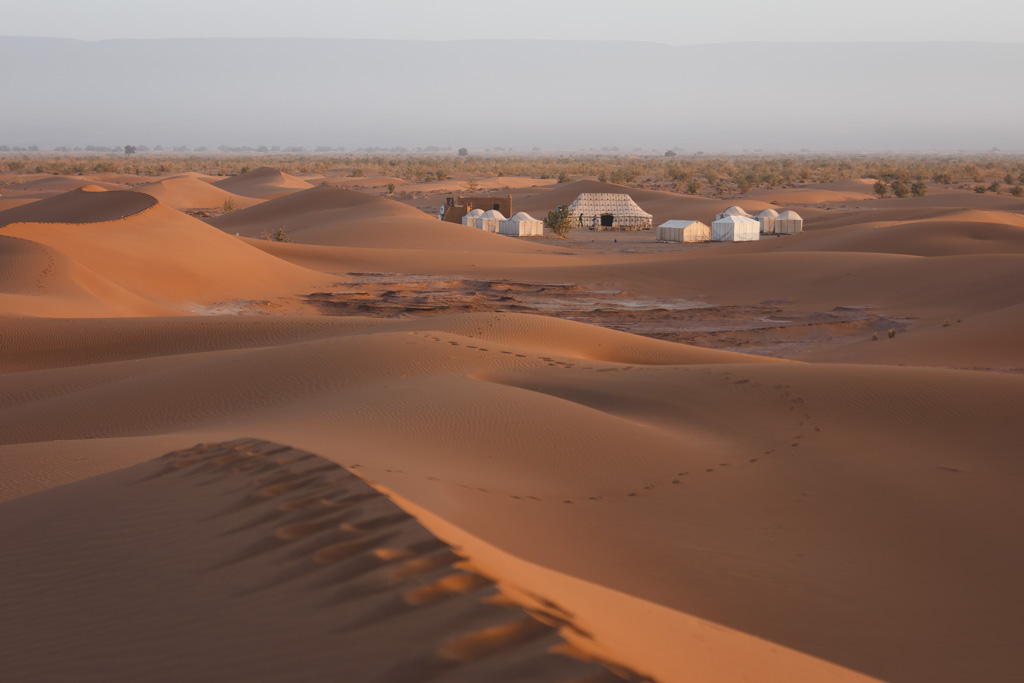 One thing is for sure, don't say no when they ask you if you want a sunrise wake-up call!
44. Always Take Advantage of the Rooftop Terraces
Almost every place has them. Restaurants, your hotel, cafes, get up there!
Rooftop terraces serve as escapes from the hustle and bustle below, providing an oasis to enjoy a cup of mint tea or a delicious Moroccan meal. We took full advantage of them anywhere and everywhere we went.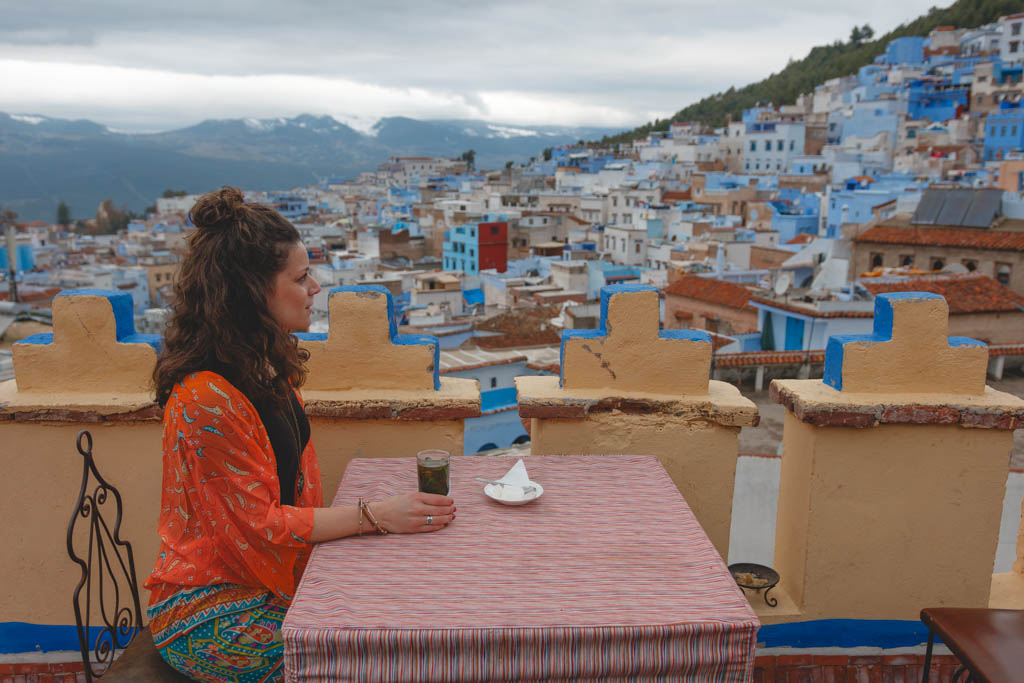 From Marrakech to Fes to Chefhocene and beyond, rooftop terraces should be your go to spot every day for sipping tea under the sun.
45. Enjoy the Random Stops
Stop in the 100 random villages (OK, fine, maybe just a couple of them) while you're taking a road trip through Morocco. There are so many precious villages to just sit and forget that time exists. They also have some of the most epic viewpoints.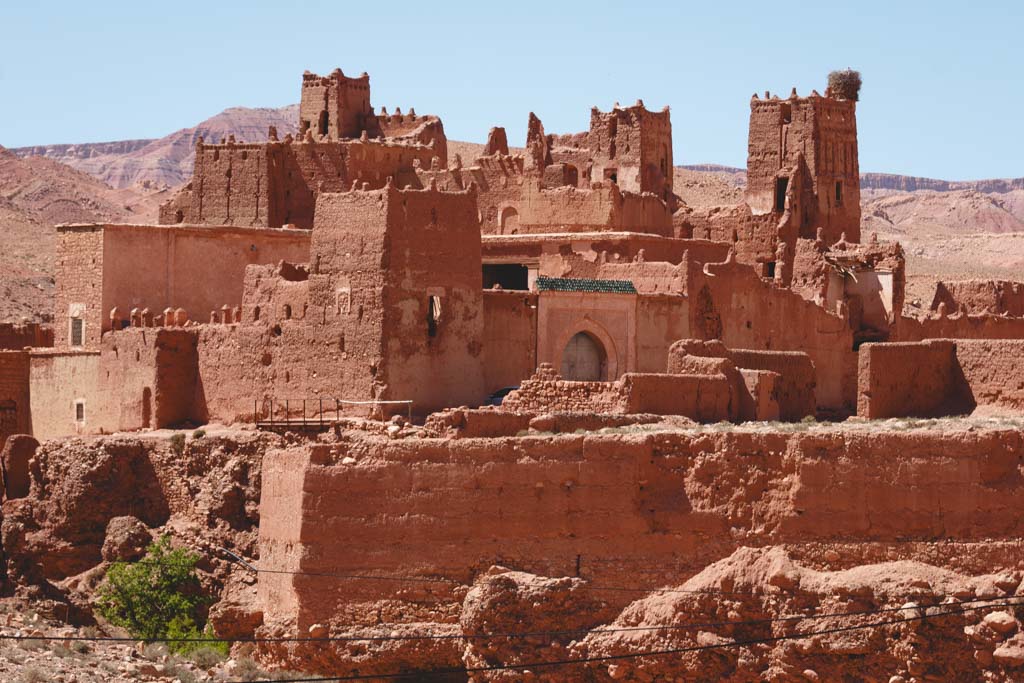 You'll pass so many roadside stops, good snacks, and probably a market to stretch your legs out at! Stop and smell the roses (or goat poop) at a few of them. I actually found my awesome Moroccan dress at a road stop market in the middle of nowhere!
46. Buy Fresh OJ From the OJ Stands
Oranges grow everywhere here, and unsurprisingly fresh orange juice is sold everywhere, usually in little carts. I drank gallons of it!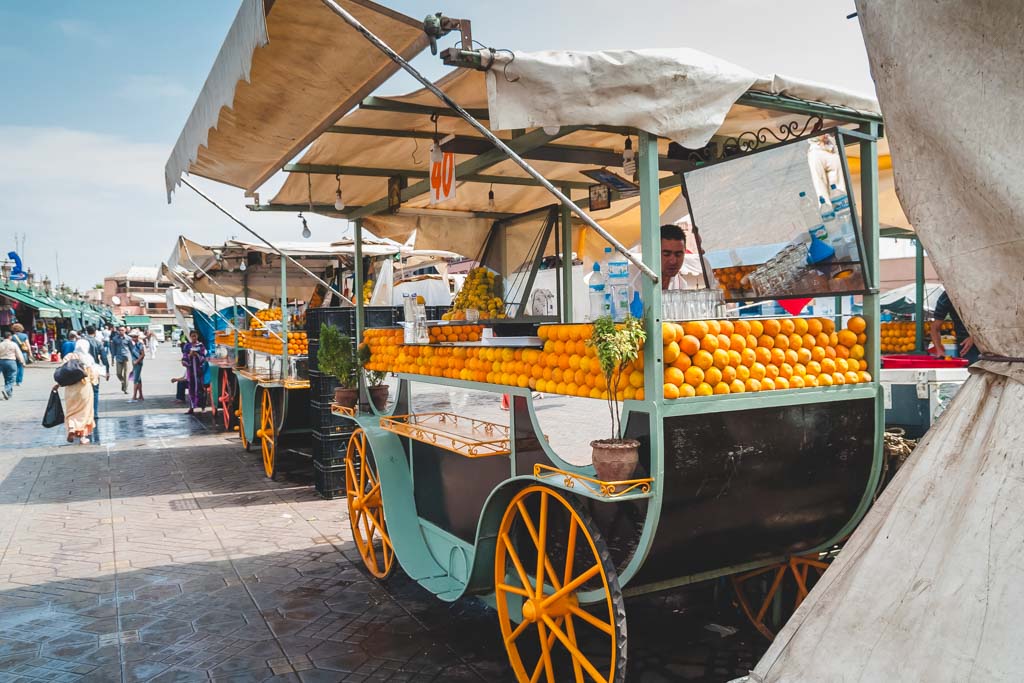 47. Buy Spices From a Random Street Spice Vendor
It's OK if you don't know what you're getting, just buy it. We came home with a few mystery ingredients ourselves. They just have bags of spices, and they sell them on the sidewalk in the towns. We came home with some fun stuff to try out!
48. Go Sandboarding on the Desert Sand Dunes
Sandboarding in the Sahara Desert was an absolute thrill—this is what I wanted to do when I got here!
There were golden dunes stretching as far as the eye could see, and there I was, perched on a sandboard, ready to carve my way down a dune.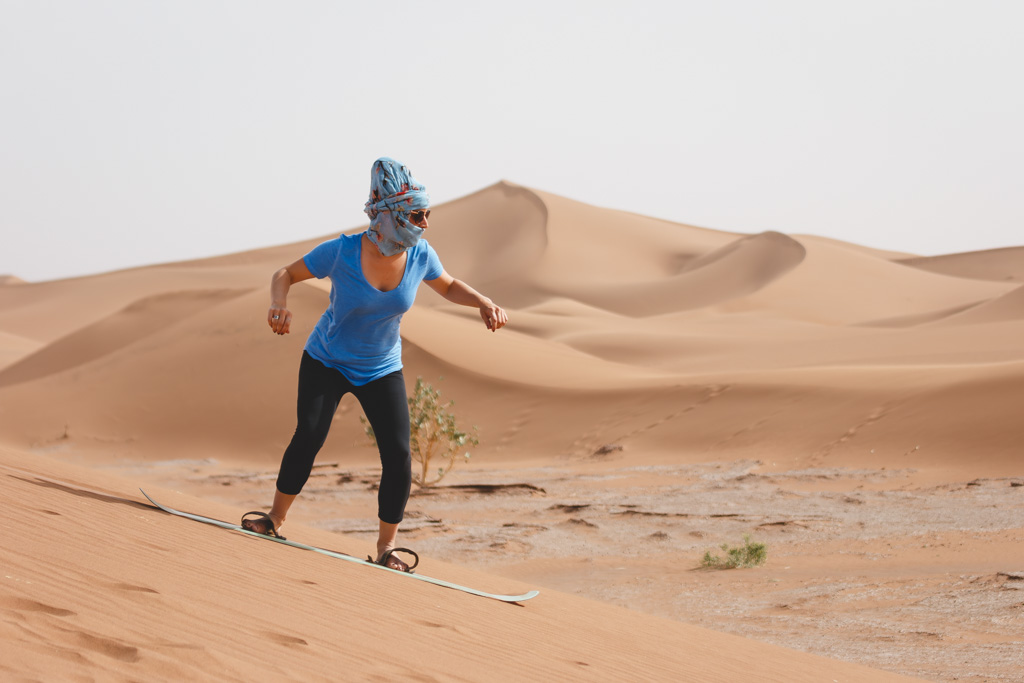 In my head, I looked way cooler, but uhm, the evidence shown in Exhibit A says otherwise. Nonetheless, it was so much fun and one of those memories you should definitely make!
49. Forget Regular Bread, Eat Khobz (The Yummiest Thing to Do in Morocco!)
I ate this every day for brekkie—this was the only bread we ate for three months. No complaints from me, I couldn't be happier!
Khobz is their quintessential bread, and it replaced any other bread cravings I had. I remember getting it from this friendly local vendor just down the street from where we were staying. Freshly baked, it had this amazing crispy crust that gave way to a soft, pillowy interior.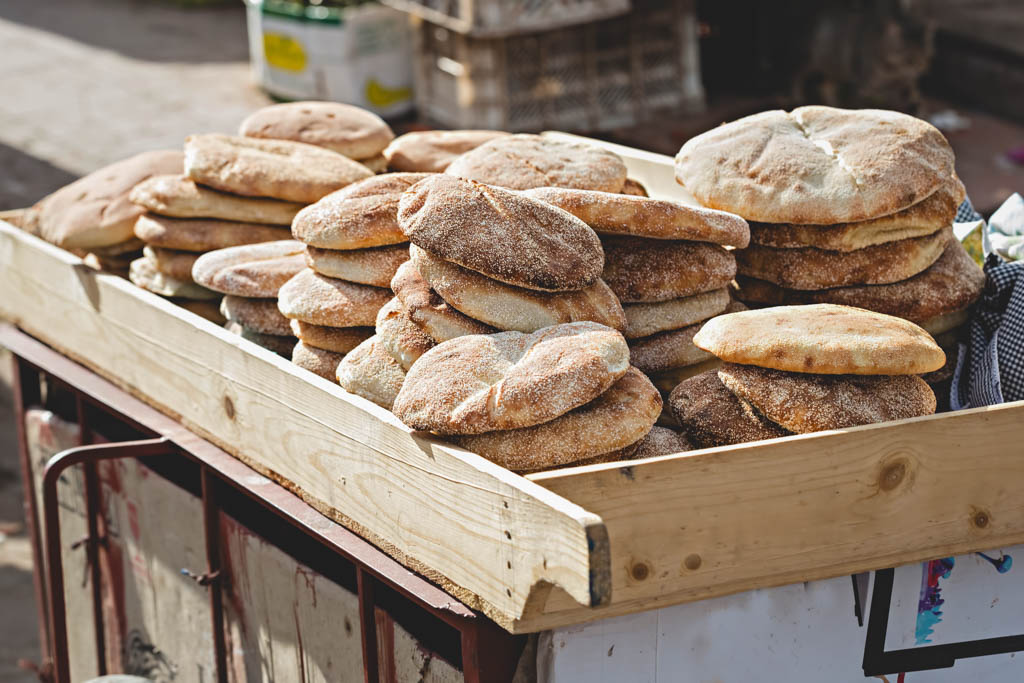 Our favorite way to enjoy it was with those little cheese triangles from Happy Cow—you know, the ones, right? They didn't have other choices for cheese, but anyway, I'd spread some of that on a warm piece of Khobz, drizzle a bit of some of the best olive oil I've had, and that's it! It was so good!
50. Eat Your Body Weight in Amalou
It's usually offered as a bread spread (it's like Morocco's version of peanut butter!)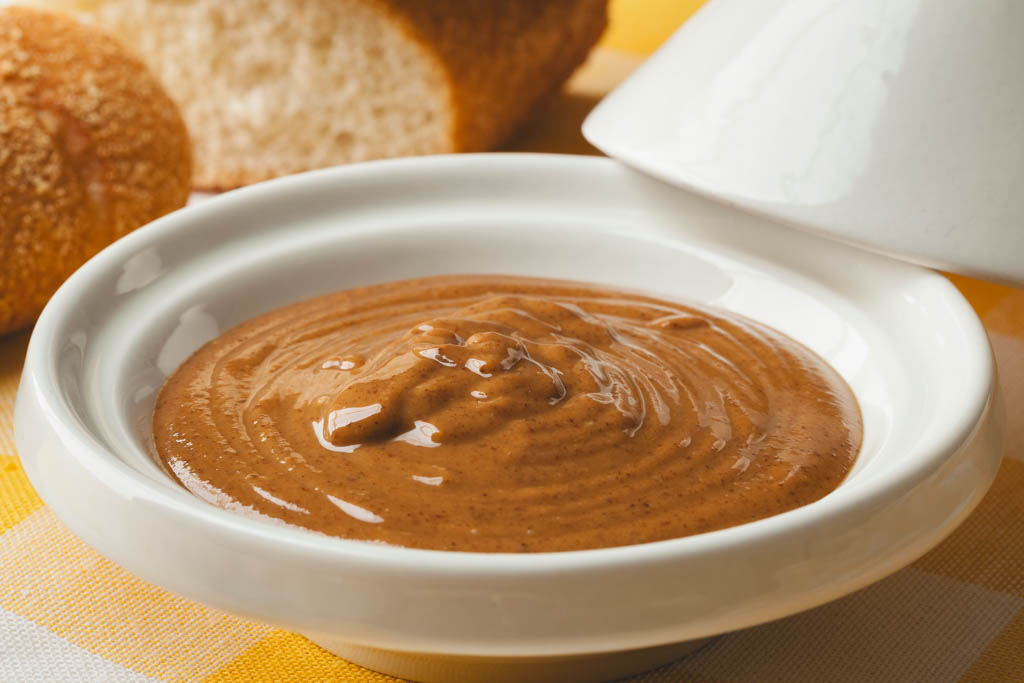 I love peanut butter, so I knew I'd love Amalou! It's a nutty concoction made from roasted almonds, argan oil, honey, and sometimes a pinch of spices. I couldn't get enough of it, and having some on fresh baked Khobz? YUM! It's a match made in heaven.
51. Watch the World Go By in the Desert
You can spend the night trying to spot as many constellations as you can. The sky is so clear and uninterrupted with light pollution you rarely get to enjoy a moment like this. During our desert experience, we also had a huge bonfire and a drum circle too which really made the night!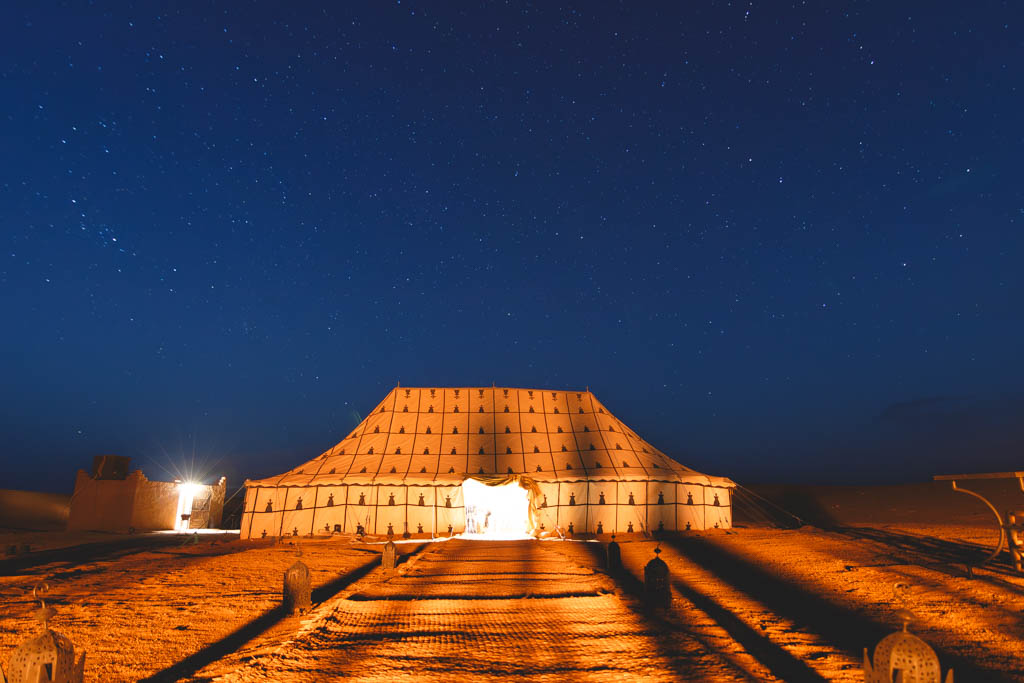 52. Have a Local Help Wrap You
Have your head properly wrapped in a turban or your body wrapped in a melhfa. Either buy the fabric for cheap or use a scarf that you have already. We both got properly "wrapped" while we were in Mhamid after our desert adventure with our new local friend, Brahim!
53. Head to The Beach!
Morocco's coastline is a gem for beach bums and surfers. Imssouane, with its chill atmosphere and long, uncrowded waves, is a haven for surfers seeking the perfect ride. Just down the coast, Taghazout boasts a surf culture and consistent breaks, making it a world-renowned surf destination!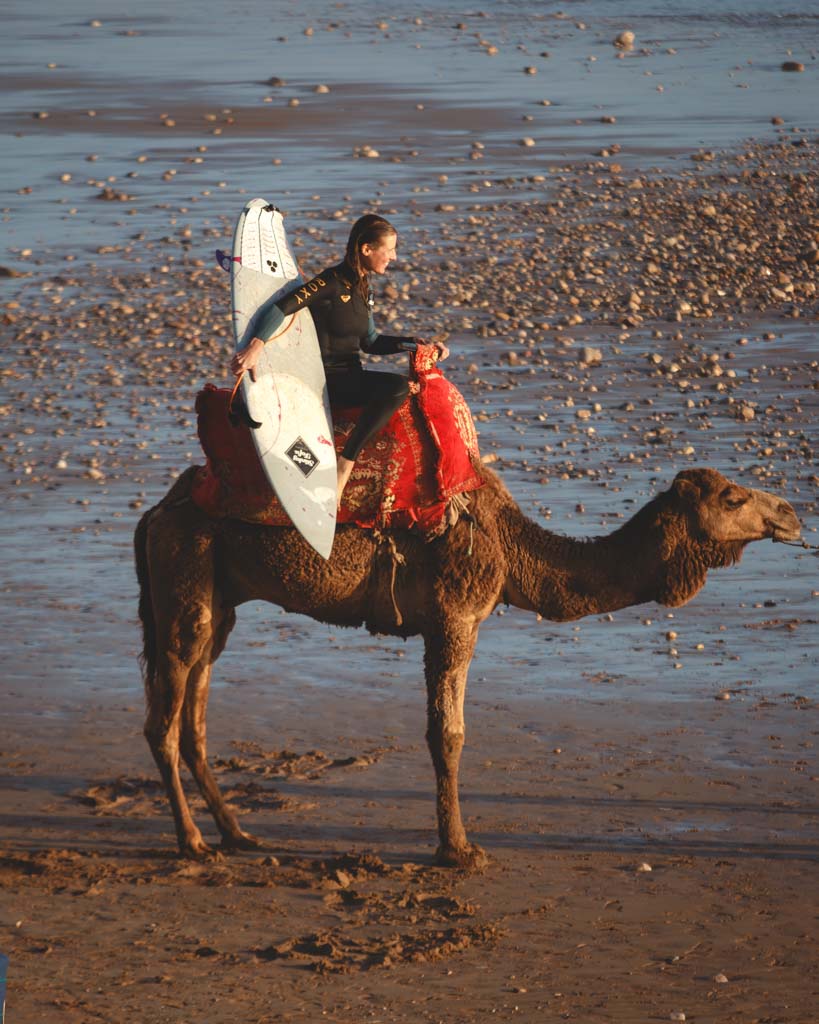 Legzira Beach, on the other hand, captivates visitors with its striking natural stone arches set against the dramatic backdrop of the rugged shoreline. There are tons more, that's why I made a whole guide on Morocco's beaches. While they aren't your typical bask-in-a-bikini type of beaches, they are stunning and worth visiting AND surfing.
Phew! Wow. Did I go a bit overboard here? I mean, Morocco has catapulted to the top of my list of favorite countries, so it's only natural that I made a massive and ridiculous list like this to share with you guys, right?
What kind of friend would I be if I kept all this cool stuff to do to myself?
I hope this helps you get an idea of all of the best things to do in Morocco and are inspired to go!
I hope you found everything here to plan your trip! Enjoy seeing all the things to do in Morocco!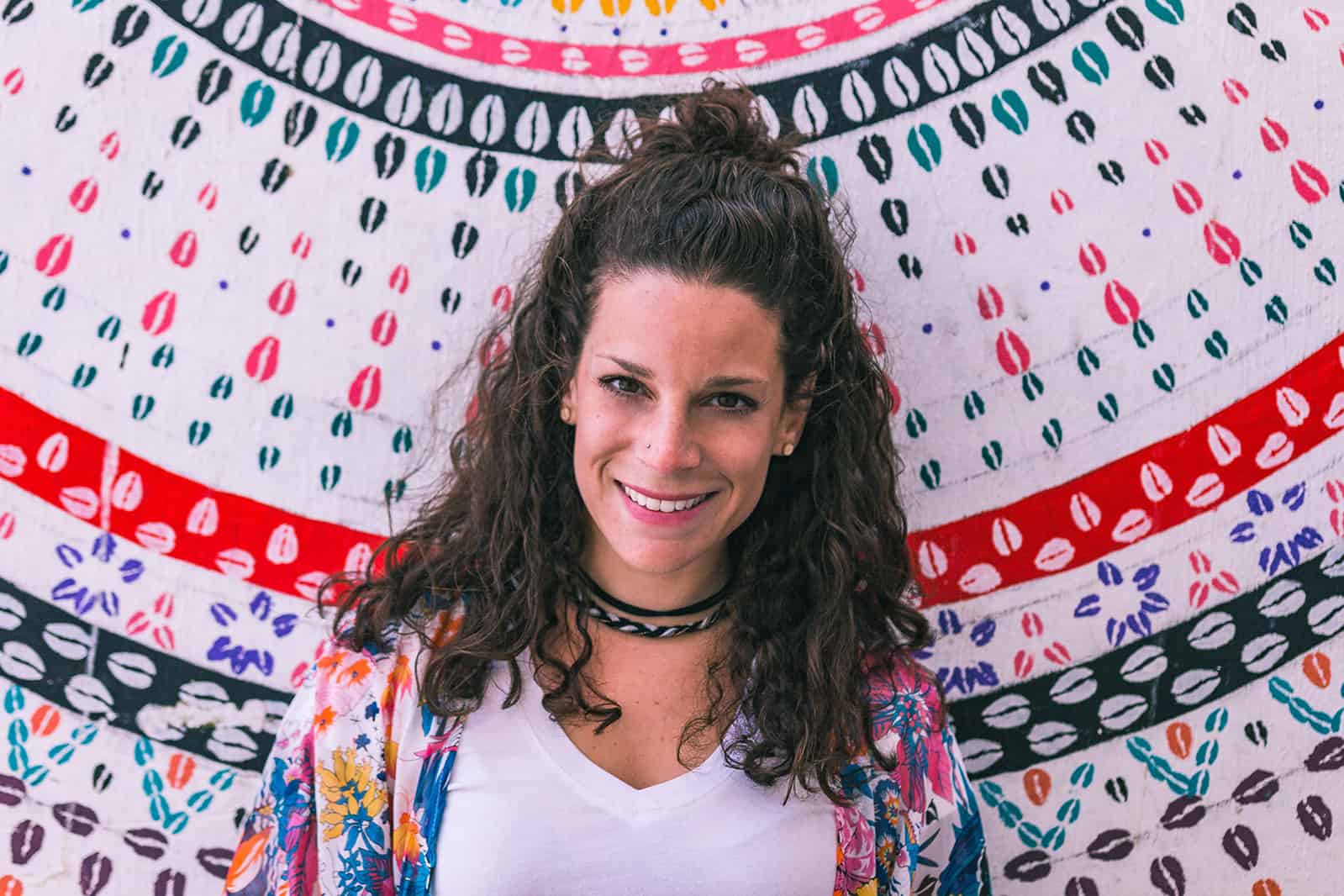 Nina Ragusa is an adventurer, messy bun master, breakfast fan, and full-time travel blogger. She's been abroad since 2011 and blogging on Where in the World is Nina? for nearly as long. Nina helps people like you move around the world while making money. She loves talking about how to work abroad and online to travel longer!