With so many stunning towns in the Algarve region of Portugal, it can be difficult to decide where to stay in the Algarve.
Each town has something unique to offer, from stunning beaches and natural landscapes to historic buildings or buzzing nightlife. Below you will find some of the best areas to stay in the Algarve.
Where to Stay in The Algarve
---
Below are some descriptions of all of the main Algarve towns to help you choose the best ones to base yourself from. It's totally possible to stay in one area of the Algarve and still explore the rest by car.
Surprisingly, it can be pretty affordable to rent a card in the Algarve. This is what I use to find the best deals, I rent a car everytime I visit. End to end of the Algarve will only take you about 1.5 hours driving so again, it's not necessary to check out of your hotel and check into a new one if you want to save time.
In addition to the best towns in the Algarve to base from, I've included the best hotels and resorts in the Algarve, no matter your budget. There are some backpacker-budget places to stay in the Algarve below, as well as some mid-range resorts and luxury Algarve hotels!
I hope this helps you decide where to stay in the Algarve and if you need more Algarve inspo, these posts will surely help you plan your stay:
1. Where to Stay in The Algarve: Odeceixe
One of the lesser known towns in the Algarve region is Odeceixe, but that doesn't mean it shouldn't be considered when deciding where to stay in the Algarve.
The town sits on a hillside, opposite the valley of the Ribeira da Seixe, with most of the town built around the main street, which is full of lively bars and cafes, small shops and a couple of minimarkets.
The town is characterized by its laid-back atmosphere and gorgeous beach, which offers great surfing conditions, safe swimming and soft sands.
Where to Stay in Odeceixe
Casa Dorita
The location of this affordable hotel can't be beaten, found just two minutes' walk from the beach. You can enjoy sea views from the restaurant's outdoor dining area.
Monte Joao Roupeiro
Located just out of this Algarve town in the Portuguese countryside, a stay here will leave you feeling completely relaxed thanks to the outdoor swimming pool and natural surroundings.
Casas Do Moinho
This 5-star accommodation's highlight is its outdoor swimming pool, which boasts panoramic views of the surrounding natural park. Rooms have chic, modern furnishings, with some rooms coming with a kitchen and dining area.
Nature House
A beautiful detached home on a villa just outside of Odeceixe. This stay has a private terrace and is surrounded by fruit and olive trees.
2. Where to Stay in The Algarve: Sagres
Located on the western tip of the Algarve region, Sagres is blessed with a rugged yet beautiful stretch of coastline. When deciding where to stay in the Algarve, Sagres is ideal for those that are looking for adventure, with its dramatic landscapes carved by years of raging seas and bracing winds.
Due to these conditions, Sagres is a popular Algarve town for surfers who come to try their luck on the turbulent seas. Other activities include cycling, hiking over the cliffside trails or simply taking in the sunshine and views from the cliffs and beaches.
The town itself is laid back and peaceful and has multiple beaches, all of which face different directions.
Part of the town's allure is its remote setting, but you'll also find a number of modern hotels and popular restaurants, making it one of the best areas to stay in the Algarve.
Side note: This is where I choose to stay in the Algarve! It's become a second home to me and is definitely my favorite Algarve town.
Where to Stay in Sagres
Martinhal Sagres
The impressive resort of Martinhal certainly reflects its 5-star status, overlooking the beautiful beaches of Sagres. You can choose from various boutique-style rooms and villas, each with a private balcony. The resort has five pools, artificial grass tennis courts, three restaurants, 4 bars, and several daytime and evening activities.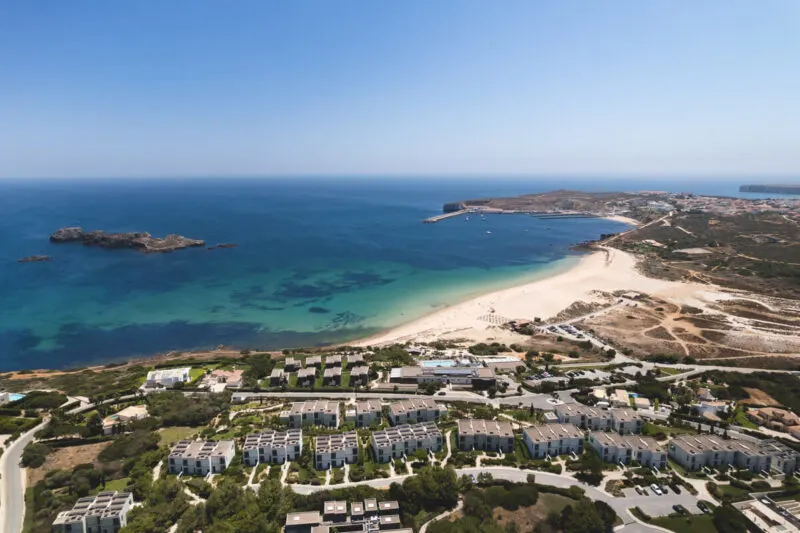 Head down to Martinhal Beach to work on your tan or rent equipment for snorkeling and windsurfing from the Water Sports Centre. There's also a fitness center, a spa, a kids' center, and a game room for guests, both young and old.
Lighthouse Hostel
Choose from dorms, private rooms or entire bungalows at this friendly hostel. There are great common spaces including a garden, rooftop terrace, barbecue area, and swimming pool.
Apartamentos Atalaia
This place features bright rooms and a large terrace for dining. It is also centrally located with restaurants and attractions nearby, are within walking distance including Sagres beach on the Algarve coast.
Mareta View
This modern, boutique Algarve hotel not only overlooks the beach but also offers a tropical palm garden, sundeck and hot tub. Guests can enjoy a continental breakfast, drinks at the charming ocean bar and 24-hour room service.
Salmon House
A one-bedroom apartment with a large terrace, right in the center of Sagres and just a short walk from the beach.
3. Where to Stay in The Algarve: Lagos
Lagos is one of the best areas to stay in the Algarve, thanks to its perfect combination of modern attractions and rich history. The monuments and buildings that line the streets tell a story about the many different people who have called the town their home, and the impressive natural harbor has been the start of many maritime adventures.
The beautiful beaches are also a major attraction to this part of the Algarve, and there are many to choose from. Stone archways and cliffs separate the tiny coves, all of which have been blessed with picturesque blue waters. Popular family attractions include a few water parks and a zoo that gives you the opportunity to swim with dolphins.
At night, the streets change, and buskers and street entertainers emerge as the many restaurants, bars and clubs fill with people who party long into the warm Portuguese evenings.
READ MORE: 19 Best Things To Do in Lagos, Portugal!
Where to Stay in Lagos
Boutique Taghostel
This vintage-style hostel is right on the marina and within 5 minutes walk of everything you need. There's a great rooftop terrace for enjoying the sea views.
Dona Ana Garden
Although a budget option, the rooms here are clean and spacious, with the center of this Algarve town just a 10-minute walk away. This Algarve hotel features a heated pool, free parking and wi-fi.
The Salty Lodge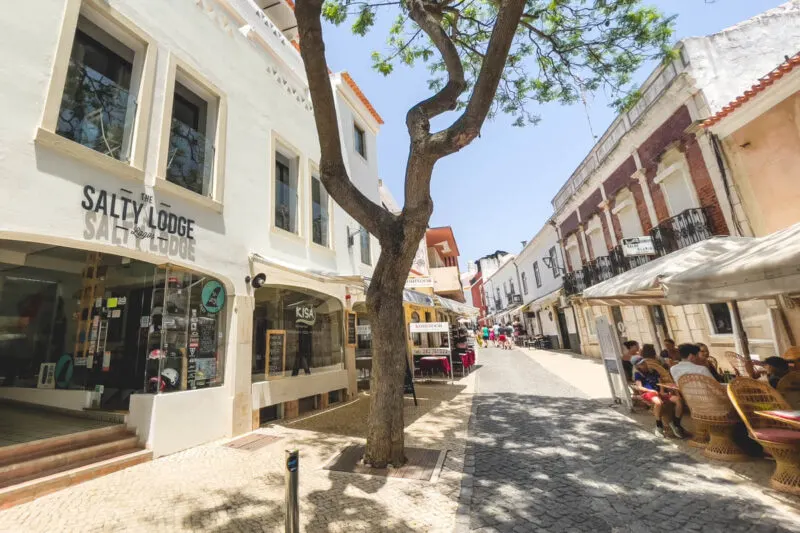 These stylish apartments sit in the heart of Lagos's historic city center, allowing you to stay close to all the action of the Algarve.
Casa Luma B&B
With clean, contemporary rooms and the option of a continental breakfast every morning, the Casa Luma is a popular accommodation choice. Rooms have free wi-fi, a private bathroom and a terrace.
Boutique Hotel Vibenda Miranda
Only a 5-minute stroll to the beach, this boutique hotel features an outdoor spa pool, sauna, a range of massage options and Atlantic Ocean views. And rooms are uniquely furnished and have their own private balcony or terrace.
Casa do Monte
An old fisherman's cottage right on the beach in Luz. Enjoy breakfast with a view from the sunny terrace overlooking the sea.
4. Where to Stay in The Algarve: Portimao
Portimao is one of the biggest Algarve towns, traditionally a town used for shipbuilding, sardine fishing and fish processing, today, the town is a bustling tourist hub. Head to Portimao for its extensive shopping opportunities, its beautiful scenic promenade and a wide range of historic buildings.
The waterside restaurants all serve a range of freshly cooked seafood, and the countless bars and coffee shops will satisfy even the fussiest foodie.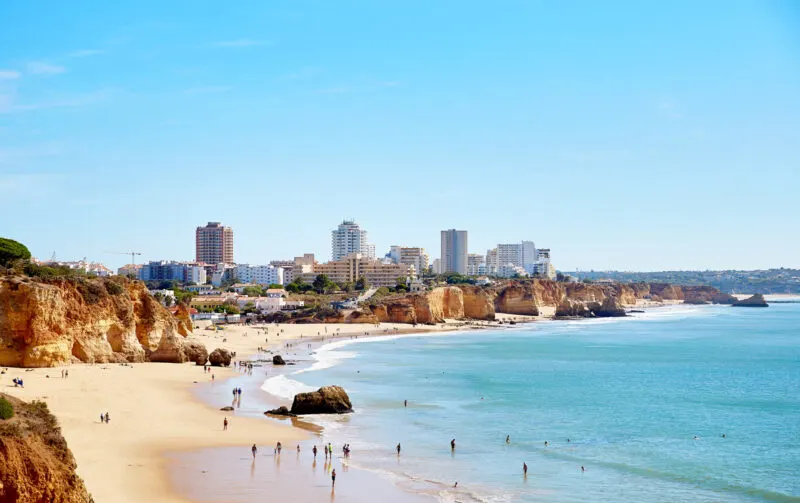 When deciding where to stay in the Algarve, note that the town center is full of Portuguese charm, with pedestrianized streets linking the open-air plazas, many of which are filled with pavement cafes.
The Museu de Portimao is a great place to stop and learn about the history of the city, while the impressive buildings of the Camara Municipal de Portimao and the La Rosa Factory are well worth a look.
Just south of town is the popular beach resort of Praia da Rocha, with a long golden stretch of sand.
Where to Stay in Portimao
My Guesthouse
A simple but clean hostel in the middle of town with dorms and private rooms. There's a private swimming pool on-site, and you'll be just a short walk from three of the town's beaches.
Hotel Made Inn
With modern, themed rooms, terraces with panoramic views and buffet breakfast, this hotel is the ideal accommodation if you are on a budget. Surrounded by shops and restaurants it is in the ideal location in the center of this Algarve town.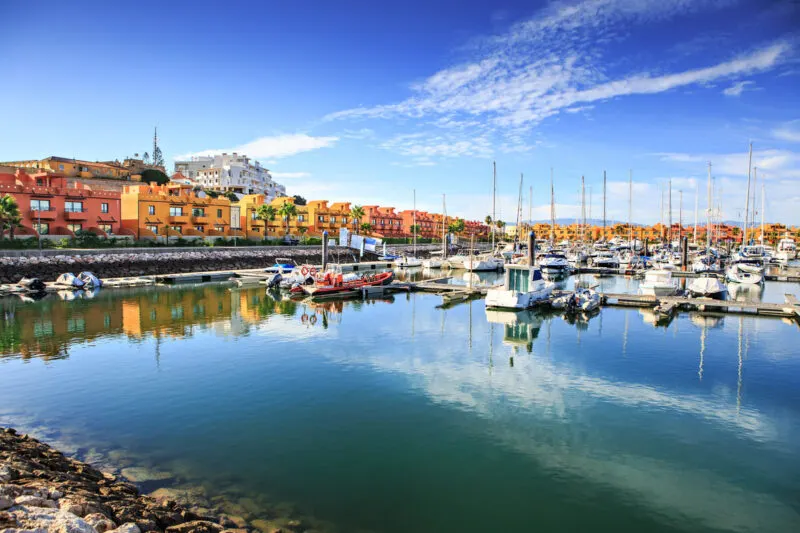 Jupiter Marina Hotel
Located on the city riverside, this lovely hotel features a rooftop, infinity swimming pool, Balinese beds and beautiful views. The hotel is set in the former cannery of Facho factory, and each room has modern décor, air-con, flat-screen TV and balcony.
Bela Vista Hotel and Spa
This beautiful hotel is set in a stately, historic building offering boutique accommodation in the Praia da Rocha part of town. With direct access to the beach and al fresco dining on the terrace restaurant, the hotel simply oozes charm and sophistication.
Praia da Rocha
Stay in a modern two-bedroom apartment right on the beach, with sea views from the balcony.
5. Where to Stay in The Algarve: Carvoeiro
Carvoeiro is the definition of a Portuguese resort town, set to a backdrop of rugged cliffs and golden beaches, it is one of the best areas to stay in the Algarve. If you are a looking for a relaxing break away from it all, then Carvoeiro is your destination.
The beaches of Praia de Carvoeiro and Praia do Vale Centeanes are some of the most picturesque in the region, framed by towering cliffs and a collection of beachside amenities.
In addition to enjoying the beaches, Carvoeiro is also likely to appeal to nature lovers, with options to kayak along the coast, take on challenging cliffside hiking routes and cycle the twisting roads.
Where to Stay in Carvoeiro
O Quintal Guesthouse
Get great value for money at this cozy bed and breakfast. The property has a terrace, a swimming pool, and is just 200 meters from the beach.
O Castelo Guesthouse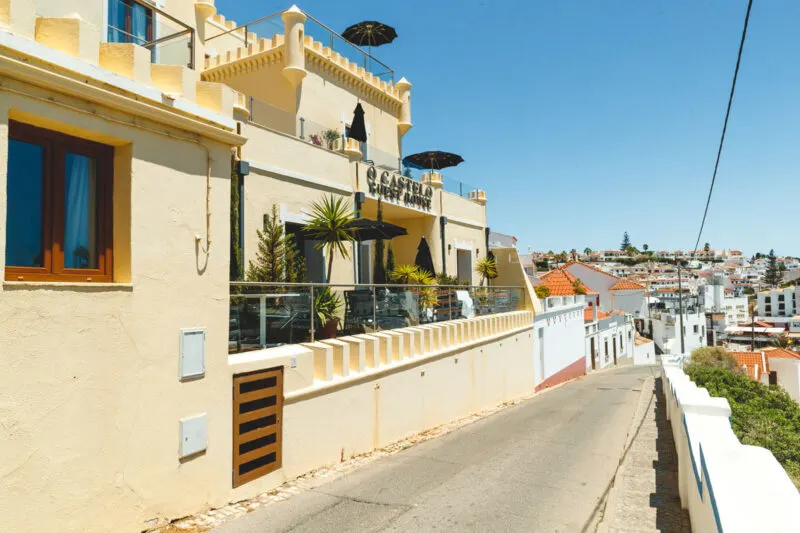 A boutique B&B with some of the best views in Carvoeiro. Stay in sea-view rooms and enjoy breakfast on the ocean-front terrace each morning.
Rocha Brava Village Resort
Situated on a clifftop the resort offers its guests the choice of 3 swimming pools, 4 tennis courts and a gym. The many apartments are surrounded by lush gardens, and with on-site restaurant, coffee shop, bar, supermarket and crazy golf, you won't even have to leave the property to have a fantastic holiday.
Algar Seco Parque
This small resort sits atop the cliffs for which it was named and offered stunning ocean views from every room. You'll have the option of staying in a studio, suite, apartment, villa, or bungalow, each with its private balcony, to enjoy those beautiful ocean views.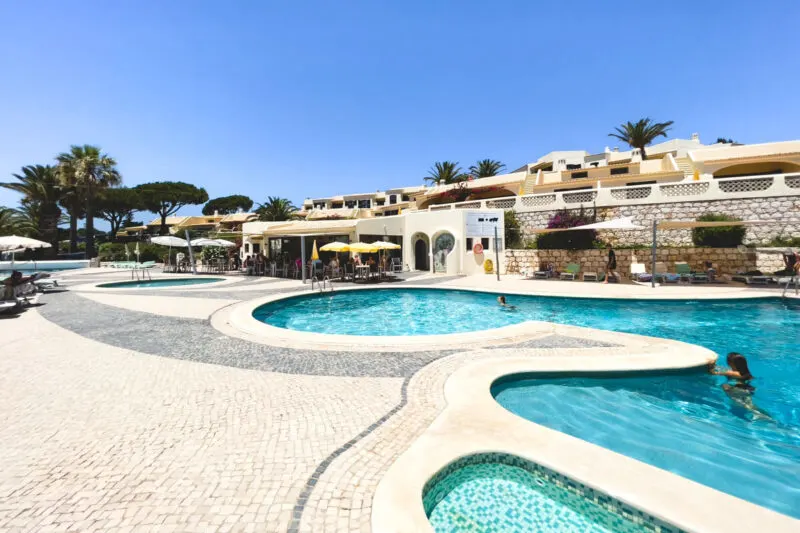 The resort also boasts free WiFi, multiple pools, and a great location – just a 10-minute walk along the coast to reach the center of Carvoeiro!
Tivoli Carvoeiro
This 5-star hotel boasts large, impeccably decorated rooms, all of which have an elegant and temporary design and come with air conditioning, wi-fi, a minibar, TV and large private bathroom with complimentary amenities. You can also enjoy the fitness center, spa, pool and on-site restaurants during your stay.
Casa Eliza
Get into the holiday vibe with this spacious penthouse apartment, complete with a private rooftop terrace. There's also a pool on site but the beach is only a few minutes' walk away.
Terraços De Benagil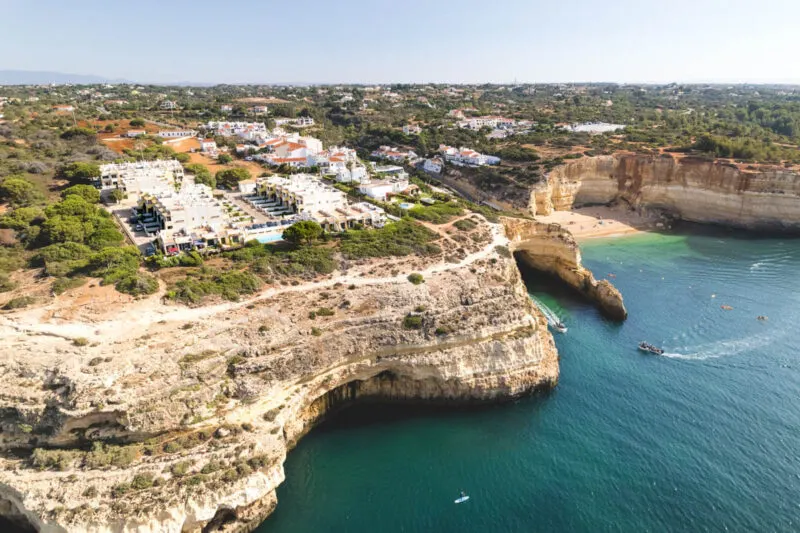 With a stunning clifftop location, these holiday rentals offer some of the best views in the area. Each apartment has WiFi, AC, a communal pool, and epic ocean views from the terrace.
READ MORE: 9 Captivating Things To Do in Carvoeiro, Portugal
6. Where to Stay in The Algarve: Albufeira
The town of Albufeira is arguably one of the best areas to stay in the Algarve. It is the most touristy in the region and simply bursts with energy and things to do. The main beach is large and picturesque, curving around the coast with plenty of room for everyone. But there are several beaches in Albufeira to check out.
This vibrant Algarve town is well known for its nightlife scene, with its 'Strip' street a riot of color, bars, clubs, and drinks deals. There is also a range of waterparks and theme parks, making it a desirable location for families and plenty of things to do.
The Old Town couldn't be more contrasting to the strip, with cobbled streets and small pubs, which makes for a lovely place to explore during the day.
Where to Stay in Albufeira
Salgados Dunas Suites
Salgados Dunas Suites caters to those searching for a top-notch Algarve getaway. The resort features no less than six sparkling pools, and guests will also have access to the famous Salgados Beach and the Ribeira de Espiche Estuary that sits in front of the grounds.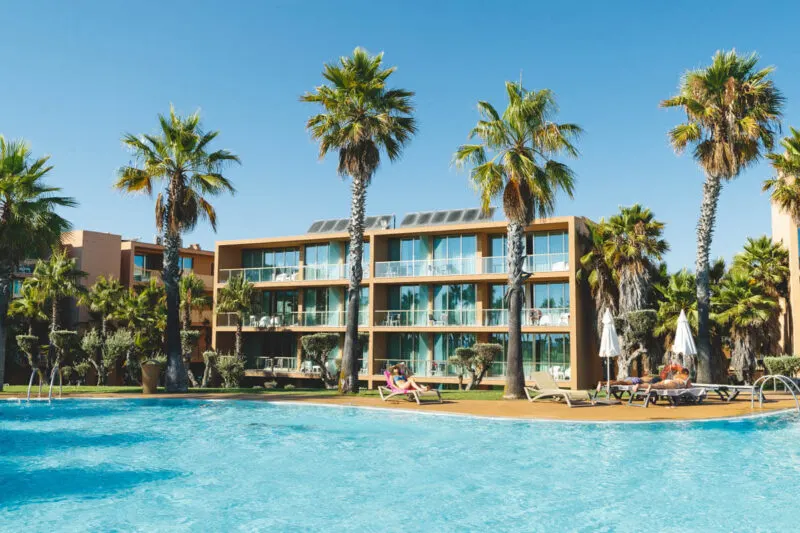 In addition to the incredible water features, guests can enjoy the professional-grade tennis courts, the on-site spa, and the fitness center. There are also a variety of bars and restaurants located around the resort, including a rooftop bar and a seasonal raw food restaurant.
Windmill Hill – Alto do Moinho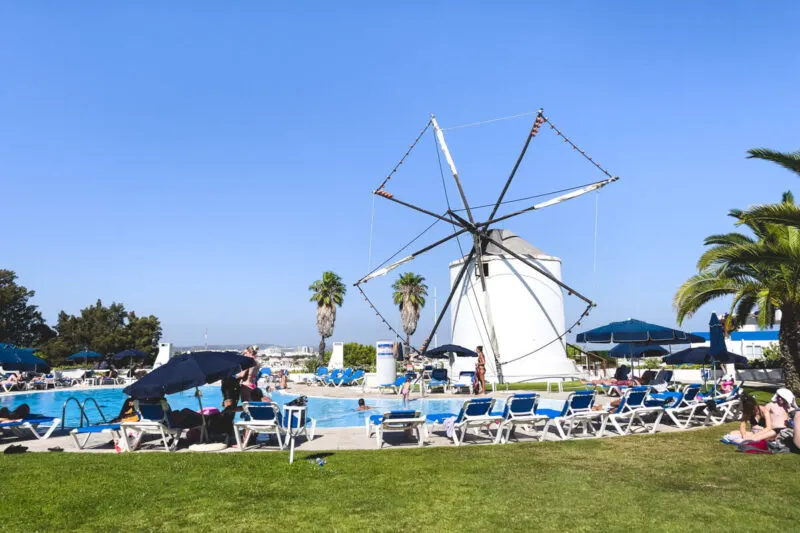 A 3-bedroom apartment with a split-level lounge, modern kitchen, and a large rooftop terrace. The terrace features a built-in BBQ, sun loungers, and beautiful views across the ocean and the Faro peninsula.
Son of a Beach Hostel
A great pick for anyone who's looking to meet other travelers, this hostel has a shared kitchen, rooftop terrace, and even a bar on site. You'll be located in the old town, surrounded by bars and restaurants, and close to the beach.
Alisios Hotel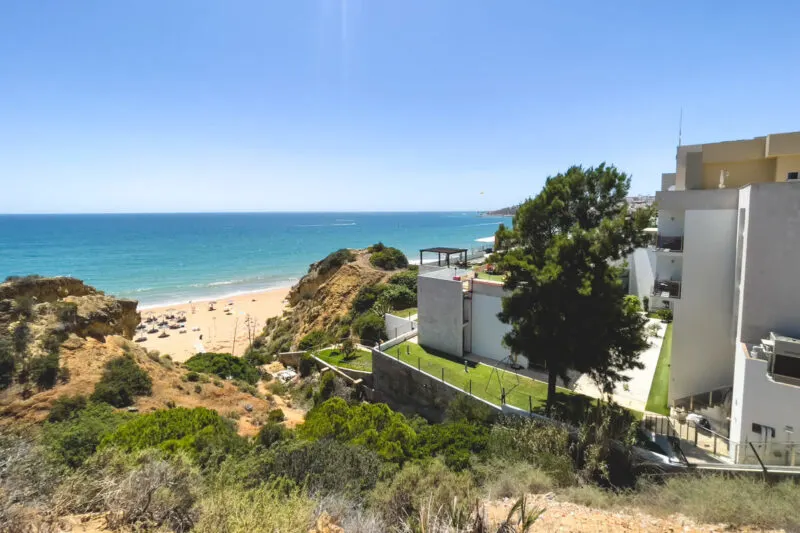 An award-winning hotel just steps from Alemães Beach. The hotel features a restaurant, terrace bar, and indoor pool.
Alfagar Cerro Malpique
This Algarve hotel offers a number of self-catering apartments across two buildings. Each apartment comes with a fridge, coffee maker, balcony and satellite TV, providing everything you need for a comfortable stay. For relaxation, head to the hotel's steam bath, or sip a drink on the terrace, complete with sea views.
Hotel Baltum
In the center of Albufeira, this hotel is the perfect choice for travelers looking to immerse themselves in the bustling streets of the town. As well as a range of rooms with private bathrooms, the hotel also has a range of fully-equipped apartments, an attractive terrace, and an onsite restaurant.
Grand Muthu Oura View Beach Club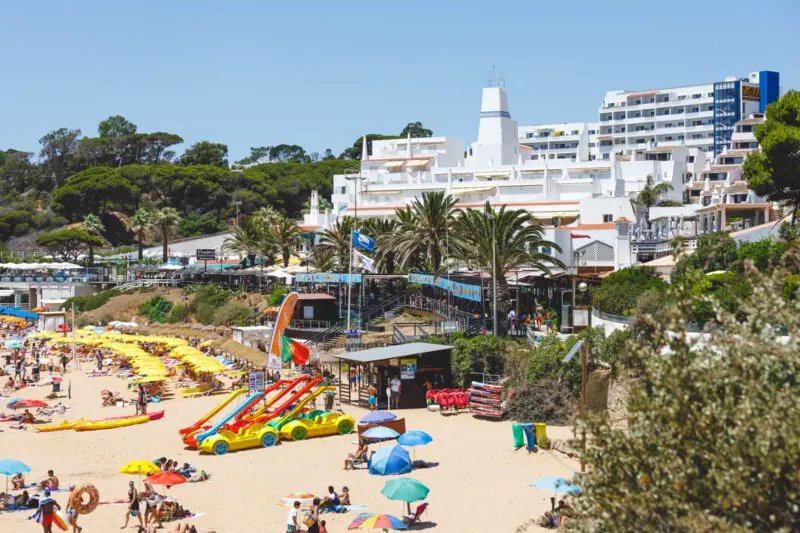 This ocean-front resort boasts stylish rooms, an outdoor pool, and a gym for the perfect mix of luxury and tranquility. There's also a restaurant, several bars (hello pool bar!), and direct beach access.
Vila Gale Cerro Alagoa
A little piece of luxury in the heart of the Algarve, this hotel features an interior heated pool and sauna as well we two exterior pools, a varied breakfast and on-site restaurant, serving traditional Portuguese cuisine. All rooms are impeccably decorated with chic furnishings and offer a mini-bar, air-con and work desk.
Sunny Penthouse
Stay in Albufeira's historic district with this bright two-bedroom apartment. Enjoy the sun on the balcony or take a short walk to Praia dos Pescadores.
Pine Cliffs Resort
This luxury resort sits atop dramatic red cliffs and offers sweeping views over the Atlantic. There are a variety of rooms and suites to choose from, each with its private balcony.
In addition, guests can take advantage of the resort's immaculate golf course, tennis courts, on-site spa, and direct access to the beautiful Praia da Felésia beach. Pine Cliffs also features a variety of restaurants and cafes, a fitness center, and a kids' club. There's a little something for everyone here!
7. Where to Stay in The Algarve: Vilamoura
Offering world-class golf courses, stunning beaches, and a bustling marina, it is no wonder that Vilamoura is such a popular Algarve town. The town is both stylish and sophisticated, home to gourmet restaurants, chic bars, and million-dollar yachts.
The beaches on this area of the coast have soft, golden sands and aqua blue waters, as well as a range of water sports options to entertain the whole family.
Where to Stay in Vilamoura
Parque Mourabel Oasis
With two outdoor pools, kitchenettes and balconies, a stay in Parque Mourabel Oasis certainly will not feel like a budget option. Enjoy live music or karaoke in the evenings, and spend your days on the tennis court, sunbathing or using the hotel bikes.
Vilamoura Garden Hotel
This beautiful hotel is located a mile from the Marina, however, with a beautiful outdoor pool and sun terrace, you may not want to leave. Rooms are modern and tastefully decorated, with some even having an additional private seating area.
The Lake Resort
For 5-star luxury, this resort not only offers a natural sandy beach pool, but also a floating restaurant, spacious rooms, a spa area and more.
Peace on the Sand
A renovated apartment in a small block overlooking a quiet garden. You'll be close to the local fish market and just 200m from the beach.
8. Where to Stay in The Algarve: Faro
With a fascinating history, surrounded by beautiful nature and with an abundance of Portuguese charm, Faro is one of the best Algarve towns to base yourself in to see all that this stunning region of Portugal has to offer.
As an airport town, it is one of the most easily accessible, yet is so much more than just a point of entry to the southern coast.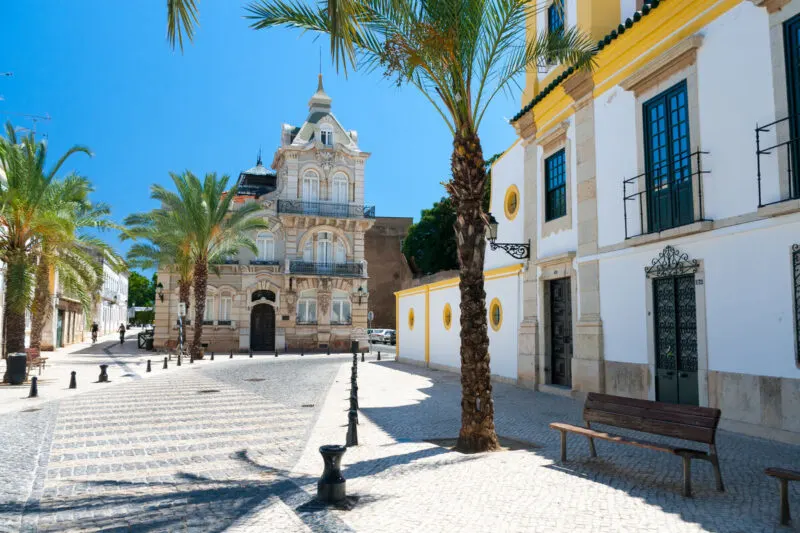 The city's historic center is framed in ancient walls, where you can find quaint pedestrianized streets, lively plazas, and an abundance of pavement cafes and inviting shops. By night, the city transforms into a buzzing hub of activity, with plenty of nightlife options to enjoy.
The nearby Ria Formosa nature park is made up of mudflats and saltwater lagoons, a mecca for nature lovers thanks to the number of birds and wildlife that call the area their home. There are also a number of pristine, soft sand beaches which are popular with locals and tourists alike, helping to make it one of the best areas to stay in the Algarve.
Where to Stay in Faro
Hostel Casa d'Alagoa
A charming historic villa that's been converted into a hostel with both dorms and private rooms. There are plenty of organized activities, or you can make your own way through the old town nearby.
The Pocket Pillow House
This clean and bright guesthouse has rooms for a range of budgets, which are simple but charmingly decorated. It's found in the center of town, but offers bike hire if you want to go further afield.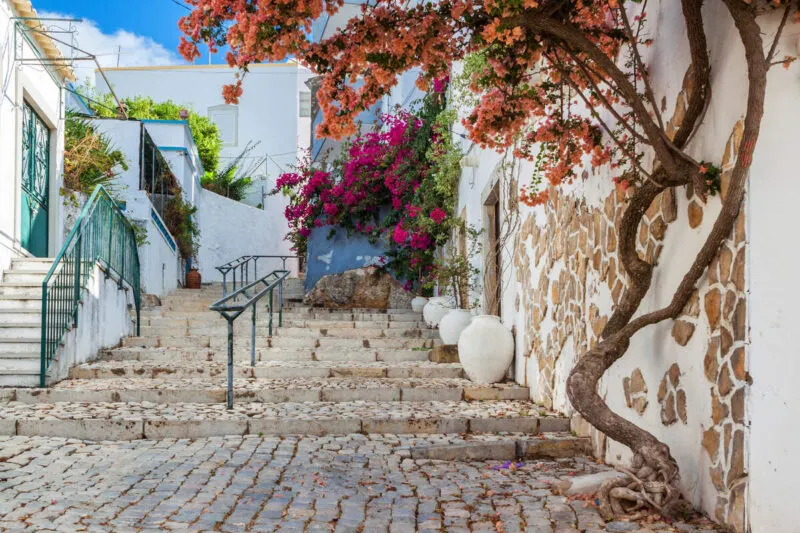 Sunlight House
Choose from double or triple pastel rooms at this B&B near the old town. Make use of the shared kitchen or enjoy the delicious included breakfast.
Hotel Faro and Beach Club
This beautiful hotel is located in downtown Faro, overlooking the Old Town, Marina and Ria Formosa Natural Park. The spacious rooms all come with a balcony and the rooftop terrace restaurant offers incredible views. The hotel's beach club is easily accessible thanks to the free shuttle.
Faro Carmo Lodge
A charming small home in downtown Faro with loft-style sleeping. You'll be just minutes' walk from the historic district and the harbor.
9. Where to Stay in The Algarve: Tavira
As an old Moorish town, Tavira has managed to maintain much of its original charm, character, and heritage, as well as being a popular tourist hub. The town is located along the coast of the Gilao River and is made up of quaint churches, cobbled streets, tiny plazas, and a plethora of historical buildings.
Don't let the old town charm fool you, however, as by night the town comes alive with families dining al fresco in the many restaurants of the historical center, and the buzzing Ubi club is one of the best areas in the Algarve to party, set in a huge old factory you can dance until the sun rises.
To the south of town you'll find some of the least developed beaches on the coast, simply oozing rugged, natural beauty. For the more active individual, there are a number of hiking paths, golf courses, cycling routes and waterways just waiting to be explored.
Where to Stay in Tavira
HI Tavira
With double rooms, twin rooms or shared dormitories, this hotel offers accommodation to suit a range of budgets. Rooms are simple and clean, and the shared kitchen is helpful if you don't fancy eating out.
Vila Gale Tavira
These elegant rooms come with a private balcony and classy furnishings. The hotel features an outdoor pool and spa, health club, restaurant, and bar, and is situated on the banks of the Ria Formosa.
Fazenda Nova Country House
The ultra-modern suites here come with all the added extras for a truly luxurious stay, including continental breakfast, seating area, toiletries, a bathrobe, and slippers. With a summer pool and on-site restaurant, you'll never have to leave the resort.
Free Spirit
Groups can enjoy a stay in downtown Tavira in this large three-bedroom apartment. You'll be close to the river and all that the city has to offer.
What To Do in The Algarve
If you've found the best area to stay in the Algarve and are now wondering what you can actually do around the area, these posts will help you plan everything you need:
What are you most excited about doing? Where did you decide to stay in the Algarve? Let us know in the comments!
---
Busy? Click the picture to Pin this for later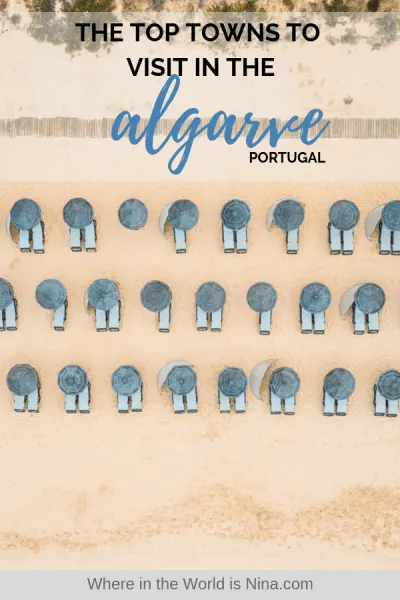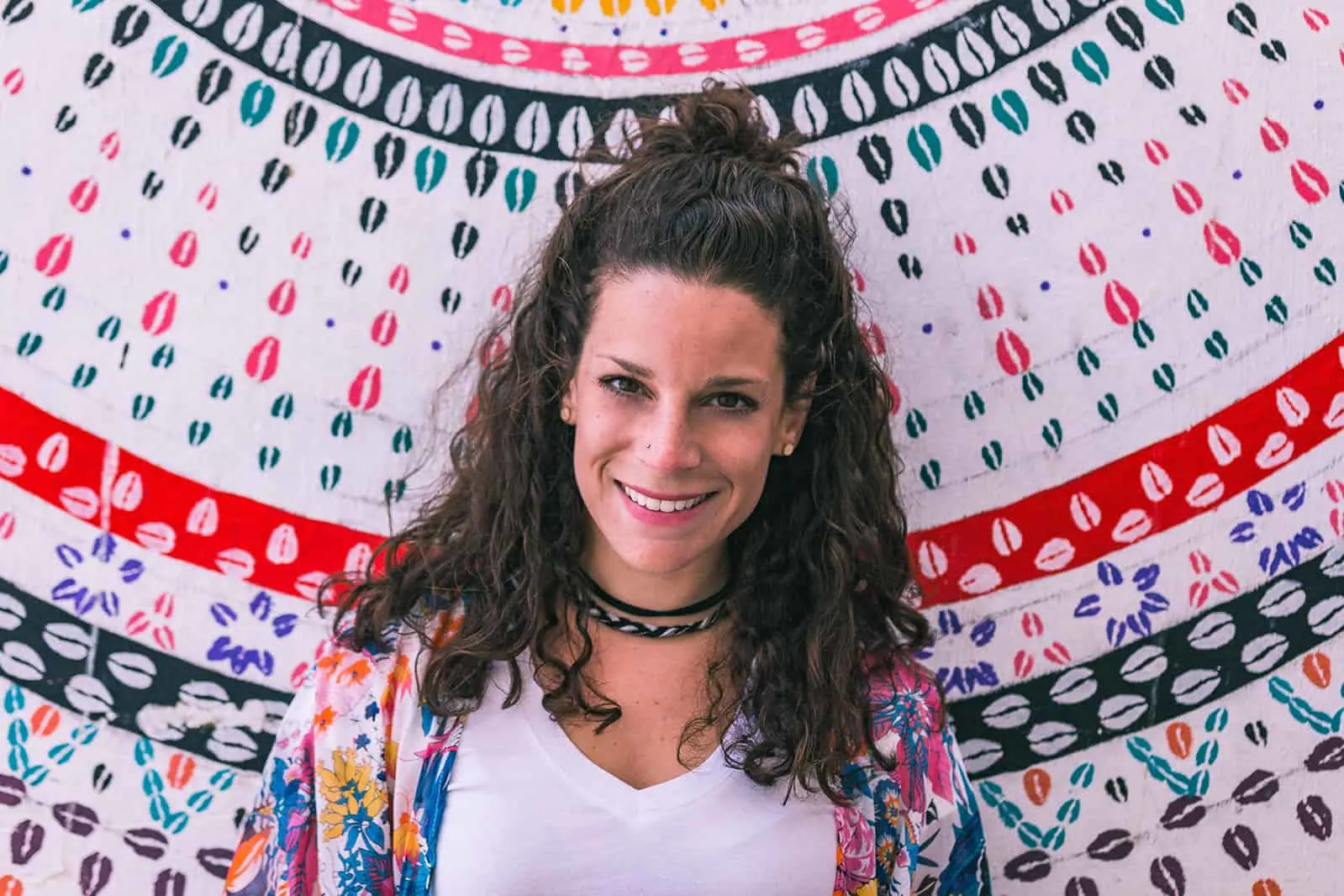 Nina Ragusa is an adventurer, messy bun master, breakfast fan, and full-time travel blogger. She's been abroad since 2011 and blogging on Where in the World is Nina? for nearly as long. Nina helps people like you move around the world while making money. She loves talking about how to work abroad and online to travel longer!