I looked at the taxi meter's numbers increase rapidly.
I thought, "this can't be right." I checked the conversion for Icelandic Krona to USD on my phone again.
I was perspiring despite being in a country with "ice" in its name.
My heart was racing and my palms got sweaty.
And then my phone revealed my nightmare.
My heart exploded. I couldn't fucking believe how much this taxi was costing us.
We both looked at each other and without saying anything, we knew what the other was thinking…
"We made a major mistake coming here, Iceland was a bad idea. This is bad. This is really bad."
And just like that, we parted with a cool $125 USD to the taxi driver after being in the country for a mere 30 minutes.
WTF just happened!
This was my welcome to the country. Despite it being shockingly expensive, I can happily say that my experience was nothing short of magical.
Expensive, yes. But WOW. How Beautiful! This country is like no country you've ever been to.
It's a place where fire and ice mingle, where massive black mountains boldly jut from the surface as delicate green moss graces its surface, and where there's an incredible example of Mother Nature at her absolute best around every corner.
In all of my travels, I must say, I think Iceland is perhaps the most beautiful place I've ever witnessed.
While it might come at a price, I can't say I regret spending a single penny here.
OK, I actually fully regret that taxi ride, but otherwise, not a single penny.
Full disclosure: Garrett checked a taxi calculator online and the estimate was far lower than reality. More tips on Iceland and how to not spend every dime to your name in my Iceland tips post.
➡️ Check here for your Iceland campervan rental!
7 Days in Iceland Itinerary: West Coast Best Coast!
So why only a 7-day itinerary when I was here for a full 12 days? Becuase I'm all for giving you guys the best. I almost never give you guys an itinerary based on the exact amount of time I've been at a place.
I cherry pick my favorite spots so you guys are actually getting the best itinerary I can possibly provide.
Also, I fuck up for you so you don't have to. Fuck ups take time (and sometimes money). I have more time than most to travel so, yeah, happy to be of service 🙂
So where did we go on the West Coast of Iceland? What charming and unicorn-like adventures are on my 7 days in Iceland itinerary?
Here are all the highlights along the road. I didn't write down literally every stop because there are plenty of points where you will stop in the middle of nowhere in awe of the beauty before you. Example, the first picture in this post. I don't know what to call that place but it was magical and it screamed, "have a photo shoot here!"
I'm not kidding when I say there's beauty around every corner. Welcome to the fairytale land that is Iceland…
Iceland Itinerary Roadmap: West Coast Route
For this Iceland itinerary, I went ahead and mapped everything out on Google Maps for you so you can see where I'm taking you. If you click here, here, and here, that's the exact order of this trip that you will find below as well. The Westfjords will be for another day, this focuses on the West and Southwest.
*Note Google Maps doesn't pinpoint some spots very well when using the multi-stop function so not everything on this list is pinpointed on the Google Maps above or some have a funky name on the map.
ALSO! Important – planning every damn thing to the T is gross and no fun. I'm not going to sit here and tell you what you need to do every second of the day, you'll have plenty of time to do this route in 7 days. The day's activities are a rough estimate. If you like a place, stay, if you hate it (doubtful) then go to the next. You're freeeeee <3
We took the cheapest campervan in Iceland, and zoomed off on an epic 7 day Iceland trip! Here's what it looked like:
While all of the highlights are listed with descriptions below, I'll keep it short and sweet because let's face it, the pictures do most of the talking for me!
Here's everything you can see if you do a West Coast best coast Iceland road trip!
More interested in the things you can do from Reykjavik? Maybe you're low on time? Here are 17 day trips you can take from Reykjavik
Here's everything you can see if you do a West Coast best coast Iceland road trip!
Iceland Itinerary: Day 1
Kirkjufell
Quite possibly one Iceland's most popular photos that you've surely seen in almost anything Iceland related. It is quite beautiful but as you can imagine, a bit different in person. The road actually separates these two features! I didn't know that going into it and I thought we were in the wrong place.
We got lucky/unlucky while we were here. We were unlucky in that Iceland was having a moody day (not surprising) and rained on us every 5 minutes but it was perhaps a lucky encounter as this popular place hardly had anyone at it. Also, a very good reason to visit Iceland in September!
Baejarfoss and the Town of Olafsvik
This was a great find! We spent a lot of time enjoying and photographing this beauty. This quiet little fishing village hosts this gem of a waterfall that hardly anyone visits.
Londrangar Cliffs
I think this is one of my favorite spots on the entire itinerary. Wow. This place is the epitome of Iceland's dramatic landscape. I was blown away. Literally and figuratively, it was so windy!
We spent a couple of hours in awe and snapping away at the beauty we found here. it's hard to put everything into words… Really, it is!
Resources for Your Trip:
Iceland Itinerary: Day 2
Hellnar
There are some breathtaking views at Hellnar. There are a few nice trails to walk around but I loved just crawling on the rocks and watching the waves crash on the black and grey pebbles beneath my feet.
Arnarstapi
A very cute little town with more… wait for it… Dramatic landscapes! Iceland, you're a beaut. Check out this incredible archway that the rough, icy, blue seas etched into the craggy rocky coastline.
Iceland Itinerary: Day 3
Hraunfossar
This is a damn impressive waterfall despite it not being very tall. It's quite long and offers up an incredible trail of dribbling falls gently sloping down the rocks and over the moss. This is one of the best spots on our Iceland itinerary that showed off the country's true fall colors.
Skorradvalvtan
Just a random stop that I happened to grab the name of… You'll pass a placid lake with a small village strewn around it and then these gorgeous twin falls in the distance as you drive away from the lake. There isn't necessarily a proper attraction, nobody is here, nobody stops here. But we had to stop our van and take the drone for a little spin.
This is just one of many random stops along our Iceland itinerary. I haven't listed all of them but don't worry, you'll be making your own random stops just like this.
Drive around Hvalfjörður F
jord
An incredible drive! I'm so happy we took the long way to get south and drove around this inlet. Your jaw just comfortably hangs down as you drive in awe of your surroundings.
Should you have time, decent weather, and perhaps a place to dry your shoes, because they WILL get wet, Glymur Waterfall looks like an epic stop. We were very close to going here but we just couldn't deal with soaking everything we owned and we didn't get there early enough. Having a hotel or Airbnb lined up after this hike would be a good idea so you can get a hot shower and have a place to dry your stuff. We didn't have any of these things.
Thingvellir National Park
Whoa, a place where two continental plates meet! How cool is this? How often do you get to explore something like this? While it's incredibly humbling to witness such a wonderful phenomenon, I couldn't bear to let go of a few hundred bucks to explore the depths of the fissure.
If you have a spare $170-$400 and you want to snorkel or dive between these two volatile yet gorgeous continental plates, this is the most recommended place to do so. But I just wandered and enjoyed it… for free. Maybe next time I'll pay to go down.
Iceland Itinerary: Day 4
Gljúfrabúi (Gljúfrafoss)
Another one of my top most enthralling places I visited on our Iceland itinerary! I can't believe how many people totally skip this place. I'm kind of embarrassed for those individuals. Some people can be such… sheep… (is that mean?) and just listen to the "top 10" list so much so that they miss out on gems that are literally steps away…
Seljalandsfoss is a very popular waterfall on the ring circle but there's this magical waterfall less than 700 meters away. And I saw countless people walk away from it.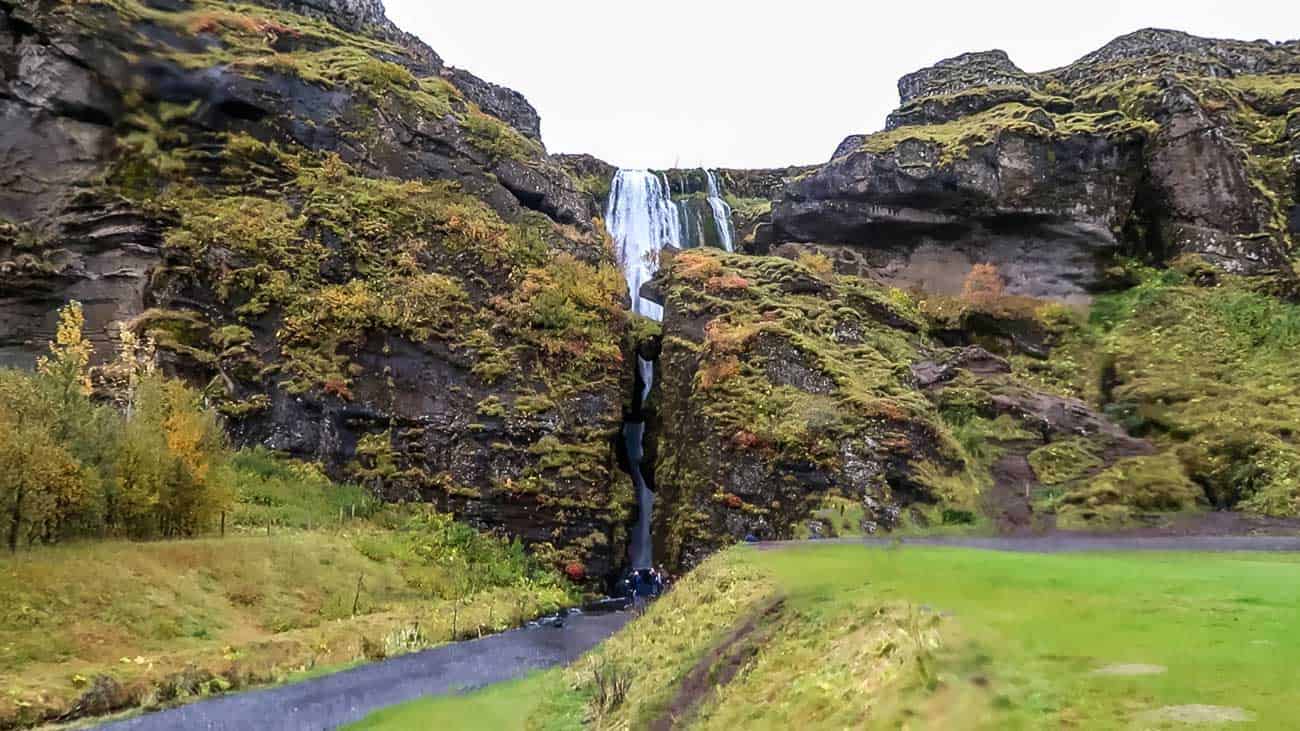 Gljúfrabúi was hands down the best waterfalls I saw in Iceland and it was adventurous too!
Should you be willing to take on the risk of soaking yourself, you have to go here. You'll need to hop, skip, and jump from rock to rock with an icy river below you to get to Gljúfrabúi waterfall found living in a canyon (literally the translation of its name).
Once inside, the power is immense. You can barely hear yourself speak, the winds and mist enrapture you as you stare in a wonder of this beast of a waterfall. I can't describe how incredible it was to be here.
Seljalandsfoss
I'm not throwing shade at Seljalandsfoss, it's obviously incredible! But honestly, Gljúfrabúi stole the show, partly because it was pretty much empty. Seljalandsfoss has a nice little feature though… You can walk behind it!
It's super wet behind there. As you would imagine. I only took out the GoPro, didn't want to risk the Canon in those conditions.
TIP: Visit Gljúfrabúi (duh) and park in that area otherwise you'll be like everyone else paying $7 to park at Seljalandsfoss, which would just be baAaAad. (Get it…? Like a sheep…? I think I'm funny.)
Skógafoss
Another incredible waterfall that's also incredibly popular and full of people at any given time was Skógafoss. It's literally just off the main ring road. This was one of the most crowded places I saw on my Iceland itinerary but it was expected.
Sólheimajökull Glacier
I can't believe we almost didn't go here. Don't miss this spot. The glacier is massive and humbling to be around. What a shame it's receded so much in the years but ya know, not due to global warming or anything. Nope, couldn't be that at all. *eye roll*
The popular Jökulsárón, which is a glacier lagoon, would have been nice to visit but weather that way was causing road closures sooo, yeah, we decided that was a firm no. This place is less popular and 100% worth the visit in case you aren't planning to go further east. It's a short walk from the parking lot and a truly phenomenal site!
Iceland Itinerary: Day 5
Seljavallalaug Swimming Pool
Wow. This place was an enchanting find, that's for sure. I randomly stumbled upon it on the map and decided we should go. I mean, why not? More waterfalls, a hot spring pool, and being out in Iceland's incredible nature. Sign me up!
Well, I only got two of those three things. Unfortunately, this pool is not as hot as one would hope. We dipped in and were shocked to find out that there were only a couple of warm spots where the pipe filters in the water, but otherwise, you're dipping in cold water! Ek! Whatever, still totally worth it!
It's actually one of Iceland's oldest swimming pools and you can possibly gain magical unicorn powers should you take a dip (jk on that last part, I was just jealous of the warm people outside of the pool and I kinda wanted them to join me in my shivering misery.)
Warning: The dressing rooms are disastrous and nasty. Maybe change in the car first?
Solheimasandur (Plane Crash)
Garrett loves planes, he even learned to fly one, and his father was a pilot, so this visit was for him. He had to see this plane crash! It was pretty cool but definitely one of the more crowded spots we visited. Considering it's along on the Ring Road though, it's an easy stop on your 7 days in Iceland.
PS- It took about 35 minutes to walk out to this plane, just in case you think it's a quick stop, it's actually not.
Dyrhólaey
Absolutely stunning views from up here! The crashing waves of the ocean on one side and the dramatic cliffs to the right, this is a perfect viewpoint.
Reynisfjara Beach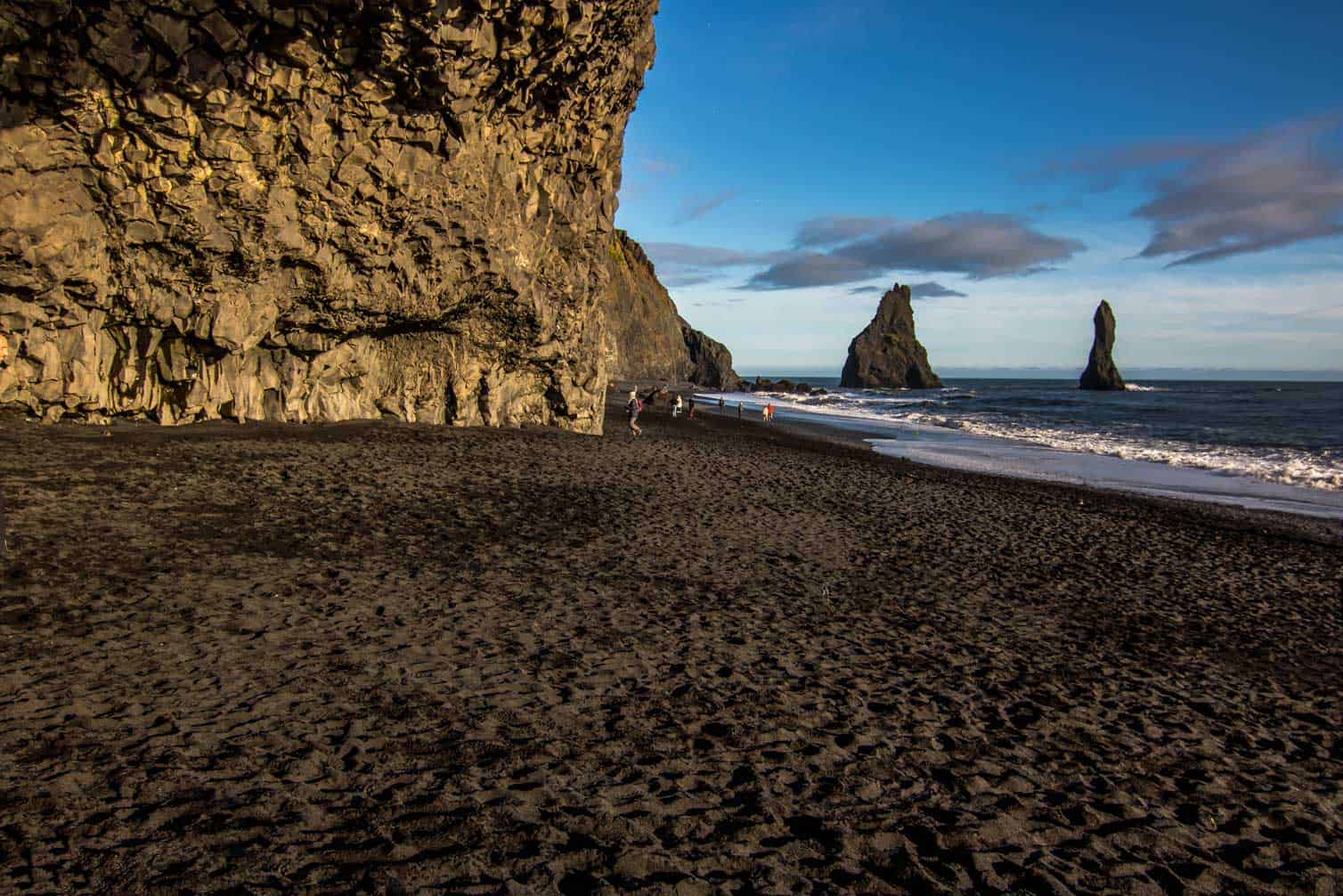 An epic black sand beach with the craziest rock formations that you've ever seen. This is really the only beach you'll get to enjoy during your 7 days in Iceland but don't think you'll be busting out your bikini. It's still cold AF and those waves can sneak up on you, so be careful getting too close.
Iceland Itinerary: Day 6
Bruarfoss
This waterfall is the Golden Circle's little hidden gem and the Golden Circle is on every Iceland itinerary. While everyone flocks to the easy-to-get-to spots on the circle, many miss out on Bruarfoss. It is a bit difficult to find and you will find yourself trudging through muddy trails and hopping over a barbwire fence (unless you find the ladder) but it's there, and it's totally worth going to!
Gullfoss
This is the Golden Circles most popular spot but it was only OK for me. It's a nice waterfall but I feel obligated to include it in this Iceland itinerary. It is impressive in size and obviously still really pretty but ultimately, the crowds were a major turn off for me and we didn't spend much time here.
You also can't get too close to the edge because they have roped it off, which is where the best view would be. However, this is a GOT location so fans, definitely make a stop here!
Iceland Itinerary: Day 7
Kleifarvatn
A superb lake certainly worth a stopover on your Iceland itinerary. Black bluffs sprinkled along the sides of the lake, the scenery, and peacefulness of it all, you could certainly end up spending more time here than you originally thought.
Krýsuvík Seltun
A trippy experience is visiting these smoldering mudpots and geothermal pockets that are scattered about this area. Stick to the walkway or make the hike all the way up the mountain.
Stampar Crater Row
An unusual stop but I thought it was pretty rad! Here is where we saw a fissure line. Essentially you can see little mounds strung in a row leading down to the coast. The terrain is trippy AF and it made for a fun wander.
Blue Lagoon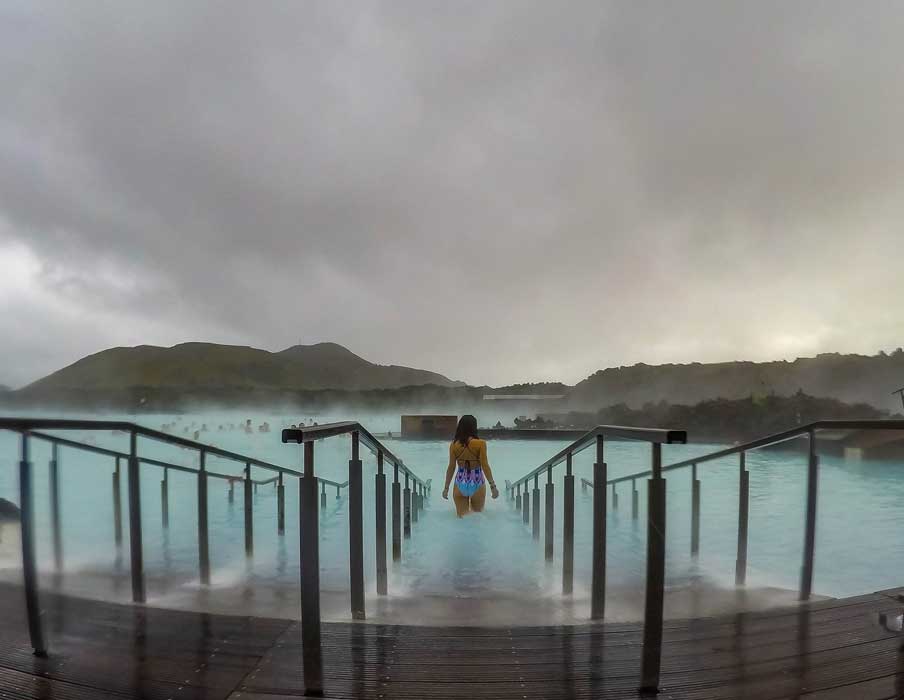 Do I need to talk about this spot? I think everyone is quite familiar with the Blue Lagoon. It's probably already on your Iceland itinerary. Expensive, yes, but I do think it's pretty worth it and could be a perfect ending to your 7 days in Iceland.
Plus this is one of the top things to do in Iceland that's near Keflavik Airport if you don't have enough time to roam too far.
By the way, if you're too cheap to go to the Blue Lagoon, you can play outside where they have parts of it "outside" of the paid area. Obviously, no swimming, but the view is still nice!
As mentioned before, there will be 1000 other points during your 7 days in Iceland where you'll pull off and be gobsmacked by the beauty or even the weirdness! There are some places that don't even officially have a name, at least not that I'm sure of.
There's going to be a million different waterfall stops on this Iceland itinerary… Especially around Snaefellsjoekull.
Even your petrol visits could be beautiful! How awesome is this? Nobody was around at all, you just pay by card and fill up.
And what the heck is this?! We stumbled upon it randomly and LOVED it. Obviously, we had to take silly photos here. I later found out it's on Map.Me as "artwork" and it's called "the chair!" (It's literally on the side of the road somewhere south of Selfoss along the coast and heading west.)
And that's the West Coast Iceland itinerary! Whoa! It might not seem like a lot (or maybe it does?) but again, you'll be driving slow and stopping often.
I absolutely loved Iceland. I was making plans on returning before I even left! It did take a chunk out of my pocket, but damn it was worth it.
➡️ Check here for your Iceland campervan rental!
Is this 7-day Iceland itinerary perfect for you? Let me know!
---
Pin This if You LOVED it