Krabi is a stunning spot for any holiday goer, but seriously… climbing the huge limestone cliff faces that encompass you here is an unprecedented way to see your gorgeous surroundings.
Rock climbing Krabi is nothing short of magical
This area is one of the world's most sought after spots to climb in the world, and people come from all around the world to scale these massive rocks.
Rock climbing Krabi, specifically Railay and Tonsai, has been some of my fondest memories of living abroad so far! I went real rock climbing (as in, not the fake rock walls we have in Florida because we are so flat) for my first time with a group. We had a professional teacher belaying us, and the climbs were pretty easy. It was a great first-time experience, but I got lucky in a sense where I made a few friends who have rock climbed and know how to belay (and actually have mountains in their home town), so I was able to go rock climbing more frequently and freely this way.
So I've seen both sides and know, as someone who isn't a rock climber, it can be a bit intimidating and scary. It's SO much fun though and I hope some of these tips help your rock climbing Krabi adventures go a bit smoother.
Tips for Rock Climbing Krabi
Going solo
If you don't have anyone to go with, you can go to one of the rock climbing stores and book a slot to go with a small group. This is what I did for my first time climbing. I went with King Climbers on Railay beach. I paid 1000B. It included transportation from Krabi Town to Railay (taxi and boat), the equipment, and a half day climb. This was my first time and it was so much fun! The staff were super nice and helpful. I have two small complaints…
The area we were climbing was a bit crowded, and the views from the top were only OK. We couldn't see the beach, but we did see the towering mountains in the distance. I got up on the first two climbs, and by the time the third climb came around, my arms were shot and I made it only a bit more than half way. It was good for the first time, but to get the real rush, I started going with friends who know how to rock climb…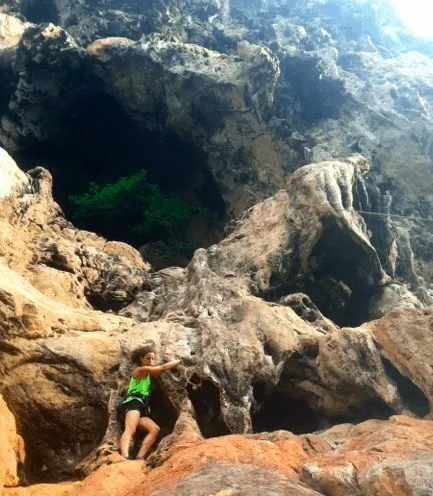 Climber friends
The more climber friends you have, the cheaper and more fun. If you rent gear, which is about 800B (chalk, two harnesses, two pairs of shoes and a rope) you can go climbing for very little. Of course, this is only if you know exactly what you're doing.
You can't mess around and think that because you were the best jungle gym climber on the playground, you can go rock climbing Krabi on your own. Only do this if you know what you're doing and have been trained in belaying.
Something in the middle
So let's say you don't have friends who can rock climb, but you're also not too keen on going with a group… This might be a bit tricky if you're a fleeting tourist here for the day, but if you're not, it would be wise to make some friends with local climbers you can pay to take you. We did this once and it was a fantastic experience. The local took us to some of his favorite walls and we got three amazing climbs in in one day with four of us climbing. We had hung out with him a few times since we were kind of regulars at his bar on Tonsai. It was easy to call him up one weekend and see if he could take us rock climbing around Krabi.
There are often plenty of long termers here on Tonsai, so even if you find another tourist who is staying for a while, they might be happy to have a new climbing buddy and someone to split costs with.
What to wear, what to bring
Here's what my friends and I like to have with us when rock climbing Krabi:
When you rock climb, you have a harness on, so shorts would be great, but nothing too short. Wear something that you essentially don't mind riding up your ass because that's probably going to happen. Tank top is fine, it's hot!
Plenty of water and some snacks too.
Bring socks as you'll be wearing rental shoes.
Sunscreen, you could be in the sun.
Music and speakers… the people at the bottom will want music! Promise.
Durable camera, you'll want pictures from up top. Guarantee it. But it might bang on a couple of rocks on the way up so be careful. I use a GoPro.
Tarp, mat or large towel of some sort. You don't want dirt all up in your climbing shoes, so you wear them when you climb, and when you come down, you change back to flip flops. A mat at the bottom will give you a place to plop down on when you come down from the climb and as a buffer for doing the shoe switch.
When renting equipment, always check it! Check that everything is in decent condition, no excessive fraying on the ropes, the carabiners are in working order…etc.
Swimsuit ready so you can jump in the water when you're done.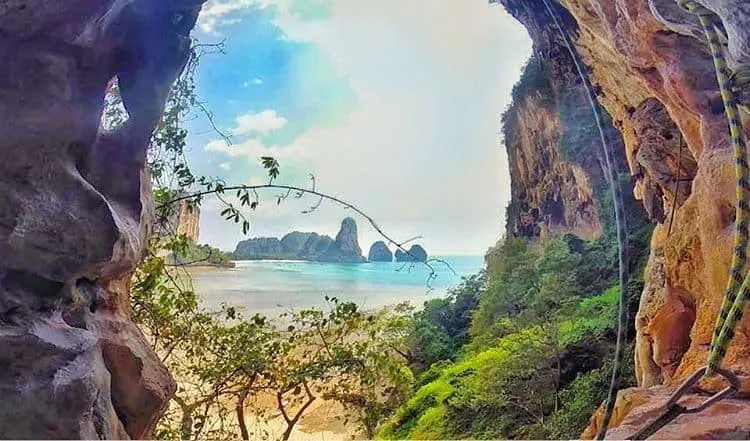 If you're still not sure about this rock climbing Krabi thing…
You could always try bouldering first. Bouldering is when there is no belay in place and you're free climbing. You stay pretty low to the ground so when you fall it's not from too high. This only requires climbing shoes and some chalk and could be a good intro to rock climbing.
You're scared of heights. I'm a bit scared too, but honestly, when you're climbing, you're rarely looking down. You look up and you're too busy trying to figure out your next step. The scariest part for me is the coming down part. You have to let go and trust your friend below to bring you to safety. Maybe I'm a bit of a control freak in this sense? It scares me every time!

But I'm a freak and actually enjoy scaring myself shitless.
Just watch! Seriously, if you beach bum on Tonsai, you'll see rock climbers all along the shoreline. Just watch them for a bit and maybe it will make you more comfortable about rock climbing Krabi. If anything, it's highly entertaining and really incredible to see what they can do. These rock faces they are climbing aren't particularly high, but they are pretty difficult! The people here are often really advanced climbers.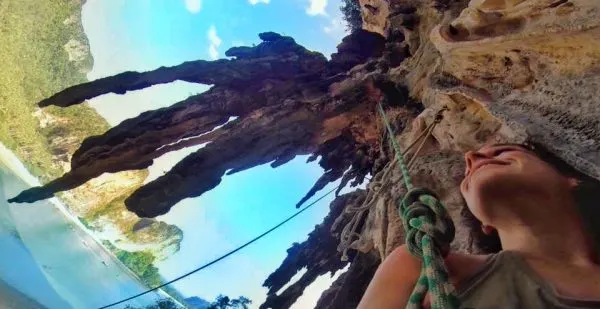 Bouldering in a cave
Yep, you read that right. Trying bouldering in a cave!
This tip is probably more for the advanced climbers…
There's a cave to boulder in on the west side of Tonsai (If the beach is your south and the bungalows in the back are your north.) It's covered by brush, but you might see the rope if you look closely. We actually camped in this cave for a night too!
You're welcome for this magical little tidbit!
I've been bouldering here a few times now, it's pretty hard for me, but I try. It's still so much fun.
I hope this is helpful for some of you! I truly LOVE Krabi and being able to get my hands dirty and rock climb Krabi on these karst cliffs is just phenomenal! It's gorgeous, thrilling, and a challenging activity. You should definitely do it…
Where will you go after Thailand?
Laos | Malaysia | Singapore | Indonesia | Philippines | Cambodia | Vietnam
Would you go rock climbing Krabi if you had the chance? I'd certainly add it to my list of things to do if you're headed here!
---
---
>>> EVEN MORE AROUND THAILAND<<<
"One Night in Bangkok … and the World's your Oyster"
27 Things to Do in Pai, Thailand + Where to Eat and Sleep
Where to Stay in Pai, Thailand: Pai's Hostels, Hotels and Resorts
21 Krabi Beaches That'll Make You Book Your Trip Today (Thailand)
9 Krabi Island Hopping Tours That Will Make Your Jaw Drop (Thailand)
Photo and Video Blog- Ao Luk, Krabi, Thailand
Krabi Itinerary: What To Do In Krabi, Thailand for 1-7 Days & When To Visit
Where To Stay In Krabi, Thailand For Any Budget
Where to Eat in Krabi Town: Night Markets and Restaurants
Krabi's Beauties: Railay Beach and Tonsai Beach, Thailand
The Low-Down: Thailand Tourist Visa and More
Thailand's New Year, Songkran, Is the World's Largest Water Fight
7 Unusual Things To Do in Chiang Mai
Photo Blog: Doi Inthanon, a Day Trip from Chiang Mai
Chiang Mai to Pai and Back! The Best Ways to Get Around (Thailand)
4 Lesser-Known Spots Around Mae Hong Son To Go To
Chiang Khong to Huay Xai Border Crossing (Thailand to Laos)
Chiang Rai Itinerary: 10 Things To Do In Chiang Rai That You Can't Miss
Thai Vegetarian Food That You'll Want in Your Mouth
7 Reasons Why Eating Thai Street Food Is The BEST & How To Avoid Getting Sick
Transportation Info and Tips for Thailand
Play it Cool: Thailand's Do's and Don'ts
Photo Blog: Kanchanaburi – Bridge on the River Kwai and Erawan Falls
OMG, My Holiday is Coming Up! Is it Safe to Travel to Thailand?
---
---
Pin this piece of paradise!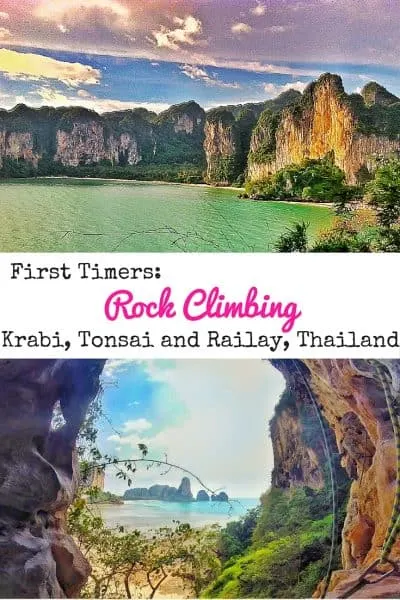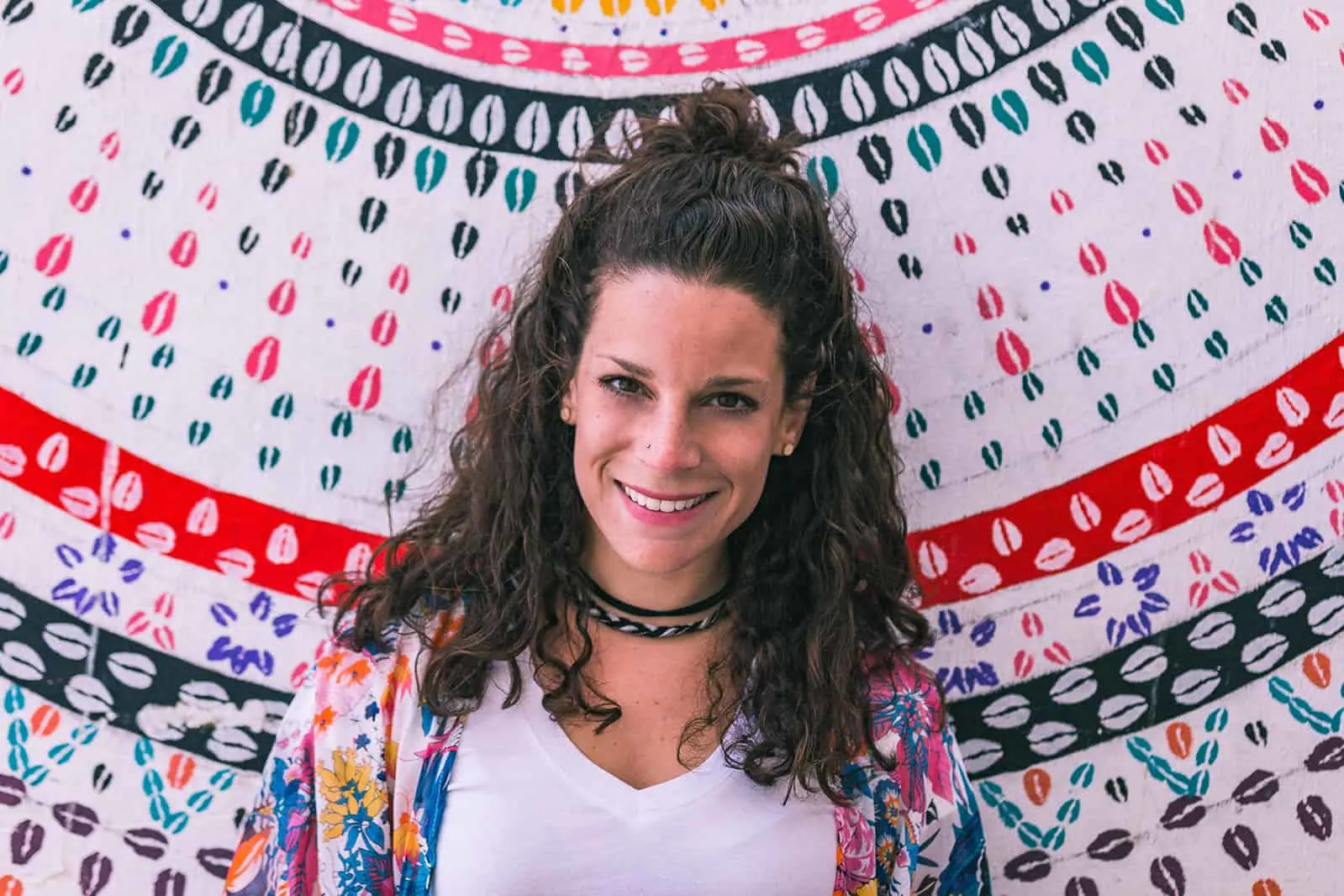 Nina Ragusa is an adventurer, messy bun master, breakfast fan, and full-time travel blogger. She's been abroad since 2011 and blogging on Where in the World is Nina? for nearly as long. Nina helps people like you move around the world while making money. She loves talking about how to work abroad and online to travel longer!