The following Jamaica Itinerary is authored by Charmaine Hutton.
Jamaica attracts travelers from all over the world: reggae music, stunning beaches, lush mountains, delicious rum, and incredible food.
There is something intoxicating about the island.
Here is everything you need to know about things to do in Jamaica. I hope you enjoy our Jamaica itinerary!
Things to Do in Jamaica: A 2-Week Itinerary
Don't lose this! Click to pin it now.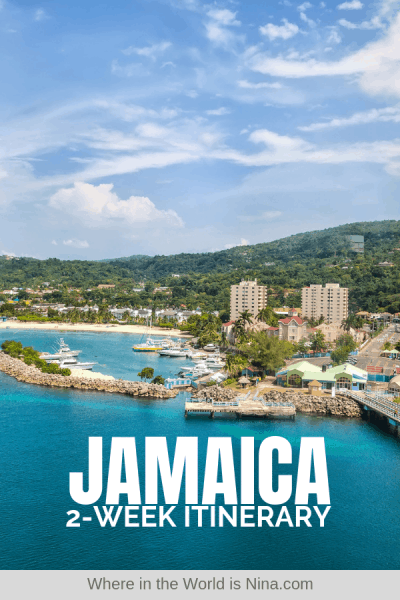 Montego Bay—3 Days
Most visitors arrive on the island via the international airport in Montego Bay- the tourist capital of Jamaica and a good starting point from which to explore the island.
If you want to spend your first day on the beach, you can head to Doctors Cave Beach which is located right in the town of Montego Bay.
Silver Sands beach near the town of Falmouth is also a great option if you want to be a beach bum for the day. If you want more activity you can go kite surfing or windsurfing on the nearby Burwood beach.
If you get tired of hanging out on the beach you can head inland and experience adventure on one of our many rivers. You can go rafting on the Martha Brae River.
Rafting first originated when farmers wanted to transport produce from the hinterland to the coast. Today it is a popular tourist attraction.
Visit a great house and learn about Jamaica's colonial past. You can visit the more sedate and authentic Greenwood Great House or the White Witch Great House where you will learn about the legend of Annie Palmer.
The one thing these two settings have in common is their panoramic view of the northern coastline of Jamaica.
Recommended tours:
Negril—2 Days
Beach bums unite (I am one of them)! You might not want to leave Negril. Negril has some of the best and longest beaches in Jamaica. The most famous is Seven Mile Beach – it's not actually 7miles but that's beside the point!
This beautiful beach is dotted with a myriad of hotels, beach bars, and villas. The beach has a very chilled and relaxed vibe.
Seven Mile Beach also has some of the most beautiful sunsets and the best spot to watch them is Ricks Café. From here you can also watch the locals dive from some ridiculously high heights – if you are brave at heart, perhaps have a go yourself.
If you want to visit the countryside surrounding Negril, consider visiting Zimbali Retreat. Zimbali offers a farm to table retreat where you can experience an authentic cooking demonstration with foods and fruit in season.
Recommended tours:
South Coast—3 Days
The south coast of Jamaica offers a rustic, laid back atmosphere and few visitors venture here which is part of its charm. Treasure Beach is a farming and fishing community and not heavily dependent on tourism so you are unlikely to have anyone try to hustle you.
The vegetation here is very different from what you would expect on a tropical island. Treasure Beach has been called the desert coast of Jamaica. It is a great base to spend a few days while you explore the southern part of the island.
You can visit Pelican Bar which has been rated as one of the coolest bars in the world. It is on a sandbank around a mile out to sea. You have to take a boat to get there and if you are lucky you could see some dolphins swimming by on your way.
If you are a rum fanatic or want to learn a bit more about Jamaica's history or rum making in general, visit the Appleton Rum distillery in the beautiful Nassau valley in St. Elizabeth. Once there you will learn about the rum making process and also get to sample the various types of rum.
Pace yourself here, rum packs quite a punch; coconut rum might sound harmless, but it is 40% alcohol. Don't say I didn't warn you!
Y.S. Falls is another attraction located on the south coast. It is actually on a cattle and horse farm so you get to really see the Jamaican countryside. It is a contrast to the more famous Dunns River Falls in the town of Ocho Rios on the north coast of the island but an added plus is you can also go zip lining over the waterfalls. If you have to select one attraction on the south coast this one should be on your Jamaica itinerary.
And the last thing to discover in the south coast is caving… I bet you didn't think you could go caving in Jamaica! Explore the heartland of the island the Cockpit Country and explore Rockspring caves. Get ready to wade through crystal clear underground rivers and wiggle through tight spaces. This a great way to see a part of the island few Jamaicans have visited.
Recommended tour:
Kingston—2 Days
Few countries can claim to have created not one but more than five genres of music. Jamaica is not only the home of reggae; it is also the home of mento, dub, ska, and dancehall. And the center of the island's music scene is Kingston, the heartbeat of Jamaica and its cultural capital.
For any reggae fan, it would be a shame to travel so far and not visit Kingston.
Jamaica's undisputed king of reggae is Bob Marley and no visit to Kingston would be complete without a visit to the Bob Marley Museum. You can also visit the Peter Tosh Museum and if you want some live music, visit the Kingston dub poetry night on Sundays.
Another must do attraction in Kingston is Port Royal. Port Royal was once the pirate capital of the world and considered the world's wickedest city until it was destroyed by an earthquake in 1692. Half of the city sank under water; however, you can still tour the remaining buildings and learn about the pirate history of Port Royal.
If the name Blue Mountain sounds familiar, that is because it is the home of the famous Blue Mountain Coffee known as one of the best coffees in the world.
There are coffee tours such as the Creighton Estate Coffee tour that will take you around a working coffee plantation where you can learn about the history of the country's famous coffee.
The Blue Mountain area was also designated a UNESCO world heritage site in 2015. You can hike to the tallest peak in Jamaica, the Blue Mountain Peak. Or you can hike along the many available hiking trails.
Recommended tours:
Ocho Rios—2 Days
Ocho Rios is one of Jamaica's main tourist areas and is known as the home of the #1 attraction in the country, Dunns River Falls.
Dunns River can be a bit of a tourist trap but I don't think you should skip visiting, mainly because it is one of the prettiest falls in Jamaica. If you do plan to visit get there early and avoid visiting on cruise ship days.
If you want to avoid the crowds and see something less touristy, you should visit the Blue Hole just outside of Ocho Rios. Personally, I think this is one of the best things to do in Jamaica.
The Blue Hole has a more rustic setting. You can hike along the river bank, jump off waterfalls, go swinging across the river and even ride horses in the ocean.
Recommended tours:
Port Antonio—2 Days
I have left the best for last. Port Antonio is hands down my favorite parish. Imagine a mountainous rainforest leading down to the sea.
Port Antonio is known for its numerous waterfalls; however, if you want to go to the beach my favorite is Frenchman's Cove. It is a small beach cove with a river leading into it.
If you want to go surfing, go to Boston Beach. This is a good surf spot from November to January. Boston Beach is also home of the famous Jerk Chicken and Jerk Pork. So if you want to stop to get something to eat this is a good place to go.
Another favorite spot is Reach Falls. You will experience crystal clear water cascading into a naturally made pool. You can also go behind the falls and see them from the inside. You can also go to an underwater cave.
Reach falls is around 45 minutes from Port Antonio. On your way there you will pass the Cliff Hanger Hotel. Stop and have a drink, the cliff-side views make this spot worth a visit.
You can also go bamboo rafting in Port Antonio on the Rio Grande River. The rafting in Port Antonio is more scenic than in Martha Brae. Basically, you will be rafting on a bamboo raft through a lush valley.
How to Get Around Jamaica
Renting a car is the best way to get around but, to be quite frank; Jamaicans are maniacs on the road so driving here is really not for the faint of heart. A good alternative is to utilize the public transport system.
The best way to get around between towns is to take the Knutsford Express, which provides a luxury coach service. Once you are in the town you can hire a JUTA van for transportation.
If you are in Kingston, you can use a taxi service. One of the most reliable taxi services is Ontime taxi service. For safety reasons do not flag down cabs or route taxis.
Costs for Accommodation, Transportation, & Food
Transportation Costs: If you are traveling between towns use the Knutsford Express. The costs range from $13 – $33 USD (one way). Taxis from a taxi company cost $5 USD or more, it depends on the distance traveled (these taxis are usually found in the capital city).
For JUTA transportation these prices are negotiable. We don't recommend it, but if you want to take a route taxi where you share with other passengers, the cost will be about $1.00 USD and up.
Food Costs: Try and eat where the locals eat. The price of food can range from $4 – $20 USD per meal.
Accommodation: Prices vary widely for accommodation. You can get a room through Airbnb or find a hostel for around $40 per night. If you want something a bit more high-end, the prices vary.
Food in Jamaica
Jamaican food is slowly making its way onto the culinary map and like most travelers, I feel no trip is complete until you try some of the local foods. Here are some of my favorites:
Ackee and Saltfish: This is the Jamaican national dish. Ackee is a fruit that resembles scrambled eggs. The dish is cooked up with onions, tomatoes and a little bit of scotch bonnet pepper. Most restaurants will have this dish on their breakfast menu.
Escoveitch Fish: This is another Jamaican favorite. It is fried fish covered with a vinegar, onion and pepper sauce. It is usually eaten with bammy or festival.
Bammy: Bammy is a flatbread made from ground cassava. It was originally eaten by the Arawak's the first inhabitants of Jamaica.
Festival: Festival is a sweet bread made from cornmeal, flour, and sugar. It is usually eaten with fish.
Oxtail – This one is a bit self-explanatory! The oxtail is usually cooked up with onions, beans, garlic, ginger, pepper, thyme, etc. and served with rice.
Curried Goat: This dish was brought to the island by the Indians that first arrived in Jamaica as indentured servants. Goat meat is curried. This dish is usually served with rice.
Jamaican Bun: We have bun year round but this sweet pastry is usually eaten around the Easter holidays. The bun is usually eaten with cheddar cheese.
Bread and Sweet Potato Pudding: These are common desserts in Jamaica. My favorite place to purchase is the Puddin Man shop in St. Anns Bay (near Ocho Rios).
Travel Tips
Here are a few travel tips:
If you decide to rent a car do not depend on GPS. Even though taking a secondary road might look like the shortest route sometimes these roads are not in good condition and can be a bit lonely. Stick to the main highways.
Be prepared to bargain if you are purchasing from vendors or hiring private transportation. Prices are usually negotiable.
Use the Knutsford Express to travel between towns. The service is extremely reliable and they have very reasonable rates.
If you are traveling in Kingston use the normal taxi services. You don't have to use a JUTA van. A favorite taxi service is Ontime taxi service. Make sure you ask the operator the price. Sometimes the driver might want to charge you more.
Shop where the locals shop. For example, if you want to buy jerk sauce or seasonings as souvenirs, buy them in the supermarket, it will be much cheaper.
Be careful when purchasing goods with foreign currency. Sometimes locals will want to hold on to your change. Additionally, you will be given a low exchange rate.
Use a Cambio to exchange currency. You will get a better exchange rate.
Jamaica's electricity supply is between 110 and 120 volts. The same as the US. If you are traveling from other countries, keep this in mind. You will need to bring an adapter.
Best Time of Year to Visit
Fortunately, Jamaica is usually sunny. We do not have traditional seasons; we do, however, have a rainy season. The rainy season is during the months of May, June, October and November. However, keep in mind that when it does rain in Jamaica, it is usually for short periods of time.
The prime tourist season in Jamaica is from December to April. If you are traveling during this time, the hotel prices will be a bit more and the attractions tend to be more crowded.
The cheapest time to visit is from March to November. Keep in mind that the months from August to November are also our hurricane season. Over the past twenty years, most of our hurricanes have occurred in late August to early September. We have not had a direct hit for a number of years.
If you are a reggae enthusiast the two main reggae concerts in Jamaica are held in January and July. If you are a carnival fan, carnival is usually held in March or April, so be sure to mark these events on your Jamaica itinerary.
I feel I could write a hundred more things to do in Jamaica. There is a reason why visitors choose to stay or just keep on returning year after year.
More Around the Caribbean
What things to do in Jamaica are you most excited to do? Let us know in the comments!
---
>>> Bio
Charmaine Hutton writes about her home country Jamaica on her blog at Jamaicatravelsavers. She wants visitors to fall in love with Jamaica the way she has. She loves exploring Jamaica and sharing her new finds with others, especially when she finds those hidden gems.
---
---
Busy? Click the picture to Pin this for later