The following live and work in Canada article is authored by Aimee
Hands up who wants to earn money whilst you travel? No, I'm not talking about becoming a digital nomad (but, that's pretty awesome too). I'm talking about getting a working holiday visa and working whilst travelling through countries like Australia, New Zealand and Canada.
Sounds awesome right?! In this piece, I'll focus on the Great White North a.k.a Canada. Offering all my best insider tips on how to successfully work & live in Canada on a working holiday visa.
I love the freedom a Working Holiday Visa offers. Me and my now husband have been travelling together since the start of our relationship.
Since 2013, we have lived and worked in Australia, Canada and New Zealand on a working holiday visa. And personally, our experience living & working in Canada was one of our most memorable experiences to date.
Why Should You Get a Working Holiday Visa to Canada
Well, the obvious point is that Canada is a stunningly beautiful country. Known for its love of the great outdoors and home to the famed Lake Louise, Banff & Whistler to name but a few.
There are certainly worse places to spend two years.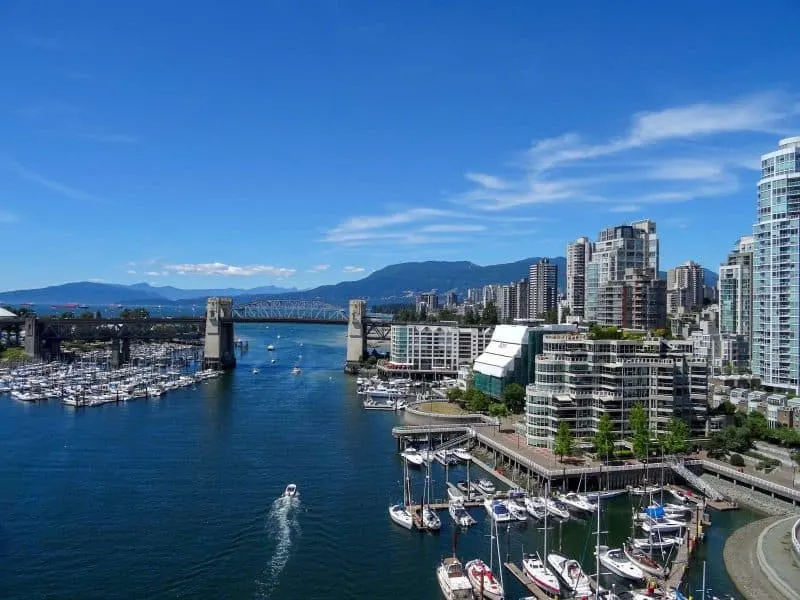 And although the process for a working holiday visa to Canada can be a lengthy (and at times stressful process). This visa offers you two years to work in Canada up to the ripe old age of 35.
You can work for the same employer for that entire time if you wish, and you don't have to do regional or farm work to get your second-year visa (unlike Australia).
Why I Moved to Canada
At the time me and my husband made the decision to move to Canada, we were both living and working in Australia on the now defunct 457 visa. We both knew that as much as we loved our 'home base' of Sydney we were ready for a change and were keen to experience somewhere new.
Having Canadian friends in Sydney made us keen to relocate as they spoke so highly of their home country. This combined with the fact that a working holiday visa to Canada was relatively easy to obtain made it an easy decision.
We decided on Vancouver as our city of choice, it seemed to have everything we were looking for – the perfect blend of city, mountains and the beach. Another major factor in choosing Vancouver over Toronto or Calgary was it's milder winters.
After living in Sydney we weren't sure we could handle the well-below freezing winters of the eastern seaboard. And despite Vancouver being one of the most expensive cities in Canada, we just knew we could make it work.
How to Work in Canada
It is quite a time-consuming application process but, I promise it's worth it in the end. The official name for the Canadian working holiday visa is the IEC Working Holiday Visa Program. Now, settle in potential expats because this is a long read.
Here's how to be accepted to the IEC Working Holiday Visa Program. You must:
Have a valid passport for the entire duration of your stay in Canada, so if your passport expires a year after entering Canada that's only how long your visa will be for. Ensure you have at least 3 years left on your passport at the application stage.
You must have a recent bank statement proving that you have CAD$2,500, you will typically only be asked for this on landing in Canada.
You must have private health insurance for the entire length of your visa.
Part One of the Application Process:
Complete the Come to Canada questionnaire on the Government of Canada website. If you meet the criteria, you'll be given a personal reference code. Enter this code to create your IEC account.
Fill in and submit your profile and choose the pool(s) you want to be in. Then, it's a case of waiting to be selected, as you'll need to receive an Invitation to Apply to continue the process. It's a frustrating wait as the numbers in the pool can greatly exceed the number of permits available.
If/when you receive the invitation, you have 10 days to start your application for a Working Holiday Visa in Canada.
Part Two of the Application Process:
As soon as you press the 'Start Application' button to formally accept the invitation, you'll have 20 days to submit your application and pay the fee.
Gather and upload all the documents (e.g. police or medical certificates) requested. If you don't have these right away, you can upload proof that you've applied for a police cert or medical exam.
To get a Working Holiday Visa in Canada, you must pay a participation fee of CAD$150, and an open work permit holder fee of CAD$100. So, CAD $250 total.
If Your Working Holiday Visa Application Is Successful
If your application is a success, a letter of introduction will be sent to your account. Bring this with you when you enter Canada, whether that be at a Canadian airport or another port of entry.
This is where you're provided with your work permit.
Working in Canada – the Downsides
I personally recommend the working holiday visa to Canada for people who want to set up a 'home base' in a new country for a longer period of time. As mentioned, a big bonus to this working holiday visa is that it gives you two years.
A lot of people do stay past their working holiday visa and opt for residency – which is relatively easy to get. But, this does depend on the state you live in and the job you have.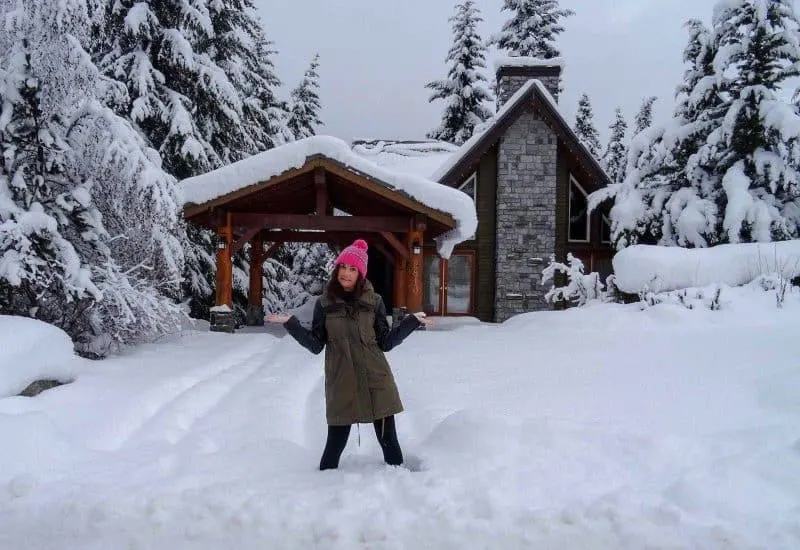 It can be hard to leave Canada – the lifestyle is good and once you get a good job it's hard to leave it behind. BUT, the big downside for us was the measly 10-day annual leave and 0 paid sick days (that was just the jobs we worked whilst there so, can't speak for them all).
How to Get a Job in Canada
It took me a little longer to find a job in Canada than Australia, therefore I suggest signing up with a Recruitment Agency on your very first day. This will allow you to get your foot in the door.
Canadian experience is favoured so, having some Canadian references on your resume is a massive plus to a potential employer. There are lots of recruitment agencies to choose from and you will find that each one will likely specialize in a certain industry.
I worked in the events industry for four years in Australia prior to relocating to Canada and found it difficult to find a similar job in Canada. Event planning just isn't as big an industry as it is an Australia. Which, left me a little bummed at the beginning.
However, thanks to my recruiter I moved into administration whilst living in Vancouver and really enjoyed the change. I stacked up some great experience with one of the largest financial planning firms in the country.
I made some great contacts, plus this role made my resume suddenly very appealing to other employers. This company even offered me a promotion a few months in.
But alas, we were itching for pastures new once again. And after a spontaneous weekend away to nearby Whistler, we decided to relocate once again. If you've been to Whistler you'll understand our decision!
When we moved to Whistler – a popular ski resort outside of Vancouver I switched careers again to the hospitality industry. An industry I still work in to this date.
In Whistler, I worked for the Fairmont Chateau Whistler and for some extra pocket money worked in a popular restaurant part-time. I found both jobs through the website Indeed.
How to Find a Place to Live in Canada
We found our one-bedroom apartment in Vancouver by walking around our desired neighbourhood. For us, this was the Westend, on the outskirts of the city and close to the gorgeous English Bay.
Typically, if an apartment block has an apartment available to rent they will display it on a board outside together with a number to call. Other good websites for renting in Vancouver and other Canadian cities are Padmapper and Craigslist.
If you're planning to move to a ski resort like we eventually did when we relocated to Whistler from Vancouver, then renting will be a whole different ballgame. In Whistler, you will need to sell your liver for a place to rent.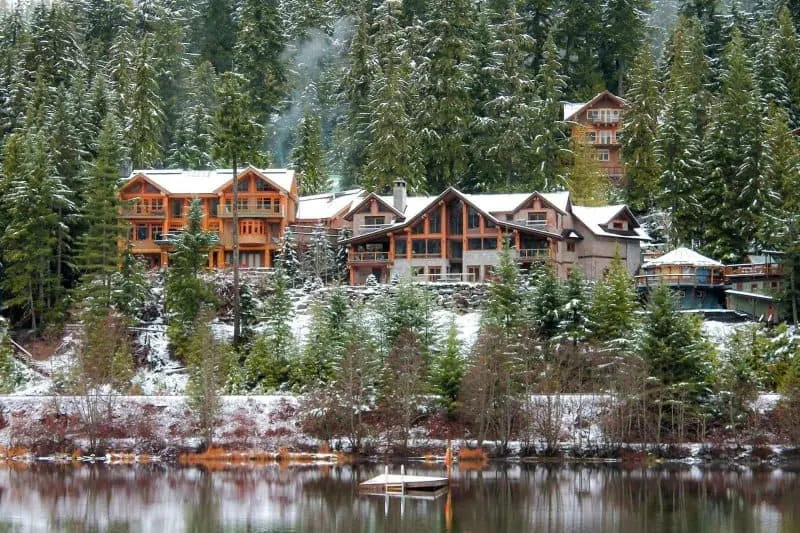 I joke (a little)! From Vancouver, we registered our interest for as many apartments as we could through Craigslist ads and on local facebook groups. We viewed those that we could in person (landlords prefer to meet you).
We were successful in getting a gorgeous two-bedroom basement suite after a few weeks of applying. It certainly helped us that we had a Canadian rental reference from our apartment in Vancouver.
I could spend all day talking about renting in Whistler, so for more detailed information on living and working in a Canadian ski resort – click here.
Benefits of Living and Working in Canada
In short, living & working in Canada offers a fantastic lifestyle. You can certainly save a lot of money in Canada, even on the working holiday visa. If you work in construction, like my husband, the hourly rate is considerably higher than in other countries.
Another great industry to save is waitressing (where your tips can be massive, especially in resort towns like Banff and Whistler). This was a huge factor in me getting a part-time job in a Whistler restaurant.
During our two years living & working in Canada, we managed to save $10,000 per year. This helped to fund our travels through Europe when we finally left.
We absolutely loved our time living and working in Canada. It was a once-in-a-lifetime experience, we took lots of road trips, made lots of great friends and even learned to ski.
More Working Holiday Visas
Hopefully, I've made your interest in living and working in Canada an easy decision. Will you be getting your working holiday visa and moving to Canada? Let us know in the comments!
---
>>> Bio:
Hi, my name is Aimee, an Irish girl who has lived & worked in Australia, Canada & New Zealand (to name a few). My passion is travelling (obviously) and together with my husband we run a travel blog. Read more about us at: Snap Happy Travel
---