(Reminiscing… circus 2009 — Fair warning, pictures are also from 2009 which means quality isn't the greatest. Sorry!)
**Note: This article is about the island of Dominica, NOT the Dominican Republic.
I stepped off the tiny plane and took a look around.
I was surrounded by lush greenery and rolling hills. There was a blanket of humidity and the occasional smell of salt water wafted passed me. I walked towards what was quite possibly one of the smallest airports in the world.
I proceeded to the front of the airport, a process that took up a whole five minutes of time from gathering my bag, "security," passport control, and then exiting. I took a seat on the bench and waited.
My friend, Robin lived here. She's been my friend for ages. We met in Biology class in the 9th or 10th grade back in High School. She was here on this island studying to be a doctor. She was approaching her graduation date and literally NOT ONE of her friends had come to visit her (over the course of two years!).
Being from Florida, I wasn't that far. There was no excuse. But out of everyone, I would be the one that went to visit her. I'm not one to miss out on travel opportunities… EVER. Even back in 2009, which is when this story takes place…
I waited about 30 minutes, I knew she would be late due to her getting out of class and then having to drive about and hour to get me. I waited patiently but anxiously.
Then, all of a sudden I see a car with two girls pull up, Robin is the driver.
WELCOME TO DOMINICA, NINA!!!!!
I get goosebumps thinking of that moment because I hadn't seen my friend in forever, and here we are on a paradisiacal island together about to embark on an epic trip.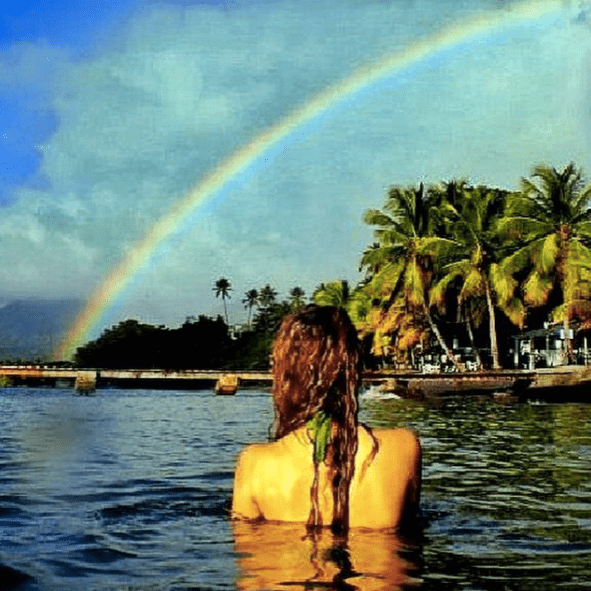 Little did I know this trip was yet another building block in my life. Another block pushing me to do what I have always dreamt of doing – traveling. That's a whole other story, though!
It was dinner time by the time they got to me so we stopped at Red Rock to eat dinner. To this day I remember having the most incredible meal there. Perfectly seared sesame coated tuna with a wasabi mash potato. DIVINE! We had a few drinks and called it a night…. We have an adventurous week ahead!
Here is what to do on Dominica, The Nature Island, in one week.
DISCLAIMER: This is a LONG post. Grab a coffee and a snack. And if you're here just for the things to do in Dominica, then just read the highlights below and don't worry about the ending… I will only be half offended.
Things to do in Dominica
Black Sand and Sunsets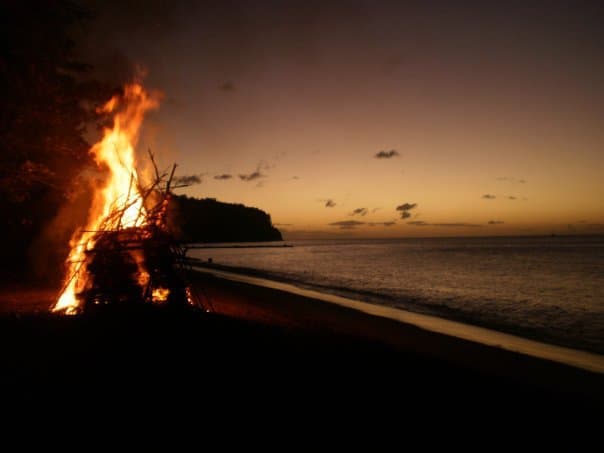 Coconut Beach was the beach that was closest to Robin's house and her university. A black sand beach fringed with palm trees and a perfect oasis for parties and bonfires which we definitely had! A bunch of her friends came out and we sipped on drinks as the flames danced around in the island breeze.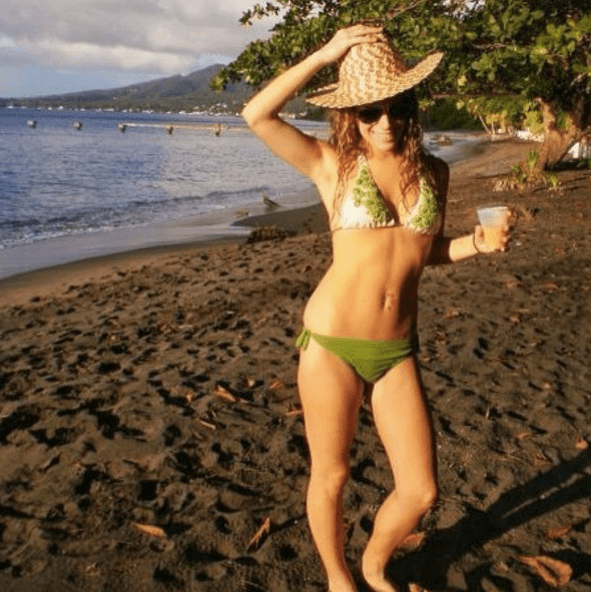 French City
Roseau is the capital of the island and while we didn't see too much here, the little bit that I did see was intriguing. The architecture was picturesque, it's right on the water with an occasional cruise ship or two docking, and crazy markets in full swing (my fav!) I remember having our only fancy dinner of the week here. We splurged and ate at a quaint French restaurant in which we were one of two tables there. It was perfect! But like I mentioned, we didn't do much here… With all the nature there is to see, we couldn't bare spending too much time in a city…
Twinzy Falls
No joke, Trafalgar Falls was only the second waterfall that I've seen – ever, and my first one was as a child so my memory was a bit thin. So what a spectacular introduction! The twin falls gracefully fell into small pools of water perfect for splashing around and bathing in. We clambered over the slippery rocks and spent hours going to the different areas and taking a "shower" under the powerful water. They are a majestic set of falls, but the best was still to come!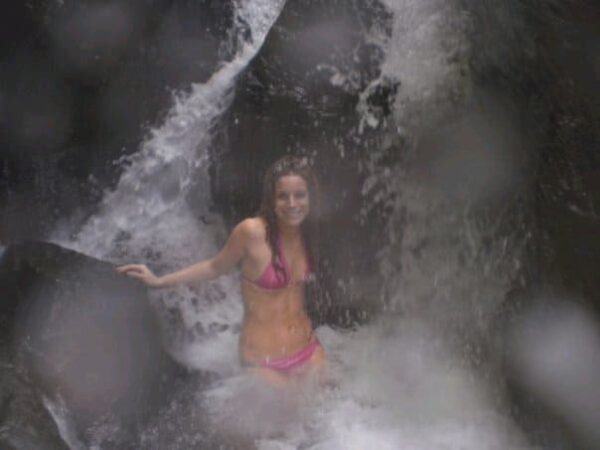 Gorge-ous
Thankfully we got here just in time as I remember a tour was just leaving as we were arriving. Titou Gorge spot is an awesome little experience. How many times do you get to swim through a narrow gorge with canopied trees above your head and rugged rocks surrounding you just to end up in a cave with a small but powerful waterfall gushing into a pool? We took our snorkel gear with us, but there was too much movement with the people and the waterfall to see anything below, the action is all outside the water! Jump from the slippery rocks… If you dare.
Get in the Orangey Water
Screw's Sulfur Spa wasn't really a spa as I believe that word evokes a sense of luxury and pampering in a clean and modern setting with your own personal masseuse or caretaker. This is a more rugged outdoor and all natural spa that's run by the friendly dude named Screw. Robin and I rocked up later at night hoping to get a dip in his soothing sulfur pools. Screw was right there to greet us with a huge smile on his face and his dreaded head adorned with ribbons and wraps and a cigarette tucked behind his ear. We chatted for a bit, complimented him on the sweet tunes he was playing (reggae, duh), and we jumped right in.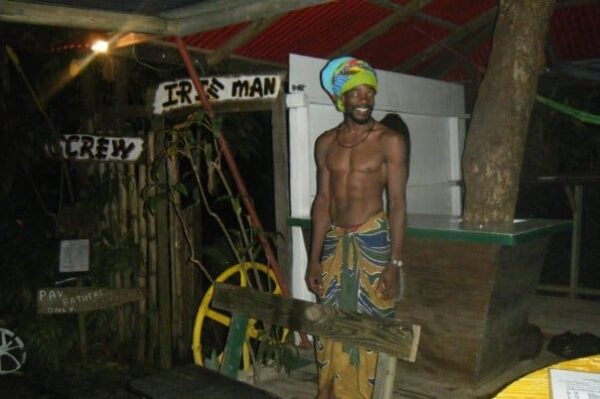 The orangey healing waters were fab but the surroundings made it for me. Here we were in the middle of the jungle, literally, in a pool of soothing and healing sulfur water. It's surreal that you can swim in the natural water and look up at the stars that are precariously peeking through the canopied trees. The pools all had different temperatures so you can hop around to cooler or warmer ones. Screw made it so nice that it looks like they are all natural pools. When we were done, the dollface of a man had burned us a CD (yes, a CD, this is circa 2009, remember?) of his playlist and served us fresh fruit. A very memorable person and place! Probably my fav experience out of the things to do in Dominica!
PS- As you will see on the signs when you get here, the orange water is natural, not dirty! With that said, be careful as to what swimsuit color you decide to swim in, darker would probably be smarter…
Beachy Bubbles
Hands down the coolest place I've snorkeled. The marine life was buzzing and vibrant, the water was a perfect temperature, the surroundings above the water were beautiful, but the coolest part were the bubbles. The volcanic activity that takes place under the sea floor has bubbles floating up to the top to give you the sense that you're swimming in champagne. Naturally, it's called Champagne Reef. How cool!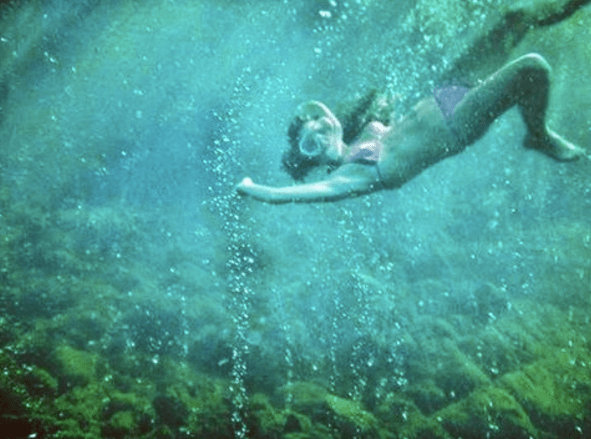 Head for the Hill
Does this place get more gorgeous? Yes, yes it does. Say hello to Scotts Head. Take your car as south as it will go over that thin tiny sliver of sand and get to the other side where there's a hill. Park and jump in the water with your snorkel gear. The visibility is great here and the diving is supposed to be even more spectacular.
When we were done swimming around we got out of the water and were greeted by a local man who was fishing. He asked us if we wanted anything. We knew what that meant. We may or may not have asked him (OK we did) if he could get us a special little herb and he very quickly agreed to it. While he left to go run that errand for us, we climbed the hill.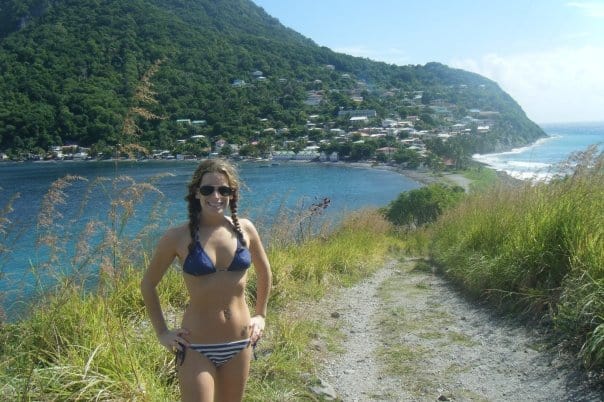 We chilled up here for quite some time, the view is absolutely breathtaking. You can see the nearby village as well as the Atlantic and the Caribbean. The difference is striking. The Atlantic water was raging while the Caribbean side was like glass which made for some good snorkeling. It's so bizarre though as there is literally just a tiny stretch of sand separating the two massive bodies of water!
As we descended the hill we saw our dude. He was cracking open some coconuts. We went over and said hello again and he handed us two coconuts! How adorable? He got the other stuff we asked for too. Coconuts, a j, and the peaceful setting of Scotts Head – Life was good! We gave the man his money plus a bit extra, thanked him, and went off.
Don't be Sari
Words are hard. I just couldn't tell you enough about Sari Sari falls. To this day, it's still the best waterfalls and possibly place I've seen. The majestic single fall is so powerful, it's impossible to get too close. Despite being in a hot, muggy, and tropical weather setting it was pretty cold just being in the presence of it. We stayed here for hours in amazement.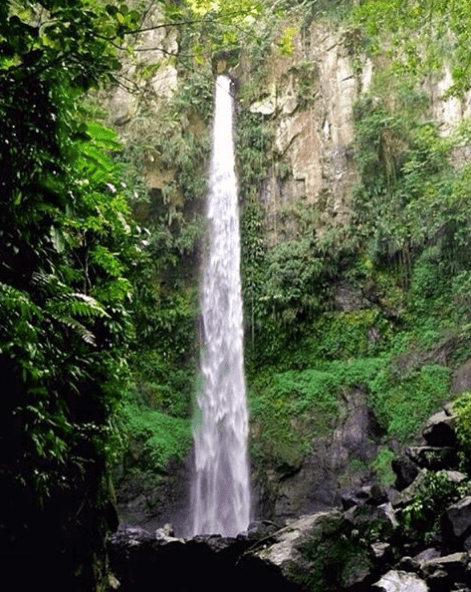 I was truly captivated by this waterfall!
The trek to get here surely wasn't easy, though! You can literally die getting to this spot. The path to get here isn't well etched on the side of the mountain, it's just big enough to fit one foot in front of the other. One small slip and you could be a goner. Once you get through that journey, you have slippery rocks to climb over to reach the waterfall haven of Sari Sari. Incredibly worth it and the most gorgeous thing I saw out of all the things to do in Dominica, in my opinion!
PRO TIP: Get a guide! You need one for safety and direction. As you drive up towards the falls you will find someone, or rather, they find you. We found that people were too eager at the bottom/beginning of the small village that lives around here. We waited and kept driving closer and closer to where the trail started. There, we found that people didn't stand in the streets just waiting for tourists to come by, they were just hanging out going about their day. Actually, I was a bit afraid we weren't going to find one because nobody was looking "keen" at being the waterfall guide. We actually beeped our horn and yelled out, "waterfall waterfall??"
A young woman came out of the house and said, "You want to see the waterfall with a guide?" We replied yes, and she told us to wait while she called her husband. A few minutes later he was there and guiding us through. He was a kind man and seeing that Robin had been before, I knew this was the right way to go about finding someone to take us.
After our hike back from the waterfall, he picked us off a real cacao plant right off the tree for us to try.
PRO TIP: Don't bite down on the seed and try to eat it like an animal me, and nearly break your tooth. Just eat the fruity outer parts.
This place is so incredible and naturally beautiful, it's too much for words.
How to travel to Dominica: Tips and advice
Tips for visiting Dominica:
Rent a 4WD. We had a Jeep. It's absolutely 100% necessary as the roads aren't the greatest. They fit about one and half cars and you either have a massive drainage ditch to one side or a steep mountain cliff with no barriers on the other. It's a crazy place to drive around, but I wouldn't have had it any other way. Don't do tours, just DIY.

The cruises here are kind of annoying. There aren't a plethora, but they are here. They have buses of cheesy tours going around the island experiencing what to do in Dominica. You can't blame them, but obviously, you pray not to run into them. Find out the schedule on when they port and make sure to do the exact opposite of their schedule, get their later/earlier, or whatever else it takes to not get mixed in with that crowd.

If you like snorkeling, you're going to be snorkeling a ton, just buy your gear and save time and money.

Do your homework on which hotels in Dominica you want to stay at, especially if you're not renting a car. It's a small island, but it's not THAT small.
Don't forget there will be a departure tax ($22)! Don't spend all your money. I had a mishap with that…read below.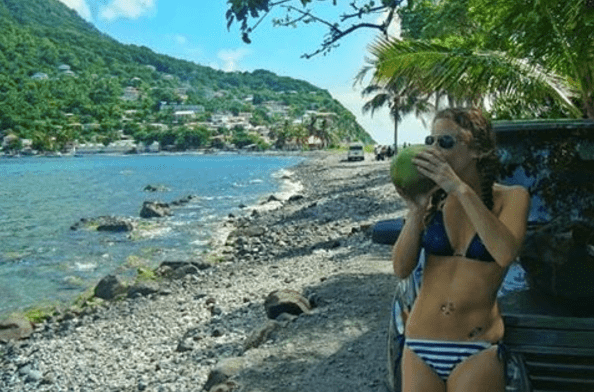 Talking About Money:
*Prices updated 2017*
Travel to Dominica: Accommodation
This isn't going to be super cheap, but you should be able to find some deals.
You can check some accommodation costs here, but you can expect to pay upwards of $50 a night far a mid-budget place. Private holiday home rentals might give you more for your money, but you're still going to have to pay a pretty penny.
Travel to Dominica: Spending Money
Super cheap meals can go from $5 to $15 and nice restaurants with three-courses will run you $50.
A 6-dive package will run you around $300 (without gear rental)
Renting a car in Dominica is the best way to get around and will run you from $40-$80/day. Buses will be way less convenient but will be around $10.
Entrance fees are around $5 depending on where you go and if you have a guide or not, but if you want to just buy the weekly pass, this gets you into many of the attractions for a one time fee.
My last day x2 – How Politics Made me Miss my Plane
My time in Dominica came to an end and it was time to catch my flight. I was so upset! I wanted to stay! But Robin had her finals coming up, I had a flight and a job back home, so it was time to go.
We packed up the Jeep and made our way to the airport, which was over an hour away from Robin's. We started to notice a traffic jam up ahead. Then we were in the traffic jam…
What the heck is going on? This is a tiny island, how is their traffic?
Why is everyone in blue or red shirts? Why are they are waving flags… They are shouting…
What is going on?!
… OMG. It's election week. And we were caught IN the election parade.
All.the.way.to.the.airport.
At first, it was actually really fun. It's hot and we wanted a breeze in the Jeep so the windows were down and people were saying hello to us.
I will NEVER forget we were at a dead stop in the road and this elderly local man caught our eyes, made a huge smile, and said, "Hello whites!"
Robin and I cracked up laughing so hard, said hello to the man, and continued driving. I won't forget that face or that moment.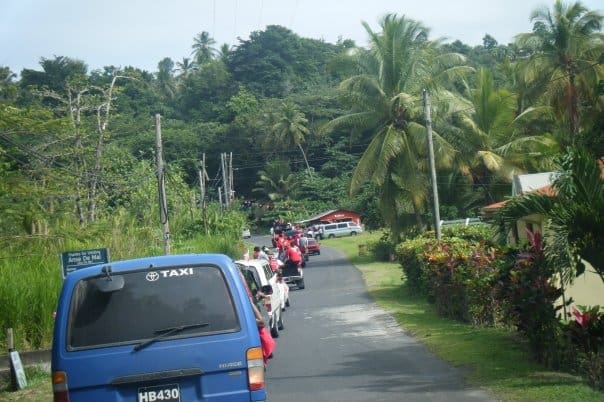 We continued driving at a snail's pace and the fun started to wear off. I was getting scared as time was slipping by and it didn't seem like we weren't making it fast enough. Luckily, Robin got me there JUST in time.
When I approached the check-in desk, with a whole five minutes to spare, they asked me for my departure tax…. My departure what now? Tax? You need money? (newbie travel fail!) I spent all my cash thinking this was my last day. Do you take card? No.
Holy.Shit.
They pointed me in the direction of the ATM and told me I had less than five minutes to check in and make this flight. I frantically was trying to extract money but my card wasn't working!
I begged them to please wait, take my card and charge it, anything! I can't miss this flight! But there it went… My tiny little plane leaving the tiniest little airport was gone. I missed my flight.
I immediately called Robin so she could turn around and pick me up. I couldn't believe what just happened but as I turned away from the airport I was kind of happy as well! I had one more day in paradise!
(PS- there's literally only one flight out to Puerto Rico which is where you had to go to get to Florida! So no more flights to catch that day, I had to book the same flight for the next day, a $450 mistake!!)
Robin took me back to her home and the next day we tried everything all over again, but hey! We still had the whole day to have fun, my flight wasn't until later!
Sailing away and nearly missing my flight AGAIN…
We went to Coconut Beach and rented a sailboat. Neither of us had sailed before, but it couldn't be that hard, right? Robin took the lead on being captain and I assisted. We floated around, nearly tipped over a few times, but finally made it to this secret little beach.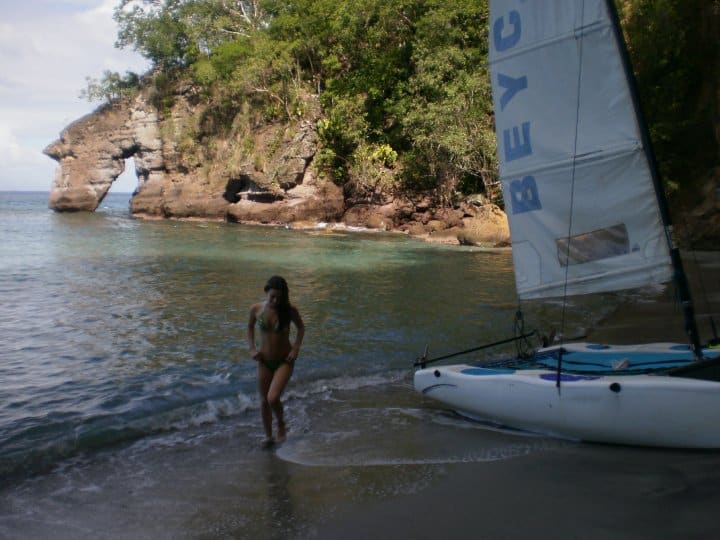 We spent a few hours just swimming and basking on the sand at a place that we had all to ourselves.
When we made it back we decided to go to one other spot, a random beach somewhere around Calibishie, it was on the way to the airport, why not!?
We chilled out some more on another gorgeous beach that was down a literal rock trail. We didn't think about having to get back up the same way- DUH!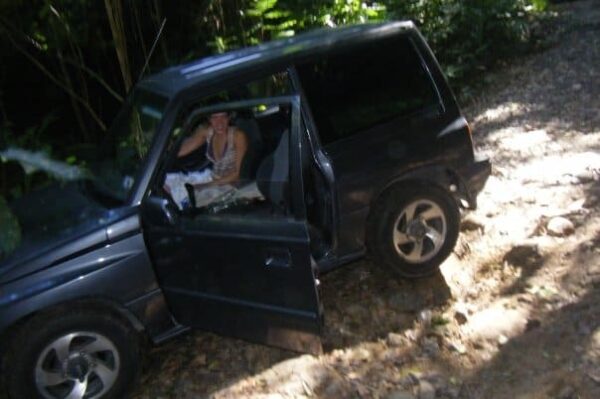 Well, on the way back up the Jeep kind of got stuck on some rocks. And when I say kinda, I mean we got suck. REALLY stuck. Holy shit, am I seriously missing my flight again?!
Luckily there were a couple of local dudes walking around the beach and we hailed them down to help us. They helped drive the vehicle back up to the road while we manned the rocky trail by foot. We thanked them and I MADE MY FLIGHT!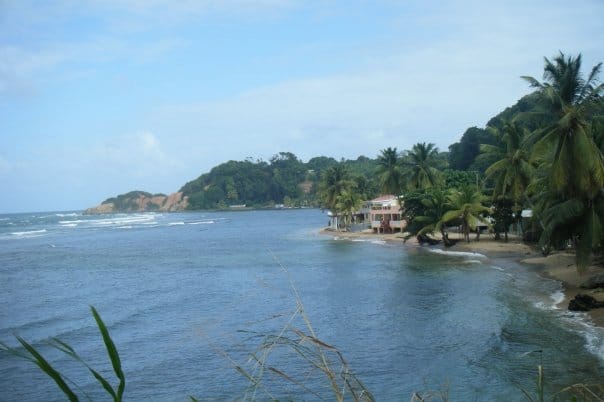 Life: CHANGED…
I will forever remember this trip. I can't tell you how much this trip opened my eyes, despite going to Europe for a month the year before, there was something about this trip that opened my eyes further. I knew I had to travel more, everywhere, somehow.
I went home and the ideas started brewing in my head. How can I get myself abroad? That's when I was really serious about making a life abroad, but I never knew I would end up where I am today.
I started looking into how I could make money while traveling, where I could live, where would be a comfortable place for a regular girl like me to go? I knew nobody would go with me, but I put feelers out there so my friends would maybe convert?
I made a solid decision the day I got back from my trip to that tiny island… I told myself to save every damn cent because whatever I was going to do, it was going to cost money. And from then on out, every dime I could gather was thoughtfully placed in my savings for some mystery future travels.
I had NO idea what I was doing or where I was going. But I knew I was going to get abroad and somehow find some work because I knew a one week trip wasn't going to cut it. I want to STAY abroad.
I promised myself I was going to leave for an extended amount of time. I promised myself that travel was my ultimate goal as a child and there was no better time than now.
I was in a rut and I hated my job(s). I was miserable with where my life was and where it was going…which was nowhere. I sat behind a desk from 8-5, I worked on the weekends, I made enough to pay the bills and saved what I made from job #2 and #3. I had no free time. I wasn't living. This wasn't life. A 24-year-old shouldn't feel like life was done.
At this age, I shouldn't be able to predict the next ten years of my life. I shouldn't feel that it's necessary to have "whatever everyone else has."
Still sitting at a desk working, maybe I finding a husband and then buying a house. That's it. Why would I want to know what my life is going to be like in ten years? Wtf is that?
Why would I want my life to look like everyone else's? It's OK if that's your life and you WANT it that way. But I didn't. I wanted more, something different, and even if I dare say, spontaneous.
I couldn't be happier with the direction I lead my life in. I went abroad — alone. I got work abroad — all by myself. I sustained my life abroad for years now – thanks to my dedication.
My Europe trip and this trip to Dominica is what started my path over seven years ago that is leading me down the road that will open my eyes further and further to the whole world, not just the one I know back home. This is all I ever wanted.
Thanks, Robin and Dominica for showing me all that you did. I LOVE YOU! <3
So… I'll shut up now. Here's what to do in Dominica, now book that trip! You NEED to travel to Dominica, trust me!
Just don't miss your flight, k? 🙂
More Around the Caribbean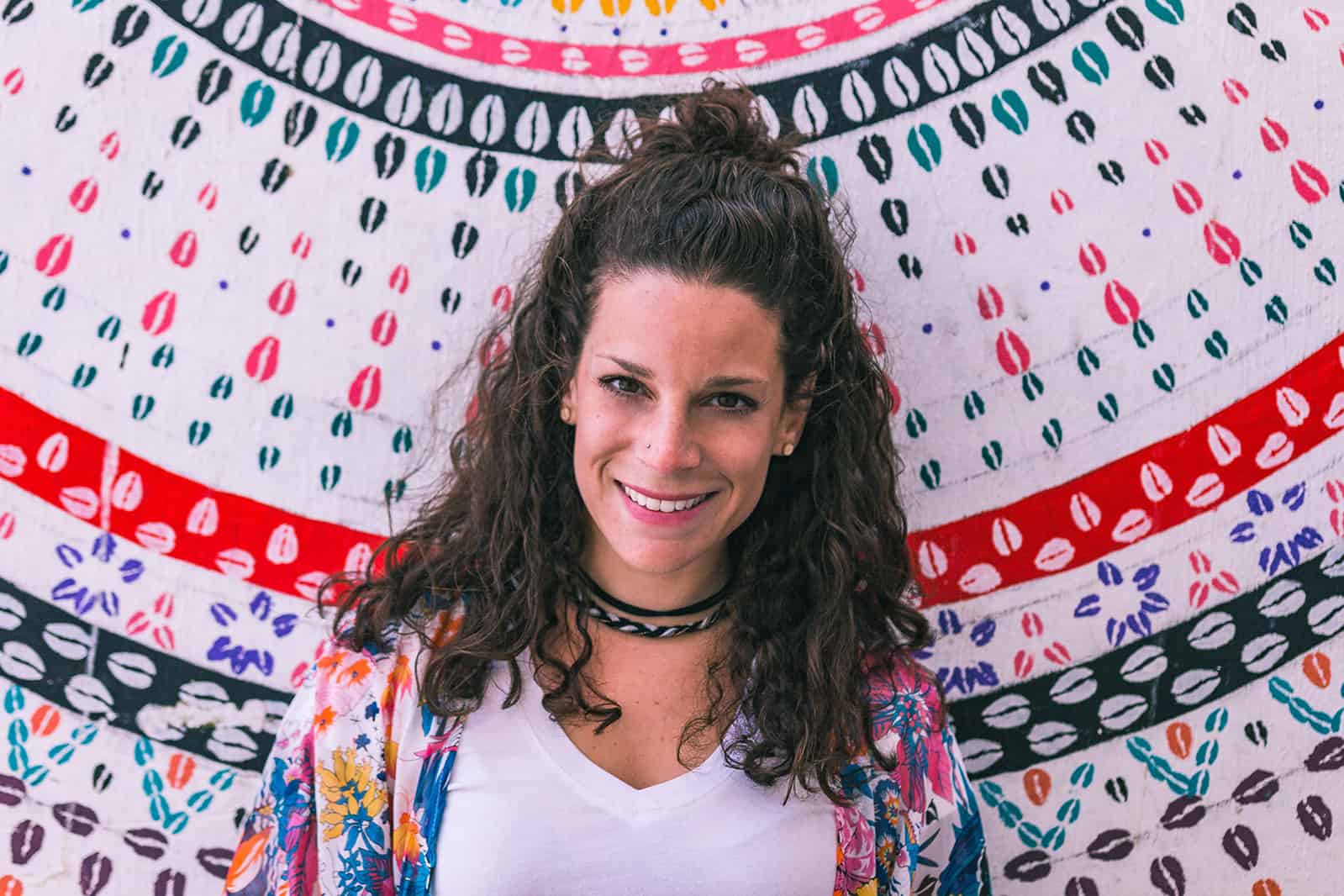 Nina Ragusa is an adventurer, messy bun master, breakfast fan, and full-time travel blogger. She's been abroad since 2011 and blogging on Where in the World is Nina? for nearly as long. Nina helps people like you move around the world while making money. She loves talking about how to work abroad and online to travel longer!