Well, it's been nearly two years since I've visited home, so I guess it's finally time!
And what better time than the holidays?
But we're talking about me here and I literally can't go anywhere direct. There's got be a stop off.
Using Skyscanner (my fav), I went from Australia to Thailand, spent a few days there. Then I made a long layover in Cologne for a day before heading to Miami. I saved hundreds on my plane ticket using what I call the "one way to everywhere" method because Australia to Tampa was OUTRAGEOUS! OK, back to the point…
Here's what you can do with one day in Cologne, Germany on a long layover, for less than 10€.
Where to Stay in Cologne for One Day?
I loved Ehrenfeld. A friend of mine who is from Cologne (but living in Australia) told me "Ehrenfeld is where it's at" (exact words) so that's where I stayed. Her words held true because it really is where it's at. Street art galore, cheap shops and eats, a hipstery vibe, and quaint but bustling streets. It's less than 30 minutes from the airport by train as well.
I went with the cheapest hostel I could find online (no way I was spending time walking around at 11pm trying to find out where to stay in Cologne. Book it online so you can maximize your time.)
Where I Stayed in Cologne:
Weltempfänger Hostel – A very cozy hostel that has just what you need. The beds were incredibly warm and comfy, everything was clean, there's a restaurant and bar downstairs, and you can buy the brekkie for the morning to save you some extra time. I couldn't ask for more, I just hope you don't have a snorer AND 6am riser who enjoyed rearranging their bags at that time both mornings like I did… Only one of the reasons why I don't really like hostels, but hey… that's hostel life. Check room rates here.
Here's What to See in Cologne in One Day
I started bright and early, got a good brekkie in at the hostel and hit the streets. I decided to walk everywhere…
It's free

I get lost easily anyway, so this way I'm not paying for it and wasting time trying to figure out transit.

You only have one day in Cologne, Germany! You get to see things you wouldn't get to otherwise while on a train.

Walking is totally doable in this city.
Cologne Cathedral
From the hostel, I walked straight to the Cologne Cathedral. I thought, "I'm going to get there before everyone else and their mom does!" I got there, and everyone and their mom was there anyway, but it wasn't that bad! It was around the holidays, after all, I expected it to be a bit busy. Also, you can't avoid, this is definitely THE thing to do with your one day in Cologne.
Since I was alone, I snuck in places when there was a break in the crowds and I could afford the time to hang around for an extra second while many were getting herded around in group tours. Ew.
I spent a good chunk of time at the Cathedral because it's truly magnificent. It's so incredibly massive, it's hard to tell how big in pictures. I had trouble getting it all in despite walking back as far as I could. It's a true masterpiece.
COST: Free
Explore the outside in all of its Gothic glory, the inside's stained glass windows that vibrantly lights up the otherwise dark inside, and then there's the belfry…
The belfry (bell tower) at the top offers some pretty stunning views, but you'll have to shell out some cash to get up there.
COST: 4 euro
Not that much and pretty worth it. The glistening Rhine and the Hohenzollern bridge are the stars of the view, but seeing the 360 view of the city from above is quite beautiful as well. The scattered churches nearly everywhere and the Gothic and Romanesque type of buildings in their perfect little grids set quite a scene.
The unfortunate situation is that while there's a 360 walkway around the top, there's no possible panorama view. The biggest disappointment is the gate that encloses the entire walkway. The only way to get a picture is to shove your camera through a hole in the gate.
Again, still quite a view!
Supposedly the bell up there is the largest church bell in the world! If I didn't have one day, I would have waited for it to ring, but … yeah. I had some better things to do!
PS- There're a lot of windy stairs up to the top!
Hohenzollern Bridge and the Love Locks
The next attraction was seen from the bell tower. Get down to the bridge and enjoy a stroll over the Rhine. All alongside the bridge are thousands of locks, similar to the locks of love in Paris, which have been removed. One after another you'll see locks with the names of two lovebirds, some are even professionally etched in!
My main goal while walking across this bridge, and of course admiring it, was to get to the other side and to the left where the cable car ride was. However, after walking towards it, I saw the cables but no cars. Not a single one. I cut my losses and strolled on back over the bridge. Turns out they are closed for a few months in winter. Oopsie! You can check times for that here, and be prepared, unlike me.
COST: Free
Markets and Events – Christmas Markets
Since my visit was in December, the Christmas markets were in full swing. Beer and wine, food and trinkets, pretty much everything you can think of! I was tempted to spend money, but I didn't Afterall, I was keep everything on a budget and my bags were full enough.
The food and drinks were a bit pricier than everywhere else, but to be honest, most likely was worth the extra money. I just simply chose not to buy anything, though! (must.resist.the.urges… say.no.to.christmas…nnoooooo)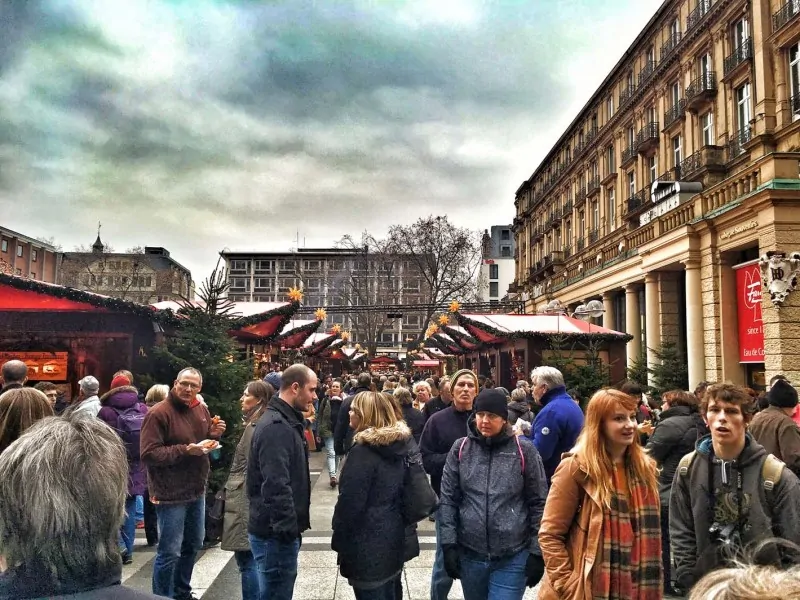 Don't worry, there's probably another market or event you can go to, here's a resource for what's on in Cologne.
I went to the one at the Cathedral since I was right there and I meandered through a few more on accident just wandering the city.
COST: I spent 0, but you can spend some serious money here!
Eat and Drink "Something German" on Your One Day in Cologne!
For me, this meant getting a pretzel and drinking a Kölsch! Can I get any more German!? Kölsch is particularly very "Cologne" as it originates here. You have to drink at least one. One day in Cologne, Germany isn't enough to get all the German things in your life, but I figured beer and a pretzel was pretty good. I'm also a veggo, so the "regular" cuisine doesn't really appeal to me.
COST: The pretzel was .90 euro and the beer was 1.50 euro.
RELATED: A Long Layover in Shanghai
Walking Around and Admiring the Architecture of Cologne
You just can't beat it. I LOVE getting lost on purpose (something I do often, even not on purpose). I'm a sucker for architecture, especially anything in Europe! Gothic, Victorian, Romanesque… I. Freaking. LOVE. It.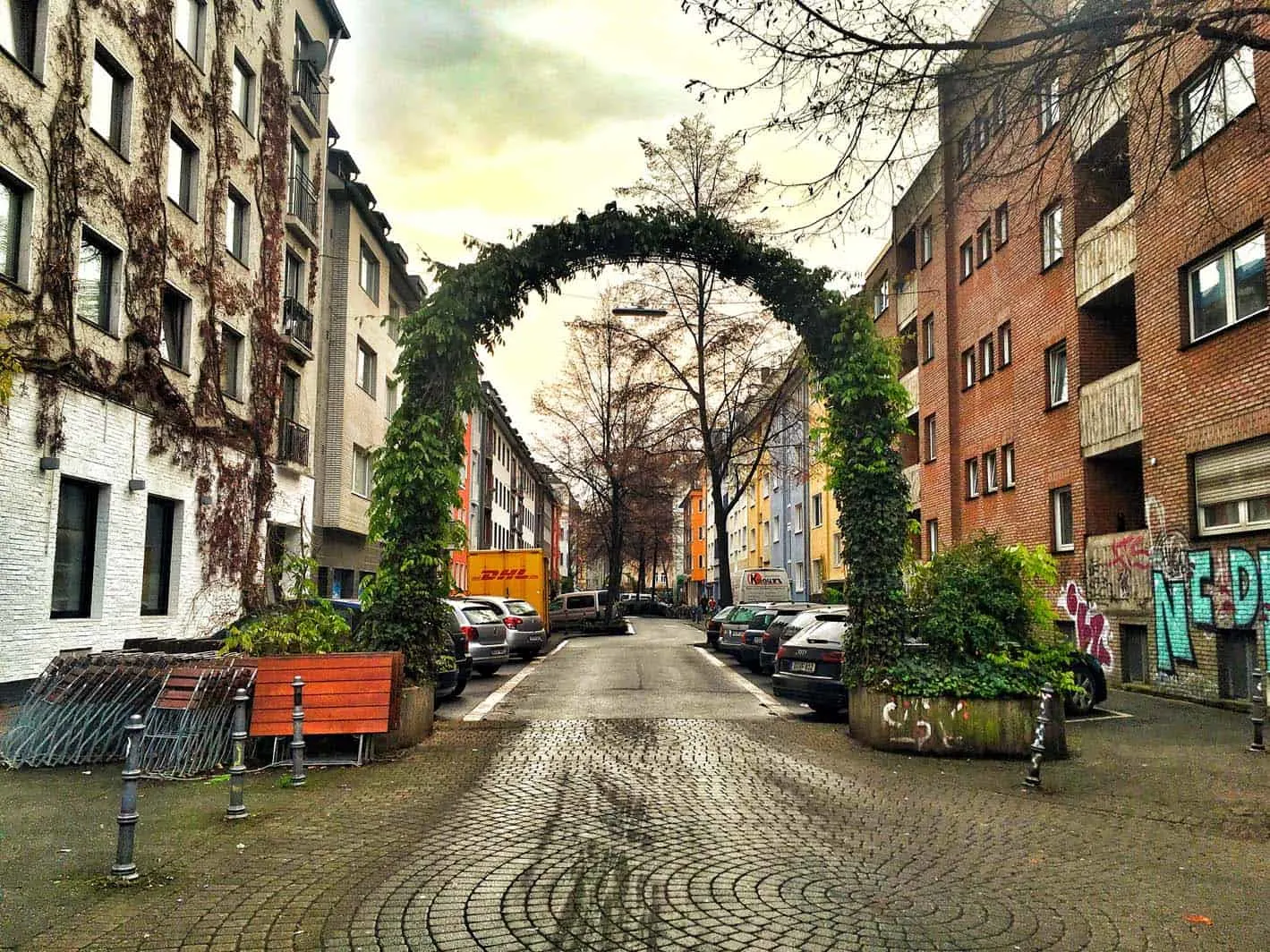 By walking around I stumbled upon some pretty cool stuff. Old churches, random residential buildings I fell in love with and wished I lived in, the cutest darn pastel buildings, random castles… Doing this might have been my favorite thing during my one day in Cologne! I probably detoured a thousand times.
COST: Null! (zero in German, in case you're wondering.)
Street Art of Ehrenfeld
Oh, wait a second… I spoke too soon. This might have been my favorite part. I'm a bit obsessed with street art. It's not just something you can find wandering around Berlin, Cologne has some great walls too. It's certainly worth a stroll around town to see some of these works of art. If you're staying in the area too, why not? Here's a picture of the map my hostel made for me to point out some of the best places to find it.. Most are near the train station:
My favorites would be the very real mural depicting a bald eagle "herding" a bunch of sheep. Hmmm, wonder what this could be depicting? Oh, and the one right next to it saying " the revolution won't be advertised."
And I absolutely loved the vividly colored 3D mural of almost Mexican De Los Muertos looking characters, but then there's a Buddha's head and some other random stuff, so I don't know what it is, but it's awesome. Their faces are real masks, not graffiti!
COST: Fa-Fa-Fa…Free!
That's about it! I LOVED strolling the streets of this city. Everyone told me one day is enough as there's not THAT much to do here, and they were right. It was just enough time and I'm satisfied with what I got done.
More information on what to see in Cologne in one day – especially for those on a long layover:
Cologne airport to city: Use the train. You can catch a 20-30 minute train from Koln-Bonn Airport to Ehrenfeld station. (S13 train as of writing) it's really easy to get from Cologne airport to the city.
COST: 2.50 euro (it was 2.80 on the way back though, not sure how the pricing system works with that.)
LUGGAGE STORAGE AT COLOGNE AIRPORT: If you have a large suitcase and don't want to drag it through the cobblestone streets of Cologne (the perfect way to royally F up your bag) then drop it at the luggage storage. The luggage storage in the Koln-Bonn Airport is on the bottom level where the trains are. Just follow the signs to the train.
Trust me, you'll need this info because there are no signs, nothing on their website, and the instructions from the information desk were extremely vague.
Before dropping your bags at the luggage storage let me suggest going to the ATM/money exchange first. There's nothing else down there.
COST: 5.50 euro a day (24 hour period starts when you drop it off)
MAPS: Don't have internet on your phone? Maps.me saved my life in Cologne. It's a map app for your phone that doesn't need internet. Download it!
COST: FREE
Final costs for one day in Cologne, Germany:
My costs for the day: 6.40€
This is just activities and my German snacks for the day.
My total costs: 79.40€ ($84 USD)
Trains (5€), hostel with breakfast included x2 nights – grabbed fruit from there and such for my lunches too (48€), dinner – veggie/falafel kebabs x2 (10€), luggage storage (11€), the day activities and snacks (6.40€)
I hope this one day in Cologne, Germany post helps anyone just passing through!
---
Pinning is so in right now…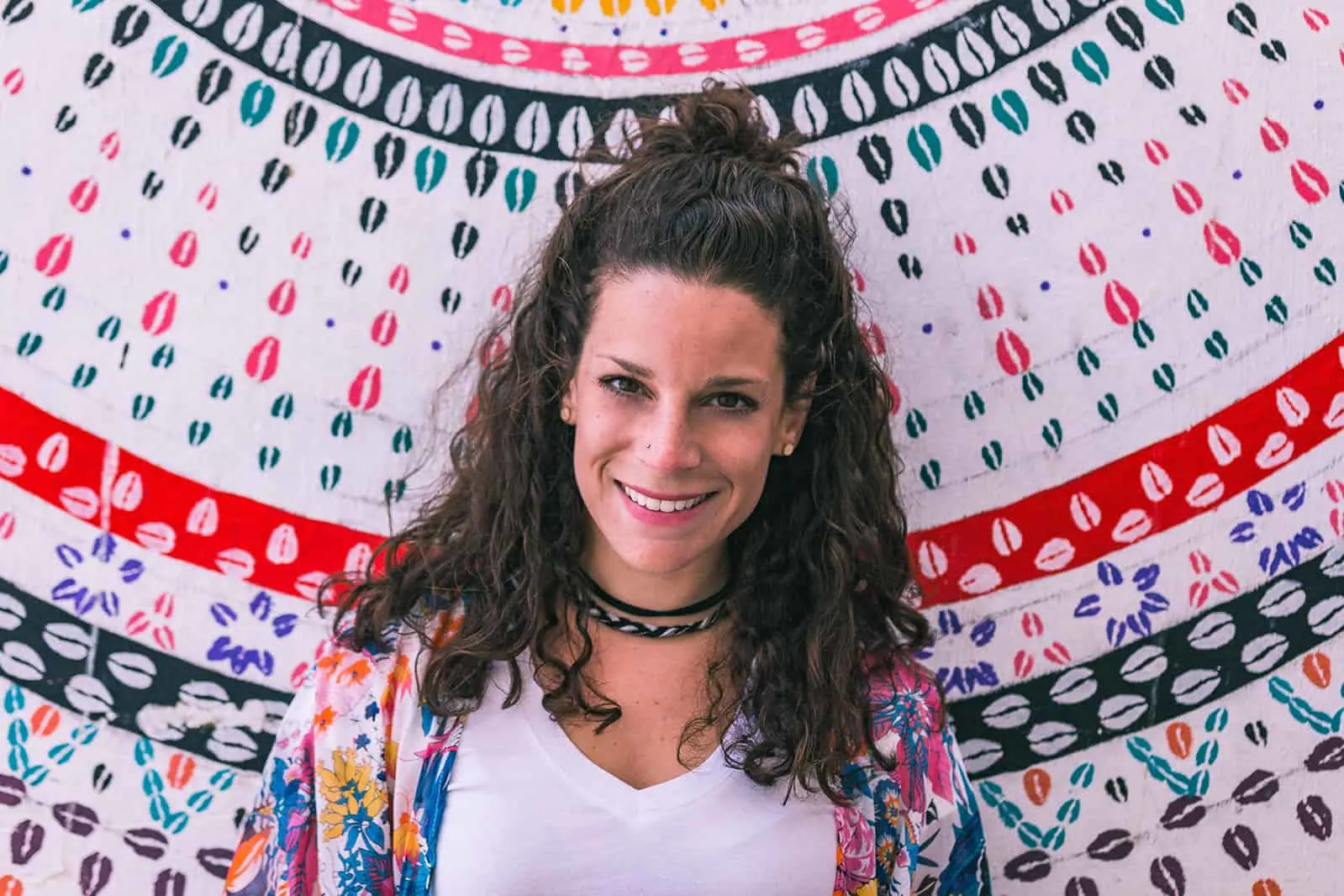 Nina Ragusa is an adventurer, messy bun master, breakfast fan, and full-time travel blogger. She's been abroad since 2011 and blogging on Where in the World is Nina? for nearly as long. Nina helps people like you move around the world while making money. She loves talking about how to work abroad and online to travel longer!