If you had told me just a few months ago that I'd be exploring things around Rapid City, South Dakota, I wouldn't have believed you. South Dakota wasn't on the top of my list of places to go for 2019, or within the next few years, to be honest!
But, when my friend Jessica gave me a call about taking a road trip from Montana through Wyoming and into South Dakota, I was sold! I love road trips, especially with Jess. Funny enough, during September 2018, we did a West Coast road trip that was a blast, and here we are again, September 2019, road-tripping together again. #reunion!
So, being that I love a good road trip, and Jess, I thought, hey, why not! Let's go. Unsurprisingly, this little corner of the US totally blew me away, and I enjoyed it way more than I thought I would.
Below is what I loved about my time in South Dakota. Be sure to check out the rest of my posts from Montana and Wyoming:
Don't lose this! Click to pin it now.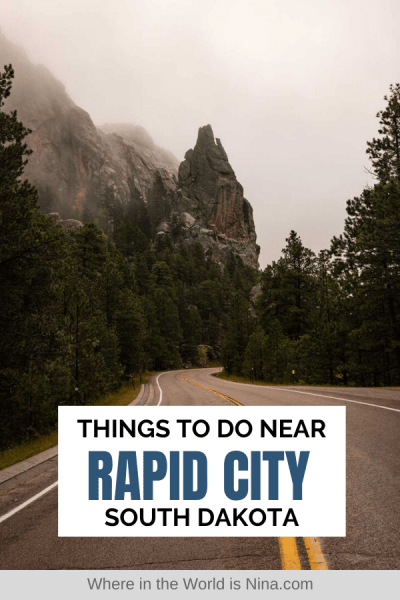 Things to Do Near Rapid City, South Dakota
---
I will be the first to admit that I didn't have high hopes for South Dakota. I kind of thought of this state as being… a bit boring.
But, that's mostly because I knew nothing about it, and assumed everything "in this area of the US" didn't have much going on. It's all flat and boring. I know, silly me, right? Turns out—South Dakota, particularly its west side, is pretty damn cool (and not flat at all!)
I'm always down to admit when I'm wrong and wrong I was. I'm never one to say I won't try something new, though, so I'm thrilled I gave South Dakota a chance because I ended up loving it.
The one problem? South Dakota didn't love me back… It rained a lot of the time I was here and prevented me from seeing some of the coolest spots. It didn't stop me, I still went and tried, but thick billowing clouds and frequent rain often obscured my views. And when it wasn't raining and cloudy, it was randomly closed.
You'll see what I'm talking about below. That's OK, though; I still love ya, South Dakota! So in this post, you'll get a great taste of some cool things to do in Rapid City (spoiler alert: you'll actually be leaving Rapid City a lot).
I did everything on this list the best I could but couldn't complete my adventures to the fullest due to weather and closures. So I do have some stock photos sprinkled in here to better show you what you'll hopefully see and what I was supposed to see.
1. Art Alley—A Popular Thing to Do in Rapid City
Wander off the main drag of town to immerse yourself in the artistic side of Rapid City. Nudged between 6th and 7th Streets, creative souls unleash their talents with strikingly colorful murals.
While you may not think of Rapid City as one of the cool outdoor art destinations, it definitely can be in its own cute and quaint way. The community provides incredible support for local artists to continually transform the art scene with their inspiring concepts.
A stroll down this narrow alleyway reveals spiritual and political expressions straight from the heart. You'll see lots of murals focused on the most challenging issues of the day that impact global communities. If you're lucky, you may come across the next resounding artists perfecting their craft along with the concrete canvas.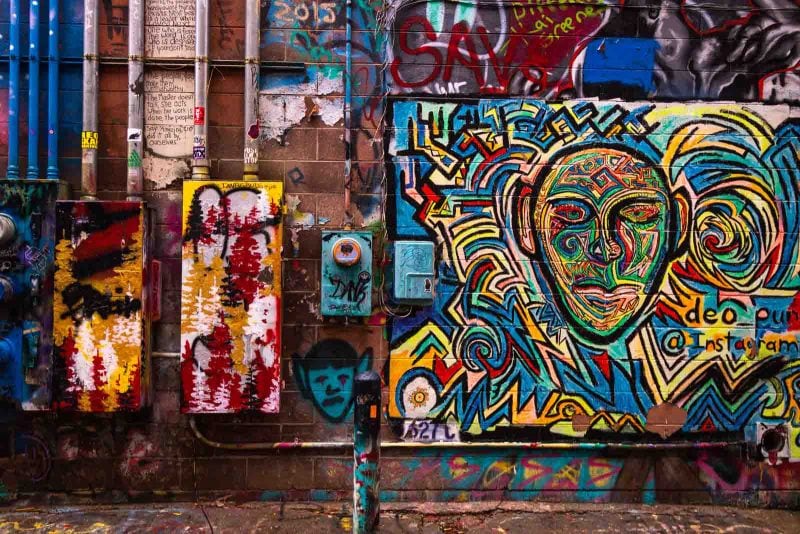 This is a cool thing that will only take a quick portion of your time in the city. It may not be the best graffiti street you've ever seen but a cool place to stroll nonetheless.
Now, the rest of the things to do in Rapid City are, in fact, not in Rapid City at all. There are more things in the city, but I think the best spots are just outside (literally)!
It's a well-located city, and if you have a patch of green with cool lakes, fun hikes, and other outdoorsy options—I'm leaving the city and going there! So everything from here on out is located just outside the city.
RELATED: The Best Hikes Near Washington DC.
2. Black Hills National Forest—Best Area Near Rapid City
So what's the large patch of green just outside of Rapid City you may be asking? It's the Black Hills.
The Black Hills consist of over one million acres of pristine forest, precipitous cliffs, and enchanting lakes. Established as a nature reserve in the 19th century, it's among the most diverse landscapes in South Dakota. An abundance of trickling streams, mysterious caves, and unique rock formations create a playground for adventurers.
The mountain range soared above the neighboring plains and was a sacred refuge for Native American tribes centuries ago. In the 1800s, the peaceful forest became a haven for settlers due to the discovery of gold in the region.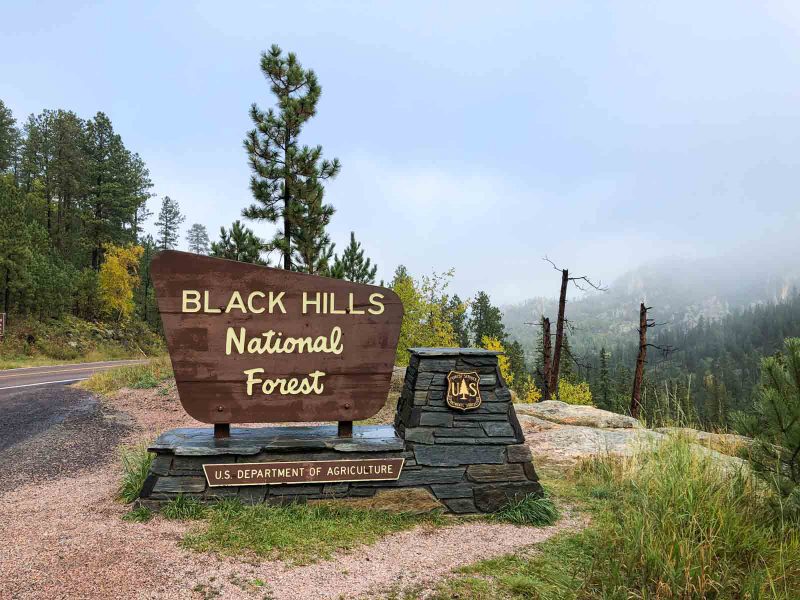 Today, the splendor of this captivating ecosystem attracts millions of outdoor enthusiasts every year. Hiking trails, rock climbing, camping, and wildlife sightings are just a handful of ways to enjoy the forest's beauty.
The majority of the things to do near Rapid City that are listed here are located in the Black Hills National Forest, just to the west of Rapid City.
3. Jewel Cave National Monument
The enchanting underground passageways of Jewel Cave have piqued the interests of explorers for generations. Boasting over 200 miles of mapped corridors, Jewel Cave is among the most significant cave systems humanity has ever discovered.
Lying beneath the beautiful Black Hills, this stunning world of rock formations and bright colors is full of mystery. Sparkling crystals brighten the hallways and box work, gypsum and flowstone are among other beguiling structures found along its walls.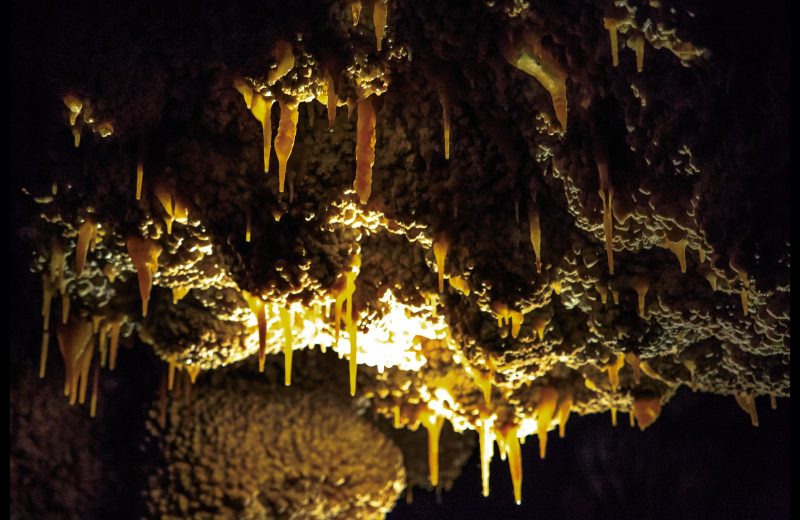 A guided tour of Jewel Cave is a highly rated educational thing to do near Rapid City that enriches your knowledge of cave systems. Your guide will teach you about each formation and lead you towards secret passages hiding in plain sight.
While Jewel Cave looked like it would have been a cool place to explore, it was unfortunately closed during our visit. We were able to roam around the visitor center and the surroundings but couldn't check out the real deal since it was closed for the season. Make sure to check before you visit.
READ MORE: Yellowstone National Park Itinerary + Yellowstone Country & Grand Tetons
4. Wind Cave National Park
Venture below the surface and prepare to stand in awe of this incredible cave system. Over 150-miles of discovered underground beauty makes this one of the world's most extensive caves. Not only is Wind Cave a refreshing escape from the heat, but you'll discover lots of peculiar formations along its walls.
You'll spot many strange box work formations that take a distinct honeycomb shape. This formation is a rare find and makes Wind Cave a particularly unique cave system.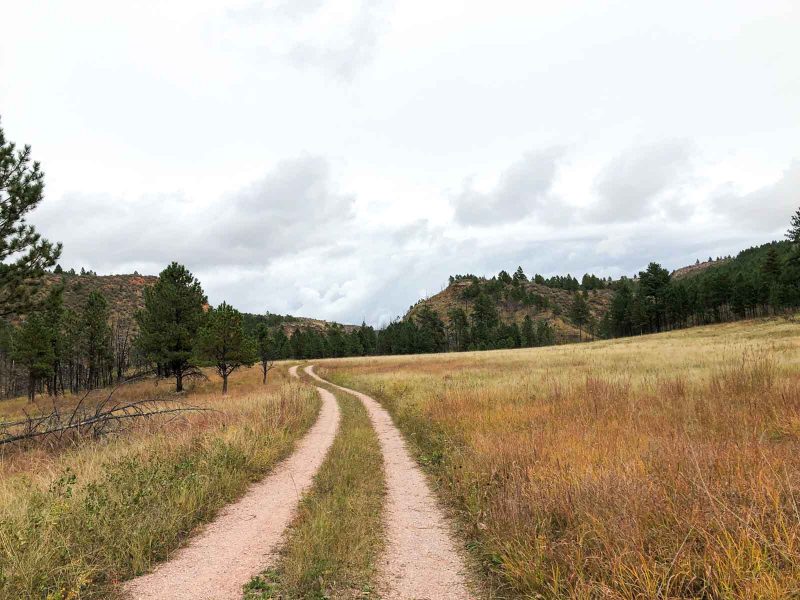 Above this endless stretch of underground passageways, the park contains a vibrant ecosystem home to a variety of animals. Bison, deer, coyotes, and other fascinating wildlife freely roam the grassy prairies above the cave.
Just as luck would have it, Wind Cave's elevator was malfunctioning when we were there. So here we are, at another cool spot with a cave, and we were unable to visit. Again, check before visiting if there are any issues to help better plan your trip.
There are a few trails in the area, and we went for a stroll instead. It started raining, so we headed back to the car only to find a bison blocking our path. We had to maneuver through the high brush to get around him!
5. Buffalo Roundup
Feel the ground shake beneath your feet at the annual Custer State Park Buffalo Roundup & Arts Festival. This cherished tradition is among the most exciting things to do in Rapid City. Thousands of gorgeous buffalo are led into the corrals to ensure the herd remains healthy.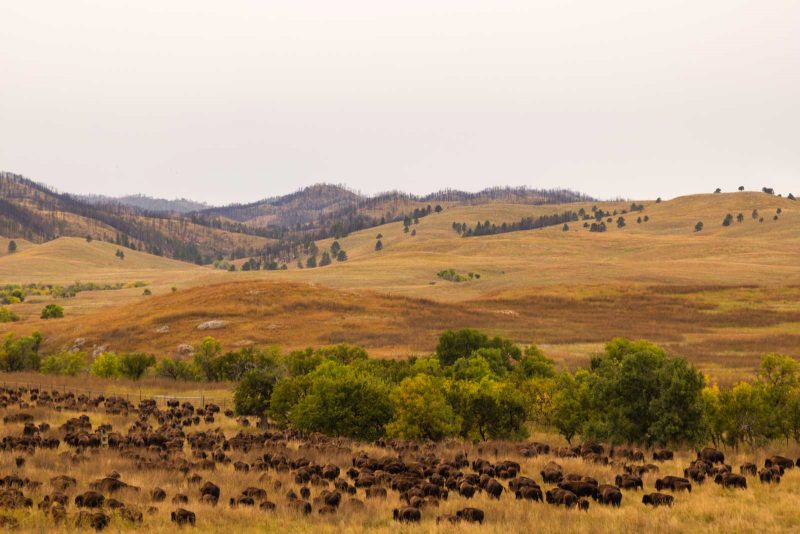 The weekend event is an incredible sight, and witnessing this many buffalo sprint across the plains is a breathtaking experience. Custer State Park accepts 20 riders from the public to participate in the event each year. The lucky few chosen to steer the buffalo must adhere to strict standards to join the roundup.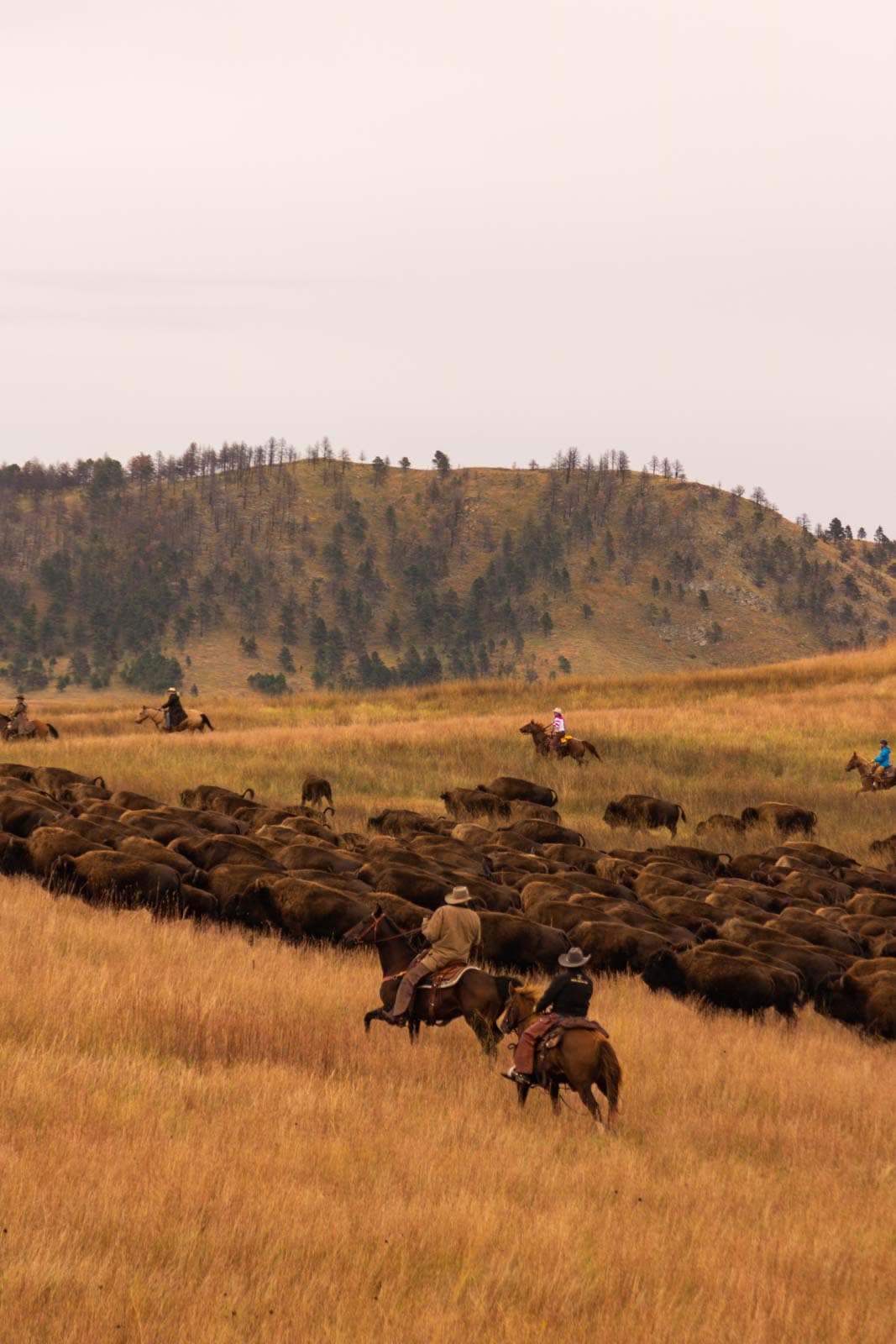 With roughly 20,000 spectators in attendance each year, the South Dakota economy receives a massive boost with the accompanying arts festival. Well over 100 vendors sell local handmade crafts and delicious food before the grand spectacle gets underway.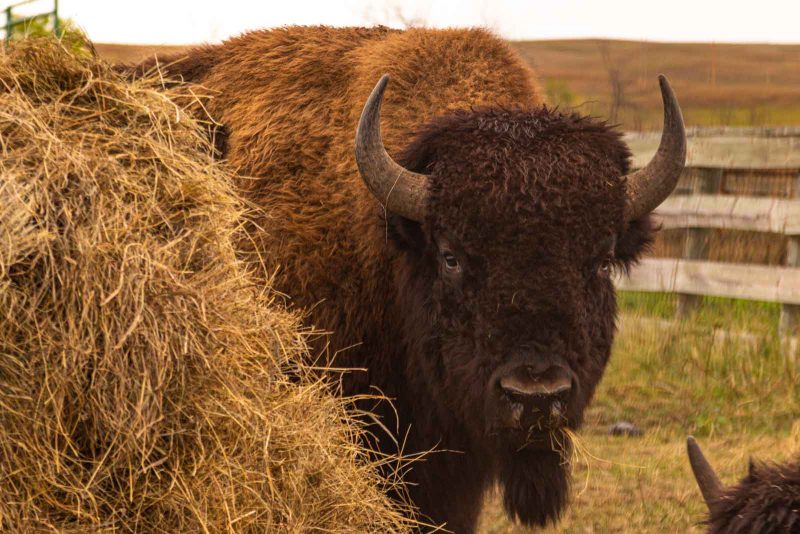 Tips:
Bring a folding chair because you may be waiting around for a while. A picnic blanket wouldn't be the best choice as it could be muddy (it was when we were here—surprise!).
Dress warm. It's likely to be cold, and when we were here, very wet too!
Get out early. Like VERY early. The regularly 30-minute drive took nearly two hours, and we were out the door at the right time.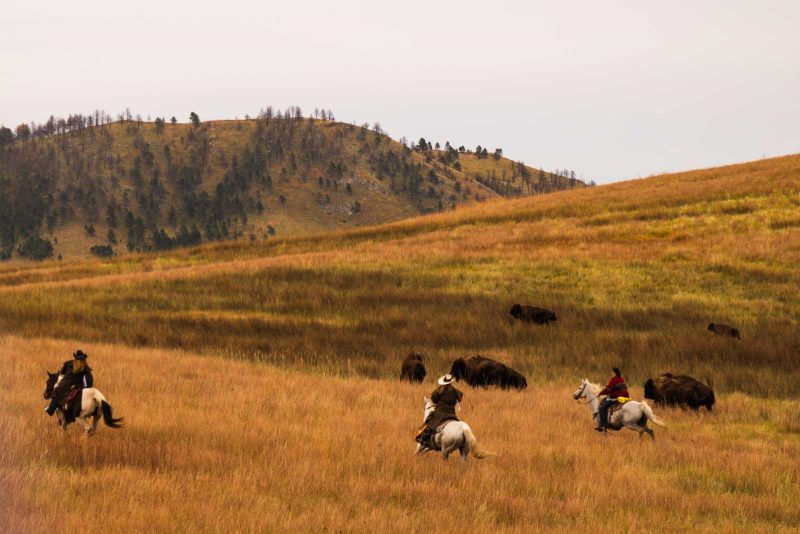 The towns nearby, like Rapid City and especially Custer, will be packed. Restaurants will have two hour wait times, hotels are booked, and it's all a bit crazy. Book your stay way ahead of time.
Adopt the name "beefy boys" for bison. Jess called them beefy boys ONCE on the trip, and we couldn't stop calling them that afterward. Promise it's super fun. How many beefy boys are you going to spot at the roundup? Aren't beefy boys so cute? Ah! It's just too fun…
6. Mount Rushmore
Four of America's most revered presidents are etched into a granite cliffside amongst the beautiful Black Hills. Exquisite carvings of George Washington, Thomas Jefferson, Abraham Lincoln, and Theodore Roosevelt overlook the landscape, and millions of yearly visitors honor these American leaders.
Gutzon Borglum, the sculptor who created the masterpiece, believed each chosen president represented ground-breaking achievements of American progress.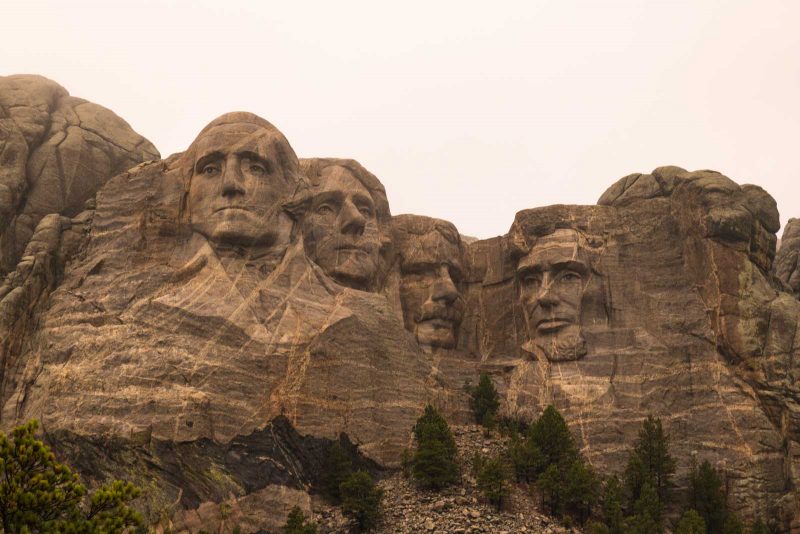 Outside of admiring the famous piece of art, a trip to the Sculptor's Studio is among the most educational things to do near Mount Rushmore. This fascinating experience gives you a glimpse into the intricate carving process that went into the monument.
To enjoy the gorgeous scenery surrounding Mount Rushmore, hike the Presidential Trail for a miraculous view of the craggy cliff.
READ MORE: Things to Do in Glacier National Park—Hikes, Camping, Tips & Itinerary (Montana)
Things to Do Near Mount Rushmore
Don't think Mount Rushmore is it! The area is gorgeous, and there are plenty more things to do around Mount Rushmore. The following are all a few minutes from the famous heads…
7. Crazy Horse Memorial
Korczak Ziolkowski first laid the groundwork for this astonishing carving of the legendary Lakota Sioux warrior in 1948. Over 70 years later, this enormous project has yet to be completed.
Family members of the talented sculptor have continued the project to this day. When the massive sculpture finally sees its completion, it will be the world's largest carving measuring 641 feet by 563 feet. The dimensions will completely dwarf those of Mount Rushmore.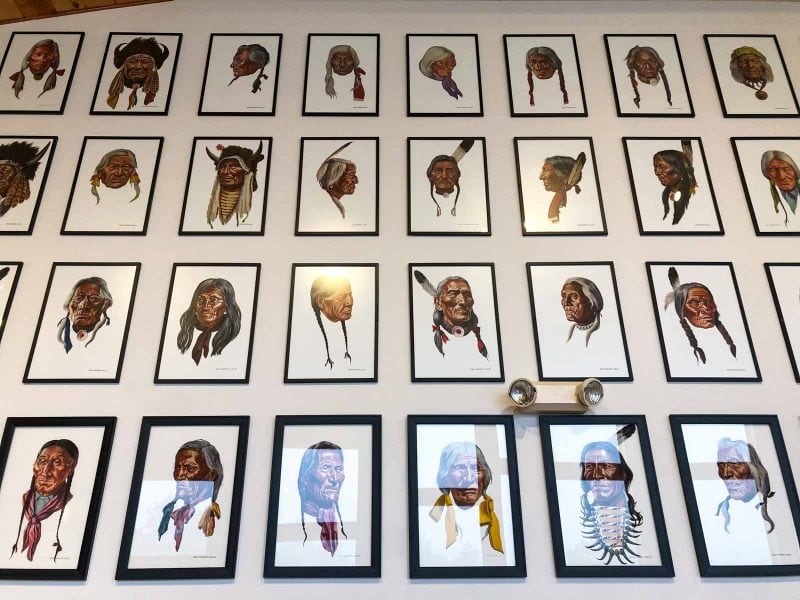 An exciting thing to do near Rapid City is climbing to the top of this remarkable memorial and studying its details up close. That opportunity arrives annually during the Crazy Horse Volksmarch. Two days each spring and one day each fall, thousands of hikers summit the monument. The 6.2-mile trek is a fabulous event to witness the continuing work in progress.
Aside from the actual memorial, there is a fascinating museum that shows a video of the making of Crazy Horse and who he was. While the history is important, the actual memorial may seem a bit underwhelming for some. First, it's a hefty $30 fee per vehicle (or $12 per person) to see a less than a half-finished memorial.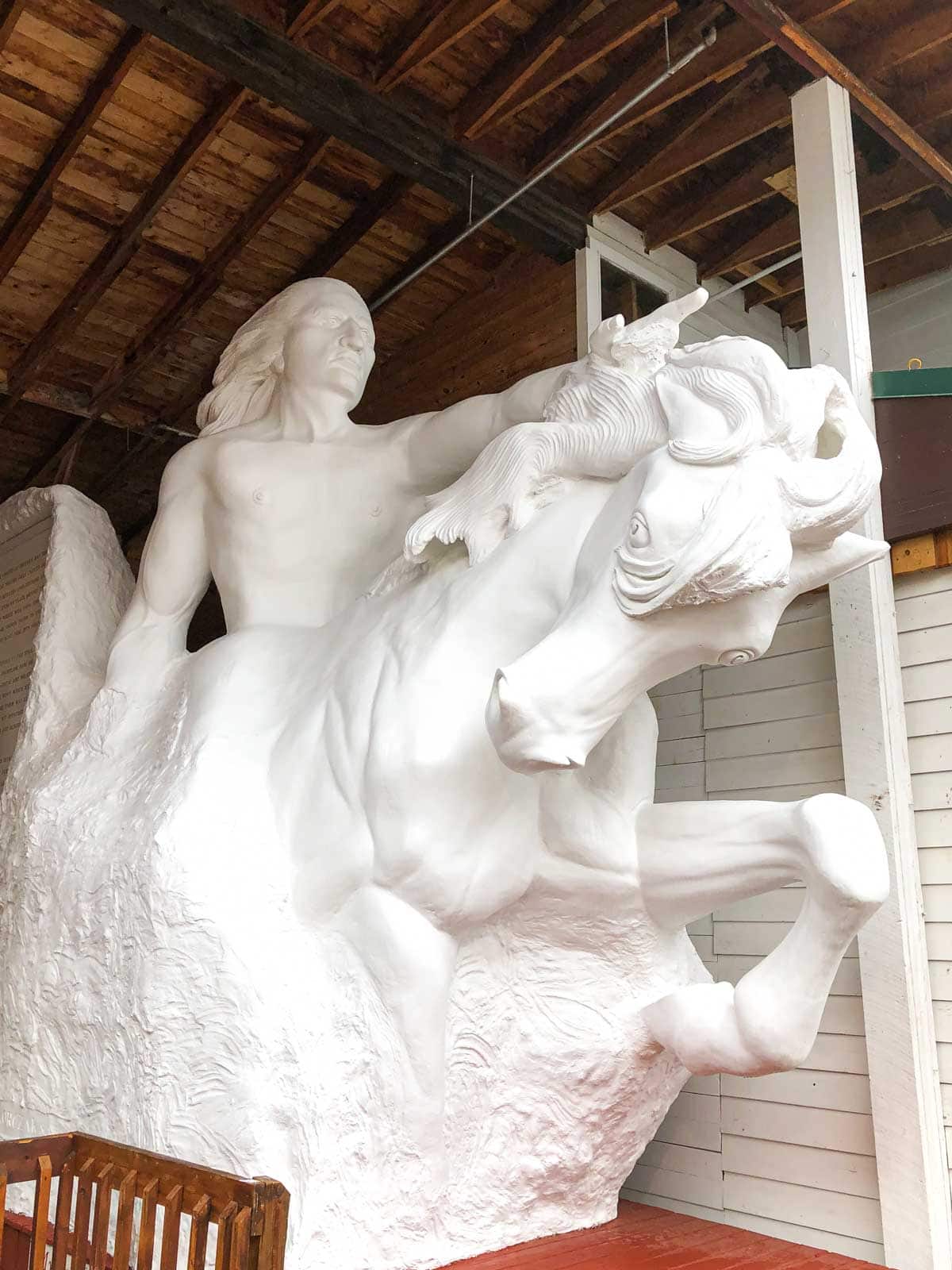 You don't get to climb it unless you come during Volksmarch, and there's even a tad bit of controversy as some say Crazy Horse didn't even like his photo taken, no less a carving of himself made.
With all of that said, we didn't even get to see Crazy Horse because if you haven't gathered from this post yet, the weather wasn't being nice. The thick fog prevented us from even seeing a sliver of the mountain; we literally didn't even know which way the mountain was the fog was so thick!
8. Needles Highway
Spanning nearly 14-miles through the majestic Custer State Park, Needles Highway (Hwy 87) is a scenic journey that is truly an engineering marvel. Many doubters claimed the construction of the byway to be a foolish endeavor, but its completion provided drivers an exhilarating route.
Prepare for drastic 180 degree turns, tunnels tapered by protruding rock walls and other harrowing challenges to test your driving acumen. The drive takes you through three astounding tunnels, the most notable being the narrow Needles Eye Tunnel.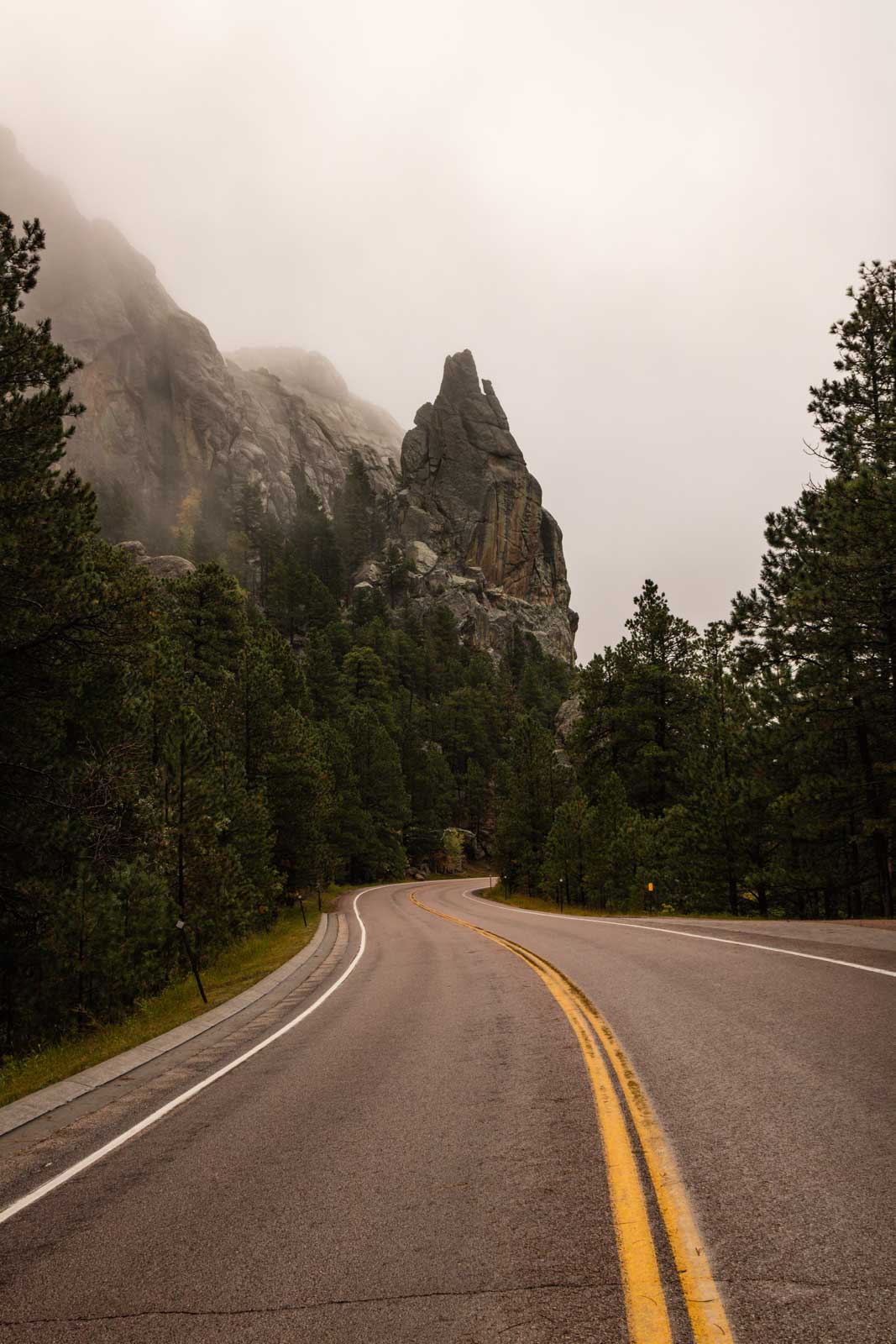 Slow and steady driving wins the day on this expedition as you pass countless awe-inspiring landmarks. Peaceful lakes and granite spires are among the most beautiful places to pull over and marvel at the remarkable scenery.
9. Horsethief Lake
Surrounded by enchanting pine forests, Horsethief Lake is the ultimate nature escape from the throngs of crowds congregating at Mount Rushmore. Located only two miles from the famous monument, the lake is the ideal camping spot for a peaceful trip in the outdoors.
Space is limited on the Horsethief Lake Campground, with only 36 campsites. Since its one of the popular things to do near Mount Rushmore (it's only 10 minutes down the road), proper planning will help secure a spot.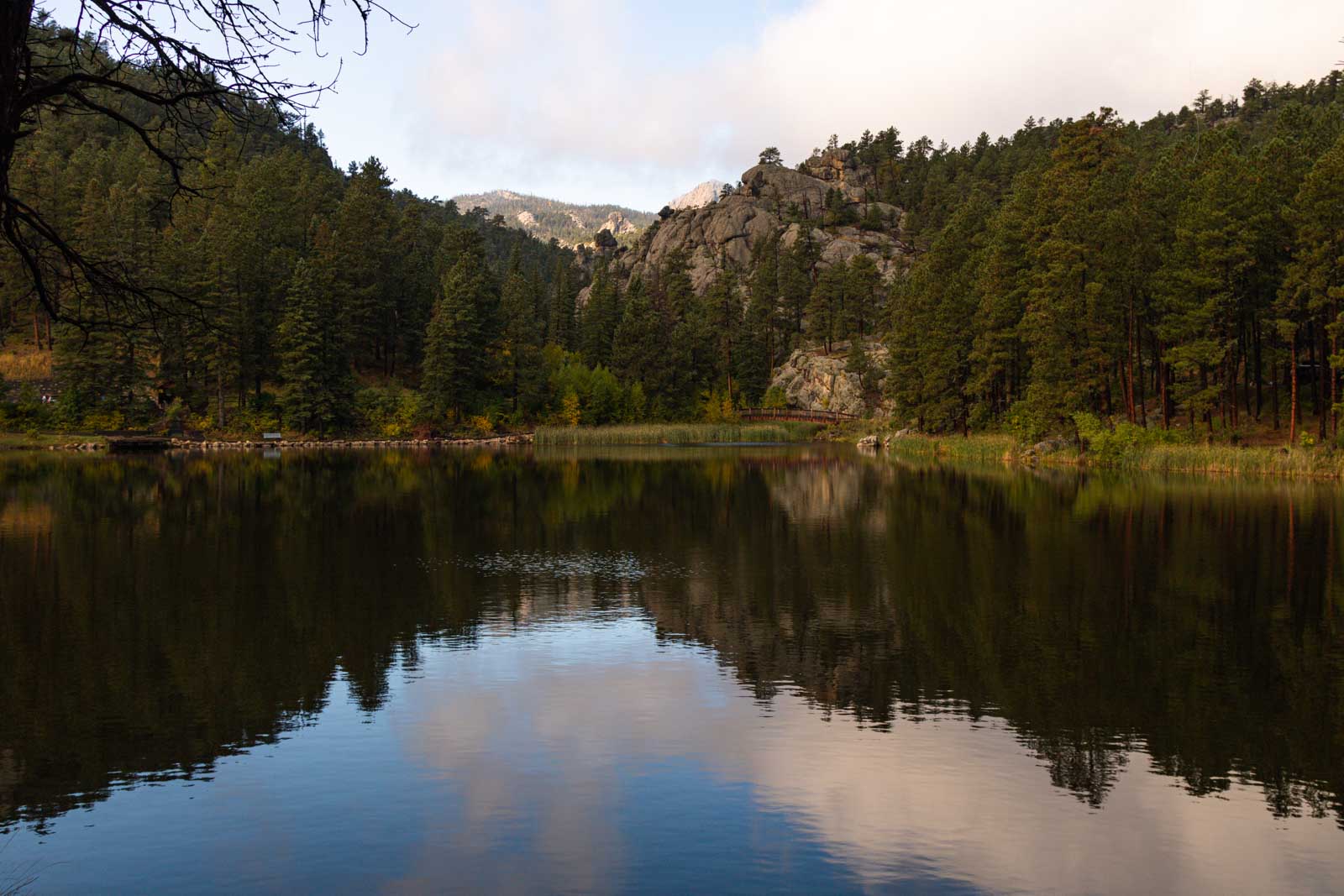 You'll find endless recreational opportunities near the lake, including hiking, fishing, mountain biking, and horseback riding. Interestingly, horses have played a role at the lake since the Old West is a common gathering point for horse bandits in the late 1800s.
There's a short trail that goes along the south end of the lake and a few other trailheads that start here. The Horsethief Lake trail is a 5-mile out and back easy trail with views along the way.
10. Sylvan Lake
This beautiful swimming hole is among the most enjoyable things to do around Mount Rushmore for nature lovers. Visitors to Custer State Park spend sunny days relaxing along the lake's shores while admiring rocky vistas. Its beautiful surroundings of tranquil forests and granite walls create a cornucopia of outdoor activities.
The lake gained its moment on the big screen when it was featured in the film "National Treasure 2: Book of Secrets." Even before its Hollywood appearance, Sylvan Lake was a popular retreat boasting the iconic Sylvan Lake Lodge.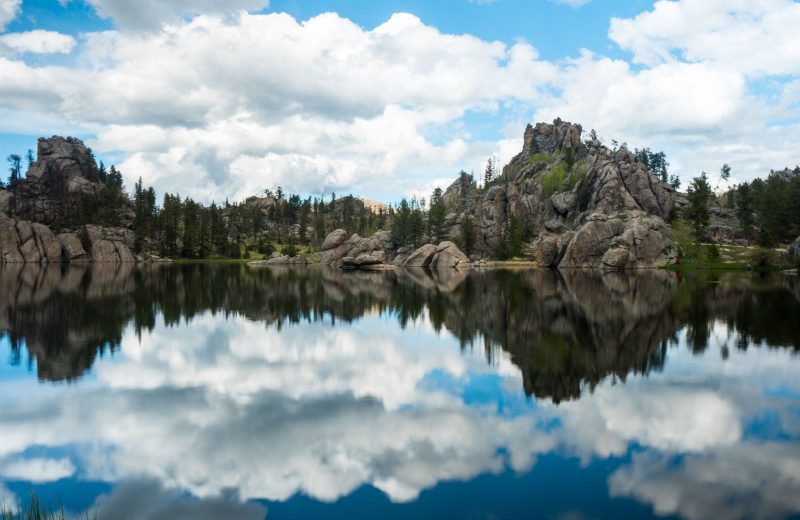 Canoes, paddleboats, and other non-motorized vehicles can be rented if you don't fancy a swim. Rock climbing and hiking trails offer more lakeside fun, and there are plenty of places for a refueling picnic.
11. Cathedral Spires Trail
Distance: 1.6 miles
Type of Trail: Out & Back
Difficulty: Moderate
Although not a lengthy trek, the Cathedral Spires Trail gives hikers splendid views of jagged spires that overlook the valley. Poles for this trek could be of value for less experienced hikers due to the rocky incline. Nevertheless, the final ascent provides the reward of glorious vistas featuring the granite spires and the cozy town of Custer.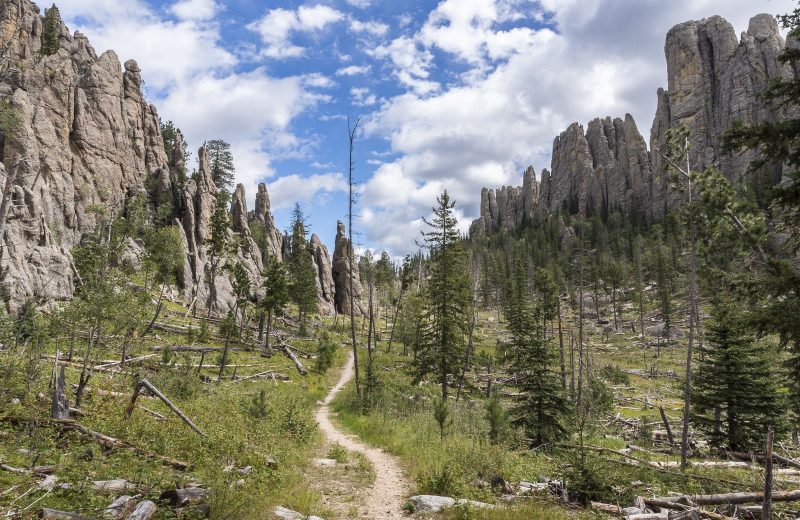 A detour meandering off the primary trail leads to Little Devil's Tower. The path brings you face to face with the miraculous rock formations, and you get a sense of their incredible size.
With towering spires surrounding the trail, there is ample opportunity for rock climbers to sharpen their skills. The Cathedral Spires area offers dozens of climbing routes that are suitable for all skill levels. With some of the lengthier routes in the Black Hills National Forest, climbers will have a field day off the trail.
We were dying to do this hike and attempted to a few times, but the constant rain and fog we experienced during our time here just didn't allow for it. Womp womp.
A Day Trip From Rapid City
The Black Hills are undoubtedly the highlight of Rapid City. Going west from the city greets you with tons of incredible views and adventure. But when you go east, the things to do start to dwindle. There are two main things to do from Rapid City when going east, and they would be a shame to miss!
12. Wall Drug Store
This remarkable roadside attraction is a unique thing to do near Rapid City. What started as a simple drug store in the podunk town of Wall became a global phenomenon attracting millions of curious visitors.
Ted Hustead, the store's original owner, placed a highway sign advertising free ice water to attract customers. The bewildering success of the painted sign inspired Ted to dot the nation's highways with thousands of creative ads.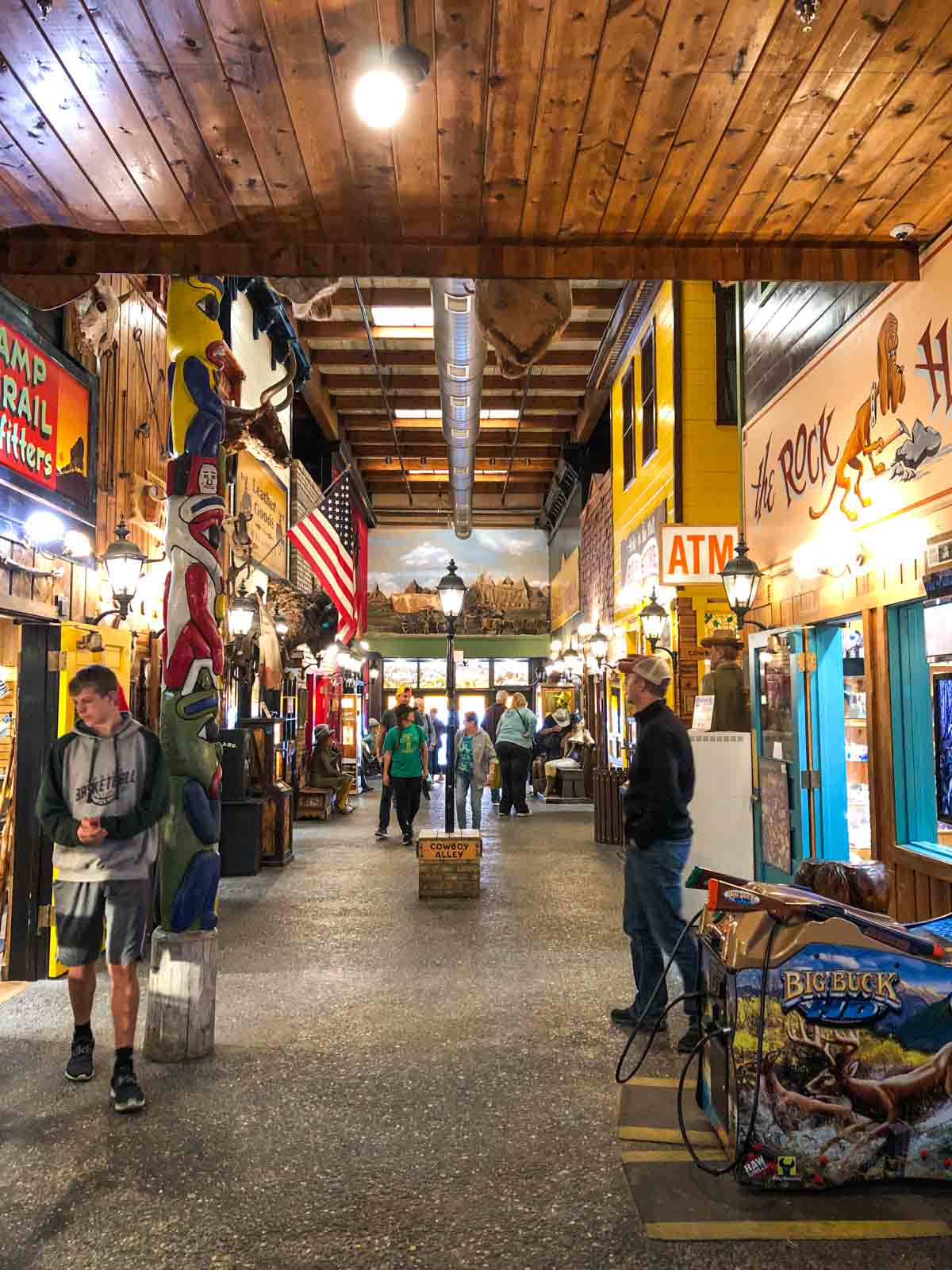 Catchy slogans and friendly service attracted ambling travelers to make a pit stop at the humble store. Thirsty drivers stumbled into the store to sip on ice-cold water, grab an ice cream cone, or a refreshing soda.
Today, Wall Drug has transformed into a global icon featuring 18 retail outlets, a restaurant, gift shop, quirky mechanical animals, and lots of refreshing treats for wandering travelers.
This is the place to visit before or after the Badlands to grab some snacks and drinks.
13. Badlands National Park (Everyone's Fav Thing to Do Near Rapid City!)
Spread across the sweeping prairies of South Dakota, the Badlands National Park consists of many striking rock formations rising into the sky. A mysterious aura permeates the isolated landscape as you navigate its lonely roads.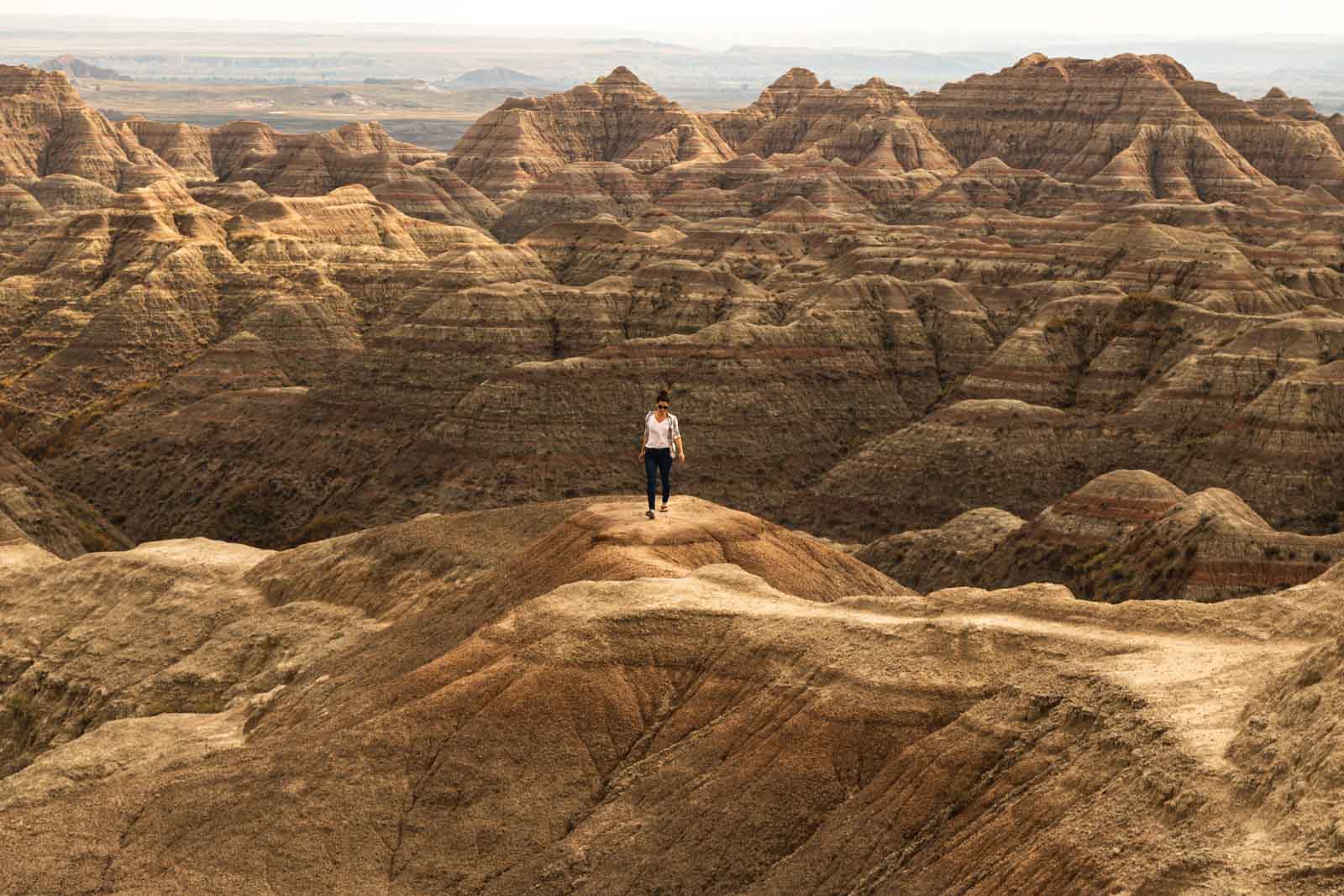 Driving through this rugged terrain is possibly the most beautiful thing to do near Rapid City. Its steep canyons, colorful striations, and sharp spires seem like you've been transported to another dimension altogether. Breathtaking hues of red, yellow, orange, purple, and white show evidence of the perilous conditions that constantly hammer the Badlands.
A closer look reveals stunning fossil beds that are among the most well-preserved in the world. Remnants of animals who walked the plains long ago are still being discovered to this day.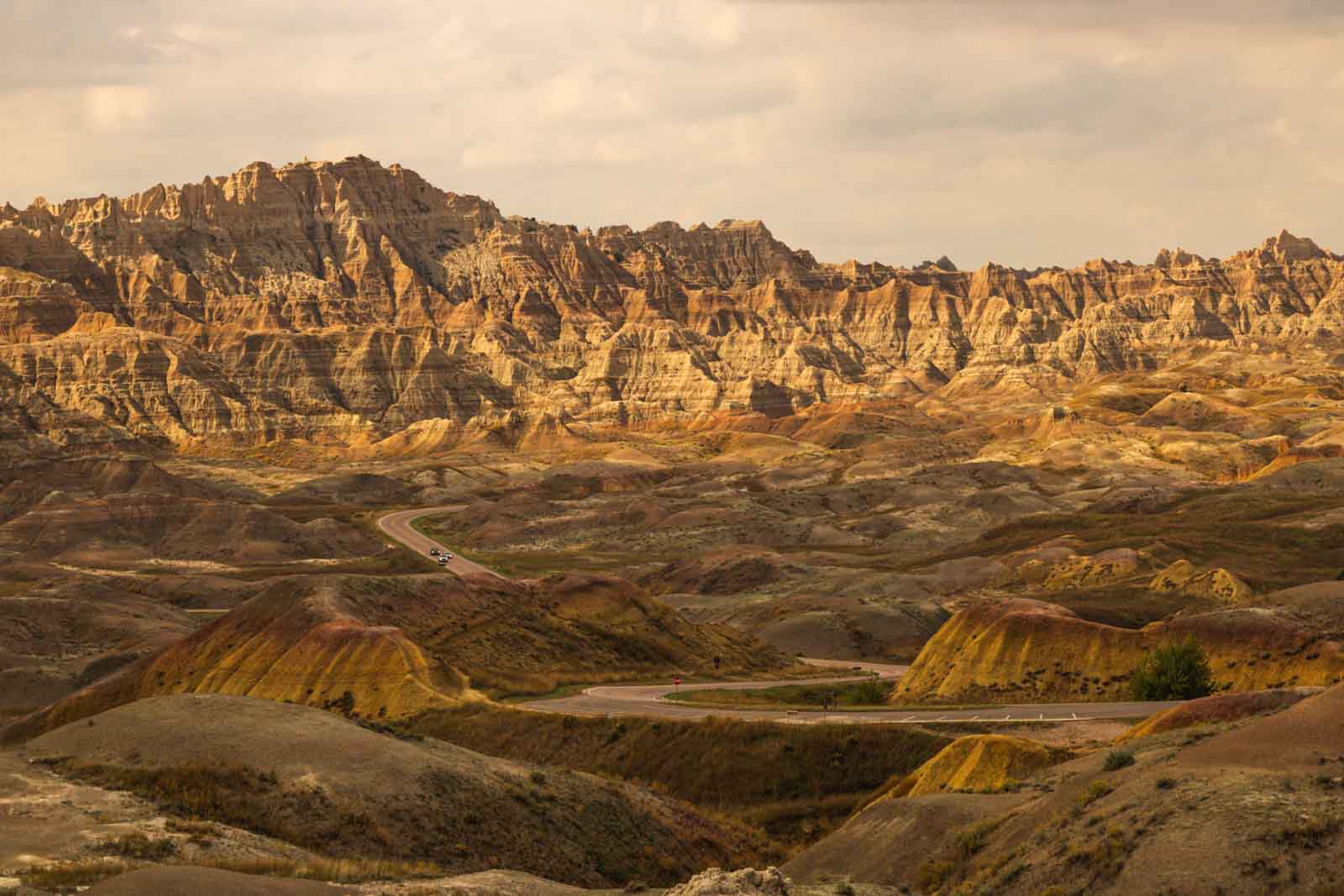 Take the Badlands Loop State Scenic Byway and marvel at the bewildering landscape at 16 designated viewing areas. The 39-mile loop stops at numerous hiking trails where you can explore these extraordinary landmarks on foot.
How to Tackle Badlands National Park
This has got to be one of the easiest National Parks to navigate. There's a single road that weaves through with parking spots for you to get out and do a short hike. It's that easy! It's impossible to get lost, and there are no detours here.
Drive down Sage Creek Rim Road and stop as many times as you'd like—Which will probably be pretty often. The drive itself is stunning, be careful, keep those eyes on the road. And the road is perfectly signed with stopping points to get out and stretch your legs.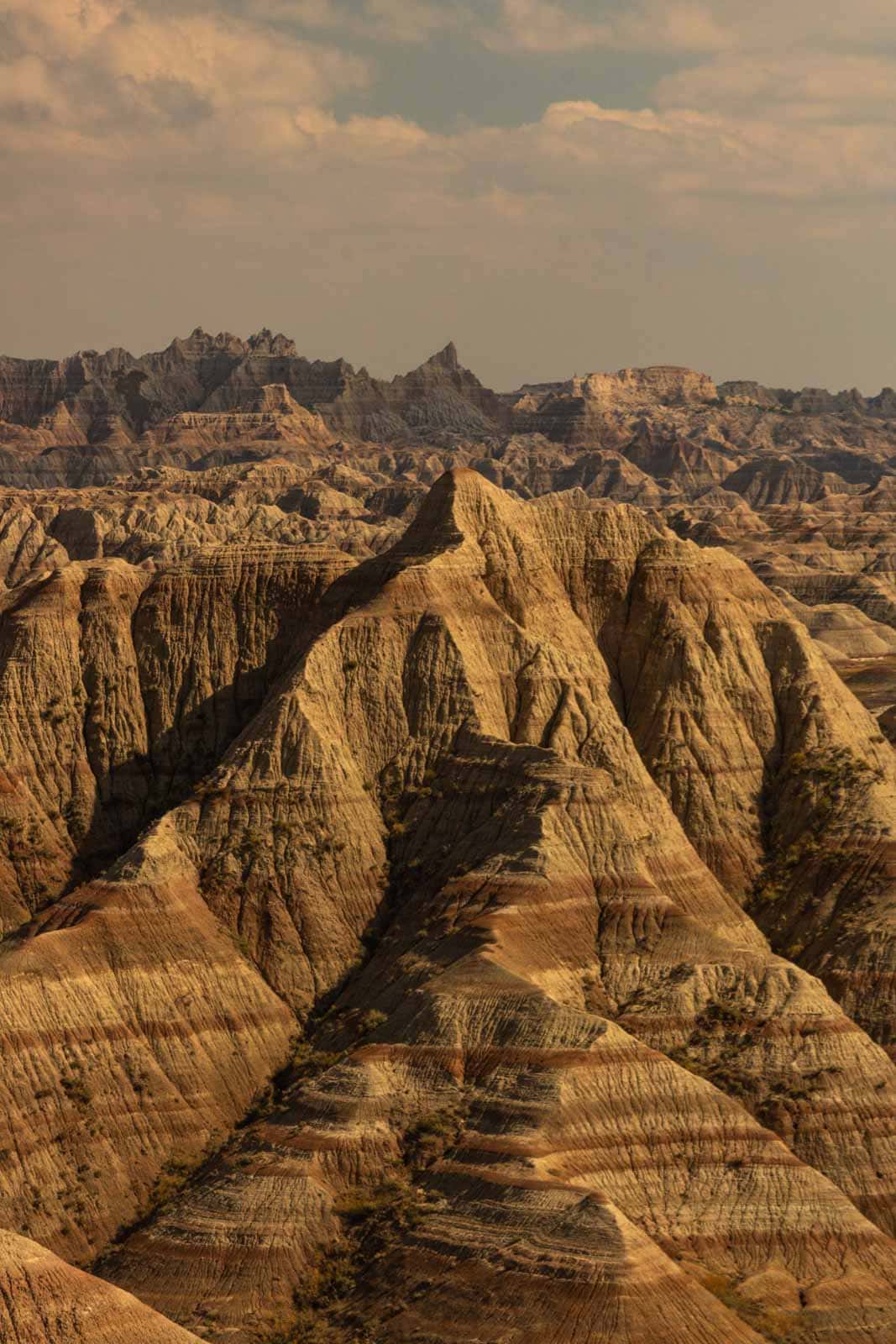 The hikes, or should I say, walks, are short and quick and a great way to get a closer look or a different angle of the wild landscape.
You'll need a day coming from Rapid City to see the entire park with doing the hikes and all. It's a quick, easy, and worth the one hour detour.
Where to Stay: Rapid City vs. Custer
While this post uses Rapid City as a "base" for its exploration, you can just as easily use Custer. In fact, we used both. So depending on how many days you have and what exactly you want to see, you can choose between the two. Or use both as we did.
Custer has your standard but reasonably priced and comfy Comfort Inn to stay at. The same level of comfort was found at the Rapid City Hampton Inn. You can't beat convenience, cleanliness, and reasonable prices, which they both offered.
The Comfort Inn in Custer even accommodated ALL the guests with an extra early breakfast for the Buffalo Round-Up.
How to Get Around
For car rentals in the area, I always check here first – it will give you a list of companies. Be sure to ask if they need any cars going a "certain way" if you want a different drop off location to avoid the one-way fee.
I hope this helped you plan your trip and gave you some ideas on the things to do in Rapid City and around.
---
---
Don't lose this! Click to pin it now.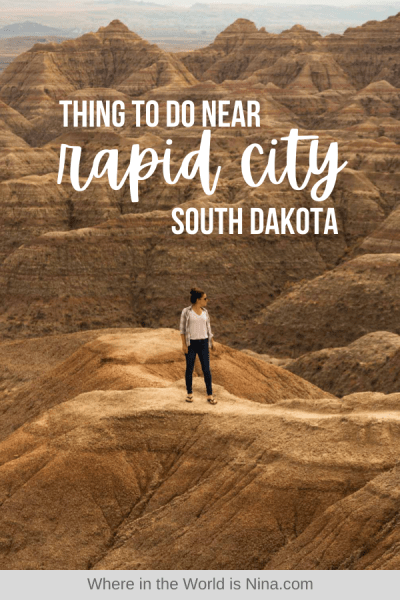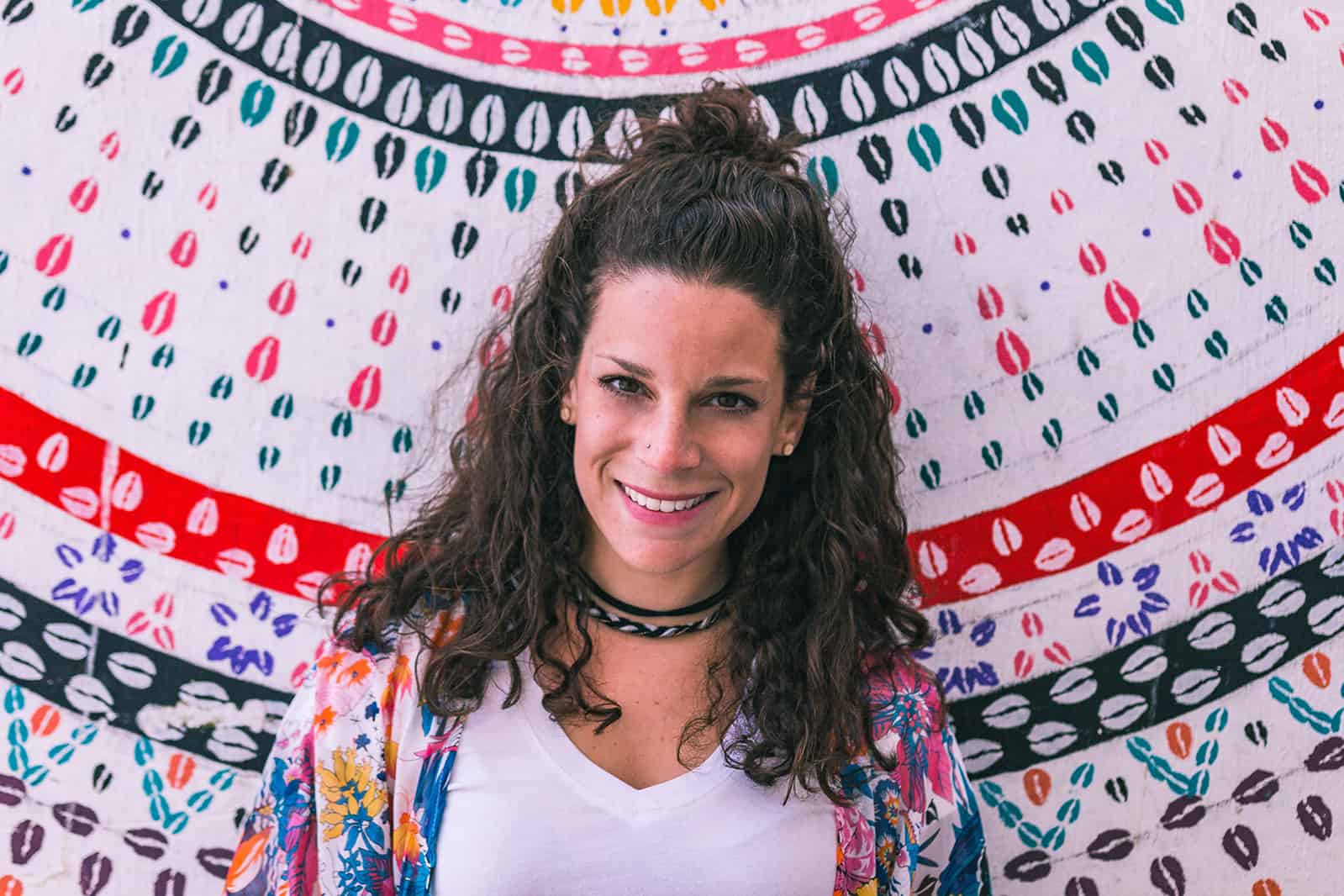 Nina Ragusa is an adventurer, messy bun master, breakfast fan, and full-time travel blogger. She's been abroad since 2011 and blogging on Where in the World is Nina? for nearly as long. Nina helps people like you move around the world while making money. She loves talking about how to work abroad and online to travel longer!