This hidden slice of heaven is pretty far under the radar and is known as a place for people to get away and relish in its seclusion and beauty. You can come here to feel as if you're a castaway without giving up on any of the comforts.
Anguilla is a place to adventure, relax, and to escape.
There are plenty of things to do in Anguilla but doing nothing while you're here is also completely acceptable! Here are some of the best activities, top Anguilla beaches, and some tips to help plan your visit.
Top Anguilla Beaches
---
Little Bay
Surrounded by high cliffs, this little hidden gem is like something out of a postcard. It takes some effort to reach, as you'll need some kind of boat or kayak to get there, but your efforts will definitely be rewarded as soon as you lay eyes on this little unspoiled bit of shore.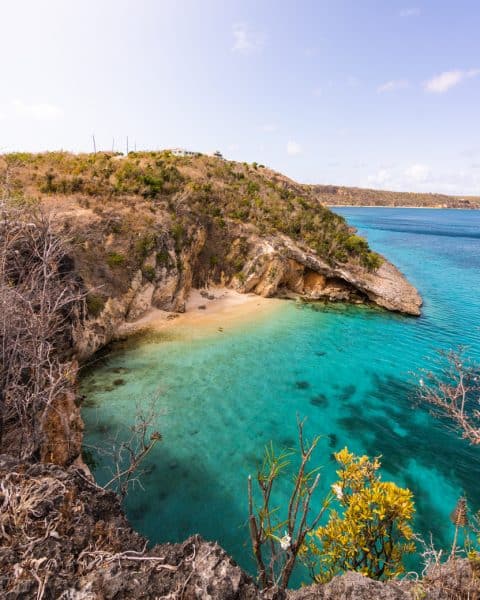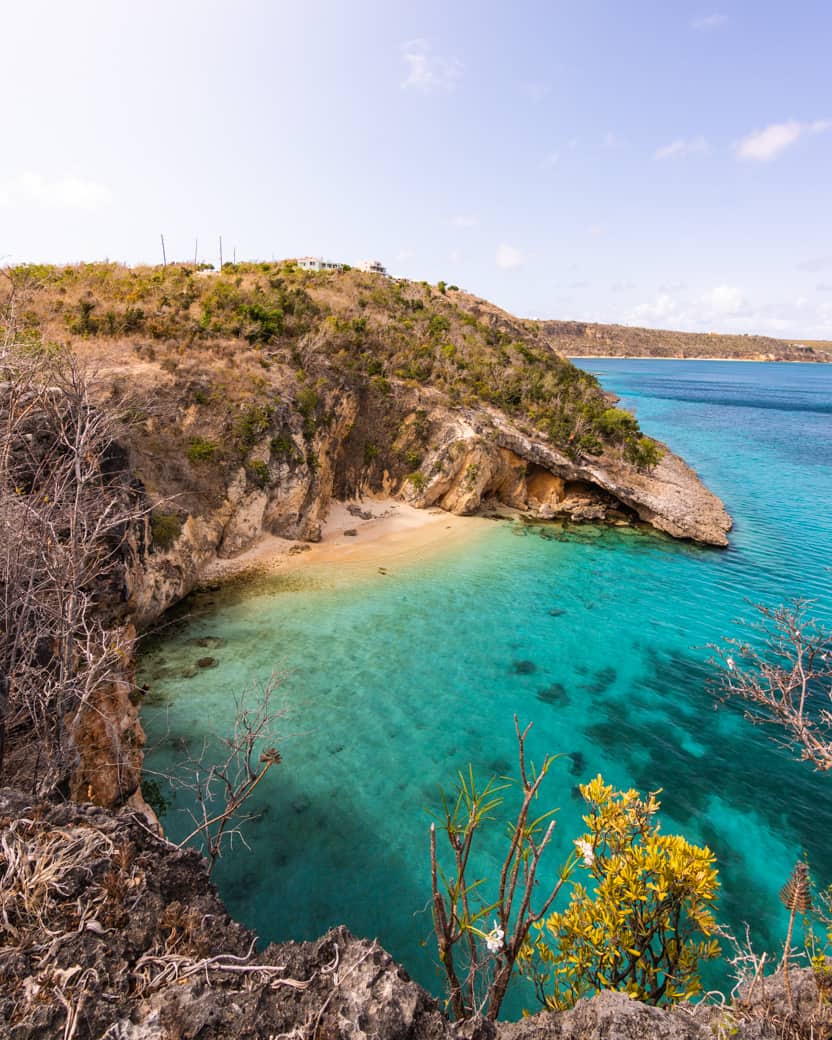 One of the most popular activities here is swimming to the rock just off the shore and jumping back into the sea. You can also snorkel along the rocks. If you're in your own car, you can stop off at a viewpoint just above Little Bay to get a preview.
Meads Bay
Bookended by two luxury resorts, Meads Bay is a sweeping stretch of sand and one of the most majestic on all of Anguilla. The semi-circle of perfect white sand is ideal for relaxation, with plenty of beach bars to help cool you down.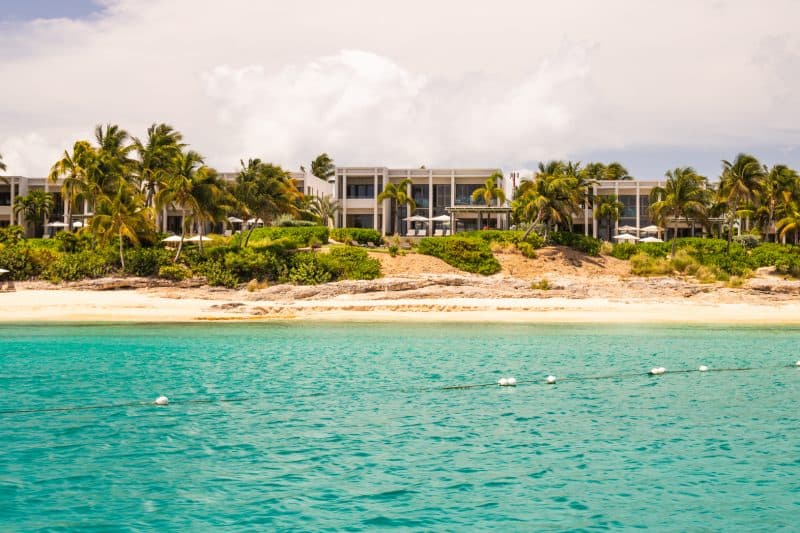 Located on the western end of the island, it is also known and loved for its aquamarine waters and stunning views. There are plenty of accommodation options at Meads Bay, but the most well known is Malliouhana, which put Anguilla on the map in the 1980s.
Crocus Beach
Although one of the busier beaches on the island, you'll still want to join the crowds on the sand. Surrounded by hills and hotels, there are plenty of amenities and places to stay.
Located on the southeast edge, it worth checking out even if you are not staying in one of the nearby hotels, even if it is just to grab a bite to eat in the Da Vida restaurant and sampling their delicious seafood salad. The beach has a buzzing vibe, but for those looking for something a little more secluded, it's here you can pick up a kayak to reach Little Bay, half an hour to the north.
Rendezvous Bay Beach
Facing the island of St Martin, Rendezvous Bay Beach is the longest of all beaches on Anguilla. The beach is postcard-perfect, white soft sand surrounded by palm trees and wild sea grape trees.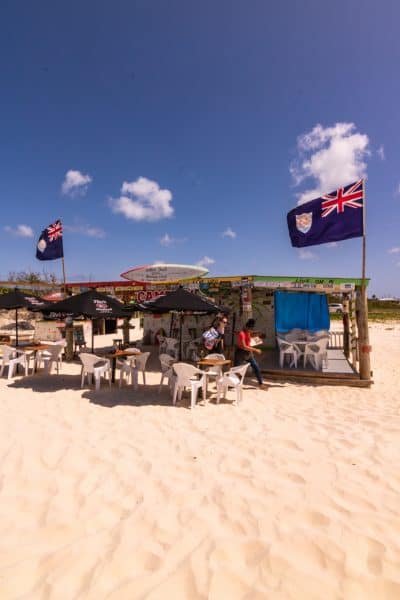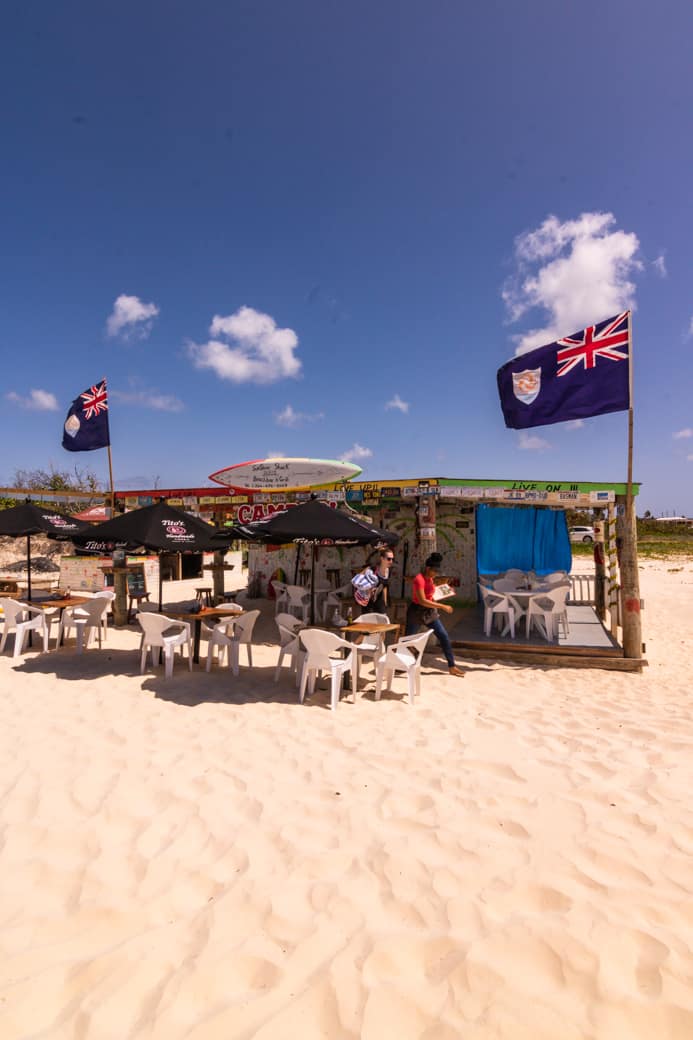 The vast stretch of beach is home to a number of resorts and plenty of beach bars such as the Dune Preserve and Garvey's Sunshine Shack. Once you get here there is no reason to move, unless you're getting up to eat your freshly grilled fish lunch or fancy snorkeling in the crystal clear waters.
Shoal Bay
Shoal Bay is located on Anguilla's eastern shores and stretches for 2 miles, all of which is covered in blinding white sands. The upper end has villas and cottages right up on the shore and can get a bit busier, however, the lower end is a lot quieter, and both have stunning sunsets night after night.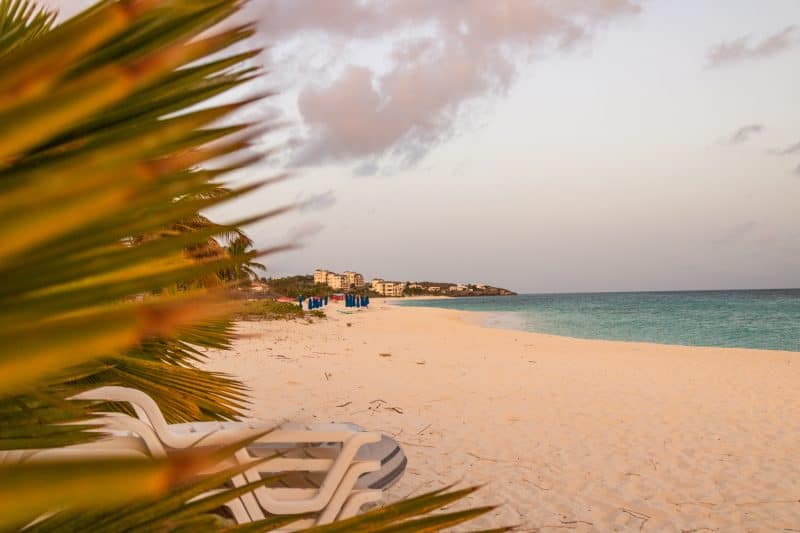 The sand is so sumptuous that you almost sink in right to your ankles. Sit back in a hammock under the shade of a tree or grab a beer and watch the world go by. It is hardly surprising that people come here just for a day trip from neighboring St Martin.
Prickly Pear
Prickly Pear is made up of two cays, the eastern and western. The western cay is uninhabited, meaning it is a haven for birds and wildlife or exploring the seas. The eastern is also picturesque and has two small bars, and the two are divided by a narrow boat channel.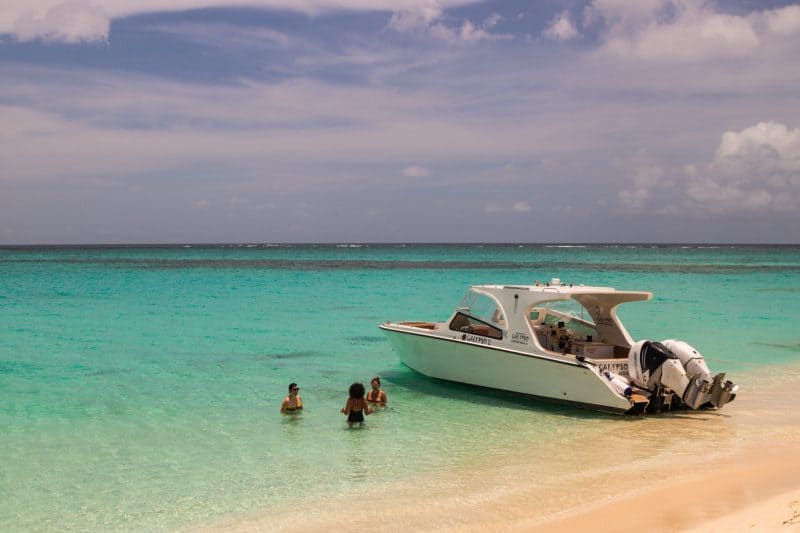 The western cay is the smaller of the two and is made up mainly of rocky coral reef and shrubs, however on the north side of the eastern cay, you'll be greeted with a beautiful, white beach with blue waters, ideal for snorkeling. Nesting birds are a common sight along the rocky coastline, making it a popular spot for bird watching.
RELATED: The Essential Beach Packing List (+ Fun Items and Tips!)
Sandy Island
Paradise can be found on Sandy Island Anguilla. Aptly named, this little bit of luxury offers white sandy shores, a lively beach bar and some of the freshest seafood around, and all of this offered up on a 250m long patch of sand.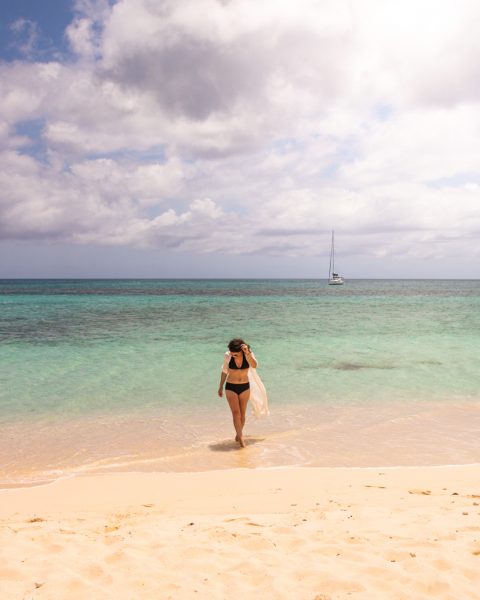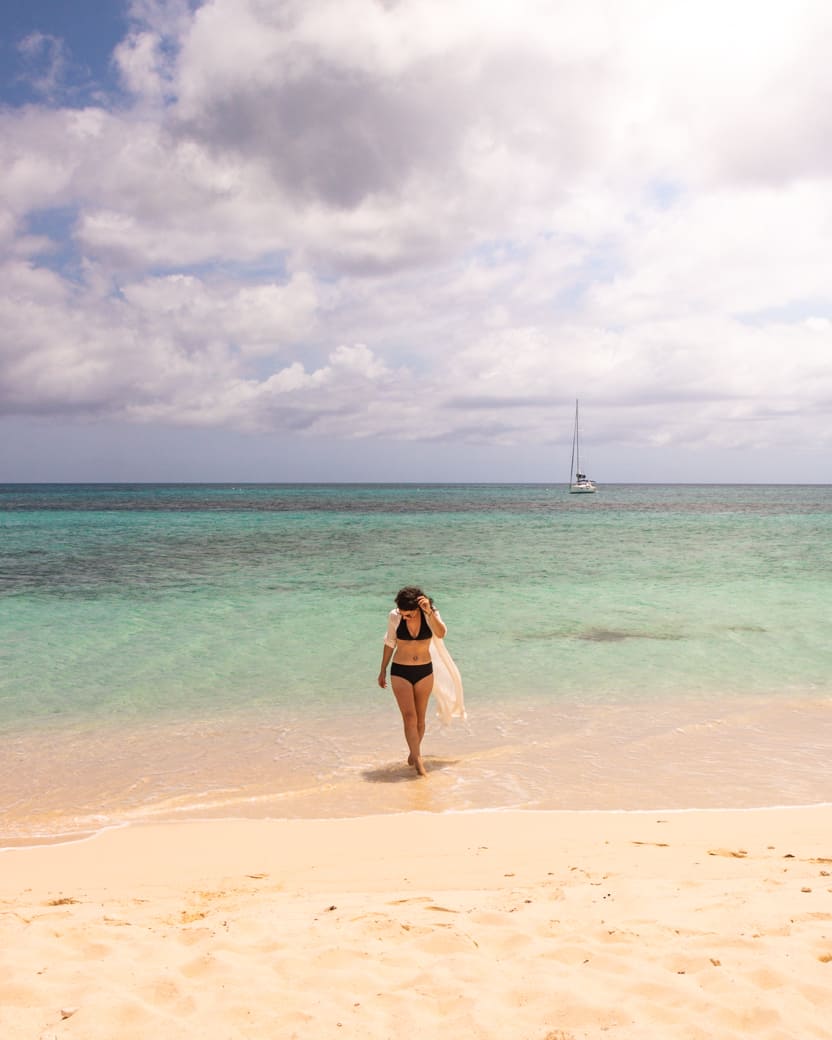 The island is just a short boat ride away, located 2 miles off of Sandy Ground Beach. There are plenty of beach chairs and beds available for those that plan on spending the day relaxing, or there is a volleyball available for beach volleyball, snorkeling and depending on the day, there may even be a DJ filling the island with song.
Despite being such a small island, it has been through a lot, destroyed by many storms over the years. Because of this, the restaurant and bar have been rebuilt a few times, yet still serves some amazing lobster and crayfish.
Maunday Bay
One of the premier spots to visit in Anguilla is Maunday Bay, and as soon as you lay eyes on the fine white sand, you will see why. It is positioned along the western tip of the island close to both Meads Bay and Rendezvous Bay.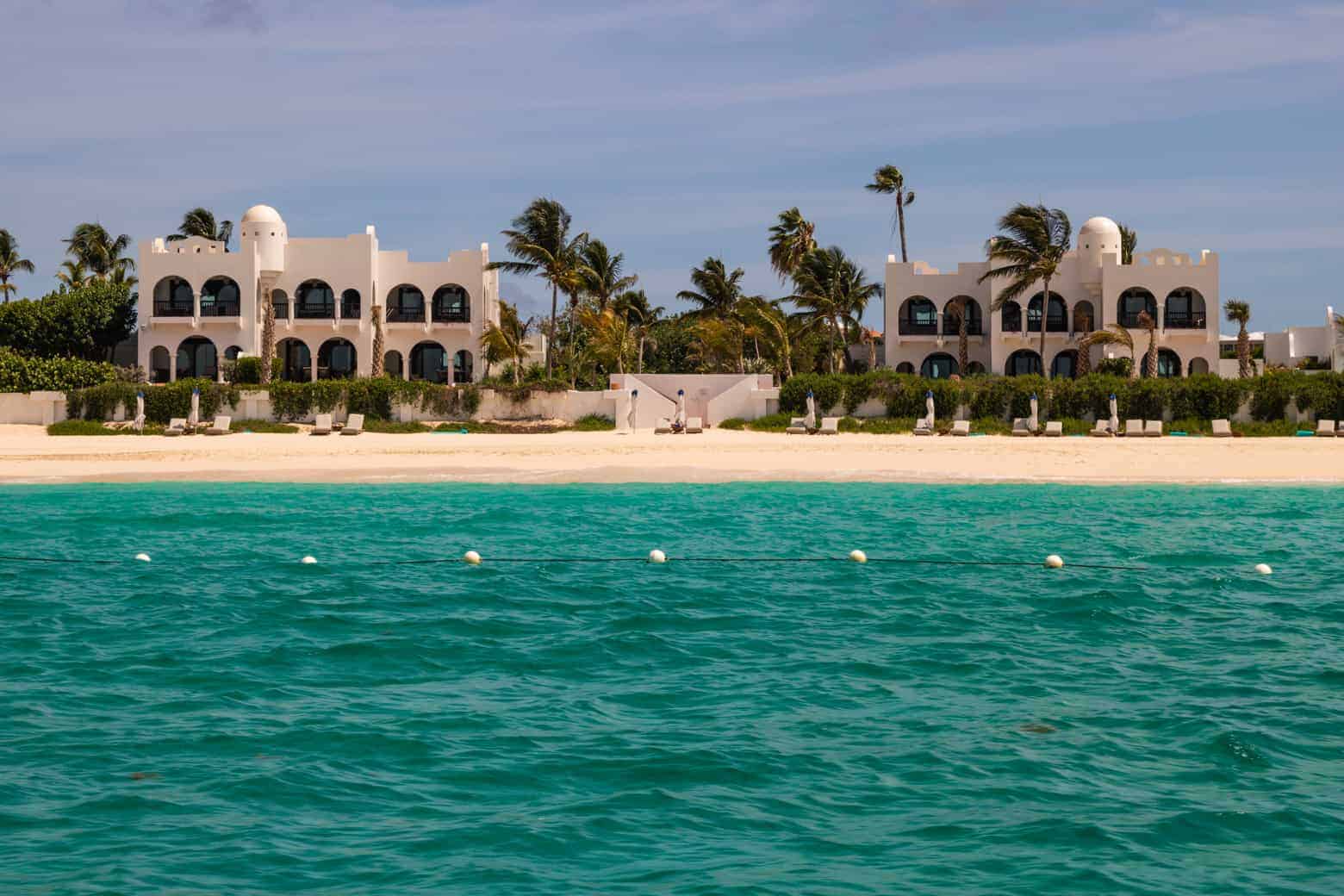 The shores are lined with upscale hotels and a number of beachside shacks, giving both a refined and relaxed atmosphere. The area is especially known for the variety of water-based activities that are available, with local rental companies willing to set you up with all the gear you need. It is here that the beautiful Belmod Cap Juluca resort is located.
Things to Do in Anguilla
---
Kayaking, SUPing, and Other Fun Water Sports
There will be plenty of opportunities to relax while hanging out in Anguilla and when you're ready to peel yourself off your sunchair, grab a board or kayak and head out on the crystal clear water.
Many of the beaches have watersport toys to rent for a few hours. Definitely rent kayaks on Crocus Beach and head to Little Bay.
ATV The Island
Yes, Anguilla is that tiny, an ATV is actually a perfect way to get to know the island. You can book a scenic tour and relish in the gorgeous views and beaches you'd never have known about without a guide.
Alternatively, you could rent the ATVs as your main mode of transport for a few days and explore the island solo. Reach out to Freedom Rentals to book an ATV.
Do a Day Trip to Sandy Island and Prickly Pear
You can hit up two of the most beautiful, serene, and best things to do in Anguilla in one day with a day tour out on these islands. This is what I did during my visit and it was a highlight.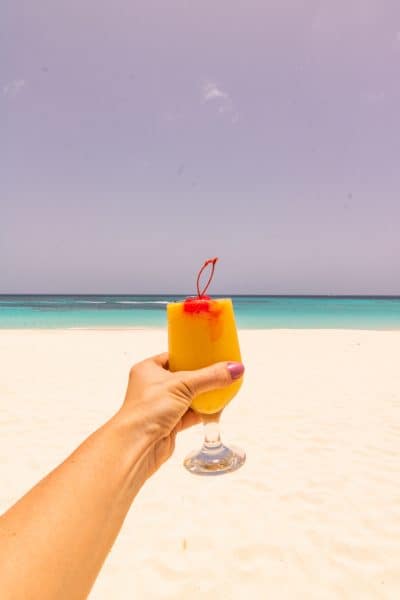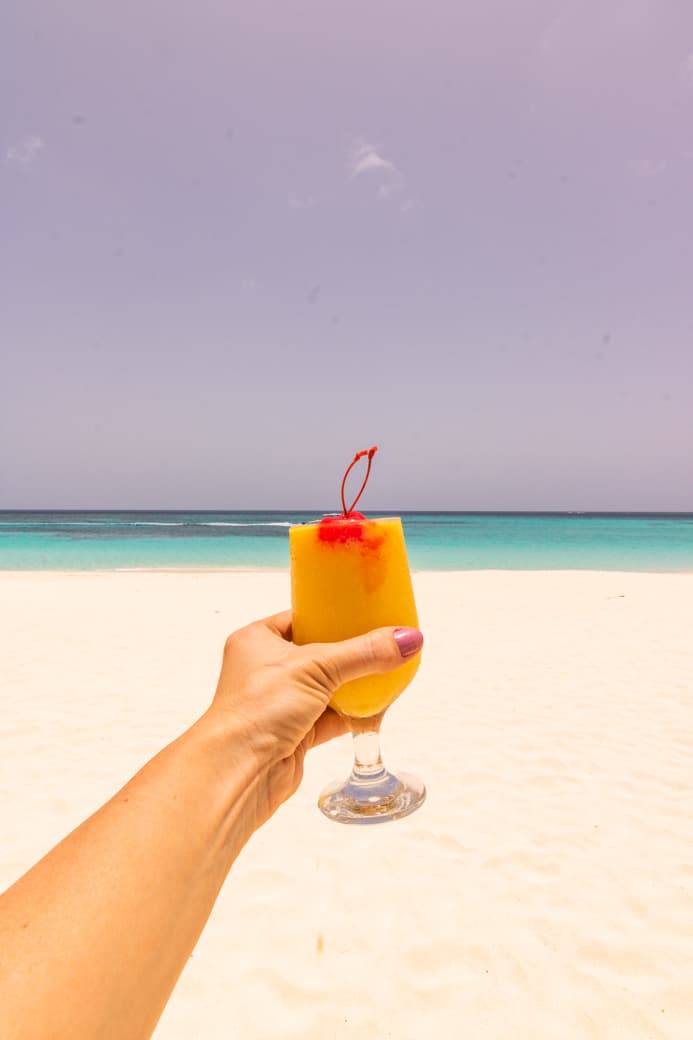 Boating around Anguilla and to the little Prickley Pear cays, snorkeling, walking along the rugged coast, and sipping on rum punch while feasting on lobster while on Sandy Island… Yeah, I'd say it's a pretty legendary day!
Here's all the info you need on taking a Sandy Island and Prickly Pear day trip.
Head to the Strip
Heading to The Strip while in Anguilla won't be anything like The Strip you have at home. The Strip here is the gathering spot for locals to grab grub and party until the sunrises. A few shacks, some market stalls and that's about it, this is the most happening area on the whole island.
The bars compete with who can blare their music louder and the air is filled with the smells of homemade feasts by restaurant owners… I enjoyed the Indian flavors at Good Korma, yay for vegetarian (and pescatarian)-friendly food! BUT I hear Ken's BBQ down the road is THE best place for BBQ. I can't eat anything there but if everyone raved about it, I feel confident enough to recommend it!
Eat Seafood and Johnny Cakes
There are TWO must-eats while on the island. The freshest of fresh seafood, in particular, mahi-mahi, snapper, lobster, crayfish, and marlin!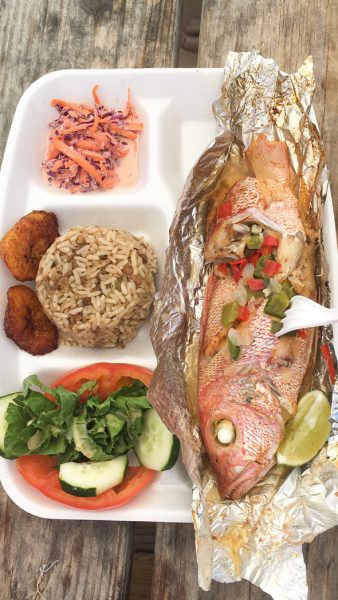 Then, to indulge in some doughy-goodness, grab an order of Johnny Cakes, it would be a sin to miss out on them.
Stay in a Villa
Yes, this is an experience all on its own! The villas around Anguilla are pretty next level and are 100% worth every penny. Get a few friends in on it to lessen the cost and you'd be paying a similar price at a hotel for the night but instead, you have a VILLA to YOURSELF.
Instead of trying to convince you here, just check out my post on some of the epic villas in Anguilla I got to stay in and visit. Start packing your bags!
Getting Around Anguilla
---
The best two ways to get around Anguilla is by taxi or by renting a car.
You can check out the best prices for renting a car in Anguilla here. It's very easy to drive and get around the island, just make sure to reserve your rental BEFORE you come as you don't want to be left stranded without a car because of limited availability.
You drive on the left-hand side of the road in Anguilla, and you'll also need to purchase an Anguillain driver's license. It's an easy process and will only cost about $15 and is good for three days. You can pay more for longer. You won't be spending much in gas either because the island is so small!
If you don't plan on exploring much and just want to live it up in your villa and hide from the world, that's fine too! You can also book taxis with Hughes Taxi Service (1-264-235-6888).
Tips for Anguilla
---
Don't Fly Here – No, I don't expect you to swim either, but definitely take the ferry. Flying here will be costly and can often take longer than the ferry from St. Maarten. Check here for more info on how to get to Anguilla.
There's EC and USD Here But… – Most people will simply use USD, so carry that around over EC. Even the ATMs will give you a choice between the two most of the time. Most people will use and display prices in USD so avoid the confusion of trying to convert to EC.
You Can Visit All 30 Something Beaches – … And nobody will tell you to go away, ever. All beach on Anguilla are public, even the ones that seem private because a resort is on it. Feel free to visit any of the gorgeous beaches here.
Bring snorkel gear – You can rent it too but if you have a set laying around the house, why not just bring it and snorkel anytime anywhere! I wish I had mine a few times while I was here. A GoPro would be a smart choice as well if you want any underwater pictures.
Bring $28 – For your departure tax when you leave Anguilla.
Which of these things to do in Anguilla are you most excited about? Let us know in the comments!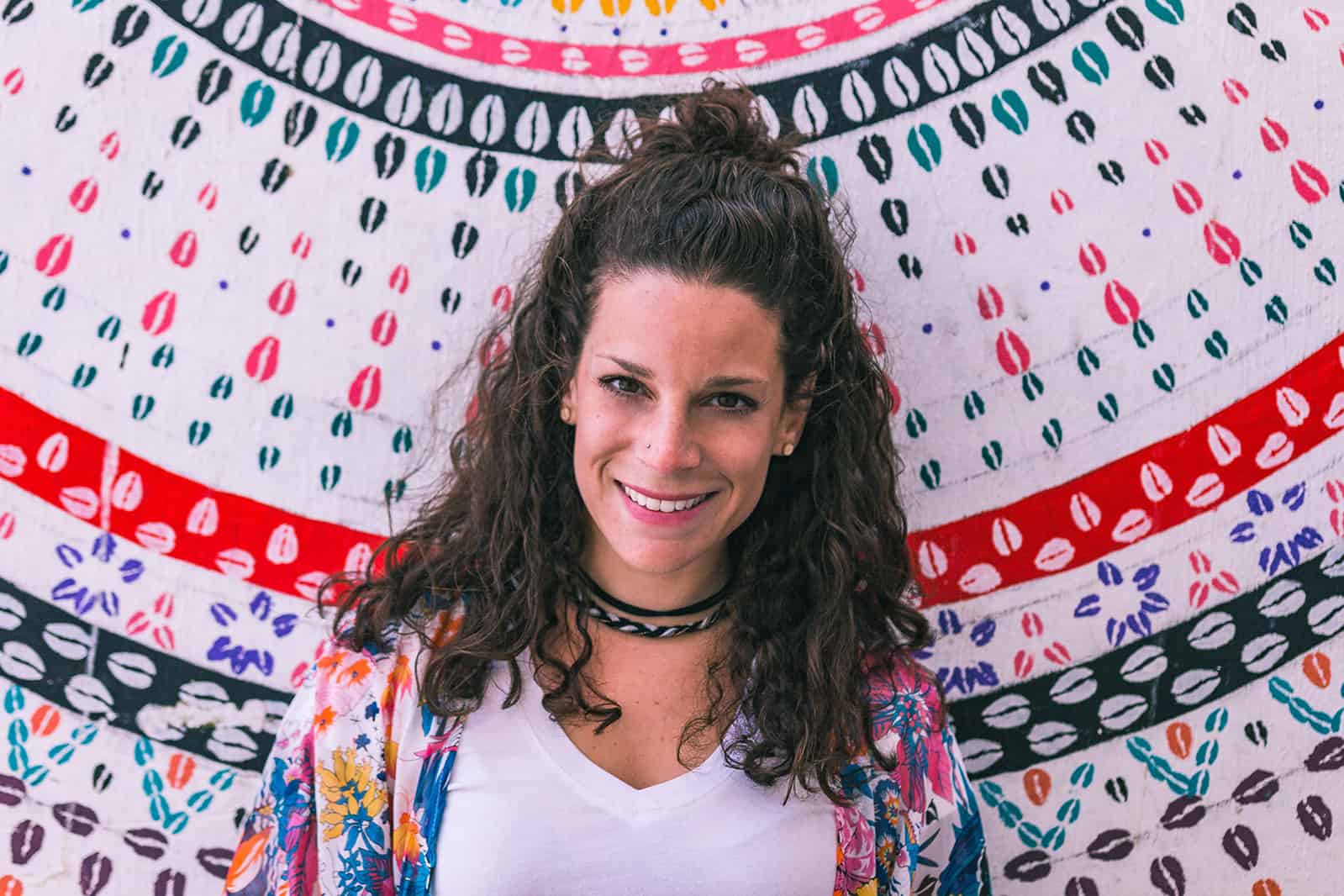 Nina Ragusa is an adventurer, messy bun master, breakfast fan, and full-time travel blogger. She's been abroad since 2011 and blogging on Where in the World is Nina? for nearly as long. Nina helps people like you move around the world while making money. She loves talking about how to work abroad and online to travel longer!