Finding the best travel cards so you can maximize your money abroad is not an easy task.
To manage, keep track of, and decide which banking cards and credit cards are best for YOUR type of travel can be… A LOT. I hope we can figure out the best cards for you here, right now!
If you're from the US, Australia, Canada, somewhere in Europe, or beyond, we have you covered in this article.
Let's start by breaking down some of the top banking cards AND credit cards and get you on your way to enjoying your travels.
The Best Travel Cards to Use Abroad
So as we know, there's a lot to know about card use abroad. In this post, we're going to talk about tons of options but not too many to reduce overwhelm, just the best cards and why you'd want to use them to travel with.
The two cards we're going to talk about are:
Bank cards – This is the card you'll need to use abroad to access your cash. Banks are NOTORIOUS for charging you money for using ATMs abroad, not to mention the ATM will also charge you! So below you're going to find the best cards to AVOID that happening.
Credit cards – It's no secret that credit cards can literally help you travel better and more! And (if you're a responsible credit card owner) the benefits are spectacular! So we're going to cover the best of the best below for you.
If you're worried I'm mostly going to blab on about the best cards for Americans, you're not wrong. BUT I enlisted help from my other blogger friends who are from all over the world to help us decide which cards are best for non-Americans too!
Use the table of contents below and click on your country if you're not from the US and want to know which travel cards are best for you.
Best Travel Cards – USA
Quick List of Travel Cards
These are my three MUST have accounts
No ATM fees when getting cash out abroad!
This is the easiest way to invest if you have no idea about investments!
Charles Schwab – Bank Card (The Only ATM Card I Need!)
American travelers may be keen to get their hands on a Charles Schwab checking account for one main reason: you don't have to pay ATM fees, ever.
No matter where you are in the world, pop your card into an ATM and don't worry about paying for it. If the ATM charges a fee (and trust me, 99% will), the bank will reimburse you the funds. For an avid traveler, this is a huge perk.
That's far from the only benefit, though. When you set up the account, you won't have to provide an opening deposit; in fact, there is no minimum balance at all. There is also no monthly fee that comes with the card and account.
You may only get this card to use abroad, but it's great to use in the US as well. If you ever need to go to an ATM, there's no need to "find your bank's ATM," literally just use ANY ATM you find and you won't be charged. There's really no downside to this card at all.
TIP: I'd open two accounts so you can have an emergency backup account. This way if you lose a card, you have another and can easily transfer money around. Just in case your card gets skimmed as well, you can have your money spread out.
Charles Schwab card at a glance:
You can add your card to your mobile wallet for a convenient and easy way to pay.
Unlimited ATM fee rebates all over the world.
No foreign transaction fees.
No opening deposit is needed.
No fees or account minimums.
Use the Schwab Security Guarantee. The company will cover any losses in your Schwab accounts if there is any unauthorized activity on your accounts. Schwab automatically provides this protection.
You can manage all your money in one place, as you only need one login to access multiple accounts.
It is straightforward to contact the customer service team thanks to the 24/7 online chat. (There are no branches to walk in it, not that you'd ever need one!)
Download free, easy-to-use apps on Android and iOS devices to make your banking experience a little easier.
If you go into your overdraft, the company may take funds from other linked accounts free of charge.
Chase Sapphire Reserve & Preferred – Credit Card (I Used This One For Years)
The Chase Sapphire Reserve® and Chase Sapphire Preferred® Card are great cards for traveling, coming with a whole range of fantastic perks. Both are great for traveling, but Reserve comes with better travel-related perks, such as points that are easy to rack up annual travel credit.
You'll also get cool benefits like lounge access and up to $100 reimbursement every four years for application fees to things like Global Entry and NEXUS to make traveling that little bit more stress-free.
Both have their perks, but it does seem as though the Reserve comes with benefits geared towards those that travel more frequently and are very thankful for any little advantage they can get.
Chase Sapphire Reserve & Preferred Cards at a glance:
Both cards come with an incredible sign-up bonus. The Preferred offers you 60,000 bonus points after you spend $4,000 on purchases in the first 3 months from account opening, and Reserve offers you 50,000 Chase Ultimate Rewards® Points after you spend $4,000 on purchases in the first 3 months from account opening.
Earn plenty of rewards through making purchases.
Reserve gives you $300 annual credit, automatically applied to travel spending.
Get access to more than 1000 airport lounges across the world.
When using the Preferred card, every time it is an account anniversary, earn bonus points equal to 10% of the total purchases you made the year before.
Both have 1:1 transfer partners.
Preferred offers $50 annual credit on hotel stays if you purchase them through Ultimate rewards.
With a reserved card, you will access the Reserved by Sapphire restaurant booking feature.
The Preferred card comes with more perks for everyday spending, such as 3 points for every $1 spent on dining, select streaming services, and online grocery purchases.
Earn some big points with the Reserve, such as 10 points per $1 spent on Chase dining purchases, hotel stays, and car rentals purchased through Ultimate Rewards. 5 points for every $1 spent on air travel, and 3 points on travel and dining not booked through Chase, and 1 point per $1 on other purchases.
Learn more about the Chase Sapphire Reserve and Chase Sapphire Preferred cards.
Capital One Venture X – Credit Card (This is The Card I Use NOW!)
It seems as though the Capital One Venture X Card basically wants to reward you for traveling, so what is not to love? You may get bored of reading the long list of benefits this card offers, so it is hardly surprising that this is my preferred card!
This is just as good as the Chase Reserve mentioned above except a bit better which is why I made the switch.
Compared to other similar cards, the annual fee is lower than some of its competitors, and the list of benefits certainly makes the fee worth it. Whether you are a luxury traveler or prefer to stick to a budget, this card is perfect for any adventurer who aims to explore the world.
It is Capital One's first venture into the world of premium travel cards, and it is safe to say that they have done an incredible job, covering all the perks that you would expect would come with this kind of card, a lot with a few extras that are a nice little bonus.
Capital One Venture X Card at a glance:
Benefit from an early spend bonus of 75,000 bonus miles when you spend $4000 within the first three months of opening your account.
Every year, starting on the first anniversary of getting your card, you will earn points equivalent to $100 towards travel.
Claim up to $300 for bookings through Capital One Travel, and these are offered as statement credits.
Get up to $100 credit on Global Entry or TSA PreCheck so that you can sail through check-in.
Get rewarded for travel with 10x miles on hotel and rental cars booked through Capital One Travel.
Earn 5x miles on flights booked through Capital One Travel.
Earn 2x miles on all other purchases every time you spend.
Use free price drop protection, meaning if you book a flight recommended by the company and the price drops, you will get a partial refund.
Let the company know if you find a better price up to 24 hours after making the booking, and they will refund you the difference.
The company is continuously checking hotel rates so that the price beats competitors.
Set price alerts and the company will watch your flight and let you know when the price drops.
Get unlimited access to Capital One Lounges, with the ability to bring two free guests per visit.
Transfer your miles to over 15 different travel loyalty programs.
No foreign transaction fees.
Your miles never expire, so you don't have to worry about when you use them.
Benefit from cell phone protection. If your phone is damaged or stolen, you can get reimbursed up to $800.
Add other cardholders to your account for free.
Refer a traveling friend to the card and earn up to 100,000 bonus miles if they sign up.
Learn more about the Capital One Venture X card.
AMEX Gold and Platinum – Credit Card
Recommended by Mikaela of Voyageur Tripper
The Platinum Card® from American Express is indisputably one of the best credit cards for travelers. If you meet the spending threshold in the first six months, you'll get enough bonus points for a round-trip flight to almost anywhere. You'll also get bonus points for every dollar you spend, so you'll grow your points balance faster than other cards.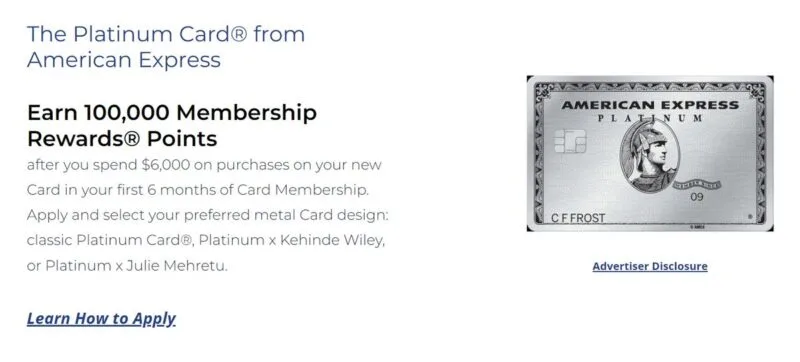 While the annual fee is high, you receive a wide range of travel credits which more than offset the fee. Perhaps the best perk for travelers, however, is lounge access. You get access to lounges worldwide, most notably, the Centurion Lounges. Here you can eat and drink for free while relaxing in a comfortable chair as you await your flight.
Additional travel perks include car rental insurance, roadside assistance, baggage insurance for lost luggage, travel accident insurance, etc.
AMEX Platinum Card at a glance:
Up to $200 Uber credits
Up to $200 credit for airline fees
$200 back in statement credits each year on prepaid Fine Hotels + Resorts® or The Hotel Collection bookings, which requires a minimum two-night stay, through American Express Travel when you pay with your Platinum Card®.
Up to $179 credit to Clear (to get you through security faster)
Access to over 1400 lounges worldwide
Car rental insurance, roadside assistance, baggage insurance for lost luggage, travel accident insurance
Annual fee of $695 (Rates & Fees)
Earn 100,000 Membership Rewards® Points after you spend $6,000 on purchases on your new Card in your first 6 months of Card Membership.
The American Express® Gold Card has a much lower annual fee ($250) (Rates & Fees) and provides some of the same benefits.
Learn more about the American Express Gold and Platinum cards.
Southwest Performance Business Card – Credit Card
Recommended by Karee of Our Woven Journey
The Southwest Airlines Companion Pass is one of the best deals in the travel industry. Those who earn it can bring a buddy with them anywhere Southwest flies for free. It's the ultimate BOGO, and the savings can be huge!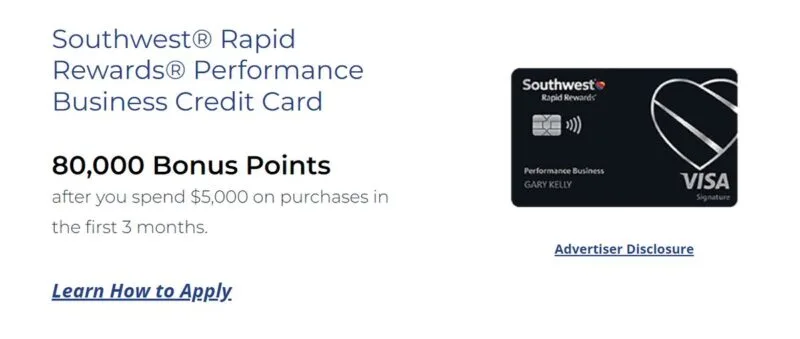 You'll need to earn the 125,000 points required to get the Companion Pass. Although that sounds like a lot, there are two ways you can reach that many points. One way is to spend enough to rack up 125,000 points. At 1x-4x points per dollar spent, you'll have to spend quite a bit to earn that many points.
An easier way to do it is to apply for the Southwest Rapid Rewards® Performance Business Credit Card. Once you meet the required minimum spending amount, you'll earn a large portion of the points needed for the Companion Pass.
Southwest Performance Business Card at a glance:
1-4 points per dollar spent
Get reimbursed for either a Global Entry card or TSA preCheck
4 x upgraded boardings per year where available
Earn 80,000 points as a sign-up bonus by spending $5000 in the first three months
If you aren't spending enough to earn the rest of the points needed for the Southwest Companion Pass, you can get a second card like the Southwest Rapid Rewards® Premier Business Credit Card to earn all of the points required. The Premier Business Card has a sign-up bonus of 60,000 points.
Learn more about the Southwest Performance and Premier business cards.
So Which Card Is Best For Americans!?
Honestly, we are lucky, we have SO MANY CHOICES. Maybe too many? This is why I tried to just feature the best of the best above. With all of this said, there is a lot to consider.
What's your credit score and which card do you qualify for?
How much do you actually travel? Are the perks going to "go to waste" or will you actually use them?
On a similar note, do you need a card with all the extra perks, or maybe a card with a slightly lower fee and fewer rewards actually fits you best?
Are you willing to pay off your bills EVERY SINGLE MONTH in order to actually reap the benefits of the cards? (As soon as you start paying interest, the rewards dwindle away and you're in fact paying for them or more!)
How much can you actually charge to your card? (If you have few things to actually put on your card you may not reach the "goal" set to get those initial points in bulk or to rack up enough to make it worth it.)
There's a lot to consider. And what card works for me, or Joe Shmoe, or Sarah Smith, may not work for you. It is important you weigh your options, and trust me you have TONS more. You can check out all of the great travel cards, their benefits, and more here!
What About Saving and Investing For Americans?
I'm squeezing this topic in here because I often get asked this in conjunction with banking and card questions. Let's get this out of the way right now: I'm no finance guru, nor am I an investment expert. By any means!
However, I can tell you that I do make my own investments, save for my retirement, and have an emergency fund using the following:
I use Acorns – which is an excellent first step for investing and saving! I also use Coinbase for Crypto and Fidelity for investing a bit more beyond the basics that Acorns offers. BUT Acorns is definitely where you should start if you're a dummy with investing, like me. They make saving and investing your money SO simple! Start saving here!
I use Chime – which is, again, an easy basic account for some funds to sit in a high yield savings account. (I don't use it for anything else, I just let the money sit there making money) Use this link and get $100!
Best Travel Cards – Australia
ING Orange Everyday Debit Card – Bank Card
Recommended by Emily from Wander-Lush
Australians don't have many options when it comes to travel cards – especially debit cards. ING Bank has one of the best products in their Orange Everyday account. This is a regular old bank account that can be set up online in minutes, but the debit card you get is perfect for frequent travelers.
Normally ING charges a $2.50 AUD fee when you withdraw cash from an international ATM. But if you meet specific criteria, that fee is instantly credited back to your account in full. (You can only do this a maximum of five times per month, so you need to be a bit strategic.) Another thing to mention here is that ING's foreign exchange rates are always top-notch, so you barely lose anything when using the card to get cash.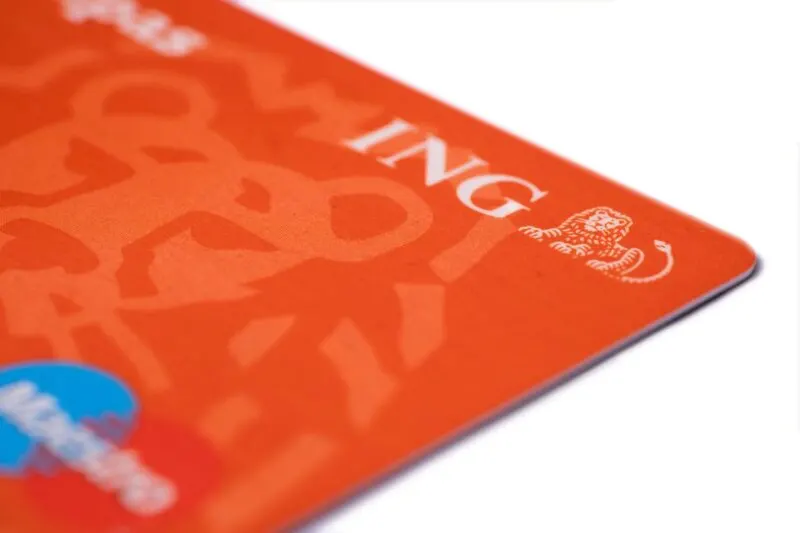 The same applies to international transactions: Normally, the fee is 2.5%, but this is refunded in full on every international transaction (no monthly cap) when you meet the criteria. Whether it's a small purchase such as a cup of coffee or something more pricey such as your Angkor Wat tickets, not having to worry about paying anything when you tap to pay is a huge weight off your shoulders.
What are the criteria you need to meet? To unlock the benefits, you need to do two things: 1) deposit a minimum of $1000 AUD into your account; and 2) perform five or more card transactions. Do this within 30 days, and the following month, you will be completely fee-free. If you're planning to travel, remember to make sure you meet the criteria for the 30 days before you depart.
One more little ING perk I love is the 'round-up' feature. Turn it on, and all your card purchases will automatically round up to the nearest $1 or $5, with the remainder deposited into your high-interest savings account. It's a terrific way to save without even thinking about it – and you'll be surprised how quickly it all adds up, especially when you're traveling and making lots of small purchases.
ING Orange Everyday Debit Card at a glance:
Refund on international ATM fees up to 5 times per month
Refund on foreign transaction fees
The round-up feature puts spare change into a high-interest savings account
Minimum deposit of $1000 per month
Minimum of 5 card transactions per month
QANTAS Premier Platinum Card – Credit Card
Recommended by Sharyn McCullum from Live Work Play Travel.
Travelers travel with a variety of money options. One of the best options I have found is to use a credit card that offers points when you use it to buy things. These points can then be traded for things such as free flights or upgrades on flights.
My choice of credit card is the QANTAS Premier Platinum Card. There is an annual fee to pay for the card, but the benefits I am discovering far outweigh this.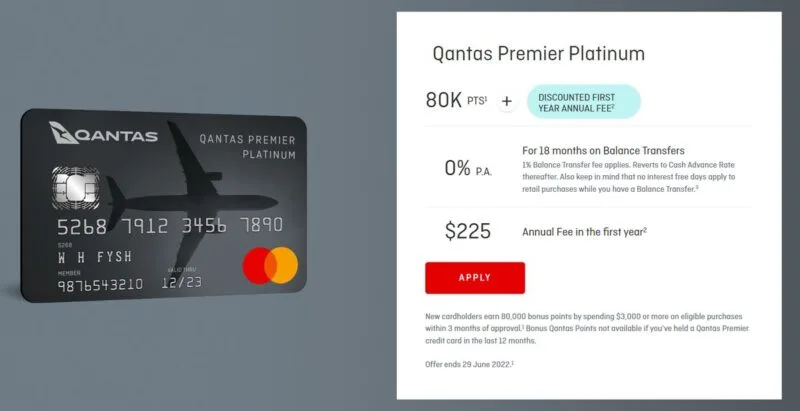 I use my card in two ways. Firstly, I have a few regular bills I pay, and for every dollar I spend, I receive travel points. These points add up quickly, particularly with some of the bills I've had lately through the pandemic.
With my country opening up, I have been taking advantage of the QANTAS points I have amassed to fly to visit family in other states. As I had a lot of points, I was able to use them to get a free return flight. The process was way easier than I expected, and this positive experience has led me to venture further and book a trip to New Zealand.
Another positive about the QANTAS Premier Platinum Card is that QANTAS has alliances with other airlines, 27 at this time so I can use my points on those airlines too. I'm so pleased I applied for the QANTAS Premier Platinum Card because it took me places. And it could take you places too!
QANTAS Premier Platinum Card at a glance:
Earn QANTAS points for every dollar spent
Transfer points to 27 affiliated airlines
1.5 x points on overseas transactions
2 x lounge invitations per year
Discounted companion fares on domestic flights
AMEX Platinum Card – Credit Card
Recommended by Jonny Melon from Jonny Melon Adventure Travel Blog
The Platinum Card from American Express Australia is the best credit card for travelers coming from Australia. The card comes with several benefits, including a $450 credit each year, which can be used to cover flight tickets, hotel bookings, and car rentals.
Additionally, the card offers access to over 1,200 airport lounges worldwide. This can be an excellent perk for Australian travelers who want to relax before their flight or who need a place to work while they're on the go.
The Platinum Card also offers several other advantages, including access to exclusive concierge service and complimentary benefits worth $700 at hundreds of hotels.
It's also an excellent card for those who want to earn rewards on their spending. With this card, you'll earn 5x points on flights and hotel stays, and you can also enjoy access to luxury airport lounges around the world.
Plus, you'll get to transfer your points to 10 renowned airlines. Recently I booked a trip to Switzerland that cost me only $5.80 because I was able to use my AMEX points to book a flight with one of AMEX's partner airlines!
So if you're looking for a convenient way to use your points for travel purposes, The Platinum Card from American Express Australia is a great option.
AMEX Platinum Card at a glance:
$450 annual travel credit
Access to 1200 airport lounges worldwide
Earn 5 x points on flight or hotel bookings
Extra benefits at partner hotels with up to $700
Transfer AMEX points to airline points on partner airlines
Best Travel Cards – UK
Starling Card – Bank Card
Recommended by Phil and Izzy from The Gap Decaders
Travelers from the United Kingdom should use a Starling card when traveling abroad. Whether you're planning a road trip to Europe or a fly and flop to the Maldives, this card is completely free for purchases and cash withdrawals worldwide.
The card comes with the award-winning Starling Bank Personal Account and is easy to use when you're on the road. With an intuitive app, where you can manage all your account admin and see up to the minute spending, it's no surprise that this is considered the best personal account in the UK.
Most other UK cards restrict your cash withdrawals when abroad – limiting you to two or three ATM withdrawals a month. When traveling remotely, and cash is king, this limit is tough to work with. You face paying ATM charges or having to travel with large wads of cash – neither is a great option! With Starling there are no such limits – you can make as many withdrawals as you want.
I haven't worked out what I've saved by using this card, but I do love not seeing any overseas charges when I check my transactions!
Starling Card at a glance:
No fees on international transactions
No fees on global ATM withdrawals
Round-up feature adds spare change to a savings account
Instant app notifications for all transactions
Monzo Card – Bank Card
Recommended by Joanna from The World in My Pocket
Monzo was the first online-only bank that offered British citizens a cheaper travel method. Before getting a Monzo card, I used to use my HSBC debit card when traveling abroad. Whenever I used it, no matter if it was in a shop or if I was paying for a ticket online using a different currency, I used to get charged an extra fee by my bank.
When I switched to Monzo, all these extra charges disappeared. Monzo also uses a good currency conversion and never charges extra for payments in other currencies.
When I use my Monzo card abroad, I can also withdraw up to £200 from any ATM, free of charge. This is very useful and saves me quite a bit of money, compared with the traditional banks that charge a double fee to use ATMs abroad.
As it is an online-only bank, the app allows you to freeze the card when you are not using it, which makes it safe in case your wallet gets stolen. The app also offers pots to sort out the money on the card and a default "piggy bank" that rounds-up payments.
Monzo also offers 24-hour customer support, which is extremely important when things go wrong. During my trip to Egypt, one of the ATMs I used didn't release the money. I texted support, and they refunded me the transaction on the spot.
Monzo Card at a glance:
No currency conversion fees
Fee-fee withdrawals at ATMs in the EU
Fee-free withdrawals up to £200 per month at international ATMs
Freeze your card from the app in case of theft
Round-up feature adds spare change to a savings account
AMEX Cards – Credit Card
Recommended by Paulina from ukeveryday
If you are looking for one of the best travel cards when traveling outside of the UK, look no further than AMEX. With so many benefits and global support 24 hours, seven days a week, you will be impressed by how much this card offers.
It takes only a few minutes to apply for one of the American Express cards. You can choose between Platinum, Gold, or Premium Plus Card. If you are 18 years old and have proof of address in the UK, a bank account, and a good credit score, you can apply for this travel card.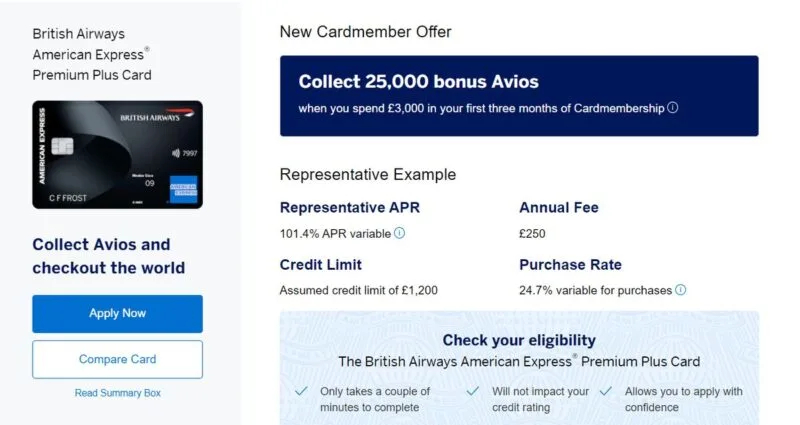 Every time you spend money during your travels, you collect points that you can use in so many ways. Whether shopping in one of over 1000 online stores such as Currys or Amazon, you will never lose your points.
Welcome offers for new cardholders are also excellent. You can earn from 20,000 to 60,000 points during your first three months of card membership. The best news is that membership rewards points will not expire, so you can use them whenever you want.
If you invite a friend, you can also get some extra points. However, some of the best benefits are room upgrades, late check-outs, or access to many airport lounges so your layover on your way to Cyprus or Greece can be a bit more comfortable. Check out the American Express travel card, it will not disappoint you!
AMEX Cards at a glance:
Sign-up bonus of 20,000-60,000 points in the first three months (Gold and Platinum cards)
Sign-up bonus of 25,000 Avios (Premium Plus card)
Companion travel voucher (Premium Plus card)
Airport lounge access
Hotel benefits including late checkout or room upgrades
Upgraded status for Hilton or Mariott rewards programs (Platinum card)
International travel insurance on trips up to 90 days
Best Travel Cards – Europe and Worldwide
Revolut Card – Bank Card
Recommended by Yulia from Miss Tourist
Anyone from Europe, the USA, and Australia should use Revolut because it has been specifically created with travelers in mind. This card is perfect to keep in mind when planning a trip as it has so many advantages that benefit your lifestyle.
Revolut is super easy to set up, and everything is done online. No need to visit branches in person! Using interbank exchange rates means you won't be charged any additional fees for converting your money. You can also spend directly in 150 different currencies while traveling abroad with the best exchange rate.
I love having different wallets in Revolut, and the conversion rate when I pay online/in stores is very, very close to a central bank exchange rate.
There are different personal, business, and company plans to choose from depending on your circumstances; however, the free plan is enough for most people. But if you would like insurance on your purchases of up to €1000 a year and an added 90-day return window, it will cost you just €3 a month for the Plus plan.
The Premium plan comes in at €8 per month and features the ability to earn interest on your savings and free airport lounge passes if your flight is delayed by more than one hour (it works, I used it myself!)!
With the top of the range Metal personal plan, you can even earn up to 1% cash back for just €14 a month, but if even that isn't enough, check out the additional business and company plans they offer to find the best one for you!
Revolut Cards at a glance:
No currency conversion fees (all plans)
No-fee ATM withdrawals (limit varies with plan)
Store 100+ currencies (all plans)
Insurance on purchases up to €1000 a year and an added 90-day return window (Plus plan)
Interest on savings (Premium plan)
Airport lounge passes in case of flight delays (Premium plan)
Up to 1% cash back on purchases (Metal plan)
Wise Debit Travel Card – Bank Card
Recommended by Alejandra from Tenerife-is
Wise Debit Travel Card (formerly known as TransferWise) is really the most "worldly" card for a traveler.
The Wise debit card is unique compared to traditional currency accounts: it lets you directly access the money you receive from abroad and spend that money with the card, without any restrictions, in many countries worldwide.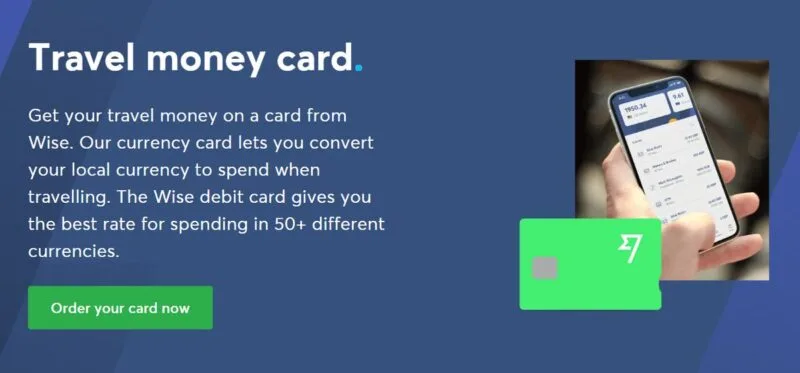 If you travel frequently, you know the costs associated with foreign transactions, currency conversion fees, ATM withdrawal fees, and many other fees. This card makes life easier for travelers, and most importantly, noticeably saves money. There are no annual fees nor hidden transaction fees. There are no minimum balance requirements.
You can enjoy free ATM withdrawals for up to £200 per month. If you withdraw more, the fees are much smaller than in traditional banks – 1.75% on anything over 200 GBP/EUR. And the exchange rates are unbeatable, as Wise offers the mid-market rate when you convert currencies.
With this card, it is easy and convenient to travel. You can use it everywhere – make hotel reservations online, pay for hotels at reception, pay for food in restaurants, buy airline tickets, and pay in offline and online stores.
The only thing you need to keep in mind, the Wise card comes only as a debit card. There is no credit card, which means you need to have the funds on your account to purchase something.
With the Wise card, you can travel to any part of the world without worrying about insane fees.
Wise Debit Travel Card at a glance:
Fee-free withdrawals up to £200 per month at international ATMs
No annual fees or minimum balance requirements
Store 50+ currencies and convert them as you need them
Virtual card feature
Best Travel Cards – Canada
Various Banks
Recommended by Hannah Logan from Eat Sleep Breathe Travel
Unfortunately for Canadians, there is no single best bank for international travel that will waive all foreign fees. So instead, you have to work around it to avoid those pesky $5 charges on foreign ATMs or risk having them take a big chunk of your travel budget.
There are several options on how to do this. If you are lucky, your bank will have partner ATMs in the country where you are traveling.
Scotiabank is your best bet for this as they are included in the Global Alliance ATMs which are located in 40 countries. If that doesn't work for you, you can use a prepaid card such as the KOHO Premium Prepaid Visa.
Another option is to discuss options directly with your bank. Some Canadian banks do have VIP-type account options where you can pay a monthly fee that will include perks such as waiving those foreign ATM charges. However, these packages can be pricey and aren't necessarily the best long-term option.
In some cases, your best bet will be to take out a chunk of cash when you arrive, so you (hopefully) only have to pay the ATM fee once. Then use a credit card that charges no foreign transaction fees.
There are plenty of Canadian credit cards that don't charge FOREX fees but if you are looking for a basic card then try the Home Trust Visa Preferred Card. It won't get you anything fancy, but there is no annual fee so it's handy to have in your wallet.
However, for collecting points, you will want to stick to a travel rewards card. I suggest American Express credit cards. I use and recommend the Platinum card as you can also transfer the points to Aeroplan at a 1:1 ratio and get plenty of travel perks.
Keep in mind, that Canadian Platinum AMEX cards do not waive the FOREX fees. So to save the most money while still earning points, use your AMEX while home and on any major travel bookings in your local currency. Then when abroad shopping in a different currency, stick to the Visa Home Trust Preferred card.
American Express Cobalt Card – Credit Card
Recommended by Erica of Travels with Erica
American Express recently changed the points you earn with the American Express Cobalt Card, and it quickly became one of the best travel credit cards for Canadians.
You used to only be able to transfer the points you earned with the Cobalt Card to hotel partners, but you can now transfer them to flight partners as well. You earn points extremely quickly with grocery and dining purchases, and you'll be able to book a trip on points in no time.
By earning MR points on the American Express Cobalt Card, I was able to transfer my points to Air Canada's Aeroplan program and book a one-way business class flight from Istanbul to Montreal for just $50!
American Express Cobalt Card at a glance:
Earn 5x points on grocery and dining within Canada
Earn 3x points on eligible streaming services
Earn 2x points on travel and transit
Earn 1x points on every other purchase
Earn 1 extra point when booking travel through Amex Travel Online
Monthly fee of $12.99
Earn up to 30,000 MR points as a sign-up bonus by spending at least $500 per month in the first 12 months
Easily transfer MR points to a variety of partner programs including Air Canada, British Airways, Cathay Pacific, Etihad, Hilton, and Marriott
Visa Avion Cards – Credit Card
Recommended by Nicole from Go Far Grow Close
Using three different Visa Avion cards, I have saved thousands of dollars in flights and consistently fly business or first class. For example, every year, I transfer the points that I earn from RBC Infinite and RBC Infinite Privilege to British Airways. Then, I use the companion ticket to get two business class or first class tickets from Vancouver to London, but only have to use enough points for one ticket.
RBC British Airways Card
The RBC British Airways Card is great for two reasons. First, the points go directly to British Airways and its partners. It is often easier to find reward tickets when needed and for a reasonable amount of points compared to other airlines. Second, you can save points with the companion ticket by only having to use enough points for one return flight but getting two seats.
Earn 1 Avios point (British Airways points) for every dollar spent and 2 Avios for every dollar spent on British Airways purchases.
Receive a Companion Award eVoucher for a return flight on British Airways every year provided spend a minimum of $30,000 each year.
10% off British Airways flights.
Avios points can be used for British Airways flights, upgrades, and any oneworld partner airlines (for example, American Airlines and Cathay Pacific)
Annual fee of $165.
Requires $60,000 personal income or $100,000 family income per year.
RBC Visa Infinite Card
A traveler from Canada should consider the RCB Visa Infinite credit card because it is easy to earn points and there are no restrictions. You can choose any airline to fly, on any flight, in any seat.
One reward point for every dollar spent to be used toward different rewards, including flights.
No blackout periods or seat restrictions. The only limitation is the cost of the flight. You can only use your points to purchase flights that cost less than $2000.
Can convert points into other airlines' travel points.
Only $120 CAD fee per year.
Requires $60,000 personal income or $100,000 household income per year.
RBC Visa Infinite Privilege Card
With the RBC Visa Infinite Privilege Card, it is very easy to earn points, and there are no restrictions. In addition, there are phenomenal extras such as lounge access and outstanding travel insurance.
There are many similarities to the RBC Visa Infinite Card, except you get more points for every dollar spent and more privileges. However, the card fee is more, and you require higher-income amounts to qualify.
1.25 reward points for every dollar spent.
​​Enjoy global airport lounge access, airport security fast track lanes, and dedicated airport parking at select Canadian airports.
Comprehensive trip cancellation, trip interruption insurance, and emergency medical insurance.
Extensive car rental insurance.
Travel concierge to help book restaurants, hotels, and flights.
Annual fee of $399 and minimum personal or household income of $200,000.
Best Travel Cards – New Zealand
Travelex Money Card
Recommended by Ashleigh from Ashleigh's Atlas
If you're from New Zealand, the Travelex Money Card is one of the best travel cards if you're heading overseas.
You pre-load money onto the card in the currency you're traveling to (e.g., you would pre-load pounds if you're traveling to the UK). Then when you're traveling, there are no conversion fees or ATM fees because you're spending pounds (or whatever you have loaded). It won't be affected by exchange rate changes, and you can log into the app to check your balance throughout your trip.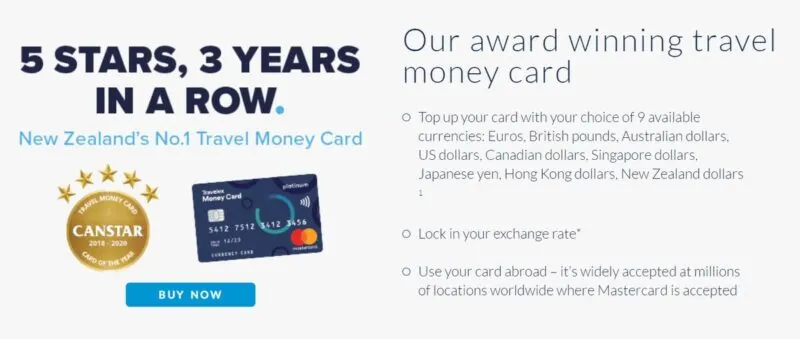 You can load nine different currencies: Euros, British pounds, Australian dollars, US dollars, Canadian dollars, Singapore dollars, Japanese yen, Hong Kong dollars, and New Zealand dollars. (Obviously, if you're traveling outside these countries, it wouldn't be suitable.)
While there are no exchange rate/ATM withdrawal fees, you have to pay an initial fee to load the currency. There's also a fee if you want to convert any spare cash back at the end. But it was worth it for the convenience and not getting any fees during my travel.
There are also inactivity fees, so I canceled my card after each trip to avoid getting charged this (if you have regular travel planned, you may prefer not to cancel). Also, the local ATMs may still charge you local fees.
I traveled around Scotland and explored Dunnottar Castle, Craigievar Castle, Skye, the Isle of Harris, and Edinburgh for months without getting charged lots of conversion fees!
Travelex Money Card at a glance:
No currency exchange fees
No ATM withdrawal fees
Store up to nine currencies
Fees for adding money to the card
Hope this post helped you find the best travel card FOR YOU!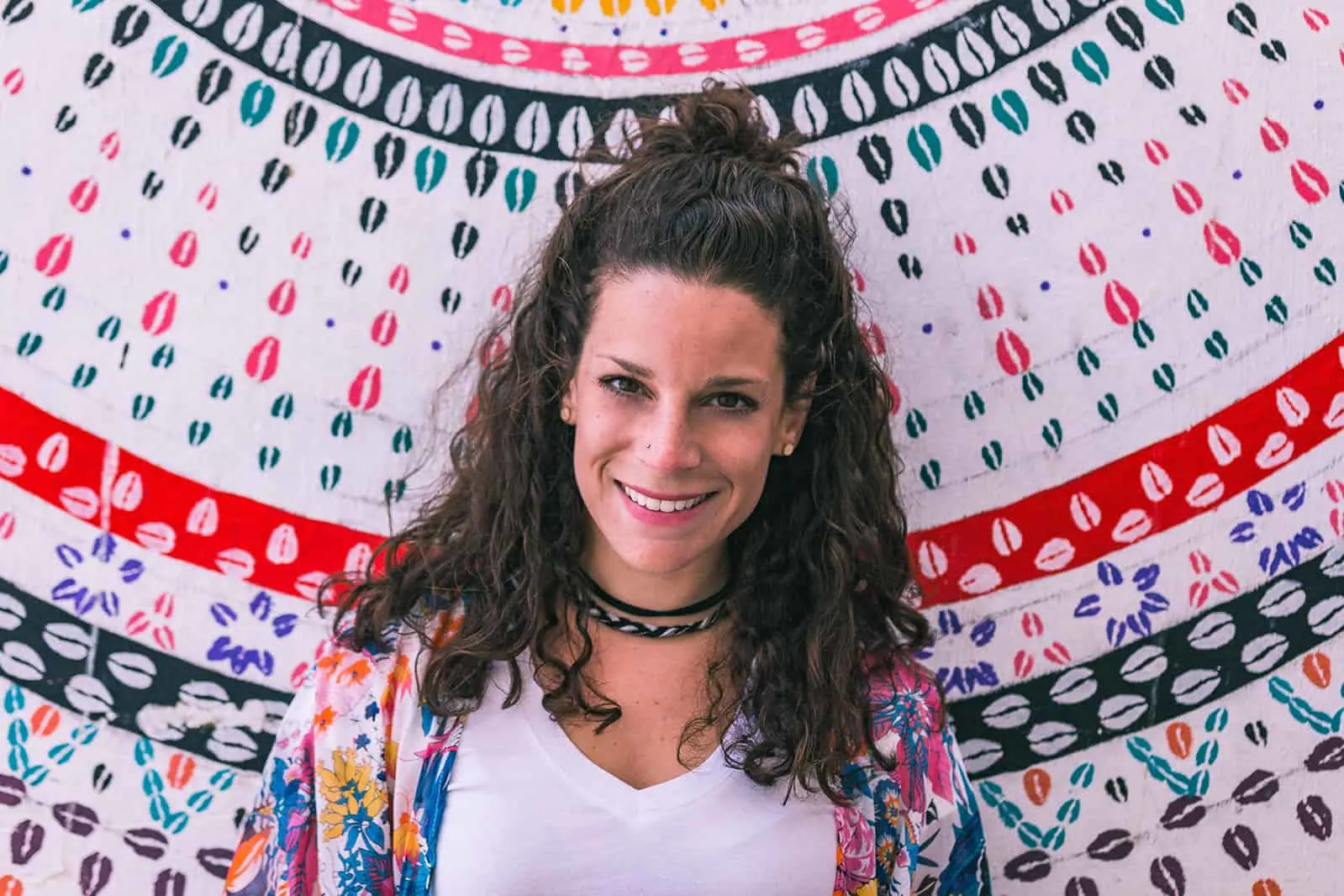 Nina Ragusa is an adventurer, messy bun master, breakfast fan, and full-time travel blogger. She's been abroad since 2011 and blogging on Where in the World is Nina? for nearly as long. Nina helps people like you move around the world while making money. She loves talking about how to work abroad and online to travel longer!