While visiting Mars or the moon may never happen in my lifetime, I'm happy I got to experience the next best thing—Yellowstone National Park.
Yep, this place mine as well be a totally different planet with its bubbling mud pots, gushing geysers, technicolored springs, basaltic lava rocks, and obsidian cliffsides… You surely don't get to see this stuff every day!
Aside from bizarre and unearthly sites, one of the best things to do in Yellowstone National Park is trying to spot some of the diverse wildlife that calls this place home.
I'll take you through what an epic Yellowstone itinerary can look like, which will hopefully help you plan your trip better.
Don't lose this! Click to pin it now.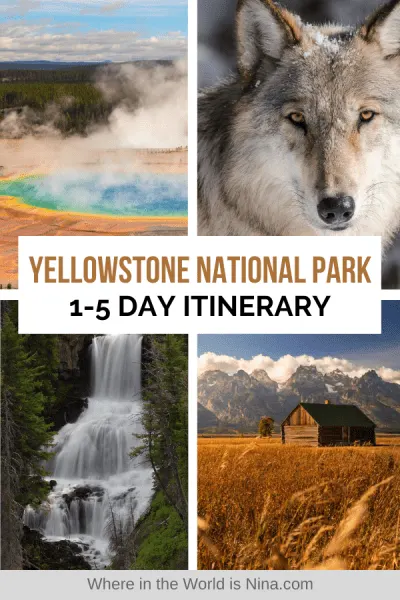 Things to Do in Yellowstone National Park (And Around)
Hang tight guys because there's A LOT to know and A LOT to do, including places not IN the park. As always, I want to give you guys a bit more than you asked for because that's just how I roll. You wanted to know about Yellowstone—Cool, but you'll also get info about Yellowstone Country and the Grand Tetons!
Both of these spots are in Yellowstone National Park's backyard, you're right there, and both are very deserving of a visit. If you only have about two days, then you may need to skip straight to the park, but if you have 3, 4, or 5 days in Yellowstone, I have you covered.
Below is the exact Yellowstone itinerary my friend Jess and I did during our visit together, we both say it's amazing. We know you will too! Feel free to use the map I made for you to help guide you on your trip.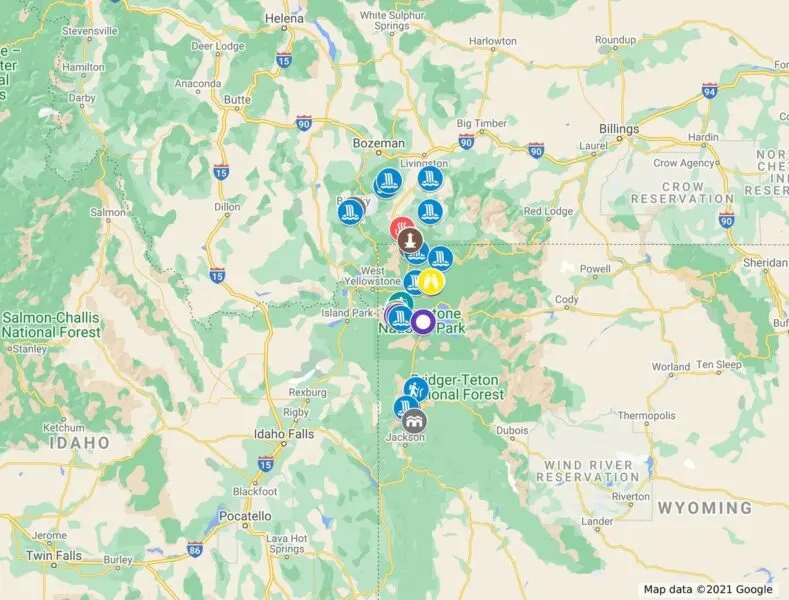 If you're on an epic road trip through the area, some of these other posts may be helpful too:
1-Day Yellowstone Country Itinerary (Montana)
That's right, Yellowstone COUNTRY. We are not in the park yet, and I recommend you start (or end if you're doing this itinerary backward) in Montana at the often overlooked Yellowstone Country.
Offering multiple gateways into Yellowstone National Park, Montana's untouched piece of raw beauty is a fabulous region to start your Yellowstone itinerary.
A brilliant mix of small-town charm and inspiring wilderness, Yellowstone Country is a delight for adventurers. The Absaroka-Beartooth Wilderness is a paradise for hikers, and towns like Bozeman and West Yellowstone are wise places to stock up on supplies.
Big Sky
A cozy mountain community that packs a punch with adventurous recreational activities 365 days per year. Located in southwest Montana roughly 45-miles away from Bozeman Yellowstone International Airport, Big Sky is the ideal beginning to your Yellowstone itinerary.
This gateway is teeming with tons of exhilarating activities suited for any nature enthusiast. Backcountry hikes, whitewater rafting, fly fishing, mountain biking, horseback riding, and ATV rentals provide endless summer escapades. By winter, the slopes take over as Big Sky offers some of the best skiing, snowboarding, and snowmobiling in the United States.
With a day in the area, you can enjoy your drive around Big Sky and visit the following waterfall hikes.
Ousel Falls
Lush forests and a refreshing mist make Ousel Falls a beautiful place to cool off during the summer. The Gallatin River forks along the trail, creating a serene atmosphere before reaching the overlook.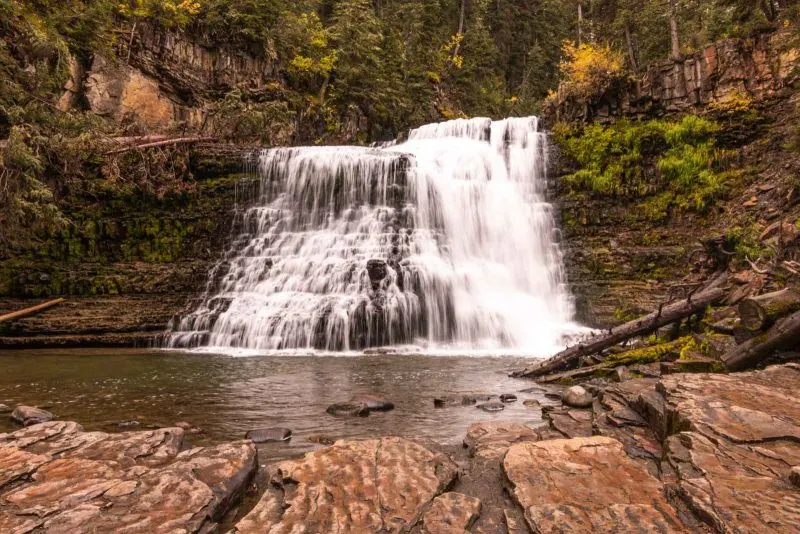 At the end of the trail, cascading falls trickle down the jagged cliff into a shallow pool. The base of the falls provides a beautiful panorama with Douglas-firs decorating the backdrop.
Grotto Falls
Nestled in the Hyalite Canyon, Grotto Falls can be easily accessed by its flat trail through the pristine forest. The journey to the falls is dotted with stunning wildflowers, or snow depending on the time of the year, and mountain peaks soaring above the forest.
Grotto Falls lacks the height of other falls but gushes into the streams to form rejuvenating swimming holes. Continue the hike after Grotto Falls to see additional scenic waterfalls until reaching Hyalite Lake.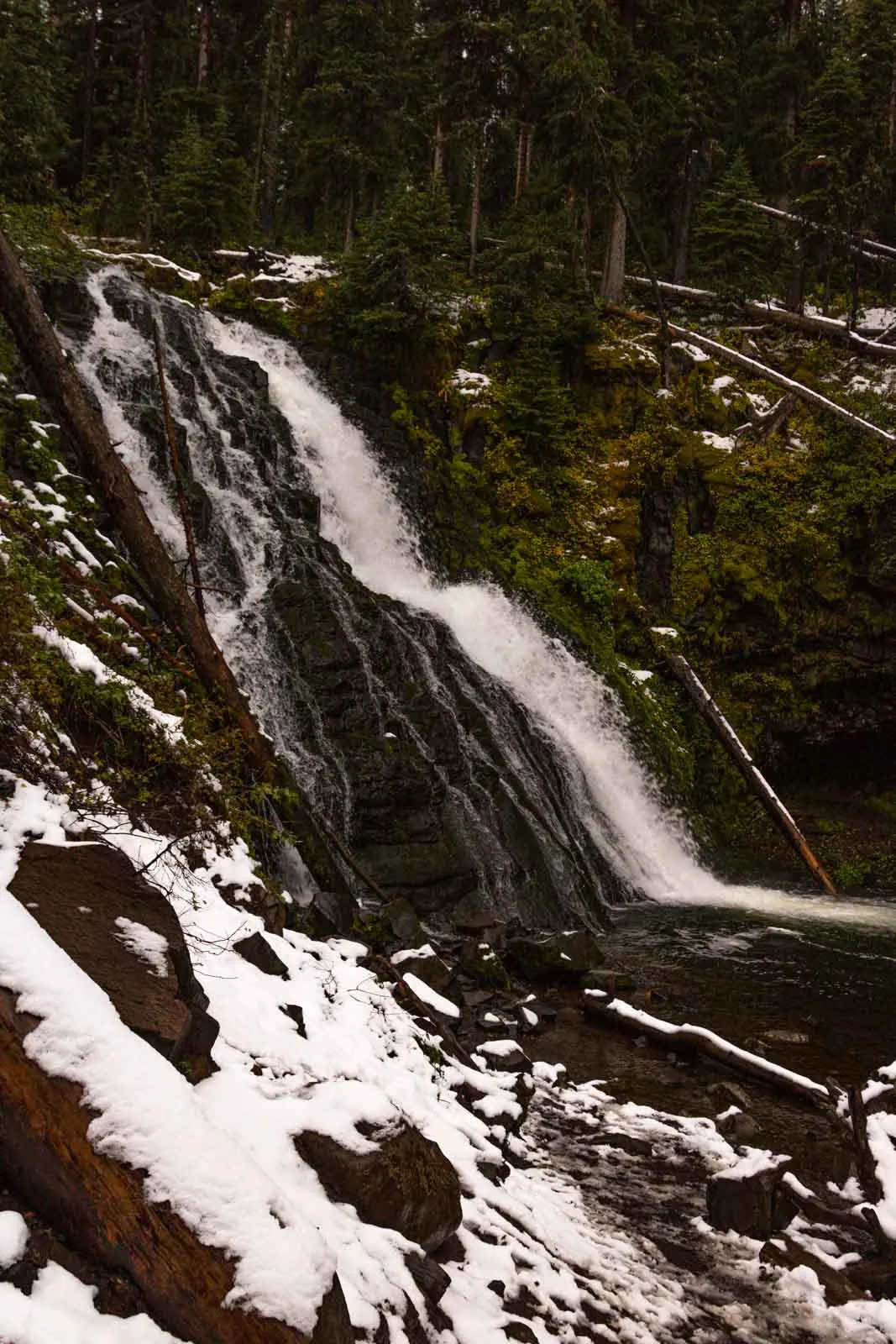 This area had some snowfall while we were exploring, and it made for quite the track. We were not wearing nor equipped with anything remotely needed for trekking through snow. We made it to Grotto Falls, the first waterfall, and while we attempted to keep going, nature wasn't working with us.
The trail got harder to trudge through with our non-snow shoes sloshing through the mud, and fingers and toes started freezing off. Hopefully, you get farther than we did during your visit.
Palisades Falls
Hikers of all levels can adore the majestic scenery of Palisades Falls due to its paved trail. This short trek leads to towering basalt columns where the falls trickle along the rocky cliff.
The streams fork off one another as they tumble along with the 80-foot drop, and you'll spot dazzling colors within the mist on a sunny day. Walk to the base of the falls for a closer glimpse of its astounding geologic formations.
RELATED: Your Adventurous Montana Road Trip!
2-Day Yellowstone Itinerary (Montana / Wyoming)
I know you're crazy stoked to enter Yellowstone National Park, and I'm dangling it in front of you, but I promise, there's a reason… There's a lot to do all around the park! The Wolf Tracker tour below (which is AMAZING) will take you into the park, but everything else listed is just on the outskirts of the park—and yes, it is worth a visit too.
For your Yellowstone itinerary, you'll only need a couple of days actually in the park, as I'll explain below, so don't skip this part!
Wildlife Tour
A fascinating thing to do in Yellowstone is spotting wolves in their natural habitat. An incredible amount of effort was spent re-establishing a healthy wolf population in Yellowstone, and visitors can marvel at its payoff.
By joining biologists who regularly track wild wolves, you'll gain rare sightings of these incredible creatures. Learn about their intriguing behavior patterns and spot other majestic animals residing in Yellowstone's diverse ecosystem.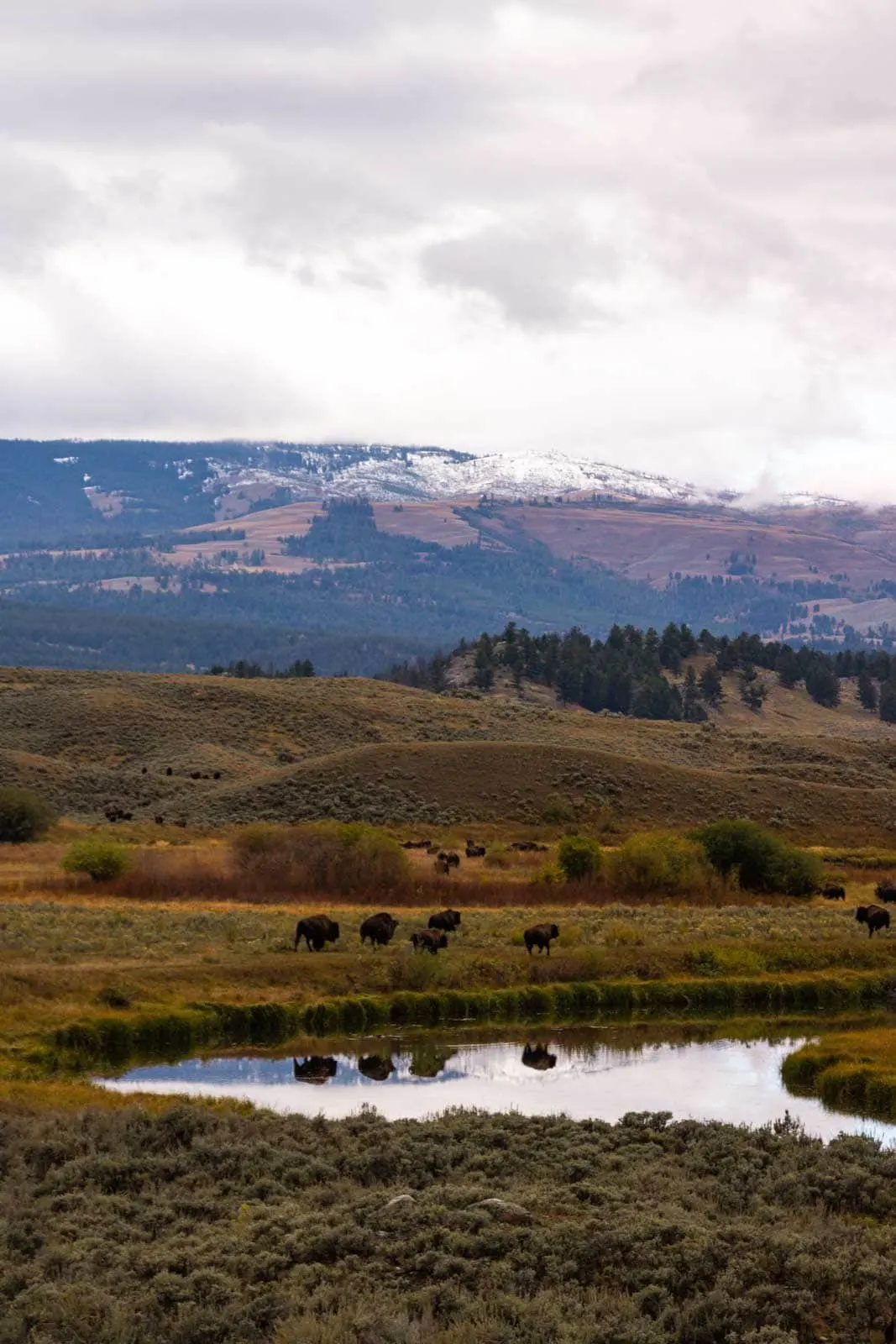 This tour was great as you got so much out of it and started very early in the morning. We met up with our guide at 5 am and were done around noon, which meant we still had most of our day to explore more.
The wildlife tour was probably the highlight of my visit to Yellowstone for two main reasons.
ANIMALS! You get to see so many animals you'd never see without the tour. Wolves are notoriously elusive and also, never an animal you'd want to see randomly because that'd mean you're way too close. They provide cool telescopes to help you understand these majestic creatures from a safe distance. You'll also get an epic outdoor breakfast where you'll casually watch bison roam around you, yeah… It was awesome. Bears, wolves, bison, coyotes, bighorn sheep, and antelope were all spotted on tour. (I didn't have the proper lens on me—very annoyed at myself for this—hence the lack of awesome animal pics)
INFO! Experts who really know the park answer all the info you can imagine about Yellowstone, the history, the animals, and everything else you can conjure up. Jamie was my guide and was an encyclopedia on Yellowstone; doing this tour first thing was the best idea for us to enjoy our visit fully.
Is A Wildlife Tour for Me?
The tour doesn't necessarily take you anywhere secret. The roads they drive are open to the public, and you could technically "do this yourself." However, you won't get anything near the same experience. You doubtfully have an excellent telescope in your bag to witness these animals, insider knowledge on where they like to hang out, and when, nor do you have expert knowledge on the park and animals.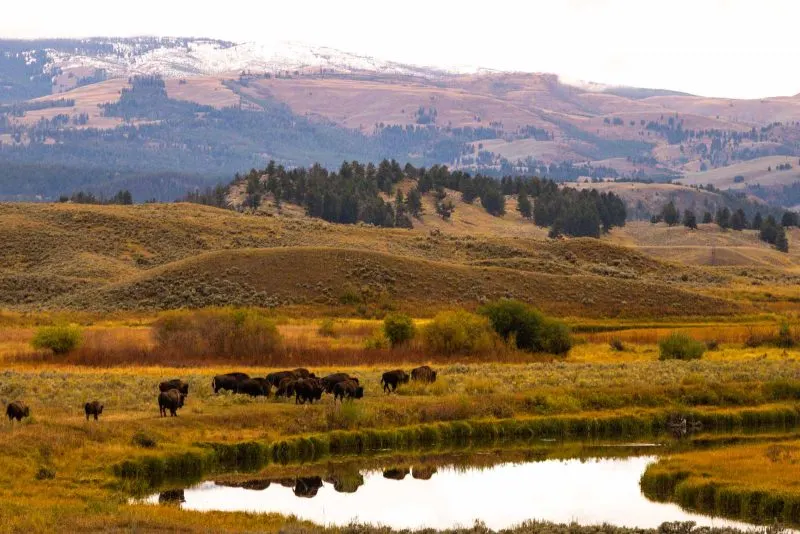 The guides are using walkie talkies during your journey to see where all the "action" is, you won't have this info on your own. There's no way we would have known there was a dead bison on this random hill with coyotes, wolves, and bears eating it—which was a significant highlight during our animal spotting.
I hope this helps you choose if this tour is right for you, we found it incredibly informative and a fantastic animal encounter for the books! Here are the recommended wildlife tour options:
Pine Creek Falls
The rugged wilderness encompassing the path makes the journey to Pine Creek Falls a captivating experience. Just enough elevation to get your blood flowing, the trail meanders through dense forests. Black Mountain soars above the forest and highlights the backdrop of the path.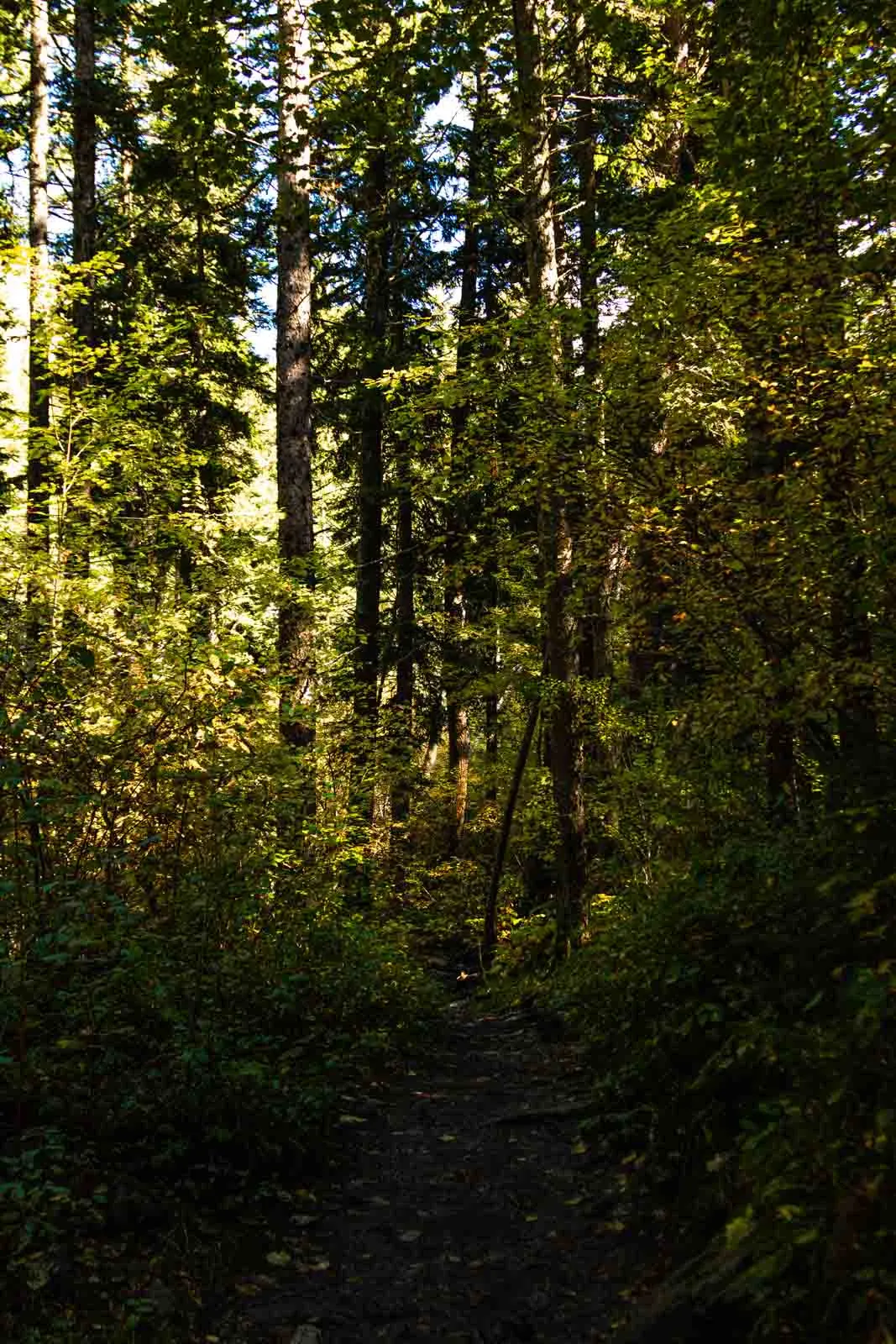 The falls rush down a rocky crevice and crash against piles of stones before emptying into pools below.
Passage Falls
A powerful rush overtakes you the closer you get to Passage Falls. A forest fire ravaged the surrounding forest, and gorgeous wildflowers have started to decorate the landscape in its place.
You'll reach the graceful falls after a series of switchbacks and witness the water tumbling into the river below. It requires a bit of a scramble and careful footing to reach the base but is exhilarating.
Yellowstone Hot Springs
One of the most relaxing things to do in Yellowstone, this revitalizing hot spring, is a fabulous way to feel Yellowstone's hydrothermal wonders. Just 10-minutes outside of Yellowstone National Park, taking a relaxing dip is a perfect refresher for your Yellowstone itinerary.
Rest your legs after an invigorating day of hiking and enjoy remarkable views of the Paradise Valley Mountains. The mineral-rich waters melt your stress away, and you'll be ready to explore more of Yellowstone's awe-inspiring scenery. Just try to come at off-times to lessen the chances of a crowd (read: small screaming children with crappy parents).
Roosevelt Arch and the Town of Gardiner
See the iconic monument that marks the northern entrance of Yellowstone National Park. The grand stone archway was constructed under the leadership of Theodore Roosevelt and gave visitors an official welcome to America's first national park.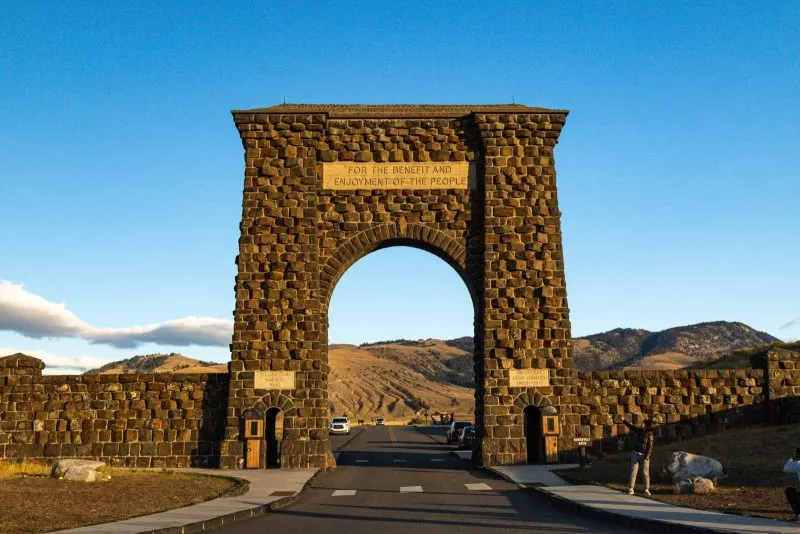 Travelers reached Yellowstone by train during the early 20th century, and trains dropped them off right at the arch. The top of the commemorative landmark states, "For the Benefit and Enjoyment of the People," and continues to celebrate Yellowstone's distinguished history.
Gardiner is also an excellent place to base yourself. If you're doing 2-3 days in Yellowstone, you could stay in Gardiner for the entire visit. I'll get more into where to stay below.
3-Day Yellowstone Itinerary (Montana / Wyoming)
You made it! You're officially exploring INSIDE of Yellowstone National Park for the entire day. You've had a pretty epic trip so far just north of the park, though. Here's how you can structure your day 3 in Yellowstone.
Yellowstone National Park
The crown jewel of American national parks, no trip to Wyoming, is complete without a few days on a Yellowstone itinerary.
Spanning across the states of Wyoming, Montana, and Idaho, Yellowstone National Park features a cornucopia of landscapes. Rugged mountains, majestic waterfalls, spewing geysers, pristine forests, and varied wildlife make this a nature lover's paradise.
Yellowstone earned the illustrious title of America's first national park in 1872 and remains the country's flagship park today. The park is full of geothermal activity and sits above one of the world's largest calderas.
There is no shortage of fantastic things to do in Yellowstone that help you appreciate the park's splendor. Nearly 1,000-miles of hiking trails, over 2,000 campsites, biking, horseback riding, and wildlife sightings produce an unforgettable adventure.
Don't forget you'll need to buy a pass to enter!
Boiling River
This spot is a fabulous way to immerse yourself in Yellowstone's geothermal magic minus the manmade structure like the hot springs mentioned above. Take a dip in the calming waters of the Boiling River for a refreshing soak once you enter the park. The combination of natural hot springs mixing with the frigid Gardner River creates a delightful spot to relax.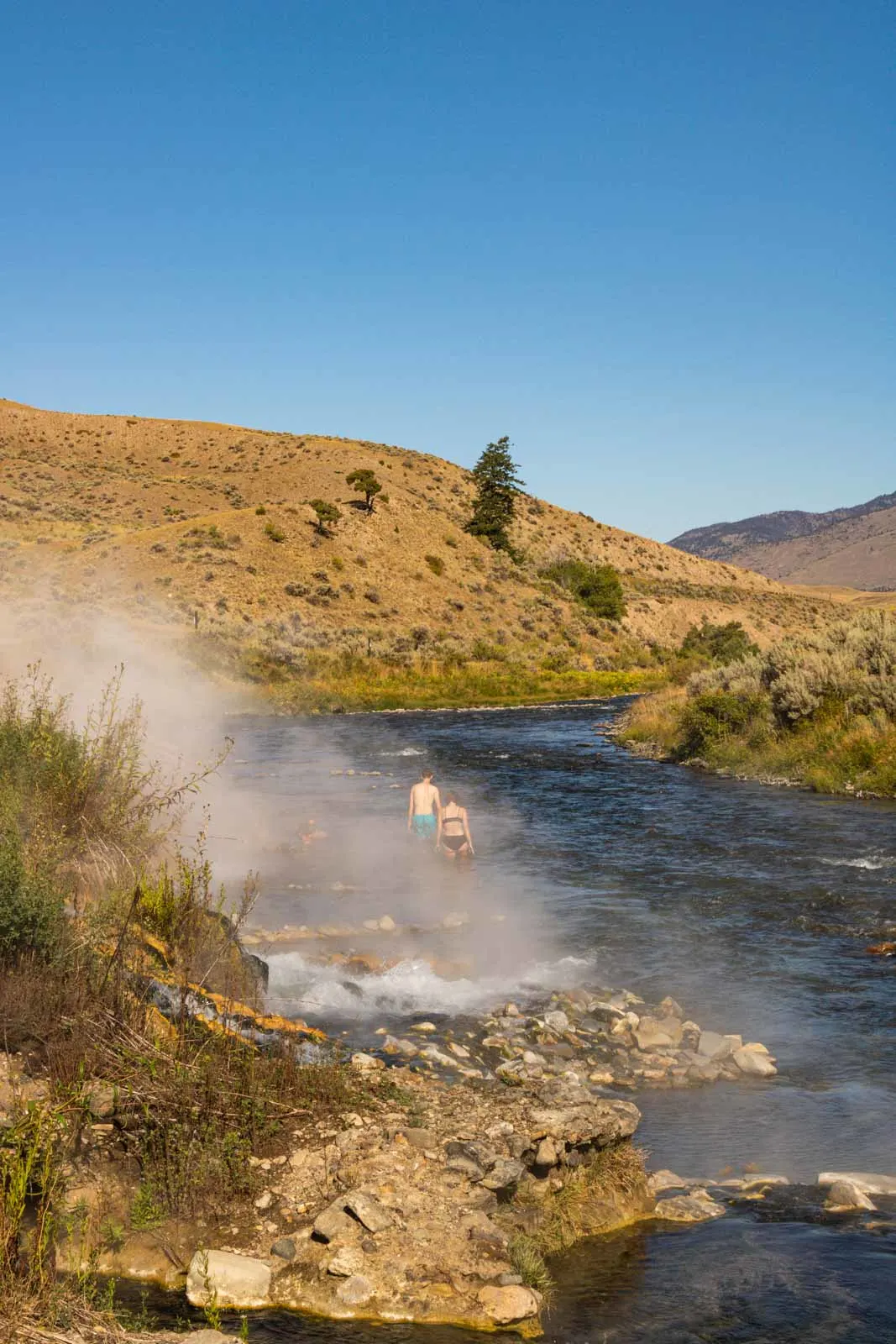 This strange-looking place doesn't seem right. Surely this is just a natural river. Nope, creep up a bit closer, and you'll see bubbling spots and steam rising. Do note, the area you enter to take a dip can be freezing or boiling since the water "mixes" here. Enter with care!
NOTE: This is where you'll cross over into Wyoming! There's a sign here that "separates" the two states.
Mammoth Hot Springs
Just a couple miles from the Boiling River, you'll find the unique limestone rock formations of Mammoth Hot Springs. Cascading terraces filled with colorful travertine deposits form one of the most spectacular sights in Yellowstone. Walking along the boardwalks adjacent to the terraces reveal some of the most dazzling hot springs inside the park.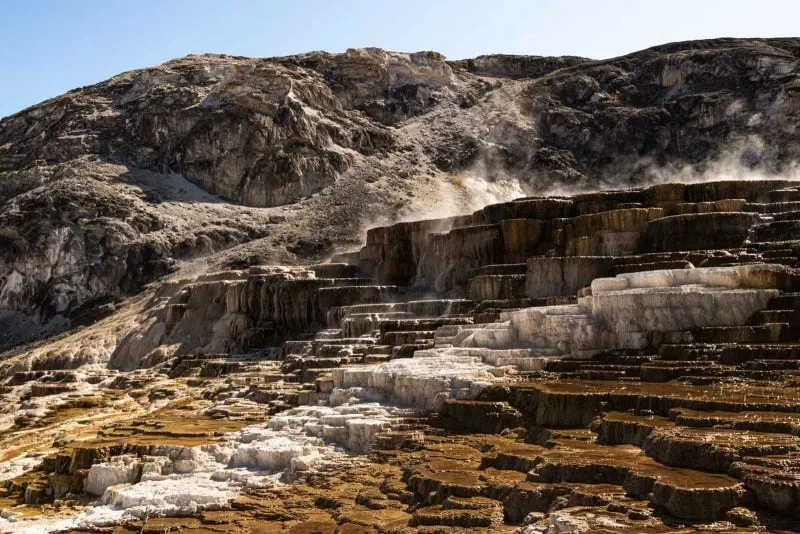 You could spend a few hours roaming the boardwalks here, but there are too many other things to do in Yellowstone, so don't creep around here too long. There are more bizarre places awaiting.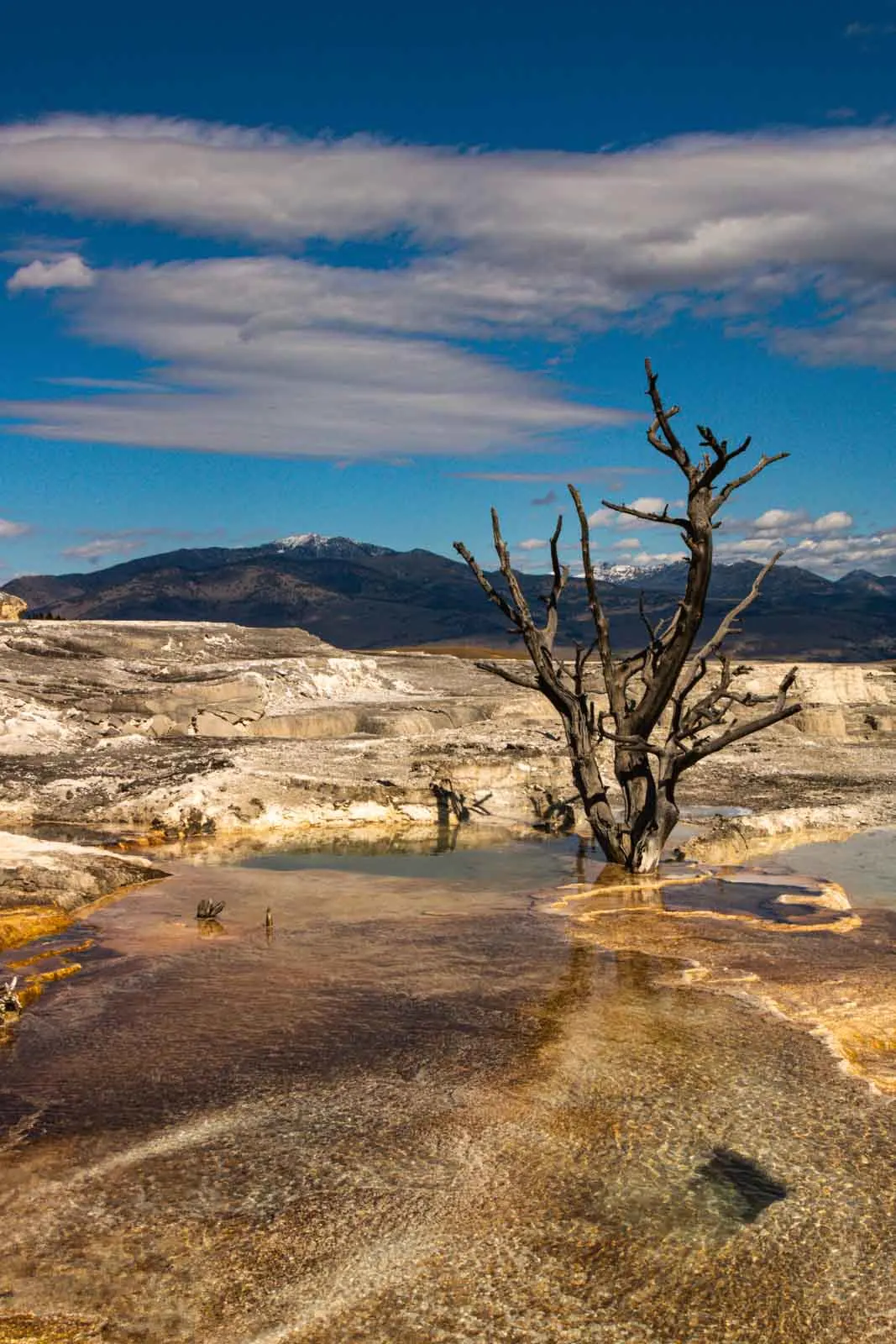 Quick Waterfall Stops
Undine Falls
Nudged between a rocky canyon and lush forests, Undine Falls is one of the waterfalls you can spot during your drive along the Grand Loop Road. That makes it a beautiful spot for a quick stretch break on your Yellowstone itinerary.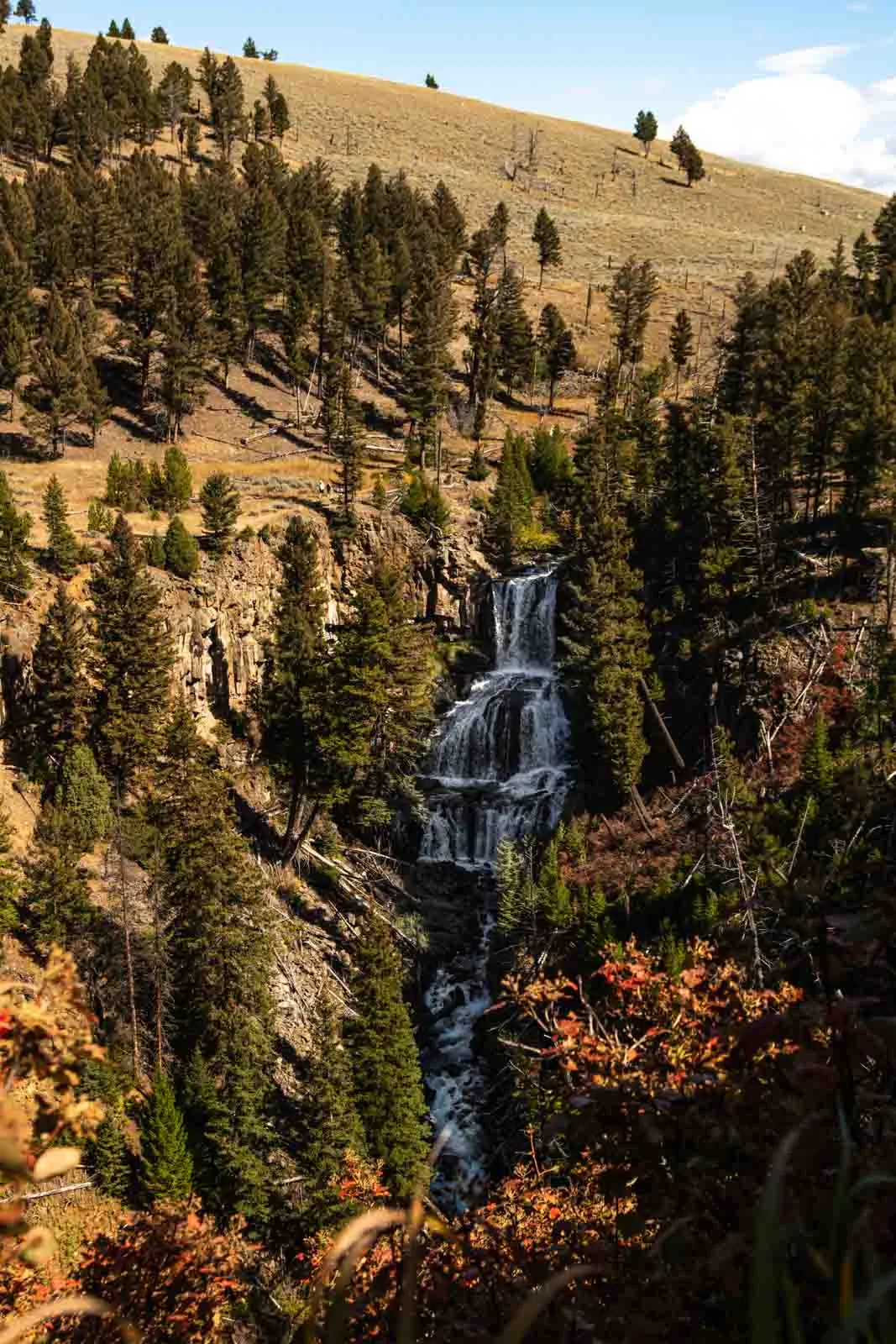 The waters from Lava Creek spill along three tiers and into the river below. If you're up for a hike, a trail meanders through the forest and provides a stellar overlook of the falls.
Tower Falls
Standing at 132-feet tall, Tower Falls played an incredible role in the formation of Yellowstone National Park. The sheer beauty of the waterfall tumbling over the cliffside edge and its neighboring rock pinnacles reveals the masterful work of Mother Nature.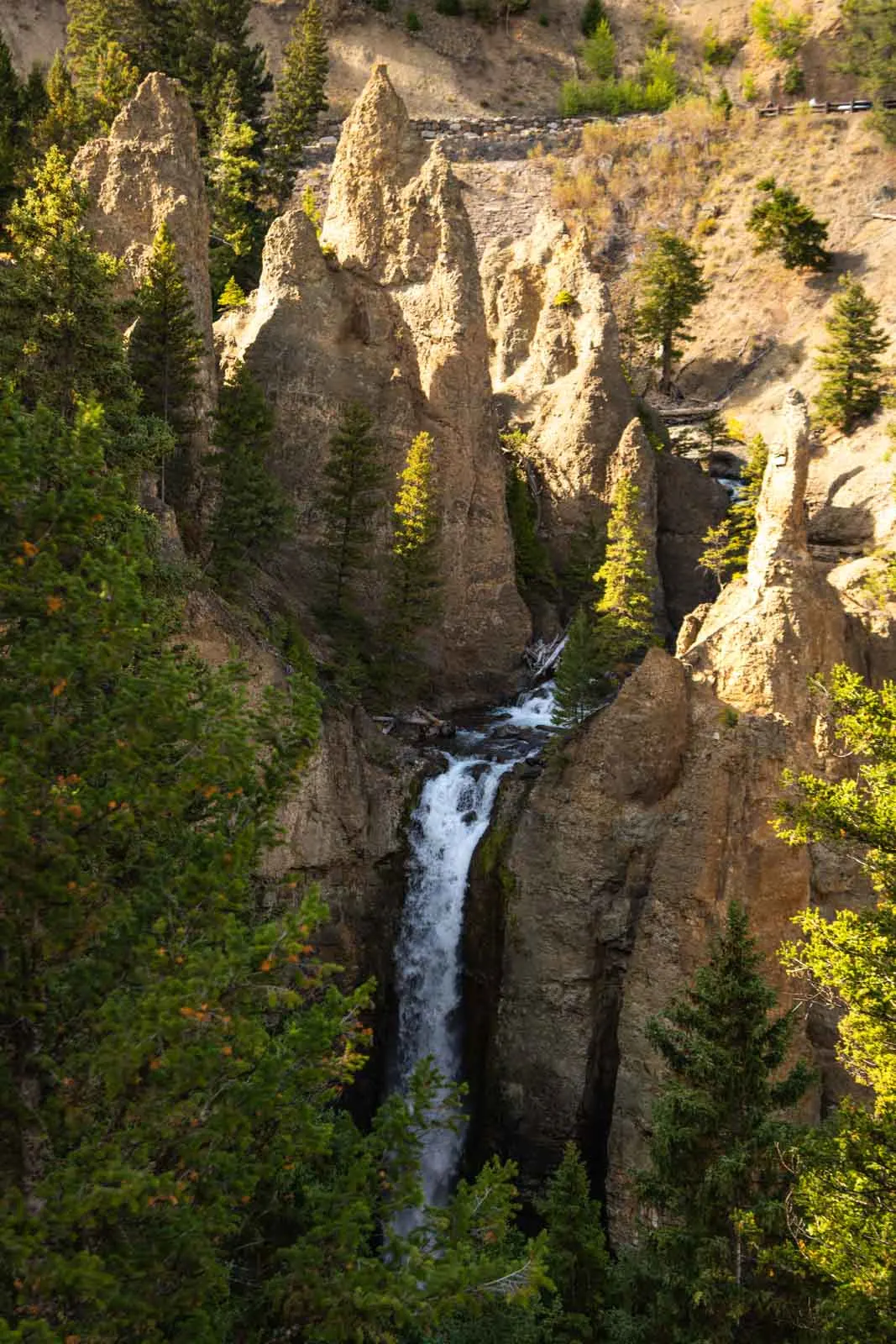 A breathtaking photograph of the waterfall in 1871 dazzled lawmakers into quickly establishing the park. The overlook remains one of the most remarkable geologic panoramas in Yellowstone, and you'll often spot a plethora of wildlife around the falls if you're here at the right time.
Virginia Cascades
Drive slowly, or you'll zoom right past this gorgeous waterfall plunging 60-feet over a rocky incline. There are relatively few places to pull over and gaze at the falls, but this cascade is easily accessible from the road.
Dense pine forests and tranquil meadows surround the waterfall, and a quick snapshot is easy before continuing your drive.
RELATED: 27 Incredible Waterfall Hikes on the West Coast, USA
4-Day Yellowstone Itinerary
Another full day exploring all the things to do in Yellowstone National Park. Today may seem a little intense, but you'll be able to fit all of this stuff in one day, promise! Enjoy your last day in the park; tomorrow will lead you to the incredible Tetons.
Grand Prismatic Sunrise & Fairy Falls Trail
The dreamy colors of Grand Prismatic Spring will surely be the most sought-after photograph on your Yellowstone itinerary. Possibly the most iconic image in the park, the Grand Prismatic Spring is a resounding testament to Yellowstone's hydrothermal power.
The world's third-largest hot spring emits radiant shades of orange, red, yellow, and green around turquoise-blue water. Sunrise is a magnificent time of day to capture a breathtaking panorama of Grand Prismatic (and avoid crowds). The contrast of the sunlight beaming over the horizon and the spring's profusion of colors take your breath away.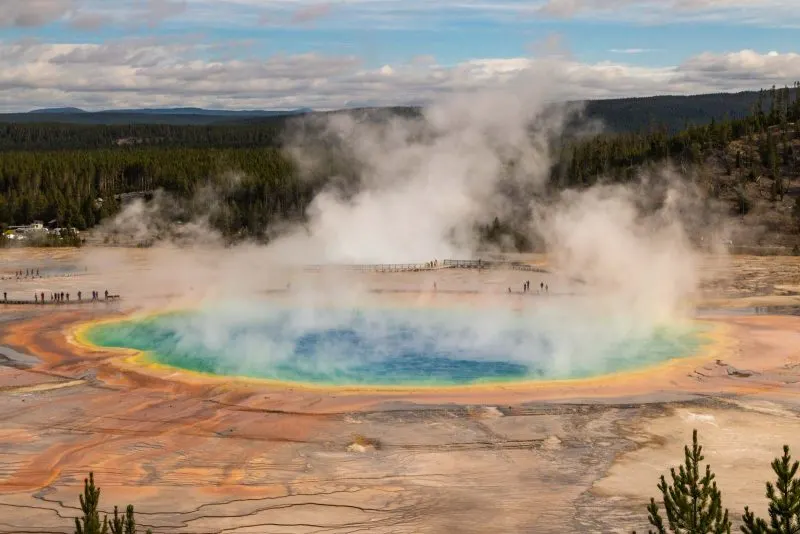 This is probably the single photo that comes to mind when thinking about Yellowstone, but walking along the boardwalk doesn't provide the best views of this great (or should I say grand) spring. To get the best view of Grand Prismatic, you'll need to walk around a mile to the overlook just off the Fairy Falls Trailhead. The boardwalk gives you an uninterrupted view of the spring.
If you continue along the trail, you'll end up at Fairy Falls (5-mile round trip), keep in mind it's pretty dried up when it's not the wet season.
Paint Pots
If you love Yellowstone's hydrothermal activity, the Fountain Paint Pot Area is a must for your Yellowstone itinerary. You'll find every type of hydrothermal wonder, and you're sure to receive an incredible show during your visit.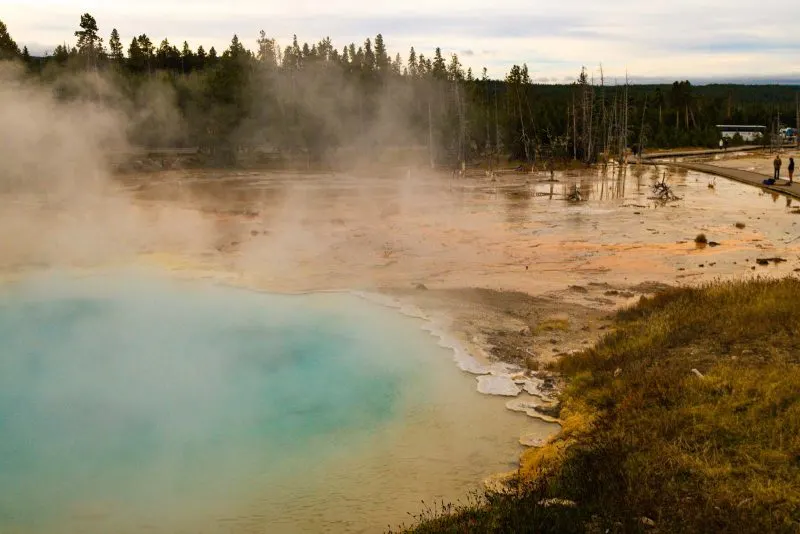 Geysers frequently erupt and colorful mud pots bubble due to the intense pressure of rising gasses. You can access the hydrothermal formations via a short boardwalk through the Lower Geyser Basin and gain a great perspective of them all.
Just make sure to watch out for scorching mud plopping onto the boardwalk!
Biscuit & Black Sand Basins
Each of these basins is a hotbed for hydrothermal features, including numerous geysers and hot springs.
The boardwalk across Biscuit Basin is noted for its numerous sparkling pools containing vibrant hues. Pools will likely be steaming and bubbly as you waltz towards the Upper Geyser Basin, but they can be unpredictable.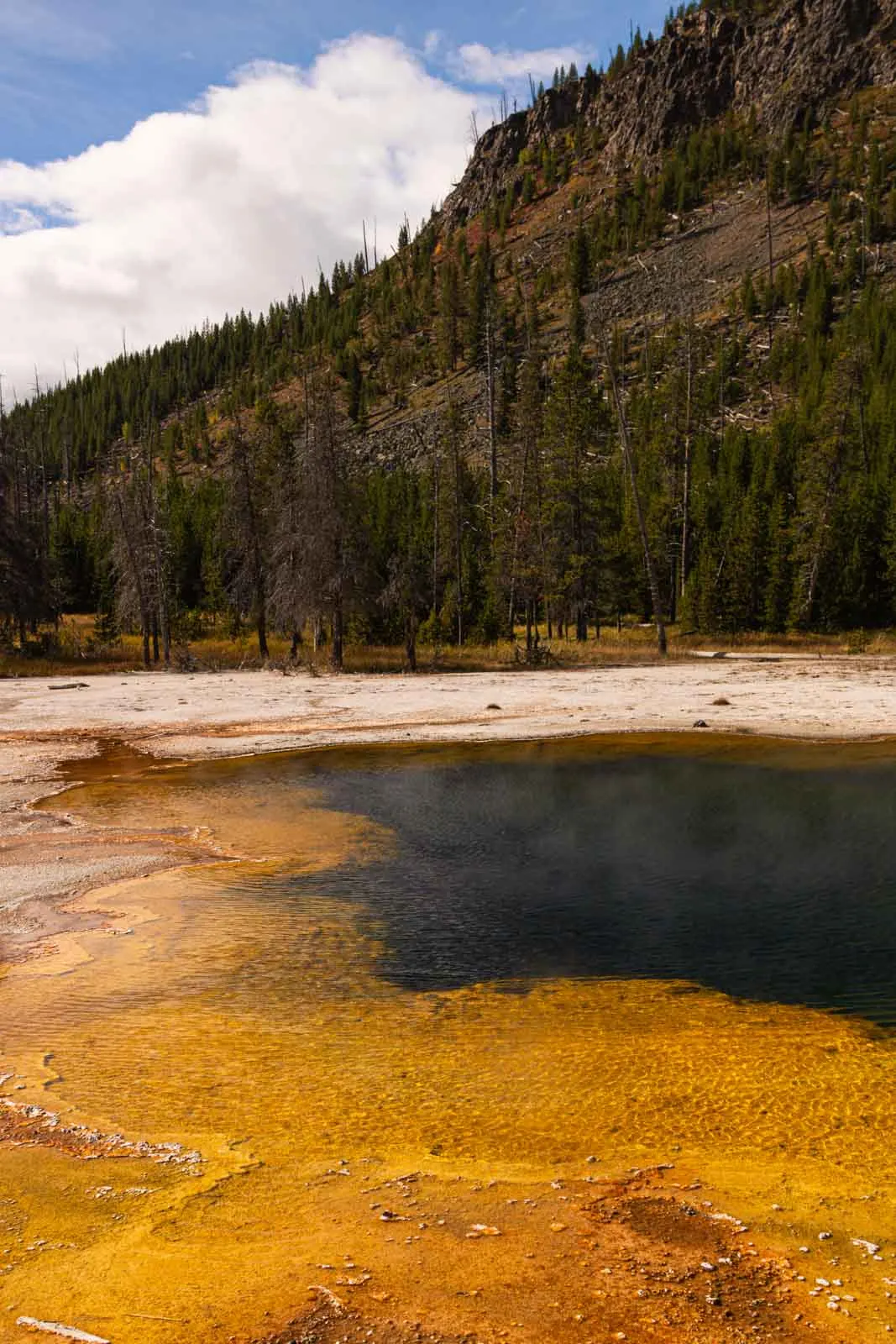 Black Sand Basin takes its name from the deposits of black sand lying next to its iridescent pools and hot springs. Geysers erupt frequently, and bacteria create a stream of colors sprouting along the edges of the pools.
Old Faithful
For most visitors, Old Faithful tops the list of things to do in Yellowstone National Park. This symbolic image has become the most celebrated spectacle inside the park, and everyone congregates to the viewing area to see one of its eruptions.
One attribute that makes Old Faithful an overwhelming favorite amongst Yellowstone's many geysers is the incredible height it can reach. Eruptions consistently soar over 130-feet in the air to astonish audiences. With its (decently) easily predictable eruptions
The viewing area around Old Faithful provides ample space to watch the show considering the large crowds it attracts. Avoiding peak hours in the afternoon can help you have a more relaxing experience witnessing Yellowstone's most cherished natural treasure.
While I appreciated the moment, I must say, Old Faithful is just a tad underwhelming personally. With that said, if you are pressed for time on your Yellowstone itinerary, I'd say visit if it's erupting soon, but don't wait around for it; there are far cooler things to see in the park.
You can easily pop into the visitor center and see when it's erupting next, but it's not always on time, so don't waste a good chunk of your day here.
Kepler Cascades
Located just a couple of miles south of Old Faithful Village, this gorgeous waterfall rushes through a narrow canyon. The overlook gives you a spectacular view of the cascading falls. Easily viewed from a stop along the roadway, the cascade consists of three tiers before crashing into a rocky basin.
The base of the falls can be reached by strolling a steep path through the surrounding forest.
West Thumb Geyser Basin
Perched beside Yellowstone Lake, West Thumb is a unique spot to marvel at the park's hydrothermal features. Steaming pools and bubbling geysers decorate this stroll looping around the basin.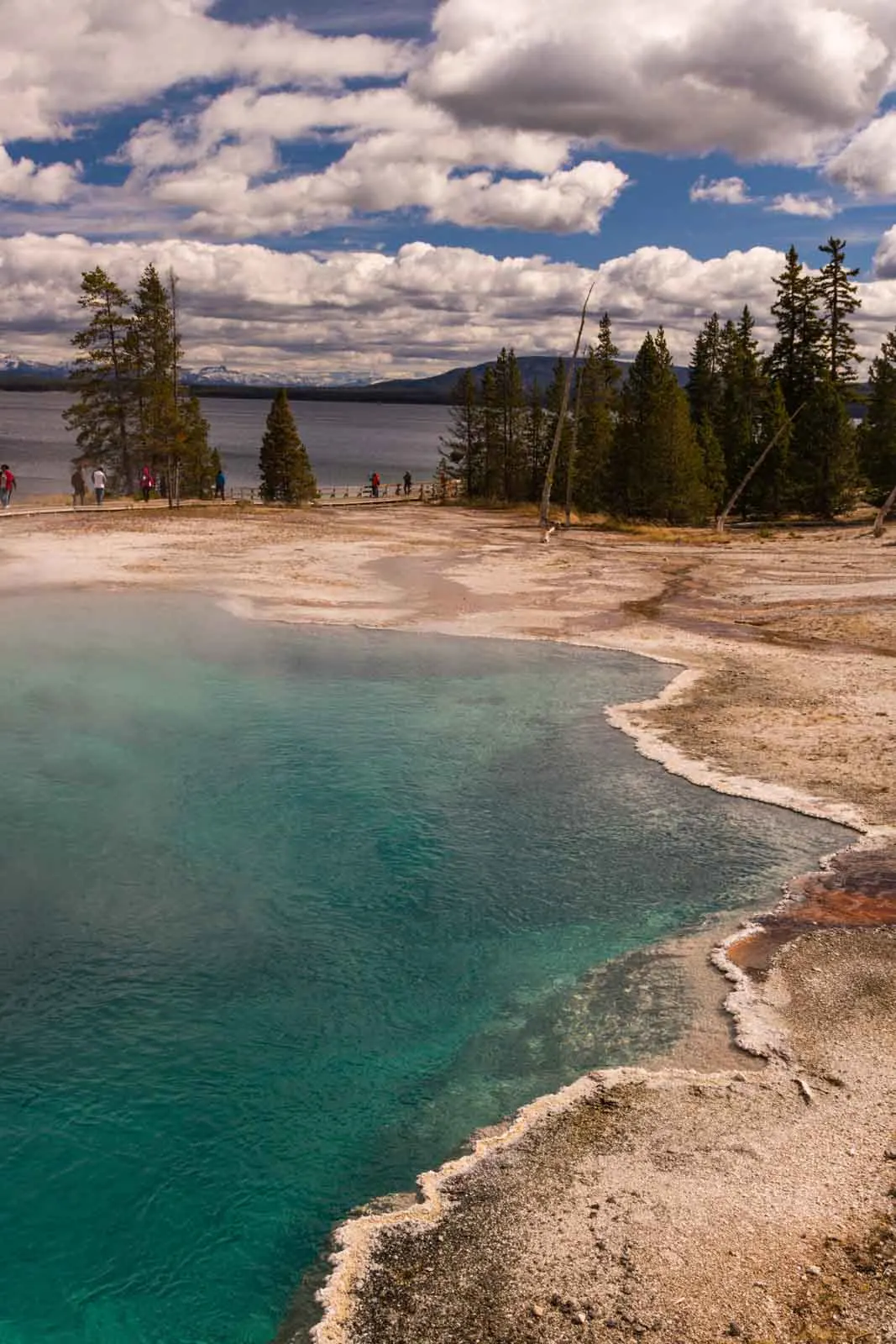 Walk alongside pools with gleaming turquoise hues before awing at the panoramic image of the enormous lake. When you walk along the edge of Yellowstone Lake, you'll notice several hydrothermal formations submerged underwater.
You've seen some pretty unearthly views so far in Yellowstone but geothermal activity right along the shore of a massive lake? Now that's cool!
Upper Falls
Plunging roughly 110-feet above the Yellowstone River, Upper Falls ranks among the most powerful waterfalls you'll see in your Yellowstone itinerary. Pristine forests decorate the landscape, and the sheer power of the falls creates a splendor that is impossible to match.
Thousands of gallons of water plunge over the cliffside every second that eventually cuts through the canyon.
Artist Lookout, Lookout Point & Grand View
The eye-popping vistas at Artist Lookout are among the most prestigious photographs taken inside Yellowstone. There is no shortage of impressive canyons in the park, but this lookout provides the perfect angle of the most visually stunning.
Bright hues of yellow and orange sparkle as the famous Lower Falls plunges into the sharp canyon into the distance. The river slithers through the narrow crevice as the craggy walls soar into the sky above.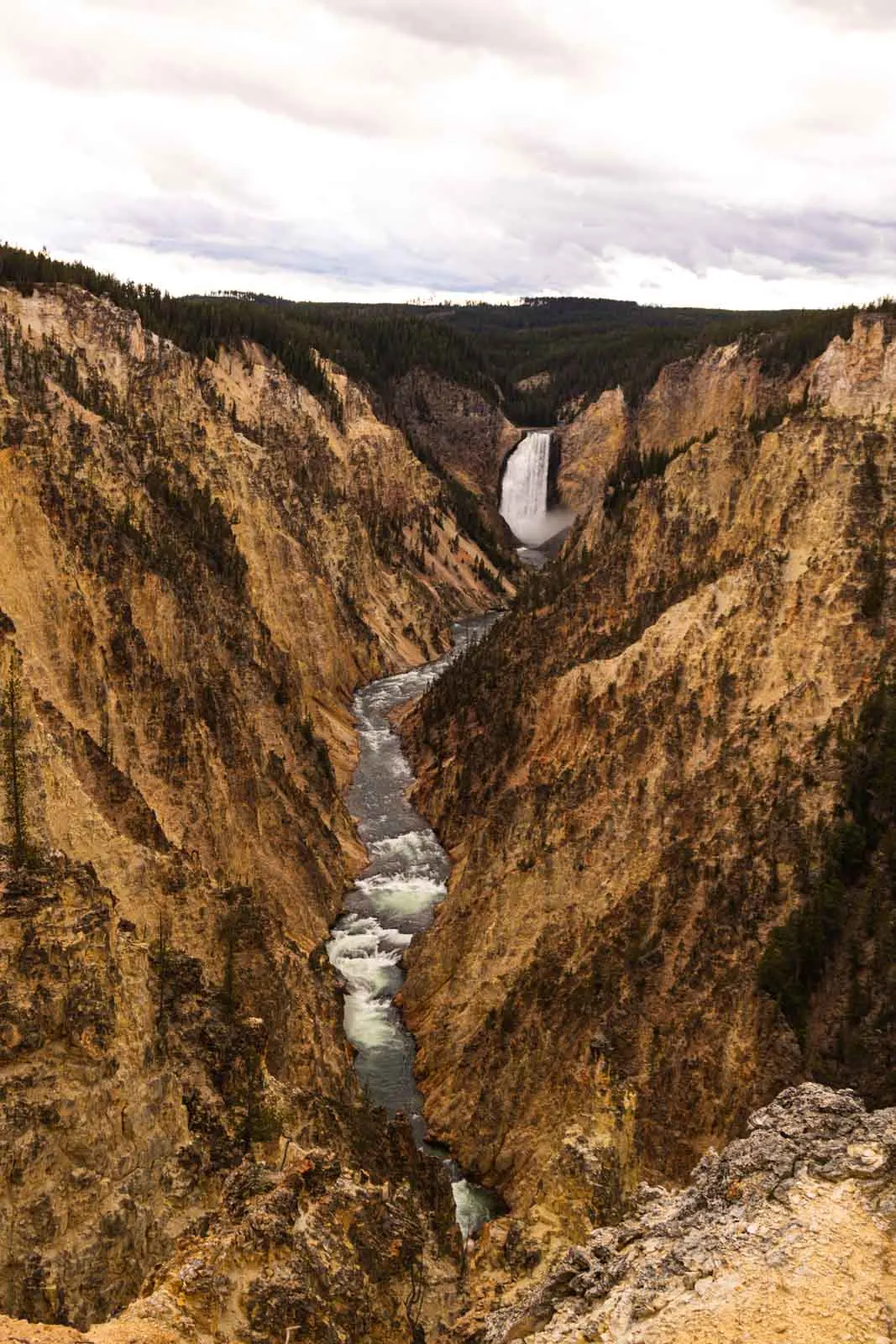 Nicknamed "The Grand Canyon of Yellowstone," the canyon eclipses a depth of over 1,000-feet in several areas. The raw beauty of the colorful canyon walls contrasting with the plunging waterfall has inspired artists for over a century. Staring at the immaculate landscapes makes you appreciate Yellowstone's beauty, unlike any other place in the park.
Lookout Point meanders off the North Rim Drive and takes you face to face with the falls plunging into the V-shaped canyon. A little further up North Rim Drive, Grand View provides another stunning angle of the canyon. Perched above the winding Yellowstone River, the scenic view is one of the most memorable pictures you'll take in the park.
5-Day Yellowstone Itinerary to The Grand Tetons
Say goodbye to Yellowstone National Park and hello to the Grand Tetons. When thinking of what to do in Yellowstone, skipping over the nearby Tetons would be a huge mistake. You barely leave Yellowstone and immediately are greeted with the towering majestic mountains of the Grand Tetons.
If you only have a day, here's what you can squeeze in.
Grand Teton National Park
With its rugged peaks, alpine meadows, and forested valleys, the Grand Tetons are one of most picturesque destinations you'll encounter on an extended Yellowstone itinerary.
Located just south of Yellowstone National Park, you'll find an endless array of outdoor activities. Hiking, kayaking, fishing, and wildlife sightings are the perfect ways to explore unspoiled landscapes. You'll share the pristine wilderness with elk, bison, bears, bighorn sheep, and more fascinating creatures.
Roughly 230-miles of trails offer incredible vistas of snow-capped peaks shining in the horizon.
Lakeshore Trail
Distance: 2.5 miles
Type of Trail: Loop
Difficulty: Easy
Snow-capped peaks rising above dense forests makes this a must see in Grand Teton National Park. The path loops around Colter Bay and is a haven for those seeking lots of wildlife.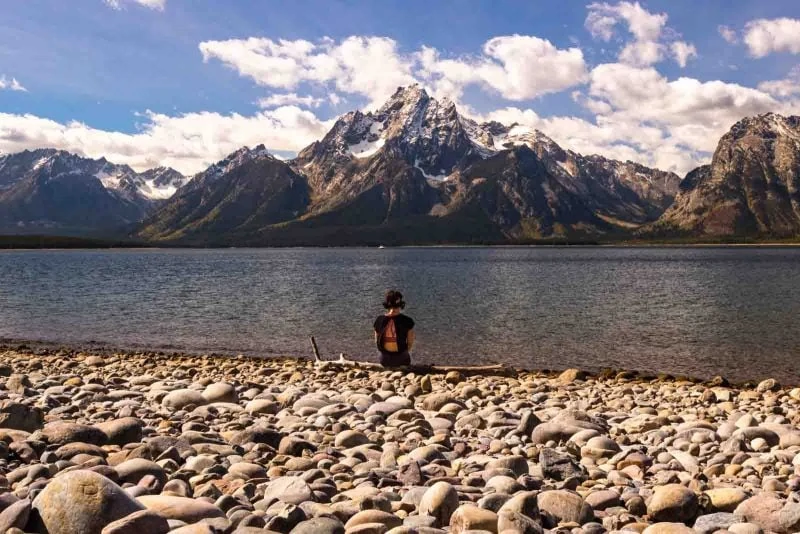 Deer, beavers, otters, ospreys, moose, and many other species can be found roaming through the wilderness. Bear spray is a must to avoid an unsettling encounter.
A natural causeway separates two islands along the route, and you'll be greeted with striking views of the mountain range. The path reaches a pebbled beach beside Jackson Lake with magnificent peaks in the distance.
Distance: 5 miles
Type of Trail: Loop
Difficulty: Easy
The glistening shores of Jenny Lake are a spectacular sight by itself, but a detour to Hidden Falls makes this an extraordinary adventure.
You have the option of trekking the path through the forest or riding the boat shuttle, which crosses the lake. Whether reaching the falls by foot or boat, you'll stand in awe of jagged mountains reflecting against the crystalline waters.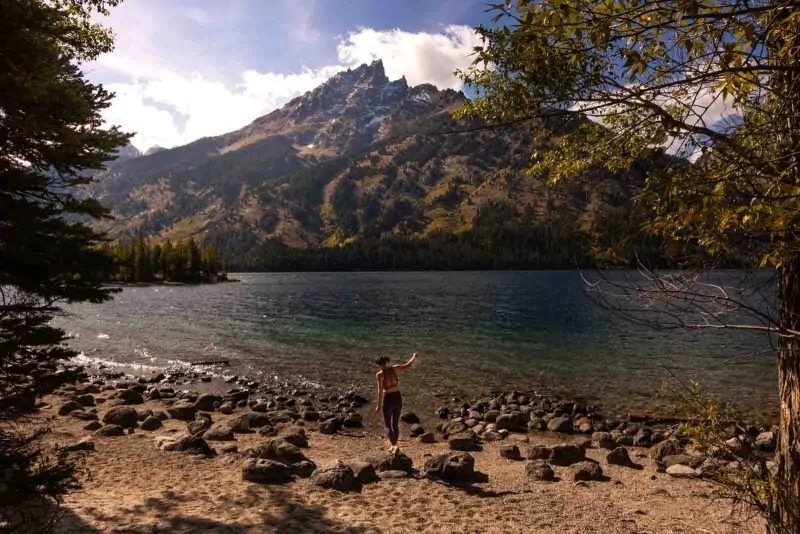 The trail winding through the forest crosses a footbridge over a beautiful creek cascading along the rocks. In between the dense forest, the falls tumble down a jagged slope into a peaceful stream. Although the coniferous forest partially obstructs the mountain views, the enchanting atmosphere is a beautiful spot to relax.
If you're low on time like we were, frolicking along the lake is acceptable too! We had a long driving day across the state so we, unfortunately, couldn't do the hike.
Mormon Row Houses
Around the turn of the 20th century, Mormon settlers built 27 homesteads in the Grovont area to cultivate the land and establish a tight-knit community. For decades, they dug ditches to secure reliable drinking water and grow crops.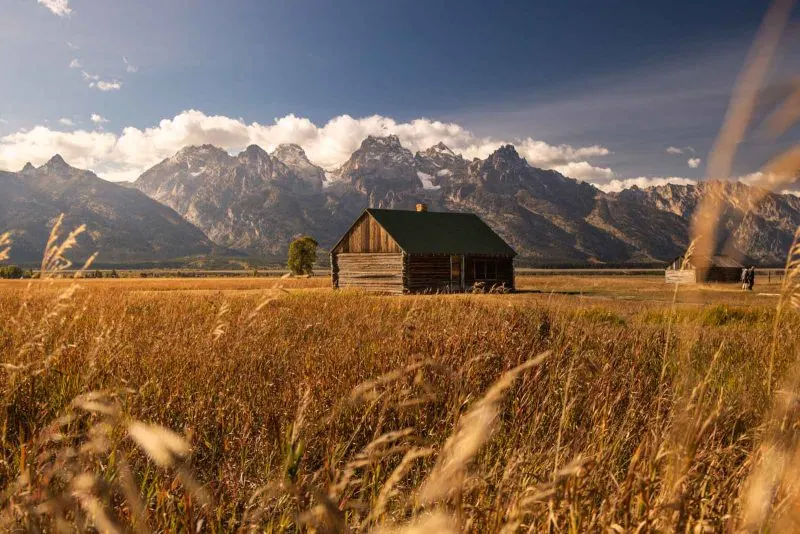 Grand Teton National Park acquired the homesteads, and the charming barns offer some of the loveliest photo opportunities in the park. Each historic homestead has a gorgeous mountain backdrop and provides a glimpse into the life of the Mormon settlers.
Where to Stay Near Yellowstone National Park
Here's is where I stayed and where I can recommend. Both were well-located, which is very important when you're trying to make most of your Yellowstone itinerary.
406 Lodge in Gardiner
Basing here was a highlight in itself as the town is charming. The lodge provides more than just a room but a home away from home with a kitchen, a living room, and pretty much everything you need. The location can't be beat either. You're a mere few minutes from the entrance to the park.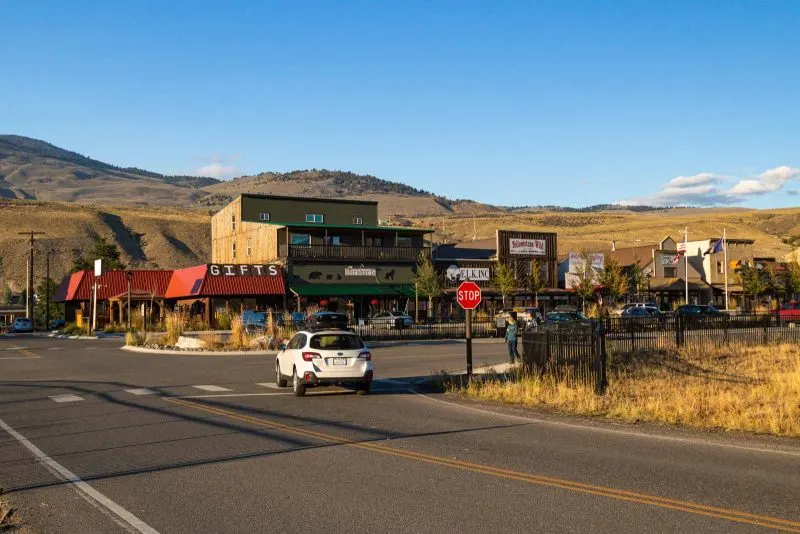 Canyon Lodge
At this lodge, you'll get a standard hotel room minus the waste. I LOVED their green efforts with recycling and compost bins in the room and toiletries that were not one-time use only. Aside from that, yes, the room was warm and comfortable, but it's all about that location! The hotel is located in the heart of the park so you can't beat it.
The only thing to keep in mind is the disorganization of the food halls and restaurants. They get a bit messy since everyone is trying to eat dinner at the same time, and there are literally no other options around (but again…the location! Also – bring food!)
When to Visit Yellowstone National Park
Each season will offer a bit of a different flavor to the park…
Summer – A great time to come when the sun is out, but this time of year draws the most crowds.
Spring – The snow is melting, and it gets a bit muddy around the park, but there are fewer crowds. It can still be snowy and cold during these months. Do note many facilities and even roads are closed during this limiting your areas around the park.
Fall – A great time for weather, animals, and lesser crowds! (We went in Septemeber, and it was PERFECT). Keep in mind if you're erring on the later side, road closures do start around November)
Winter – Waterfalls become magical chandeliers, snow sports take over, and geysers can freeze in the air. It's a magical time, but the areas are limited due to road closures.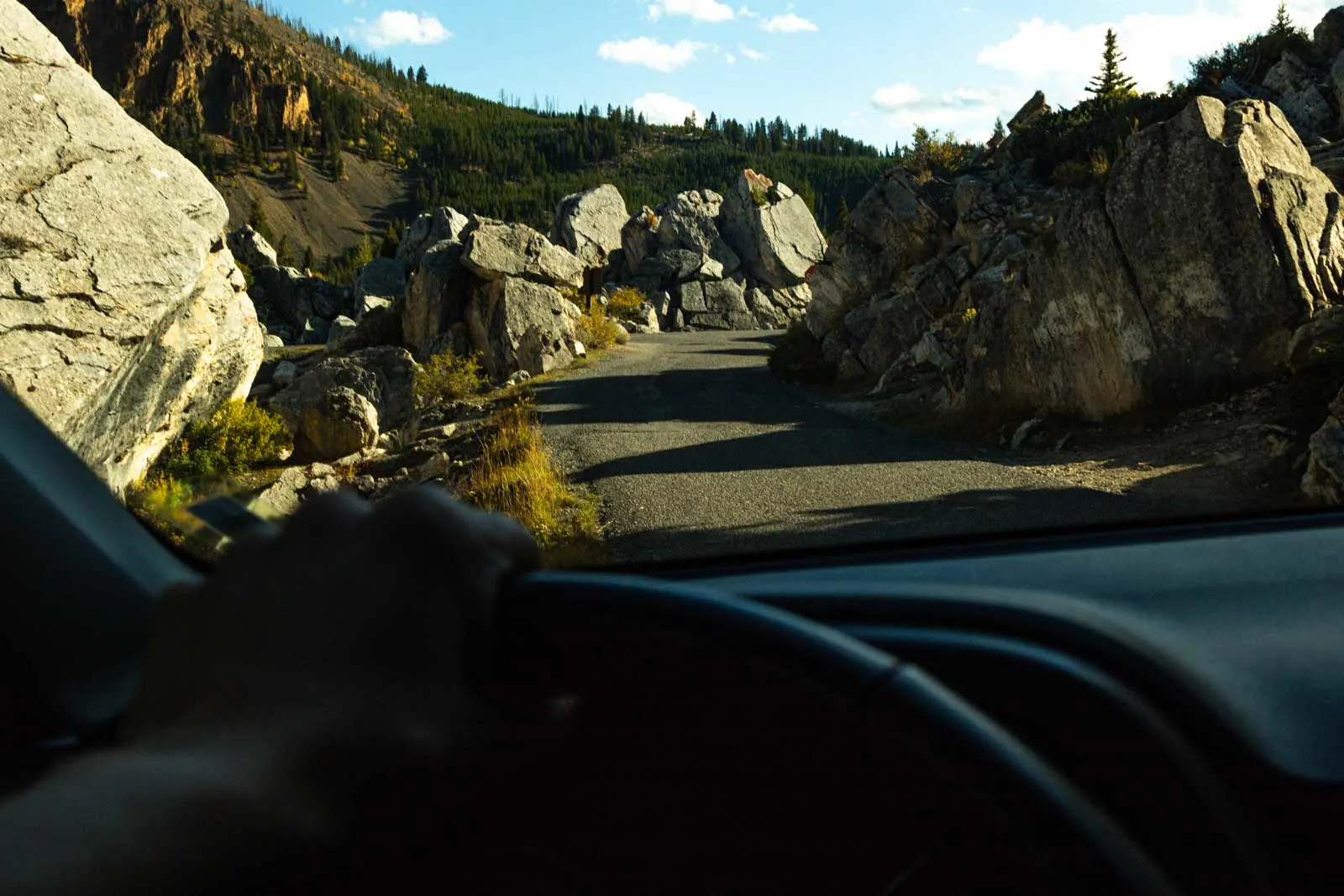 Tips for Your Yellowstone Itinerary
Make sure to pack correctly! It can get very chilly, even in summers, at night. If you go exploring for wildlife in the early mornings, it can be FREEZING. I was an icicle early mornings in September.
Morning person or not, get up and GO. The lines can build up getting in the park; you'll be getting the most out of your day, the animal sightings are best early in the morning. Set that alarm and don't dare click snooze.
Don't be a dick and stop in the middle of the road to take a picture, it's a two-lane road around the park, and other people are driving, this isn't a private photo lane for you. On that same note, don't get up and leave your car parked in the middle of the road to get a picture, which happened to us… Why?!
Bring food! Choices are minimal when you're in the park, and you'll eat up a chunk of your day waiting for food or paying out the nose for a lame sandwich.
Be kind and aware of the wildlife. The bison can get VERY close, which is excellent. but like don't walk up to it or get closer! Take a stance back, go between cars, give the animals space.
Bring bear spray. Pretty much everything mentioned in the post has signs and notices that bringing bear spray is a recommendation/ a must.
How to Get Around Yellowstone
A car is an absolute must. It will be pretty challenging to see anything without one. If you don't have a car rental or are low on time, the next best thing is to book a tour. Most depart from Jackson, Wyoming, or West Yellowstone. You can check out some good tours here.
For car rentals in the area, I always check here first. And if you don't want to drop off the car at the same location, it's always worth asking if they have cars that need to go a "certain way."
We booked and got a car that needed to head west anyway. Since we were exploring South Dakota next, we happily took that car, weren't charged the one-way fee and dropped it off in Minneapolis.
I hope this helped you prep for your Yellowstone itinerary! Let us know in the comments what your plans are. Did you make room for the Tetons and Yellowstone Country?! (Please say yes!)
---
---
Don't lose this! Click to pin it now.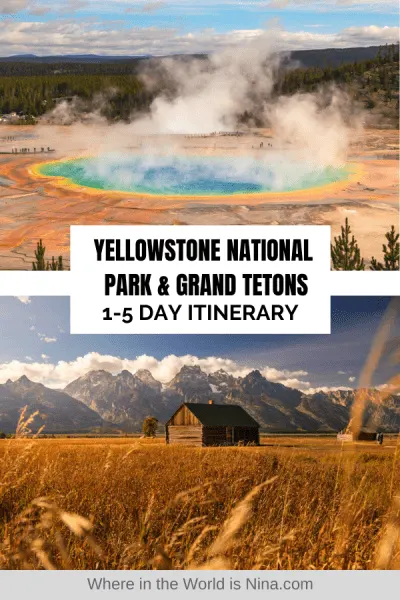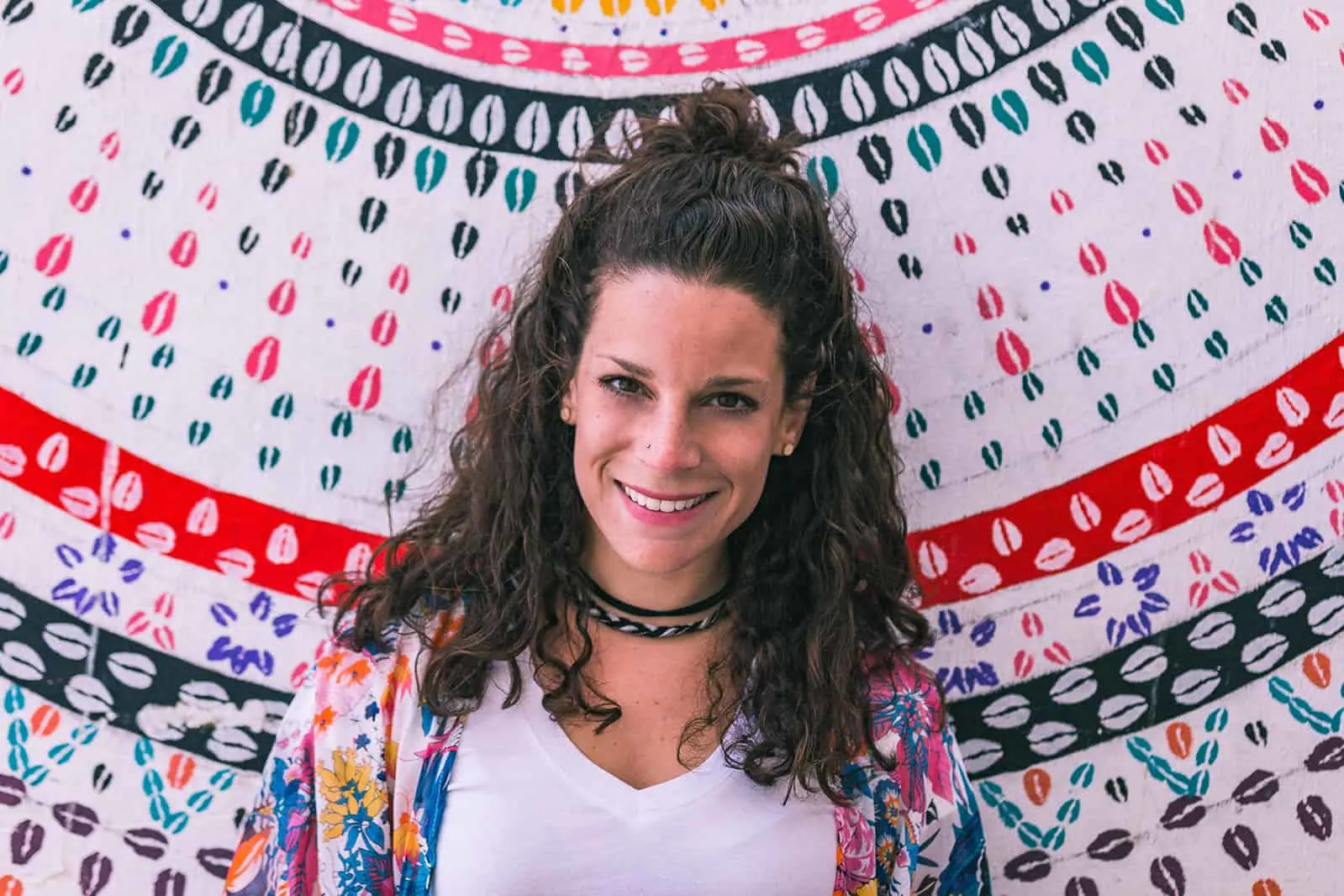 Nina Ragusa is an adventurer, messy bun master, breakfast fan, and full-time travel blogger. She's been abroad since 2011 and blogging on Where in the World is Nina? for nearly as long. Nina helps people like you move around the world while making money. She loves talking about how to work abroad and online to travel longer!