I've been abroad since 2011 and hands down hiking and road-tripping New Zealand has been one of my best experiences!
I spent around five months in the country, living in a van, doing a ton of hikes, and having an epic time. I'm hoping my New Zealand road trip itinerary helps you travel the country better and give you an idea of how to organize your time here (AKA what you can cram in).
While New Zealand isn't all that big, there's an incredible amount of adventure to have here.
Don't lose this! Click to pin it now.
New Zealand Road Trip Itinerary
---
The itinerary below is a pretty short and sweet rundown on what a month or two (or more) would be like road tripping New Zealand. I won't go into much detail but instead will give you a rundown with links for more options. I have two other more in-depth itinerary posts for each island plus a plethora (yes, I said plethora) of other guides around the country.
Seriously, I COVERED New Zealand the best I could for you. So—read this post and then come back to click the more in-depth posts that pique your interest for further info!
North Island Road Trip – 2 Weeks or More
As the capital of New Zealand, you are bound to visit Wellington at least once during your New Zealand itinerary. Relax on the beautiful Oriental Bay, a stunning, innercity beach, and learn a little more about the area at the Papa Tongarewa Museum. Take a hike up the Makara Peak Track, or for something a little more relaxing, Owhero Bay is picturesque and out of the city.
The wild coastline of Taranaki is sure to call any adventure lover on a New Zealand road trip, tucked away on the central west coast of the island. The picture-perfect symmetrical volcano of Mt Taranaki has to be seen to be believed, and there are many other beautiful trails in the area, such as the Pouakai Circuit, where you can witness the rugged beauty of the Egmont National Park and visit that oh-so-famous reflective tarn.
Visit Rotorua on your New Zealand trip to witness some serious geothermal activity, such as shooting geysers and bubbling mud. The best place to witness this is in the landscape of the Wai-o-tapu thermal valley, filled with steaming fumaroles and bright silica terraces.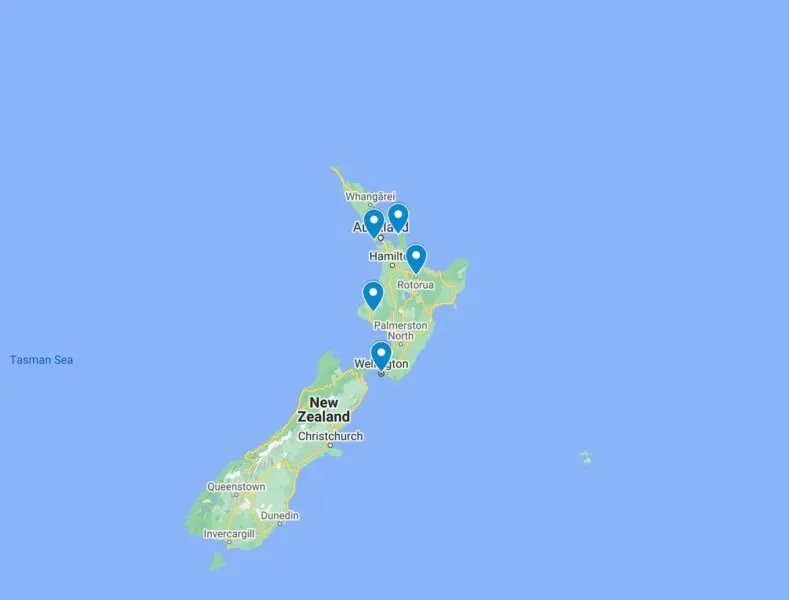 In Rotorua, you can also find out more about the traditional Maori culture at the Mitai Maori village or raft the highest commercially raftable waterfall in the world. It certainly shouldn't be missed off a New Zealand itinerary.
The Coromandel region is all about the beauty of nature (OK fine, so is all of New Zealand). Picture cascading waterfalls, thick rainforest, and white sand beaches. The Hauraki Rail Trail will take you through the Karangahake Gorge to the Owharoa Falls. Cathedral Cove is an incredible natural rock formation with sea caves, cliffs, and blowholes all nearby, which can be seen by both hiking or boat.
When exploring Piha, you must take the Mercer Bay Track, a cliffside trail that provides some stunning scenic overlooks of the crashing waves below. Watch the surfers tackle the waves, or even have a go yourself. Also on your New Zealand road trip, make sure you also take a few of the hikes around the stunning Lion Rock, such as the Tasman Lookout Trail.
Here's My Complete Guide to Road Tripping North Island
South Island Road Trip – 3 Weeks or More
The sprawling, urban city of Christchurch is the largest on the island, so after checking out the street art, architecture and places to eat and drink, its time to head out into the great outdoors for the next part of your New Zealand itinerary.
Part of a UNESCO Dark Sky Reserve, Tekapo is just as stunning at night as it is during the day when the skies come alive with twinkling lights. Silver River offers stargazing tours in the area if you are eager to learn more about the night's sky.
The Lake Tekapo walkway is an easy hike around the lake, or the Mount John Summit Track offers a little more of a challenge, but you'll be rewarded with some incredible views. Be sure to end the hike with a dip in Tekapo Springs before carrying on your New Zealand trip.
For an awe-inspiring mountain landscape, head to Aoraki Mount Cook National Park area. The area is home to some of the highest mountains and longest glaciers on the island, with the Tasman Glacier Lookout Trail, Hooker Valley Track, and Kea Point offering some of the best views of this landscape.
Get an alpine buzz at the town and lake of Wanaka, where there are plenty of recreational opportunities to keep you entertained. From kayaking and jet boating to canyoning and mountaineering, the options are endless. There are hundreds of miles or tracks with stunning views of the landscape, or if skiing is more your thing, there are also 4 ski areas just a short drive away.
Sitting on the banks of Lake Wakatipu, Queenstown has a lot to offer, including the world's first bungee jump. The area really is a place to tick things off the adventure bucket list, and the town itself is a fun place to explore as well.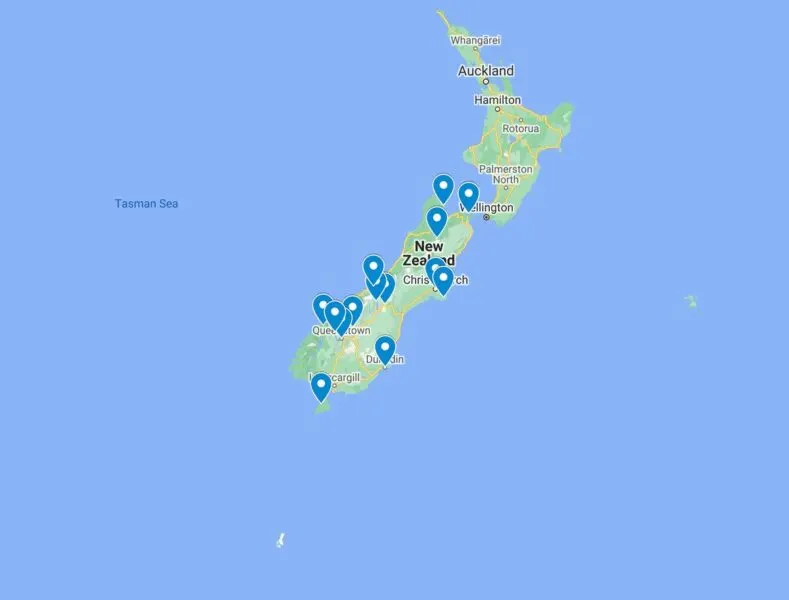 The trail to the McLean Falls is a great way to start your New Zealand itinerary in The Catlins, a beautiful, remote coastal forest. There are some incredible viewpoints along the coast, such as the windy Slope Point, and some lovely beaches for relaxing, such as Long Beach.
Despite being the country's smallest national park, Abel Tasman is beautiful. See some of the best views from the coastal track, where, from a 47m suspension bridge, you have a good chance of spotting some fur seals. If you want to experience the area in a different way, kayaking will allow you to access some of the hidden coves around the shore, the ideal way to finish off a New Zealand road trip.
Here's My Complete Guide to Road Tripping South Island
Add on New Zealand Itinerary Options
The ice age created some incredible natural landscapes in the Milford Sound area, with dramatic cliffs rising dramatically up from the waters. Take a boat cruise to witness some of these natural wonders up close.
Lord of the Rings fans need to head to the Glenorchy area to get a closer look at some of the prime filming locations used in the movies. It is just a beautiful part of the country to explore, with the Routeburn Track being one of my favorite ways to see the landscape.
The Fox and Franz Glaciers are incredible and are some of the most accessible glaciers in the country. There are many easy walks near the island, or professional guides often lead journeys onto the ice.
Stewart Island is home to the Rakiura National Park, accessible by boat. Nature lovers flock here in hope of spotting some of the varied wildlife that calls the area their home.
Budgeting and Costs for Road Tripping New Zealand
Everyone travels differently, so the cost of going on a New Zealand road trip will vary from person to person.
Food: If you are looking to save a little money, groceries are not that expensive (if you choose carefully), and if you have the facilities then cooking for yourself is the cheapest option.
Transport: One of the cheapest ways to complete a New Zealand itinerary is via campervan, as your van will act as your transport and your accommodation. Other travel costs vary. If you book a bus journey far in advance, it could cost as little as $1, however, if booked last minute you could be looking at between $20 and $60.
Also, if you buy a van, you can often recoup most of the investment when you sell it.
Campsites and accommodation: Again, the costs of campsites vary depending on amenities and location, plus there are a few free places to camp or passes that get you free camp spot (read the post below!). On average, hostel dorms cost around $30, and private rooms up to $100.
Tours: Like most places in the world, organized tours are pretty expensive, especially the more extreme such as helicopter and whale watching tours. Taking a hike yourself though, that is completely free of charge, which is why I hiked A LOT during my time here.
Read More About Budgeting for New Zealand
How Will You Road Trip New Zealand?
There are a few different ways you can tour New Zealand, the most common being buying a campervan, renting a campervan or hiring a car and using hotels. There are pros and cons to each option, so you'll have to see what suits your needs.
If you are staying for a long period of time, buying a camper is your best option, as when you have finished your journey you can sell it on, making back a good chunk of your money. There is always the risk, however, that you won't be able to sell it, or it breaks down halfway around your trip.
If you are only staying for a short time, hiring a campervan will give you the most freedom, and although using a car and hotels is likely to be the pricer option, it certainly will be the most luxurious.
Campervan Purchasing
Buying a campervan in New Zealand is actually pretty easy, as travelers are coming and going all the time. The best place to find a van is likely to be Facebook, and there are tons of groups that you can join, with specific groups for big cities. Once you have found the van that you like the look of, you can simply meet up with the seller and buy it!
Cash is the easiest way to buy, as things can get a little sketchy if you do bank transfers. When you have the keys, go to a post office and tell them you are looking to update the registration.
There's a lot to talk about if you're looking to purchase a campervan in New Zealand for your road trip. Is it self-contained? Does it have a WOF? Do you need insurance? Etc…
Read more on Campervanning New Zealand, Buying, Selling, and More
Camping in New Zealand
The types of campsites in New Zealand vary dramatically, from just the basics to having large kitchens and modern facilities. Depending on what you want, there are three different options. Freedom camping means you park up (almost) anywhere for the night for free in designated areas, although these are very basic and sometimes don't even have a toilet.
DOC campsites are also pretty basic, although they tend to have more facilities than a freedom site, however, if you buy the DOC pass, you pay just a one time fee and are able to use most of the sites for free. If you are looking for a bit of luxury, head to a holiday park. Although this is the most expensive option, you get what you pay for, with much more amenities.
Read More on Camping in New Zealand (and What to Eat!)
Quick Tips for Your New Zealand Road Trip
Hiking in New Zealand is AMAZING but if you go on any of the more strenuous ones, make sure to double-check with DOC before tackling it. Also, definitely read my guide for hiking in New Zealand which includes 50+ legendary trails and tips.
You always drive on the left side of the road in New Zealand.
Be aware of gravel and unsealed roads, as some of the roads that are 'off the beaten track', are not very well maintained.
Always watch out for animals on the road, especially keep an eye out for sheep! And when you're parked, be aware there are some cheeky birds that call this place home, like the Kea. They will literally steal things out of your car. No kidding.
Most of the bridges in New Zealand are single lane, so make sure you know how to read the one-way signs.
If driving in winter, hire or buy some snow chains, as the roads can be pretty slippery.
Expect your journeys to take longer than the GPS says as most of the roads are one lane, so the going can be slow.
More New Zealand Travel Tips
---
---
>>> EVEN MORE ABOUT TRAVELING NEW ZEALAND <<<
50+ of the Best Hikes in New Zealand & Hiking Tips
Your Guide To the Tongariro Alpine Crossing Hike in New Zealand
A 5-Day Queenstown Itinerary For the Intrepid (New Zealand)
20+ Day New Zealand South Island Road Trip Itinerary
2-Week North Island, New Zealand Road Trip Itinerary
Piha & Waitakere Ranges Walks, Waterfalls, and Beaches—New Zealand
A Guide to The Pouakai Circuit & Hut at Mount Taranaki (New Zealand)
11 Fab Things to Do in The Coromandel, New Zealand
Epic Things to Do in Rotorua—Hot Pools & Adventures
7 Tips For The Cathedral Cove Walk in The Coromandel, New Zealand
A Guide to Hiking The Kepler Track in Fiordland National Park, New Zealand
5 Epic Hikes in Mount Cook National Park That Are TOTALLY Worth It (New Zealand)
A Guide to Hiking French Ridge Hut in Aspiring National Park (New Zealand)
A Guide to Hiking the Mueller Hut Track & What to Pack (New Zealand)
Hooker Valley Track: The Easiest & Most Beautiful Hike in Mount Cook NP (New Zealand)
Guide to the Routeburn Track: Should You Do It as a Day Hike? (New Zealand)
5 Things to Know about Milford Sound, How to See It and Is It Worth It? (New Zealand)
Hiking Roy's Peak & How to NOT to Wait in Line For A Pic (New Zealand)
An Adventurer's Guide to Exploring Lake Tekapo, New Zealand
4 Easy But Beautiful Walks Around Dunedin, New Zealand
11 Things to Do in The Catlins in 2 Days (New Zealand)
A Guide to Exploring The Cave Stream Scenic Reserve (New Zealand)
I hope this quick guide to road tripping New Zealand was helpful, don't forget to go back up and click around for more in-depth guides and tips for the places mentioned.
---
---
Don't lose this! Click to pin it now.