The following work and travel New Zealand article is authored by Garrett Galvan
Taking advantage of a working holiday opens up a range of opportunities in countries all over the world.
You're able to fully immerse yourself in a new culture, have fun, make friends for life, all while making money along the way. New Zealand is just one of the many great places that allow for a working holiday visa, and for many, there is no better way to experience the towering peaks, dramatic landscapes, and beautiful coastline.
If you plan to work and travel New Zealand for an extended period of time, then you are going to need a Working Holiday Visa. I've gathered everything you need to know about this visa here including some tips from my personal experience.
It was one of the best experiences for me and I hope I can help you have an equally amazing time working and traveling New Zealand!
How to Work and Travel New Zealand With a Working Holiday Visa
In short, it's possible to work and travel New Zealand simply by obtaining a New Zealand Working Holiday visa. Luckily, the process is pretty easy and straight forward requiring only a few items, some cash saved up, and a flight!
Here are some easy step by step instructions on obtaining this visa and what you need to know.
New Zealand Working Holiday Visa Requirements
In order to obtain a visa, there are a few requirements that need to be met. For most countries, there is an unlimited quota available, which means the number of people from that specific country is not capped and you can apply at any point throughout the year.
For a start, you'll have to be between 18 and 30 years old. This rule applies to the majority of countries, but there are a few exceptions, so it is worth checking what the rules are for your own country.
For obvious reasons, you must have a clear criminal record.
You must have a passport that is valid for 3 months longer than the amount of time your visa applies for.
Have proof of funds which you then will usually have to prove on arrival of the country (around $4,200 NZD).
Have proof of an onward flight out of the country at the end of your stay, or proof of funds to purchase one at a later date.
You must be fit and healthy (medical examination may be required depending).
You can't bring anyone else along, such as a child or a partner. If you want someone else to join you on your adventures, then they will need to apply for their own visa.
Plus, you can't have had a working holiday visa before, it is a one time sort of thing (BUT there's another working holiday visa for New Zealand you can get, I'll explain below).
Tip: It is always worth checking the requirements for your own country, as they all differ slightly. For example, different countries need different proof of funds to get in, and others will require you to have proof of a full year of medical insurance during your stay.
Here's a list of countries that are eligible for New Zealand's Working Holiday visa and their particular requirements.
How Long Can I Stay Working and Traveling in New Zealand?
How long you can stay in New Zealand with this type of visa very much depends on what country you are coming from. If you are from the UK or Canada then you can live and work in New Zealand for up to 23 months.
If you are from France, Germany, Japan or the United States, you are only able to stay for a period of 12 months. Some countries have caps for the number of visas allowed per year, for example, there is a quota that means that no more than 300 people a year are granted a visa from Brazil.
How Do I Apply for a New Zealand Work Visa?
Once you've made sure you meet all the requirements and that New Zealand is definitely the destination for you, it is time to actually apply for the working holiday visa.
You can do this by heading over to the New Zealand immigration website and filling out the necessary details that they require. As well as general information about yourself, you'll also have to write about your intentions for visiting the county, such as they type of work you are planning to get and why you have chosen New Zealand as your travel destination.
Once you have filled out all the forms, you will need to pay the registration fee, with the total cost depending on where your home country is. You won't have too long to wait, as you'll find out if you are granted the visa within 15-30 days.
Applying for a New Zealand Work Visa Extension
As mentioned earlier, if you are from the UK or Canada, or any other country in the Commonwealth, you are able to stay for a bit longer than other countries. You can either state that you want the 23-month visa when you are first applying or alternatively you can apply for an extension when you are out there if you decide that you want to stay longer.
To do this, you need to manually fill out an application, get a medical check and then send your application to Immigration NZ. To be granted the visa extension, you'll have to do a little bit of farmwork before your first visa is up. This agricultural work needs to add up to 3 months overall before you can actually apply.
However, even on a 23-month visa, you can't work for more than 12 months in total or take any kind of permanent employment. Your 12-month working holiday visa must still be valid when applying for the extension.
In order to fill out the second application, you'll need 2 passport photos that have been taken in the past 6 months, your passport, a form of payment, the General Medical Certificate, and Chest X-Ray Certificate, and evidence showing that you have sufficient funds to stay in the country.
This means $350 per month that you plan to stay, a return travel ticker or funds to purchase a return travel ticket.
RELATED: The Longest Tourist Visas for U.S.A. Citizens, How to Extend Visas, and More.
What to Do Once You Get to New Zealand?
Although it is not compulsory, it is advisable that you have at least a few nights accommodation booked in advance, so at least you will know you have someone to stay when you get there, and won't have the worry of trying to find accommodation after a long flight.
Not to mention most countries around the world ask for you to fill out arrival card which often requests the address of your hotel, so you'll need something to put there!
You will, however, then have the task of immigration to get through. Make sure that you have your passport, visa confirmation and proof of funds, such as a print out of your bank statement, ready when you arrive to show the immigration officer.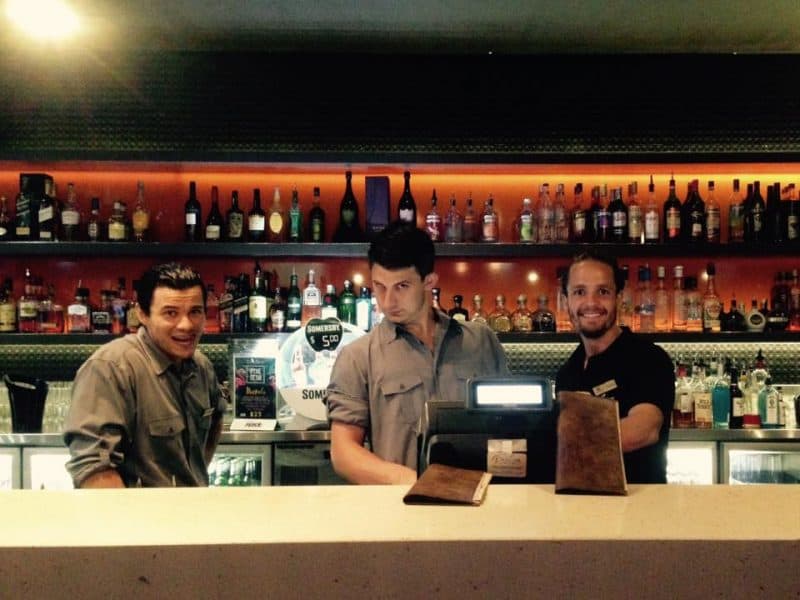 You may not be asked for all the information, but it is essential that you have it with you just in case. Once this process has been completed, you'll get a stamp on your passport which means you are entitled to live and work in New Zealand until your visa runs out.
There are two things that should take priority after arriving—sorting out a bank account (I used ANZ) and getting an IRD tax number.
Finding a Job in New Zealand
You don't have to wait until you get to New Zealand to start applying for jobs, you can actually start applying even before your visa has been approved. There is a huge range of jobs available, and many people chose to travel around, changing jobs as they go.
Some of the most common working holiday jobs include working in the hospitality industry, working on a ski resort, as a tour guide, in a hotel or hostel or picking fruit on a farm. If you have experience or a certain skill, you may also be able to obtain a range of other jobs. The options are endless.
Another option is to look for a job when you get to New Zealand, as some people prefer to get there and get settled first before thinking about finding a job. Whichever you decide to do, you shouldn't struggle too much to get some work under your belt.
There are a huge number of websites out there that can help with your job search, such as TradeMe, Seek, Careers NZ, Jora, and WorkHere to name just a few. If you know specifically what sort of industry you want to go into, there are also industry-specific sites that might be worth a look. You could also try speaking to people in your hostel to see if they know of any jobs going, or head out into the city seeing if you can get any leads.
When you first arrive, you may be best off starting out in one of the bigger cities, such as Auckland, Christchurch, Queenstown, or Wellington, as there are so many people and jobs here. You are also likely to find lots of people who are in the same situation as you.
You will be surprised at just how talking to people and making connections can lead to work. Once you have settled in and know what it is your looking for, you can head out and explore the islands.
Finding Accommodation in New Zealand
I found my spot on Airbnb. Once I decided I liked it and wouldn't mind living there for the remainder of my time living and working in New Zealand, I paid them off the platform. You're going to have roommates in New Zealand, it's too expensive not to! I lived with a nice Chinese family just outside the heart of Wellington. (Grab an Airbnb discount and top tips here)
Making Money in New Zealand
You don't make much. Despite working at a nice bar, I only made $11 USD an hour (no tips). Pay isn't the greatest in New Zealand, so I hope you're coming for the experience and are just using work as a means to top up the bank account.
On that same note, don't expect to save very much! I'm an extreme saver but the pay is paultry when compared to New Zealand's living cost. I worked at a high-end cocktail bar, ate cheap cans of soup every day for dinner, didn't go out, and I worked around 40-50 hours a week—I only managed to save $500 per month. And even that was a struggle to save!
In the end, I DID save and I was able to take off on a two-week adventure motorcycling North Island and then take a two-week break to go to Thailand (which is actually where I met Nina). I also recently went back to do van life and travel New Zealand even more including making it down to South Island.
Funny enough, my New Zealand travels were actually funded by the money I saved doing a working holiday visa in Australia! In Australia, you can save a TON of money but that's a story for another day (or just click those links to read about it now).
If you want to work and travel New Zealand, get a WHV. If you want to save a bunch of cash and maybe travel later, then go get Australia's WHV (if you're young enough and still within the age limit, definitely do both as I did!).
BUNAC Visa: The Alternative Way to Work and Travel New Zealand
If you had the most incredible time during your visit to New Zealand and want to do it all again, or are over 30 and feel like you've missed your chance to experience an amazing country, you may just be in luck.
If you have already used a working holiday visa in your lifetime, or if you are under 35 years old, an IEP visa is for you, run by BUNAC.
As well as being granted access to work in the country, while over there you'll also get in-country support and access to an online job board.
Access to the visa means you'll be able to stay in the country for up to 12 months and in any job category. You will even be given a welcome orientation and help with job hunting when you get there.
Throughout the process, you will have to show your support funds twice. When applying for the visa, you will need at least $4200, the same when you arrive in New Zealand. The visa can only be purchased as part of the IEP program which costs £745.
Once the visa has been issued, you have up to 6 months to enter the country and activate it. Once you arrive, BUNAC gives you a few other benefits, such as providing you with your first few nights accommodation free of charge, free internet access and luggage storage, a mail forwarding service, plus the fact that the company are always on hand during your stay to help deal with any problems that may arise.
My Experience with The BUNAC Visa:
This is just a little personal story about how Nina and I almost did the BUNAC visa but unfortunately were not able to take advantage of it for the most American reason EVER. I hope this helps other Americans plan a bit better as well…
As Americans, in order to obtain the BUNAC visa, Nina and I had to get a medical check-up IN THE USA as part of the process. This was unfortunately not discussed with us until after we had sent our money over to BUNAC. The way the process works is you must go to a doctor on THEIR approved list for the examination and then the visa can be processed.
Turns out, Nina and I would have had to fly or drive to Seattle (we were in Bend, Oregon and that's where the closest approved doctor was), spend a night, see a doctor the next morning, and then leave the next day.
If you're American or know anything about the USA, you know how much money that would have cost us! It wouldn't have been covered by insurance (as we don't live in the US and don't have regular insurance anymore plus this exam would have unlikely been fully covered anyway since it was not a necessity) plus the cost of actually getting there—in another state.
After doing the math (we guessed over $1k each in total for everything but not including the initial BUNCA visa fees), and knowing that we wanted this BUNAC visa more for the ease of staying in the country longer and less for the work opportunities, we decided to not get it and to just show up to New Zealand as tourists and not work during our time there.
For those actually wanting to go and work a lot, it may have been more worth it and you may perhaps have better insurance and are closer to the doctors on the approved list! Hope this story helped anyone thinking of doing this alternative New Zealand Working Holiday visa.
I'd highly suggest reaching out ahead of time for that list of doctors so you can plan the logistics better and hopefully be able to take advantage of the otherwise awesome opportunity BUNAC allows.
Tips on Living and Working in New Zealand:
Get an ID card! Foreigners must show their passport when purchasing alcohol. Yes, that means you have to bring it out for a night fo drinking which doesn't sound like the best idea. If you get the 18+ ID card, you can simply just bring this out instead.
Soup was my best friend. If you want to be cheap and not eat total crap, soup pouches will save you.
Depending on where you live and work, you may want to buy a vehicle for transportation. If you're good with motorcycles, like me, I can't recommend them enough. Not only are they fun on all the windy roads but it was damn cheap! I came out not spending very much because I got a lot of my money back when I sold it and gas for it wasn't much. I will say the weather often sucks for riding though!
If you want to treat yourself for cheap, grab fish and chips, it's the cheapest! Or get to know spots around your ork or home that have specials. There was an Asian restaurant near my work that put their sushi on sale for half off every day at the same time and it happened to be right before I had to get to work!
The work-life balance here is different from the USA, as in, there's actually a balance! Places close early and the pace is a bit slower.
If you're over the age limit, look at their skilled visas, there still may be something for you!
More Working Holiday Visas
Are you planning on working and traveling in New Zealand? Let us know in the comments!
---
>>> Bio:
Garrett left his small town in Oregon with a dream and a camera. A few years later he has been to over 30 countries all while producing high-quality cinematic adventure videos and photos of the destinations he visits. Join him as he pursues a life of videography, photography and expeditions all over the world. You can find him on YouTube at Garrett Galvan and Instagram.
---
---
>>> EVEN MORE AROUND NEW ZEALAND<<<
2-Week North Island, New Zealand Road Trip Itinerary
A 5-Day Queenstown Itinerary For the Intrepid (New Zealand)
New Zealand Road Trip Itinerary—2 Weeks to 2 Months + Costs and Tips
20+ Day New Zealand South Island Road Trip Itinerary
50+ of the Best Hikes in New Zealand & Hiking Tips
Campervan Sites in New Zealand + Camping and Food Tips
Campervanning New Zealand: Buying, Selling, Renovating, and Tips
New Zealand Travel Tips + A Budget Breakdown
Piha & Waitakere Ranges Walks, Waterfalls, and Beaches—New Zealand
A Guide to The Pouakai Circuit & Hut at Mount Taranaki (New Zealand)
11 Fab Things to Do in The Coromandel, New Zealand
Epic Things to Do in Rotorua—Hot Pools & Adventures
7 Tips For The Cathedral Cove Walk in The Coromandel, New Zealand
A Guide to Hiking The Kepler Track in Fiordland National Park, New Zealand
5 Epic Hikes in Mount Cook National Park That Are TOTALLY Worth It (New Zealand)
A Guide to Hiking French Ridge Hut in Aspiring National Park (New Zealand)
A Guide to Hiking the Mueller Hut Track & What to Pack (New Zealand)
Hooker Valley Track: The Easiest & Most Beautiful Hike in Mount Cook NP (New Zealand)
Guide to the Routeburn Track: Should You Do It as a Day Hike? (New Zealand)
5 Things to Know about Milford Sound, How to See It and Is It Worth It? (New Zealand)
Hiking Roy's Peak & How to NOT to Wait in Line For A Pic (New Zealand)
An Adventurer's Guide to Exploring Lake Tekapo, New Zealand
4 Easy But Beautiful Walks Around Dunedin, New Zealand
11 Things to Do in The Catlins in 2 Days (New Zealand)
A Guide to Exploring The Cave Stream Scenic Reserve (New Zealand)
---
---