Since I've been chillin in Krabi long-term, Railay Beach and Tonsai Beach have become my backyard playgrounds. After a simple and cheap boat ride and less than an hour of my time, I'm on a small slice of heaven. I've been to these spots many times before, but they never stop calling my name.
Are these places off the path? Nope. Not really. You will certainly see more tourists than locals here, but somehow it still maintains a place to find peace and beauty. They are both very small areas and I will share my favorite spots and the attractions at each of them…
Railay Beach and Tonsai Beach in Krabi Thailand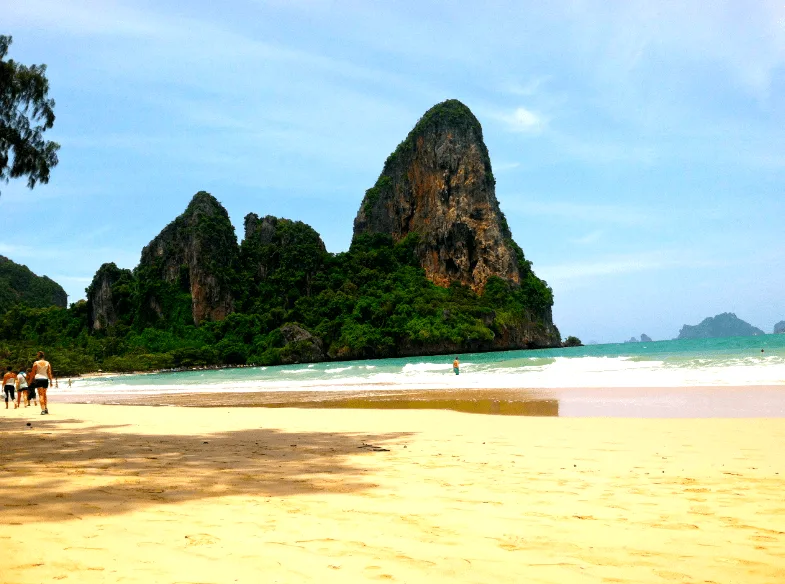 Railay Beach
Railay West is a spectacular beach, but if possible, Phranag Cave is even prettier. It does get a bit crowded here, but you can't blame anyone, it's stunning. It's certainly still worth a visit. Check out the penis cave (yes, I said penis cave), at Phranag Beach. On your way out, keep your eyes peeled for the monkey's (especially the dusky leaf ones!) They are usually hanging around the cave area before Phranag. There's also Diamond cave, nothing special in my opinion, I've seen so many caves, but worth a visit if this interests you.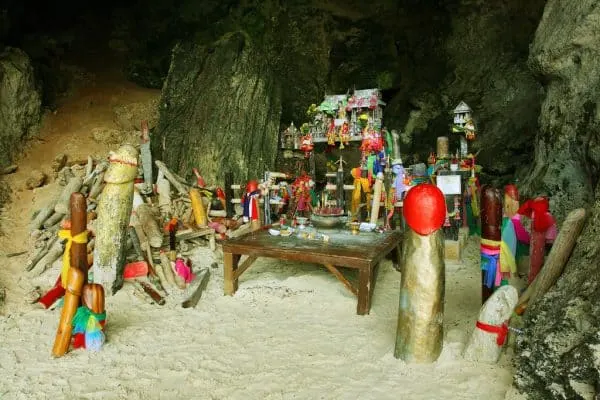 The lagoon and viewpoint are not for the fainthearted. The climb up is a bit dangerous. The viewpoint comes first, so the if you can get through the beginning part, you're golden to see the view. Thought is was tough? You may want to rethink going to the lagoon. You will be doing a bit of rock climbing sans the harness and rope. Don't F up! You will fall and injure yourself on the sharp rocks. If you're up for the challenge, then embrace the climb as part of the experience. Hopefully, the lagoon is full of water and not a dried up hole, that would suck. Ask the people coming back if it's full or not.
The effort is worth it for both places. It's very beautiful!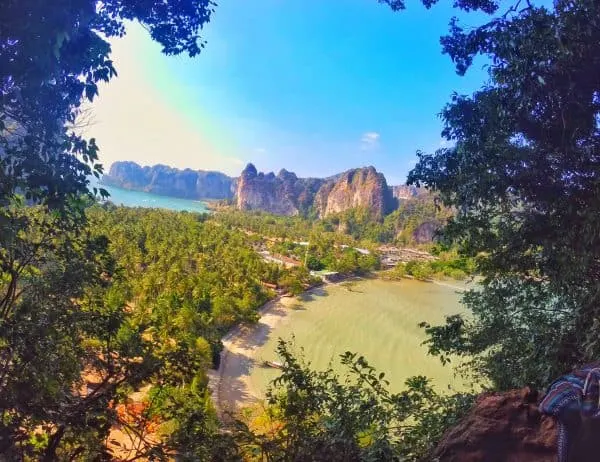 The nightlife is OK here. There's a small restaurant/bar on Railay West, and there's a bunch of bars of Railay East. Jamrock is a chill reggae bar to hang out at and there's a cool little bar on an old boat to mellow out at with pillows on the top. Don't know the name, but it's an old boat amongst the mangroves on Railay East, can't miss it.
Accommodation on Railay Beach
If you plan on staying on Railay, stay on Railay East. definitely not the nice side (mangrove "beach"), but certainly the cheapest. Rampala Guesthouse is the cheapest I have found. Simple bungalow, bed, mozzie net, with bathroom, for 4/500B.
Tonsai Beach
Alternatively, if you want even a chiller and a cheaper spot to stay, do what I do and stay on Tonsai beach. God this place is my little hippy haven with epic rock faces everywhere you turn. It's also less populated than Railay. I feel so free here, I love it more than I can describe!
Tonsai beach has a small dirt road in the back that has bars and guesthouses. You don't need much else! Come soon, they are ruining Tonsai with a huge resort …. 🙁 x1000000000000!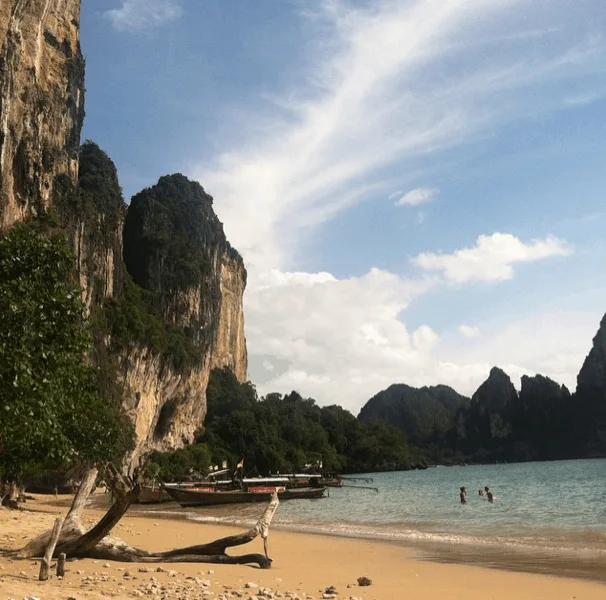 My fav bar is Sunset bar (/Pirate bar, I think they changed their name since they had to move off the beach to make way for the resort). Trippy decor and beverages can be found here along with other substances you might enjoy. There're plenty more bars just like this one, this just happens to be my go to bar.
The beach is beautiful, as long as you're here during high tide. Unfortunately, it's quite rocky and slippery as soon as the tide goes out.
The vibes on Tonsai beach are something special. It feels homey, the atmosphere is very relaxed, and the people all have that mellowed out, island lifestyle aurora. Flip flops and tank tops all day, beach hair, and tie dye, beers and sandy feet. That's the lifestyle here.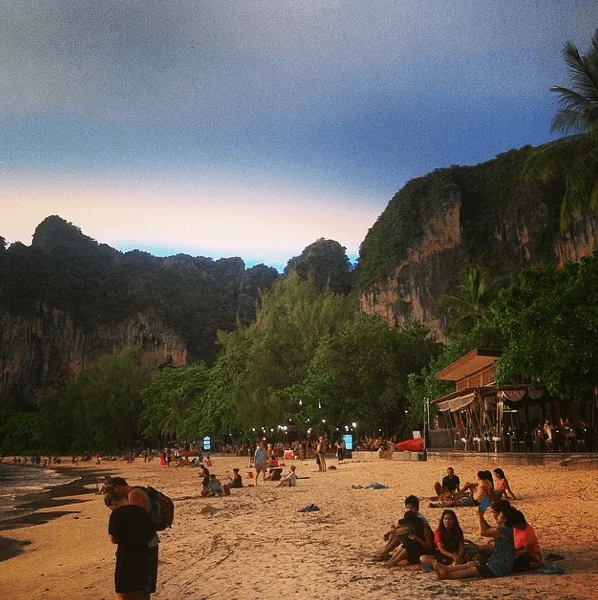 Community on Tonsai Beach
You'll be surrounded by quite the eclectic crowd too.
There's an epic cliff to base jump off of and some of the greatest karst mountains to climb in the world… So it's the perfect paradise for those after that kind of thrill seeking adventure.
It's no wonder base Jumpers and rock climbers make up a big part of the family here on Tonsai.
Another crowd you'll run into here is the flow arts community. Poi., hooping, staff,etc.. often with fire, is definitely a thing here. The bar I mentioned above has an older local man who can't speak or hear but is truly amazing with the fire staff, fire poi, and slack line there. You must see him.
I hoop and I always meet other fellow hoopers here as well as meet people who don't hoop, but want to learn. It's a great way to make friends! And the best part is, you don't need to feel weird doing it here! You have plenty of other weirdos right there with ya!
You get more of these crowds on Tonsai, but it's on Railay as well!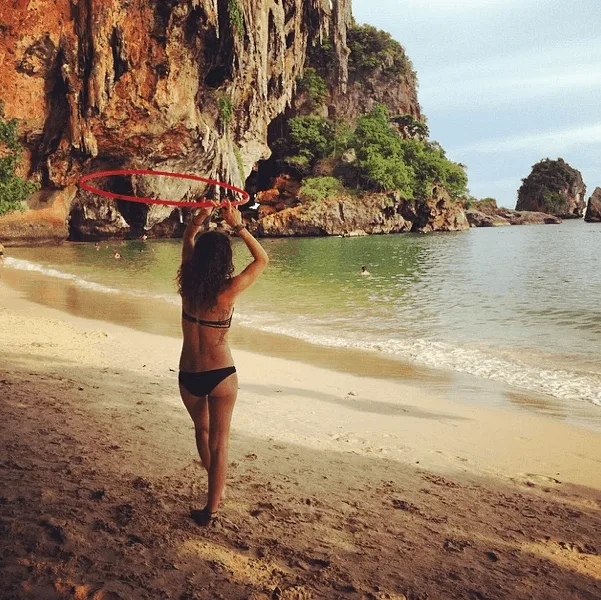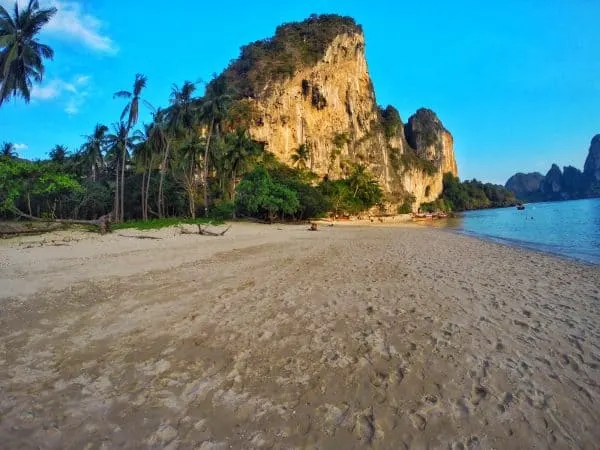 The huge rock face on the beach, just next to the restaurant has a cool view-point. Just clammer up the two rickety ladders that are against the rocks to get to the platform…Awesome views!
Accommodation on Tonsai Beach
Cheap bungalows are what's up here. Every single time I go to Tonsai, I tell myself I'll remember the name of the bungalows I go to, but I fail. Every.time. I'VE BEEN HERE A MILLION TIMES. I paid 400B for a double room with bathroom, very simple spot (next to Green something?) So that's at least a price base for you to go off of when bungalow hunting. Monkeys jumping on your roof in the morning is a normal thing.
UPDATE: I got the name! it's Paasook Resort, but resort it's not. It's one of the cheapest spots on Tonsai Beach
NOTE: Tonsai runs on generators. As in, you get electricity from 6 at night until 6 in the morning when they shut it off. If you stay at a nicer place they might have electricity all day. Who cares? You're rarely in your room.
Also note, there's a resort that's being built on Tonsai. As of November 2016, they still have not started building it even though they were supposed to start years ago. I'm happy for it to continue being delayed! With this said, note that there's nothing on the beach anymore, everything on the beach had to move back, with the exception of a single bar. No accommodation is located on Tonsai Beach.
Rock Climbing
Oh, did you know Krabi is one of the best spots for climbing in the world?
It's adrenaline inducing and mind-blowingly gorgeous.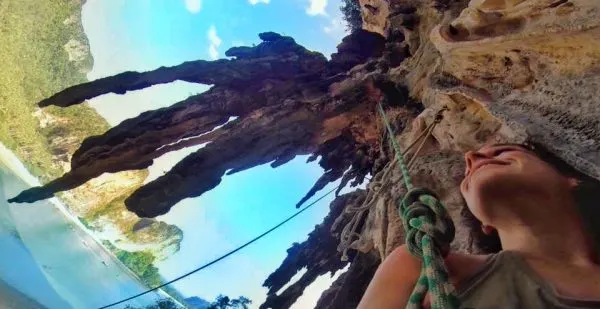 I've been climbing quite a few times and even bouldering in a cave. I'm by no means a rock climber though, so don't let that deter you! It's really fun even if you haven't been before, and it really does get more addicting as you do it.
Tonsai beach is suppose to be the harder place to climb, and Railay is apparently a bit easier. It really all comes down to the route you take, there are so many and they all vary in difficulty.
It's cheaper with a few friends and a teacher, and even cheaper if you're already a climber. Just rent the gear and go. Unless you're a pro and you've brought your own? Which would be free!
Rock climbing here has been some of the most phenomenal memories I have of my travels so far.
Here's more info on rock climbing around Tonsai and Railay.
Railay Beach and Tonsai Beach both offer freaking epic, gorgeous, and mind-blowing rock formations and you get the chance to ascend them.
It's going to be the best decision you make.
Getting from Railay Beach to Tonsai Beach, and back:
Railay to Tonsai: It's super easy. Go to Railay West, look at the ocean, then look right. See that small forest on a hill? Walk towards there and you should see a path.
Tonsai to Railay: Go to the beach, look left and walk toward the hill. There should be a small set of lopsided rock-stairs to lead you up towards the path.
Low tide: It is possible to go around this small forested hill when it's low tide. It gets so low, you can just walk over the rocks to the other side. I don't recommend this route. If you get unlucky and the tide isn't low enough, you might be near an area where the water is crashing up on the rocks, you might get your things wet or you could get injured. Speaking of injures, the rocks are slippery. Be careful.
The hike over the mountain couldn't get easier. You can wear flip-flops, it takes 15 minutes. It makes more sense to just go this way, it's a safer and a more obvious route.
Transport around Railay and Tonsai Beach
You must take a boat to get to either of these spots, but they are not islands. It's also worth noting that the only mode of transport when you get here are your feet. No cars, motorbikes, etc…
TIP: 12go.asia is the best way to book ferries, buses, and trains ahead of time in Thailand!
Boats are offered all day, but expect to wait a bit as they will likely wait until the boat is full, usually at about eight to ten people. Longtail boats are the type of boats you'll be whisked away on.
From Krabi Town- 150B to Railay East
From Ao Nang: 100B to Tonsai or Railay West
The first boat is probably around 8 or 9 in the morning, and the last one is usually around 6pm, but I wouldn't recommend waiting too late. Be prepared to pay 50B+ more per ticket after 6pm for parties of 6 or more.
Where will you go after Thailand?
Laos | Malaysia | Singapore | Indonesia | Philippines | Cambodia | Vietnam
What's your thoughts on Railay beach and Tonsai beach? Will you be coming here when you come to Krabi?
---
---
>>> EVEN MORE AROUND THAILAND<<<
"One Night in Bangkok … and the World's your Oyster"
Work & Live in Thailand: How To Do It? Cost of Living? And More!
27 Things to Do in Pai, Thailand + Where to Eat and Sleep
Where to Stay in Pai, Thailand: Pai's Hostels, Hotels and Resorts
21 Krabi Beaches That'll Make You Book Your Trip Today (Thailand)
9 Krabi Island Hopping Tours That Will Make Your Jaw Drop (Thailand)
Photo and Video Blog- Ao Luk, Krabi, Thailand
Krabi Itinerary: What To Do In Krabi, Thailand for 1-7 Days & When To Visit
First Timers: Rock Climbing Krabi, Tonsai and Railay, Thailand
Where To Stay In Krabi, Thailand For Any Budget
Where to Eat in Krabi Town: Night Markets and Restaurants
The Low-Down: Thailand Tourist Visa and More
Thailand's New Year, Songkran, Is the World's Largest Water Fight
7 Unusual Things To Do in Chiang Mai
Photo Blog: Doi Inthanon, a Day Trip from Chiang Mai
Chiang Mai to Pai and Back! The Best Ways to Get Around (Thailand)
4 Lesser-Known Spots Around Mae Hong Son To Go To
Chiang Khong to Huay Xai Border Crossing (Thailand to Laos)
Chiang Rai Itinerary: 10 Things To Do In Chiang Rai That You Can't Miss
Thai Vegetarian Food That You'll Want in Your Mouth
7 Reasons Why Eating Thai Street Food Is The BEST & How To Avoid Getting Sick
Transportation Info and Tips for Thailand
Play it Cool: Thailand's Do's and Don'ts
Photo Blog: Kanchanaburi – Bridge on the River Kwai and Erawan Falls
OMG, My Holiday is Coming Up! Is it Safe to Travel to Thailand?
---
---
Let's Pin this!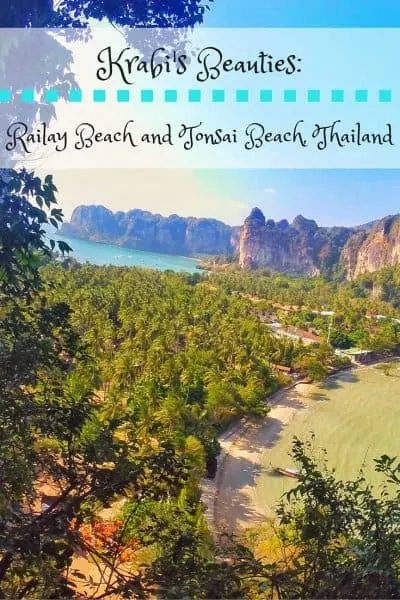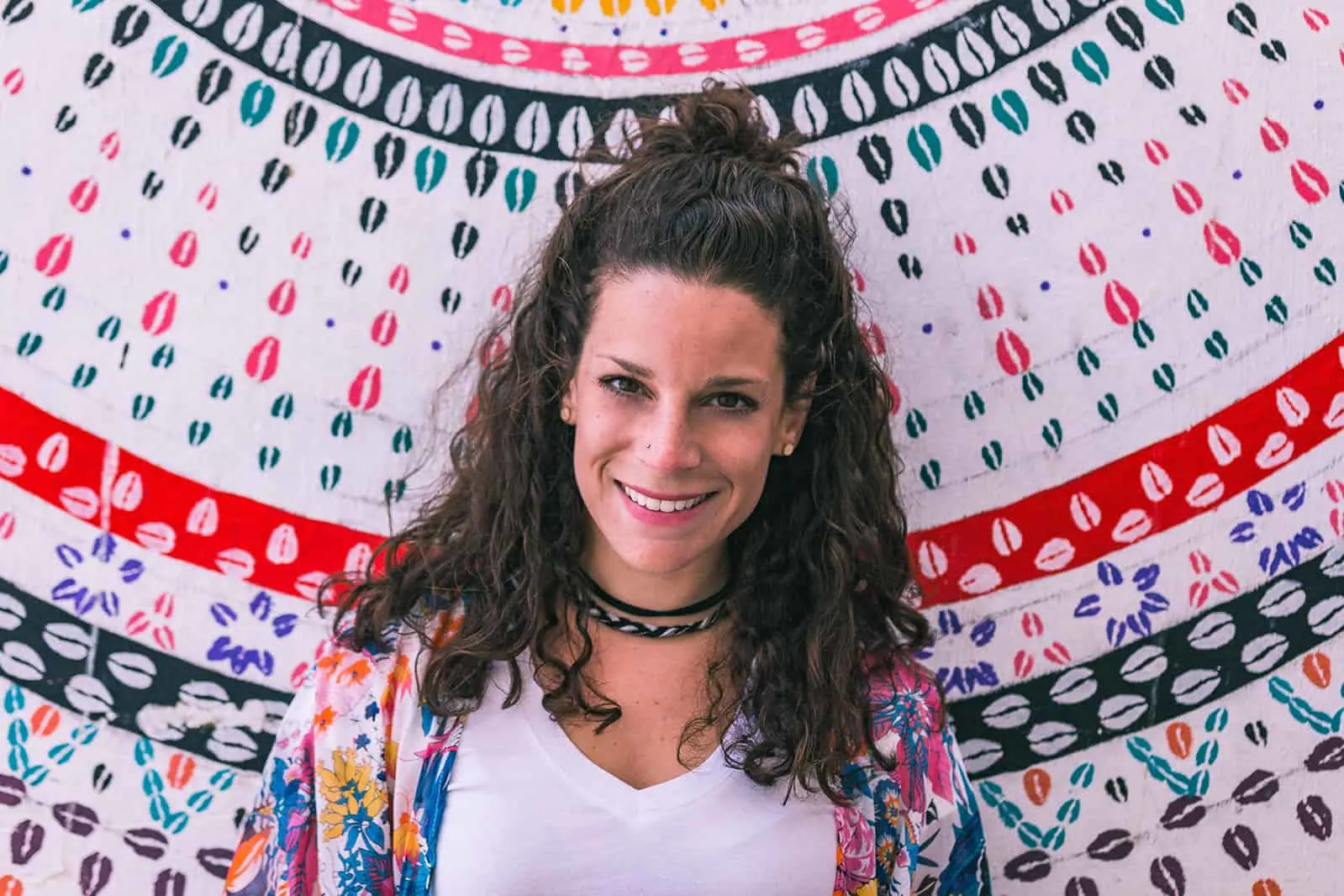 Nina Ragusa is an adventurer, messy bun master, breakfast fan, and full-time travel blogger. She's been abroad since 2011 and blogging on Where in the World is Nina? for nearly as long. Nina helps people like you move around the world while making money. She loves talking about how to work abroad and online to travel longer!