I love love LOVE Krabi.
I lived in Krabi for over year and had visited numerous times before. I've traveled the area quite a bit which means I know where to stay in Krabi, Thailand.
I've compiled a list of all the places I think are a good choice to stay at around the Krabi province! Many places on this list of the best accommodation in Krabi have been tried and tested out by me with the exception of a few.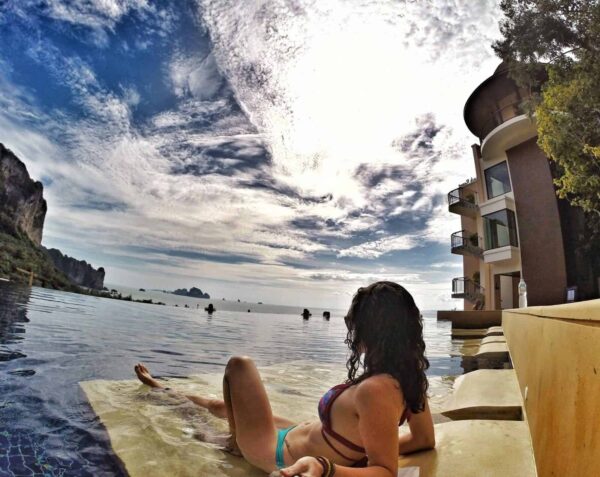 Price per night
$ is a budget place under $15 a night
$$ upwards of $15
$$$ upwards of $30
$$$$ upwards of $75
$$$$$ upwards of $100
My personal top picks have an asterisk * next to the name!
Where to stay in Krabi, Thailand
---
Where to stay in Krabi? – KRABI TOWN
*Blue Juice Guesthouse $
Homey, budget-friendly, and simple rooms, some have a bathroom, some share one. Blue Juice is located perfectly with the night market and pier just outside the front door.
The best part is the food, though. Even if you don't stay here, definitely try the curries, laab, and the western breakfasts offered are done well (rejoice)!
P Nueng is the lovely soul behind the counter. Please tell her, Nina, says hello!
CHECK PRICES ON BOOKING CHECK PRICES ON AGODA
Number Seven Guesthouse $
This is a really nicely done simple option. Everything is in good condition and it's kept clean. There's a shared hangout room for doing whatever you want to do, and Number Seven is located close to the pier and market. I lived here for a few months while working online.
CHECK PRICES ON BOOKING CHECK PRICES ON AGODA
Good Dream $
Regular budget backpacker spot with a small bar and restaurant at the bottom. When I first had to ask myself where to stay in Krabi, this was the place I ended up at! Good Dream is probably the cheapest in town.
CHECK PRICES ON BOOKING CHECK PRICES ON AGODA
Grandmom's Place $$
Easy, clean and comfortable place right in the center of town. Long term availability is on offer here as well. Out of all the places to stay around Krabi, Grandmom's Place is one of the newer one and is a perfect budget option for those who are a bit pickier about their accommodation.
---
---
Where to stay in Krabi? – AO NANG
Alisea Pool Villas $$$$$
If you're wanting to splash out on a place in Krabi and make a splash in your own pool, this is the spot. These are private villas with their own private pool! They are brand new, immaculate, and everything you would want in a holiday home.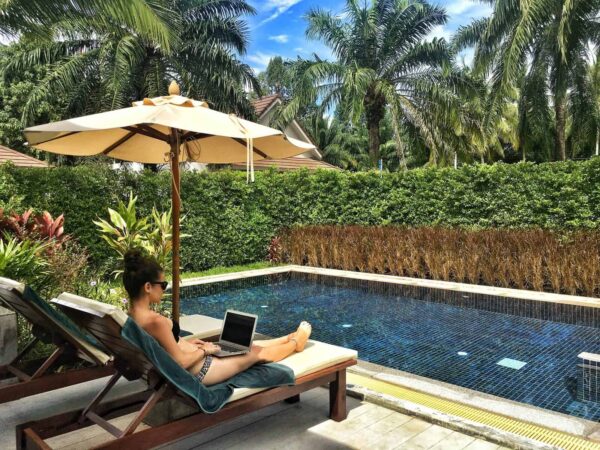 Grab your family or friends, share a villa, and love life. Rent a car, a motorbike, or ask to be taken into town or to the beach. It's only about 10 minutes away from this secluded spot. Check here for prices.
CHECK PRICES ON BOOKING CHECK PRICES ON AGODA
*Ao Nang Cliff Beach Resort $$$$
If there was ever an ultimate flashpacker hotel, Ao Nang Cliff Beach Resort is it. You can spend a lot more, but even their budget rooms are really nice! This is a sprawling property compiled of restaurants, pools, amazing views of Ao Nang and super helpful staff. One of the pools is a gorgeous infinity pool overlooking the cliffs and beach –  It's crazy beautiful!
The breakfast buffet has everything you could possibly want and the hotel is perfectly located with the beach being about a 5-minute walk away and tons of shops, bars, and restaurants right outside.
If you really want to know where to stay in Krabi, this is the spot. Only have a few days in Krabi? Stay here. Want everything to be first class but don't really want to spend THAT much money. Stay here.
I think this is the best value for your money, hands down. Also, if for no other reason, the pool should sell you on this place. Did you see is!?
CHECK PRICES ON BOOKING CHECK PRICES ON AGODA
Yellow Sun Guesthouse $
This is your budget backpacker spot! Good location and decent dorm set up. They also have some private rooms. My first time living in Krabi, I lived in one of their private rooms before their dorms were even built!
CHECK PRICES ON BOOKING CHECK PRICES ON AGODA
---
---
Where to stay in Krabi? – TUBKAEK
Tubkaek Boutique Resort $$$$$
I haven't stayed here, but it looks amazing. I love the beach at TubKaek. I've been plenty of times after hiking the nearby mountain by the same name.
CHECK PRICES ON BOOKING CHECK PRICES ON AGODA
Where to stay in Krabi? – KOH PHI PHI
So I've been to Koh Phi Phi quite a few times, but the one nice place I stayed at, I can't remember the name of for the life of me. All of the other places were not at all worth mentioning and I wouldn't recommend. I did some homework for you and I found some of the most recommended places to stay around Koh Phi Phi.
Chao Koh Dorm Room $$
For a cheap dorm with beach access, this is the spot! Current prices right here.
CHECK PRICES ON BOOKING CHECK PRICES ON AGODA
Phi Phi Relax Beach Resort $$$
This spot requires you to take a boat from Tonsai bay to get to but is highly recommended for those wanting to check Phi Phi out without all the craziness. This place is in an area all on its own. Please note electricity is only offered from 6pm to 6am.
CHECK PRICES ON BOOKING CHECK PRICES ON AGODA
Paradise Pearl Bungalows $$$$$
Lanna style Thai bungalows strewn across the beach. Couldn't ask for much more!
CHECK PRICES ON BOOKING CHECK PRICES ON AGODA

Where to stay in Krabi? – RAILAY
Both of these options are on Railay East. This is the most affordable option and it will be obvious why when you get here. Railay East doesn't have a beach, West does. Pretty much anything on Railay West is a few hundred a night to over $3,000 a night!
Rapala Guesthouse $$
This budget friendly place is probably the cheapest on all of Railay. Some might not be able to handle the bare wooden cabin with a mattress on the floor and a mozzie net. The bathroom is very… "ousidey." Considering some of the other prices in area though, if you're on a tight shoestring, you'll want to end up here.
Their food is pretty good and some of the best priced around town. They have a chill seating area and wifi. If at the least, you can come here to chill and eat!
*Railay Viewpoint Resort $$$
This option is good for those leaning on the flashpacker side. The rooms pretty nice, a bit of wear and tear, but nothing excessive in my room. It's quite good value with a pool and decent and convenient breakfast add on option. I didn't even end up using the pool, though!
CHECK PRICES ON BOOKING CHECK PRICES ON AGODA
Where to stay in Krabi? – TONSAI
*Paasook Resort $$
This place isn't exactly the greatest, but it's going to be pretty cheap compared to the rest. For some reason, I'm obsessed with their gross bathrooms for the simple reason that it's outside. You get to look up, as you bathe, at the dramatic cliffs and palm trees that float above you. It's pretty epic. But then you look around and you're in a shower that's OUTSIDE.. complete with leaves, critters and surrounded by dirty cement.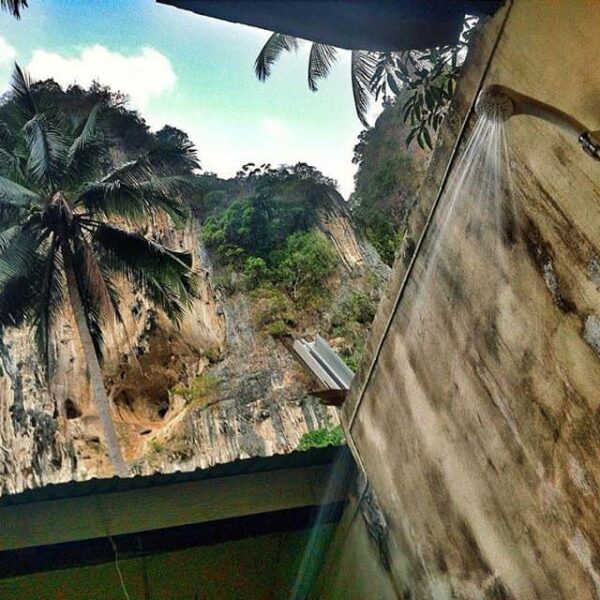 That bathroom view and the price, though… It deserves to be on the list. If you're a weirdo like me and actually would like a place like this (and you're on a shoestring budget) book yourself a spot at Paasook "Resort."
Green Valley Resort $
Even cheaper if my memory serves me well. This is a super simple bungalow on the side of a hill. Wood slapped together and a bed with mozzie net and a bathroom is what you get unless you shell out more cash.
---
---
Where to stay in Krabi? – KOH LANTA
White Flower $
OK for the price, and located pretty well on Lonely Beach. White Flower is a bit stuffy in the rooms from what I remember, but the beach access is really close.
CHECK PRICES ON BOOKING CHECK PRICES ON AGODA
*Lanta Arrow House $$
I really loved Lanta Arrow. In fact, I lived here for a few weeks. The beach access is perfect and sunsets every night became a thing pretty quickly. Everything is kept nice and the location is decent!
CHECK PRICES ON BOOOKING CHECK PRICES ON AGODA
I LOOOVE Krabi and have traveled and lived in the area for a while! Hopefully, this was helpful for those wanting to know where to stay in Krabi!
Transportation Tip for Thailand:
While you can simply book at the pier, bus or train station, you may want to book ahead for certain legs of your journey to guarantee that you get a seat on the day you need to travel. 12go.asia is the best way to do this. Book your next trip ahead of time so you have one less thing to worry about.
So where will you be staying in Krabi? Let us know in the comments!
---
---
Need more info about Krabi? I have you sorted right here…
Get to know Tonsai and Railay a bit more.
Ready to get adventurous? Try rock climbing in Krabi!
Hungry? I know where you can eat in Krabi Town!
Here's a guide to Krabi!
Here is the best Krabi Itinerary.
---
---
So where to stay in Krabi? Hopefully, this has made your decision a bit easier!
Where are you going?
Did you have a favorite place in Krabi to share with us? Comment below!
PIN ME!