"Korp khun ka! Sawadee Pi Mai Kaa!"
I said this to the little shop lady as I exchanged 100B ($3) for a sweet Angry Birds water soaker gun.
I was prepared for the day. Locked and loaded I went out on the streets of Chiang Mai and started super soaking nearly every person that walked passed me saying "Sawadee Pi Mai!" Or "Suk San Wan Songkran!"
Don't worry, I didn't take any magic mushrooms or indulge in any alcoholic beverages (yet) at this point. Don't think I'm crazy. I wasn't alone. People all around the entire country (and some surrounding countries too) were all out doing the exact same.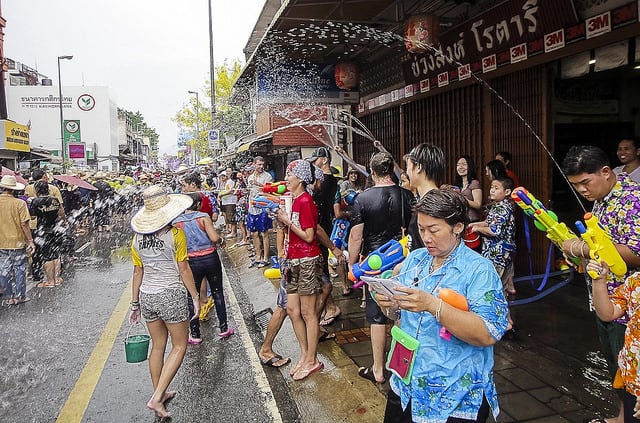 Some people chose water guns, like me, but other had pickup trucks filled with water with kids splashing any passerby by flinging water out of the back. Some stood outside their shops with large vessels filled to the brim with water while they scooped buckets full at you.

Yes, it's true! People go totally mad and throw water at each other in Thailand… and they do this once a year!
This incredibly fun and crazy holiday happens to be Thailand's New Year, Songkran.
Songkran is the world's largest water fight, unsurprisingly!
How freaking awesome would it be to participate in that?
I'll tell you, pretty awesome…
The Old City of Chiang Mai becomes a total water war zone. People are drenched from head to toe. If you happen to arrive in town and didn't know this was going on, I'd bet you'd have a conniption walking through the streets with your baggage.
While living in Pai, my partner in crime from Finland, Kris, and I decided to make the three-hour trek down to Chiang Mai for the new year and we had a phenomenally fun time! Everyone had their own water gushing device to soak any person who walked by, and there was even a stage with singers and mega huge water soakers to blast the audience with.
You were perpetually soaked and pruned for hours on end.
Drinking was an all day affair for some, and while the water subsided at night, the drinking didn't.
So were there any rules?
You'd be surprised, but as big as this event is, and with Chiang Mai being the biggest and craziest of the New Year celebrations, most keep their respect in terms of who and where to drench.
You don't "play Songkran" near markets, so enjoying your meal without risk is possible and there're no water guns inside establishments.
If the person visibly looks like they aren't playing, most will leave them alone.
So what's the point of this holiday?
Despite Songkran being the world's largest water fight, it wasn't always like this.
The ritual of pouring water on the Buddha statues is how this first started. This action symbolizes the washing away of impurities from the year and beginning the year with luck.
"Sawadee Pi Mai!" "Suk San Wan Songkran!"
Happy New Year! Happy Songkran Day!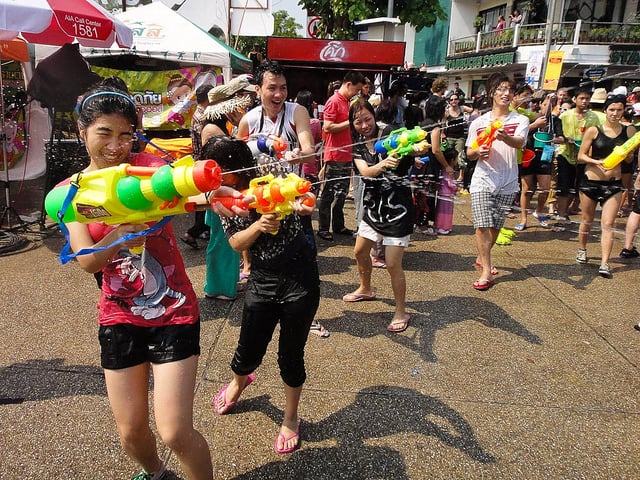 But is it all happy? What else happens on Songkran?
As you may have guessed throwing water everywhere and at everyone could get dangerous if you included vehicles on the streets with possible drunk drivers.
Unfortunately, this holiday is also known as being Thailand's deadliest week, and the numbers rise each year.
Motor accidents are prevalent throughout the country as it is, but during the week-long New Year's festivities, the death toll reaches numbers in the 40s and 50s… per day! With thousands getting injured.
On a lesser scale, if you're not driving (which you just shouldn't be) there's the quality of the water to worry about. People have reported getting sick, especially while participating in Chiang Mai as the nasty moat water is often used when other supplies run dry.
Speaking of dry, Thailand has been going through a drought, yet the festivities will continue as the government isn't wanting to lose out on tourist dollars.
Instead of the festival being possibly 3-7 days long depending where you're at, the officials are encouraging for it to last only three days. The holiday is super popular with the locals and of course the tourists, a ban would be impossible.
After living and traveling around Southeast Asia, I can say it's one of the most epic events to catch while visiting.
Just be careful and mindful.
I'll be missing out this year on the festivities of Songkran, but I'll never forget how much fun I had!
So where was the best place to celebrate?
Chiang Mai was my first and best Songkran. If you're going to go to Songkran, this is where the party is, and it's insane. I've also celebrated the Thai New Year in Krabi which was so much fun, but a hell of a lot more chill than Chiang Mai.
Have you been to Songkran?
Are you going to Songkran one day?
Where will you go after Thailand?
Laos | Malaysia | Singapore | Indonesia | Philippines | Cambodia | Vietnam
Photo creds: 1 & 2 (mine are of terrible quality)
---
---
>>> EVEN MORE AROUND THAILAND<<<
"One Night in Bangkok … and the World's your Oyster"
27 Things to Do in Pai, Thailand + Where to Eat and Sleep
Where to Stay in Pai, Thailand: Pai's Hostels, Hotels and Resorts
21 Krabi Beaches That'll Make You Book Your Trip Today (Thailand)
9 Krabi Island Hopping Tours That Will Make Your Jaw Drop (Thailand)
Photo and Video Blog- Ao Luk, Krabi, Thailand
Krabi Itinerary: What To Do In Krabi, Thailand for 1-7 Days & When To Visit
First Timers: Rock Climbing Krabi, Tonsai and Railay, Thailand
Where To Stay In Krabi, Thailand For Any Budget
Where to Eat in Krabi Town: Night Markets and Restaurants
Krabi's Beauties: Railay Beach and Tonsai Beach, Thailand
A Thailand Visa Run Gone Wrong
The Low-Down: Thailand Tourist Visa and More
7 Unusual Things To Do in Chiang Mai
Photo Blog: Doi Inthanon, a Day Trip from Chiang Mai
Chiang Mai to Pai and Back! The Best Ways to Get Around (Thailand)
4 Lesser-Known Spots Around Mae Hong Son To Go To
Chiang Khong to Huay Xai Border Crossing (Thailand to Laos)
Chiang Rai Itinerary: 10 Things To Do In Chiang Rai That You Can't Miss
Thai Vegetarian Food That You'll Want in Your Mouth
7 Reasons Why Eating Thai Street Food Is The BEST & How To Avoid Getting Sick
Transportation Info and Tips for Thailand
Play it Cool: Thailand's Do's and Don'ts
Photo Blog: Kanchanaburi – Bridge on the River Kwai and Erawan Falls
OMG, My Holiday is Coming Up! Is it Safe to Travel to Thailand?
---
---
Don't you want to tell your friends? Pin it!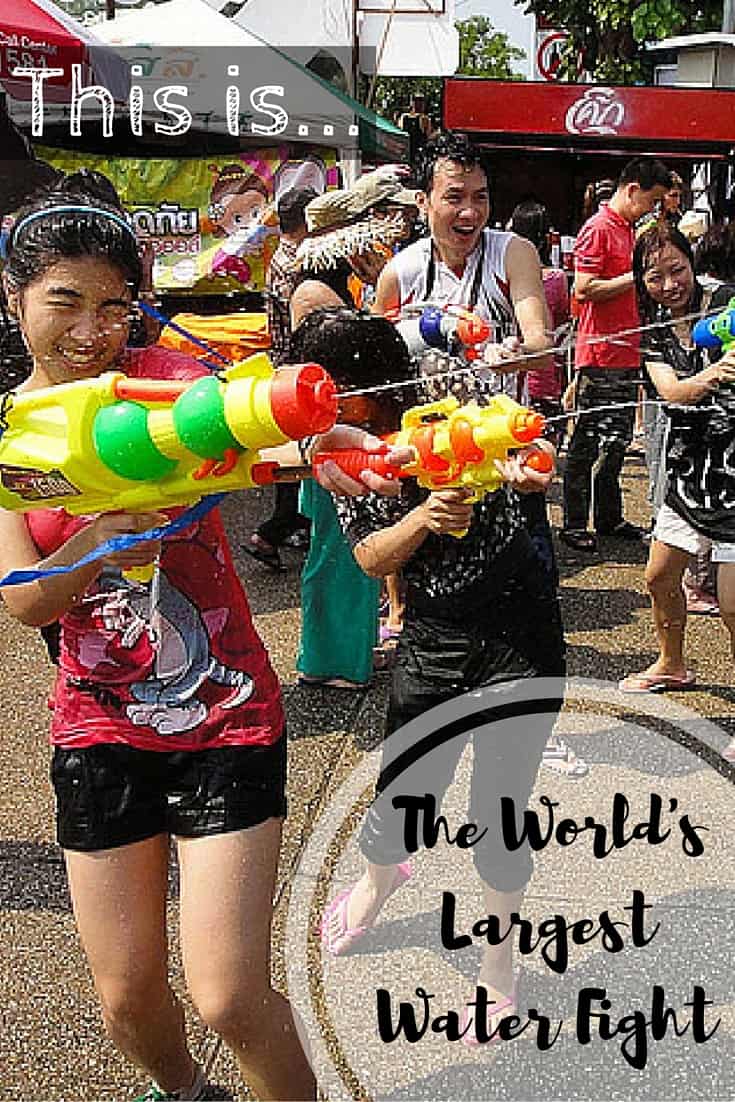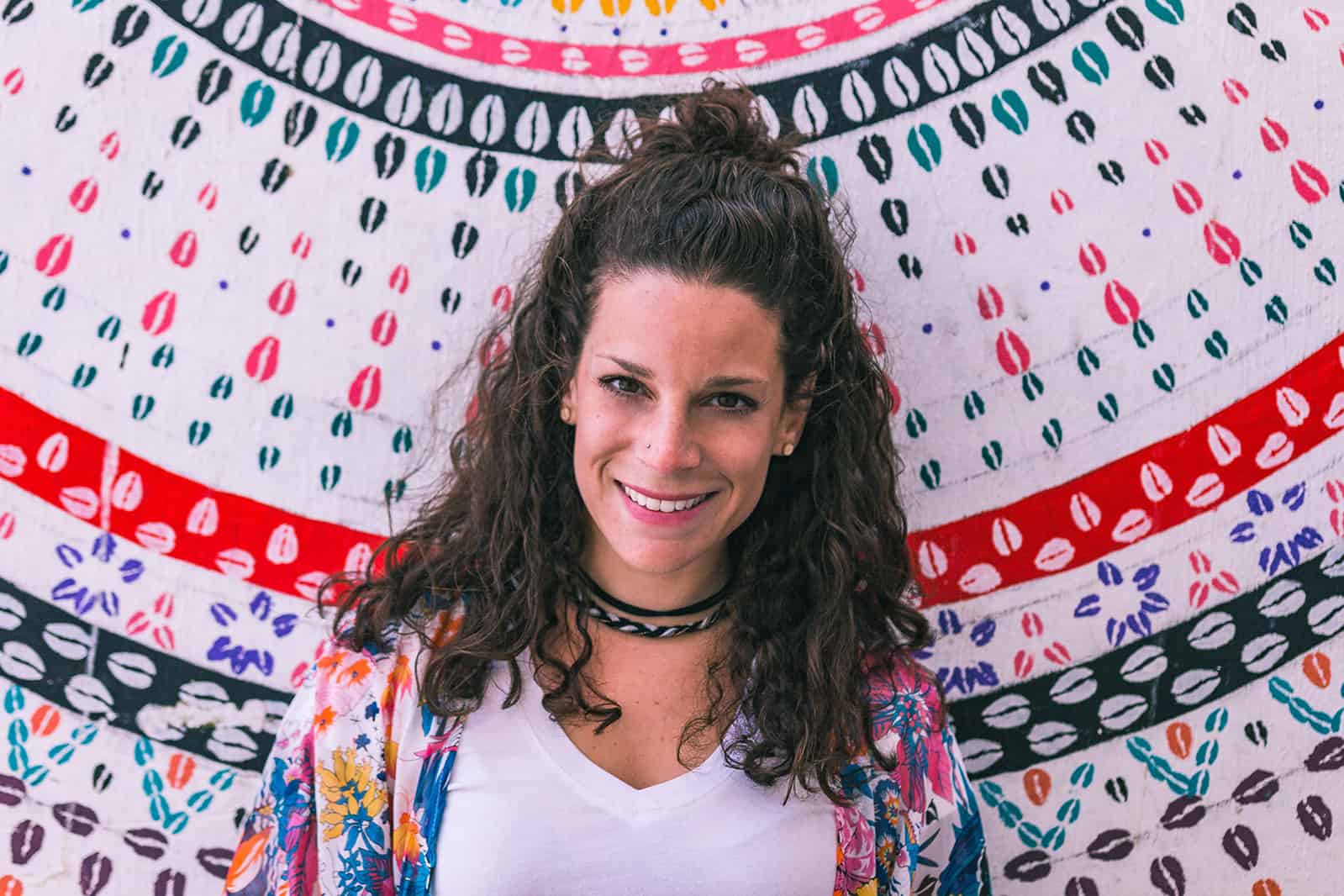 Nina Ragusa is an adventurer, messy bun master, breakfast fan, and full-time travel blogger. She's been abroad since 2011 and blogging on Where in the World is Nina? for nearly as long. Nina helps people like you move around the world while making money. She loves talking about how to work abroad and online to travel longer!