Kanchanaburi is a small city just a few hours west of Bangkok. It's set on the famous River Kwai and is a peaceful little town. It wasn't always peaceful though. The Death Railway that is still in use today was built by prisoners of war fueled by the Japanese. I won't go far into the history of this sad time, but you can find a lot of information about the Death Railway, the history of the war, and accounts from the survivors online. I visited the museum, toured the surrounding area of the River Kwai, the Death Railway (Bridge over the River Kwai), and also went to the popular Erawan Waterfalls, a seven-tiered waterfall a little ways out-of-town.
Erawan Waterfall
First was the seven-tiered waterfall, beautiful Erawan Waterfall! The hike to the top is relatively easy and how long it takes depends on how long you want to spend at each tier. Some of the tiers are very small and some a bit bigger and more impressive. This waterfall in Kanchanaburi is one of Thailand's most popular waterfalls.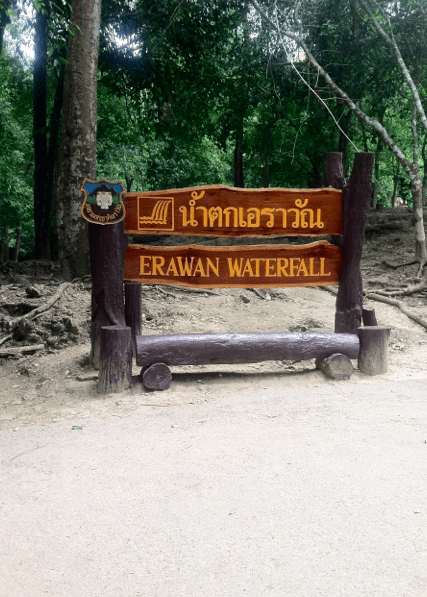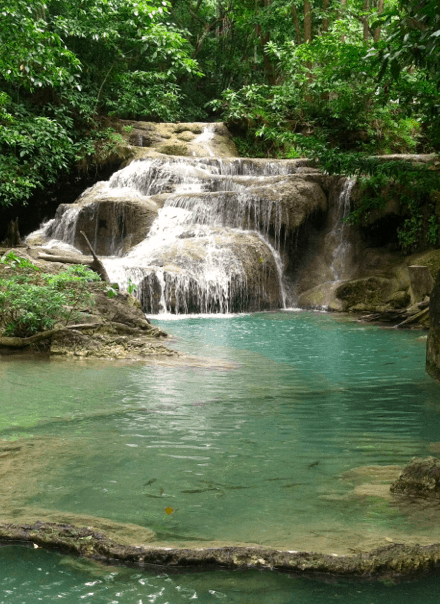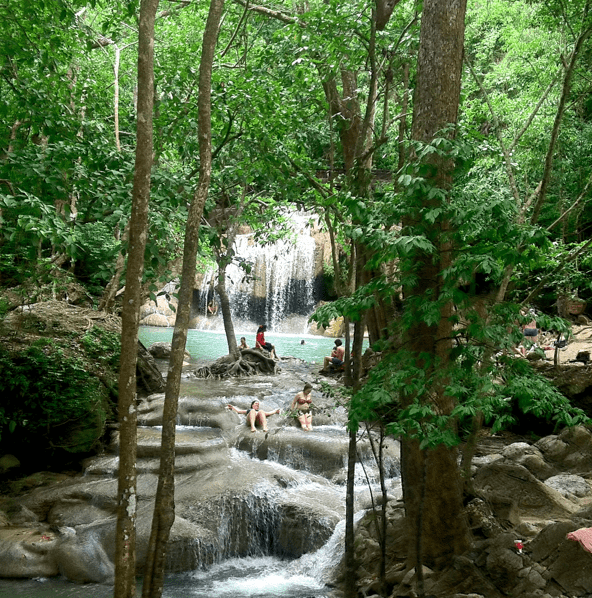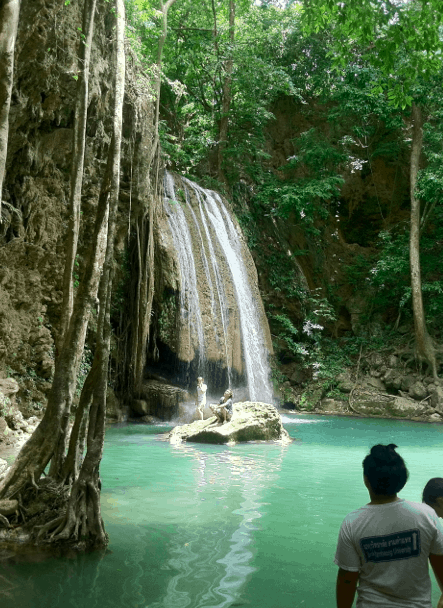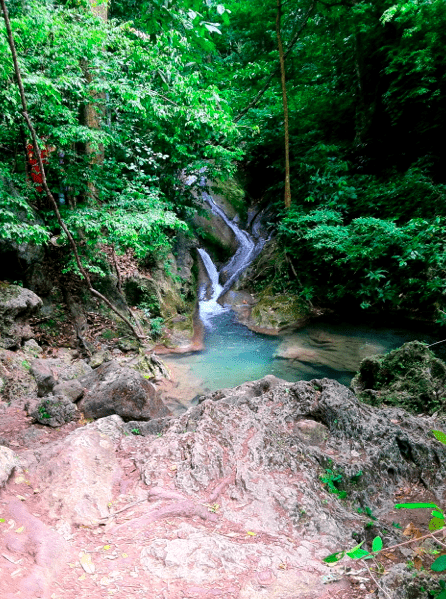 These fish are a bit scary… They are the fish that eat the dead skin off your body, but when you go to those "fish spas" it's just the tiny ones and they just nibble at your feet… These fish? They are HUGE and nibble on what they get to first… Needless to say, I didn't swim for very long with them and constantly was moving in the water.
Jeath War Museum
These are pictures from the war museum just next to the Bridge over the River Kwai/ Death Railway. The outside is really nice looking. The actual museum has a few items of interest if you are a history buff. The display cases are a bit dingy, dark, and dusty, hence the lack of pictures of the actual items. But it's worth it to walk around for a bit especially if you are already in Kanchanaburi and visiting the bridge.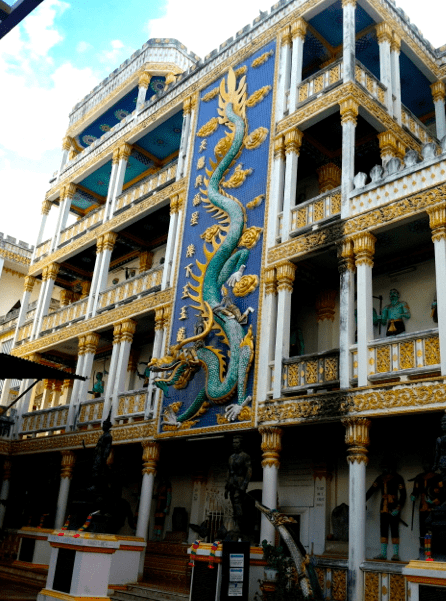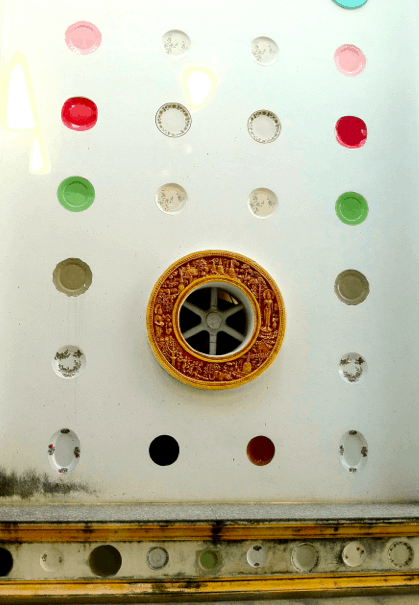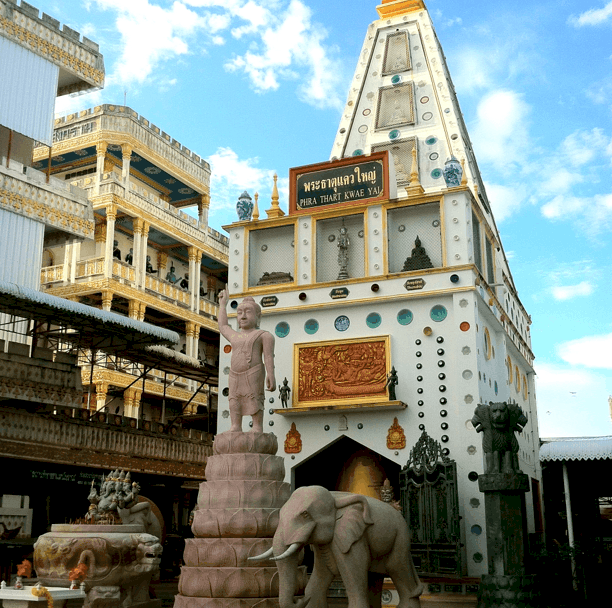 Bridge over the River Kwai and Death Railway
The train is still in use today. Actually, since people are allowed to wander around the railway, you have to keep your ears and eyes open for it so you can move out of the way!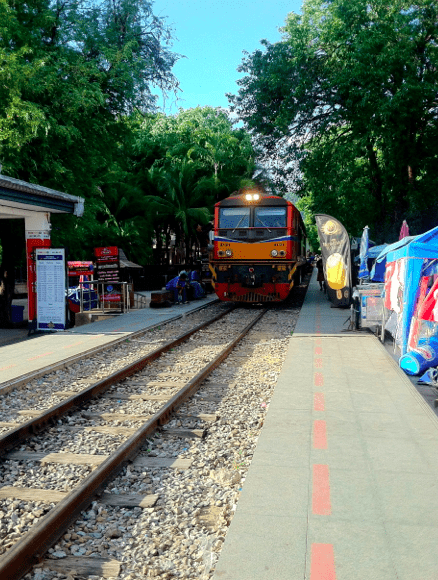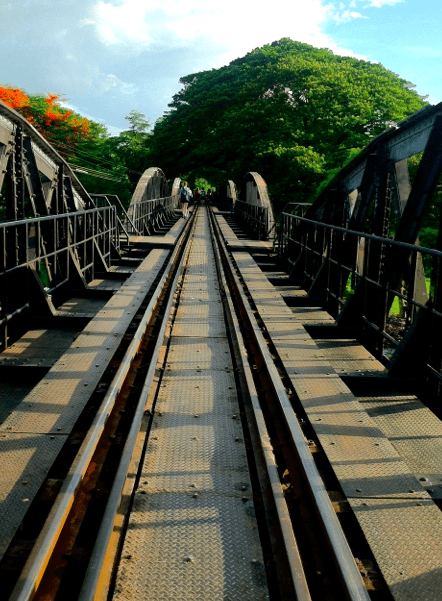 More information:

Since my friend was in town, we had time as a factor. We decided to just do a day trip from Bangkok. If you're in a rush, but still want to see this spot- A day trip is the way to go! It was easier than lugging everything to Kanchanaburi and staying a night or two. We got picked up from our hotel and driven to each spot, then dropped off back in Bangkok.

This is the tour we chose: Erawan Falls and River Kwai Tour

The tour was fine because we got to see the place we wanted. The driver was nice in the beginning, he apologized and felt bad everything was so delayed because of the horrible traffic (this was during the Bangkok protests so completely out their hands), but after Erawan Falls, since everything was delayed due to the late start, he tried to skip out on the museum until another passenger spoke up. He gave us the time and we got to Bangkok a few hours later than expected. The tour was good overall and I would recommend it.
Where will you go after Thailand?
Laos | Malaysia | Singapore | Indonesia | Philippines | Cambodia | Vietnam
---
---
>>> EVEN MORE AROUND THAILAND<<<
"One Night in Bangkok … and the World's your Oyster"
27 Things to Do in Pai, Thailand + Where to Eat and Sleep
Where to Stay in Pai, Thailand: Pai's Hostels, Hotels and Resorts
21 Krabi Beaches That'll Make You Book Your Trip Today (Thailand)
9 Krabi Island Hopping Tours That Will Make Your Jaw Drop (Thailand)
Photo and Video Blog- Ao Luk, Krabi, Thailand
Krabi Itinerary: What To Do In Krabi, Thailand for 1-7 Days & When To Visit
First Timers: Rock Climbing Krabi, Tonsai and Railay, Thailand
Where To Stay In Krabi, Thailand For Any Budget
Where to Eat in Krabi Town: Night Markets and Restaurants
Krabi's Beauties: Railay Beach and Tonsai Beach, Thailand
The Low-Down: Thailand Tourist Visa and More
Thailand's New Year, Songkran, Is the World's Largest Water Fight
7 Unusual Things To Do in Chiang Mai
Photo Blog: Doi Inthanon, a Day Trip from Chiang Mai
Chiang Mai to Pai and Back! The Best Ways to Get Around (Thailand)
4 Lesser-Known Spots Around Mae Hong Son To Go To
Chiang Khong to Huay Xai Border Crossing (Thailand to Laos)
Chiang Rai Itinerary: 10 Things To Do In Chiang Rai That You Can't Miss
Thai Vegetarian Food That You'll Want in Your Mouth
7 Reasons Why Eating Thai Street Food Is The BEST & How To Avoid Getting Sick
Transportation Info and Tips for Thailand
Play it Cool: Thailand's Do's and Don'ts
OMG, My Holiday is Coming Up! Is it Safe to Travel to Thailand?
---
---